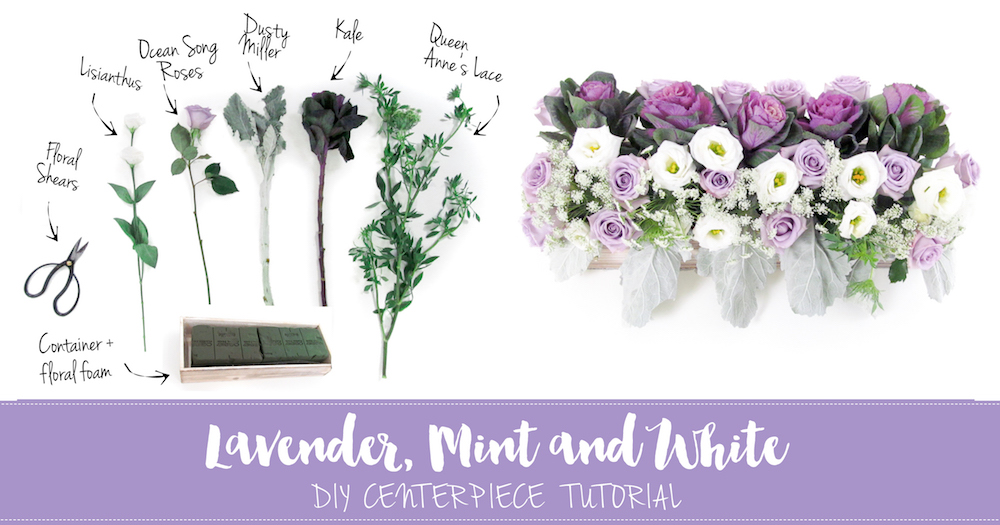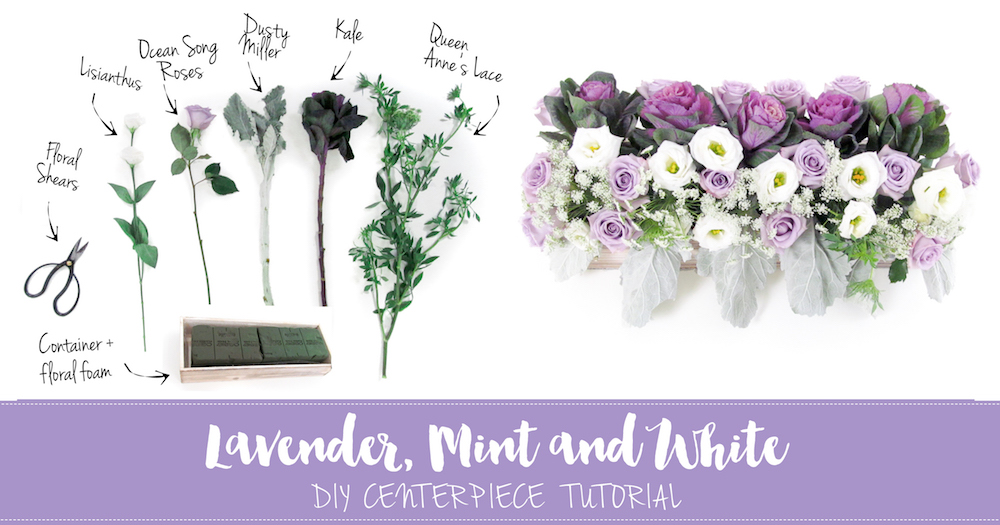 Hooray! It's time for part two of our Lavender Mint & White DIY wedding flower tutorial series. Today we're showing you how to put together a simple but definitely darling purple, white and green wedding centerpiece.If you're planning a purple wedding, this series is for you!
Simple Lavender Mint & White DIY Centerpiece Tutorial
We'll be working with the same floral palette used in part one where we created this lovely lavender, mint and white boutonniere.  We're using Ocean Song Roses, white Lisianthus, Queen Anne's Lace and Dusty Miller greens, as well as some floral foam, a scissors and a container of your choosing. We love a rustic wooden container for a barn or country wedding. A crisp white or gorgeous gold container could look really great if you're going for a modern look, too.
Remember that all of the flowers and supplies are only a click away when you purchase from our bulk floral friend and sponsor,  Blooms By The Box here.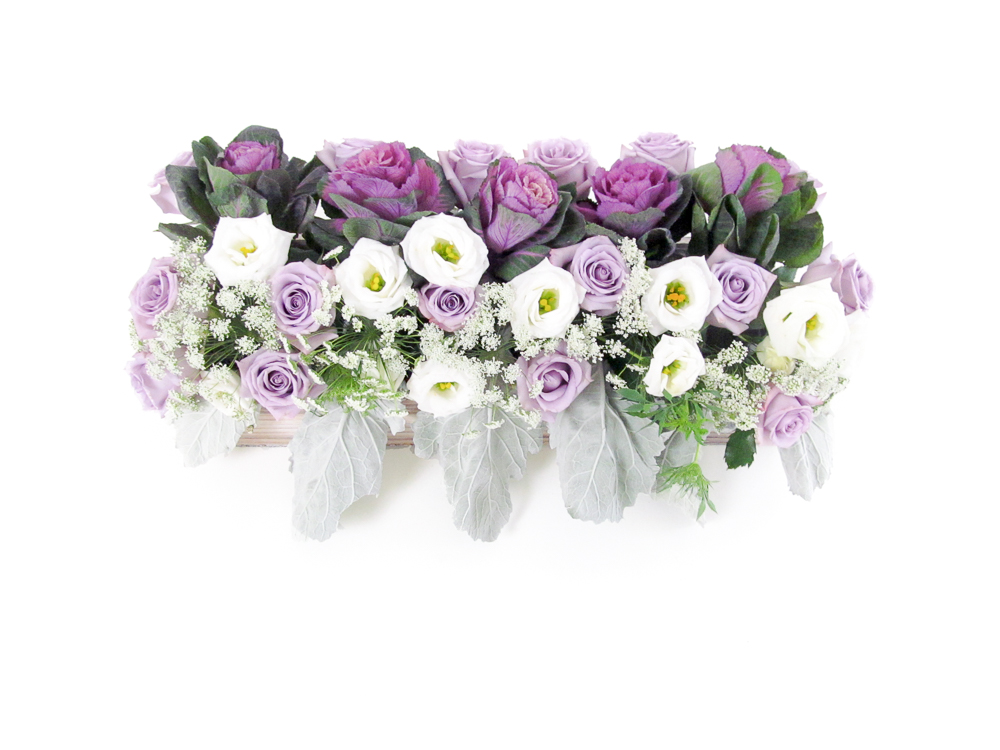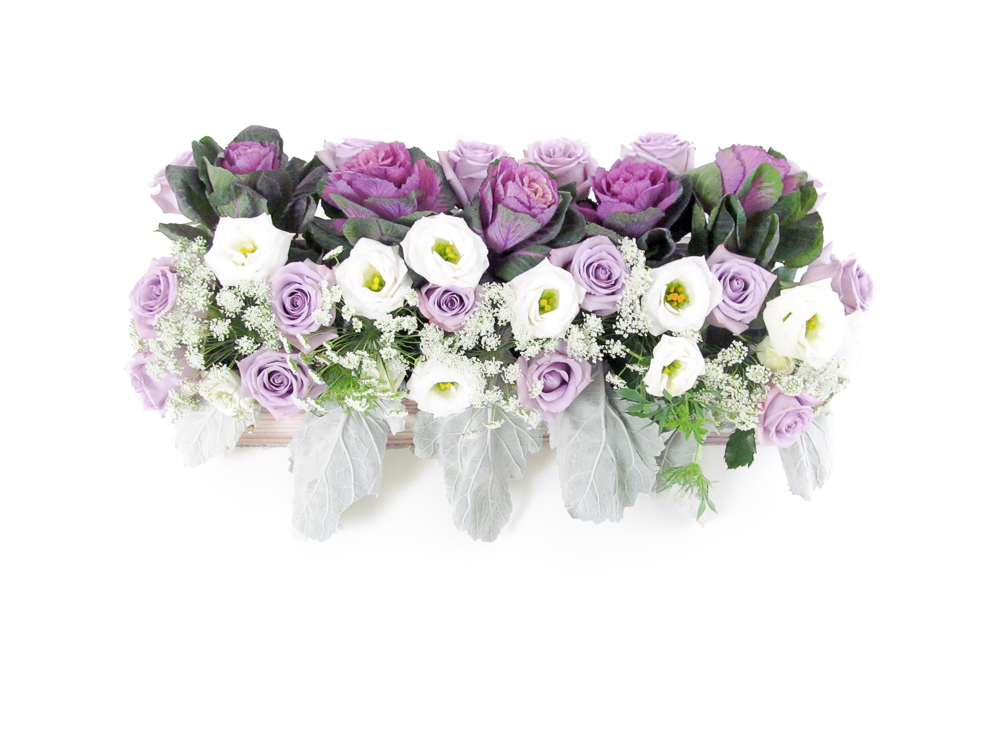 Lavender Mint & White DIY Centerpiece Supplies
To create this wintery wedding centerpiece, here's what you need:
1 x Ocean Song Rose
1 x Lisianthus
1 x Small piece from a stem of Dusty Miller
1 x Small piece from a stem of Queen Anne's Lace
1 x Floral Scissors
A Floral Container 
Lavender Mint & White DIY Centerpiece
Lavender Mint & White Centerpiece Tutorial
Soak floral foam in water until it floats. Cut the foam to size and place in a lined container
Cut the stems of  your focal flowers to length, we chose purple kale for it's vibrant contrast.
Place a row of kale along the center of the container.
Trim and place lavender roses or another medium sized bloom along the perimeter of the kale.
Begin to fill in empty spots with filler and secondary flowers. We thought Queen Anne's Lae and white lisanthus would be perfect to bring out the purples of the kale and roses
Adorn the arrangement with greenery such as dusty miller along the outer edges of design to finish off the look. Yay!
Get all the flowers and equipment needed to build this wedding centerpiece delivered to your door when you order from bulk online floral and sponsor, Blooms By The Box here.
Remember to check out the rest of the pieces in this purple wedding flower tutorial series including a matching DIY wedding bouquet and DIY wedding boutonniere coming your way.
Check out more wedding flower guides and DIY tutorials