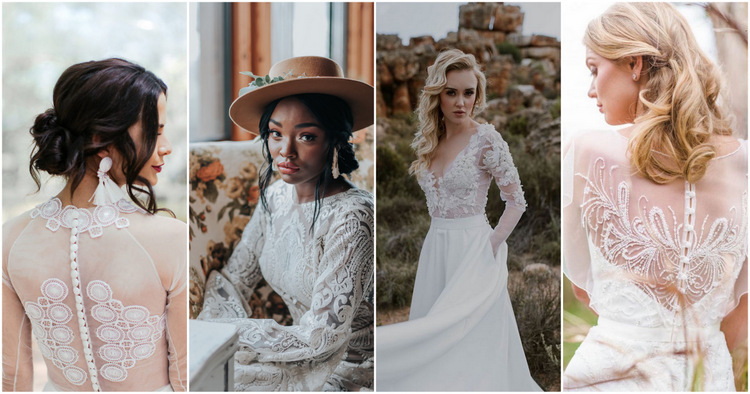 Looking for incredible lace wedding dresses? We've got your back! Today we bring you our curated collection of gorgeous lace gowns. Whether you're seeking one-of-a-kind, vintage lace wedding dresses, beautifully beaded lace wedding gowns, boholicious long-sleeved lace wedding dresses or a stunning yet simple lace wedding dress, we're sure you'll find a wedding dress to fall for. Yass!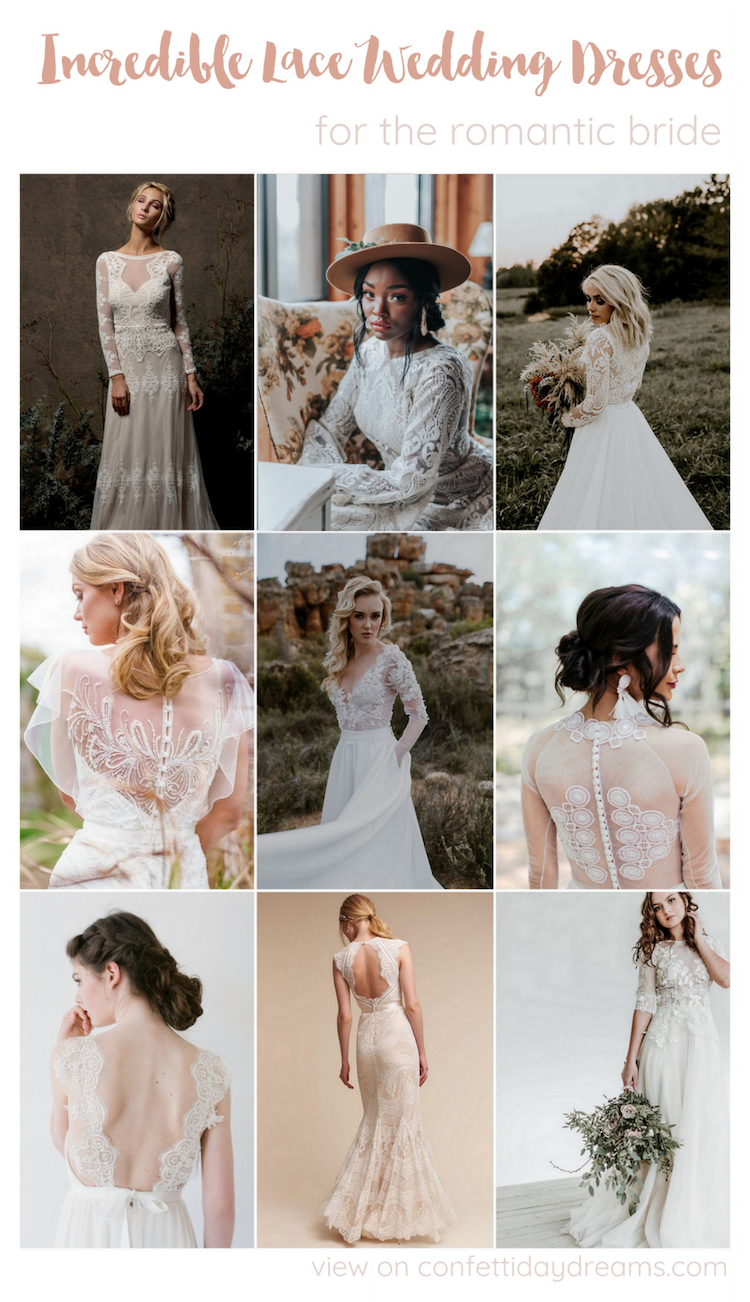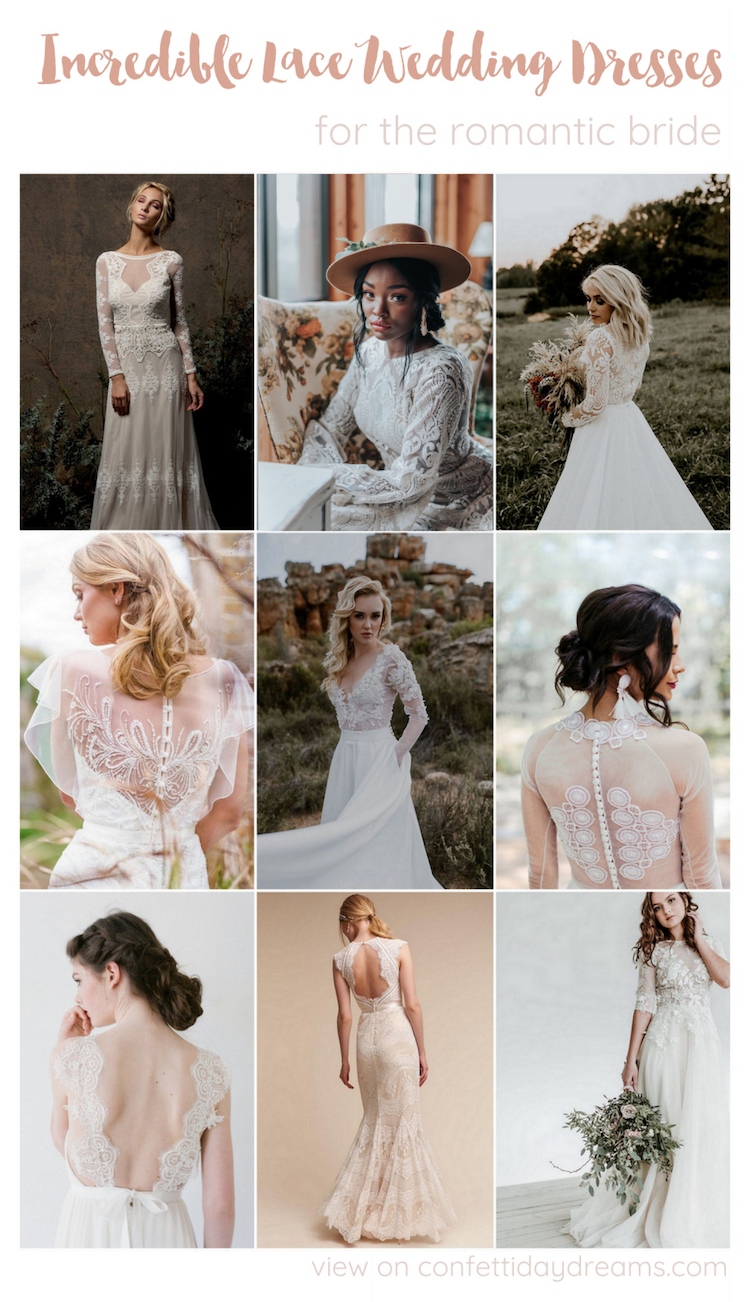 Embroidered + Beaded Lace Wedding Dresses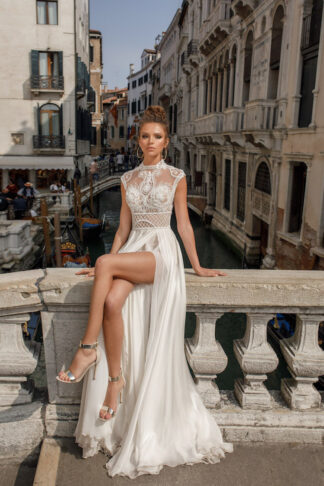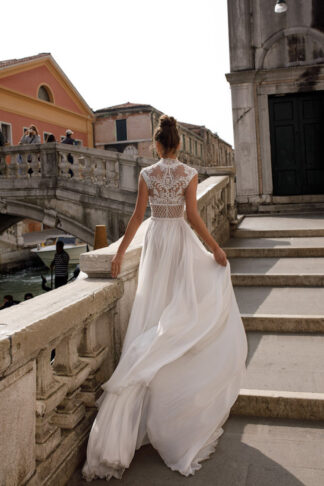 (Above) This high-necked, embroidered lace wedding dress is sexy and regal. This gorgeous creation from Julie Vino features a high neckline lace bodice with detailed embroidery, with a sheer skirt that has a daringly high slit!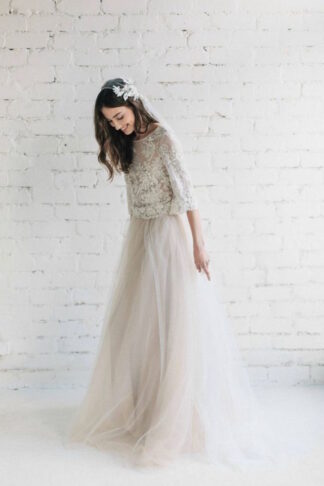 (Above Left) This Beaded Lace Wedding Dress is a three-quarter sleeved gown with tulle skirt and stunning 3D sheer Floral Lace appliques on the bodice and sleeves. Check out the dreamy Camilla dress here. // (Above Right) This two-piece beaded lace wedding dress is ultra-romantic with embroidered, flowing three-quarter sleeves and an open button back makes it a beautiful statement with couture beading. Available here.
♥ If this feature inspires you to purchase one of these lovely items through our links, in some cases we'll get a small percentage of the sale for sharing them with you. Thank you so much for supporting our content! ♥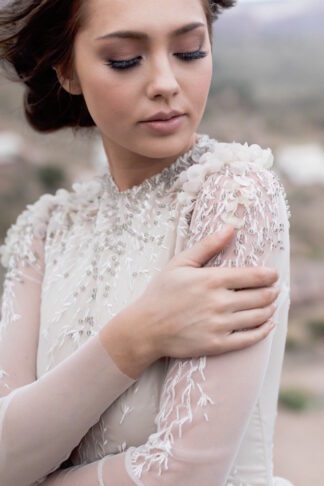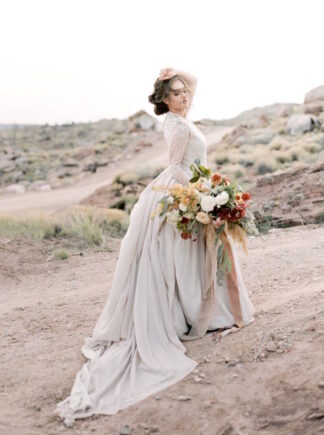 This Embroidered Beaded Ball Gown uses 50 meters of fabrics; including delicately embroidered and beaded lace which is custom designed by Cathy Telle. It's an elegant, high-necked bodice with open back and long sleeves featuring a dramatic, layered skirt. Best part? You can order this wedding dress in any shade!  (Photos: Tyler Rye)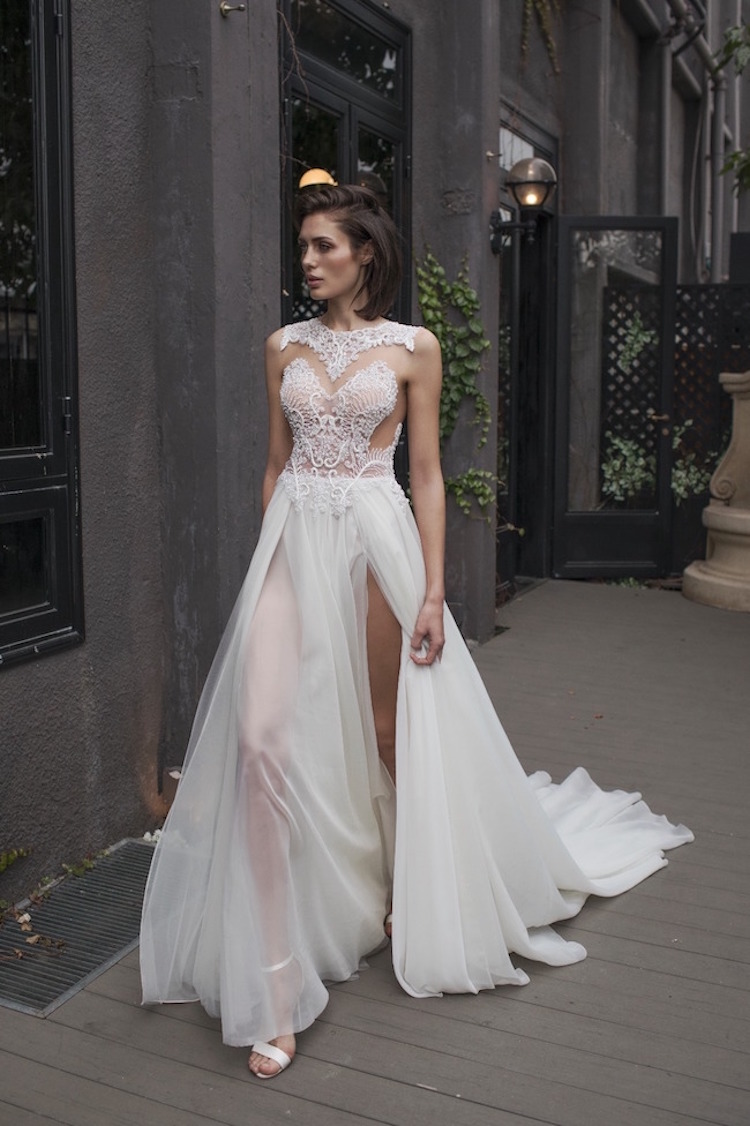 Featuring Illusion lace, this embroidered lace wedding dress features geometric cutouts on the bodice, with high-slitted, flowing chiffon skirts for magical movement. It's Riki Dalal at her finest!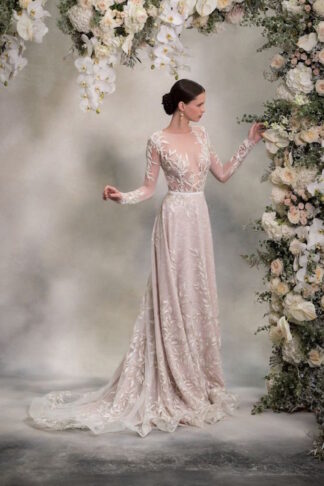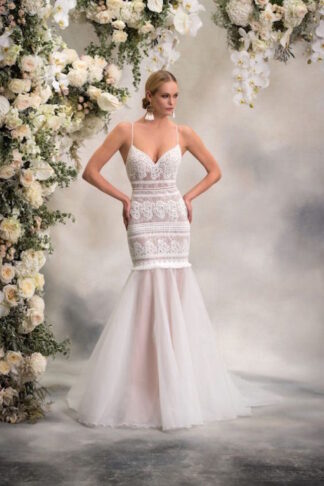 Detailed and divine, these embroidered tulle and lace wedding dresses from the lace-filled Anna Georgina bridal gown collection by designer Kobus Dipenaar are available in South Africa, the UK, Europe, and the US.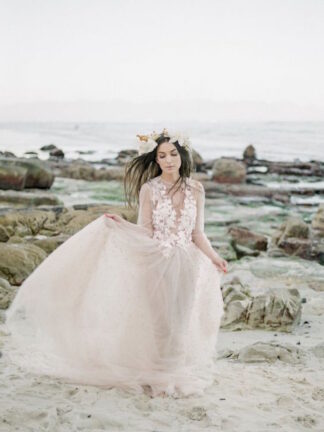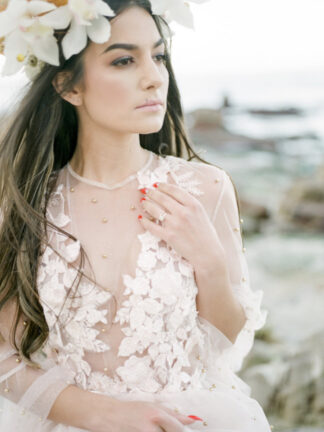 This beaded lace wedding dress in blush pink is a flowing, tulle masterpiece with sheer sleeves and delicate lace detailing on the bodice.  (Designer: Marlize Meeding. Photographer: Liesl le Roux)
Long Sleeved Lace Wedding Dresses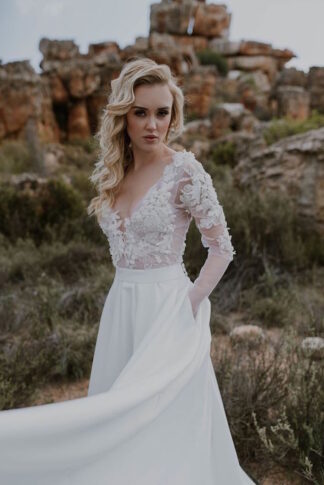 (Above Left and Below) This incredible high necked long sleeved-lace wedding dress bodysuit top is made from soft, sheer Italian Tulle and dream catcher lace appliques. It's designed by Janita Toerien, and we're obsessed with it! //  (Above Right) This couture long-sleeved lace wedding dress from Janita Toerien features long, sheer sleeves with 3D lace applique on the v-neck bodice and long sleeves.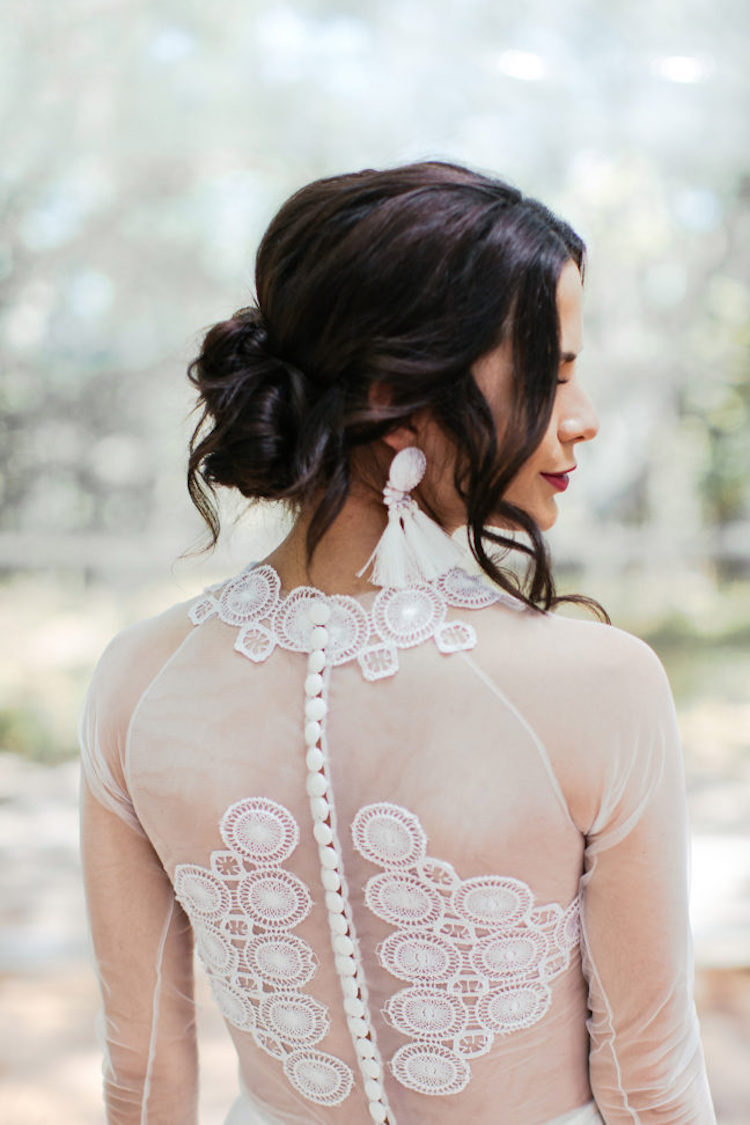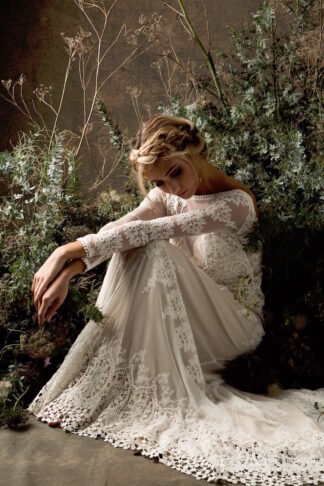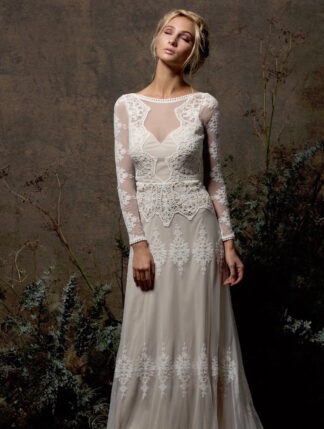 (Above) The Valentina Long Sleeved Lace Wedding Dress is a vegan-friendly wedding dress from Dreamers and Lovers. It's made from a soft and stretch cotton lace, and lined in stretch silky charmeuse. (Photographer: Lara Lam // Florals Amy Balsters // HMUA Taryn Feldt)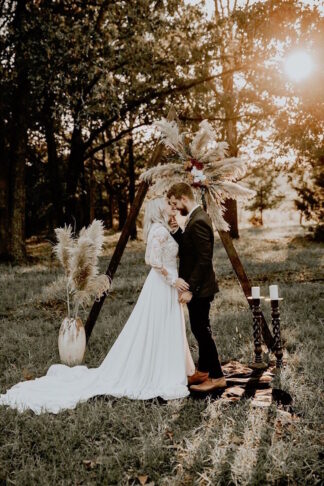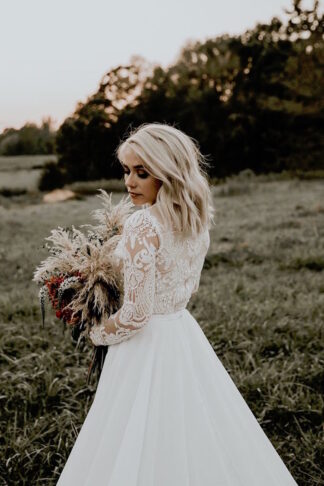 This stunning long-sleeved lace wedding dress features a crewneck neckline. The stretch bodice and sleeves are created from unique patterned lace and beading. (Images: Cheyenne Kidd Photography)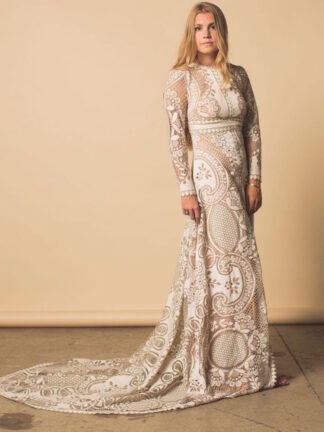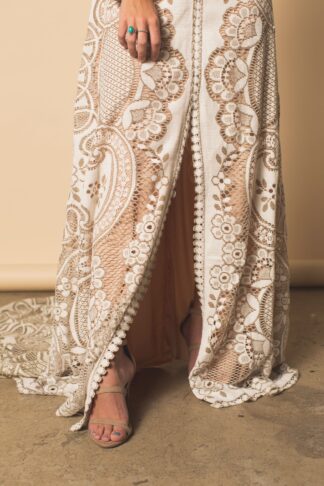 This rare vintage lace wedding dress is another piece of made to order magic from Dame and Maiden. The gown's long lace fitted sleeves come with an empire waist bodice and handmade trim detail on the waist. Love!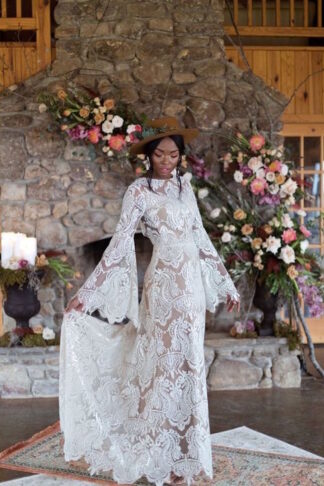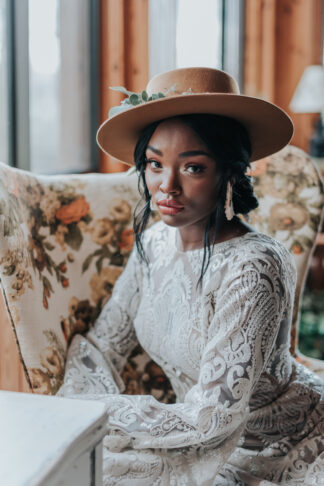 Beautiful Lace Wedding Dresses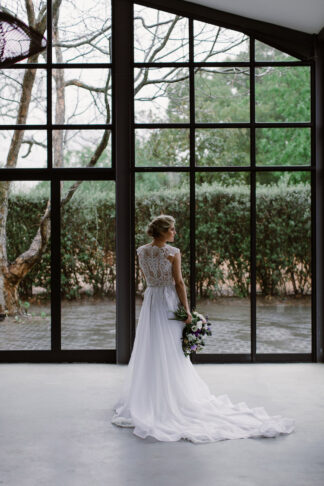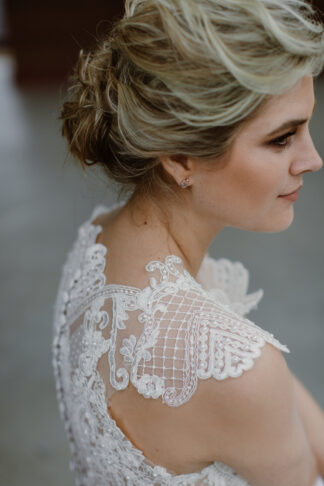 This tattoo-lace wedding dress from designer Janita Toerien features a geometric lace bodice with a pleated voile skirt. (Photographer: Jenni Elizabeth.)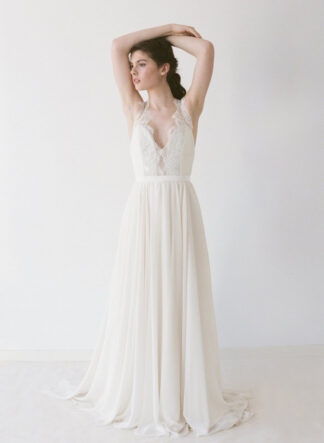 (Above Left ) This delicate plunging V-neck lace wedding gown with unique double straps and a low back, features rose gold sequins. The skirt is made of dreamy, ruched chiffon.
Above and Above Right: Detailed lace wedding gowns from Truvelle are the epitome of effortless, modern design.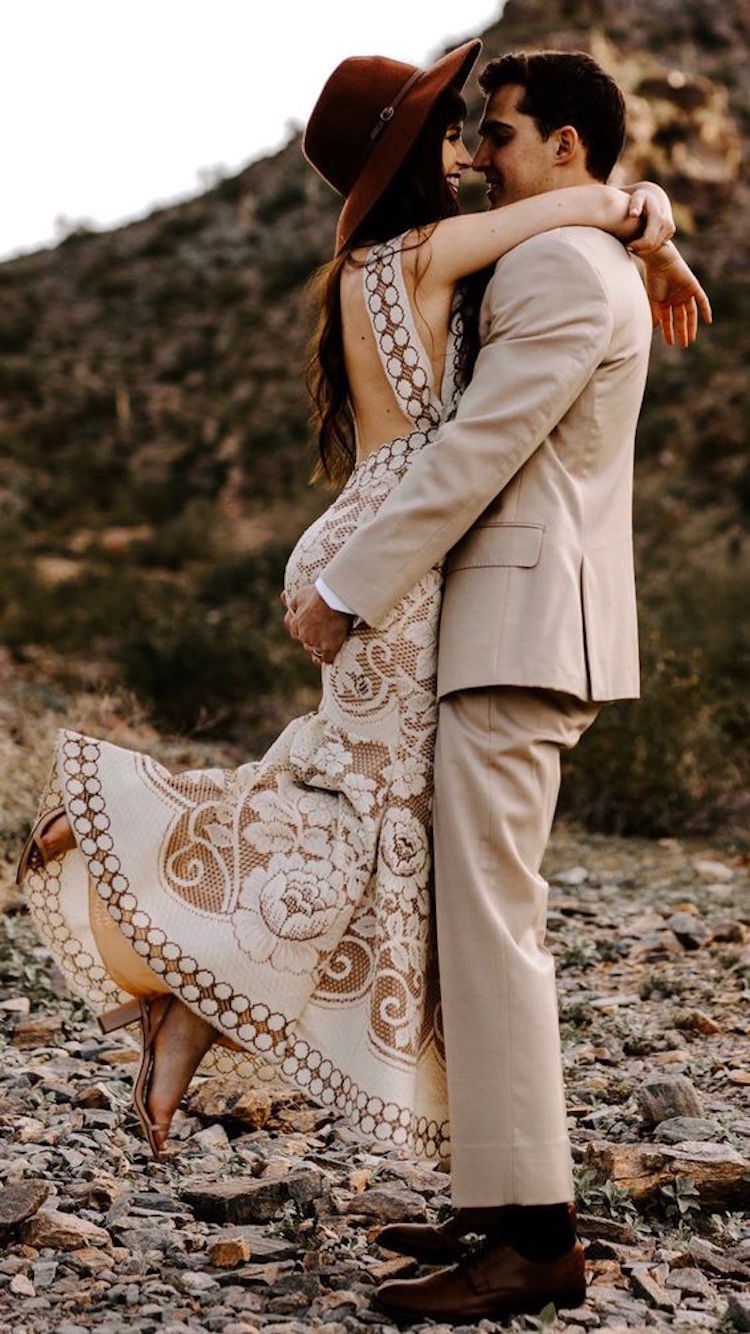 Made from vintage lace this retro boho wedding dress with open back from Dame and Maiden is made to order. Each creation uses one of a kind, vintage wedding lace making each gown truly one of a kind. Find out how to order yours here. (Photo: Ronny and Rene)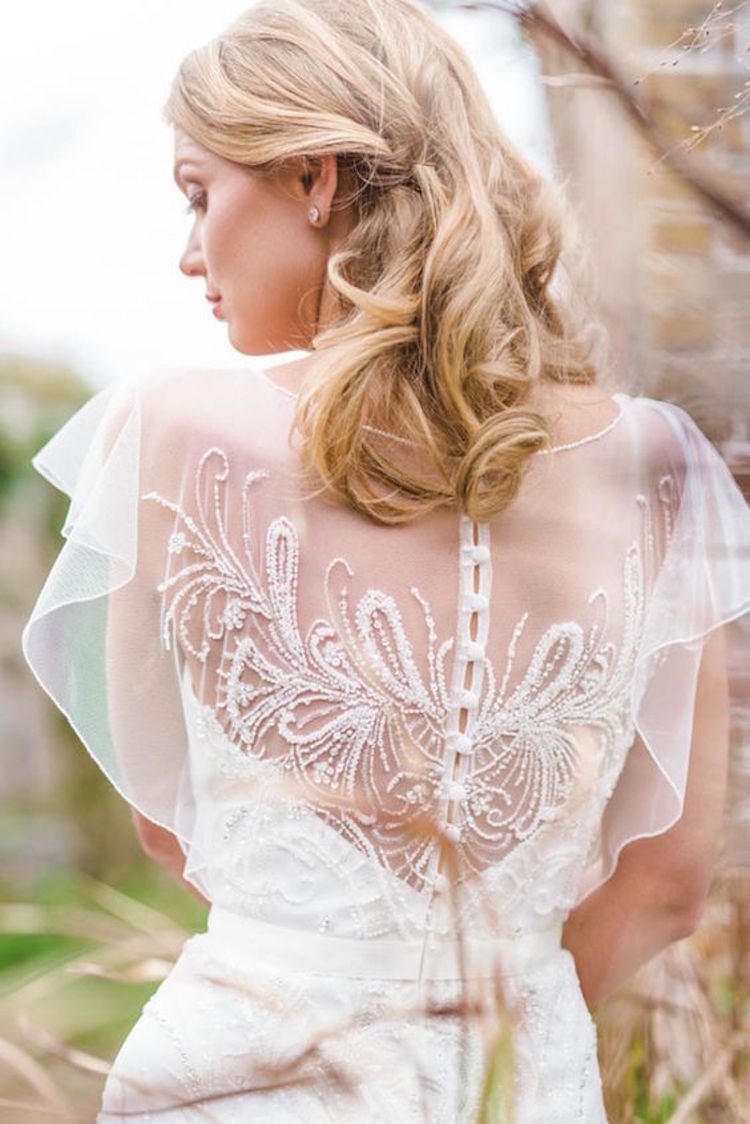 This stunning lace wedding gown from Blush Bridal features an exquisite statement back, with fluttering, sheer sleeves. (Photo: Lance Nicoll Photography)
More Gorgeous Lace Wedding Dresses:

READ NEXT:
See real brides and real weddings