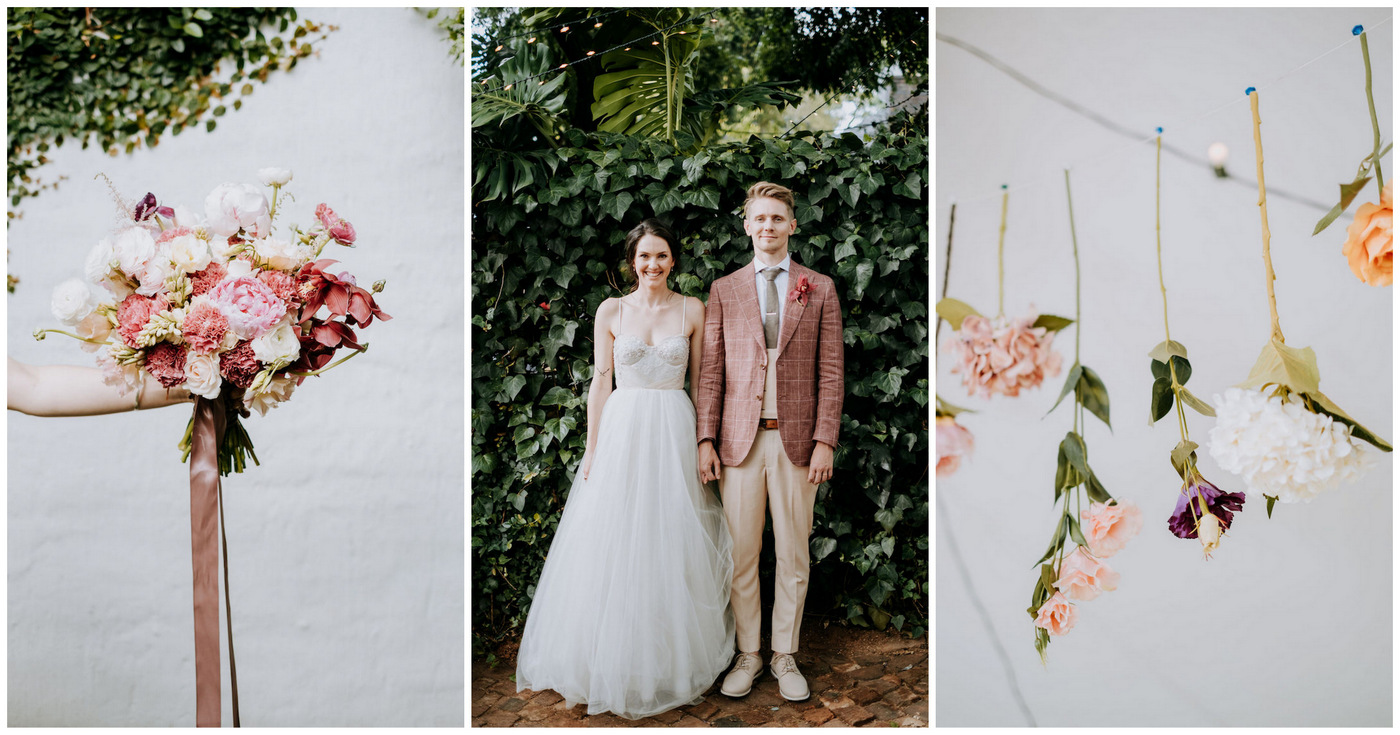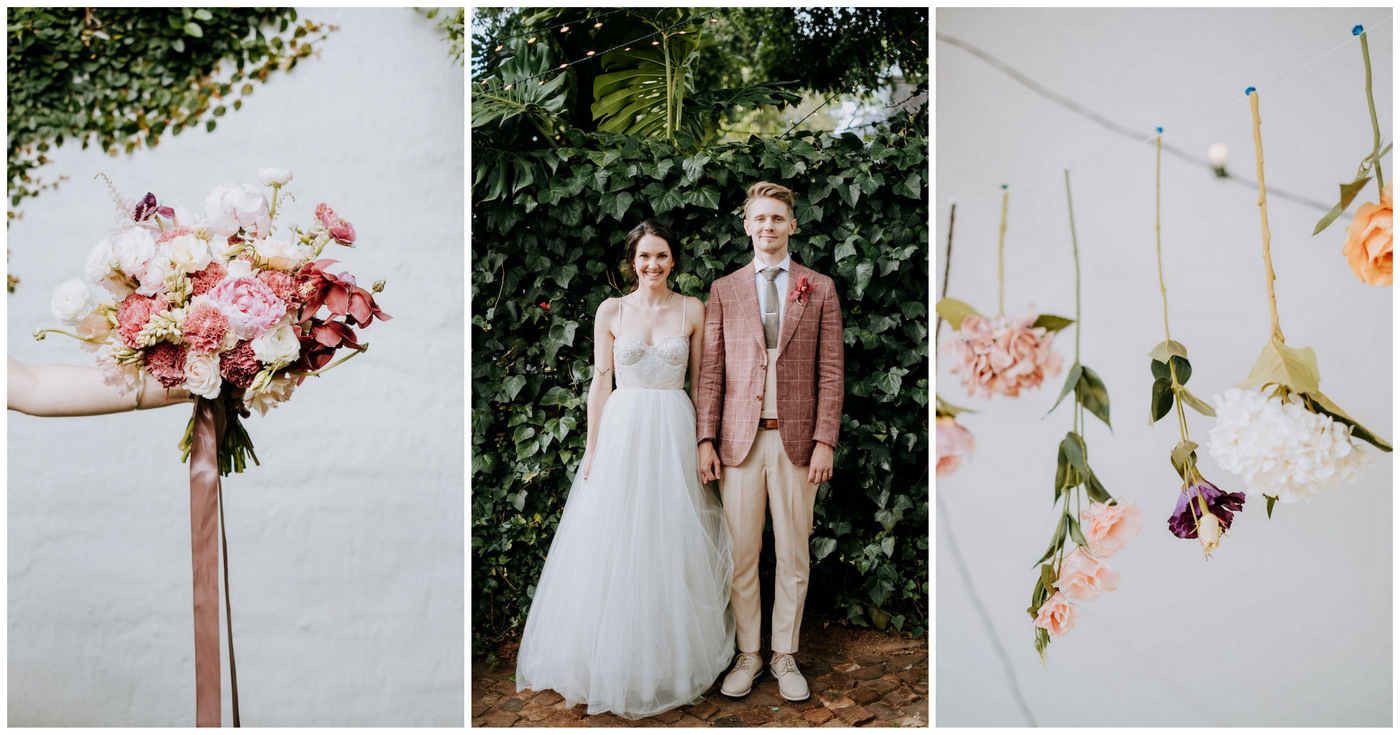 Emma and Brad are from Johannesburg, South Africa. Emma is a jewellery designer who runs her own company called Milame Handmade Design and Brad is a researcher working for the government. Emma planned every aspect and detail of their cheerfully nostalgic garden wedding herself, with the help of some awesome wedding vendors including photographers Carolien and Ben.
The couple exchanged vows in a thoughtful garden wedding at Emma's family home, filled with handmade touches, curated pieces and countless cheerfully beautiful blooms!
The house the couple chose to be married in once belonged to Emma's grandparents –  both Emma's mother and Emma grew up in it. In fact, Emma's parents, as well as her aunt and uncle, were married in the very same garden.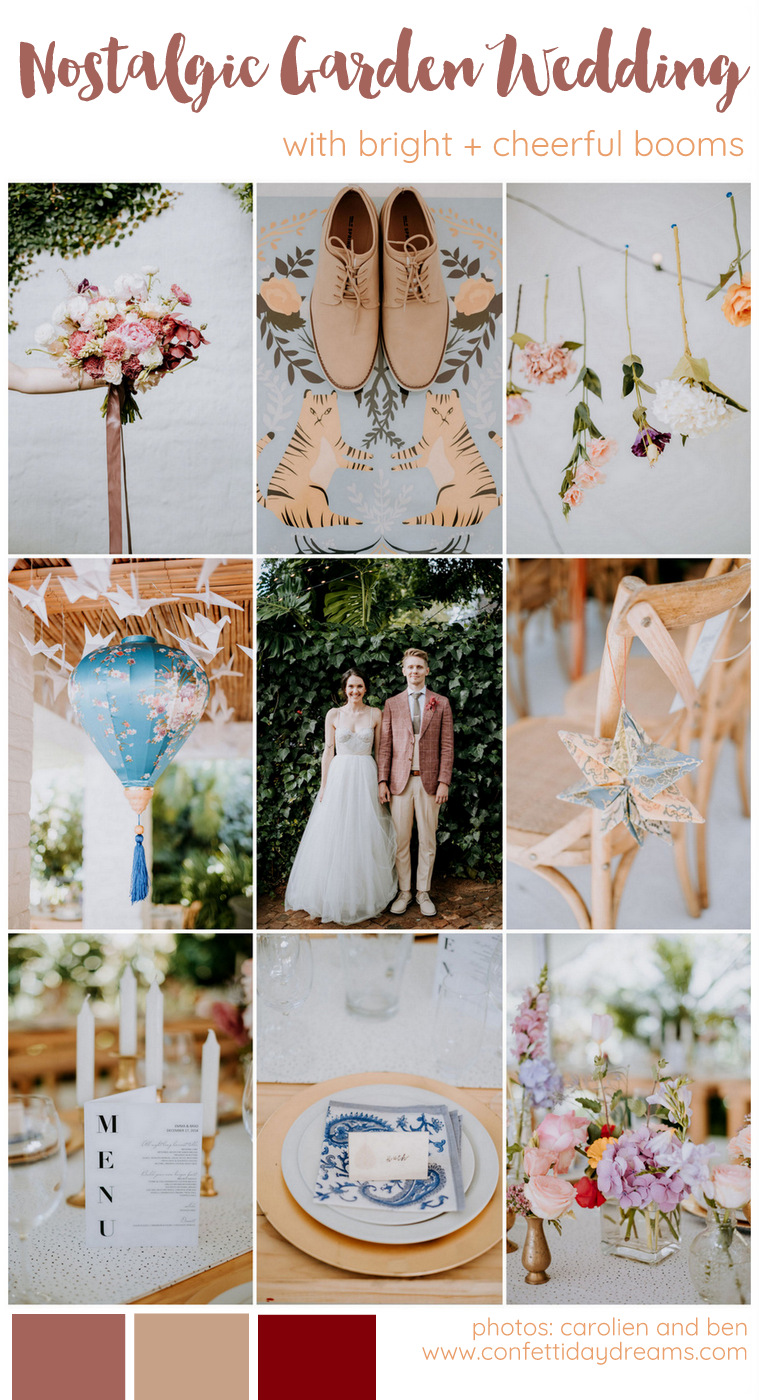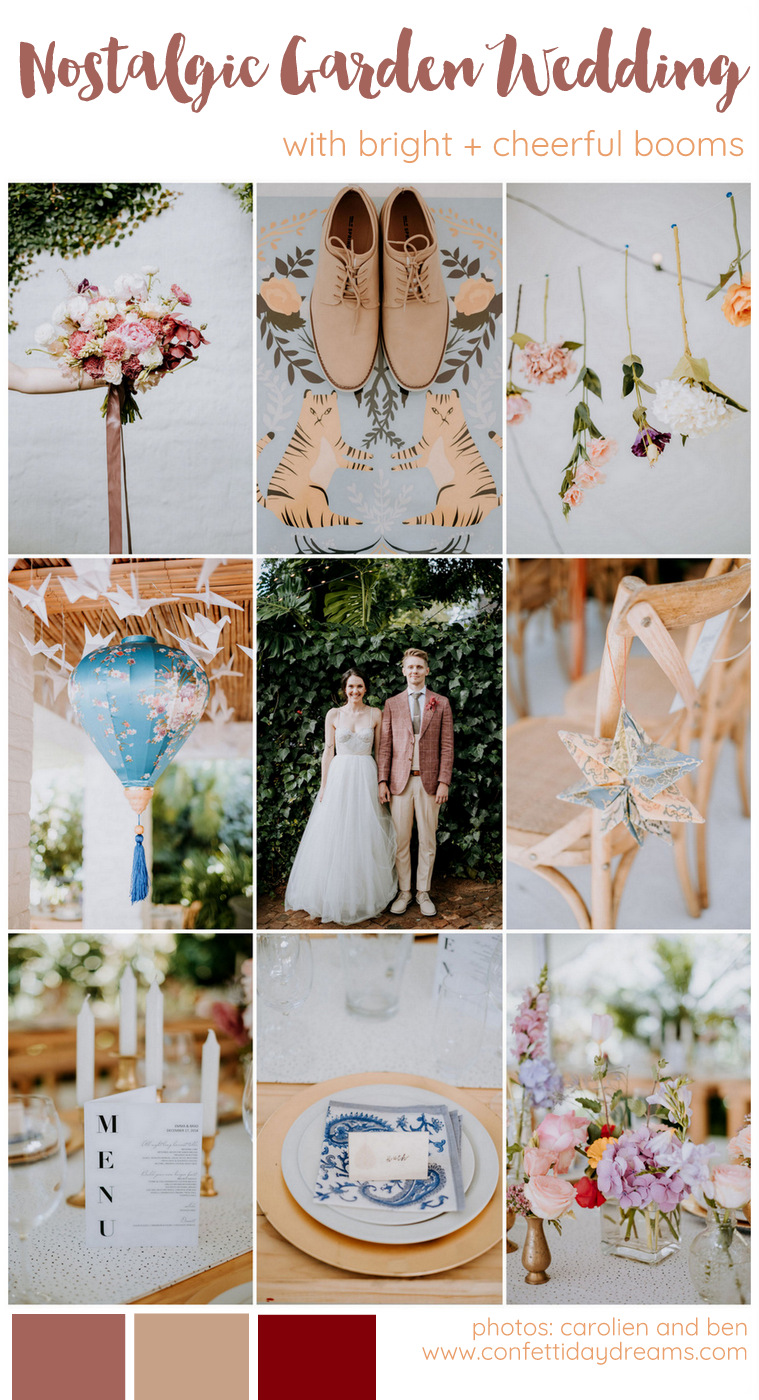 Emma and Brad are starting their own family in the house next door, which is part of the same property.  This made their theme and easy choice – depicting the generations of love and happiness shared in their home. The wedding was bright, cheerful and fun, as the couple used a combination of pieces from their home and special personal belongings collected over the years.
"It was so amazing to be in our own space and decorate our wedding with our own personal pieces," shares Emma. "I absolutely loved planning every detail of our wedding myself, it was an amazing process."
Cheerfully Nostalgic Garden Wedding in JHB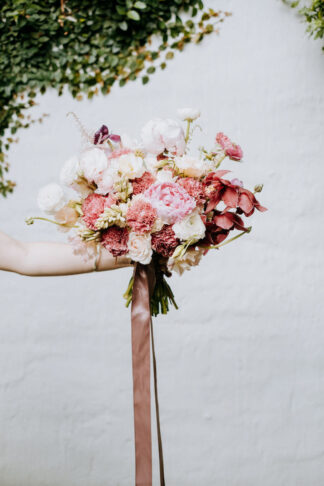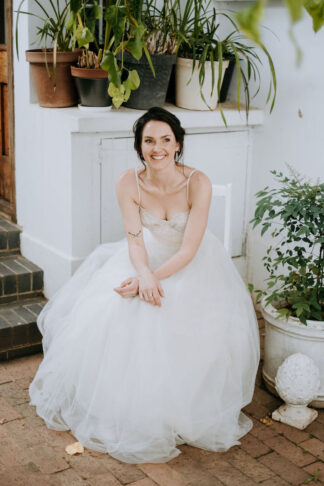 I had my hair styled in an updo so I could enjoy myself without my hair getting in the way. I wanted it to be relaxed and slightly whimsical. I never really wear make-up so went with a look that was as natural as possible and my amazing make-up artist and hairstylist got it all spot-on!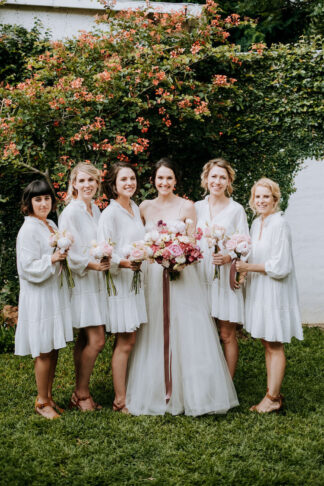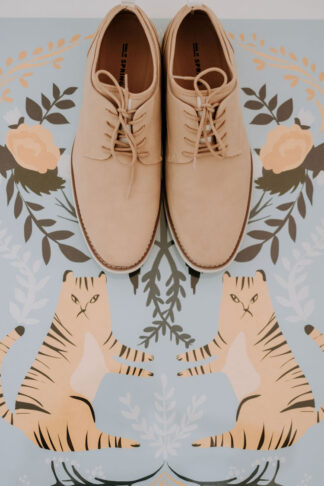 Love Story: Brad and I met through a mutual friend for a drink, we got on like a house on fire and a month later we were camping in the desert together at Africa Burn and fell in love under the beautiful African sky.The rest is history.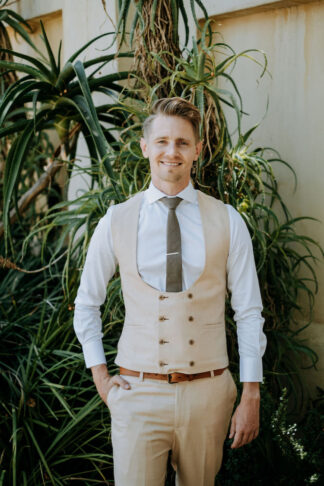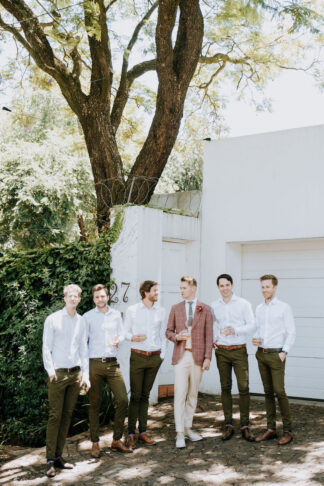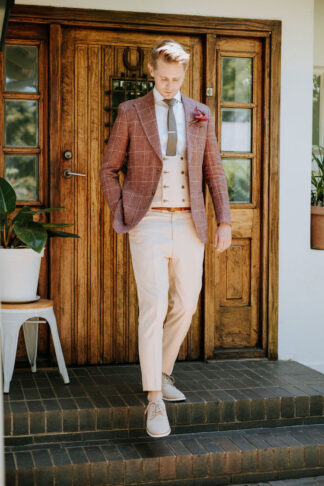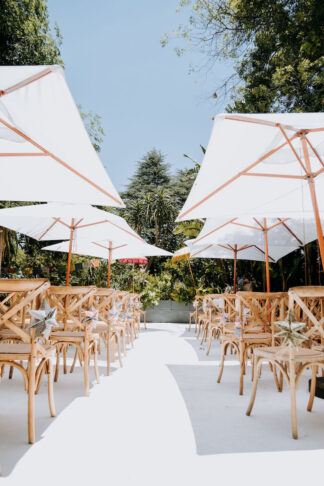 Our wedding ceremony decor was simple and the beautiful garden was our backdrop. I wanted living plants as our ceremony 'arch' as we loved the idea of getting married with growth and life all around us.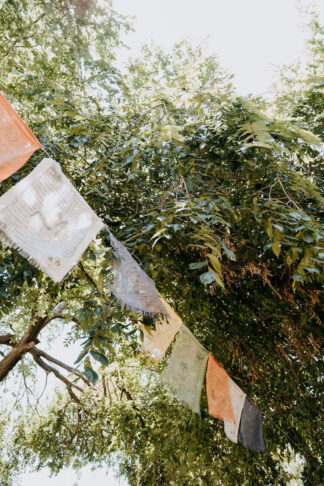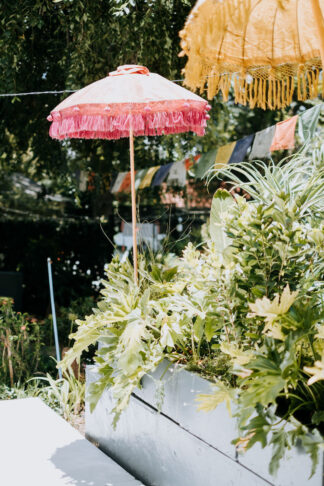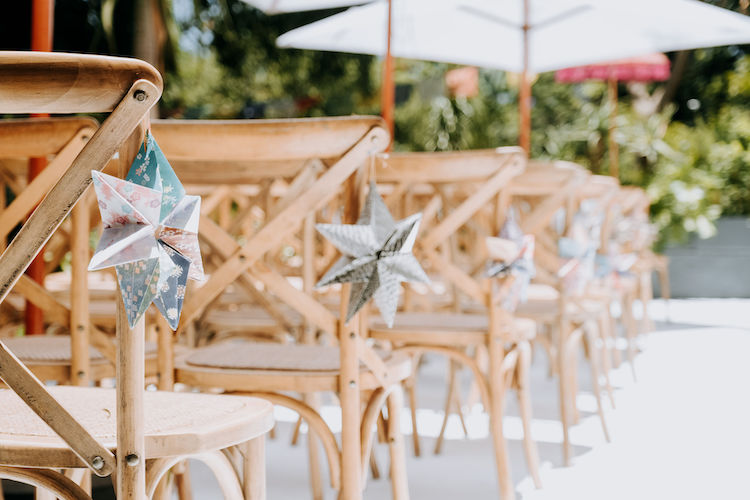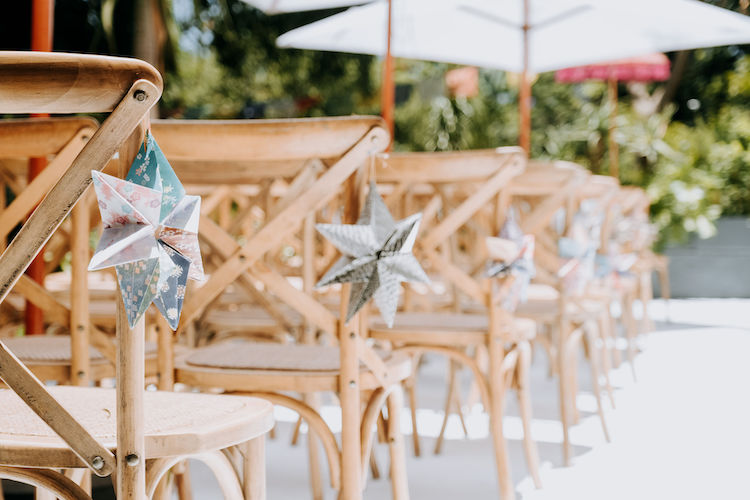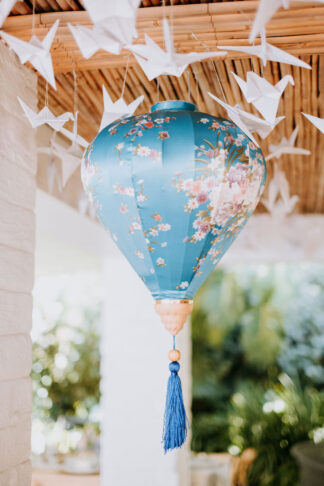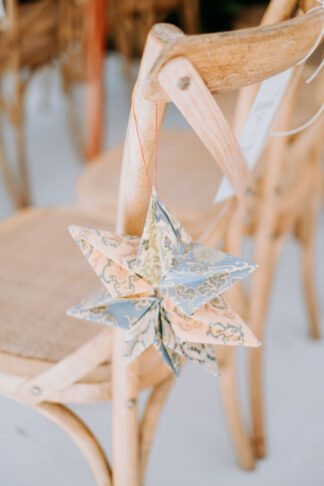 Brad and I wrote our own wedding ceremony vows which was such a special process. Having written it ourselves and knowing it well was an amazing way of being able to be completely present during the ceremony.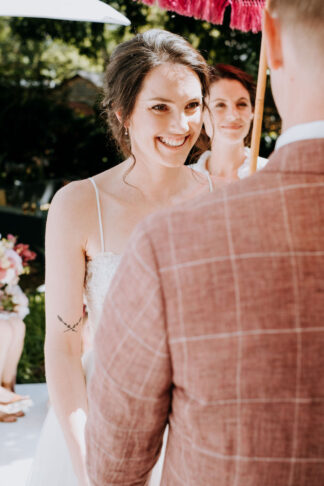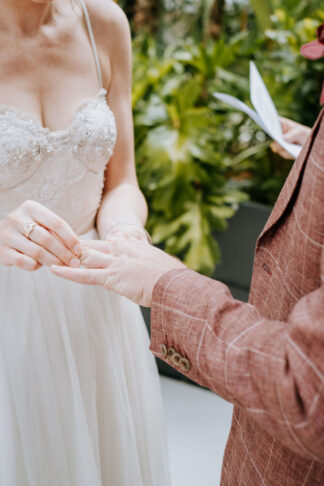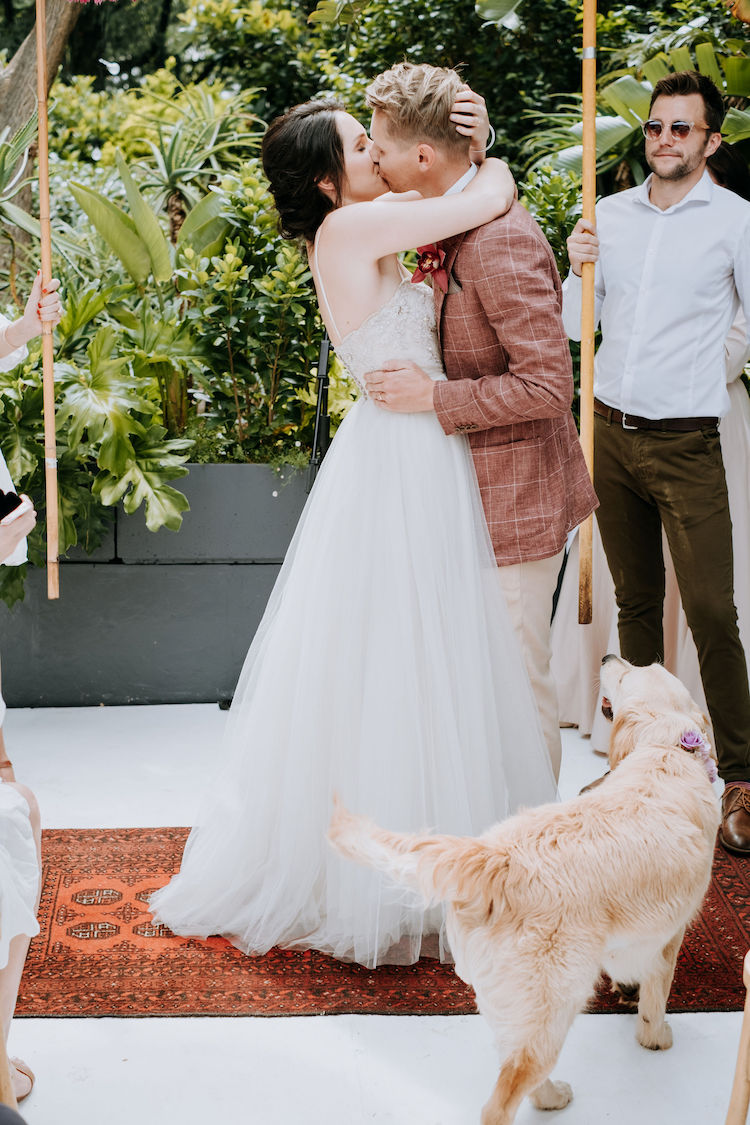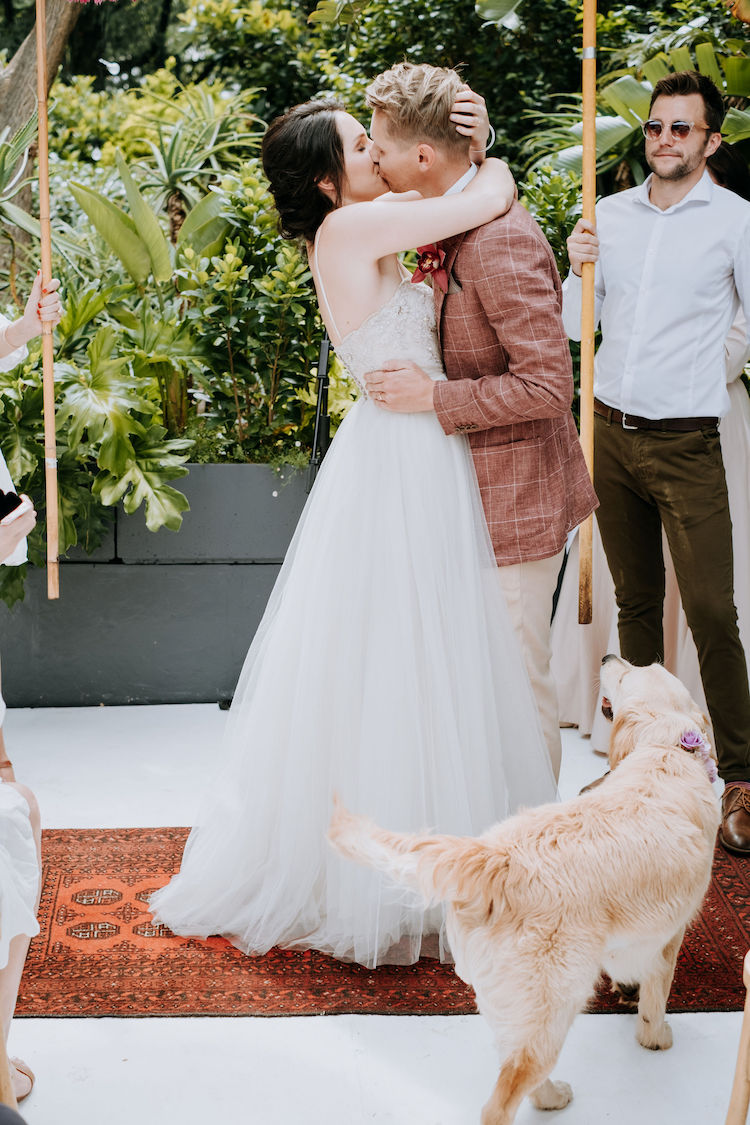 We had our two sweet golden retrievers with us and it was one of the most special parts of our wedding for us. Having our animals around us made us feel so relaxed and happy.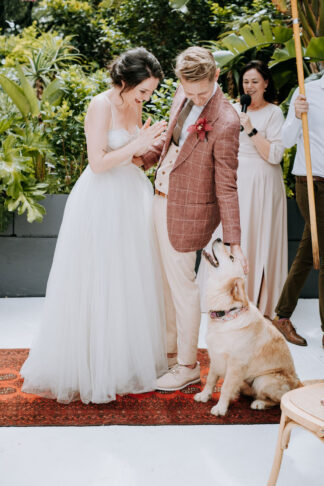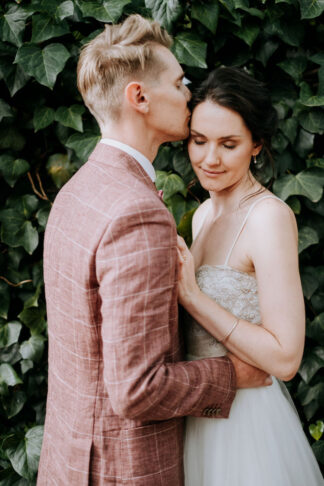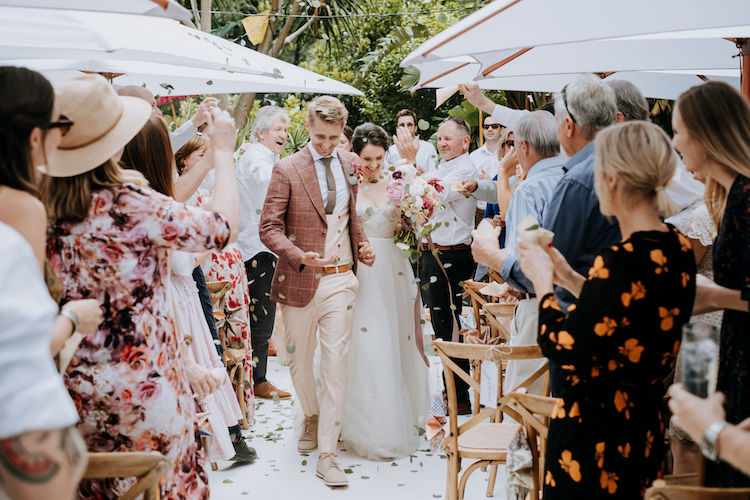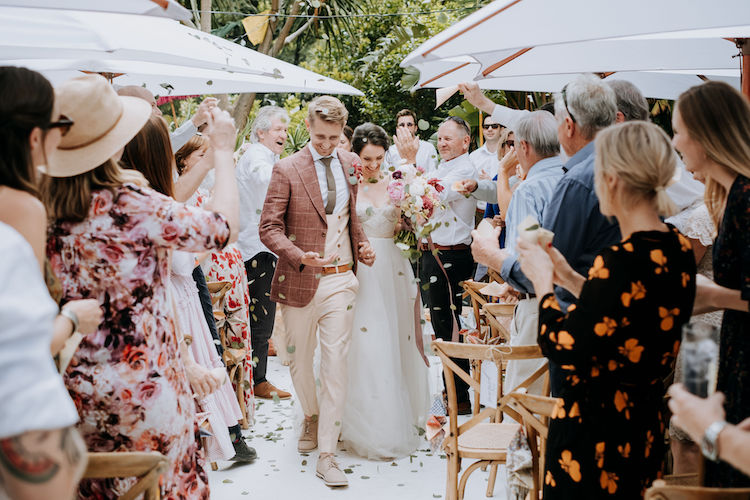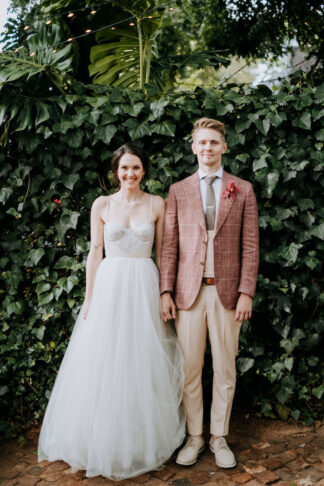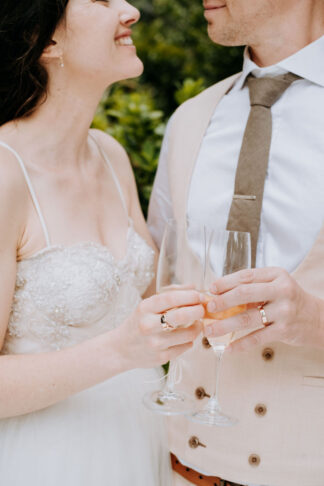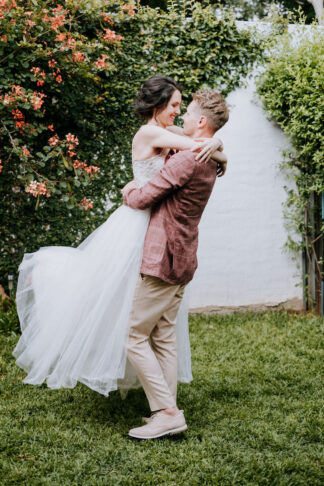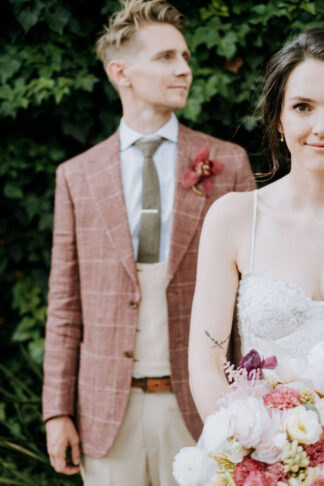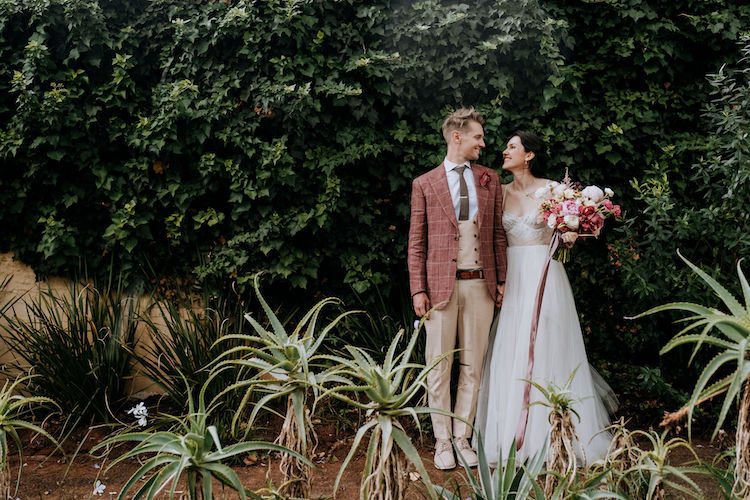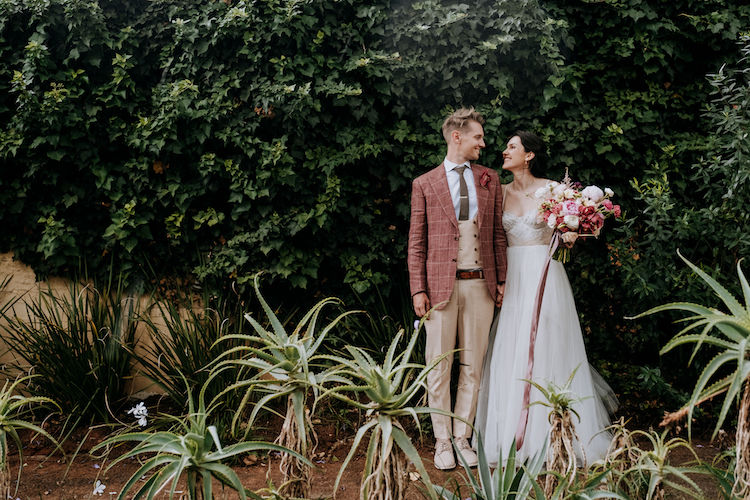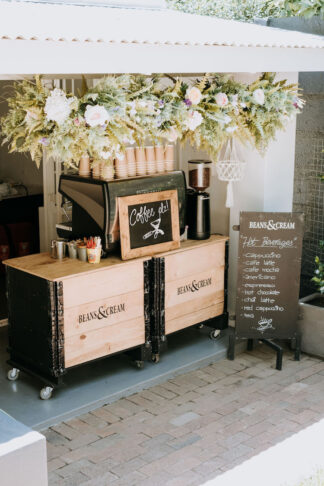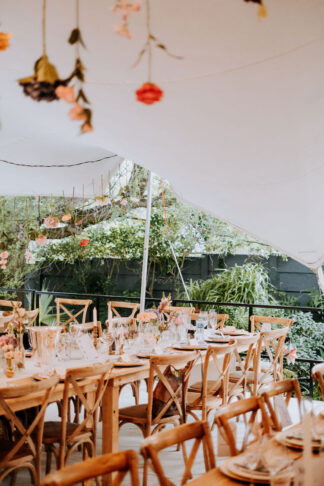 We had an awesome coffee stand with local guys that I do markets with, and all our waiters and barmen were from our favorite restaurant. It created such a cool vibe because we know them well and they were so excited to be part of our big day.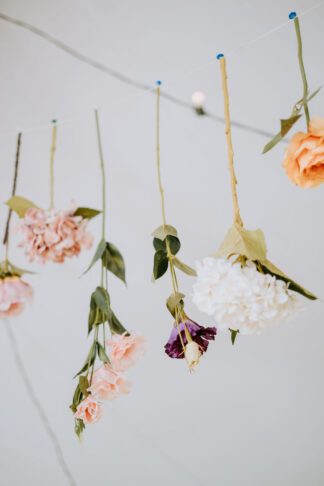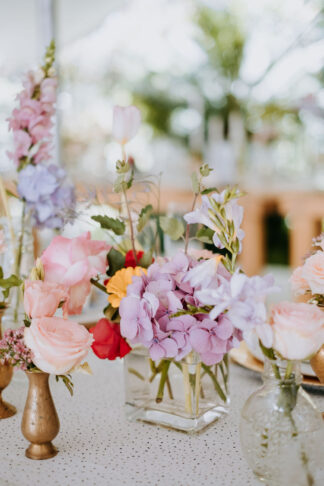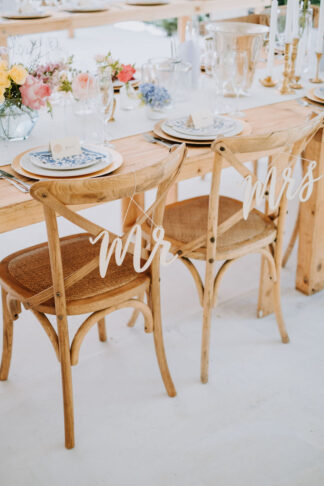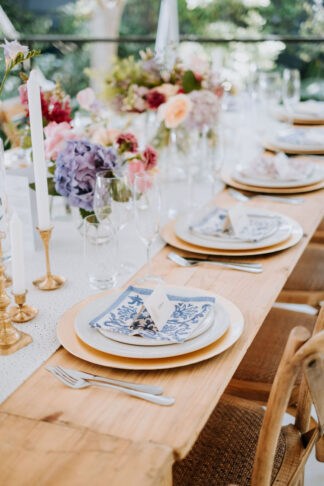 For our garden wedding reception had a huge white tent and white wooden floor put up in the garden, with string lights everywhere. Candles were set up all the way along our long wooden tables, making it so romantic.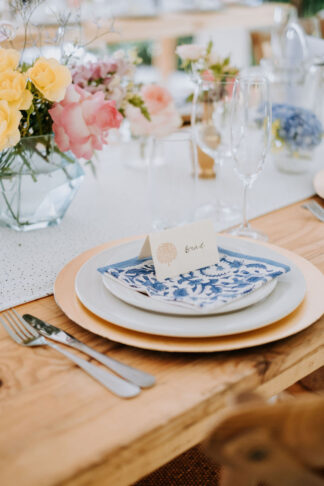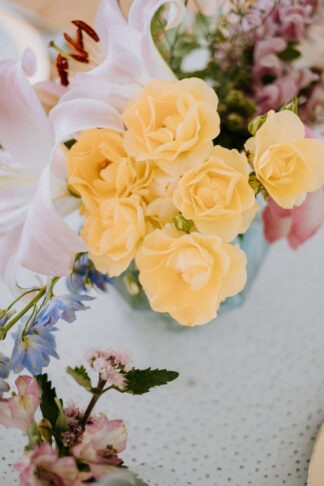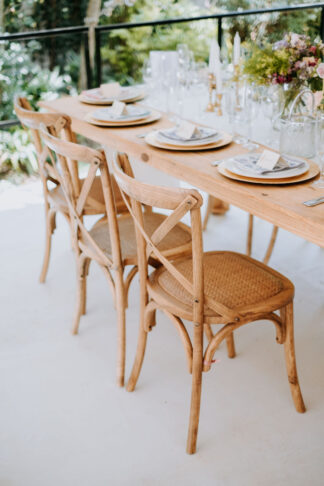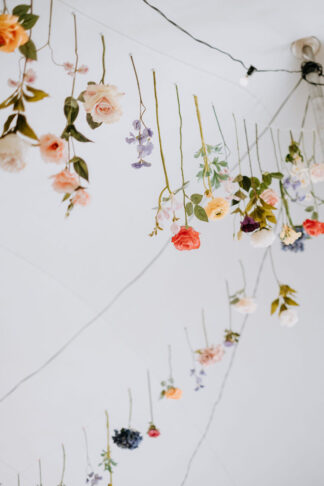 Brad opted for four long tables so that our guests were seated close together. The main thing we wanted to achieve for our reception was a feeling of feasting and eating together, just as if you were having a big family dinner. We had amazing platters of food that were brought to the tables so everyone could help themselves from their seats and enjoy the meal together.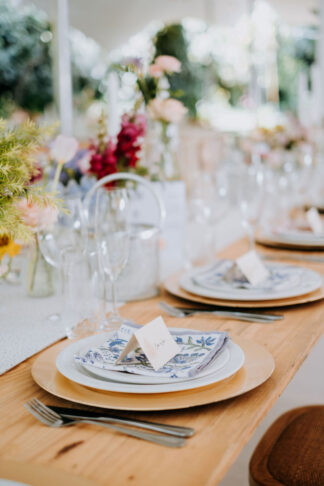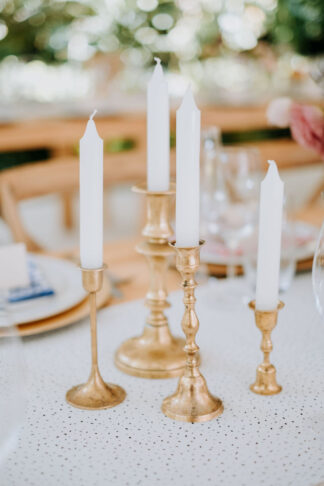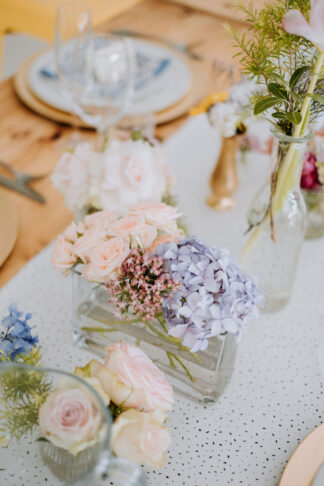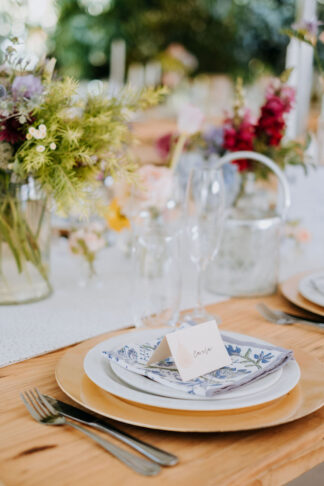 Our name tags for the place setting were brought all the way from India by my maid of honor and our serviettes were also from India in all different colours.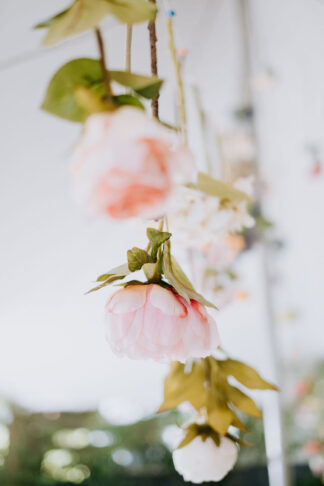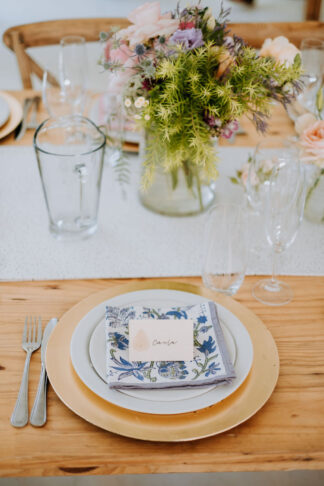 I remember sitting and looking out at the scene in our beautifully lit tent with flowers hanging above our heads and thinking that the festivity and feelings of togetherness were beyond anything that we had expected. It was one of the highlights of the whole day for me.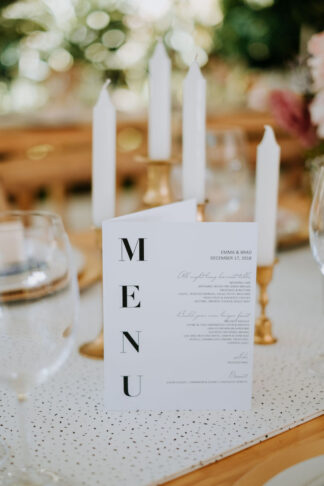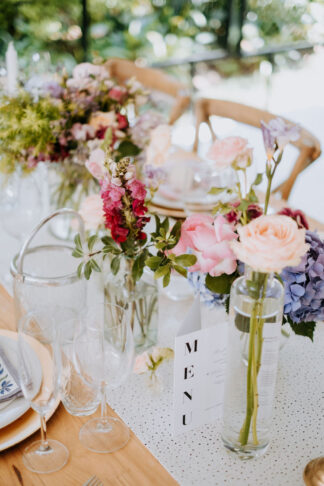 One of Brad's best friends played an awesome live set while we ate, drank and celebrated. One of the best parts of our wedding was that Brad and I made the entire wedding playlist ourselves! We love absolutely music and it was so awesome listening to every song we love through the day and night!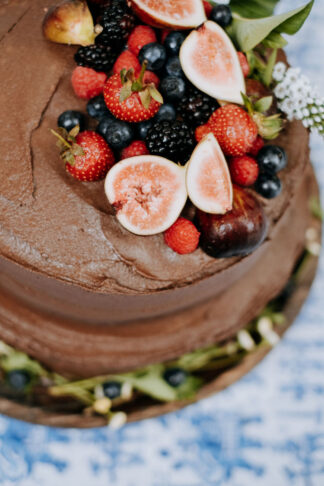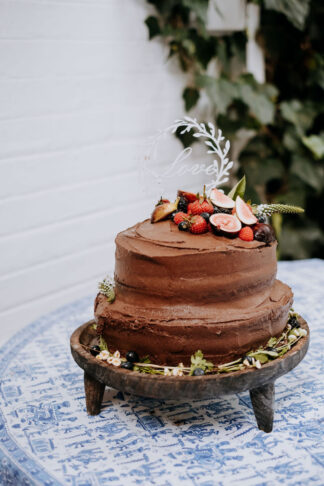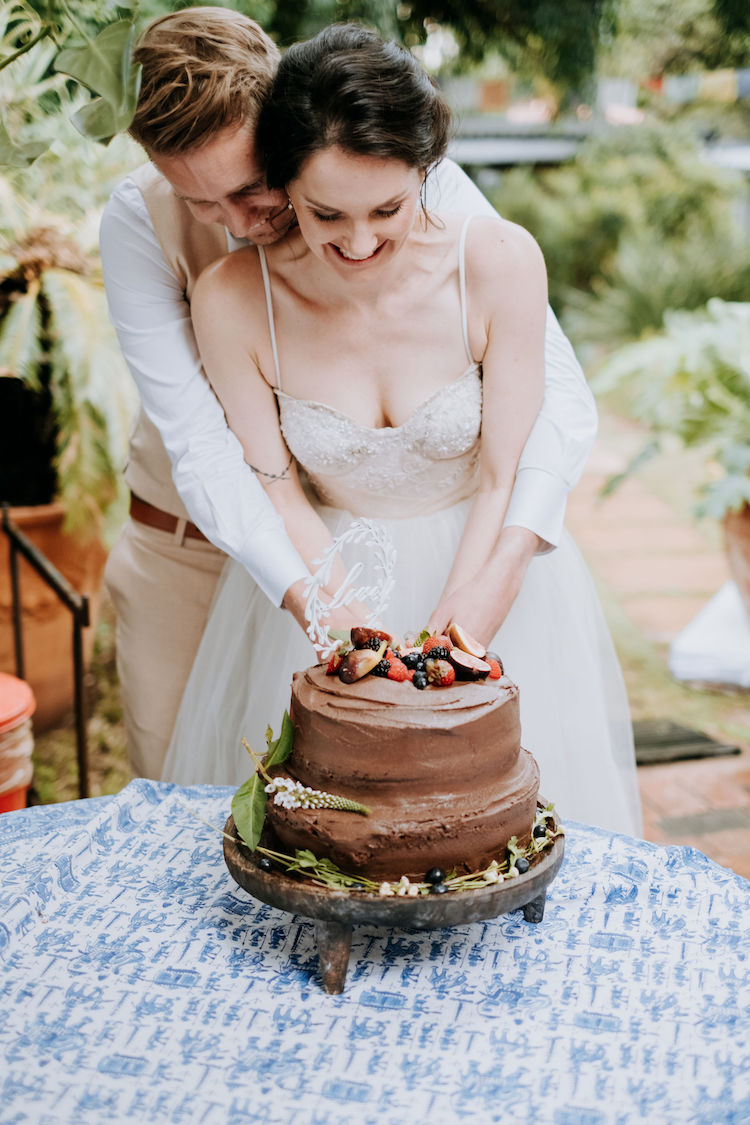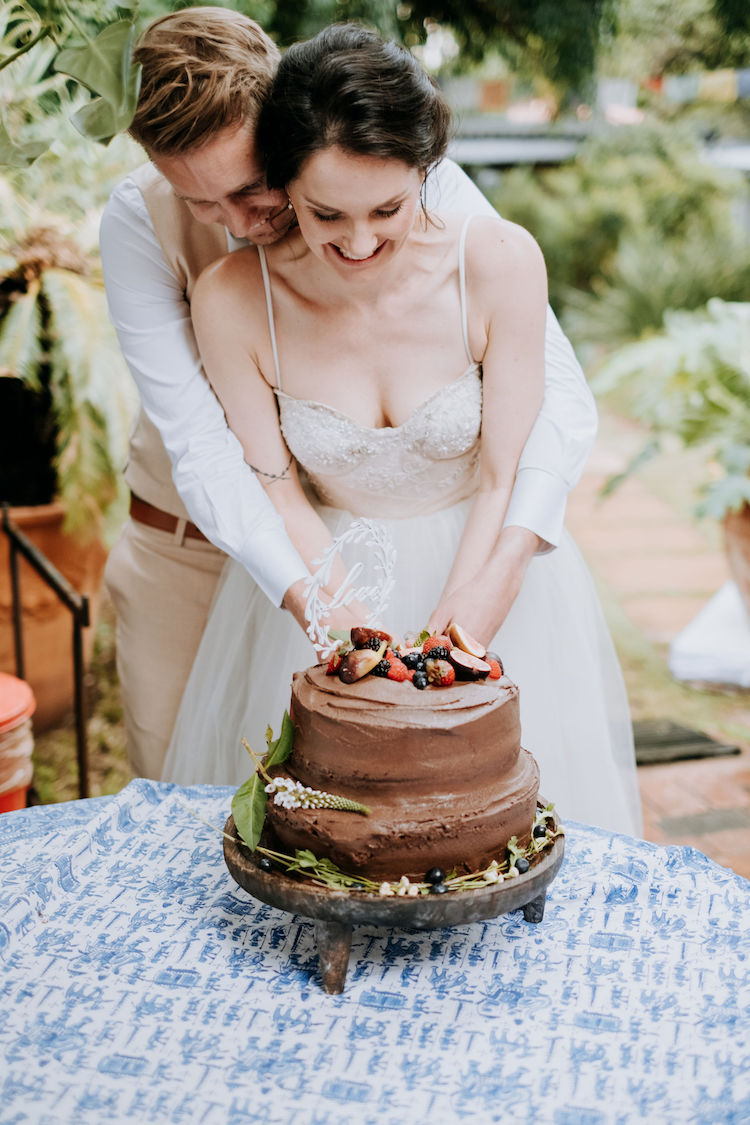 We used all local service providers to support our community. By having our wedding in our own garden at home we didn't have many things that were not repurposed from our home and most of the amazing decor came from the garden itself.
Wedding Service Providers: Photography Carolien and Ben // Gown – Janita Tourien. // Suit Pants, waistcoat and shirt: Frank Bespoke. // Suit Jacket – Country Road. // Invitations: Paperless post // Wedding stationary: Handwritten by Emma // Wedding rings and bridesmaid jewels: Emma at Milame Design // Coffee Stand – Beans and Cream.// Furniture and lights Suppliers – So Where To Events. // Decor Suppliers – Moi Decor Hire. – Exclusive Hire. // Barmen and waiters from Corner Cafe. // Wedding Flowers: Josie of Fabulous Flowers // Bridal Bouquet Botanicus. // Hair and Make-up Erin Smylie