Heirloom Bridal Bouquets
Keepsake Bouquets
♥ ♥ ♥
Heirloom Bridal Keepsake Bouquets sure do stand out! Not only do they make unusual and everlasting wedding keepsakes, but they are also eco-friendly and ideal for those pollen-sensitive brides.
Vintage inspired or crafted from authentic vintage pieces, precious keepsakes and textured materials, each handmade bouquet is a one-of-a-kind creation that is perfect for you, your bridesmaids or clustered together to create striking reception décor for your wedding day.
As part of our weekly Wedding Trends Series, we share a collection of beautiful button, brooch and fabric bouquet ideas for you to marvel at! Enjoy! ♥ If this feature inspires you to purchase one of these beautiful items we'll get a small percentage of the sale for sharing them with you. Thank you so much for supporting our content! ♥
Whimsical Heirloom Button & Brooch Bouquet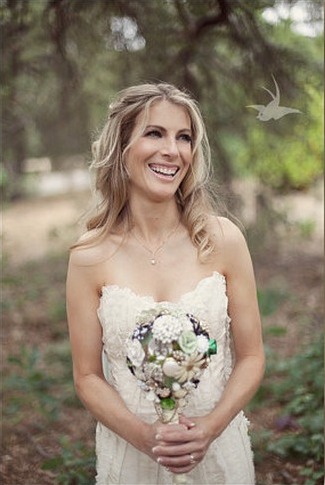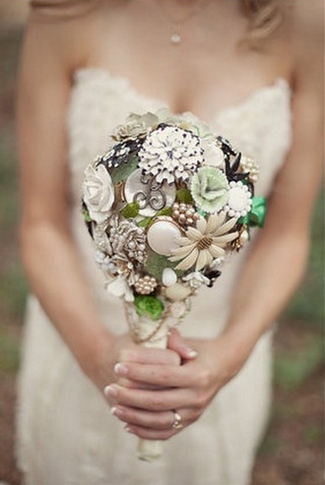 Available from:
The Ritzy Rose
  at $750.00 USD |
Photo by:
Amanda Doublin Photography
Unique to each bride-to-be, this custom-made modern jewellery heirloom bouquet is inspired by your wedding colours and can include an amazement of vintage floral and rhinestone brooches, comical touches of vintage here and there, and art deco pieces for a modern twist.
Happy Hydrangea Fabric Bouquet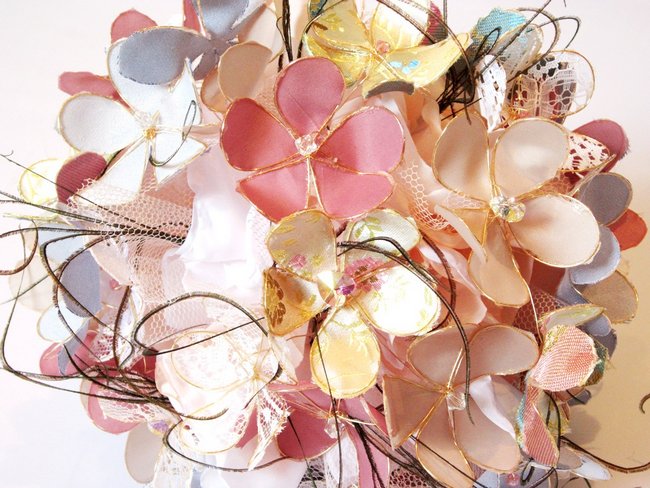 Available from:
Love Mimo
, UK at £95 GBP
Put a smile on your face with this handmade fabric flower wedding bouquet in happy hydrangea colours! With its cut-out flowers sewn and stitched together with delightful dashes of black feathery strips, it is a charming bouquet of flowers!
Pretty Peonies Heirloom Bouquet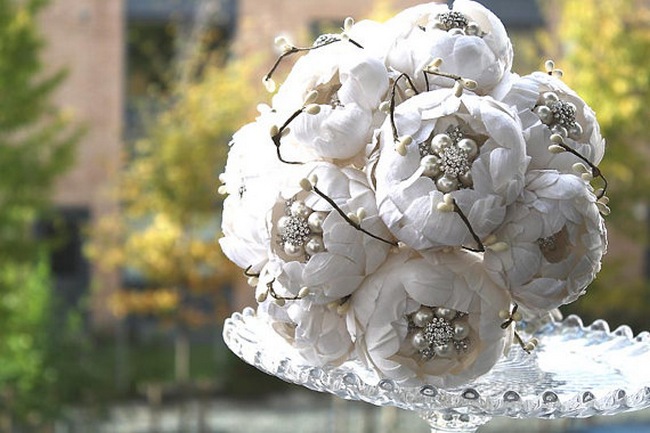 Available from: 
HairBows Wonderworld
 at £320.00 GBP
A plush handmade flower-style brooch bouquet with 100% silk dupioni peony flowers that are adorned with a rhinestone and pearl brooch or a crystal button in each flower's centre exudes elegance with its ivory berry twig stems all tied together with organza!
Beautiful Brooch Blossom Bouquet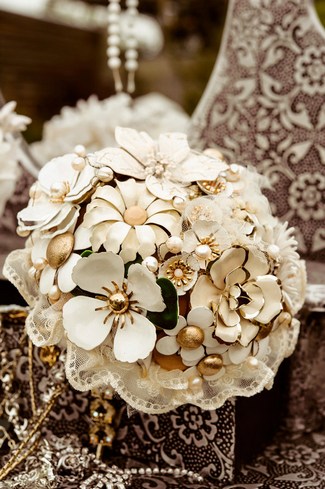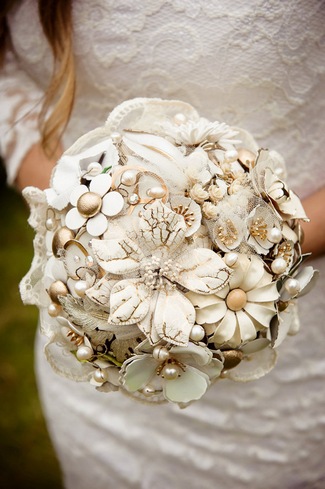 Available from: 
Hairbows Wonderworld
 at £436.00 GBP | 
Photo by:
Mick Cookson Photography
We adore this vintage wedding brooch bouquet with fresh water pearls and all shades of yummy cream and bold gold, carefully tucked into a little lace and tulle 'petitskirt'.
Floral Fabric & Brooch Bouquet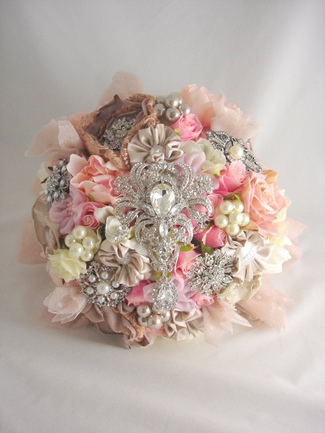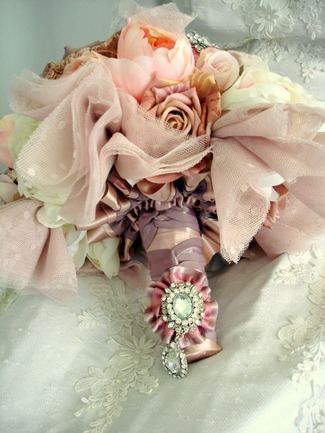 Available from:
Lillybuds Bouquets
, AUS at $455.00 AUD
Add a little pink romance to your bridal look with oodles of soft luscious flowers and sparkling brooches adorning this cottage glamour wedding bouquet arrangement.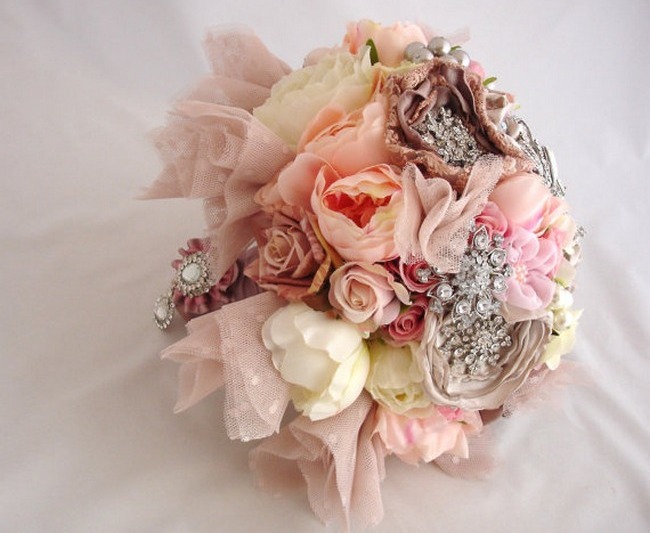 Fabric Fantasy Bouquet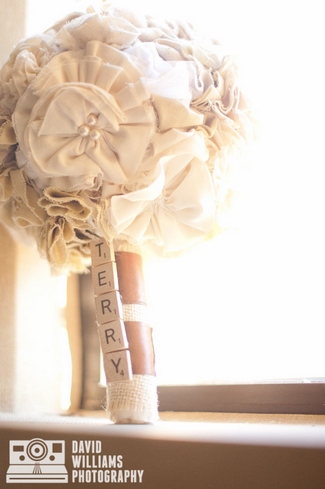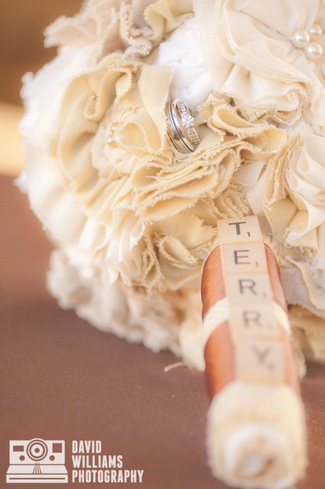 Available from:
The Peaces Collection
at $450.00 USD | 
Photo by:
David Williams Photography
Choose this undeniably unique and highly customisable fabric flower wedding bouquet with layers of sentimental textiles such as vintage hankies, lace, jewellery and trinkets to have a bouquet that you will love forever!
Vintage Romance Fabric Flower Bouquet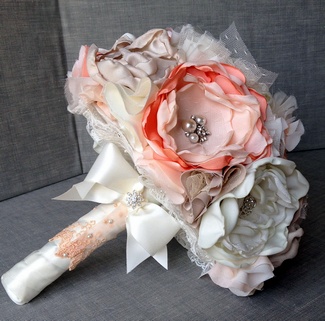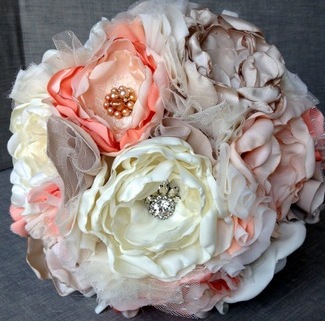 Available from:
 Metallic Bloom, US at $250.00 USD
A romantic and vintage-inspired peach, ivory and champagne fabric flower bouquet that is hand-dyed to match your wedding colours. This sweet bouquet will blow you away with its layers of satin, chiffon, lace, and tulle that are crafted into flowers and dressed up with hints of bling all held together with a satin-wrapped lace overlay handle.
Blue Button Bouquet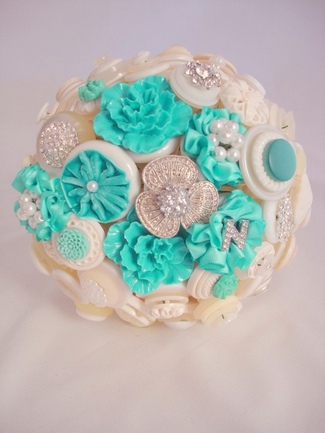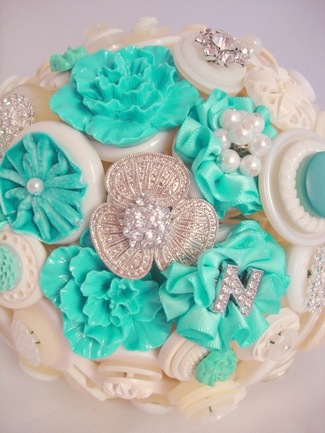 Available from:
Lillybuds Bouquets
, AUS at $295.00 AUD
A unique take on something blue, this arrangement of sweet Tiffany Blue buttons, ribbons, faux pearls, velvet pin wheels and Lucite flowers look exquisite nestled beside white and ivory vintage and diamanté buttons.
Treasure Trinket Brooch Bouquet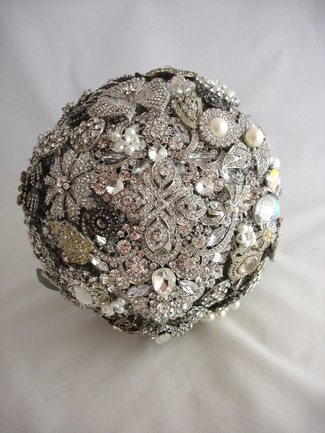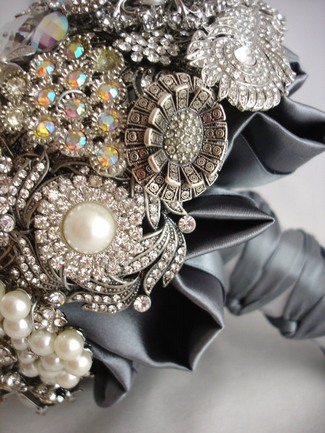 Available from:
Lillybuds Bouquets
, AUS at $595.00 AUD
Be glamorous with this lavish hand-wired silver and pearl wedding brooch bouquet with countless brooches, pins, buttons, and other trinkets, finished off with a generous lashing of plaited silver satin ribbon. What a treasure!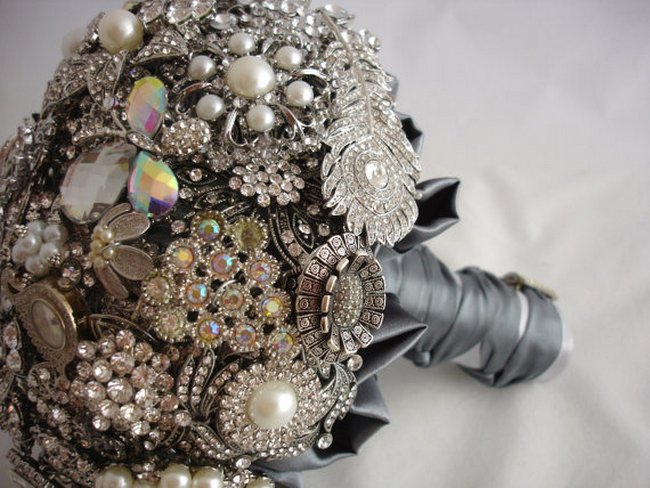 Bejewelled Bouquet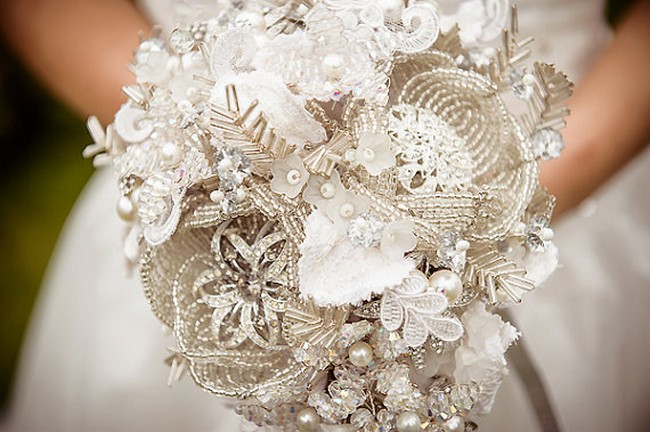 Available from:
 HairBows Wonderworld at £385.00 GBP
This teardrop beaded bridal brooch bouquet with crystal flowers, lace leaves and a vintage rhinestone brooch signed by Sarah Coventry will add a touch of silver magic to your wedding look.
How to Treasure Your Keepsake Bridal Bouquet
As a delightful and modern version of a bridal bouquet, these heirloom bouquets are created to last long after your wedding day is over, without wilting, discolouring or becoming brittle and breaking over the years. After the wedding festivities, you can display your beautiful bouquet as décor in your home, treasure it as a bridal heirloom by passing it down from generation to generation, select a few sentimental pieces as gifts for your bridesmaids, or you can take a much-loved piece and create a custom piece of jewellery from your bouquet.


For more of the latest trends and ideas, check out our weekly Wedding Trends Series.