Handwritten Jewelry Crafted from Actual Handwriting  ♥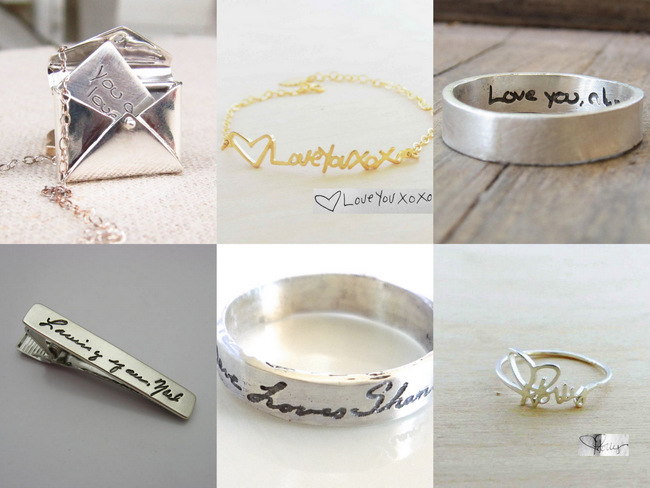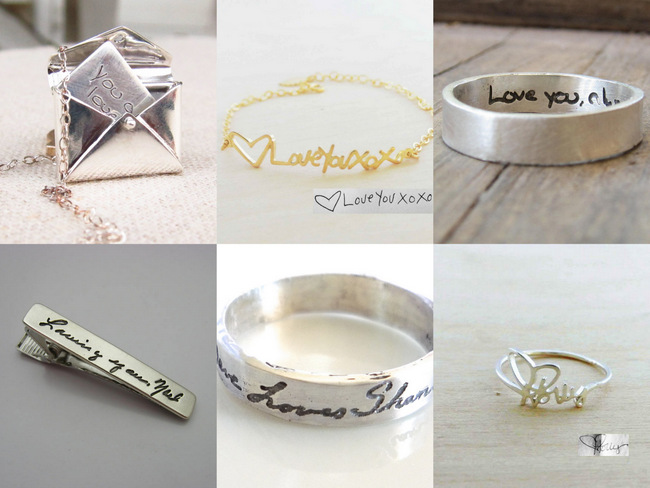 Oh handwritten jewelry, where have you been all my life?
I am always on the look out for meaningful ways to add a personal touch – for our readers, for my husband, for myself – and it really doesn't get much more personal than this!
Today's feature is filled with awesome one-of-a-kind jewelry pieces made using your actual handwriting – or even your husbands! I really love the idea of a pendant or ring bearing a handwritten name or note and think it would forever be loved and appreciated by your groom, bridesmaids or parents as an ultra special gift, too. Write something from the heart in your own handwriting, or take a picture of your bridesmaids names in their own handwriting and give to them as wedding thank-you presents – imagine the look on their face!
♥ If this feature inspires you to purchase one of these incredible handwritten gift ideas, we'll get a small percentage of the sale for sharing them with you. Thank you so much for supporting our content! ♥
Handwritten Jewelry Gift Ideas Using Actual Handwriting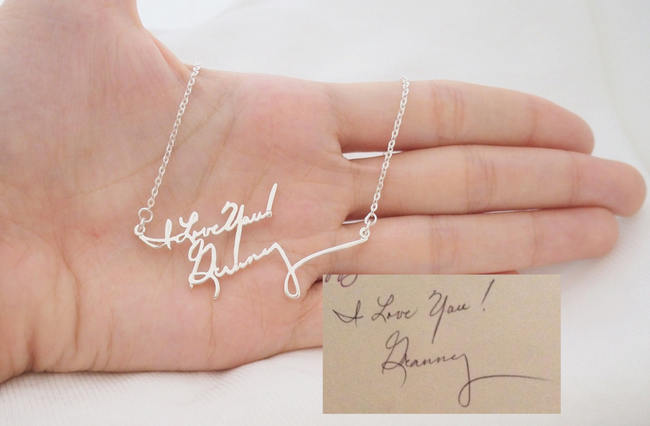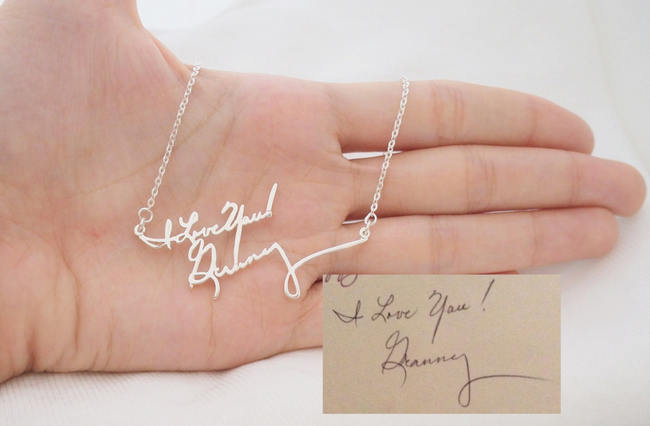 1. (Above) Signature Handwritten Necklace. Crafted by store Silver Handwriting, this handwritten necklace is created using a phrase written in your own handwriting. This is such an awesome gift idea for your maid of honour, mother or, (if you're a groom reading this) for the bride herself!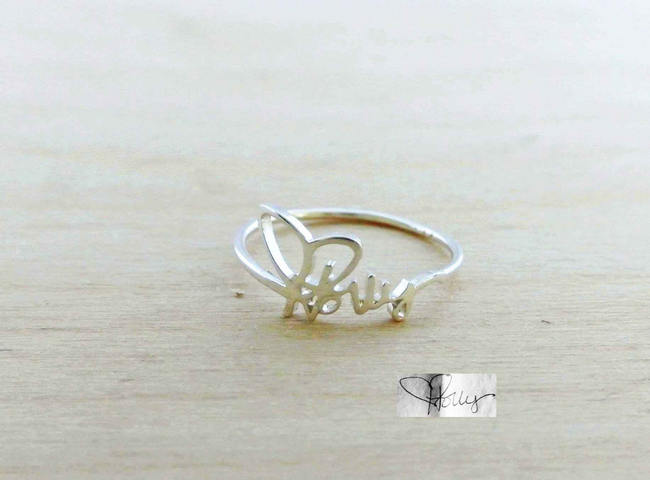 2. (Above) Personalized Signature Handwritten Ring. This cute handwritten ring is another great gift idea for your wedding party, or any of the women in your life – mom, sister, bestie. Imagine how much your bridesmaids would love receiving a handwritten ring each bearing their own name?! Yvonne Boutique can make it happen, and they ship worldwide, too. UPDATE: The handwriting ring pictured is sold out. We love this beautiful handwriting ring, too.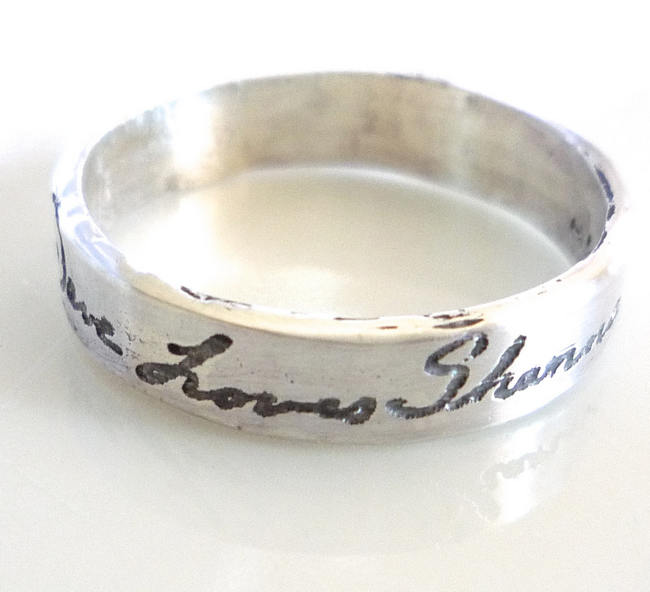 3. (Above) Handwriting Jewelry Ring. This rugged ring from KPepperJewelry could be one of the most awesome groom gift ideas I've come across yet. Let hubby keep a handwritten message with him at all times, inscribed with your names, wedding date or special words of love. UPDATE: The ring pictured is out of stock. Have a look at these gorgeous  mens handwriting ring options.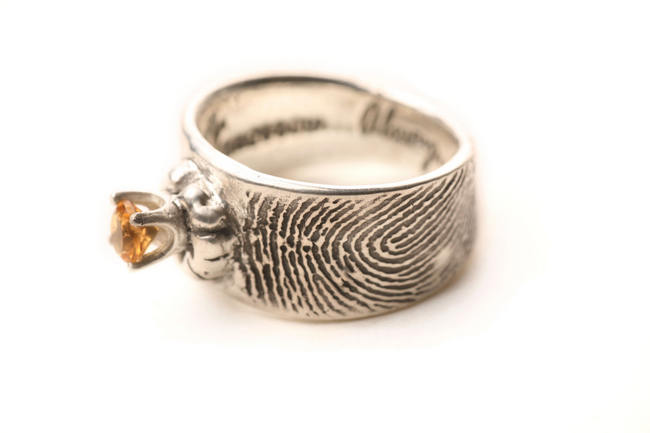 4. (Above) Custom Made Fingerprint-style Wedding Ring: This stunning golden topaz  fingerprint ring in Sterling silver from Thats My Impression is custom made on order. Bold and sturdy this ring is an amazing wedding ring idea!  On the inside of the ring there's a secret inscription to his lover "Today…Tomorrow…Always…A bond unbroken."
CHECK OUT MORE FINGERPRINT RINGS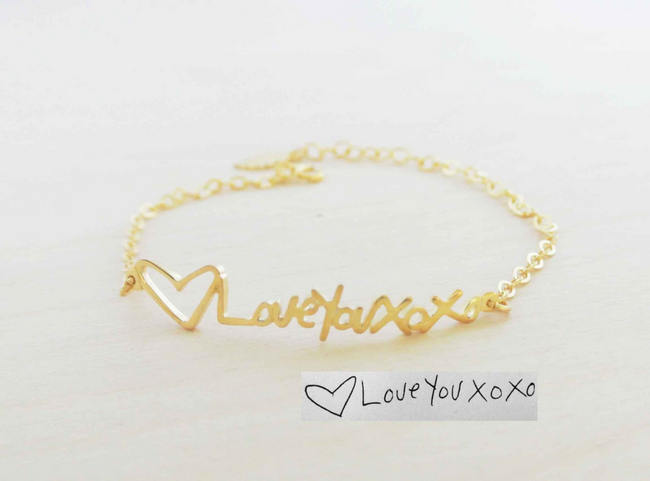 5. (Above) Handwritten, Signature Bracelet: Yvonne Boutique brings us this handwritten bracelet that can contain the signature of a loved one, or a super special message to always be cherished. Check out more handwriting signarture bracelet designs here.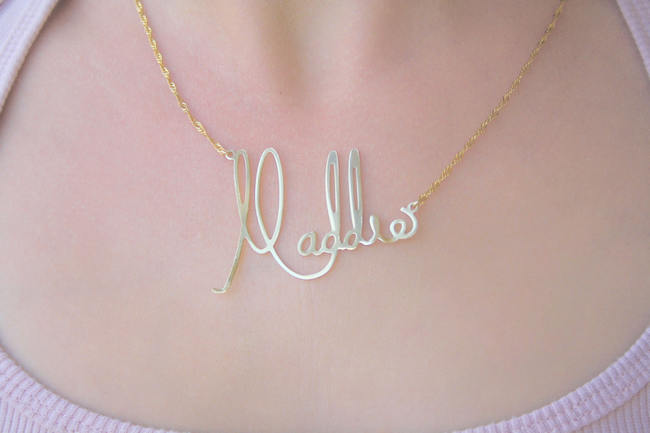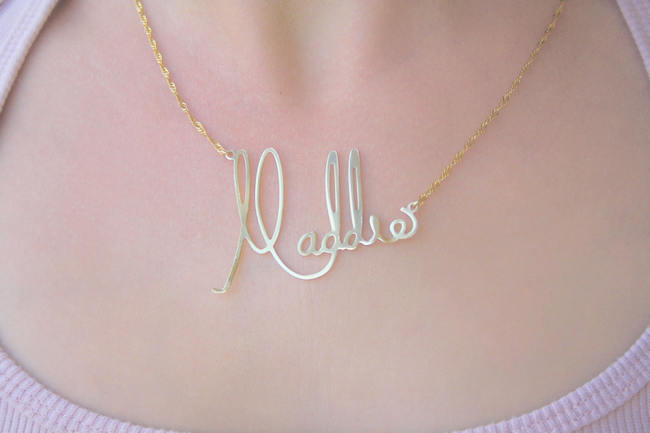 6. (Above) Signature / Handwritten Name Necklace: Have your groom write your name in his own handwriting and Personal Monogram will create a delicate pendant in Sterling silver or gold fill to keep his handwriting close to your heart.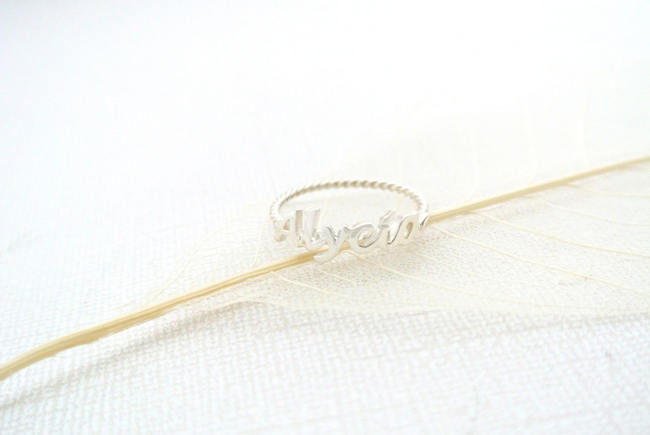 7. (Above) Personalized Name Ring: Another variation on the personalized name ring theme. With a twisted band, this creation from the Silver Handwriting store is also 100% handcrafted and makes a  meaningful gift for yourself, loved ones, or your friends for any occasion.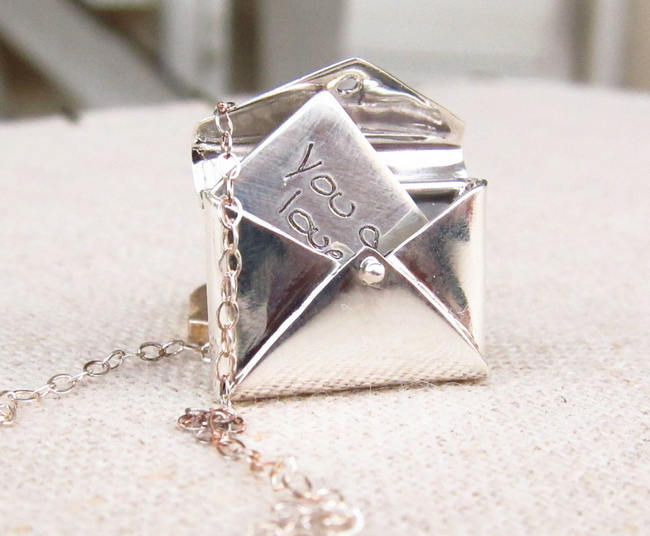 8. (Above) Love Letter Locket with Handwritten Note: This custom locket includes a special note just for a loved one to wear around their neck! Seriously, how darling!? Get it here from Emily J Design.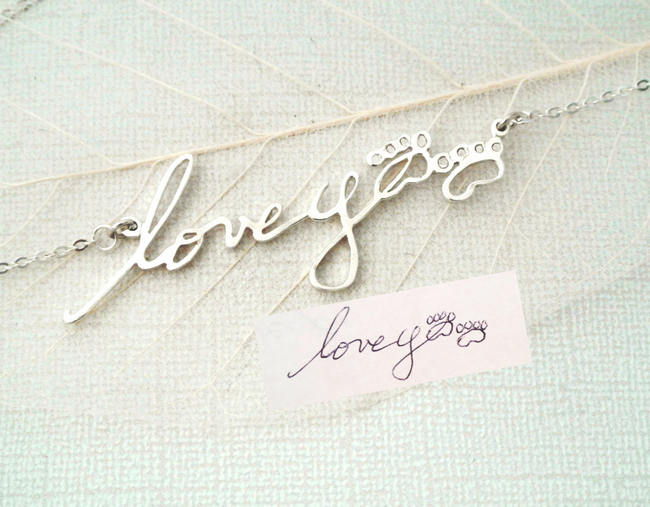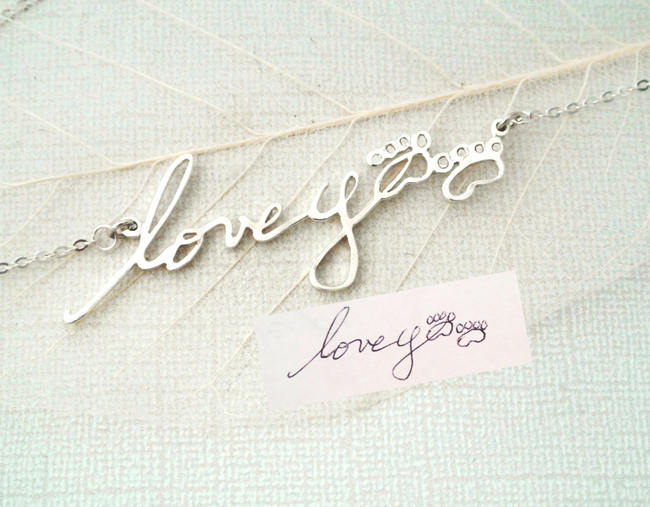 9. (Above) Keepsake Handwriting Necklace: What I love about this little piece are the super sweet paw prints! Available from the Silver Handwriting store in Sterling silver, gold plated or white gold plated. Take a peek here.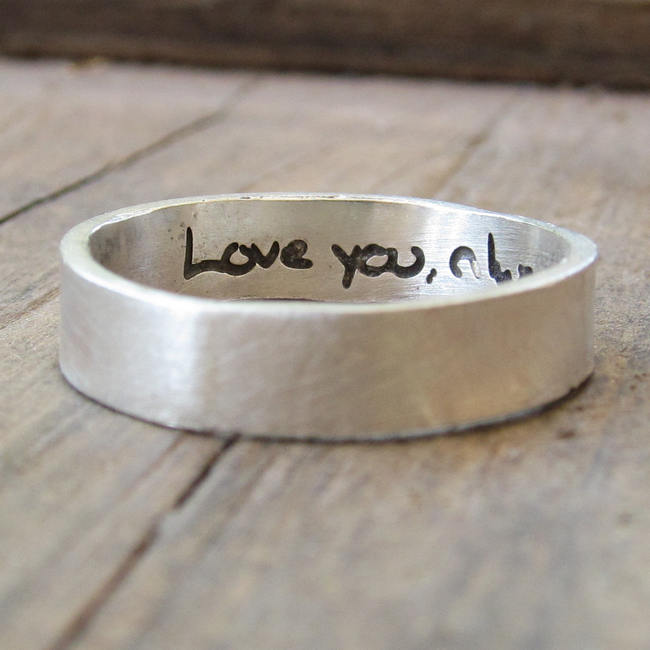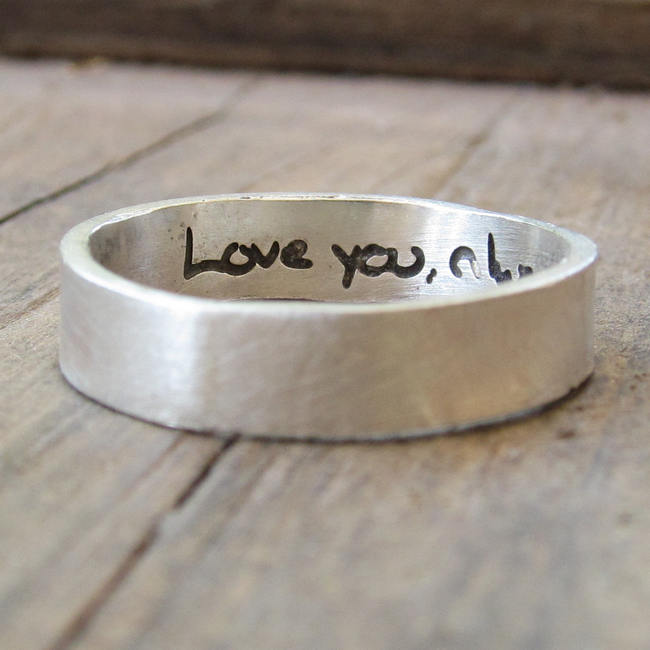 10. (Above) Engraved Handwriting Wedding Ring: Give this to your groom as his wedding band and have your handwritten note engraved in the interior, exterior (or both!) Available from Emily J Design.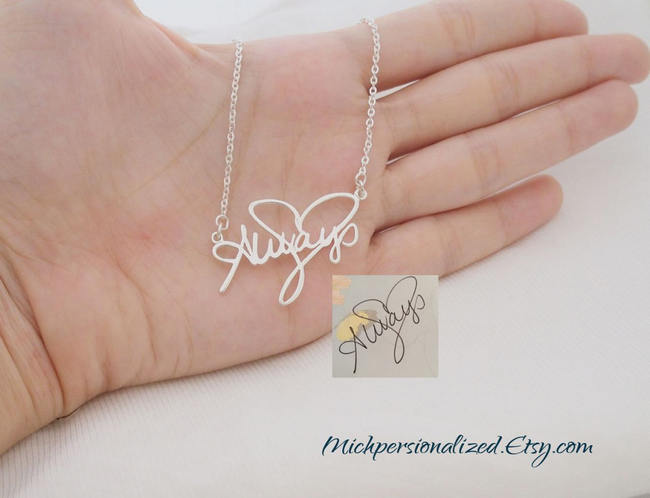 11. (Above) Personalized Signature Necklace: Mich Personalized takes your choice of handwritten phrase, name or signature and turns it into a pretty piece to wear around your neck, always.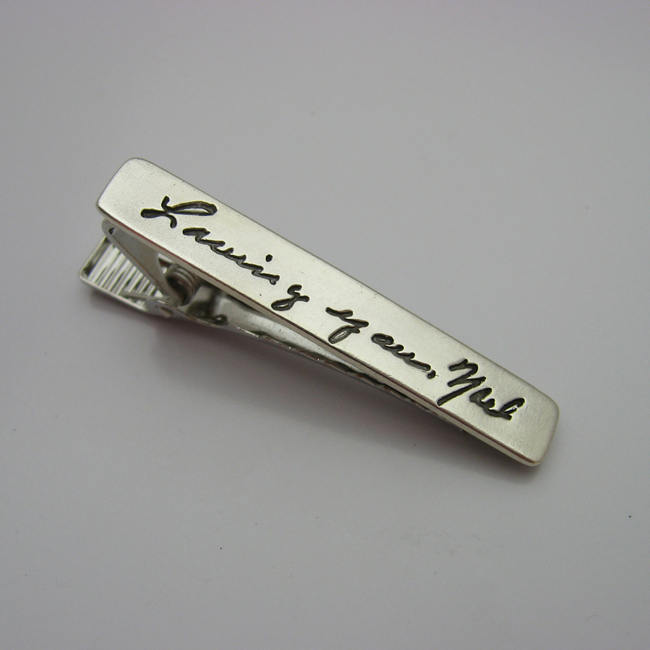 12. (Above) Handwriting Jewelry Silver Tie Clip:  This lovely silver tie clip from A Timless Impression is completely personalized with your handwriting and is an ideal wedding thank you gift for dad, brother in law or even the groom himself.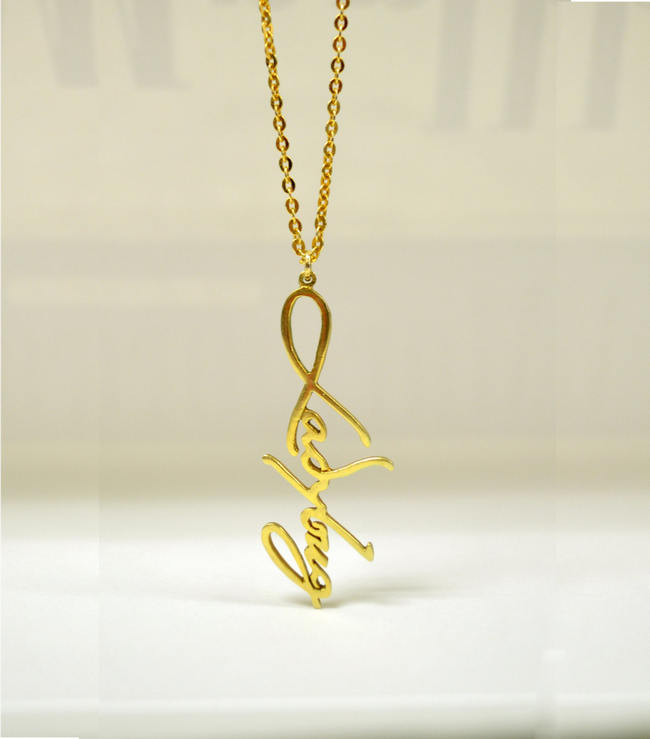 13. (Above) Vertical Personalized Name Necklace:  If you'd prefer a beautiful script, handwritten-style font, this handmade vertical name necklace can be designed from scratch using any font in any language. The pictured pendant, available from Big E Jewelry, is no longer in stock. Check out this beautiful vertical handwriting pendant design here.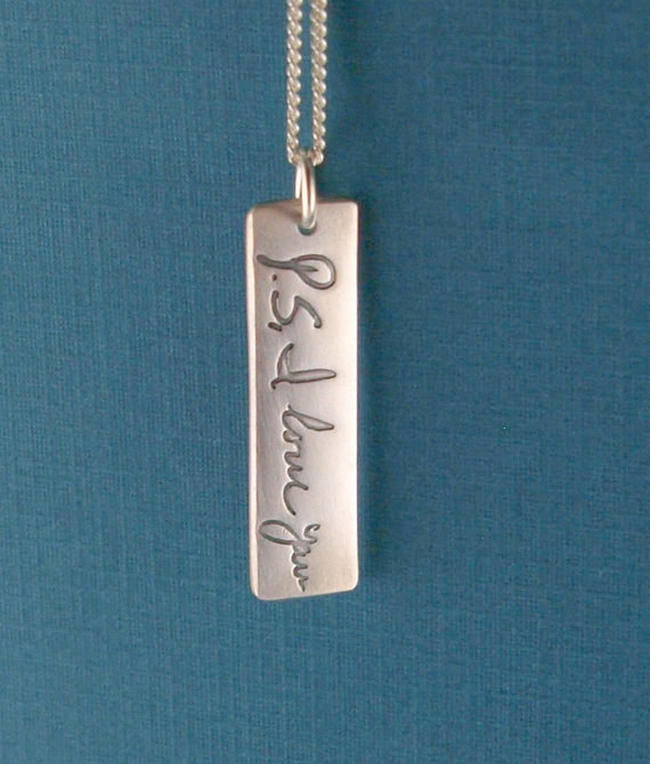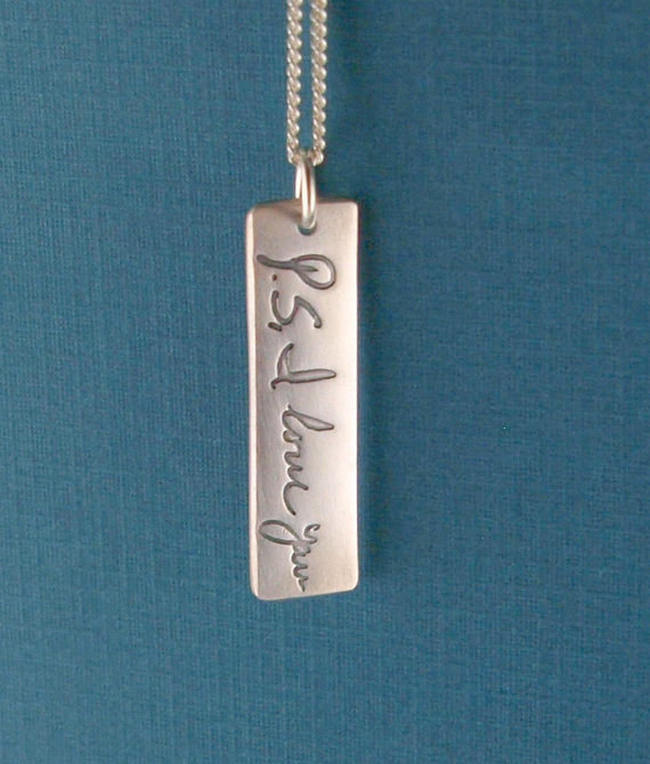 14. (Above) Vertical Handwritten Jewelry Pendant:  Write a short message to your fiance, husband, mother, sister or friend and the folks at Silvermoon Jewelry will transfer it onto a handcrafted fine silver pendant.  You might also love these handwriting pendants, too.
If you're on the hunt for cute and quirky ways to add a personal touch to your wedding day, you might just love these 14 Fun & Sweet Wedding Cuff Link Ideas for Groom, Dad & Groomsmen, too!