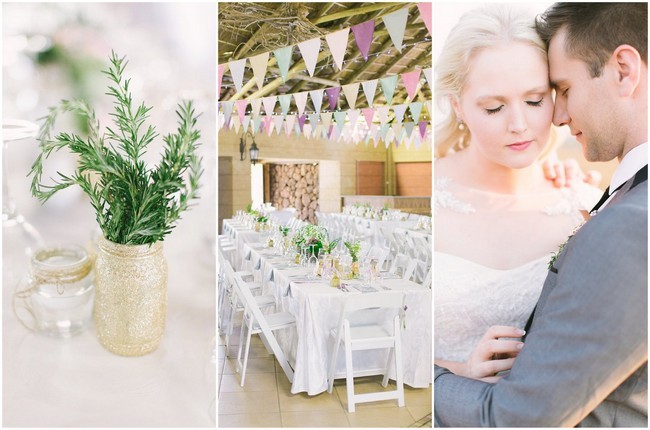 Today's beautifully handmade wedding, captured by talented fine art wedding photographer, Geneviève Fundaro, is full of pretty pink and sparkly things -just about everything I love about weddings! Ewan and his gorgeously creative bride, Rosemary, were married in the Spring at Mooiplaatsie in Pretoria. Rosemary wanted something simple and handmade: "I made practically everything myself with the idea to keep the decor afterwards as memories and to decorate my home."
Rosemary wanted to incorporate both glittering and bird-themed details into their color palette of crisp greens, girly pinks, lavender purples and gold. She began with a vision for their farm-style reception tables: "I wanted the festivity of long tables with wimbledon chairs, clean white tablecloths and pops of colour. We had flower arrangements of various flowers, sizes and shapes running down the tables." Rosemary sprayed jars with glue, and rolled them in gold glitter. "Some I tied ribbons around, others lace. Nothing was styled the same." There were ceramic birds on tables, and gold candles all over.
The couple had fairy light draping across the ceiling, with bunting flags in between. "The bunting I made 200m myself, in different colours and patterns. My mother made the napkins. We went to a fabric store and looked around the upholstery department. I found a range of fabrics that were in the sample colours, with different designs in mint green. One was floral, the other had stripes on and the last one had Afrikaans words on. So I made a variety of them, laying them out on the tables instead of place mats. I am so glad that I did this, I have such beautiful serviettes in my home now." Rosemary was able to package them up as gifts afterwards for all the lovely hands that helped on the day.
Rosemary was especially impressed by the service provided by Mooiplaastie. "They are a fantastic venue! They go the extra mile to make everything perfect. My cake fell on the day and I didnt even know, they didnt bother me once with the logistics, allowing me to have a stress free day!"
"The day was perfect," recalls Rosemary. "Everything flowed so easily and we could really enjoy every moment. The ceremony was beautiful, we stood in front of a dam and there was the calming sound of running water and worship music in the air. The Lord's presence was so tangible. And afterwards, the reception was great fun. We ate amazing food, had our first dance (after many hours of dance classes that paid off) and socialize with our guests. Nothing was rushed. I had planned every detail of the day was perfectly. It really pays off to plan!"
Handmade Pink Gold Glitter Wedding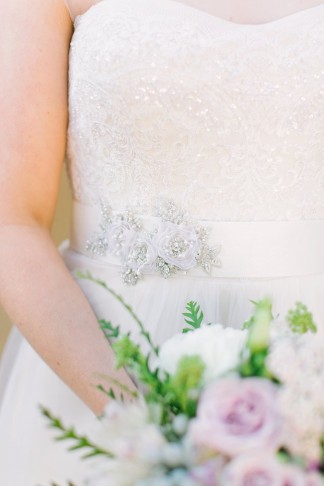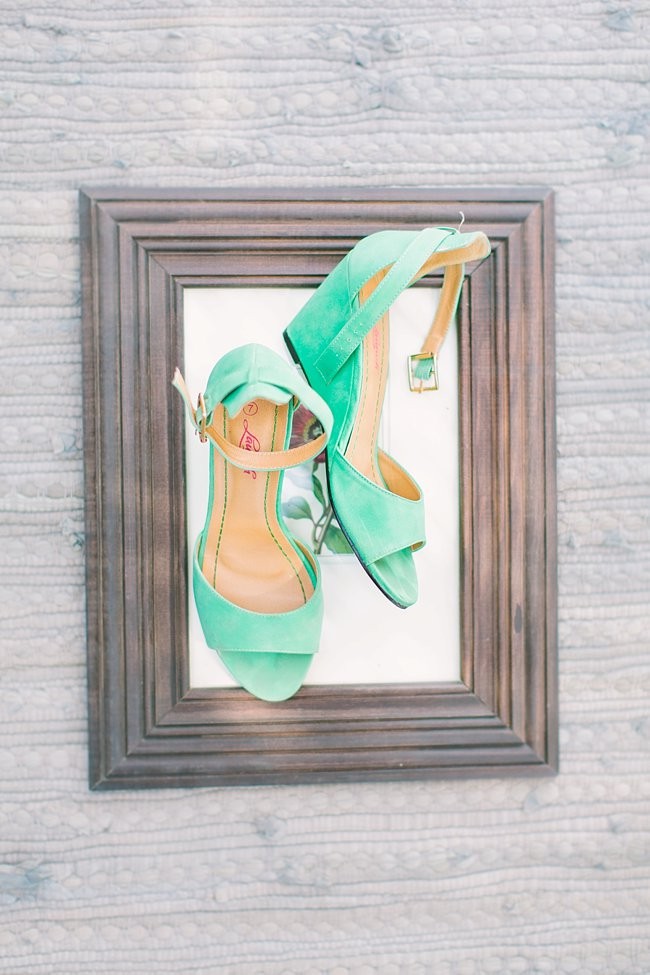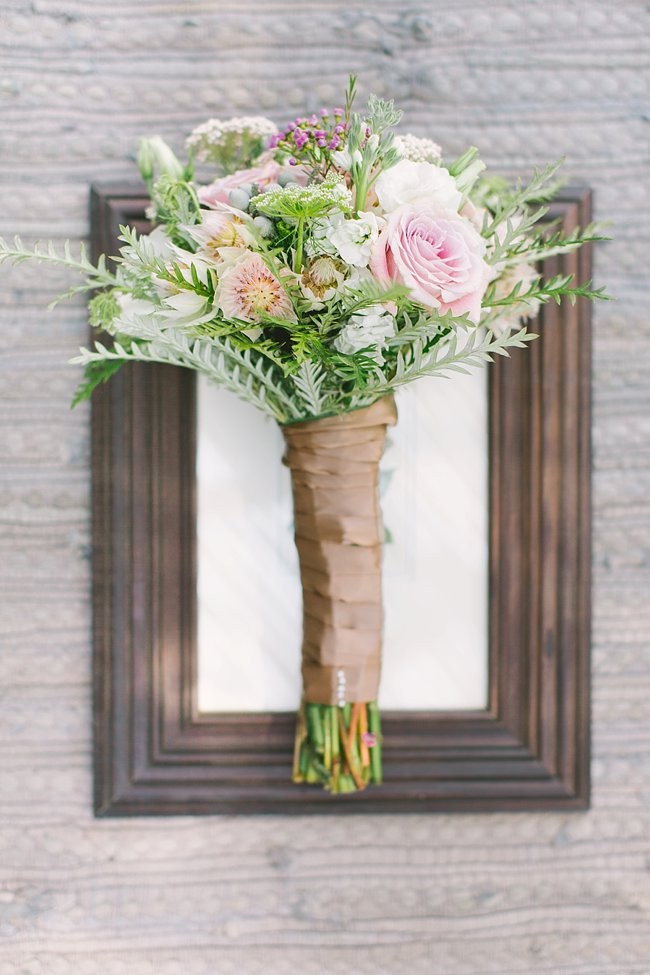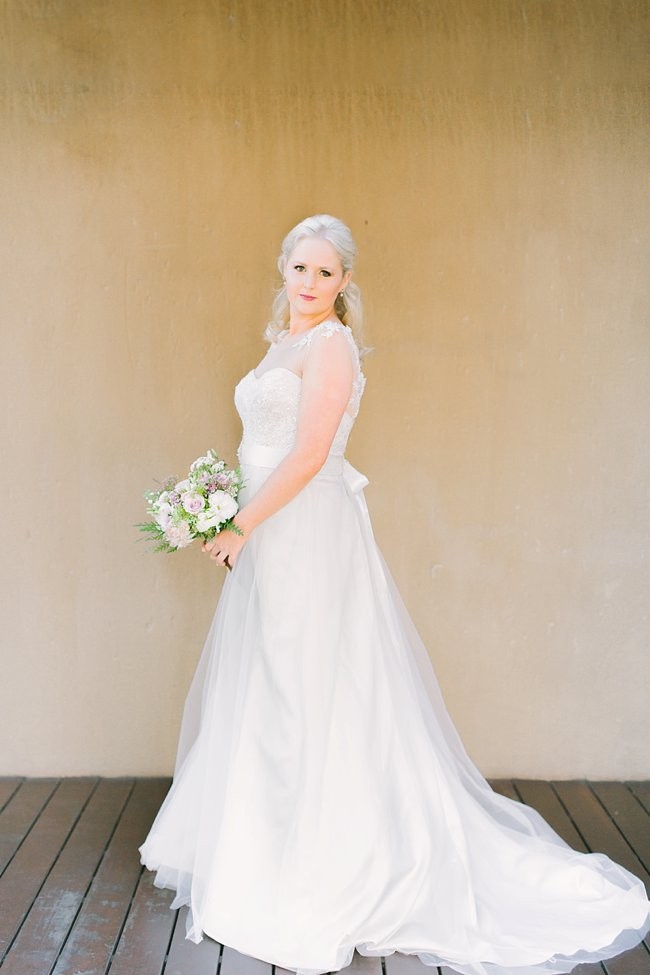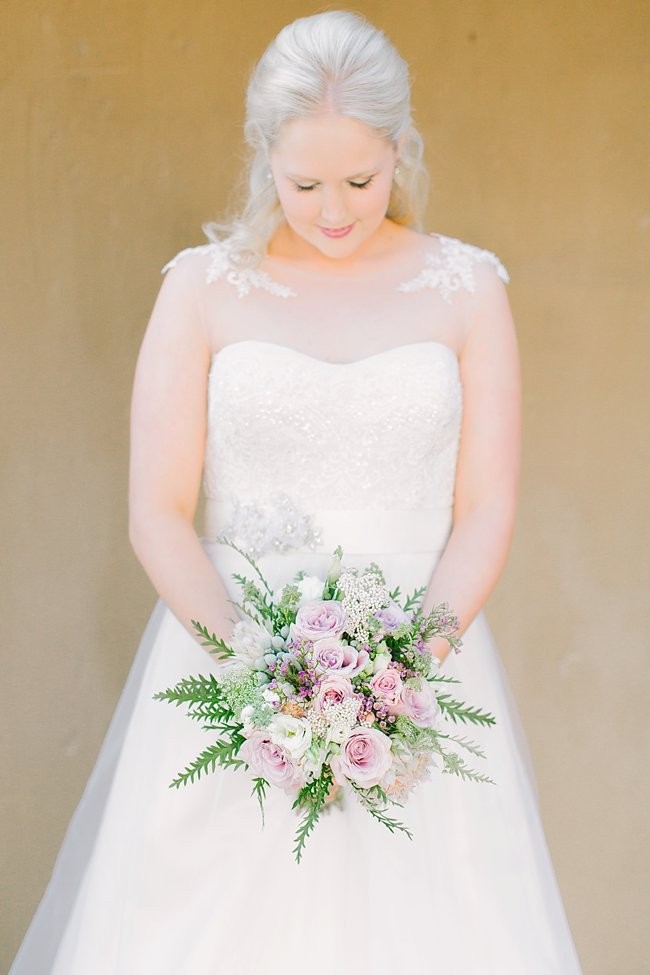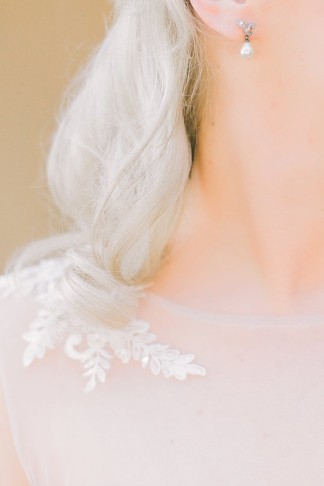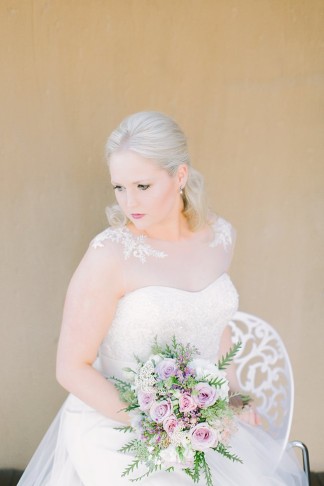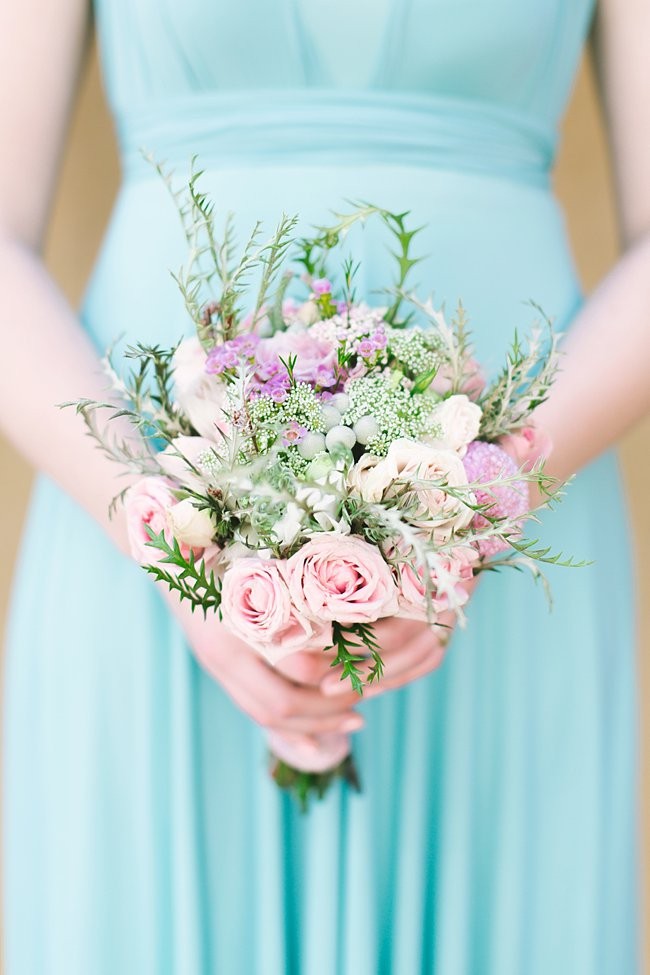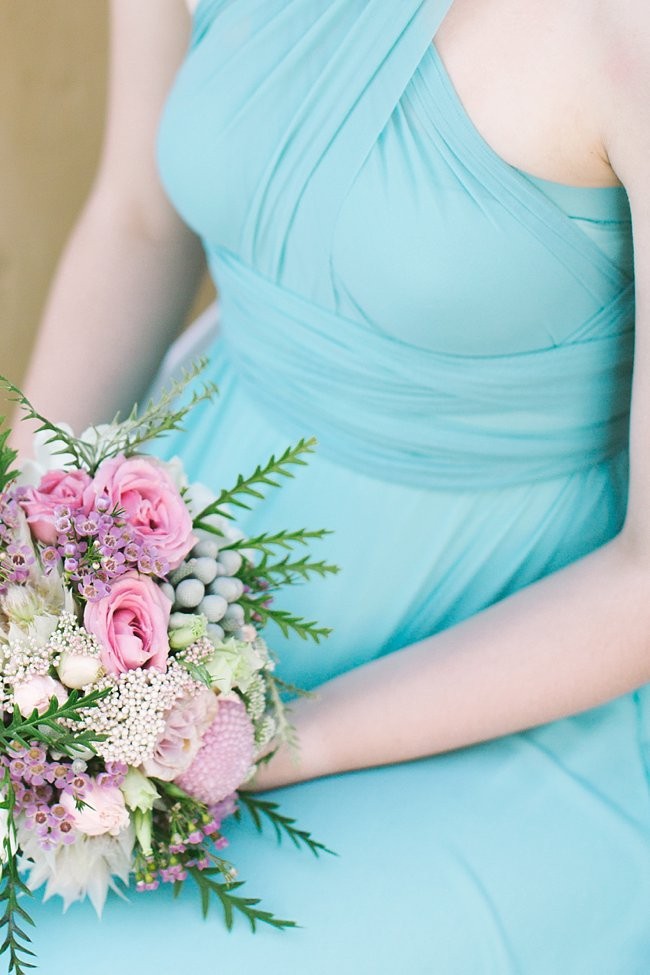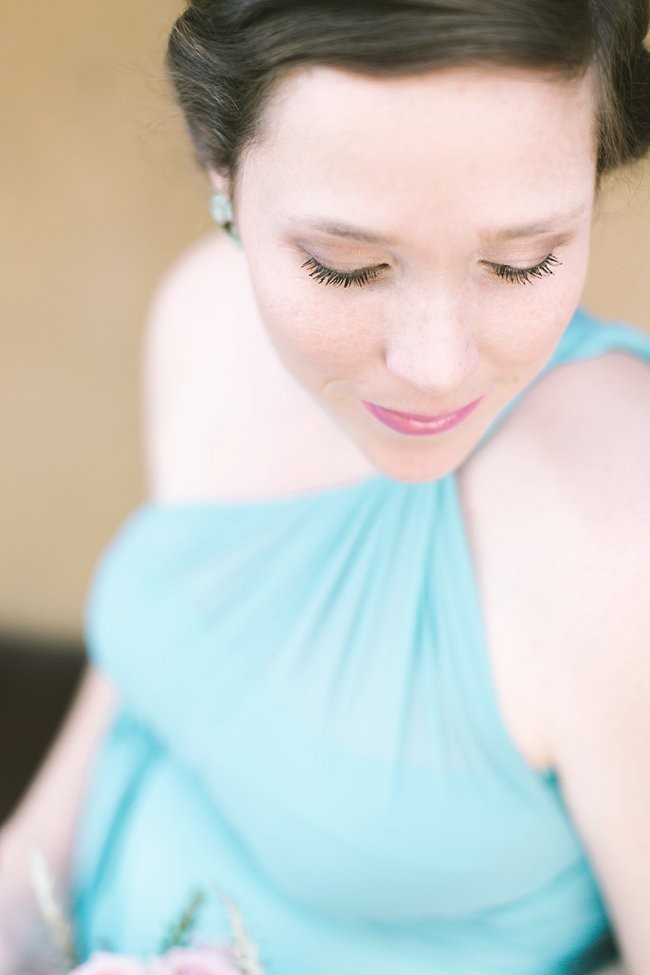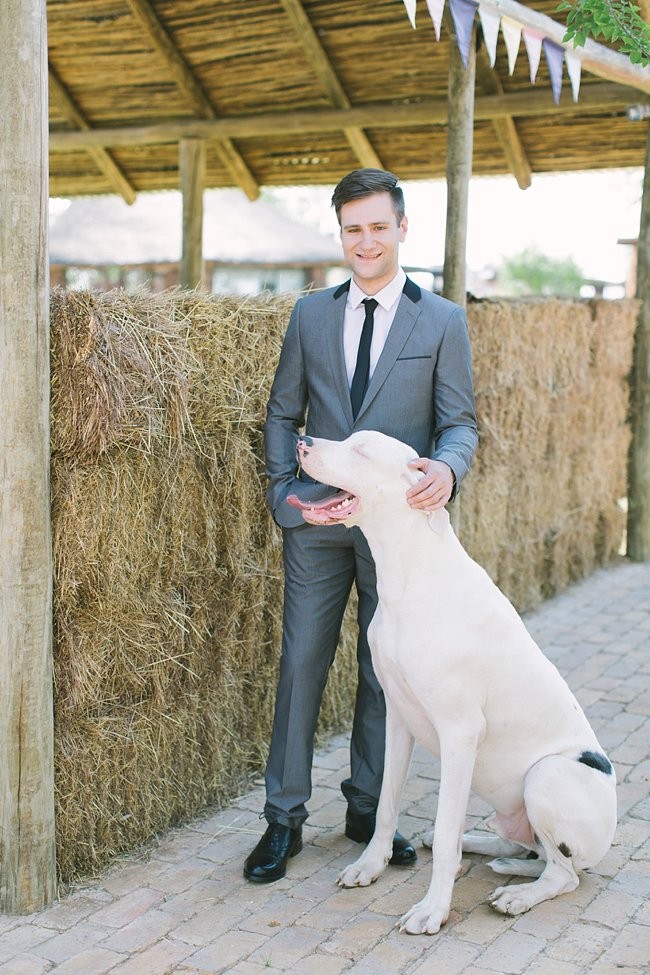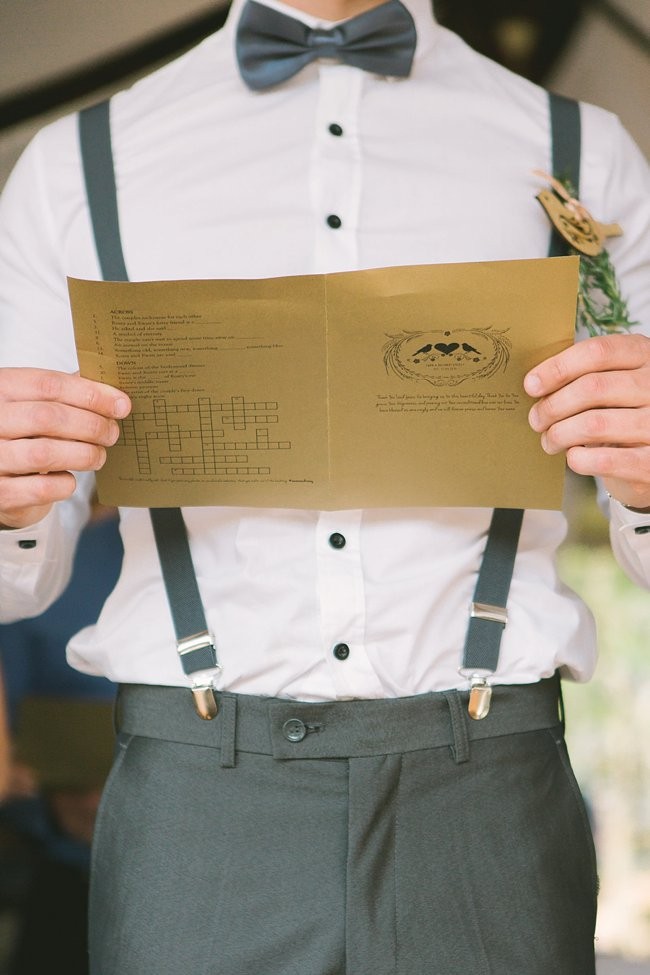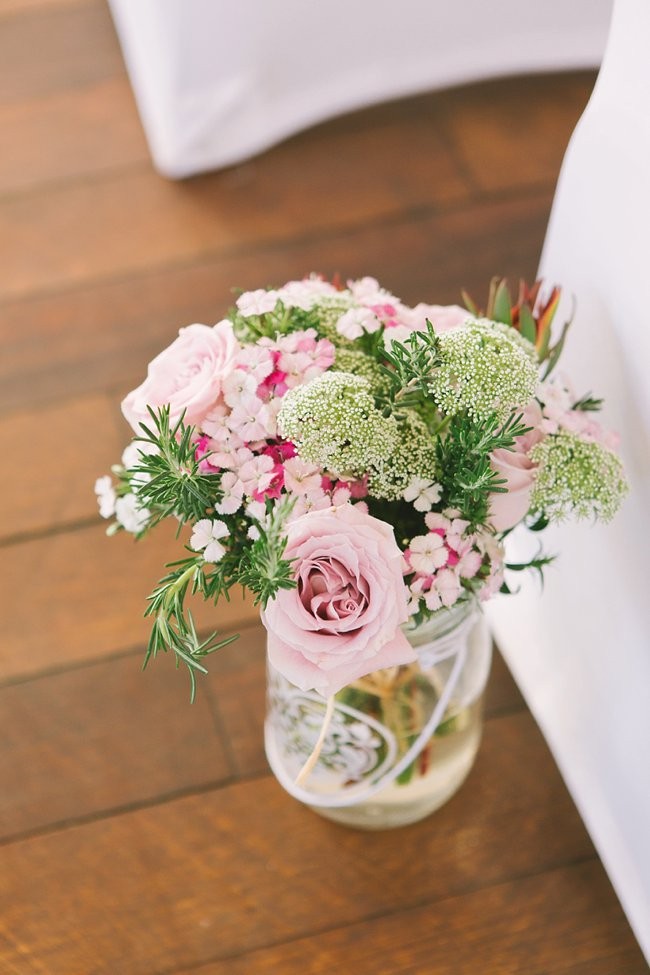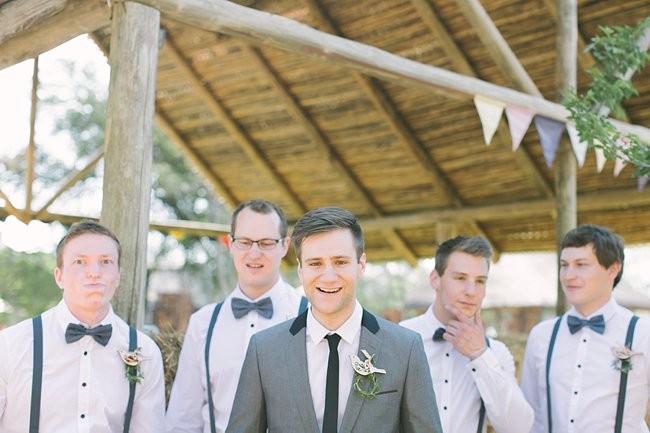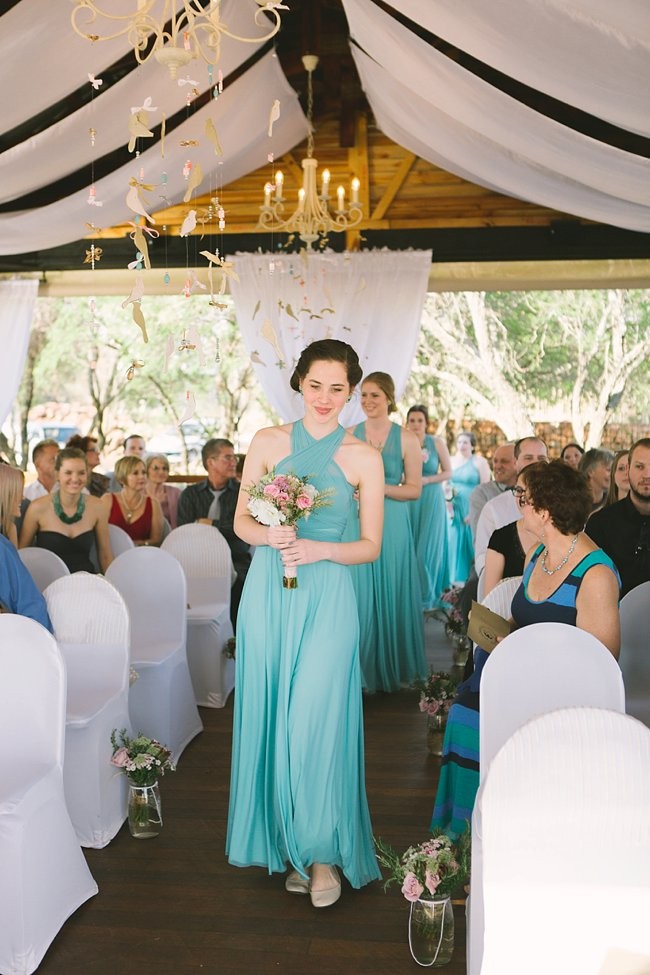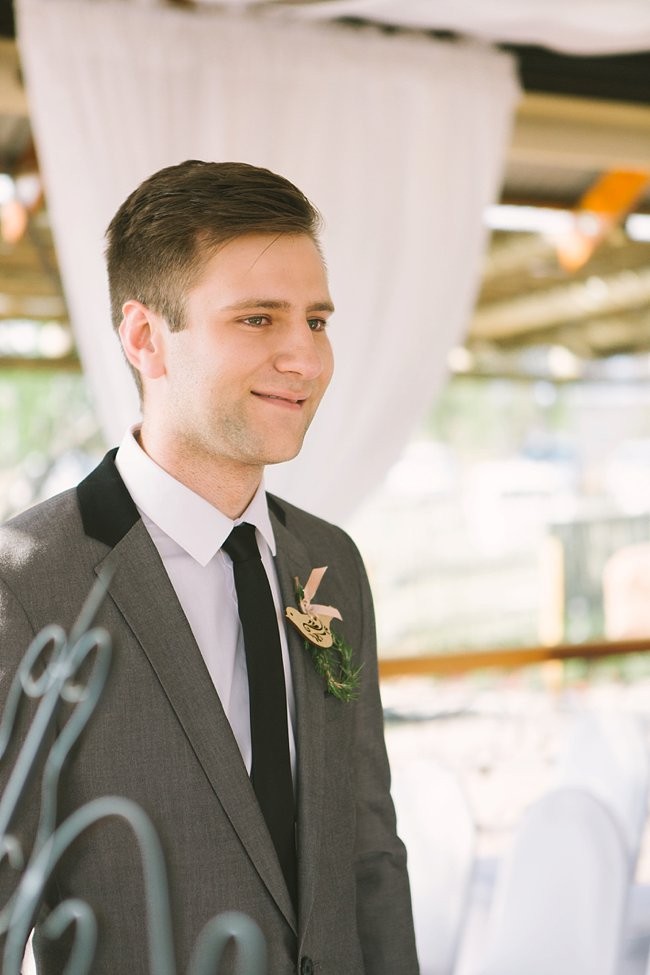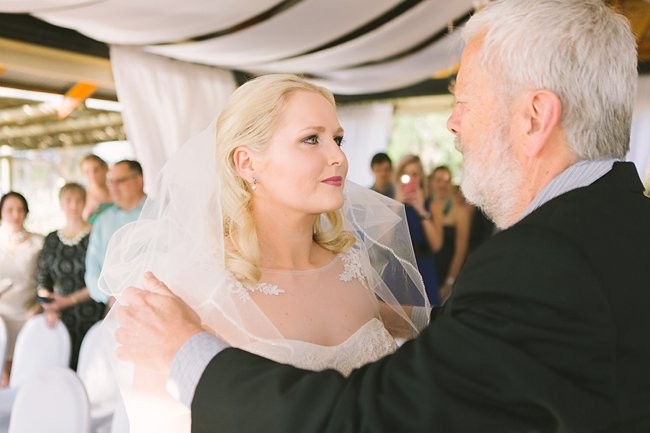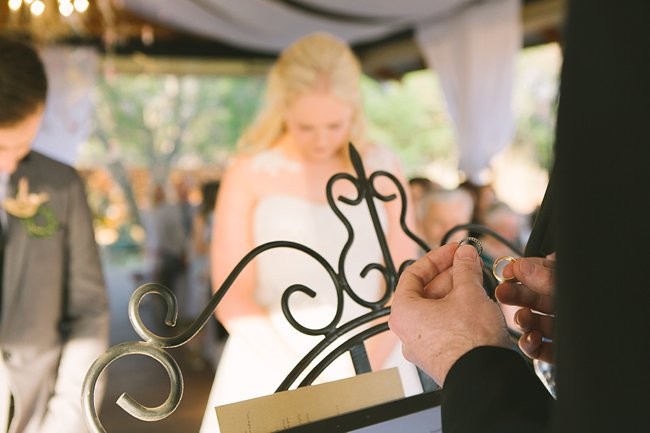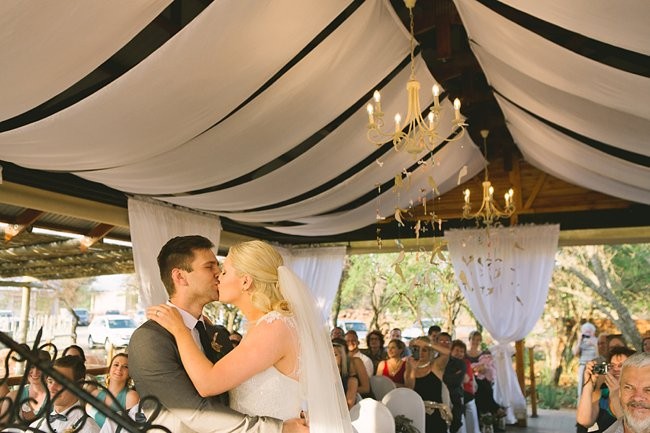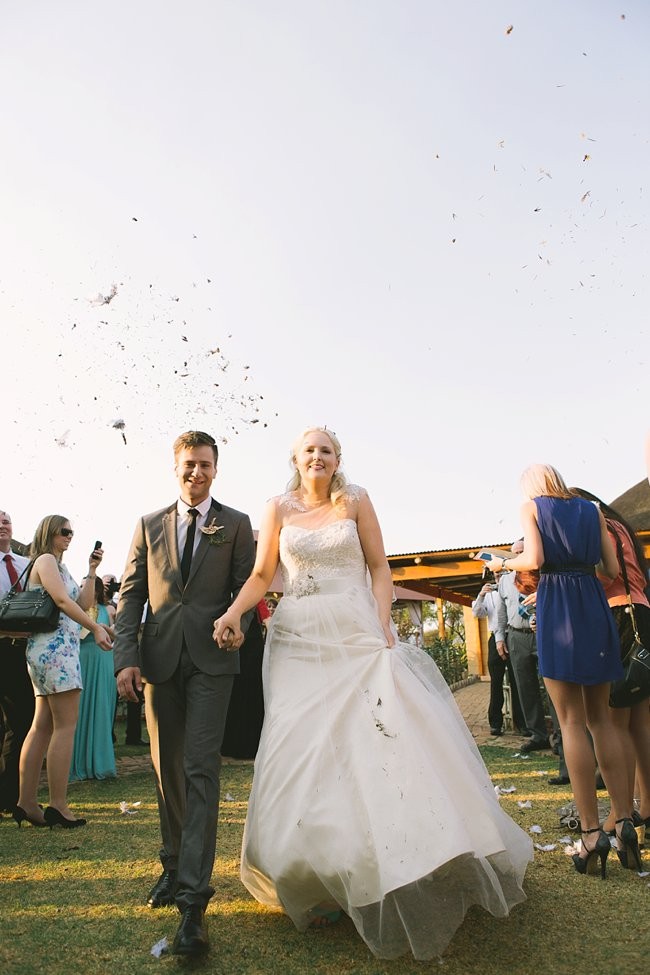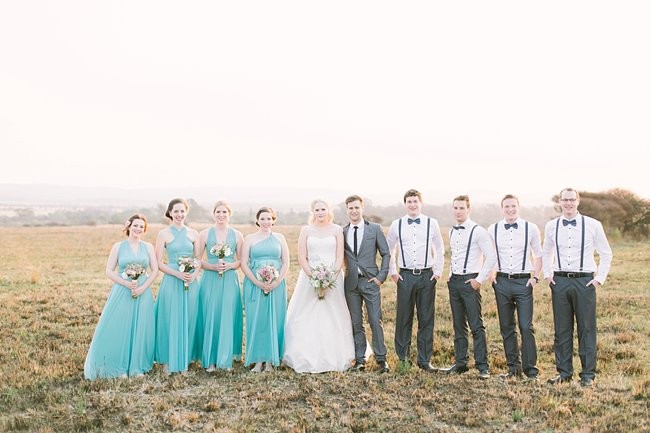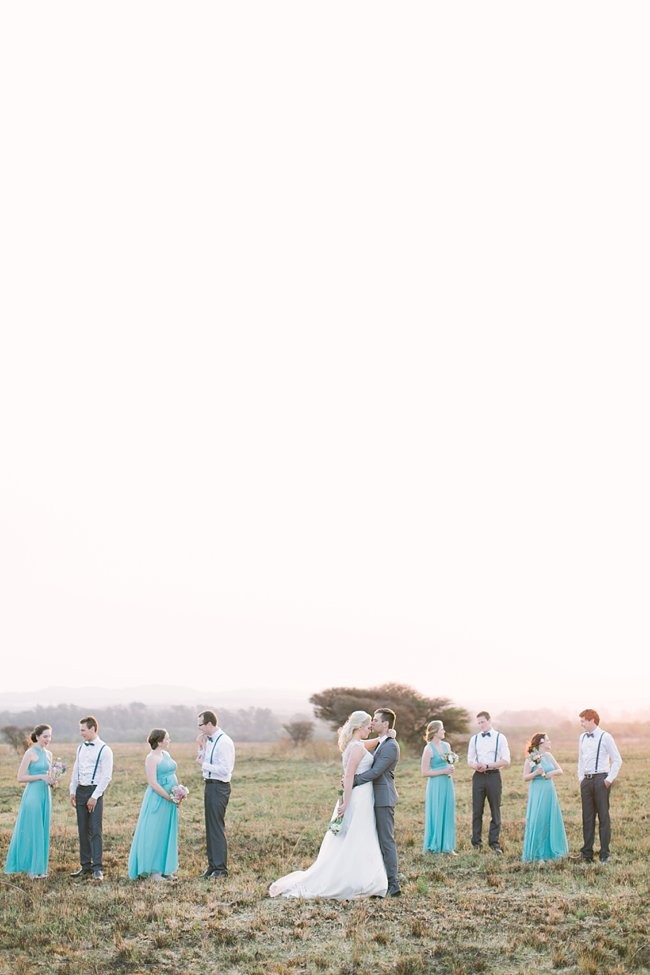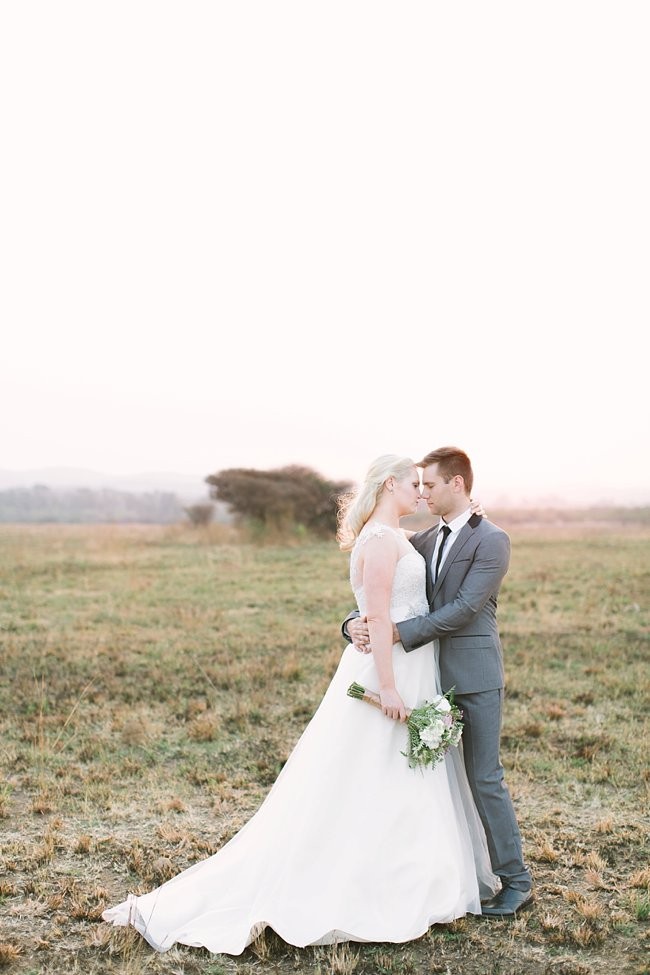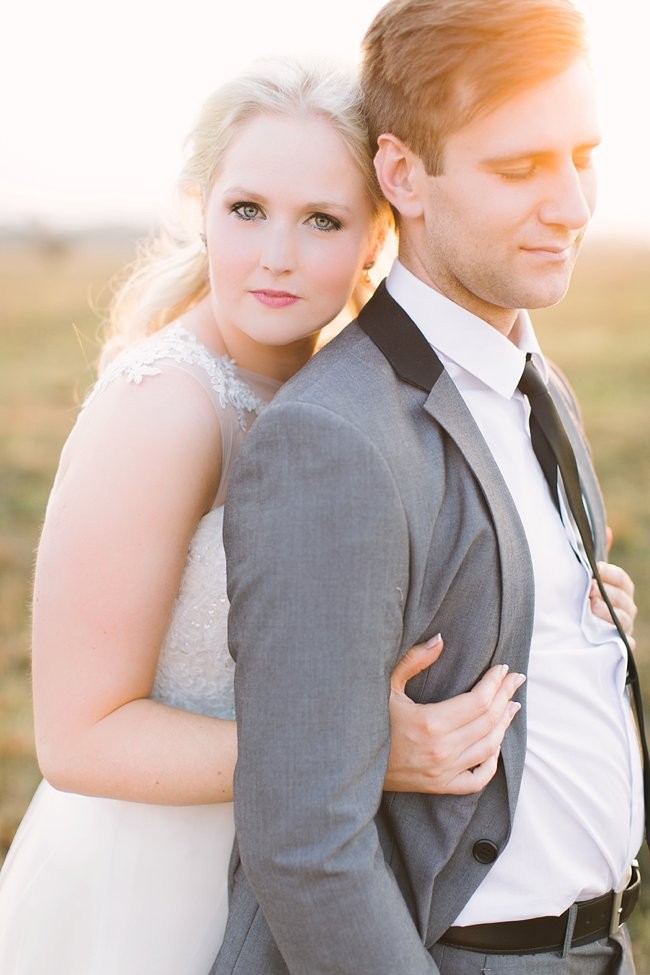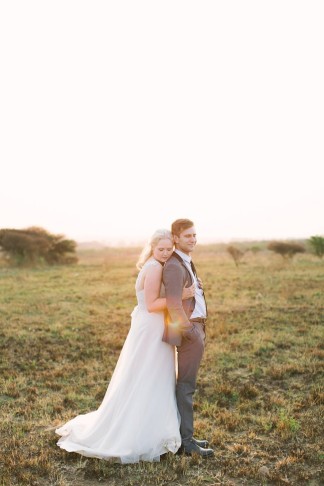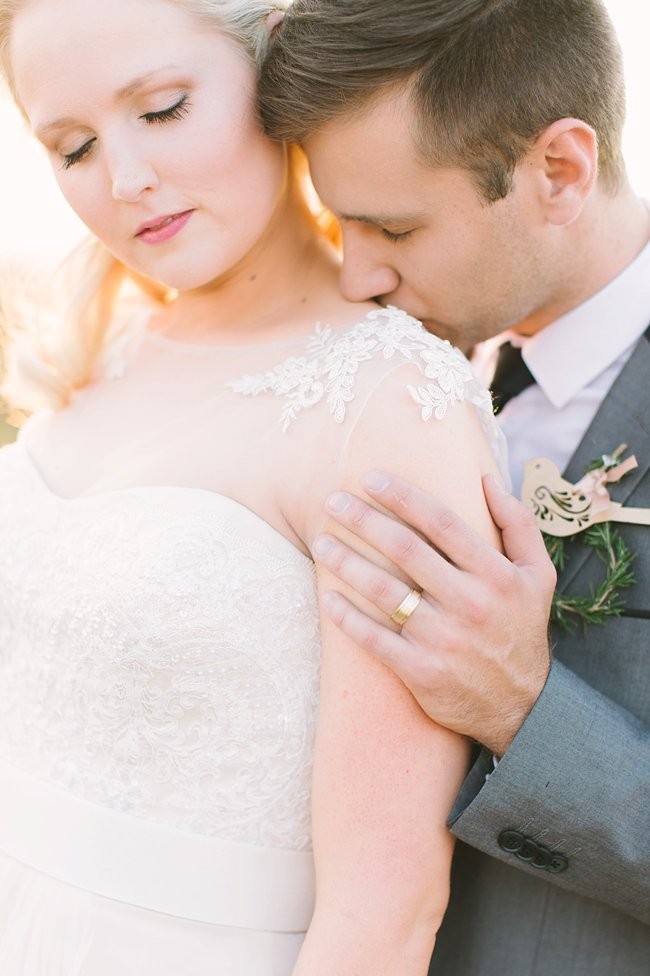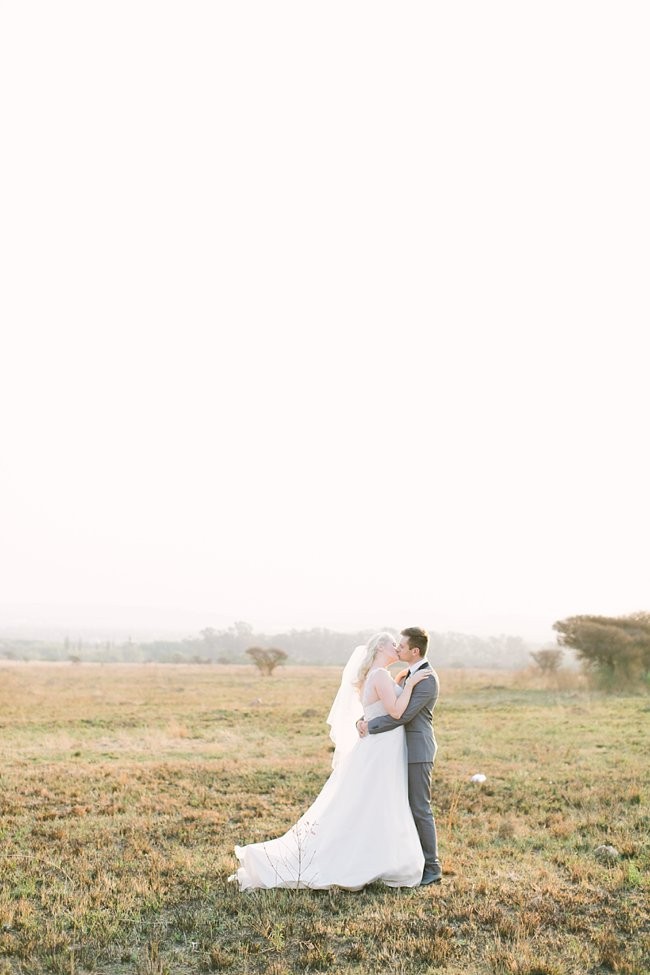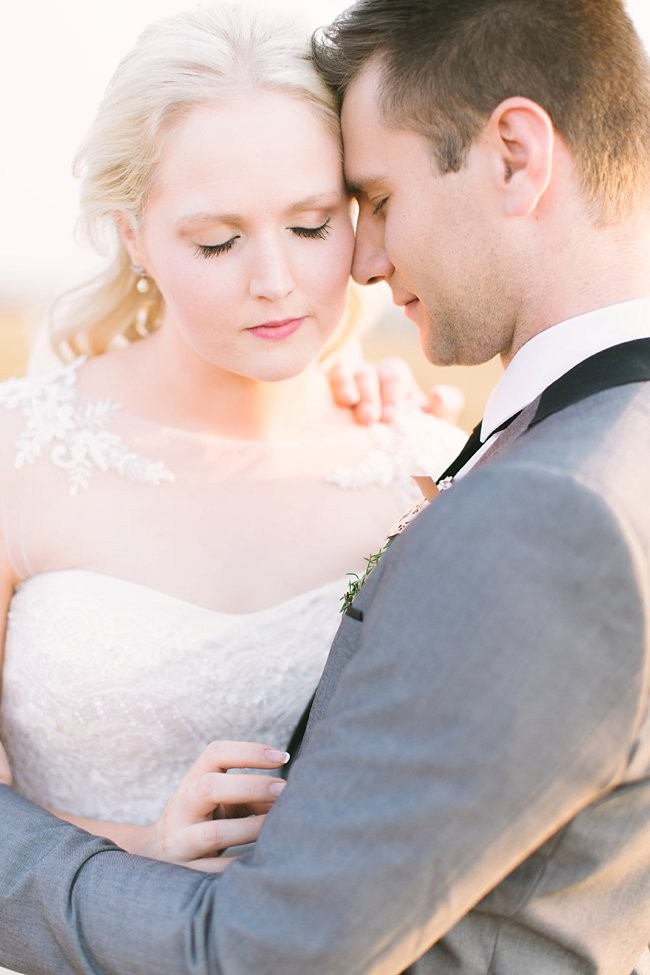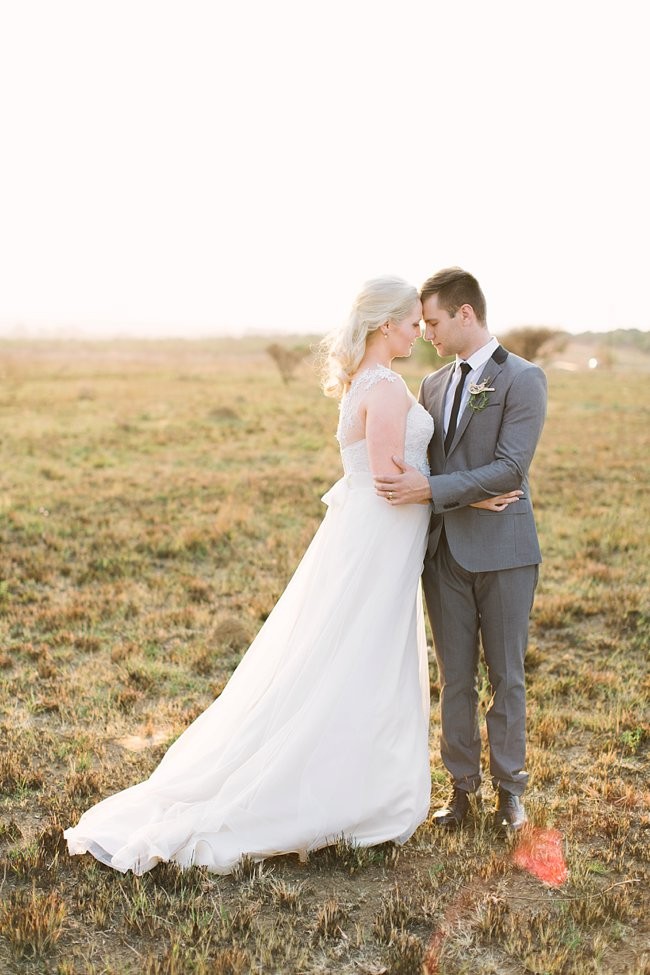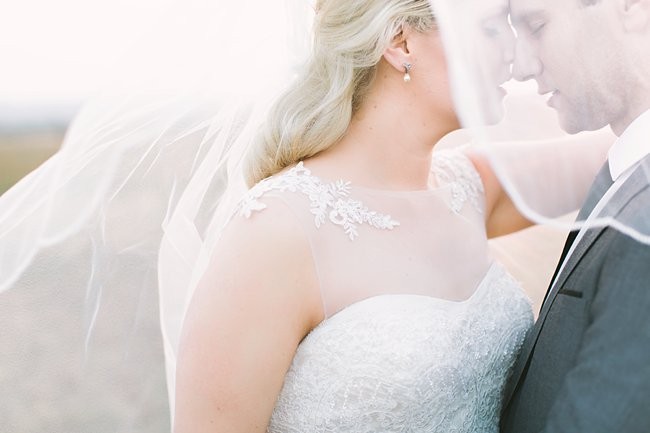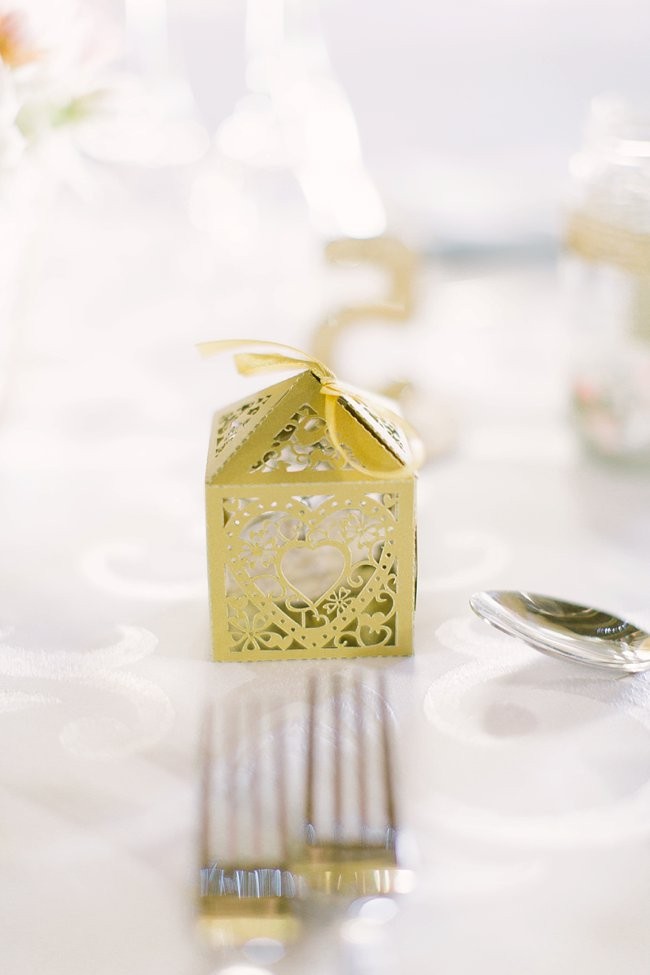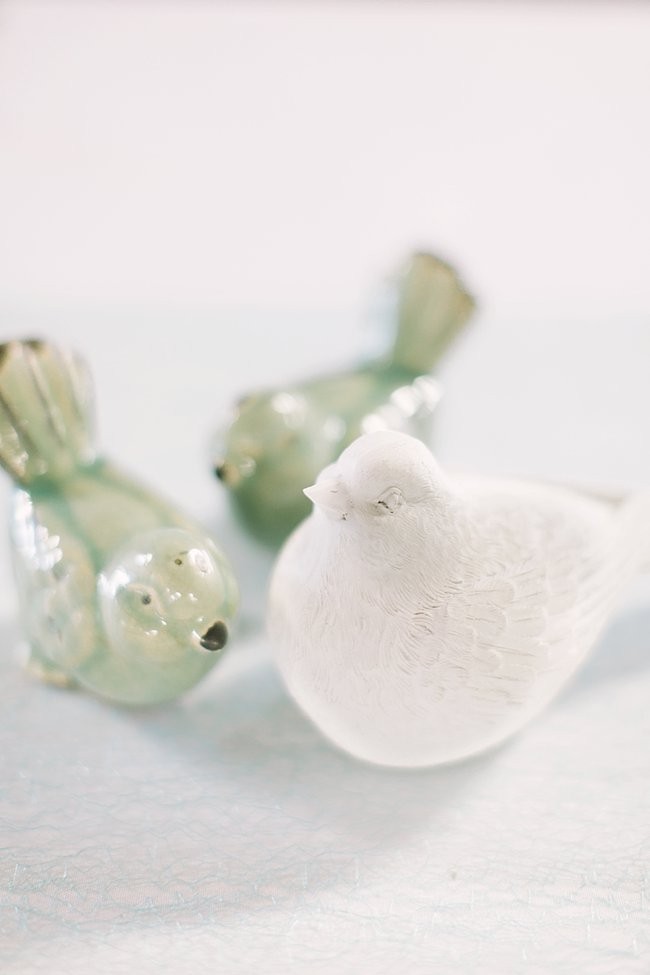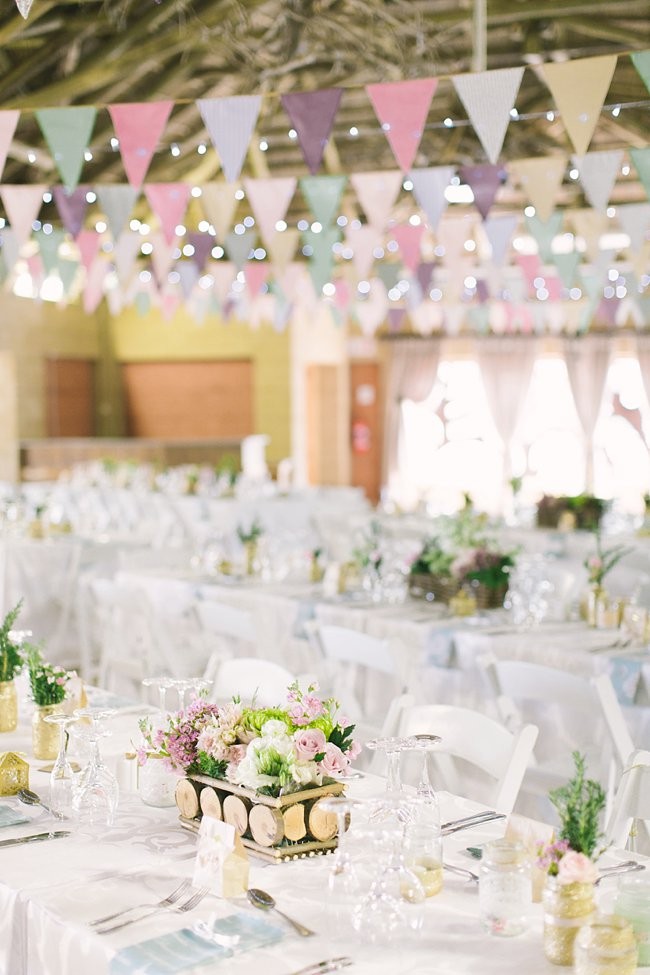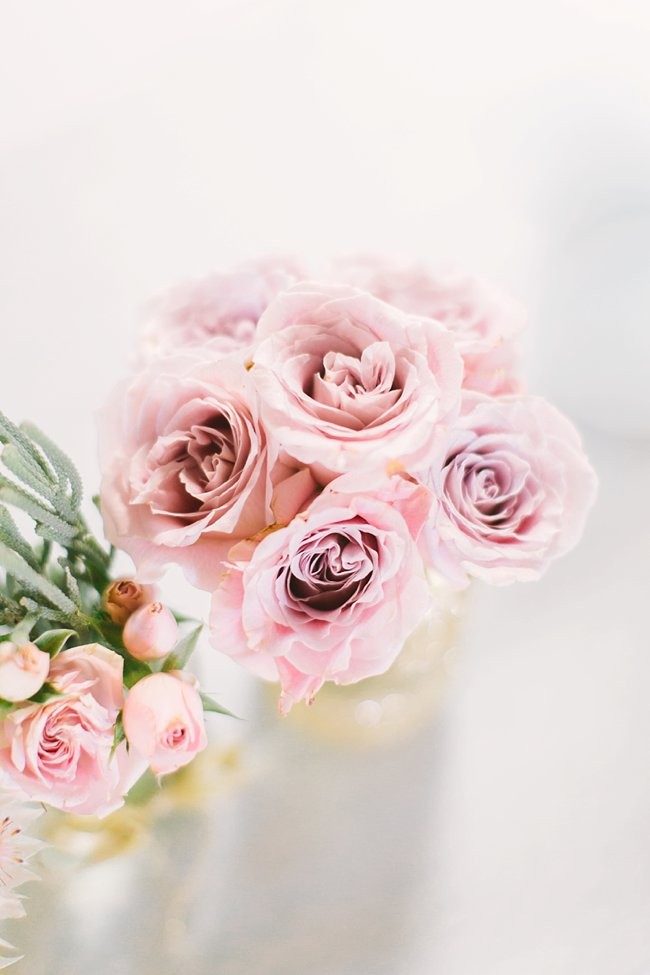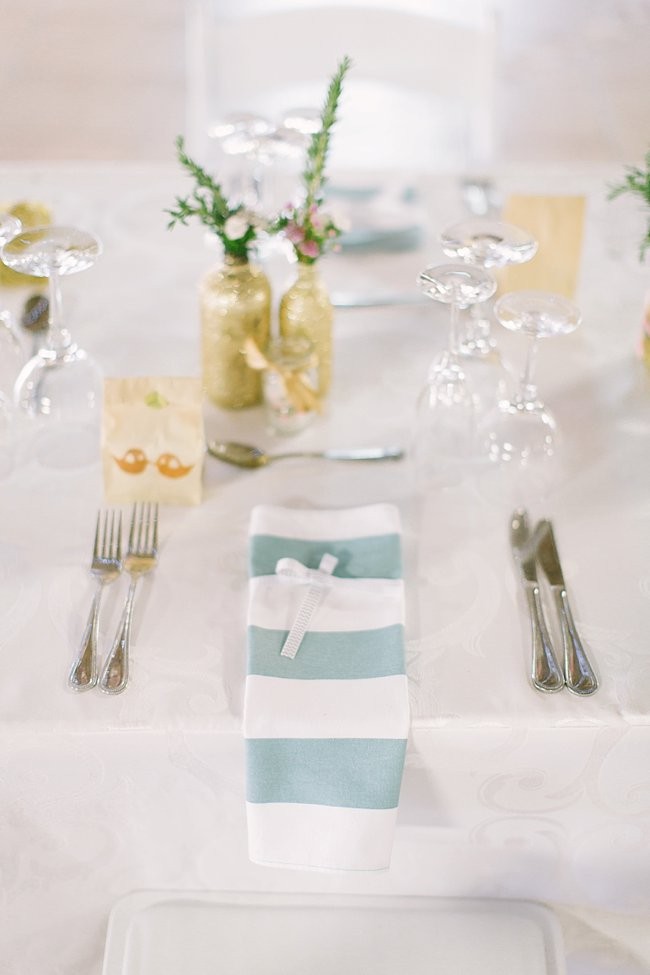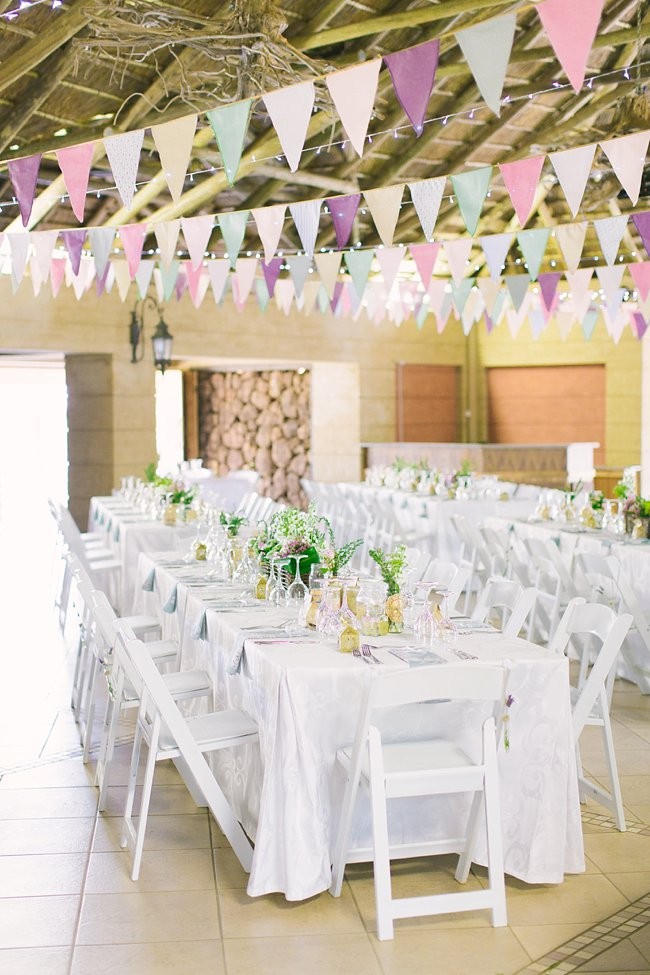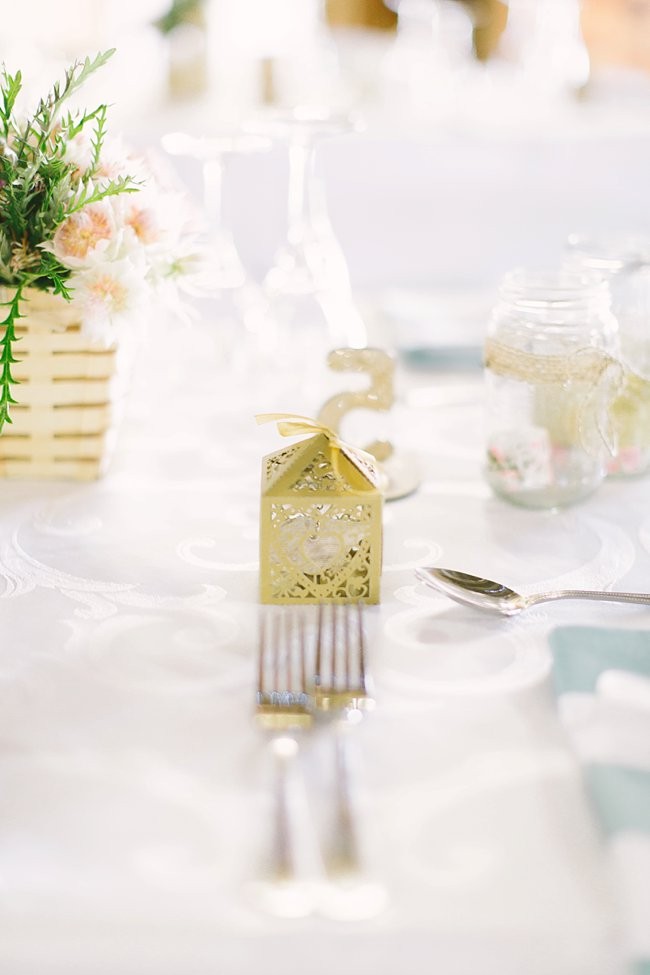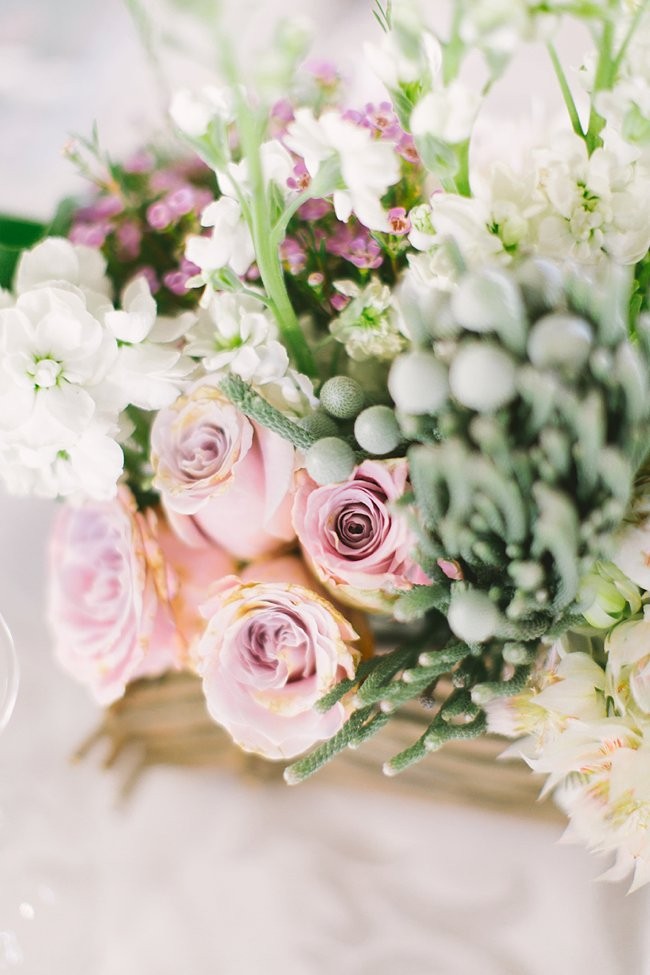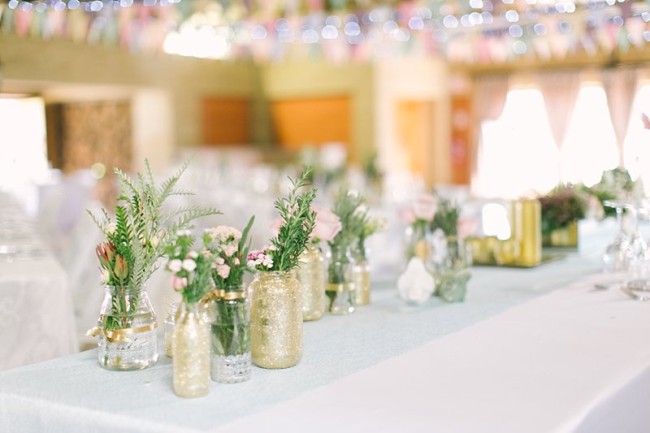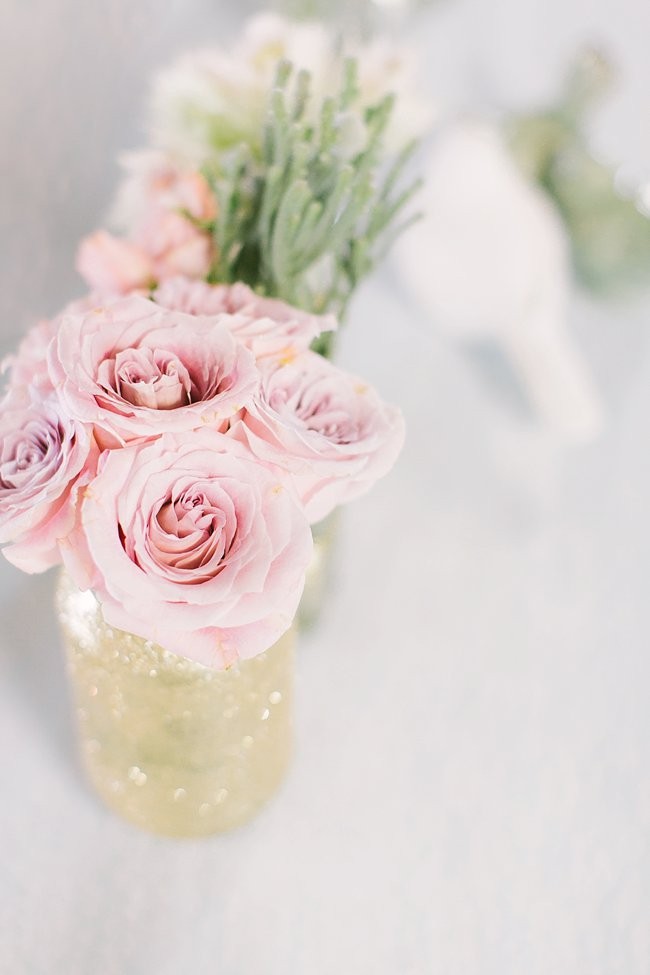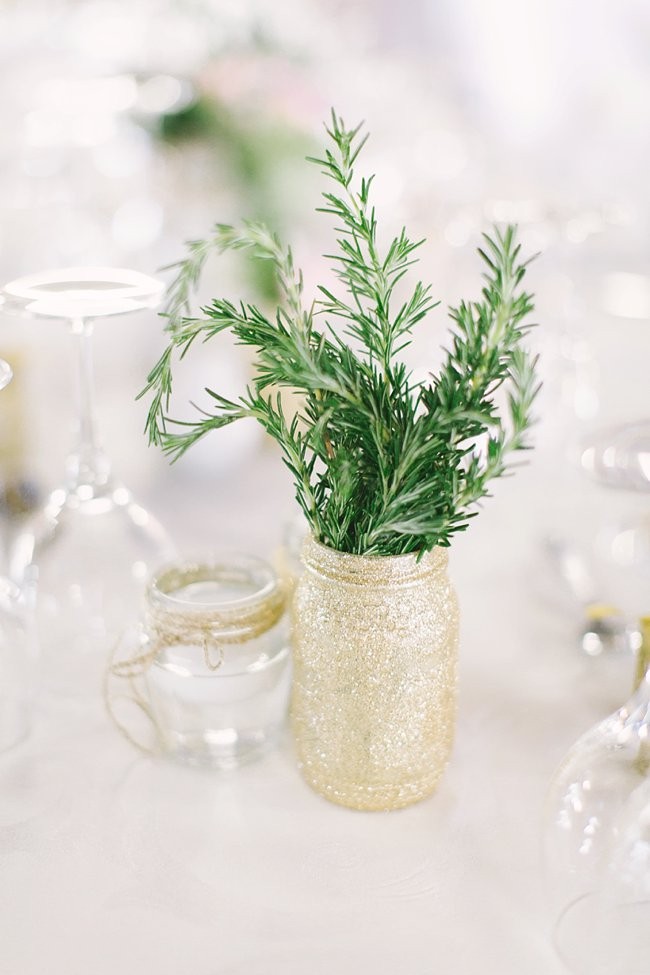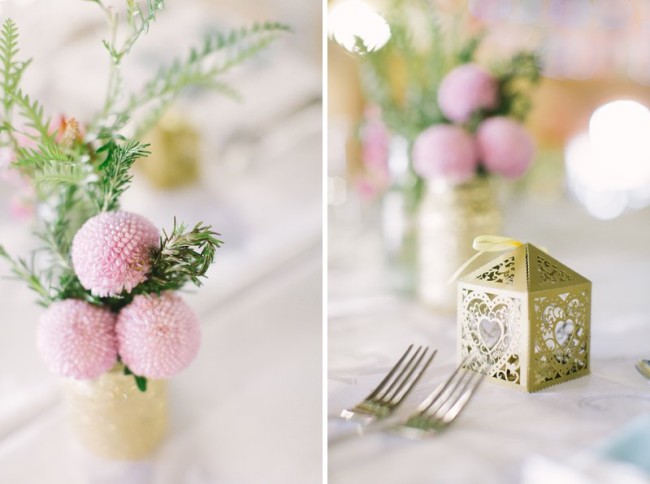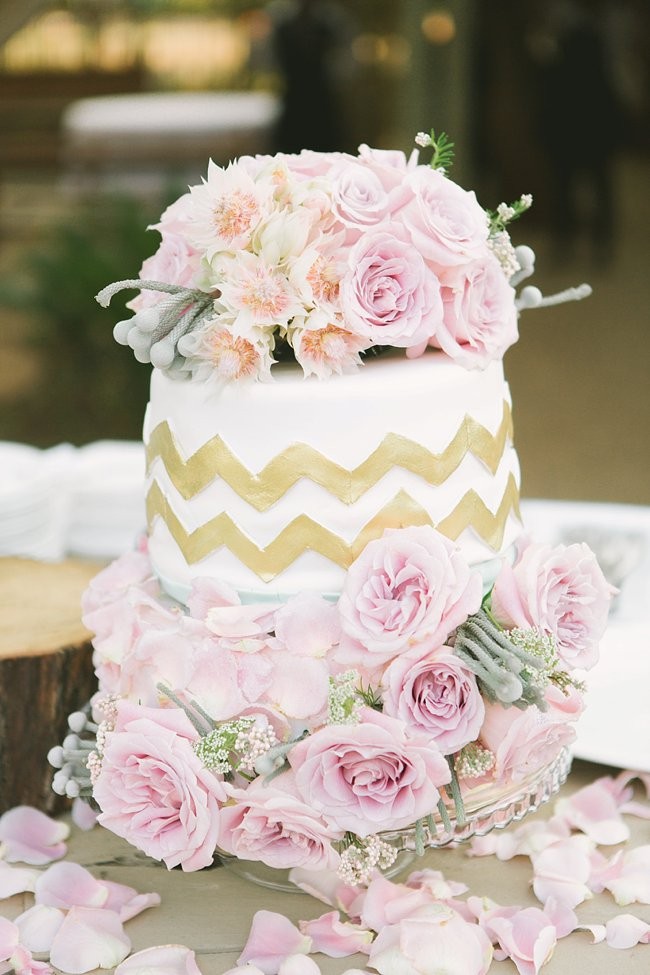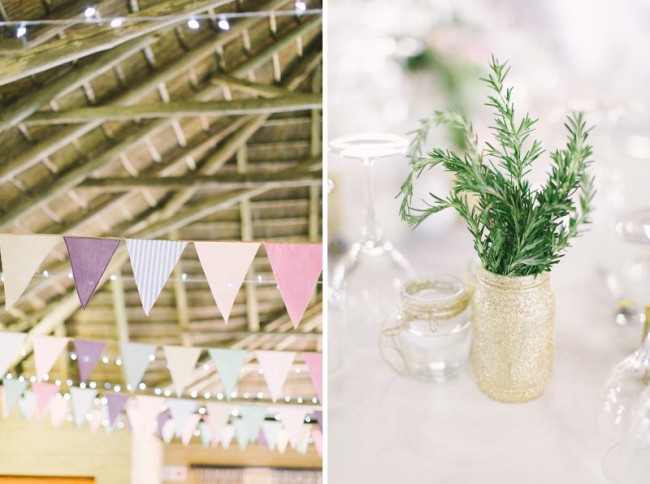 Handmade Pink Gold Glitter Wedding
Love Story: Ewan and I met at a friends braai 5 years ago. What initially got us talking was our rugby team we support. I fell for his witty humor, rugged looks and charming manners and he fell for my easy going, fun personality that complimented his and my blue eyes and blonde hair. He went on a two week trip to Thailand, and I guess the time apart made us realise that we wanted to be together. When he got back we made it official, and I guess the rest is history. The week I finished my finals in university, he took me out for a surprise dinner. I got all dressed up, with no idea where we were going. As we were driving, he kept looking up at the sky at the storm brewing and looked a bit nervous. He pulled up at the Irene farms where he said we were going for a quick walk (in my heels??) so we trotted off and ended up on the far side of the dam, where we stopped to look at the birds in the water and the sun setting. He told me to close my eyes because he had a surprise gift for me to say congrats with finishing my degree. When I opened them again, he was kneeling down in front of me with a ring in his hands, asking me to marry him. Apparently I didn't even say yes at first, I just kept telling him to get up and hug me! But in my heart I was screaming "Yes!!!" Afterwards, we were sitting at the side of the dam enjoying the moment, when our families arrived to join us for our engagement dinner. I had never imagined having them all there, but it was the best thing he could have done! It was amazing sharing that time with our families, and exactly what my heart wanted. He knows me better than i know myself.
Wedding Dress: After browsing all of the wedding dress websites and paging through magazines, I knew that I wanted an A-line dress with an illusion neckline, lace and beading. I had a few fittings in some bridal boutiques, and then ended up finding my dress at Bride and Co. It was a great basic dress, with a simple A-line flare, a heavily beaded bust and in the most perfect champagne colour. I bought it at a bargain price with the idea to make it into the dream dress I had in mind. So my mother and I used our sewing skills and created an illusion neckline with lace up my back and a belt with satin ribbon and beautifully bead encrusted roses. It helped having the basic dress, and I was able to customize it to what I wanted!
Hair and Make Up: I wanted something romantic with golds and browns in my eyeshadow to match the champagne dress and gold in the wedding.
Bouquet: The idea was to have a bunch of completely random flowers in shades of pink and purple with crisp green. I wanted the feel of wild flowers that were not too formal.
Bridal Party: The bridesmaids were dressed in sage inifity dresses that my mother and I made. I like these dresses, they suit any body type and make any girl happy! the groomsmen were dressed simply in their charcoal pants, white shirts and braces. They each had a little wooden bird corsage with a wreathe of Rosemary (for my name).
Groom's Attire: He wore a stunning charcoal slim fitted suit with a stylish black collar and skinny black tie. His hair was styled into a comb-over, he looked extremely handsome!
Wedding Ceremony: I walked down the aisle to Matthew Moles Wedding Song, it melts my heart! The chapel is open on the water, so there really wasnt much decor that needed to go into it We simplly hung bird chimes down the aisle, with glass bottles of flowers and a big arrangement of flowers in the front. It was such a beautiful ceremony. We started with worship, giving thanks to the lord for such a blessed day. Then our pastor had a lovely personal verse for us over our future together. The vows were traditional, and at the end we had our parents come up to pray for us and bless us in leaving them.
Guest Book and Seating Chart: We had a large canvas print of Ewan and I at our engagement shoot for guests to sign. We have it hung up in the lounge, it really is a lovely reminder of everyone who spent the day with us and it is something we can use, not chucked into a cupboard somewhere. The seating we wrote on chalk board hearts and hung them up around a tree for guests to see.
Wedding Planning Advice:
PLAN EVERY DETAIL!! Yes plan! I cannot say how much it helped me on the day. I planned every aspect down to a T and nothing went wrong.
Start with your DIY long before the time! It will use up every weekend you have, and time flies so quickly. I felt that it was really worth investing in my own decor and I felt much more involved in my own wedding by making everything. It is a great bonding experience with the day, and you are actually glad when it is over! You dont have that "depressing" feeling afterwards that it was over too quickly.
And dont sweat the small stuff. have a team of people that you trust around you, they wont disappoint you, I promise. Sometimes they even help in decision making when things get so overwhelming, which they do!
 ♥ ♥ ♥ Credits  ♥ ♥ ♥
Venue Mooiplaatsie // Photographer Geneviève Fundaro // Dress A DIY customized Bride & Co dress. // Brides Hair & Make Up: Myra Harms // Flowers Yvette Du Preez // Cake The Vintage Teacup //  Music Raytrice // Decor DIY // Favors DIY // Stationery DIY //  Bridesmaid Dresses DIY //