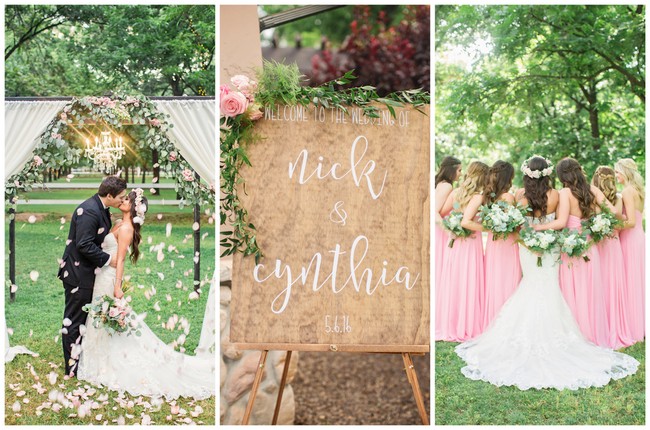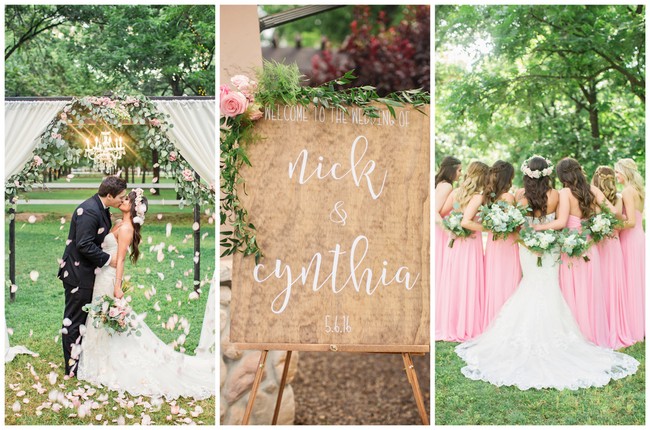 Cynthia and Nick's romantic garden wedding in Arizona was set against the gorgeous backdrop of a magical pecan grove. The couple adorned the day in a palette of blue, green and pink with pops of gold to add an extra touch of glam to the garden.
The soft, nature-filled garden's existing green grass and white picket fences set the scene for a romantic, unruly look with the addition of lots of greenery, eucalyptus and ferns. Garden roses, peonies, pink astilbe and dusty miller brought an element of delicate dreaminess to the day. And with such a stunning pair, coupled with so many breathtaking wedding details, we're so pleased that Jessica Q photography was there to capture it all.

Nick built a beautiful secret garden-inspired swing dressed with flowers which looked amazing in their photographs. As did their sweetheart table which included a wooden arbor, draping, flowers and a vintage loveseat!
Cynthia drew inspiration from Disney's new live-action version of Cinderella. "I wanted to feel like a princess, but not necessarily in a grand, castle-like way.  More in a secret garden way, with beautiful flowers and nature all around. The perfect representation of my husband and I because he always treats me like a princess."
Romantic Garden Wedding in Arizona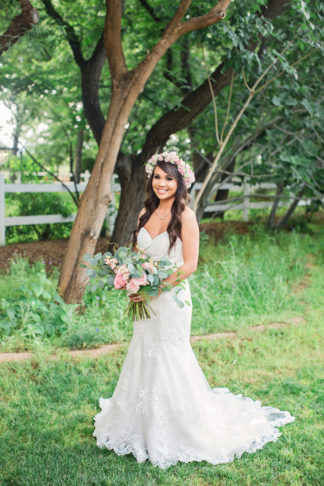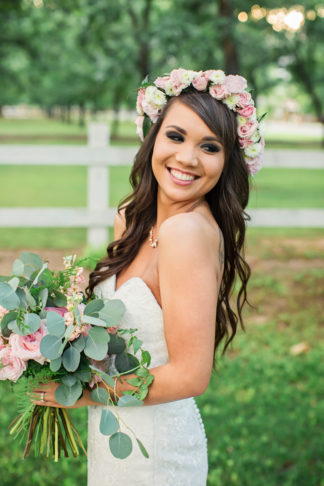 Nick and I met about 10 years ago in high school – we were in the marching band together. He was on the drumline and I was in colorguard. We dated briefly back then but it just wasn't the right timing. Fast forward to 2013 where Nick messages me out of the blue, asking me if I'd like to hang out with him that weekend. I was single, didn't have plans and hadn't seen him in years so I thought, "Why not?"… The rest is history.
We've been inseparable ever since. Something was different when we reconnected. We were older, more mature. We'd grown, we'd been through some heartaches. I think that made us wiser and more prepared for a serious relationship this time around.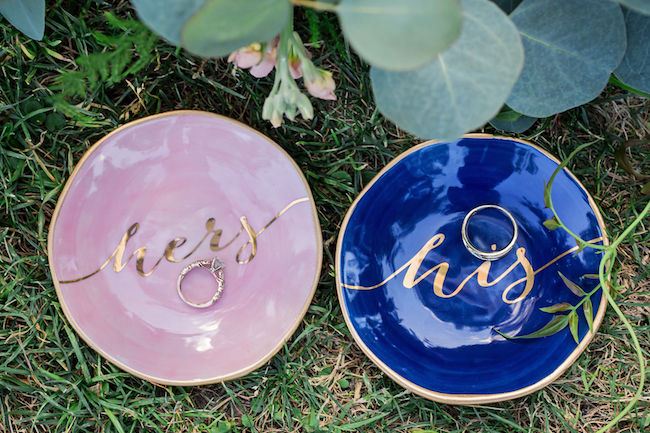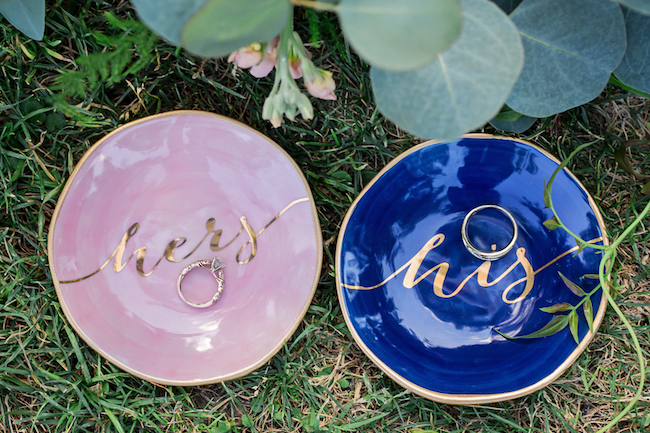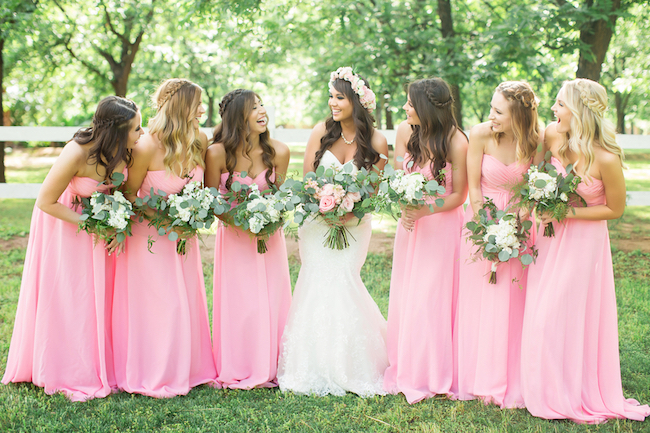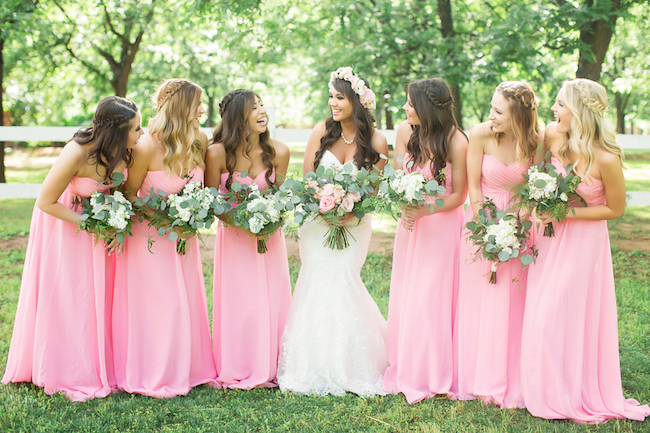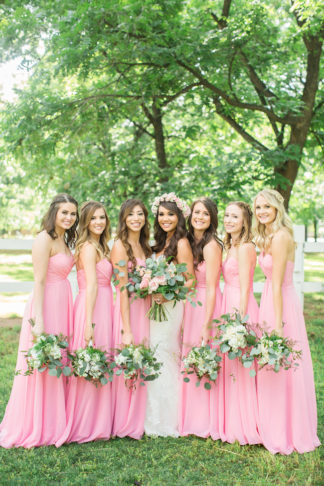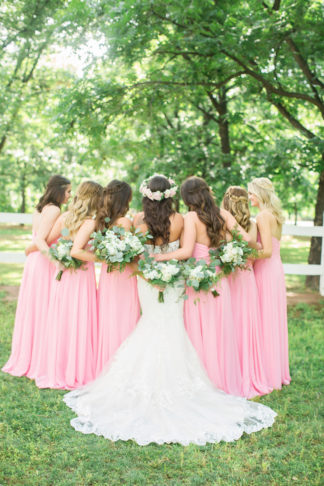 My bridesmaids wore long, soft pink gowns from Allure Bridesmaids. They held bouquets of greenery with ivory buds. To contrast and also match their gowns, my bouquet had greenery with soft pink buds.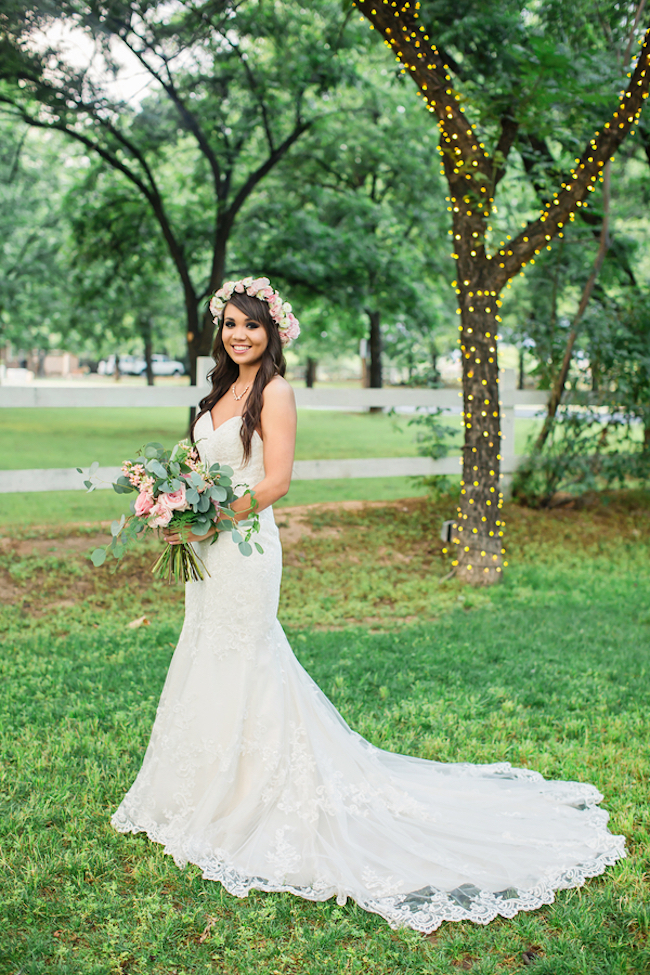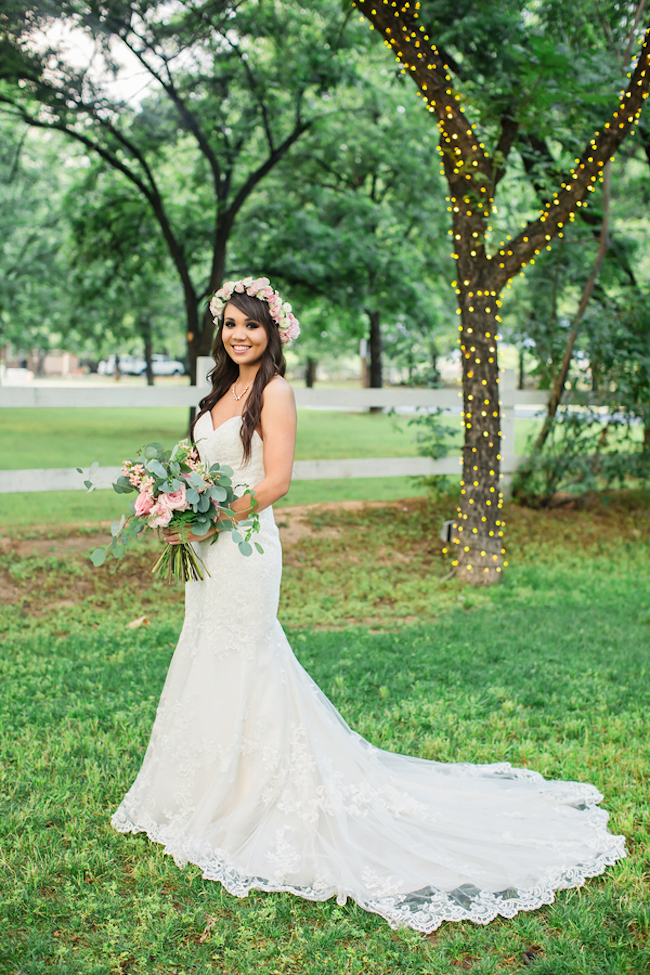 I found a perfect strapless lace dress by Stella York at Bella Lily Bridal that felt like it was made for me and went perfect with our garden theme. I also was able to wear a beautiful emerald ring on our wedding day that once belonged to my grandmother. She is now very ill and was unable to attend the event but wearing her ring made me feel that she was there with me in spirit.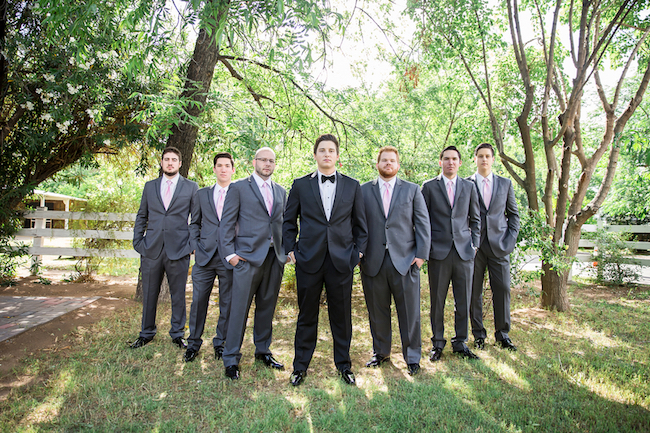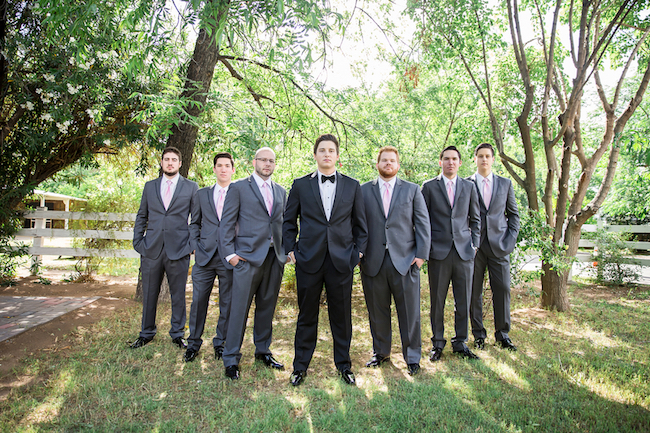 For our garden wedding in Arizona Nick wore a black tuxedo from Men's Wearhouse. He looked amazing in it. It was the perfect outfit for him to make the garden theme feel classy and elegant. The groomsmen wore grey suits from Men's Wearhouse with special tie clips that Nick had made for them!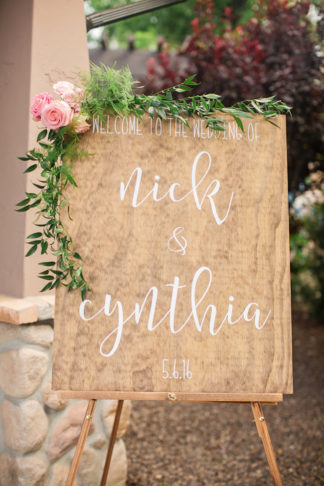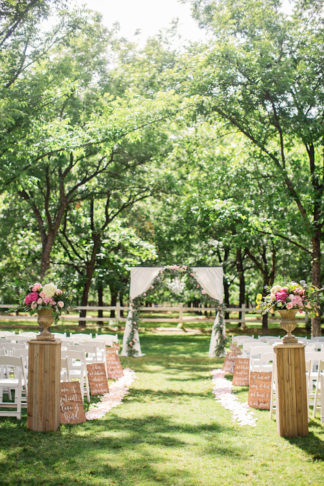 The ceremony area for our garden wedding in Arizona was decorated with soft pink petals lining each side of the aisle and wooden signs with phrases from the Corinthians bible verse. The arbor was decorated with ivory draping, greenery and pink buds throughout.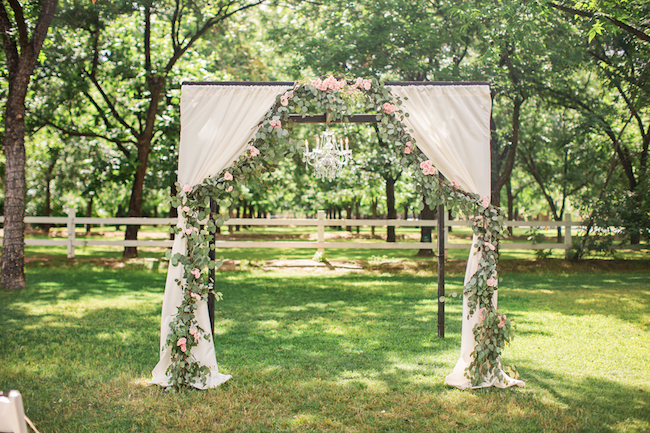 My husband and I are actually big on DIY projects and love taking pride in the items/décor we make together. For our wedding we wanted to feel that we took part in creating some of the décor as well. All of the signs used in our wedding (including the Corinthians' Verse signs down the aisle) were cut, sanded, stained and painted by us! We were filled with joy when we saw how much beauty they added to our day.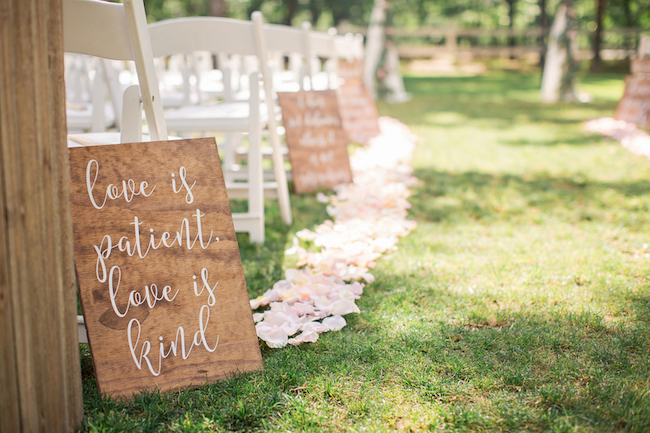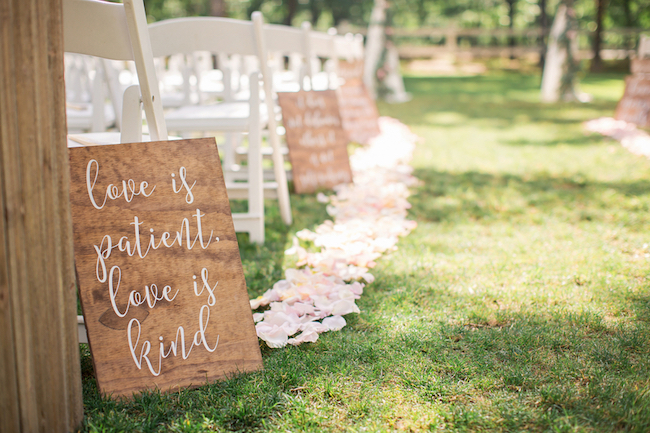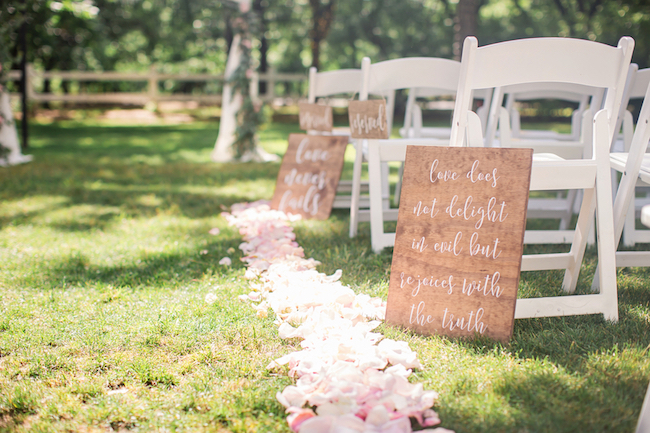 Lara from Prim Rentals & Florals blew me away. We had only ever talked on the phone and shared Pinterest pictures but I trusted her with most of the décor and floral for the entire event. When I showed up at the venue, I was amazed! Everything was all set up ahead of schedule and it looked GORGEOUS. Every thought and idea in my head came to life. She understood my vision perfectly and executed everything so beautifully. It brought happy tears to my eyes!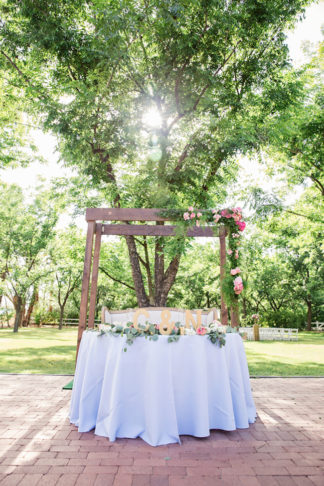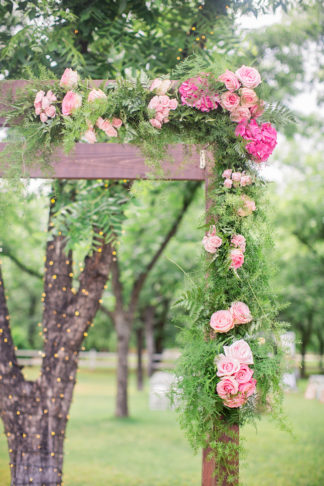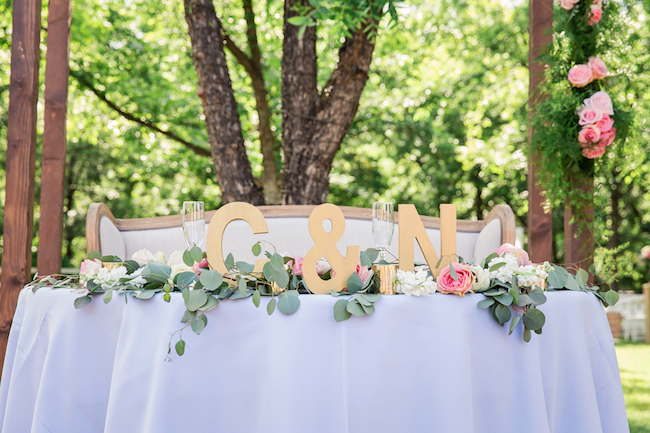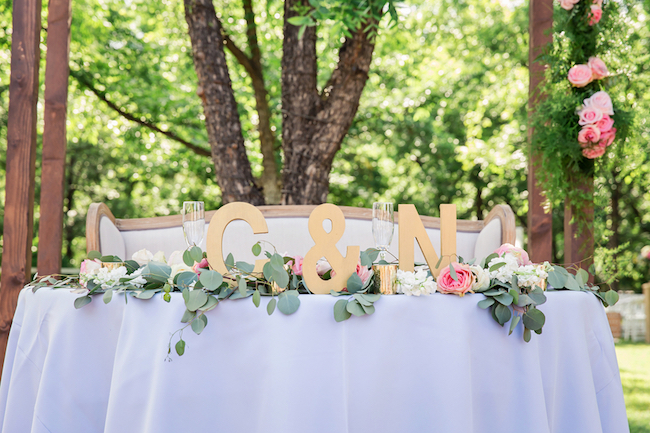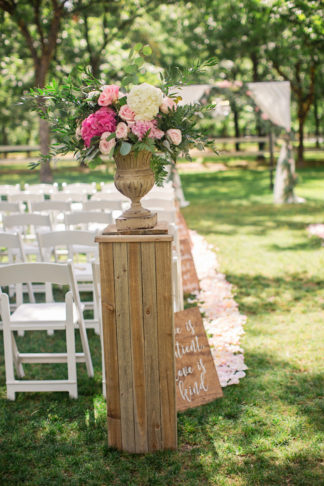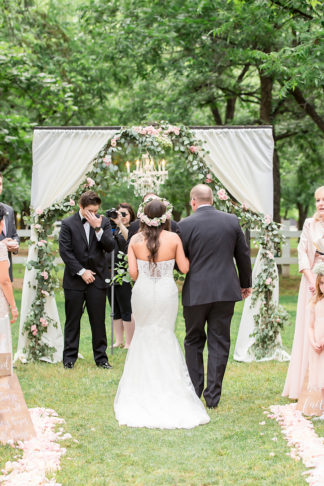 I walked down the aisle to "Marry Me" by Train. Nick and I recited vows we wrote to one another. It was very emotional… Many happy tears were shed!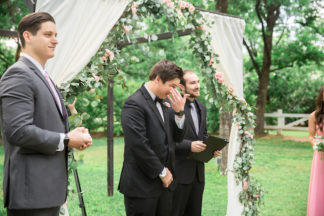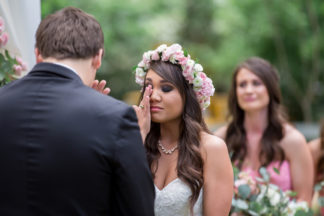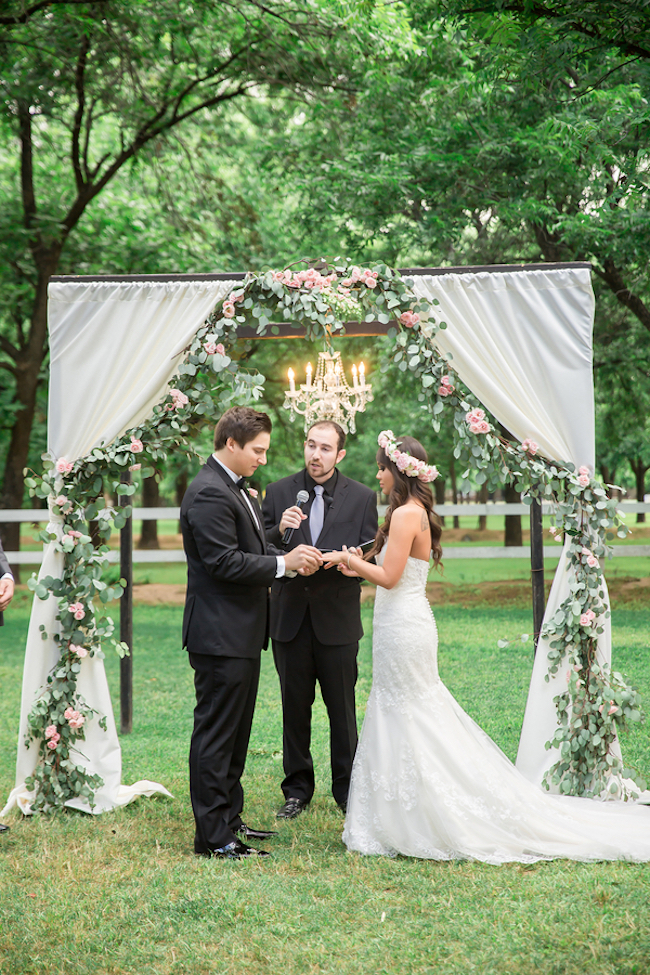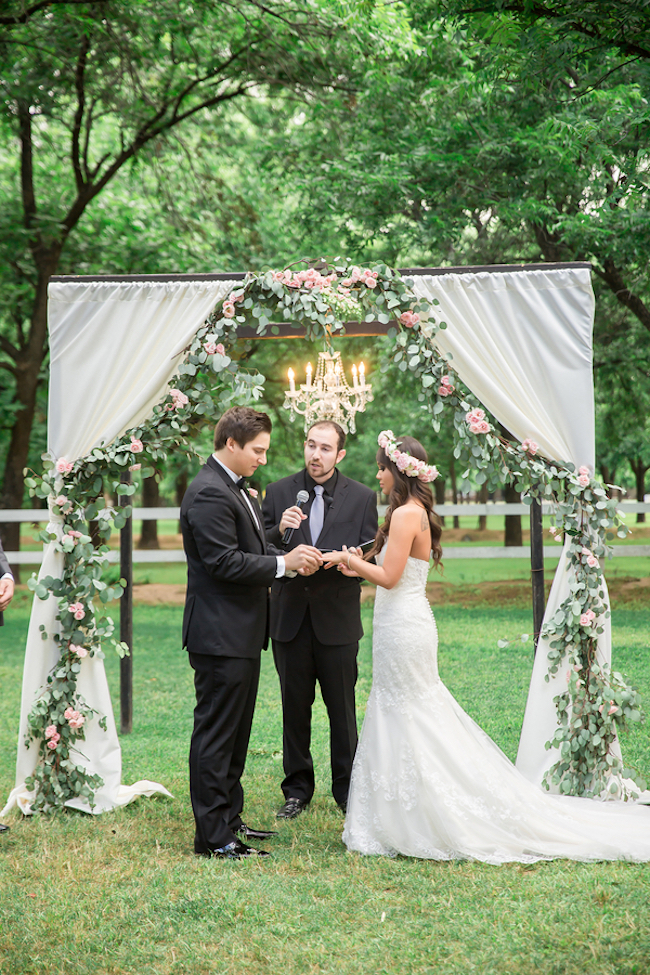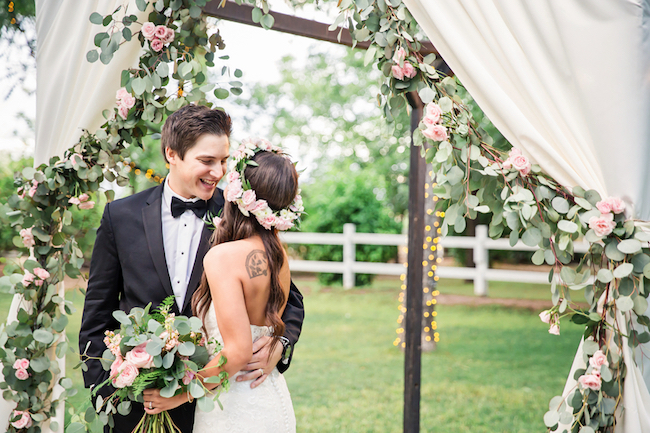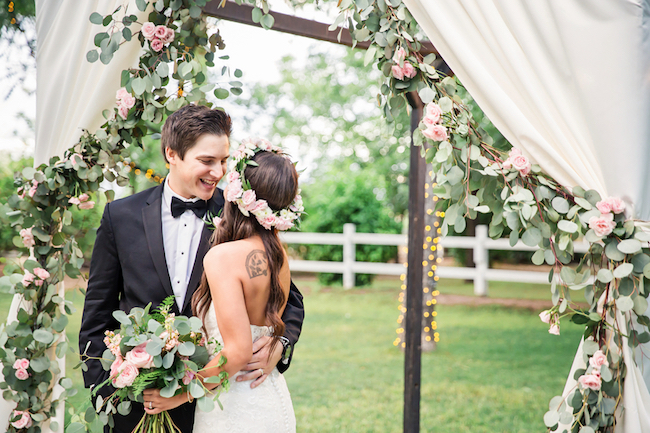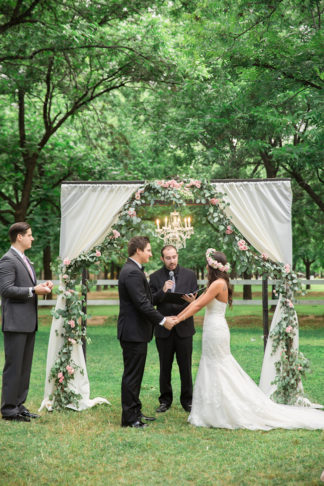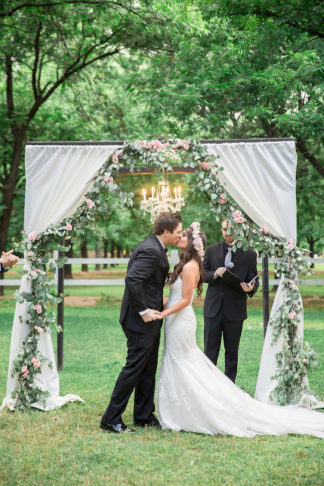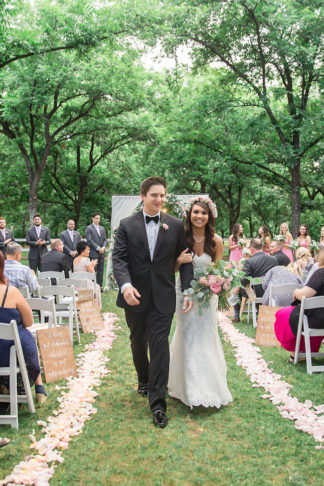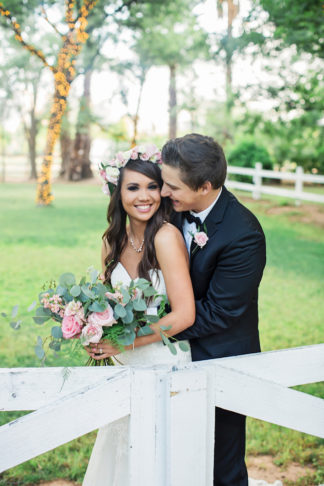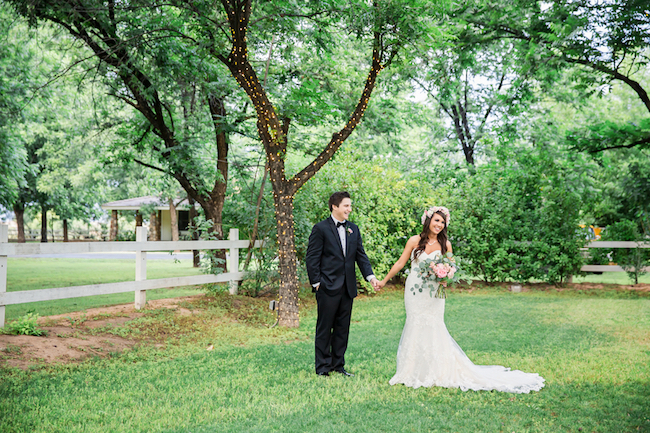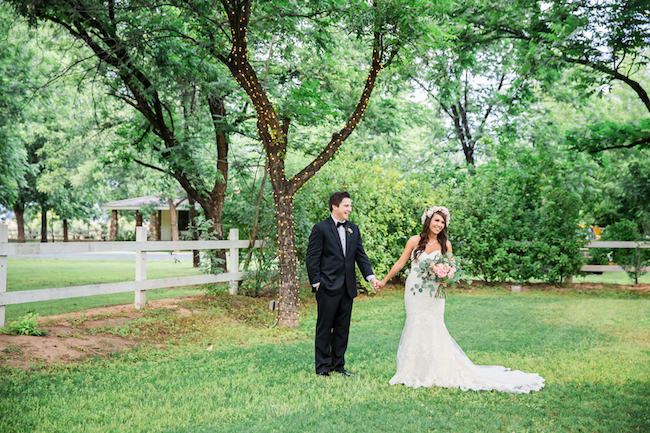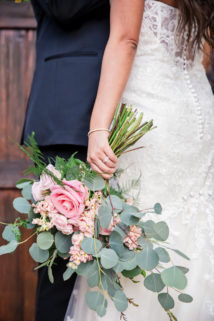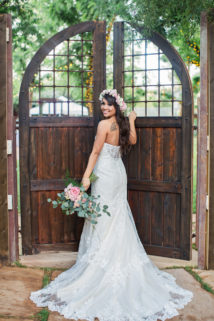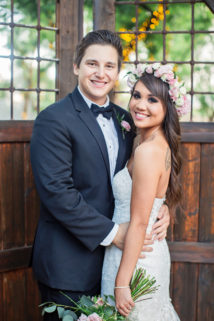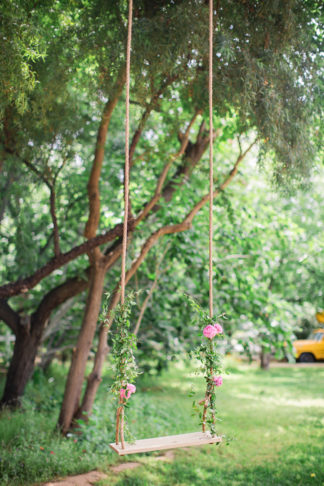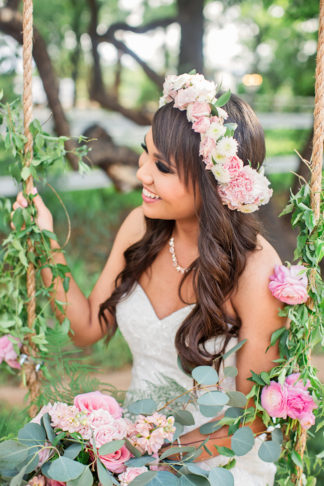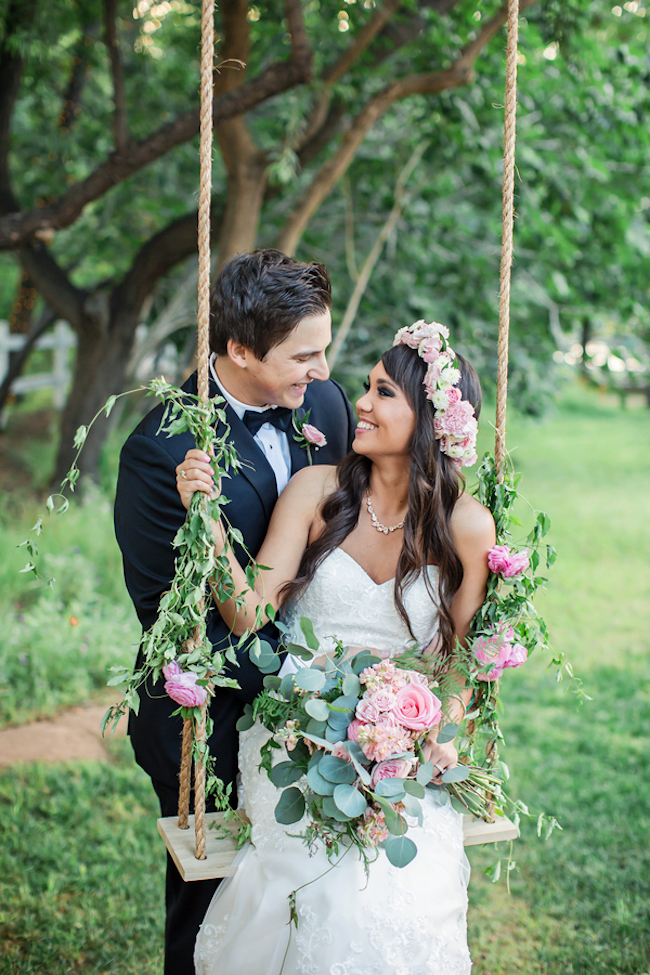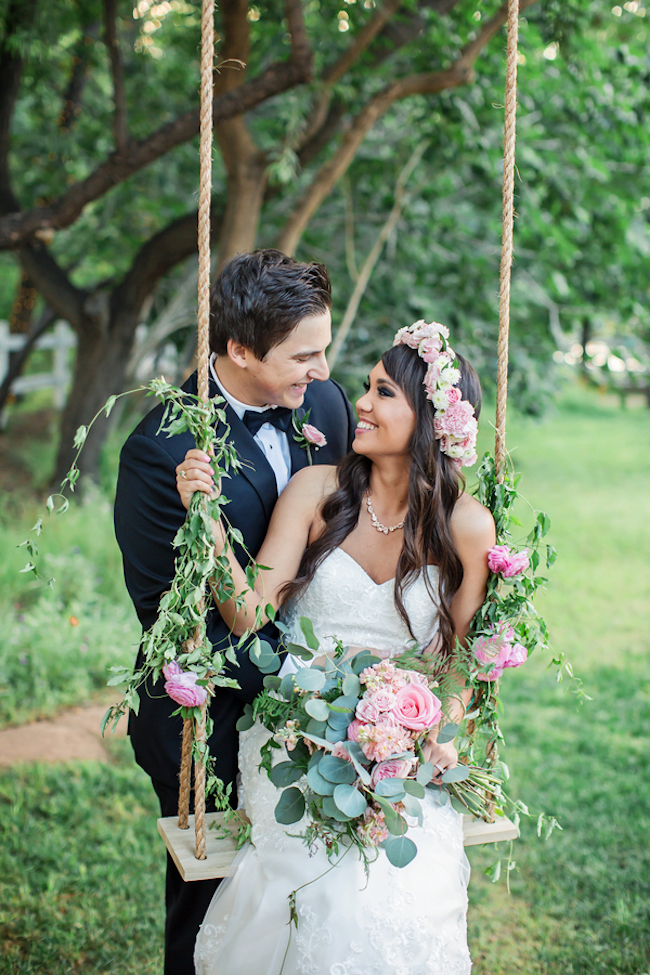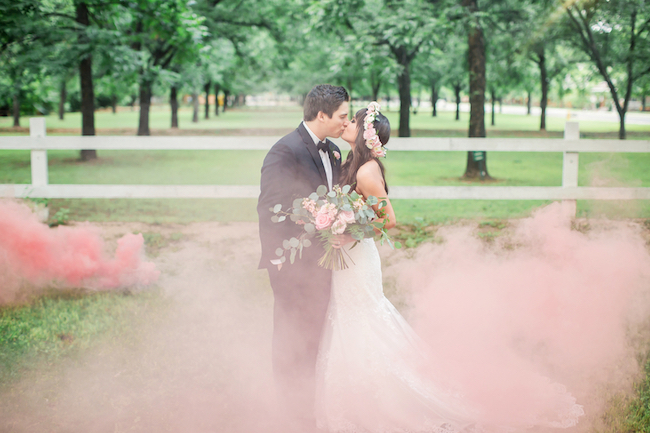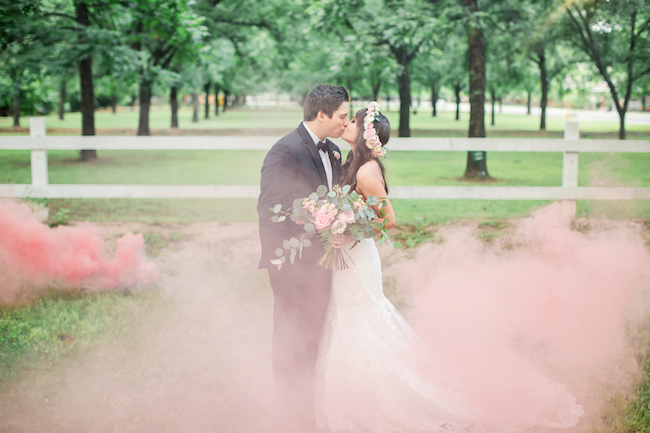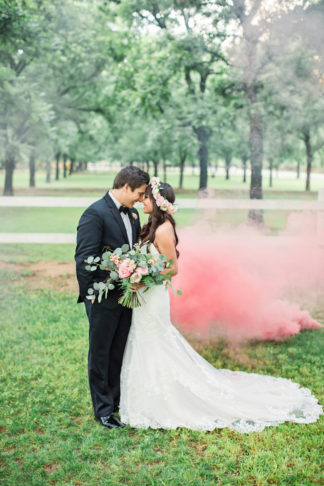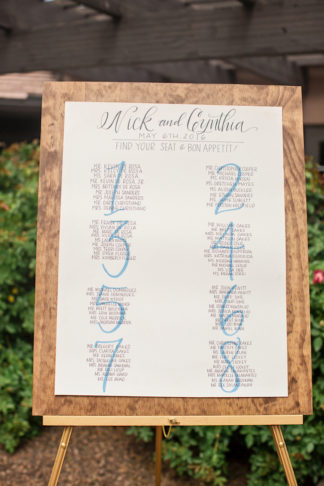 We selected light blue tablecloths, gold sequin runners and green, pink and ivory floral components for our garden wedding in Arizona. We rented specialty cross-back vineyard chairs with ivory bows on the back from Glamour & Woods.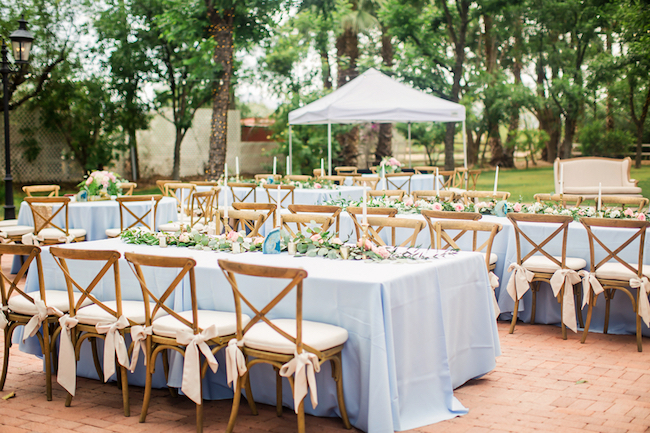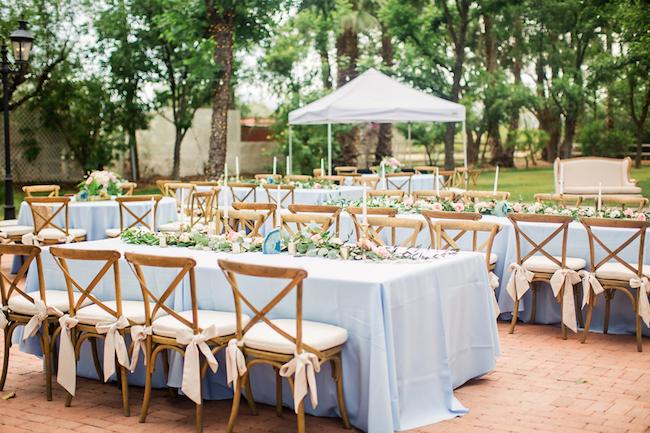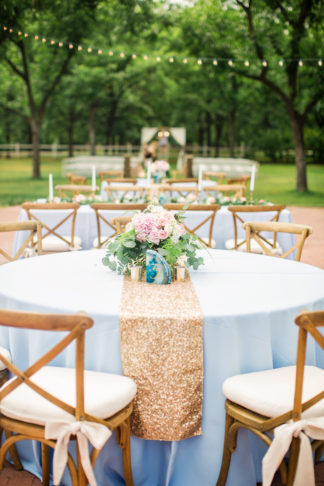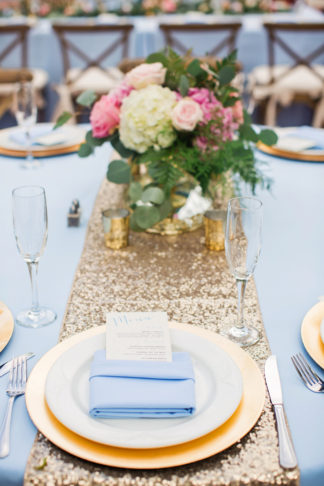 For floral, I focused on eucalyptus, garden roses, ferns and hydrangeas among other scattered components. I loved using garlands on our rectangle tables to really bring the guests into the garden.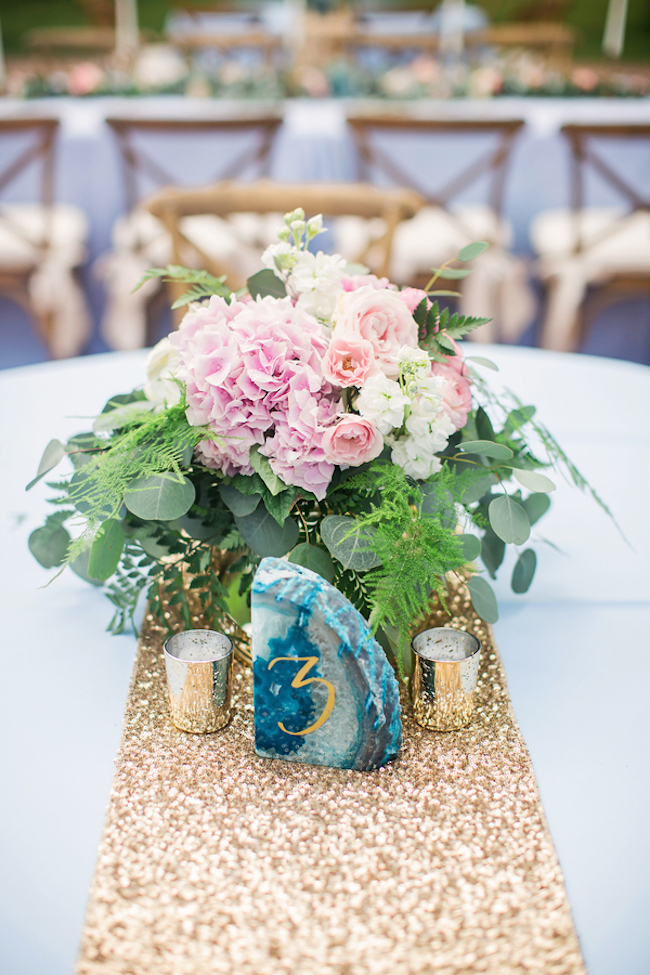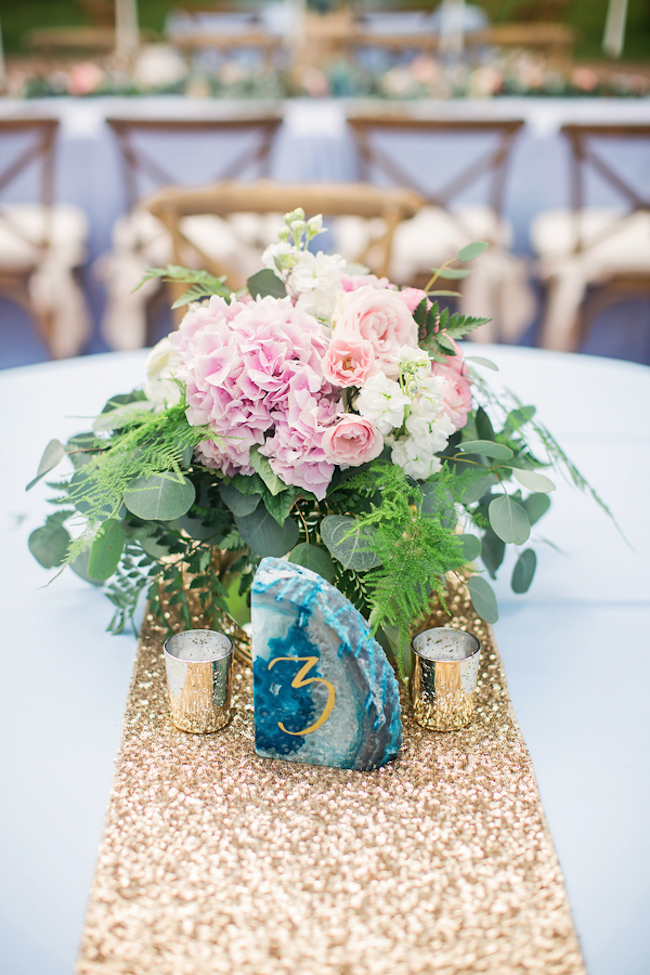 One of the most unique décor elements I used for our garden wedding in Arizona were the gorgeous agate table numbers that I found on Etsy. They were beautiful and added another unique nature component to perfectly complement our floral.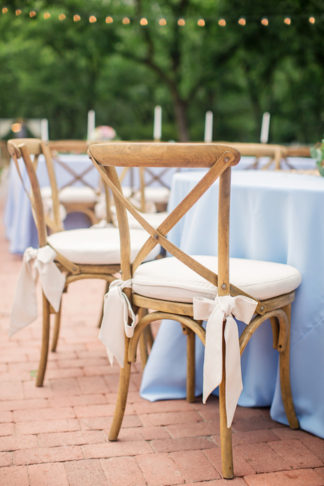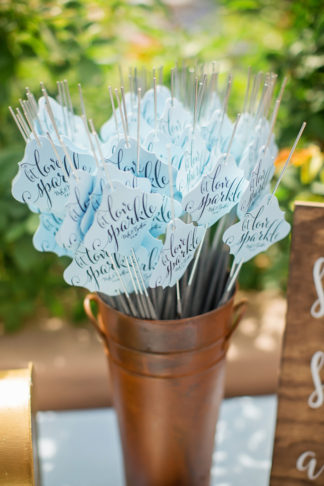 We had personalized matchbooks made to go along with our sparklers since we're "the perfect match" 🙂 ! Our gold cake cutter and forks were so perfect within the color scheme and are also personalized with our names and wedding date!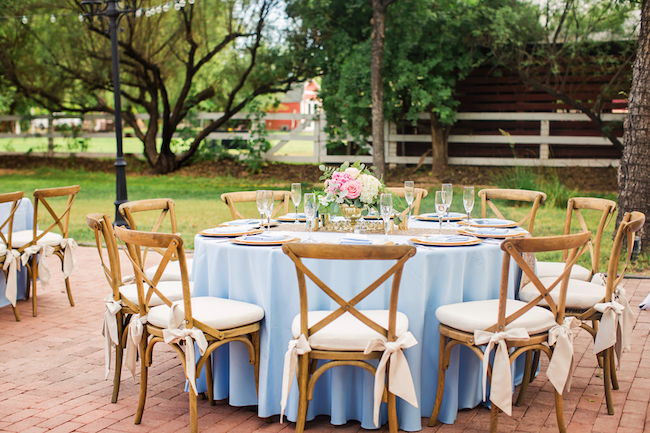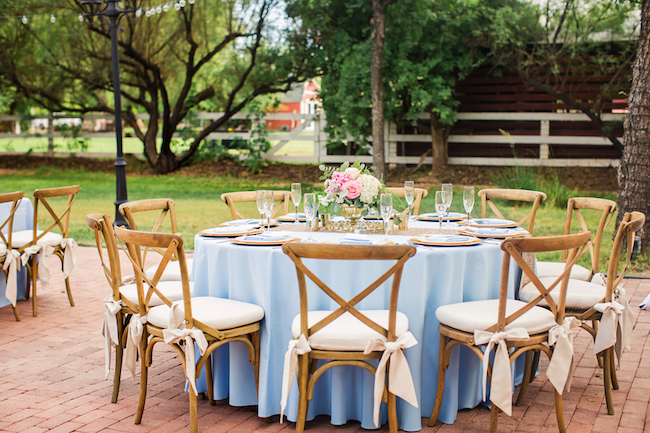 Our first dance song (Keith Urban – Only You Can Love Me This Way) was incredibly special because I think it was the perfect song to describe our relationship. It talks about the fact that we could have "turned a different corner" and perhaps our paths never would have crossed again but somehow, they did, and that changed our lives forever.
Our last song of the night was also really special to us, as it's one of our favorite songs- Loving You Easy by Zac Brown Band. This song describes our day to day relationship. How easy our love comes even when we've had a bad day at work or my hair is a mess… Whatever life throws at us, it's still just so easy to love each other because we're best friends.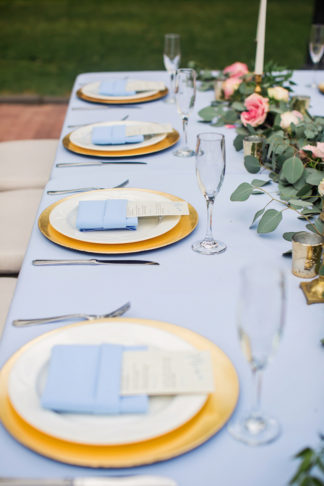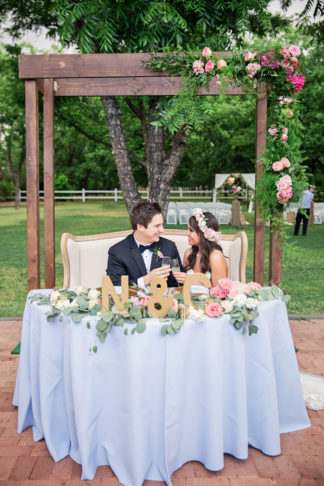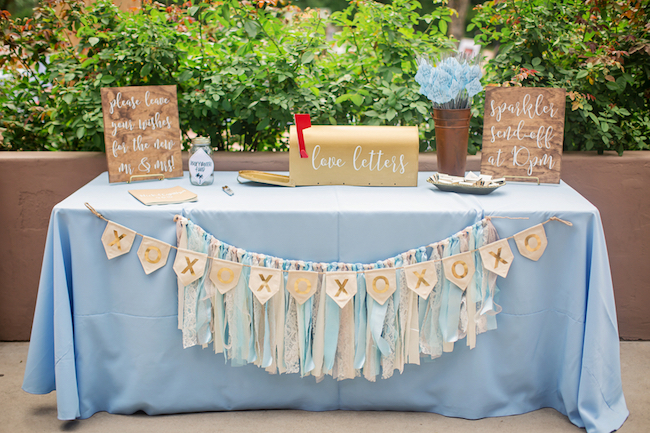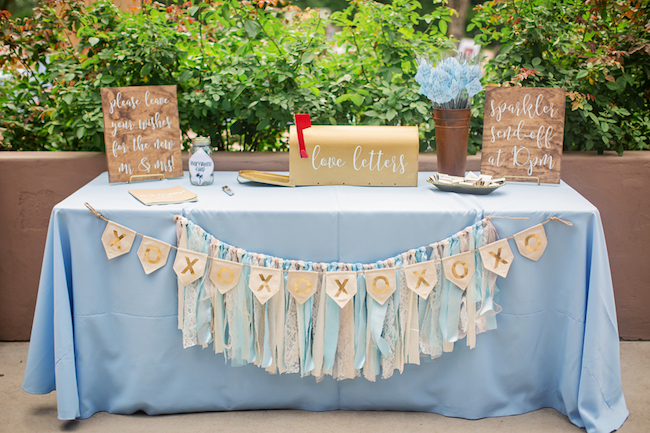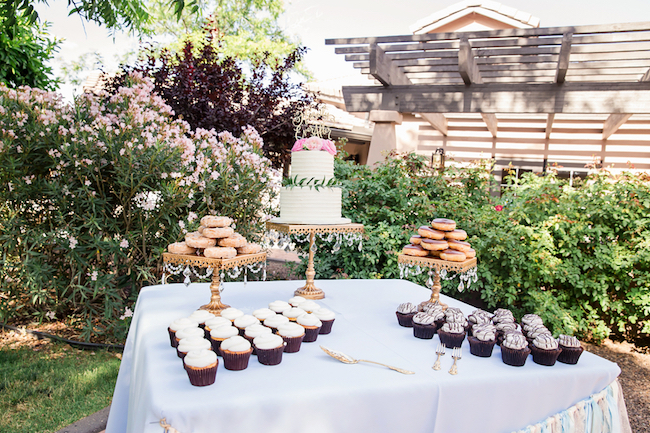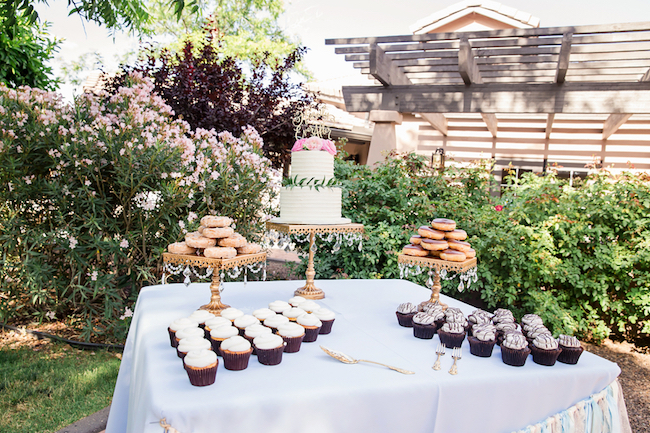 Our beautiful cake was delicious and decorated with complementary flowers. It was kept simple to fit within our secret garden theme.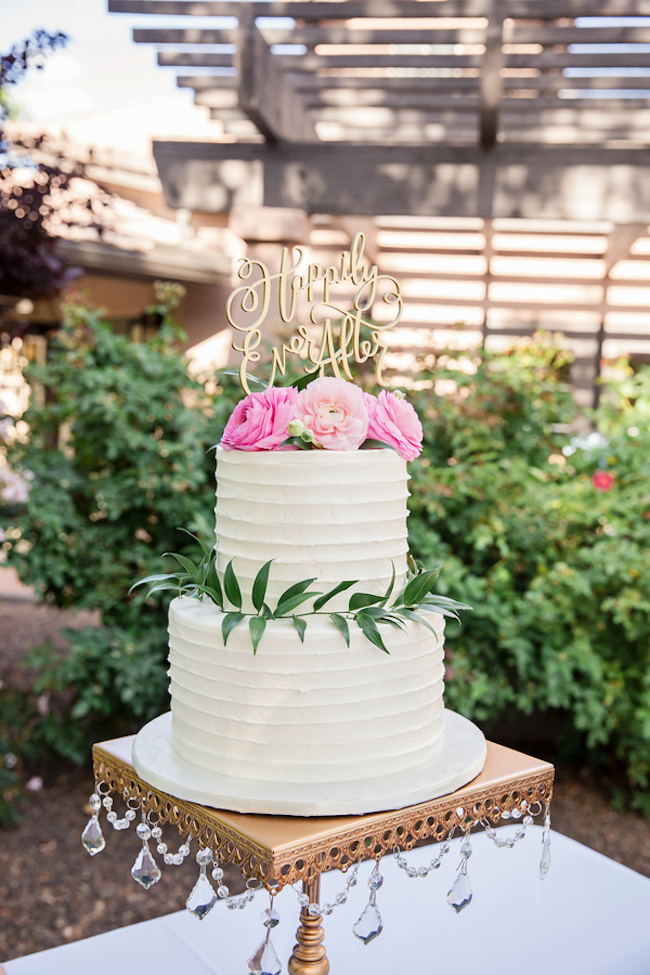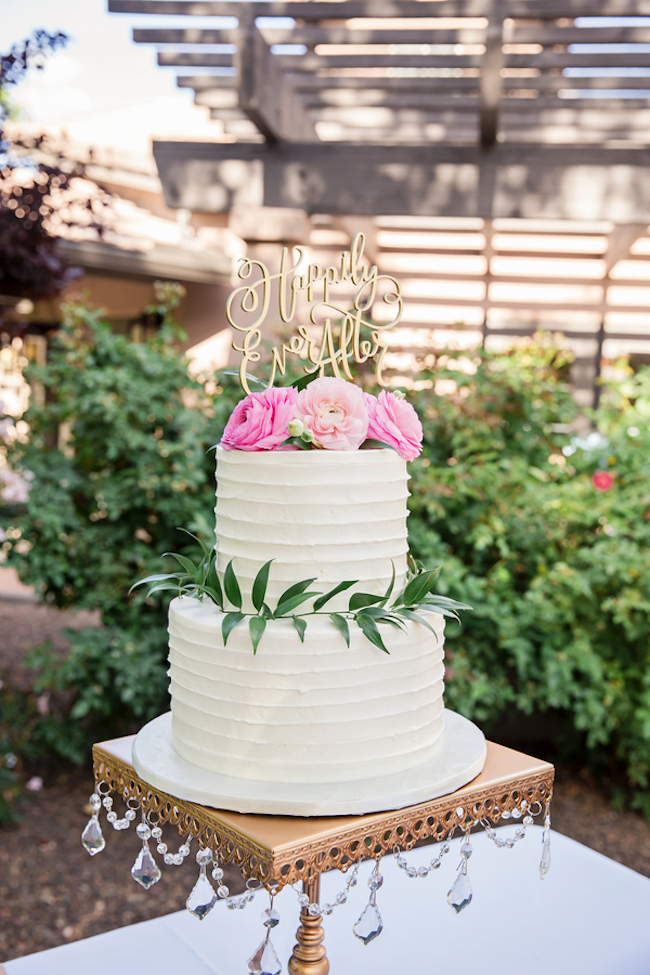 Wedding Planning Advice:
Wedding Vendors
Jane Austen-Inspired Vintage Cape Town Wedding {Debbie Lourens Photography}
An Elegant, Atmospheric Wedding {Debbie Lourens Photography}
Oh-so-dreamy Summer Garden Wedding {Brittany Lee Photography}
Perfectly Picturesque Peach & Pink Palos Verdes Wedding {Figlewicz Photography}