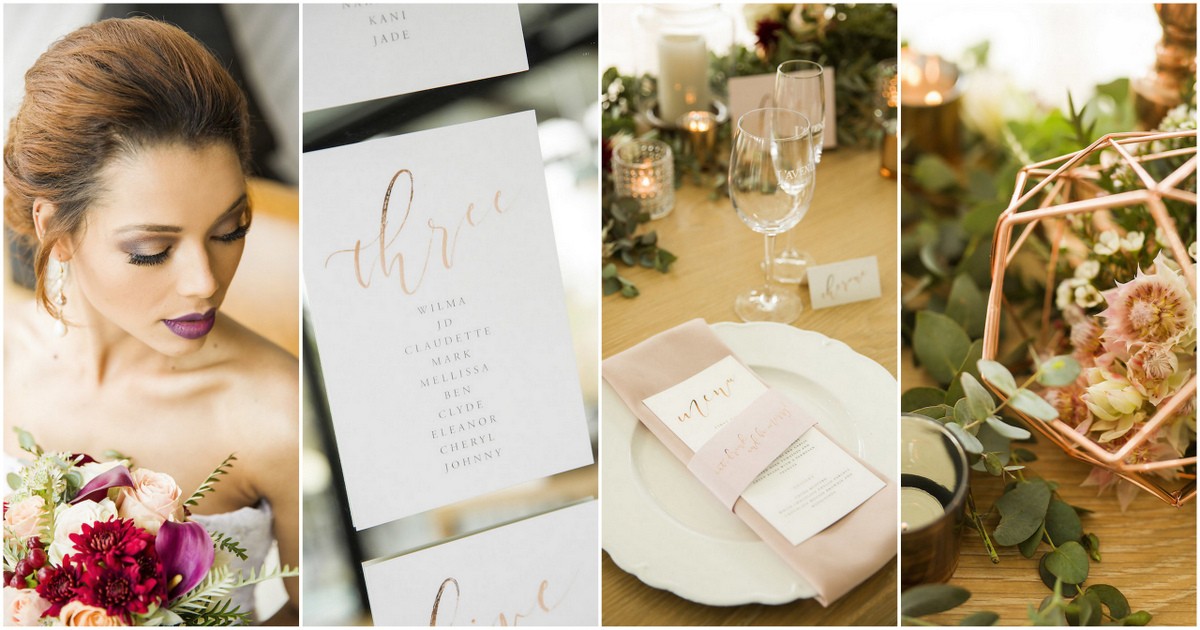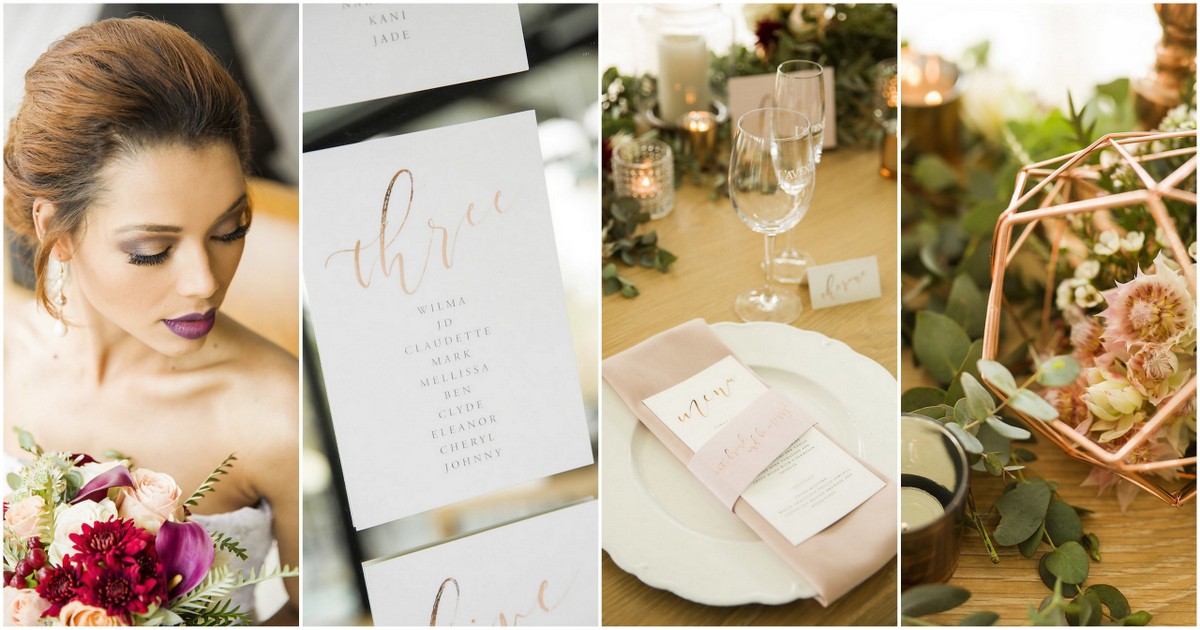 Picture a beautiful, airy room filled with elegant copper, rose gold and blush wedding details with a touch of geometric wedding prettiness! This is the vision that Bianca Smit Photography  has brought to life at L'avenir  Country Lodge, located amongst the rolling vineyards of working wine estate below the Simonsberg Mountains in the Cape – just minutes from the South Africa's historical town of Stellenbosch.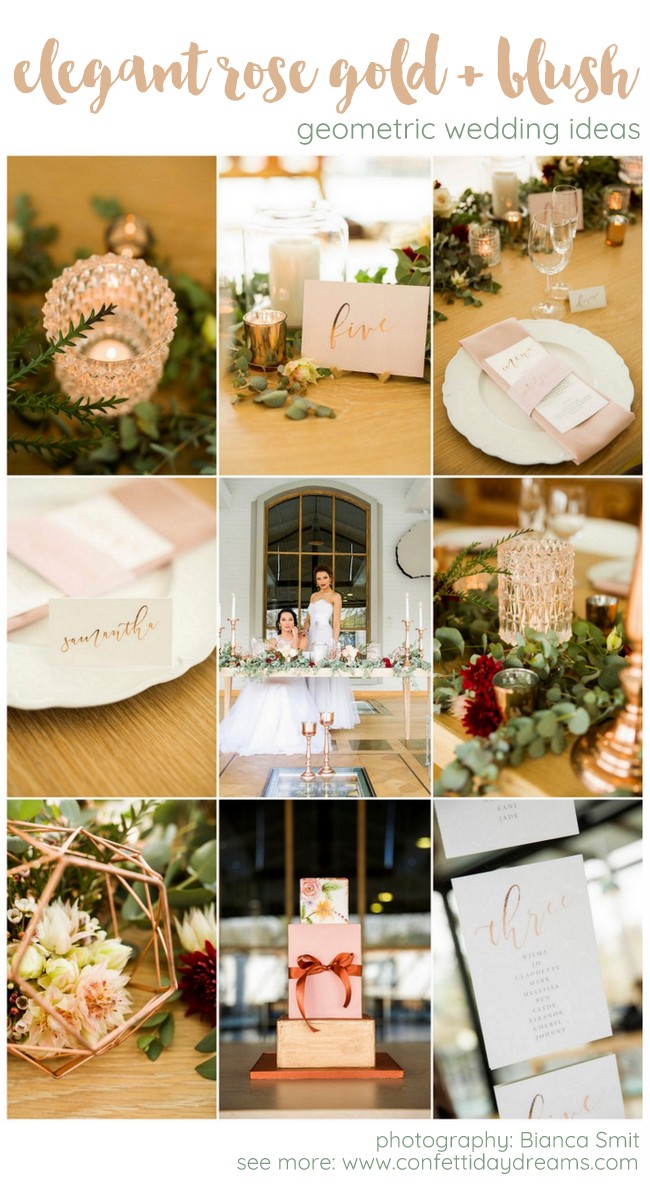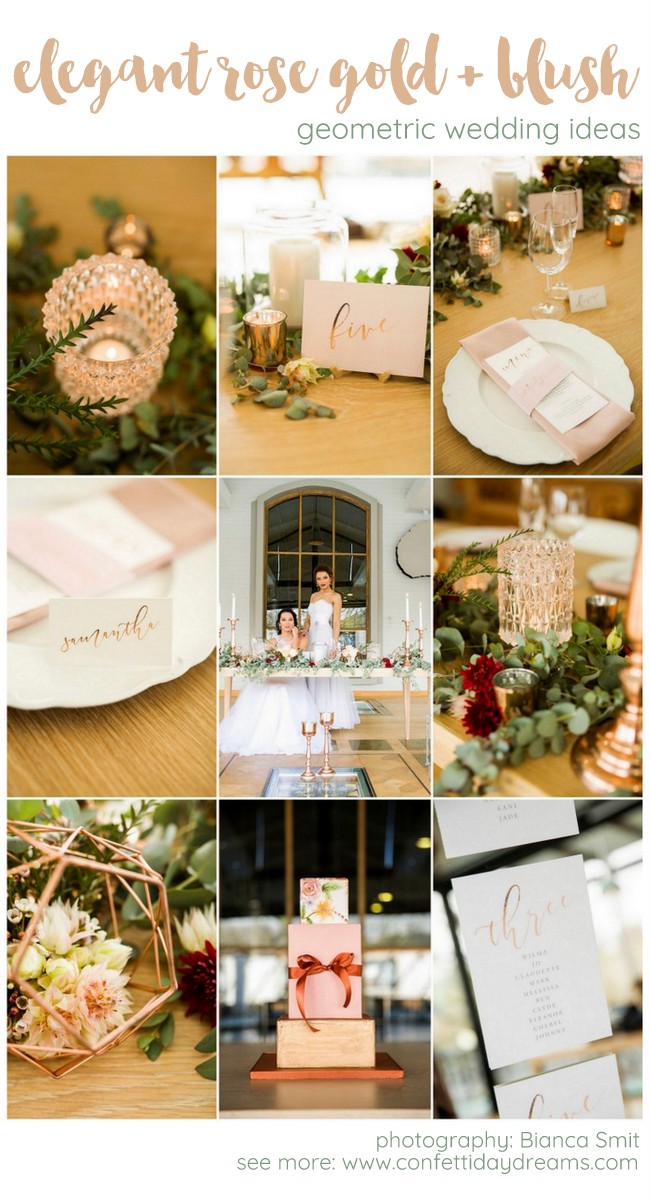 Elegant Copper Rose Gold+ Blush Geometric Wedding Ideas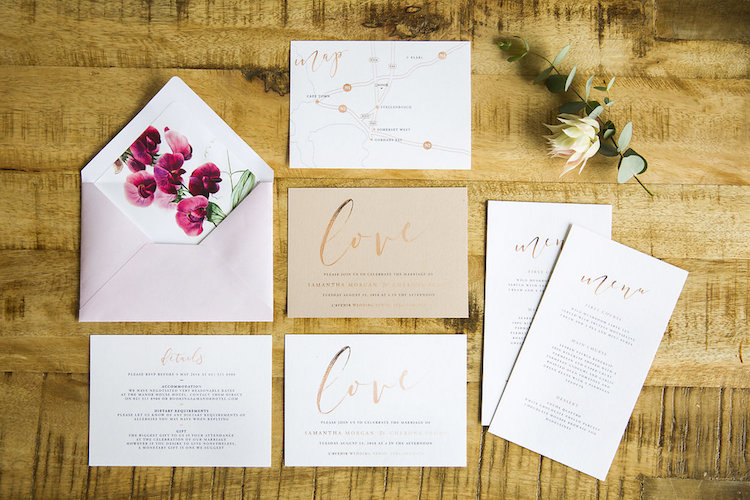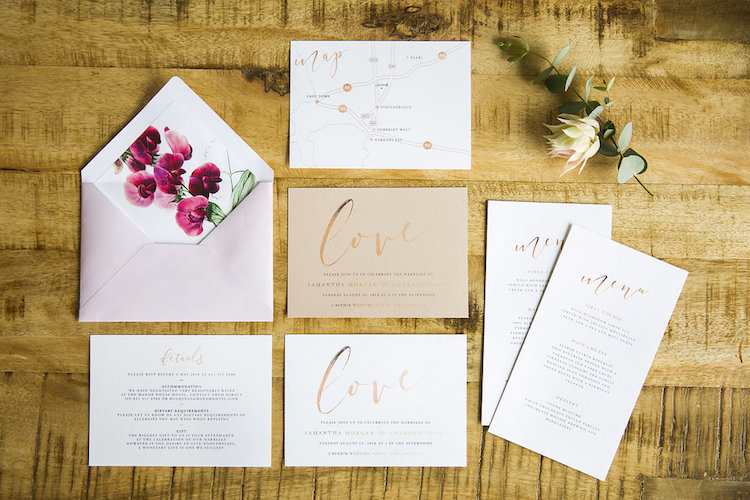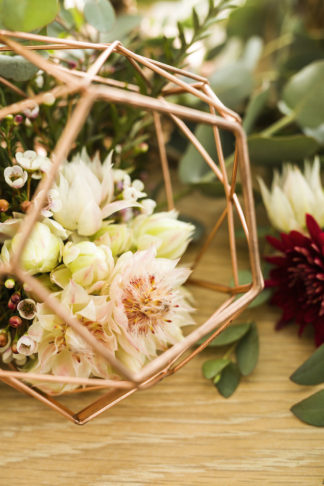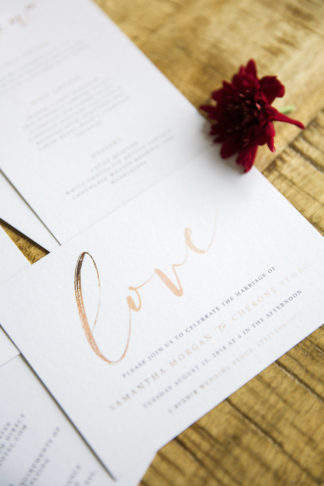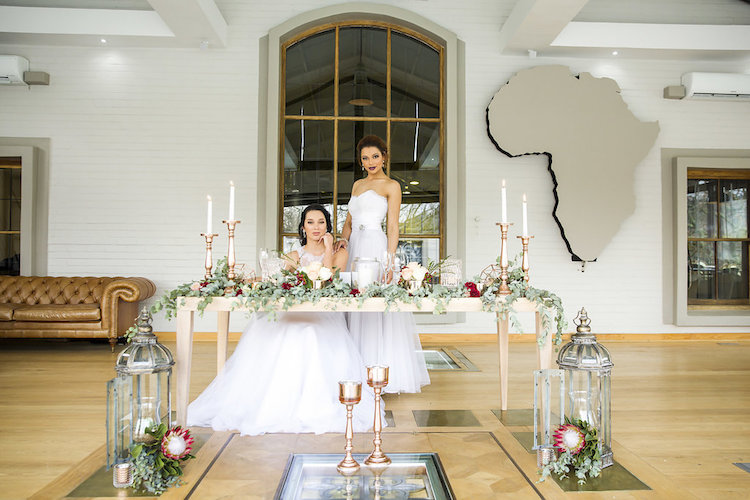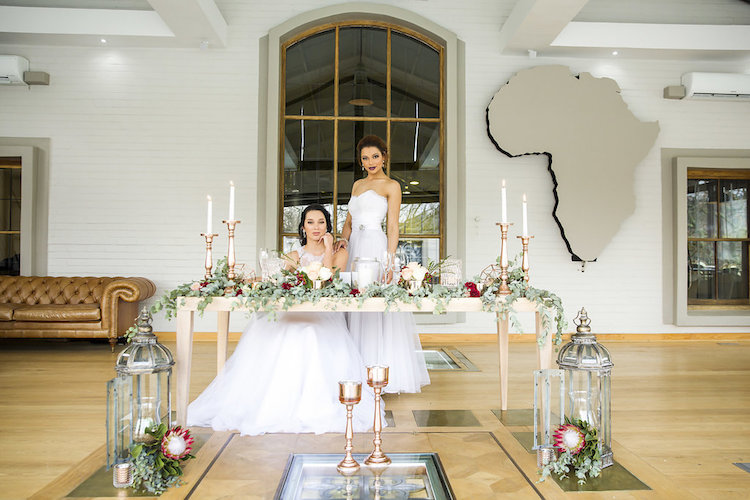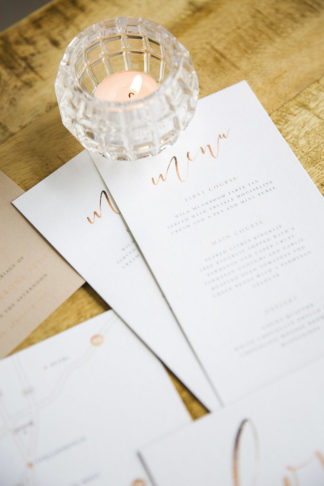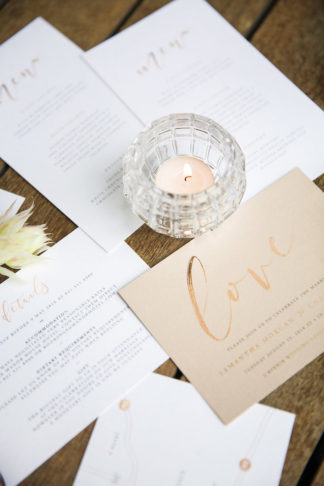 Classic, romantic stationery with a crisp elegance in white, rose gold and blush was designed by Joli Creations & Designs.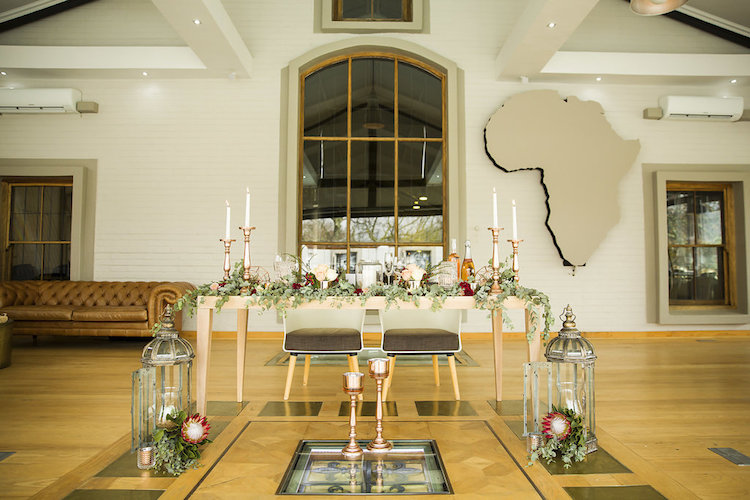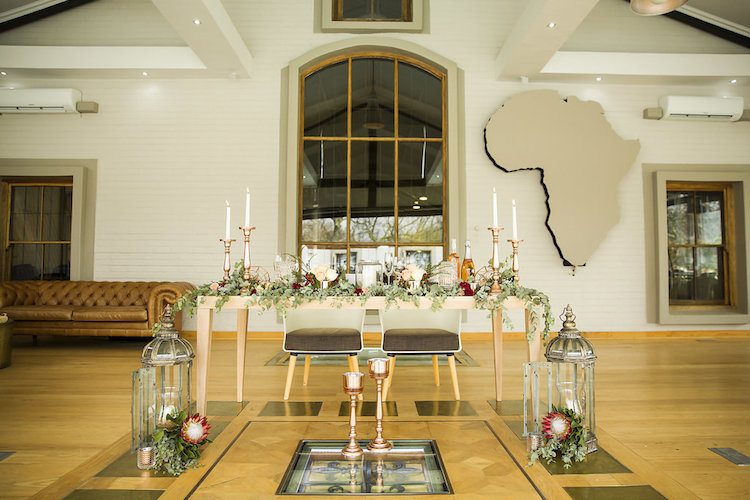 Blomakiti created the table garland from eucalyptus penny gum base then filled blushing bride proteas, wax flowers and burgundy daisy poms.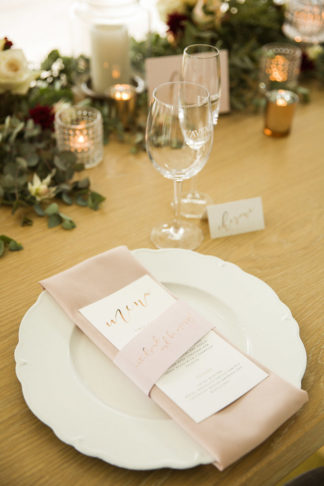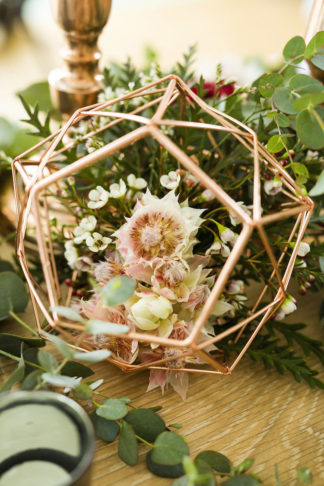 Using the natural wooden table as a canvas, Joli styled the setting with metallic rose gold elements and glass. She included geometric accents, lots of candle sticks and holders in varying heights, white underplates and blush pink linen napkins.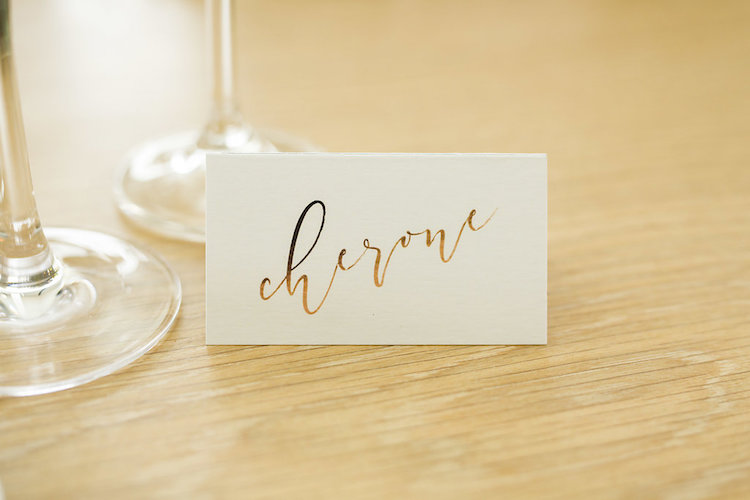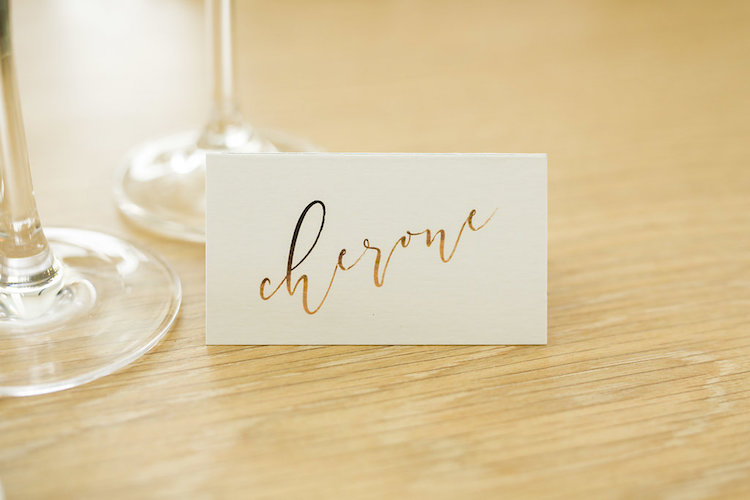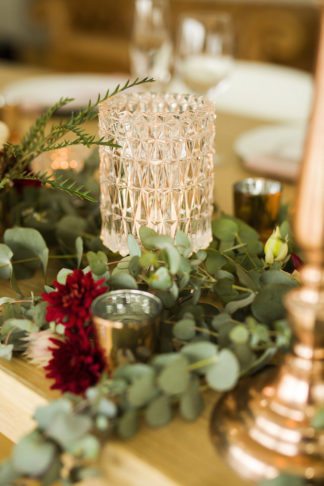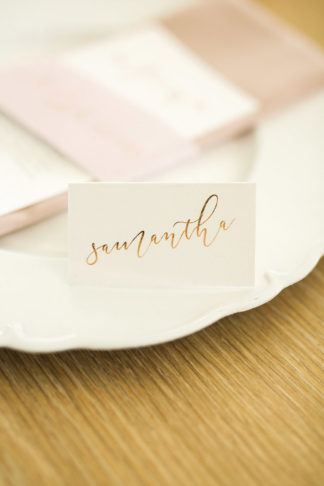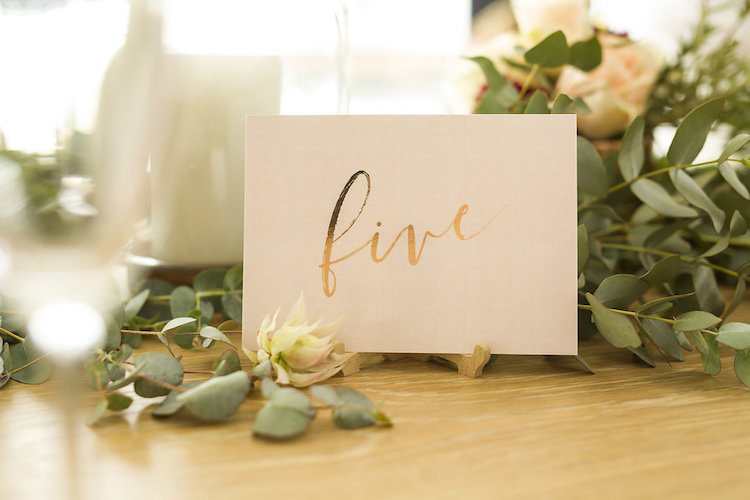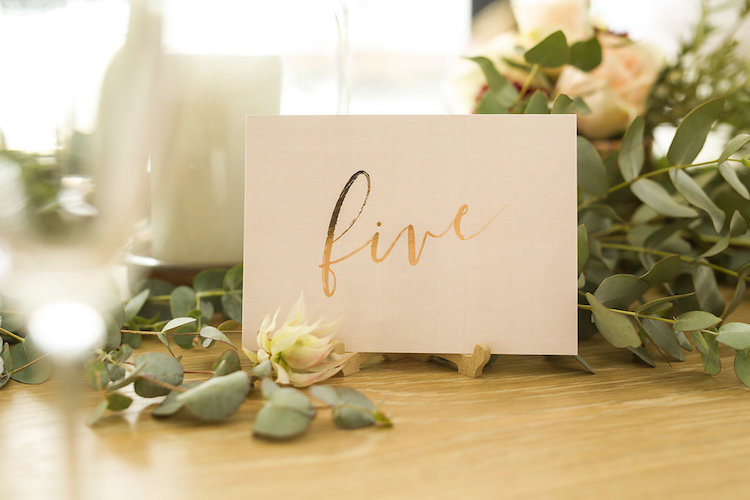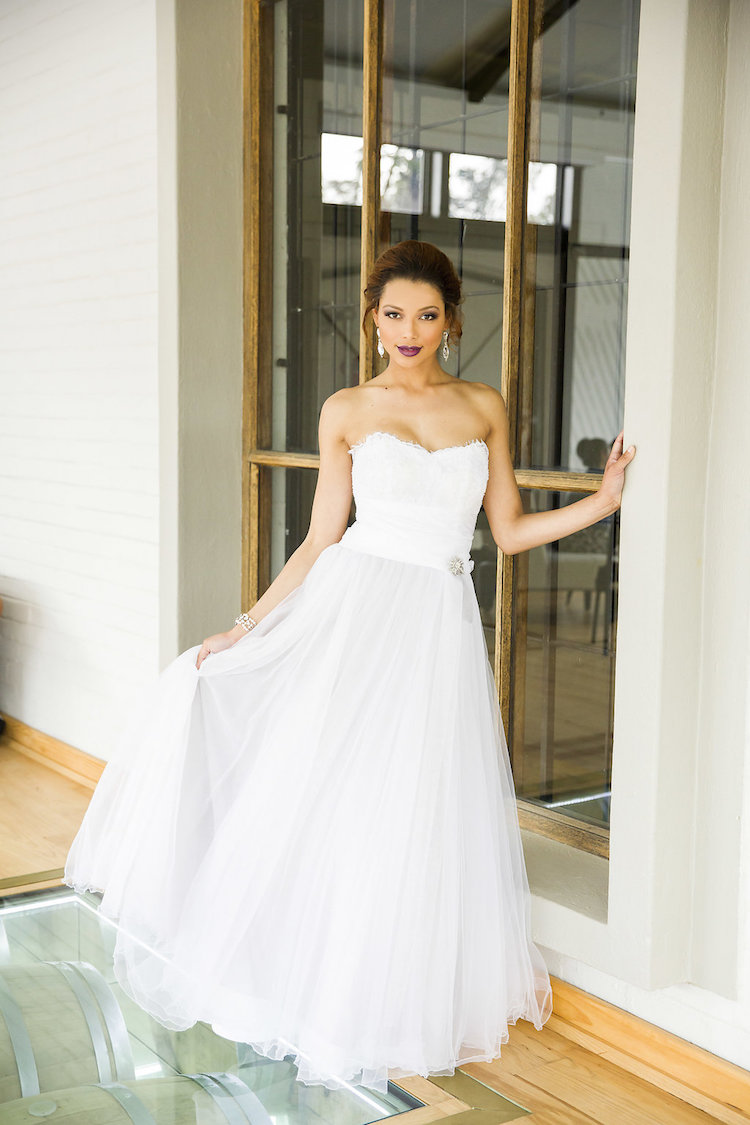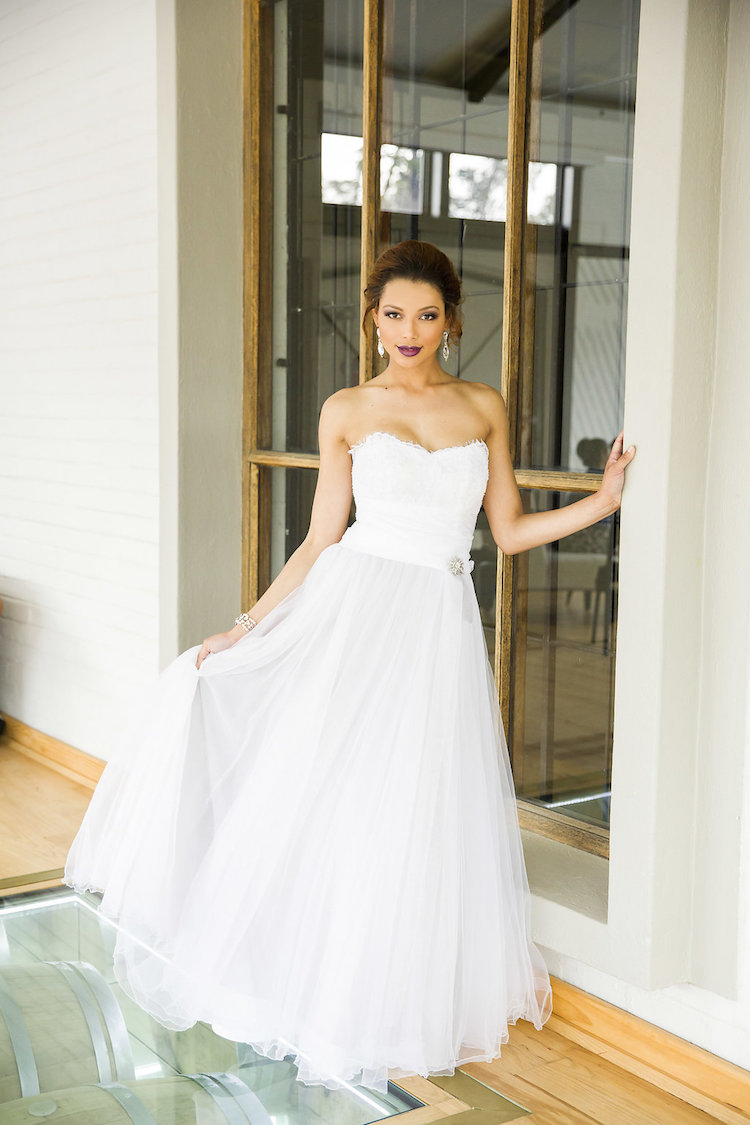 Nique on Fleek styled the first model with an edgy but classy bridal look with an up-style and the second with a soft, elegant bridal look with some wavy curls.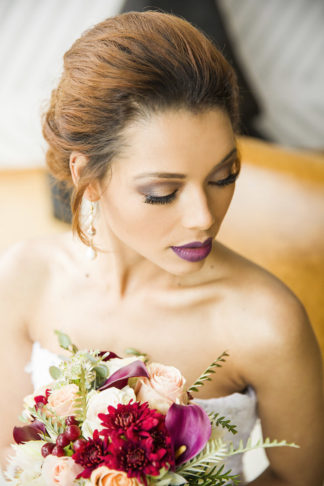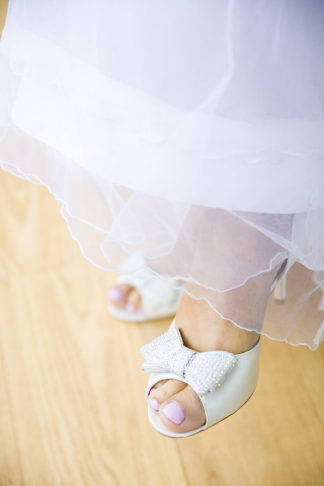 The shoes from Imaani Bridal Shoes were all about beauty and comfort – goregeous designed with padded insoles, non-slip outsoles, adjustable ankle straps and comfortable heel heights.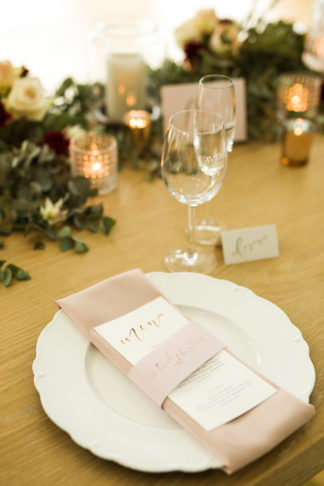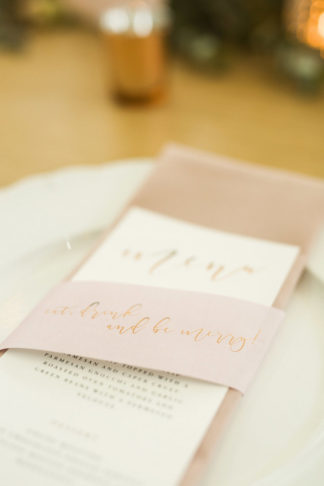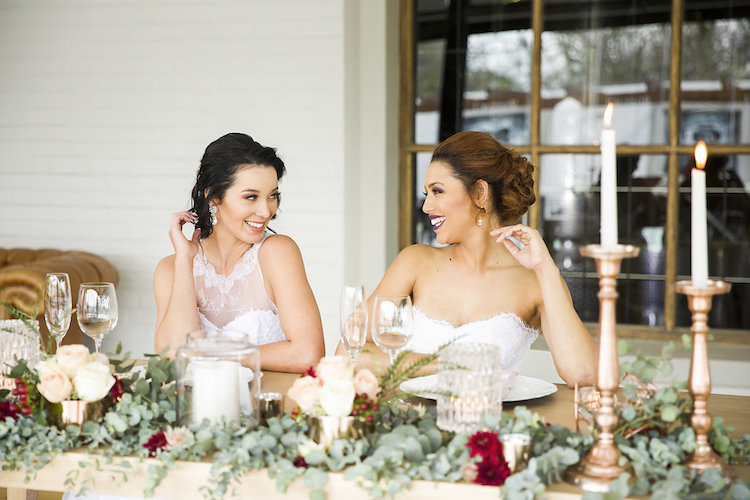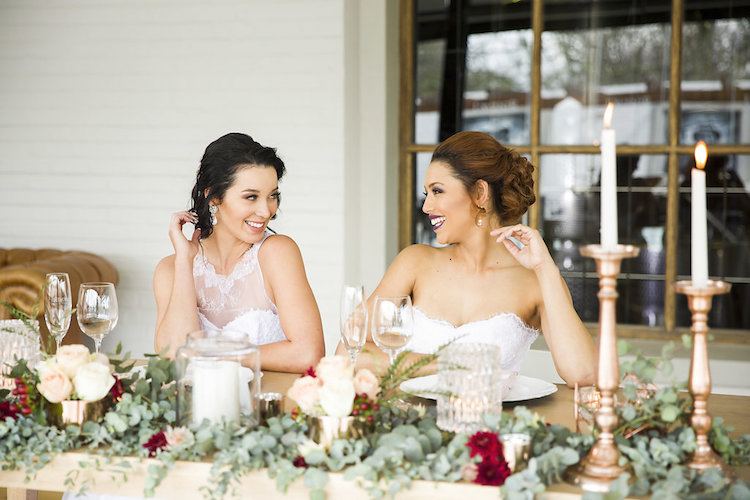 TIP: Blomakiti – When selecting a colour palette first look at the flowers availability and the flower colours that falls within the palette. Before ordering flowers and greenery plan the table décor as this has an impact on the amount of flowers you require.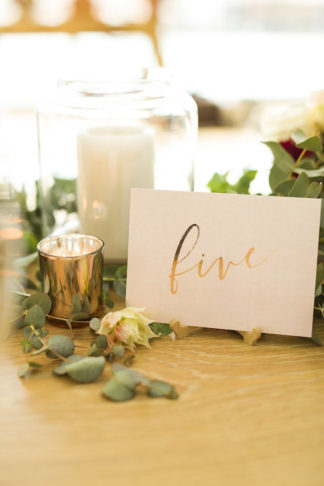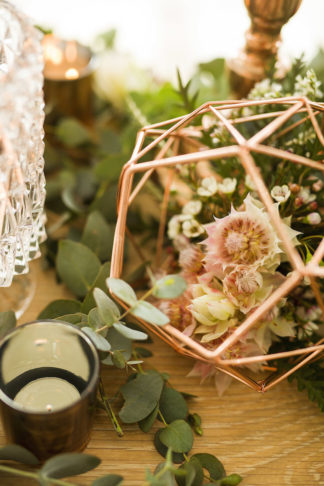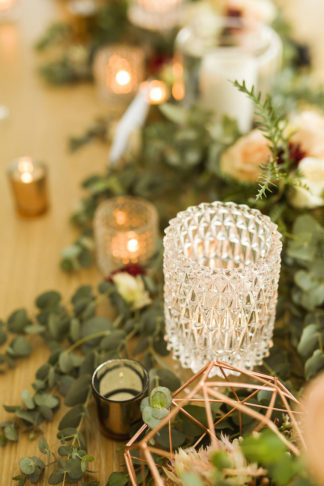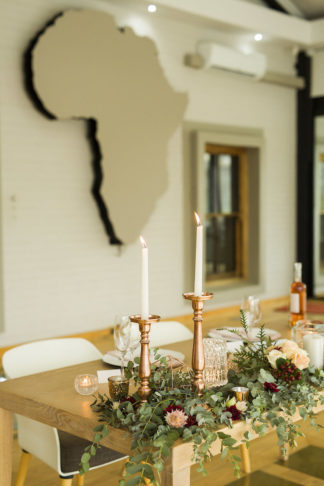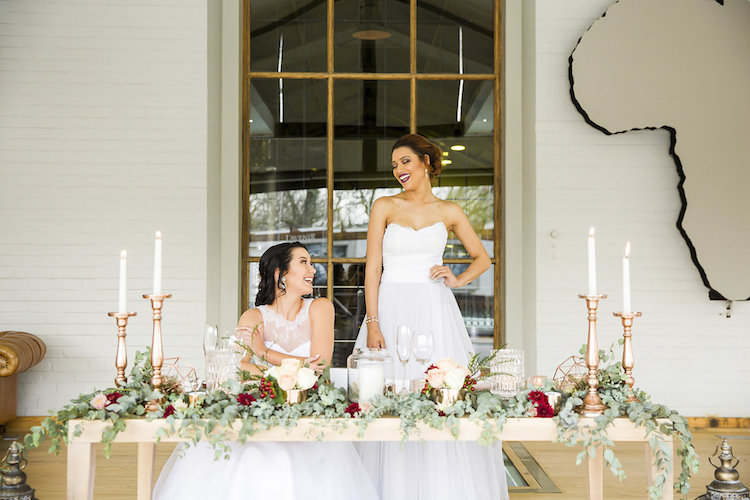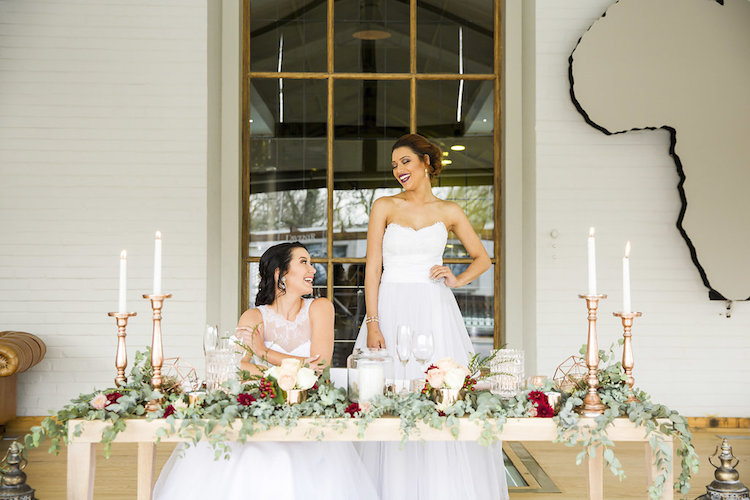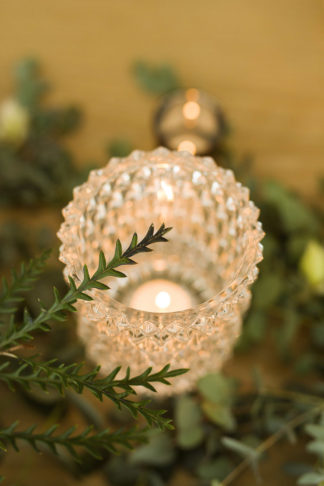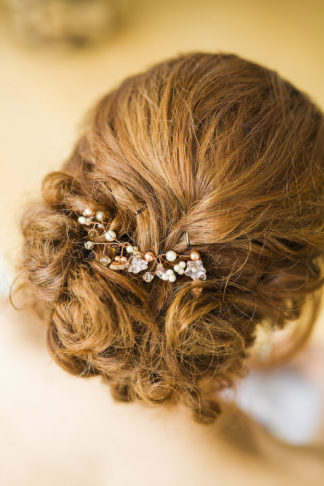 Hayley Goodrich Accessories created a bespoke bridal pieces using Swarovski Crystal and Swarovski Pearls in rose gold and copper shades. (Ed's note: We love that Swarovski pearls are vegan, too!)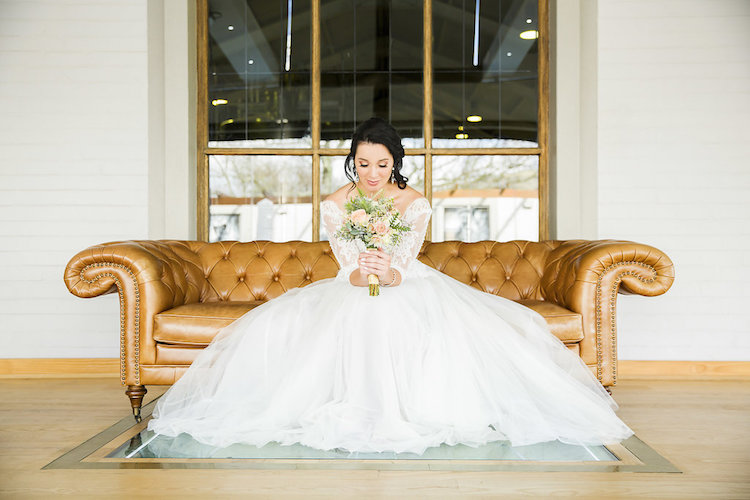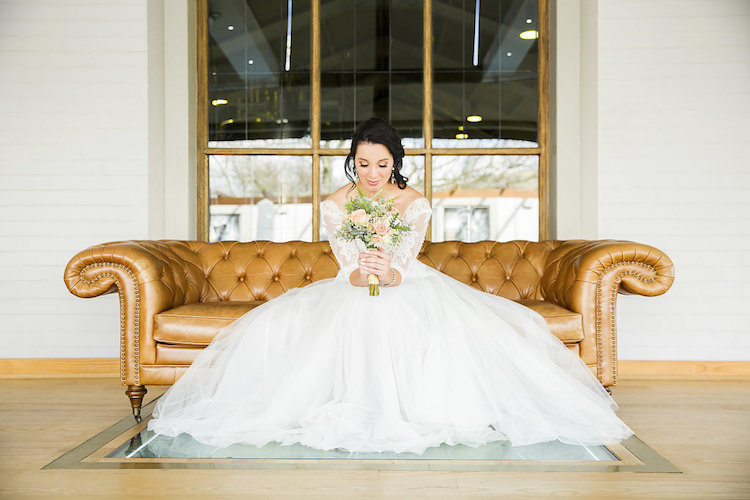 Blomakiti used blush O'hara roses, white Avalance roses, penny gums, blushing brides, white wax flowers & greenery for a soft, white bouquet.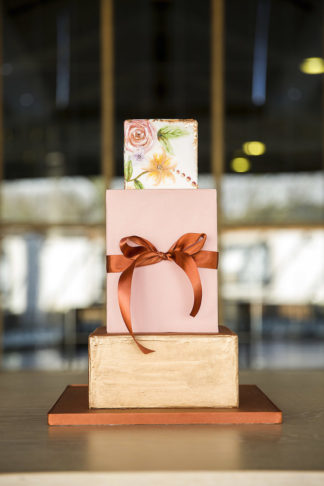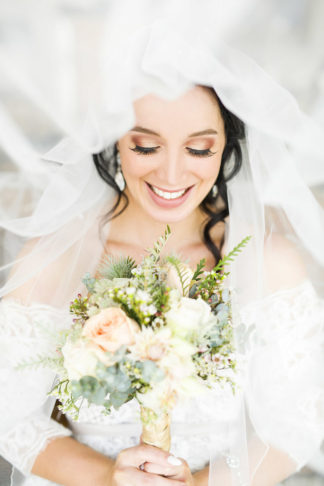 The hand-painted pink and copper wedding cake by  Mrs V was finished off with a satin bow on the second tier, like a gift. The top tier was decorated with hand-painted florals on a white fondant background.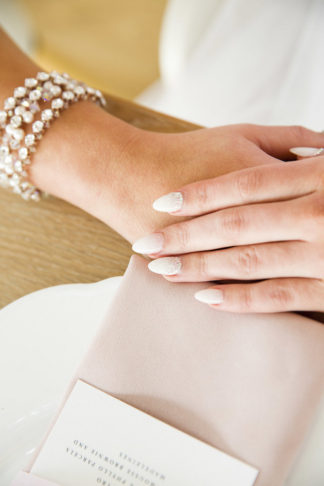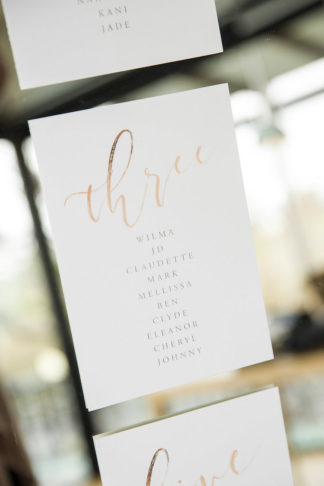 Minelliart created a delicate gel ombre design using Bio Sculpture Gel.
Elegant Copper, Rose Gold+ Blush Geometric Wedding Stylists Tips:
The team of stylists share their tips on recreating a similar look for wedding or event:
Keep things simple- use a lot of glass, and beautiful candles.
Combine wooden textures with metallic elements such as rose gold and copper.
Incorporate additional shades such as blush, burgundy or greenery with your linen, stationery and flowers.
Before ordering flowers and greenery have understand exactly what table décor you will be using, as this has an impact on the amount of flowers you require.
Before committing to a floral palette, check the seasonal availability of flowers within your palette.
For your cake, one or two main colours paired with details on a neutral shade make the biggest impact. Three solid colours could look a bit disjointed –  a print featuring the main colours brings everything nicely together instead.
Try to carry a shade from your wedding palette through to your makeup or hair. It completes the look.
A beautiful hair accessory, matching earrings and a pretty bracelet go a long way. Wearing an opulent necklace is not always necessary and sometimes detracts from the beauty and detail of the gown. Less is more!
When finding makeup looks on internet, look for ones that compliment your eye colour. (For brown or green eyes, Nique on Fleek recommends purples, blues, brown or green shades. For blue eyes, she recommends pinks, reds, oranges and neutrals.)
Do not be afraid to wear a shoe colour other than the traditional white wedding shoe. Rose gold, nude and silver shoes look beautiful with any shade of wedding dress and can enhance your wedding theme colour. You can also wear shoes in other colours after the wedding.
WEDDING STYLIST CONTACTS: 
Photographer:  Bianca Smit Photography // Flowers Blomakiti // Stationery + Decor Joli Creations & Designs // Hair and Make Up Nique on Fleek // Shoes Imaani Bridal Shoes // Venue L'avenir  // Cake Mrs V // Nail Art Minelliart // Gowns Ilse Roux Bridal // Accessories  Hayley Goodrich Accessories
SEE MORE ROSE GOLD, COPPER, BLUSH AND GEOMETRIC WEDDING IDEAS:
Copper, Geometric + Boho Beach Wedding in Cancun, Mexico! {Dawn Derbyshire Photography}
Romantic, Copper, Metallic & Blush Wedding Ideas {Debbie Lourens Photography}
Rose Quartz Pink + Serenity Blue Geometric Wedding Ideas {Veronique Photography}