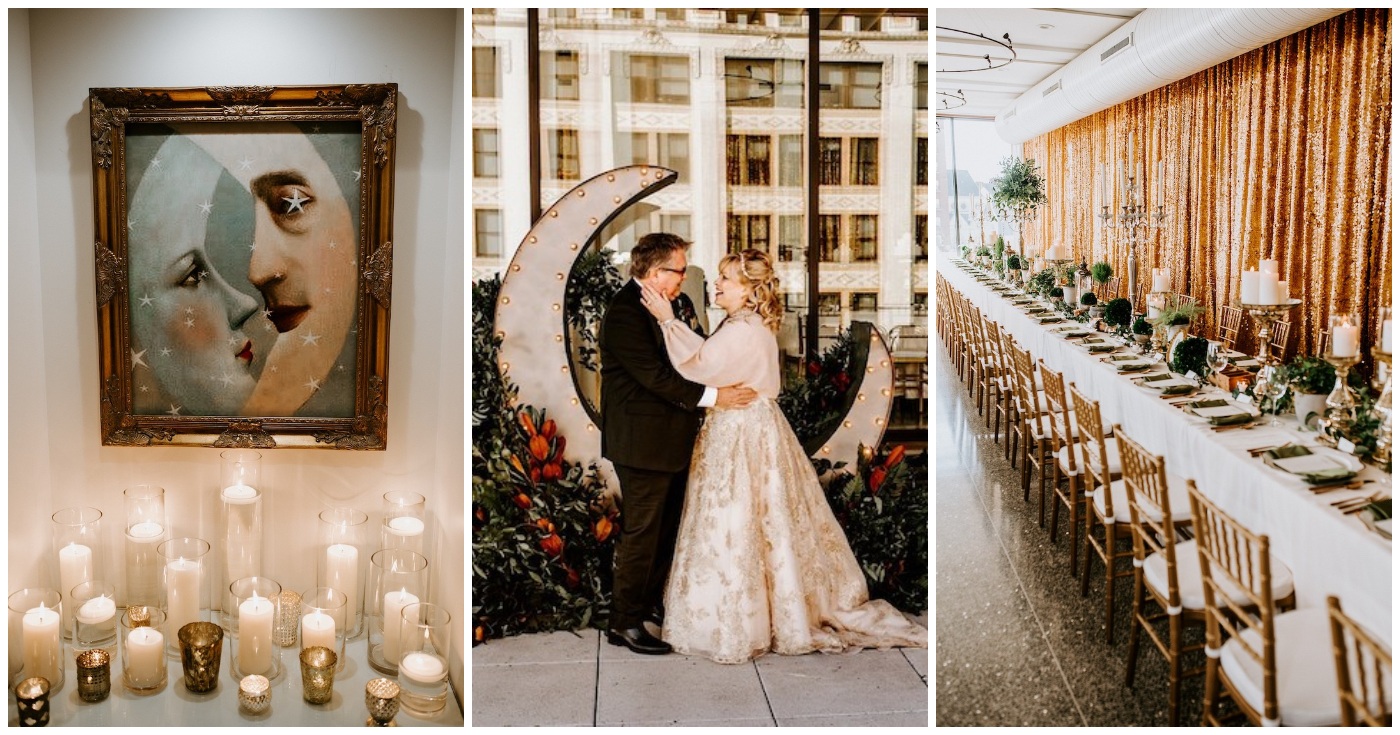 Kathleen and Edward's love story is something you read about in books and see in movies, shares photographer Elizabeth Lloyd, who captured their celebration: "The two met in high school and according to Edward, he had a crush on her throughout but was way too shy to say anything, until they reconnected at a class reunion a few years ago. Edward finally got his chance to ask her out and they have been inseparable ever since."
They celebrated their love with an evening of crescent moons and cats, in a night filled with glamour and whimsy!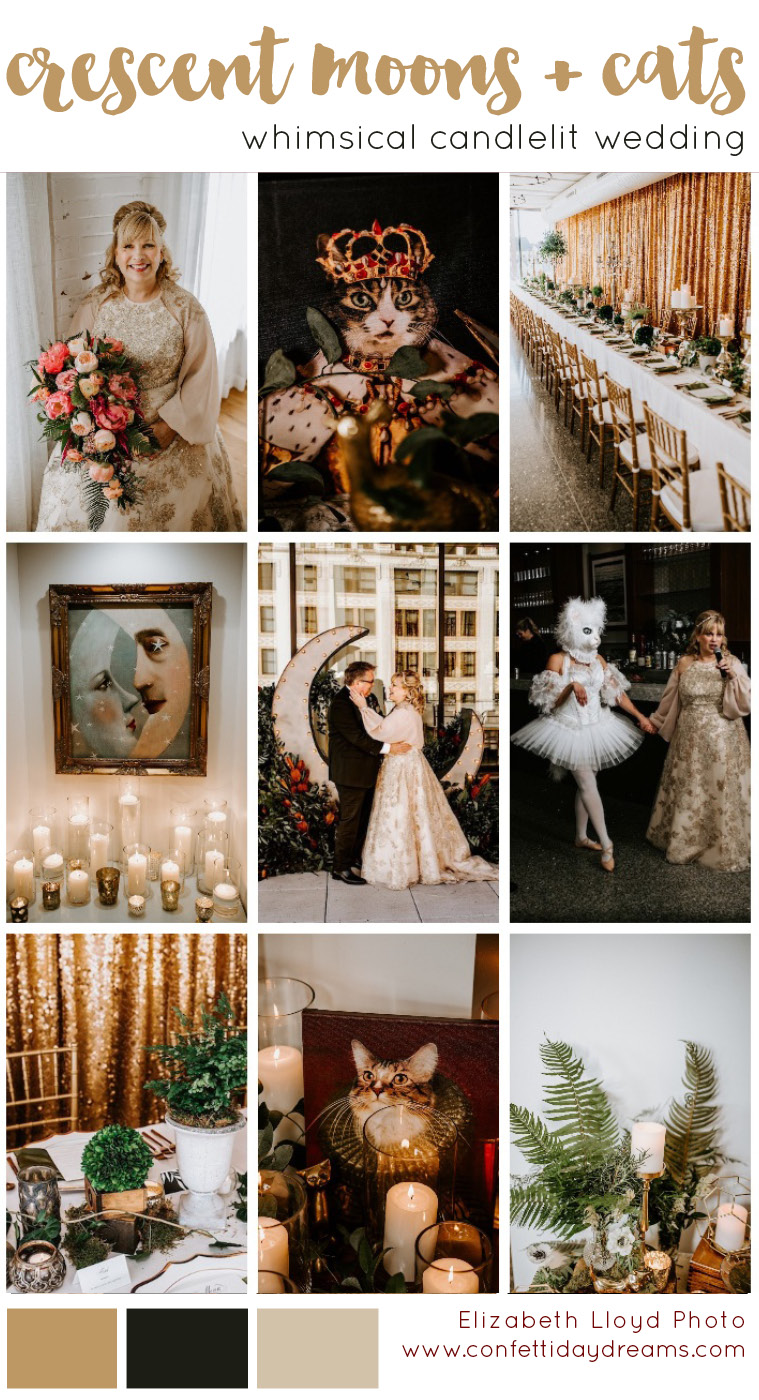 Their wedding theme was a combination of Old World French meets 1970's – a dramatic but intimate candlelit dinner for 100 guests, with epic tablescapes of botanical greenery and gold, mixed with candelabras dripping with greenery.
"The wedding was very personal. Edward and I love our three cats and sprinkled throughout our wedding venue our caterer and venue designer had beautiful antique small cat's strategically placed to surprise guests," shares Kathleen.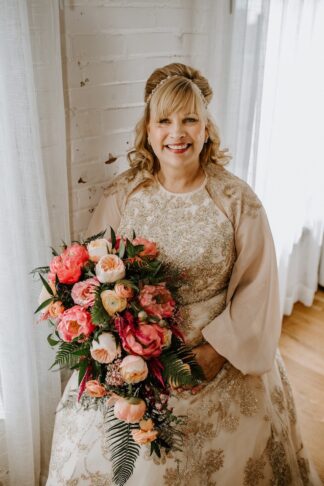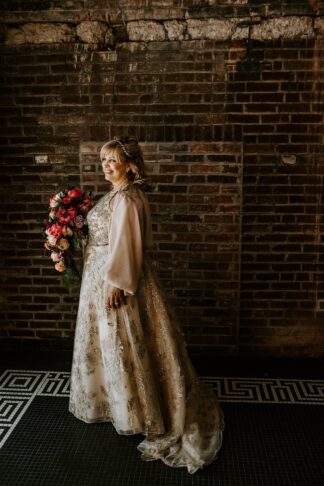 Love Story: Edward and I went to High School together at Parkway Central. We shared a Biology class in 1982 where he tells me he thought I was as 'cute as a baby bug's ear' I was the class of 84 and he 85. Edward and I were both shy and he never asked me out but found me in 2009 through Facebook.  He sent a message talking about that Biology class and referencing the bugs ear comment.
We dated for 9 years before he was ready to marry. It was only after a heart attack that brought him to the conclusion he had one regret when he came out of surgery and that was that we had not married. After discharge, he drove us straight to Genoveses Jewelers and selected the most stunning ring that looks antique. He actually never asked me to marry him until the night of our rehearsal dinner at The Last Hotel on Washington Street in front of our family and friends.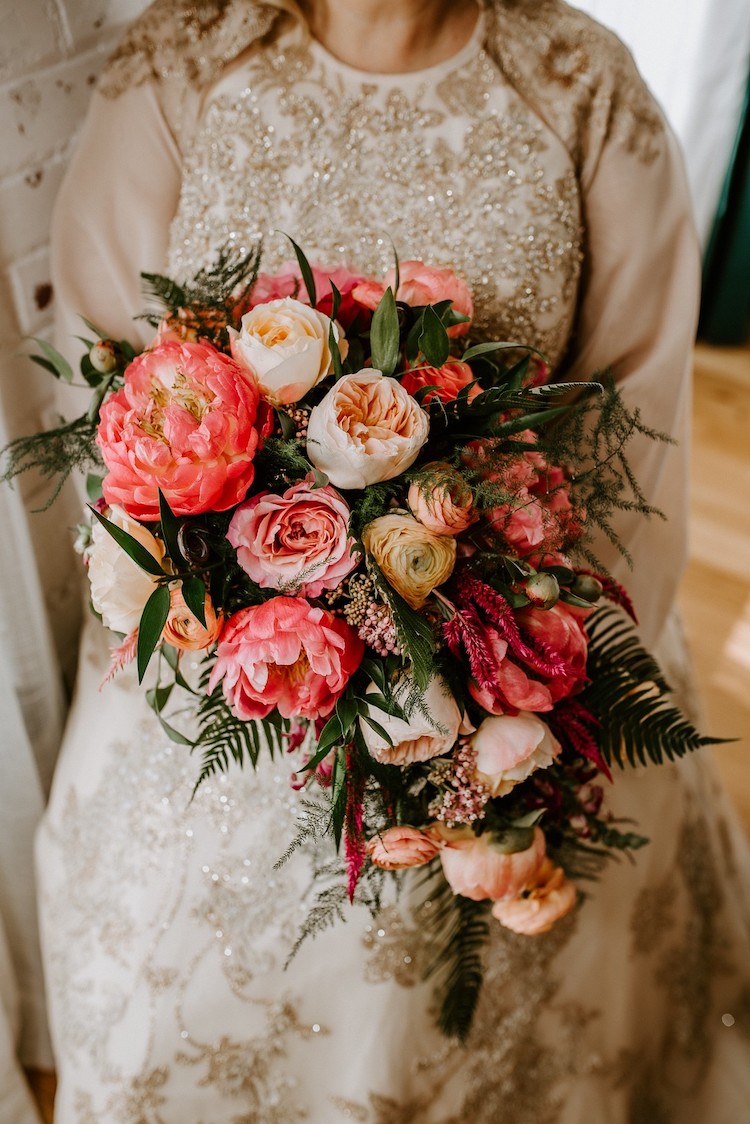 Jody from An Affair to Remember did all the design and florals for our event. I told her I did not originally want to do flowers as I get sad that they die so soon. However, I came across a bouquet that that's colors, texture and stunning beauty took my breath away. I knew these flowers were not in season and each bloom was larger than a fist. She somehow managed to create the bouquet of my dreams. My daughters wore matching floral cuffs on their wrists and I hand-painted two ornate silver and copper lanterns which she lit with lights that wrapped around flowers that cascaded outward.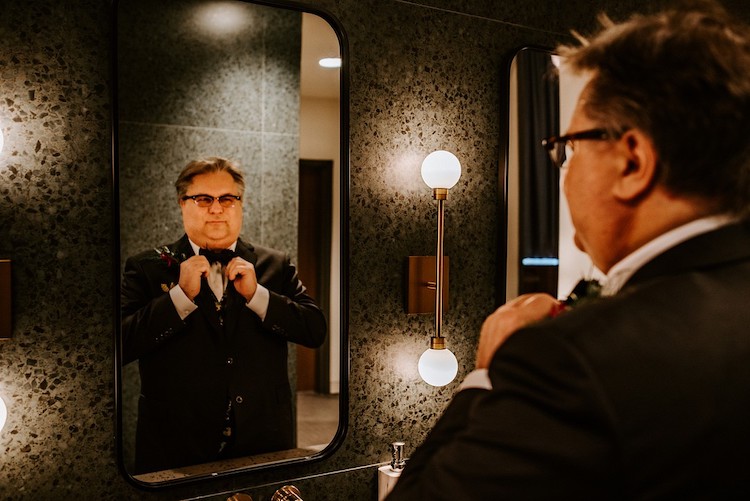 Edward's suit was completely hand made by Bespoke Apparel and the vest was vintage fabric. My dress was tailored also by a clothing maker also called Bespoke on Cherokee Street. I wore my mother in laws diamond watch for my something old which was very special as my new sister in law had given it to me as a gift. Hair and makeup were done by Looks by Lisa. My sister and sister in law both wore olive-colored dresses which were beautiful.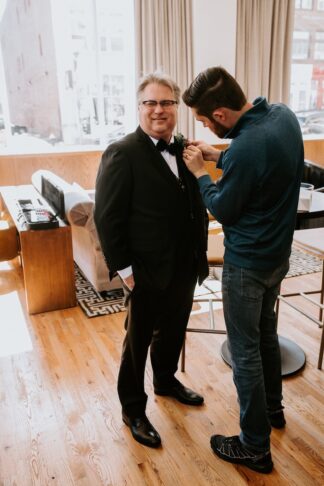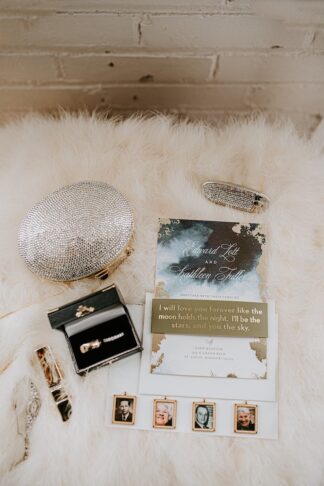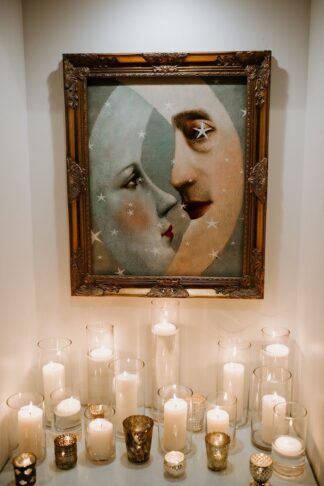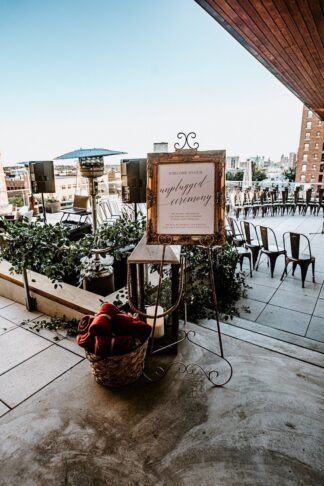 Before the ceremony, we held a cocktail party in the downstairs gallery where guests were treated to an acoustic guitar player, specialty cocktails, original walk art framed in elaborate gold frames that were a hint of the evening to follow. Guests were welcomed by the all white cat ballerina. I hired Talent Plus to surprise Edward with a cat ballerina who stole the show in her stunning white outfit.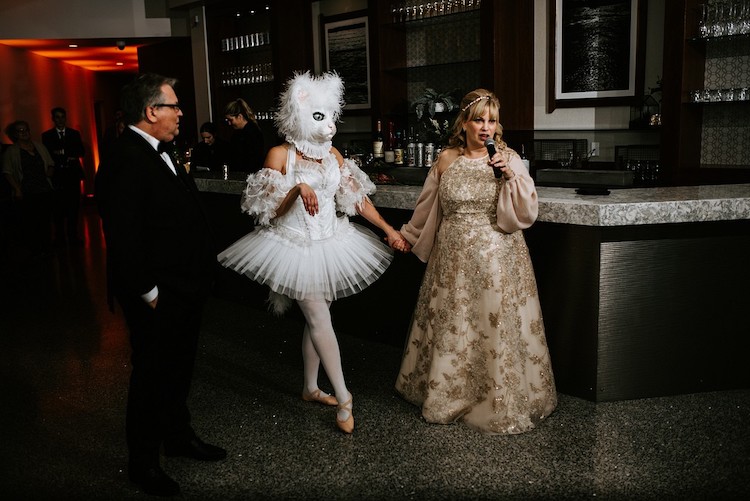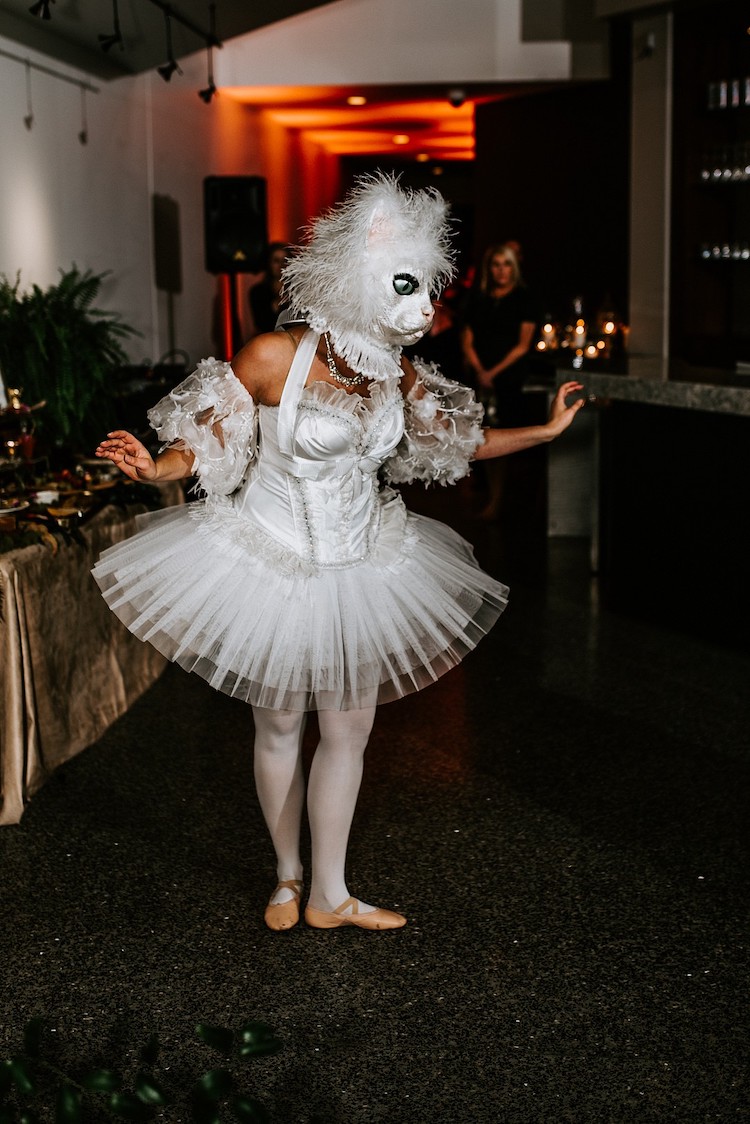 Edward loves the St. Louis Continental Building which was the backdrop of our intimate rooftop wedding.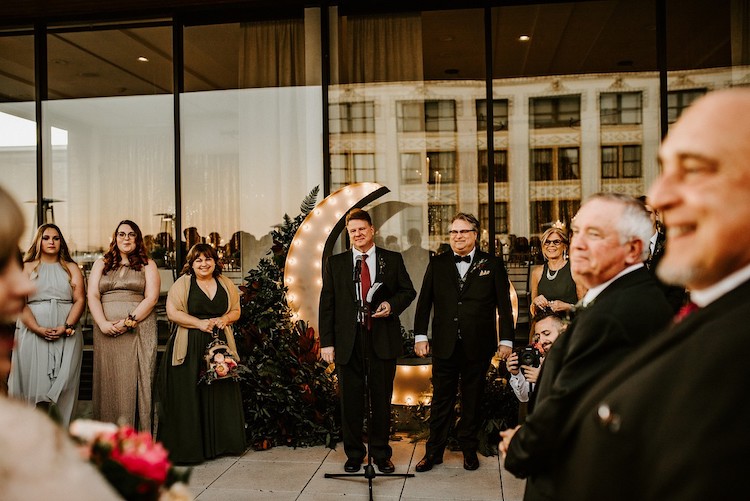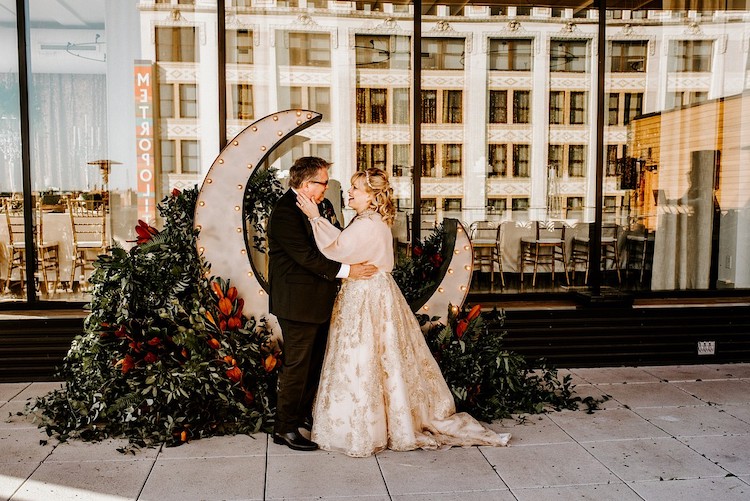 There was a full moon as well and our designer made a six-foot stunning crescent moon backdrop to our ceremony that was beautifully glowing and covered with trailing greenery. My brother in law Keith Black was our officiant and we were surrounded in a half-circle by family and loved ones.
One of my favorite parts of the ceremony was the procession. Our officiant, followed by Edward, the wedding party and then myself was done to the song Holly Holy by Neil Diamond.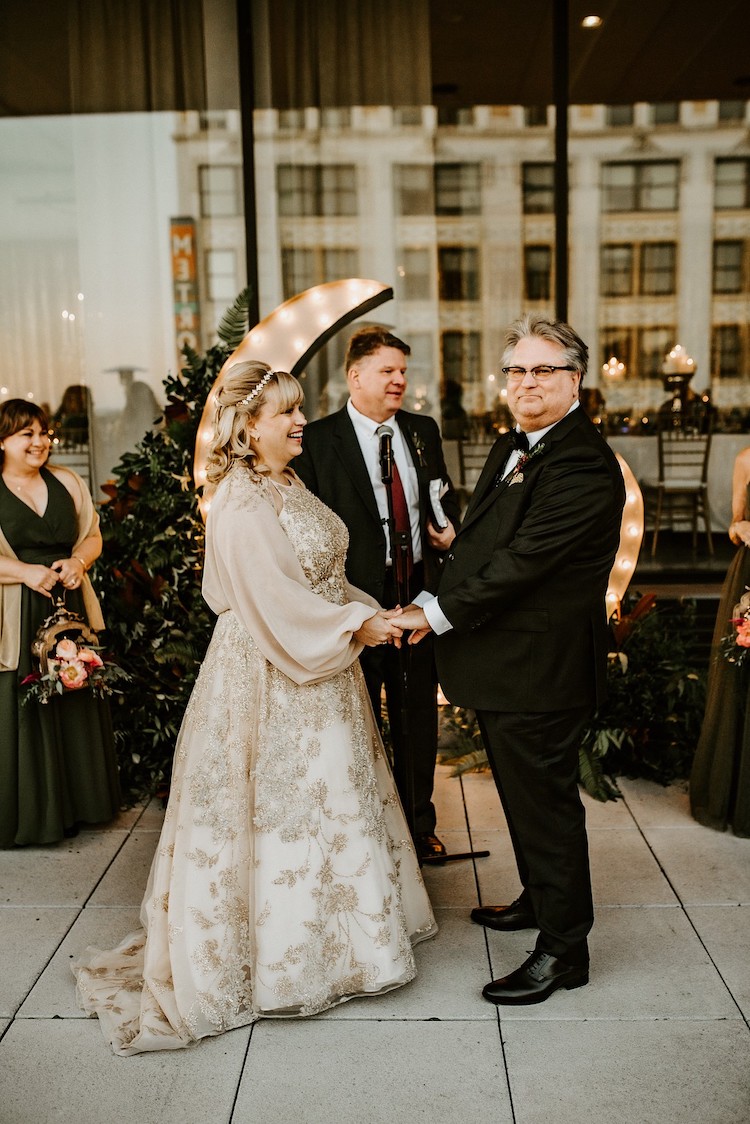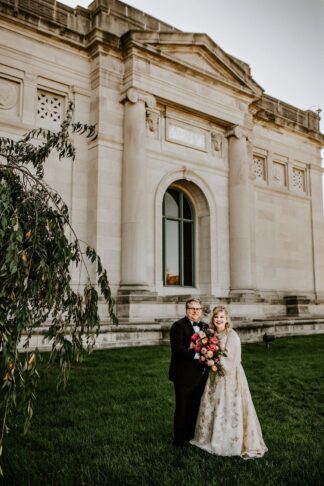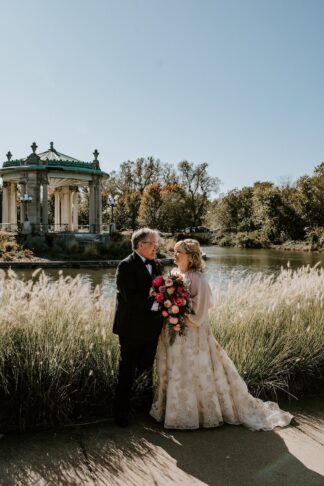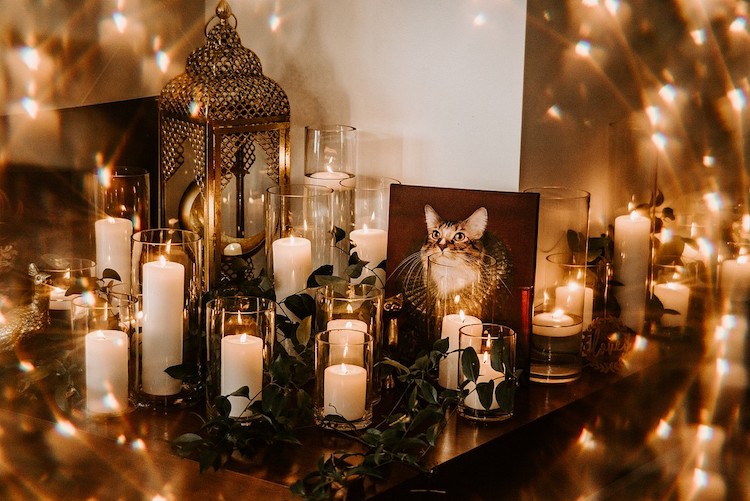 The dinner venue came alive as the sun went down which could be seen through the windows as our ceremony took place. It looked like a dream.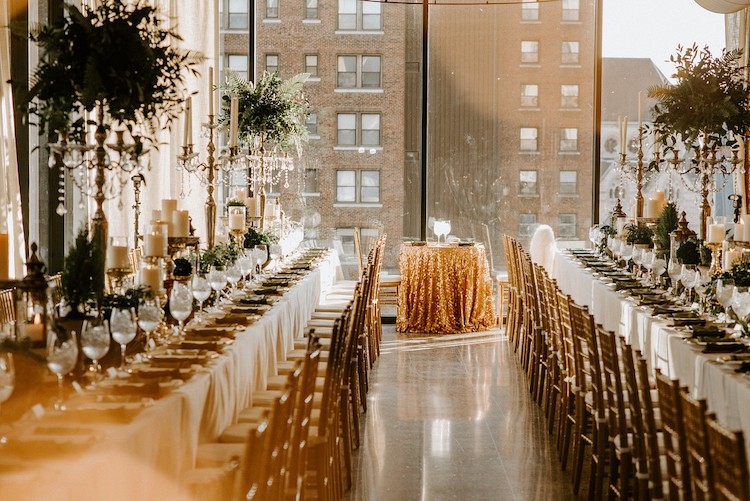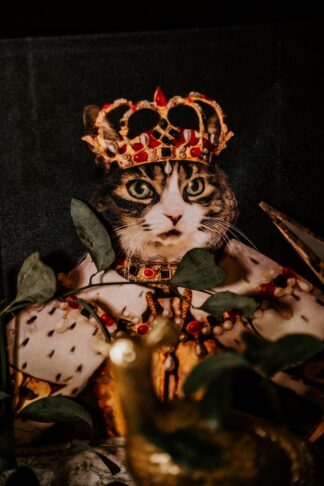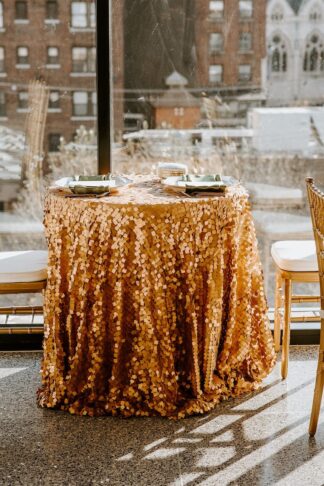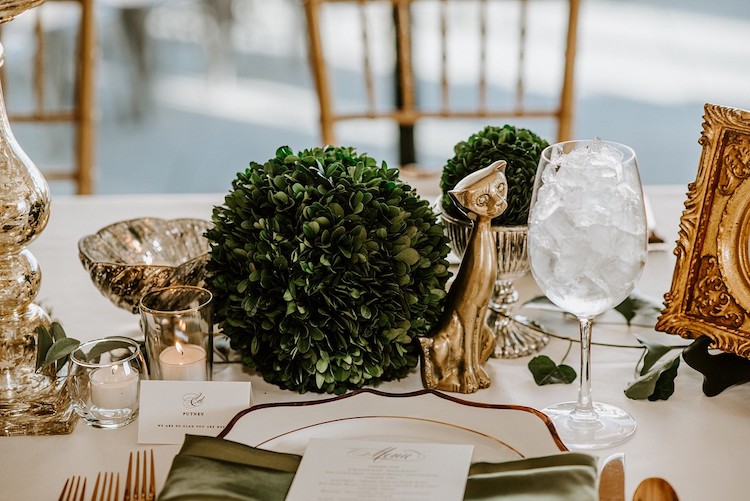 Our guestbook was actually a 1985 black acoustic guitar that guests signed in gold and silver pens. Edward is an avid guitar collector and this will become a family treasure, it was very unique.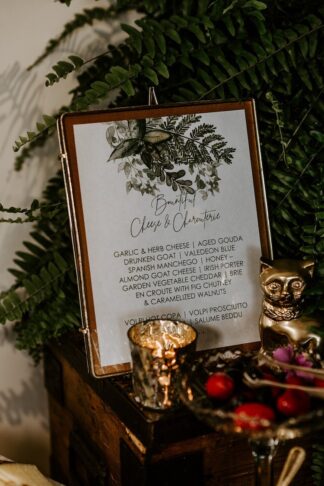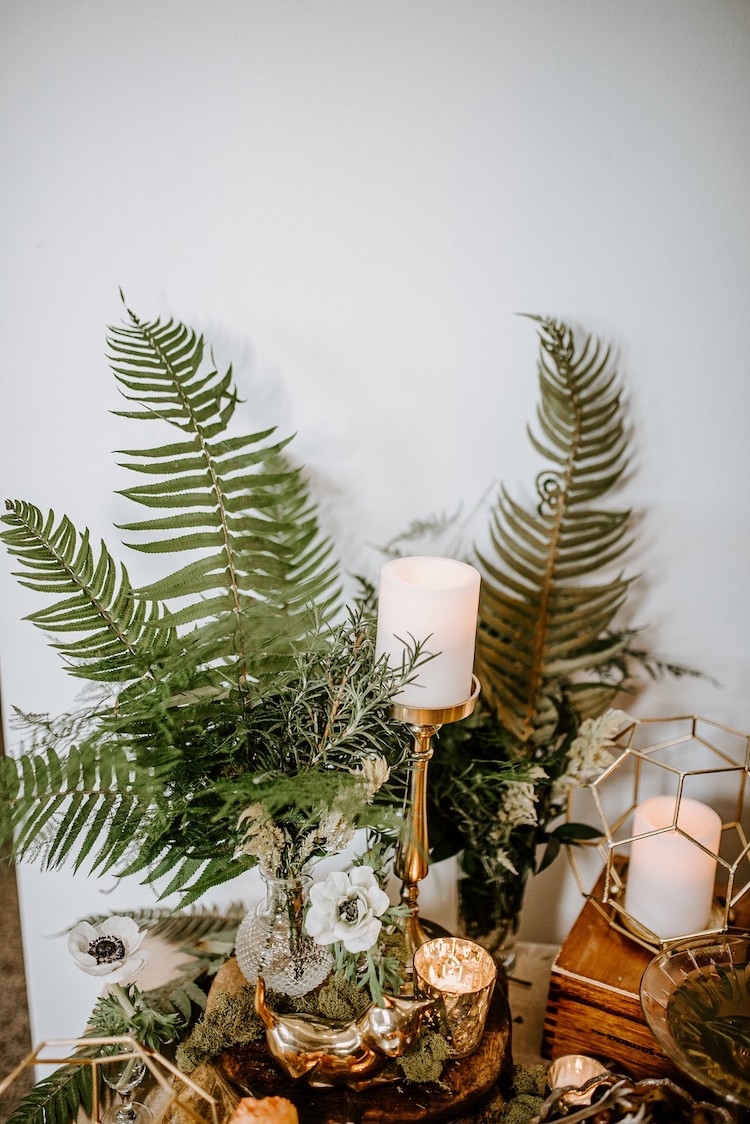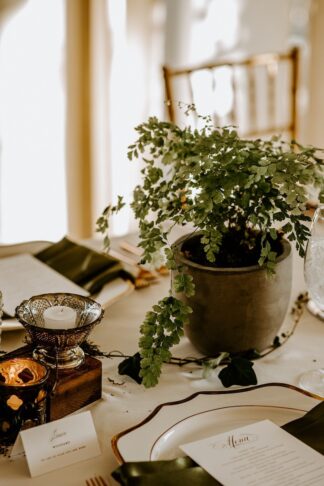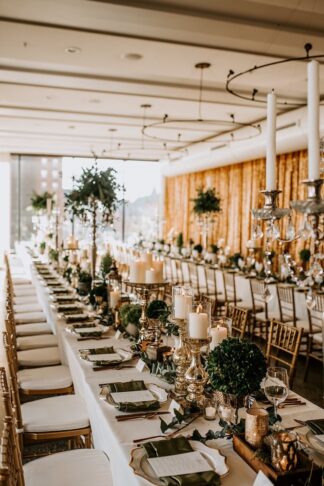 The food was the hit of the night! Kelly Spencer, the owner of The Social Affair created a six-course meal that was so delicious people could not stop talking about it even a month later. The presentation was five star and elaborate. Kelly's creativity made the reception completely memorable.
We also had a charcuterie table for guests to nosh at their leisure, a cat-themed ice cream station with three flavors that fit our cat's personalities served on tiny cones.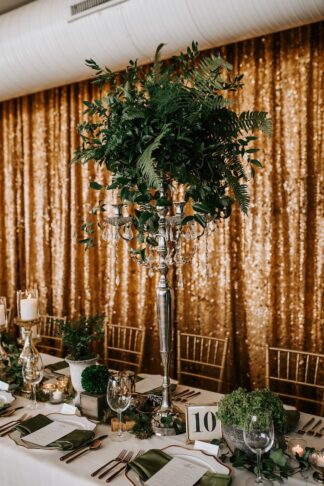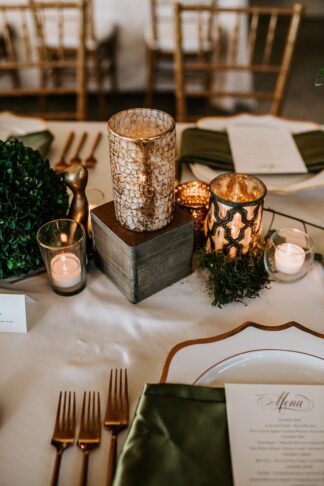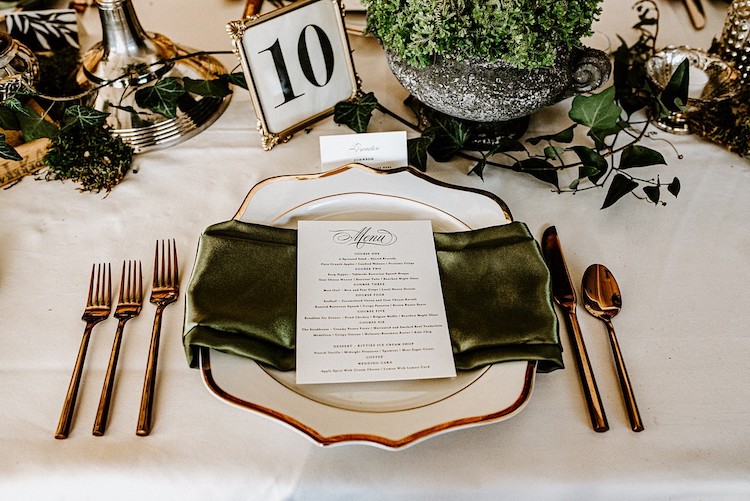 Hundreds of candles were everywhere and an entire forty-foot wall covered from ceiling to floor in gold shimmering pipe and drape. Guests were intentionally seated with the desire to create new everlasting friendships. Music was pure 70's disco on the rooftop under the full moon. Guests took home handmade empanadas with a tiny cat stamp on the bag to end the evening.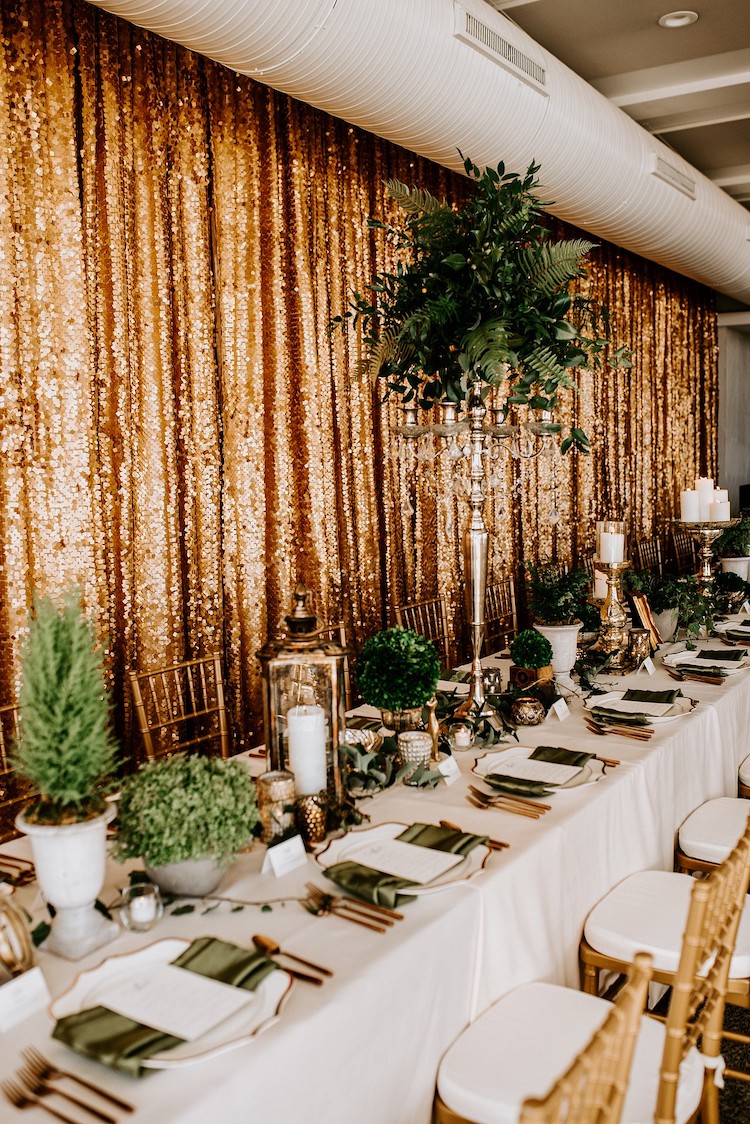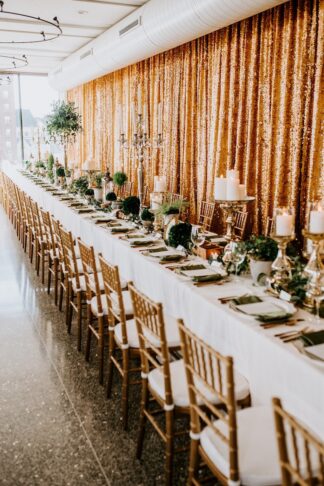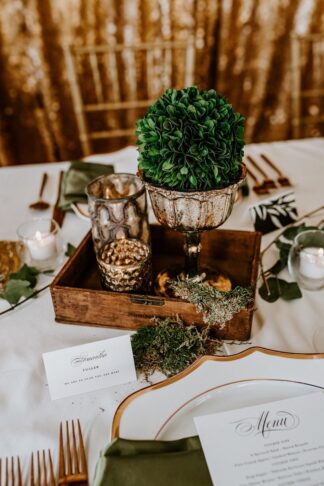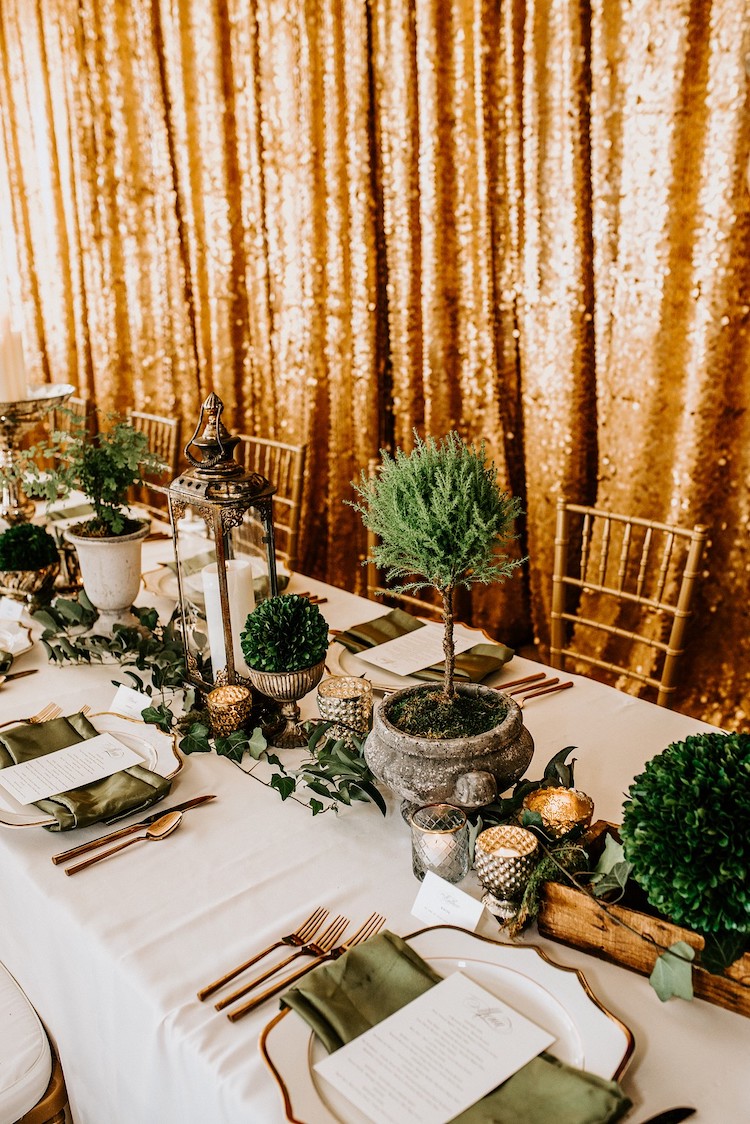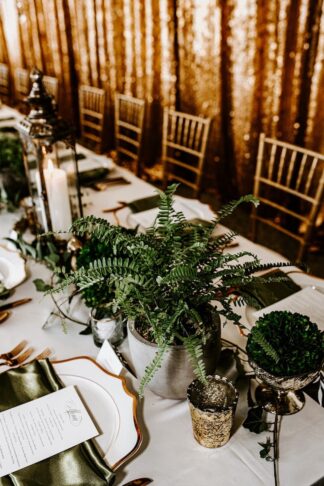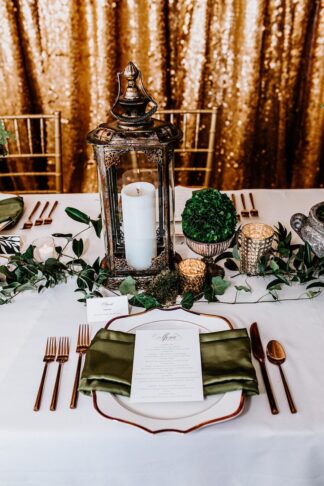 Our wedding cake was gorgeously made by Kaked by Katie. She hand made a large gold sugar ornament that adorned the top with ribbons flowing downward and three tiny gold cats playing with the ribbons.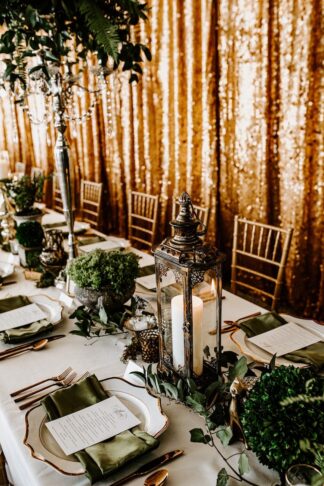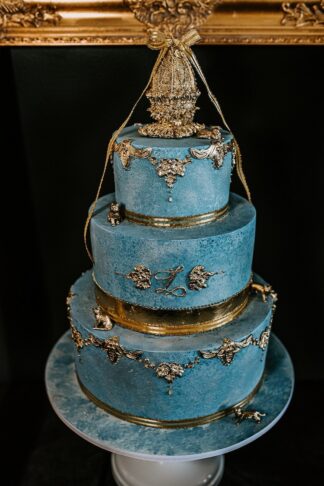 WEDDING VENDORS:
Event Venue: Anew//Professional: Talent Plus//Transportation: BEST Transportation//Cake Designer: Kaked by Katie//DJ: Rockstar DJs//Caterer: The Social Affair//Floral Designer: An Affair To Remember//Event Planner: Altar'd Events//Photographer: Elizabeth Lloyd Photo//
READ NEXT:
Gorgeous Green and White Botanical Wedding, South Africa {Marlize de Lange Photography}