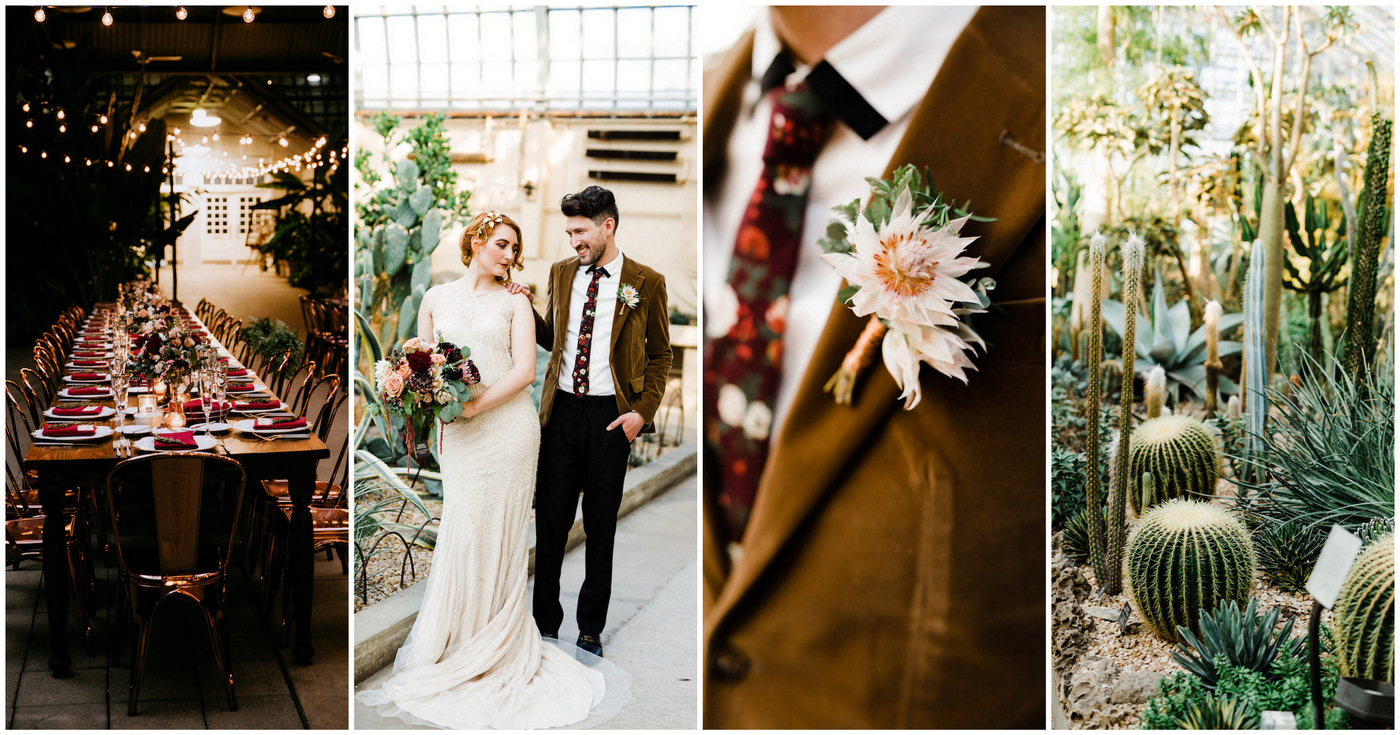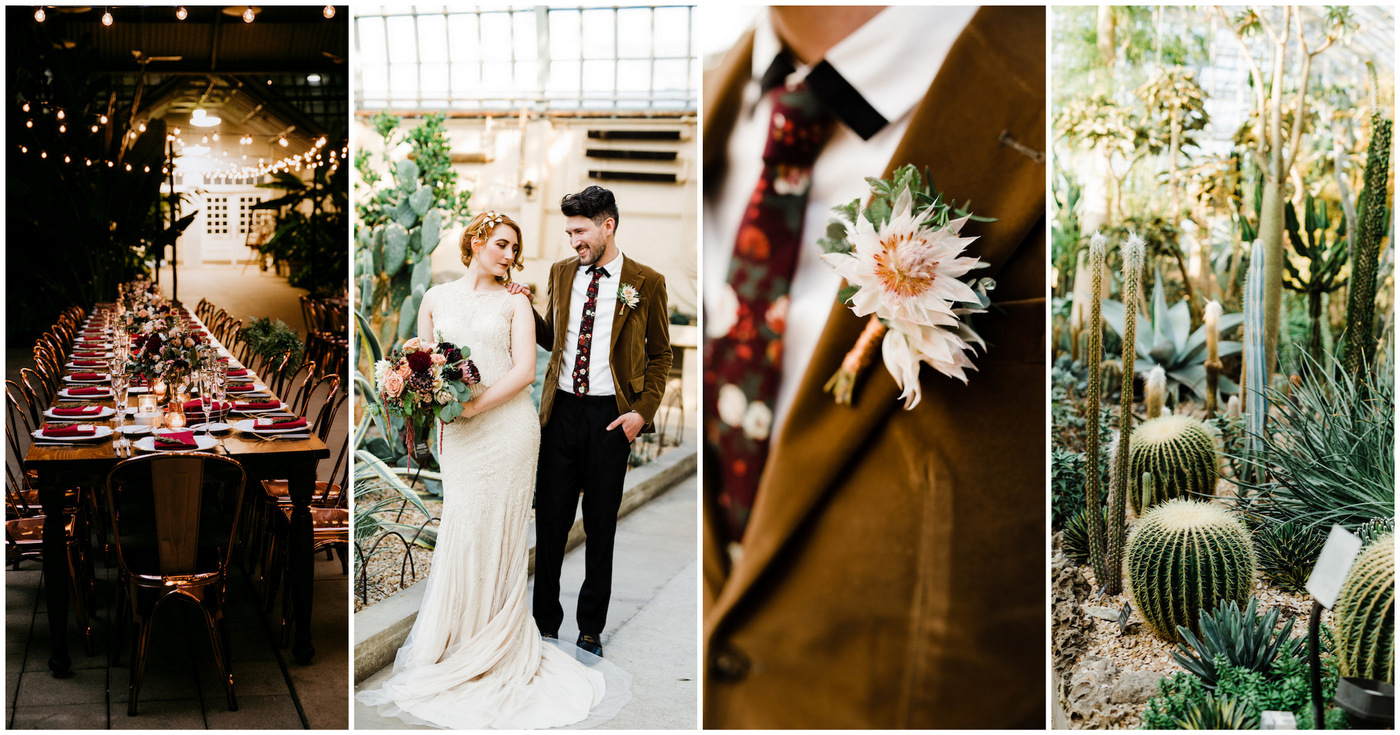 Arielle & Daniel's intimate, botanical wedding at Garfield Park Conservatory was filled with vintage 1920s flair with the help of planner Julissa of Clementine Custom Events . After the sun set during their ceremony, their evening reception under starry market lights made for a Parisian Bistro kind of feel! The lush greenery of the Conservatory wedding garden took center stage, as touches of metallic rose gold, mixed metals, burgundy, rose, and copper added to their color palette, captured beautifully by Agnes Rasek Photography.
For the bridal party getting-ready photos, they booked an adorable vintage style Air BnB in Chicago near the venue that made for some really beautiful, stylized photos and a special retreat after the wedding! 
Both are avid video gamers who attend conventions and cosplay – it's the reason they met, and a huge part of their lives together. To incorporate this Daniel,  (who is a professional musician) painstakingly transcribed their favorite video game music (from Final Fantasy, Bioshock, Legend of Zelda, etc.) for his band to play live during our ceremony and cocktail hour! He did so in the style of Parisian gypsy jazz to transport everyone into the Jazz Age. Seriously, how frikken awesome is that?!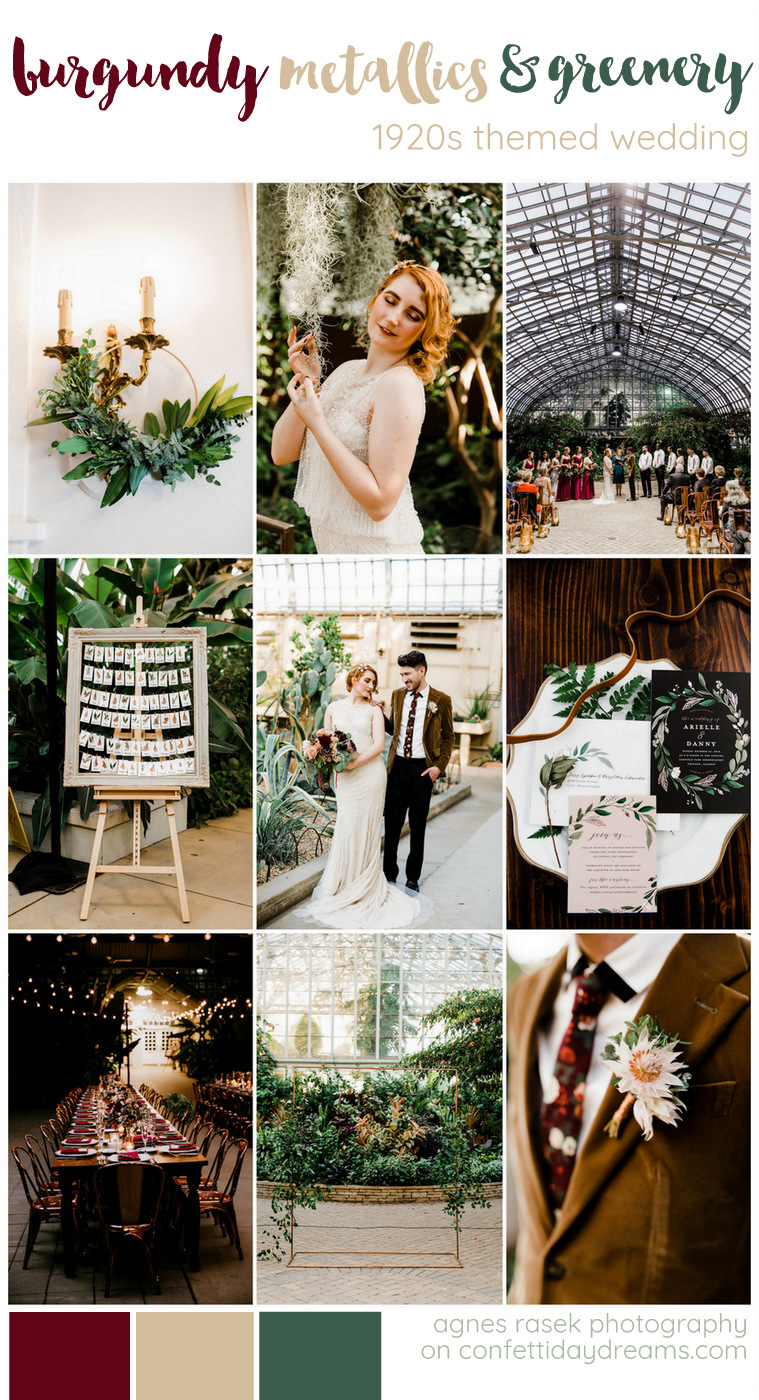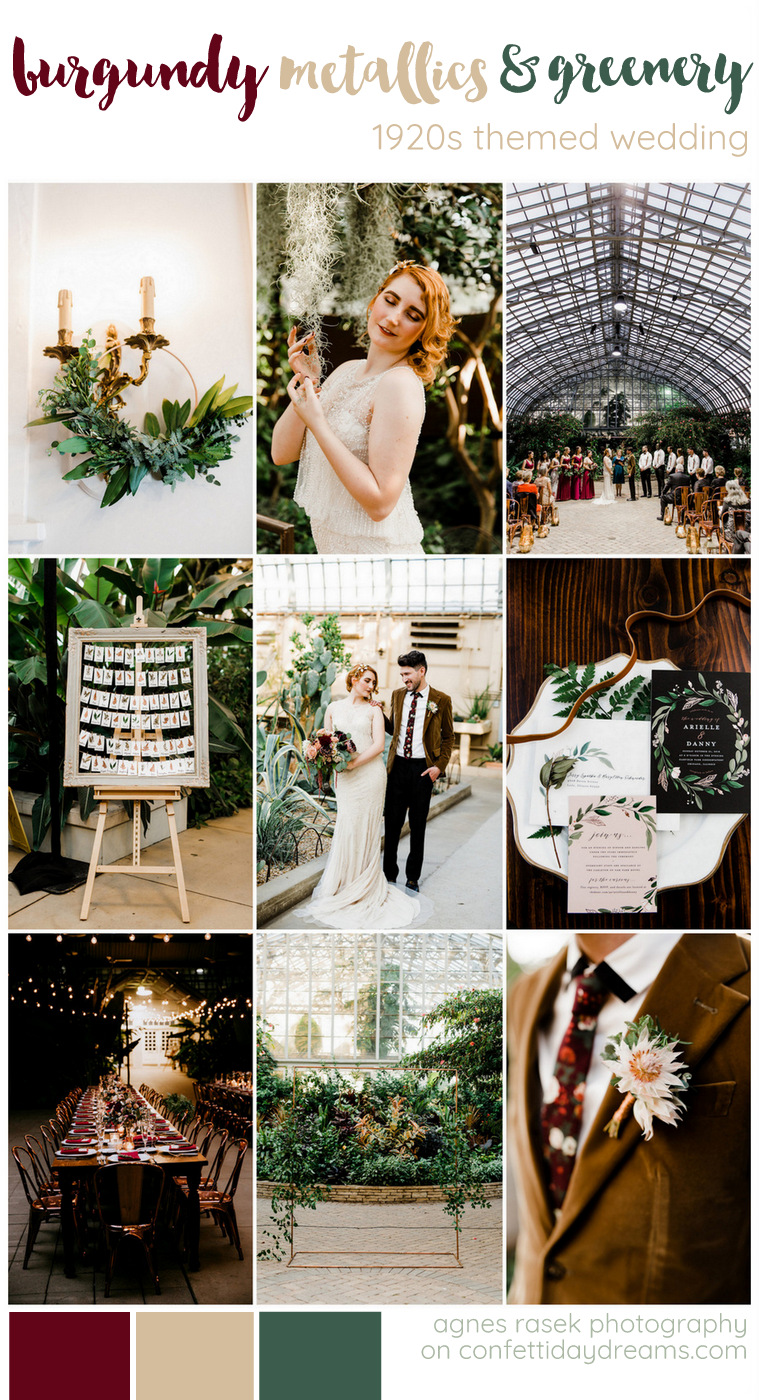 We met completely by chance…and of course musically and geekily inclined! I was in my 2nd year of college (Danny was in his last year of undergrad) and had a roommate who was an Opera singer. I was helping out my roommate's Cabaret Night by working the ticket table with a friend, who is a well-known video game streamer.
Danny happened to be playing upright bass in the band that night and came over to talk with our now mutual friend before the show started. He was fiddling around playing songs from the video game The Legend of Zelda on his bass…which, of course, caught my attention. And really…that was all it took!
Fast forward 8 years and several apartments and a furbaby later… On my 27th birthday, I was surprised in our kitchen with a Starbucks coffee and Danny strumming my favorite video game song he had been learning on mandolin. He then ran to his office and grabbed a large box, which had several gifts inside! Each gift had been handmade by one of my closest friends and progressively got smaller in size.
The smallest one was a pouch, which held inside my rose gold diamond ring by Heidi Gibson (which also turned out the center stone itself was a surprise – a family heirloom diamond from the 1800s!)!! At this I looked up and saw Danny on one knee. We were both so lost in the moment, I just muttered "Well, of course!!" and "Do I have to put this on myself?". We filled the rest of the day with a lot of laughter and family!
1920s-Style Conservatory Wedding in Chicago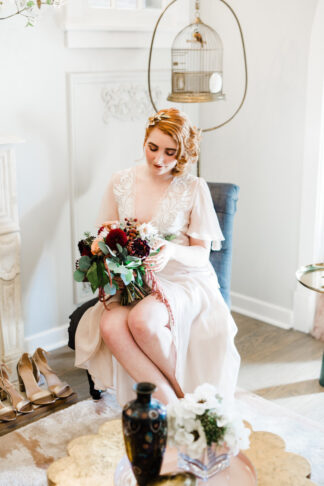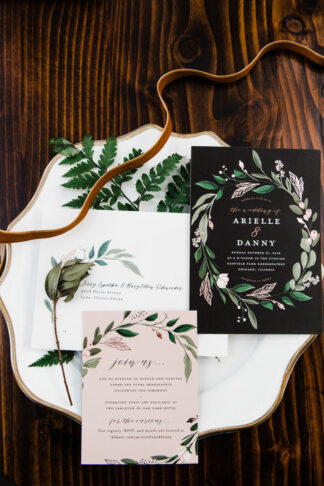 We wanted all the fashion to have Gatsby, vintage roots…but still be modern enough that we didn't feel like we were wearing costumes. 6 months prior to getting engaged, I spotted the Jacinda Dress from BHLDN and knew it was the one! It's glamorous yet effortless vibe was exactly what I was looking for.
The delicate all-over beading and button-down back made me feel like a Jazz Age bride, but it's unique shape and sheer bodice with a low cut back gave it a modern edge that kept me in the moment. The airy tulle was so soft and ethereal against the backdrop of the greenhouse!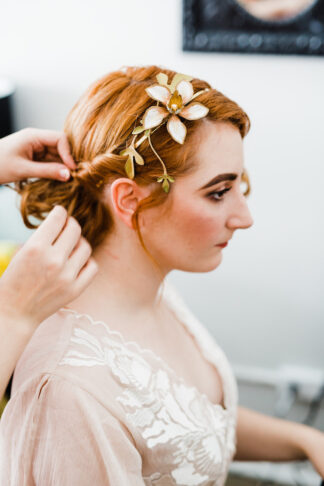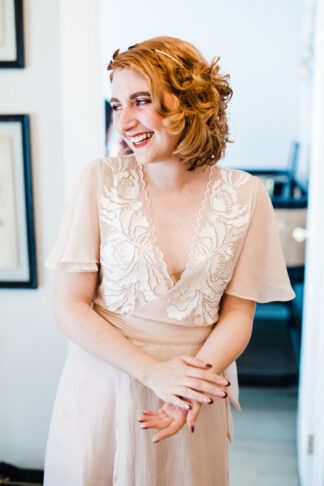 I paired it with an antique-inspired metal magnolia headband with a side-swept hairstyle that showed off my naturally curly hair and pink velvet kitten sling-backs.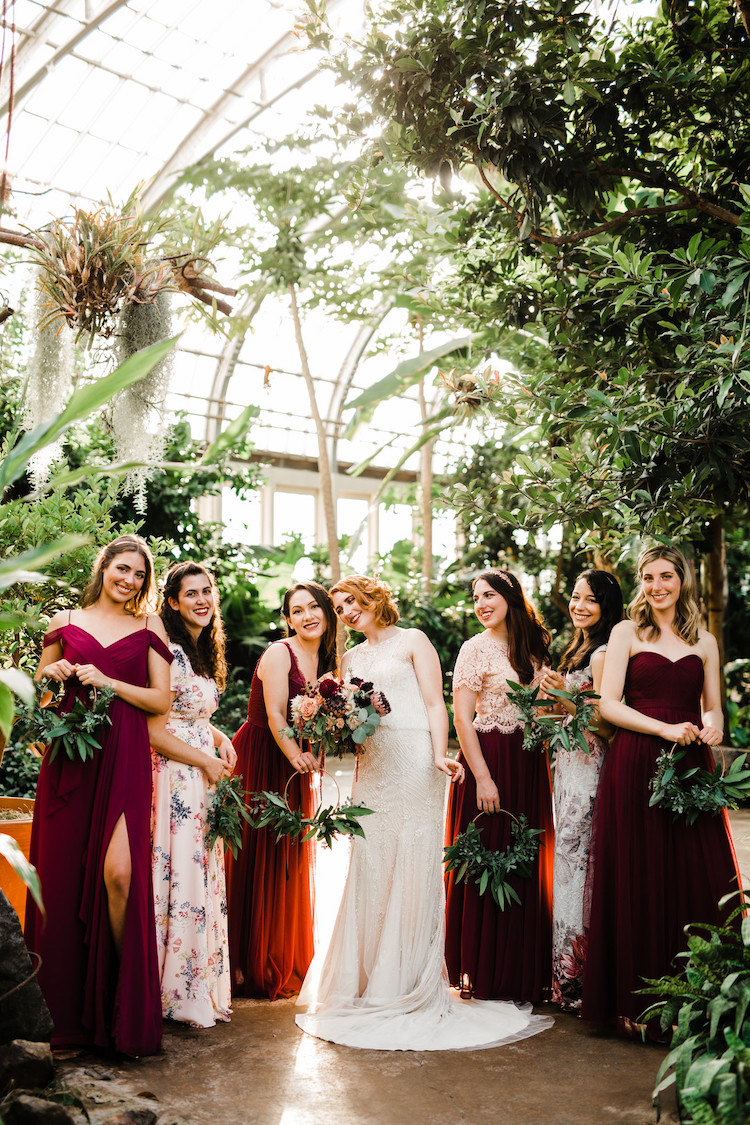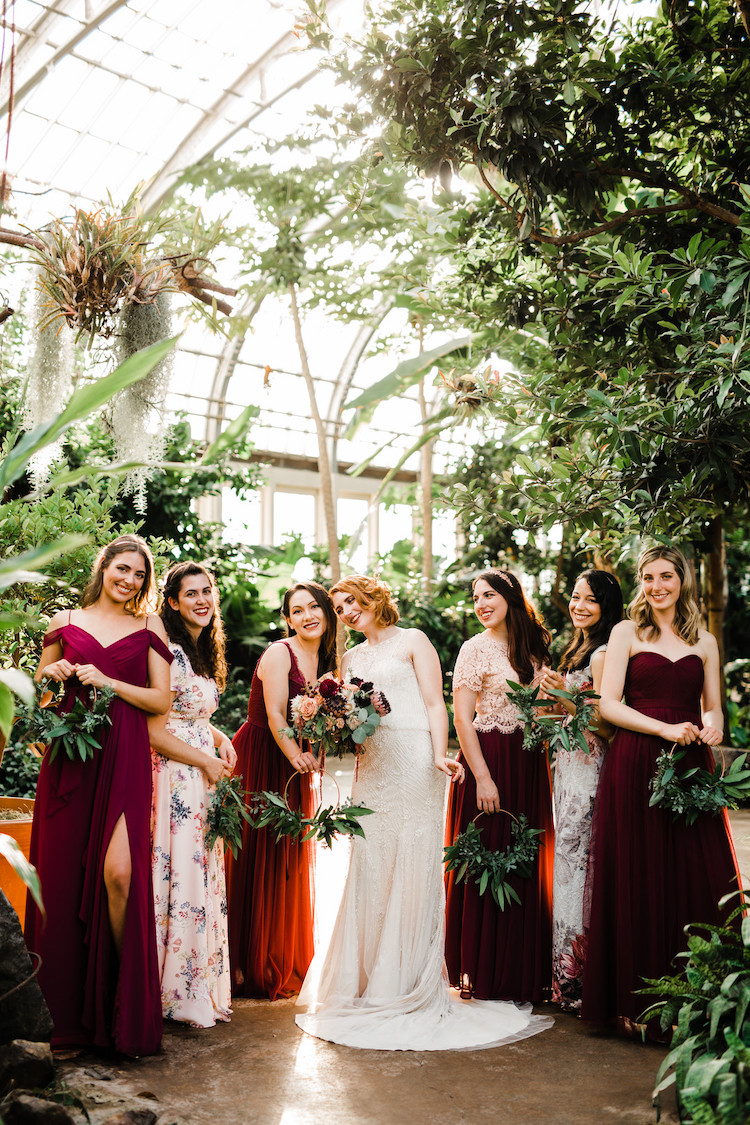 My bridesmaids were in BHLDN dresses in shades of burgundy and mix-matched floral prints. I gifted each a rose gold headband to wear with their rose gold shoes. They carried rose gold floral hoops that were covered in lush ferns and greenery.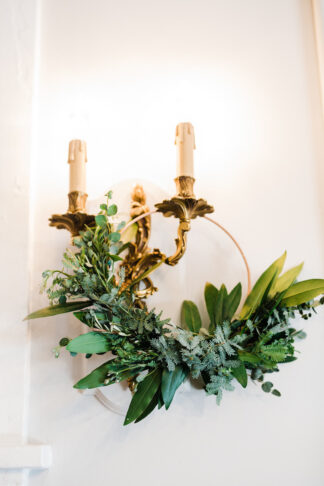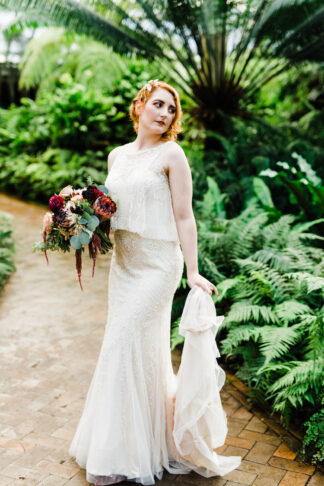 Danny wore a custom made velvet jacket in a copper-brown color. He loved the vintage feel, but modern cut!  He also wore a burgundy floral tie to match with our wedding parties. He matched his groomsmen in black tux pants, black loafers, and white shirt…with a little black detailing on the collar.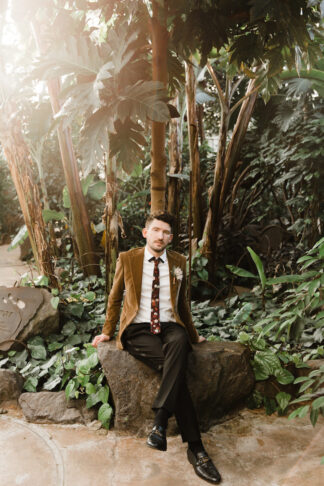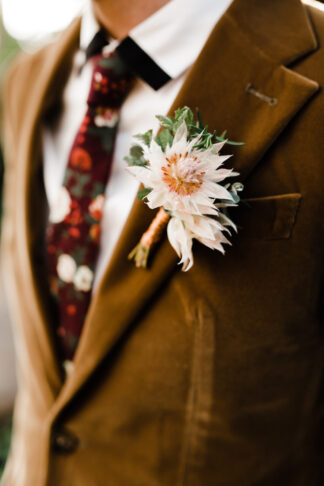 He had a single bloom in his otherwise green boutonniere. His groomsmen had matching vintage feeling white shirts, suspenders, and mix-matched floral bow ties in rose/burgundy hues.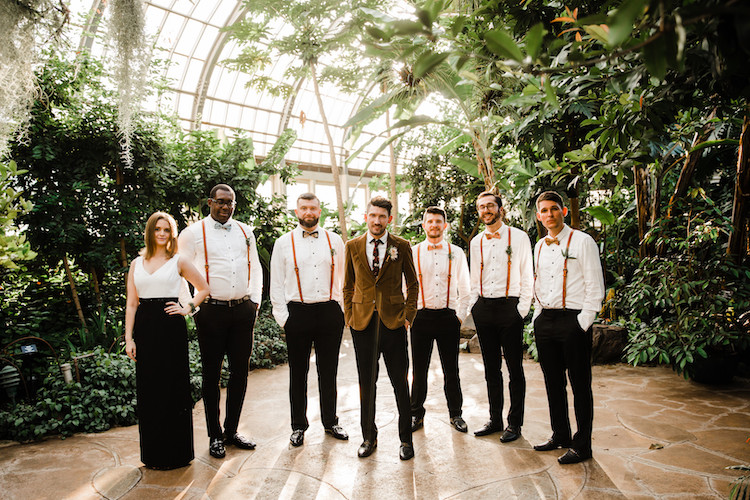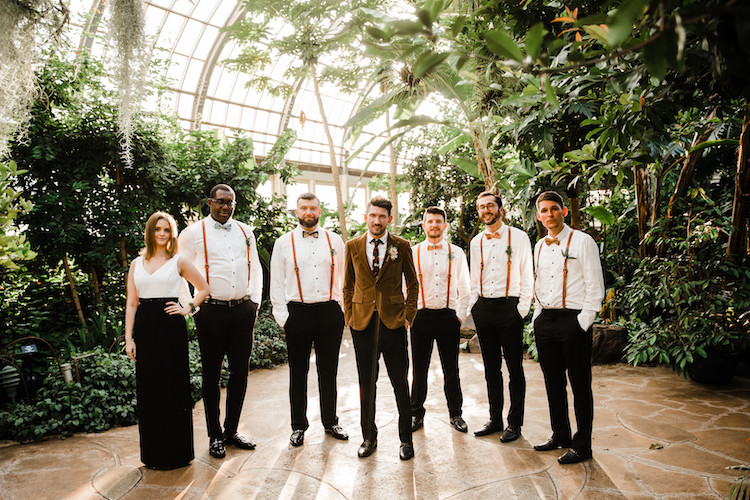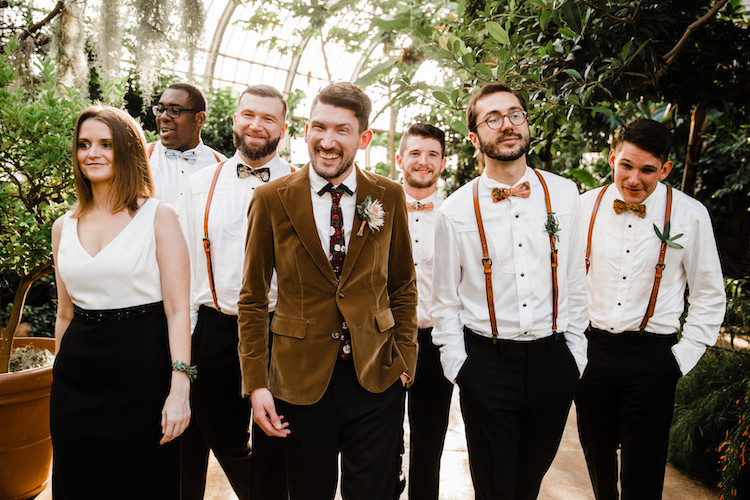 To match Danny's copper wire bound botanical boutonniere, each groomsman had a different herb pinned to their suspenders.
He also had a groomswoman who matched the boys in a black and white dress with herb corsage!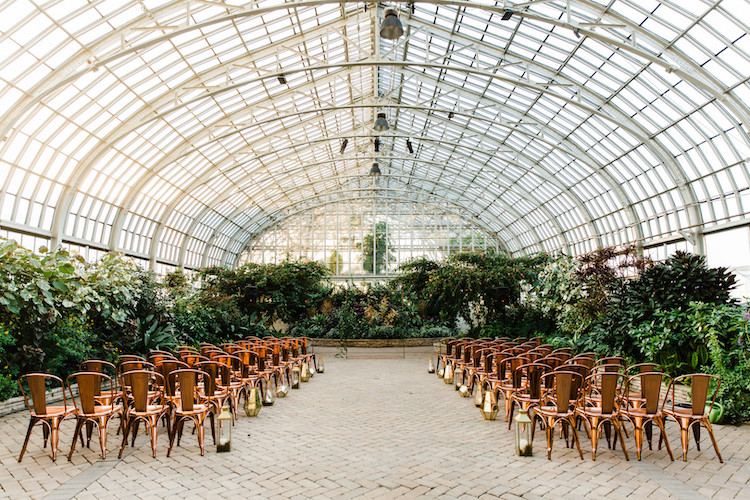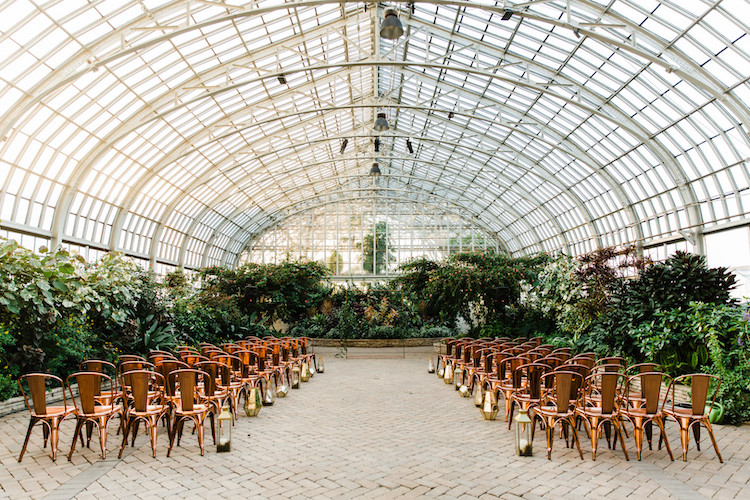 The copper chairs we personally purchased from Target (since copper metallic chairs are not available for rental in Illinois-Wisconsin!!) stole the show for our ceremony! Against the green of the conservatory, they truly shone!
We wanted to keep things simple with a copper arch covered in greenery that had hanging metal hoops that mirrored the bridesmaids' bouquets. The aisle was lined with mix-metal votives. Since it was held in one of the smaller conservatory halls, it felt intimate…like we were in our own secret garden.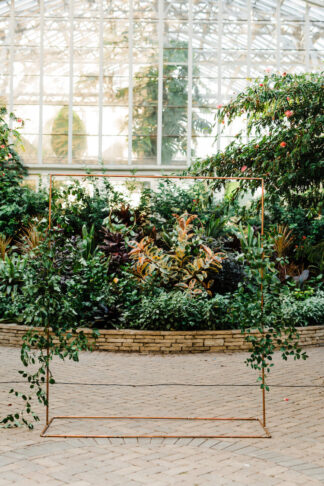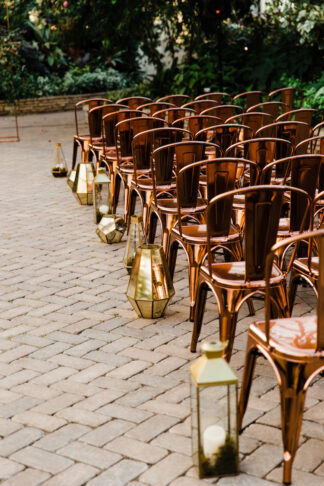 The sun set during our ceremony, which you could see the sky change through the glass ceiling.
A live gypsy jazz band played our favorite video game songs from Final Fantasy that my husband had transcribed. We even had a pause in the ceremony for one of the songs to be sung! Since this was such a special and personal touch, we laid a program on each chair that matched our wedding invitations from Minted with a setlist of all the ceremony and cocktail hour songs and the games they originated from.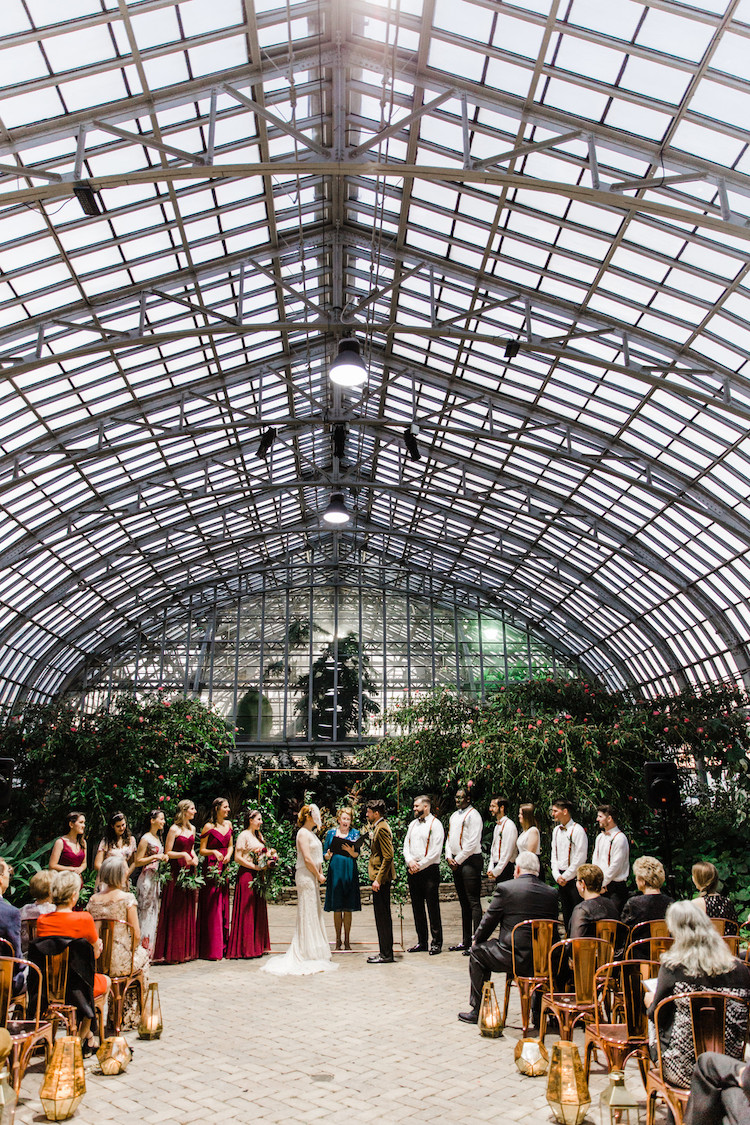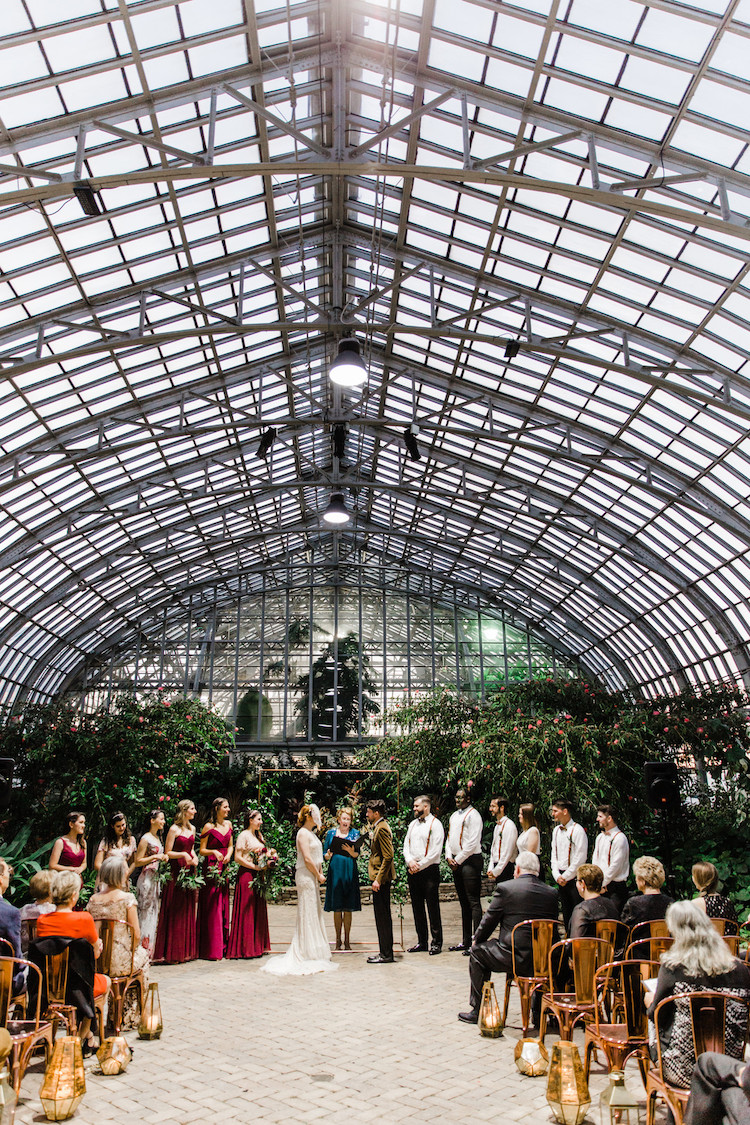 We wrote our own ceremony and vows since we are not religious, but wanted it to last 20-30 mins and really be from the heart. Our hand ceremony featured several references from Final Fantasy games that felt appropriate and made a special part of our ceremony even more personal for us.
My husband's godmother officiated, which was such a blessing!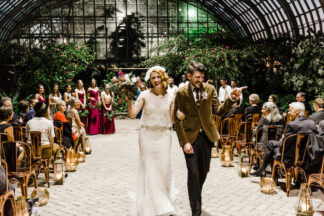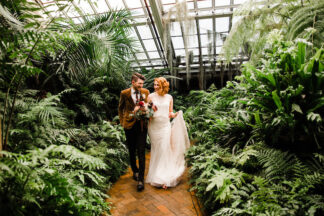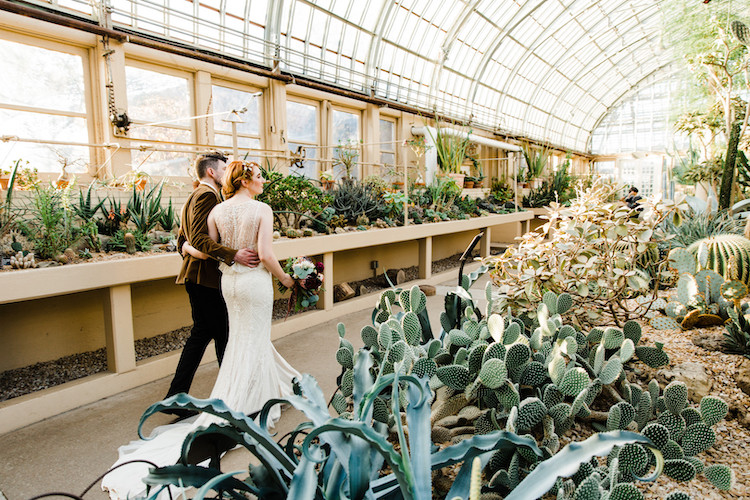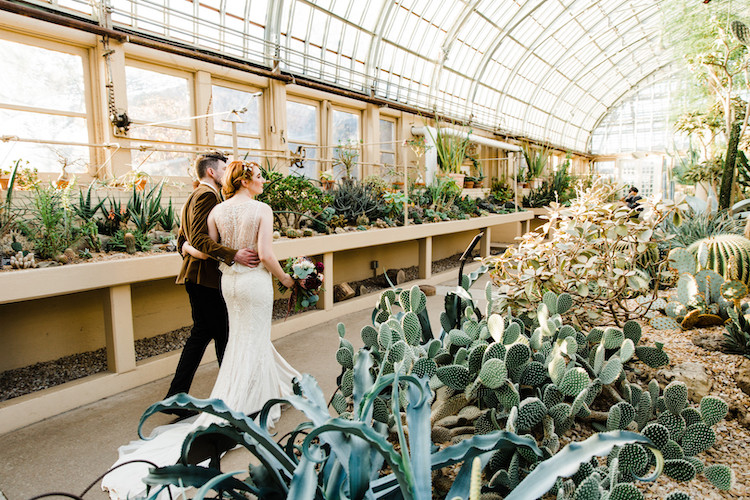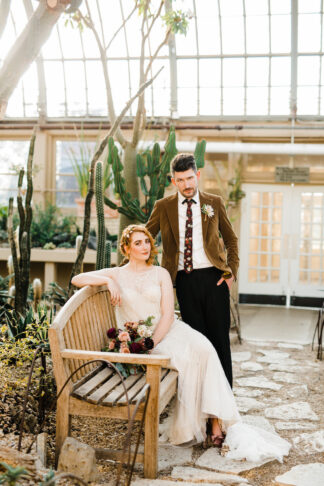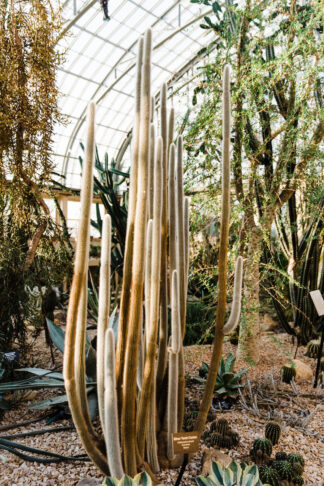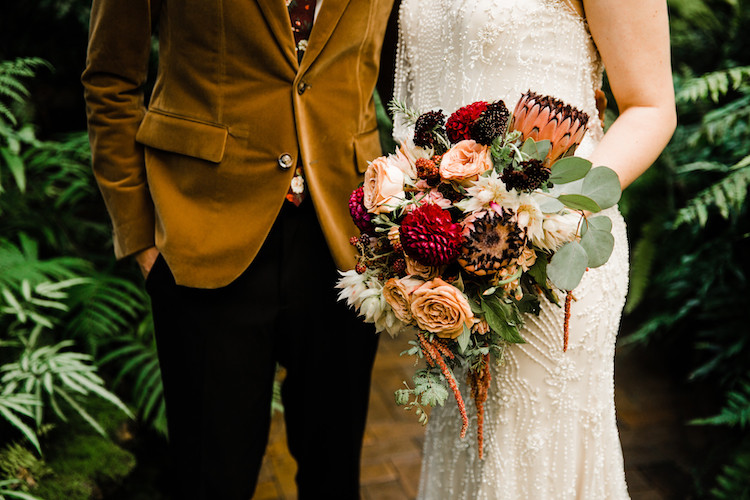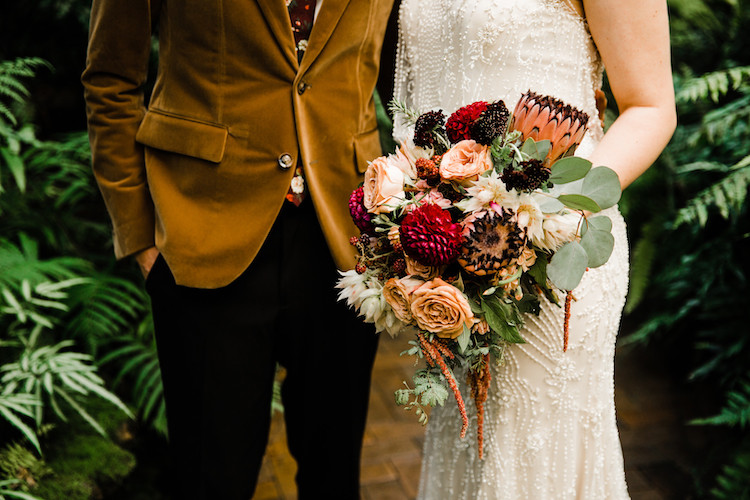 My wedding bouquet's color palette was the same as the general floral theme – moody with rich burgundies and deep Dahlia's. Latte brown roses –  a color I didn't even know roses could be – were a special highlight! My bouquet had notes of rosemary, eucalyptus, and raspberries. Its main feature, however, were the stunning proteas and dripping amaranth!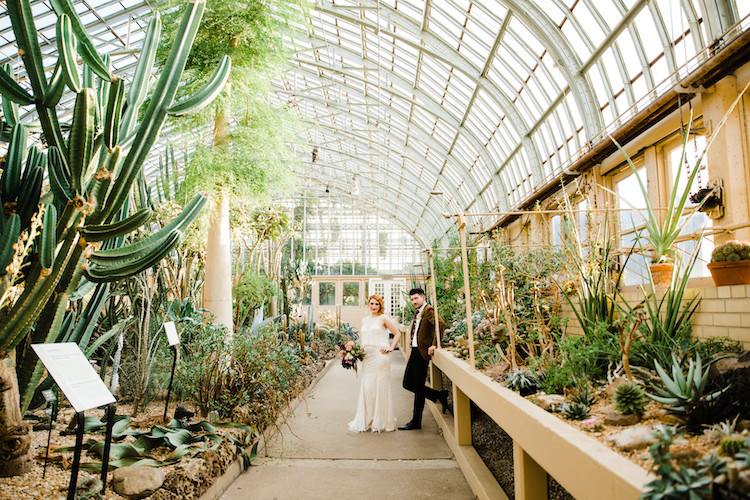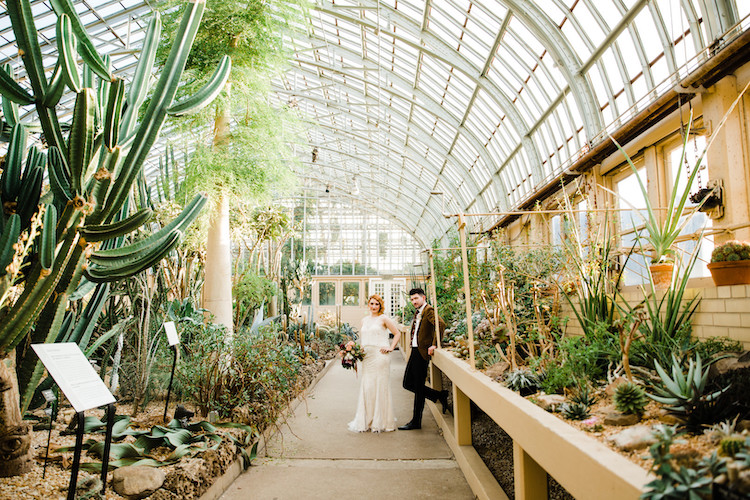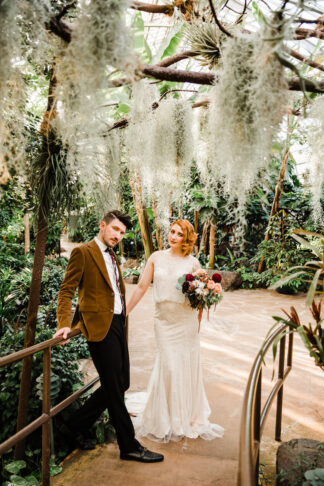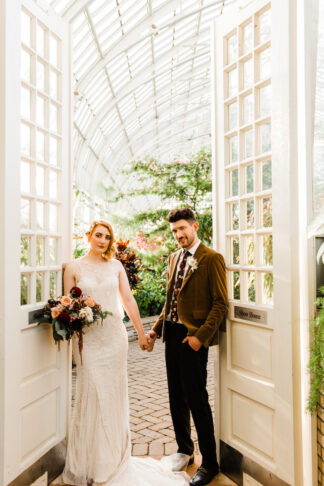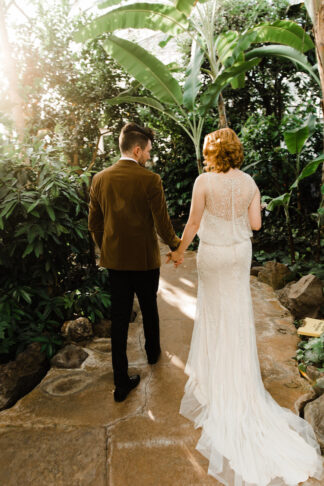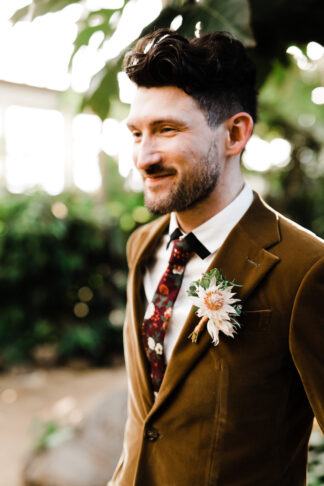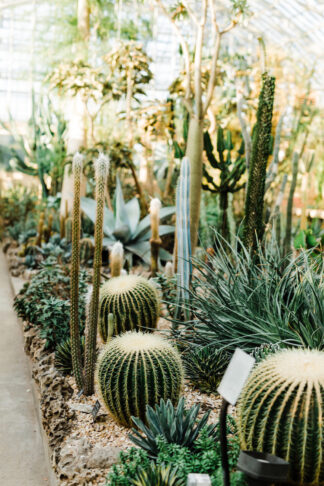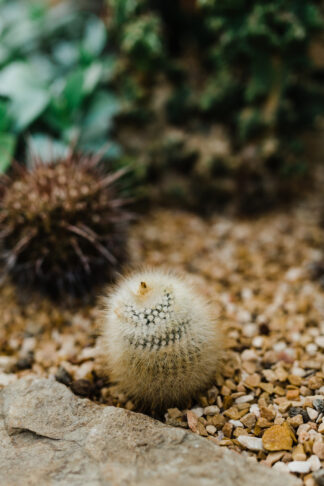 The seating chart I made myself with an old frame, copper wire, linen paper, and cut/painted botanicals provided by Fleur Inc! At home, I was able to print and cut each card out of the linen paper with the guest's name and table number. I then glued a botanical sprig/leaf that corresponded to their meal choice onto the card and used mini wood clothespins to attach the cards to the wire. We assigned guests a table number, but they were free to choose their actual seat.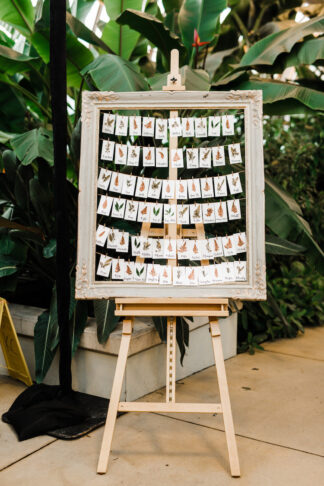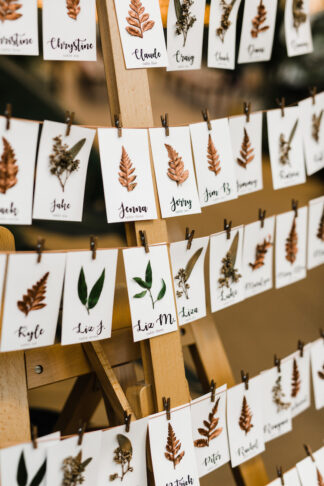 Some of the botanicals in the seating chart were green while the rest were painted copper or gold… so altogether they looked quite striking! The table numbers were in gilded frames that housed a pressed fern. They were mixed into the decor of the table and fitted right in!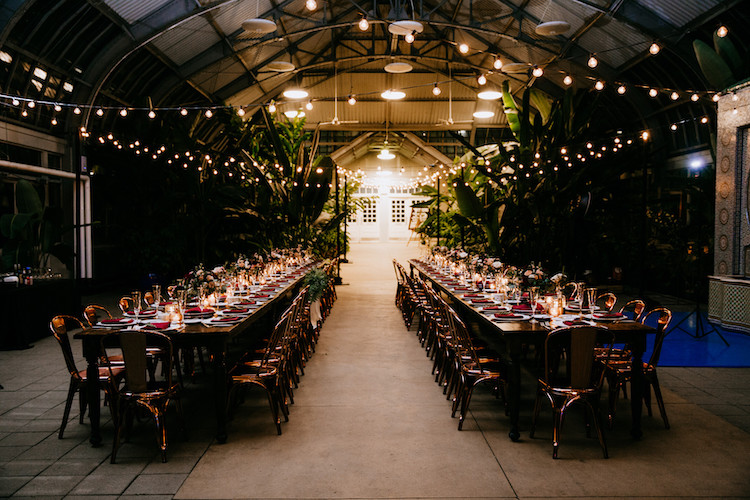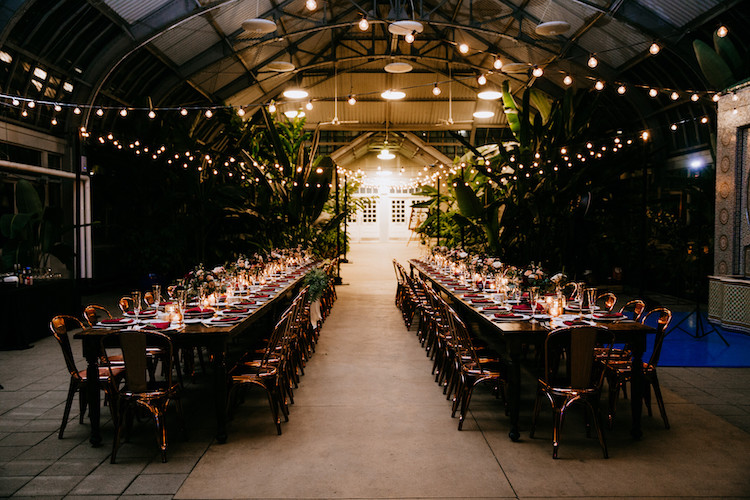 Our reception was held in another hall in the conservatory that had been adorned in sweeping market lights across the whole ceiling! They reflected in the glass roof of the hall, making the space look as if it was glowing by starlight!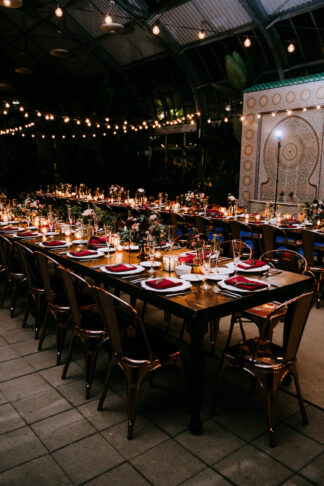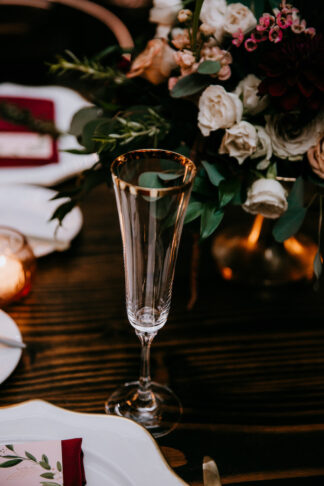 We laid the rectangular farm tables out in two long lines parallel to each other so it felt more family-style. We used the same copper chairs from the ceremony, which added to the sparkly glow of the room! The tables were dark wood, which helped our metallic accents and florals take center stage.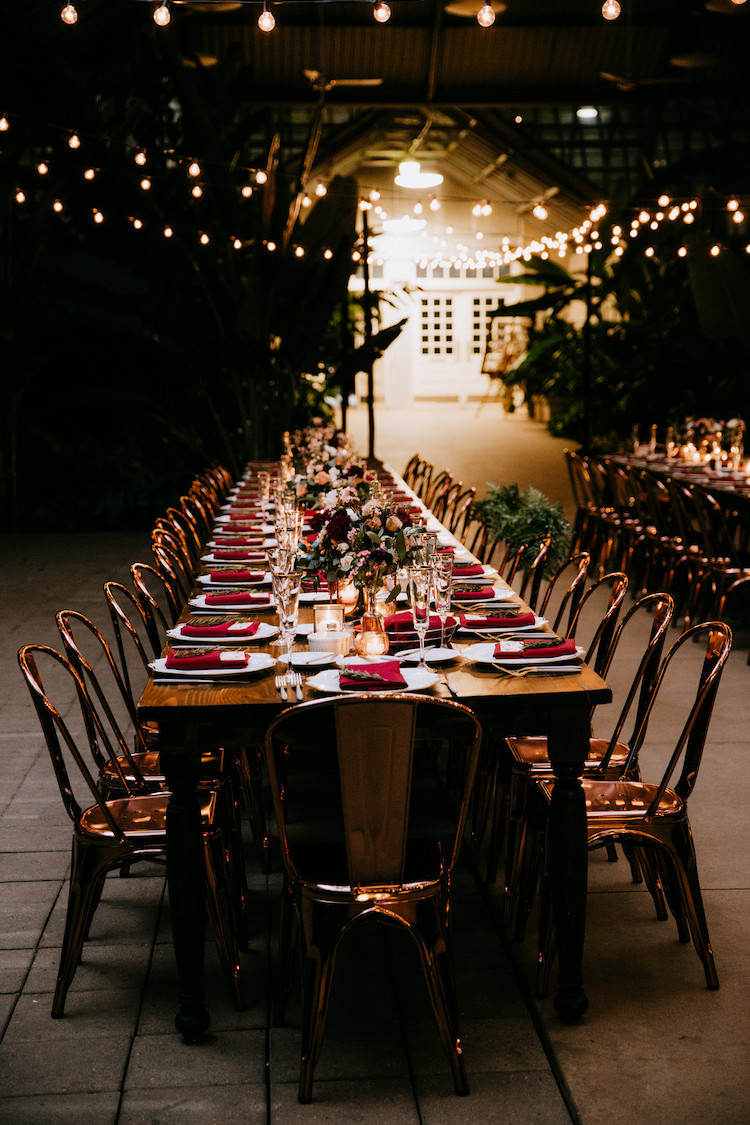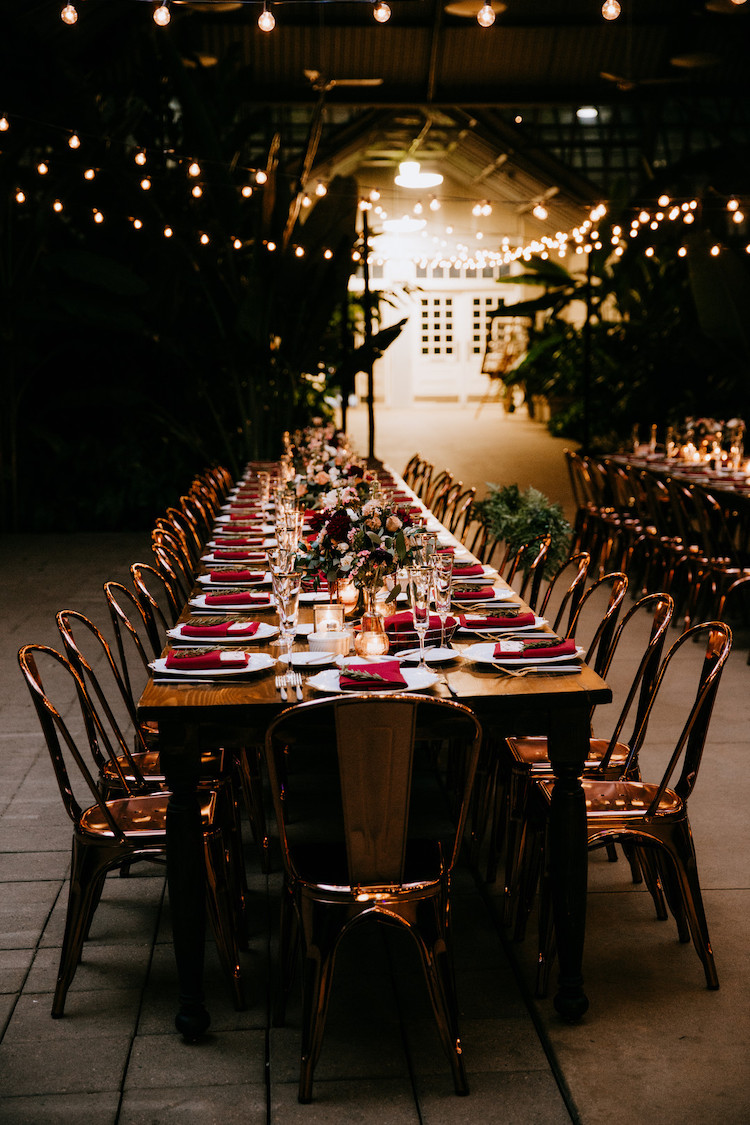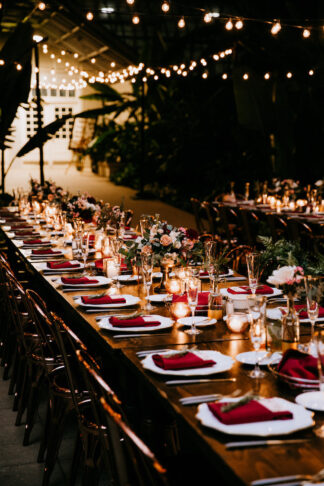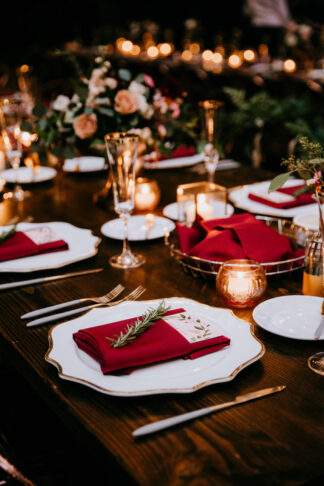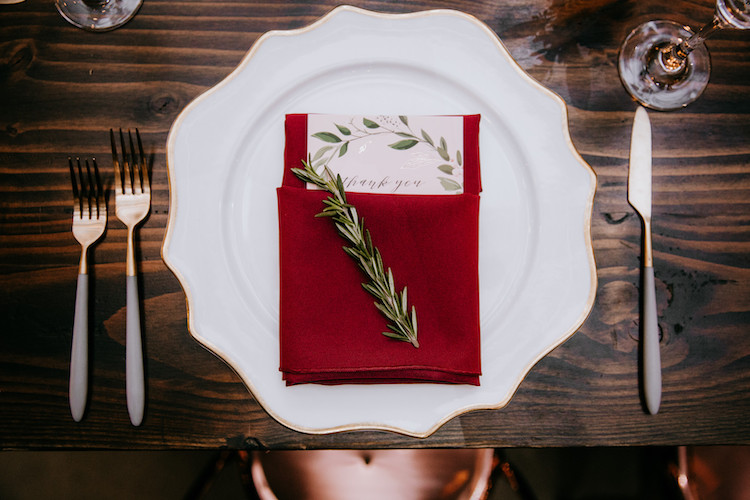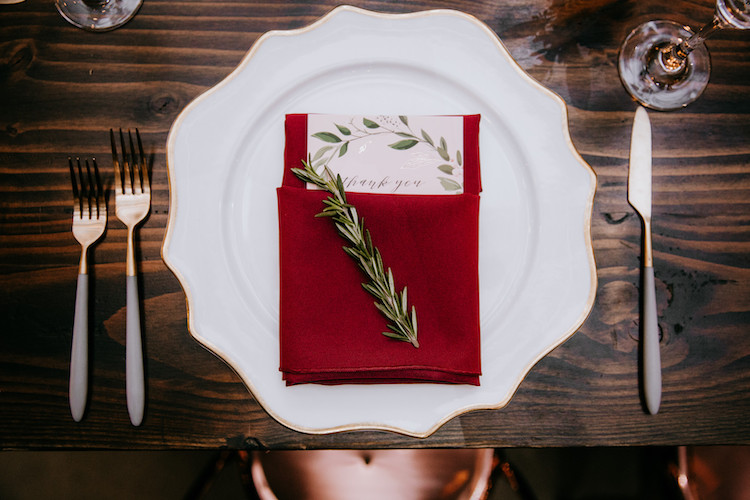 We kept the place settings simple – a folded burgundy napkin with a sprig of rosemary and a menu card that matched our botanical stationery atop a single white plate edged in gold. The silverware was gold with grey handles for a bit of a contemporary touch that still flowed with the overall aesthetic. We rented rose-colored vintage water goblets from Nimble, which were absolutely stunning with the decor, and paired them with gold-rimmed champagne flutes.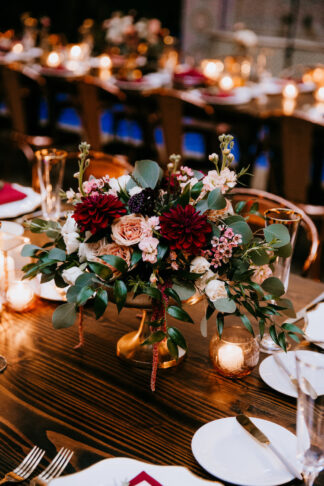 Our tabletop flower arrangements were inspired by my bouquet and housed in gold metallic raised basins. To create a high-low effect, we add in bud vases with rosemary and botanicals that were arranged with mixed-metal votives.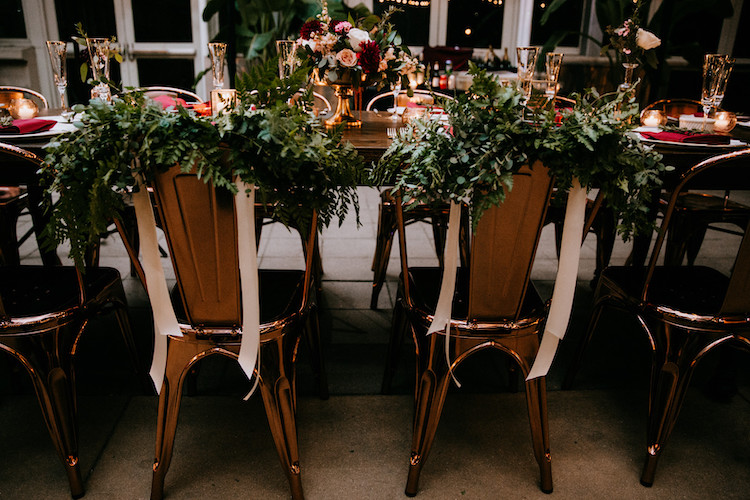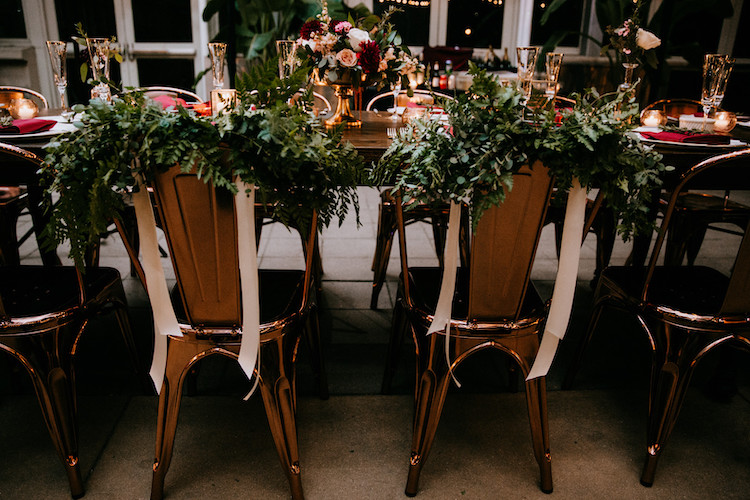 Danny and I sat in the inner middle with chairs embellished with ribbons and ferns so we could be amongst all our guests equally!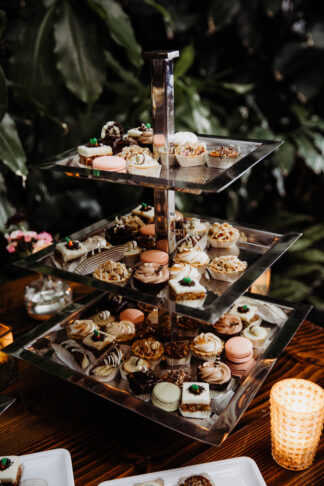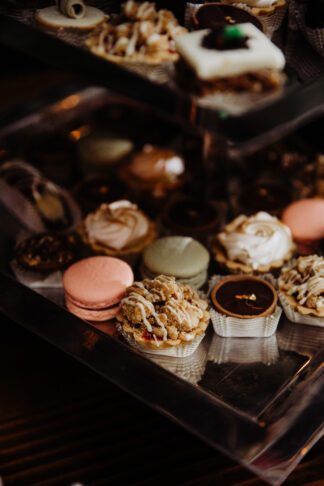 I (the bride) am French on my father's side and grew up with homestyle French dishes. So our menu was traditional French dishes that our caterer, Cork, made custom recipes for!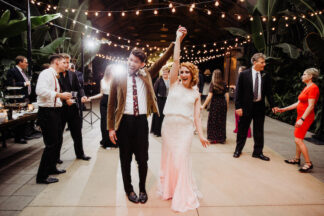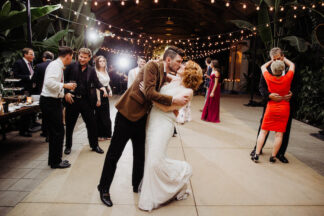 We had a live band that my husband regularly plays for (Sarlas Music, Carol Sarlas Orchestra), so it was filled with his friends! They were able to tailor the playlist to our taste and hype up the crowd. We were all dancing the whole night!!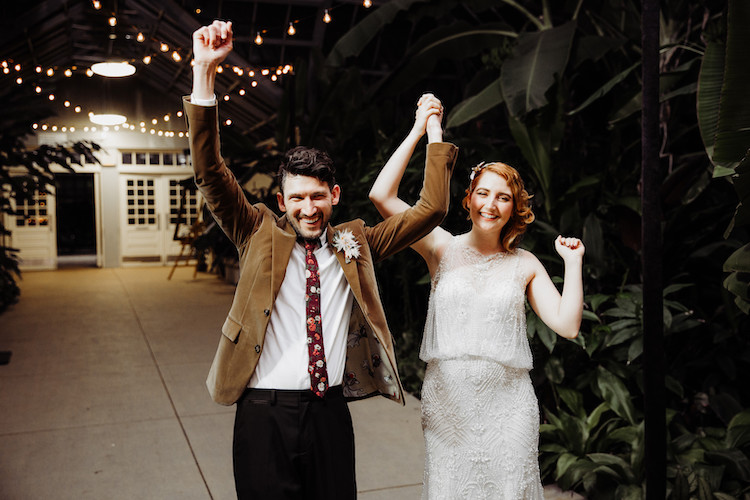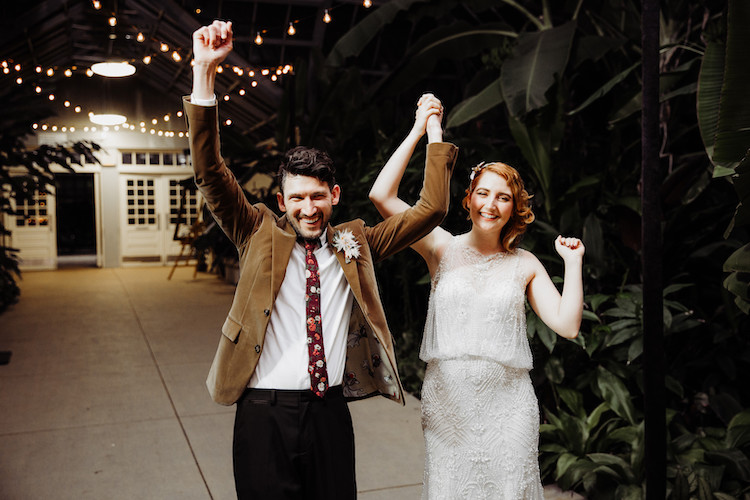 Wedding Planning Advice:
Definitely splurge on photography, and an activity for your guests.
Keep in mind some locations seem cost effective at first, but there may be hidden costs. We were lucky in that the conservatory itself acted like an activity (apart from our photo booth!) since the gardens were open to our guests to roam throughout the event! However, since there was no working kitchen at the venue…all that equipment had to be brought in, which substantially upped our cost! However, we wouldn't change a thing!
We would also recommend a wedding coordinator – as a busy working couple, it was hard to even think of everything on our to-do list, let alone narrow down ideas or find vendors!! Our coordinator Julissa from Clementine Custom Events was our saving grace. She was able to collaborate with me on every single detail down to what I wanted to eat for breakfast with my bridesmaids while getting ready! She also made sure the day ran smoothly and worked closely with the venue and all our vendors. We really could just enjoy our special day because of her!!
Wedding Vendors: Photographer: Agnes Rasek Photography // Venue name Garfield Park Conservatory // Planner Julissa – Clementine Custom Events  // Gown and headpiece – BHLDN // Suit Jacket: The Dapper Club // Groom and mens' attire: ASOS // Floral designer  Katie from Fleur Inc // Tables/Dining wares: Hall's // Stationery Minted  // Catering Cork Catering:// Music:  Sarlas  // Photo booth Fotio // Rose colored goblets NimbleWell  // Lighting by Luxe Productions // Desserts by Le Chocolat du Bouchard
MORE 1920s WEDDING INSPO:
Gatsby-Inspired Autumn Birch House Wedding {Chloe Luka Photography}
Chic & Glamorous Gatsby-Inspired Wedding {Elyse Hall Photography}