A Beach Lover's Wedding for Surfers ♥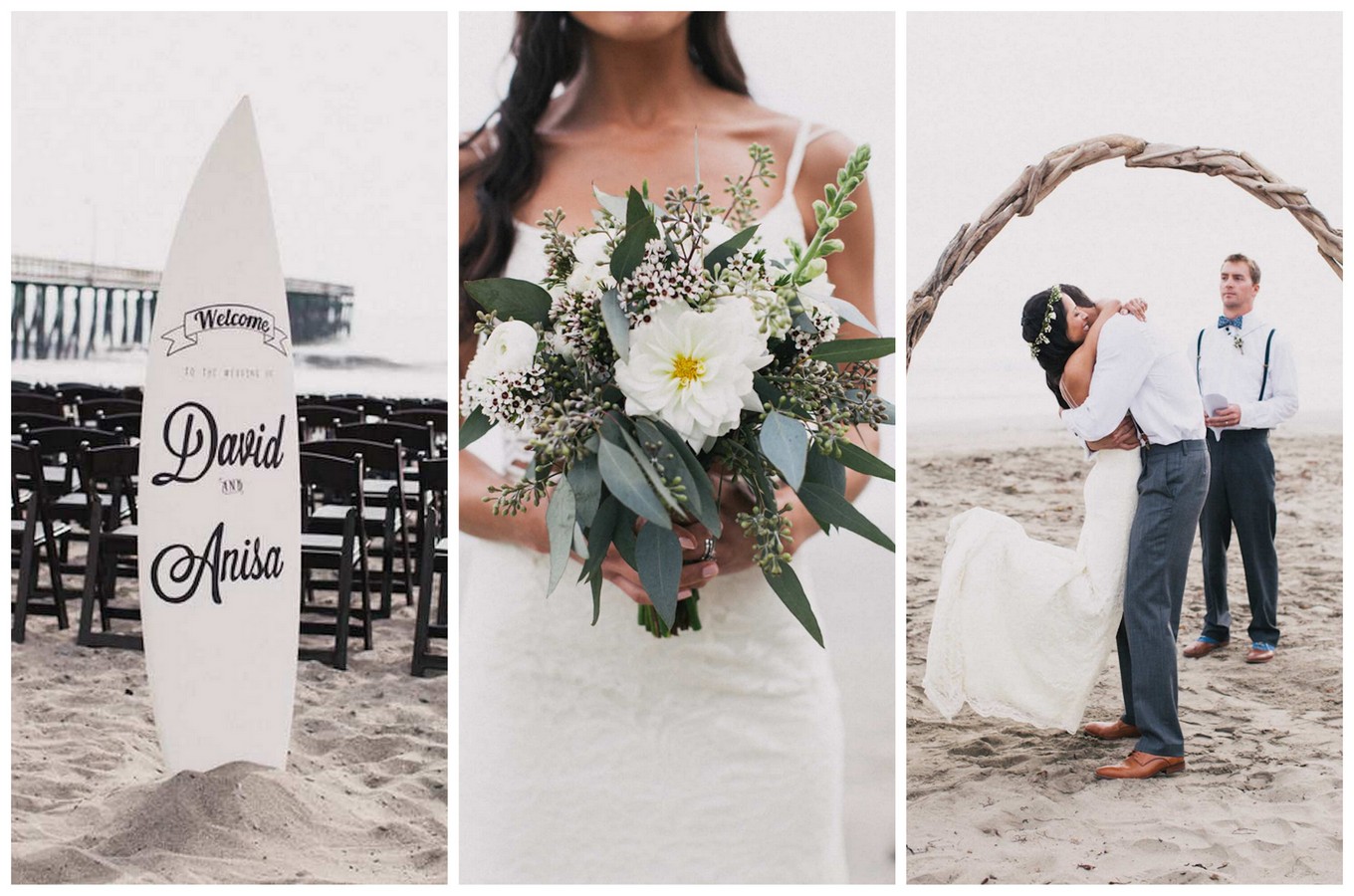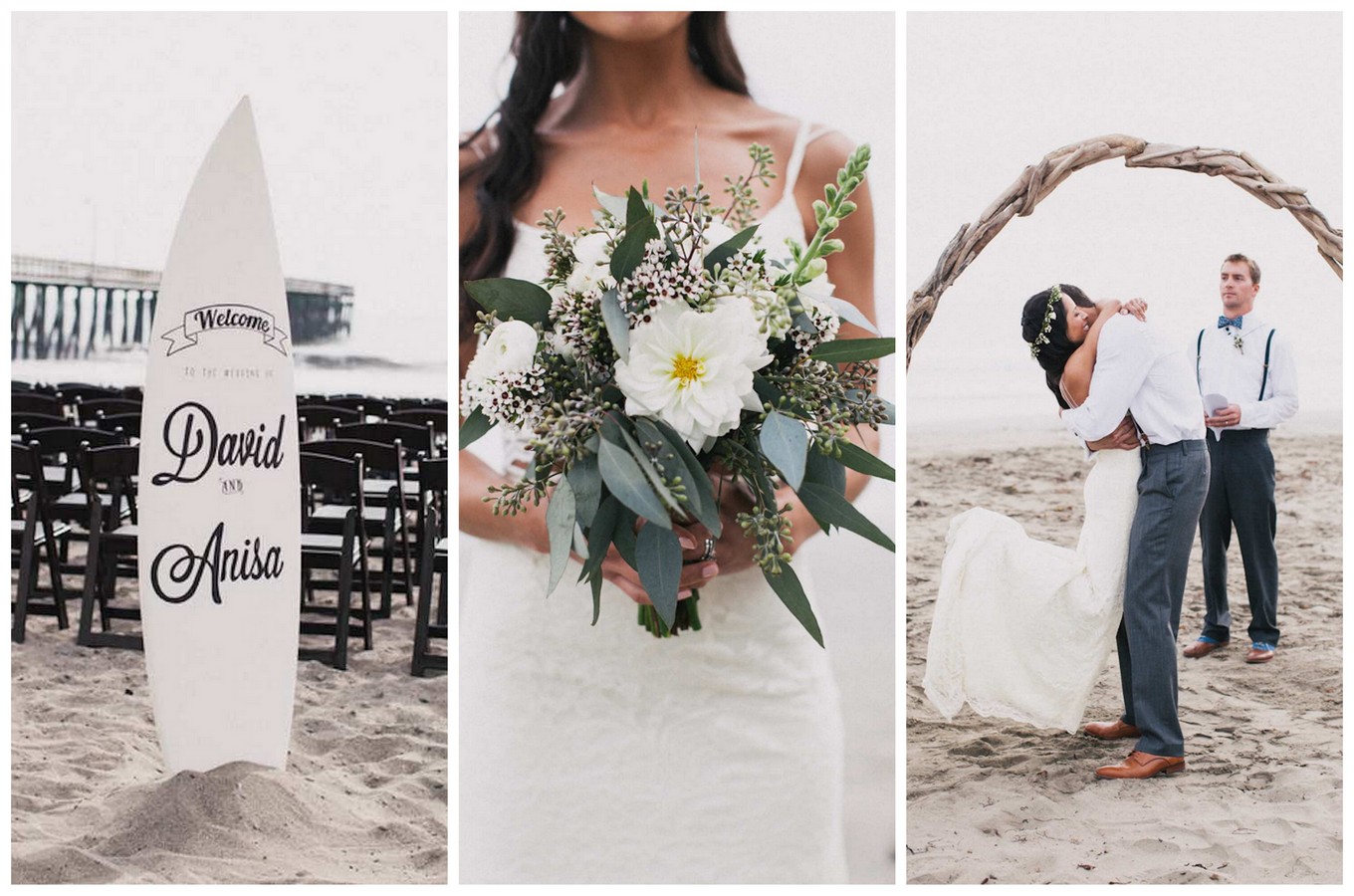 Anisa and David's love of surfing brought them together in 2008, and is a big part of their lives. Naturally, they wanted to have a laid-back beach wedding. They decided to get married at Cayucos  Beach, one of their favorite places with a bohemian 'Surf Fiesta' beach wedding. The latin influenced reception and decor reflected Anisa's Chilean heritage –  fresh Tacos, Mexican sarape beach blankets, papel picado banners, terra cotta pots, Latin prayer candles, and colorful napkins made from Mexican textiles. From there, their "bohemian, surf-bum, fiesta" wedding was born.
The entire wedding was filled with DIY handmade details. Anisa, who is a pediatrican, designed and made her own wedding dress, crafted her own bouquet, and is responsible for all of the calligraphy goodness at the wedding. "Our arch, signs, photo booth, table names, name cards, invitations, wedding maps, logo stamp, menus, photo booth props, napkins, bow ties, bouquets, boutonnieres, flower crowns, corsages, and succulents were all made, grown, put-together, or set-up by David and/or I with a lot of help from our friends and family members (especially my mom!)" In fact, even the altar at which these two tied the knot was hand made by the groom, David, by hand.
They opted for a neutral palette of white, grey and blue for the ceremony portion, to draw attention to their beautiful natural backdrop: the ocean.  Their reception of their bohemian 'Surf Fiesta' beach wedding was colorful, with vibrant Latin American textiles brightening up our otherwise neutral palette. "We did not want to overdo the colors, however, so aside from the textiles we kept it light and natural, with lots of wooden, terra cotta, and white decor."
"The location, Cayucos, is one of our favorite places in the world, and has the added importance of being the place where we celebrated our engagement, " shares Anisa. "It was also the perfect place to host a "wedding weekend", with multiple events starting on Thursday night, allowing us to maximize our time with our loved ones. We had a blast taking over this tiny beach town, and the locals were incredibly warm and welcoming."
"The ceremony's processional and recessional were songs that David and I learned to play together on the guitar. The song for our first dance, "This Must be the Place" by the Talking Heads was performed by a good friend of ours. Later, my dad surprised us with a recording of Bob Dylan's "Forever Young" which everyone slow-danced to. One of the most memorable moments of the night was when our guests surrounded David and I in a giant bear hug as we slow-danced to the same Mariah Carey song that we had danced to back in 7th grade."
Colleen of Eventful Wedding Planning orchestrated the wedding and set up all of these creations to perfection, giving this bohemian party all of the right finishing touches. Many thanks go to photographer,Alexandra Wallace,  who shares these lovely images of their beach fiesta celebration with us today.
Bohemian 'Surf Fiesta' Beach Wedding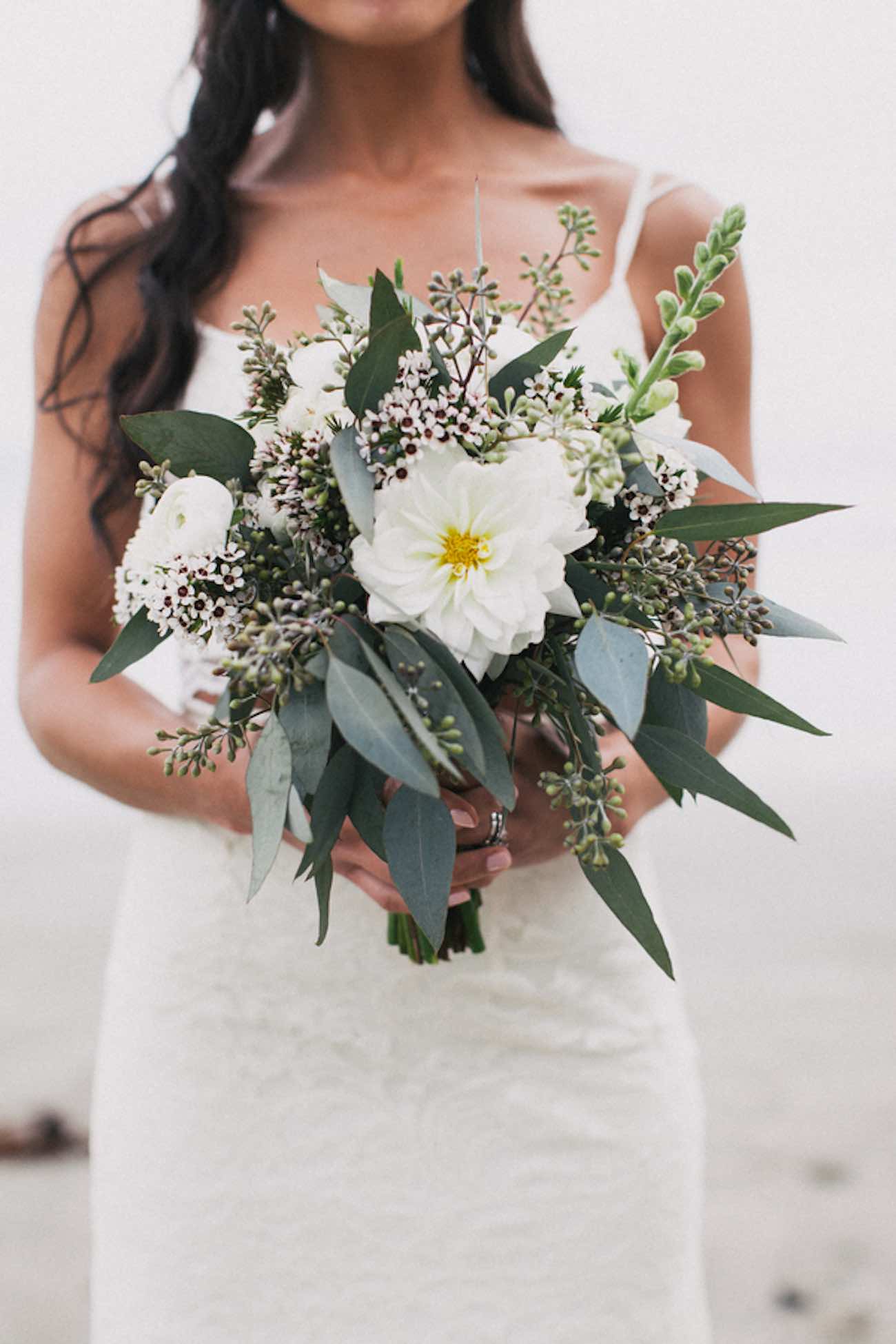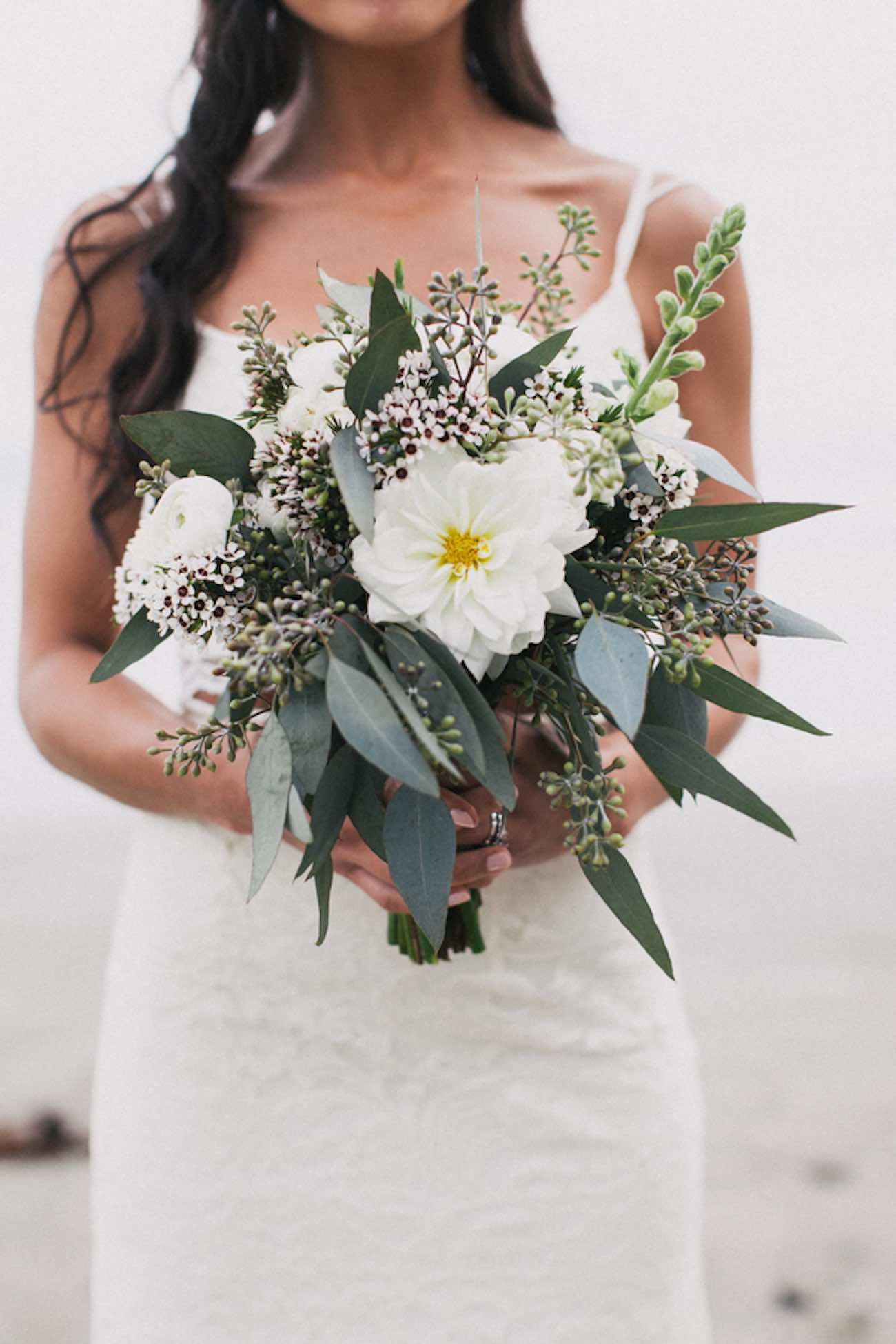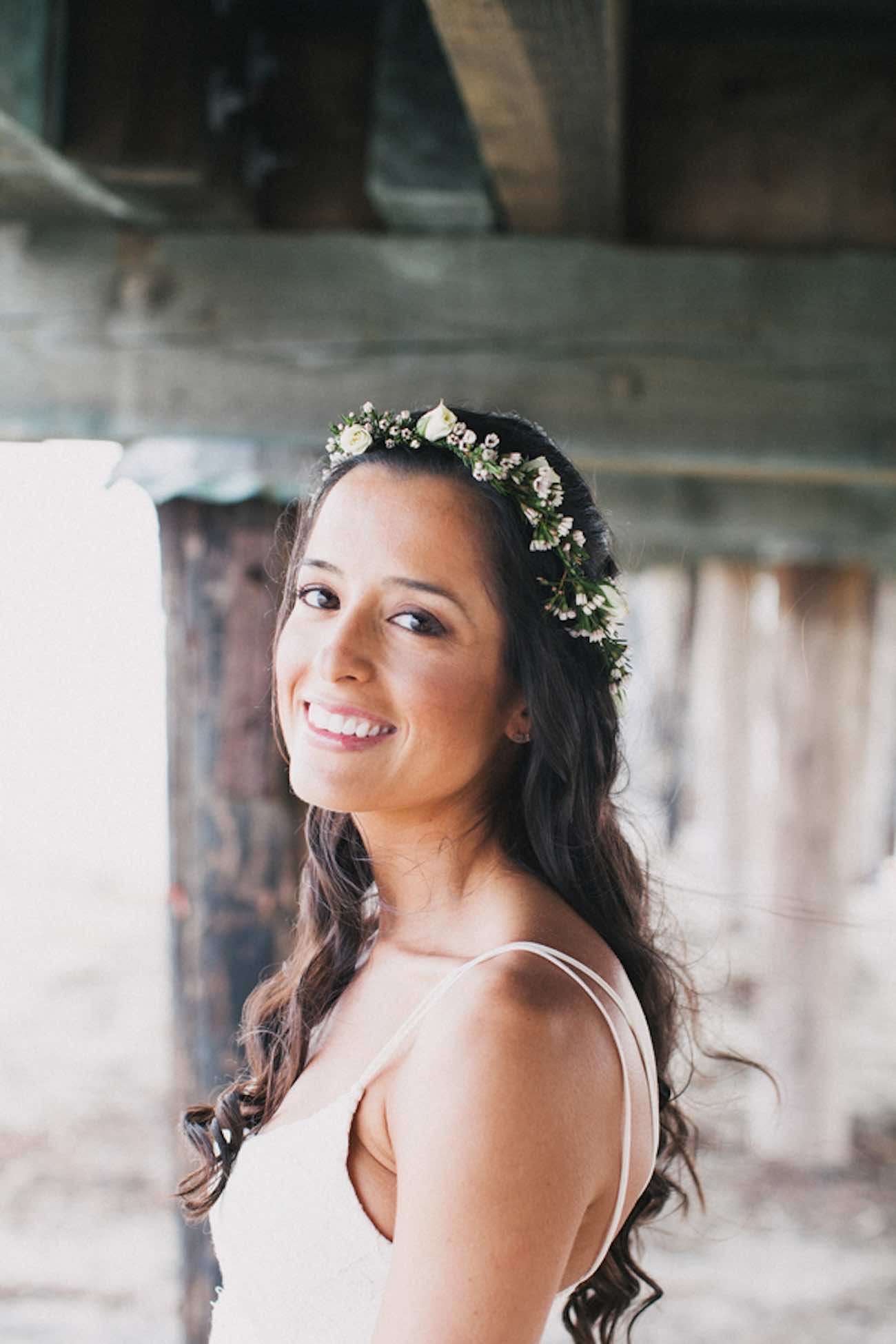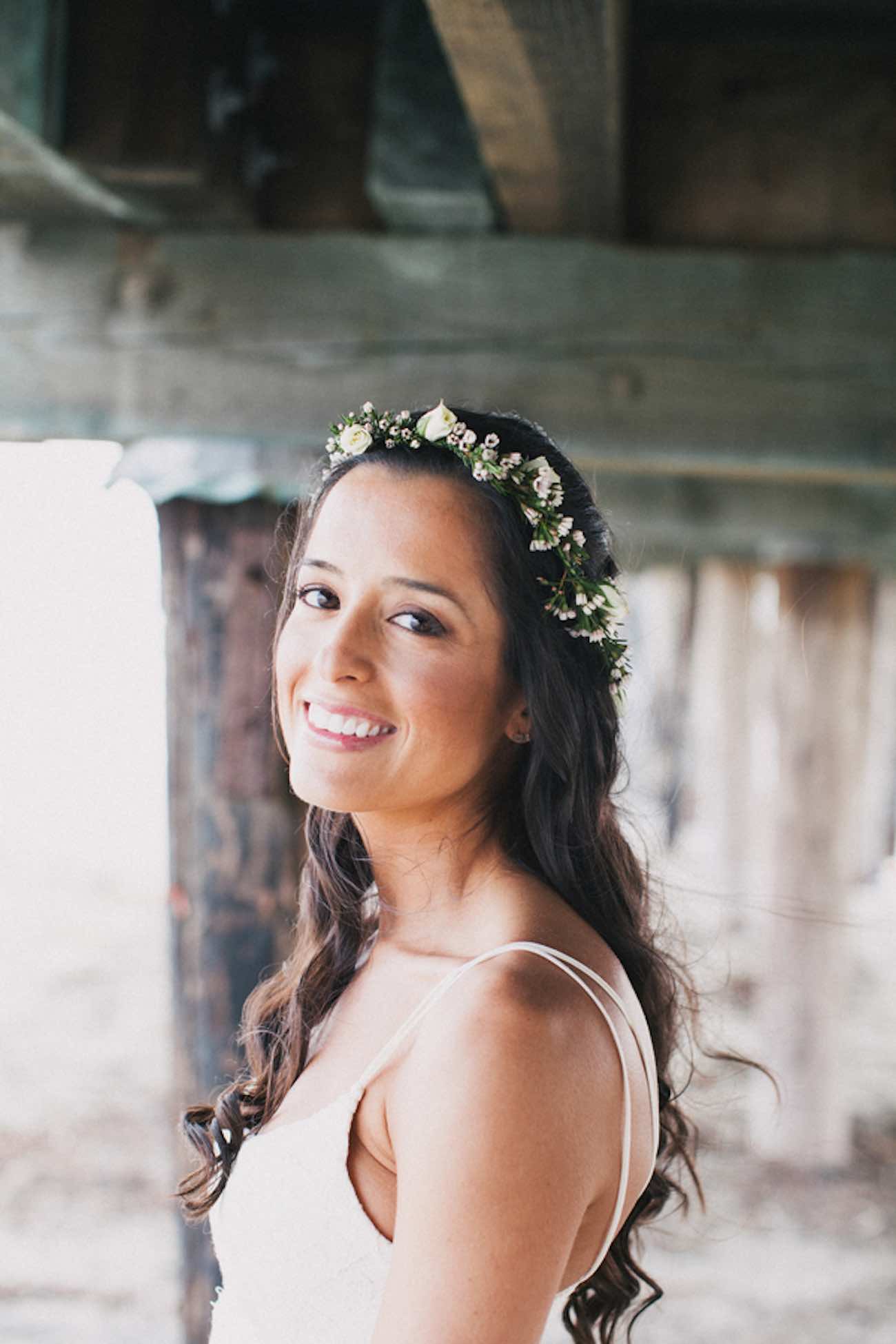 "I made my own bouquet and wanted it to look natural and wild, with lots of foliage. I stuck to white flowers and chose ranunculus, dahlias, dwarf roses, gladiolas, and leptospermum, as well plenty of seeded eucalyptus. I thought a ribbon wrap would look too formal, so instead I wrapped the stems with brown twine."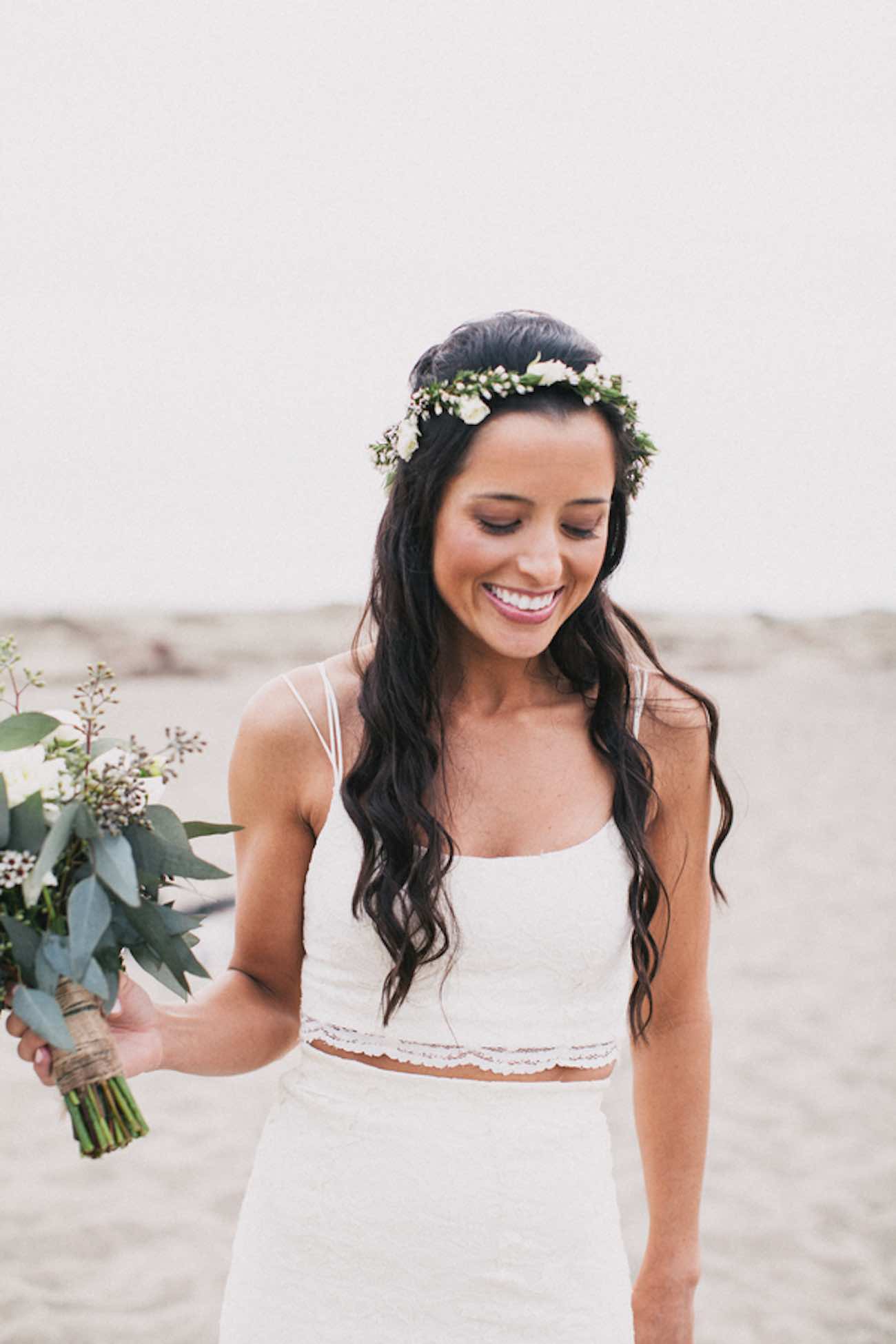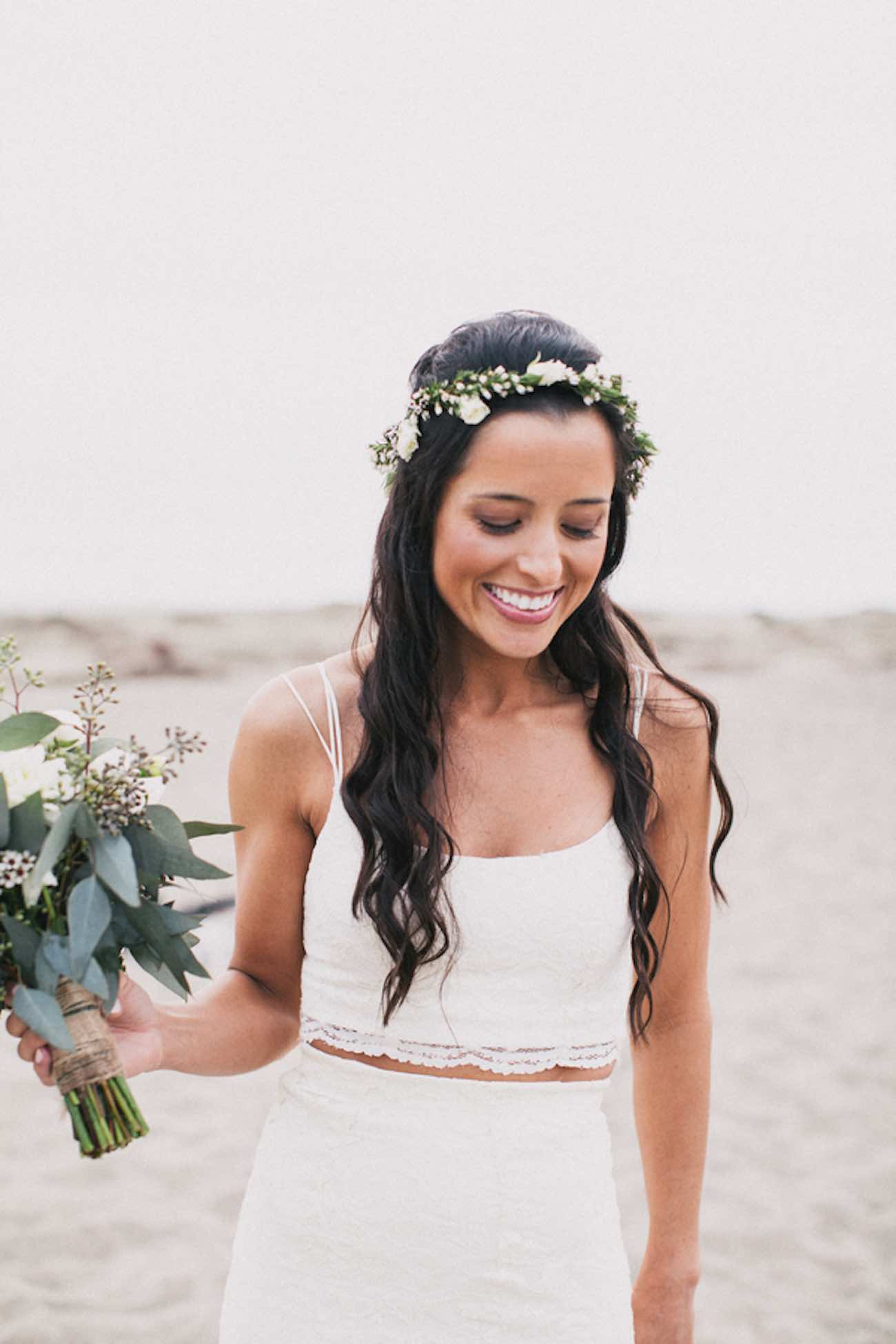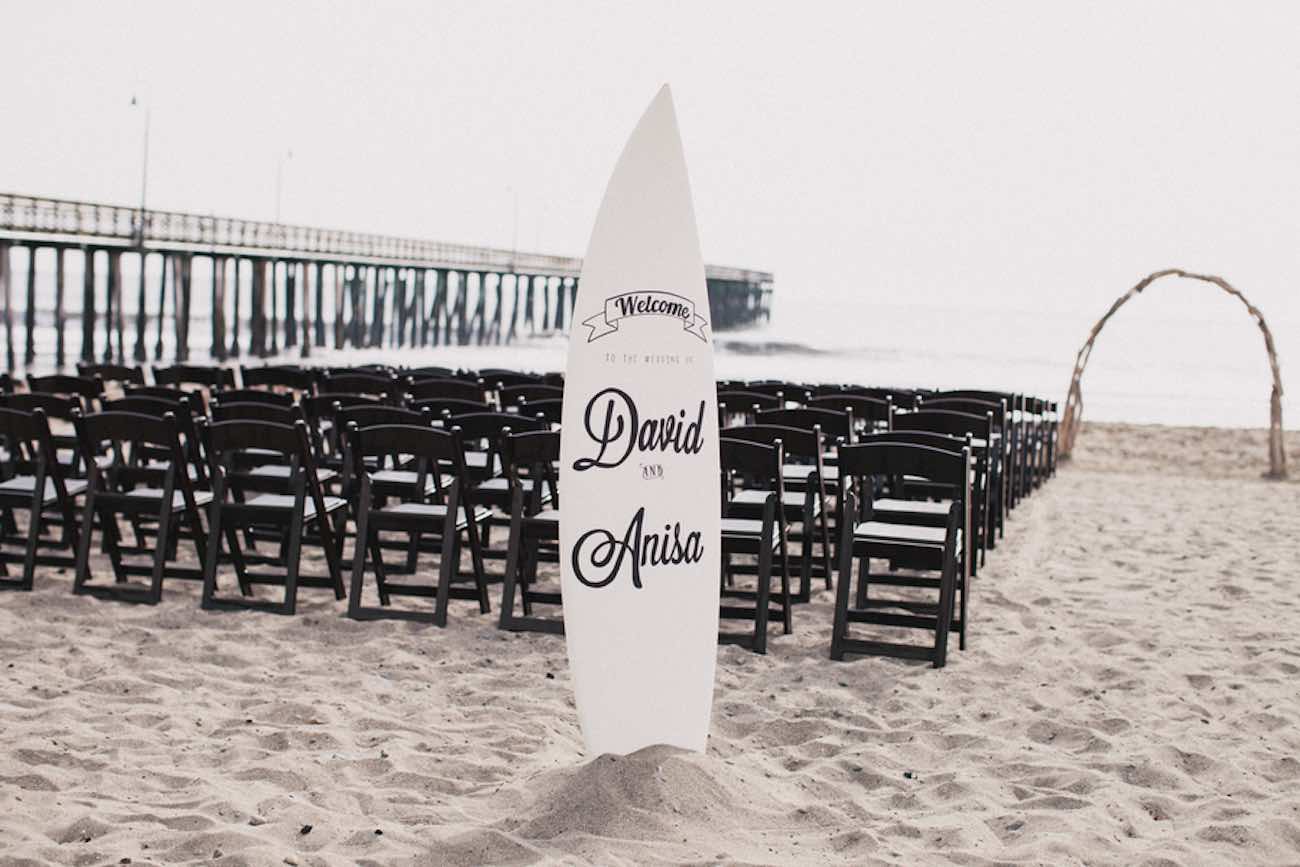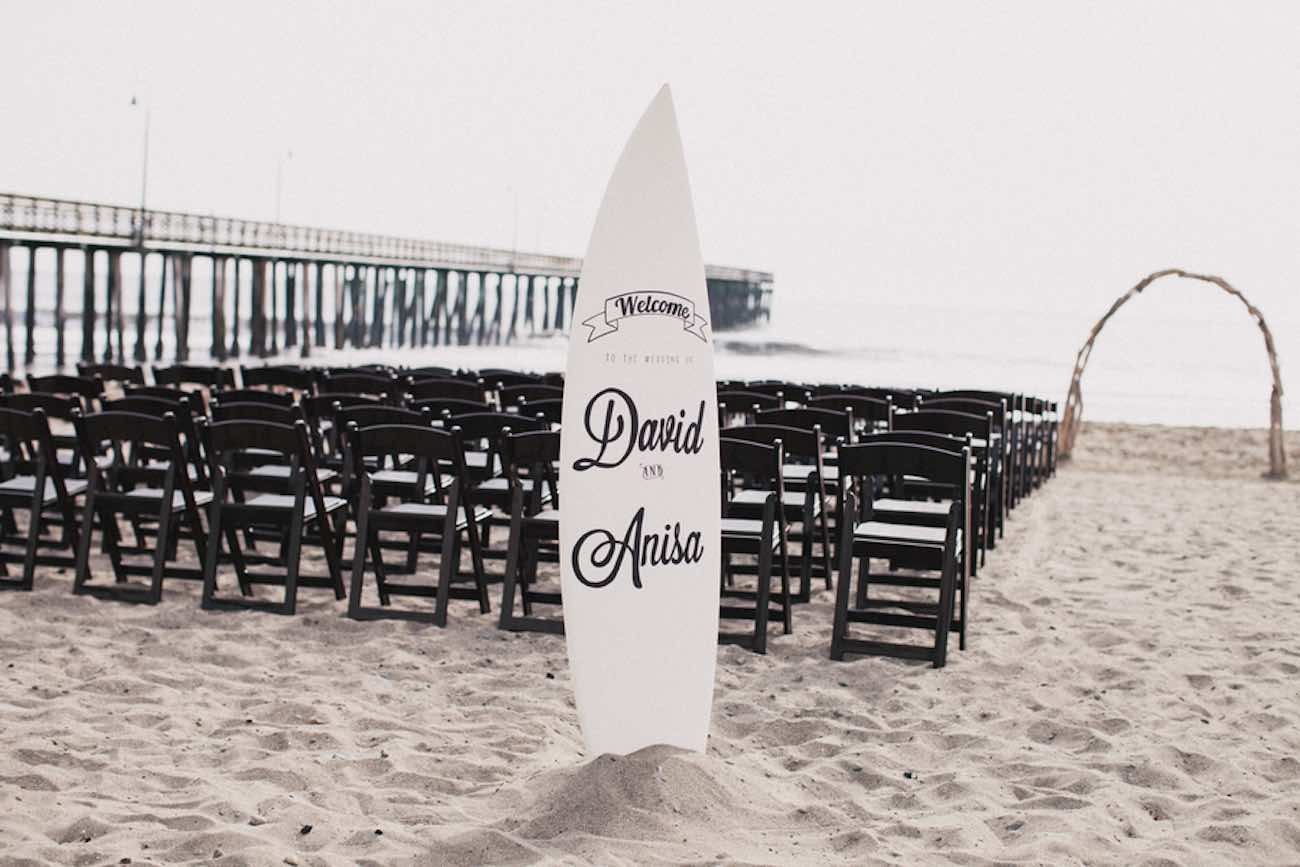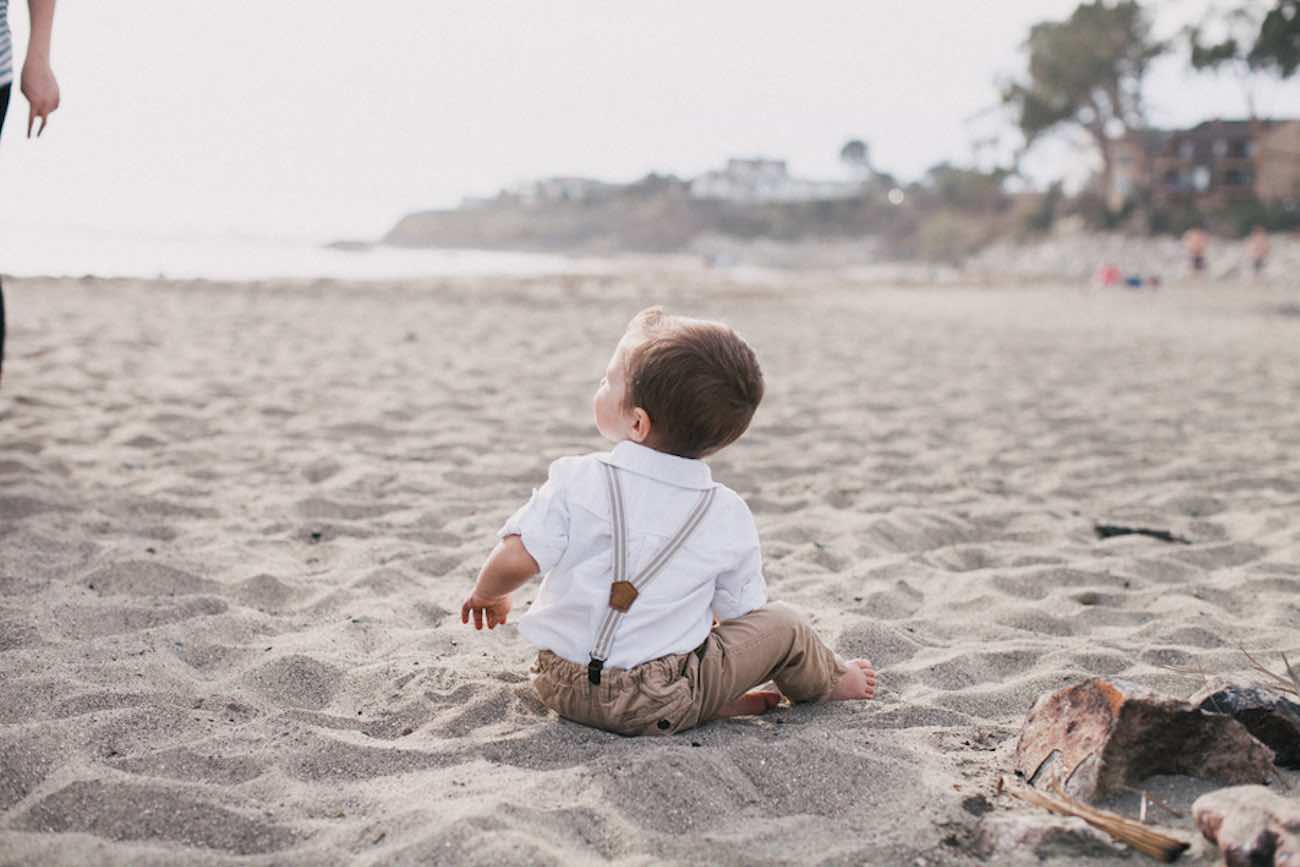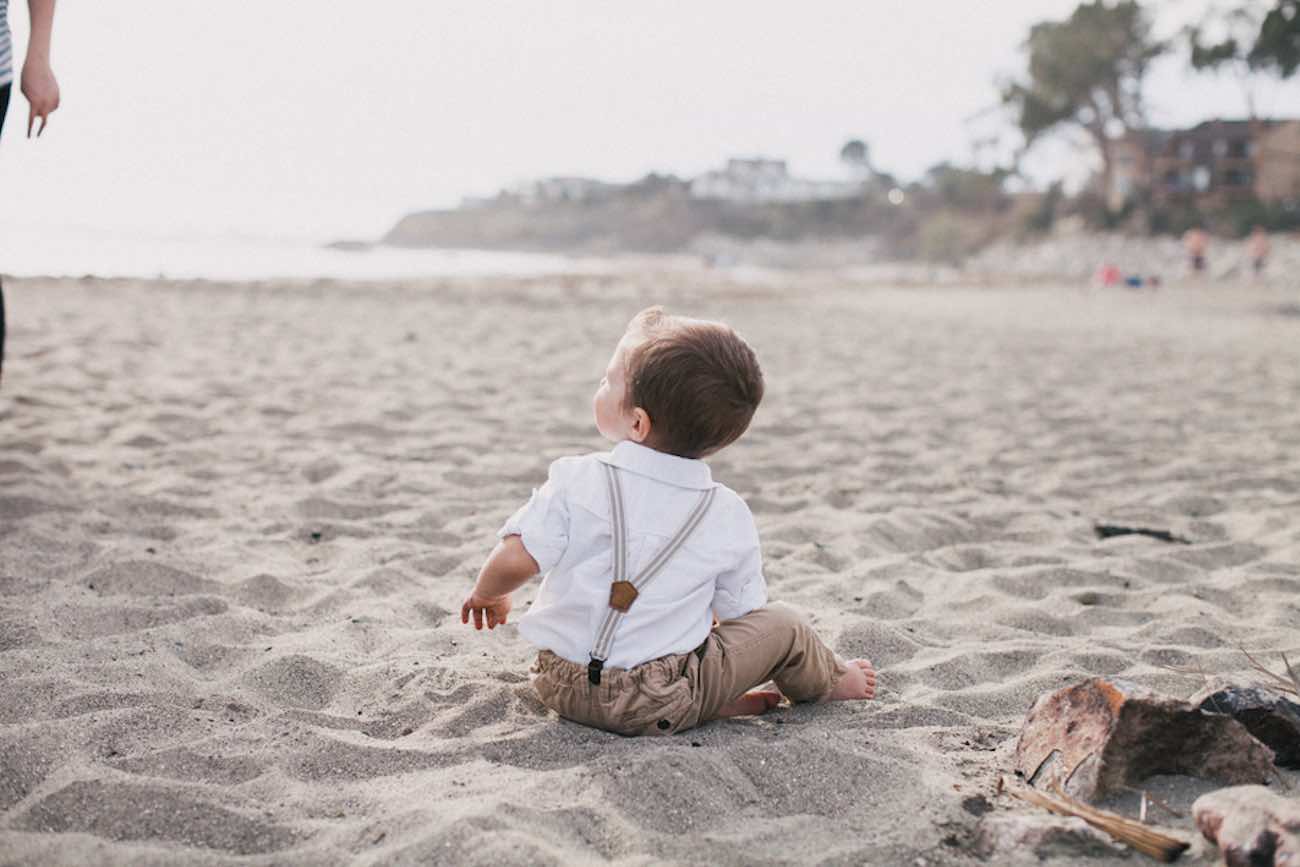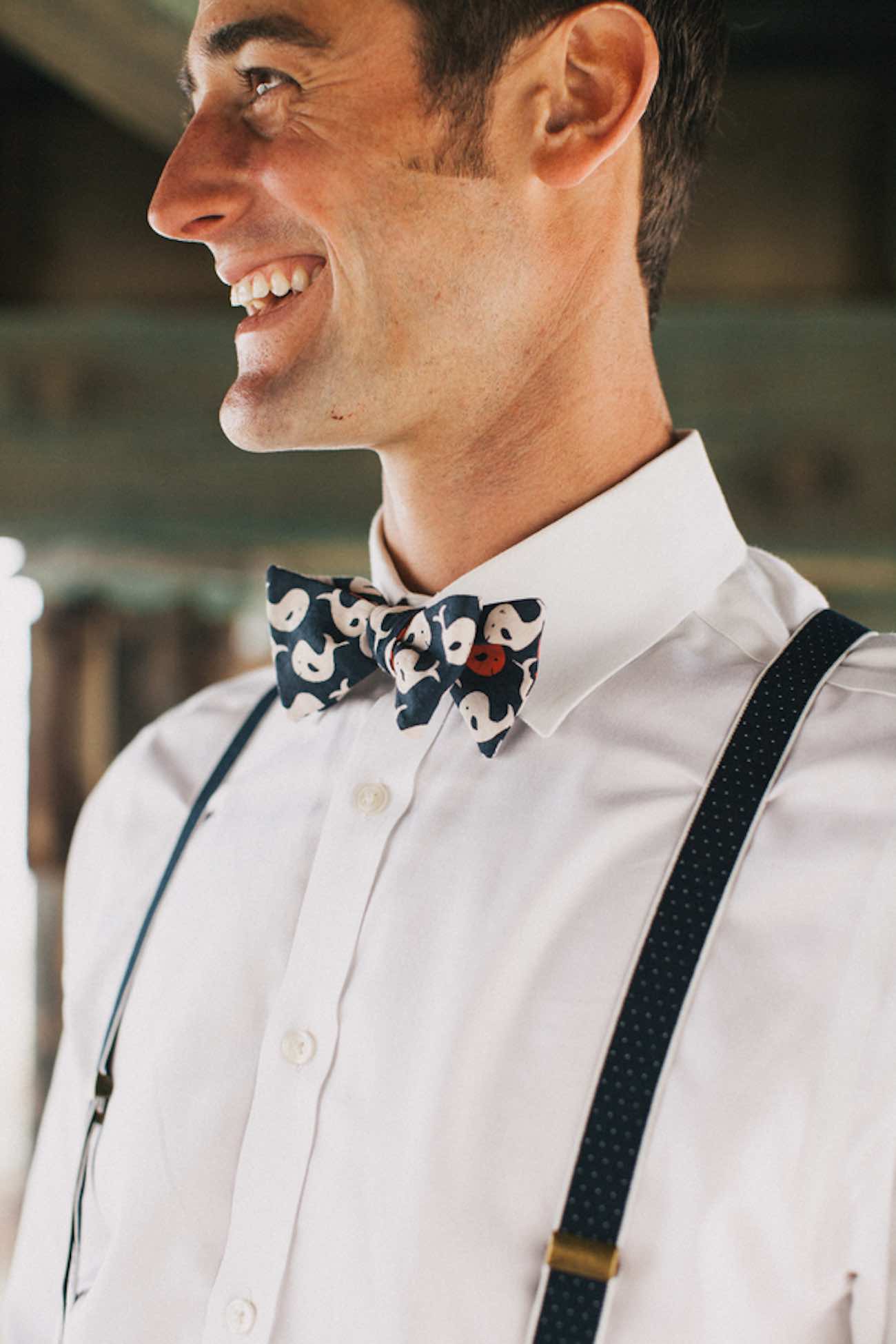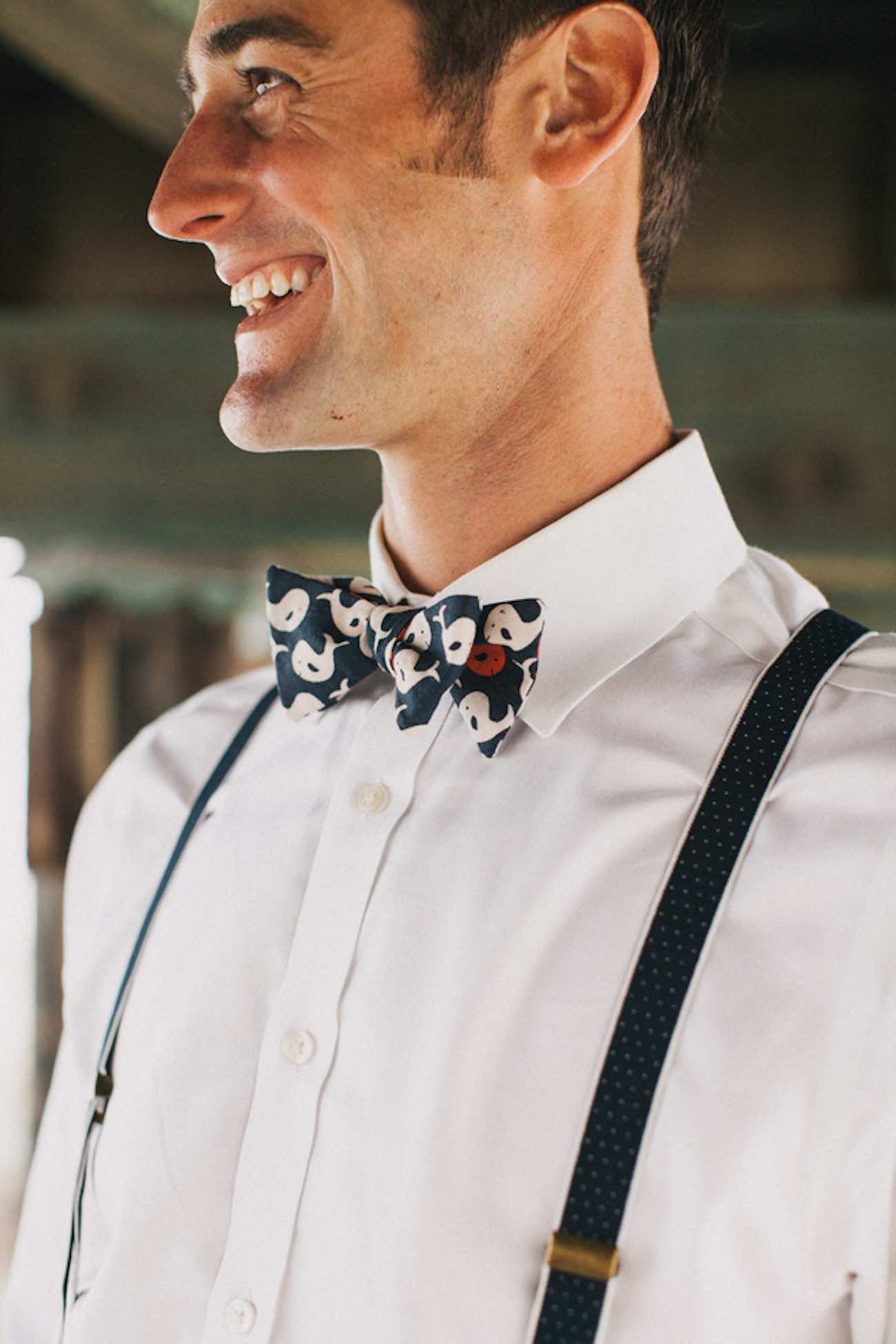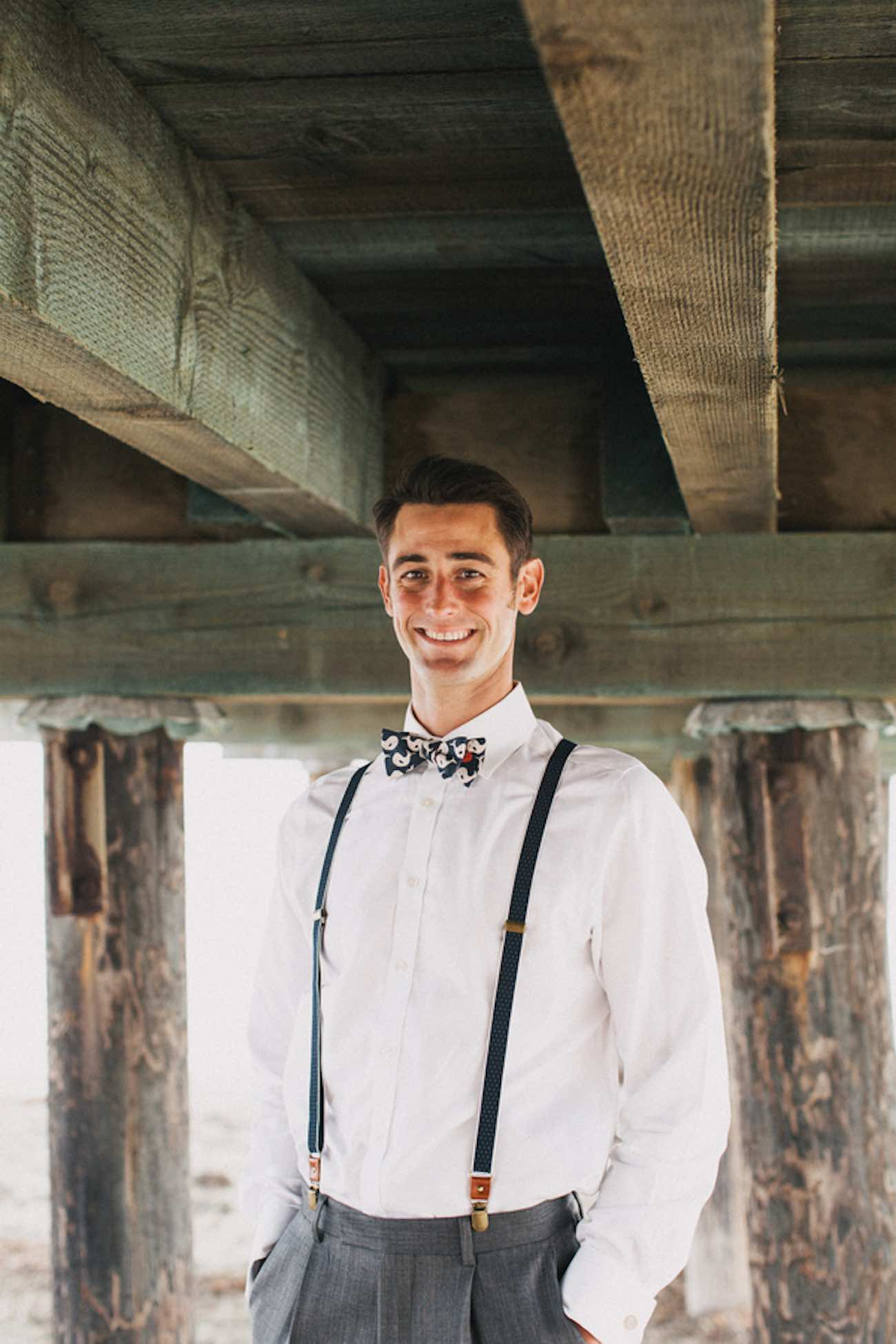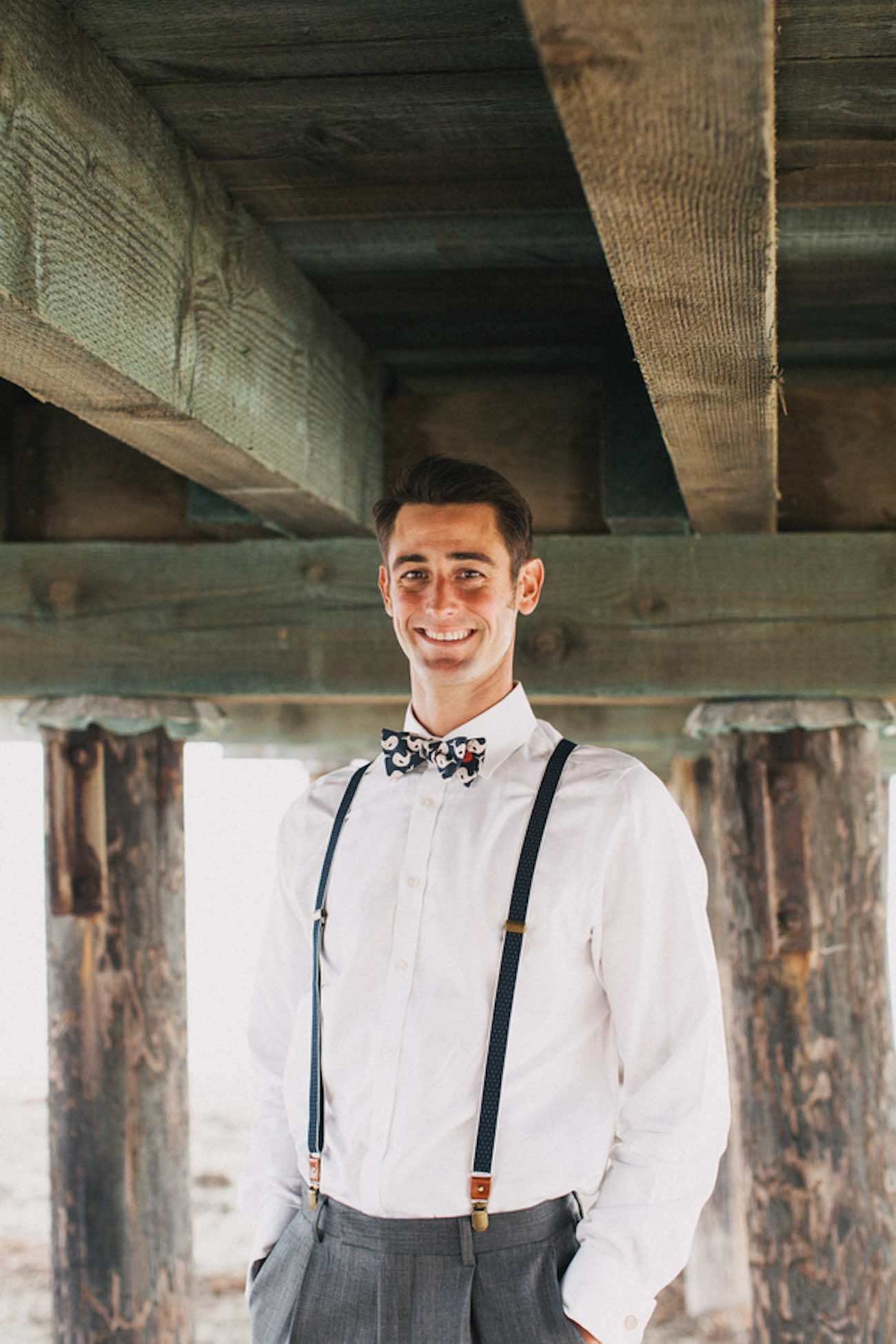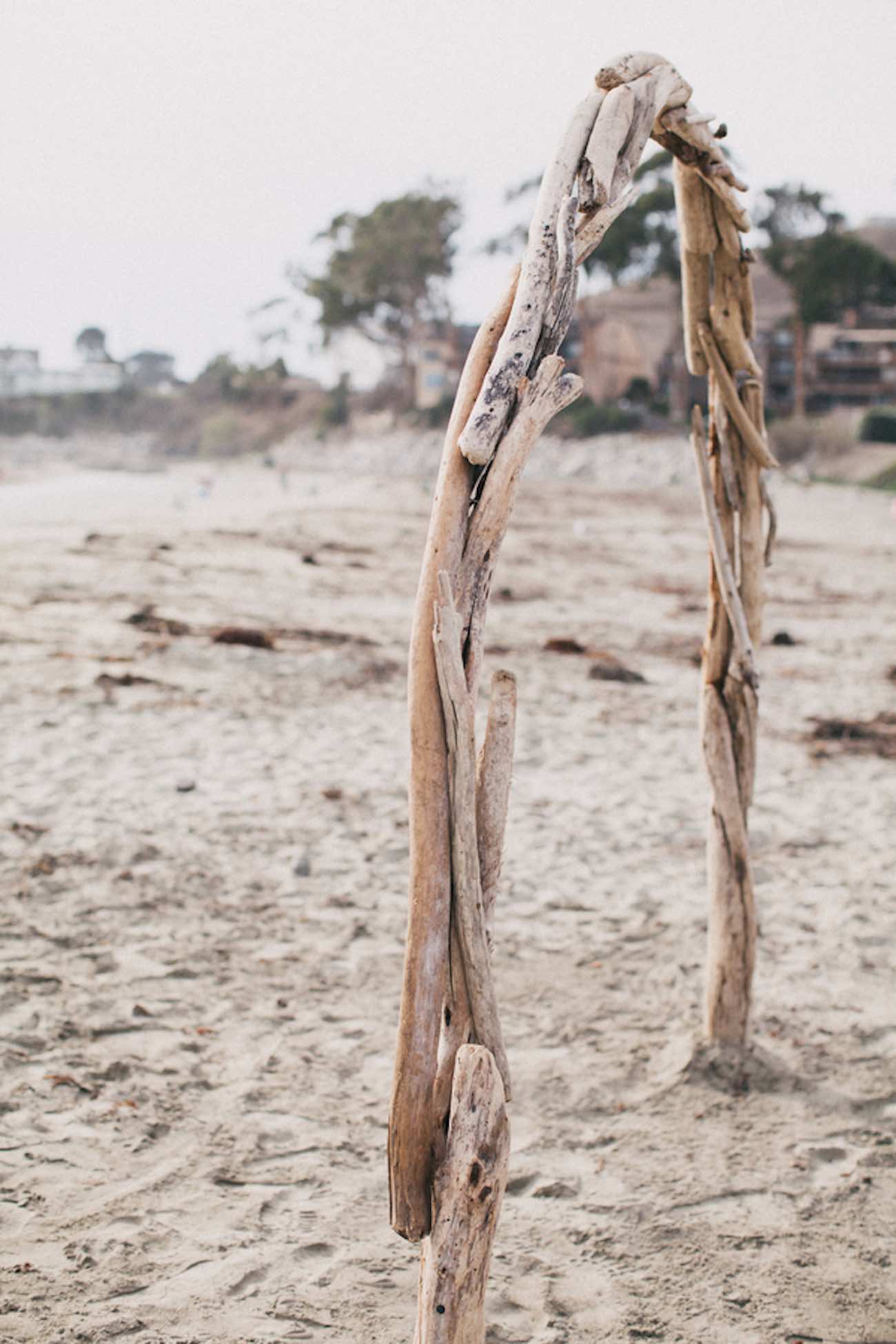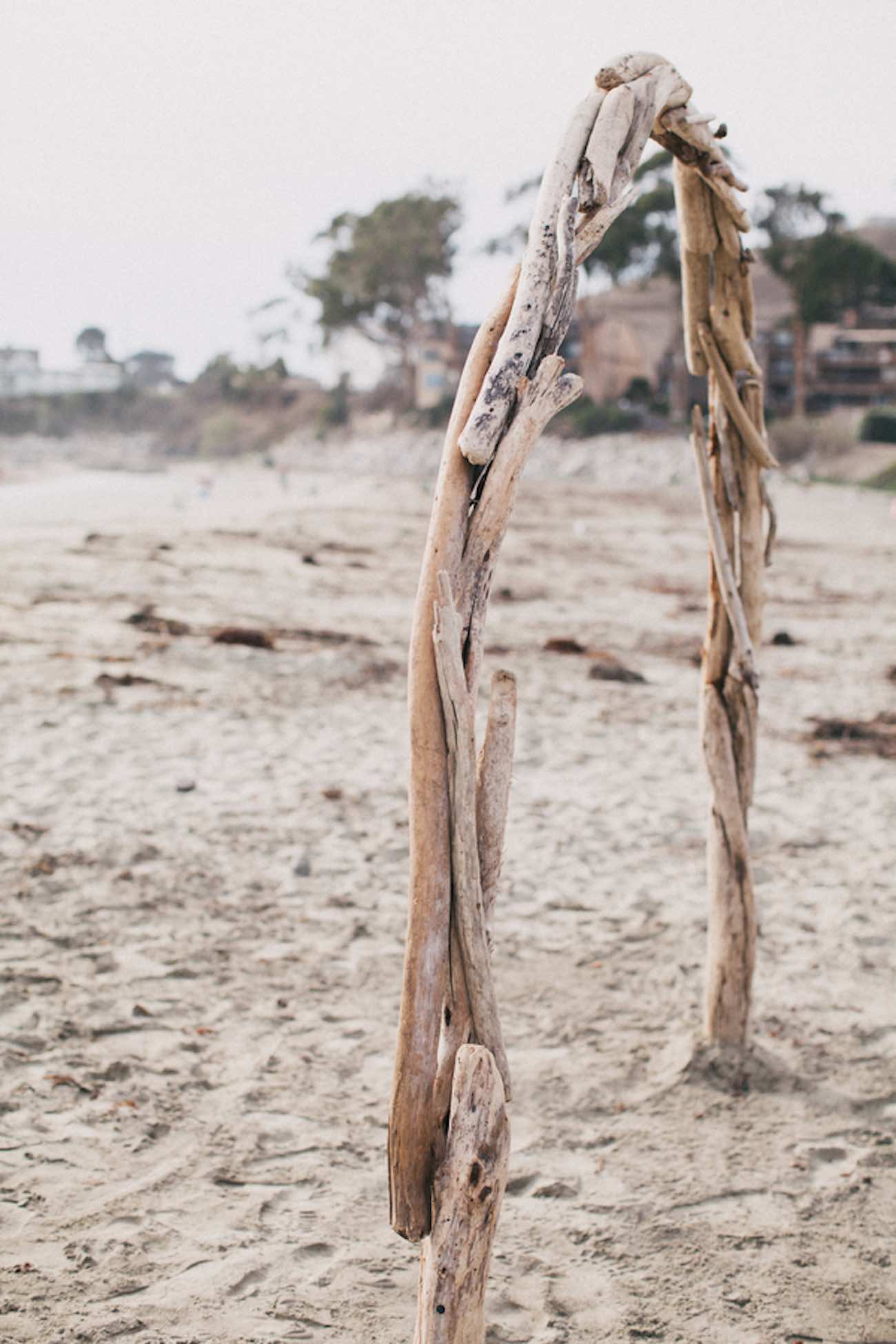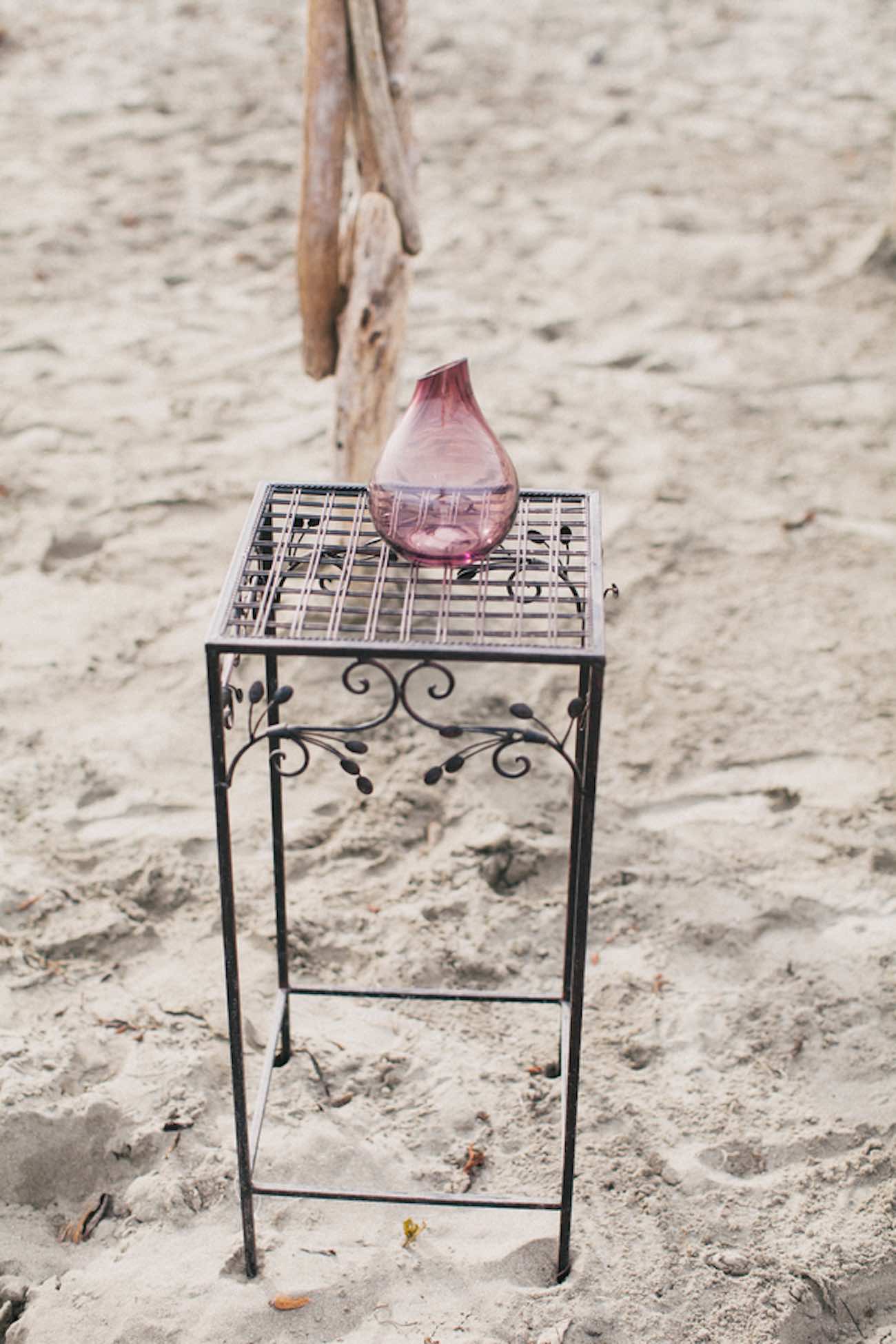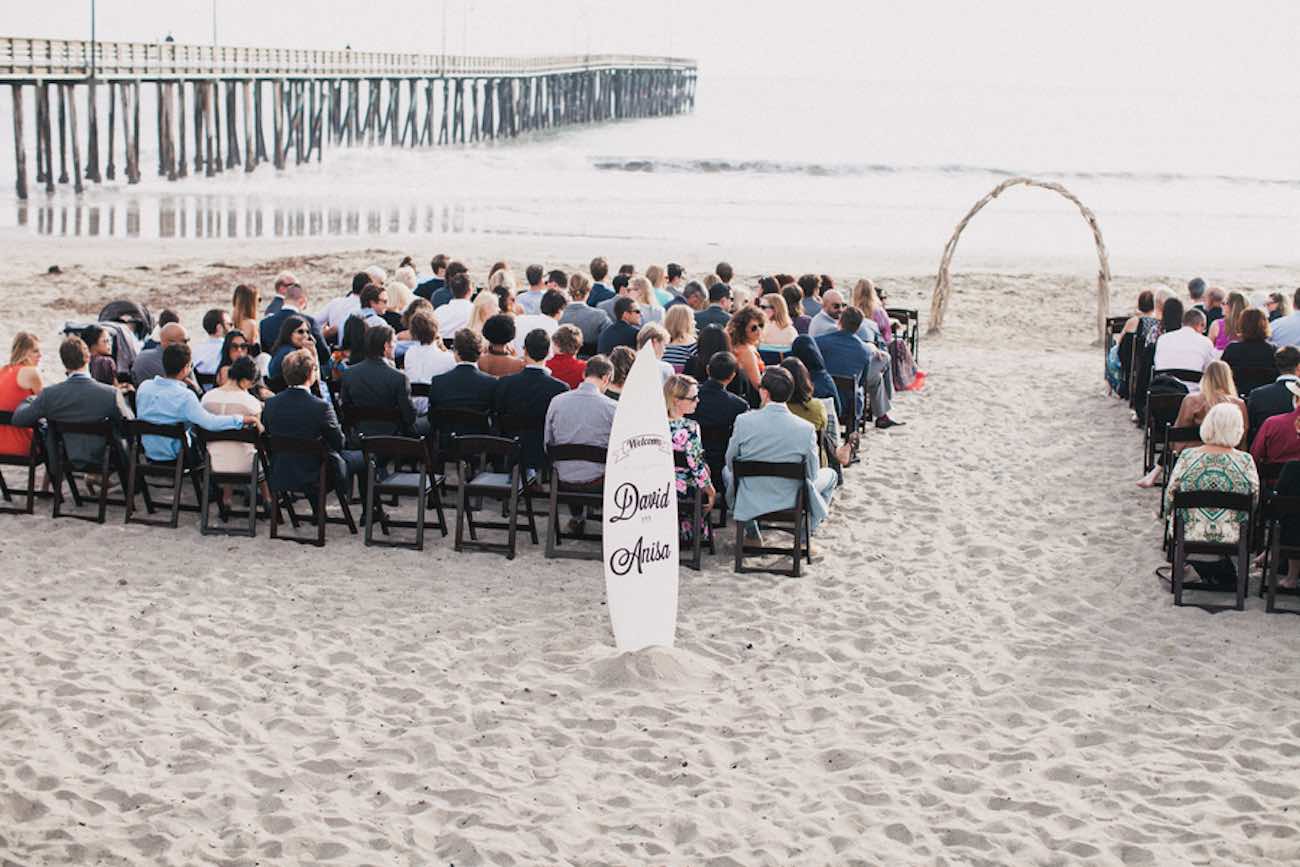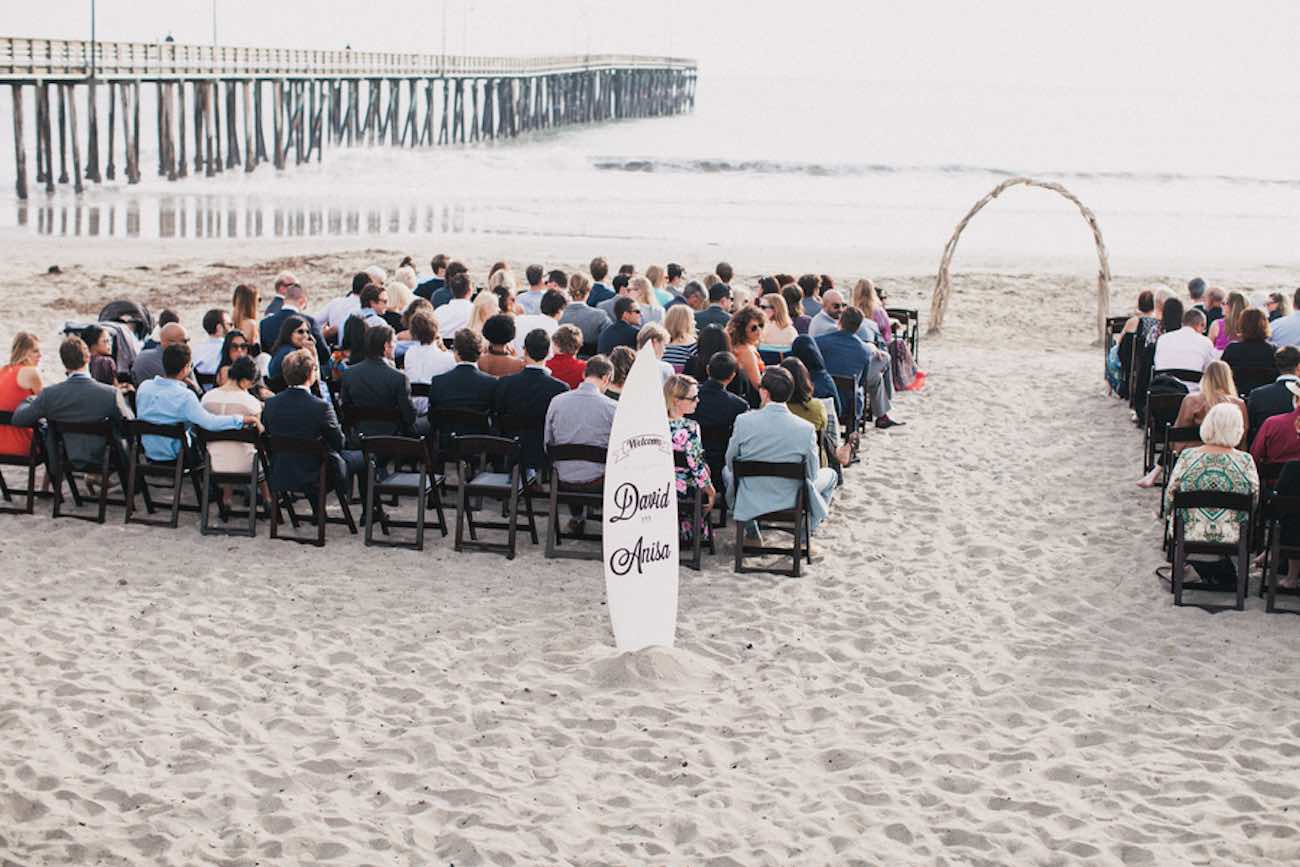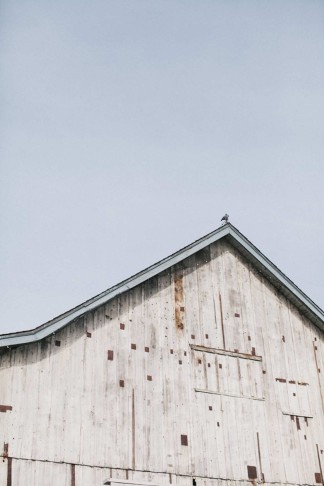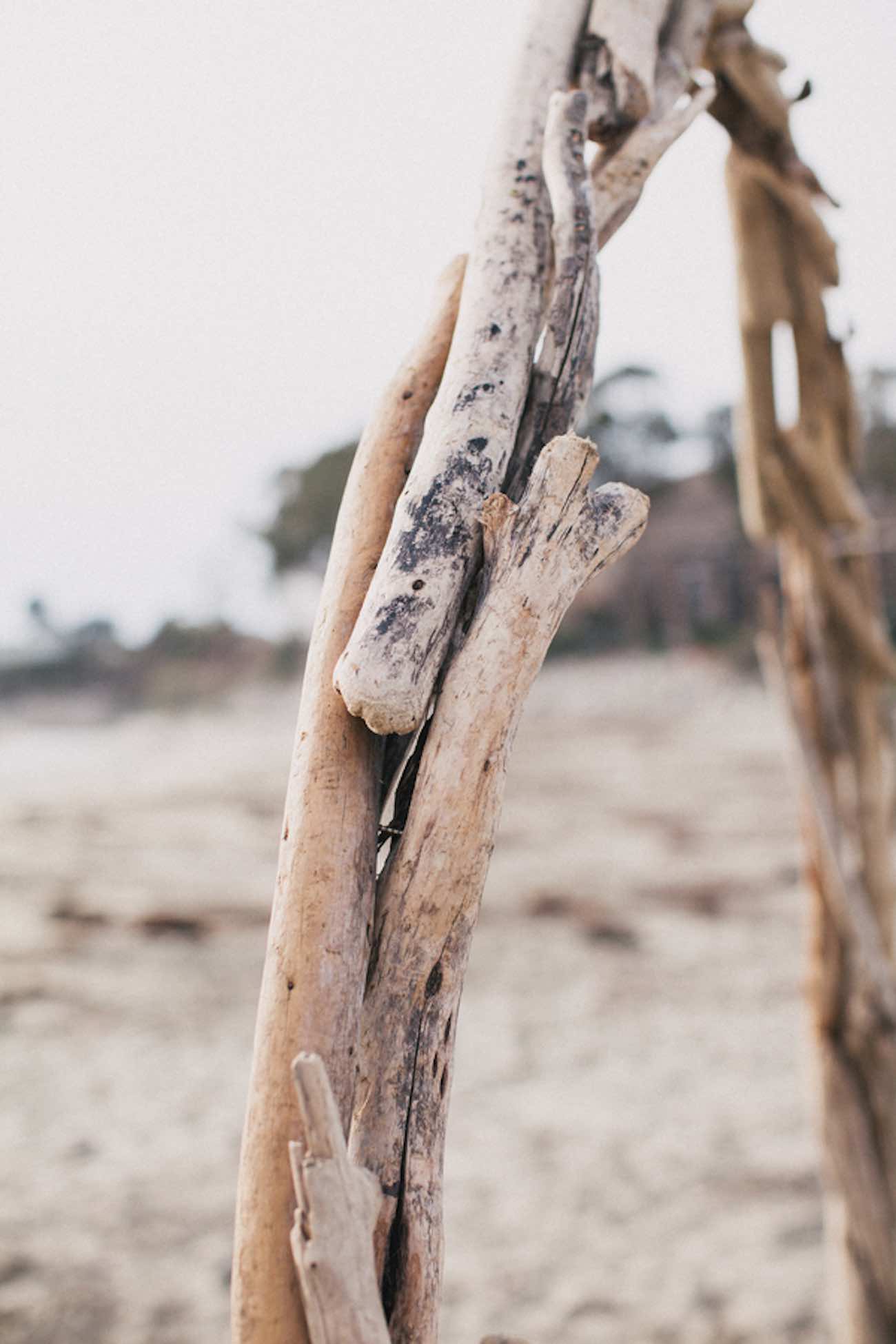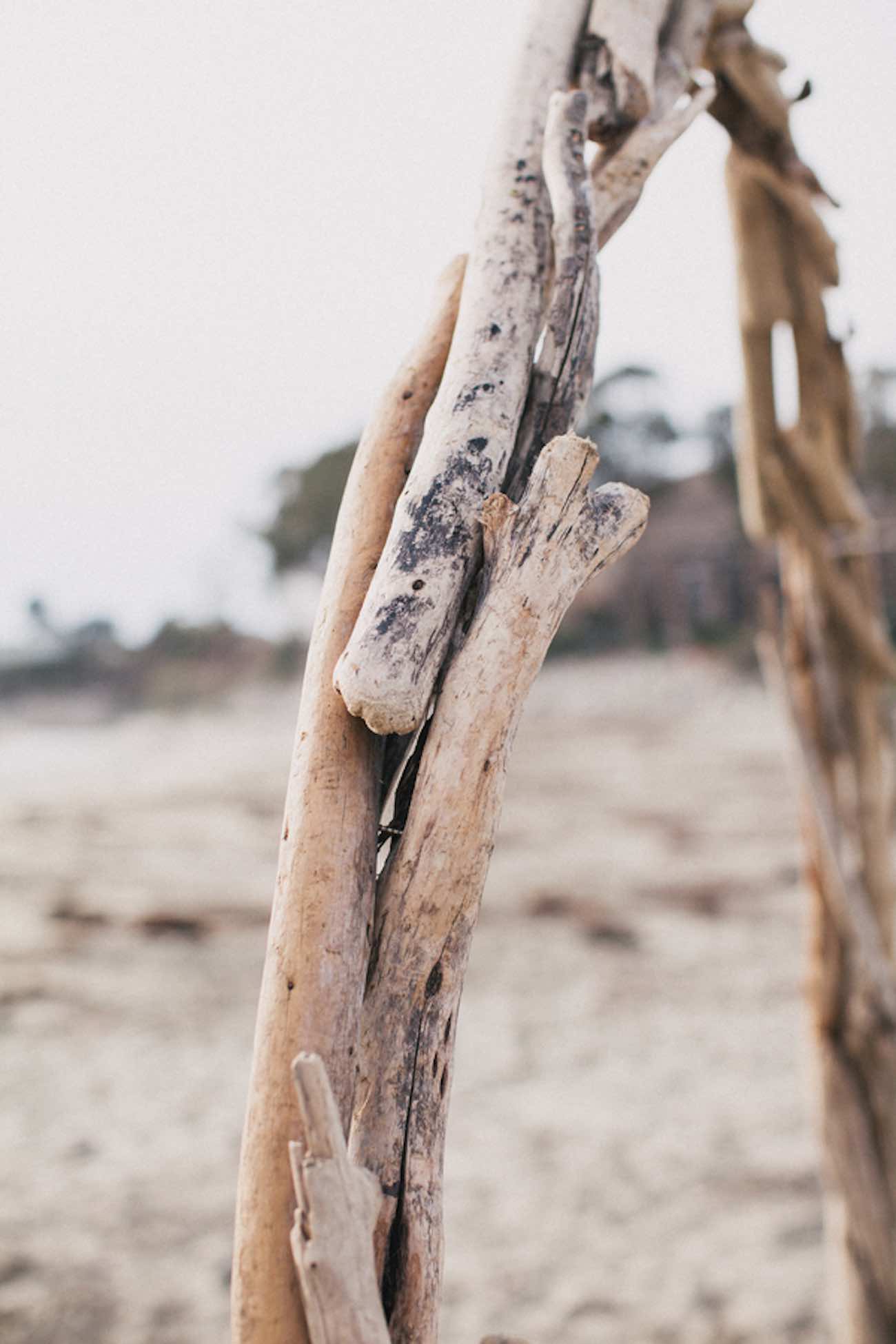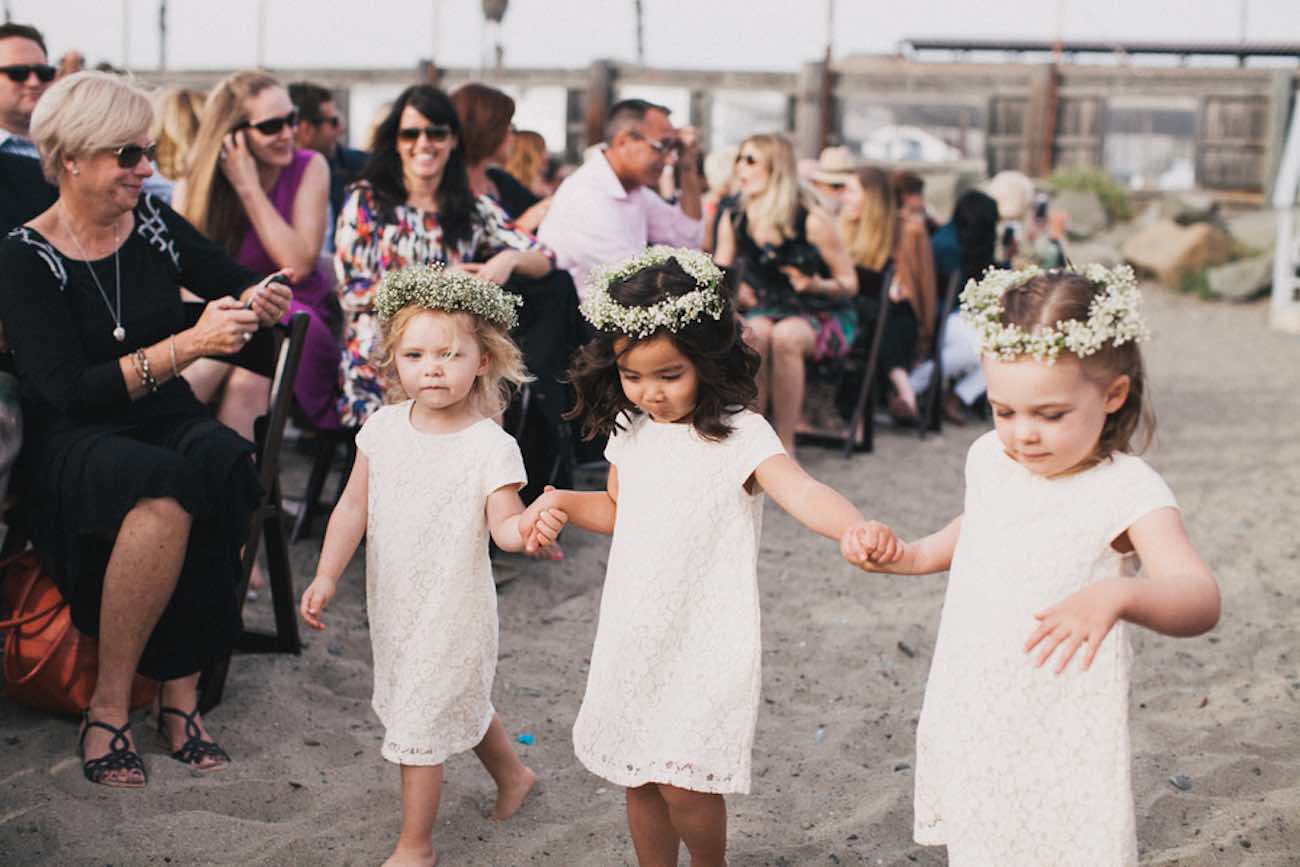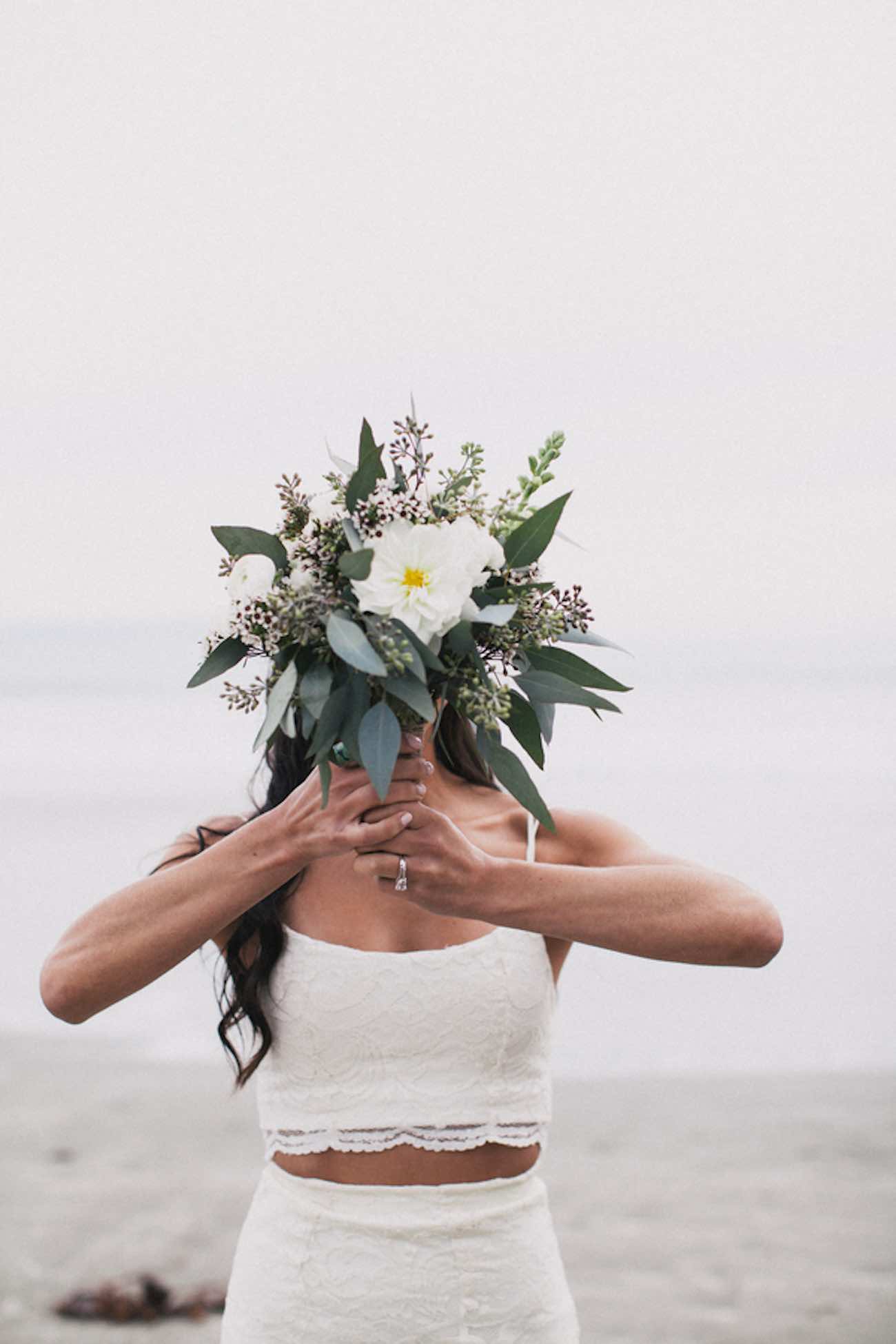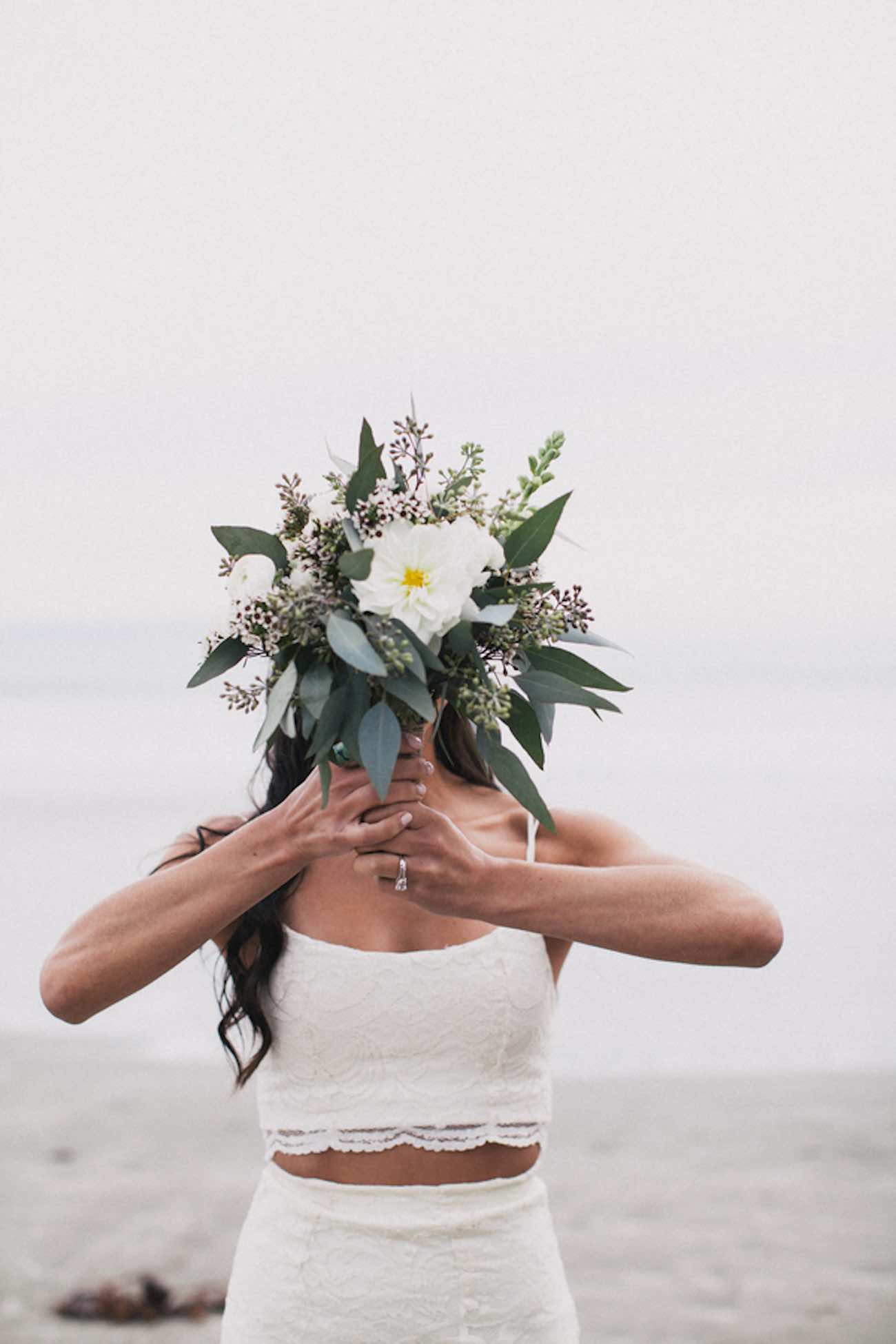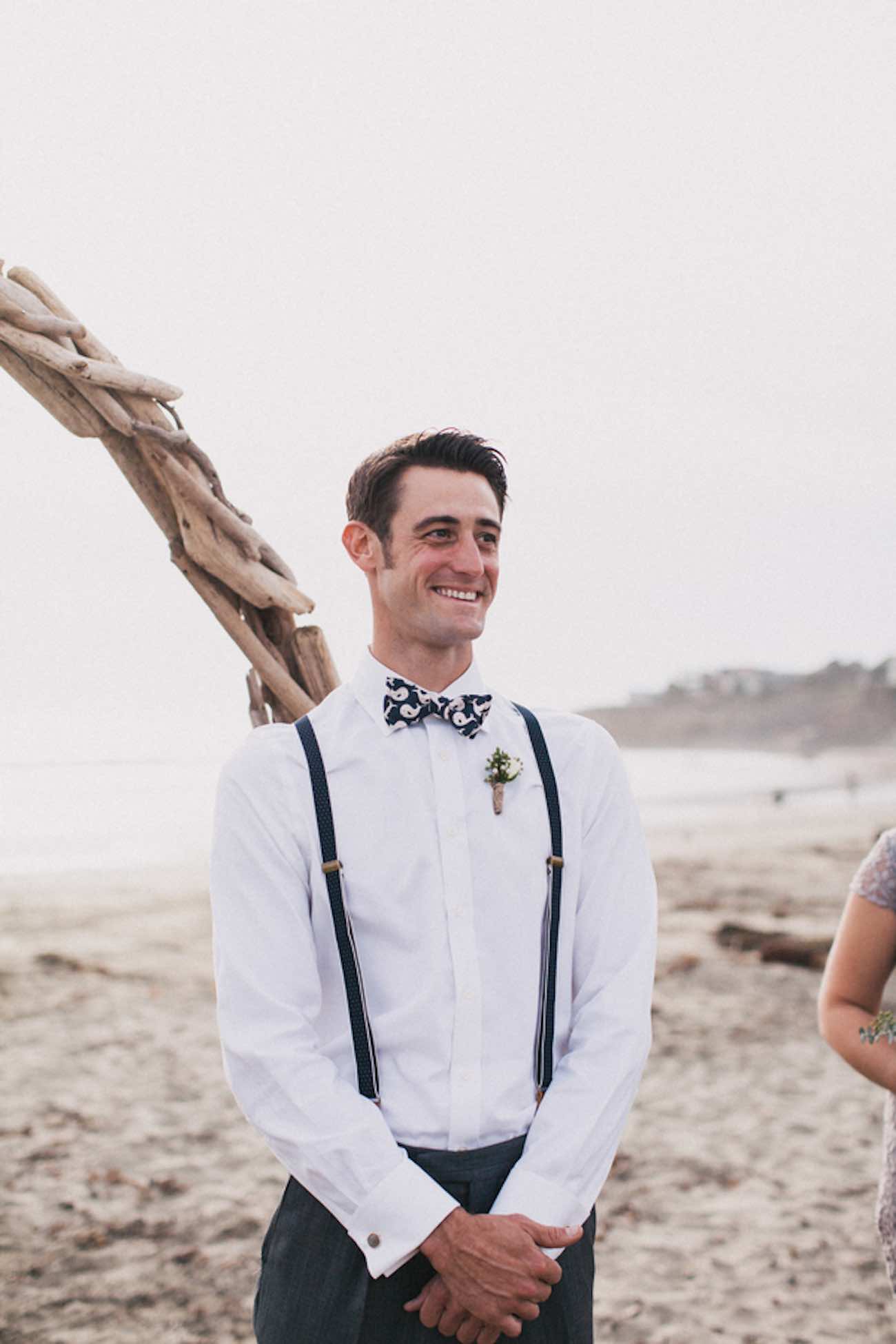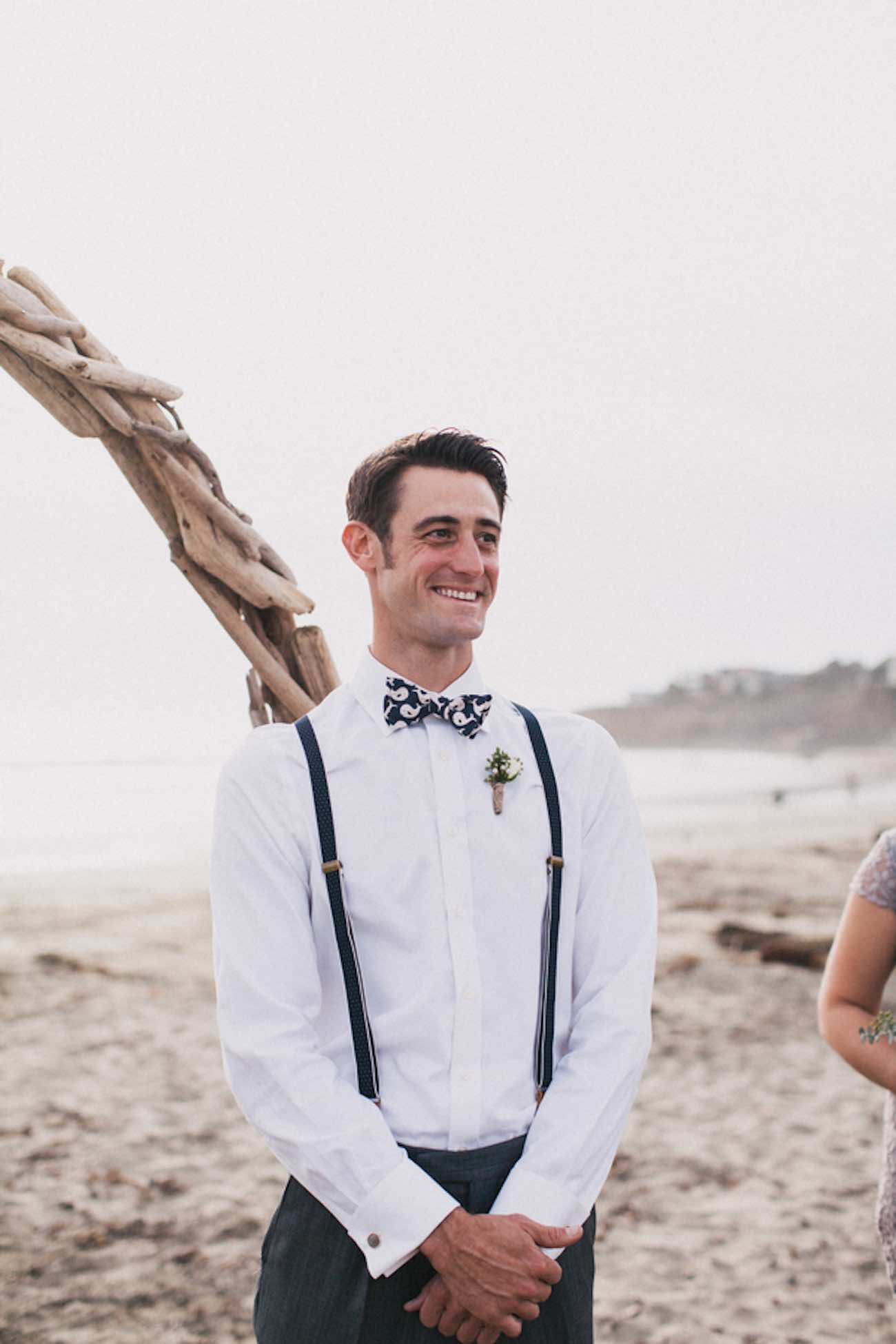 "Our processional music included instrumental covers of Pearl Jam's "Elderly Woman" and Stevie Nicks' "Landslide", both by the Vitamin String Quartet. For the recessional, we walked to "Home" by Edward Sharpe. These are songs that David and I learned together on the guitar over the years, and including them in our ceremony was incredibly meaningful."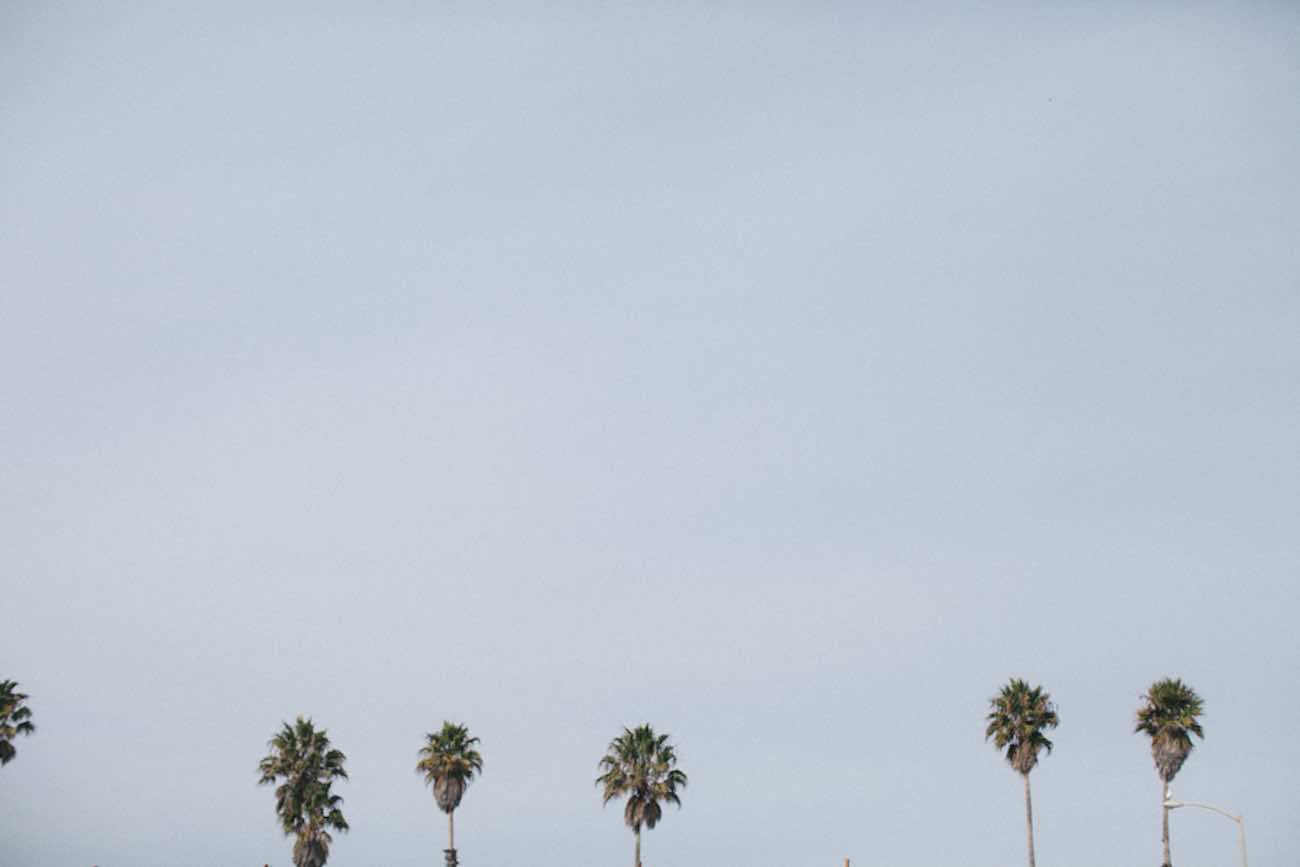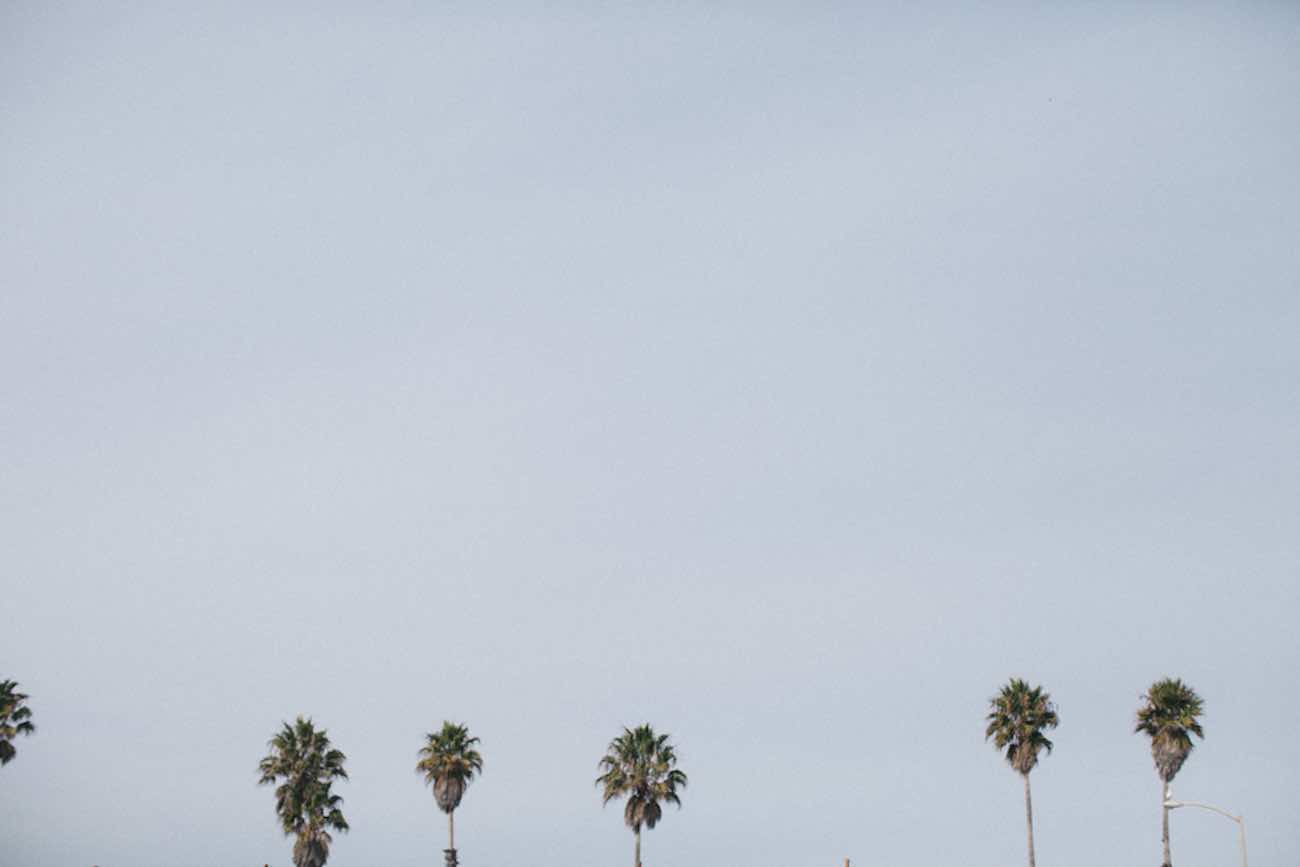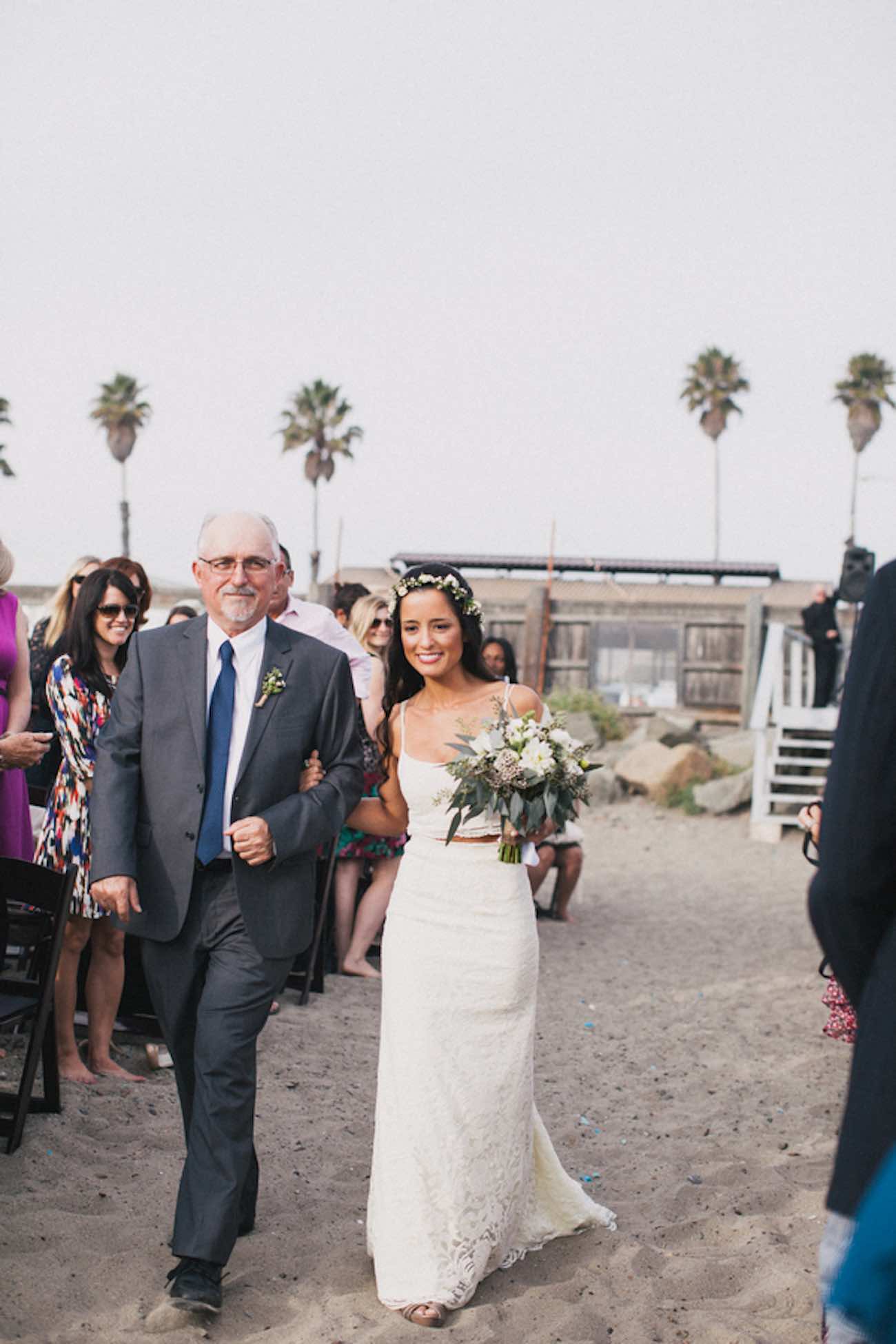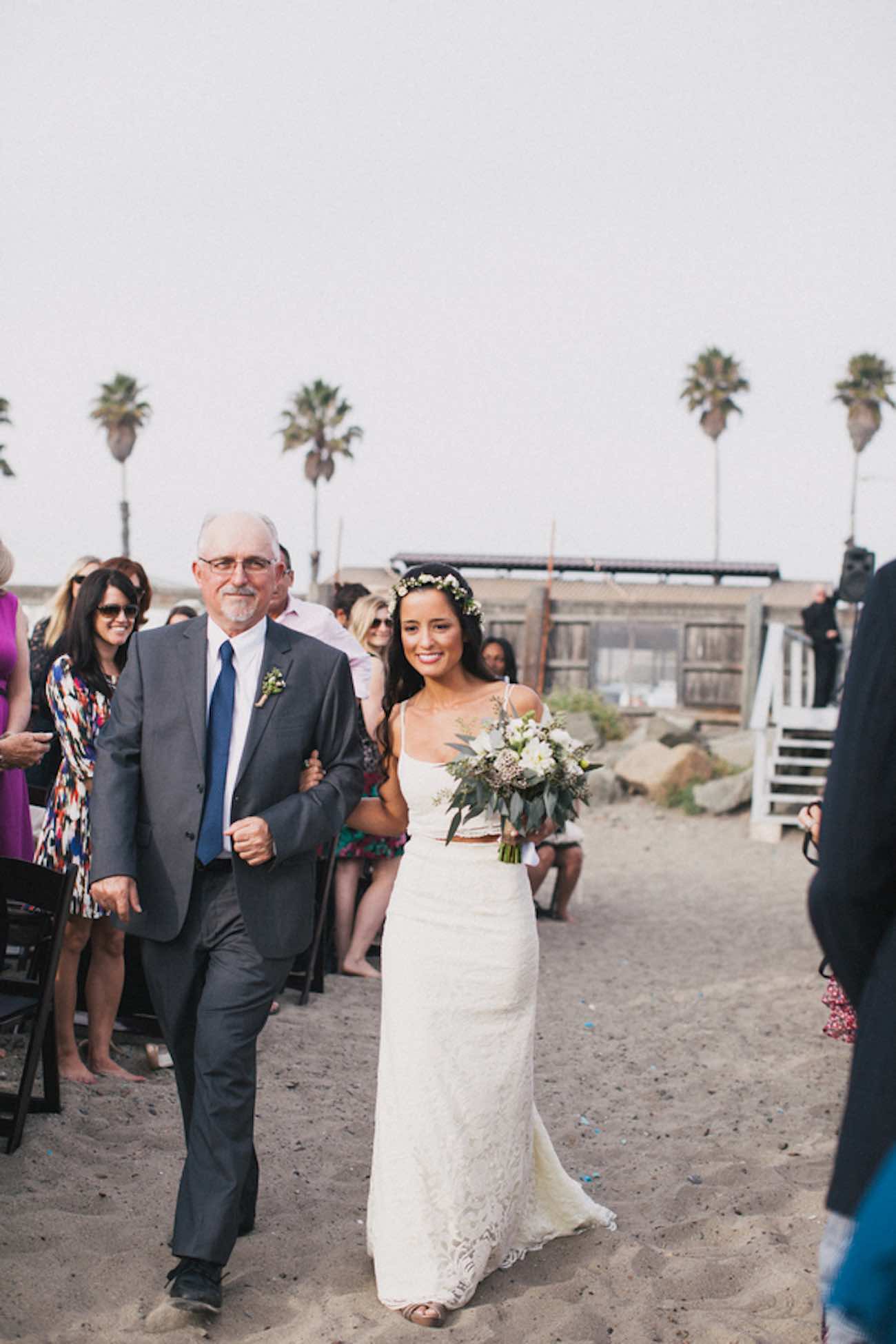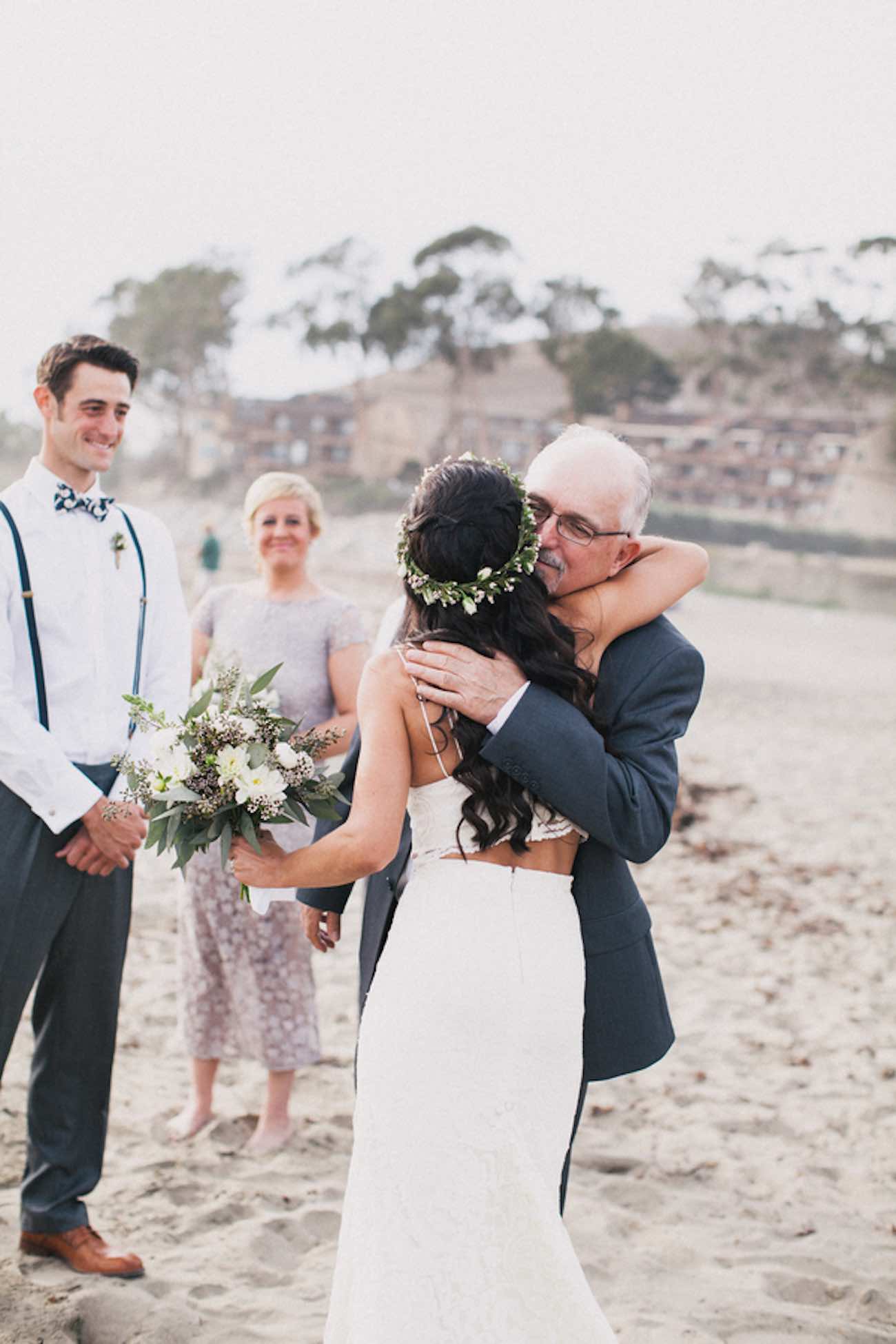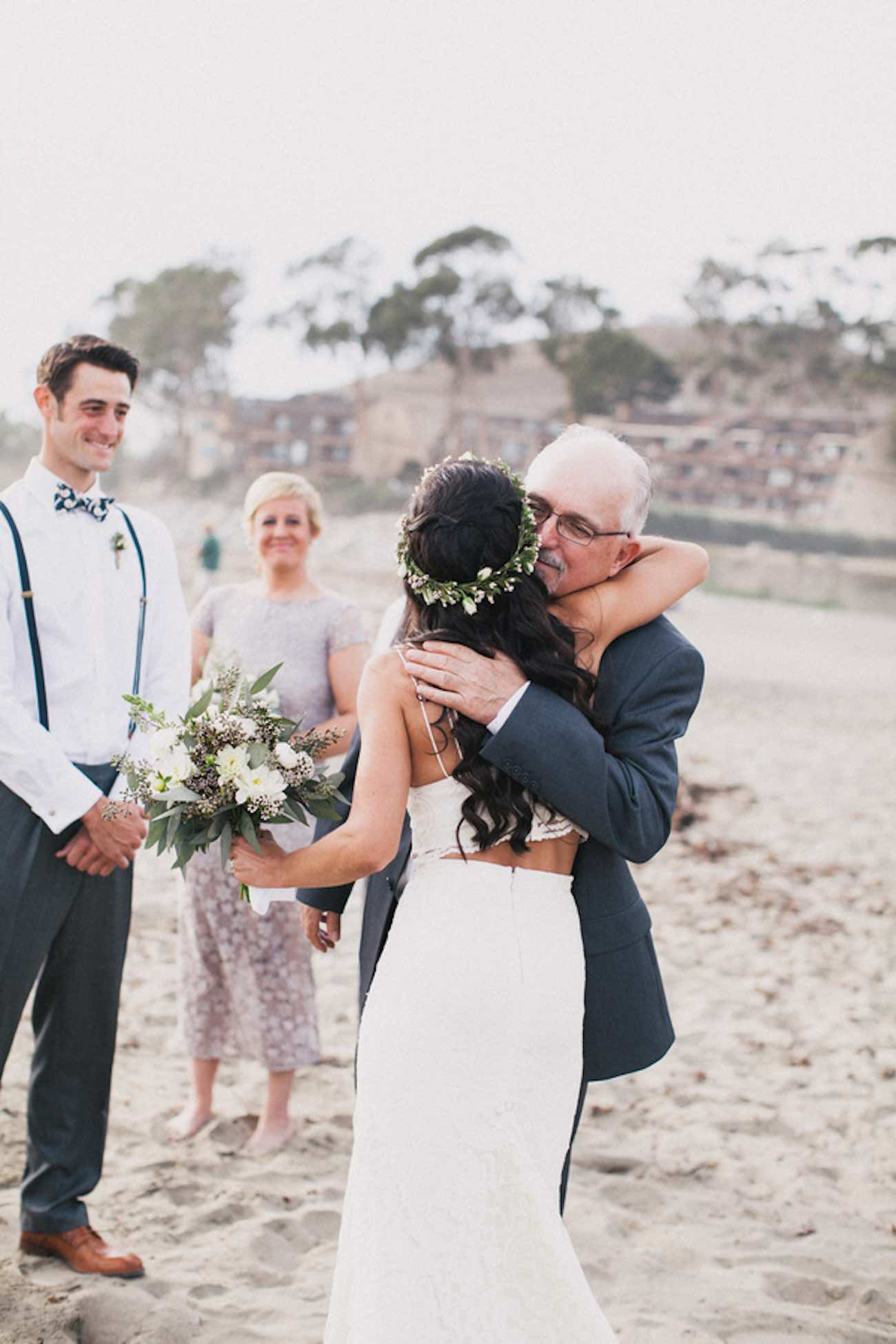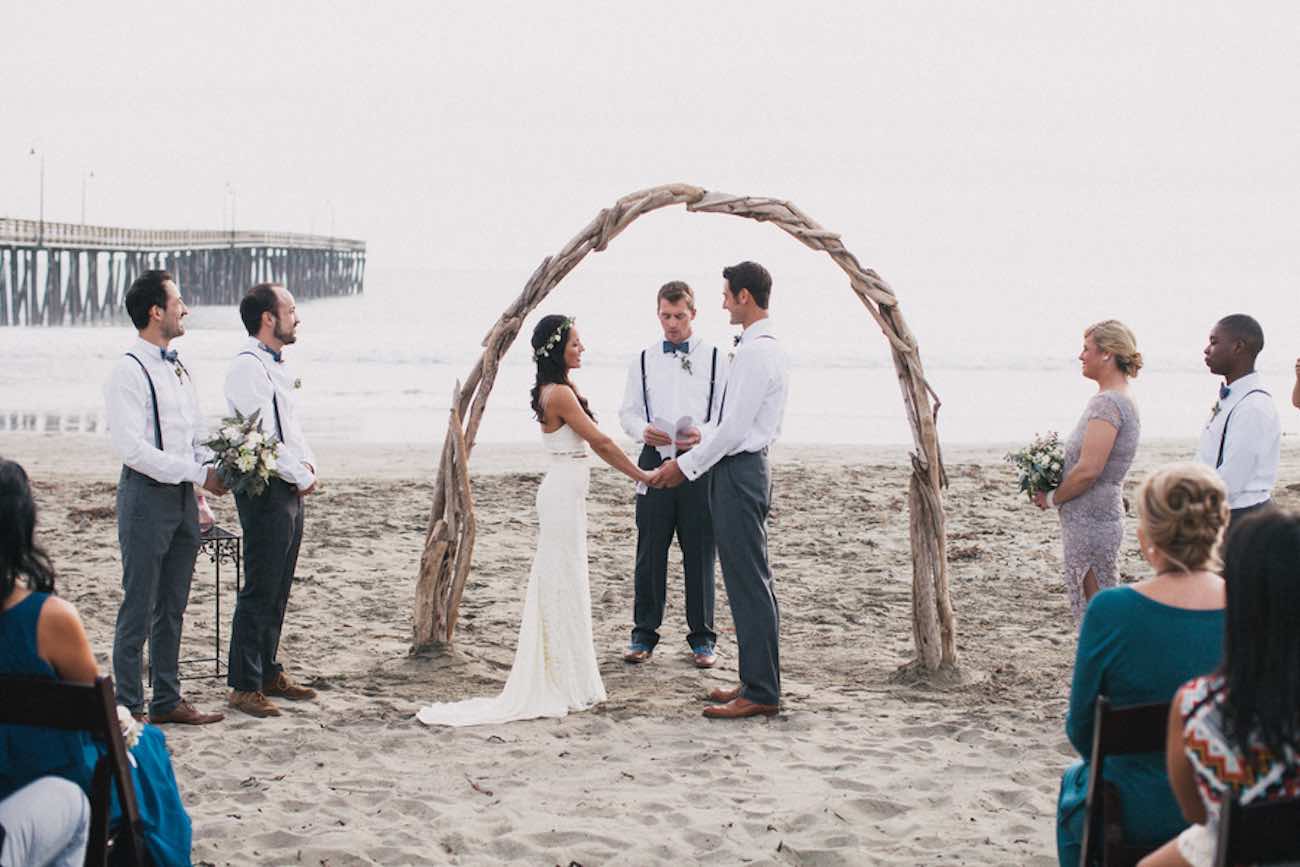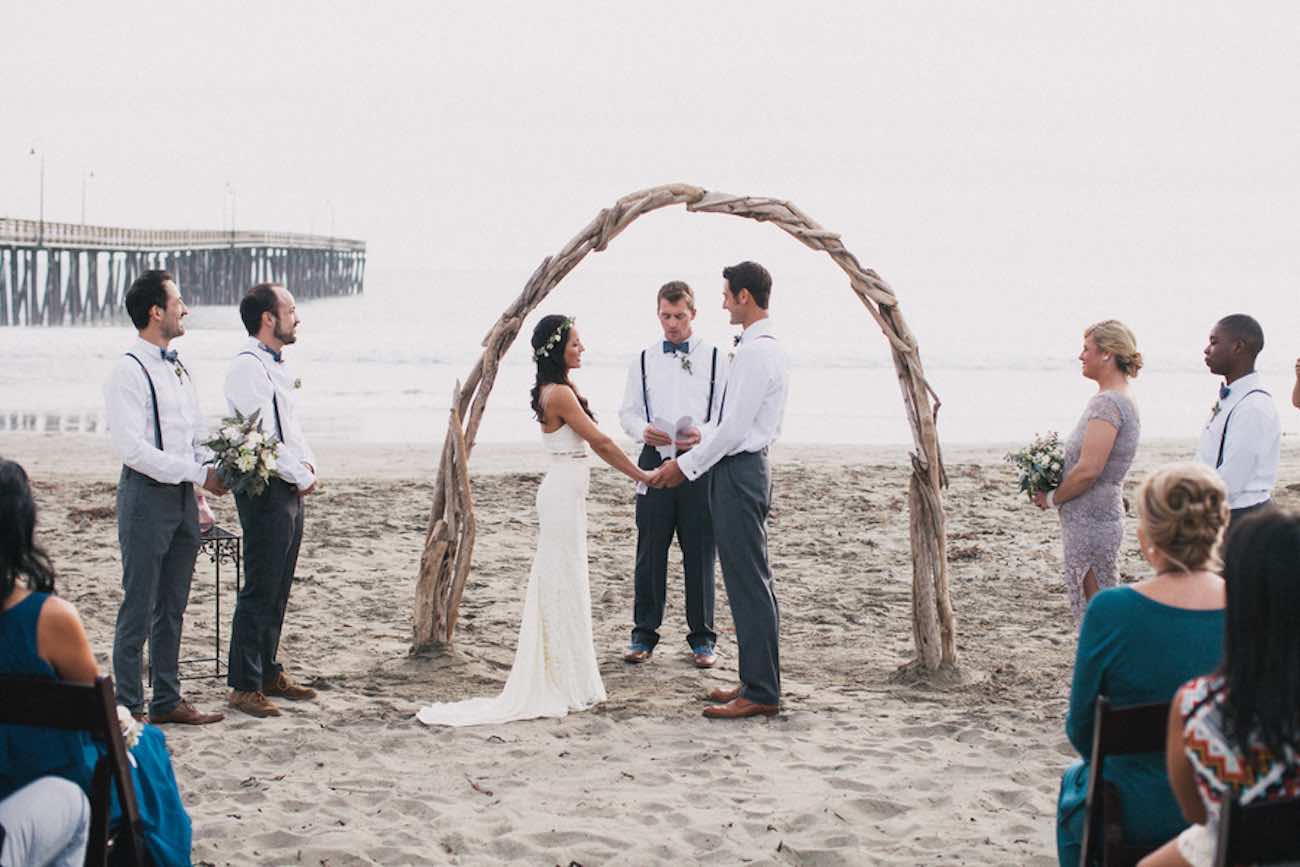 "The natural beauty of the ocean and the iconic Cayucos Pier provided ample decor, so we didn't need to add much, just a beautiful driftwood arch made by David, and a simple surfboard welcome sign made by me."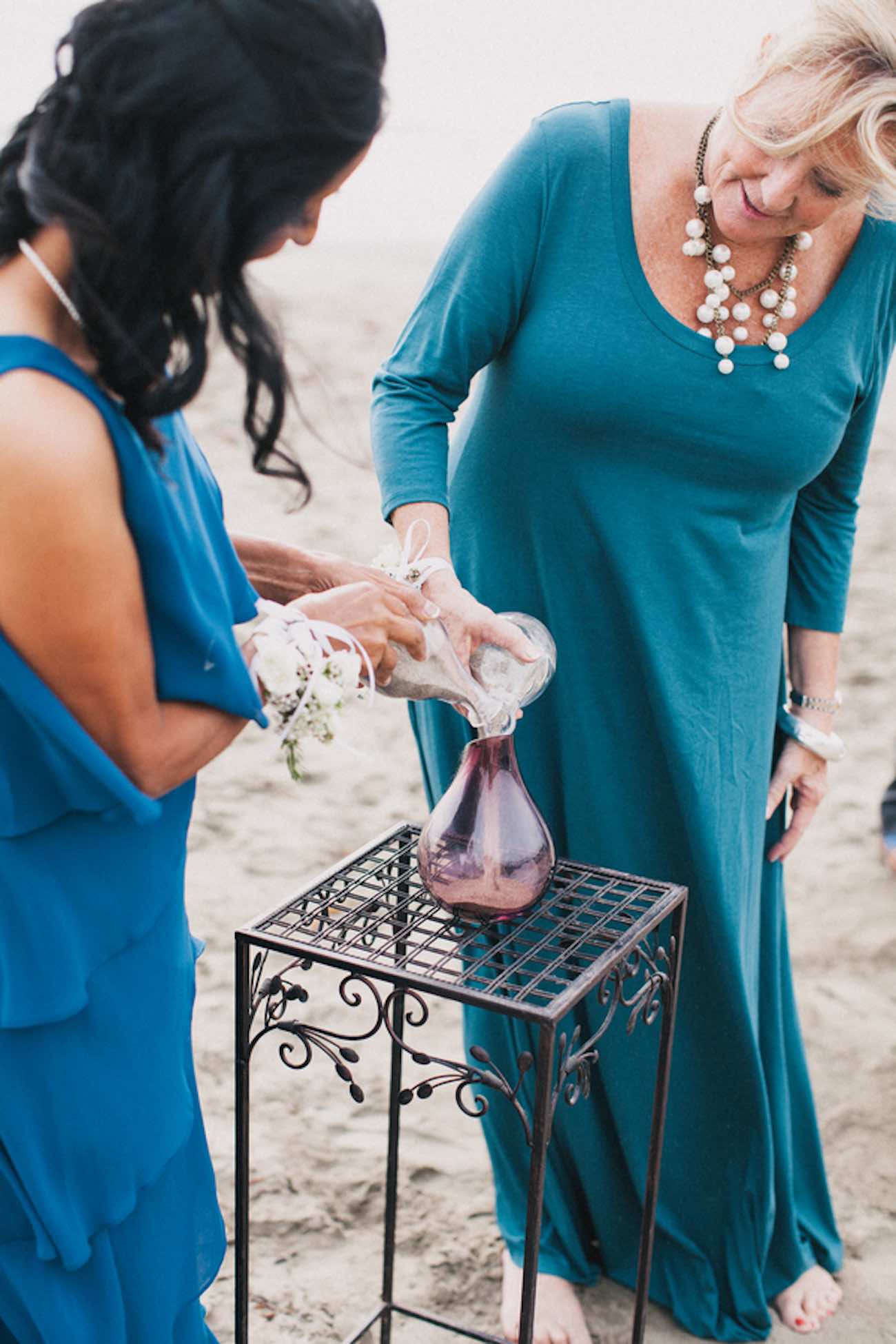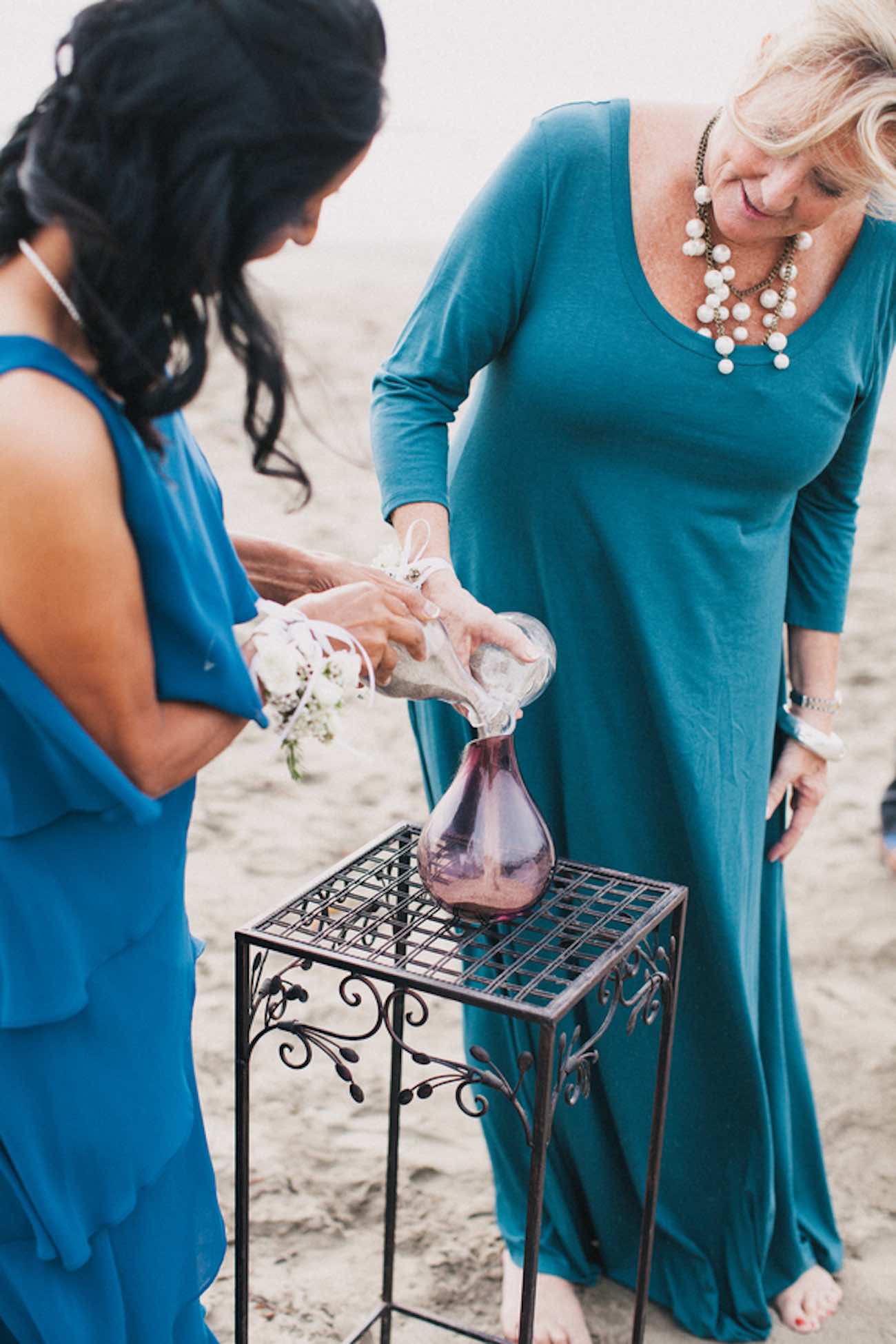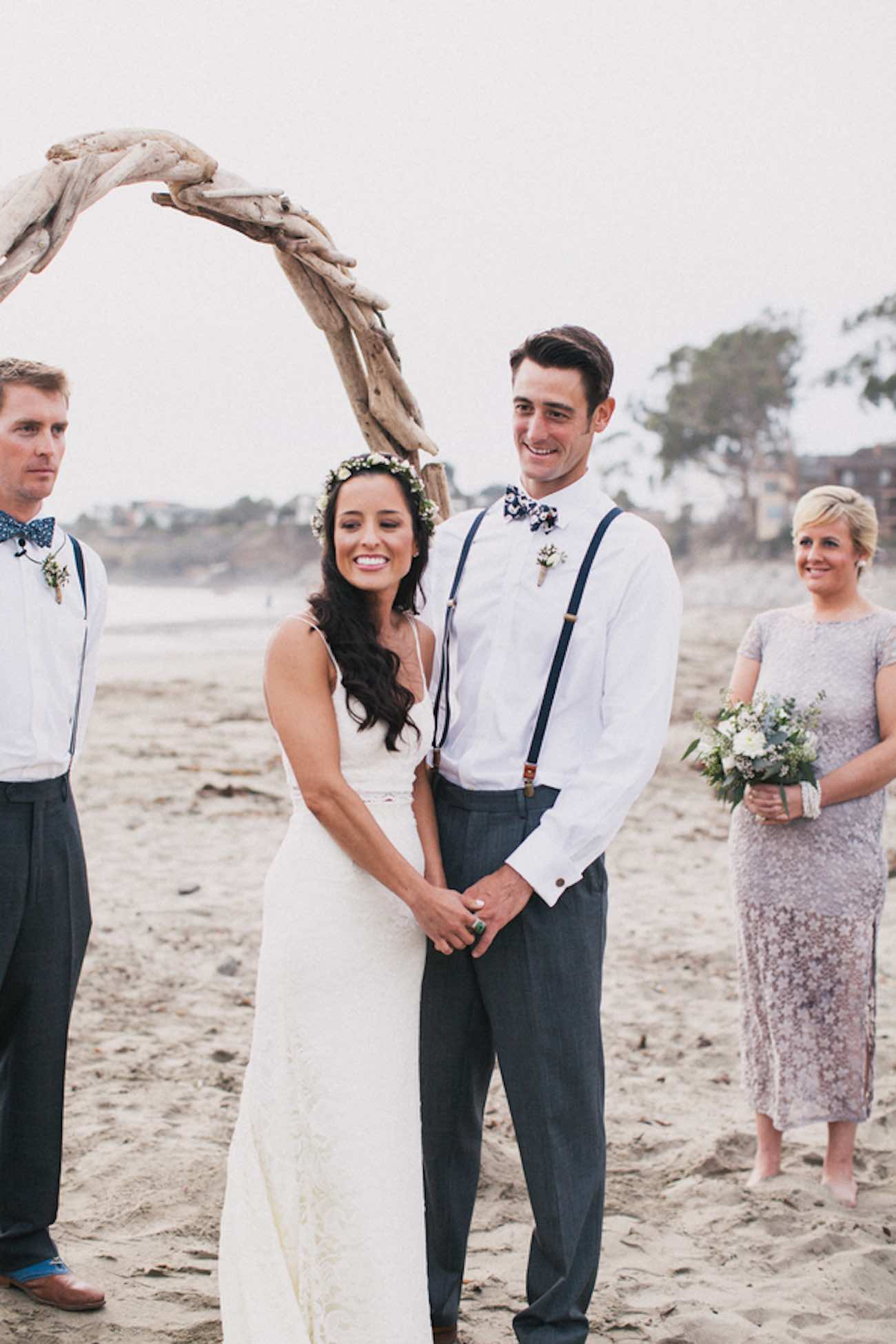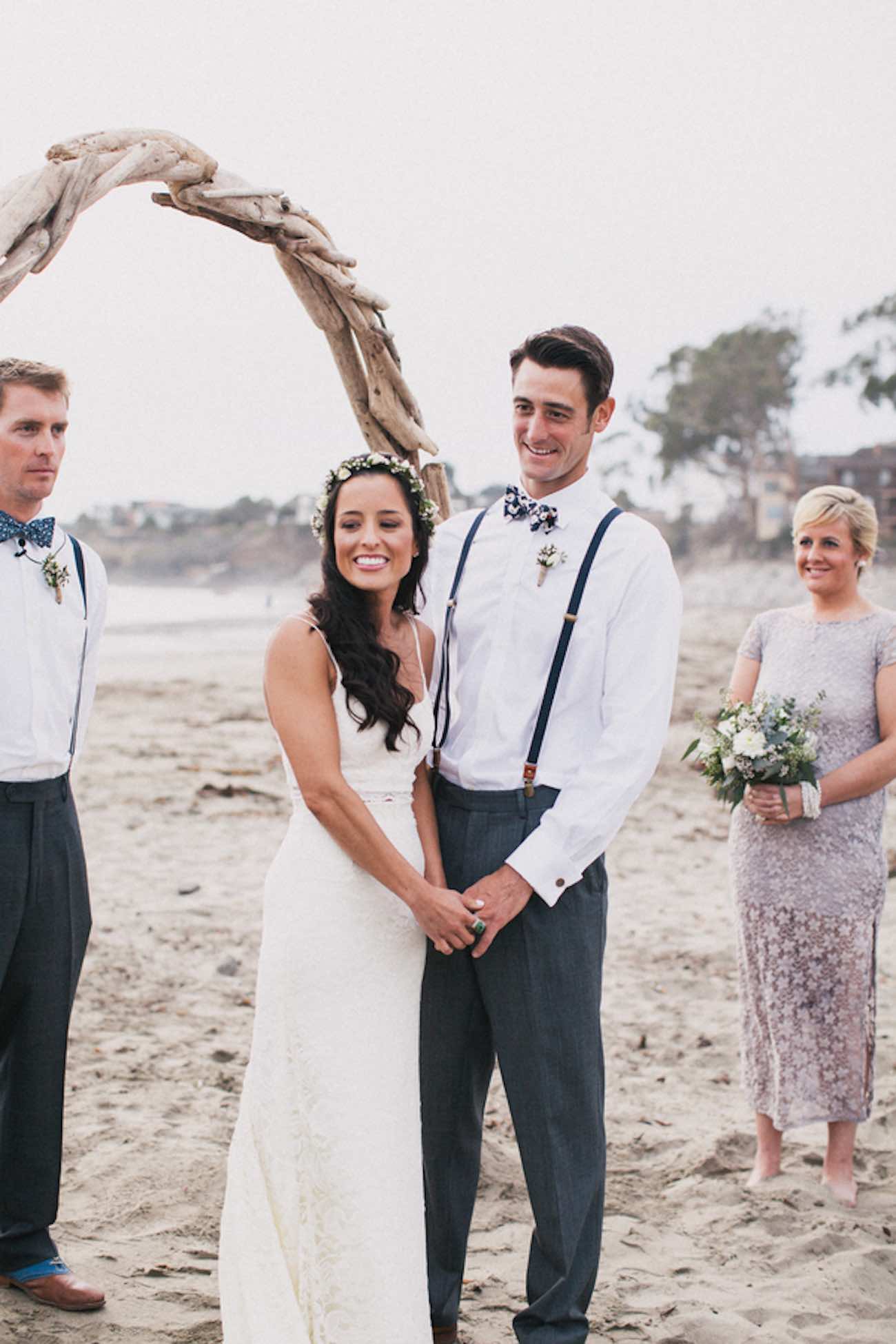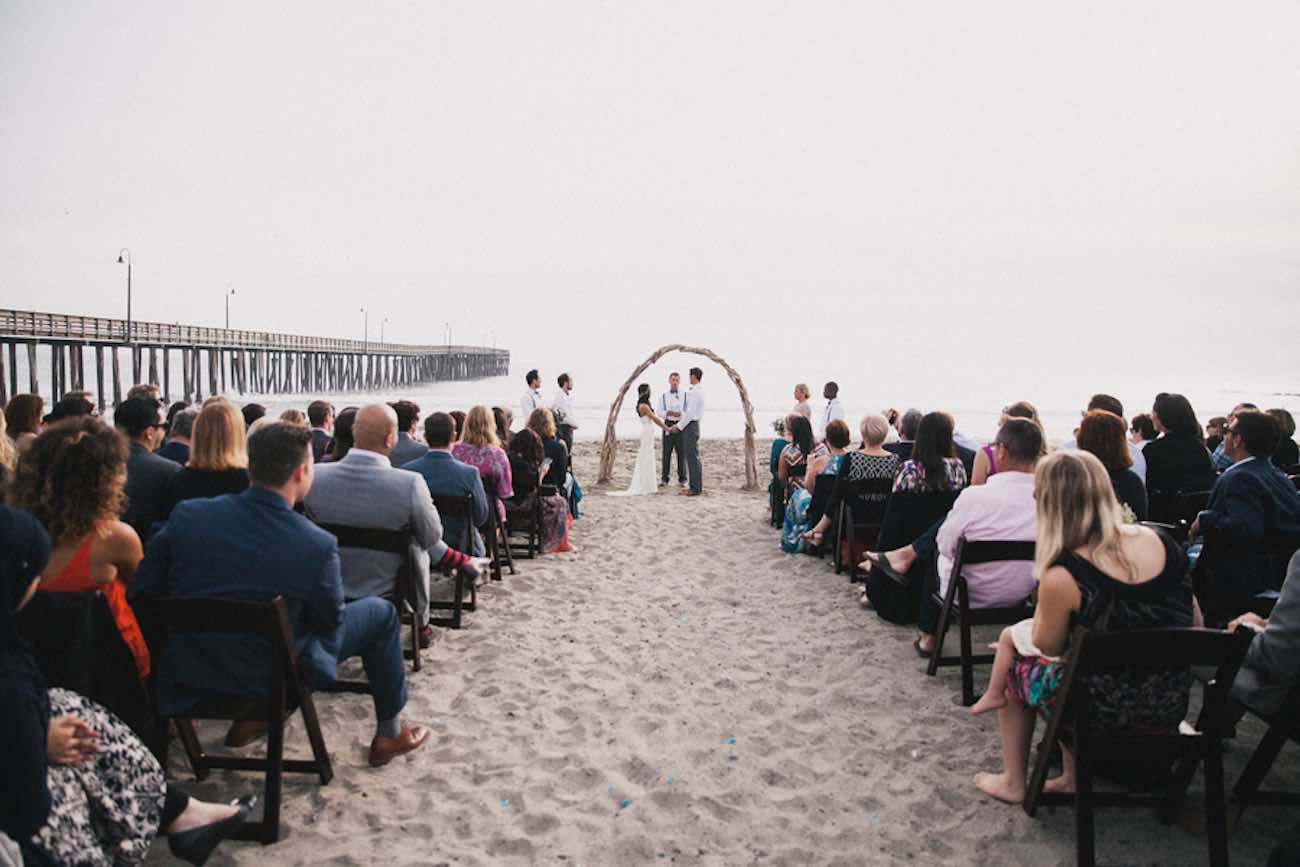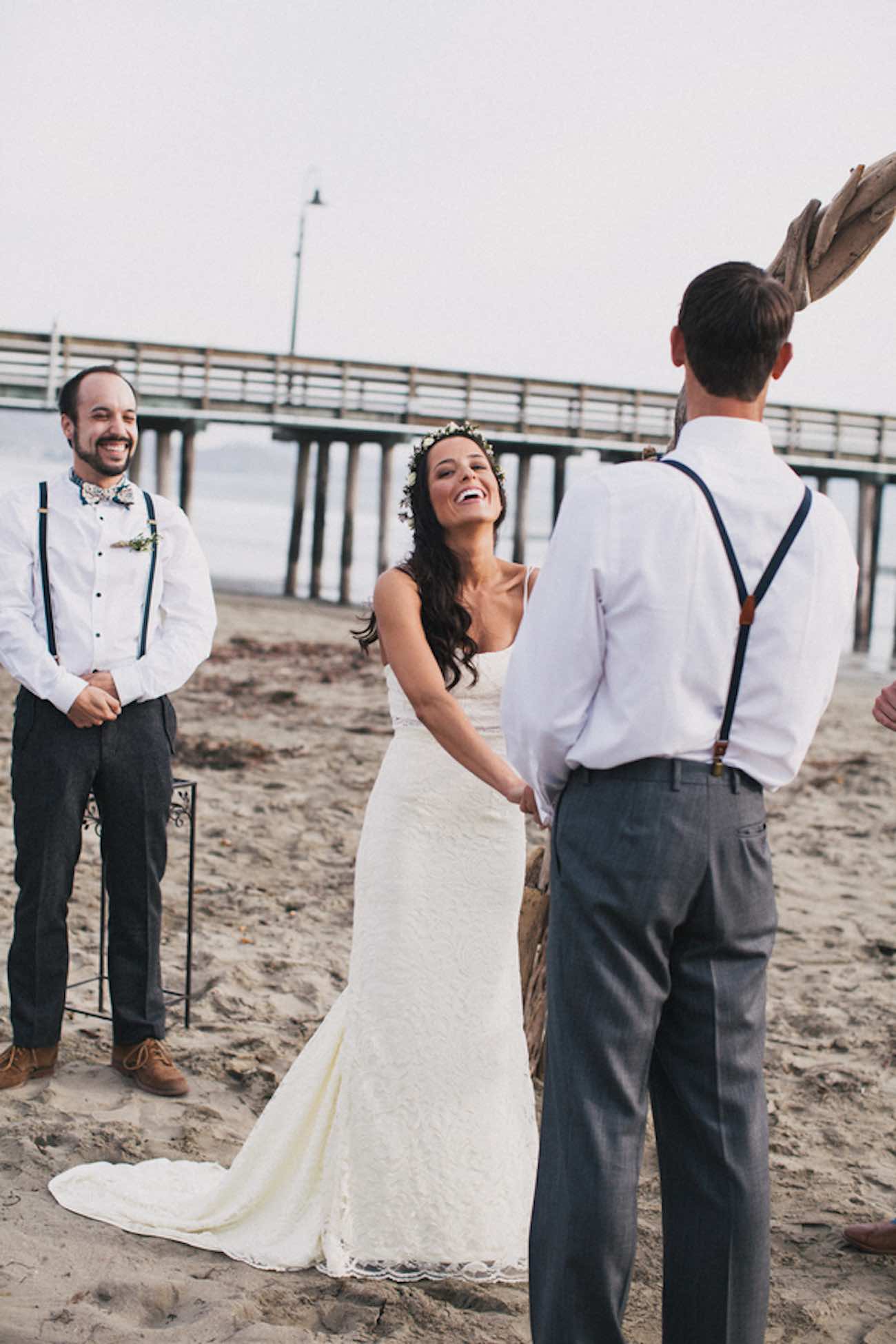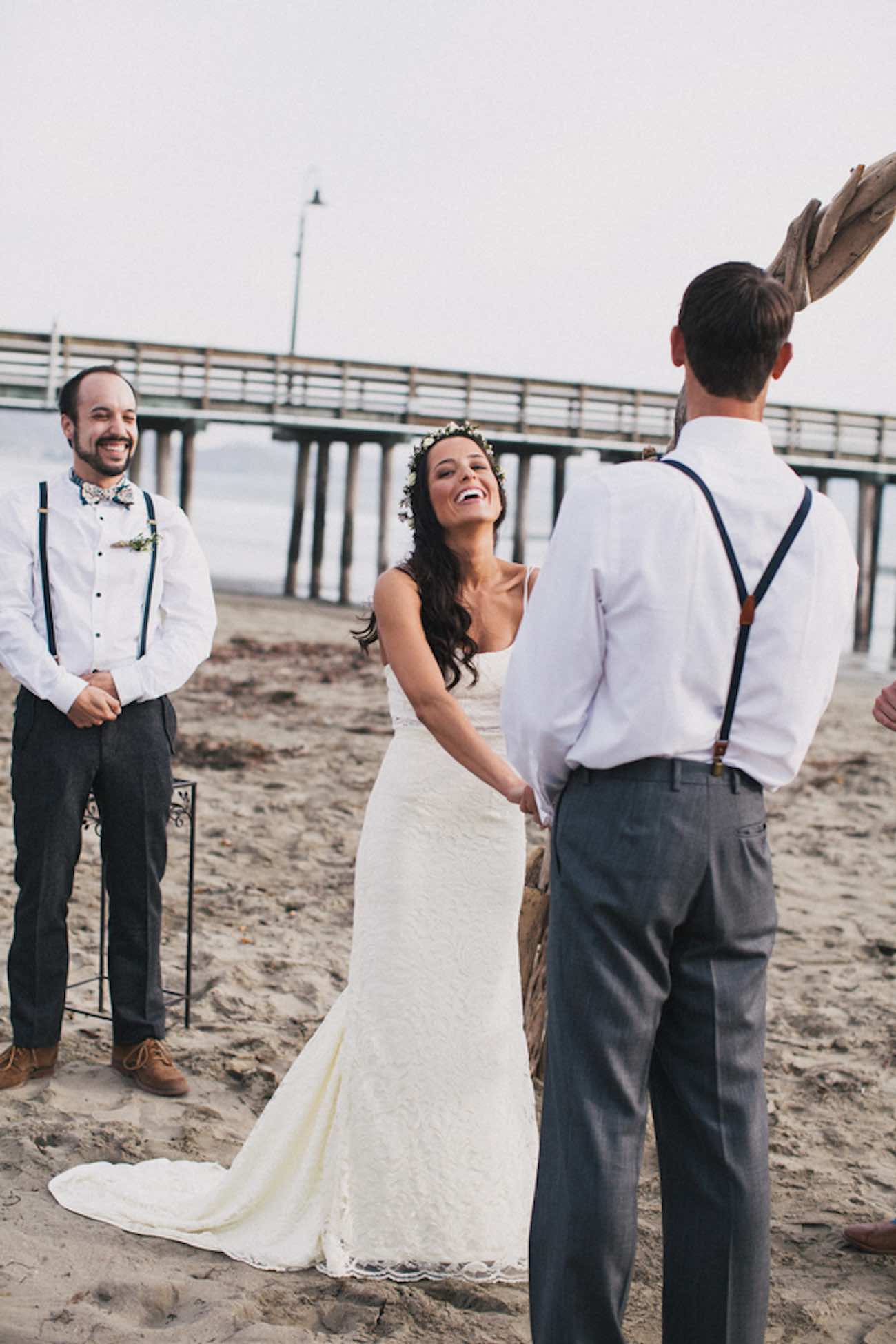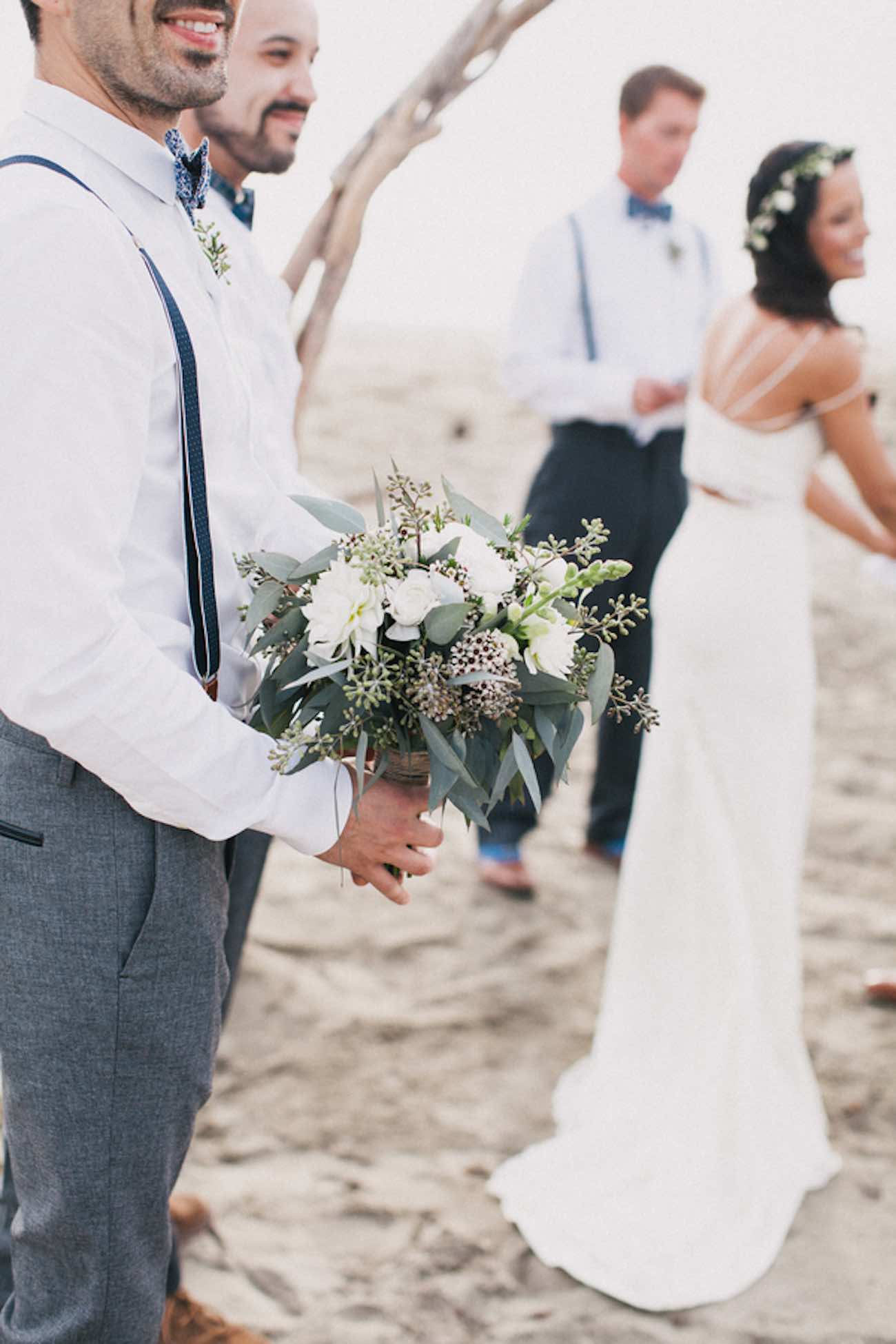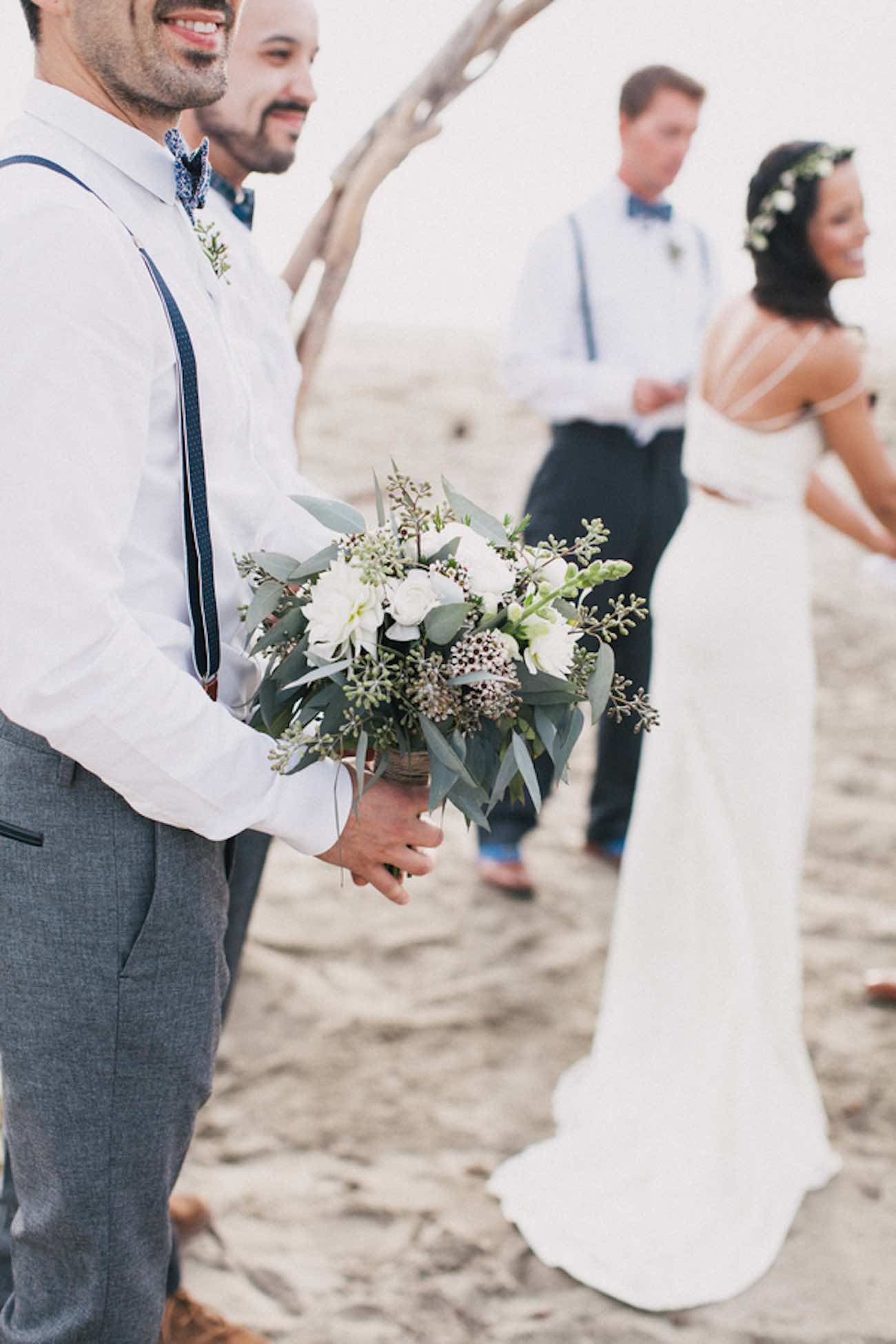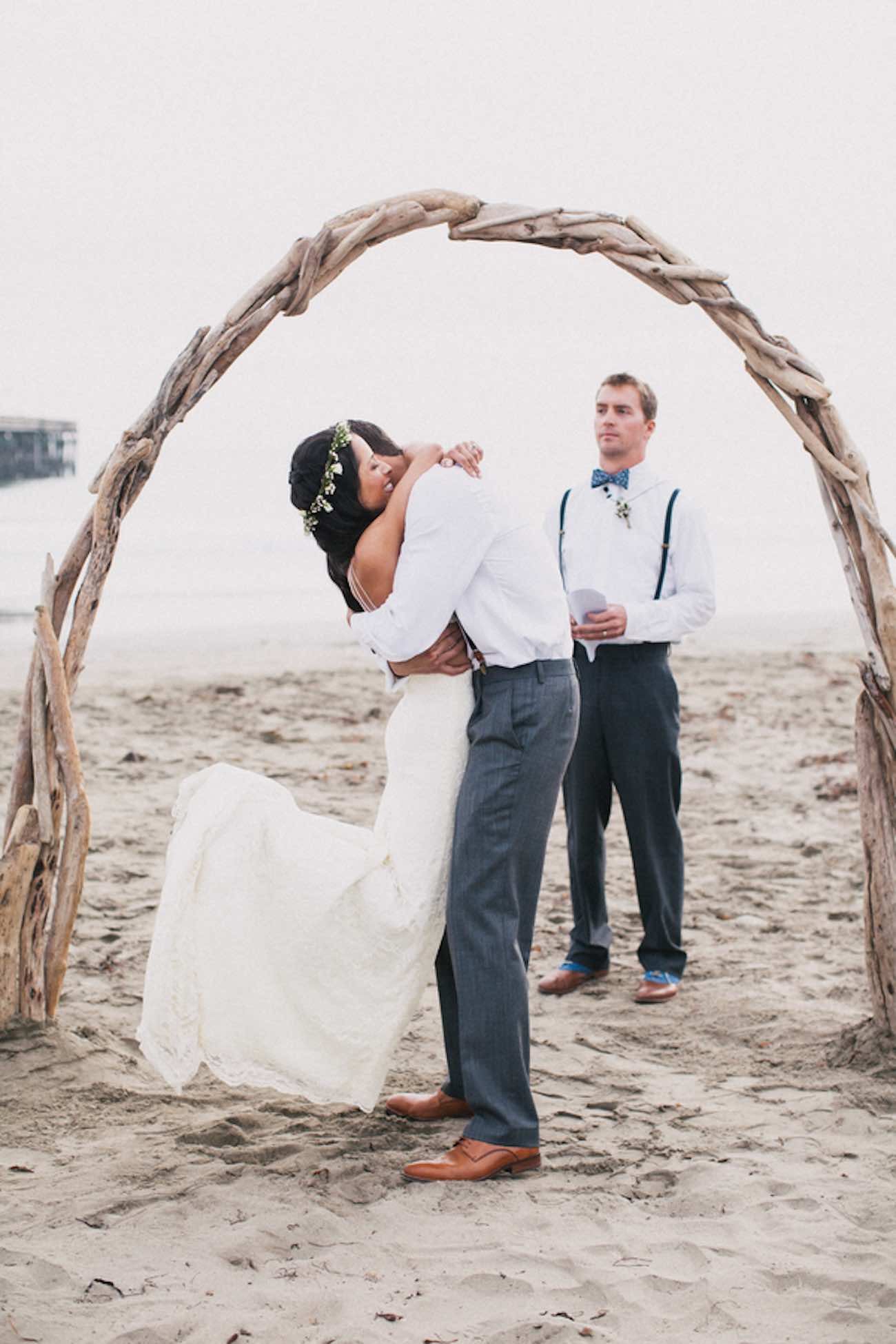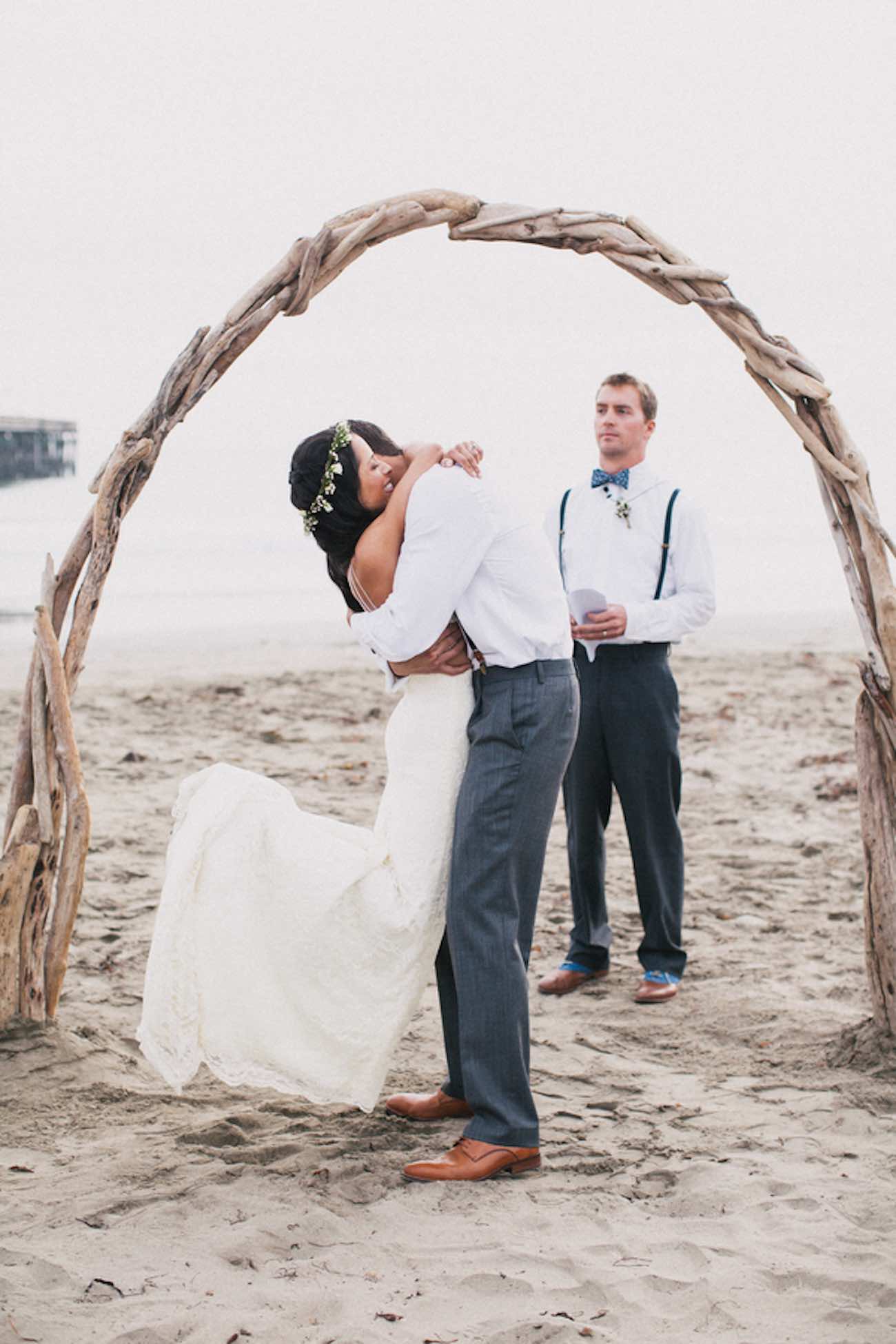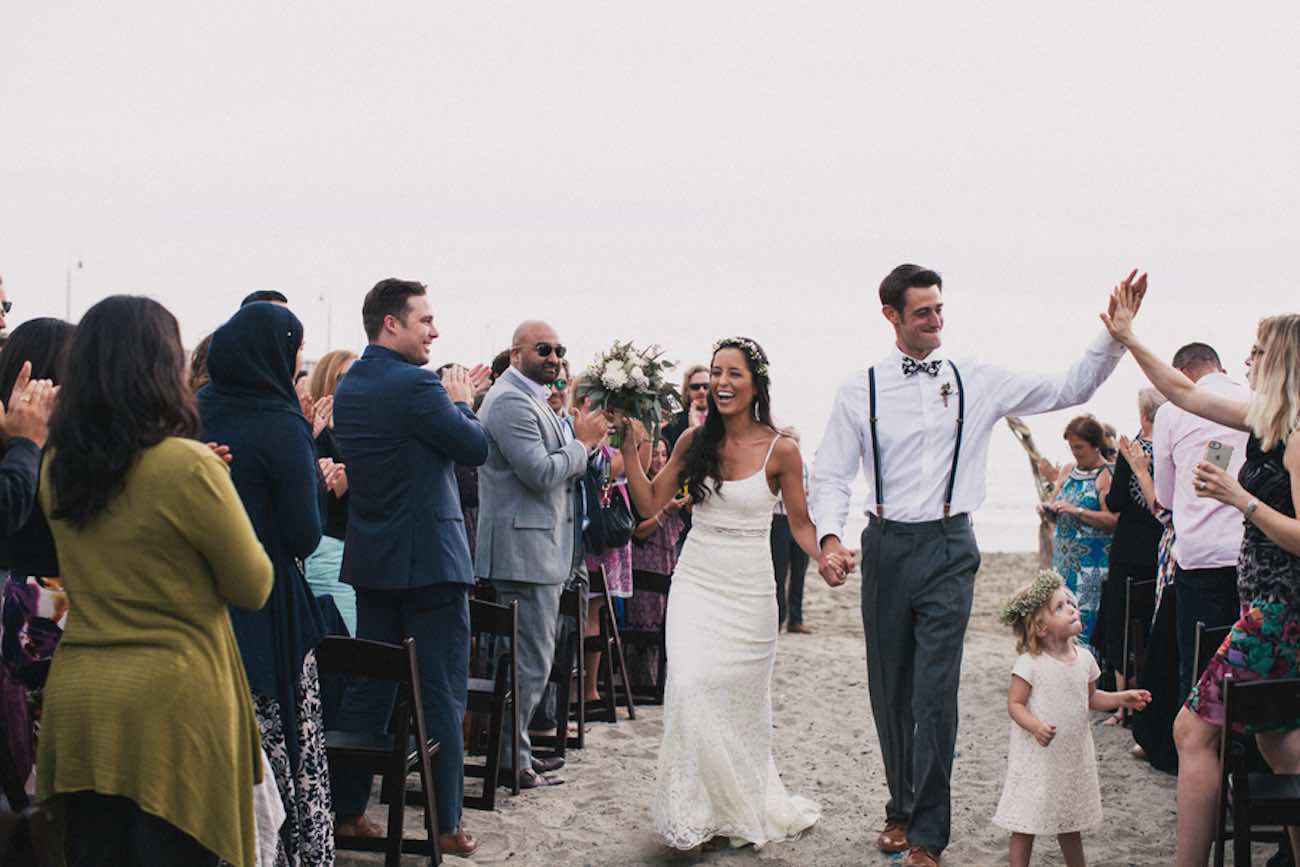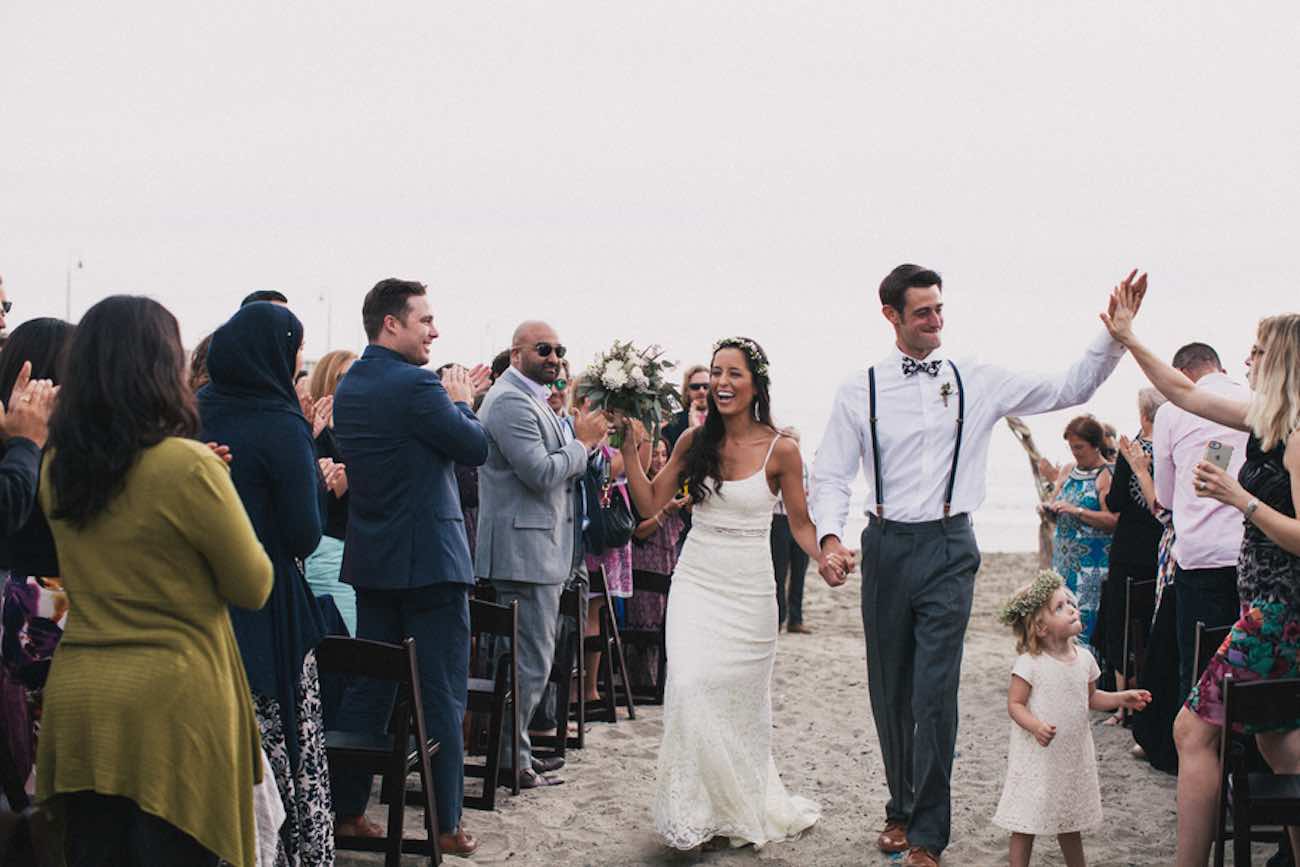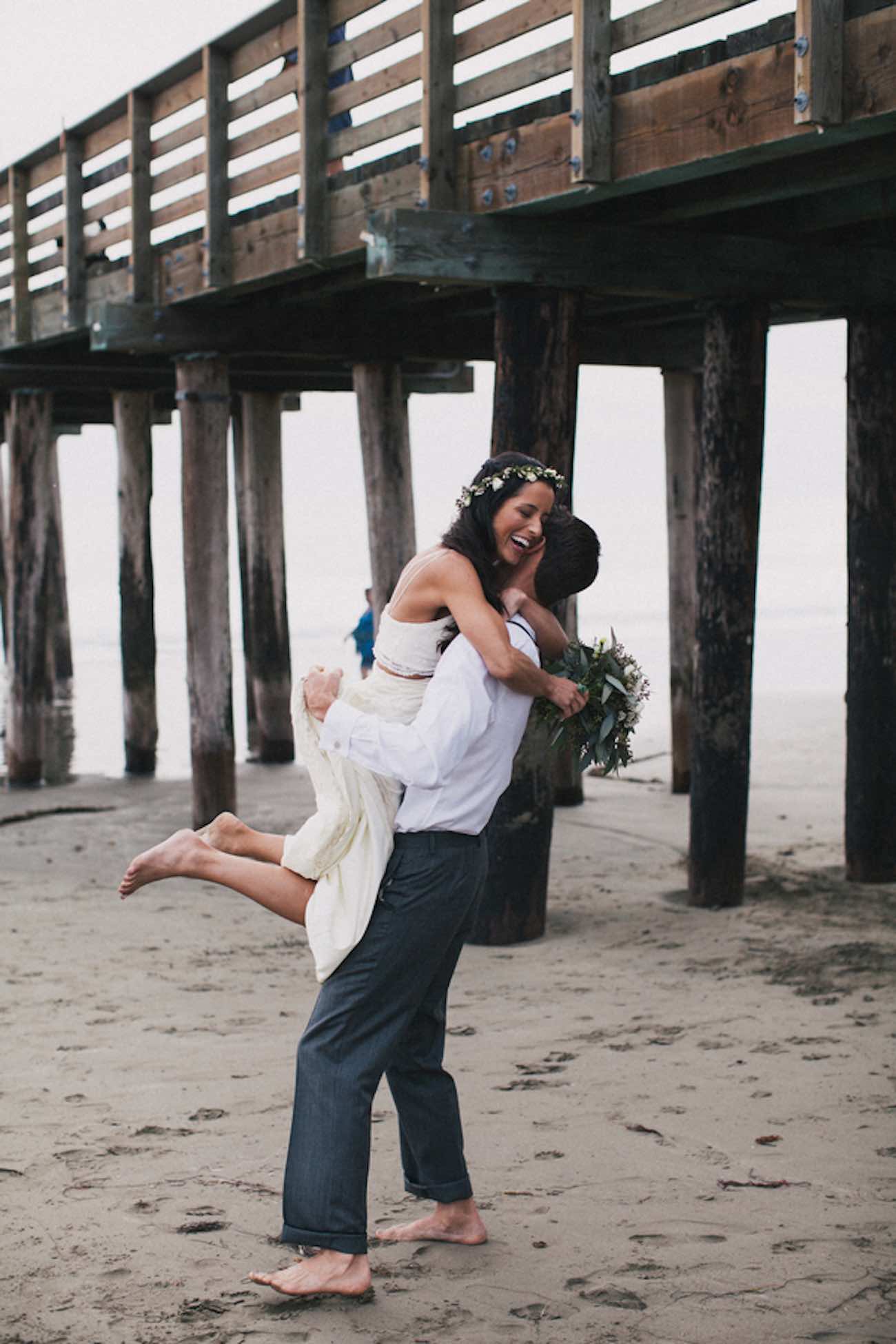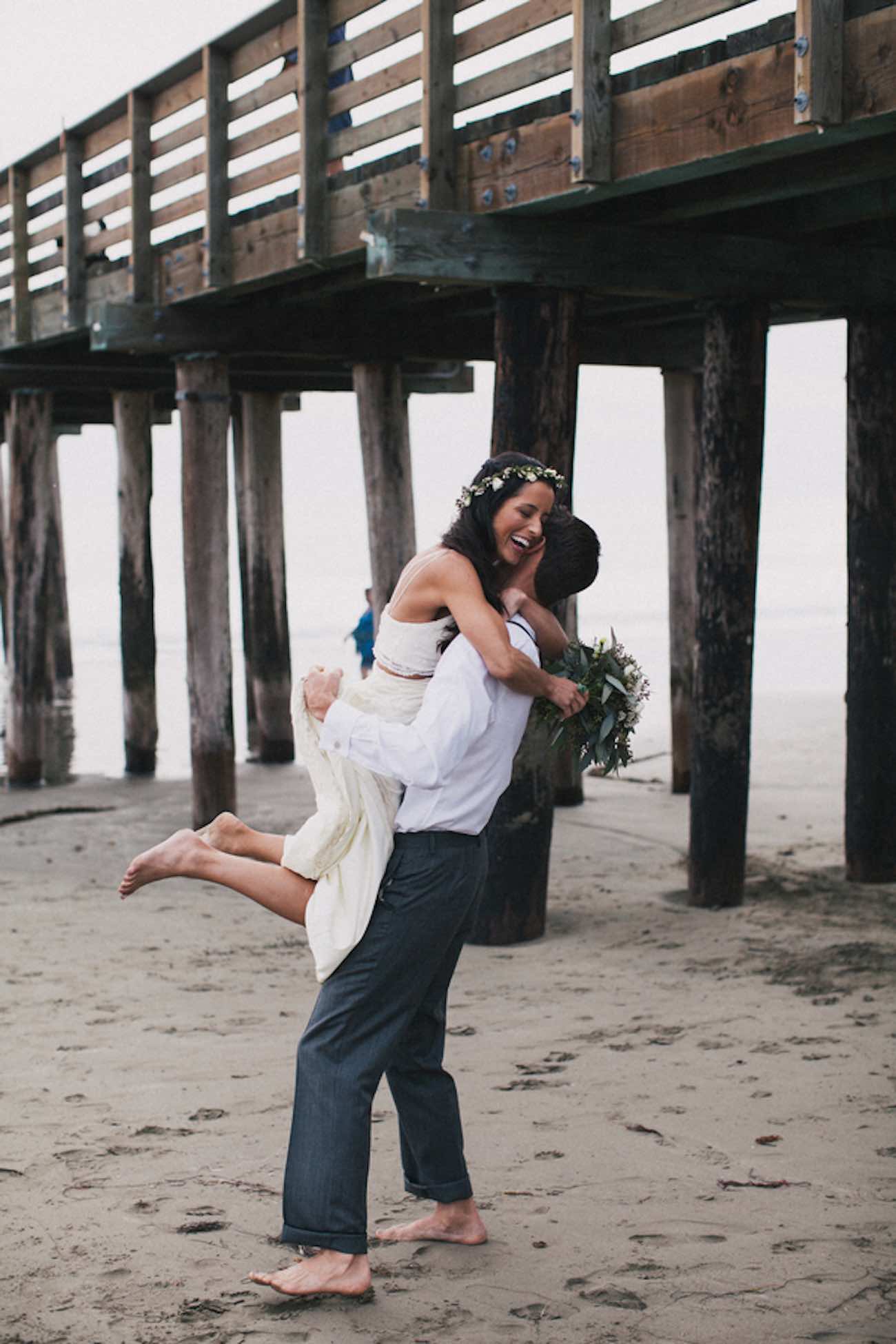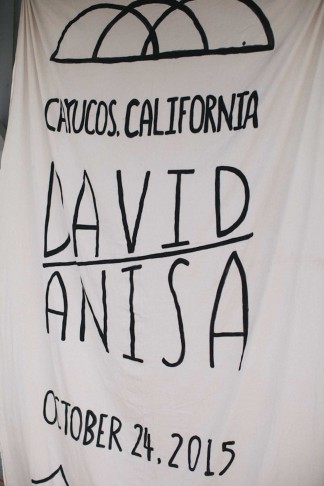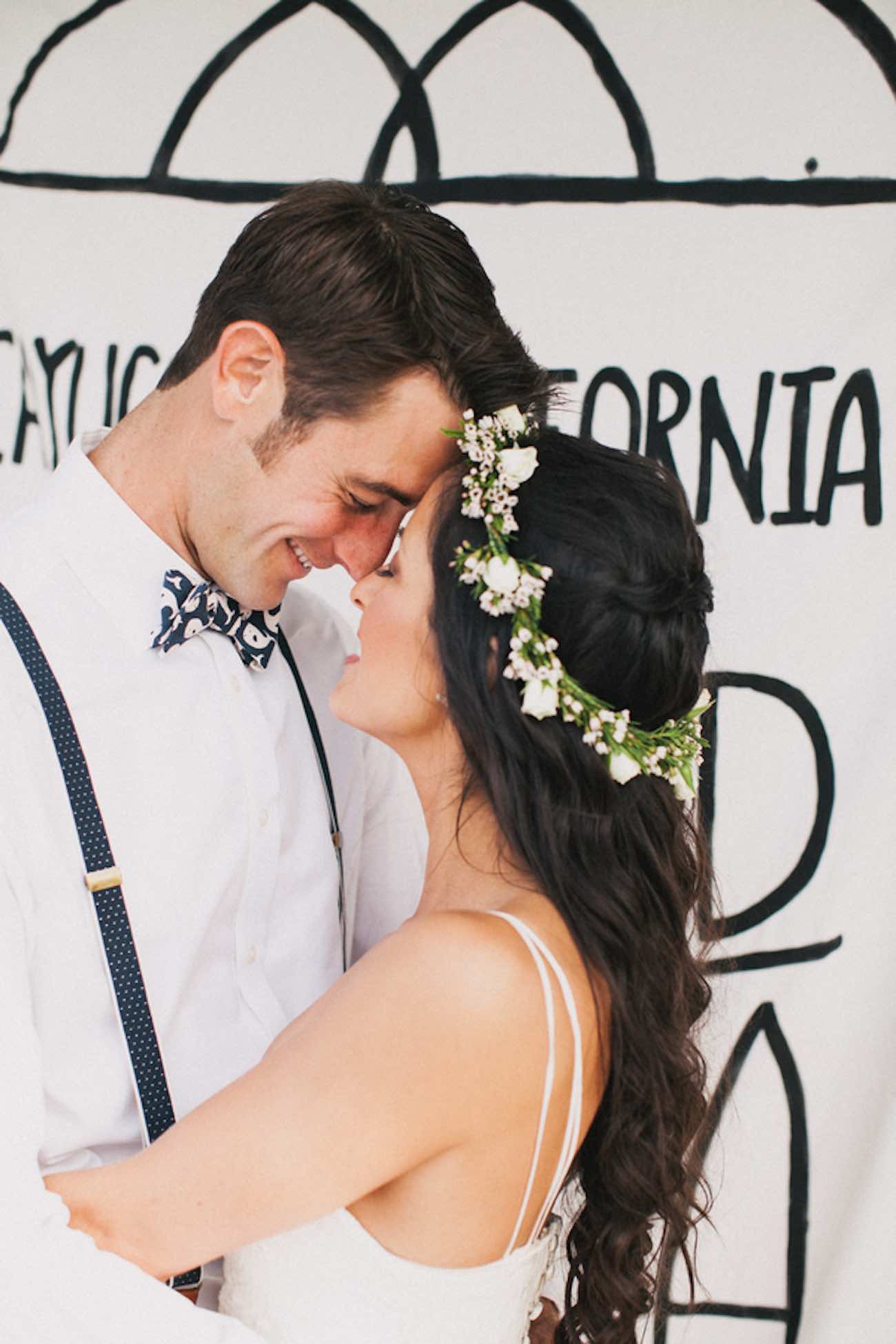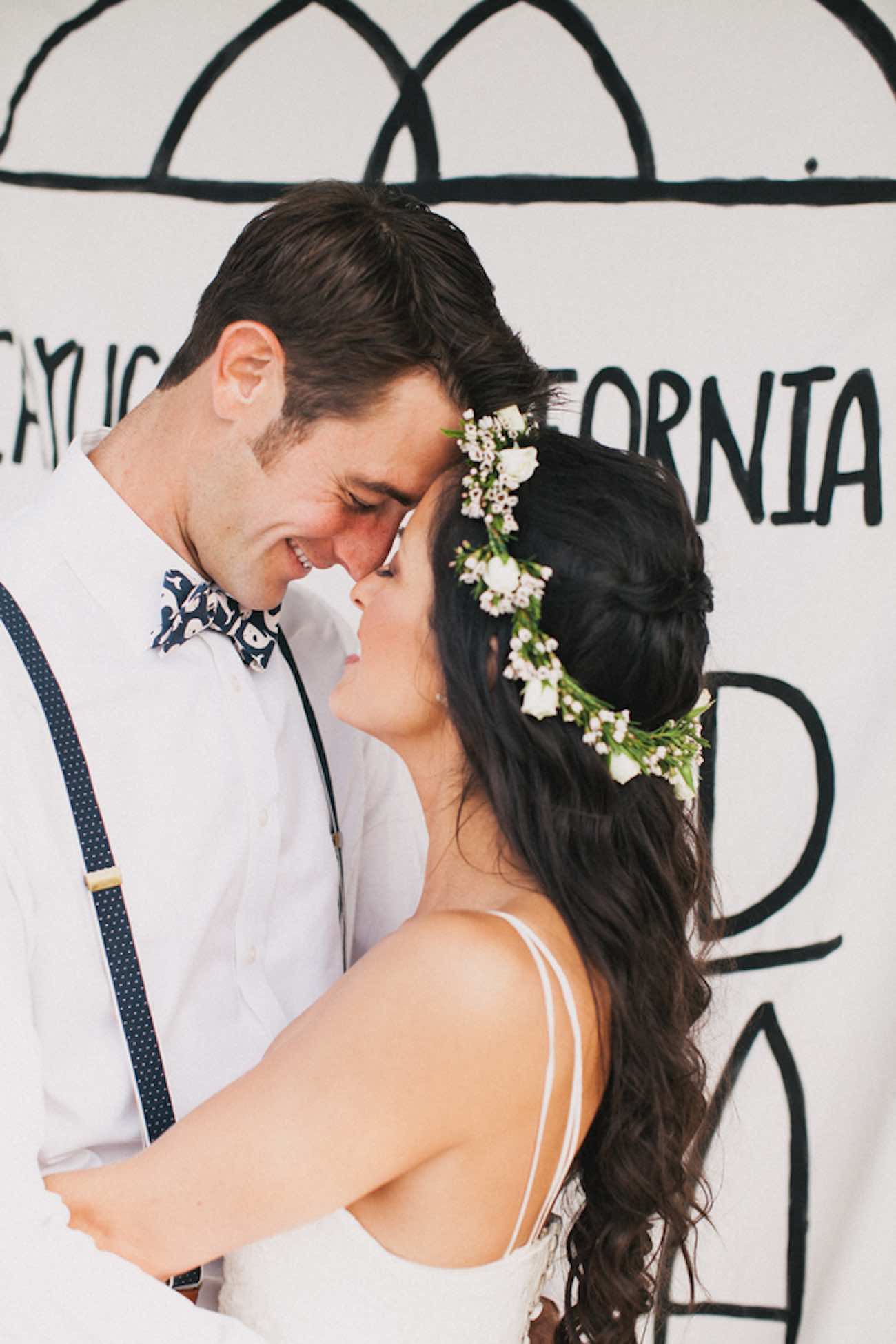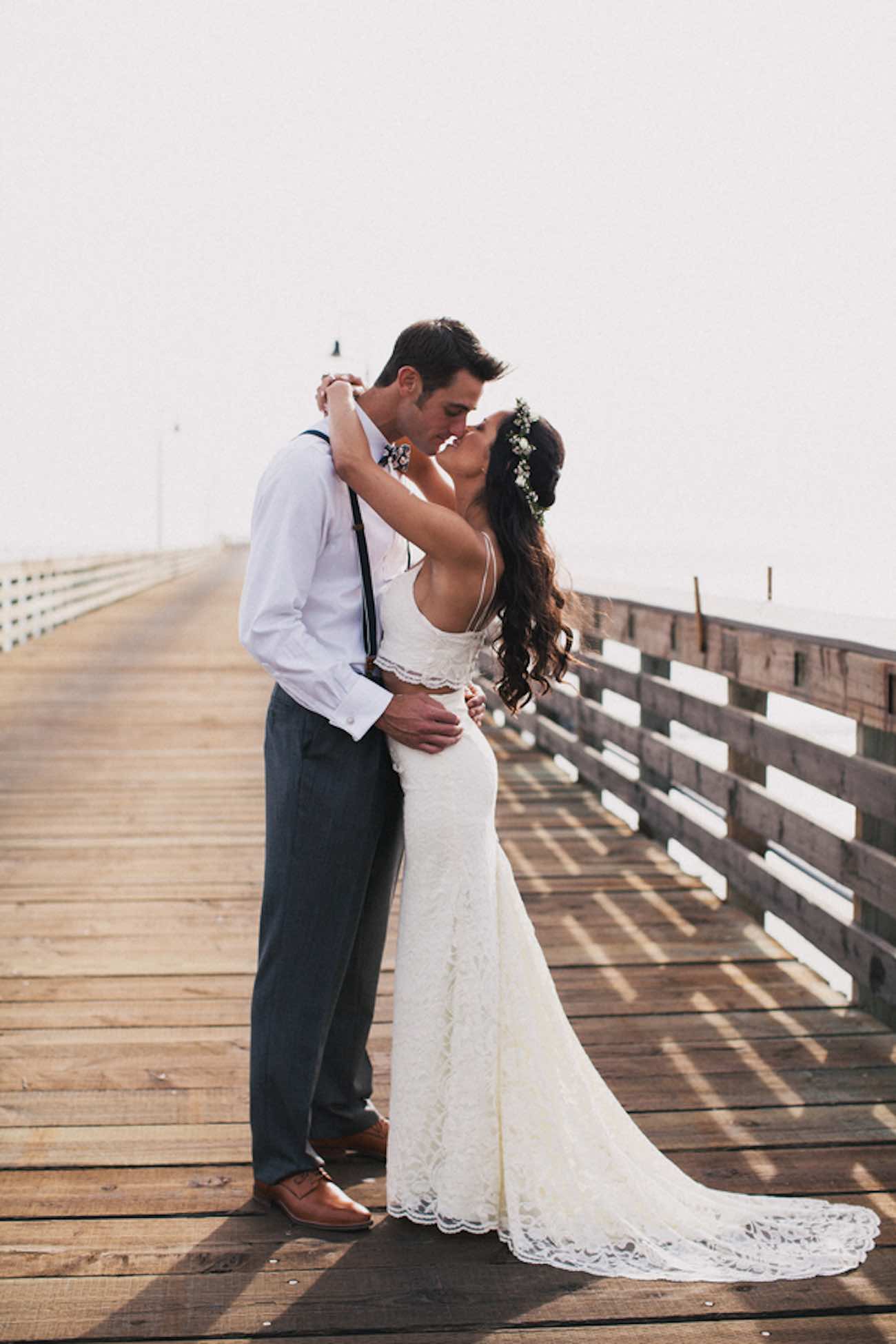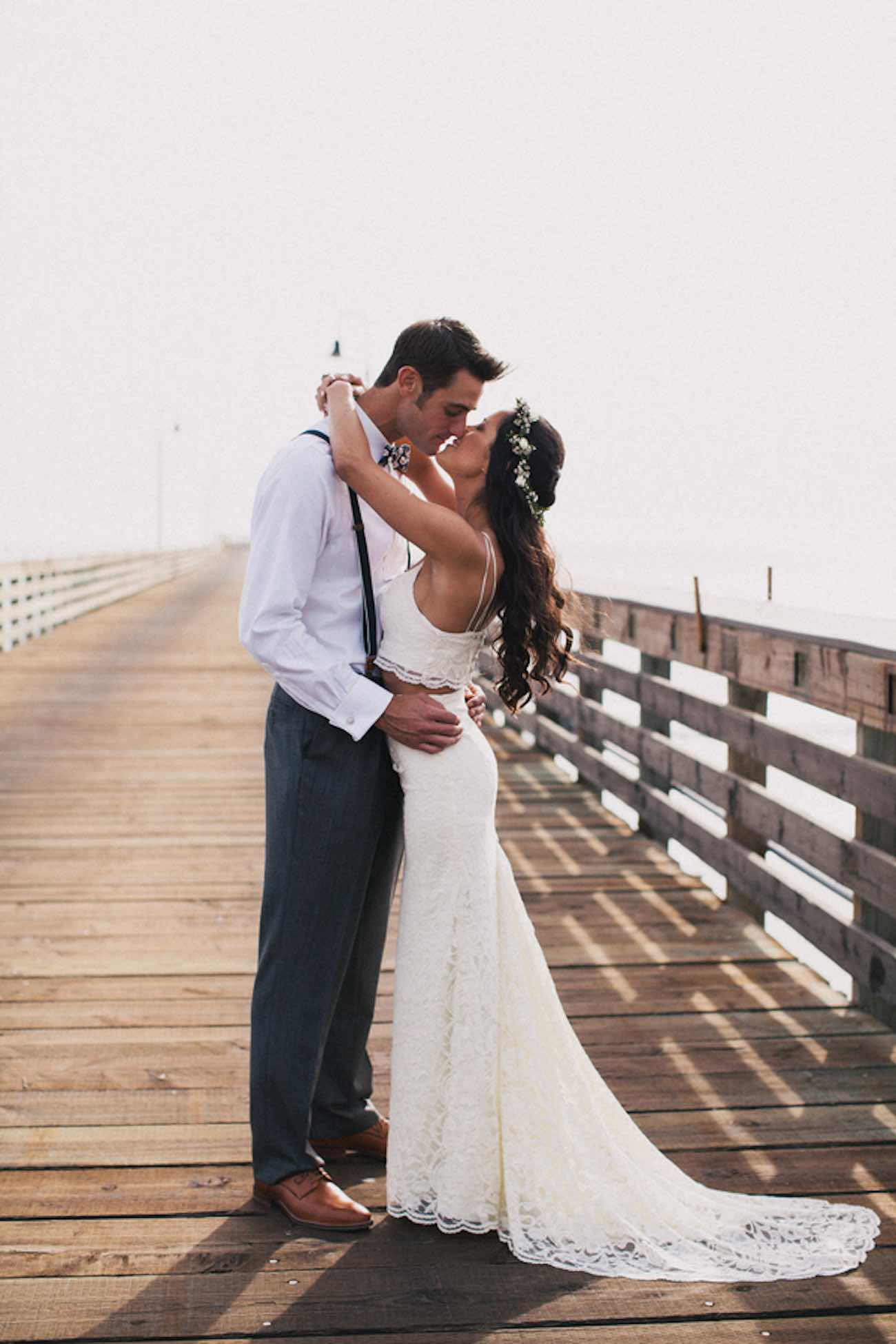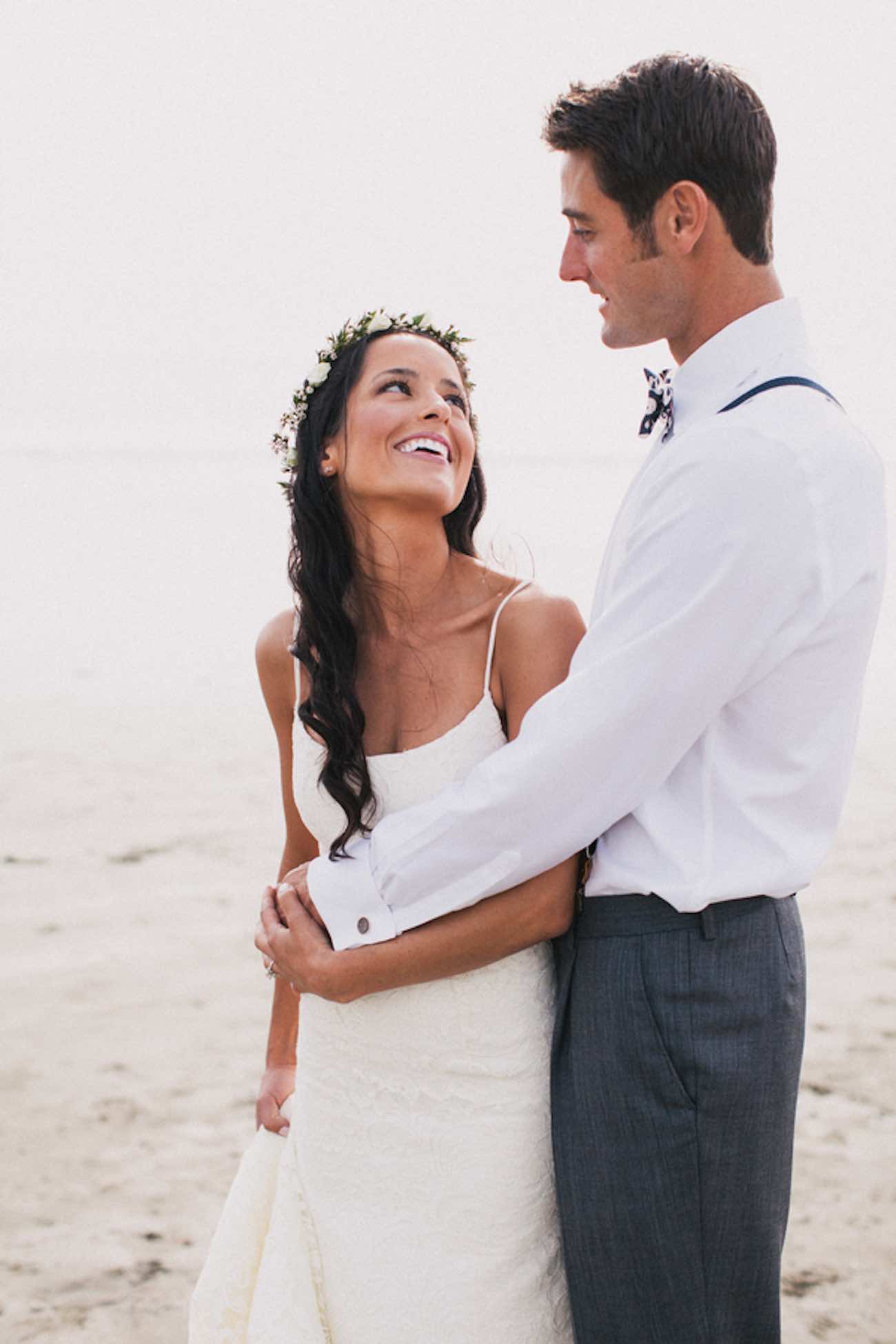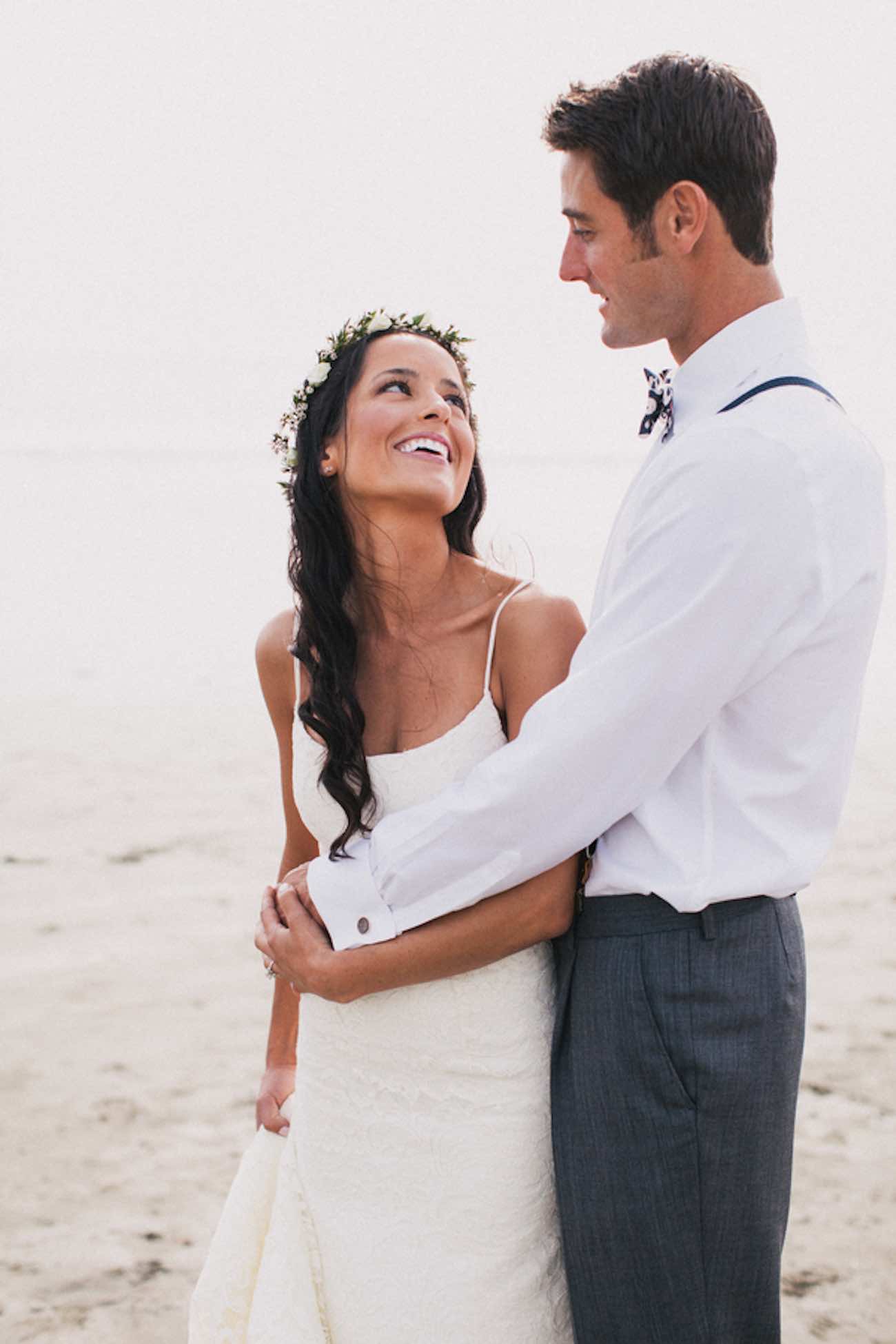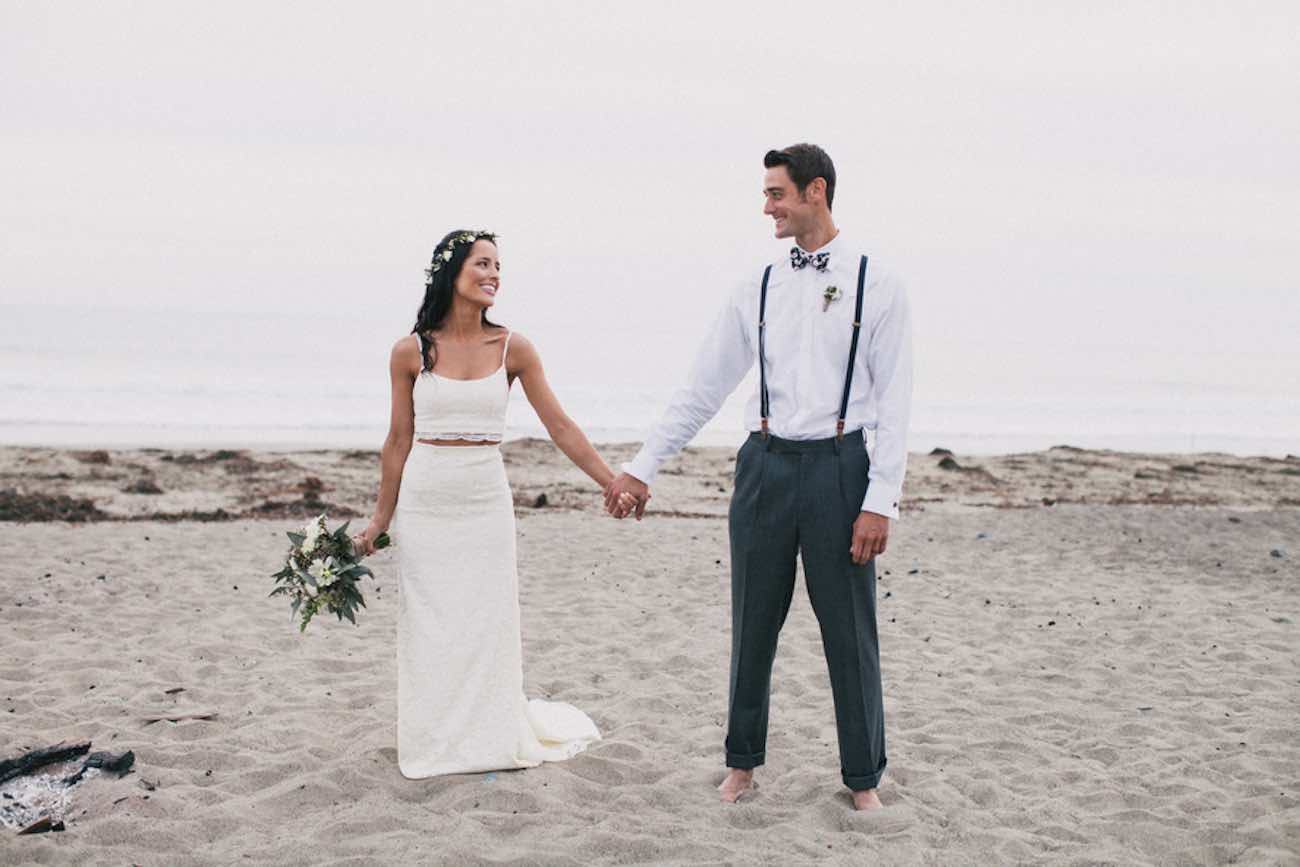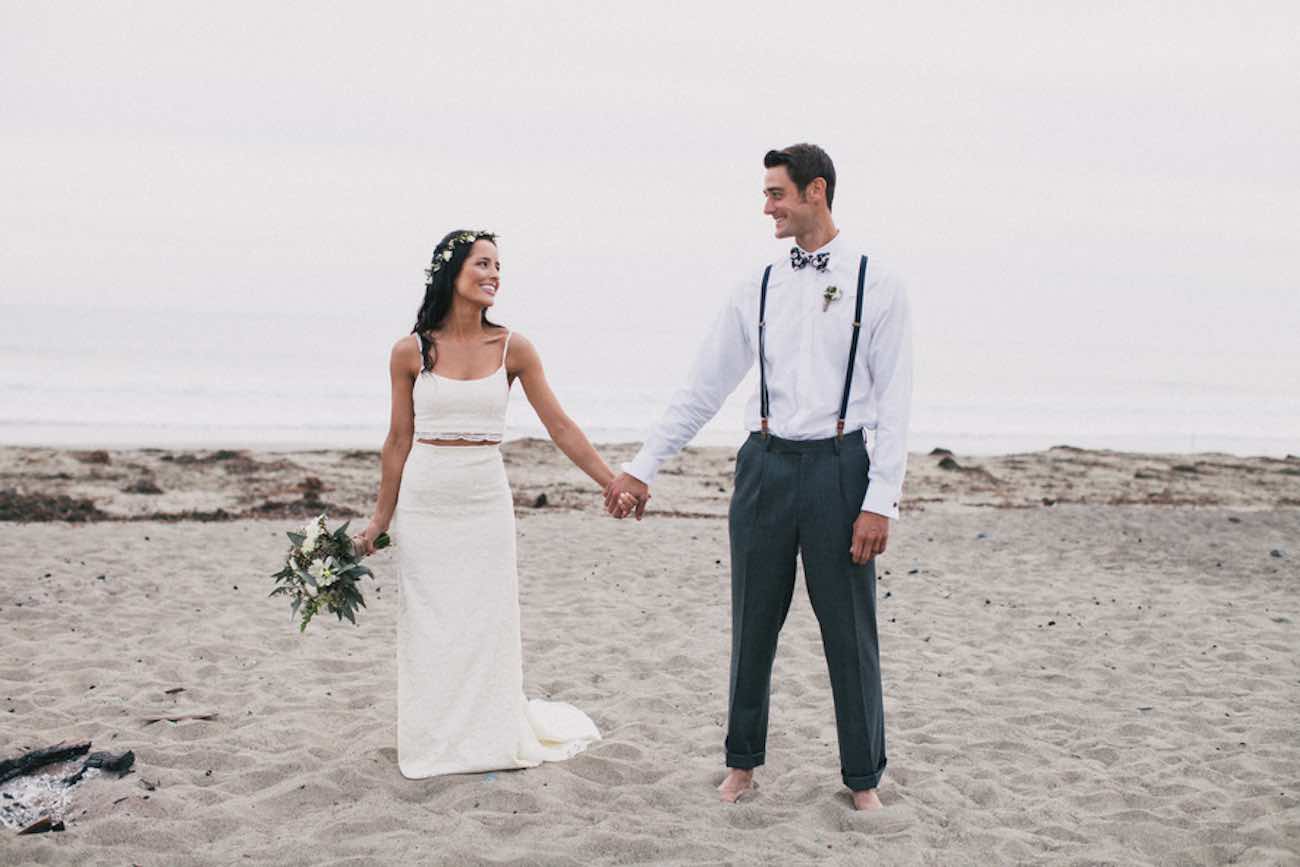 "It took me about 7 full days to make my dress. It was worth it, because I got exactly what I wanted, and it fit like a glove. I chose an ivory matte satin for the bottom layer, and a creamy cotton floral lace for the top layer. "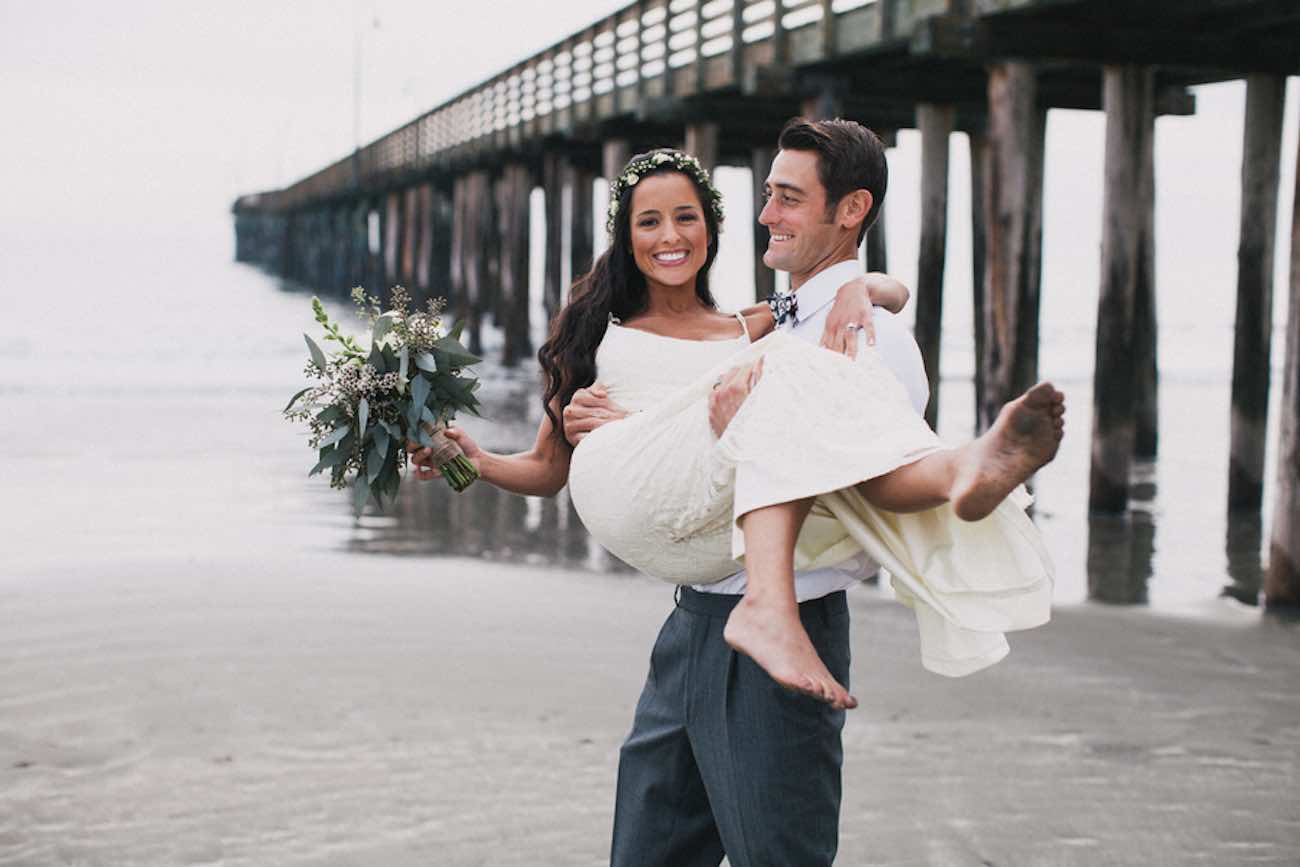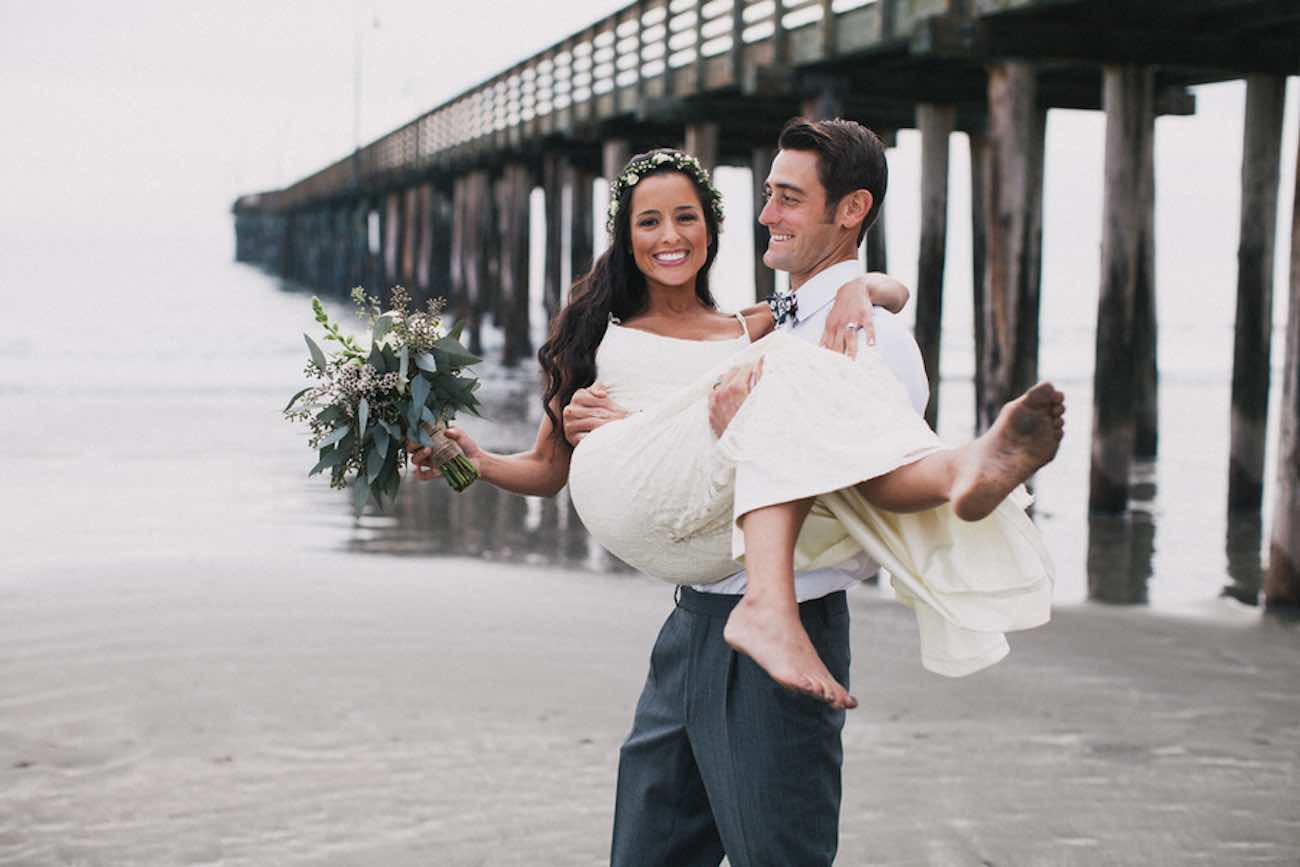 "Rather than flowers, we filled our centerpieces with succulents that my mom grew in the year leading up to the wedding. David and I also grew all of the baby succulents we gave out as wedding favors."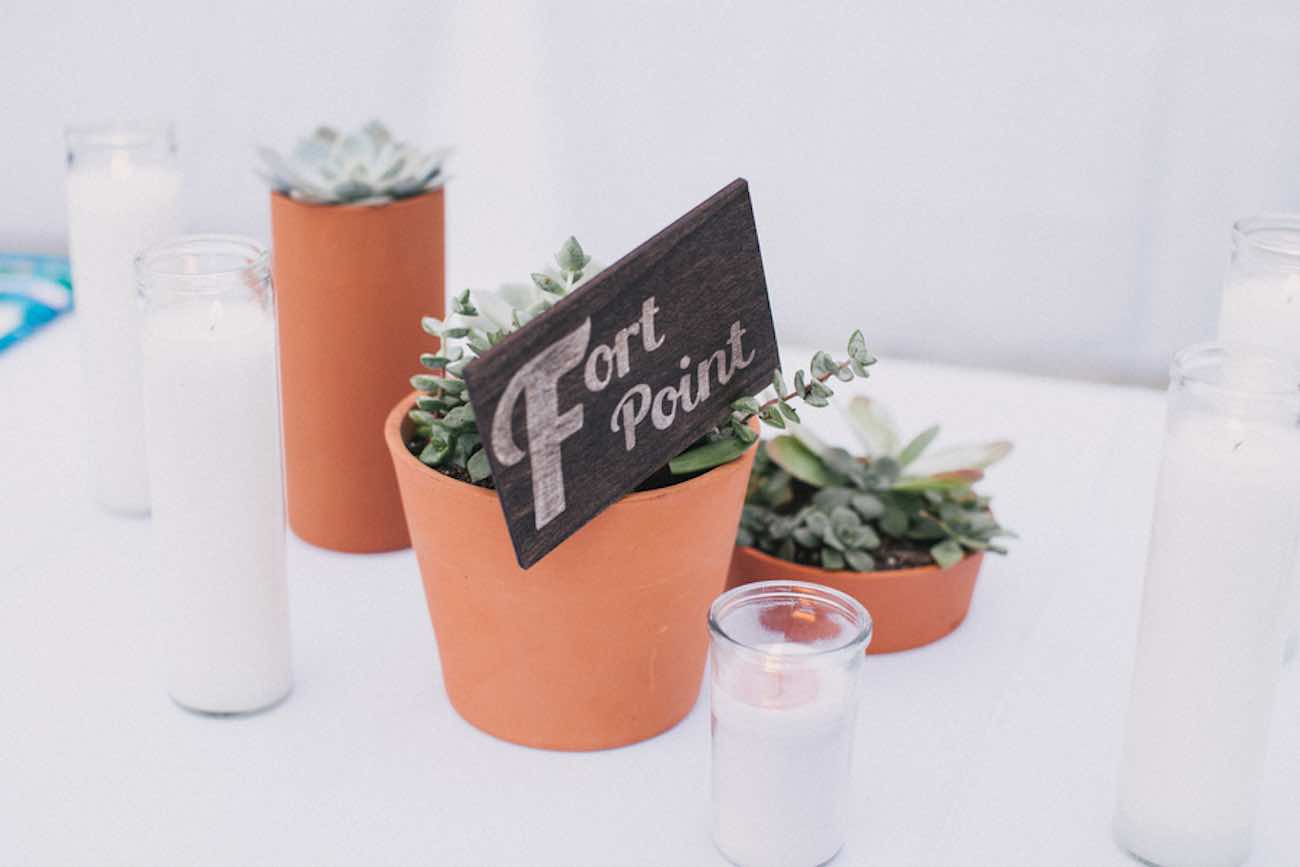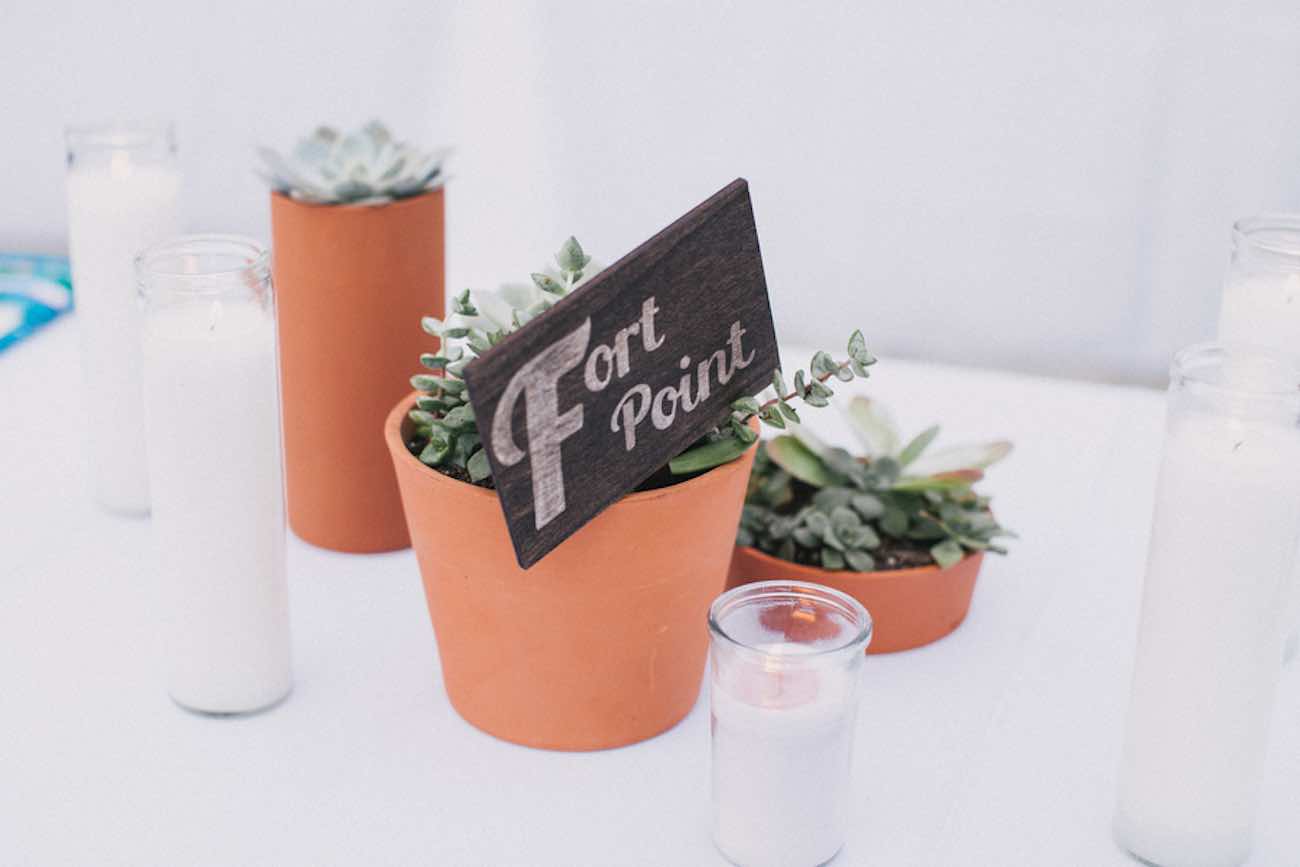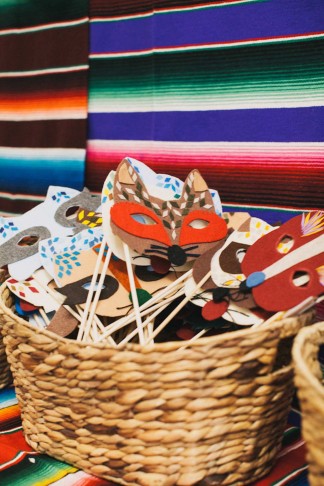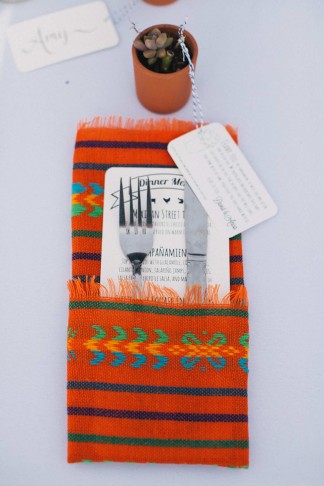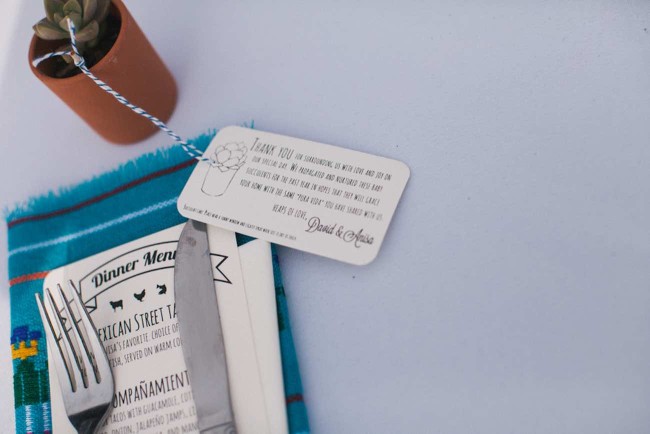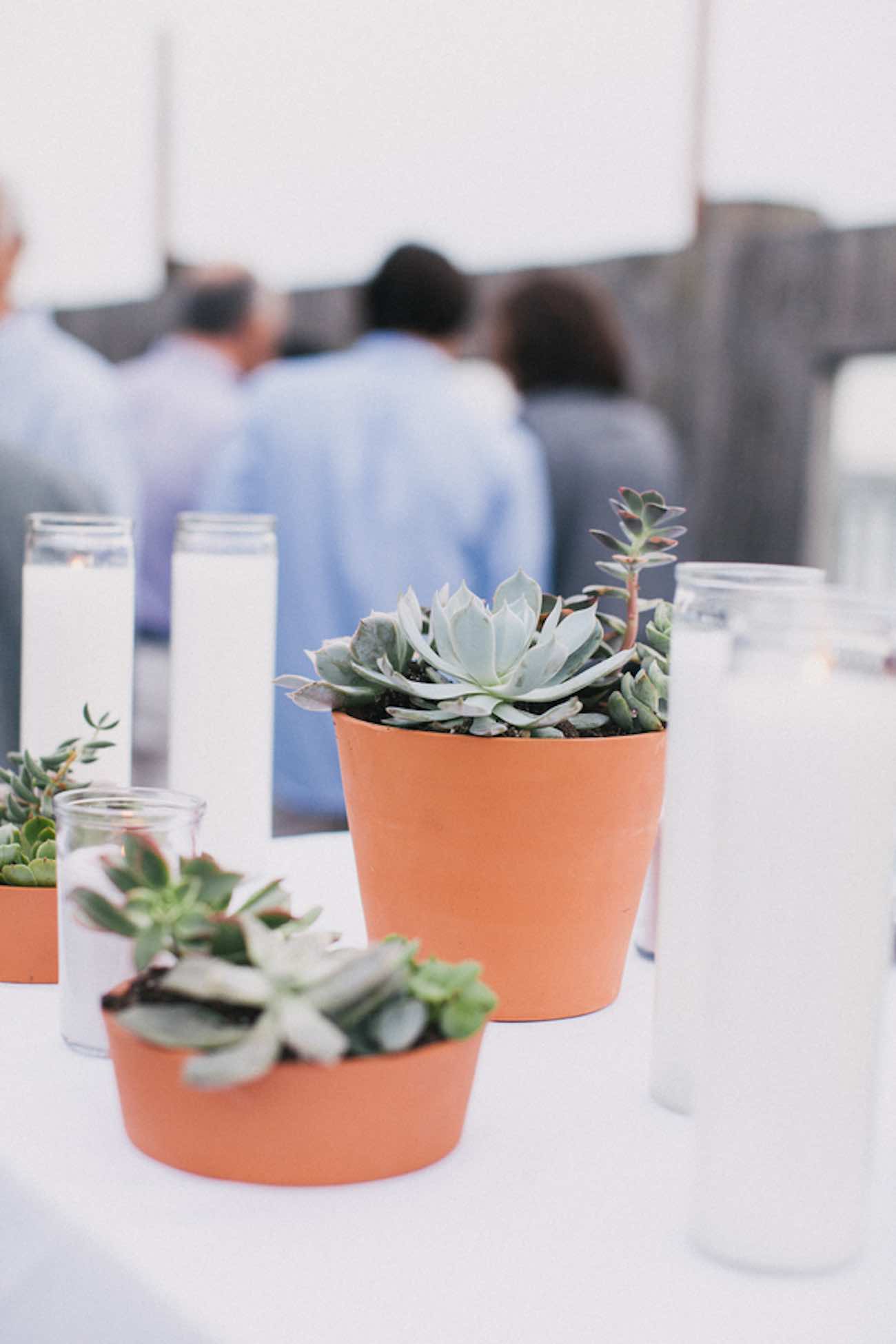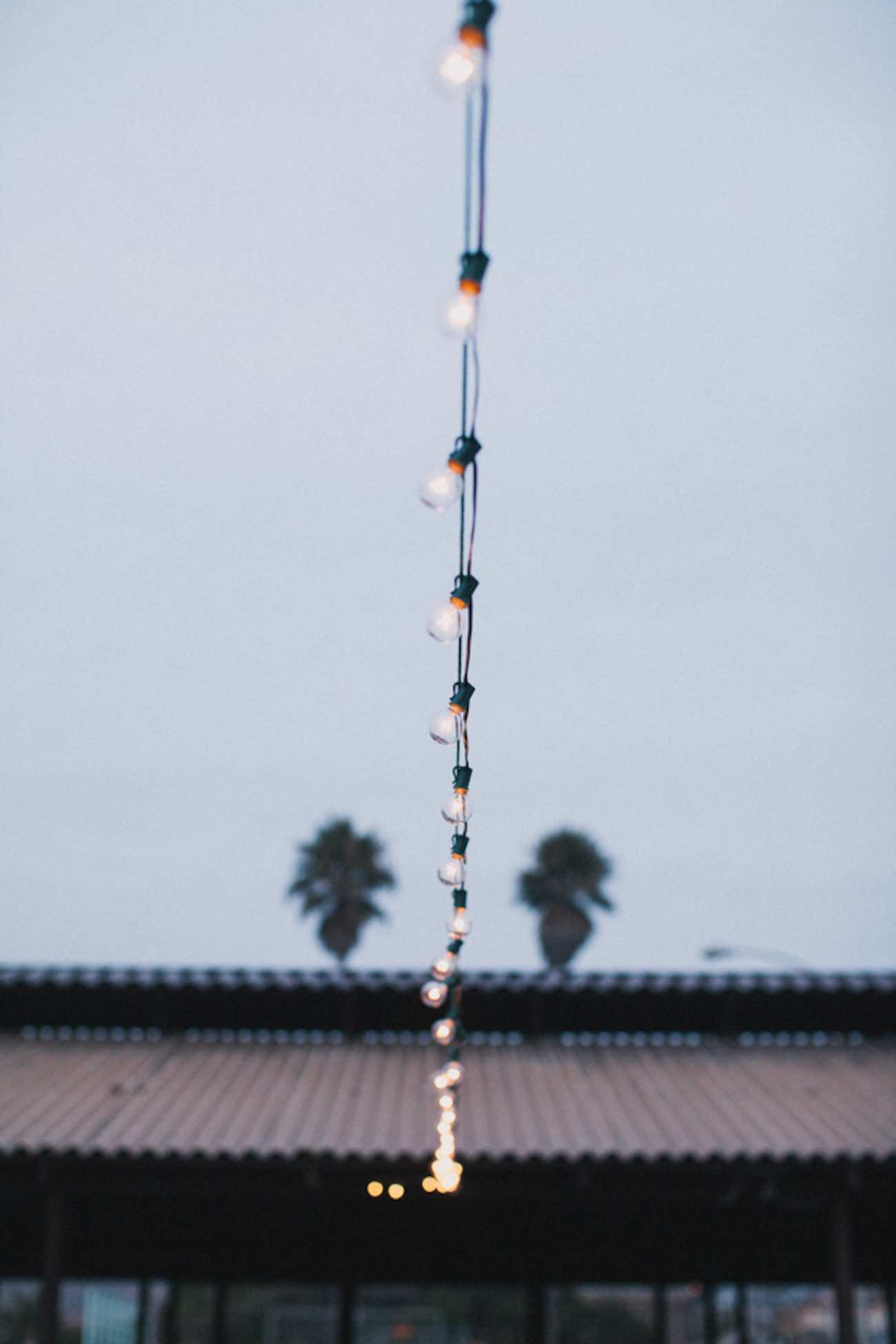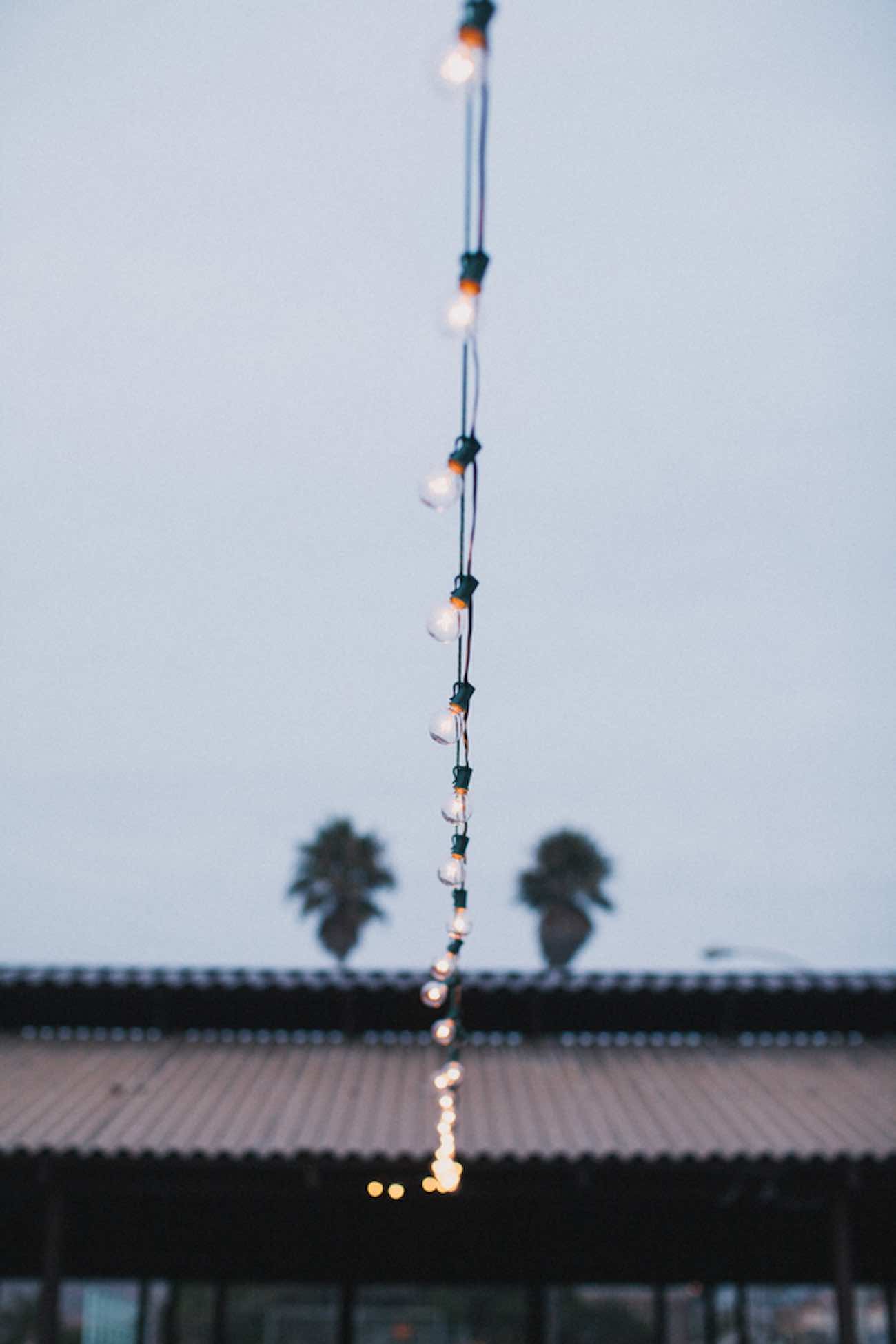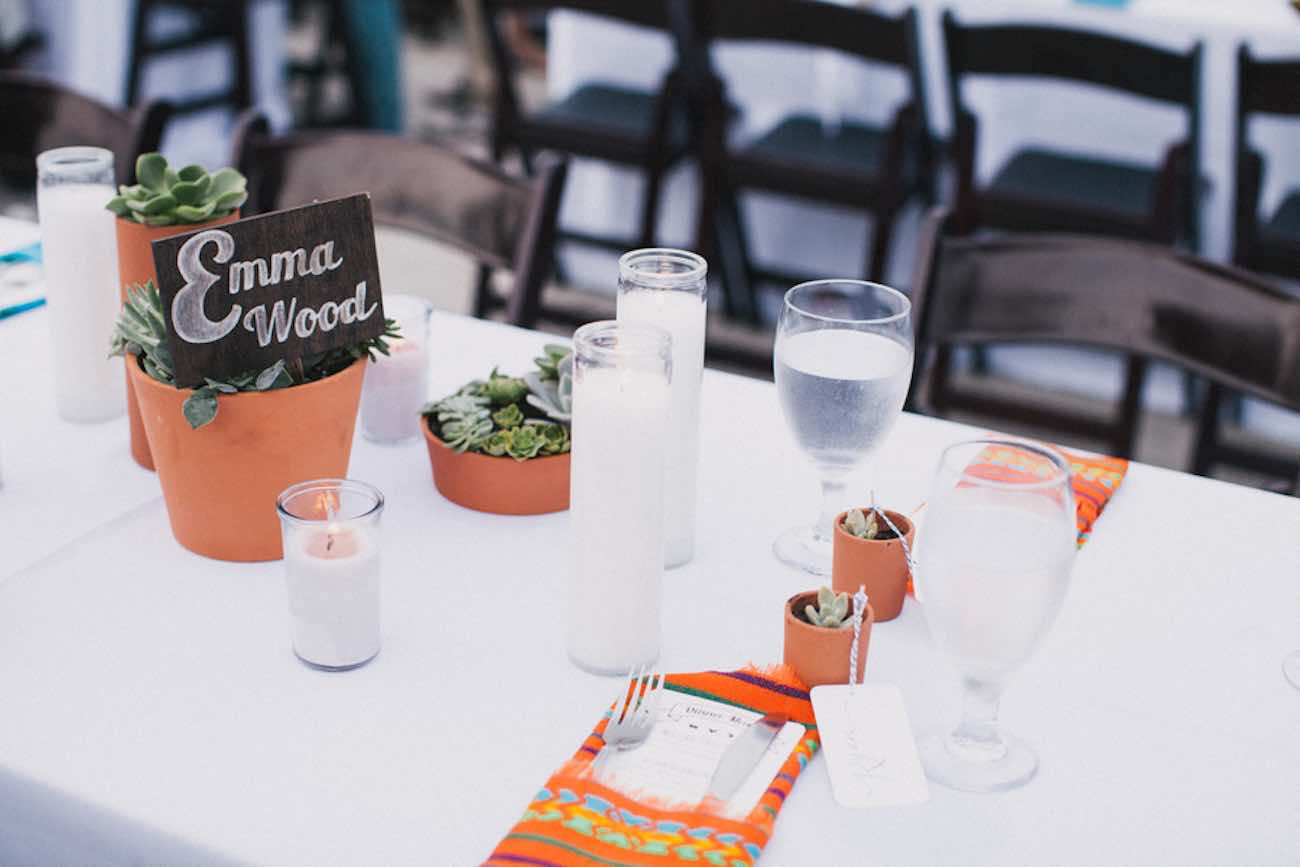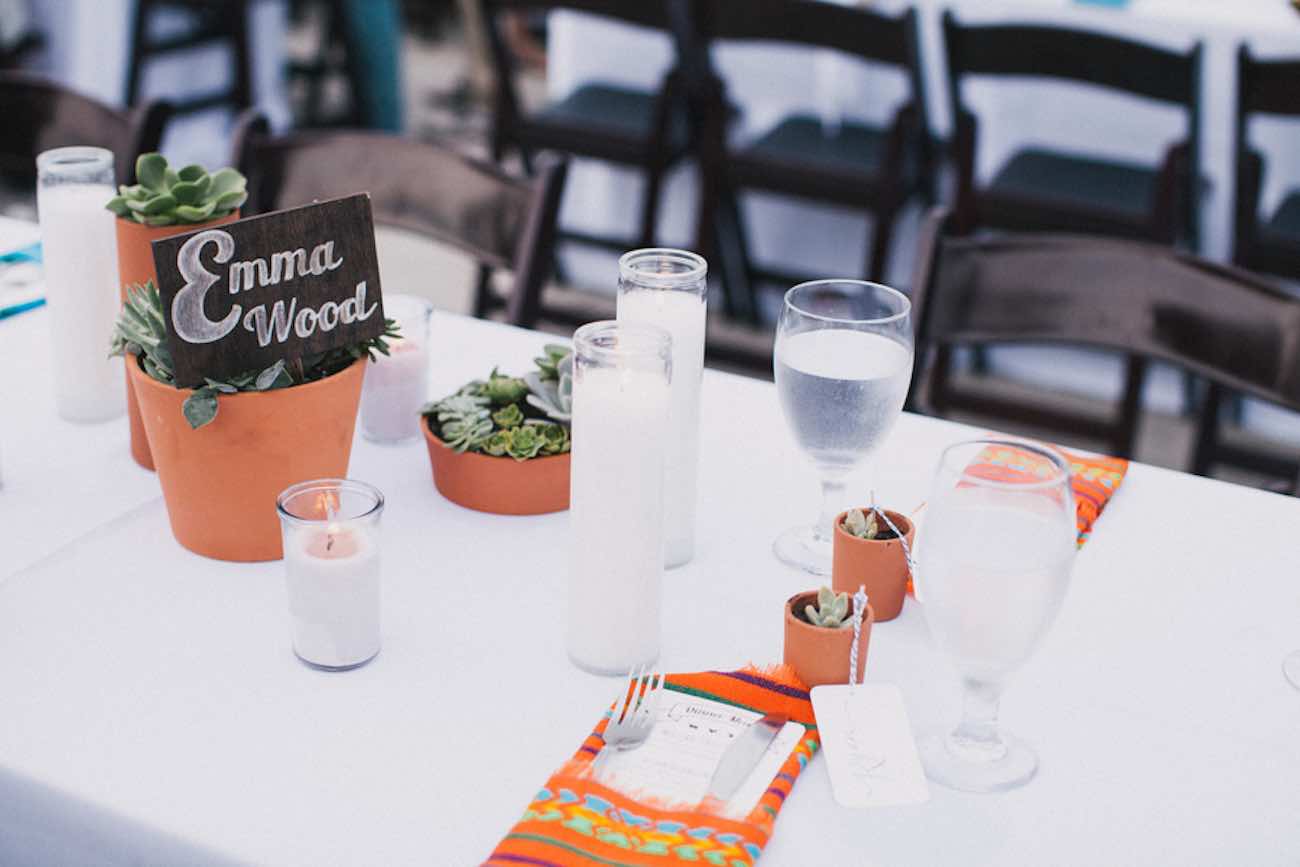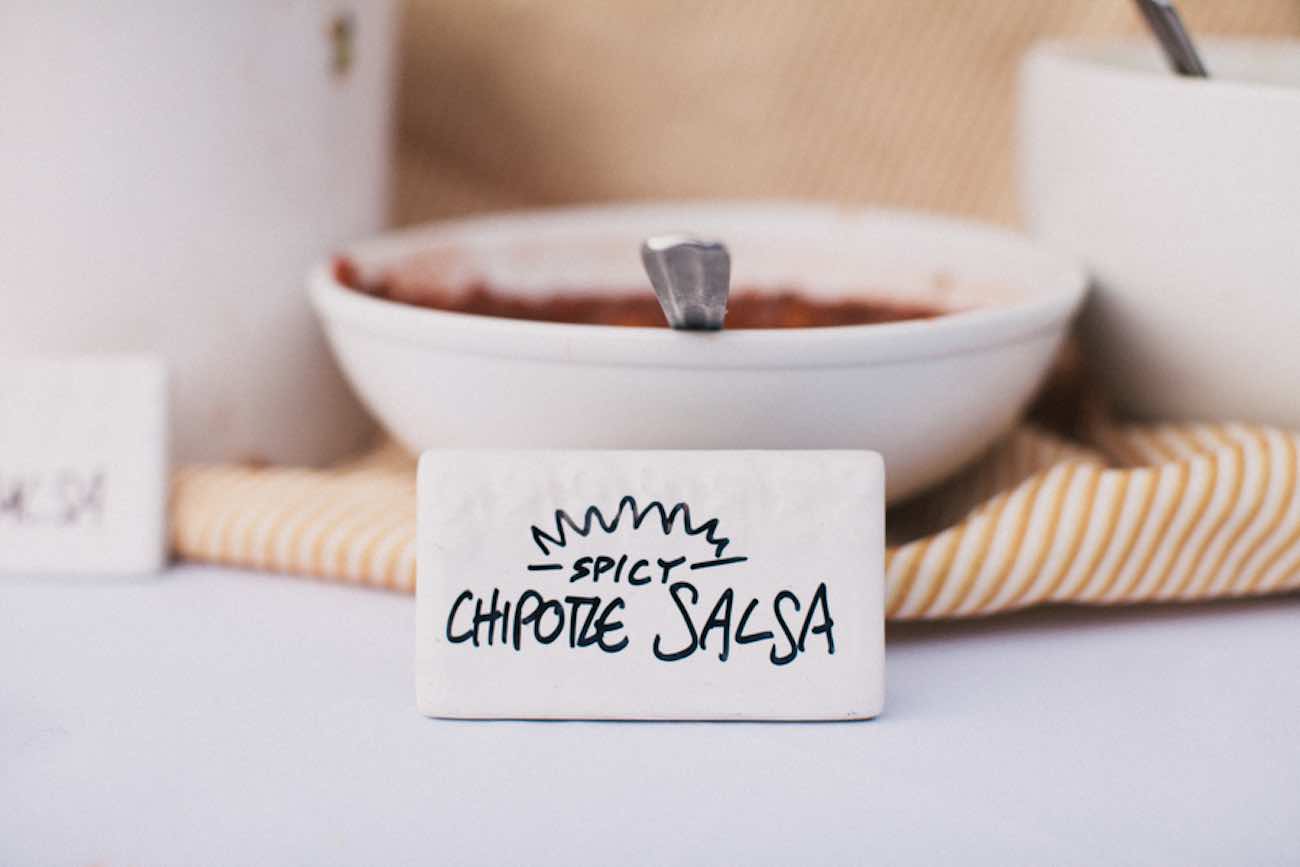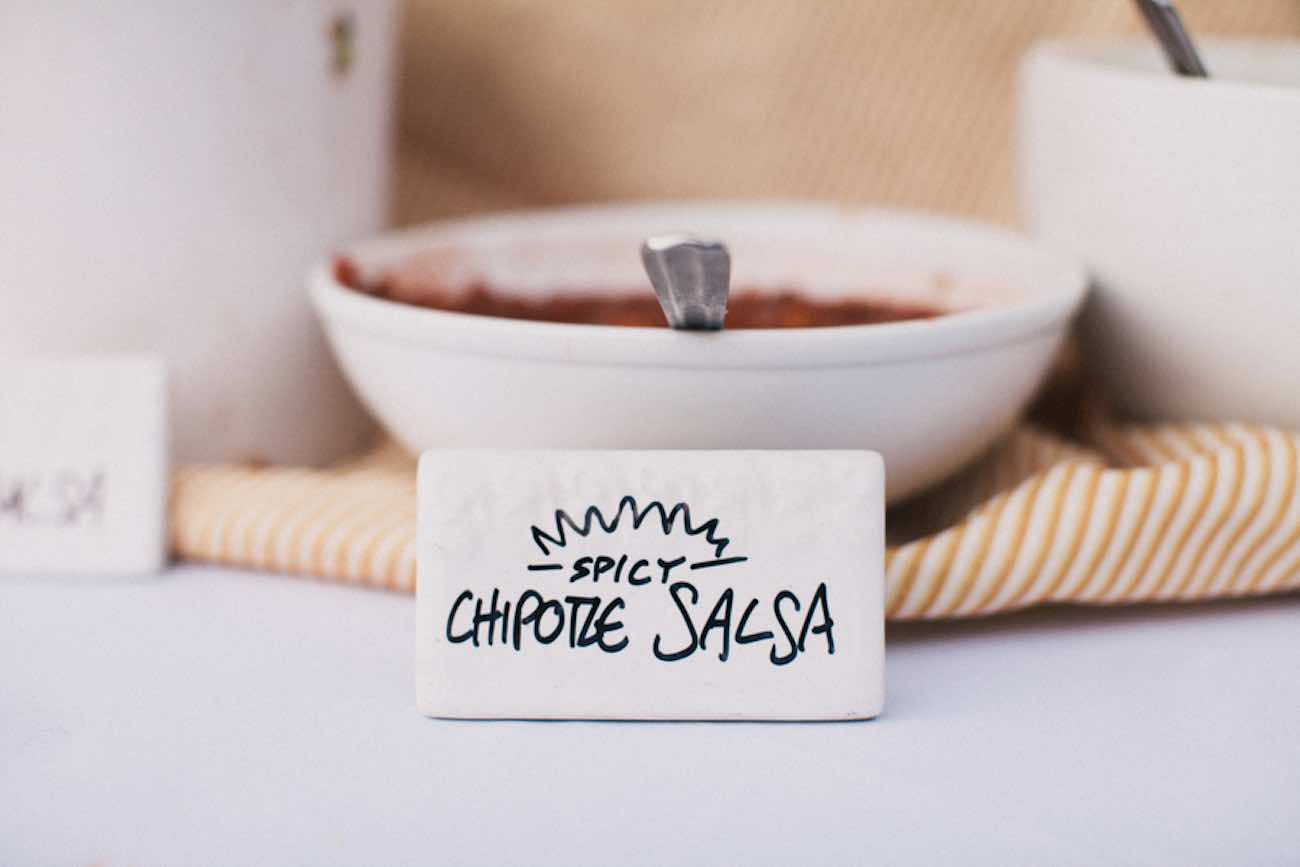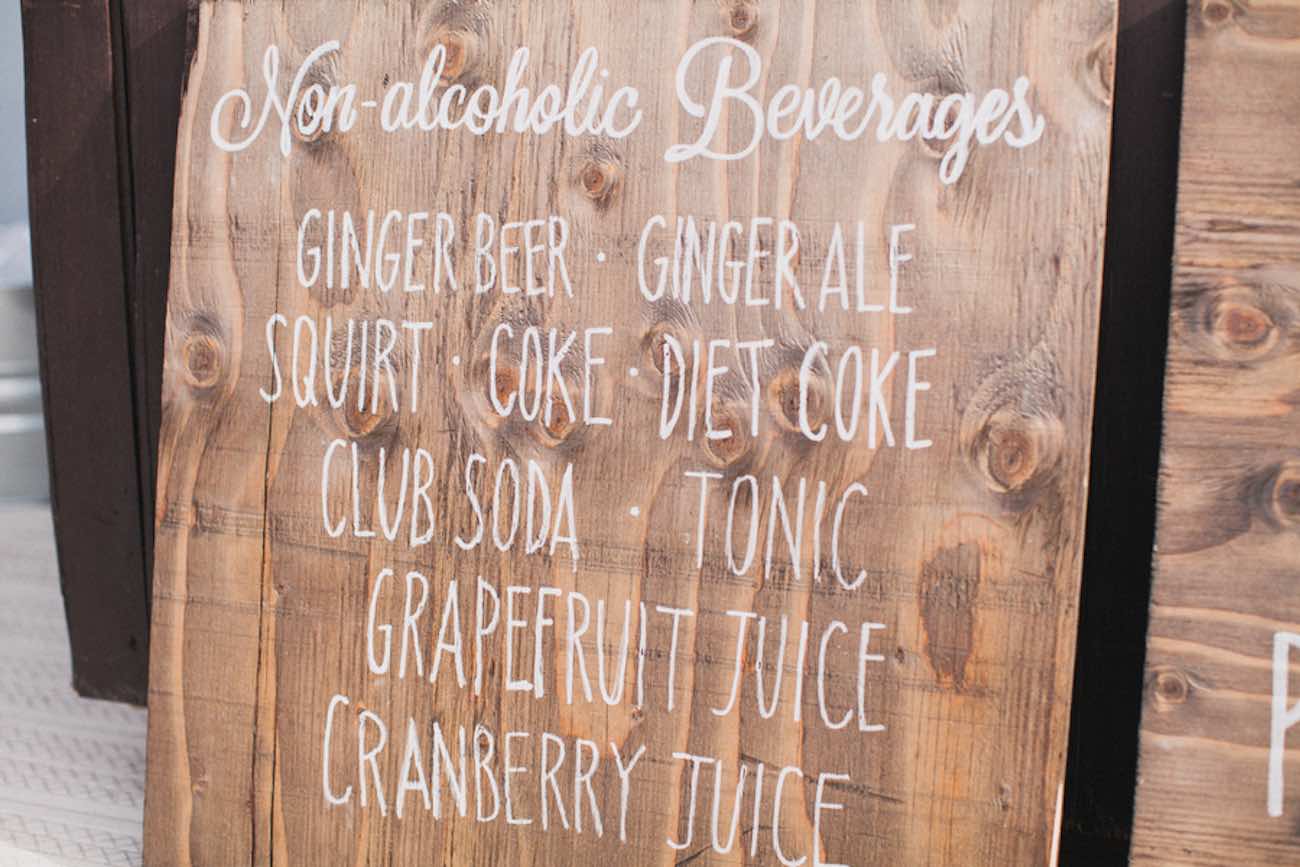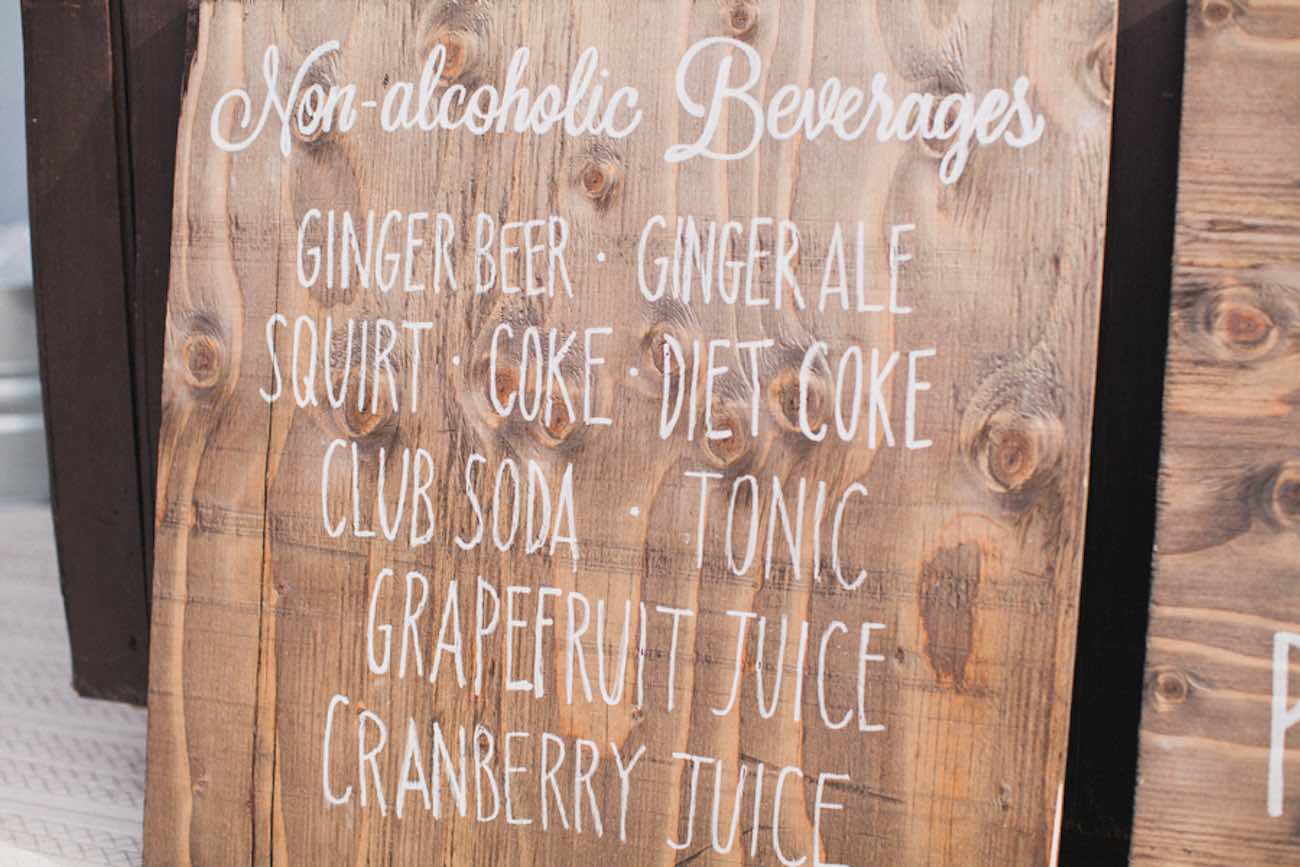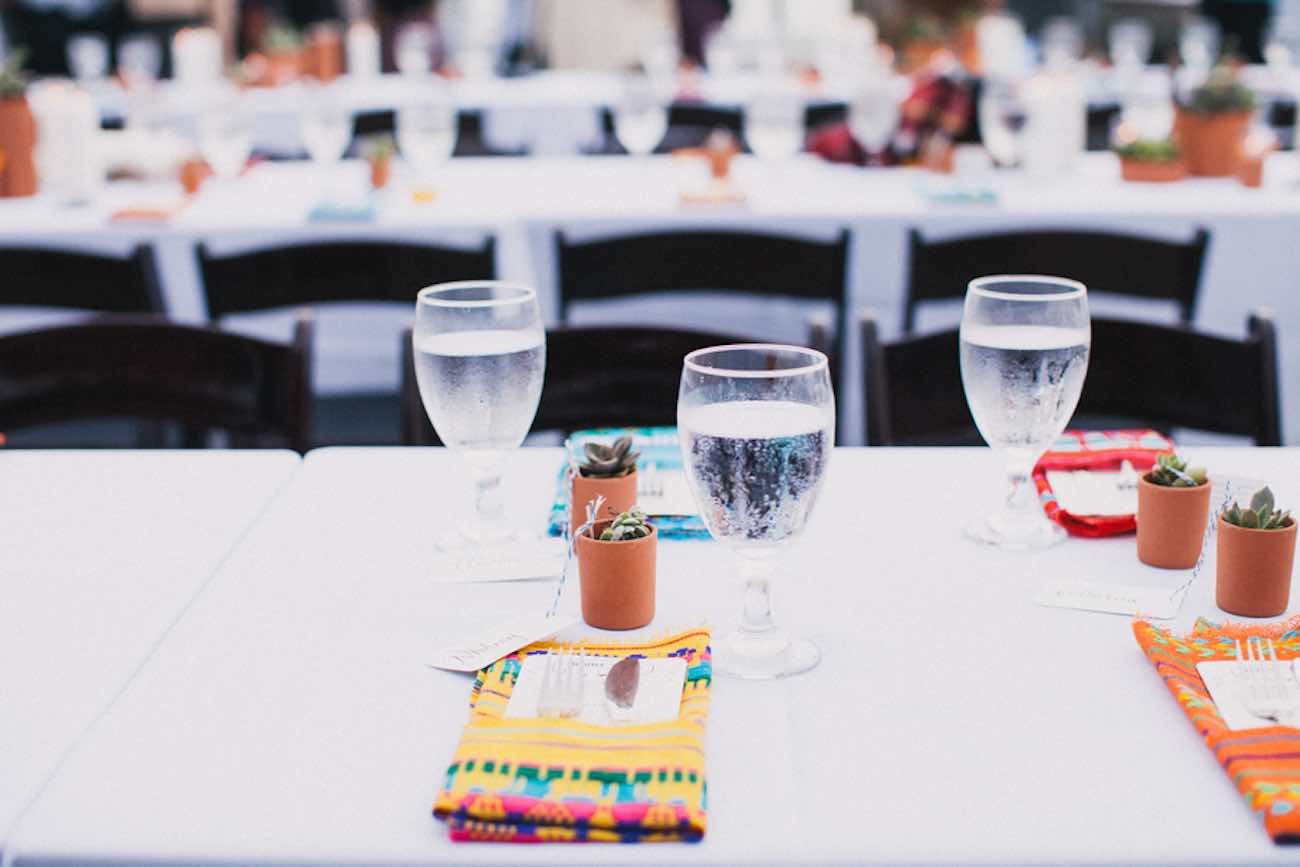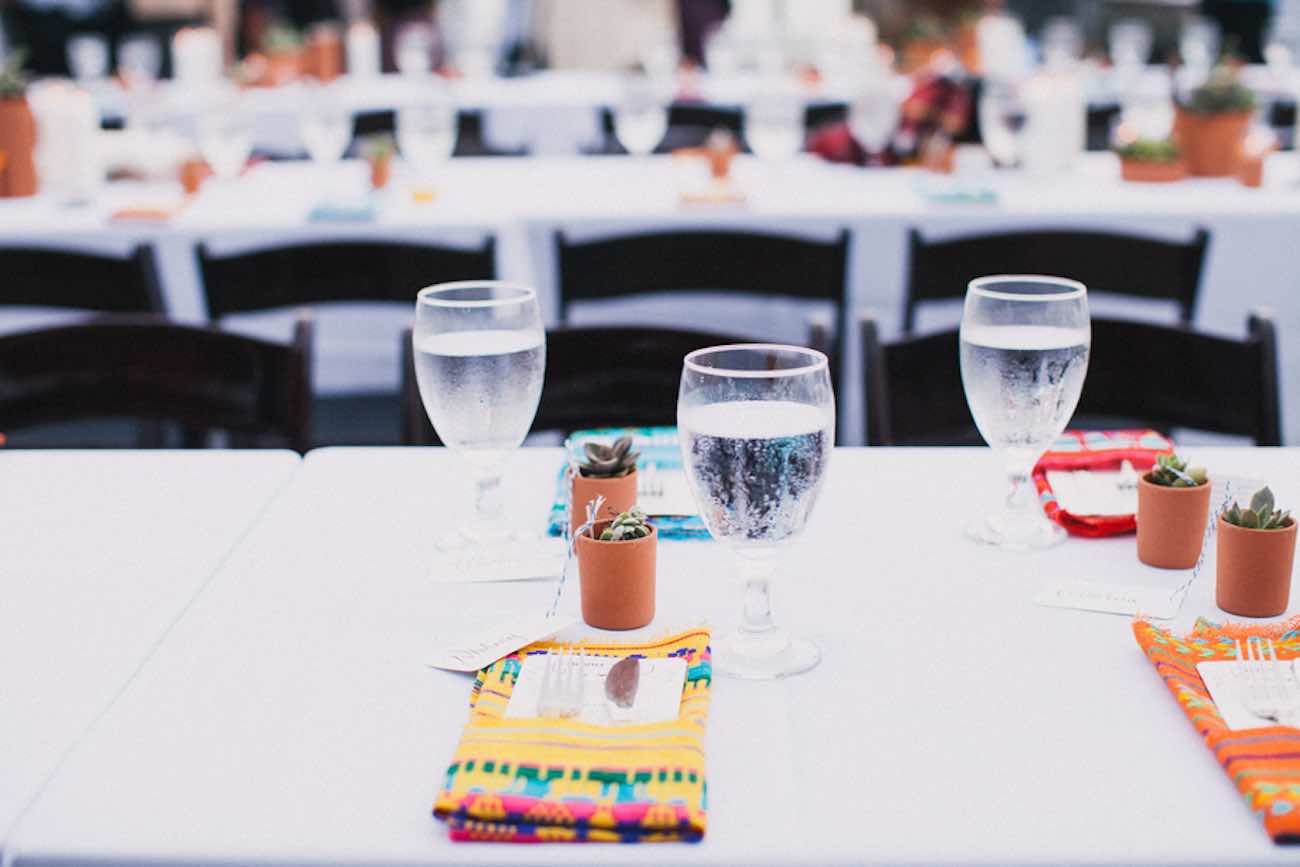 "I am from Chile, so we wanted to incorporate some Latin American details into our decor, in the form of Mexican sarape blankets, papel picado banners, terra cotta pots, Latin prayer candles, and colorful napkins made from Mexican textiles. Many of our food and drink choices also carried the fiesta theme. Our caterers made a Mexican feast, including our favorite tacos!'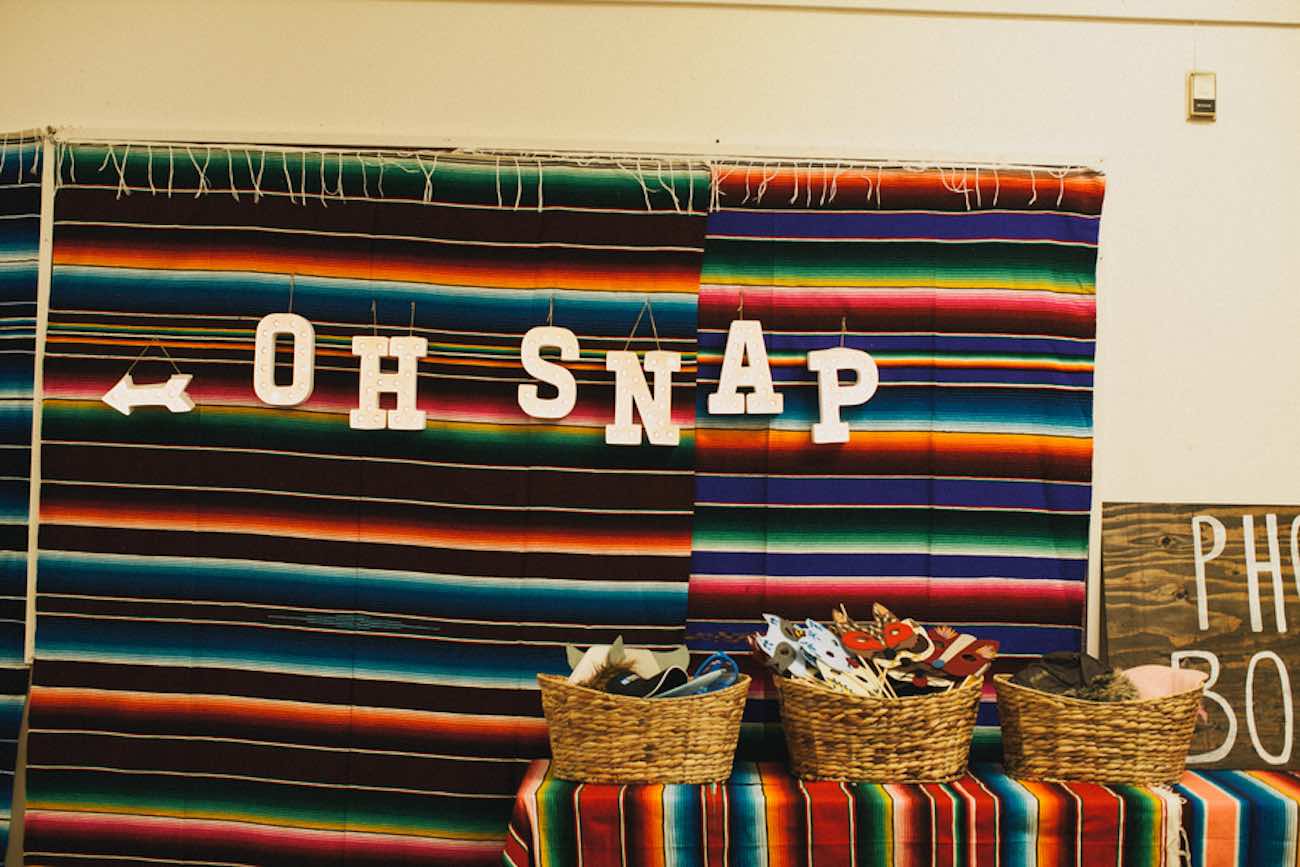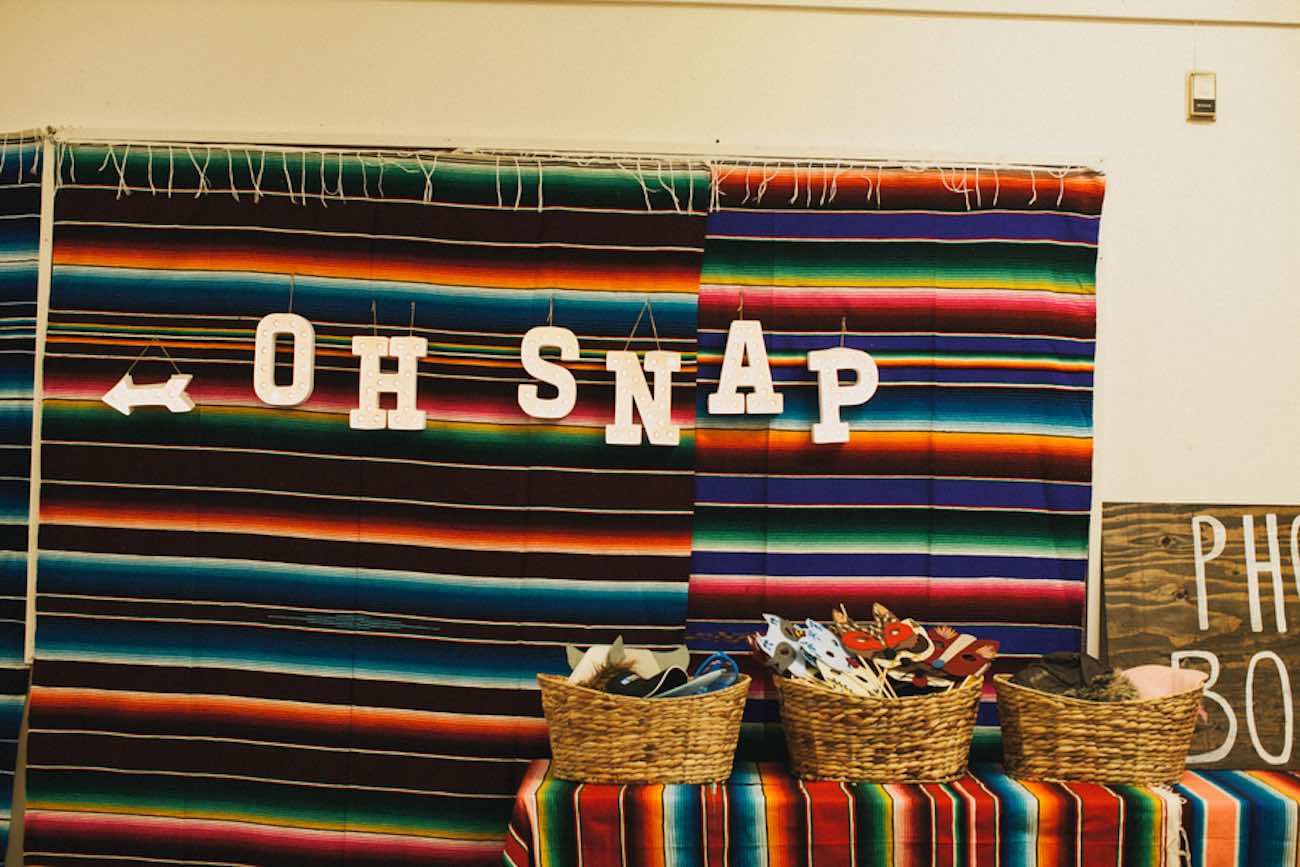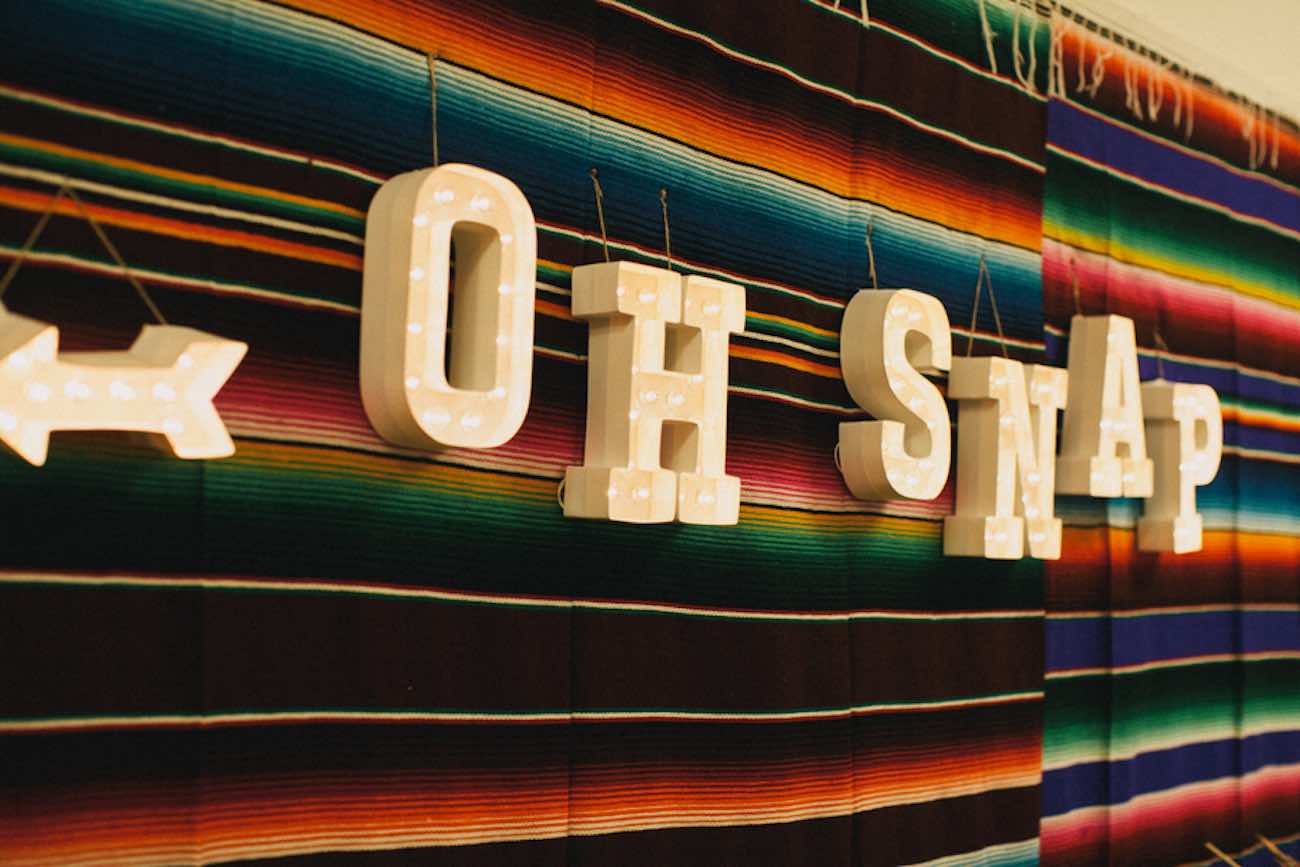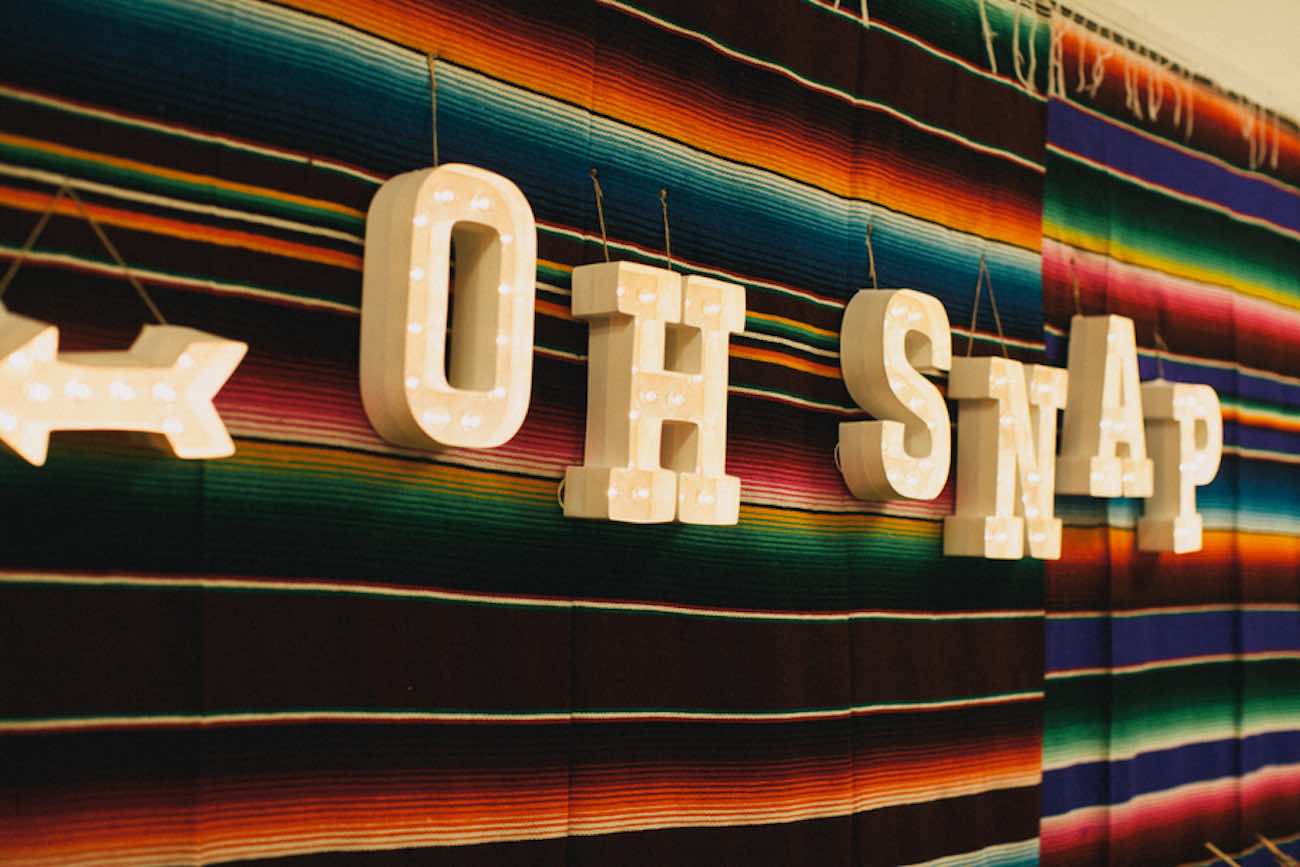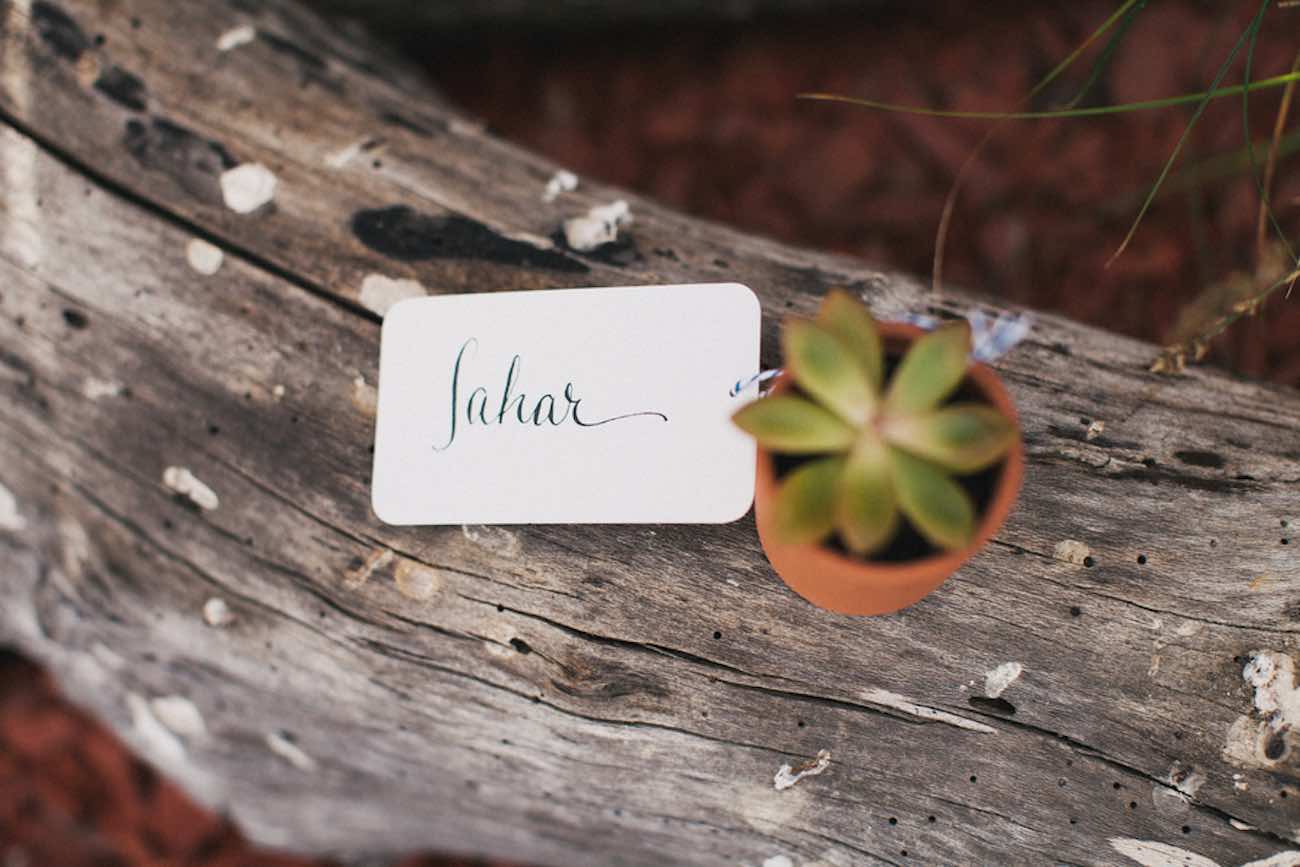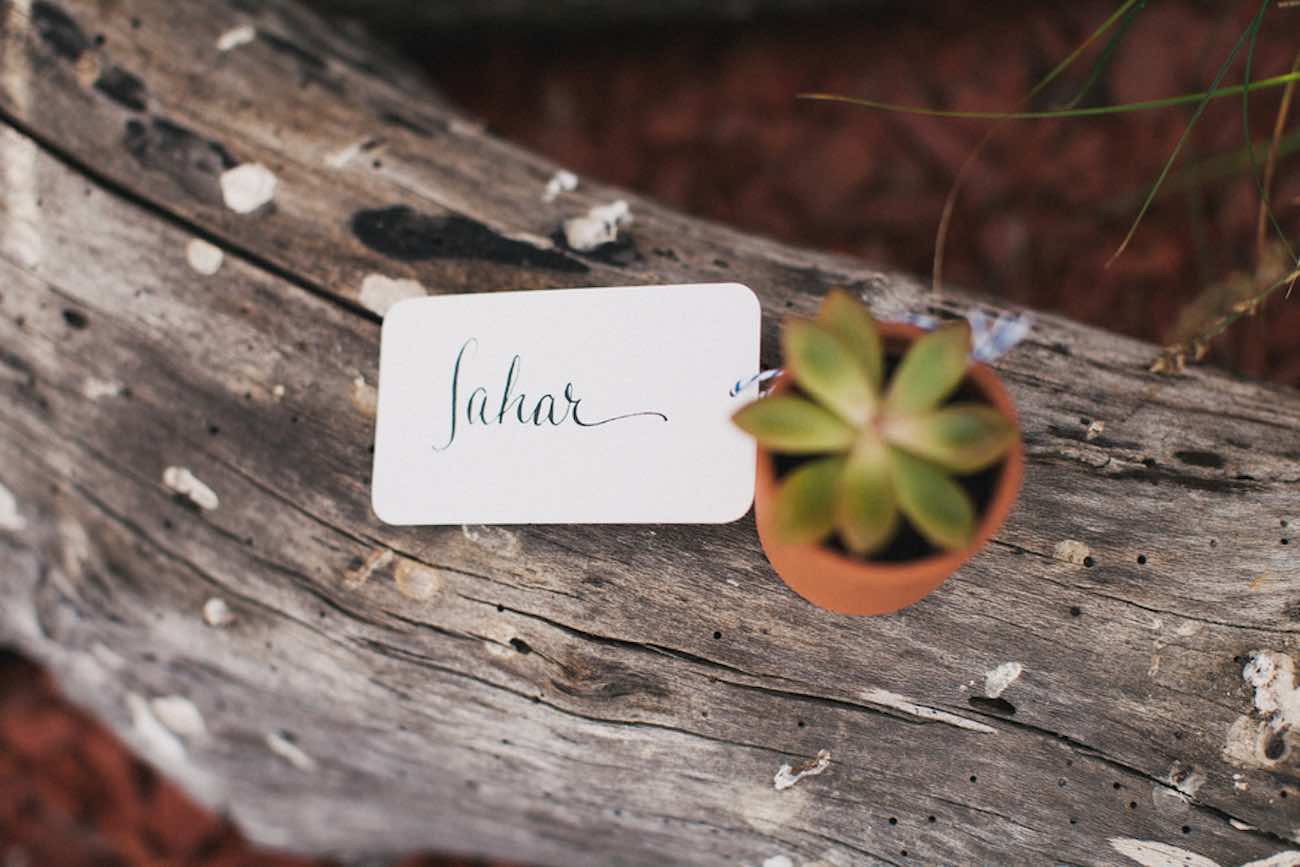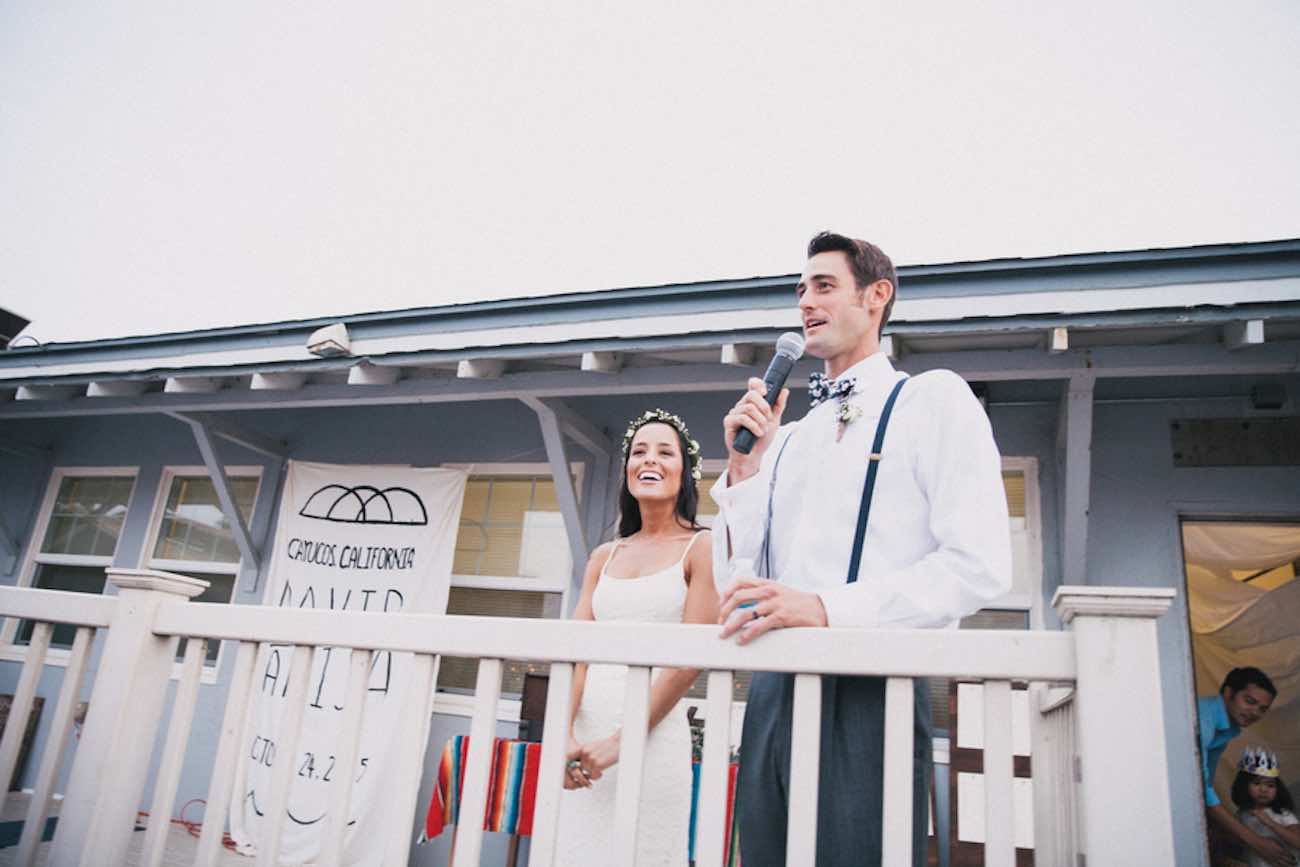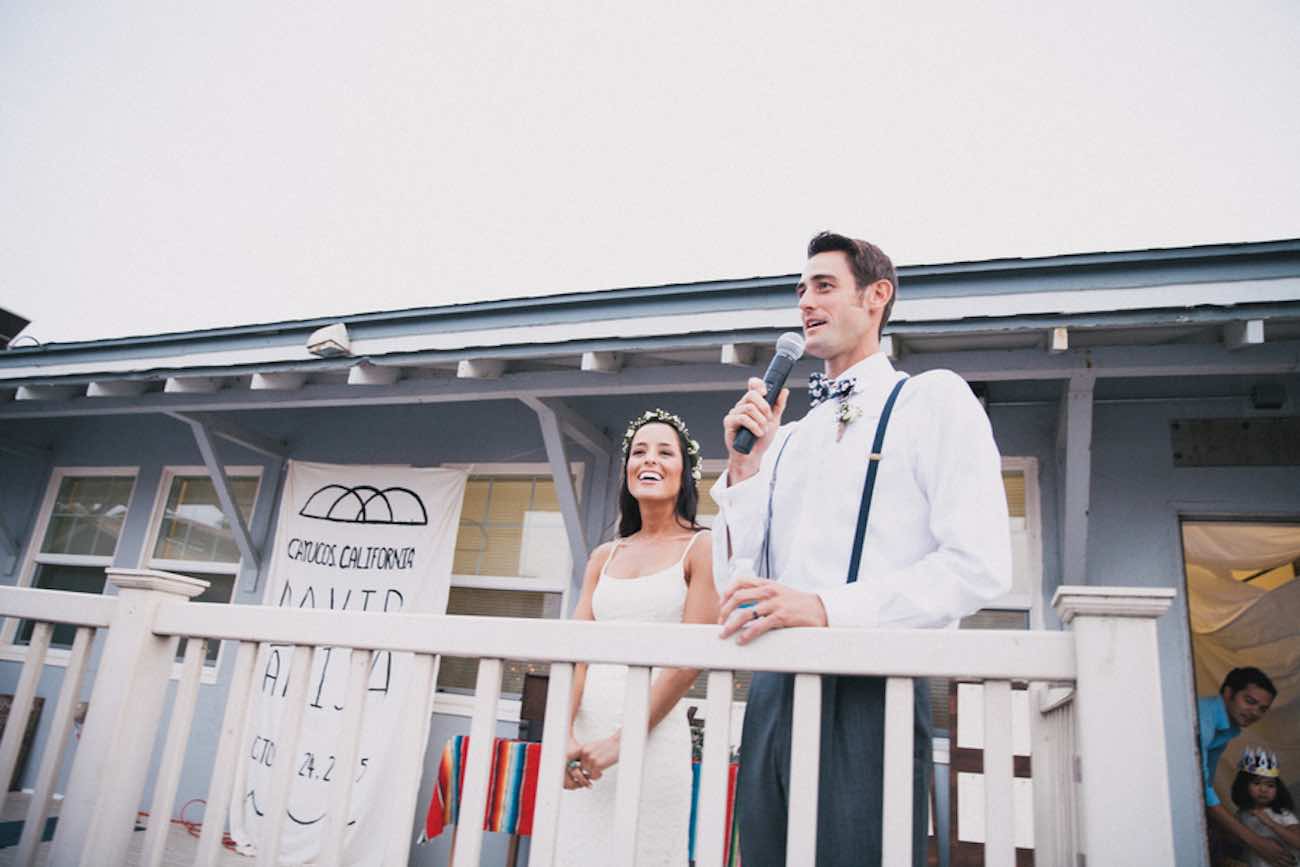 "Our cocktail hour, dinner, and speeches were held on an outdoor patio, overlooking the beach and pier. To keep our guests warm, we provided dozens of vintage crocheted blankets that my mom and I had collected from thrift stores."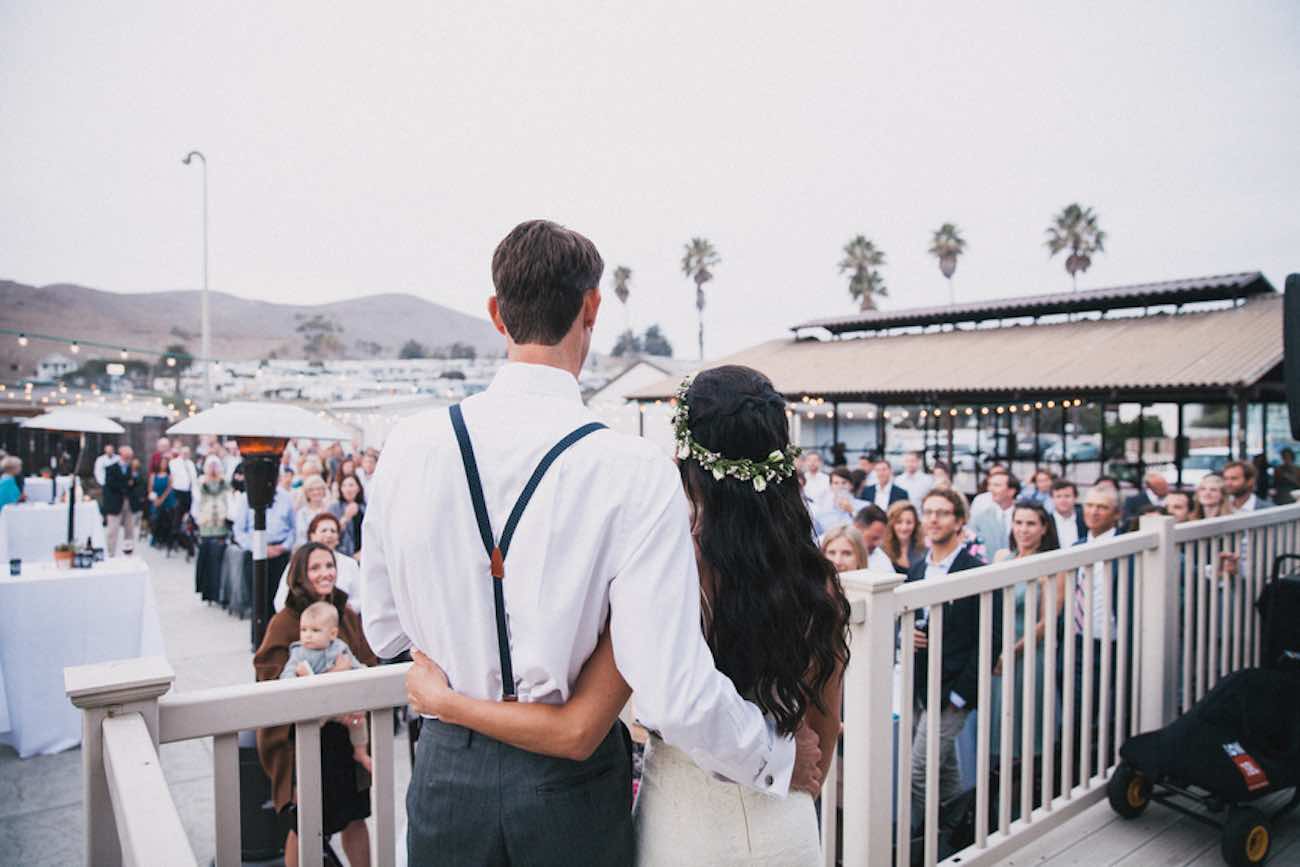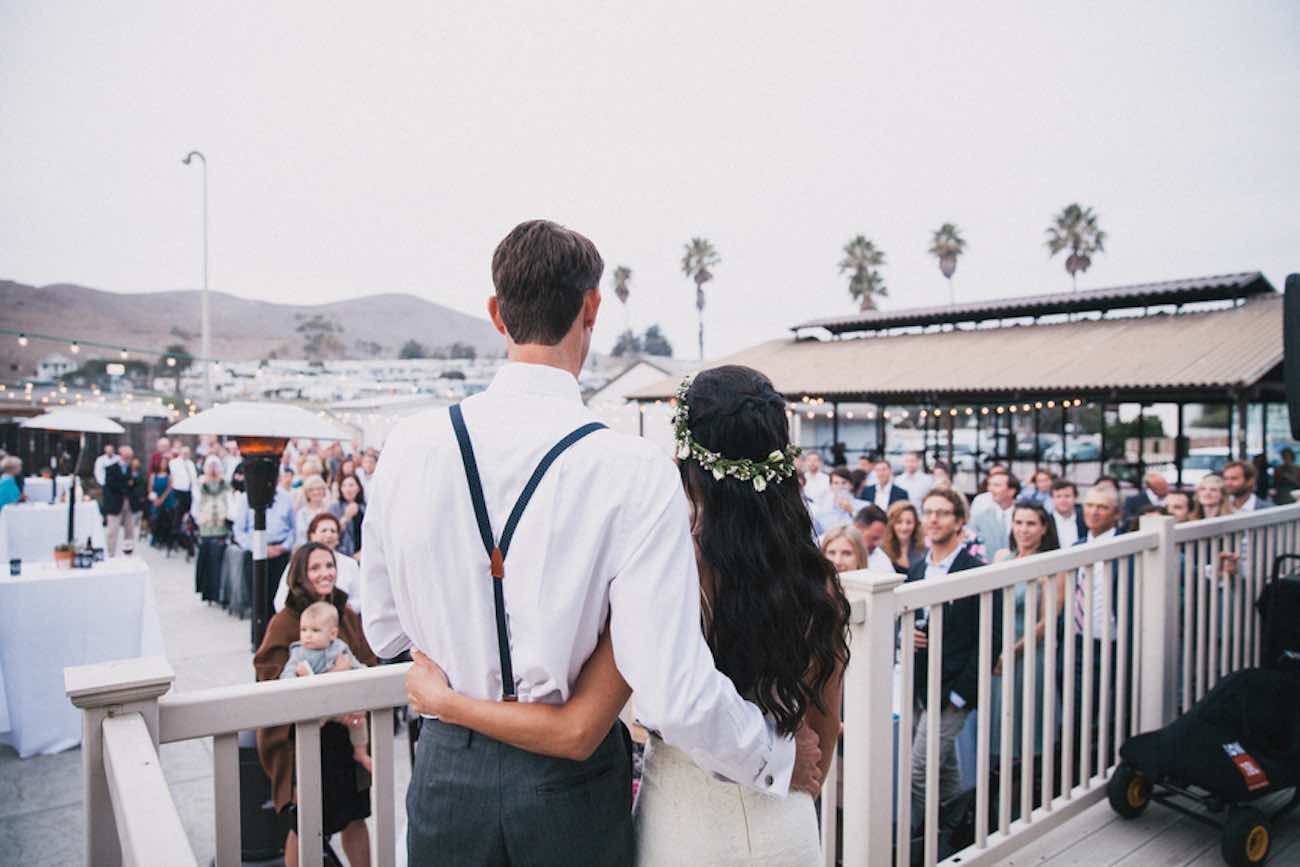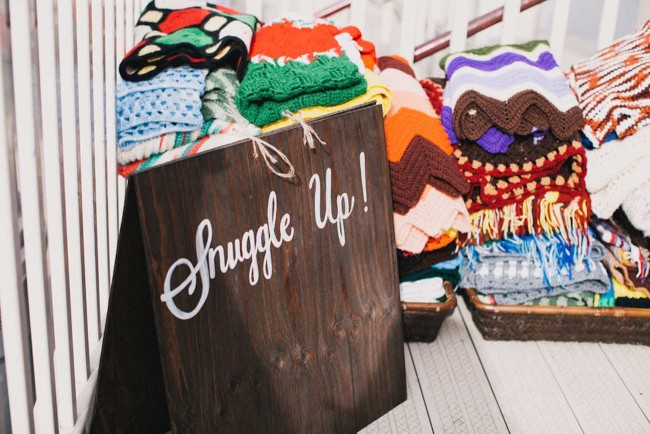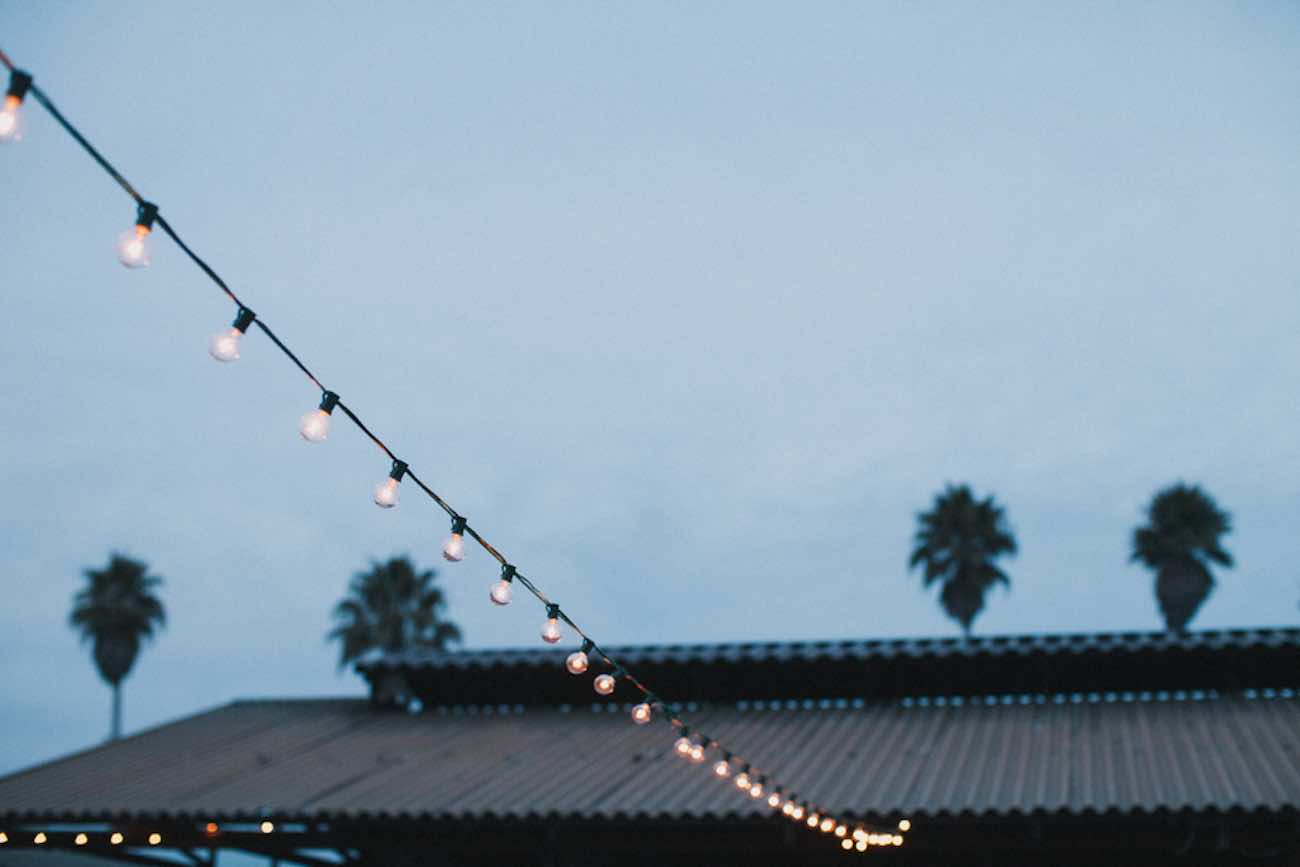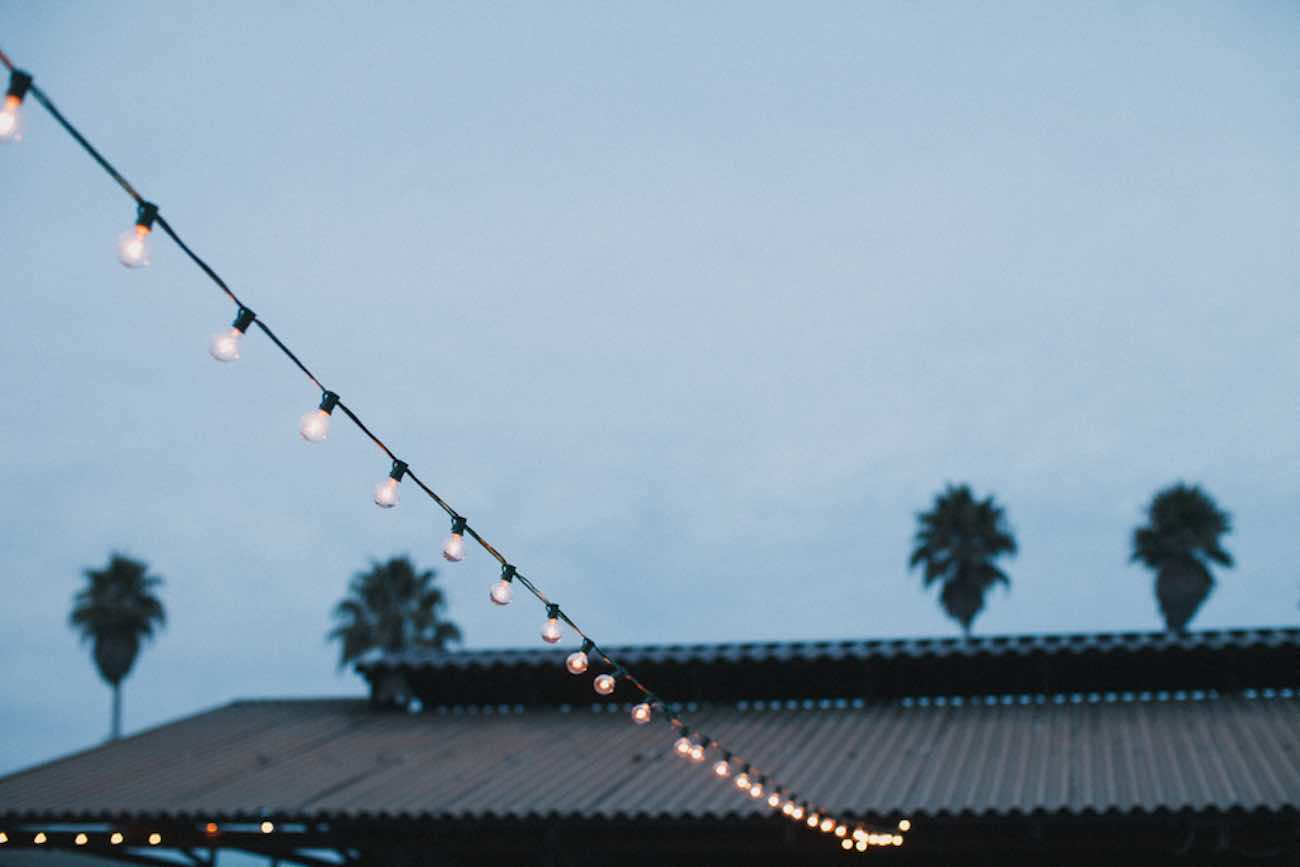 Bohemian 'Surf Fiesta' Beach Wedding
Love Story: We first met in 7th grade, and I thought he was the cutest guy I had ever seen! We danced to "One Sweet Day" by Mariah Carey at the 7th grade welcome dance; it was my first slow dance. Unfortunately I moved to Australia at the end of that year and did not see David until we re-connected 12 years later in 2008. We were both living in Northern California, so I dropped him a line on Facebook.. We made plans to surf together and have been inseparable since! We became engaged in May 2014 on a beautiful remote beach in Big Sur. We were on our way to Cayucos to spend a week with my family, and David surprised me with a picnic at the beach… and a ring!
Wedding Dress: I wanted something that reflected my style: laid-back, non-traditional, with no frills and no sparkles. I was all about crop top wedding dresses, but could not find one that I LOVED, so I made it myself! I've sewn before, but never took on a project like this. Luckily between youtube tutorials and my mom's help, it turned out great (and did not fall apart at the wedding!) I chose an ivory matte satin for the bottom layer, and a creamy cotton floral lace for the top layer. Overall, it took me about 7 full days to complete the dress (not including the time I spent shopping for materials!), but it was worth it, because I got exactly what I wanted, and it fit like a glove.
Wedding Hair and Make Up: As someone with stick-straight hair, I've always wanted "mermaid hair" – long, curly locks like those of my favorite Disney character. As soon as I became engaged, I started growing out my mane, which gave my hairstylist plenty of length to work with on my wedding day!
Wedding Party: We decided to keep the wedding party small by only including our siblings. My two brothers were my bridesmen, David's sister was his groomsmaid, and his little brother from the "Big Brother, Little Brother" mentor program was his groomsman. The men all wore their own grey pants, white shirts, and brown leather shoes, and we provided the accessories: navy blue suspenders and mismatched navy blue bow ties (handmade by my mom!) All the men wore boutonnieres and the mothers wore corsages, made by friends. David's sister chose her own grey dress and we both carried bouquets that I had put together a few days before the wedding.
Groom's Attire: David's trousers and shirt were made by Charles Tyrwhitt, and he wore brown Cole Haan oxfords and a navy blue whale-patterned bow tie.
Wedding Ceremony: Our friend Nick officiated our non-denominational ceremony and we wrote our own vows. Our mothers performed a sand ceremony to symbolize the joining of our two families. One of my favorite aspects of the ceremony, and our wedding, was our parade of flower girls; we had half a dozen! They are all daughters of our friends, and all under 4 years old! I had a ball picking out their tiny dresses, and my aunts helped me make all of their delicate flower crowns. Miraculously, no one fell down the stairs or had a melt down on the aisle! They put a huge smile on everyone's faces, including mine.
Guest Book Alternative: We decided not to have a guest book and instead left a blank space on the back of the dinner menus, with a message asking each guest to leave us a note, joke, or drawing. Our wedding coordinator collected all of the menus after dinner, and my hubby and I had a lot of fun reading them the next few days during our mini-moon. In lieu of table numbers, we named each table after one of our favorite surf spots, from A to Z! A simple wooden seating chart directed guests to their assigned table.
Wedding Reception: We wanted to have a kid-friendly reception for our bohemian 'Surf Fiesta' beach wedding, so we hired several babysitters to entertain the children while the parents enjoyed themselves. This was a well-utilized service among our 20+ guests under the age of 4! My mom also put together amazing goodie bags for the kids, filled with capes, tutus, toys, and arts & craft supplies.
Wedding Planning Advice:
Just because you CAN do everything yourself doesn't mean you SHOULD do everything yourself! For example, while I felt like it was incredibly meaningful to give each guest a baby succulent that we grew ourselves, we could have saved a ton of time and energy (and apartment space!) if we had just purchased them instead. Be realistic with yourself and choose a few projects that are fun, and then leave the rest to professionals (or Etsy!)
Find a venue that allows you the freedom to bring your own caterer and beverages. By doing this, we were able to have the big wedding we wanted and did not sweat it when a few surprise guests showed up!
Wedding Vendors: