Rustic, Woodsy Winter Wedding: Pine Perfection ♥


Maggie and Jon's elegant, woodsy wedding in purple and green at Kittanning Country Club was rustic and romantic. The couple, from Gibsonia, Pennsylvania, included lots of darling white birch and pine cone details for a woodsy feel. Their official color palette was eggplant purple and evergreen – perfect for a fall or winter wedding!
The country club ballroom was decorated with beautiful cafe lights. There were pine wreaths, baby's breath, and black lanterns as woodsy reception centerpieces styled by Springdale Floral. Maggie and Jon served pie instead of cake because the Jon's father and Maggie preferred pie to cake. "Jon and I had a small cake to cut that was decorated to look like a white birch stump with our initials carved into it," shares Maggie, who trusted CTG Photography to capture the moments and details of their celebration.
"Jon went to school in the Adirondack Mountains of New York, so the woodsy touches represented his interests. I have always loved purple, hearts, and hydrangeas, and all of those things were represented in my wedding party and other details," says Maggie. " Kittanning Country Club- coordinator Larena Schamberg really helped us to plan our woodsy wedding and ensure that all of the vendors and details came together perfectly!"
Woodsy Winter Wedding in Purple and Green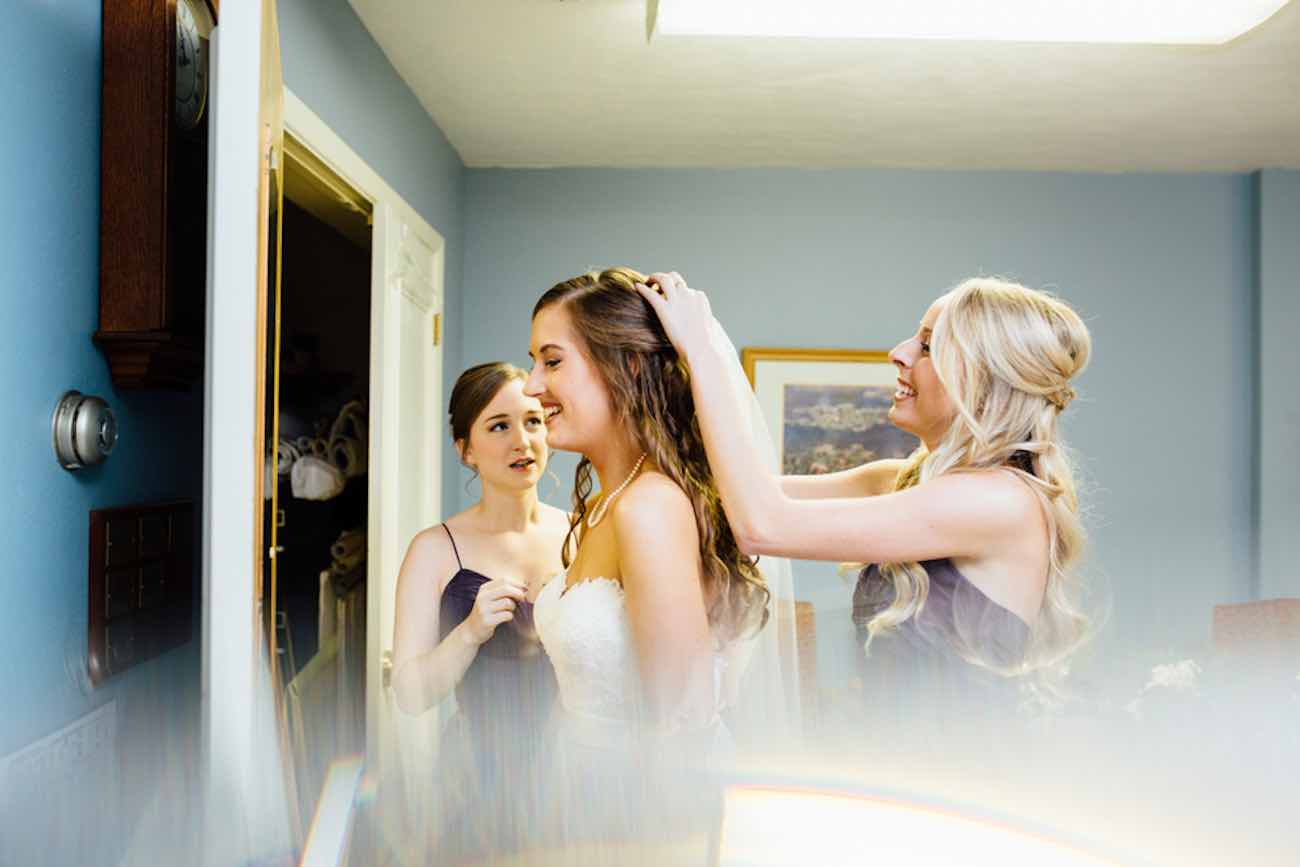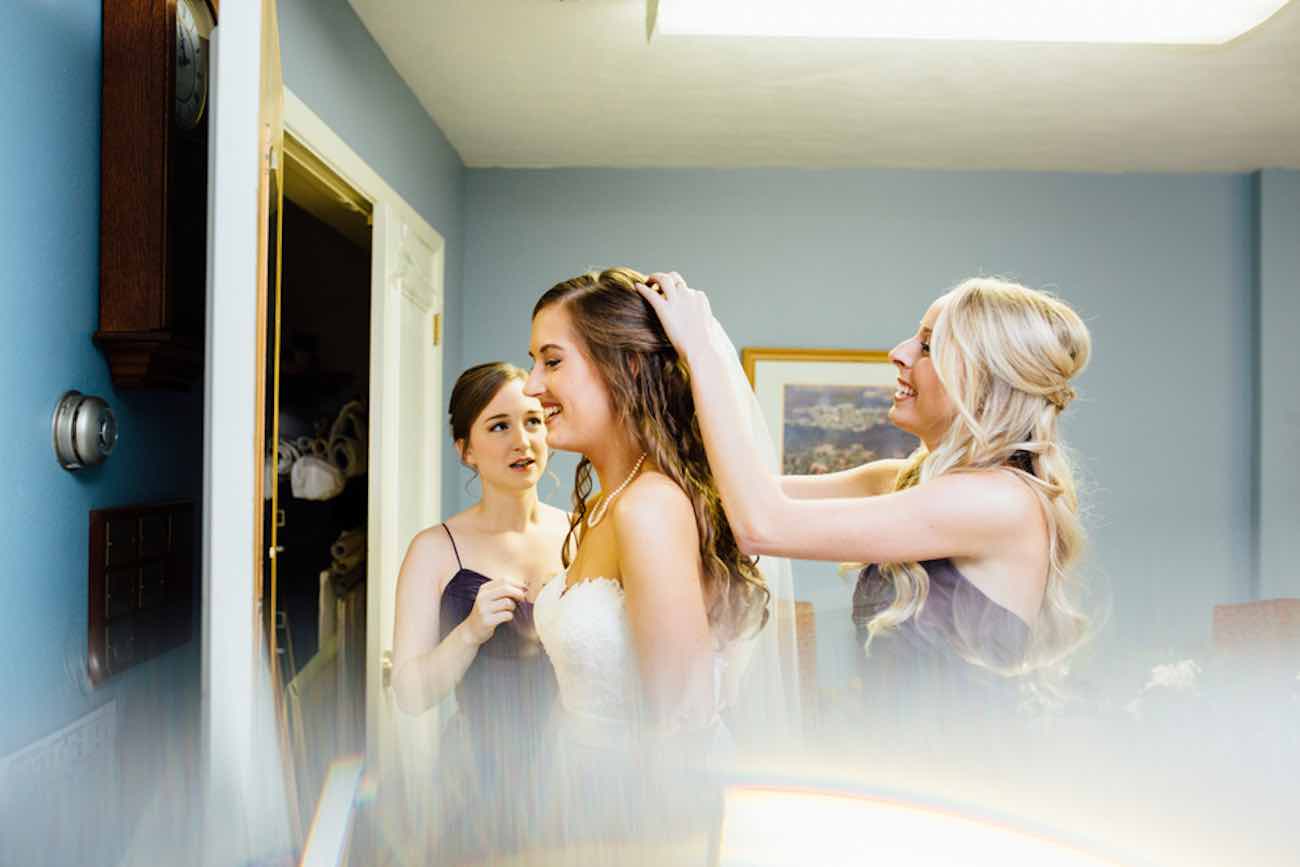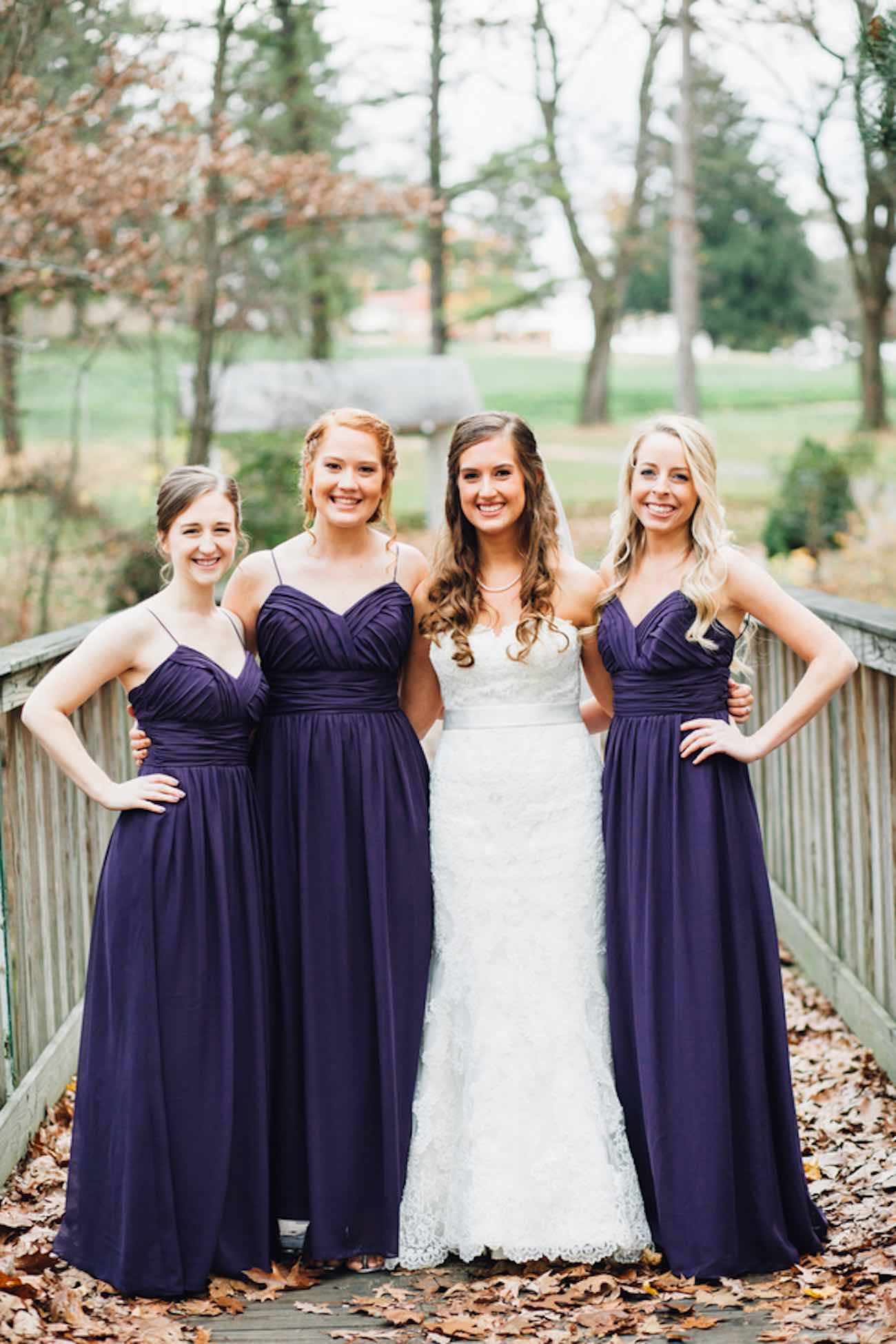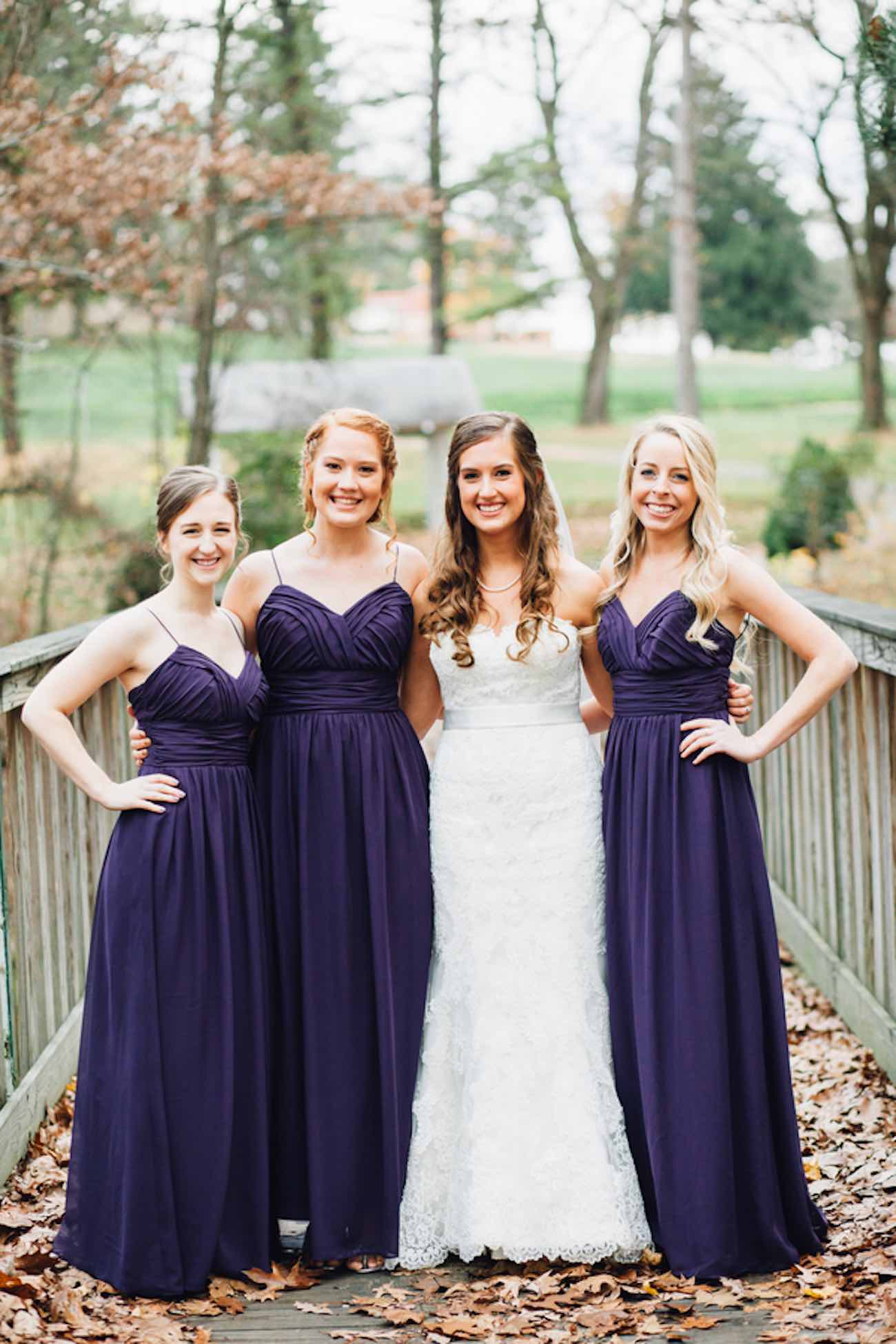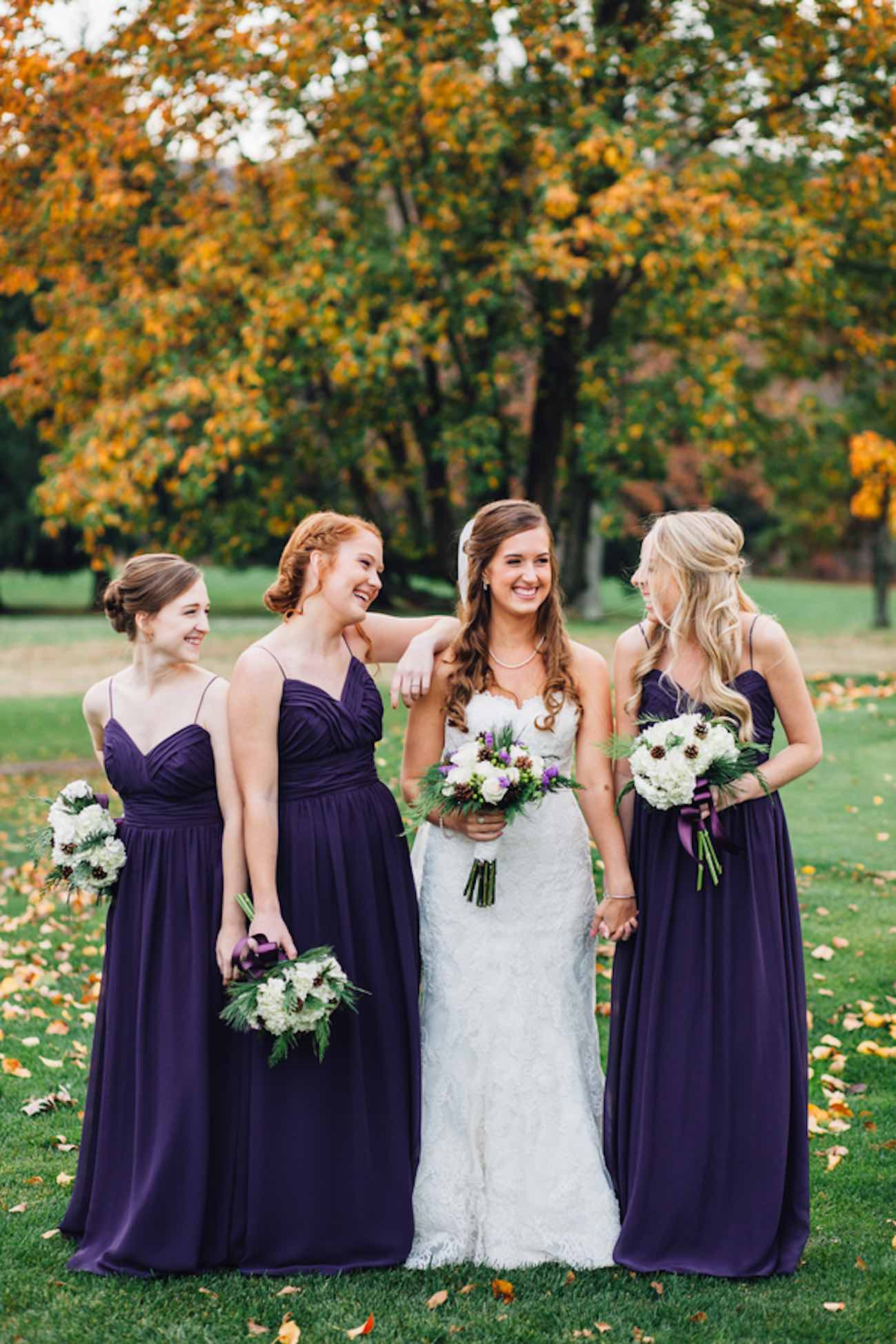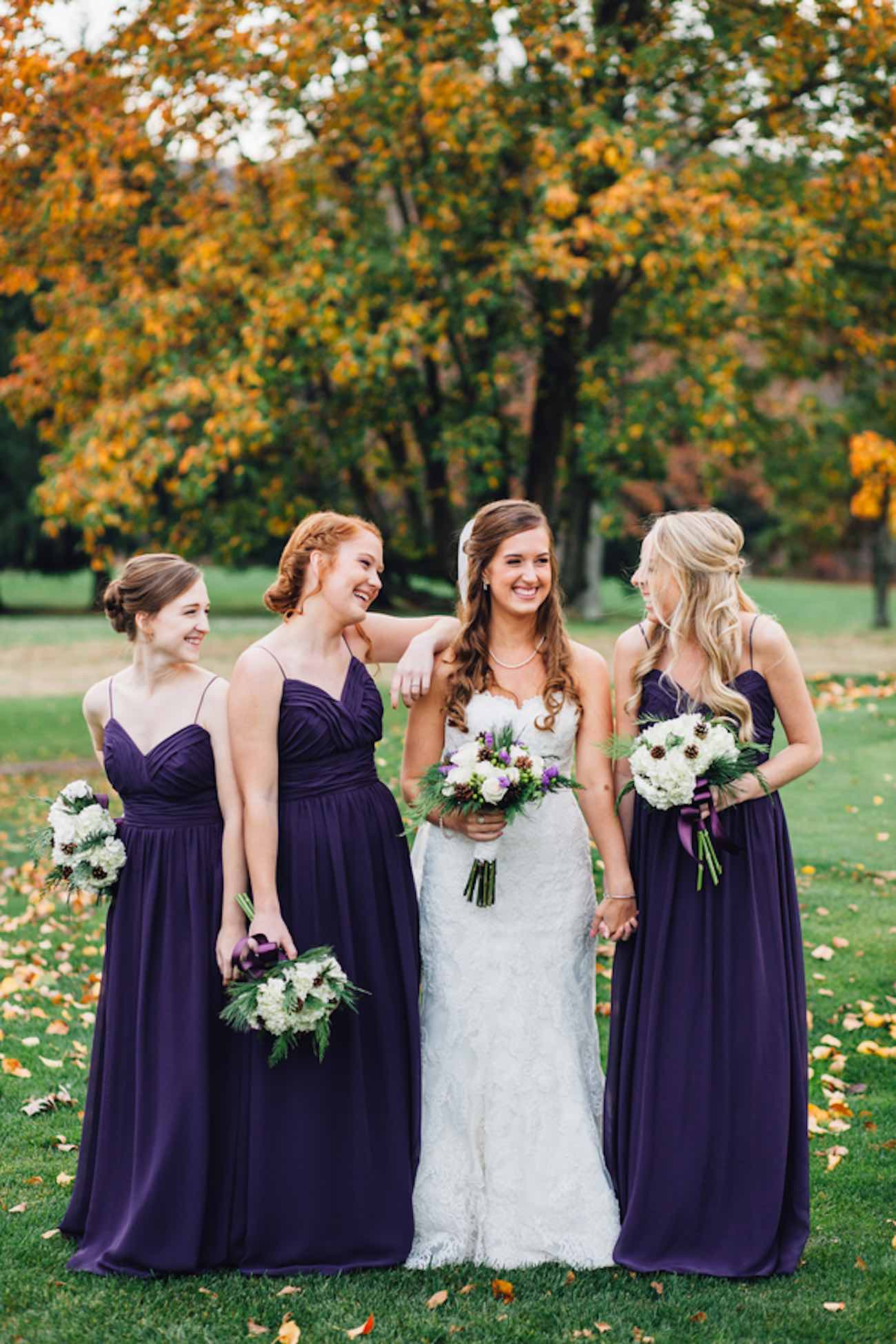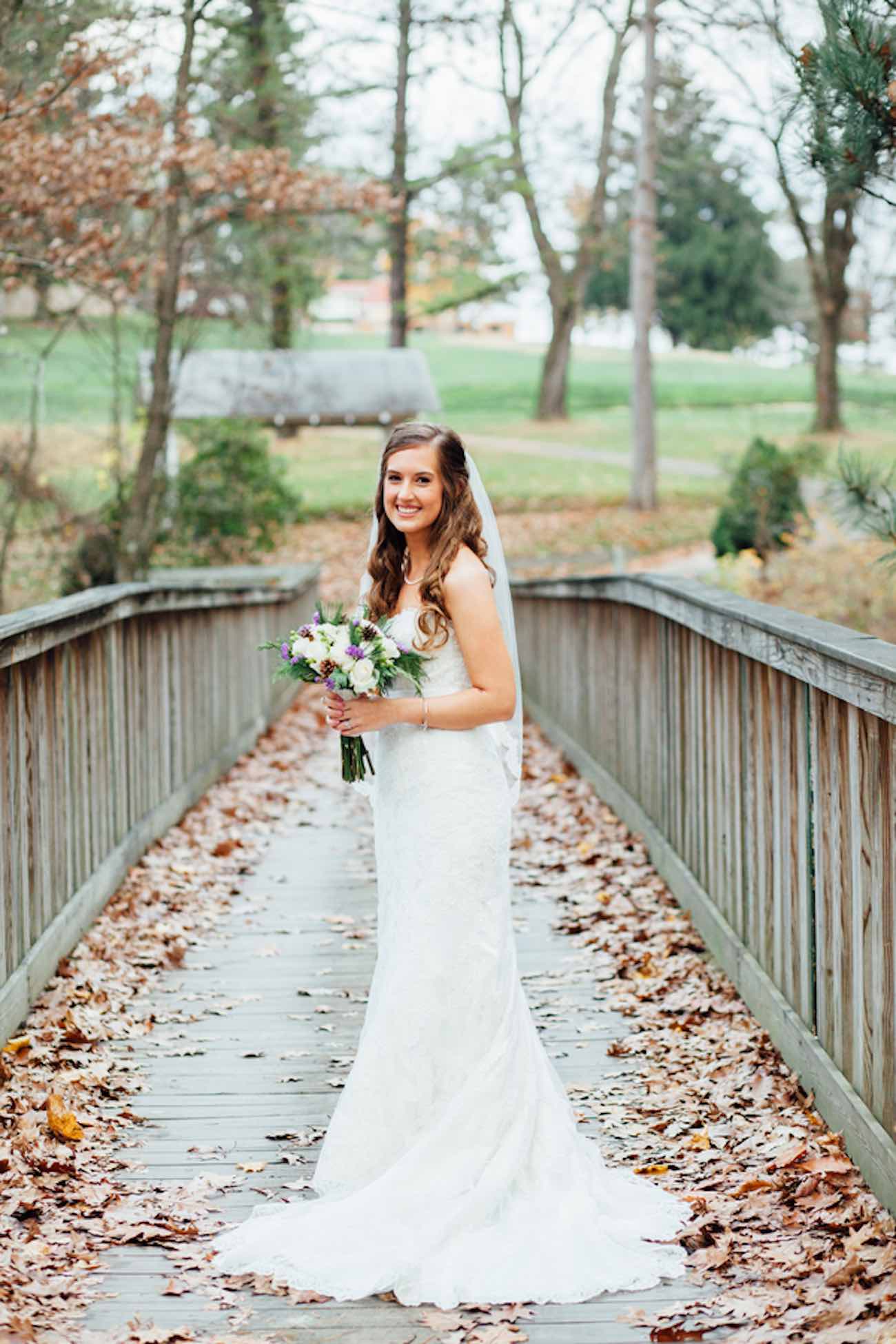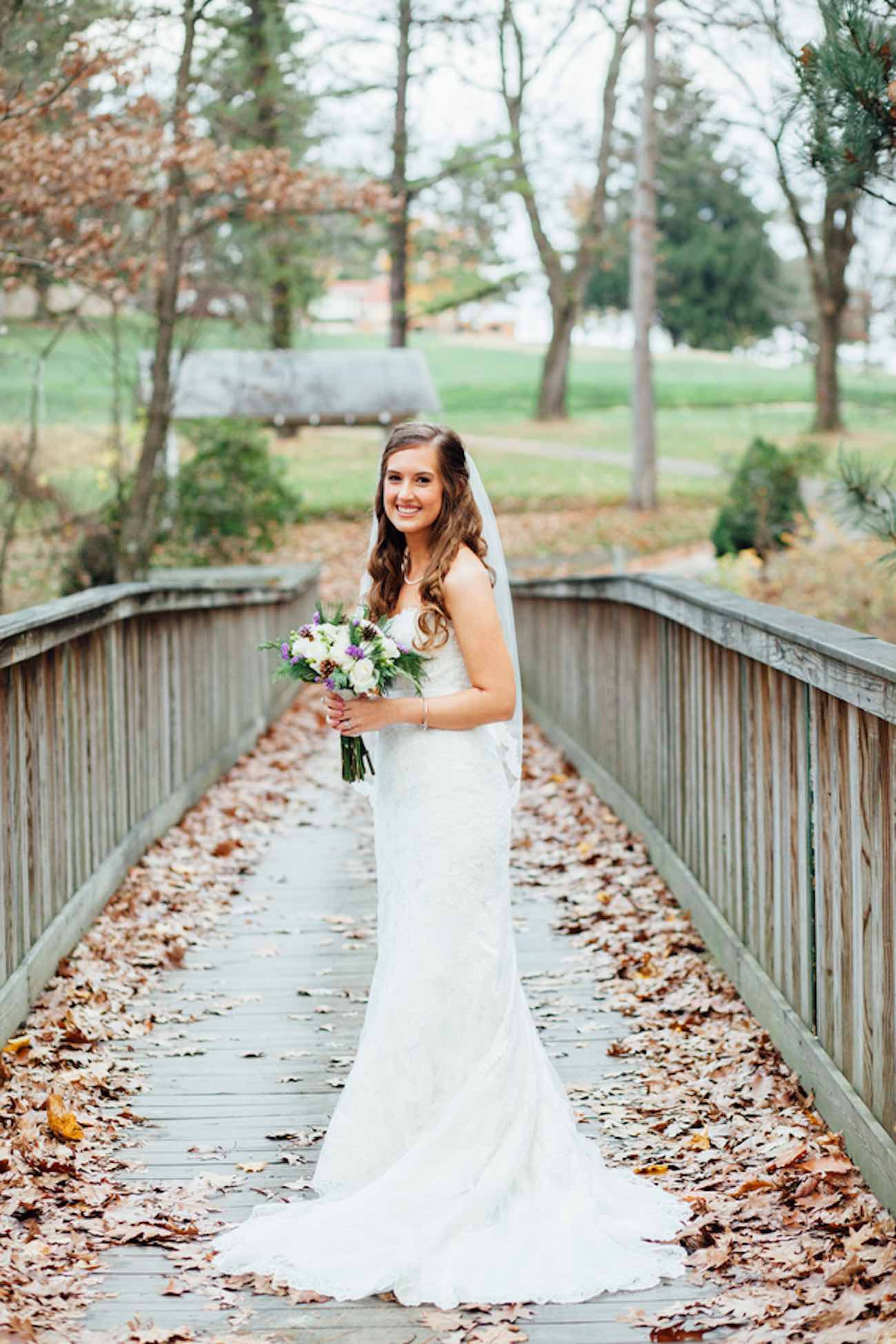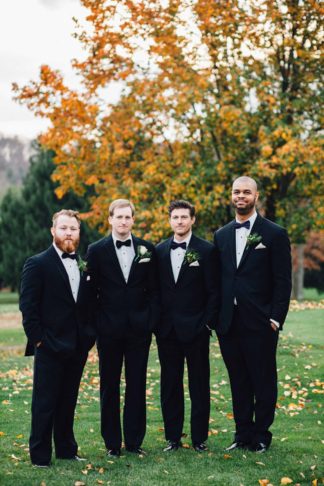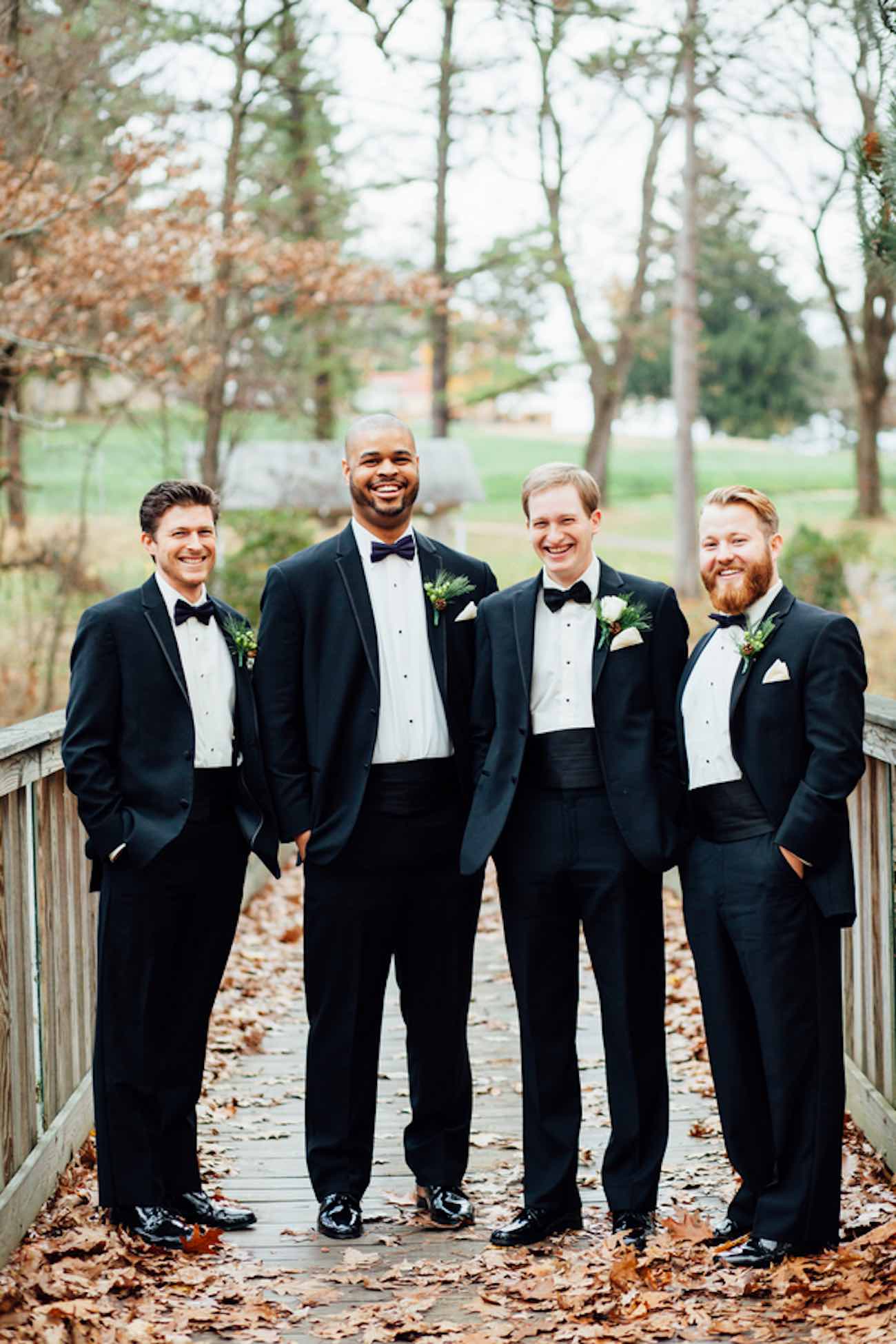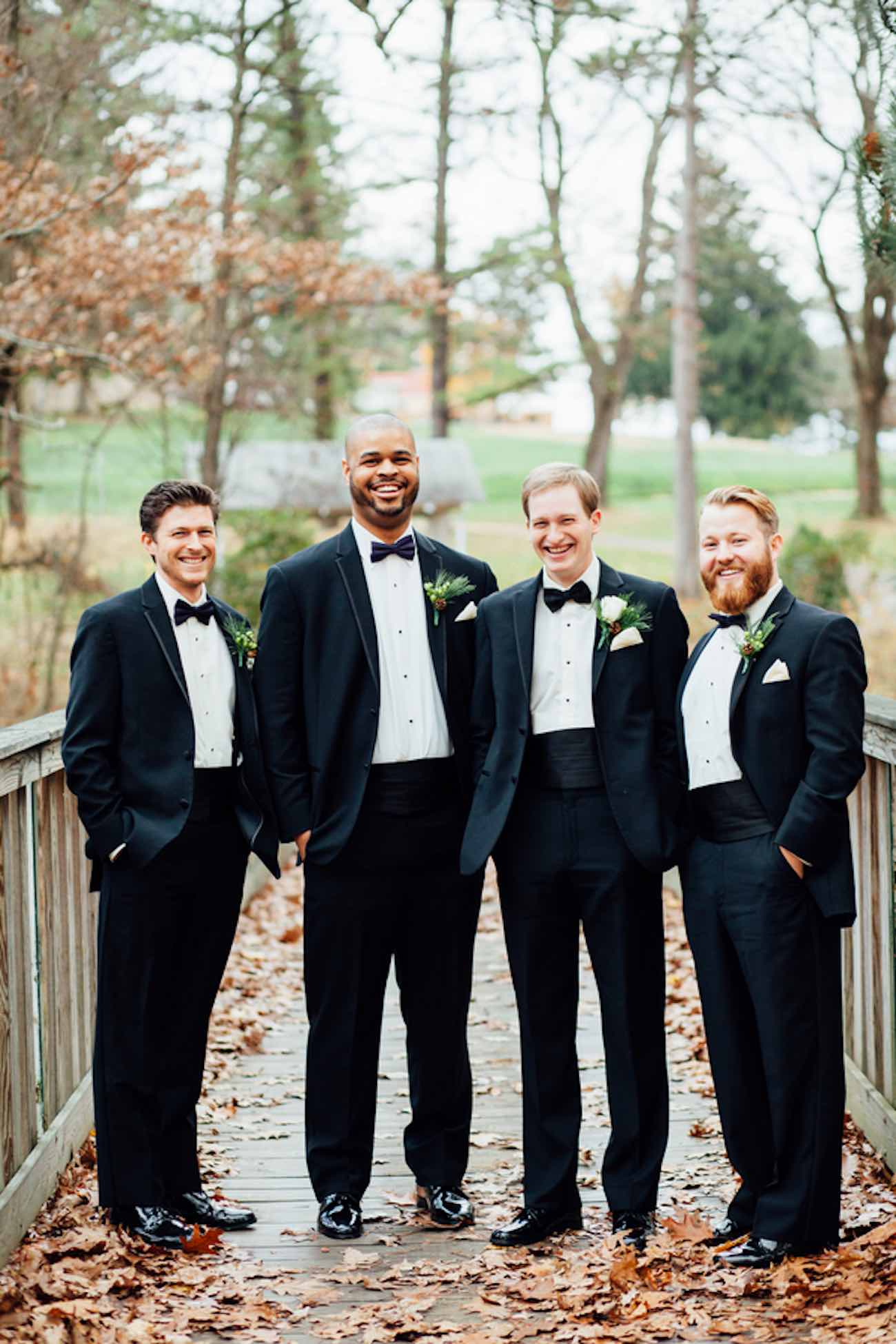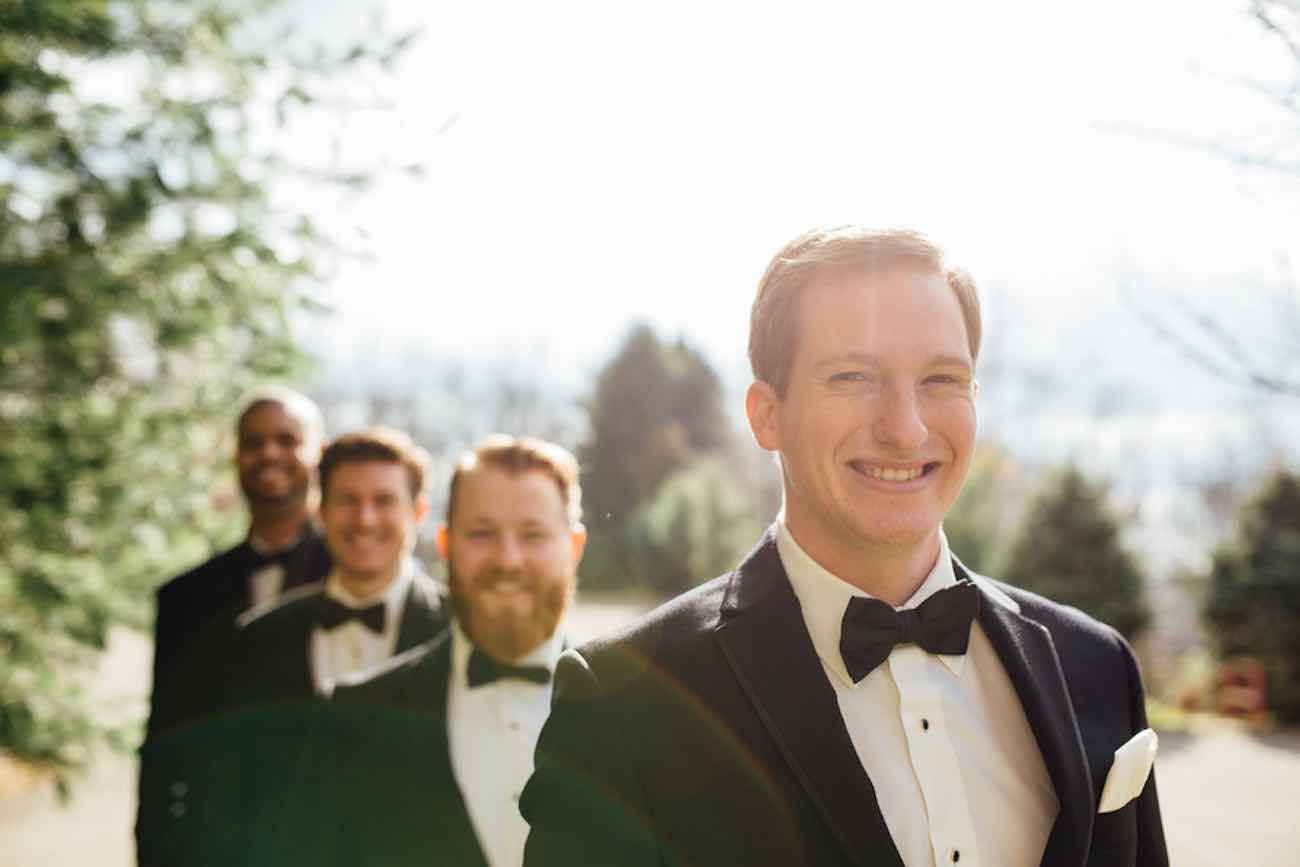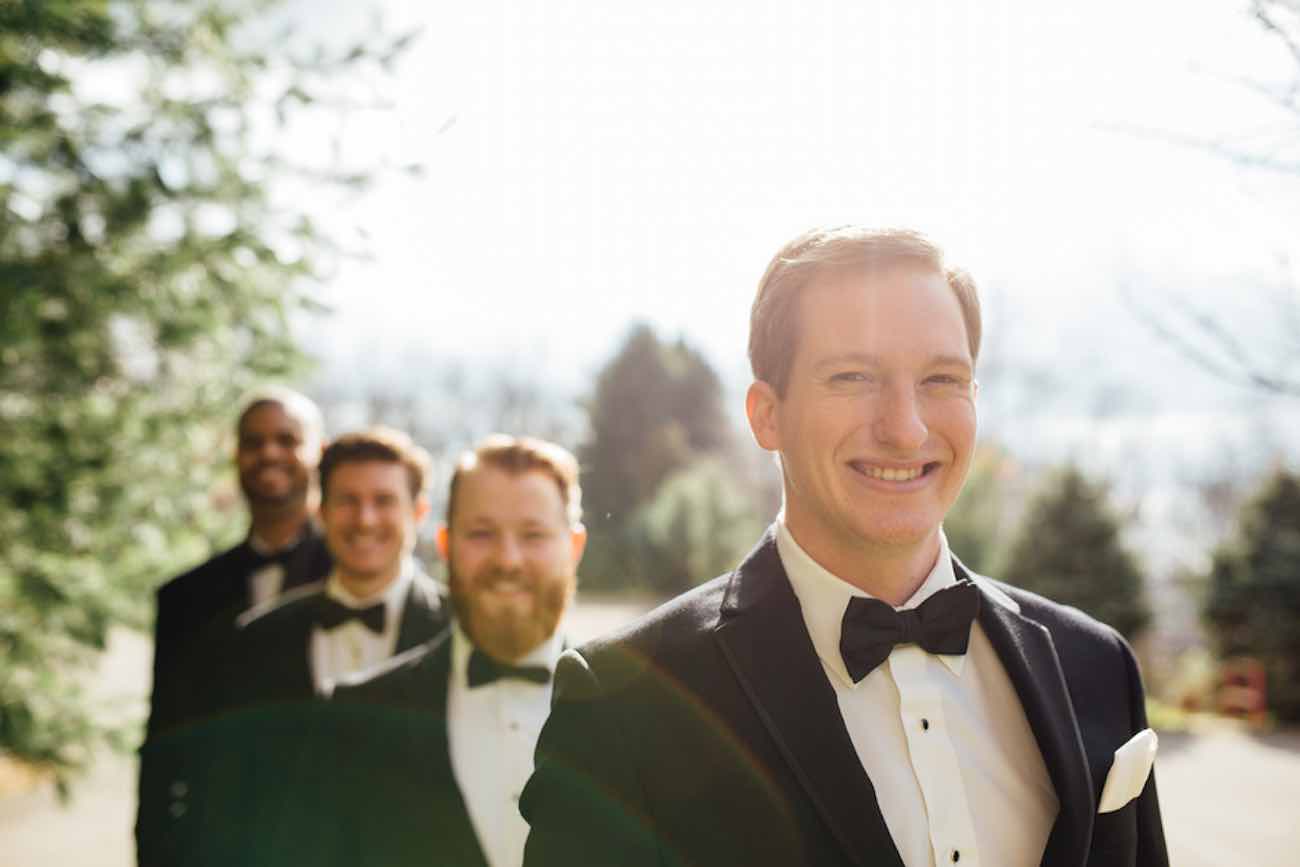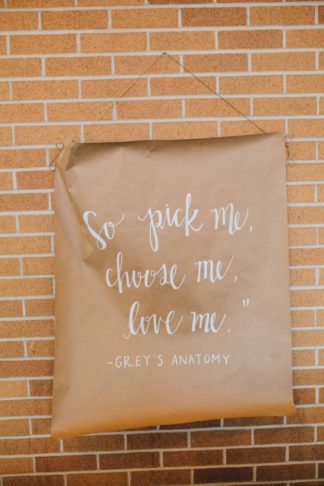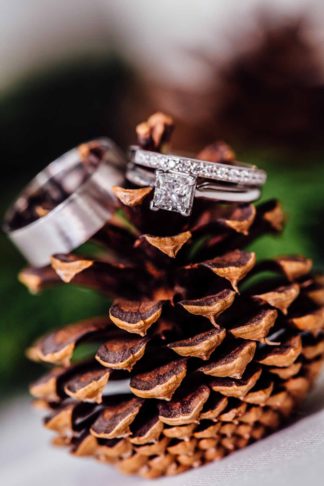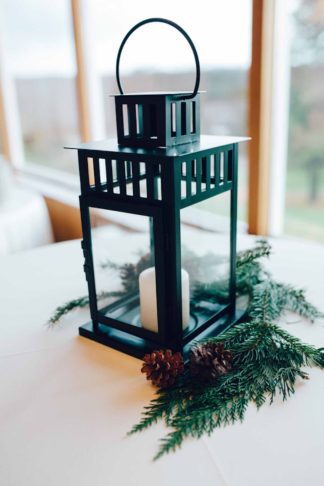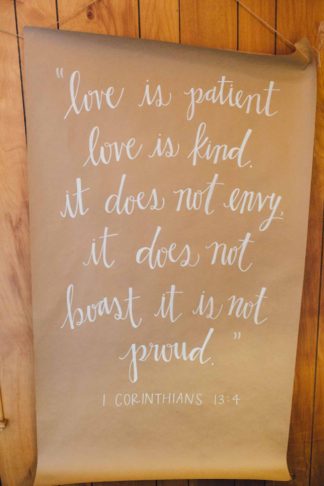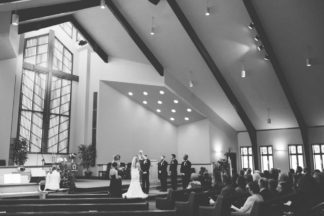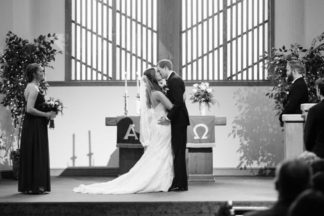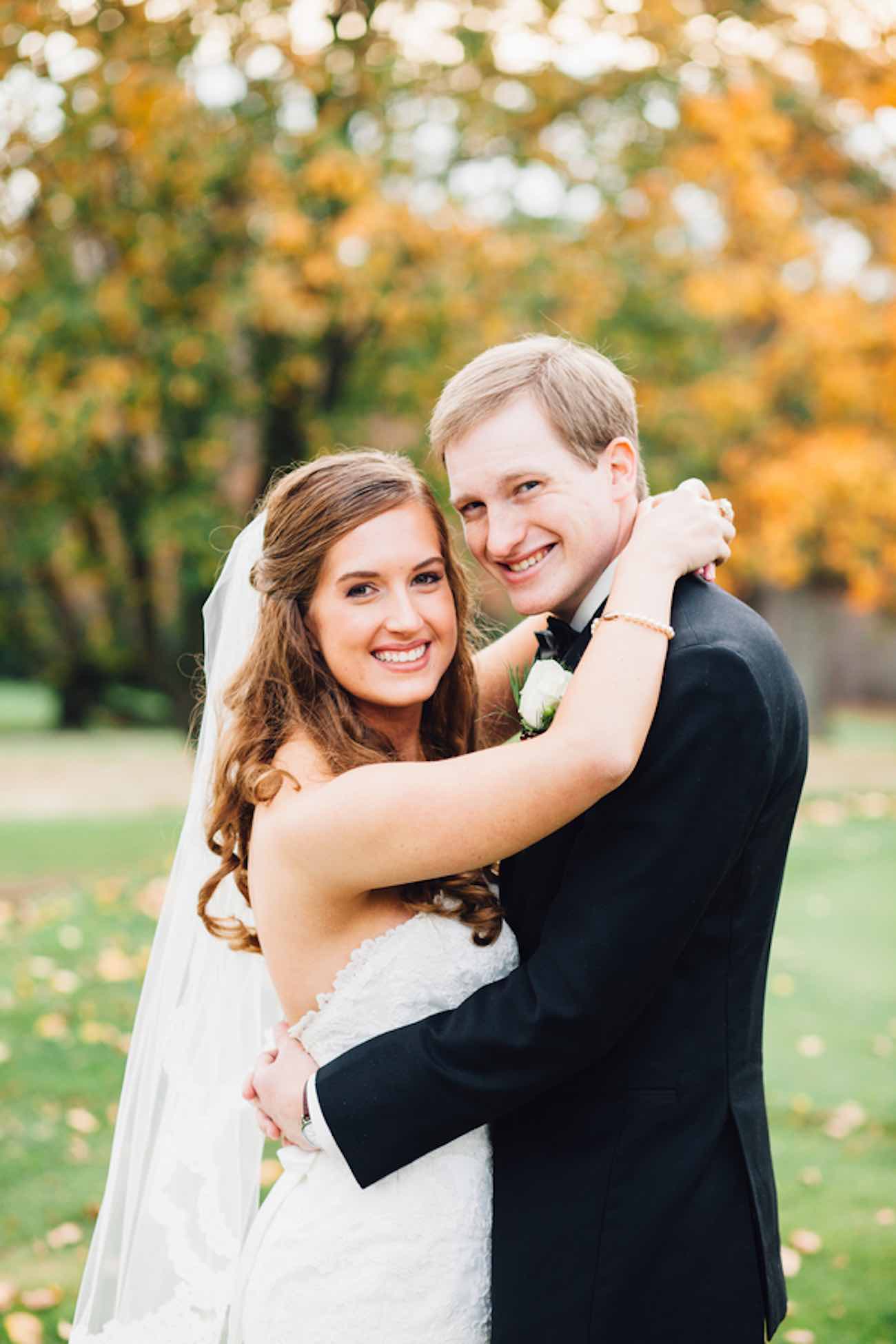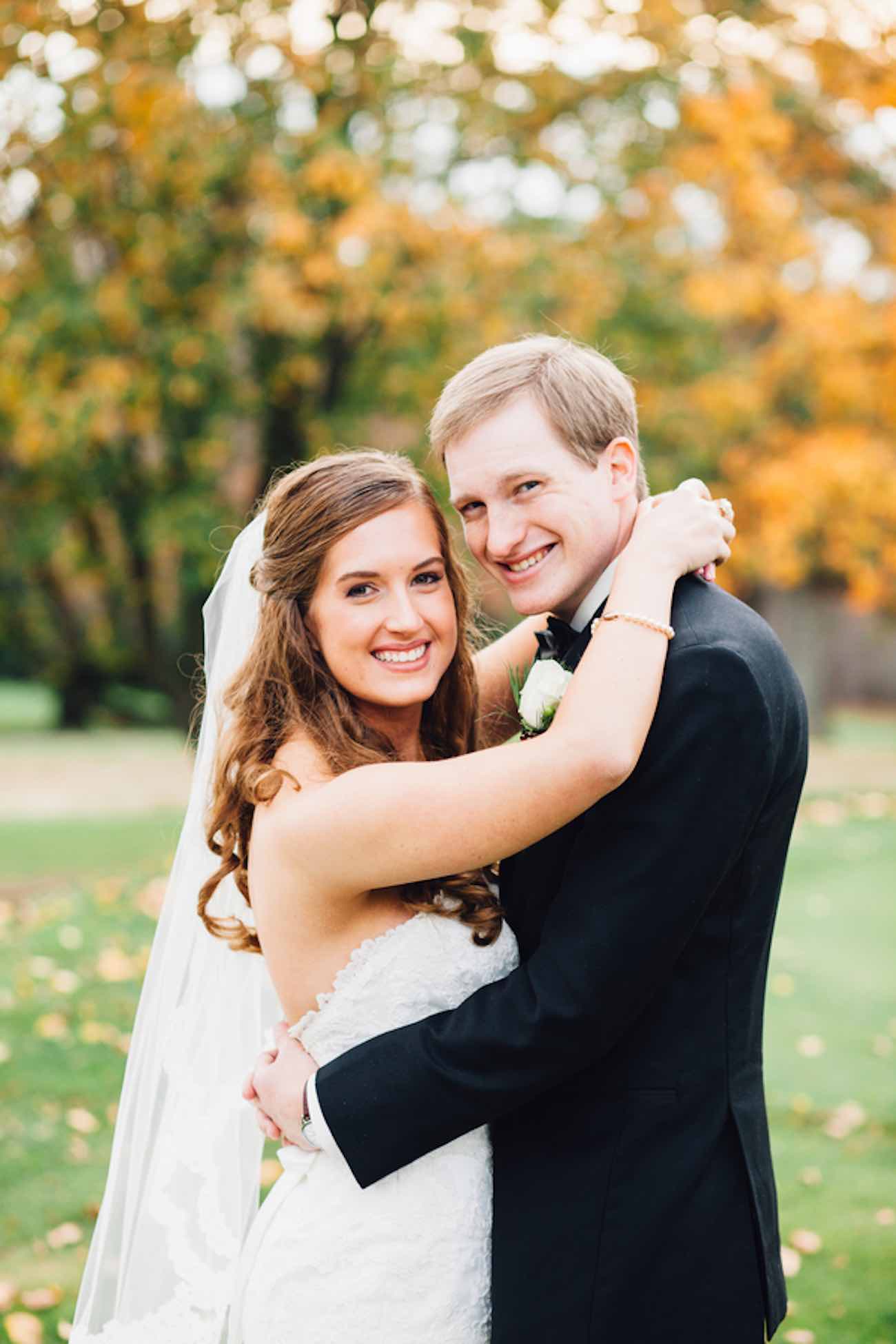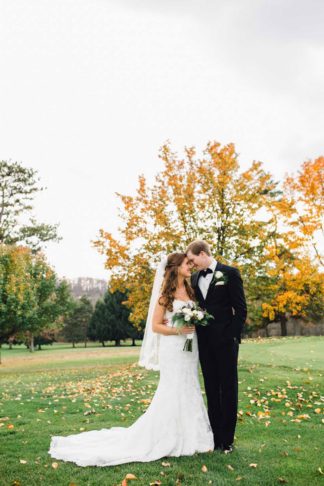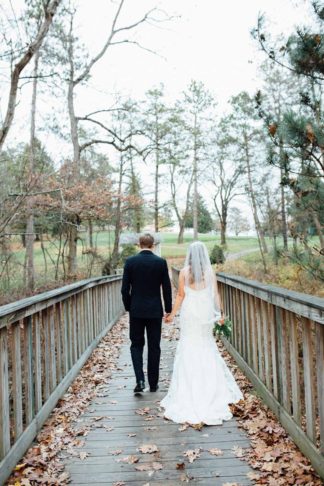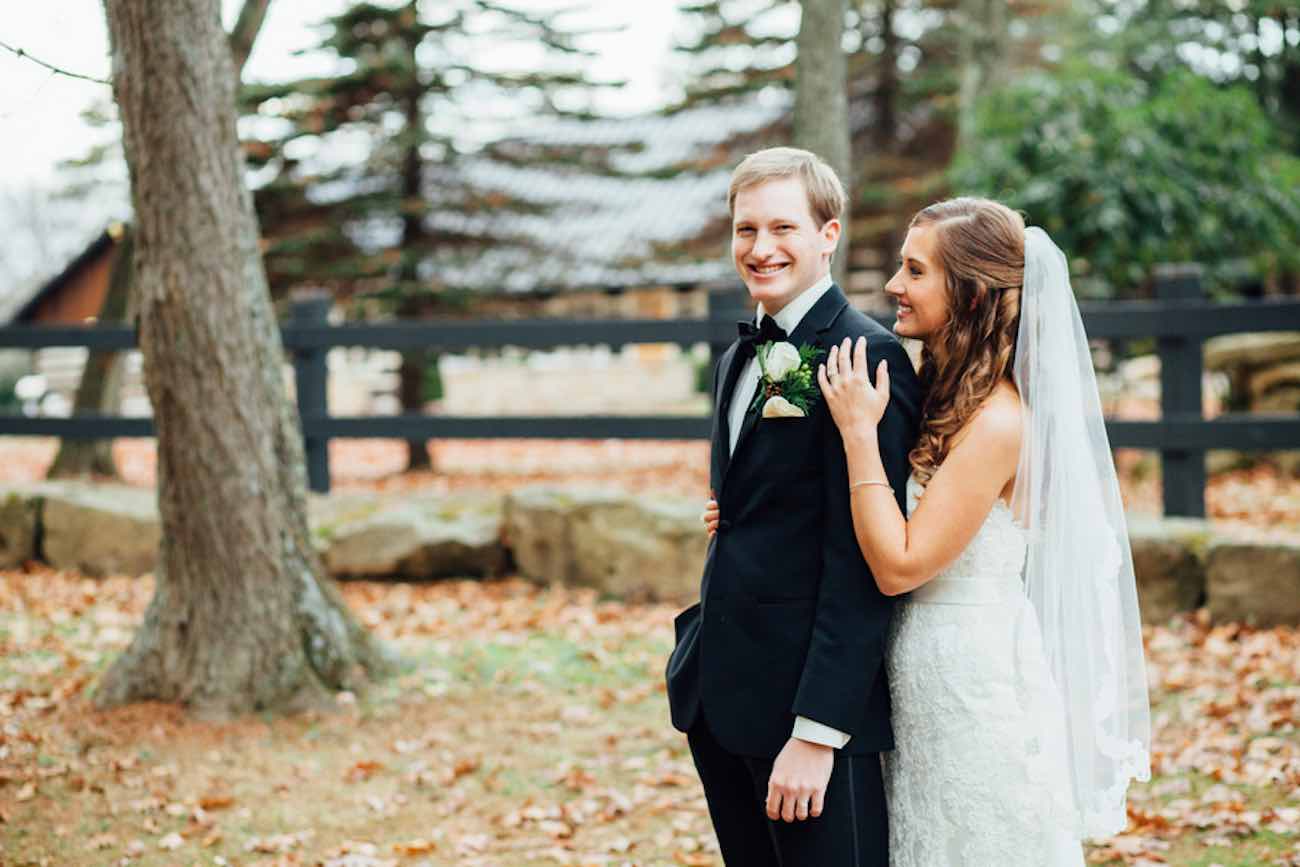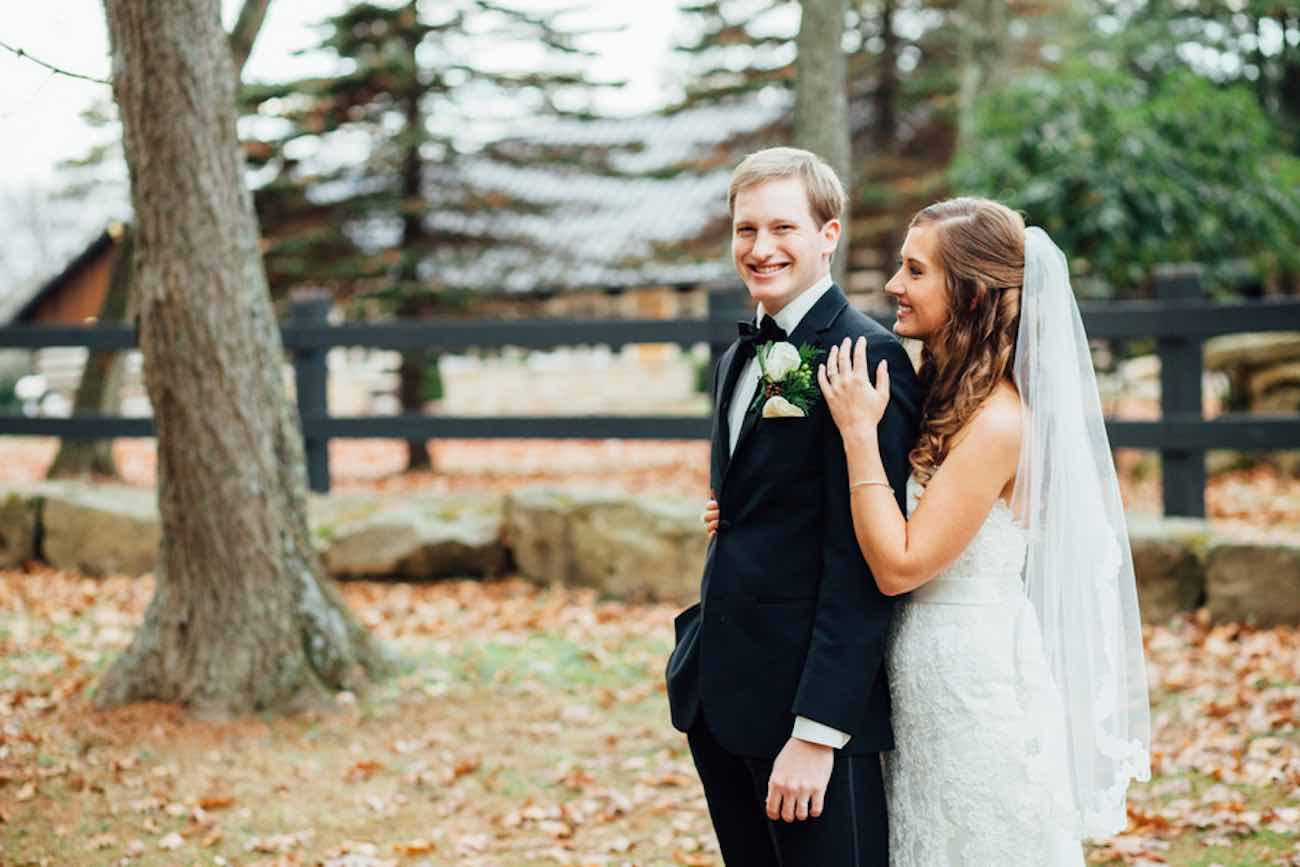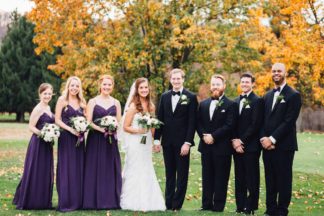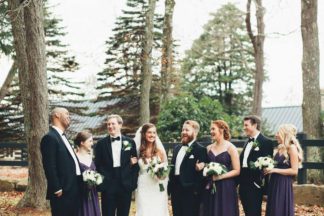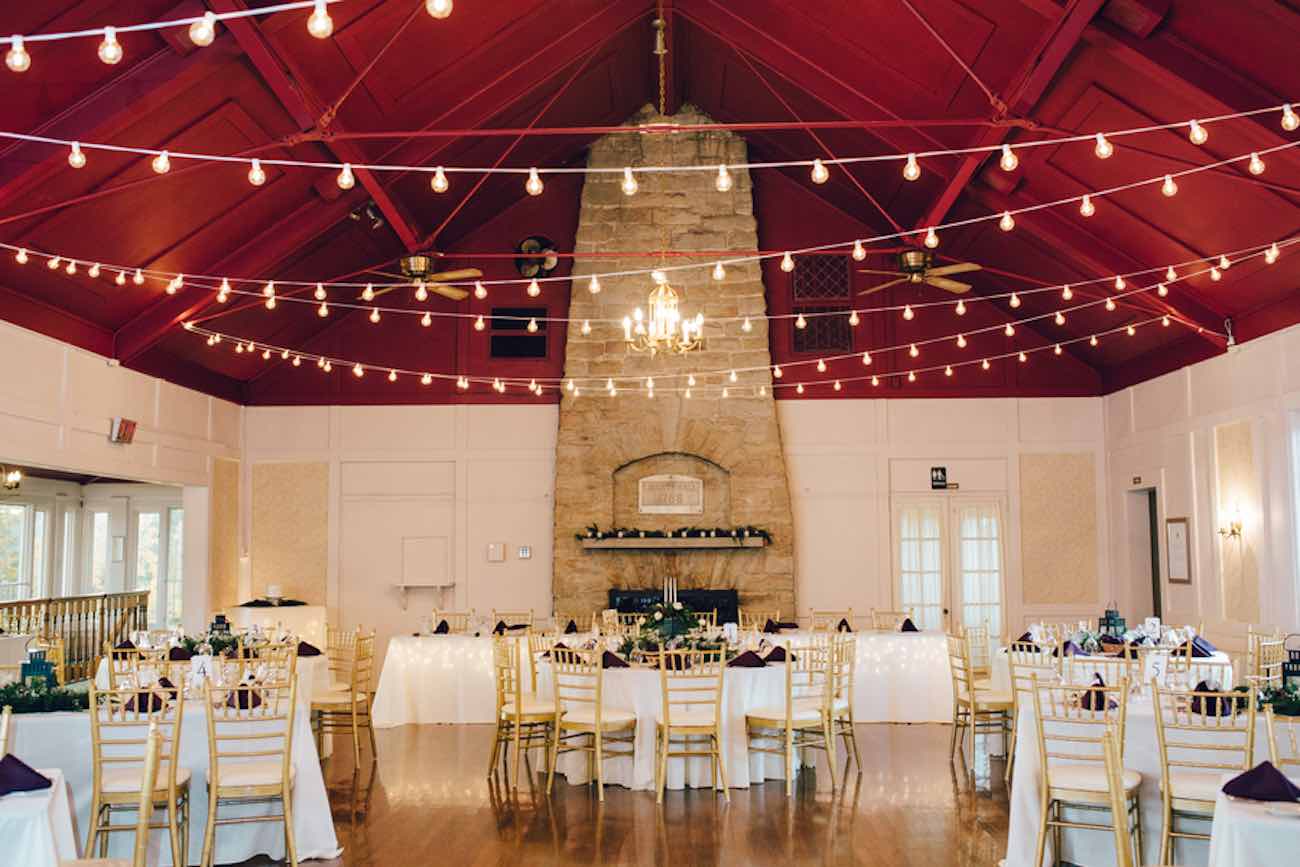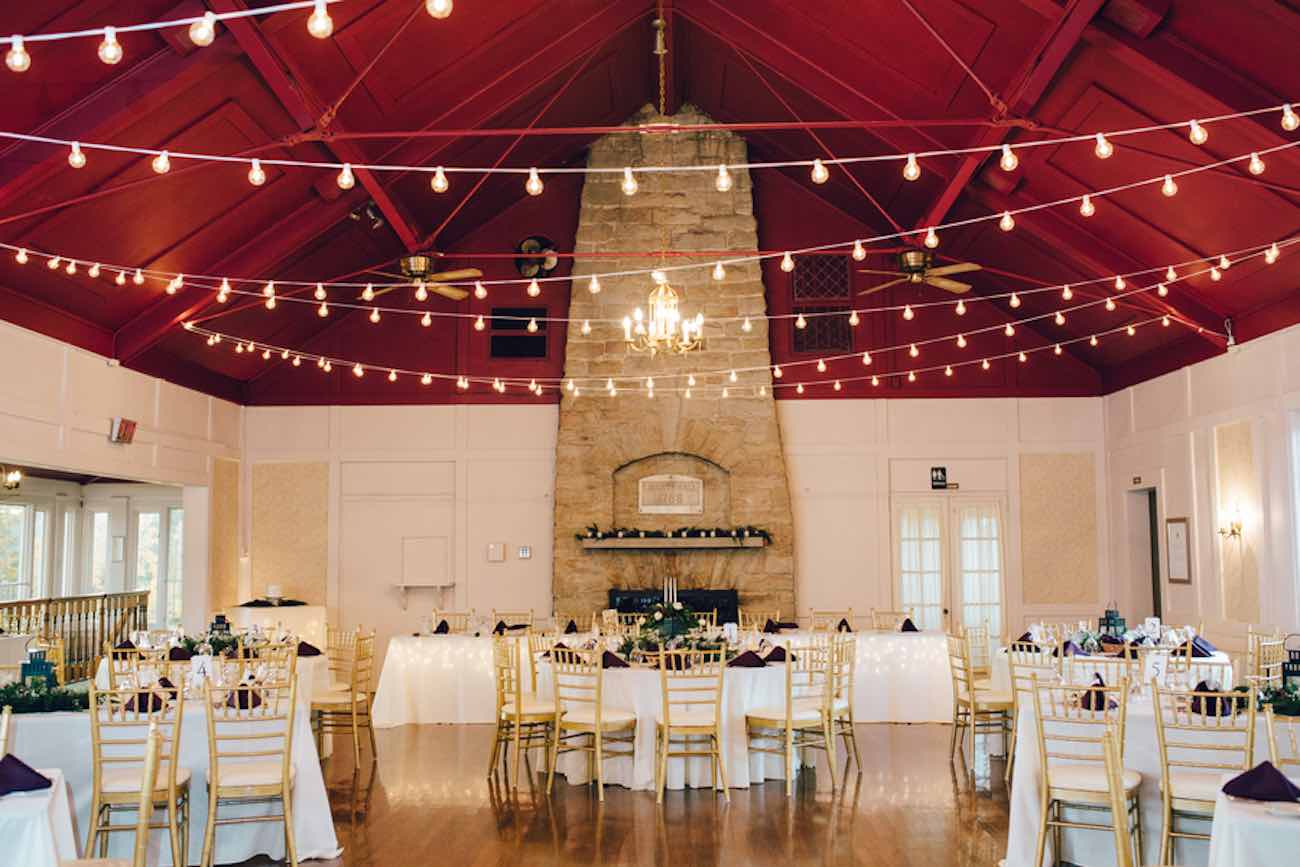 "On the tables at the reception, we had pine wreaths, baby's breath, and black lanterns as the centerpieces. We had cafe lighting across the ballroom."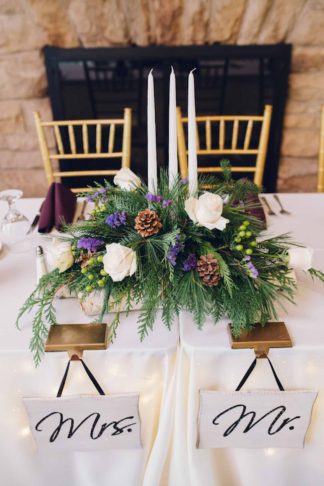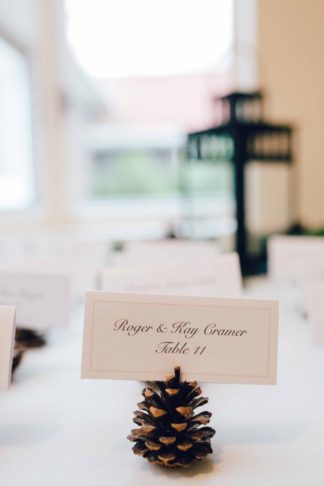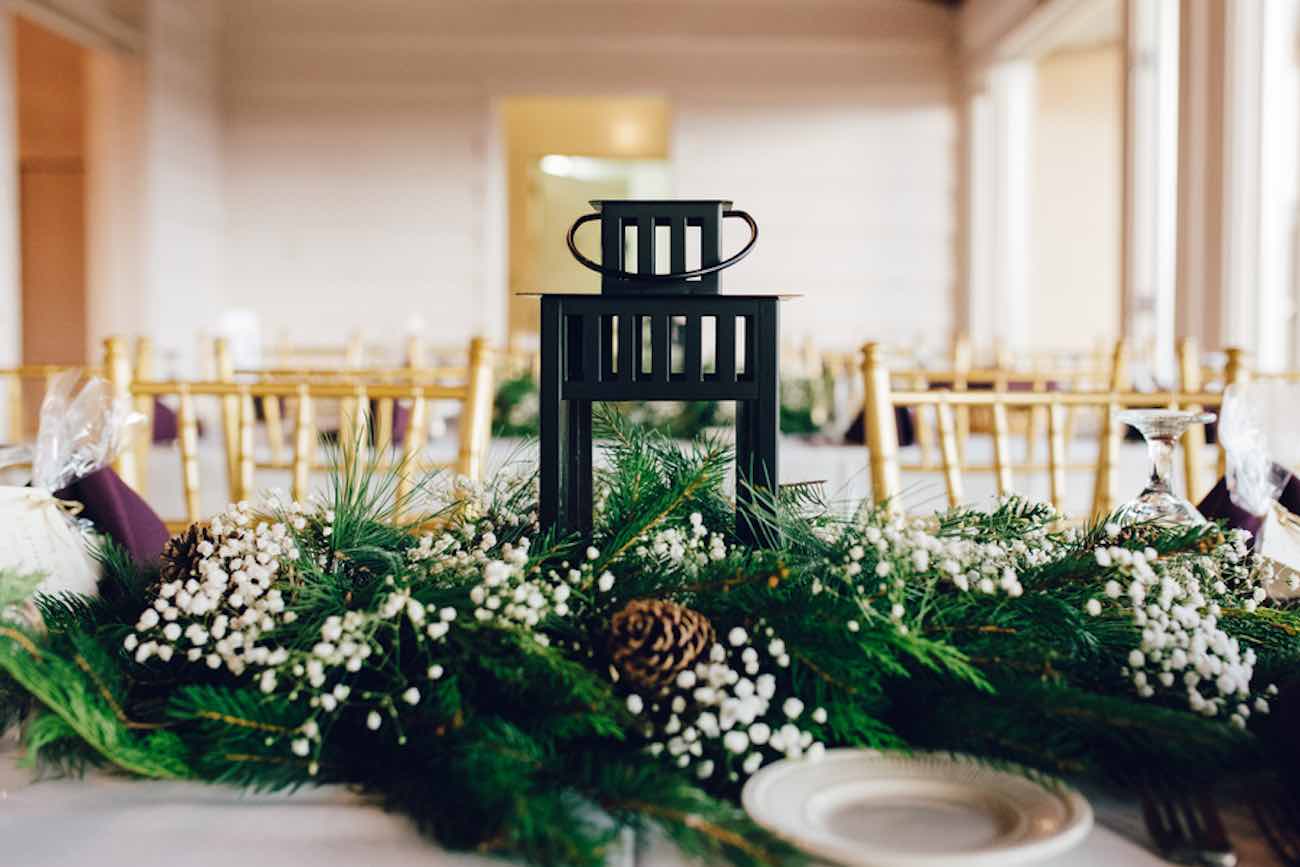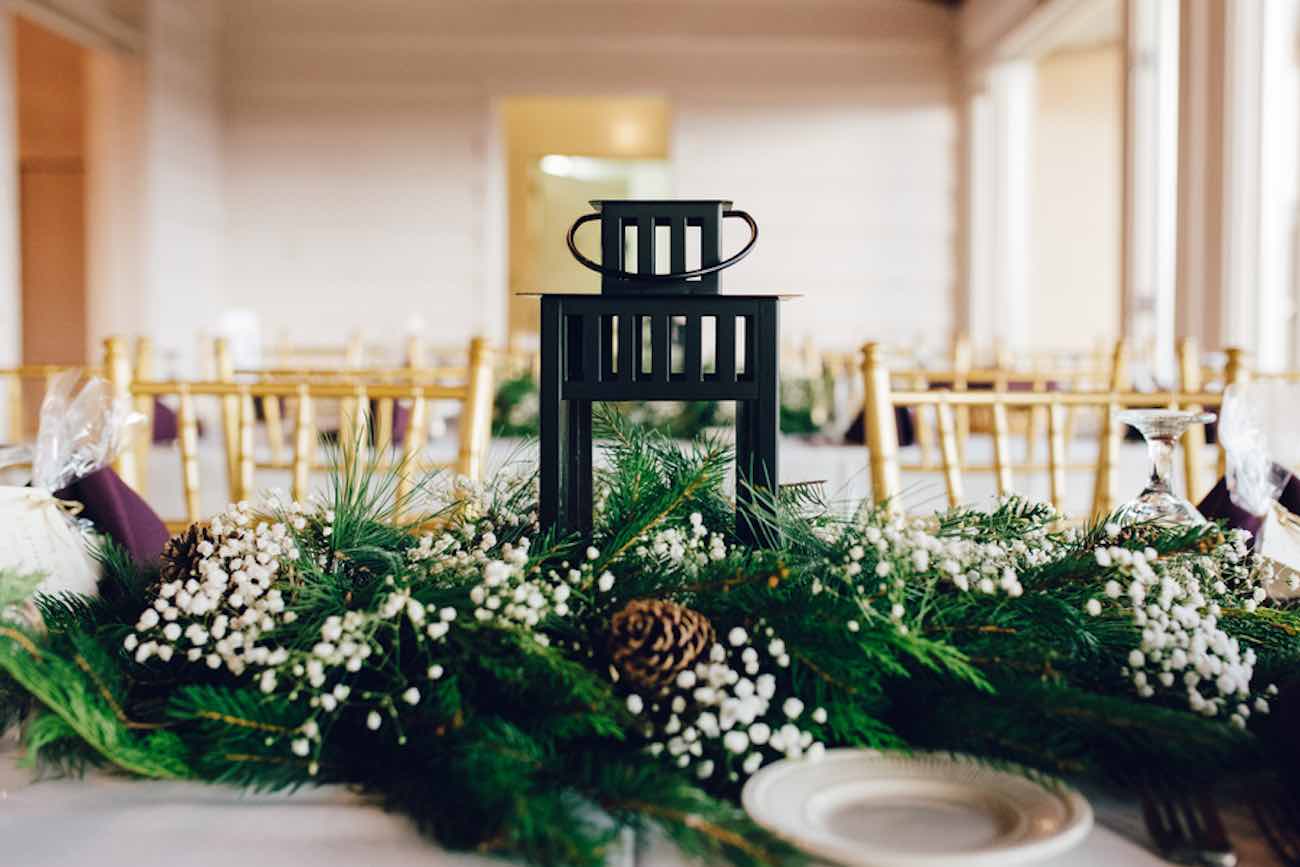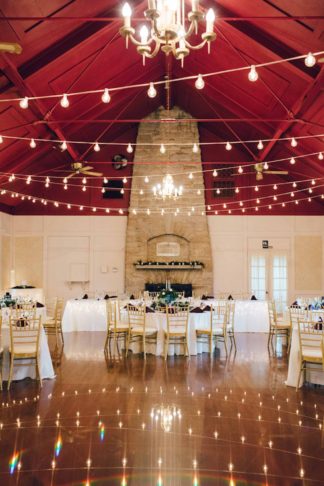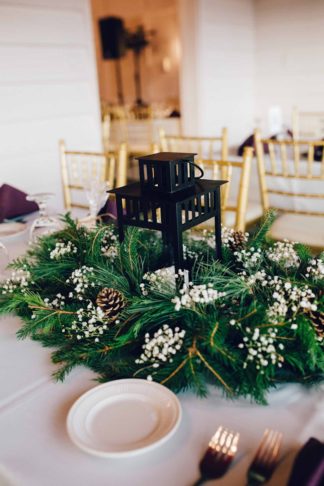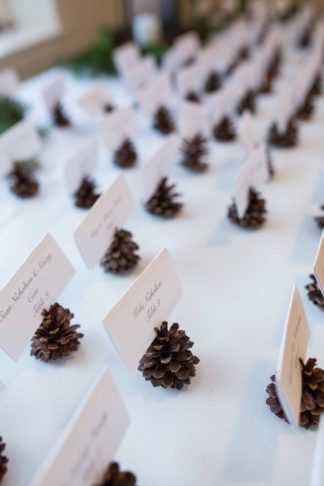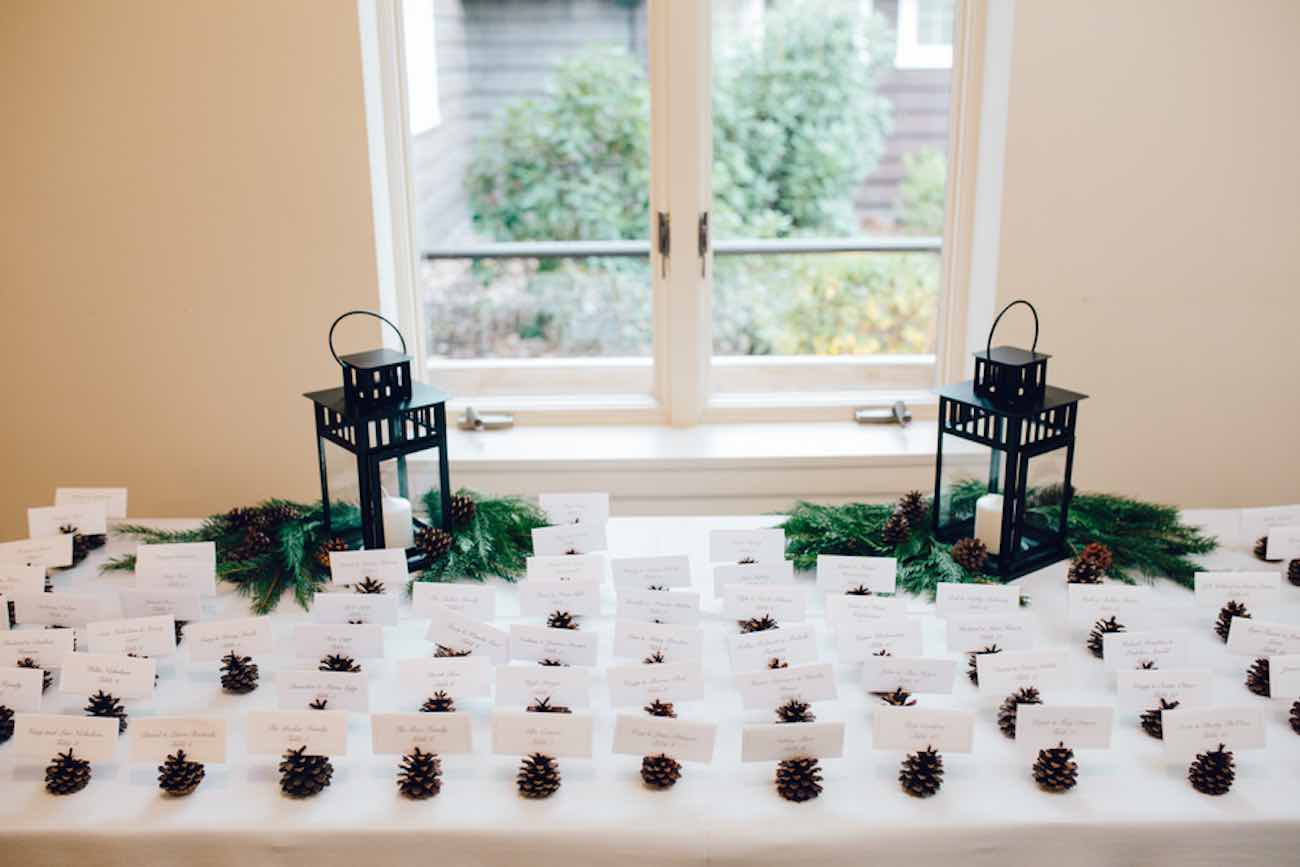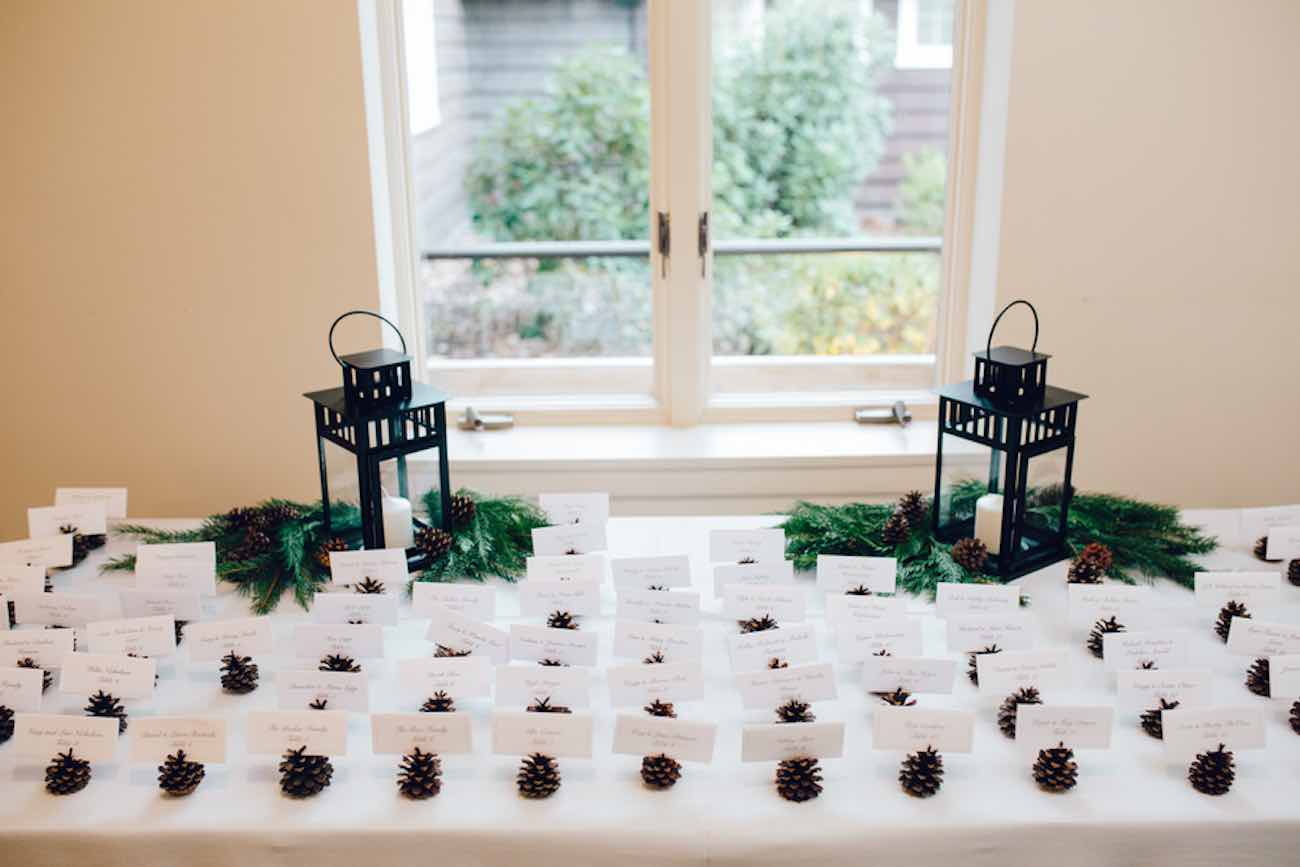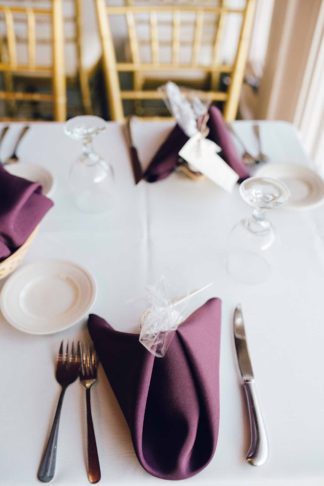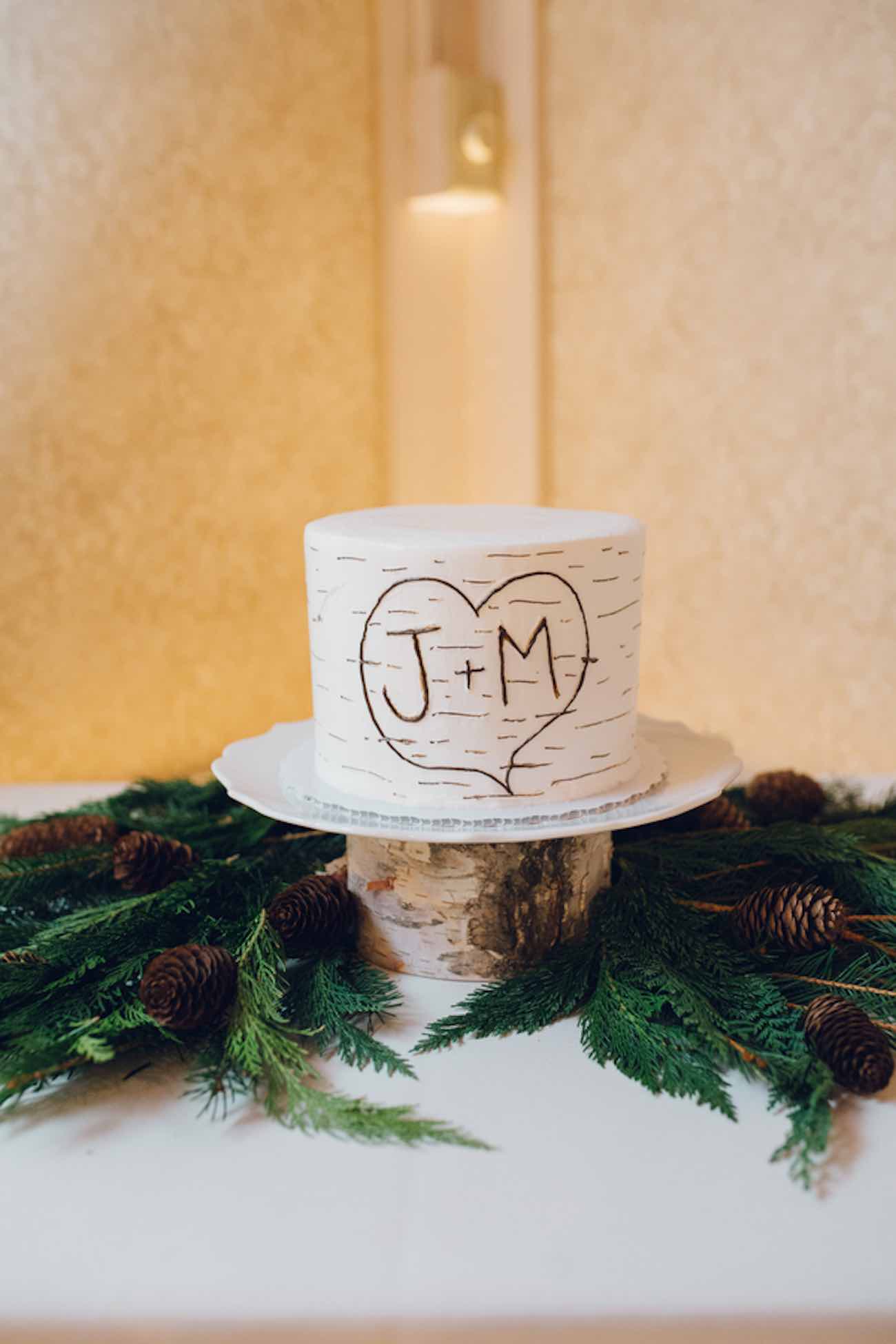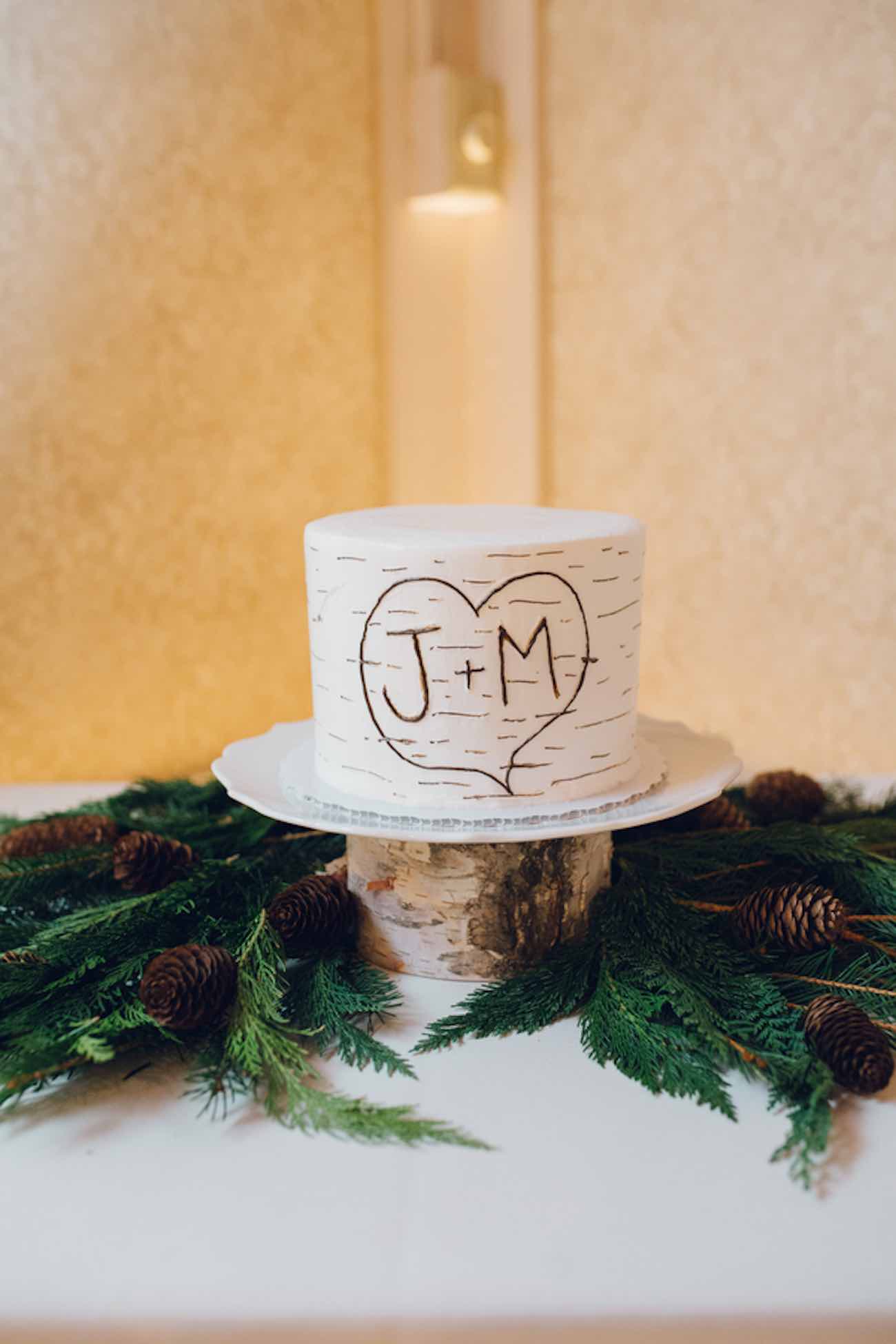 "We served pie instead of cake and had a small cake to cut that was decorated to look like a white birch stump. It had our initials carved into it."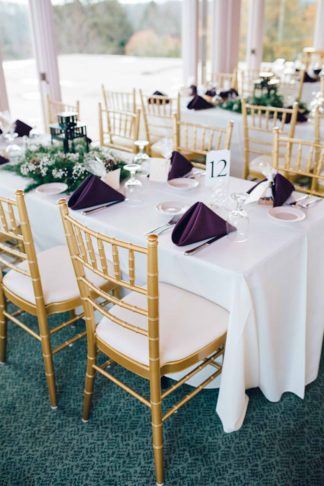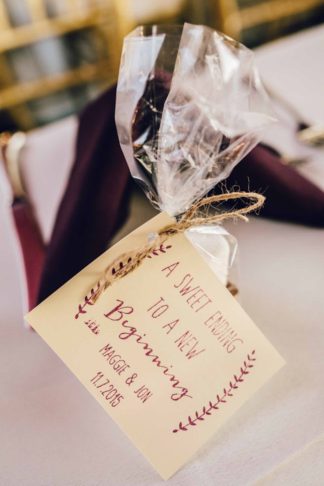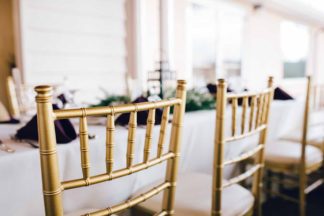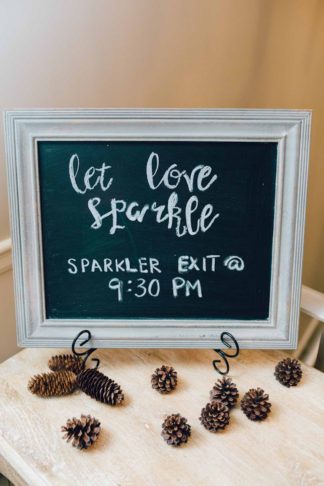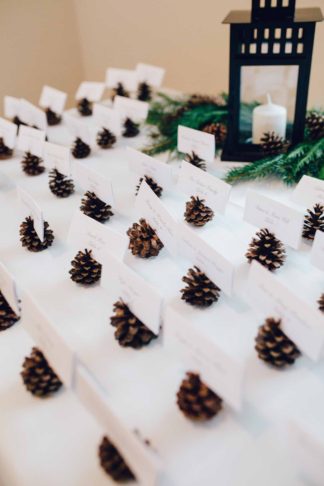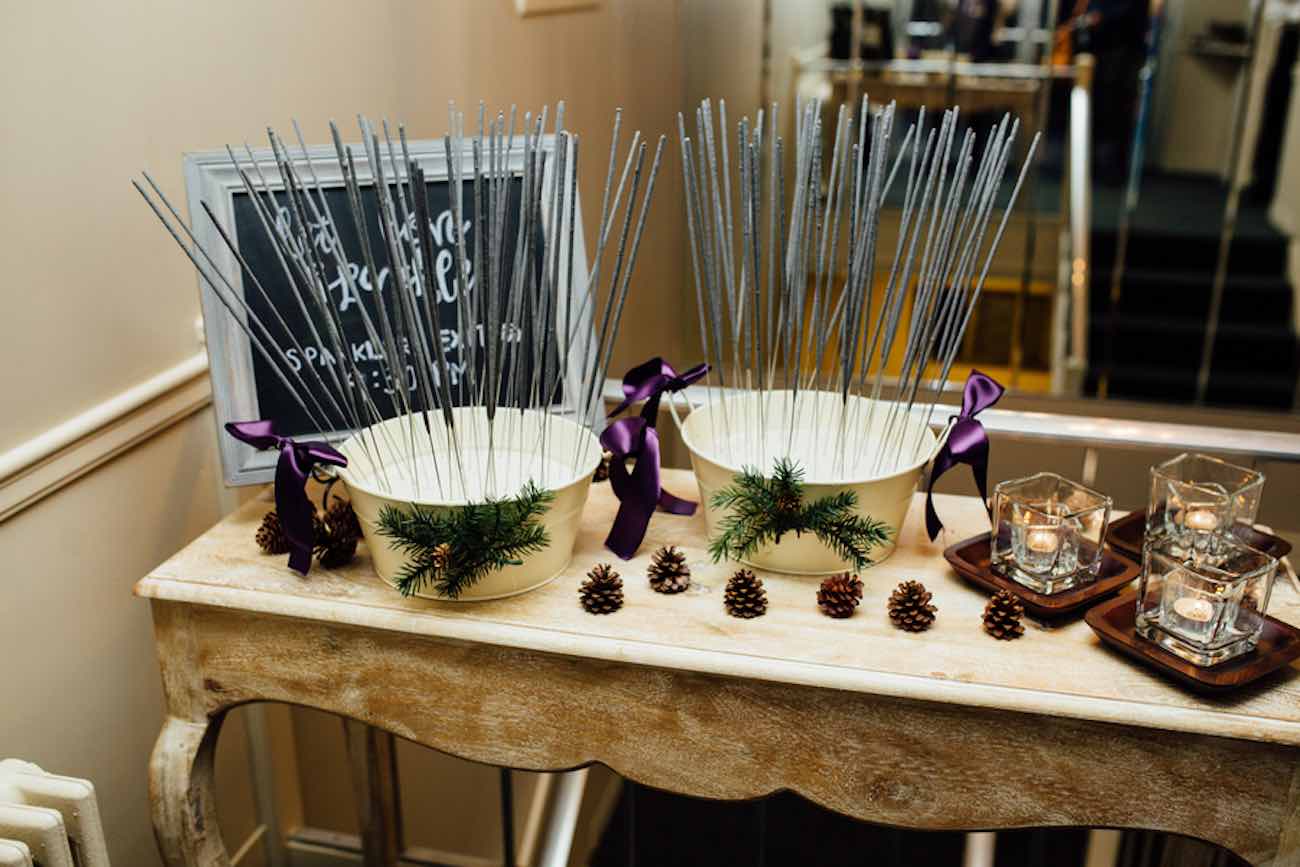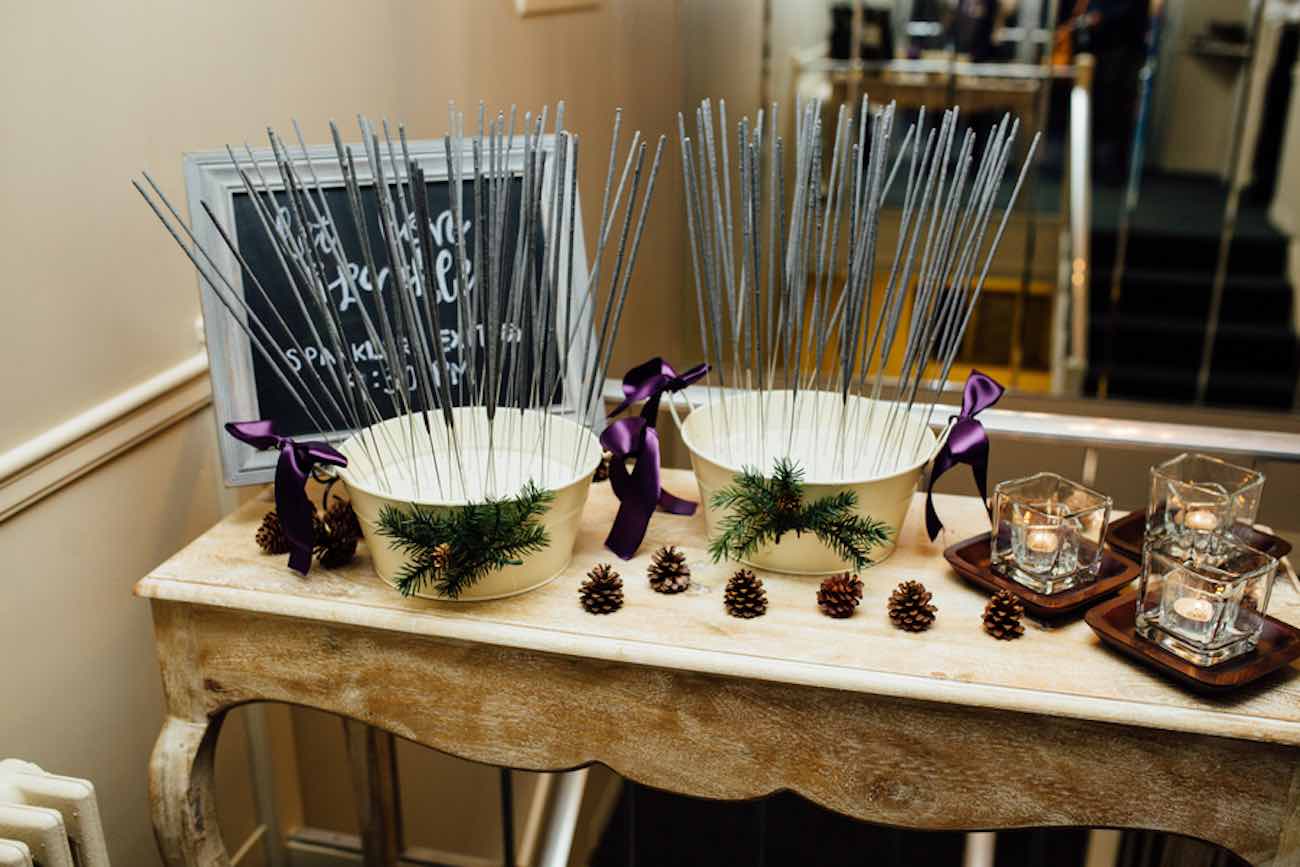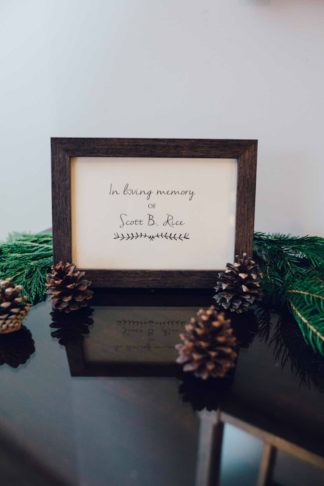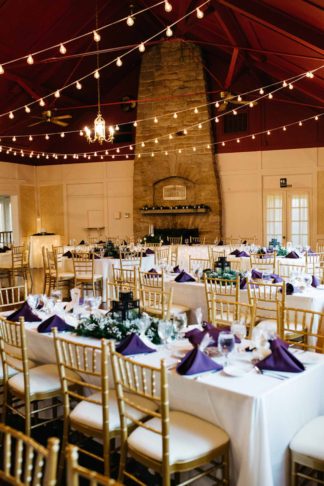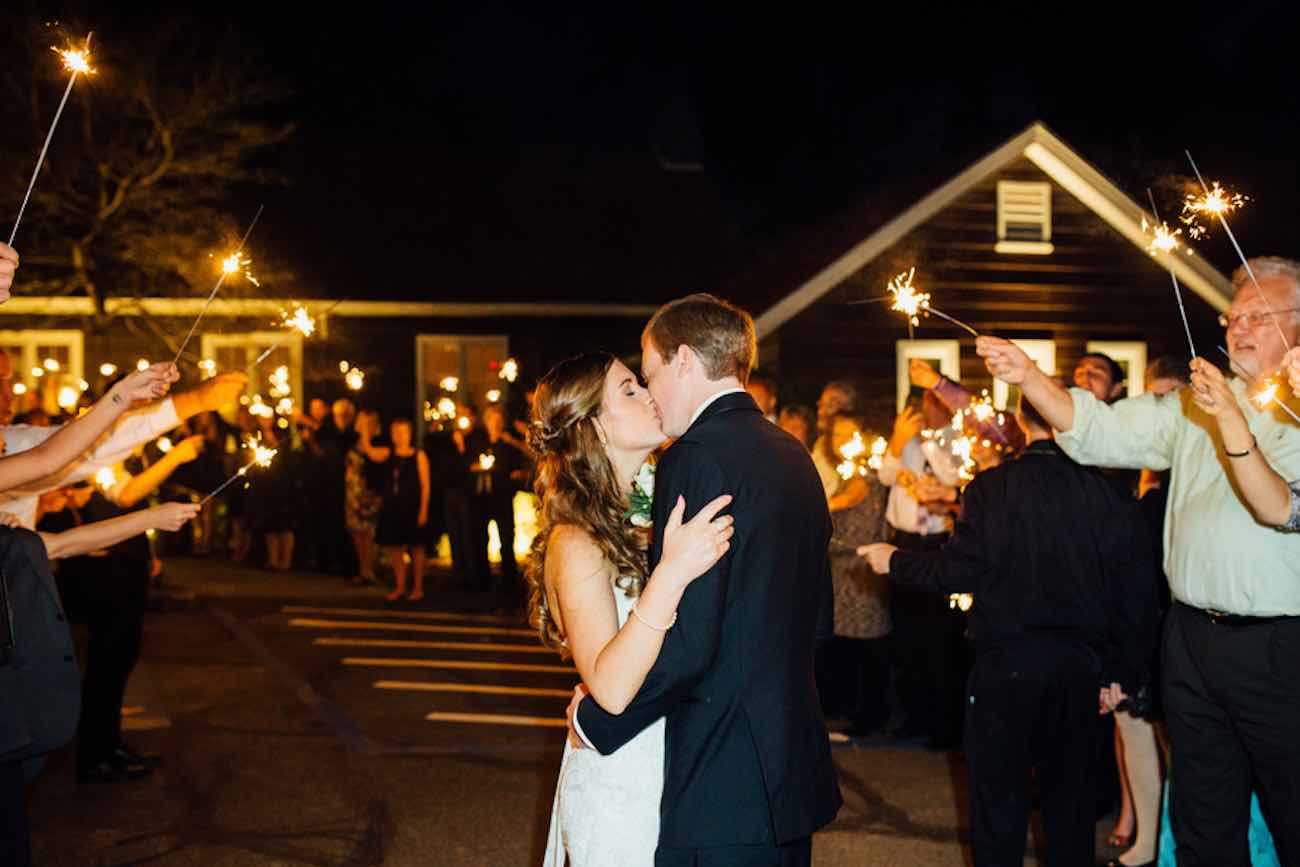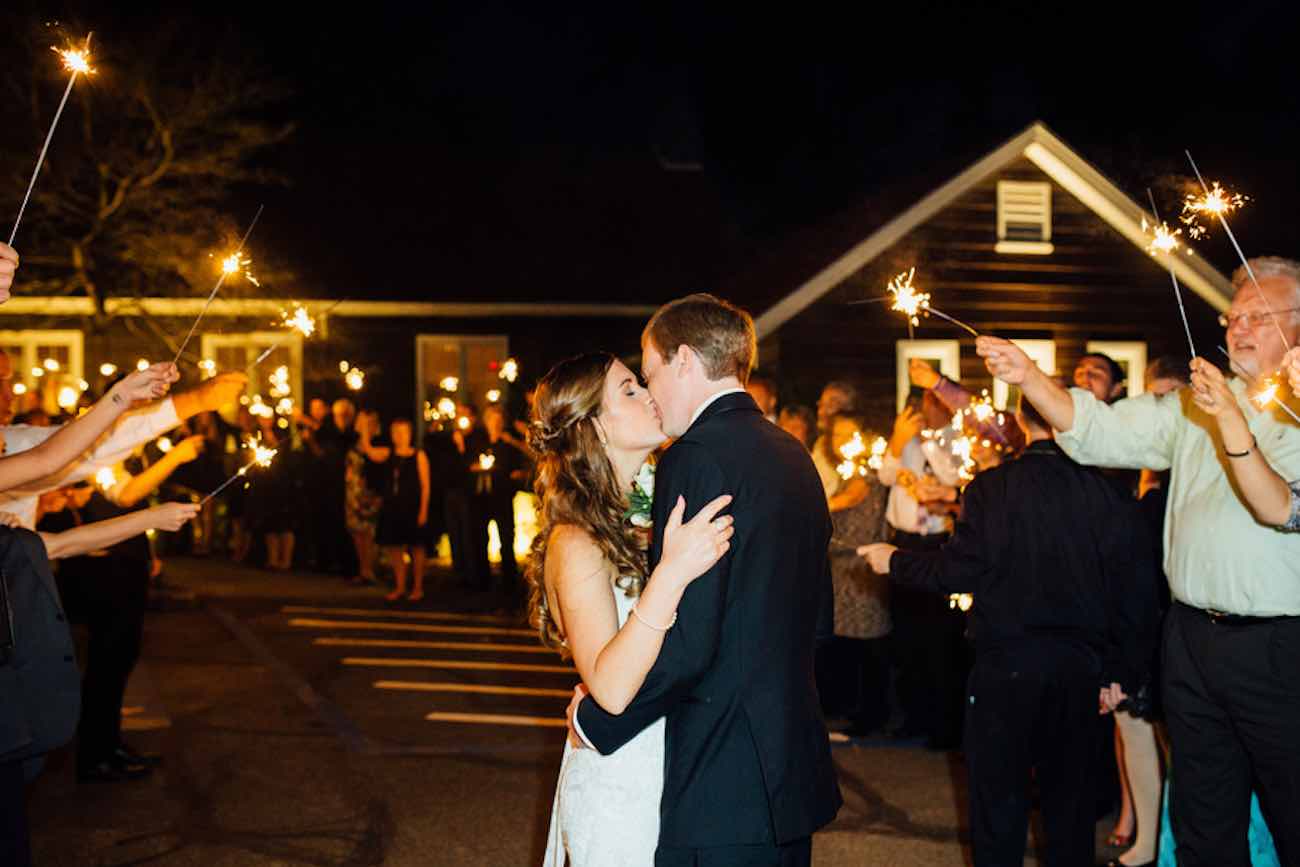 Woodsy Wedding in Purple and Green
Love Story: Jon and I met when we were in elementary school at church. We have grown up together, and our families have always been friends. We really got to know each other in middle school and high school, and dated a few times off and on throughout high school. We started dating seriously in June 2010, and were in a long-distance relationship for five years as we were both in college 10 hours apart. Although it was a struggle to be so far apart, it really made us stronger and makes being together that much sweeter!
Wedding Dress: My dress was all-lace, strapless, with a sweetheart neckline. It was a fit and flare style, which was form-fitting while still being tasteful.
Wedding Bouquet: My bouquets were inspired by posts I saw on Pinterest. My girls' bouquets had hydrangeas in them (my favorite flowers) and mine had some purple as well to match the girls' dresses.
Bridesmaid Attire: The bridesmaids wore long, eggplant purple dresses with spaghetti straps. The ribbons on their bouquets matched the dresses perfectly! The groomsmen wore tuxes with purple bowties to match the girls, suspenders, and cumberbunds.
Groom's Attire: Jon wore a black tux with a black bowtie, suspenders, and a cumberbund.
Wedding Ceremony: My bridal party walked down the aisle to one of my favorite Christian songs: How He Loves by David Crowder Band. I walked down to the traditional wedding march. Jon and I lit a unity candle. We had pine boughs and little white accents tied to the ends of the pews.We had a bouquet of flowers in a white birch vase in memory of Jon's late father on the altar, who passed unexpectedly last September. My cousin Erin read Ecclesiastes 4:9-12, which is one of our favorite verses.
Wedding Planning Advice:
Go with local, small vendors who are personally connected to you somehow! They will go the extra mile for you.
Wedding Vendors