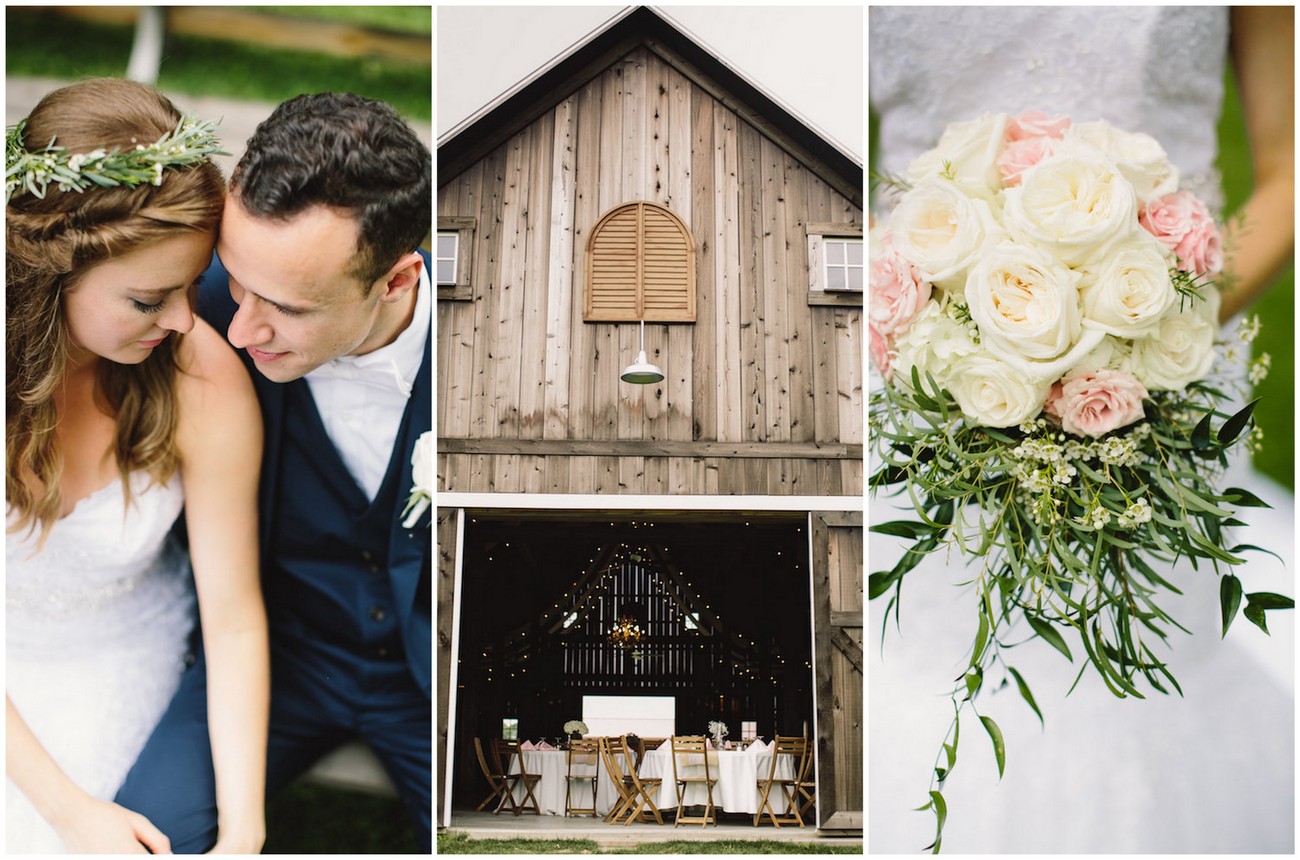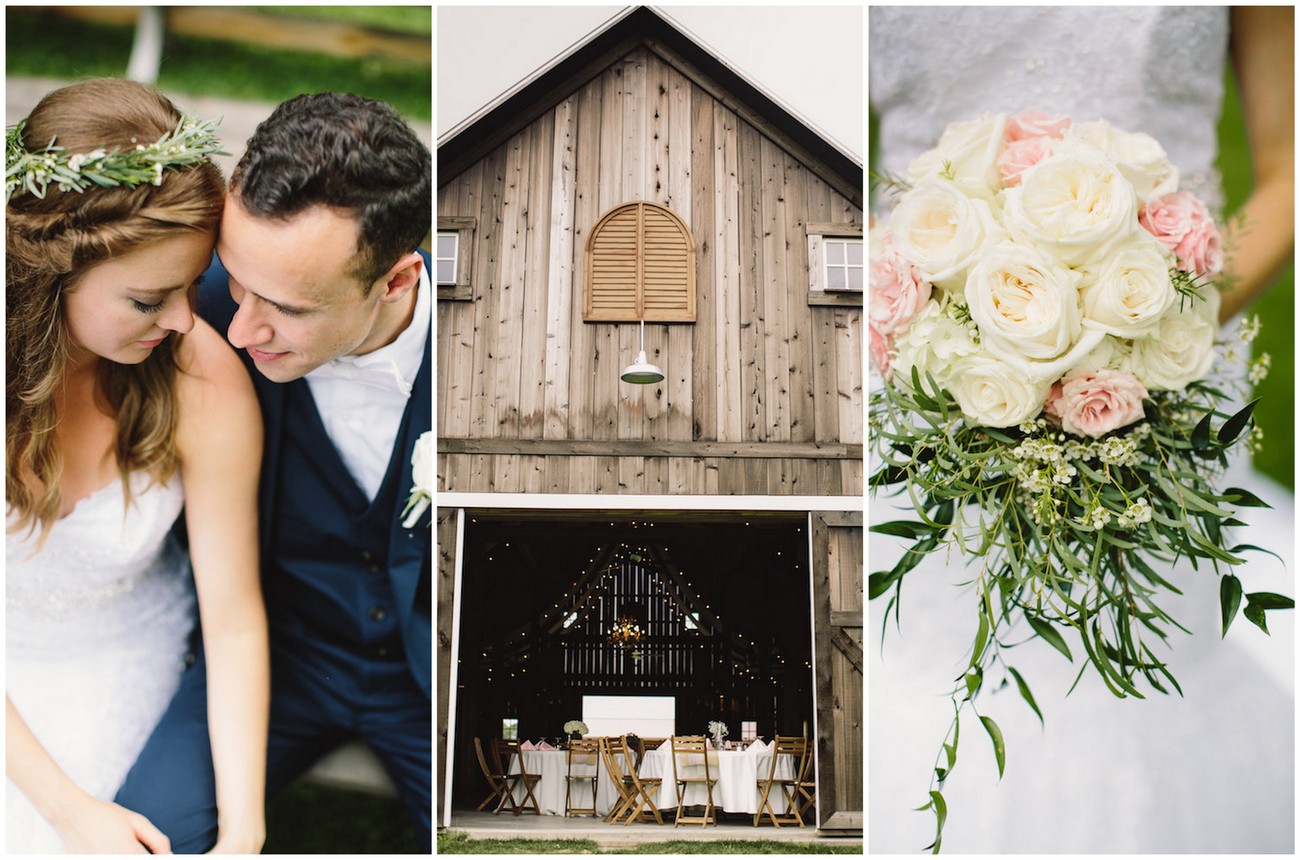 Juan and Lauren's laughter-filled Blush Indiana Barn Wedding is filled with smiles, beautiful details and a touching outdoor garden ceremony with lots of personality! Lauren wanted a very elegant and formal feel to their rustic wedding with the warm, charming touches of a rustic, Indiana summer wedding: "When we found the The Barn at Kennedy Farm it seemed to merry these two ideas together perfectly. It is a chocolate brown and white barn with high, dramatic ceilings and warm bright chandeliers on the interior and it was set in the backdrop of a lush, green field lined with mature trees. It seemed to both my husband and I the perfect spot for us." 
Their wedding colour palette was pale blush and gold, with accents of Admiral blue, grey, and greens. "I picked those colors because I wanted something soft, rustic, and elegant that would match the simplicity and elegance of the barn we were getting married at. The greens came into play with the lush foliage of the barn and the accents of plants I put around the tables. I wanted a touch of rustic charm to the elegant blush and gold around each table."
The way the couple interacted with one another was beautiful and romantic, shares photographer Jennifer Van Elk Photography: "Steve and I had a great time capturing their wedding and reception!"
The reception was beautiful. The couple had a buffet line after the cocktails and appetizers set up around the barn and guests especially loved the fried biscuits and apple butter, you can't have a proper Indiana wedding without those!
Touching Blush Indiana Barn Wedding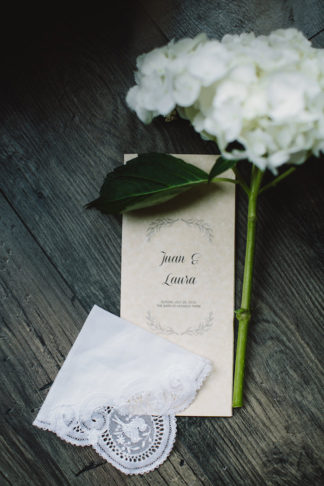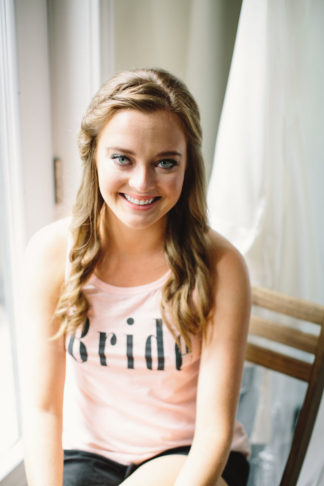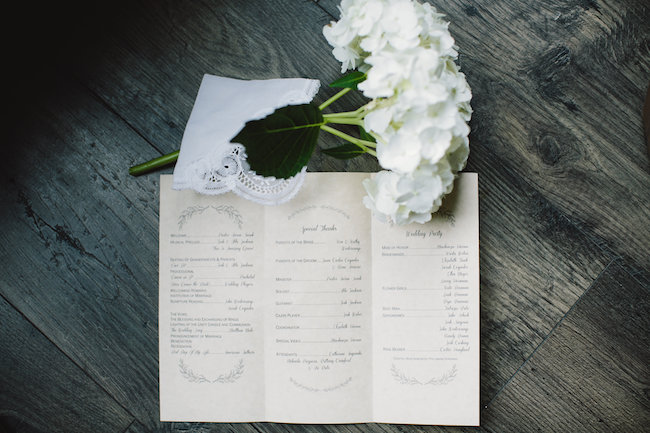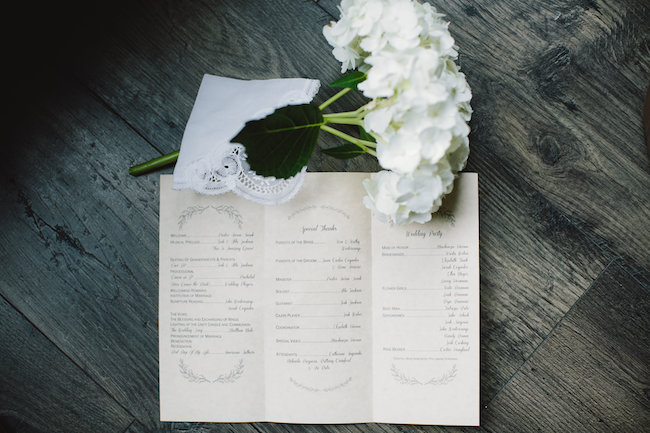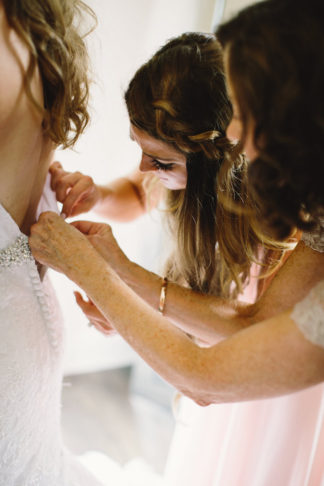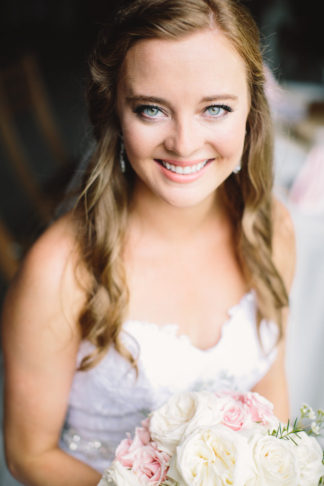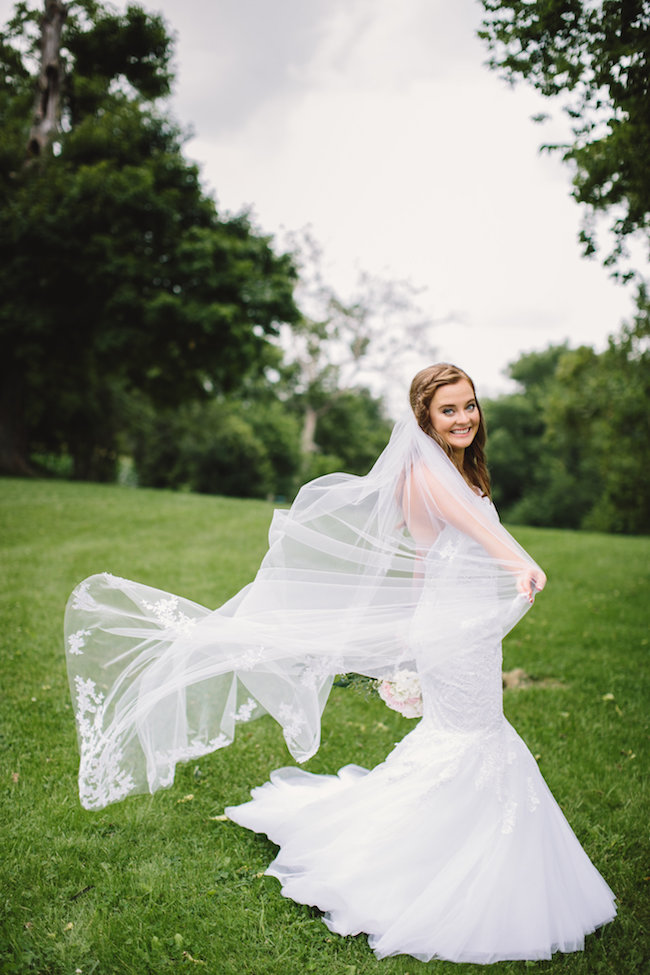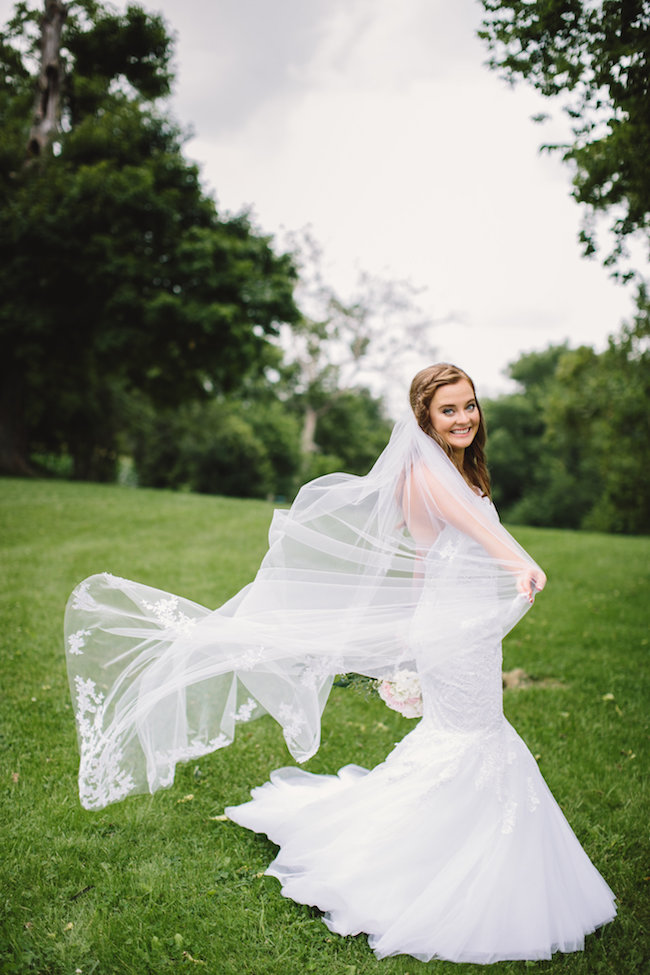 I found my dress at Alfred Angelo. It was a mermaid dress with a long train. The fabrics were a soft lace all the way down and the train was tulle. The rhinestone piece sewn on the front of this dress was exquisite and all the lace had a touch of sparkle sewn into it throughout the entire body of the dress. The sweetheart top had the lace peeping out over the edge so it softened the lines of the top. It hugged my body perfectly, and it had little buttons going all the way down the back.
I had it custom cut so that it was a deeper V in the back – gotta go for the dramatic deep V! I added a floor length veil and the edge of it was a soft lace that matched the fabric of my dress – from the back, it was a very dramatic, elegant look. Exactly what I was going for! I felt gorgeous!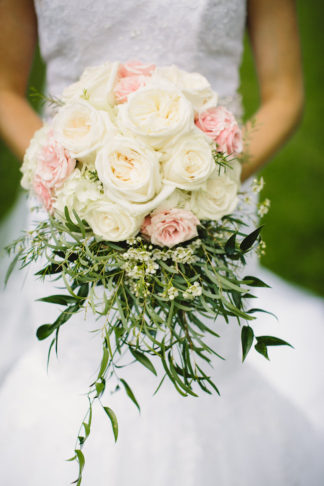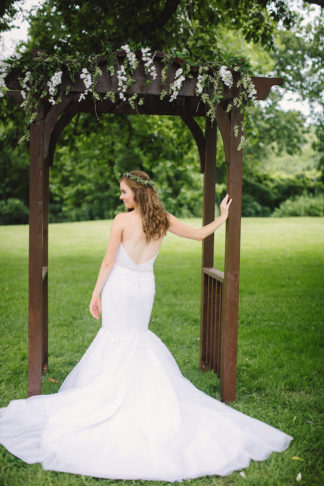 I wanted my bouquet to look natural and elegant, and I really love when bouquets cascade for the bride. I wasn't really sure how they would turn out, and they ended up complimenting the color of the bridesmaids dresses perfectly! There were soft whites, blush, and greens mixed in, and my bridesmaids had an all-white bouquet.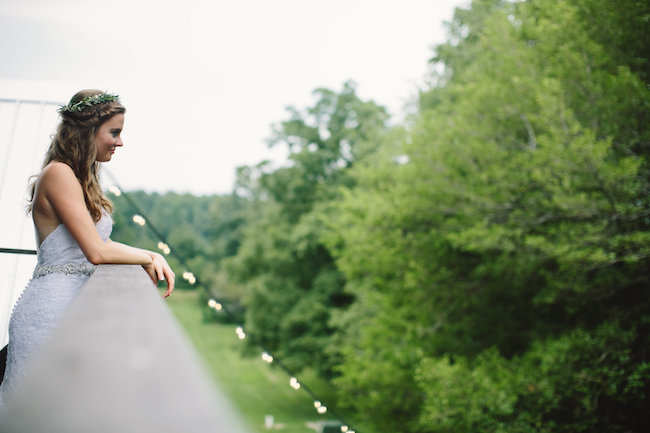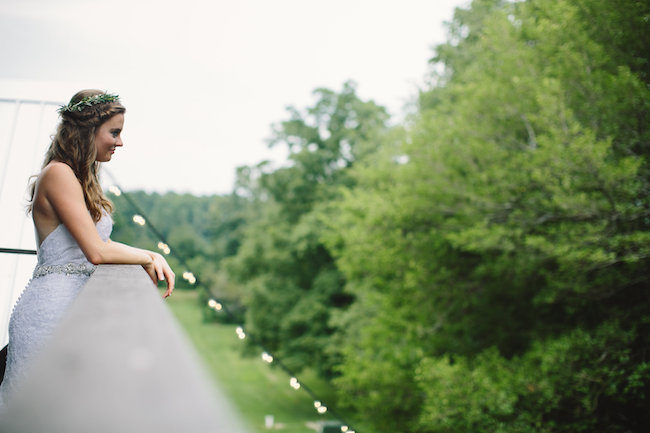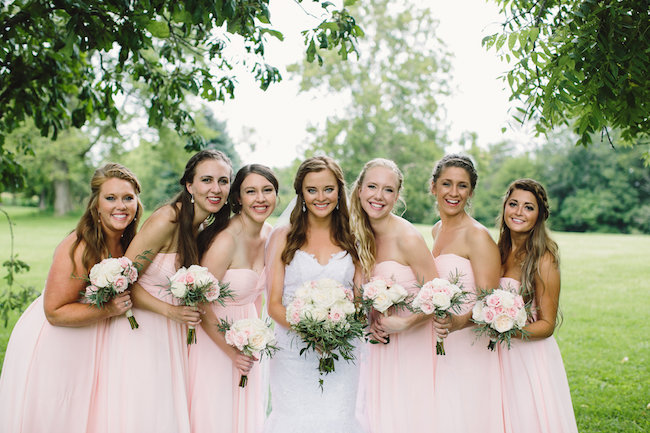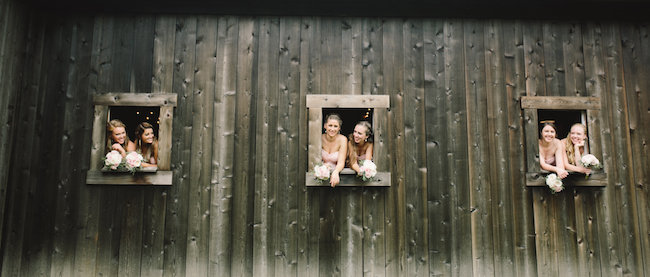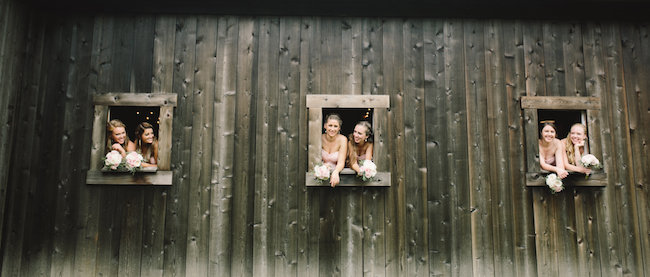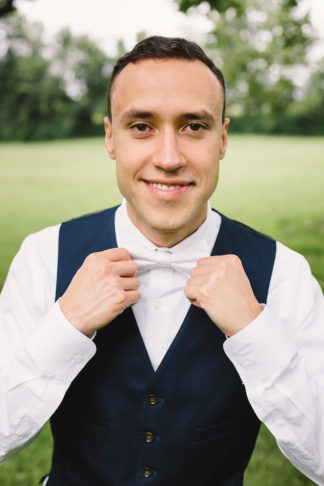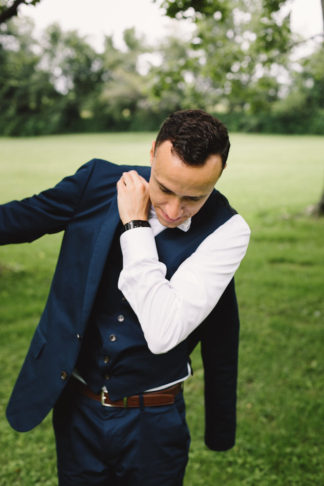 My husband really went all out in picking out his navy J. Crew suit.  He had a white bow tie, white button up, and brown shoes. All the groomsmen got crazy socks, my husband is a character! So all the boys had a different patterned sock to wear on the big day.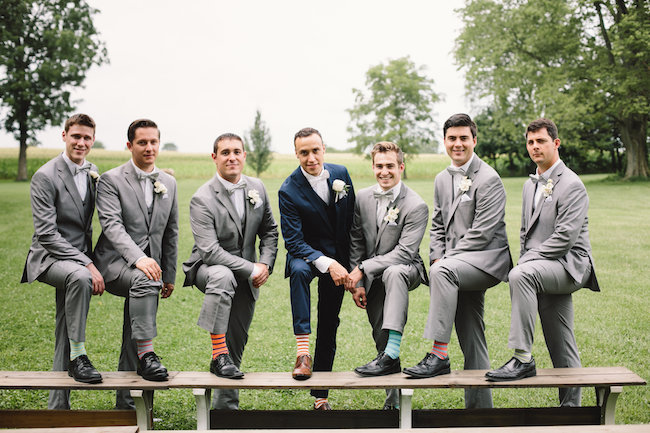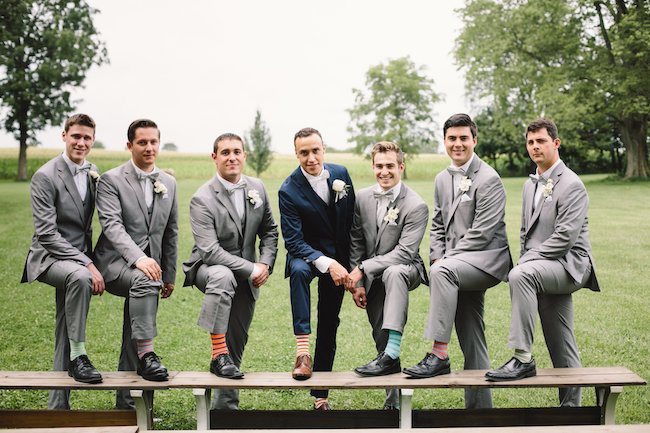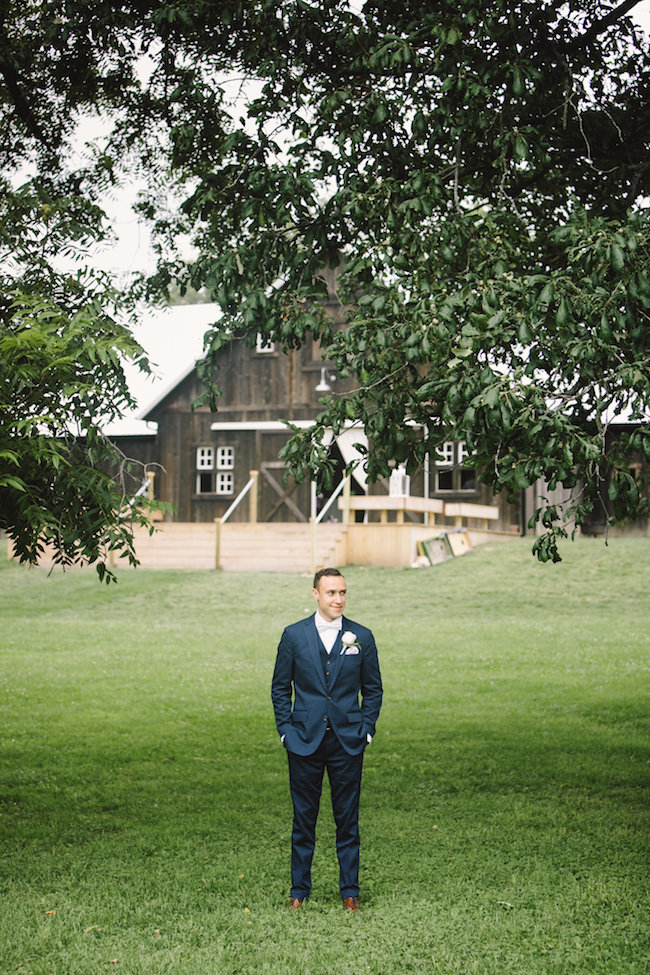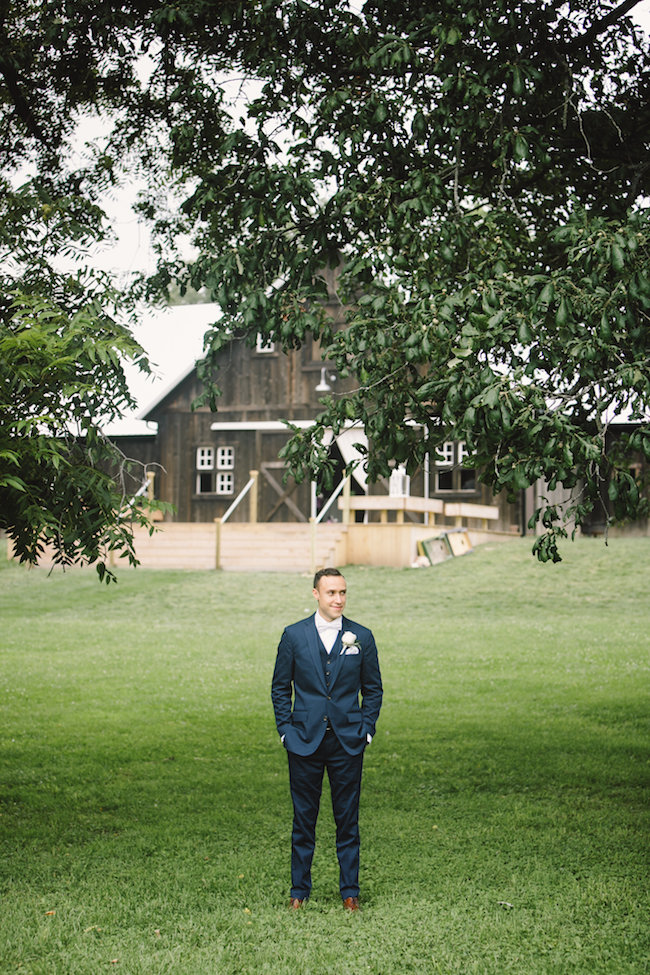 "Juan held Laura's hand, leading her across the lawn," shares Jennifer Van Elk Photography. "The grass had been cut several days before, and the dried up clippings stood out as brown clumps against the vibrant green grass. Juan held Laura's hand firmly, and he looked at her intently as they walked. Laura returned his gaze, looking endearingly into his eyes. They were about five seconds away from bursting out in laughter, for no reason that I could discern. Their connection was deep, inaudible, and punctuated by whimsical moments that ended in fits of laughter."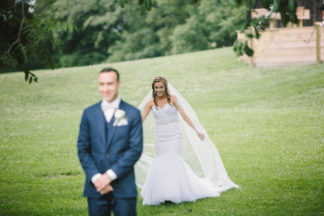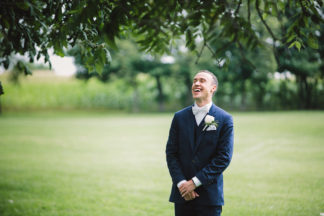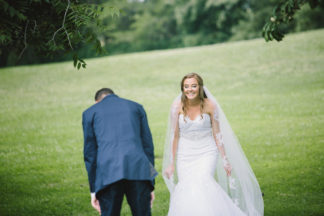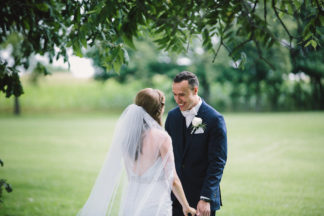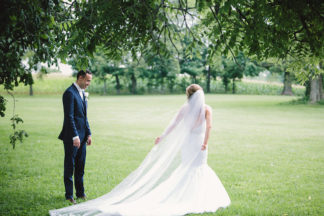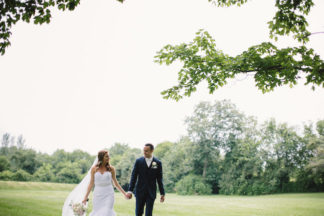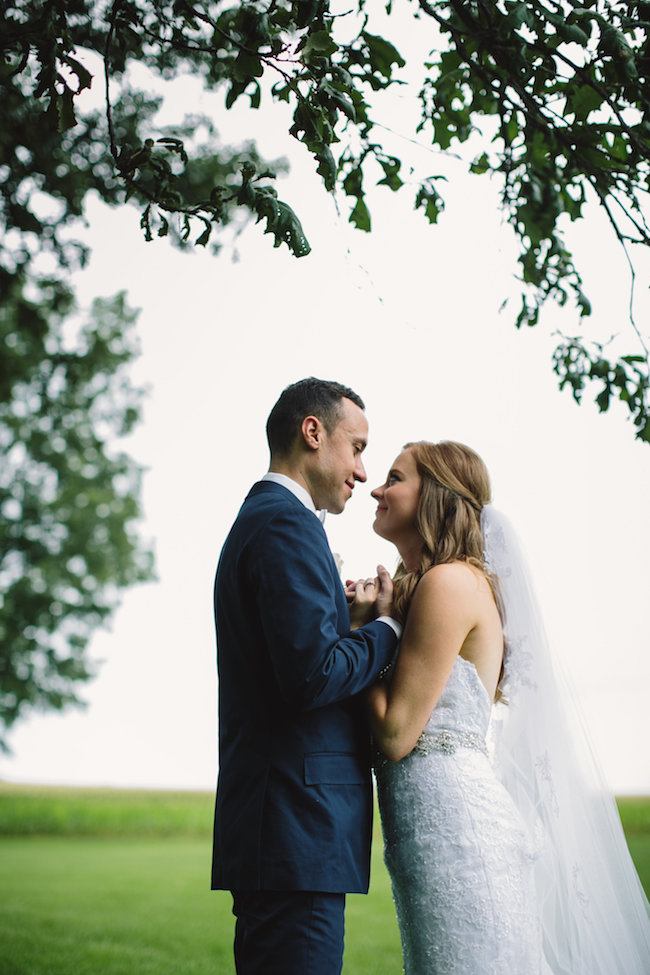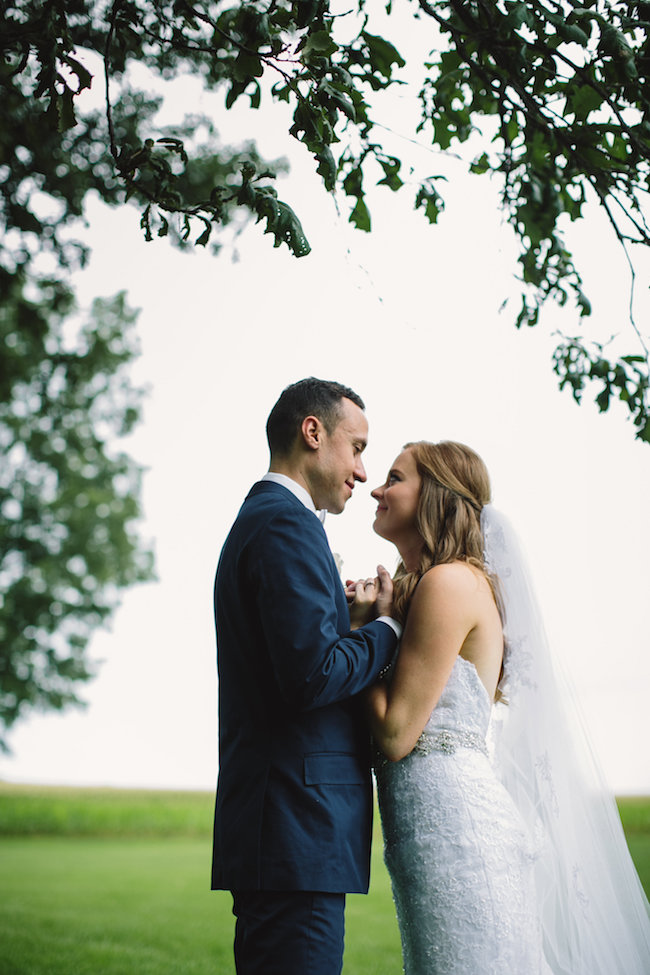 My father decided to build us an arbor (he's an architect) as a gift for our wedding day, and we decorated it with flowers and got married under it. We had a table with a large bouquet of flowers underneath the arbor where our pastor married us. My mom and I thought the arbor looked best placed between these two mature trees that arched and met perfectly in the middle. We put wooden benches around them in the field and lined each row with a mason jar hung on a post with fresh flowers. It was simple, understated beauty.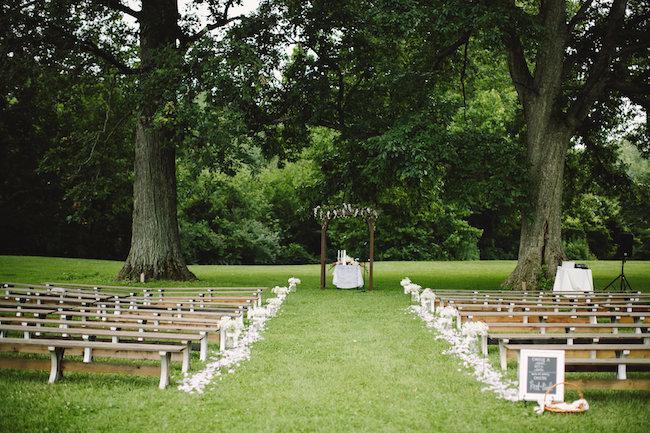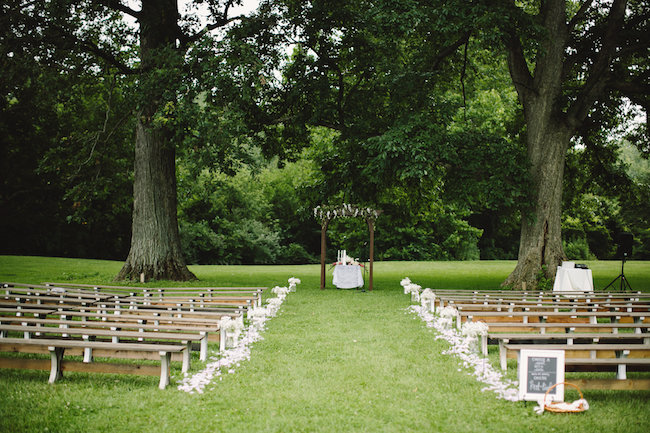 The field itself was a beautiful backdrop during golden hour and a wonderful spot to take family photos and bride and groom shots. The rain held off the entire ceremony and cocktail hour, and once we were all settled in our seats, a soft rain fell and cooled down the late July heat of the day. It was really something special to us.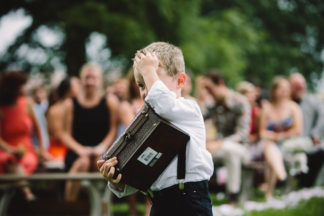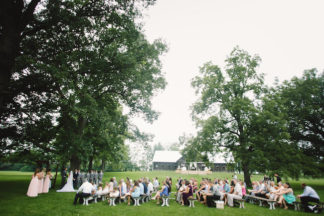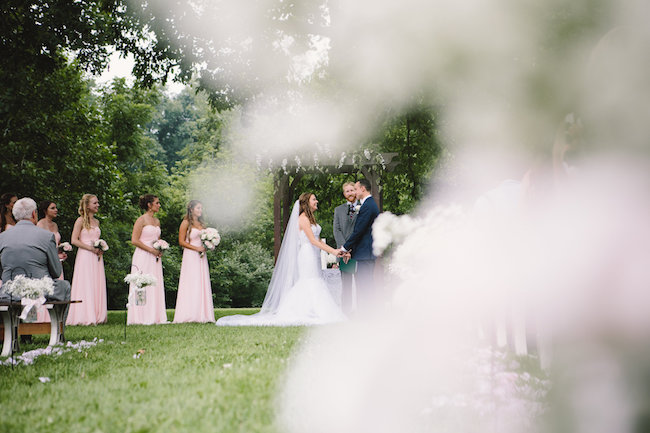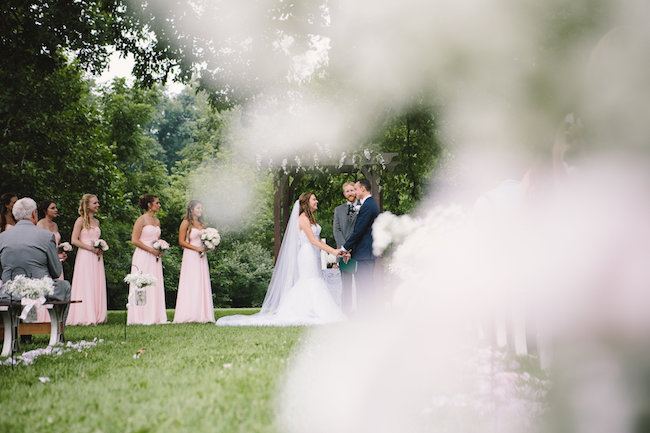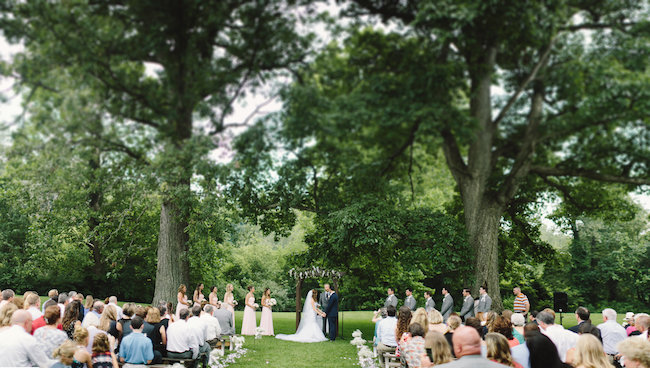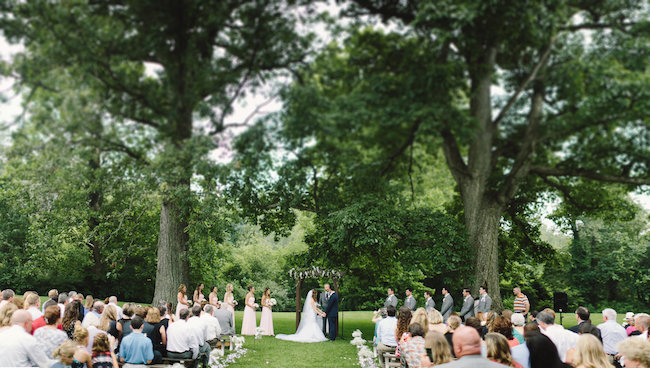 My husband and I are Christians, and it was very important to us to have worship music on our wedding day. We wanted to praise God for the union He was about to join together. We had close friends lead our guests in a few worship songs, and then we walked down the aisle to the Bethel song, "Ever Be." It is a beautiful song talking about our everlasting covenant we have with God and how that mirrors our married covenant here on earth. We had the lighting of the unity candle and we also participated in communion and a time to pray together once we said our vows. At the end, we celebrated down the aisle to the song, "Best Day of Our Life." Because it really was!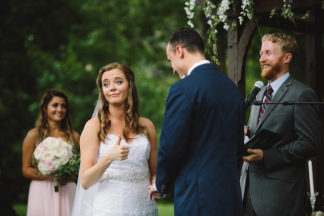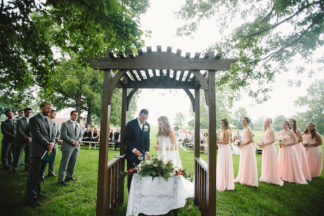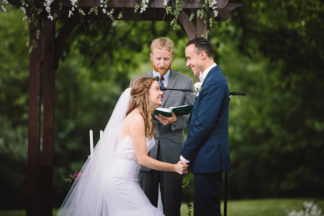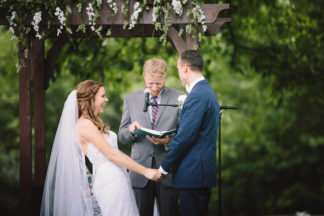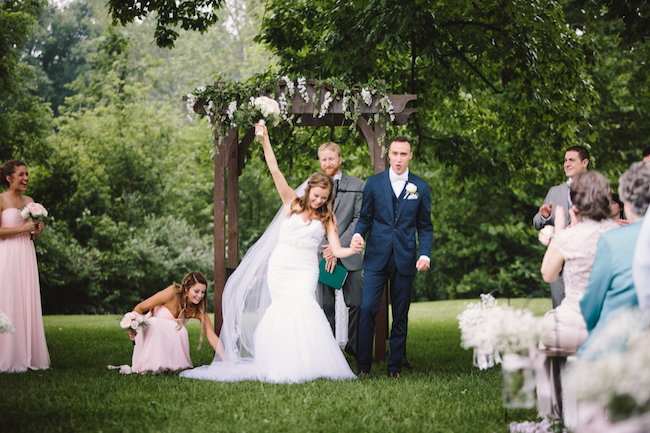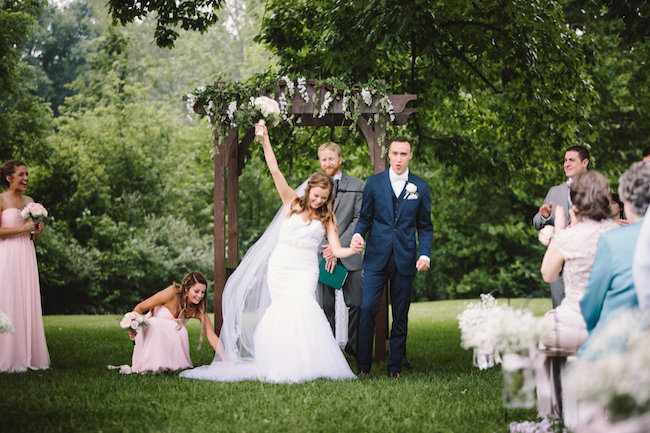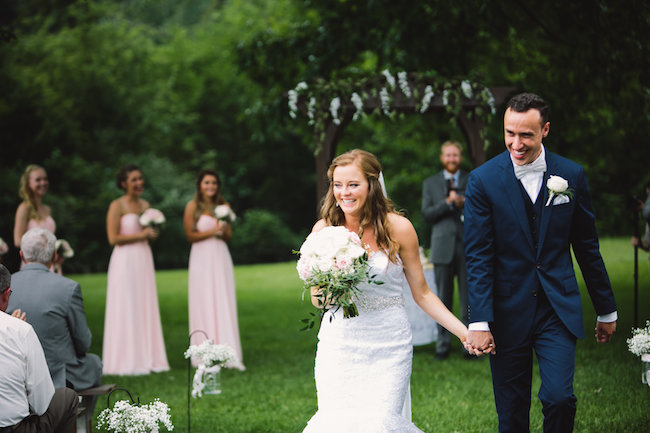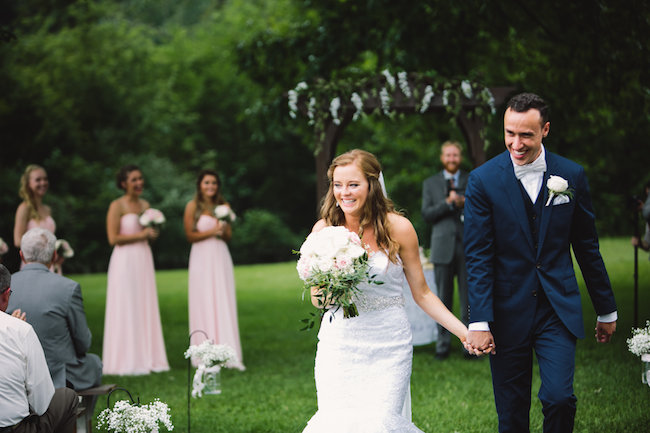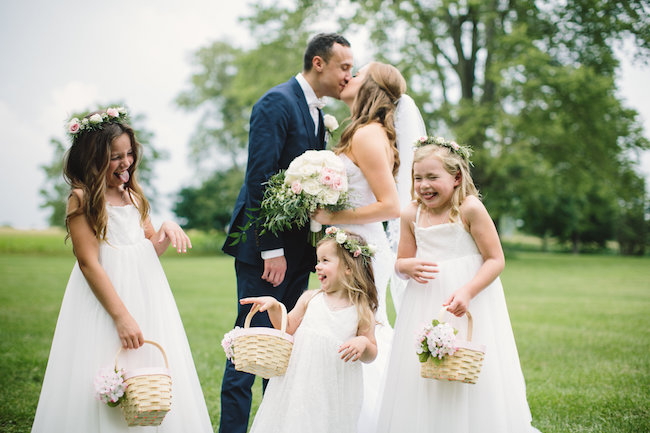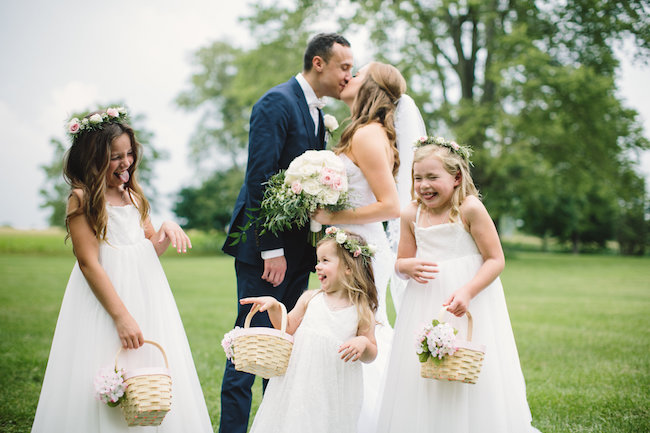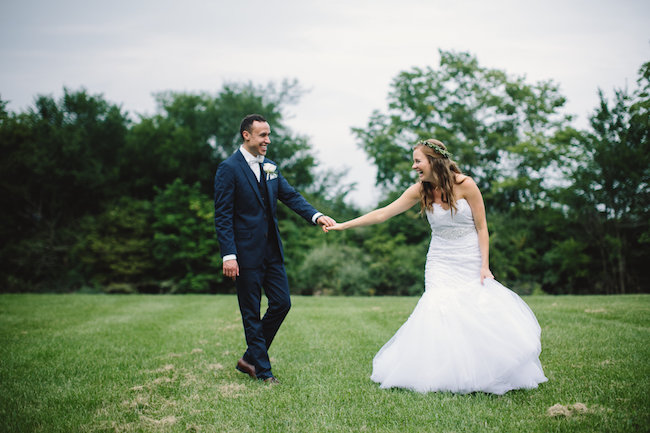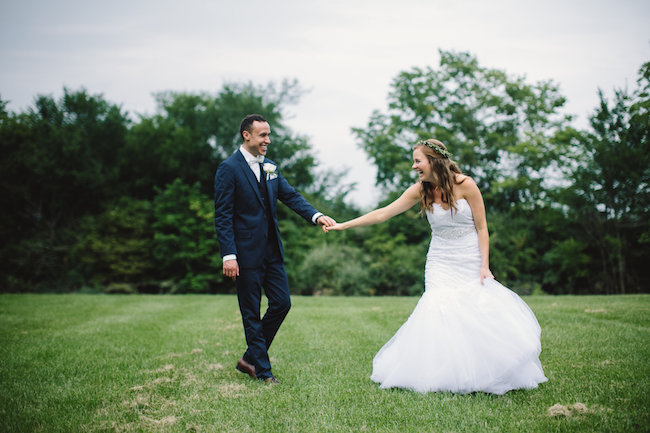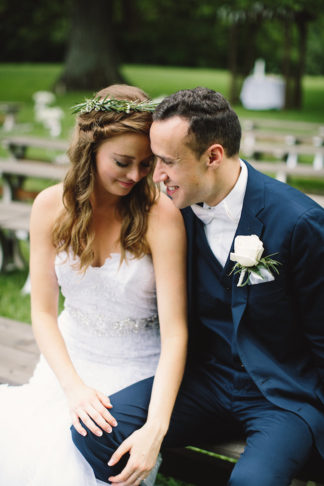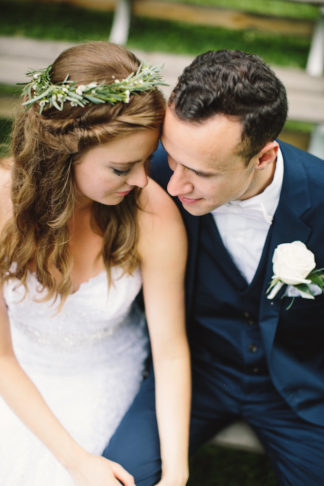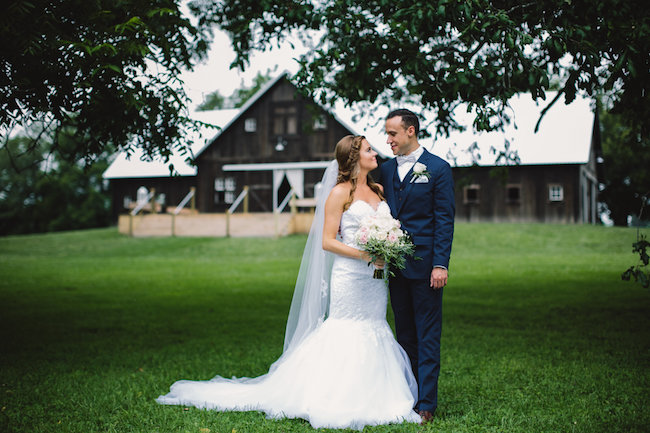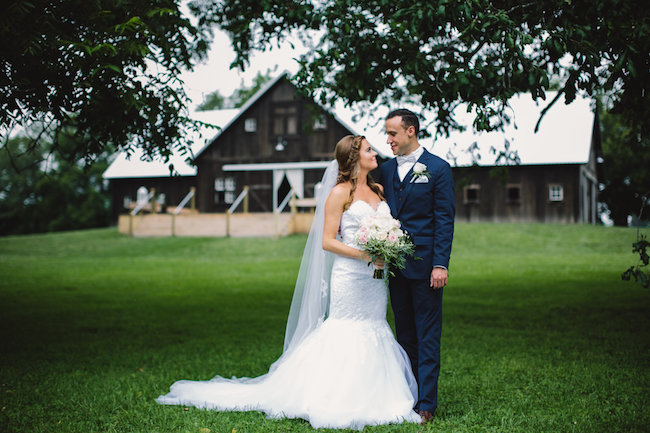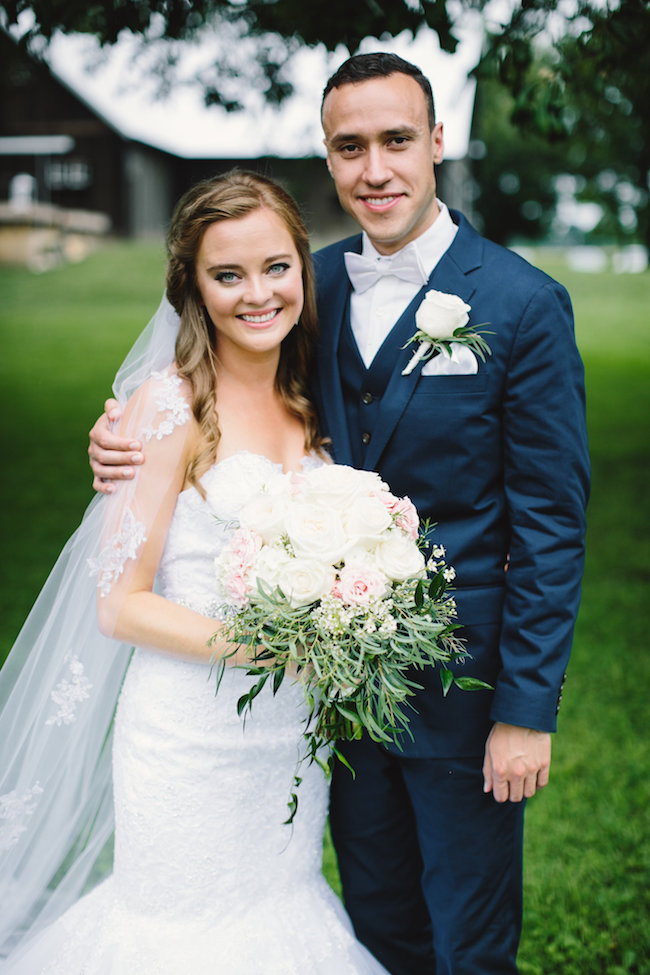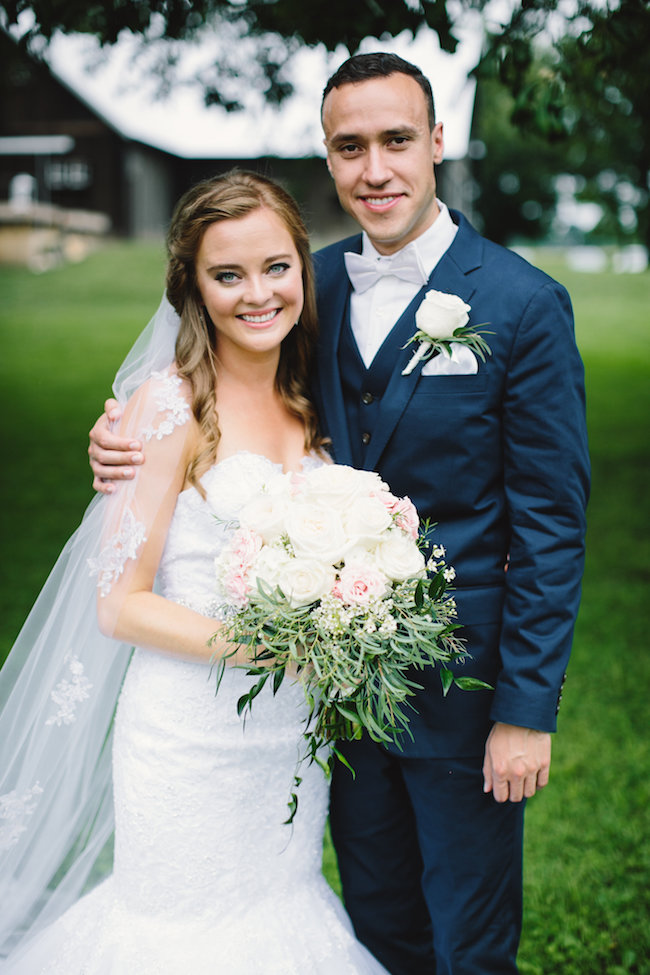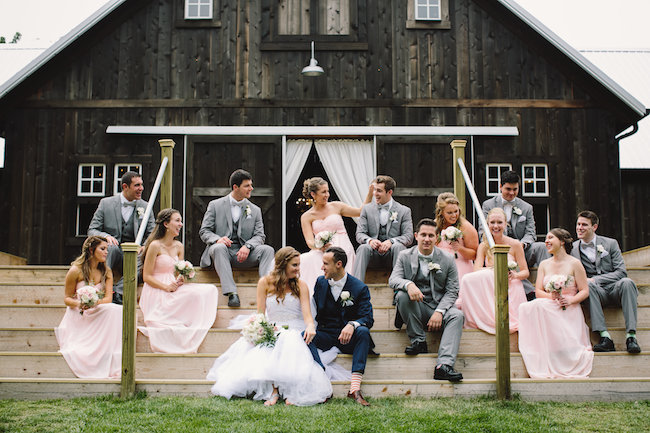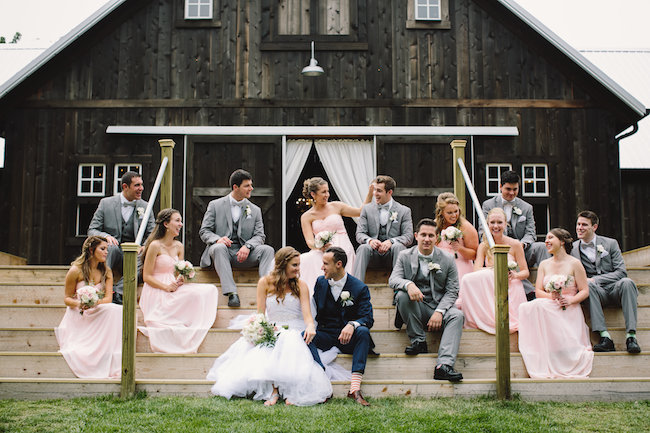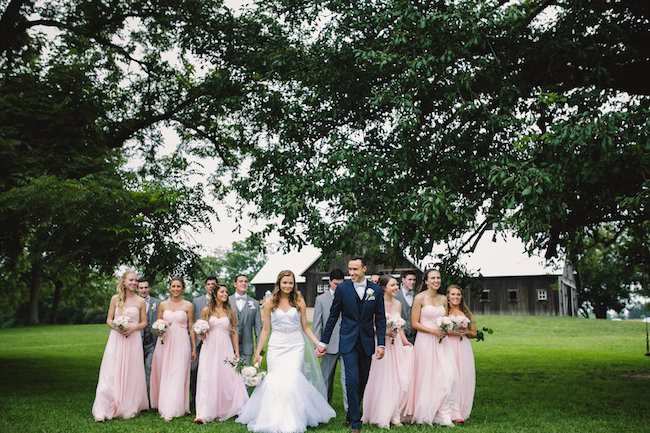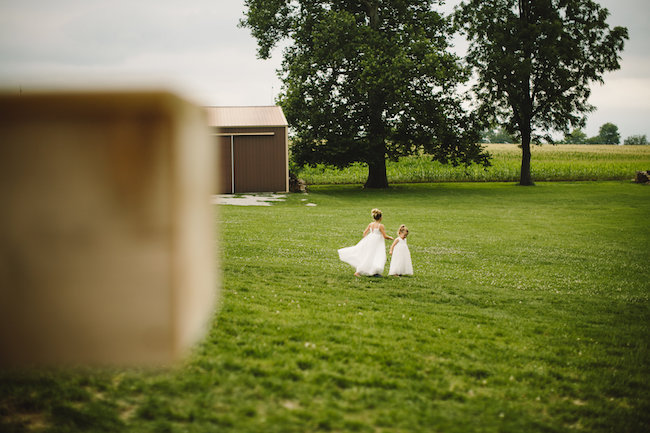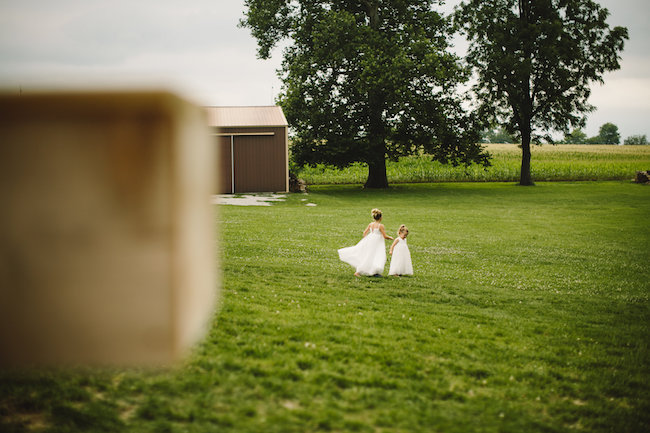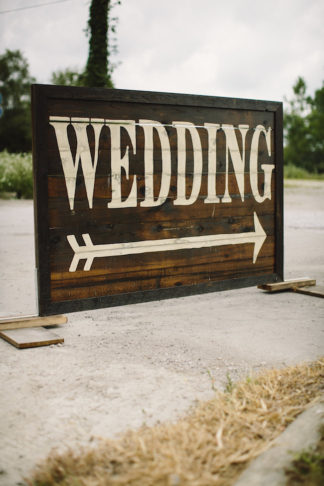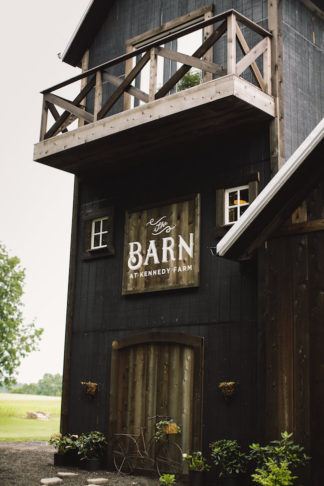 My mom and I planned three different looks for the tables around the reception area. One was with a rustic lantern on a cut piece of wood with a small mason jar of fresh cut flowers, another was three different sized mason jars of roses and different flowers and touches of gold were some of the mason jars, and the last was a cut piece of wood with a mason jar of baby's breath.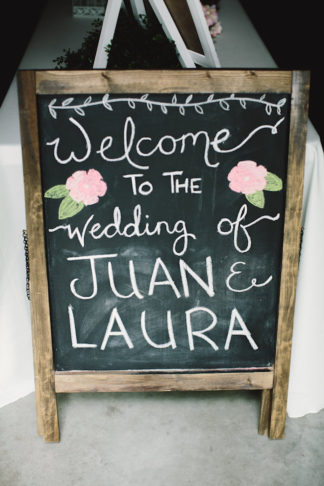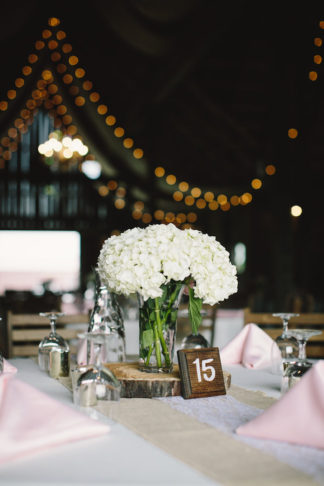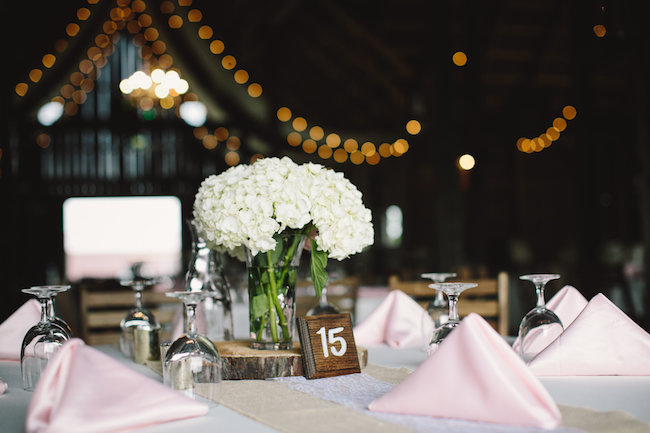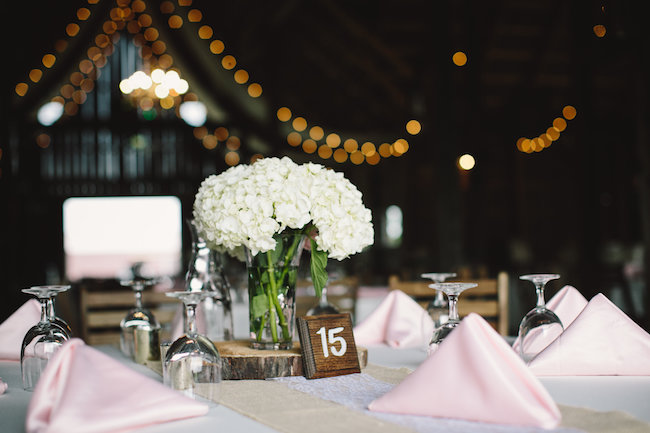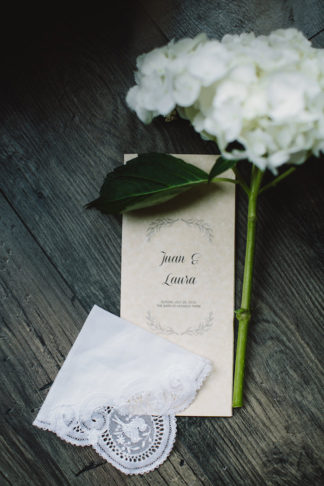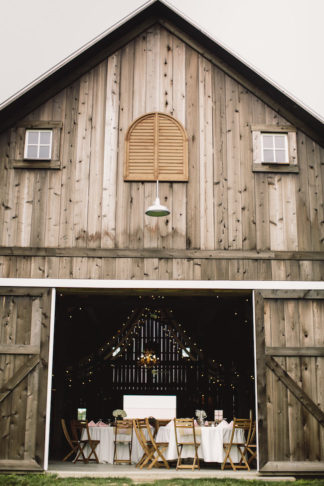 The bridal party table was a "U" shape around the dance floor. It had an ivory table cloth, blush sweeping tulle with twinkle lights and lace accents, and everyone put their bouquets as table decoration in a gold mason jar. Juan and I sat on a couple's bench, and I painted a wooden sign to hang across the back that said Mr. and Mrs. in white paint.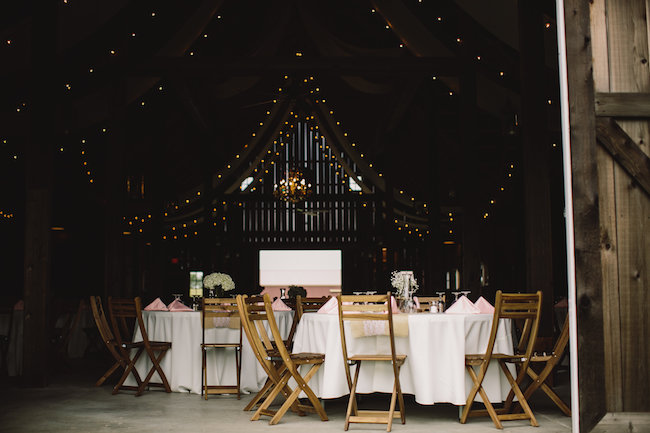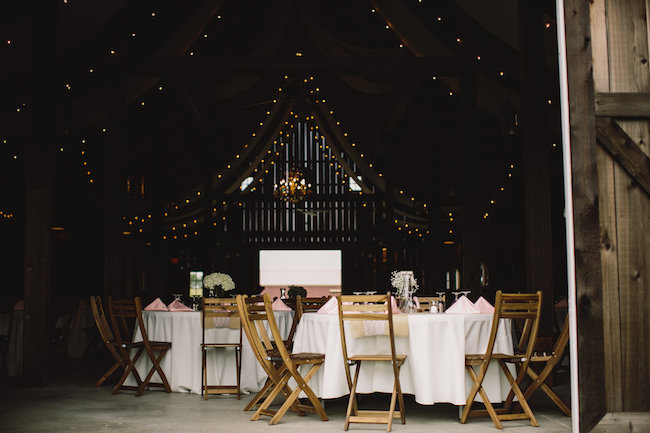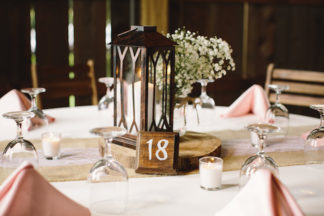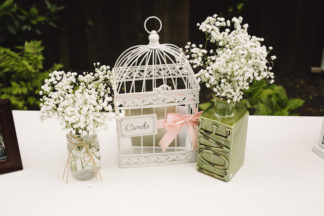 Each table had a hand cut piece of wood that I stained and wrote the table numbers in white paint. We had a few accent tables around the room that were decorated for guests. One had a white bird cage to put wedding cards and was a table set for gifts. Another was to symbolize the union between Juan and I's passions – and we put old teaching books, an old film canister, and other rustic touches that represented our passions in life.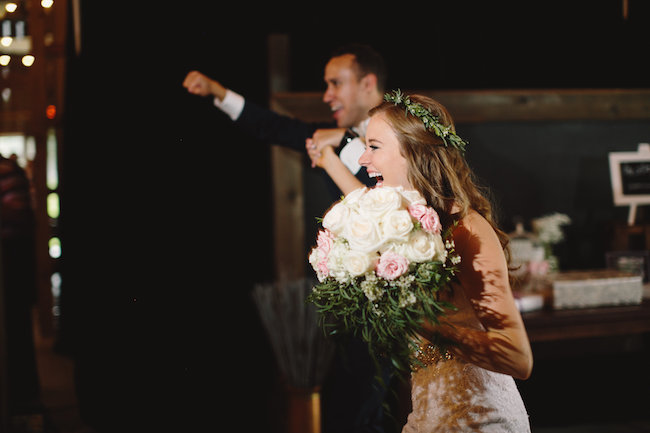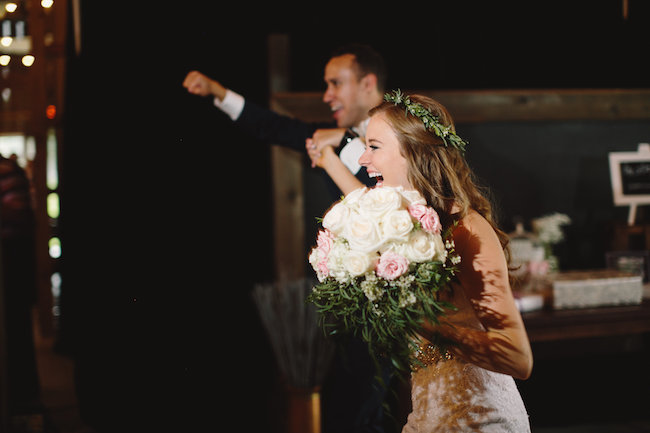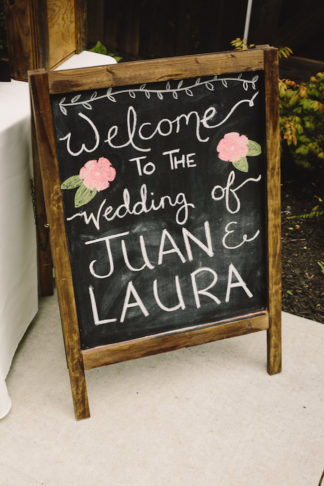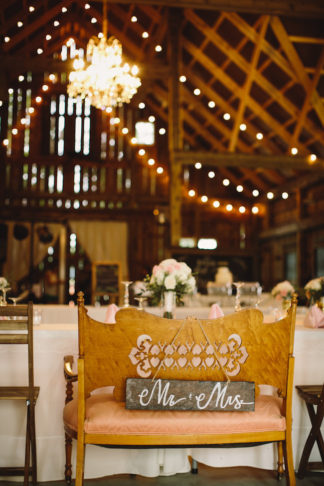 I had many hand painted chalkboards with verses, instructions, and quotes written on them set around the room.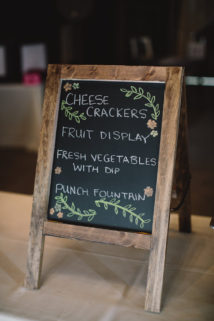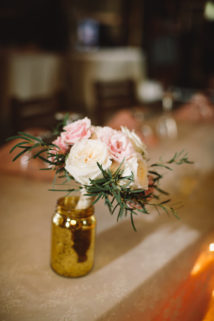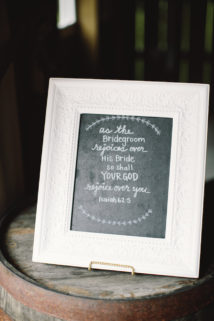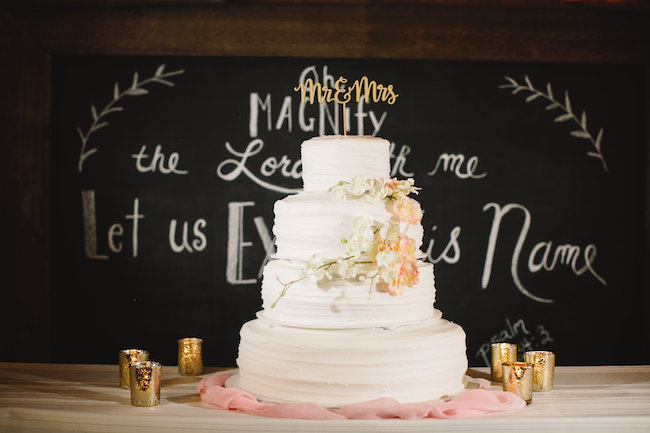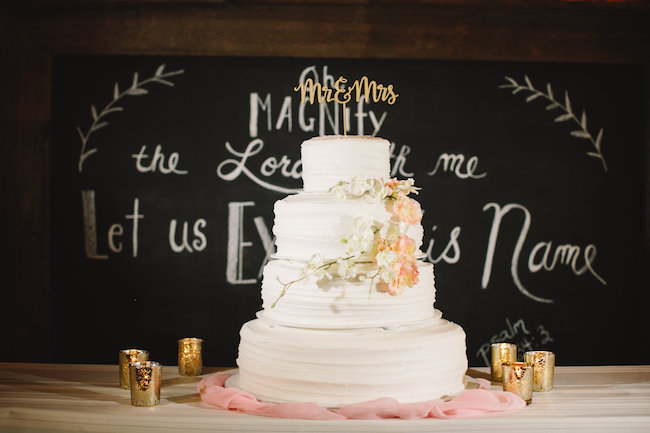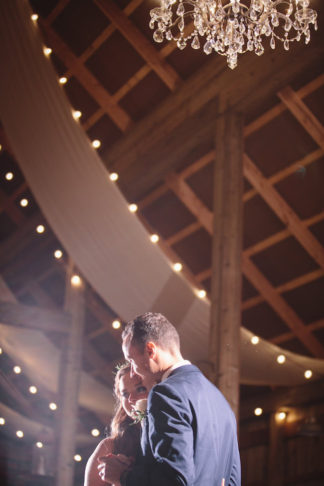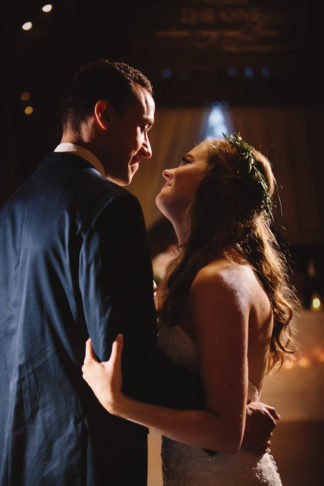 My husband and I danced to the song, La Vie En Rose, by Louis Armstrong. This has been our song since the beginning when we were dating, and it was a surreal moment sharing our first dance together.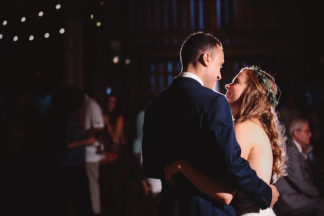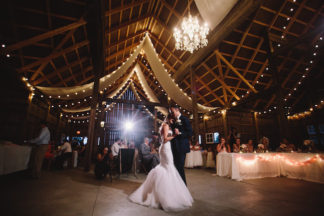 The night ended with dancing and cake, and we exited in the rain with a sparkler send-off and an antique red getaway car was waiting for us borrowed from good friends. It was magical!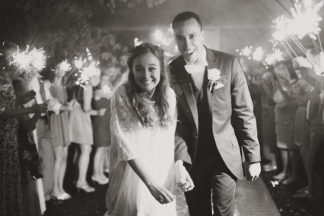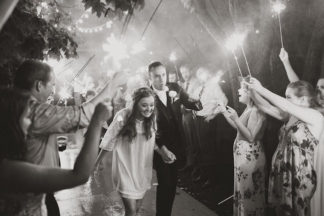 Laughter-filled Blush Indiana Barn Wedding
Love Story: My husband and I met at Taylor University his senior year and my junior year. I really began to see he wasn't just "some random guy" trying to date me, but a really genuine, kind, and charming goofball of a guy who won me over within weeks. I think my husband and I really began to fall for each other when we would spend countless nights ignoring our responsibilities and studies and staying up late star gazing at the amazing Indiana night skies. We had so many deep conversations and we began to form a deep relationship there.
We also served together at a summer camp that summer – I was a camp counselor and he was a videographer, and somehow, in the midst of the sweat, dirt, and crazy long hours with kids, we got to see a very unveiled side of each other that was beautiful and attractive, and I think we both realized we wanted to serve and adventure alongside each other for the rest of our lives.
We were long distance after that summer for two and half years as I finished up school and he pursued his film career out in LA. After finding a teaching job later in LA and making the big move to be together in the same city (finally!), he proposed during Thanksgiving break at Taylor University, on the prayer dock, the same spot we used to star gaze many years before. His family drove out from Philadelphia to be there and spent the rest of the holiday with my family. It was pretty beautiful and he planned it out very well!
Wedding Planning Advice:
The biggest lesson is you can plan all you want and really focus on perfecting all the little details, but by the end of the night, the photos will be beautiful regardless, and you hardly can take in or enjoy all the small details you scrutinized over and maybe had several fights over in the months prior while you planned. At the end of the day, no one really notices them either, they just all amount to a beautiful wedding and the main focus is on you as the bride and your handsome groom!
For example, I hardly remember what my cake looked like the next day, I never really saw it on my wedding day! I remember thinking, I don't even remember seeing it that well – we cut it and moved on! And that was something I really scrutinized over and worried about finding decorations for the week before the wedding. It truly doesn't matter in the end. It looked pretty in the photos!
My friends and family really were an amazing support, it was incredible to share and celebrate with them all in the same place at the same time.  On my big day, if there were any problems that came up, they must have been handled by someone else because I didn't ever hear about them!
Never take it for granted, it is such a blessing to have all the people you love so much together on your day! You make the most of whatever happens and it is a lot of fun because of the people you're with! Life is imperfect, and so is your wedding day. And that's okay.
My dad really helped me set a budget. The groom and I talked about what was most important to us (for us, it was the photography because those we will have forever, getting an outstanding dress and suit, providing good food and drinks for guests, and having real flowers).
From there, you have to find areas that don't matter as much to you both and cut back in those areas. We found cheaper decorations at Hobby Lobby, and got really crafty! It took more work but in the end it was worth it.
Wedding Vendors