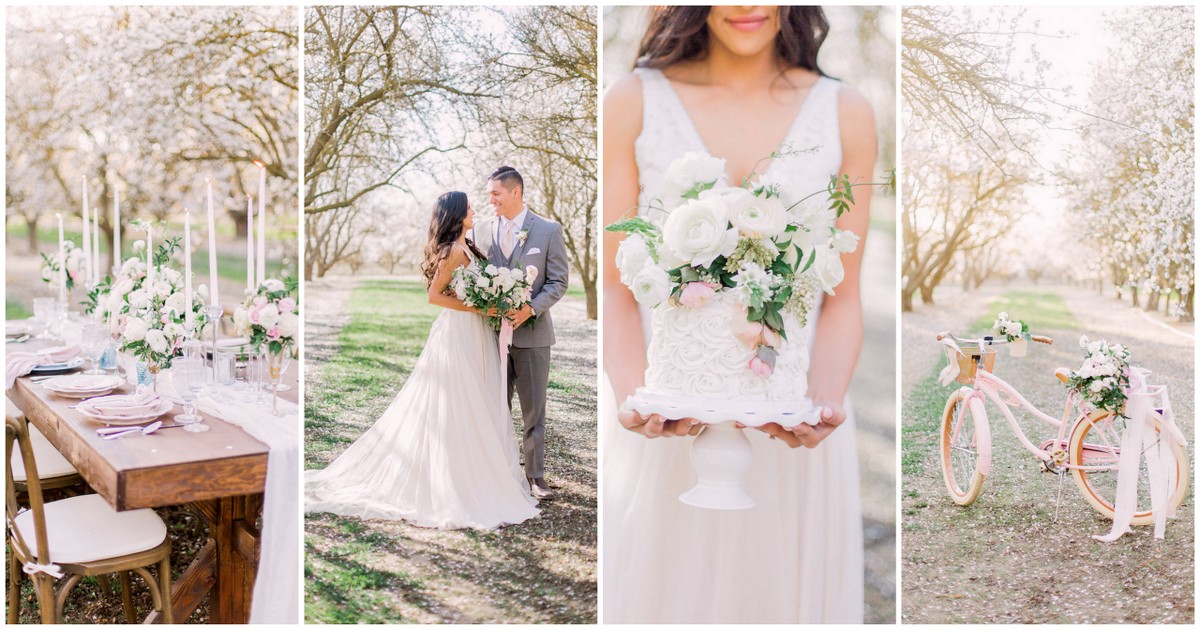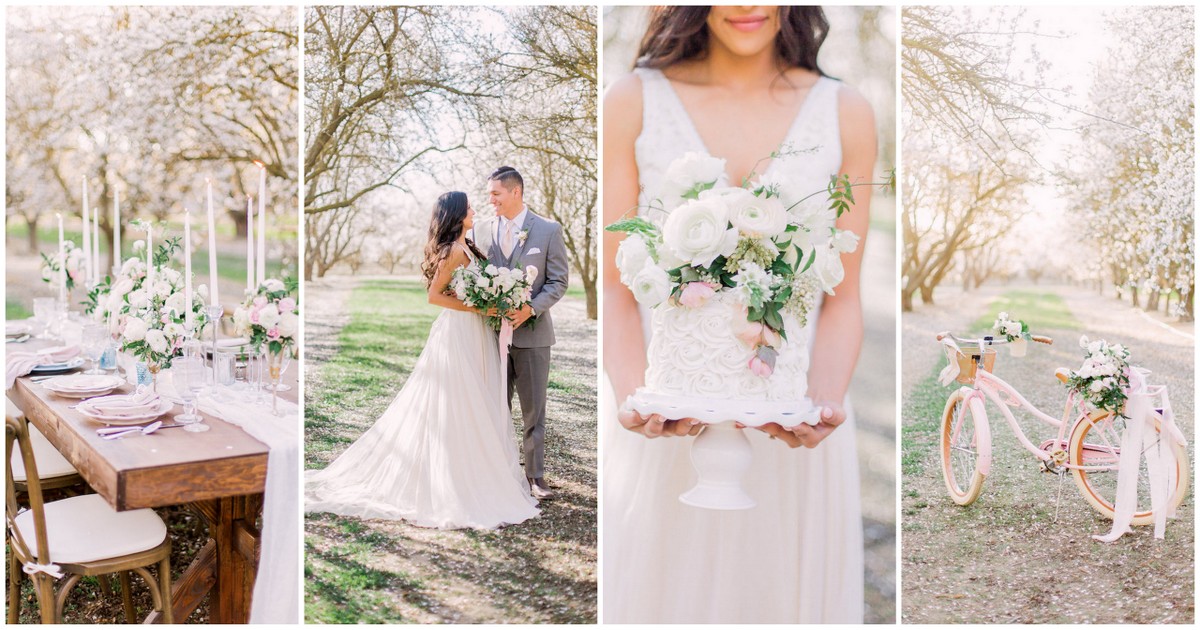 Inspired by the beautiful and sweet smelling spring almond blooms of Central California? Photographers Vic and Sasha Barrera were! They teamed up with Blu Events Planning and Event Design to create this lush, pastel-colored romantic almond orchard wedding inspiration, simple bursting with florals.
Set against the backdrop of a dreamy almond-blossom filled orchard, it perfectly captured the delicate essence of spring. Hints of blush, soft whites and light blues set the tone.
Blossom-Filled Almond Orchard Wedding Inspiration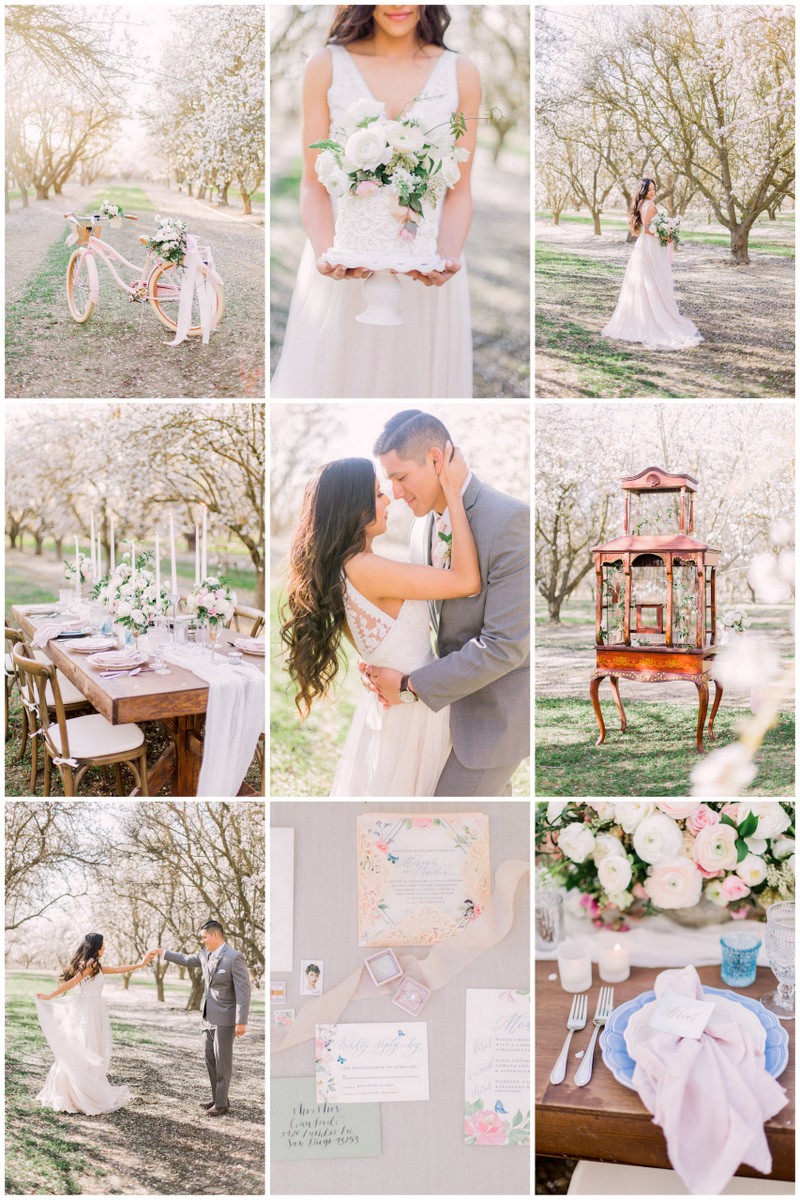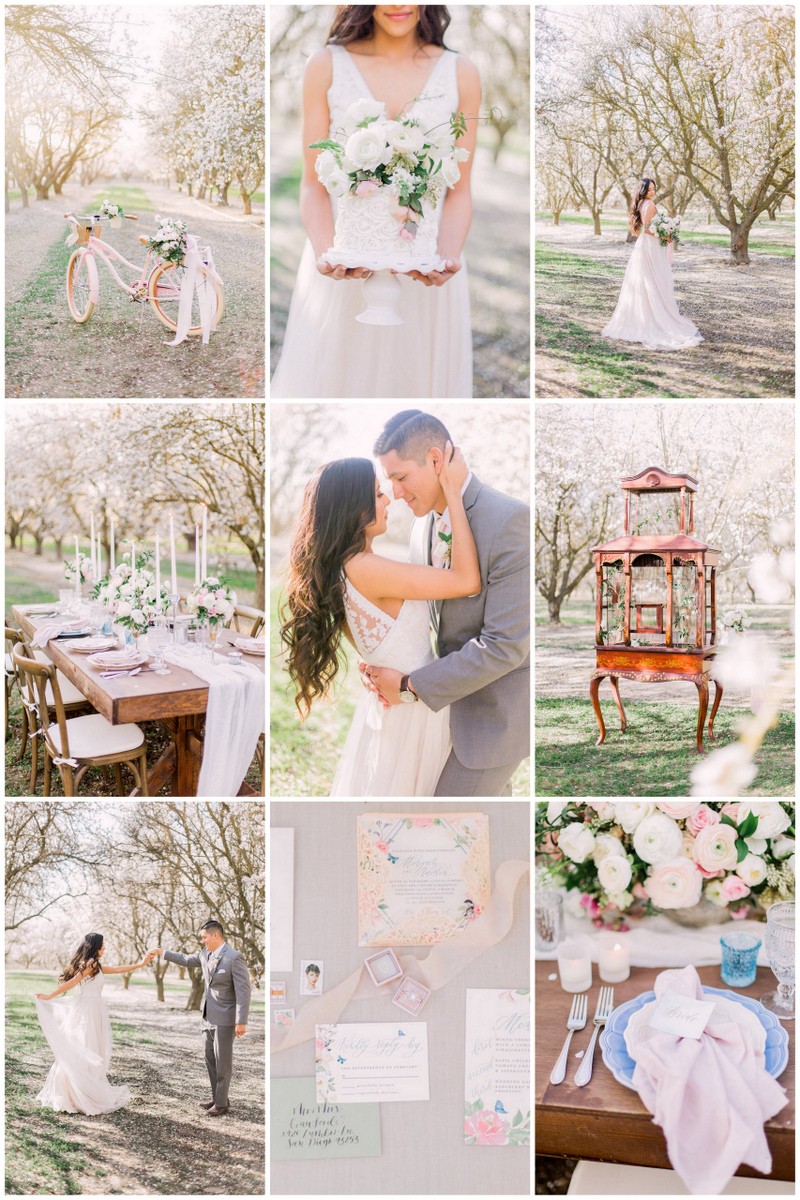 Unique furniture pieces were a few of the key elements that helped set up a balance between chic and vintage, perfect for an almond orchard wedding. Delicate and whimsical florals were inspired by a charming and sweet fragrant English garden. Neutral colored with hints of pink hues and green foliage brought even more life to their spring wedding design.
"McKenzi of  Birchwood Floral Design  took the time to take our ideas and make them her own using our color palette and added her personality all in the design," explained Vic and Sasha. They adorned the florals throughout the almond orchard wedding setting in the form of a bridal bouquet, a boutonniere, centerpieces and even a floral cake topper.
We'd probably gush on all day about this ethereal almond orchard wedding shoot if we could, but we think we'll let you go ahead fall in love with it on your own!
Almond Orchard Wedding Inspiration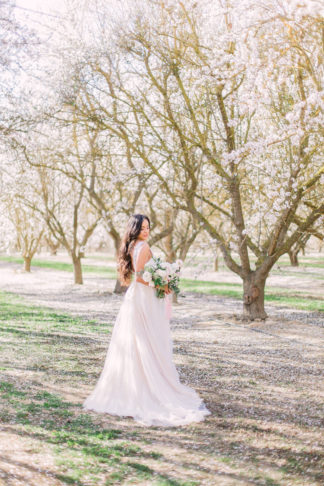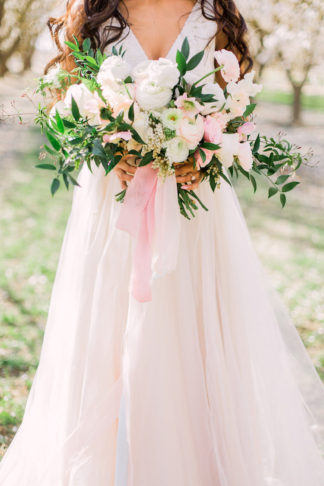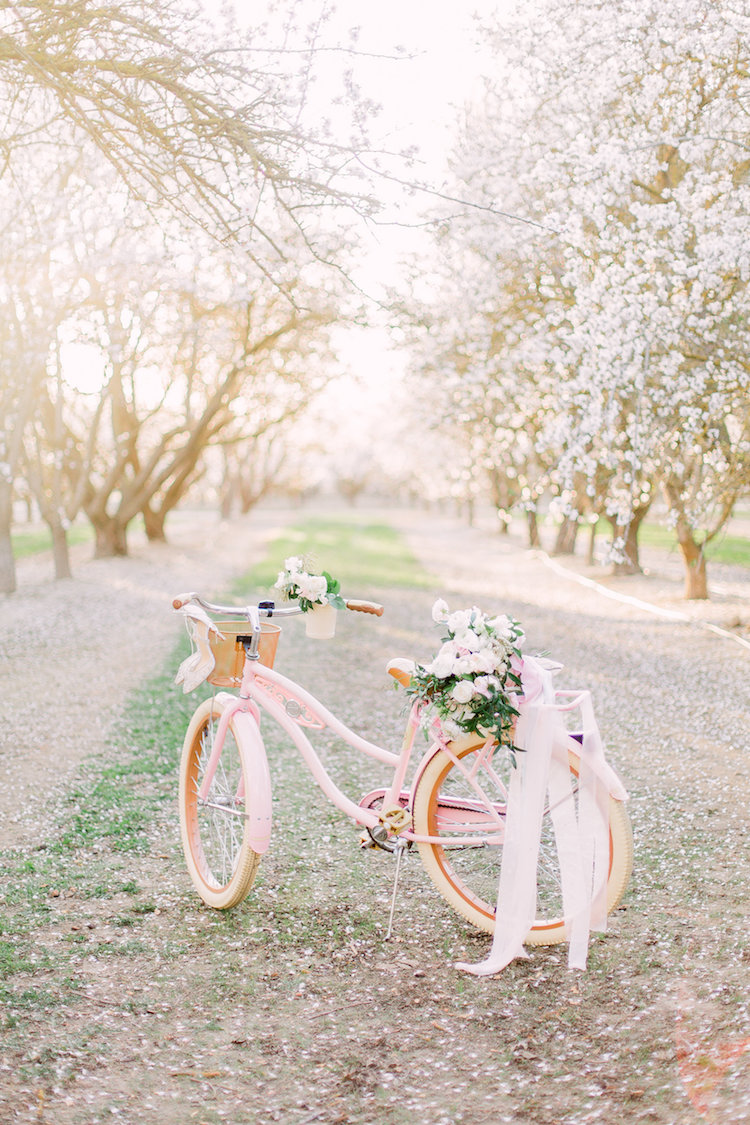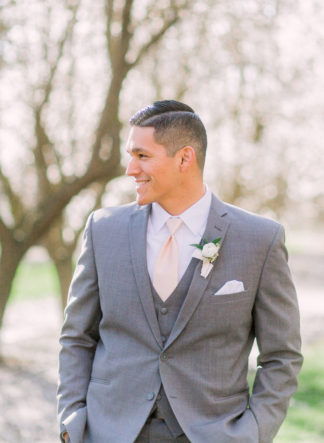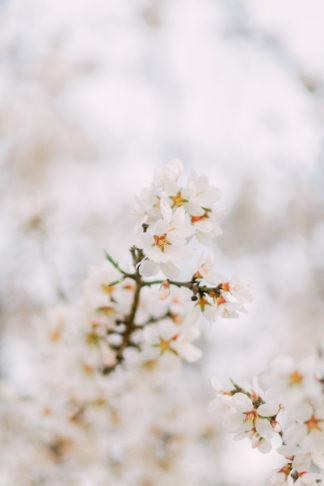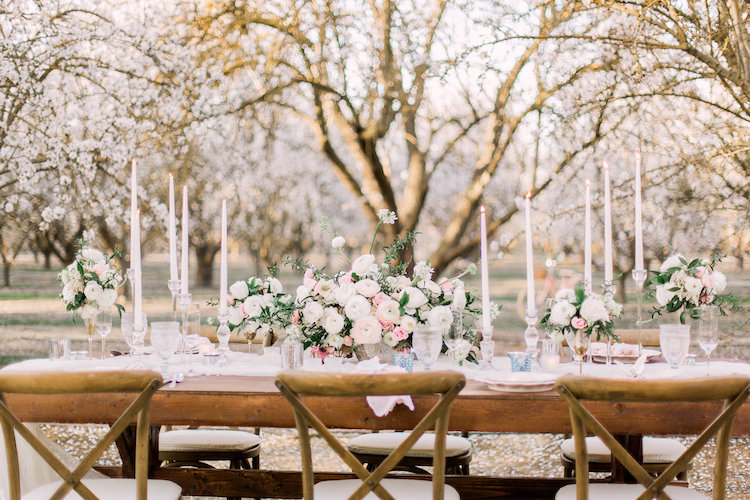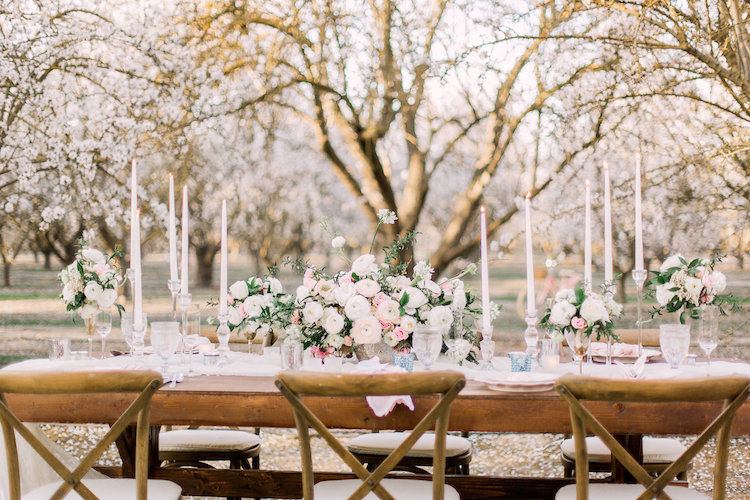 Delicate linens were nicely juxtaposed against the wooden farm table. Gorgeous blue french plating complemented the blush linen napkins and light colored flora that was adorned throughout the table. Clear candleholders and clear water goblets from Make It Happen Events added a polished look which also brought all of the elements together to bring a lush tablescape perfect for an elopement in the breathtaking almond orchards.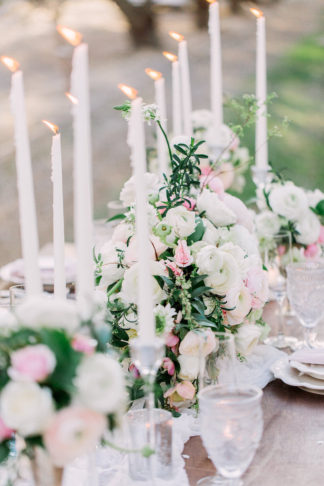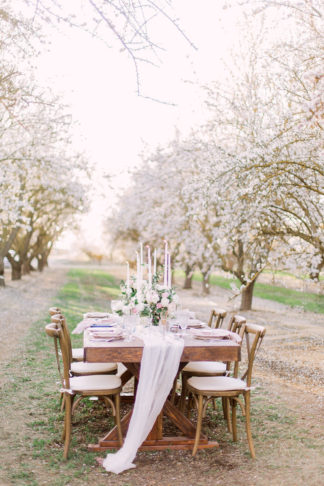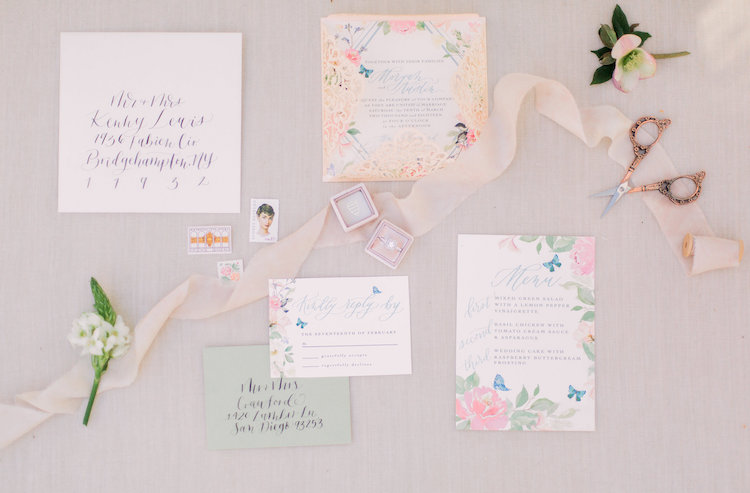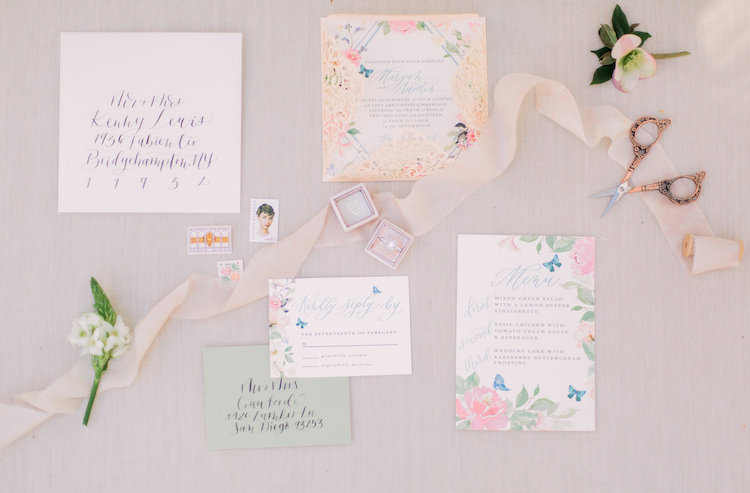 The team had two sets of invitation suites to add some depth. Andrea of West Bloom Paper Co, designed butterfly escort cards to add a variety to the tablescape, and even designed a second look of a laser cut invitation suite along with a matching menu with colorful floral designs.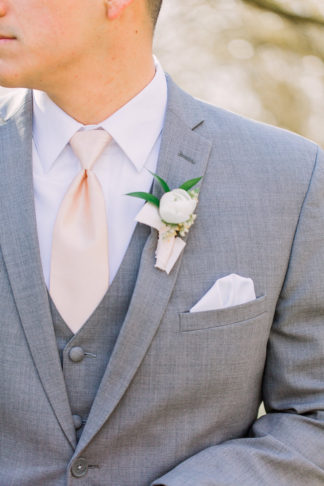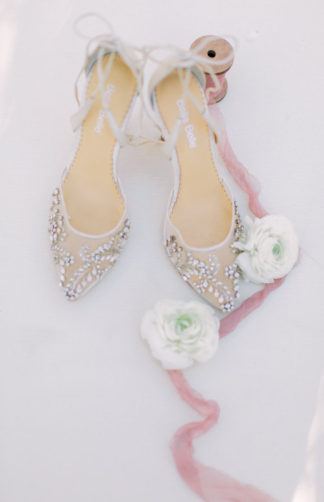 Groom, Brandon was styled in a classic grey suit by Finos Menswear which was complemented nicely with Bride, Alex's, BHLDN ivory tulle dress and Bella Belle Bridal Shoes. Alex's ivory tulle dress went well against the almond orchard setting and Brandon's light grey suit also brought the tones back to neutralize the overall colors of the design.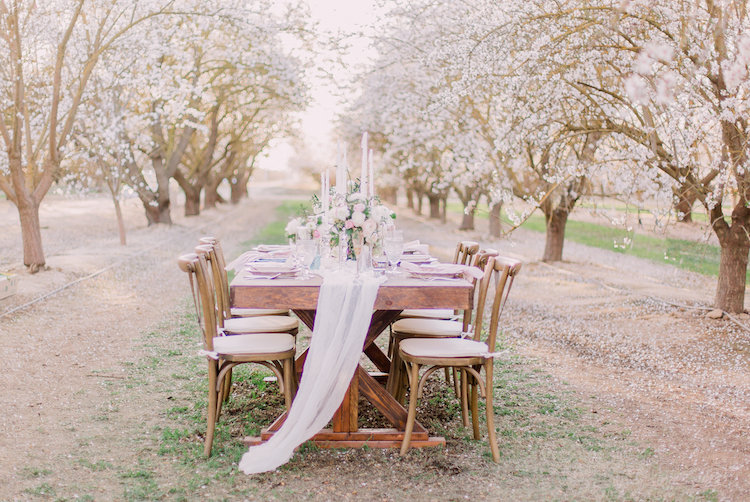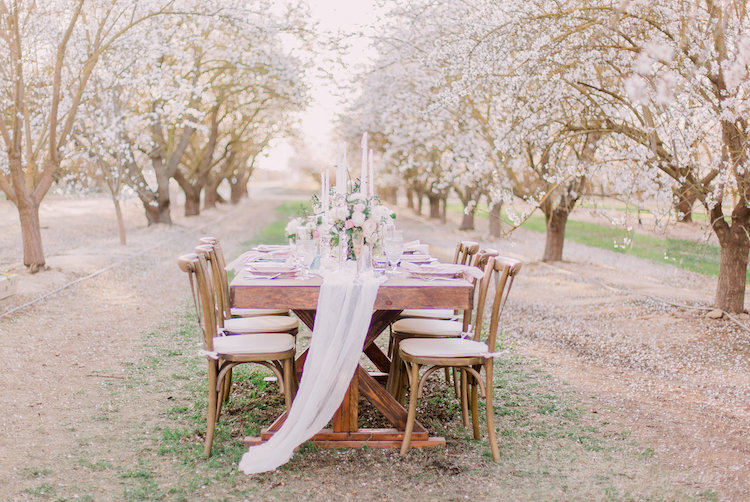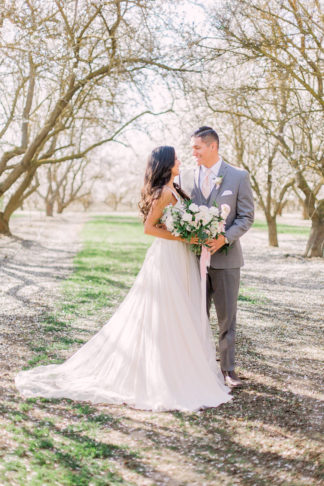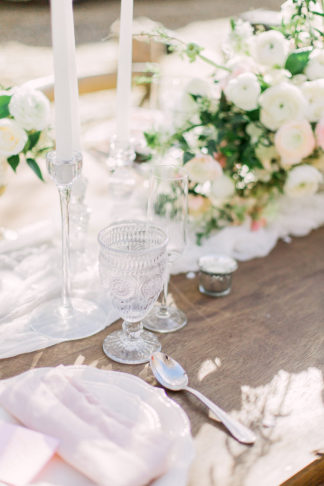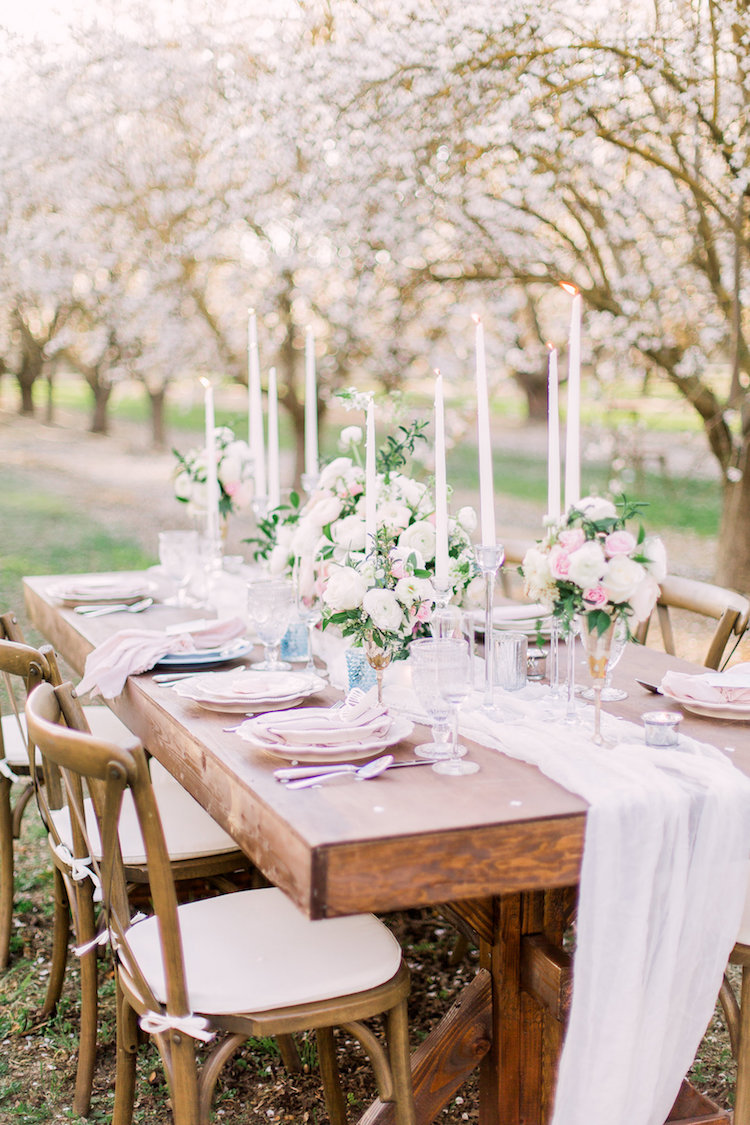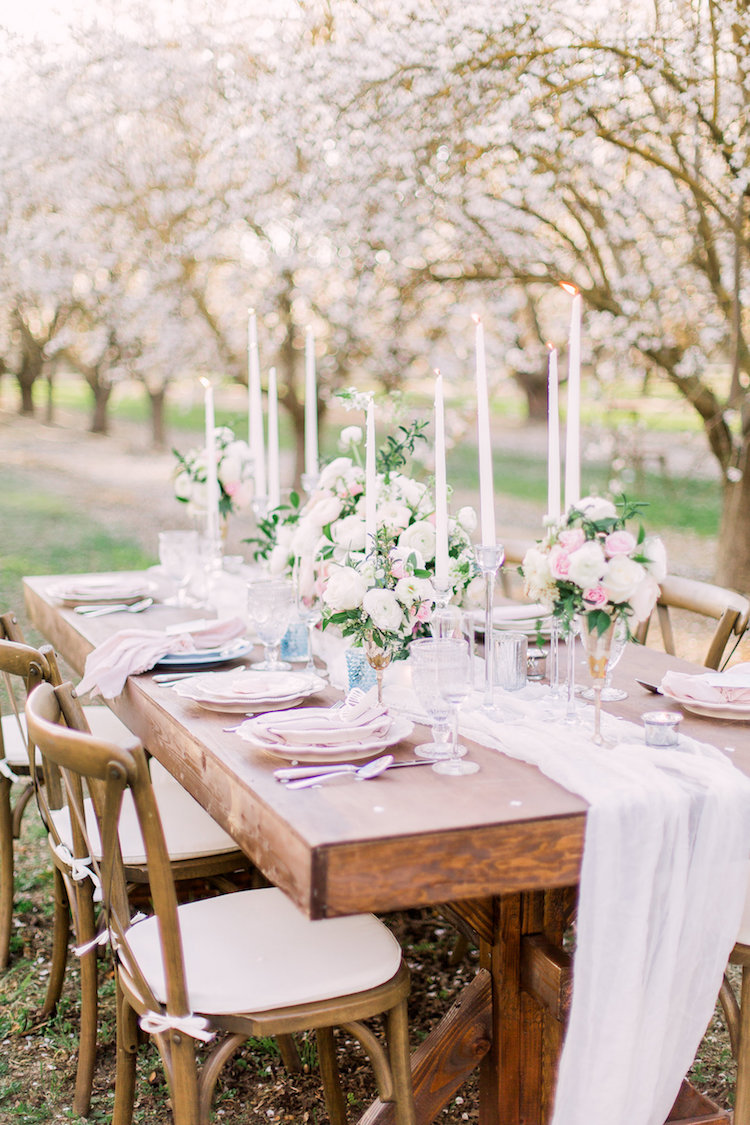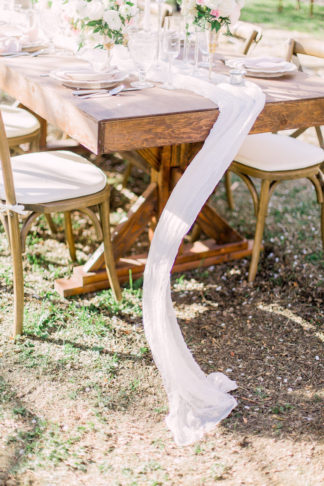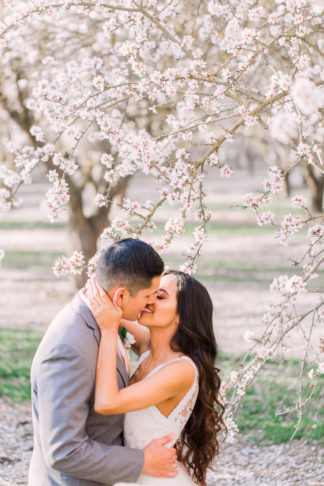 Reagan of Bleu d'Or's handmade silk gauze  was used throughout the tablescape setting and bridal bouquet.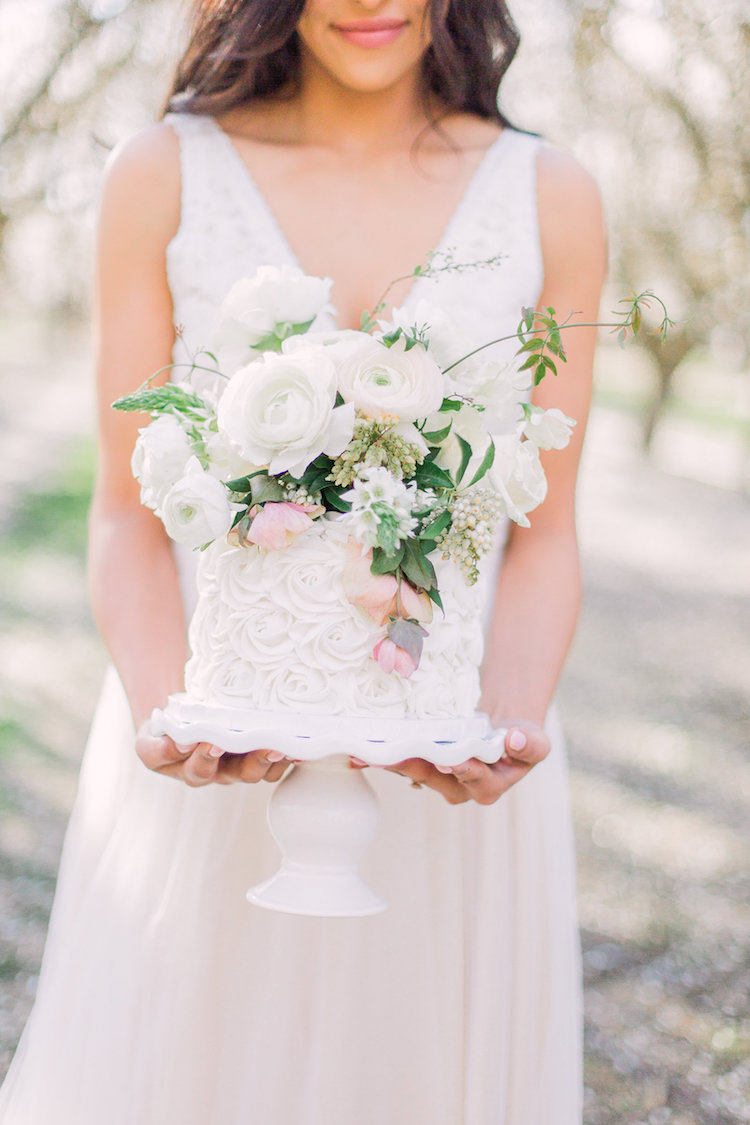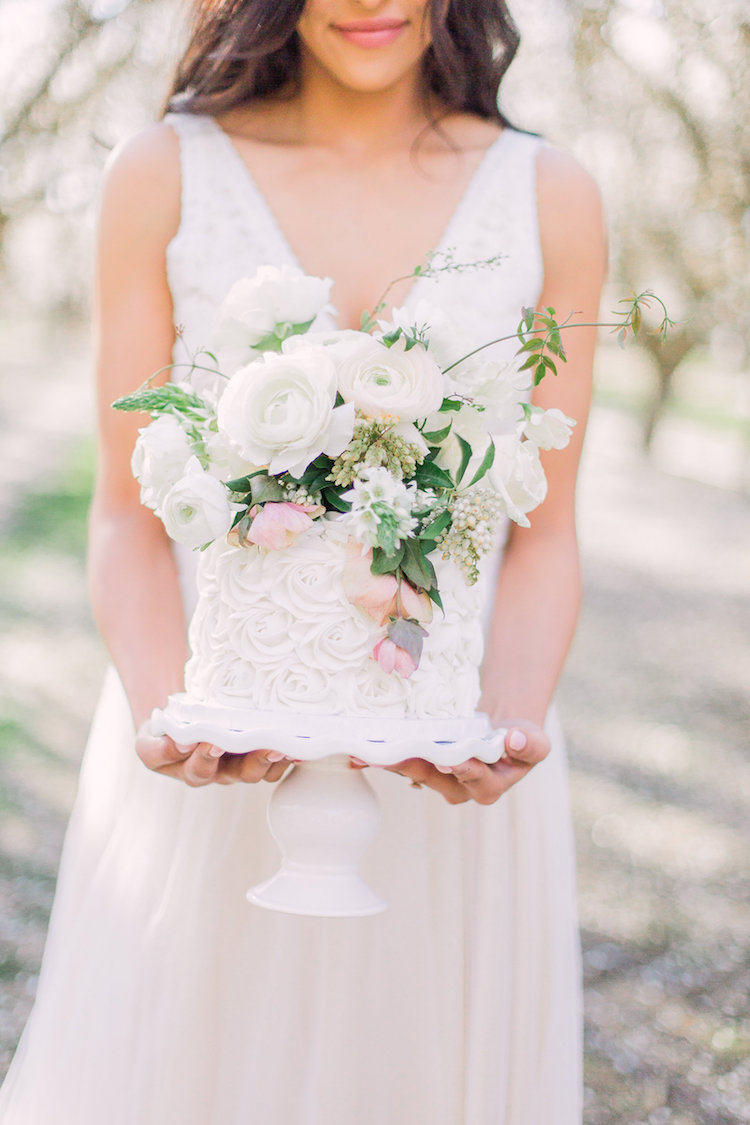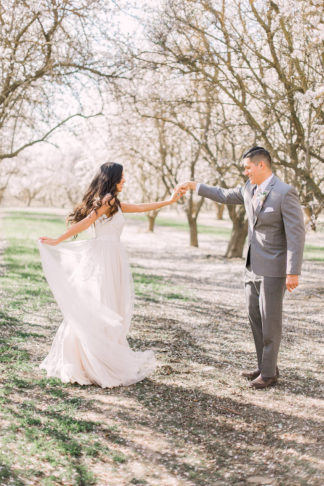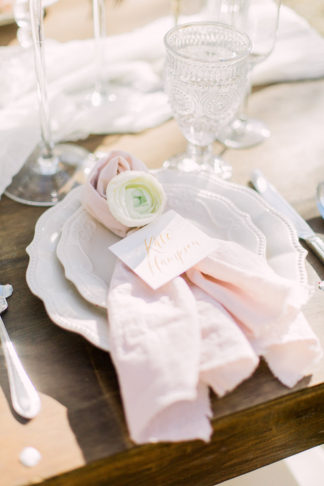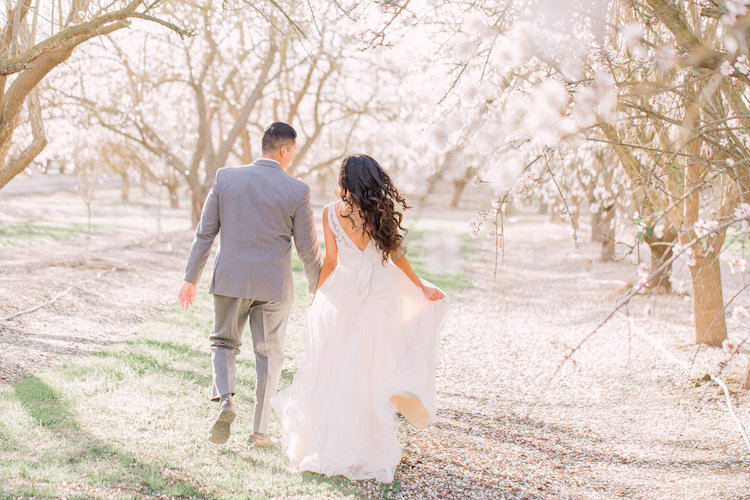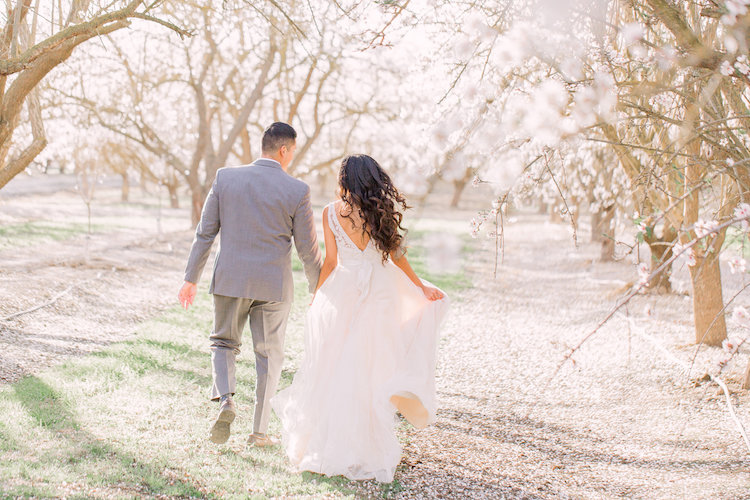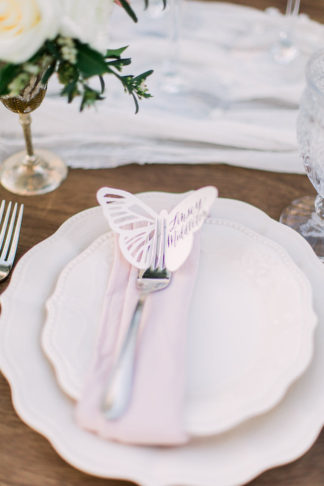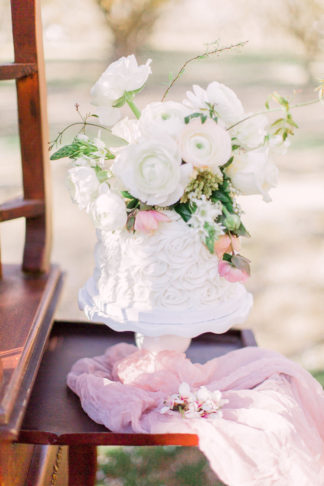 Nothing says spring like a white simple rosette cake topped with neutral colored floral along with deep green foliage. Tastries Bakery's cake was nicely set aside a cherry wood birdcage perfect for a spring elopement.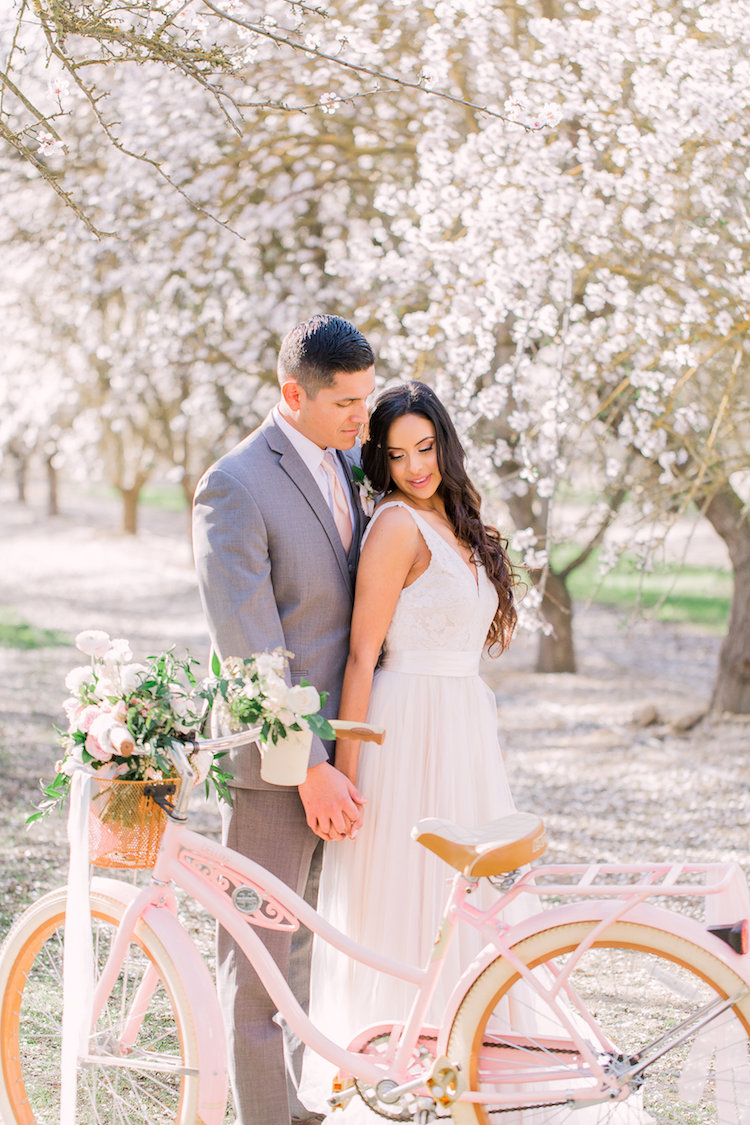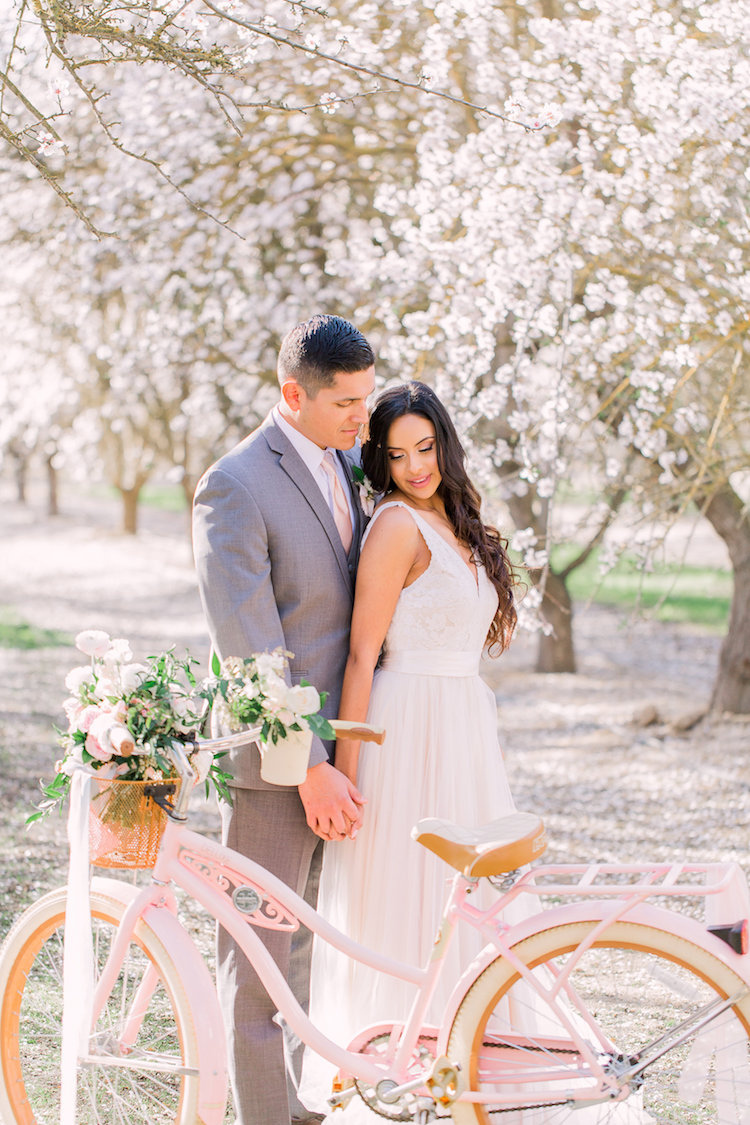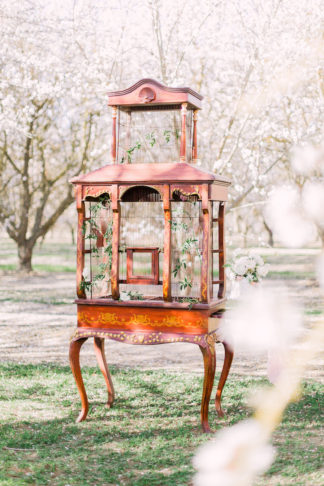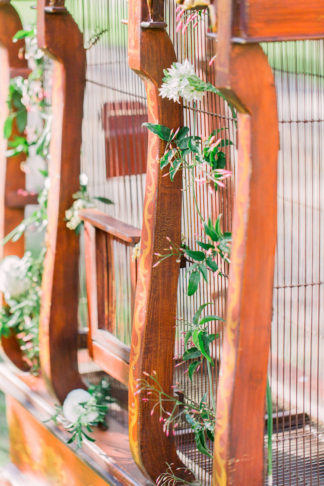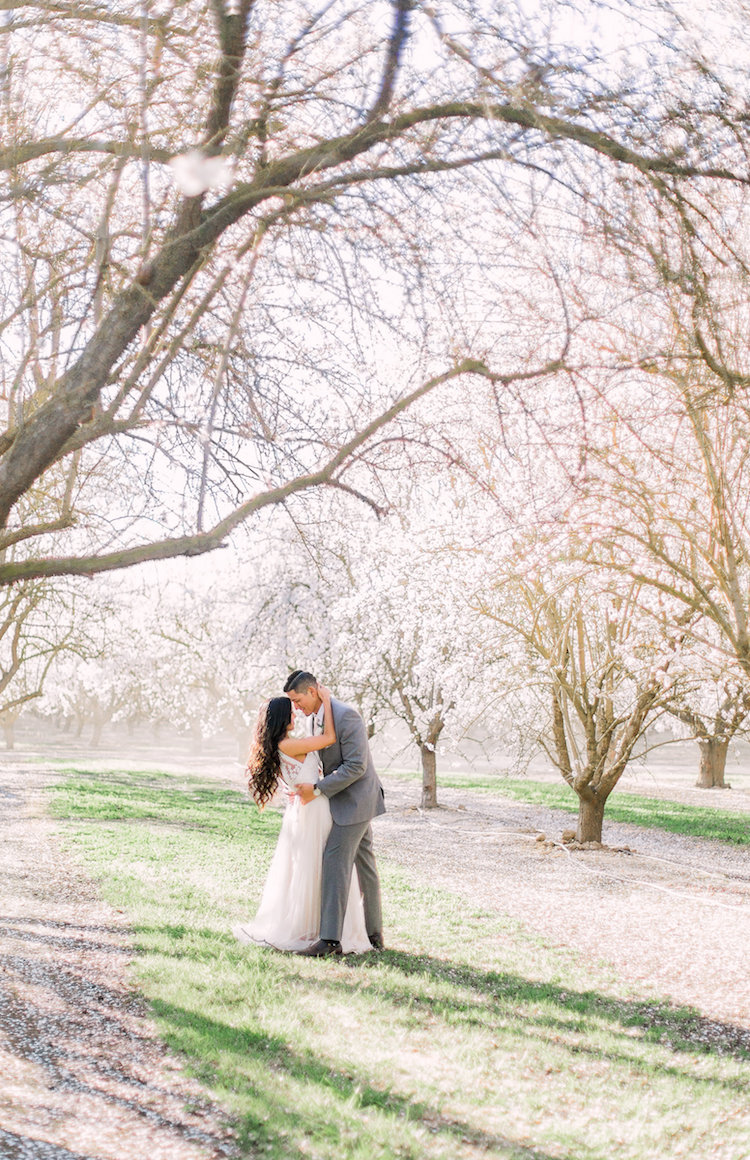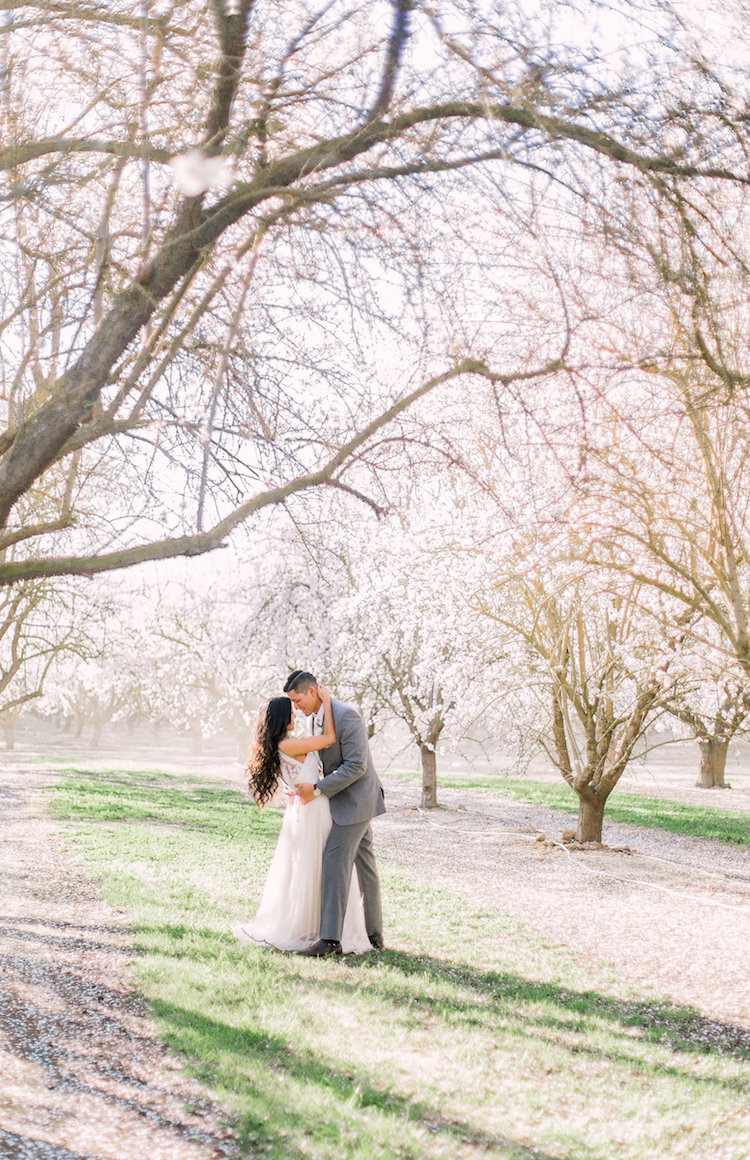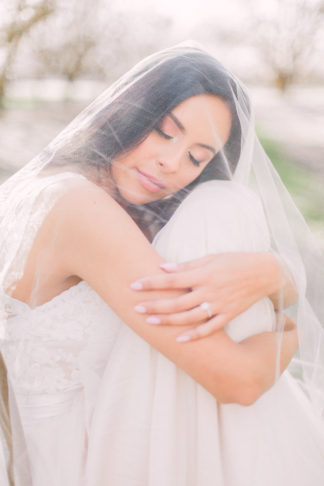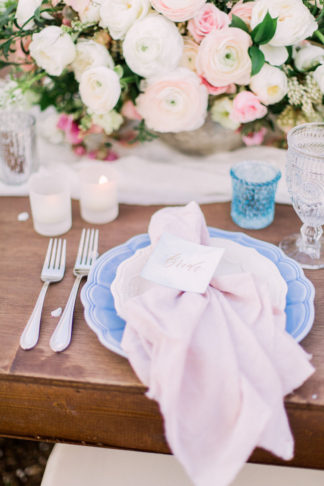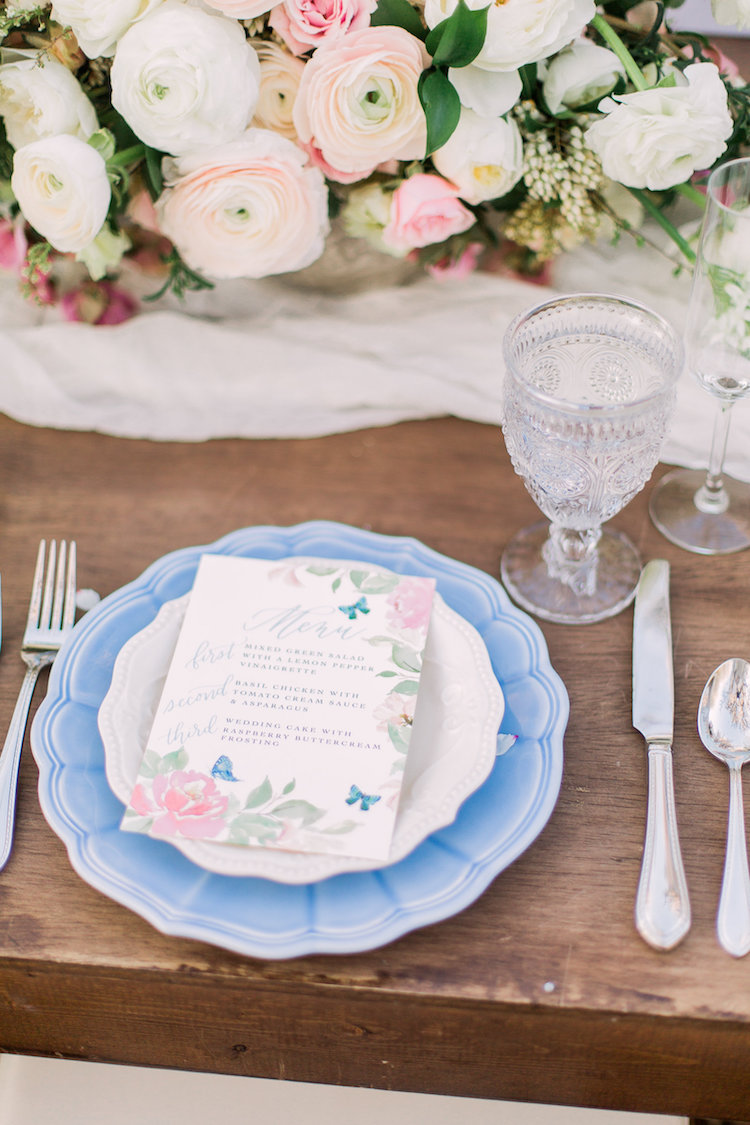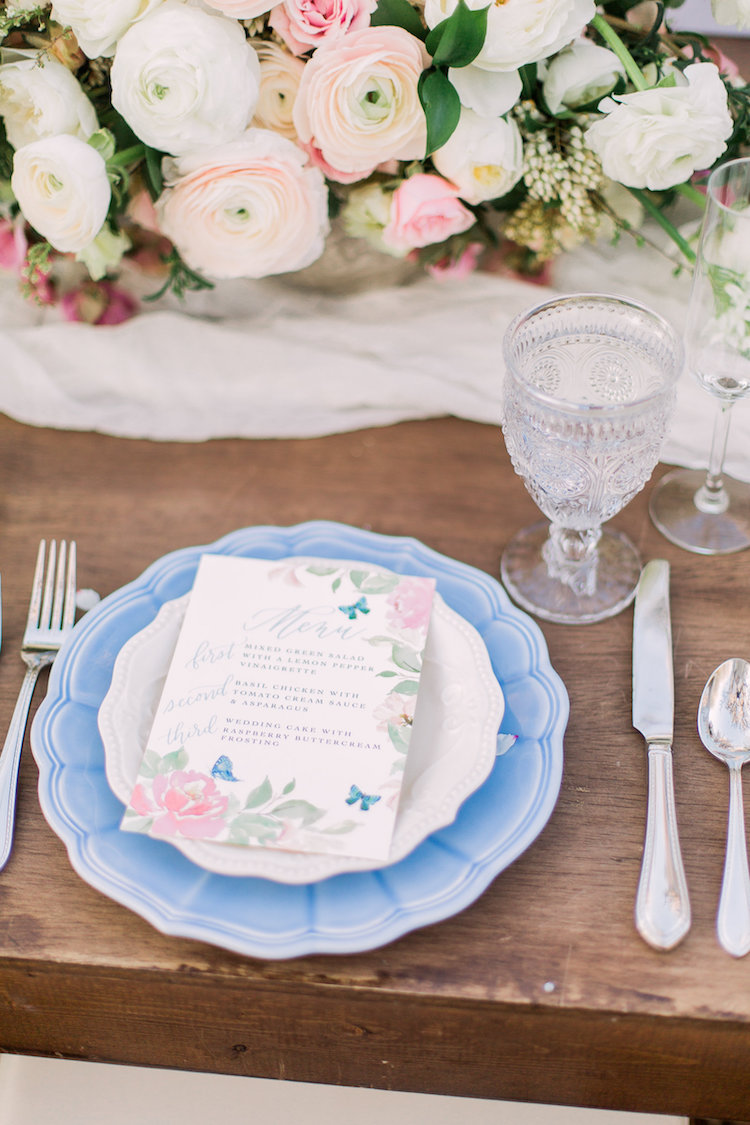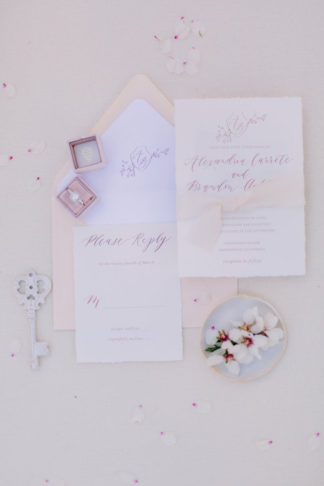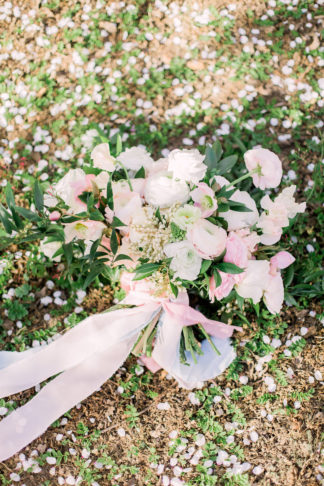 Jocelyn from Union Vintage Calligraphy and Rentals  designed the calligraphic invites. Calligraphy was used throughout the invitation design with hand painted monograms to add a personal touch. Jocelyn also designed the table escort cards with a painted watercolor background.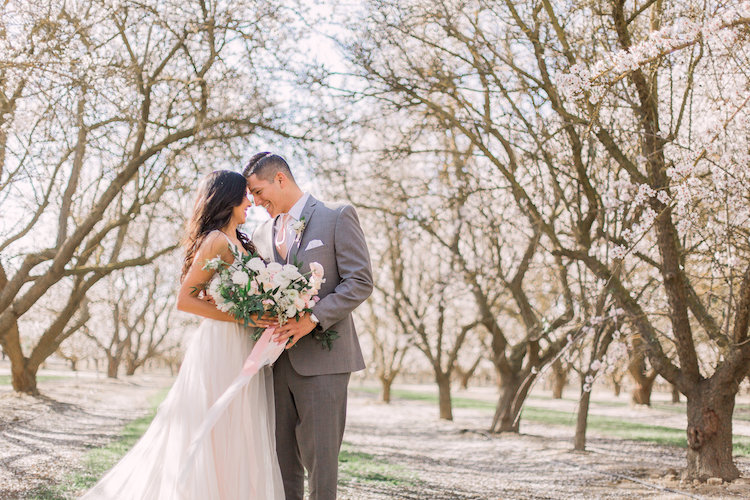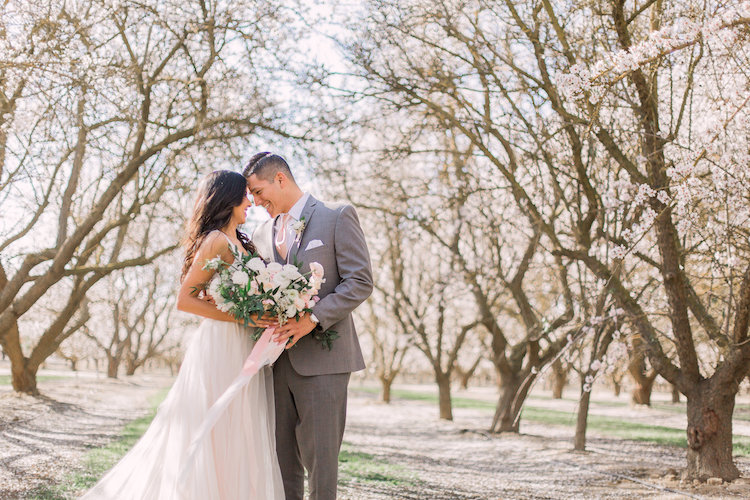 How to plan an almond orchard wedding or elopement:
The team of wedding pros behind this stunning almond orchard wedding collaboration shared their tips for recreating an equally stunning wedding of your own:
Plan your almond orchard wedding or elopement in the middle of February to early March. The spring blooms only happen once a year for a very few short weeks  in the central valley of California so there is only a little window of opportunity to make this happen because after the bloom season, the trees begin to lose their petals.
Include vintage elements to complement the almond orchard setting. Since we collaborated with a few local vendors, most of them already had the furniture pieces we needed on hand, but going to a thrift store to look for especially unique pieces (such as the birdcage or the bike cruiser) will do just the trick.
Mix textures like glass and wood. We mixed glass (the candle holders and bar cart station) and wood elements (wooden table, chairs and birdcage) so this is what helped give our session a the chic/vintage look that we were going for. Many of these added pieces such as the candle holders, the flatware and goblets can be found at Hobby Lobby stores, HomeGoods, Ikea, Anthropology or even the Dollar Store.
Wear a delicate, flowy gown. Soft textures like velvet, silk and cotton work very well and are suited for this theme because it brings out a softness that Romantic weddings have.
Include whimsical floral centerpieces, tapered candles and floral themed invitations to your almond orchard setting and you can achieve a similarly stunning romantic almond blossom wedding of your own.
See more outdoor wedding ideas // See all weddings