Dress Planning Timeline & Workbook  ♥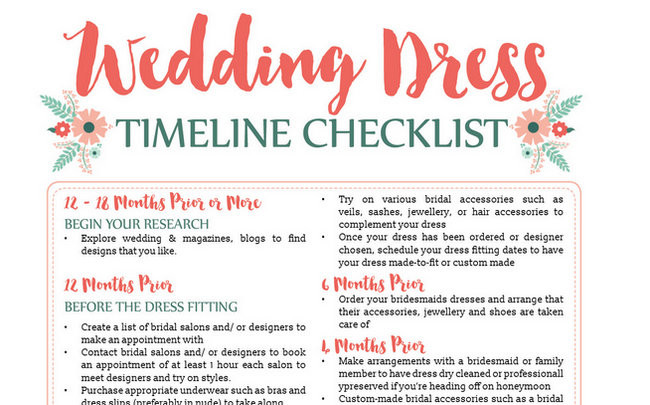 It's all about saying yes to the dress today. We make it easy for you with our brand new wedding dress planning timeline printable. The amount of research, planning, fitting, deciding, and tweaking that goes into choosing the single wedding dress that will make yourself (and your fiance) weak in the knees can easily be underestimated. That's where today's wedding dress planning timeline comes in handy.
While we suggest working with a professional planner if you can, we know that's not always possible. To help those super organized (and brave) brides who are handling the planning themselves, we've put together a suggested wedding dress planning timeline. This guideline is a starting point which should be modified for your specific situation. We strongly suggest that you double check the suggested lead times with your chosen designer or boutique as soon as you get started, as their lead times may vary!
Some of us start collecting styles and designs in a wedding dress file as little girls, only to realize when trying that dreamy mermaid style gown on that it doesn't quite work with our body type. Back to the drawing board. Some of us never gave a wedding dress a moment's thought until the day we became fiancees and are lost at where to start. Some of know exactly what we want, in a style that looks amazing on us. But we want it from a designer who needs several months and multiple fittings to bring our vision to life. That's why some of the best advice when gown shopping is to make sure you give yourself as much time as possible!
Even a gown off the rack will almost certainly need alterations to fit your figure like a goddess, while custom created gown haute couture gown will need several months to finish. (Six to eighth months, or more.)  If you're planning a long engagement, make sure you start dress shopping as soon as you can. It's right up there at the top of the list with booking your venue and wedding photographer in terms of priority.
Wedding Dress Planning Timeline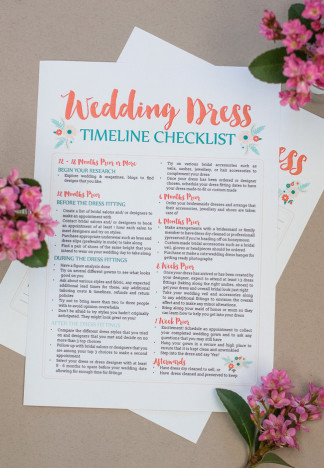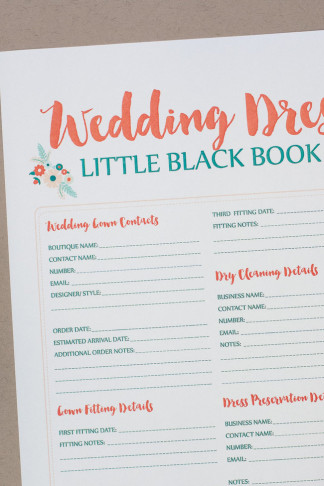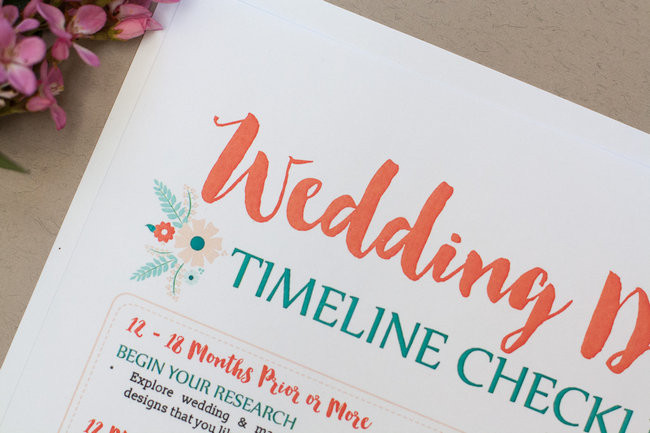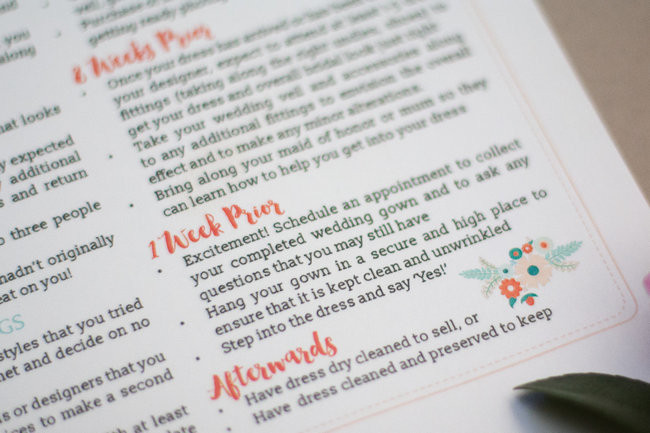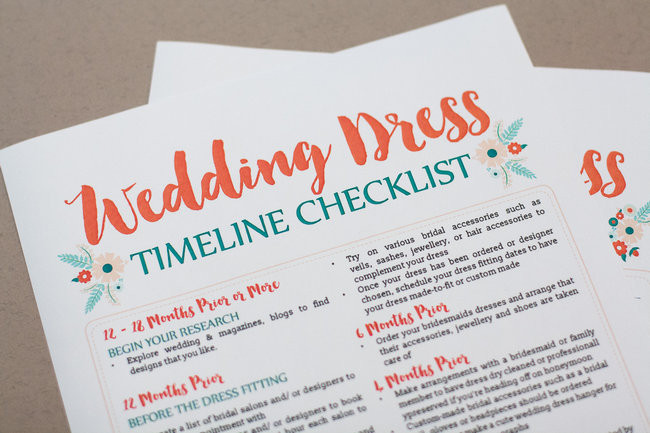 Wedding Dress Planning Timeline
18 – 12 MONTHS PRIOR OR MORE
Begin your research

Explore wedding & magazines, blogs to find designs that you like.

12 MONTHS PRIOR
Before the dress fitting

Create a list of bridal salons and/ or designers to make an appointment with
Contact bridal salons and/ or designers to book an appointment of at least 1 hour each salon to meet designers and try on styles.
Purchase appropriate underwear such as bras and dress slips (preferably in nude) to take along
Find a pair of shoes of the same height that you intend to wear on your wedding day to take along

During the Dress Fittings

Have a figure analysis done
Try on gowns in several different silhouettes to see what looks good on you
Ask about various style and fabric options for the gown(s) you like
Ask about any expected additional lead times and costs to be incurred to make fabric or style changes
Ask about tailoring costs & timelines to tailor,
Ask about the refund and return policy
Try not to bring more than two to three people to your dress fitting to avoid opinion overwhelm
Don't be afraid to try styles you hadn't originally anticipated. They might look great on you!
After the Dress Fittings

Compare the different dress styles that you tried on and designers that you met and decide on no more than 3 top choices
Follow up with bridal salons or designers that you are among your top 3 choices to make a second appointment
Select your dress or dress designer with at least 8 – 6 months to spare before your wedding date allowing for enough time for fittings
Try on various bridal accessories such as veils, sashes, jewellery, or hair accessories to complement your chosen dress
Once your dress has been ordered or designer chosen, schedule your dress fitting dates to have your dress made-to-fit or custom made

6 MONTHS PRIOR

Order your bridesmaids dresses and arrange that their accessories, jewellery and shoes are taken care of

4 MONTHS PRIOR

Make arrangements with a bridesmaid or family member to have dress dry cleaned or professionally preserved if you're heading off on honeymoon
Custom-made bridal accessories such as a bridal veil, gloves or headpieces should be ordered. (Sometimes these require even more lead time if a bespoke item from a sought after artisan is required.)
Purchase or make a cute wedding dress hanger for getting ready photographs


8 WEEKS PRIOR

Once your dress has arrived or has been created by your designer, expect to attend at least 1-3 dress fittings (taking along the right undies, shoes) to get your dress and overall bridal look just right
Take your wedding veil and accessories along to any additional fittings to envision the overall effect and to make any minor alterations.
Bring along your maid of honor or mum so they can learn how to help you get into your dress


1 WEEK PRIOR

Excitement! Schedule an appointment to collect your completed wedding gown and to ask any questions that you may still have
Hang your gown in a secure and high place to ensure that it is kept clean and unwrinkled
Step into the dress and say 'Yes!'


AFTERWARDS

Have dress dry cleaned to sell, or
Have dress cleaned and preserved to keep
WEDDING DRESS PLANNING WORKBOOK
To help keep your planning information in one place, we've also added this bonus worksheet to the download. You'll have space to add the contact details of your boutique or gown designer,  times and notes for three gown fittings and the contact details of the dry cleaner or dress preservation specialist that you would your maid of honor or mom to work with when you're on honeymoon!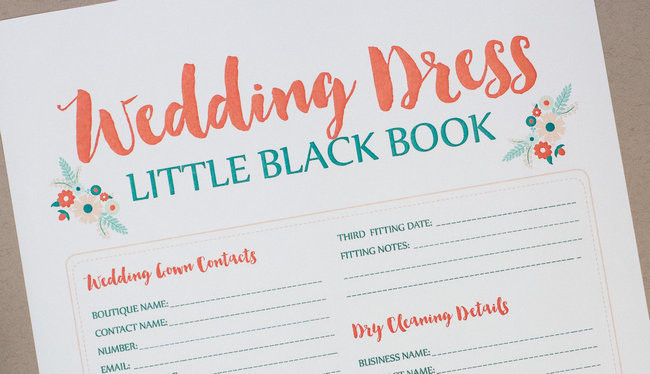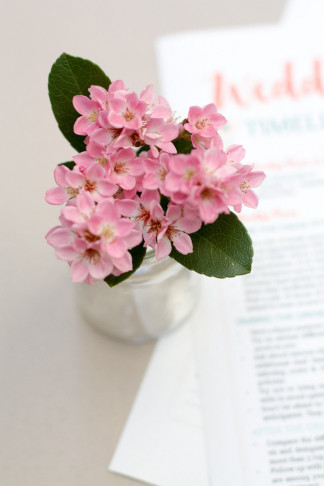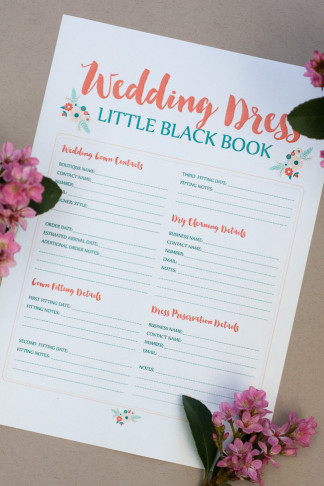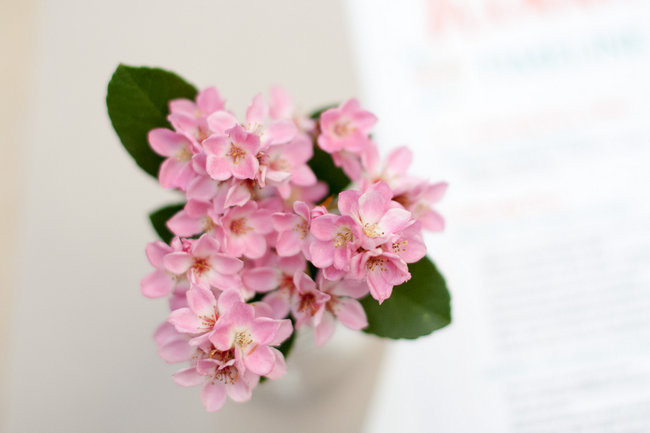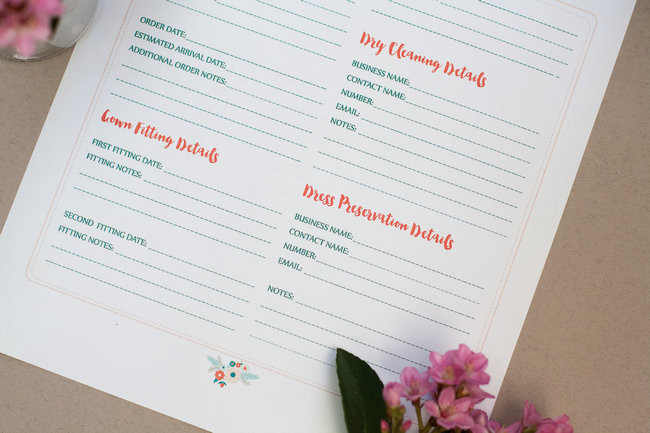 GRAB YOUR PRINTABLE CHECKLISTS
Make sure you check out the rest of our wedding planning advice features, and have a look at all of our fun wedding printables or wedding DIY projects, too!