Provence-Style Courtyard Wedding, Cape Town ♥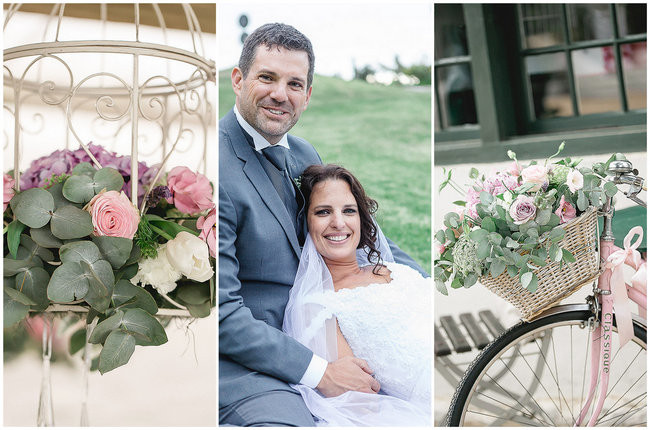 Jens and Simone's love story is an especially romantic one. They met 25 years ago at summer camp in their home country, South Africa, when Simone was a 15-year-old girl. She fell in love with him on the spot, and they became close friends. At the age of 23 she moved to London, and after living on separate continents for 20 years the couple finally reconnected! Following a whirlwind courtship which involved travelling to many beautiful locations and a dreamy early morning proposal in Plettenberg bay, they were married in a French provence style wedding at Jonkershuis, captured by Jo-Ann Stokes Photography.
"My big day was everything I could have ever wished for," shares Simone. "I felt beautiful in my long white dress and trailing veil. We got married in church first and then were driven to our venue in Groot Constantia in a vintage car. The venue I chose lent itself to that theme, a rustic courtyard, cobblestones, iron foldaway chairs, simple, yet romantic. I chose soft colours, pink, white, purple and peach. I loved celebrating our wedding surrounded by vineyards, but we were still close to the city, so that our guests did not have to organise overnight accommodation. We personalised our wedding by giving all our guests a bottle of MCC on which we had stuck our own personalised wedding label."
Romantic Courtyard Wedding, Cape Town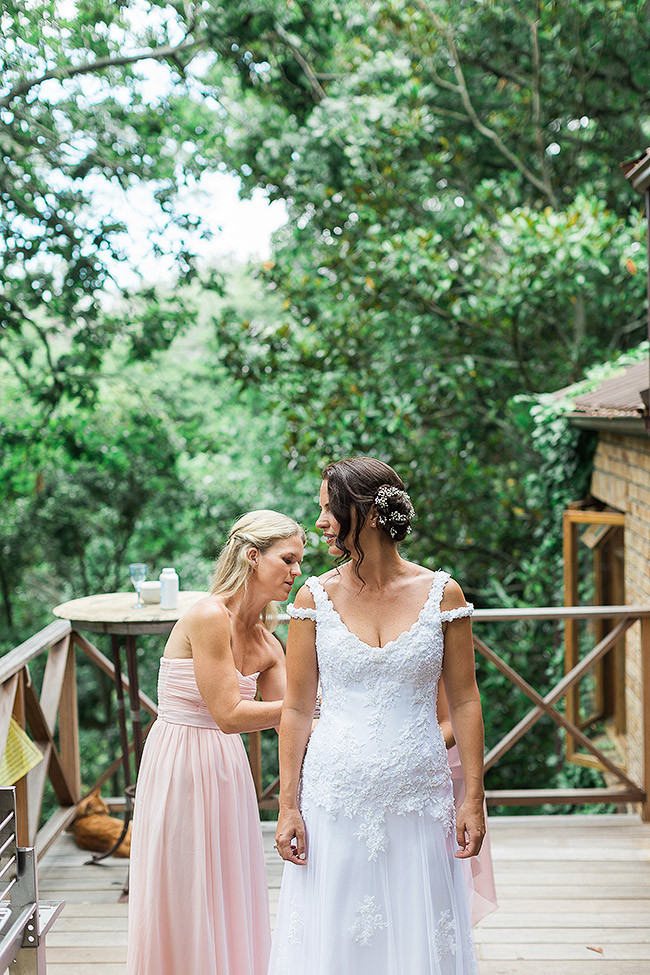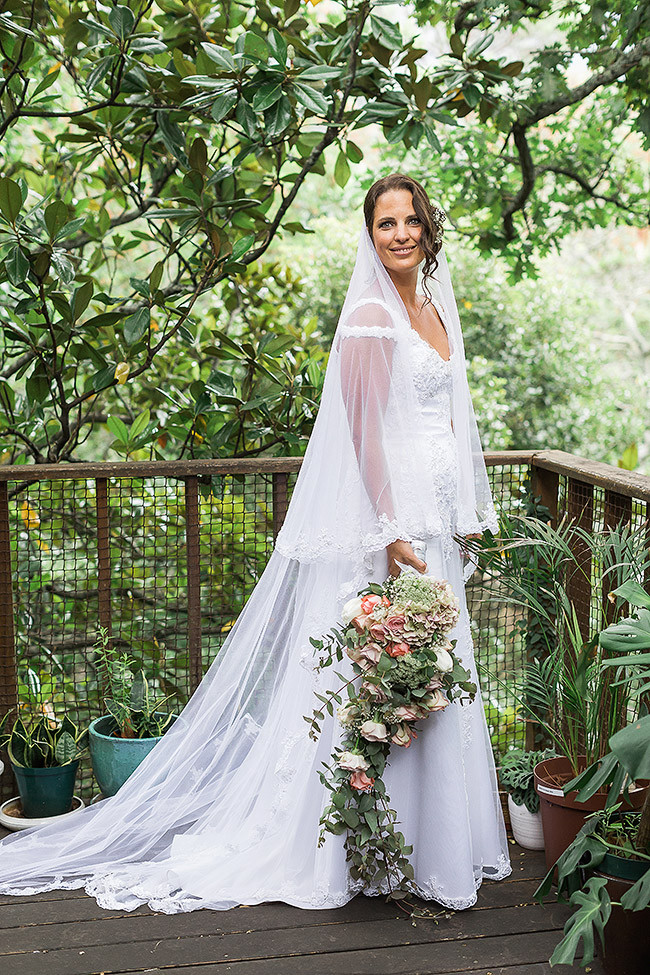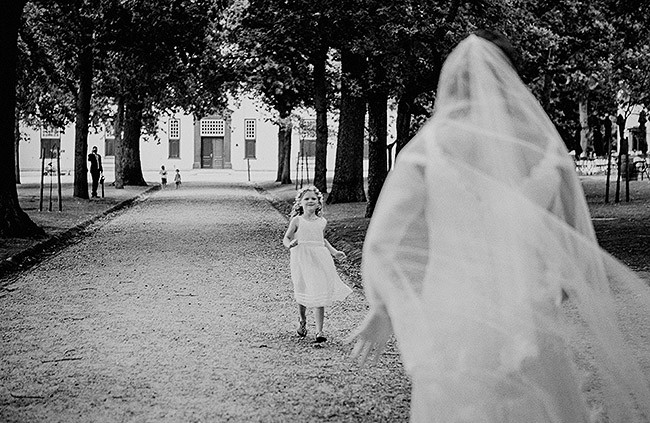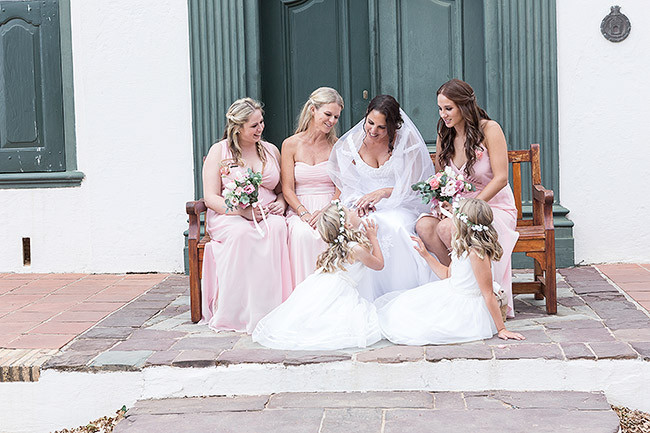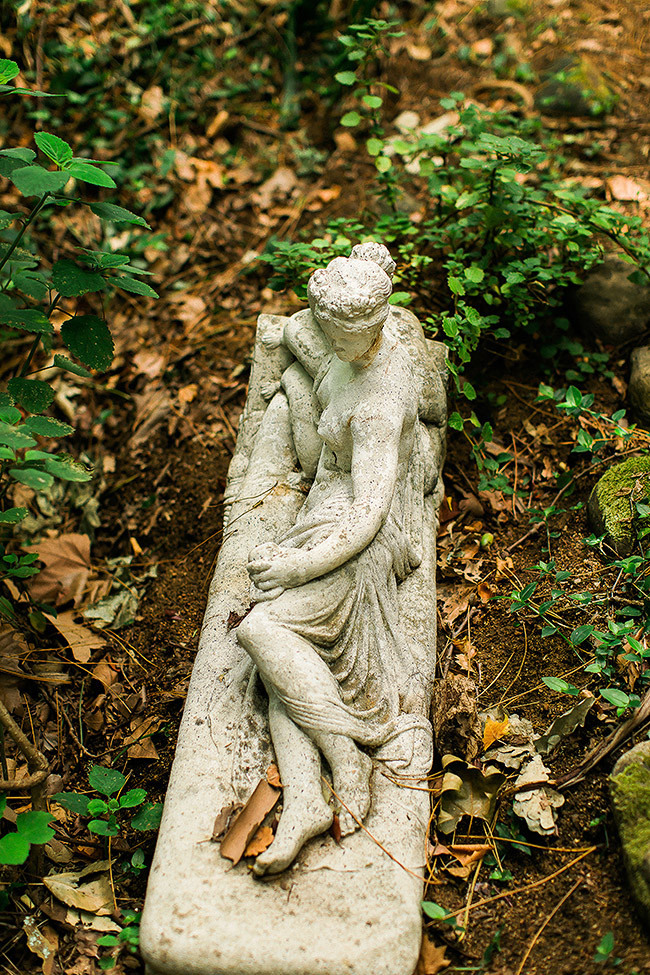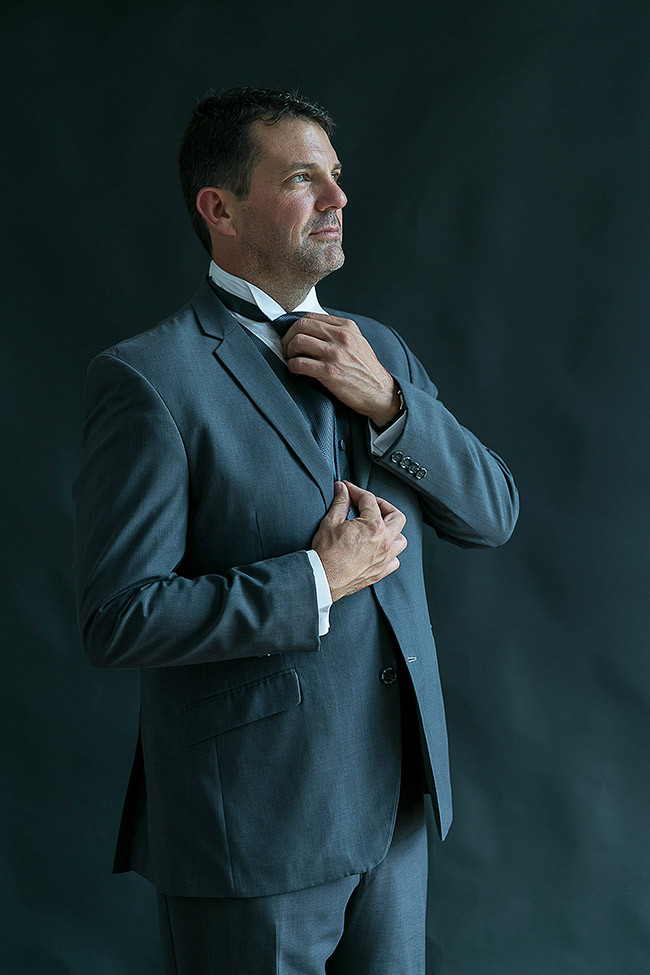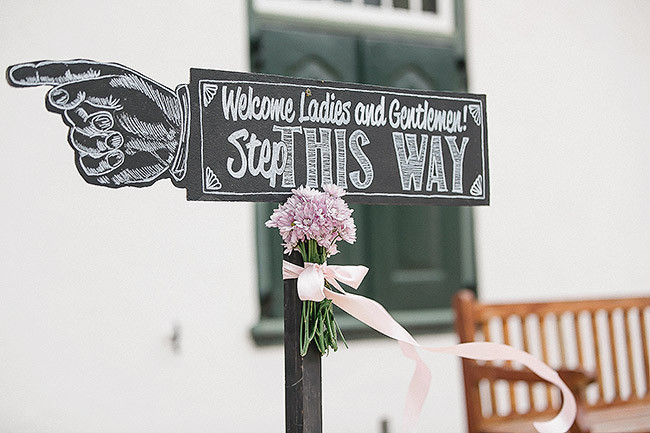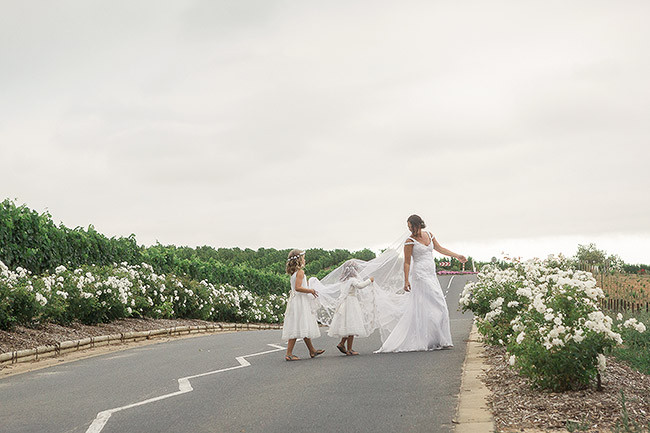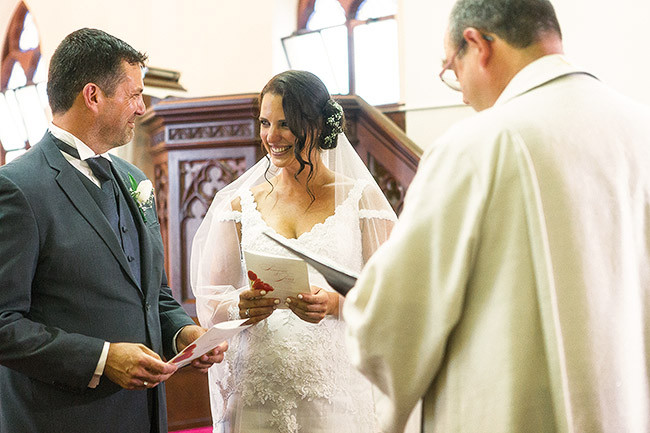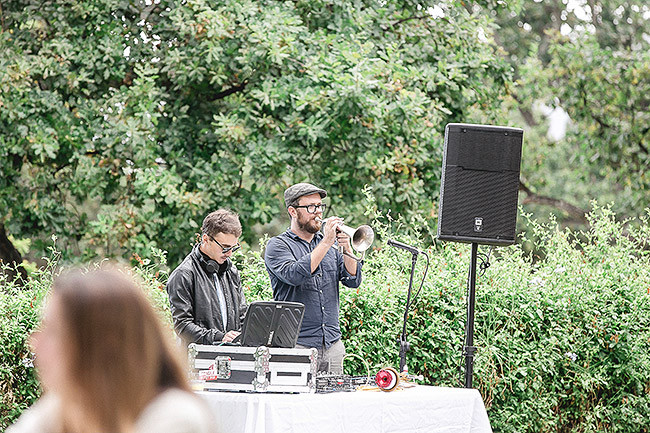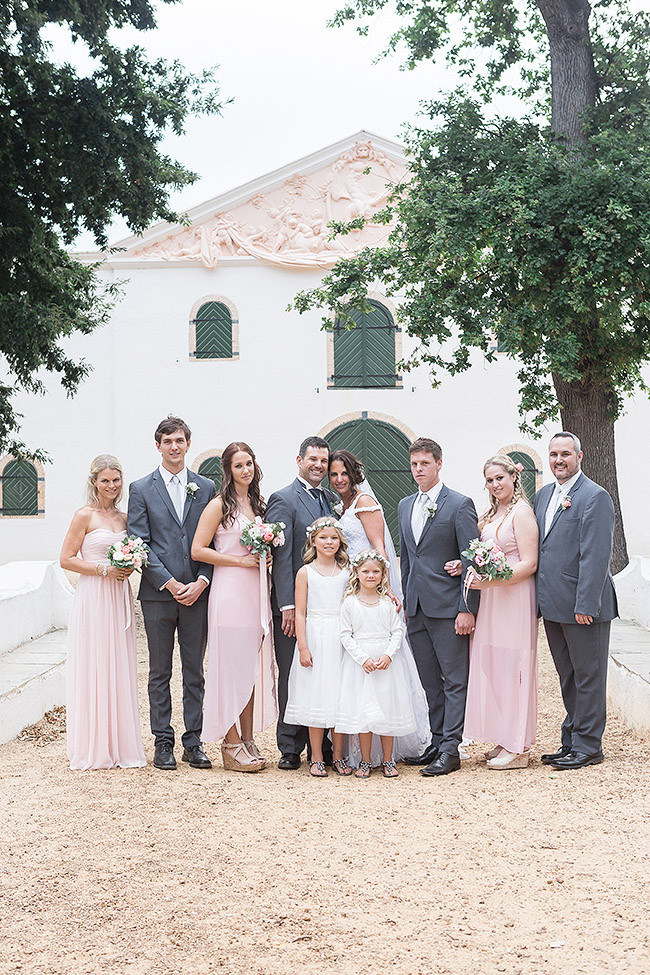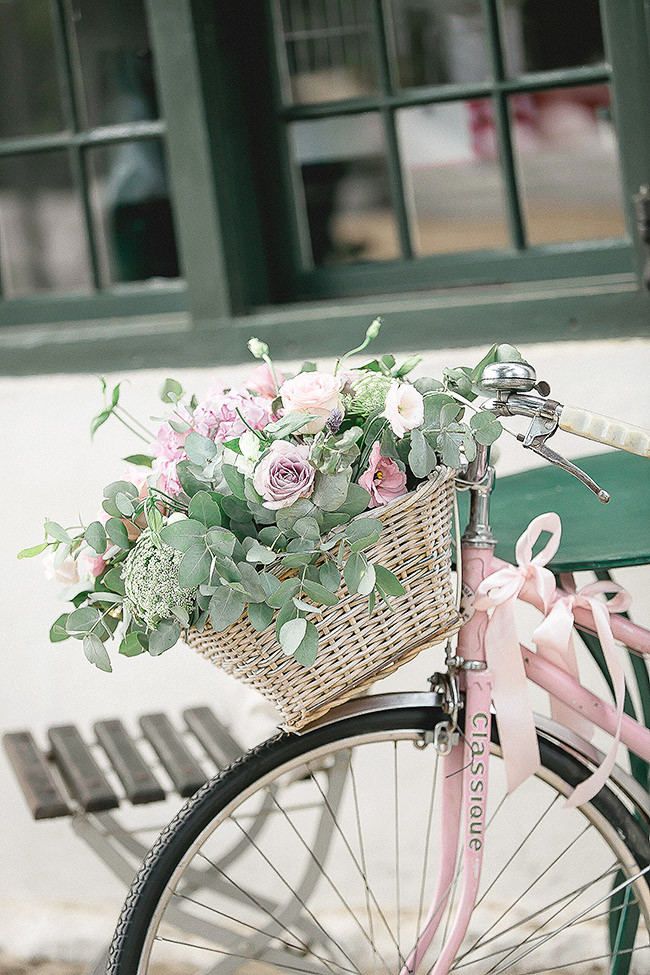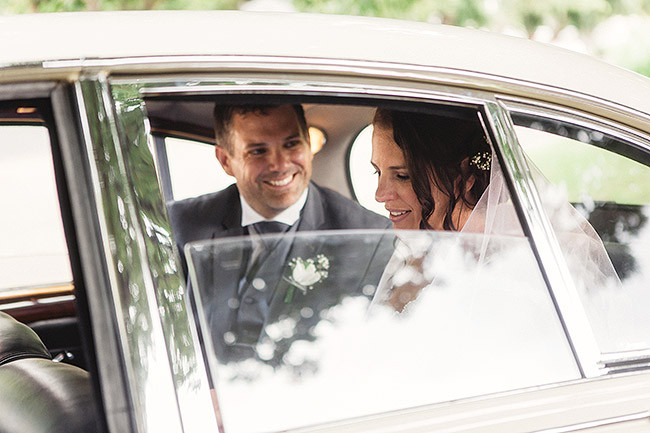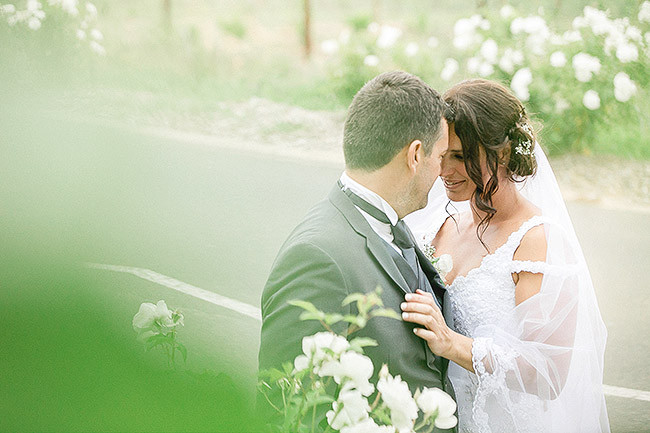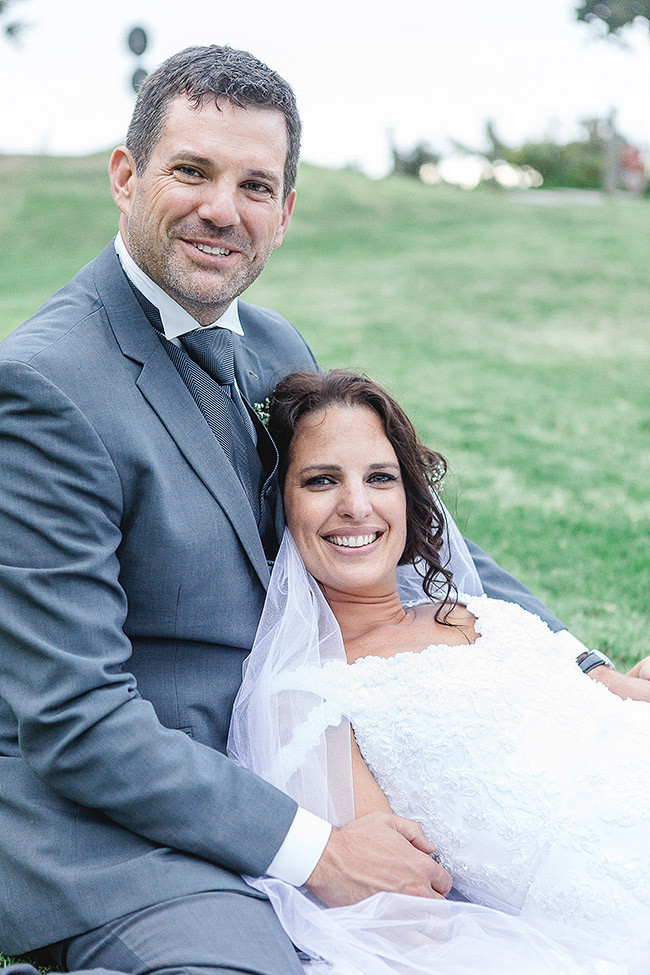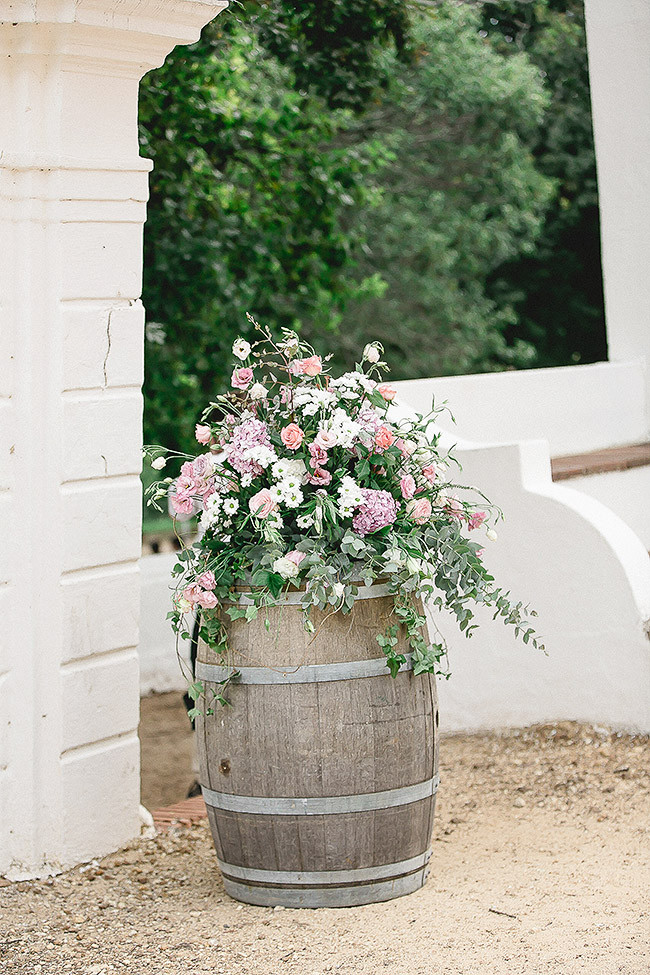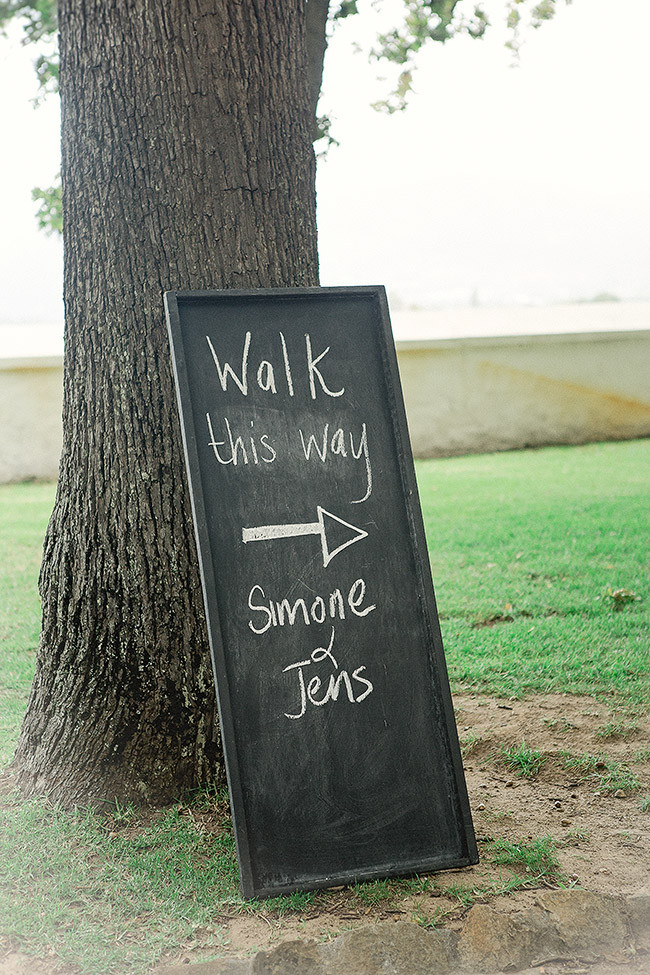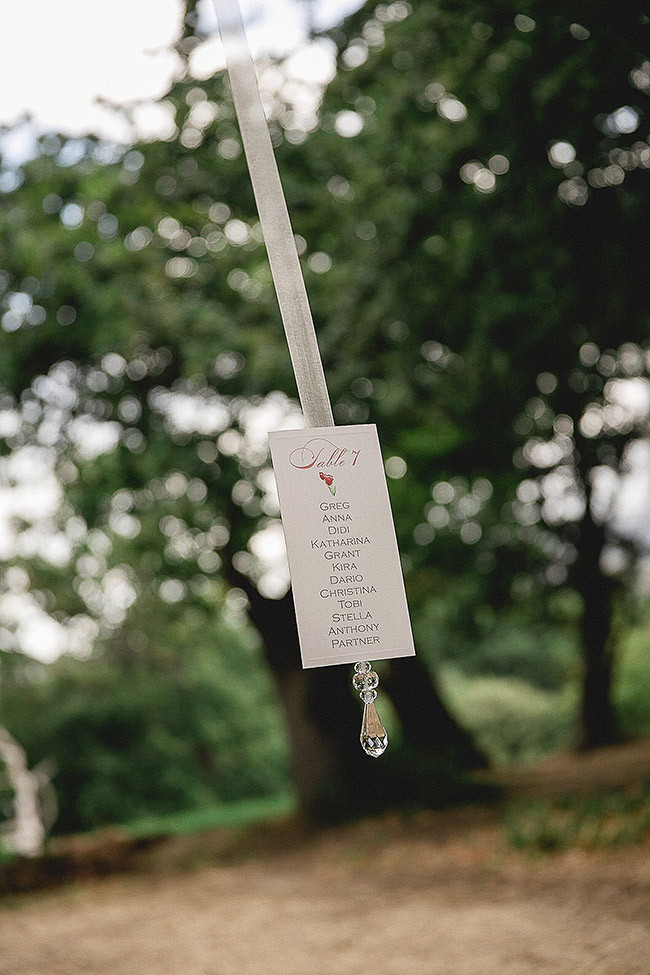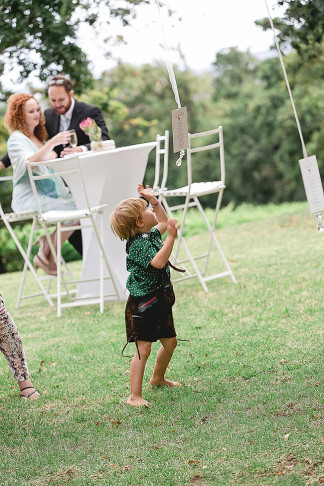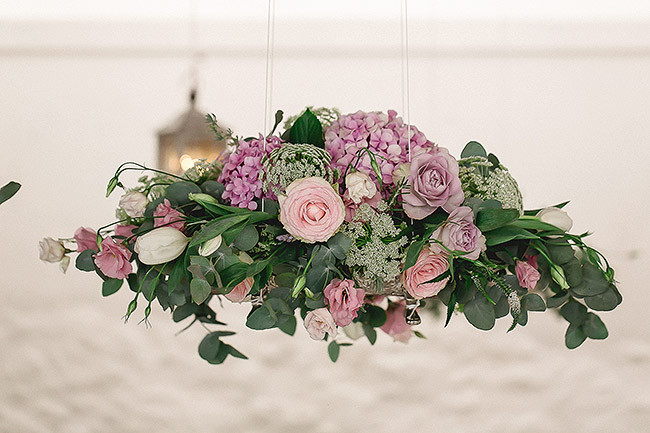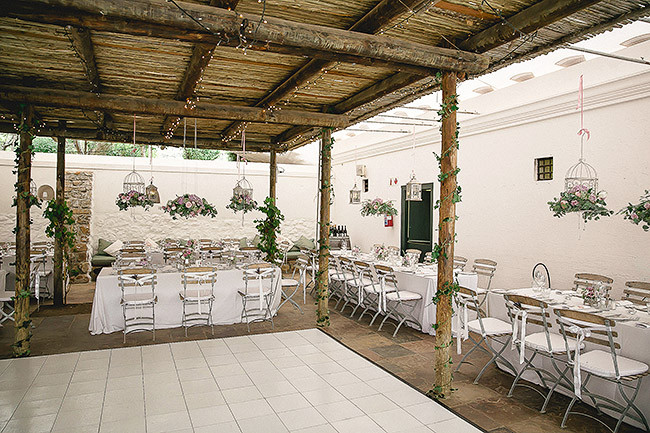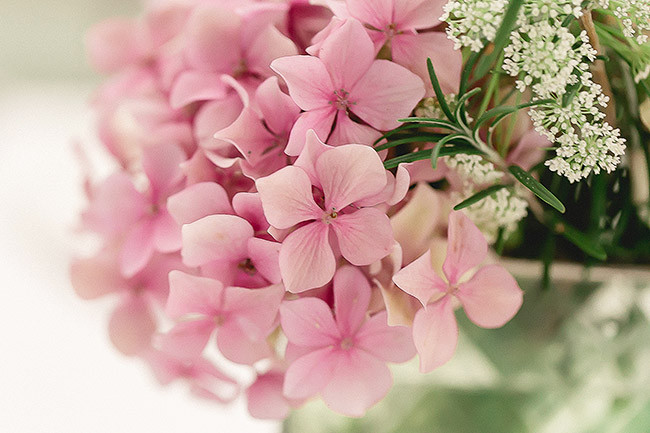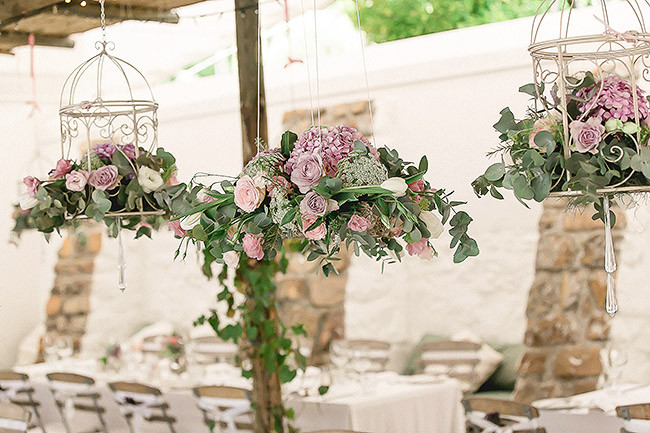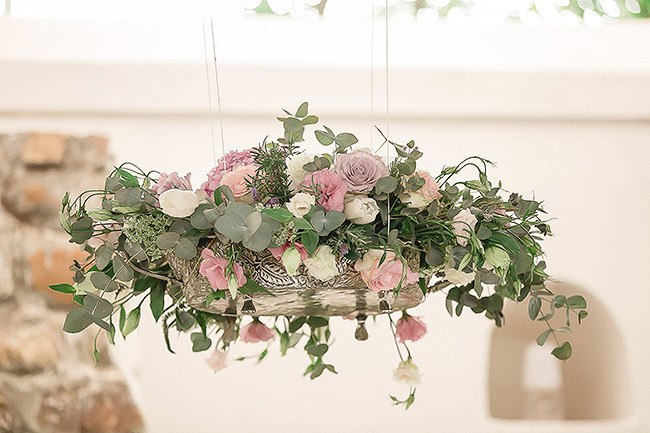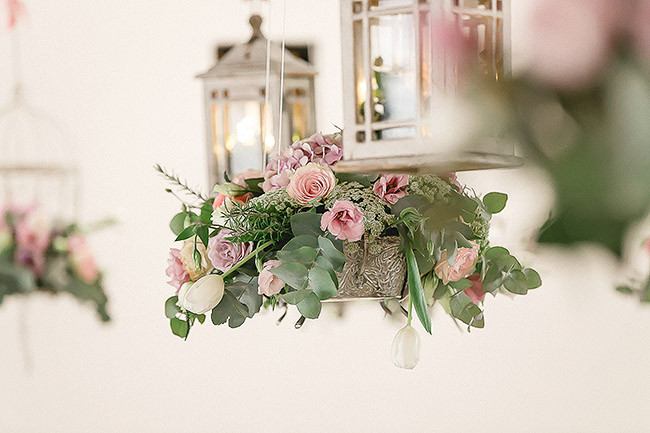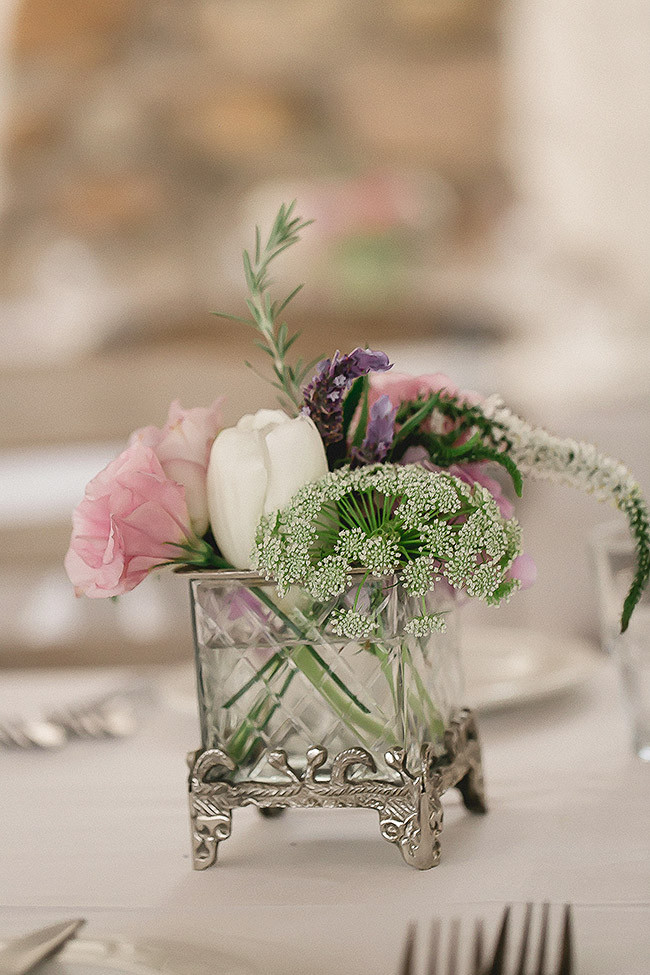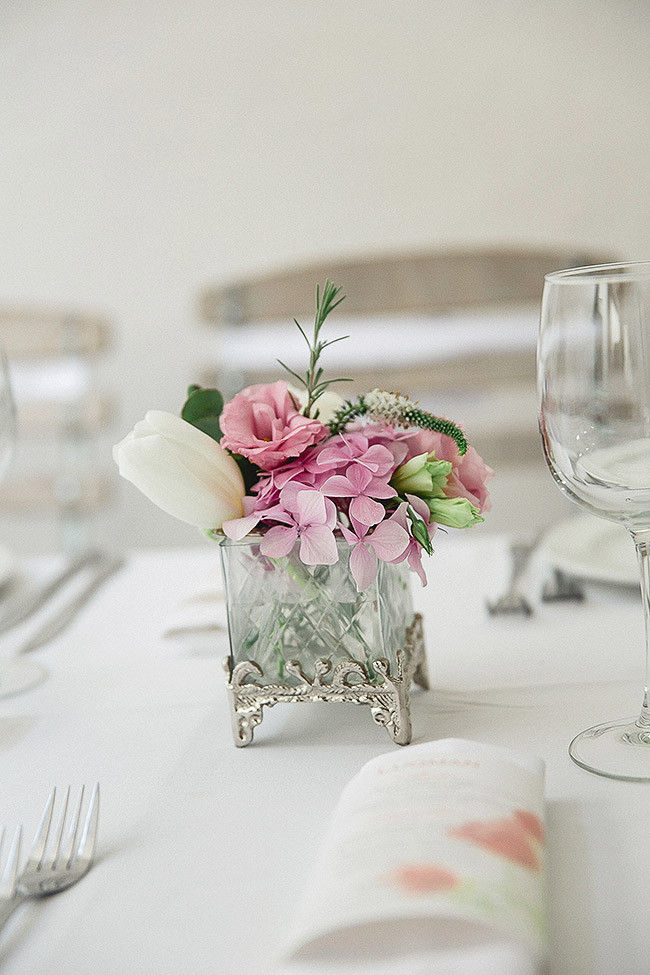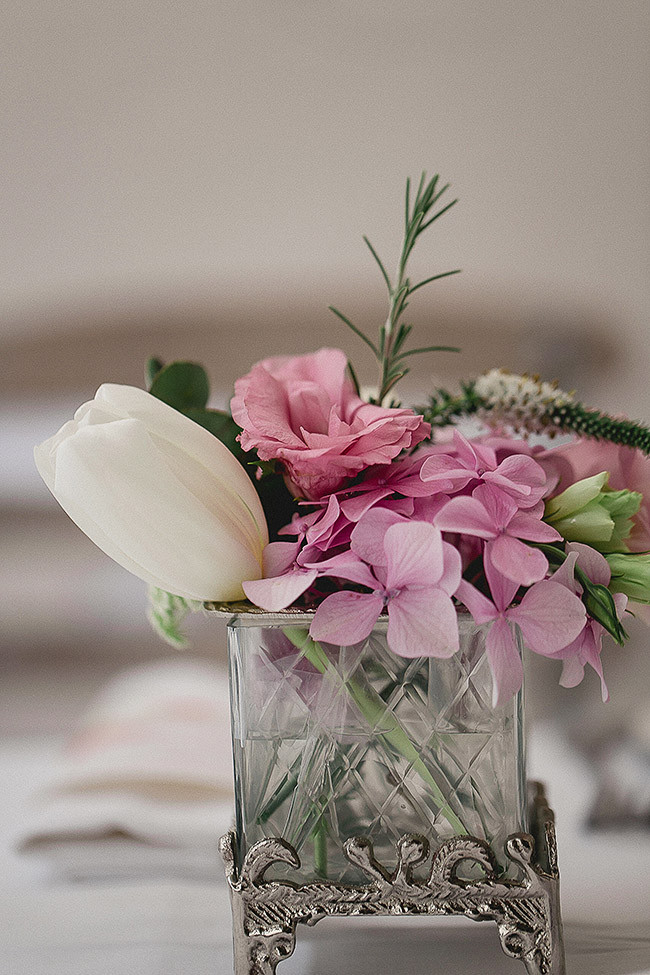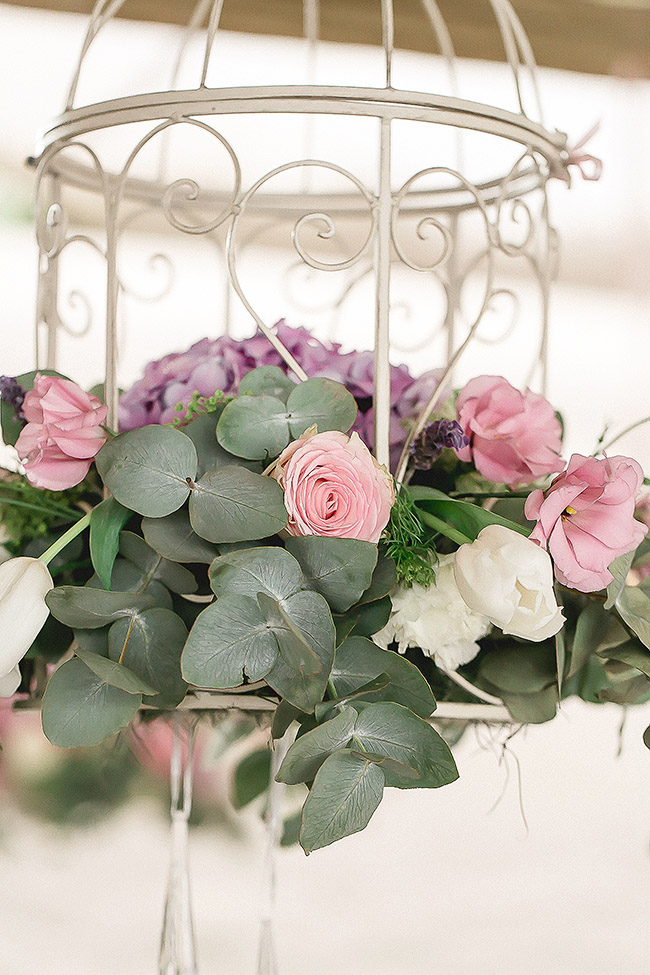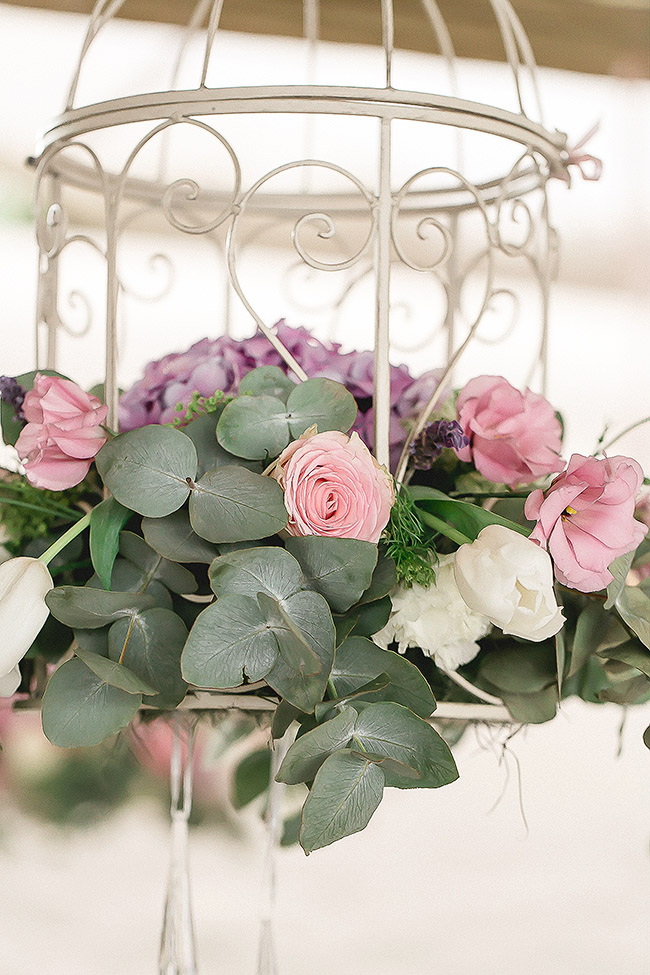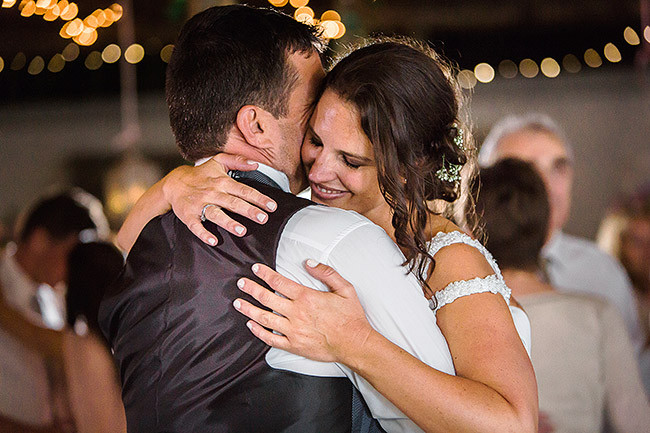 Romantic Courtyard Wedding, Cape Town
Wedding Dress: I will treasure my dress forever. I wanted a fairy tale dress. Paul van Zyl designed my dress. I collected pictures from wedding magazines for inspiration and showed them to Paul, who then created my dream dress. He owns a fabric shop which has a great variety of different lace to choose from. He created a beautiful long flowing veil that trailed behind me. very romantic.
Bouquets: I chose my flowers according to the colour theme. I had soft pink roses, white tulips. As a last minute decision my florist created a long cascading bouquet for me, which I absolutely loved. another romantic look.
Bridal Party Styling:  Bridesmaids wore peach coloured dresses. I let them choose their own, as long as they matched in colour and length. they had simple bouquets consisting mainly of roses
Groom's Attire: My dashing groom wore a charcoal suit which he hired from Eurosuit in Claremont. He hired another 3 suits for his 2 groomsmen and his best man.
Wedding Ceremony: We had a very traditional wedding ceremony at the German Lutheran church. Our Pastor delivered the ceremony in both English and german and everybody sang in church accompanied by the organ. It felt very special kneeling by the pulpit and being blessed by our priest. Our reading focused on Belief, Hope and Love, based on excerpts from the bible. Our priest first read them in German and then translated it into English.
Wedding Guest Book and Seating Chart: We had a photo booth at our wedding, which printed 2 copies of every 'shoot'. One for our guests to keep and another for our guestbook. They stuck the photo into the book accompanied by a message. We had 8 tables in total and hung each table Card separately from big oak tree so that guests could see at which table they were sitting at whilst having canapés. The cards where weighted down with diamante weights so they glistened in the evening light.
Wedding Ceremony Details: The tables in the courtyard were not very wide, so I wanted to avoid cluttering them up. So instead of having the flowers on the table we hung them up above the rafters, floating above each table. On either side was a birdcage filled with flowers and lantern on the other side, which gave the evening a romantic rustic feel. We had very small posies on the table in ornate silver jugs. To give the evening a more French Provence feeling I had lavender flown down from Johannesburg which we tied to the back of our guests chairs with little white bows.
Wedding Playlist:
I fell in love to Jens with 'Can't Fight this Feeling anymore' by Reo Speedwagon, when I was 15. It was this song that was playing that fateful day 20 years later which triggered my memory of him. So it seemed like the perfect song to play when we entered the reception. It was my most precious moment when the song played as we were welcomed as husband and wife. We danced our first song to 'No Place I'd rather Be' by Clean bandit. A year before I had taken Jens to Glastonbury festival and we ended up dancing to CleanBandit. We both loved the song and the words, so it made total sense for it to be our first song. Jens had the inside of his wedding band inscribed with the words 'no place I'd rather be'.
Planning Advice:
I am glad I planned the whole wedding in 3 months. It prevented me from getting too bogged down with the details.
I think a timeline is very important. Create a spread sheet that specifies who has to be where at what time. start in the morning, what time will your bouquets be delivered, what time does hair and make up arrive etc. a run through with the wedding party at the venue a few days before is also a good idea so that everybody knows what is expected from them.
Let the flower girls and bridesmaids practice walking down the aisle slowly, believe me as a bride you want the moment to last forever when you are walking down the aisle.
Flowers are expensive. Use lots of green between the flowers to keep costs down.
Serve your cake as one of the desert options.
♥ ♥ ♥ Wedding Service Providers: ♥ ♥ ♥
Venue Jonkershuis, Groot Constantia // Photographer Jo-Ann Stokes // Videographer Julian Emdon // Dress Paul van Zyl
Brides Make-up Gerhard Naude // Flowers, Planning & Decor Susan Lomas // Cake kanya hunt // Music Richard Marshall // Favors The Wine Society // Stationery Little Works //