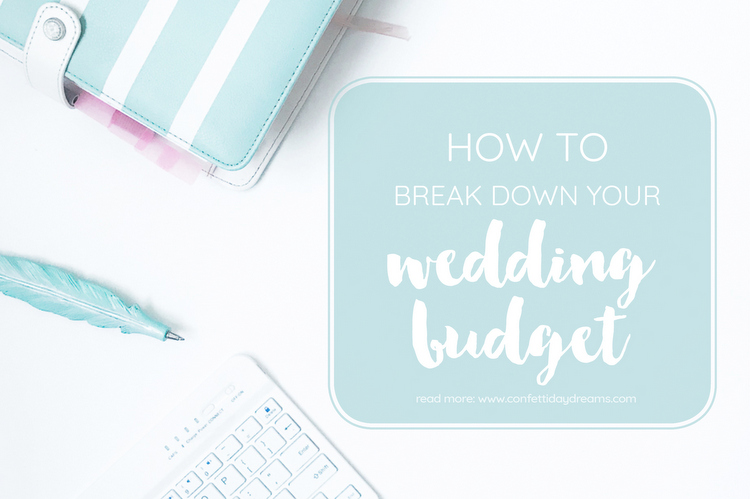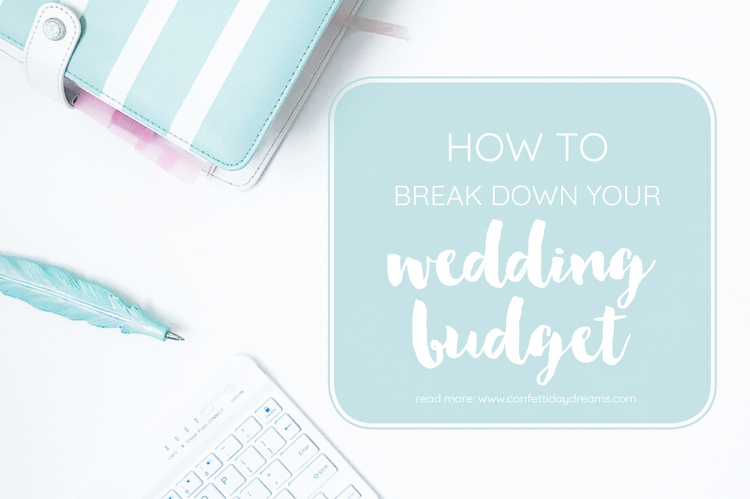 Figuring our your wedding budget is the first and most important starting point of your wedding planning journey. Before even thinking about throwing an engagement party or making any bookings, you'll need to know exactly how much you'll have to spend on each item of your wedding – starting with a wedding budget breakdown. Why?
Your wedding budget breakdown lets you know how many guests you can afford. People that are invited to your engagement party look forward to a wedding invite, so you'll need to make sure you have basic wedding guest list in mind before inviting anyone to any engagement celebrations you might have. (Of course, an engagement party is totally optional.)
Wedding Budget Breakdown
Even if you're not throwing an engagement party, you'll need to have a number in mind for the amount you plan to spend on your wedding venue,  your food, your decor and your wedding clothes. You'll need to know what you can spend on wedding stationery, transport, decor and more before you reach out to vendors for quotes. (Have a look at this list of  30 hidden wedding costs so that you can plan for them, and then check out our 30+ genius ways to save money on your wedding that your guests will never notice!)
Having a solid wedding budget breakdown helps you to make sure you don't overspend. It helps you make sure you've allocated enough budget for important items like quality wedding photography to capture your memories. Importantly, a good wedding budget breakdown also makes it easier for you to budget correctly for the things that contribute to your guests having an awesome celebration with you. This includes a good wedding venue, yummy food and giving some though to what kind of entertainment will give off good vibes.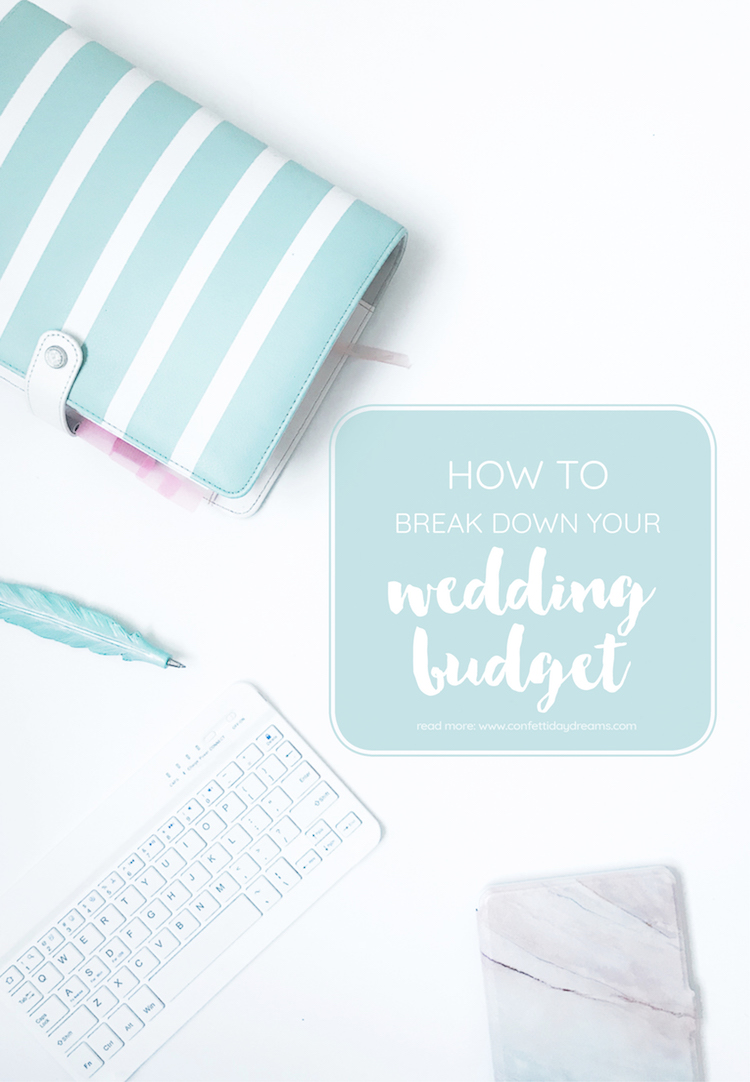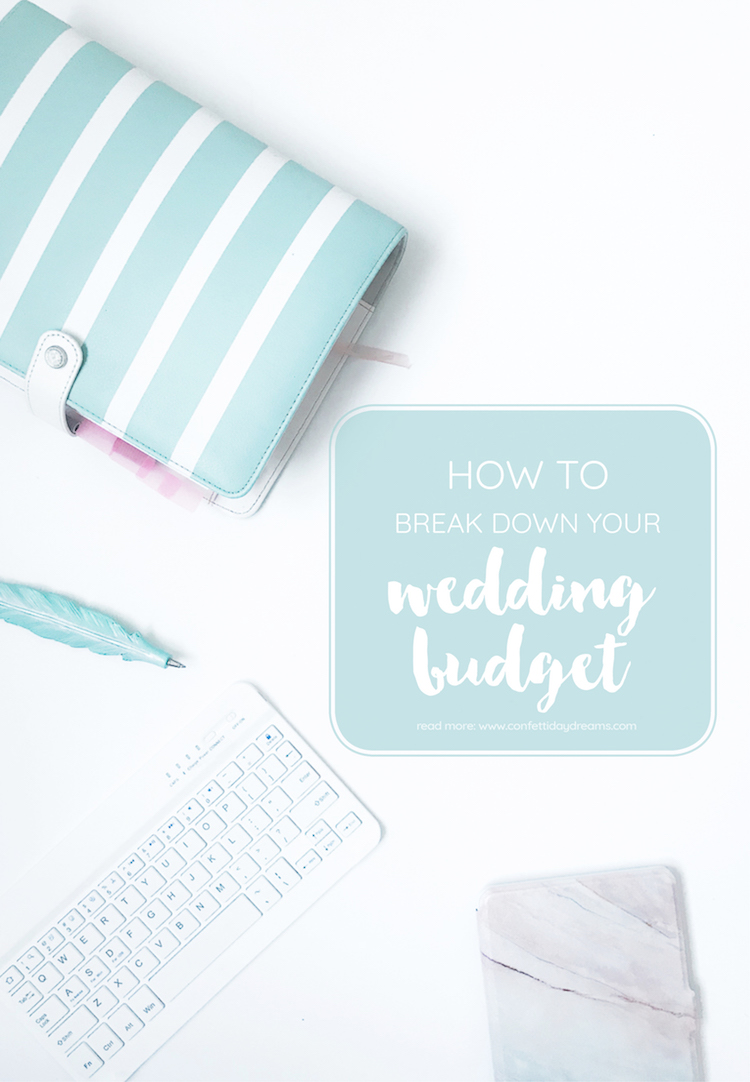 How to figure a basic wedding budget amount:
Have a chat with your partner and decide on the total amount you have available to spend on your wedding budget. Your wedding budget might come entirely from yourself and your partner. Or, one or both of your parents may be able to contribute.
Traditionally, the bride's parents would cover the majority of the wedding budget, but nowadays many couples pay their own way, with parents contributing what they can realistically afford. Remember that there is zero sense in anyone going into debt for a one-day celebration. Financial pressure and fights about money are one of the biggest reasons cited for divorce, so don't start your married life off by going into debt or giving your parents an unnecessary  financial burden. It's seriously not worth it!
TIP: You might decide to open up a wedding savings account to which you both contribute a realistically affordable monthly amount, over the time leading up to the wedding.
Wedding Budget Breakdown:
Once you have an amount in mind, determine how much you can spend on each wedding booking by breaking your budget down into ratios. A lot will depend on the type of wedding you have in mind – a 100 people celebration at a vineyard with a dance floor under the stars will have different requirements to an intimate 30 person celebration in a beautifully cosy back yard setting.
Certain things, like excess decor, wedding favors and even elaborate wedding stationery, you can do without  – if you want to. But please give lots of thought and attention to photography, location and food. The rest, is up to you. Perhaps you have a little bit extra and want to splurge on amazing florals because you love nature and blooms. Or maybe you want to book your fave local band for a night of partying that your guests will never forget. Maybe you'd like to enlist the help of an experience, creative wedding planning professional to help take much of the admin of planning a wedding off your plates.
We're giving you a basic wedding budget breakdown as a starting point, and encourage you to decide what works for your situation.
50 – 55% of Wedding Budget: Reception Venue + Catering
Your wedding reception budget should include your venue hire, menu, beverages, as well as the waiter, bar staff and gratuity. Guests might not notice (and, quite honestly, will likely forget) many of the small, cute details you plan for your wedding day, but they'll certainly always remember the quality of the food. Do your best to make sure the food is as awesome as it can be, whatever form it may take.
10% – 12% of Wedding Budget: Wedding Photography + Video
Possibly one of the most important wedding bookings for your big day, is your wedding photography. Do not skimp on your wedding photography, because in five, ten, thirty years from now, these precious pics will be the only tangible remainder you have left of the day – other than each other, of course. 😉
3 – 10% of Wedding Budget: Wedding Planner / Co-ordinator / Consultant
A full-service wedding planner will work closely with you – for often as much as a year before your big day, offering peace of mind. They'll have the experience and the vendor contact list to help save you money, time, and mistakes.  But if you're a super organized planner by nature, have the time to do all your own extensive vendor research and love managing to-do lists, then you could decide to go ahead and venture bravely forward on your own. The help of a 'Day of' wedding co-ordinator can help make your life MUCH easier, should you go this route.
5-8% of Wedding Budget: Flowers, Lighting + Décor
Of course, this number can be considered conservative if you're imagining ceiling to wall floral backdrops filled peonies. Wedding planner, Nicci of Nicolette Weddings, explains that you could even spend up to 20% of your budget here. See what works for you.
5% – 10% of Wedding Budget: Clothing, Make-up / Grooming + Accessories
This portion of your budget should cover your gown/ suit, as well as your I Do Crew's outfits and your wedding party's hair and makeup, says Nicci. As this could be a tight squeeze, she advises that you spend with caution in this area. Remember, you could easily rent a suit or wedding gown, buy something pre-loved at an online wedding marketplace like Nearly Newlywed, rent your I Do Crew's gear, or just have them choose and wear something cute that they'll use again in real life. (That's if you've decided to even have an I Do Crew, at all.)
(Heads up: If this advice inspires you to go digital and use one of the services mentioned in this article, in some cases we'll get a small percentage of the sale for sharing them with you. There's no extra cost to you, and it helps us keep the lights on. Thank you so much for supporting our content!)
5% – 7% of Wedding Budget: Wedding Ceremony
This typical spend includes the fee for your ceremony venue, as well as your marriage officer's fees, which will cover performing your ceremony and the legal registration of your marriage.
6% – 12% of Wedding Budget: Music, DJ + Entertainment
This amount is set aside for your DJ and depending on the size of your budget, a live musician or band too. You could go huge here and surprise your guests by hiring your fave local DJ / band to keep your dancefloor rocking all night long and have a crazy one-night only celebration you'll never forget. Or you could decide to skip it all and just have a cool, basic spotify playlist instead.
1 – 3% of Wedding Budget: Wedding Stationery
This amount should cover for your save-the-dates, invitations and all on the day wedding stationery including your order of service, seating chart, table numbers, name cards, menus and thank you cards. As stationery can be quite pricey, Nicci identifies this as another area of your wedding that requires you to spend wisely. Remember that you can easily go paperless by choosing super cute Save the Dates and wedding invites using sites like Greenvelope or Appy Couple. Not only are these budget friendly, they are more sustainable, too. Also, check out our wedding cost saving hacks for reducing your wedding day stationery costs and footprint.
2% of Wedding Budget: Transportation
Nicci usually recommends that you leave this item till the end stages of your wedding planning in case you'd prefer to allocate this portion of  your wedding budget somewhere else. " Guests will never notice that you didn't have a cream, 1975 Rolls Royce dropping you off at your ceremony," explains Nicci. Hiring any kind of transportation when your family could be driving you is considered icing on the cake, to look at once all the other important wedding items have been booked.
2% of Wedding Budget: Favors / Donations
Traditionally, couples would budget for gifts for their guests- known as wedding favors. To do this, Nicci explains that you should divide 2% of your budget by your number of guests to determine the maximum amount to spend per person. She adds that, "it's easy to feel pressure to spend more than this, but remember that the people who attend your wedding are there to celebrate in your beautiful union." Nowadays, many modern couples are happy to skip the favors and instead offer a donation to charity in their guests names, or offer a practical option such as a dessert or sweet bar, which acts as guest favors. Have a look here for some eco-friendly wedding favor ideas, and find creative ways to give back to your community with your wedding here, instead.
2% – 5% of Wedding Budget: Oh Sh*t
Lastly, it's important to set aside some of your budget for any unexpected expenses, or price increases. If you're careful when making your bookings and clear about the date of your wedding, unexpected expenses should be reduced, but there are nearly almost always last minute ideas or expenses that crop up. Be prepared – and if you don't end up spending the money you can always use it for your honeymoon, home, or simply put it into savings. Score!
Keep in mind that the above does not include your honeymoon costs, wedding rings or pre-nup agreements  which you will probably need to factor into your individual budgets. There are also many additional items such as thank-you gifts for your wedding party, dry cleaning, beauty treatments and more that you need to be aware of when calculating the above numbers. Read this list of often forgotten wedding costs to make sure you don't get caught by surprise.
Your Wedding Budget Breakdown 
Ultimately, these numbers are flexible according to what your wedding priorities are, agrees Nicci. For some, stationery is hugely important, while music is just a random wedding necessity, so they'd rather spend more on beautifully calligraphed seating charts and menus, than on their DJ, for example. For others, hiring their fave local band and going digital on the invites is the way to go. It's important to have a good think about what's most important to you both, before setting out your wedding budget breakdown. Once you have your budget sorted, it's time to tackle your wedding guest list!
WEDDING PLANNING SERIES:
How to start your wedding budget breakdown

{Wedding Planning Series Part 1}

How select guests and plan your wedding guest list 

{Wedding Planning Series Part 2}

How to Plan Your Engagement Party 

{Wedding Planning Series Part 3}

What Does a Wedding Planner Do? Do I Need One?

{Wedding Planning Series Part 4}

150 Question Wedding Venue Checklist 

{Wedding Planning Series Part 5}

Selecting a Wedding Officiant 

{Wedding Planning Series Part 6}

How to Choose A Wedding Photographer

{Wedding Planning Series Part 7}
When to order and send

wedding stationery (timeline)

{Wedding Planning Series Part 8}

How to select your bridesmaids

{Wedding Planning Series Part 9}
Here are some more useful budgeting articles to read: