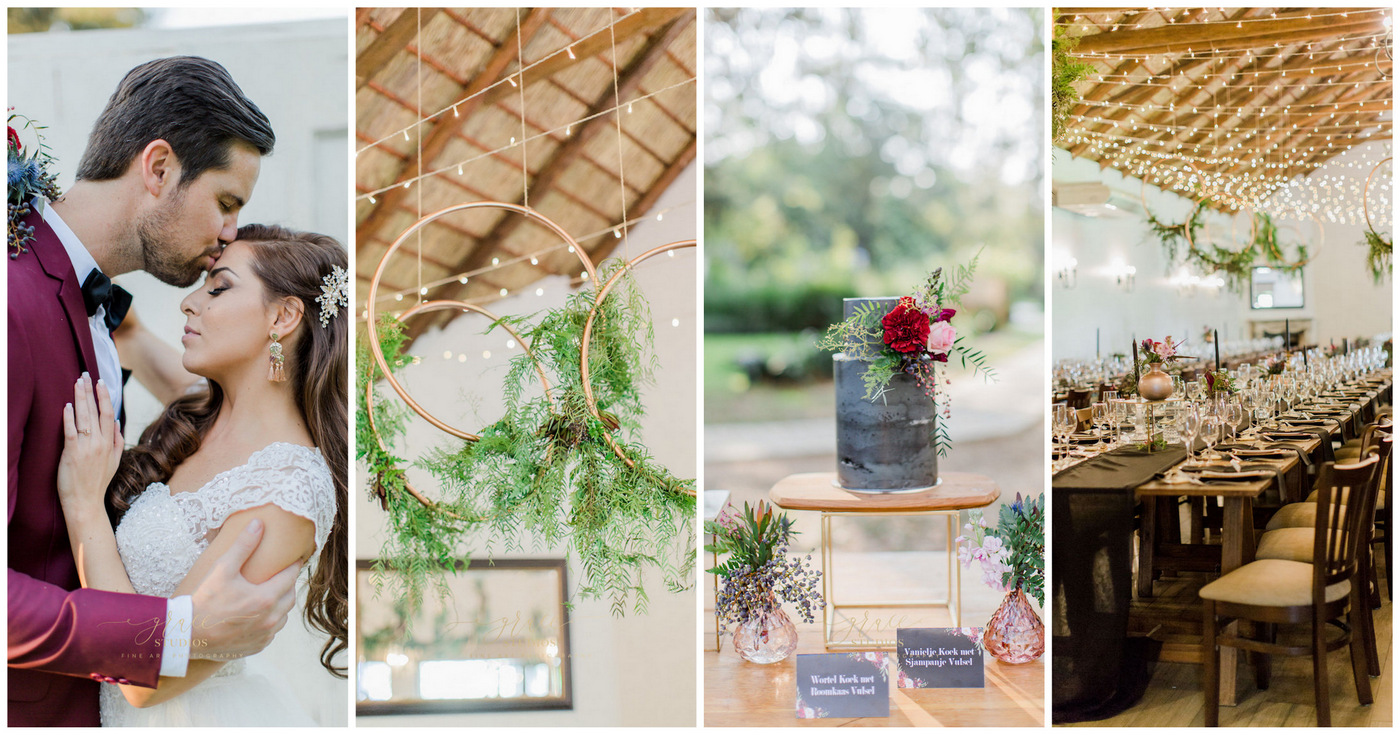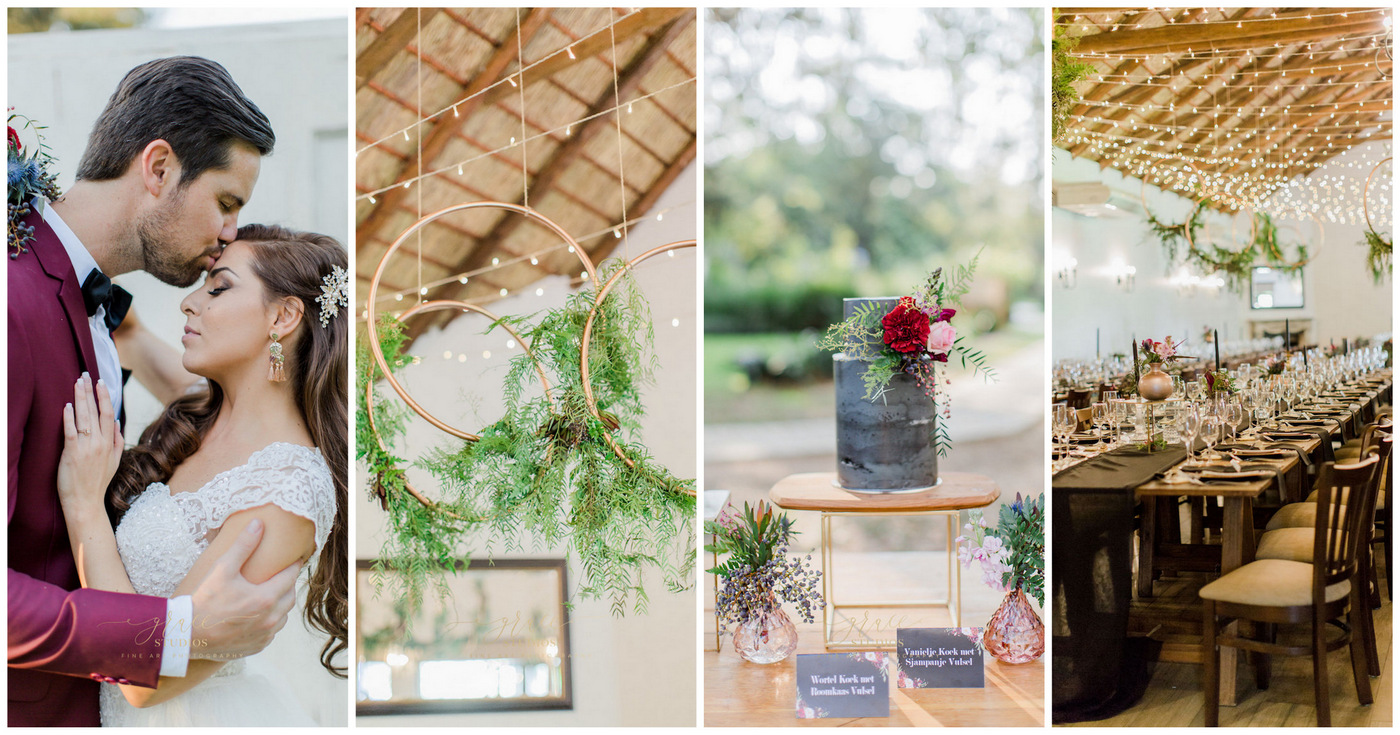 Gauteng-based couple Lanie and Corné's burgundy, gold and black wedding combined modern geometric wedding touches with old Hollywood glam for their celebration at Toadbury Hall Country lodge. Their moody wedding colour palette of wine reds, blacks and gold gave life to their preference for an alternative-looking style. For their South African wedding the couple turned to classic style icons Elizabeth Taylor and James Dean, whose timeless looks inspired the pair's outfits, hair and make-up looks.
The couple chose Grace Studios photography to capture these gorgeous images.
Lanie's favourite moment was trusting Corné to surprise her with the song for her bridal entrance: "Corné loves music and kept his finger on every aspect of the music for our wedding. He wanted the song to be a surprise," says Lanie. As Lanie and her father took their first step down the aisle, Lanie recalls hearing the words 'If ever saw heaven it would look like you'. The song Corné had chosen was "If I Ever Saw Heaven" by South African artist, Roan Ash. "It was my all time favorite moment!"
For dinner the couple kept things fun and relaxed. "Dinner consisted of gourmet burgers, macaroni and cheese, pancakes and berry compote, vanilla ice-cream and Bar-one sauce. Since we were almost 200 guests, the normal buffet wedding dinner would have been impractical."
The couple share that they didn't have a wedding table at their burgundy, gold and black geometric wedding reception. Instead , they opted for special seats waiting  for them at each guest table. "That way we could spent time with all our 189 guests. We had 9 different seats each, and everyone loved the idea."
Burgundy, Gold + Black Geometric Wedding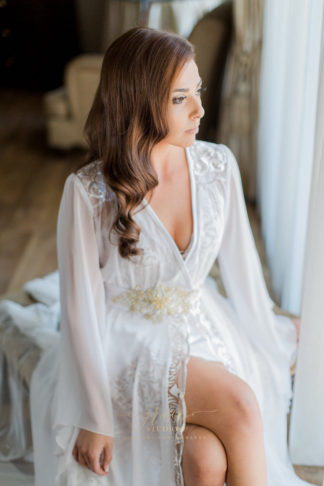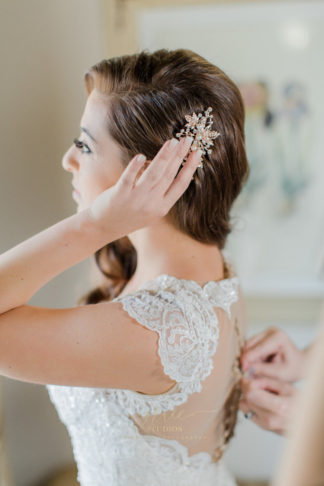 Love Story:  We met at his sisters 23rd birthday party while I was in my final year at university, studying optometry.  At the party was struggling to play music from my phone and asked if he would help me. He tried his best, as I think he was trying to impress me, but failed to get a song to play from my hard-to-operate phone. We went on a couple of dates during the following two months when I realized that I was falling in love with the most unexpected person at the most unexpected time.
Proposal: He arranged a fake photo shoot with one of our friends. We went to the local botanical gardens for "the photo shoot" where he also said he wanted to try out some ideas with his new drone. He asked me to stand facing the opposite direction, throwing rose petals over my shoulder while jumping. I did that three times, and on the fourth try I discovered that he was on one knee, asking my hand in marriage. He had kept his cool throughout the shoot! At first I didn't know what was happening, I was so caught off guard – he really managed to pull off a secret surprise.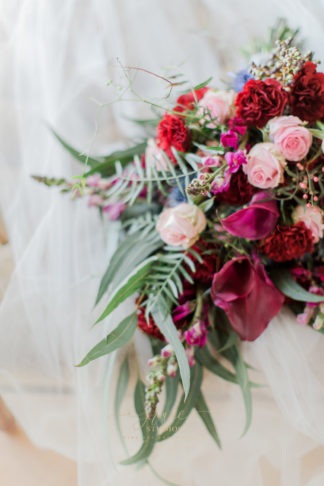 For my hair and makeup I went for a classic vintage Hollywood look. Vintage curls, complimented by a gold hair clip with pearls, which matched my gold tassel earrings, both from Lovisa. My makeup and hair was done by the talented Angelique Nel Makeup artist and hairstylist .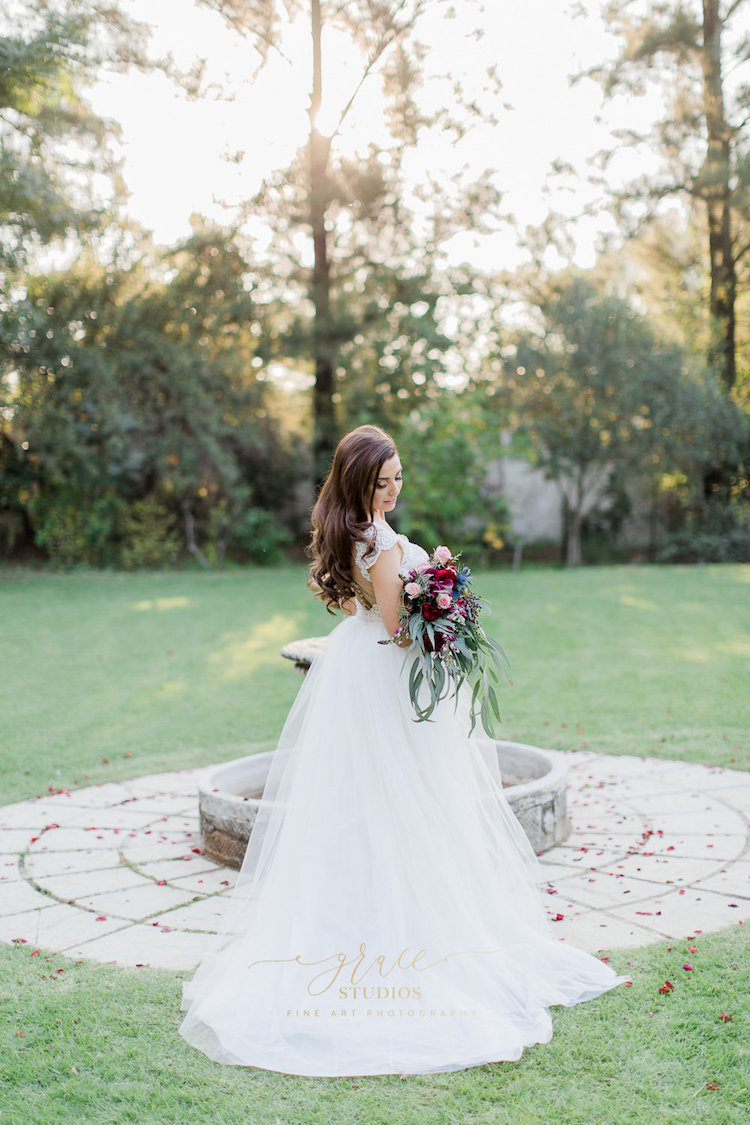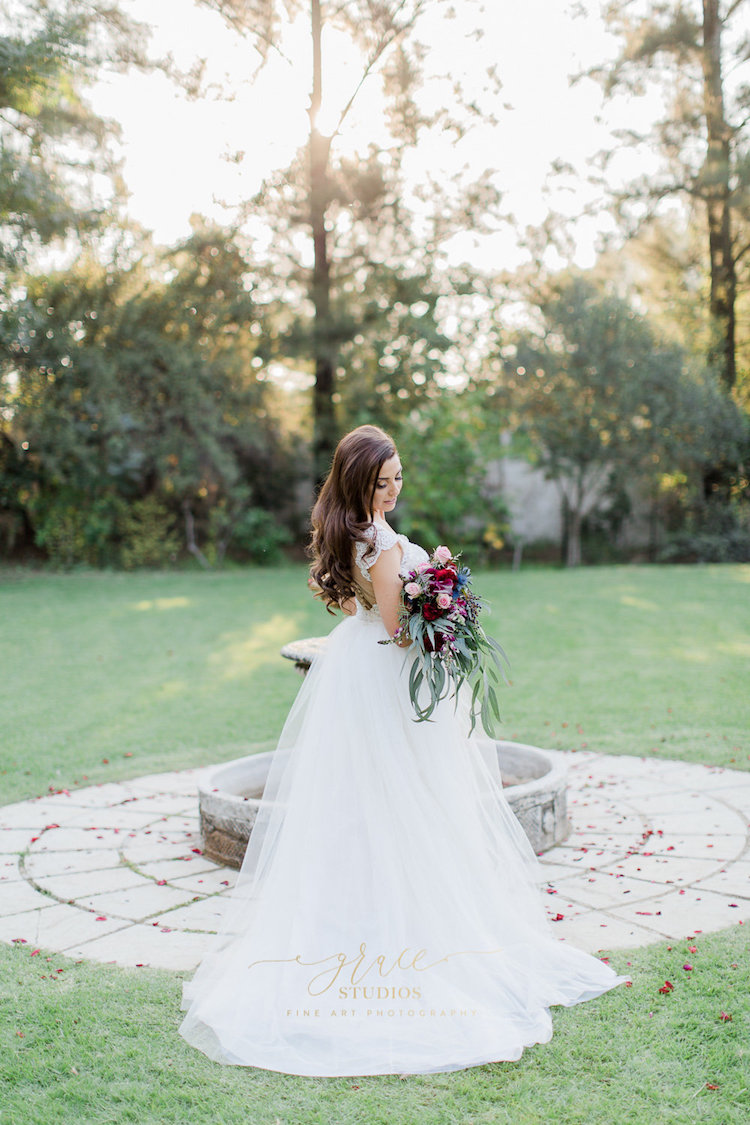 I wore a fitted Oleg Cassini wedding dress, fully laced with vintage sleeves. I had a tulle detachable skirt made, with a gold beaded belt, which made me feel like a princess. For the reception I took it off, so that I could have a relaxed time with all my friends and family. It really gave me both looks that I wanted.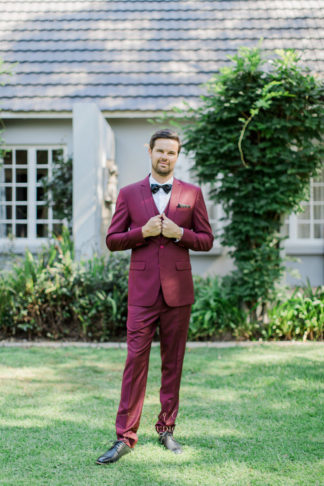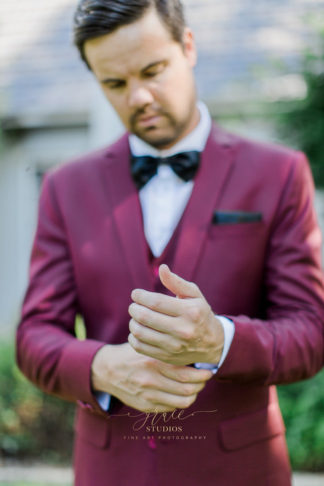 Corné wore a burgundy suit, white shirt, black bowtie and black shoes.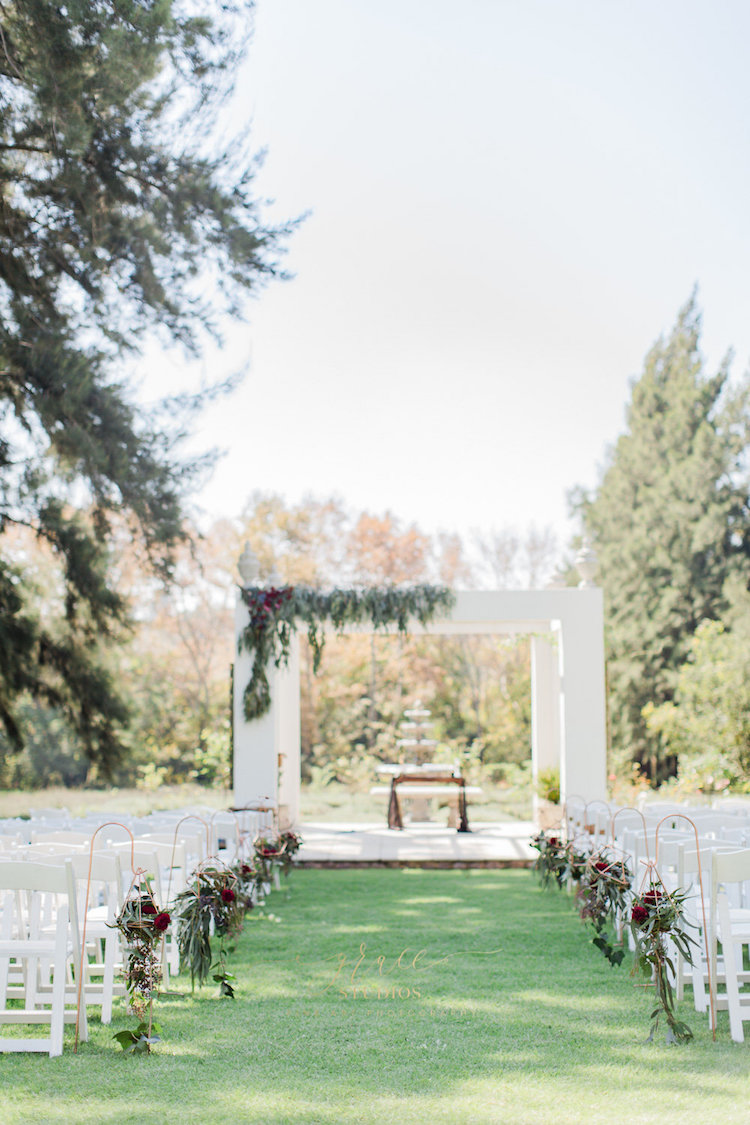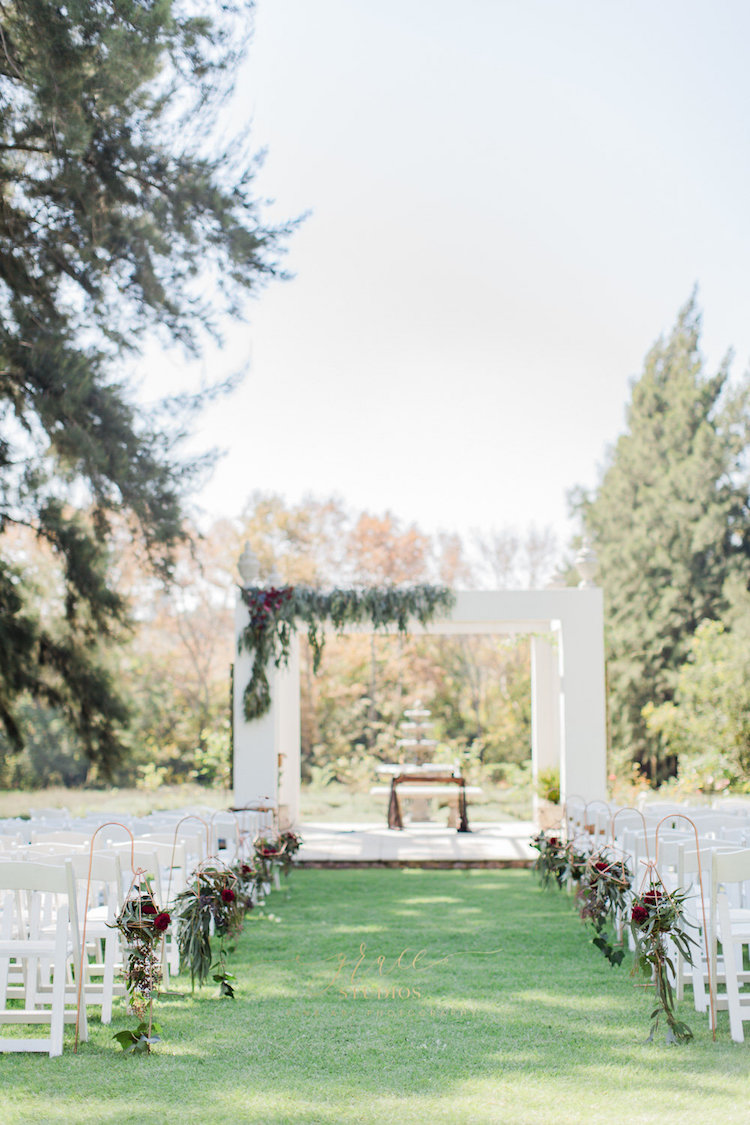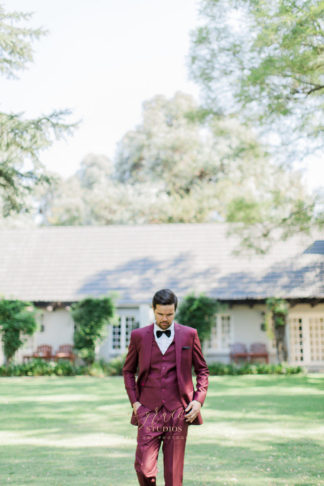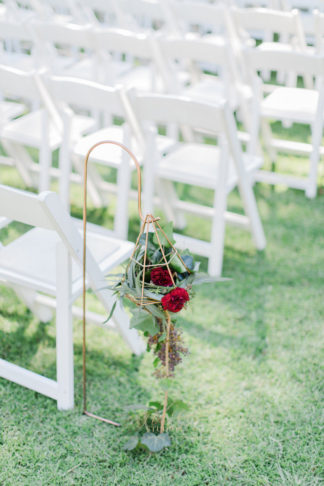 We had our outdoor wedding ceremony in the Rose Garden at Toadbury Hall Country Hotel. It is a majestic property with indigenous trees, magnificent rose and lavender gardens and a wonderland of lakes and rivers. The estate is situated on the banks of the Crocodile River in the world-famous Cradle of Humankind.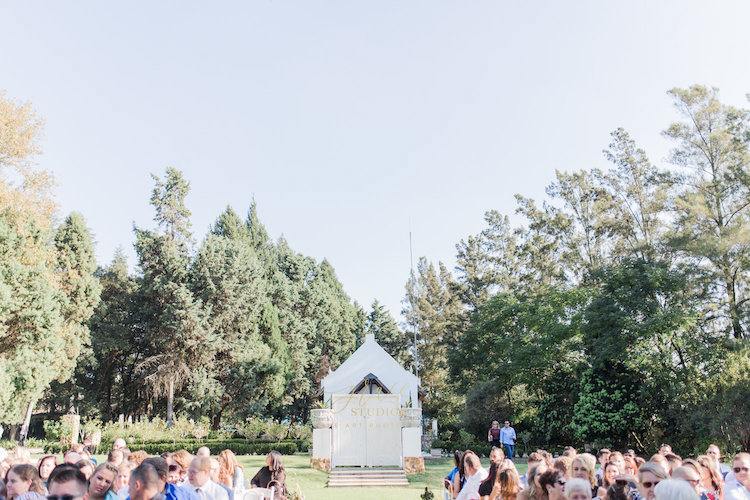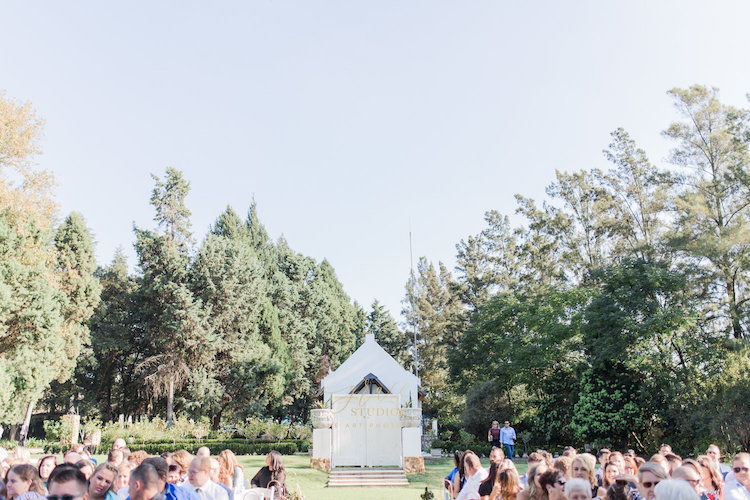 I still remember my thoughts those last few seconds before entering the ceremony, thinking that it's really happening –  the day that I would become one with my best friend, my soul mate and my most beloved person had arrived. The church bell rang, my dad and I shared one last look, the guests stood up and the white antique doors opened. My dad and I stood in the door for a brief moment, taking it in. My eyes met Corné's, who looked very handsome in his burgundy suit and black bow tie, his tearful eyes changed to eyes of joy and pride.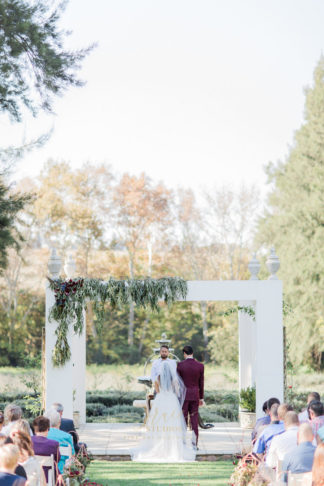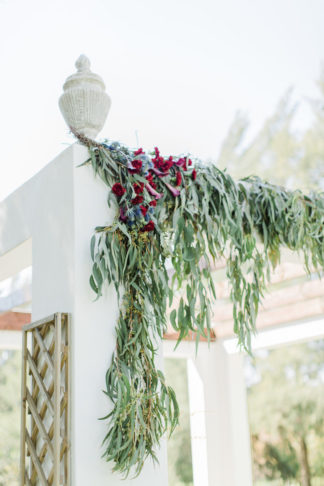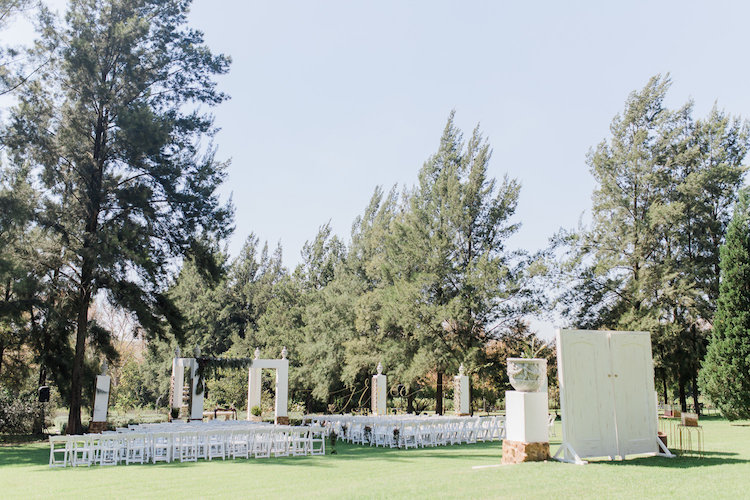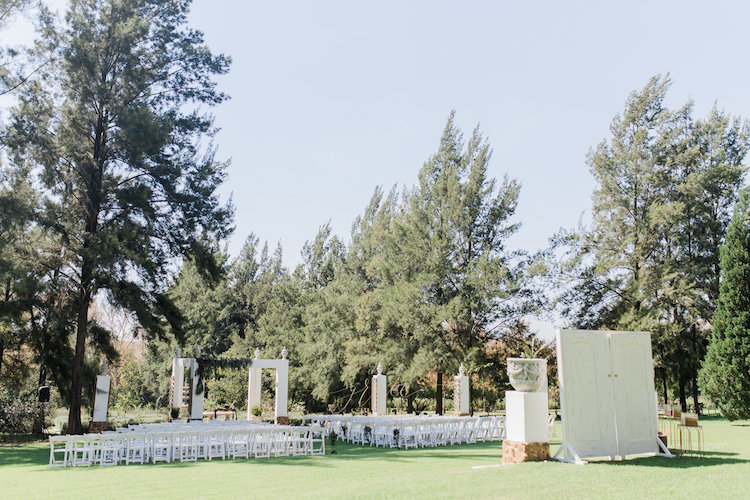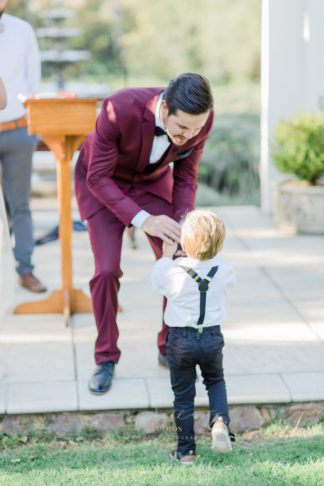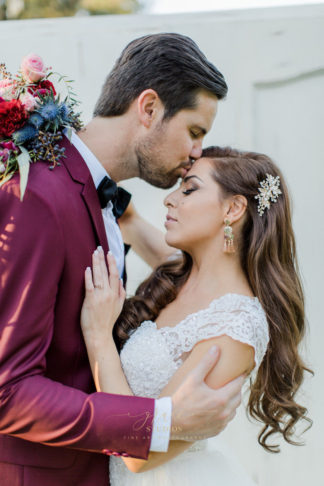 The service was definitely the highlight of our wedding day. It was so special that a friend we know so well could confirm our marriage and made it so beautiful and personal. I will cherish his words forever and keep them alive and in my heart.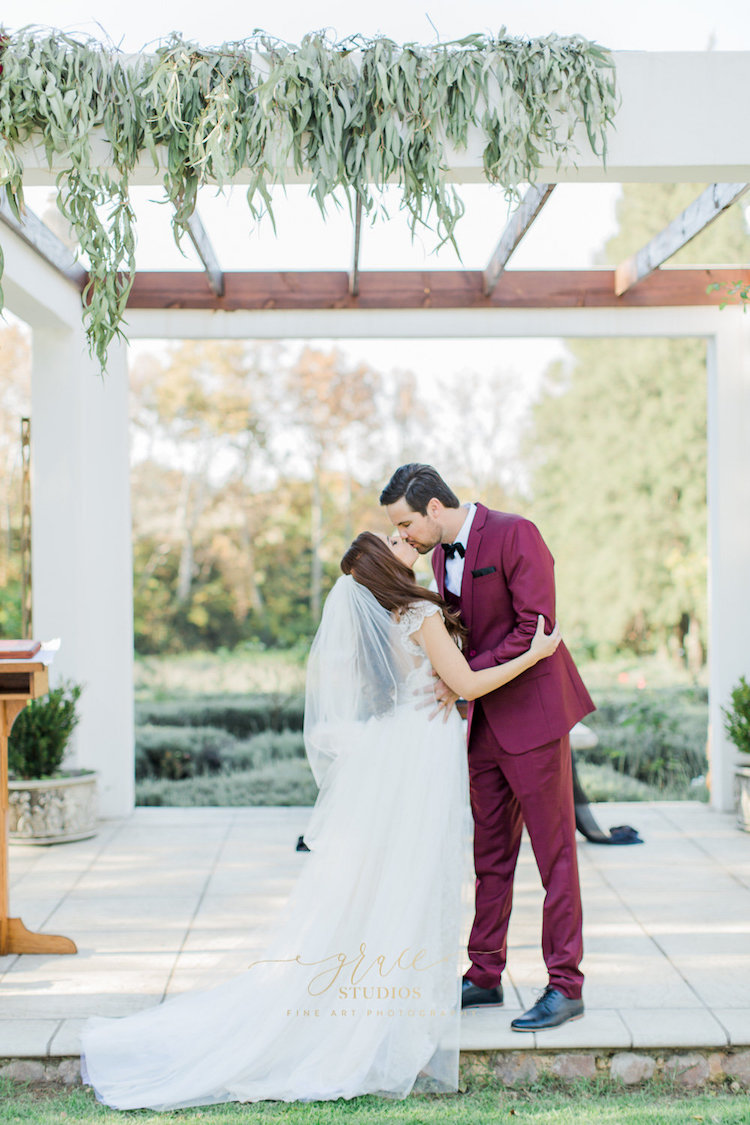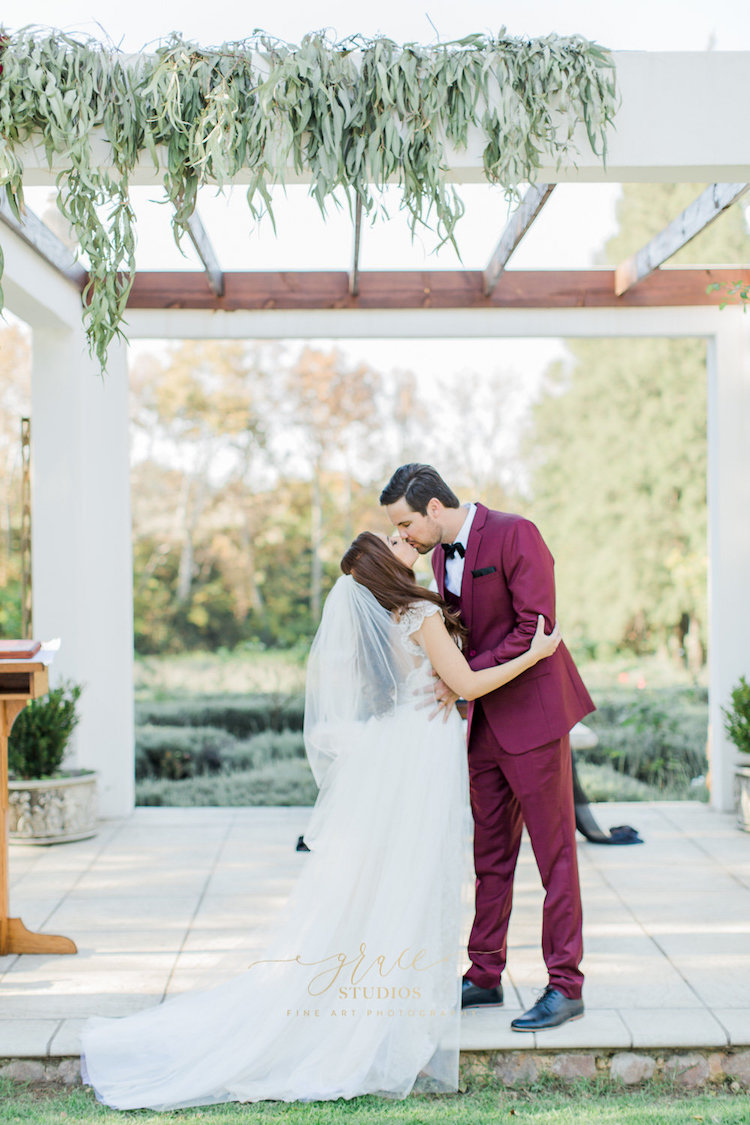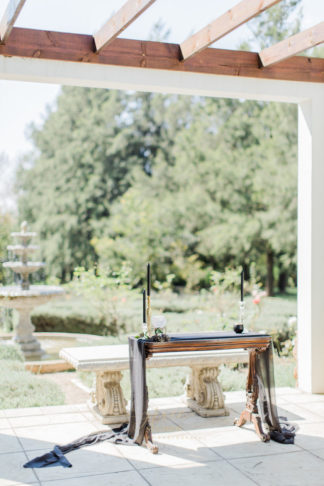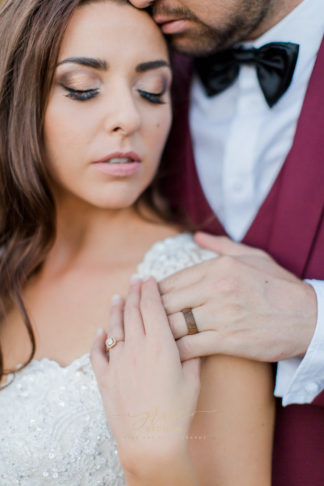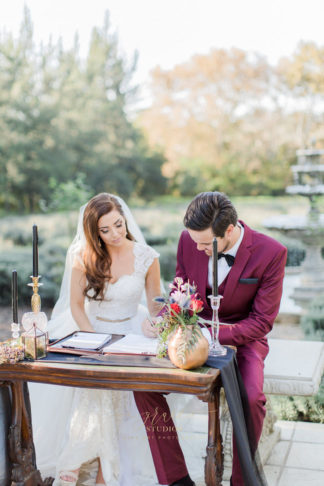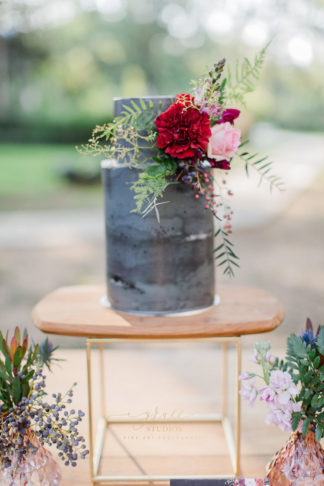 After the wedding register was signed we exited to "Paradise" from Coldplay, where our loved ones covered us with dark red confetti blessings.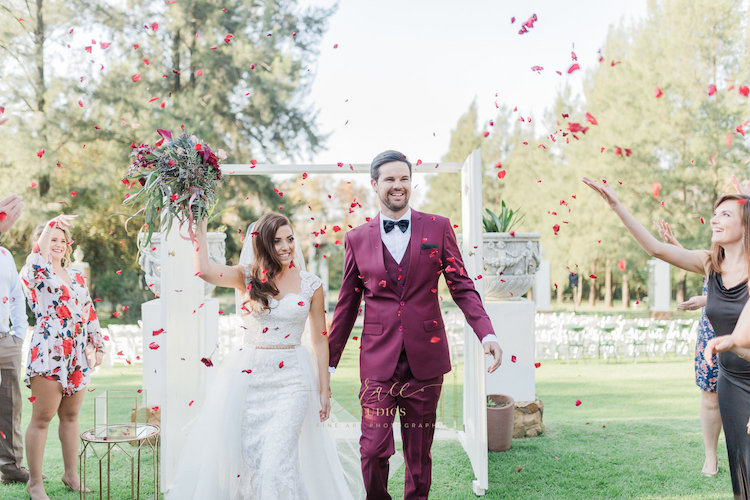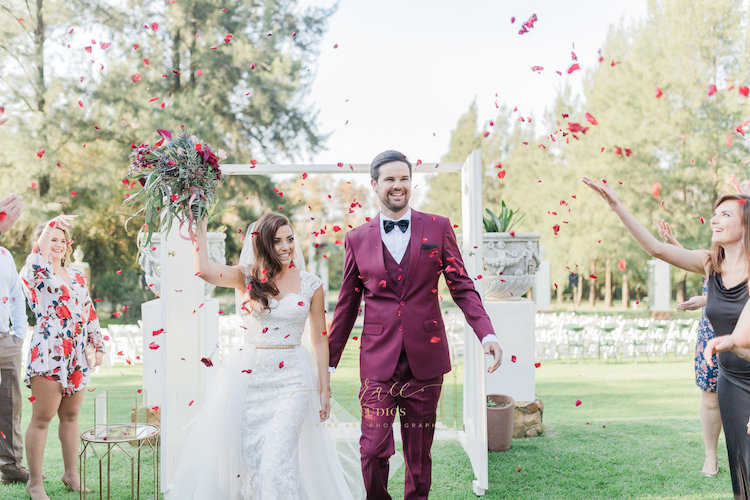 We spent some time with our guests, cut the cake was cut and left our guests with a drink and a piece of cake in hand, we then went for pictures before our burgundy, gold and black geometric wedding reception.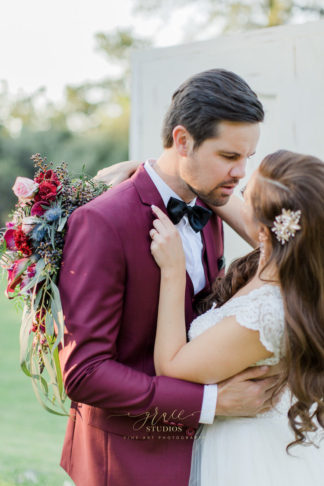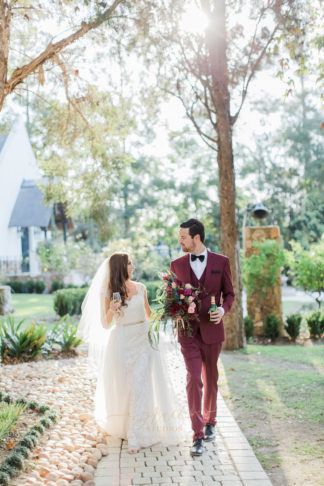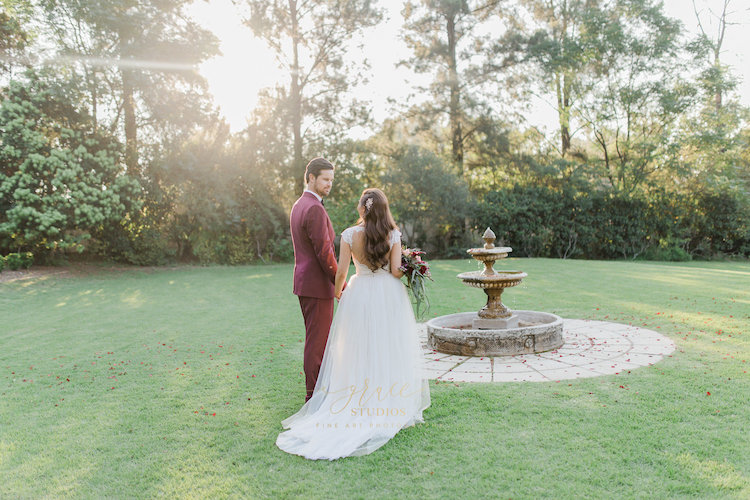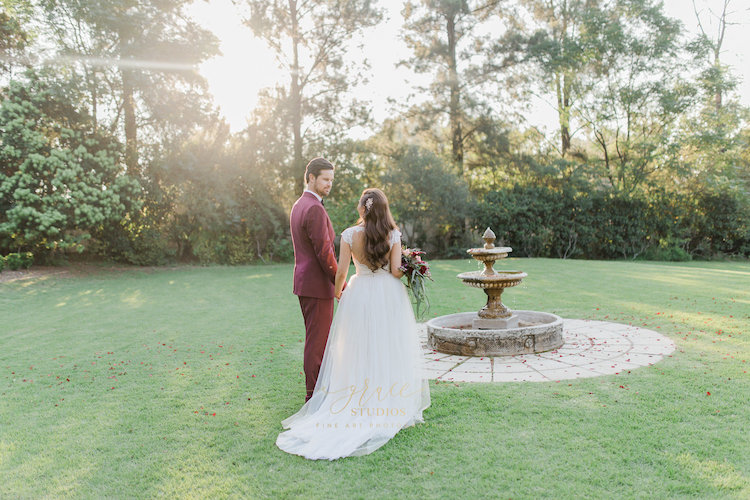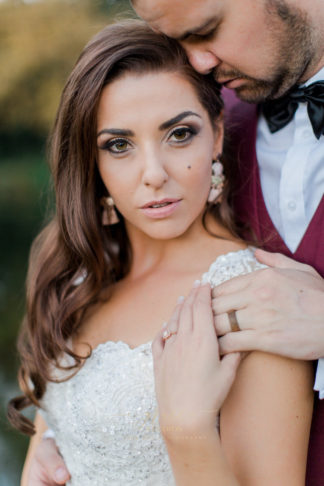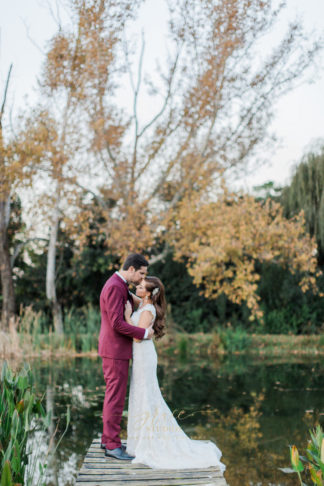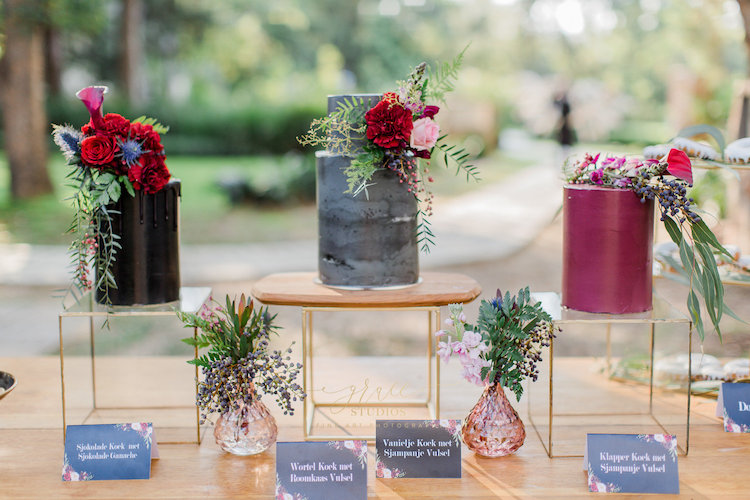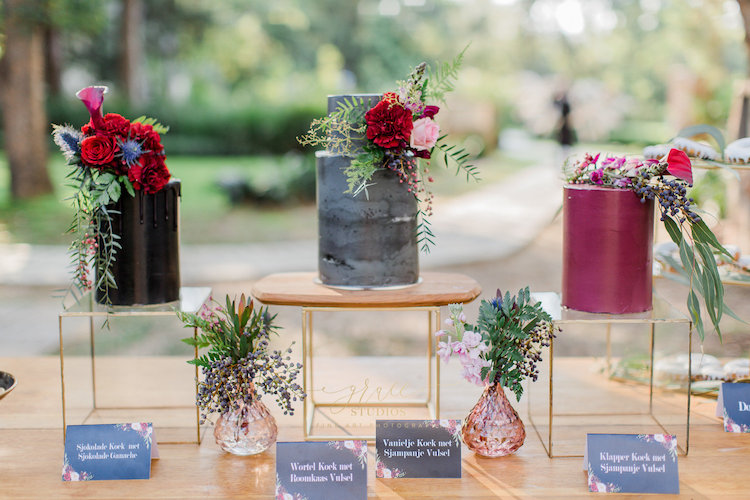 We had five different cakes made because we both have such a sweet tooth. Melissa from Honeybee Baker in Pretoria created them all! Our wedding cake had a marbled look; the bottom tier had Vanilla cake with champagne buttercream, and the top tier, carrot cake with cream cheese filling. The second cake was a Fully Frosted (black) Chocolate cake with black drip, chocolate ganache. The third cake was a fully frosted (burgundy) coconut cake with champagne filling. The fourth was a baked cheesecake with fresh fruit. And the last cake was a burgundy and rose gold mirror cake filled with chocolate and raspberry mousse. We also had mini grey marble doughnuts for fun!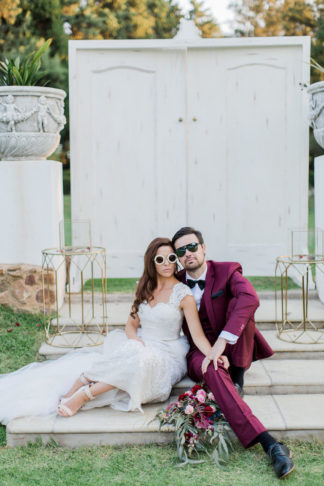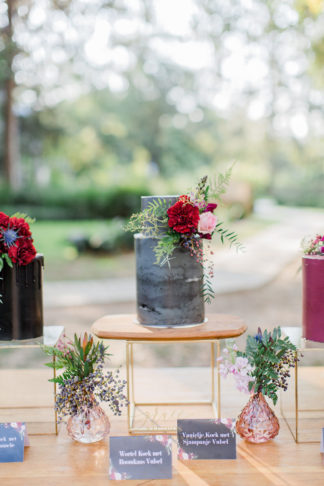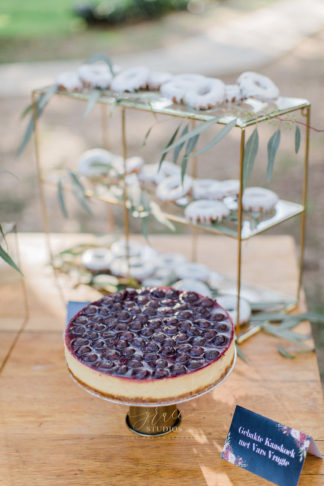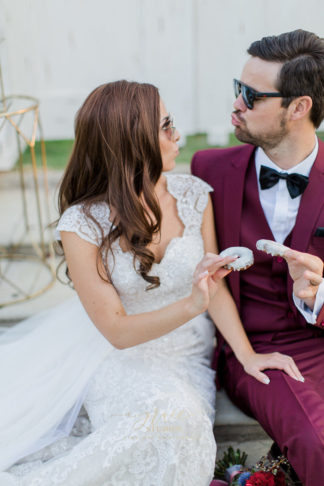 For our burgundy, gold and black geometric wedding reception, we used modern rose-gold and black hexagonal shapes as well as the more weathered wood finishes.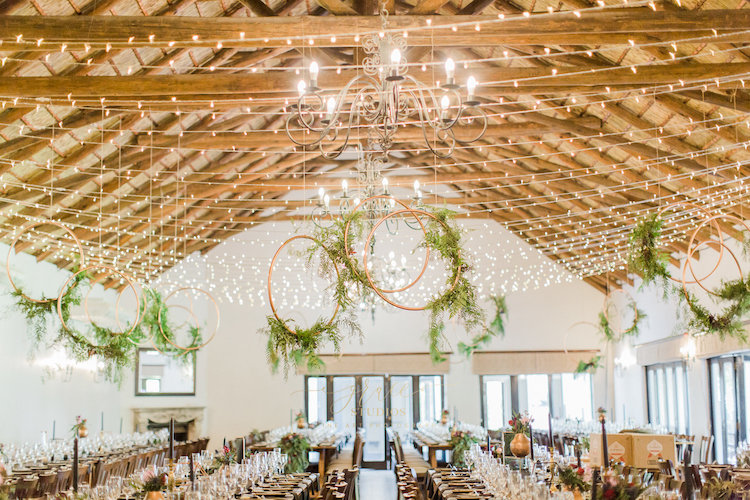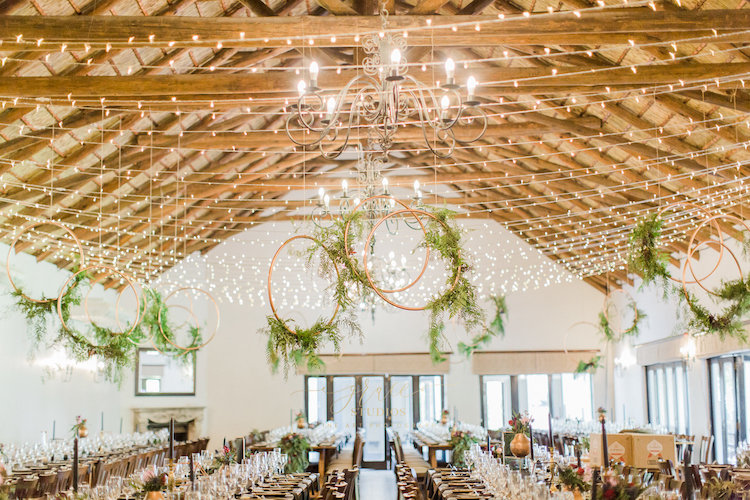 Rose gold wedding hoops draped with ferns and wisps of delicate greenery were suspended from the ceiling of our wedding reception, below vintage chandeliers and a magical canopy of fairy lights.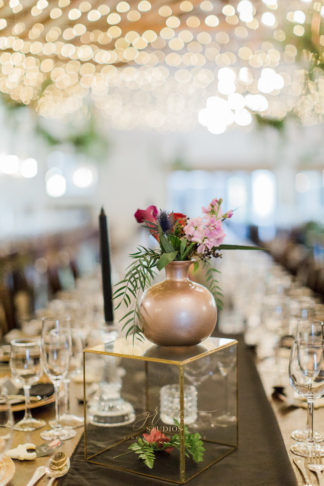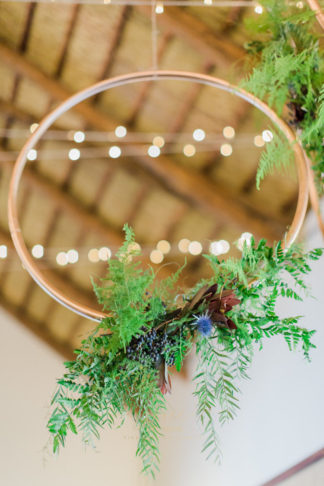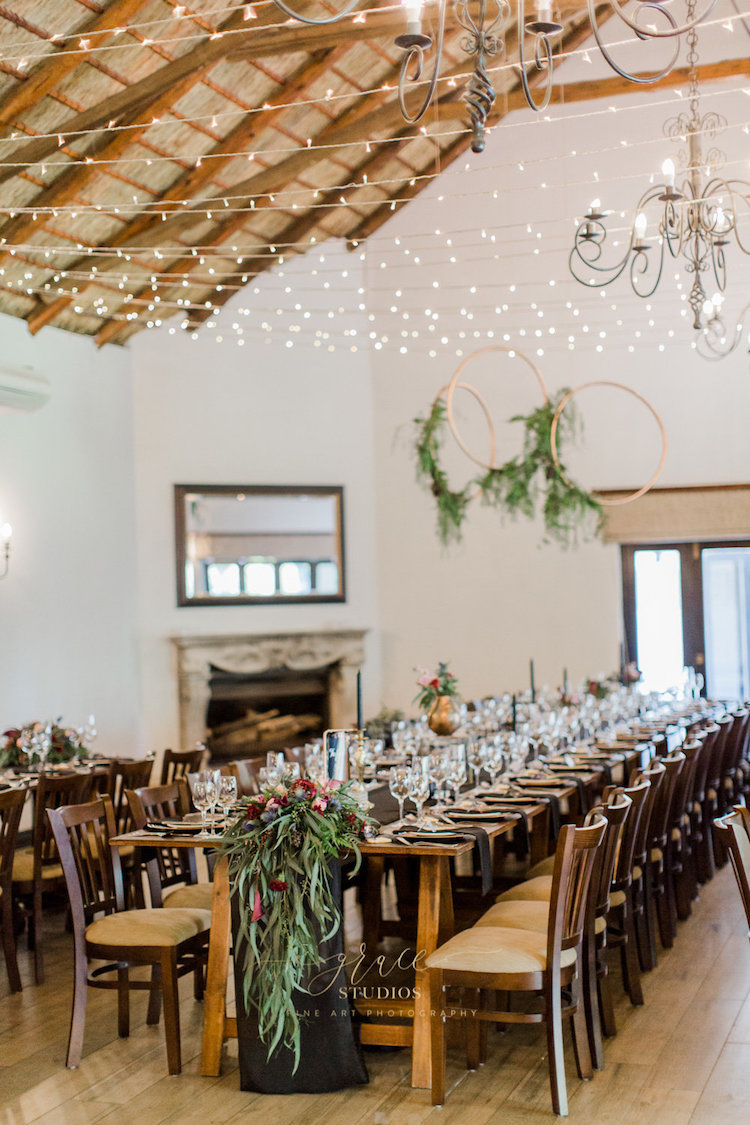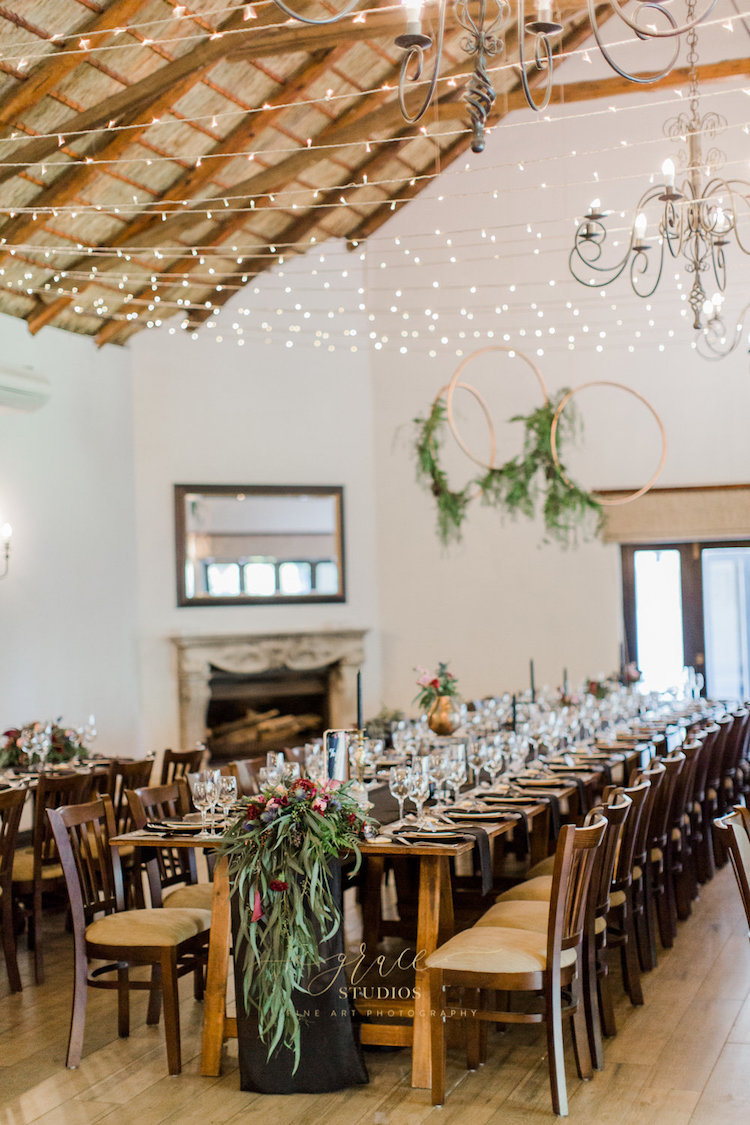 Dark and moody, contrasting colors were used to give a dramatic feel to our burgundy, gold and black geometric wedding. The reception tables were draped with black chiffon runners, topped with dark greenery edge runners with burgundy soft pink and navy contrasting mixed flowers.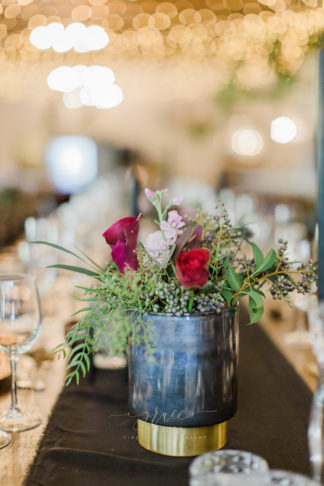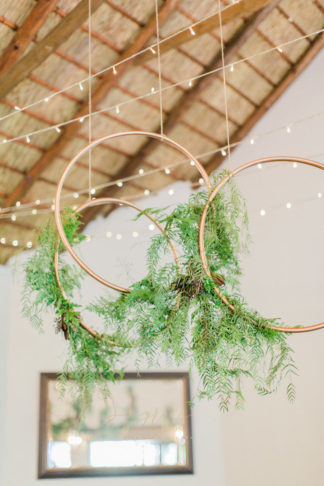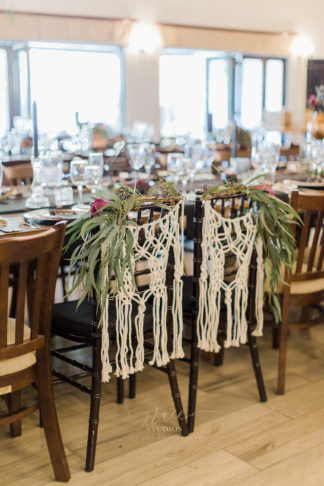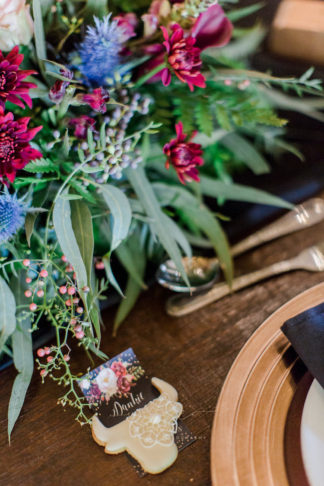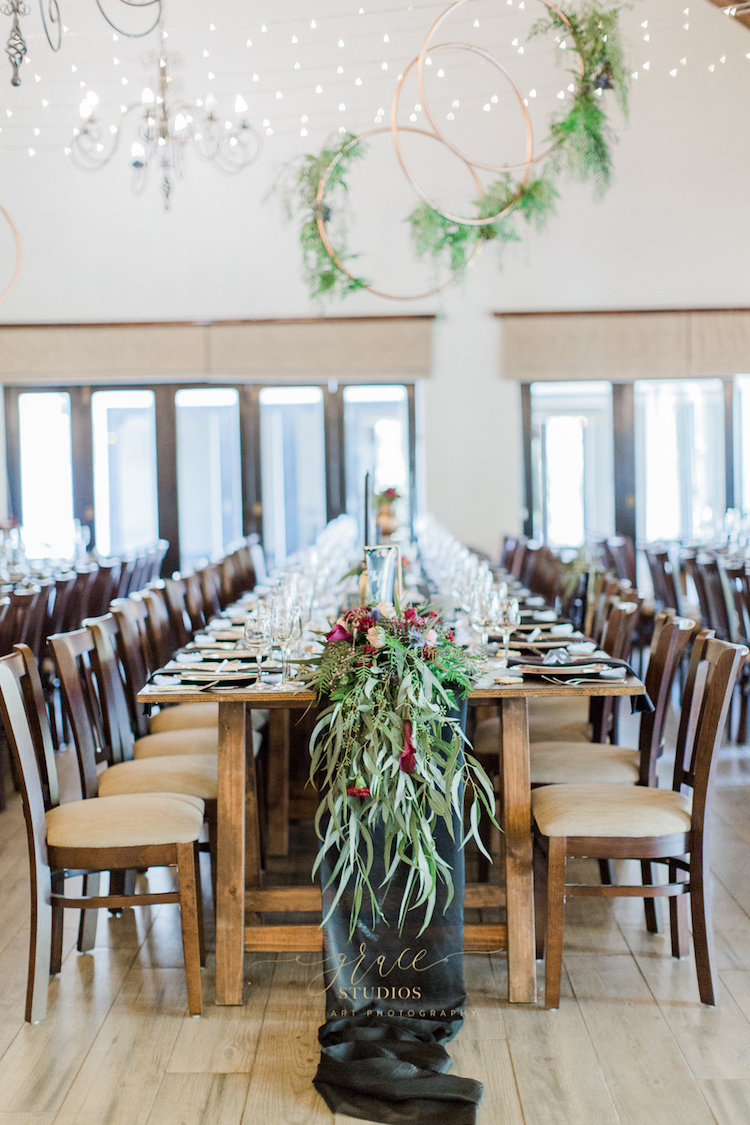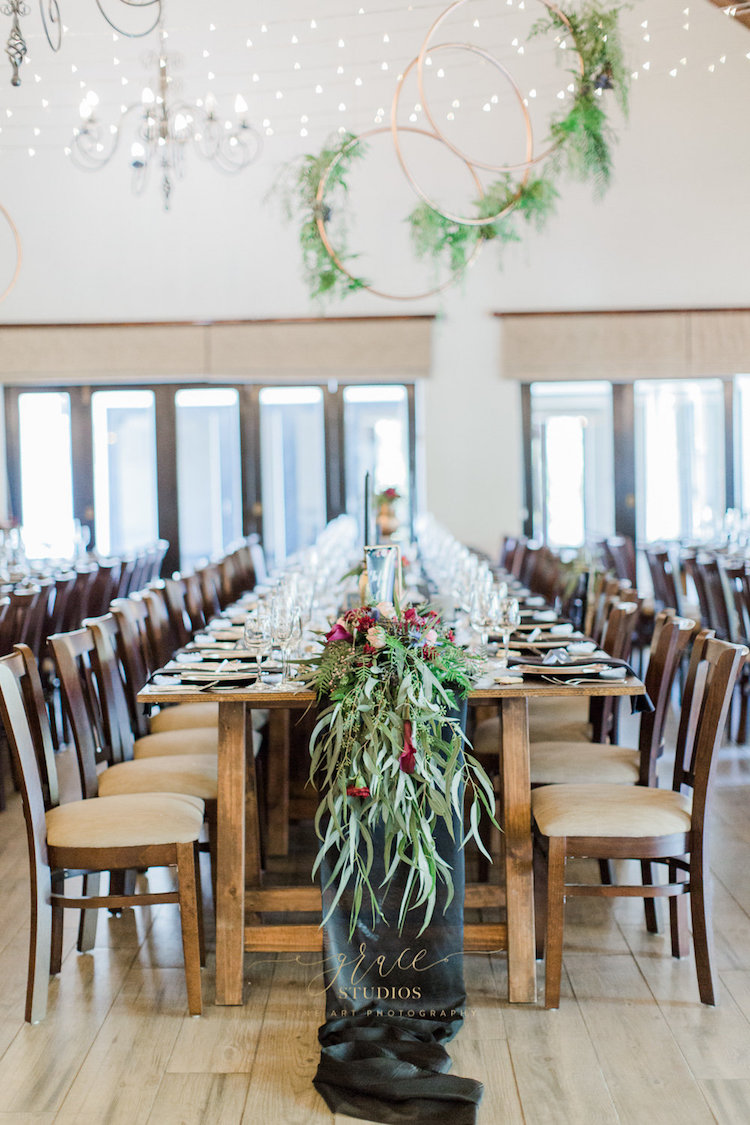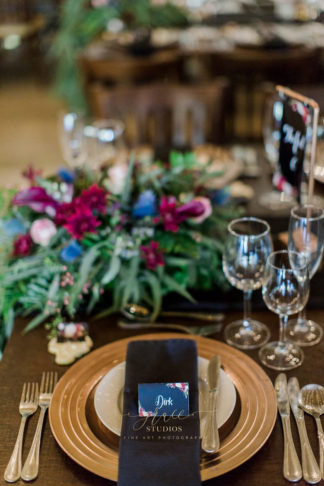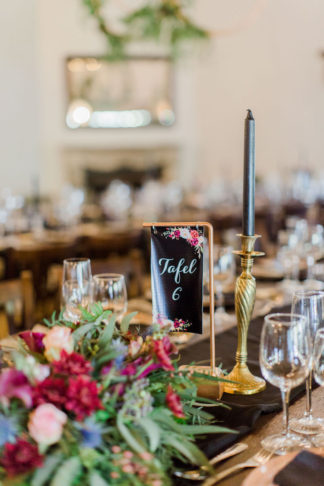 A modern/alternative vintage feel was incorporated using rose gold and glass décor with black candles.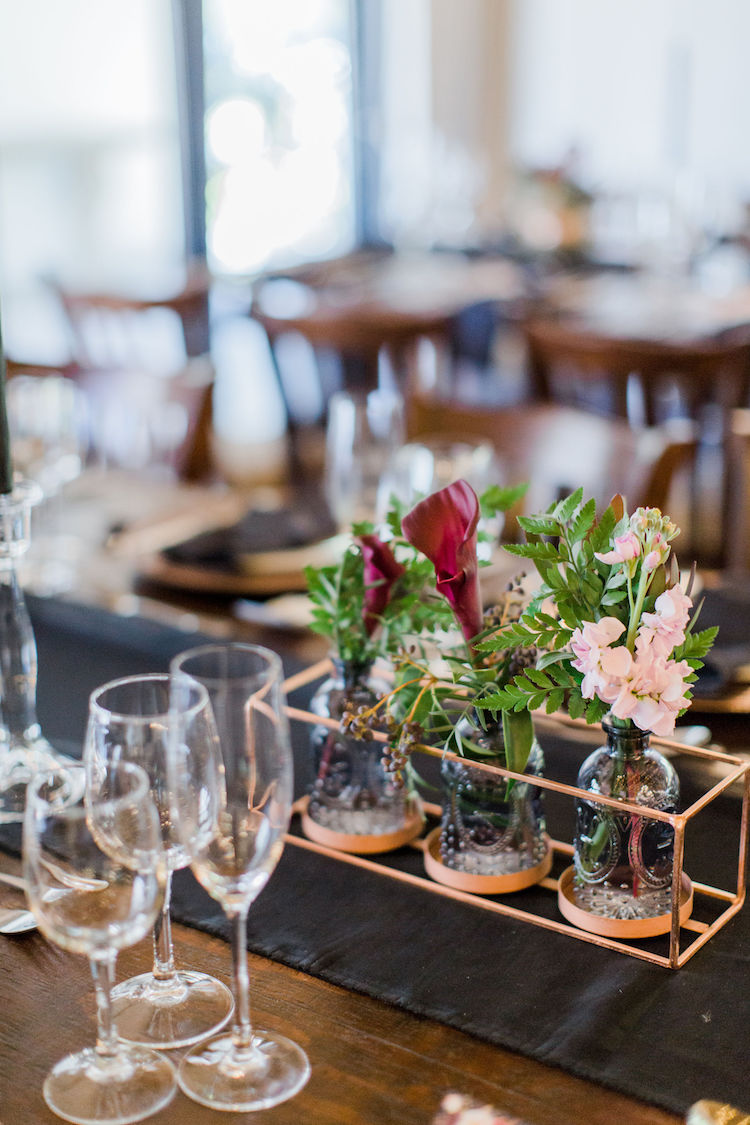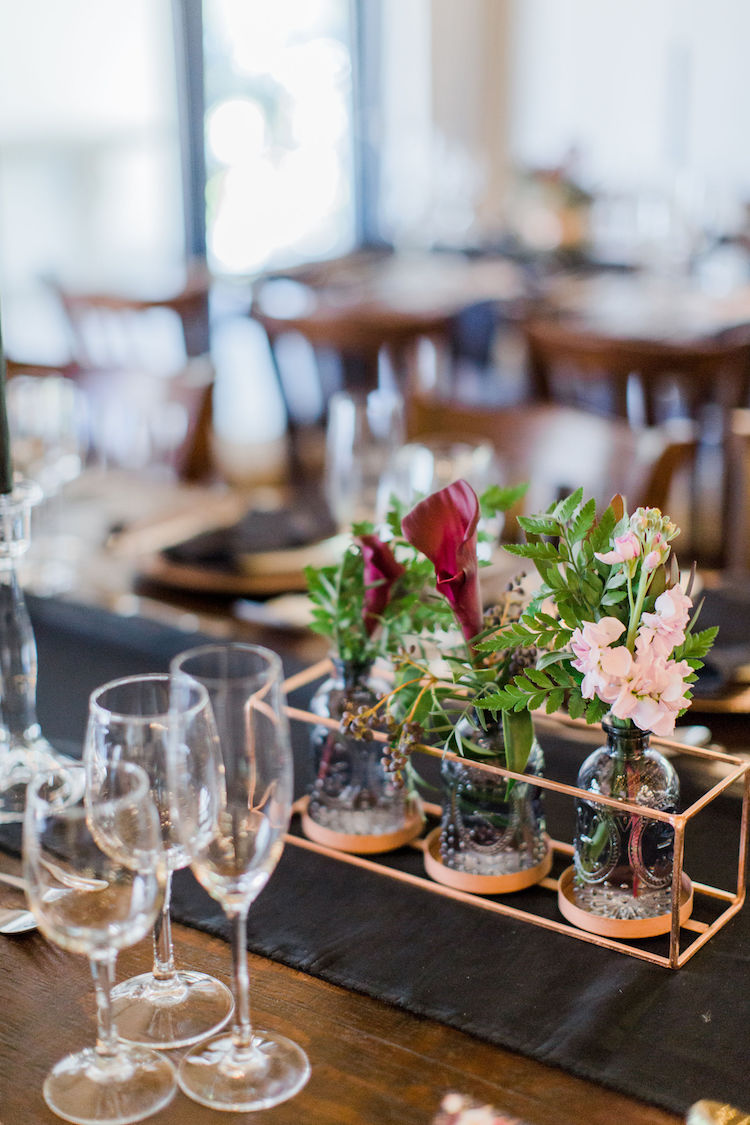 "After the wedding we donated the food which had been left untouched to a local charity organisation."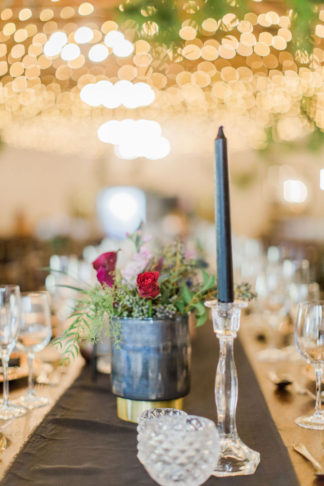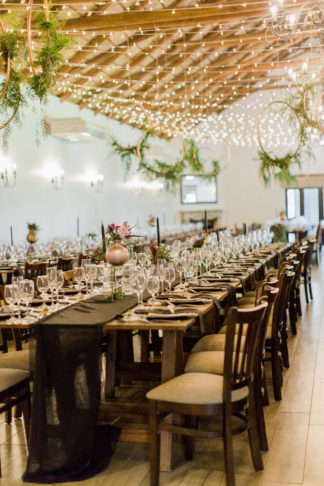 Wedding Planning Advice:
Let one vendor lead you to another. Your wedding photographer can easily lead you to a florist whose blooms really pop, and an artist who does the best makeup and hair etc.
Don't get worked up over the small stuff. Rather focus on your relationship with your soon to be husband.
My advice is to enjoy every moment fully – from the very first moment that you are engaged. We believe one of the key ingredients to a successful marriage are time. Time to get to know each other. Time to grow together. Time to forgive. Time to forget. Time to remember. Time to love. Time to commit. Have the time of your life with the time borrowed to you. Spend time, it's one of the most precious gifts you can give.
Gauteng Wedding Service Providers:  Photographer Grace Studios // Venue Toadbury Hall Country lodge // Videographer Ambient Films  // Dress Bride & Co Oleg Cassini // Brides Hair + Make Up Angelique Nel Make up and Hair // Flowers Royal Flowers and Function // Cake Honeybee Baker // Decor Decor you and Me  // Favors Dirty Peach // Tables: The Inspired Table // Macrame: Oh Knots Macrame!