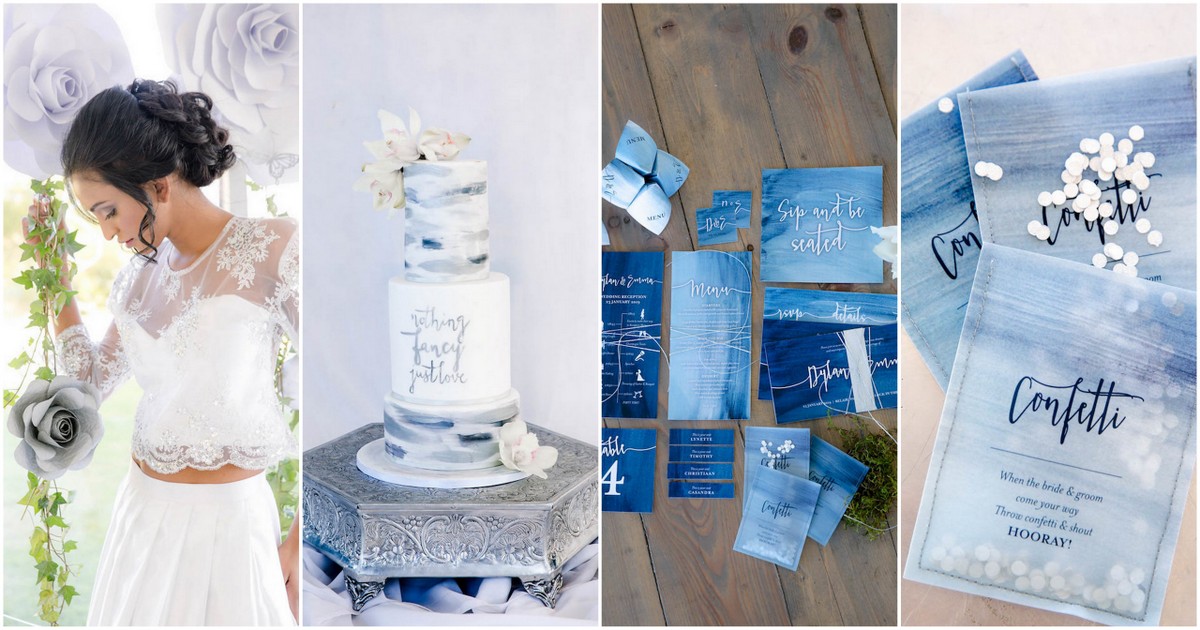 To create a watercolor wedding in ocean hues, begin with a basic palette of white and silver, layering decor, stationery and edible pieces with swirls of blue to each focal element. The effect of a watercolor blue wash fading from navy blue to cerulean blue to powder blue creates an oceanic ombre, reminiscent of the sea fading into the sky.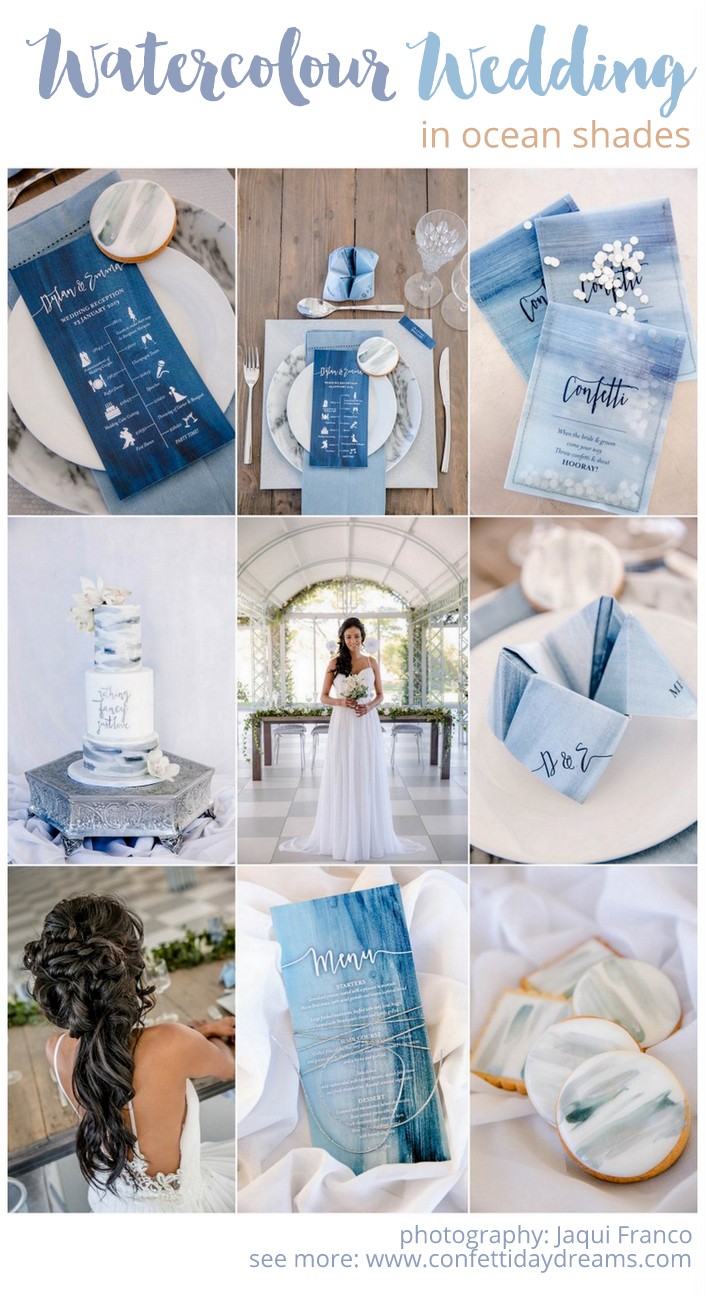 This screenful of watercolor wedding ideas in ocean blue and silver was conceptualized by Jaqui Franco Photography, who's vision was sleek and modern, with soft, feminine touches.
Highlights included a feature wedding cake, alongside hand biscuits by In the Red Kitchen, a 'cootie catcher' / snap dragon origami fortune teller guest favor which doubled as menu, a wedding stationery suite washed on oceanic hues of blue by Oh Yay with flowers by Flowers on the Stoep and decor by Function Hire 4 U, at Belair Country House
Model Tamara Chetty's hair and make up was styled by Skoonlief, while wearing a selection of flowing, romantic gowns from Brooks Bridal. Keep an eye out for the pretty paper flowers by Moodie Affairs and the watercolour nail art by Cape Beauty!
Watercolor Wedding Ideas in Ocean Shades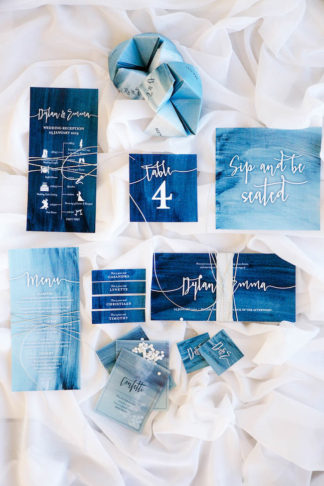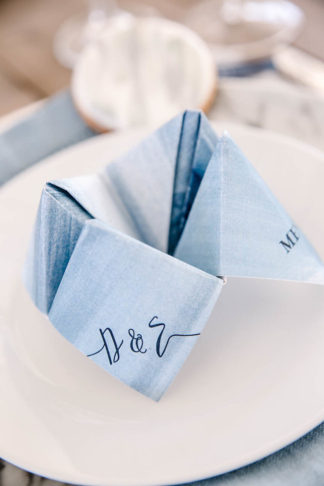 Whimsical Watercolor Wedding Stationery by  Oh Yay:  Using watercolours in wedding stationery gives a nice feel to the decor and the texture photographs beautifully. White, blue and silver creates provides serenity, while silver details add an elegant touch. The a 'snap-dragon' aka 'cootie catcher' style menu and an illustrative timeline program introduce a whimsical, fun dimension.  All the elements pulled together beautifully to create a soft feminine wedding look that is simple to recreate for any bride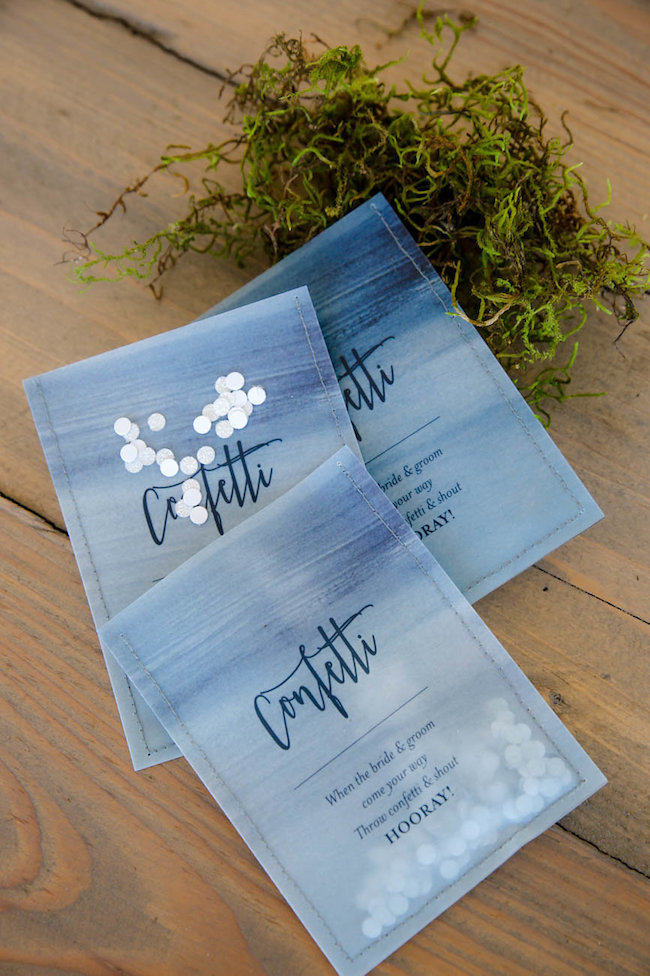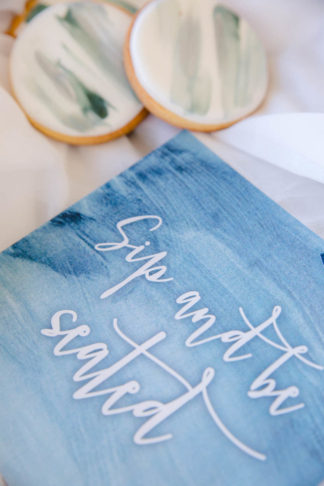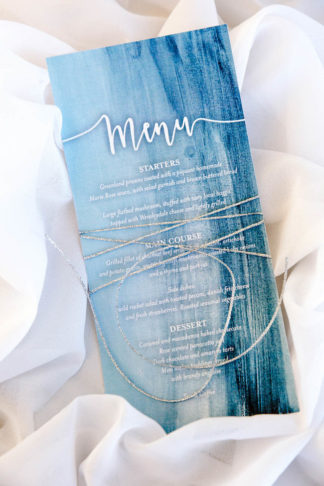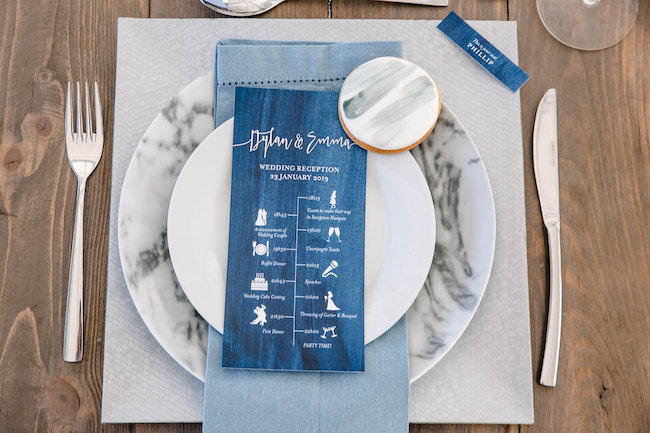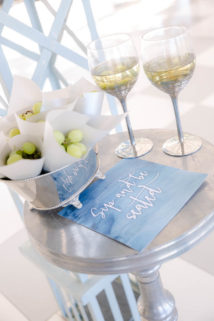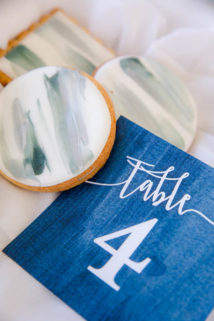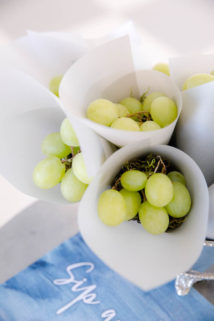 DIY PROJECT: 'Sip and Be Seated Station' with Paper Cones for edibles. The team created a snacking station with simple paper cones by using silver translucent sheets from Dekel Edge. These were cut into squares then rolled into cones and secured using an adhesive – we love the idea of using a watercolour washi tape for this!
The cones can be filled with grapes, berries or sweets – anything edible that is grease and liquid free. Set them on a small table with water colour signage, a few drinks, and treat your guests!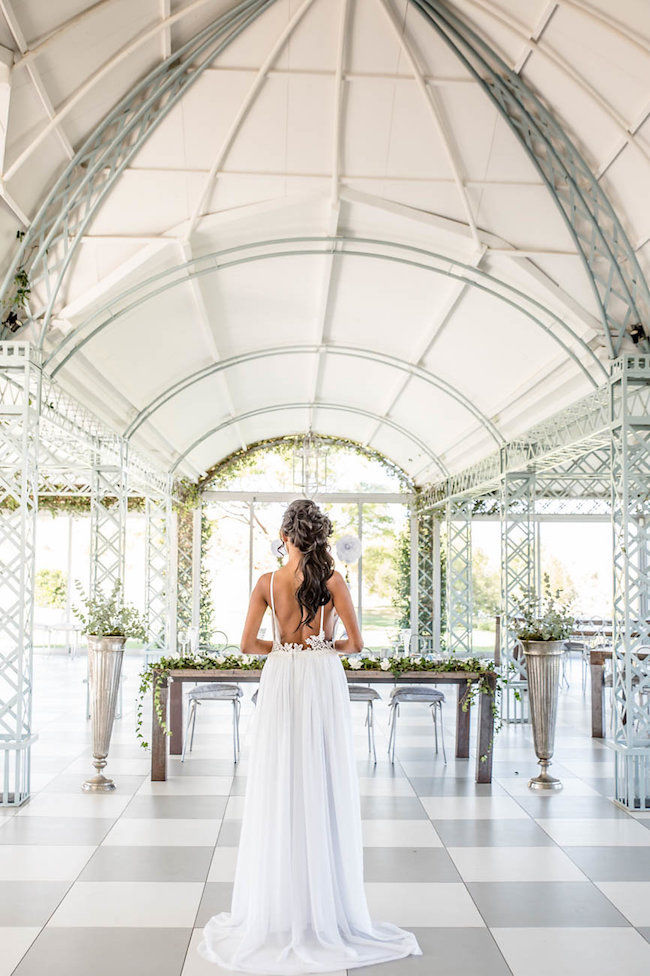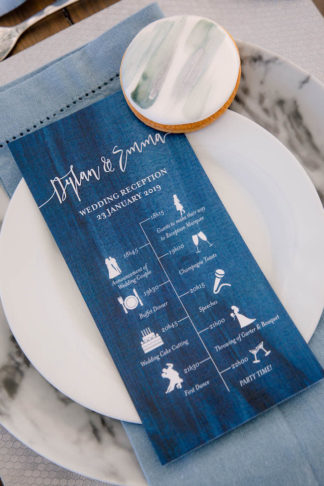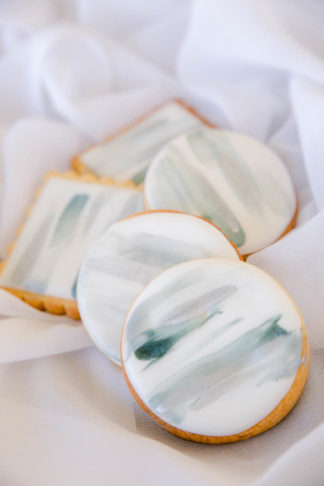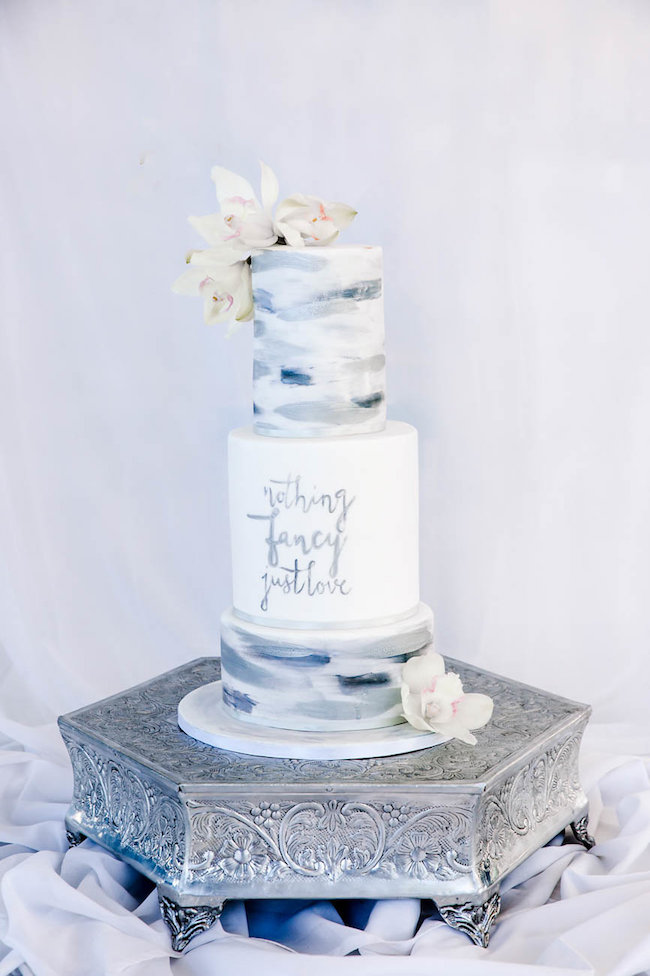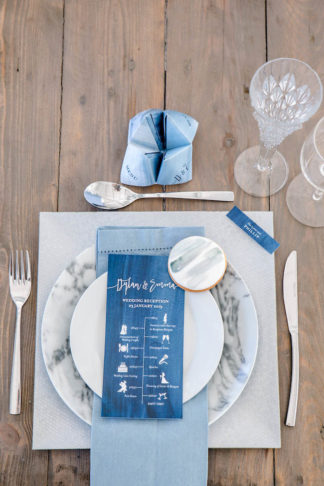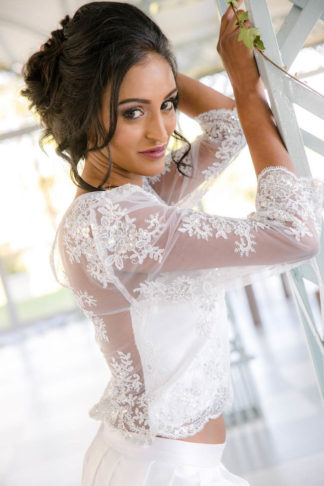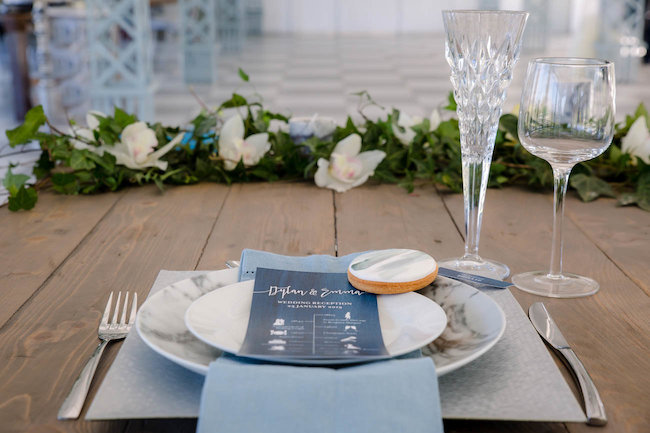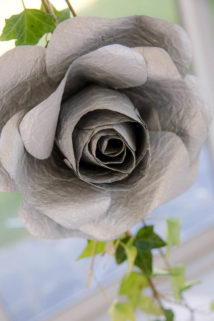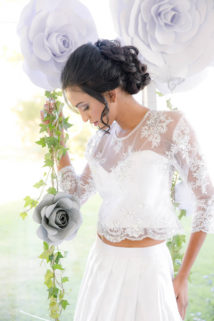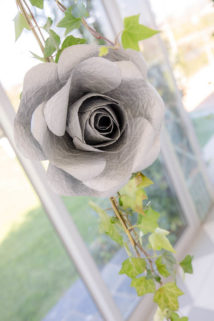 Gowns by Brooks Bridal: For this theme, look for gowns that are feminine and modern. The first included in this shoot was a two piece that showed off a hint of bare skin whilst still being modest and elegant. We loved the tiny detail of pockets in the skirt which we found practical. The second dress was soft and flowing like the ocean with beautiful detail around the open back area.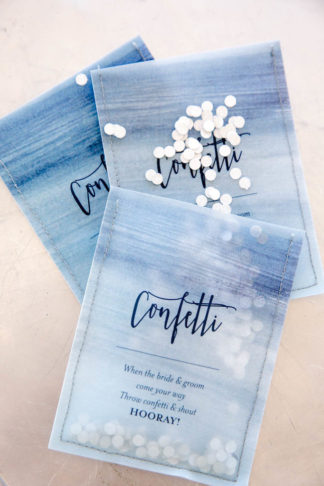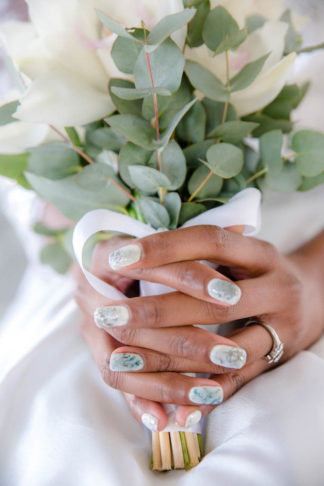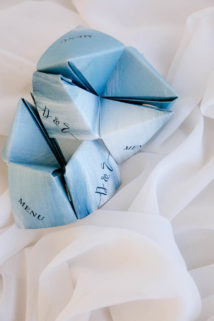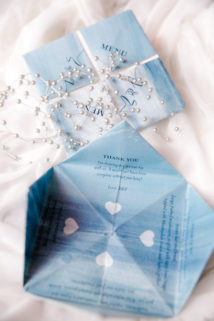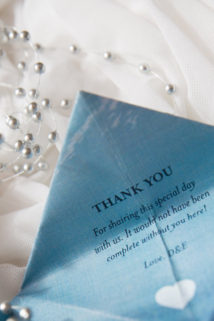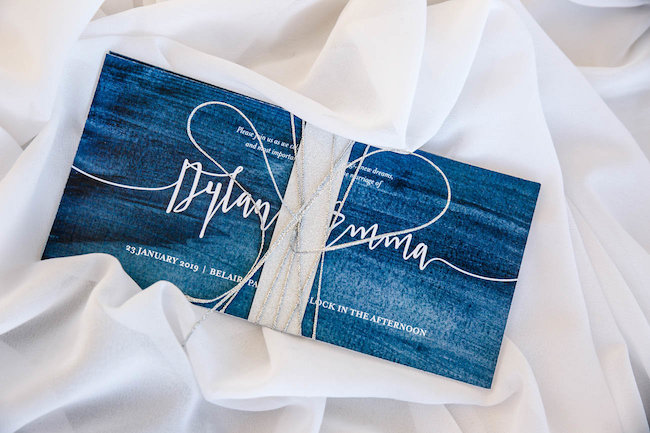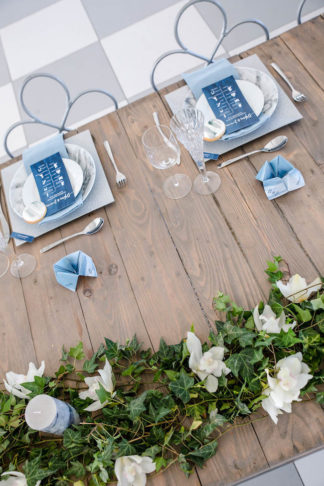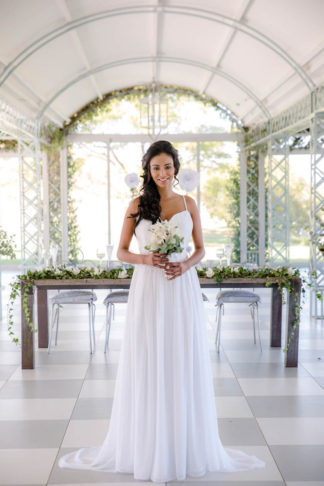 Florals by Flowers on the Stoep: When painted decor items and printed water colour table stationery are the focal of the theme, opt for an understated floral look to complement the setting, not compete with it. Here working with a single feature bloom that is both simple and elegant, such as a repeating white orchid is perfect.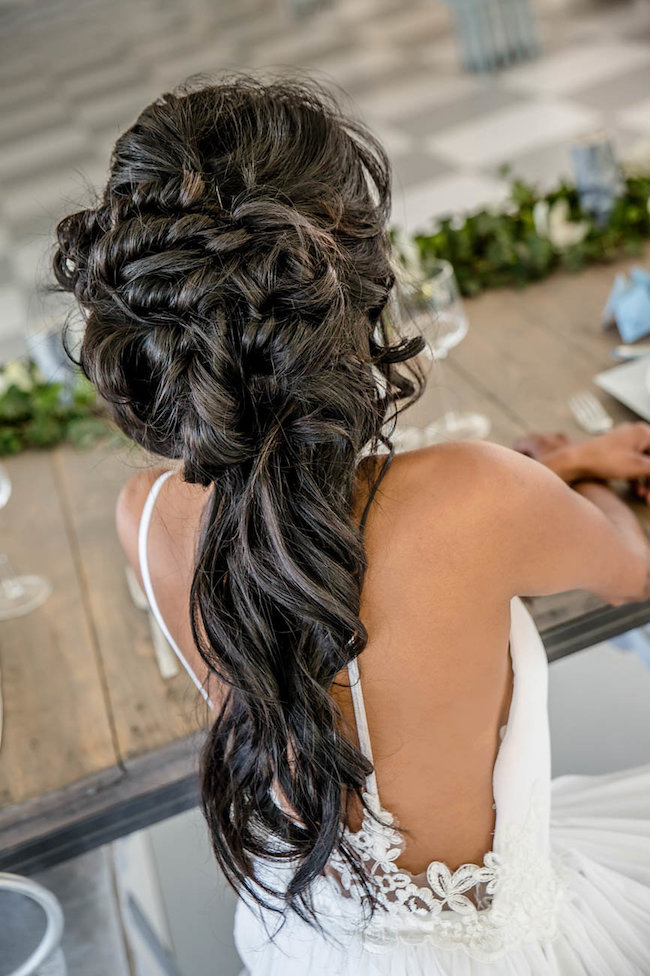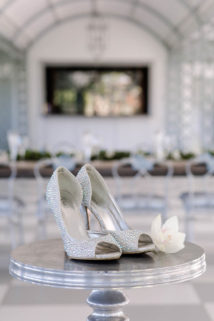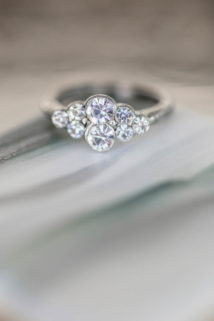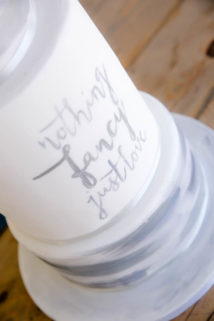 Hair and MakeUp by Skoonlief: To create a classic and timeless bridal look which is soft and romantic, start with fresh and dewy skin. Use shimmery shadows in light pastel shades draw attention to the eyes. A rosy cheek and nude pink lip completes the look
For a more dramatic look, using smokey greys on the eyes and a dark matte lip – a current trend favorite. Our model had long, gorgeous hair – perfect for a romantic half-up side style. To keep with the "un-fussed" and relaxed feel, her face was framed with loose curls"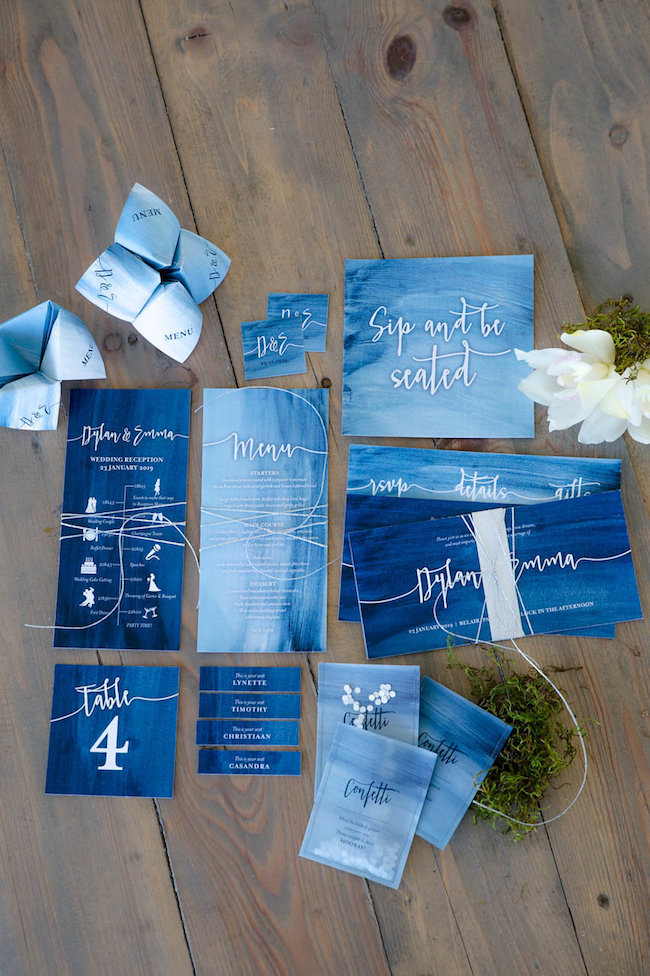 Watercolour wedding suppliers and vendor contact list: Photographer: Jaqui Franco Photography // Venue: Belair Country House // Dresses: Brooks Bridal // Flowers: Flowers on the Stoep // Hair & Make-up: Skoonlief  // Stationery: Oh Yay //  Cake & sweet treats: In the Red Kitchen  //   Nail Art: Cape Beauty // Paper Flowers: Moodie Affairs // Decor: Function Hire 4 U //  Assistant Stylist+Planner : Courtney Petersen // Model: Tamara Chetty
YOU MAY ALSO LIKE:
Ethereal Watercolour-Inspired Teal and Gold Wedding Ideas {Chenel Kruger Photography}
Misty, Moody, Cerulean Blue and Pewter Beach Wedding {Neverending Magic Photography}
Whimsical Fairytale Cinderella Wedding in the Valley of Enchantment {Kristen Booth Photography}
Beautiful Blush Watercolor Wedding Ideas {Adele Kloppers Photography}
See more watercolour weddings // See all weddings