Blooming Luscious Succulents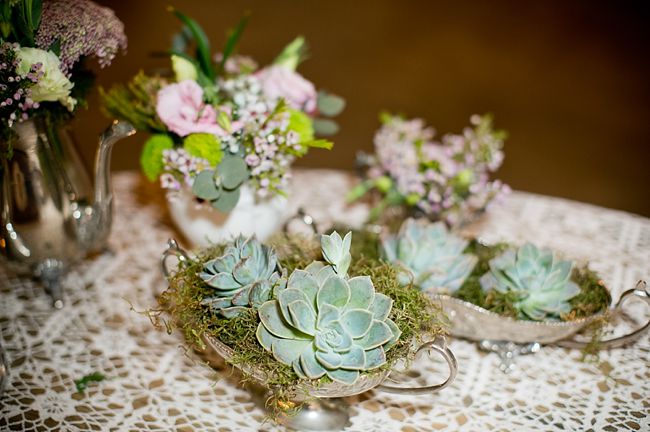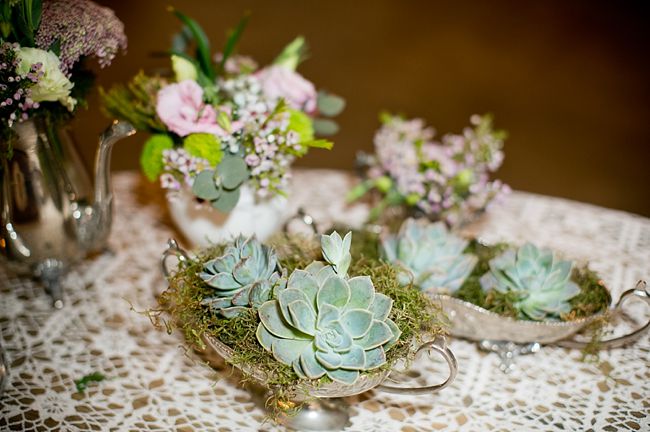 Succulents displayed in Vintage Silverware ::  
Laura Jane Photography
  ::
See more here
 Fresh from nature, succulents are long-lasting, juicy and tender additions to any part of your wedding theme. With an assortment of different kinds, textures, and colors, this floral trend is sure to stay and take the heat! Whether you have a green thumb or not, we share some succulent inspiration of easy and affordable ideas for ways in which to include them into your big day!
Succulent Wedding Decor, Stationery & Favors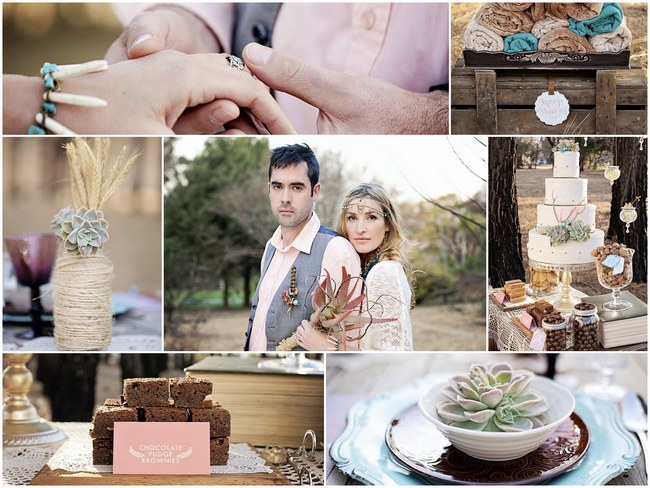 Succulent Wedding theme :: 
Sweet As Images Photography
 :: 
Via ConfettiDaydreams.com
The succulent wedding theme can be incorporated into your wedding from the time that you send out your invitations. Imprinted with a classic succulent design, your wedding invitations can be uniquely created either using a succulent design such as these rustic succulent invitations from Artistically Invited. (If this feature inspires you to purchase one of these beautiful items we'll get a small percentage of the sale for sharing them with you. Thank you so much for supporting our content!) For your wedding ceremony, line your aisle with a few succulents carefully placed alongside alternative ceremony chairs, as shown here by Style Me Pretty.
Succulents are so versatile in that they can be combined with flowers and decor items to create a one-of-a-kind centrepiece! For your table décor, real succulent plants can be used as place card holders that double-up as wedding favors for your guests! The DIY tutorial for these awesome succulent place cards from Michaels can be found on The Sweetest Occasion. Another great idea for wedding favors are these rosette-shaped 'Echeveria' succulent wedding favors from Martha Stewart Weddings, which will ensure that your guests are left with a long-lasting and easy-to-care-for keepsake of your wedding day!
Options for your table centrepieces are endless, with vintage containers being a great companion to a variety of succulent plants. Vintage silver planters make wonderful succulent centrepieces, such as this one from Garden Therapy and these stylish silver vintage champagne glasses from Cactus Jungle. Make use of a collection of silver pots, jars, tins, glasses and some colorful succulents to add a whole lot of vintage to your wedding table décor. We love DIY ideas and these succulent can planters are so easy to achieve by following the DIY tutorial from Apartment Therapy. One can also add a sweet touch to your table décor with adorable succulents in vintage tea cups, as shown here by Simply Julie or reuse a large brandy glass as Flower Duet has done to house a few succulents.
Succulent Bridal Looks & Bouquets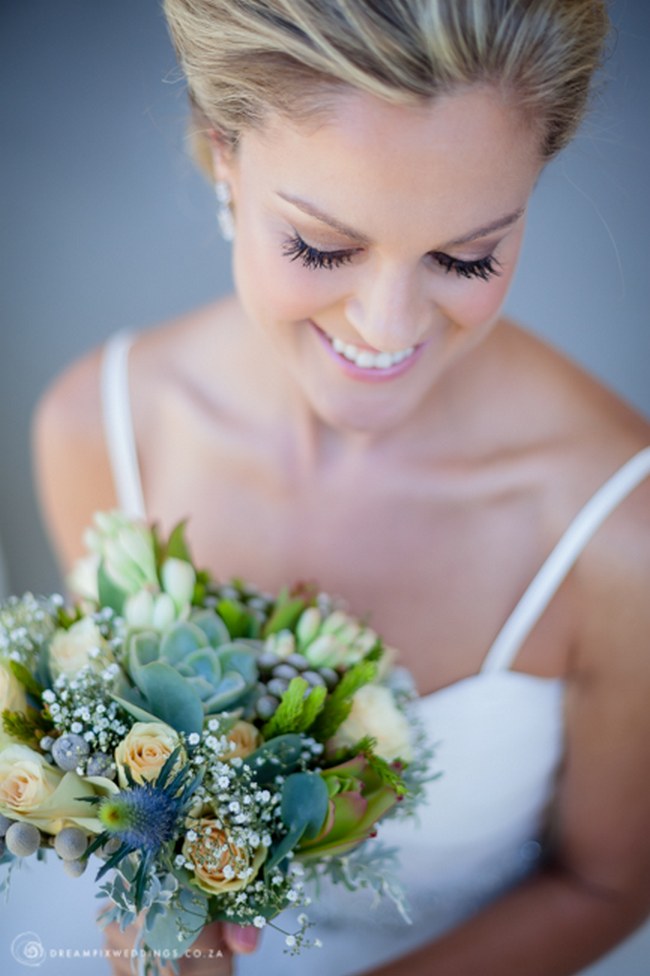 Succulent Bridal Bouquet ::
Dreampix Photography
::
Via ConfettiDaydreams.com
The thought of how to use succulents in your bridal look may leave you a little lost! Apart from bridal bouquets, succulents can be used to adorn your hair, neck and bridal accessories! Choose a delightful succulent hairpiece such as this freshly handmade one from Green Wedding Shoes or grace your mane with a fabulous succulent floral crown as seen on Elizabeth Anne Designs. A succulent hair comb such as this one from Succulently Urban is another great way to embellish your hairdo. Striking succulent necklaces either created from the real thing, like this unique succulent mini-garden necklace or from a precious metal like this succulent bronze necklace, both from the wonderful Woodlandbelle. And we believe that there's nothing like this gorgeous ranunculus-covered clutch purse with a hens and chicks succulent as a brooch in the centre, designed by Renny and Reed via Garden Design, which is perfect to dress up your look!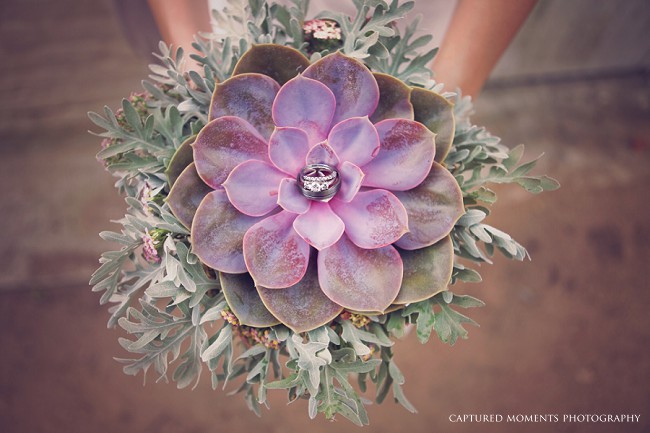 Succulent Bouquet ::
Captured Moments Photography
:: Via
ConfettiDaydreams.com
For your wedding bouquets, the amazement of succulents may make choosing just one succulent bouquet, a challenge! Succulent bouquets are a long-lasting alternative to floral bouquets that you can treasure in your home as a keepsake from your wedding day. We love this bright and happy yellow flower and succulent bouquet as spotted on Once Wed and this succulent boutonnière to match from The Bride's Cafe. Enhance a rustic-themed wedding with an overwhelming succulent bouquet filled with different succulent textures and tones, such as this succulent bouquet from B.loved Weddings. For a few other florally ideas for your bridal bouquet, our 25 Cascade and Long Bridal Bouquets will be sure to inspire you!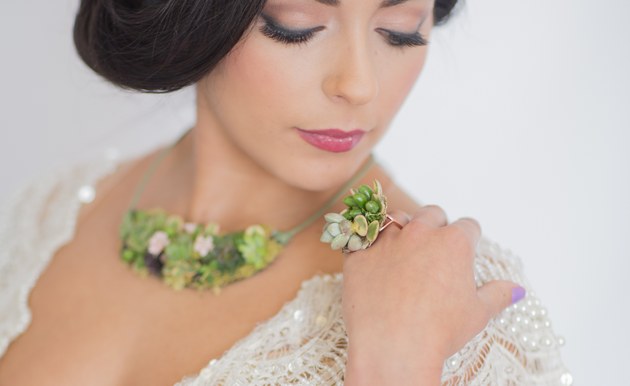 Succulent Ring and Neckpiece :: Styled by Three Sisters Custom Events :: Retrospect Images  :: See more on ConfettiDaydreams.com
Succulent Wedding Cakes, Eats & Treats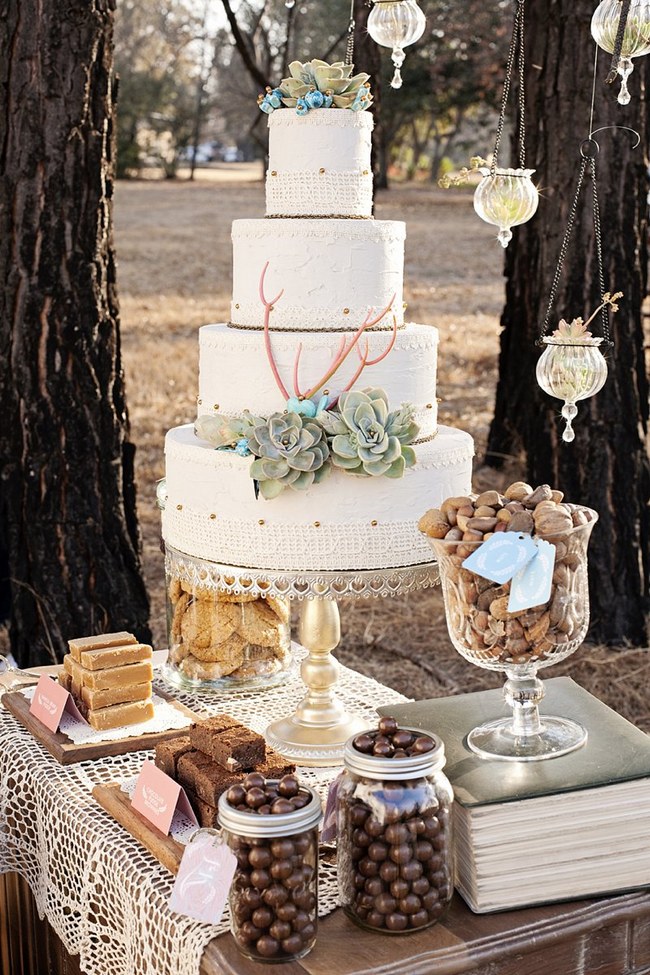 Succulent Wedding Cake ::
Sweet As Images Photography
::
Via ConfettiDaydreams.com
Yummy and succulent! Cute succulent themed cake decals such as these  or these succulent cake toppers from Elizabeth Anne Designs are small ways in which to add a dash of the succulent theme to your wedding. Wedding cakes come in all shapes and sizes, colors and flavors. Our 25 Ombre & Ruffle Wedding Cake Wonders showcases the delicious ombre and ruffle wedding cakes trend. There are also many ways in which to dress up your wedding cake with a few succulents. We adore the contrast achieved by a modern white wedding cake decorated with fondant succulents, like this understated and stylish succulent wedding cake from Revel and these oh-so-adorable succulent wedding cupcakes, which Pixel Whisk shows you how to do-it-yourself. Fresh succulent plants can also be used to dress up your wedding cake, such as this unusual and striking succulent wedding cake with drip icing.
Inspired to pass over traditional flowers and instead reach for unusual succulents for your wedding day? We hope that you love these blooming~ly lovely succulents just as much as we do! Visit us on Pinterest for our amazing Succulent Inspiration Board to add to your wedding pin board.


♥ ♥ ♥