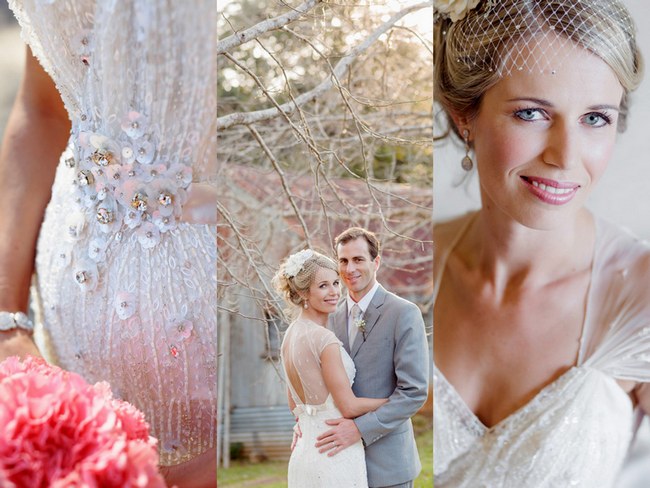 Nicki & Scotty from the Sunshine Coast, Queensland, Australia, exchanged vows in front of their closest family and friends under a DIY bunting banner spelling out a promise based on lyrics from their favourite song. Friends and family were an integral part of the day, not only pitching in with DIY but helping with much of the decor and ceremony setup. AND we love that Nicki wore a gorgeous Jenny Packham gown which ended up costing her nothing. She shares her secrets for hosting an affordable but fun filled at the end of this perfectly pretty shabby-chic wedding feature captured by the amazing Jani B Photography!
 ♥ ♥ ♥
We were blessed to have about 30 guests come and help us set up on the Friday and pack up early Sunday morning. Another half dozen (highly stressed) friends and family set the ceremony site up on Saturday morning based on a (very bad) mud map I'd drawn up.  Our good friend Mietta Olsen-Wilkins was our Celebrant and was really able to personalise our service knowing us as she does. My cousin Kira Dunn made our amazing Pinata wedding cake (which she kept a surprise until the day). We borrowed cars (on the morning haha) from family and friends to take us to the wedding. It really was a community event!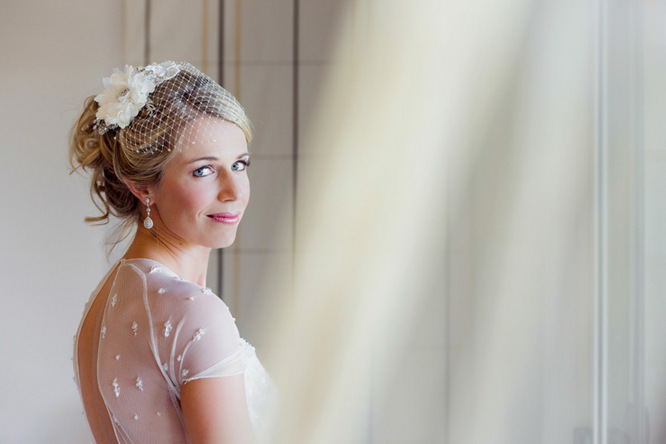 Their Love Story:
We met whilst teaching at the same high school but both of us were in other relationships at the time. A few years and a couple of break-ups later, Scotty came back from a stint overseas and we bumped into each other at the local Irish Pub.
  "He wooed me with a rendition of Whitney Houston's 'I Wanna Dance with Somebody' on the dance floor and a promise of 50 First Dates!"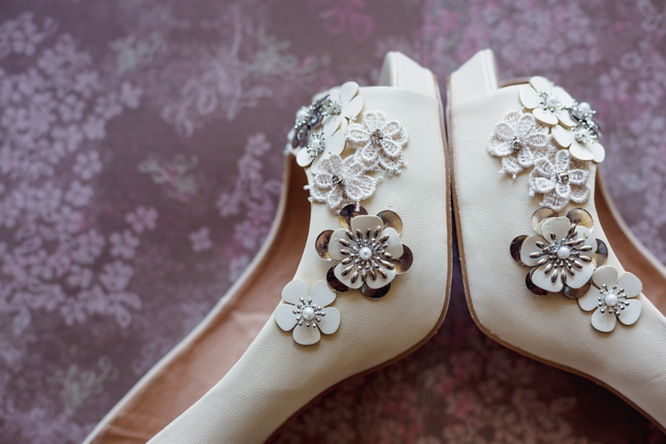 Their Proposal:

Sadly, Scotty's mother passed away 6 years ago from Breast Cancer. Every year, we go out on her birthday and celebrate her memory.
On Robyn's birthday in 2012, Scotty suggested we go to a little seaside village called Burrum Heads which we had been frequenting and celebrate with fish and chips. I thought it was a bit strange when he came home with flowers and started to get a little suspicious but put it to the back of my mind. We drove down just before sunset and again, I thought it was little suss that he'd packed a picnic, a blanket and champagne but figured he wanted to celebrate Robyn's birthday in style. Scotty took some gorgeous photos of the sun setting over the sea, then gave me a letter to read. I knew straight away what it was and got quite emotional – even more so when I read his letter of proposal. It is something I will treasure always. It would have been Robyn's 58th birthday; I'm so glad she could 'be there' in spirit on such an important day in Scotty's life.
Coincidentally, when trying to set our wedding date, the only weekend available at the Montville Hall in any of the months we wanted was Robyn's birthday, so we figured it was meant to be and again, she was and always will be a part of our special day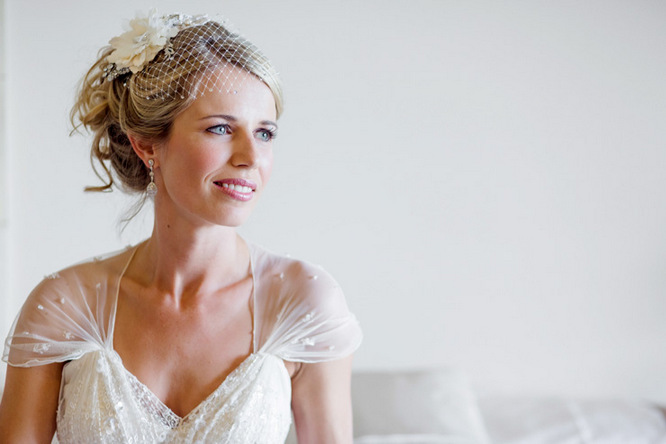 Special Touches: As well as some gorgeous lingerie and perfume, Scotty bought me Patrick Swayze's autobiography as a humorous nod to the night we met. I wrote Scotty an enormous mushy letter and had a sign made for our house (which he loves so much he has kept in our bedroom) with the word 'Querencia'; a word which sums up how I feel about him and why I chose to marry him. I also bought us tickets to Matt Corby's 'Resolution' concert as our first dance song was 'Resolution'.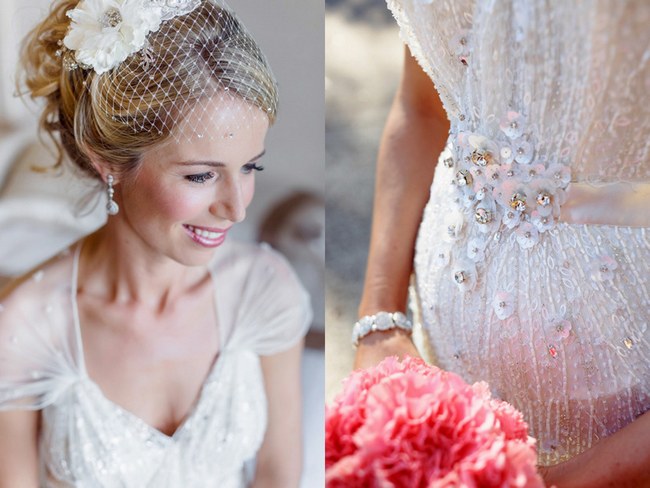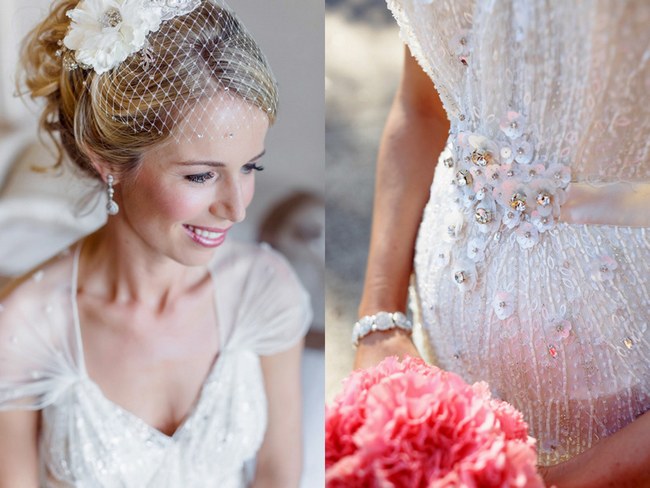 Deciding on a wedding theme: Our wedding theme was one of the hardest things to decide on and I think it's because our personalities are so multi-faceted! We probably would have been really happy with a beach wedding but when we started looking for venues within our budget (that we liked), we kept coming back to the Montville Hall. Once we'd decided on that, our romantic, shabby chic, garden, literary theme began to evolve!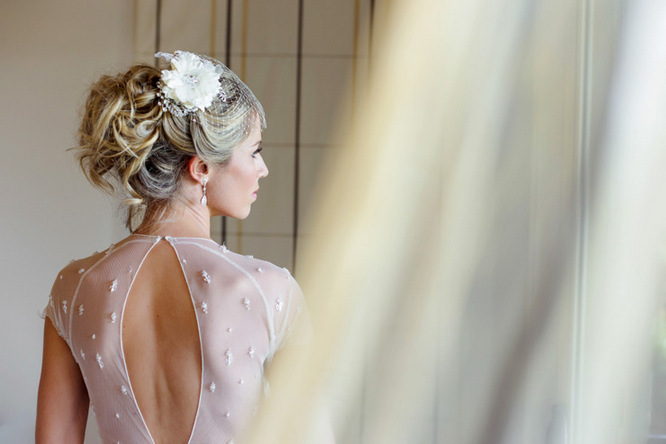 Wedding Dress: I wore a lace Jenny Packham gown, Willow, with cap sleeves, beaded detail and an open lace back.  Our bouquets were DIY – pink carnations for me, baby's breath for bridesmaids.
Hair and Make Up:  Powder Me Make-up was so professional and easy-going. Charmaine put up with me constantly changing my numbers and times for beauty appointments without so much as a complaint. And on the day, she even came back just before we left to do some last minute fix-ups! Our make-up stayed on all day and all night. Highly recommended!  Hair stylists Dot and Birdie are amazing! They were able to completely transform 10 of us (most with manes of hair) and were so professional and fun to boot. All of us kept our hair in the next day for the recovery breakfast and it barely looked touched! Now that's art!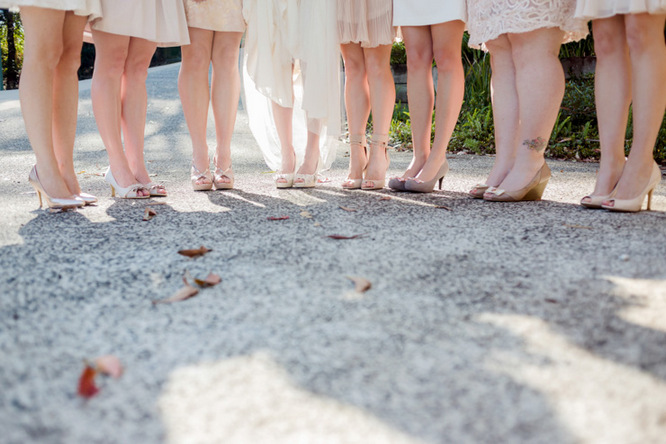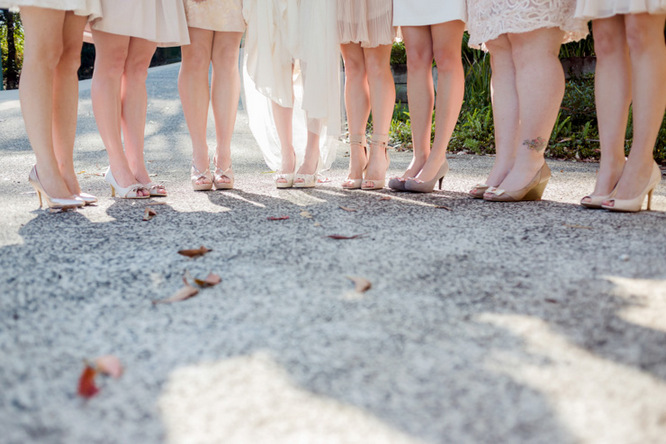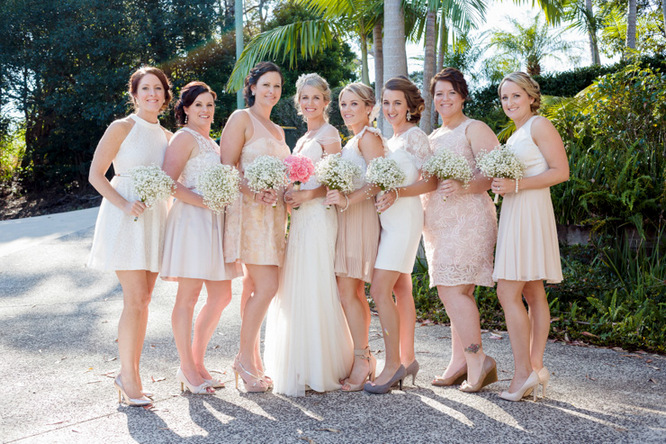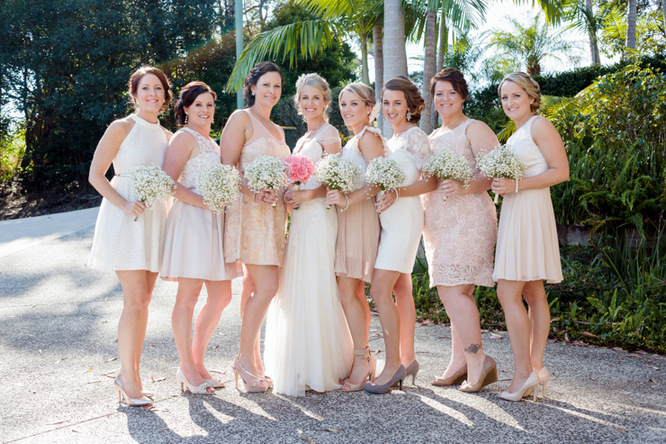 Bridesmaids: The ladies work mix and match dresses in shades of blush and pink. Some from Forever New, some were purchased online, one was a dress the bridesmaid already owned and my cousin made her own! They complemented their outfits with clutches various, bracelets various, bought from Sunshine Plaza. Jewellery.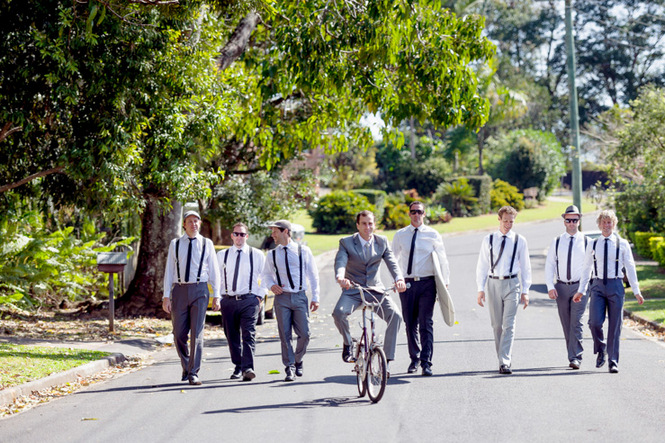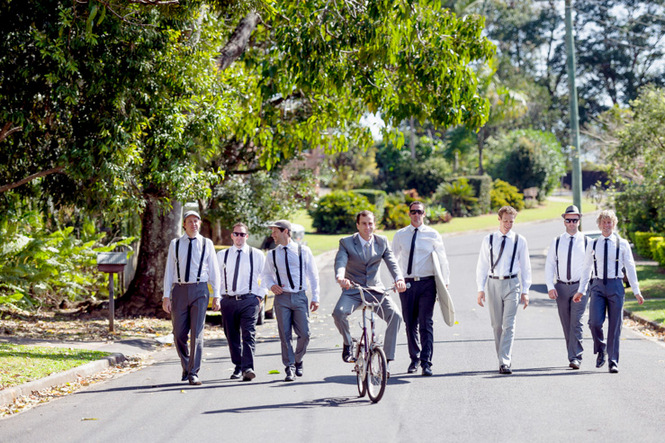 Groom and Groomsmen: Most suits were the groomsmen's own, some got theirs from Op-Shops, while Scotty got his made in Thailand on a family trip a few years ago. I don't think any of theirs were new 🙂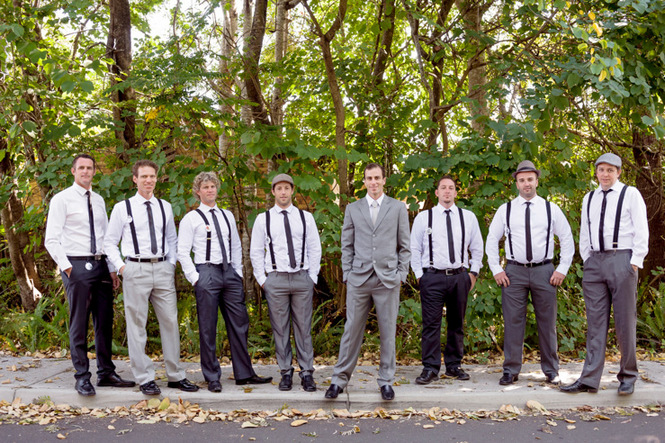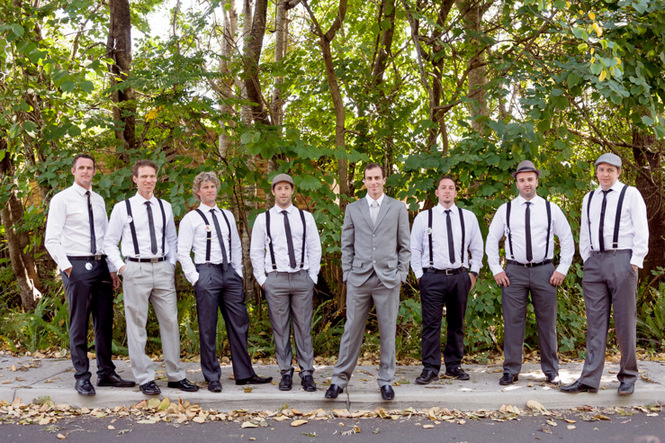 Corsages: We created the corsages ourselves using baby's breath on a feather and vintage cycling pins.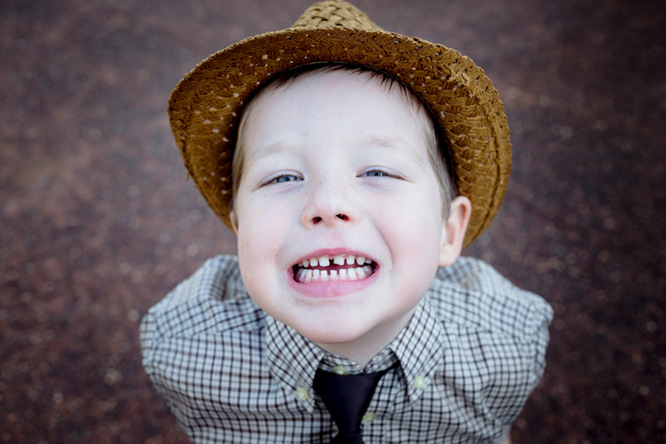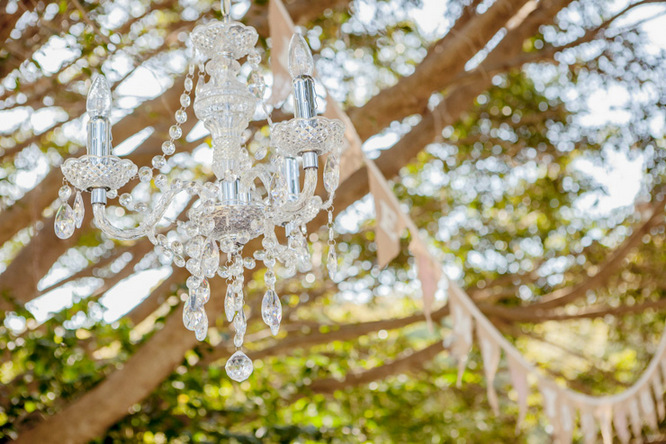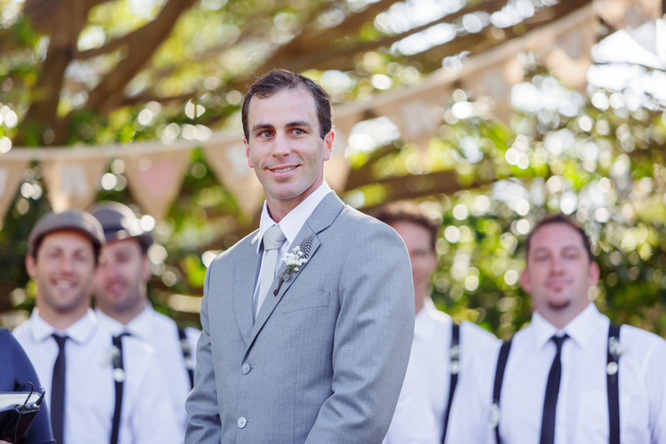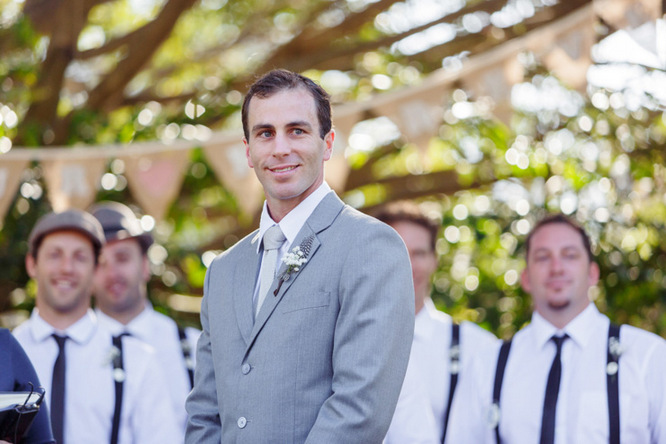 Ceremony Music: Scotty's cousin Reagan played 'Give Me Your Forever' by Ben Harper on acoustic guitar as I walked down the aisle.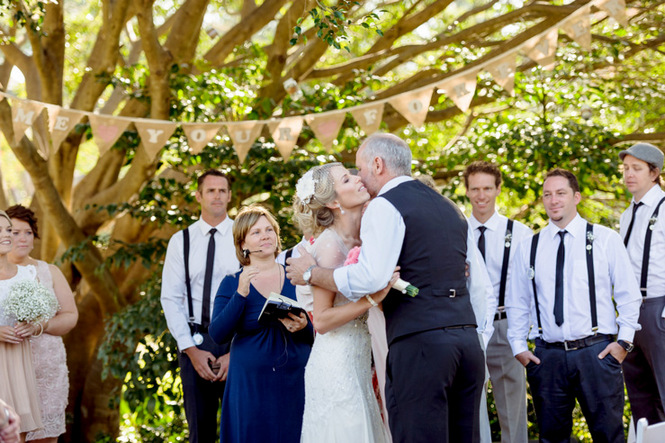 DIY Wedding Bunting: One of my  favourite DIY projects was the ceremony bunting. I stencilled the words 'Give me your forever' (our entrance song by Ben Harper) onto burlap and we hung it from the tree with a chandelier and some of the tealight candles for the ceremony.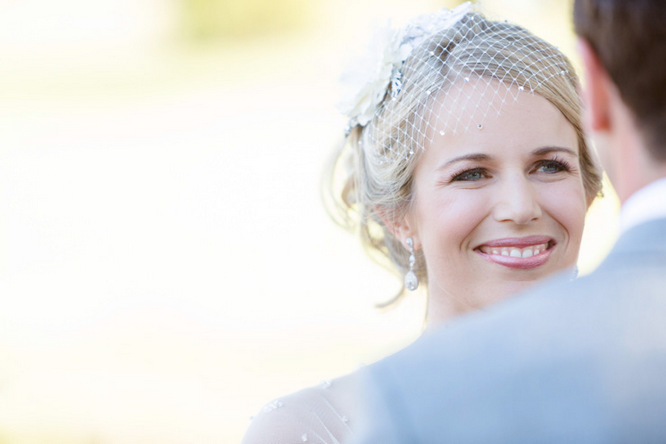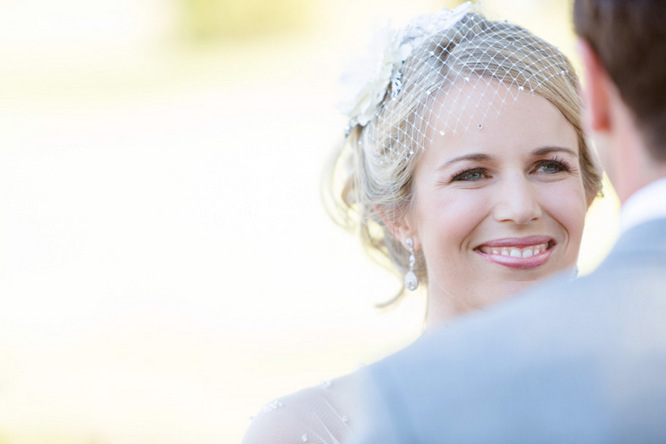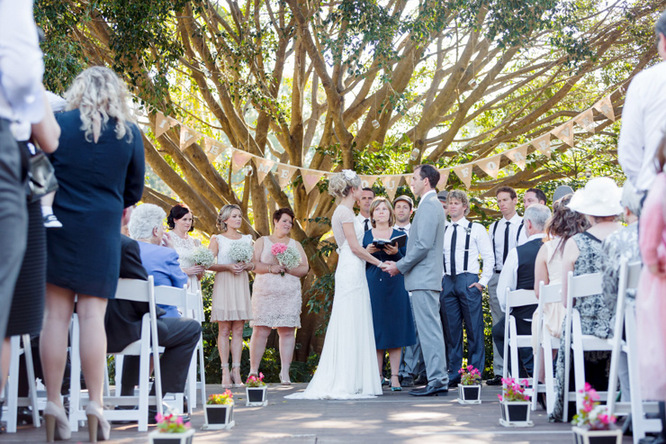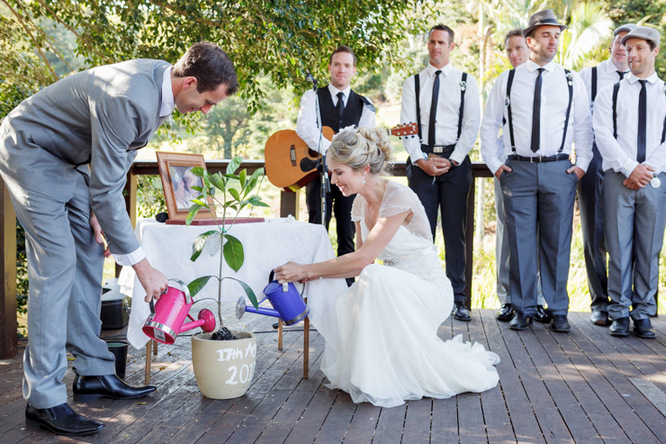 Wedding Tree: I also enjoyed haphazardly painting our wedding tree pot plant, which now has pride of place in our living room. It's a lovely daily reminder of our special day.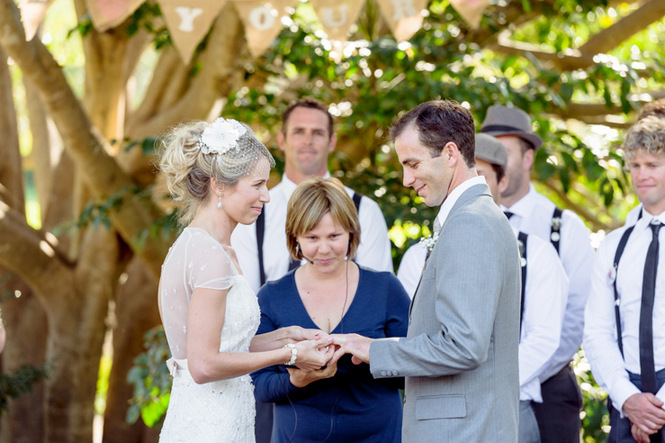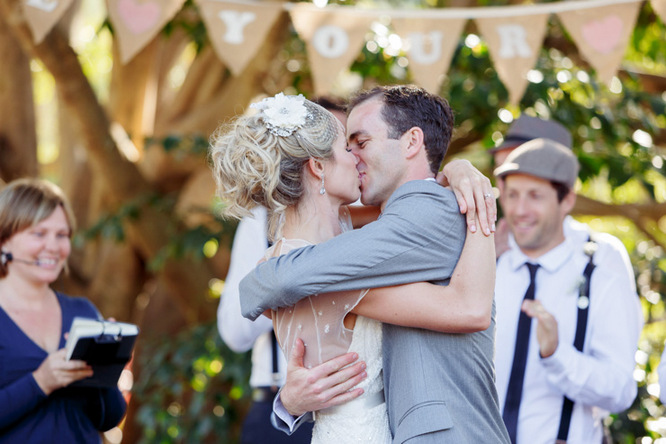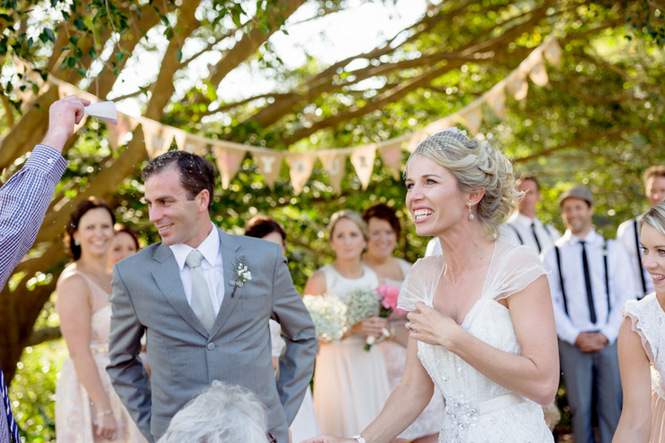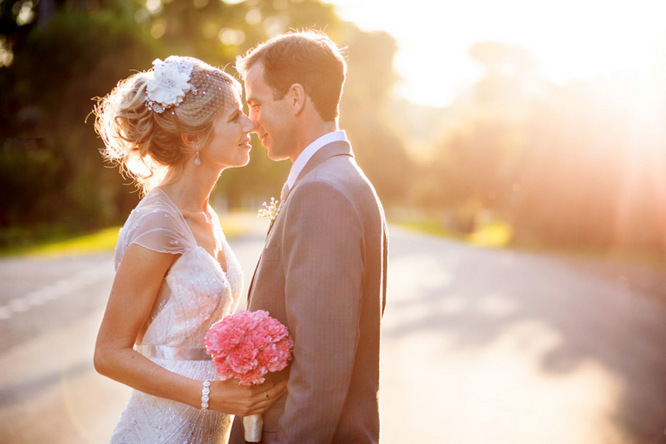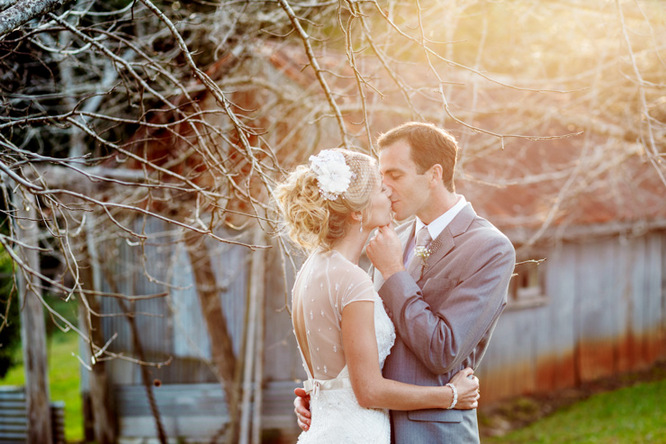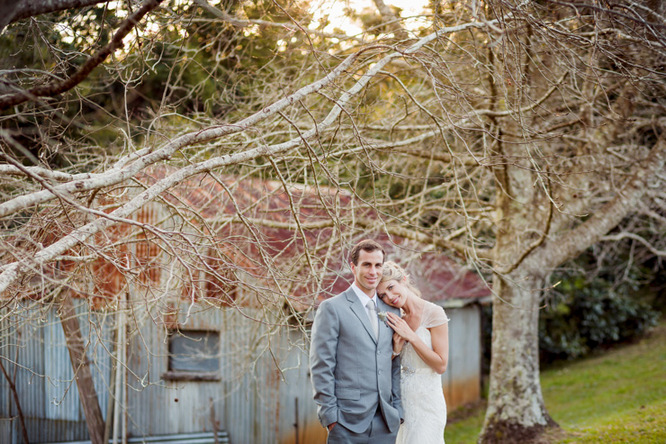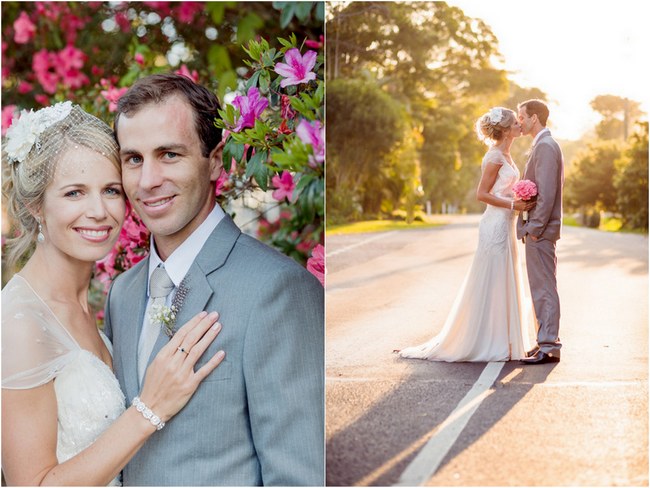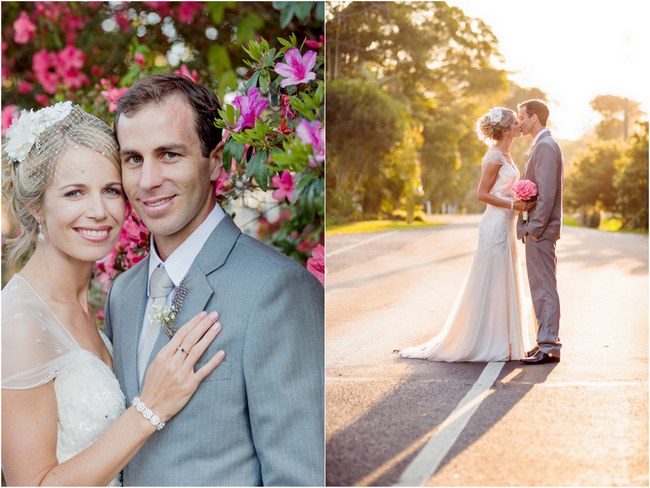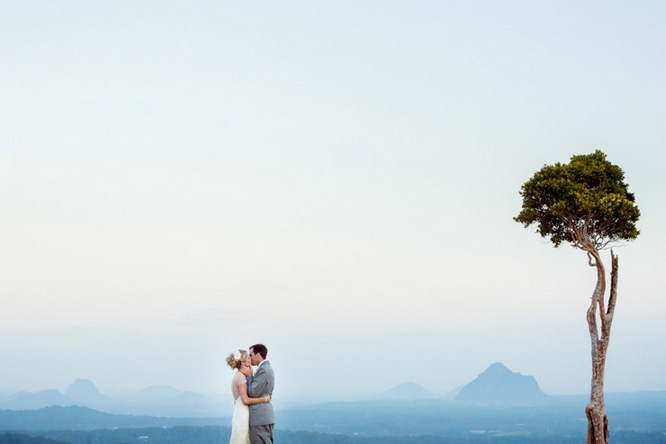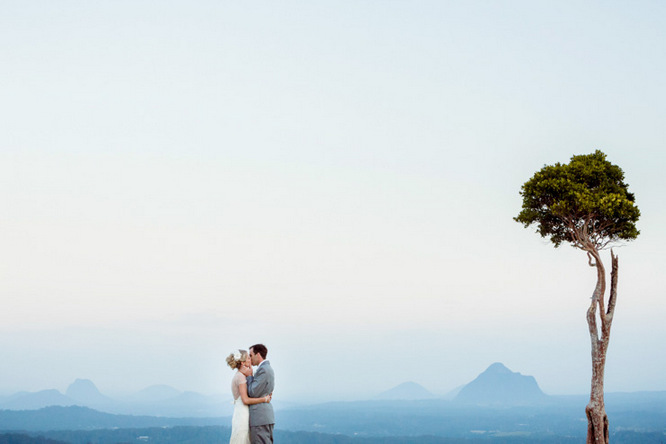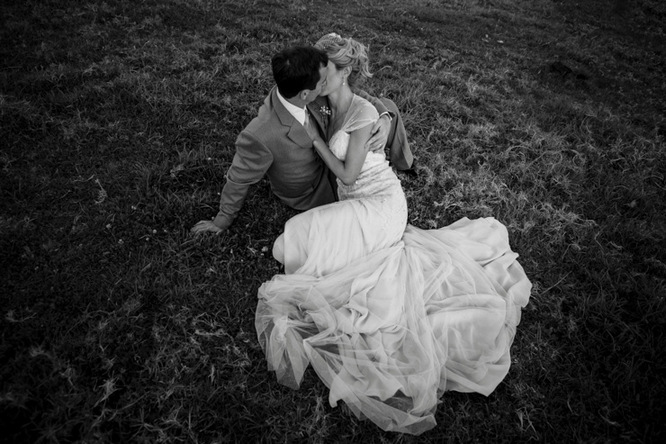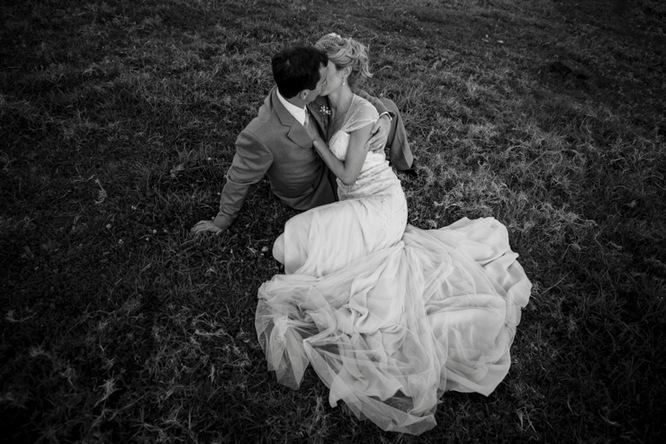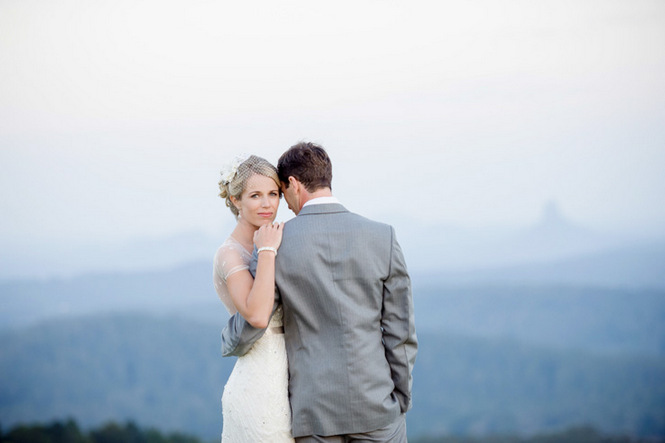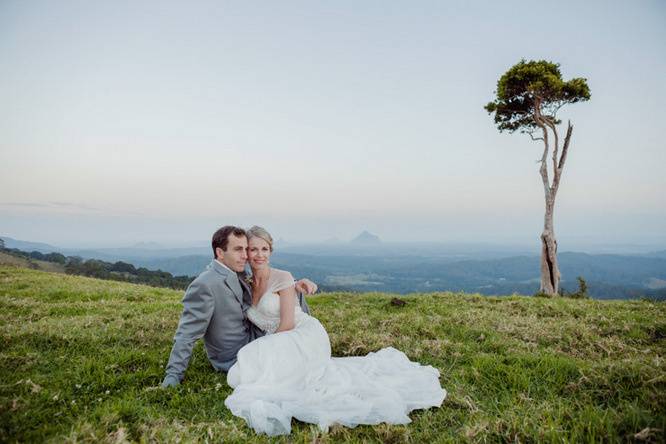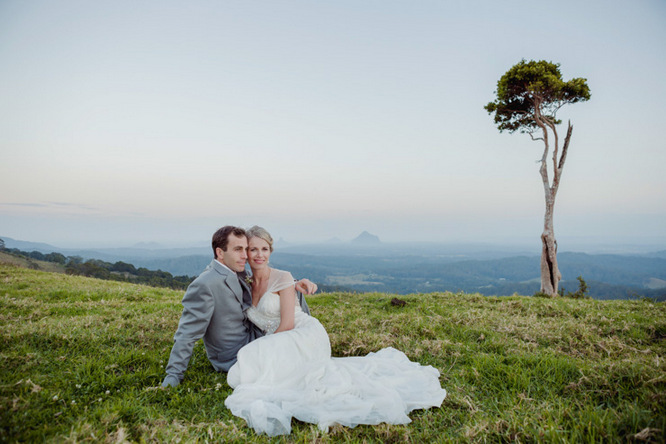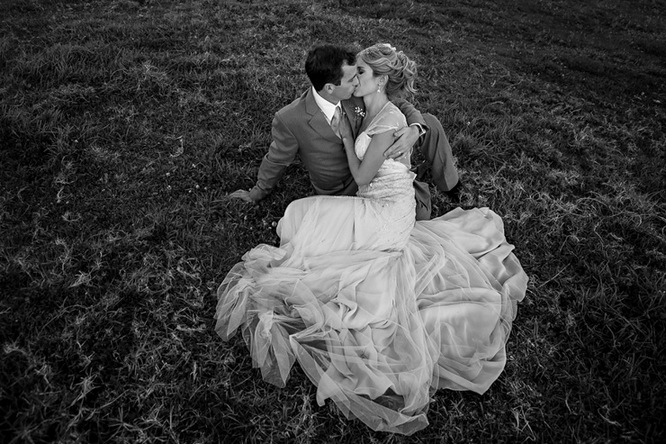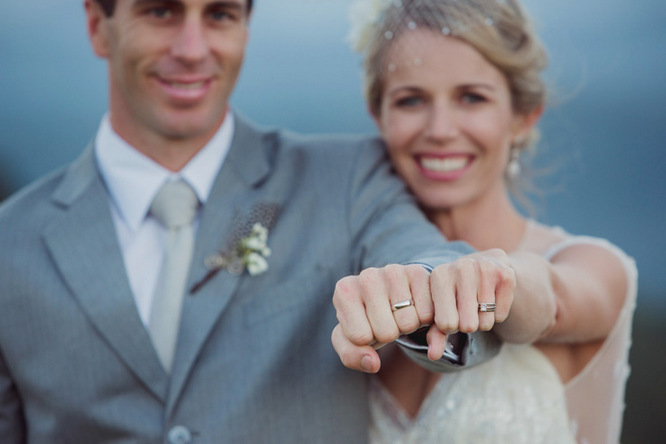 Reception Venue:  Our best decision was holding the reception at the Montville Historic Village Hall . Most of our families have grown up in country towns where everything from birthdays to school concerts to reunions are held. So I think it felt a bit like home-away-from-home from everyone and they were really able to let their hair down! The Hall was also one of the only places that allowed you to play music until midnight.  Frith, the Hall/Wedding Co-ordinator is lovely!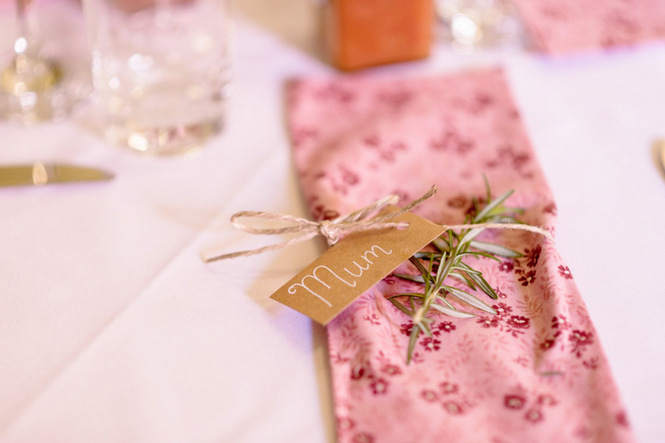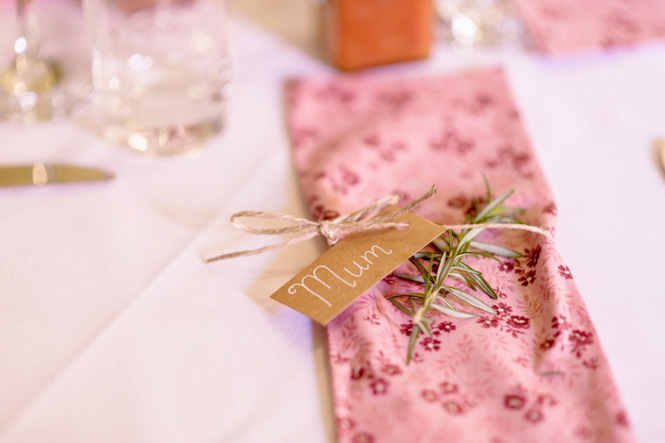 Shabby Chic Table Settings: The mismatched, vintage look cloth napkins were very time consuming but were obviously very popular as most of them were taken home along with the relish!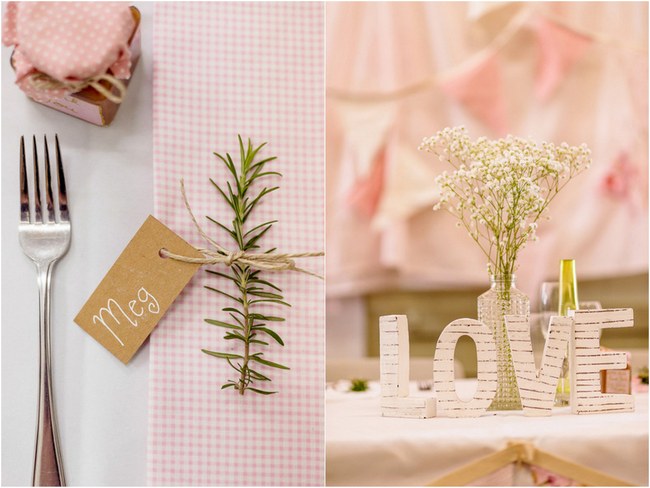 Reception Flowers: A large bouquet of baby's breath on each table in a vintage whiskey bottle.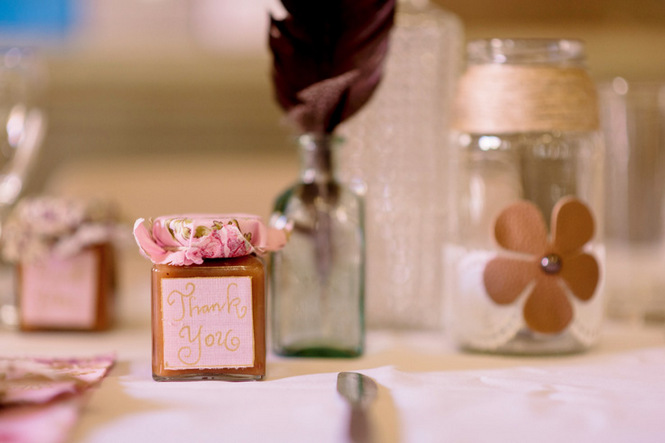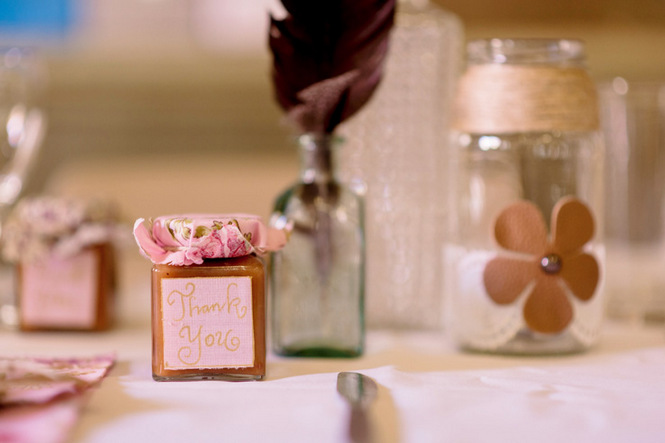 Wedding  Favours: Each guest received a bottle of Nana's tomato relish.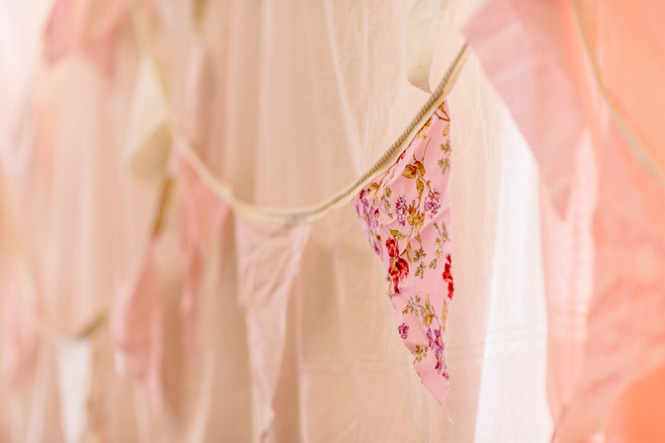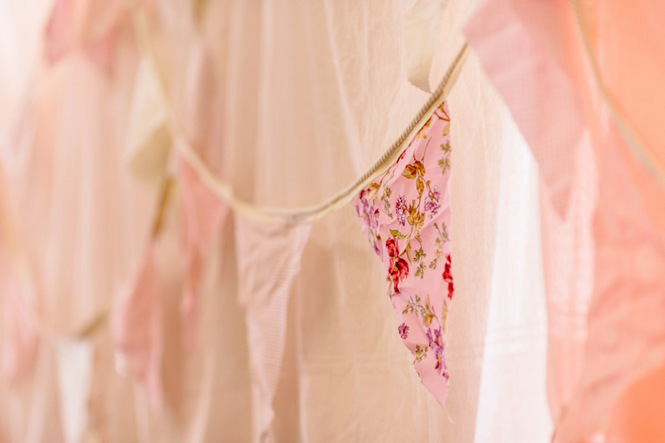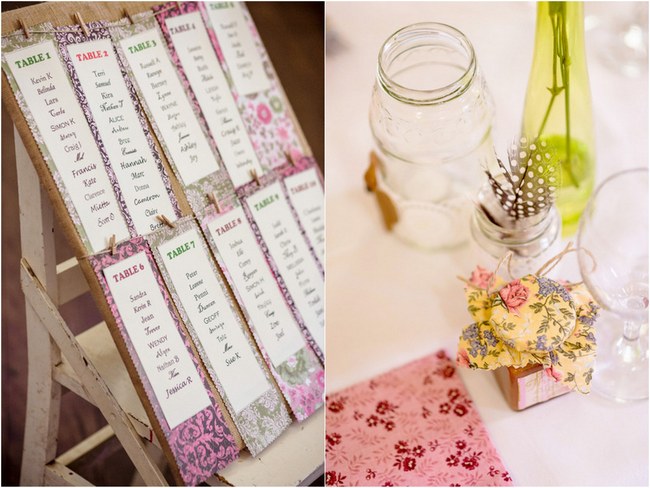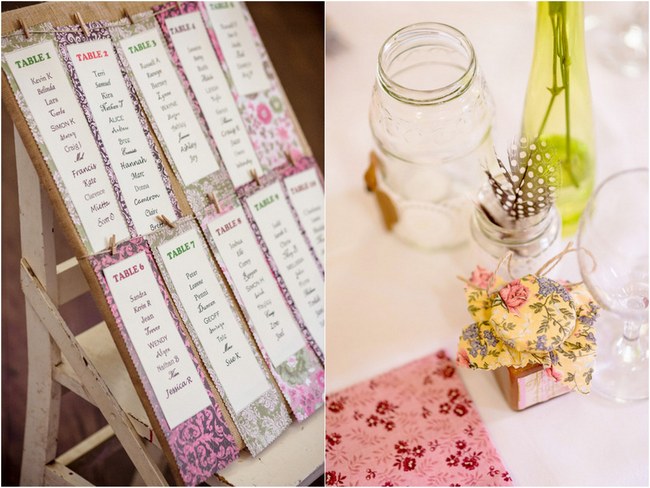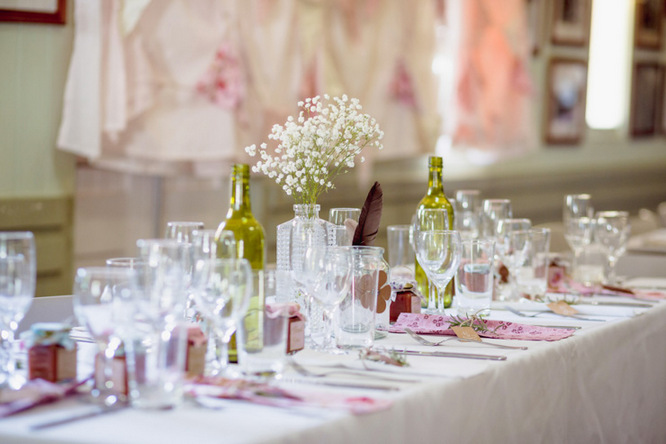 Reception Decor Projects: Another of my favourite DIY projects were the tealight holders. The tealight candles were jars I'd collected and decorated with leather leaves, lace and twine.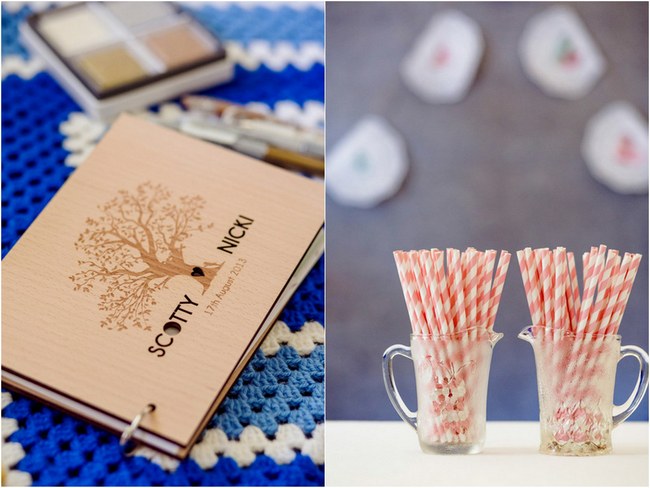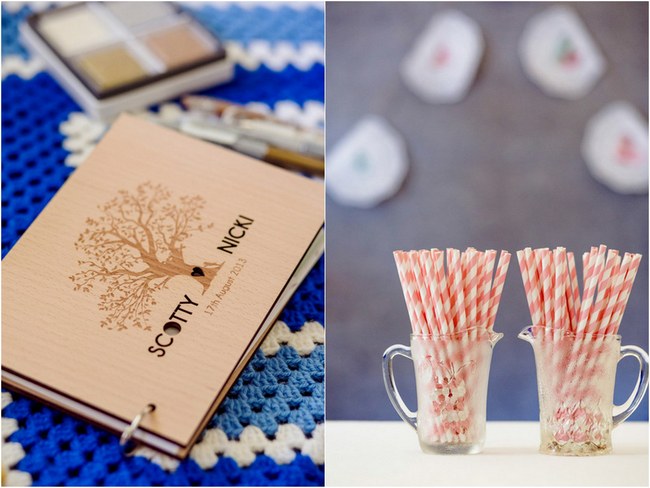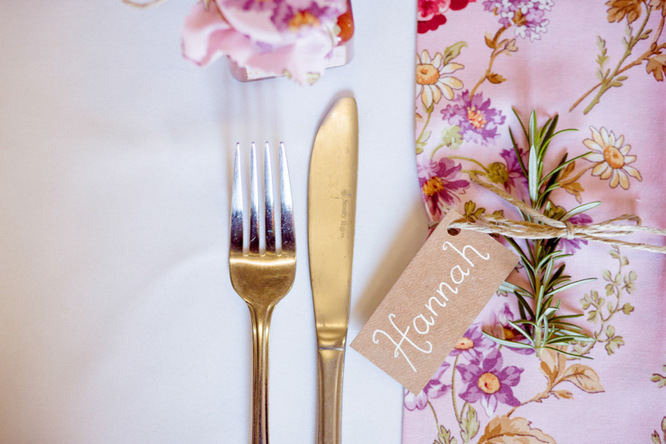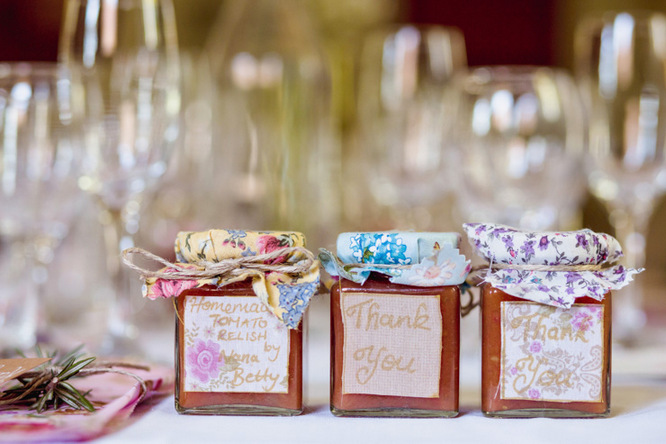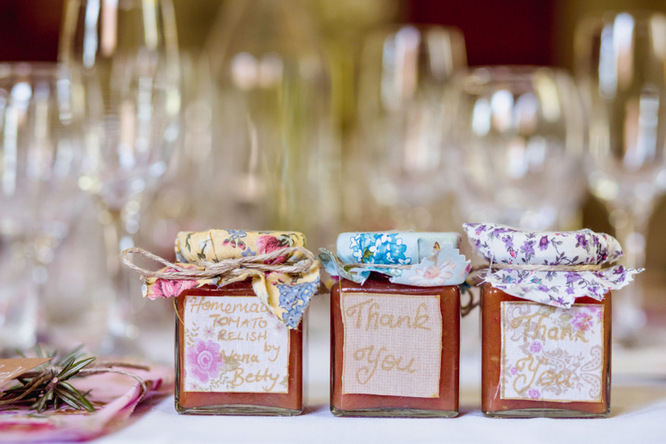 DIY Bottle Covers: Myself and bridesmaids cut out material labels and lid covers.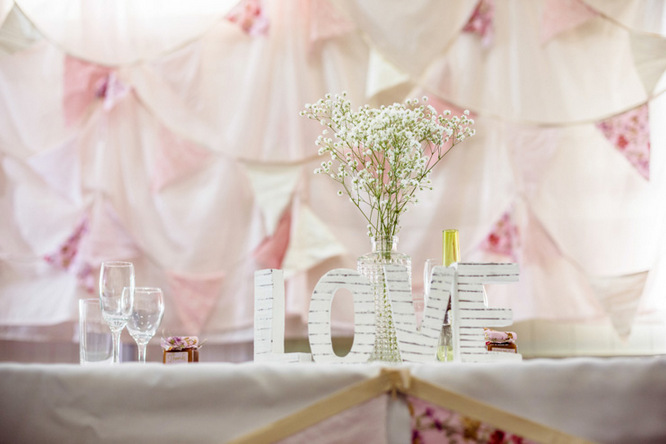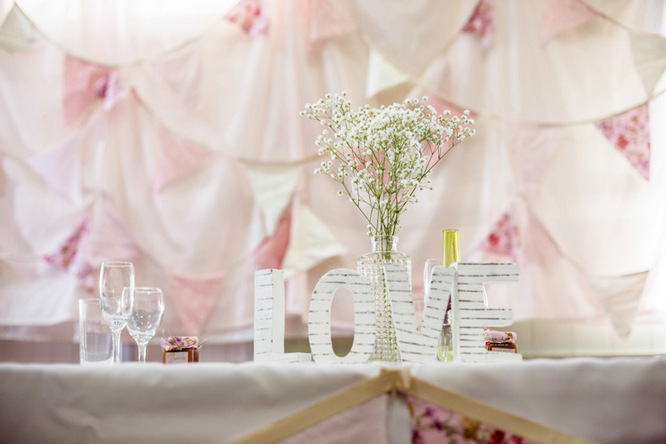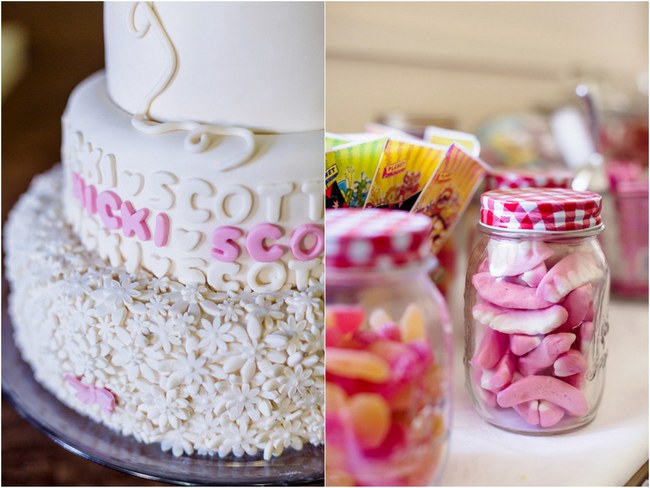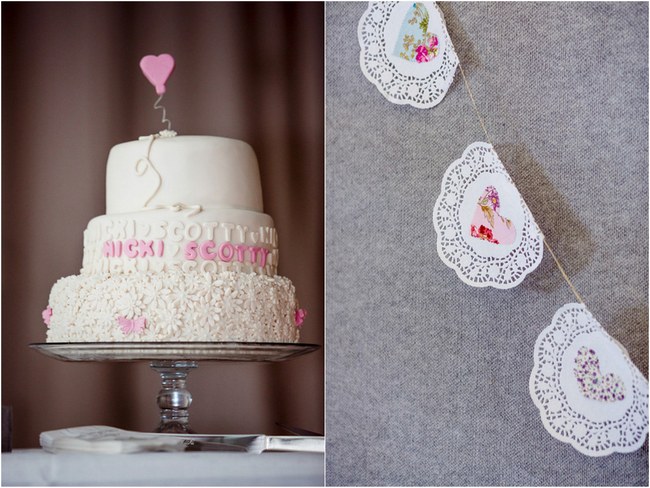 Wedding Cake: Two of my bridesmaids organised for a local baker to make the cake in Hervey Bay and then my cousin (and fellow bridesmaid) decorated it. It was an amazing piñata cake, filled with lollies inside!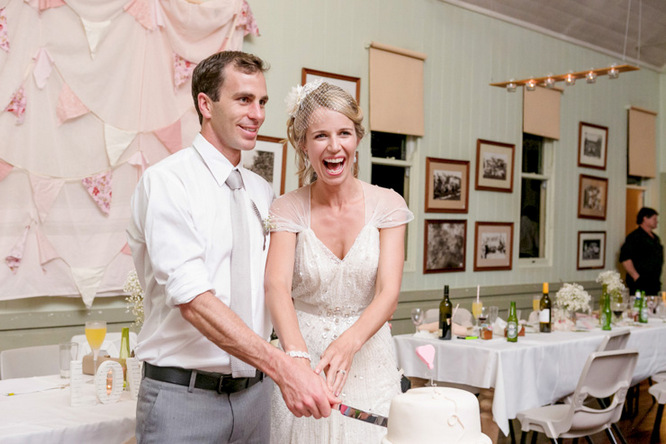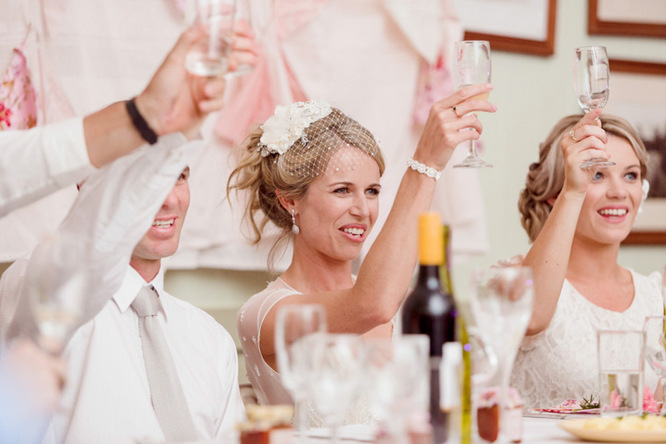 Our Wedding Photographer: Jani of Jani B photography was AMAZING and went above and beyond what anyone would expect of their photographer. I lucked out as she happened to be over here running workshops when our wedding was on. However she assures me she is only a flight away and is on par with the most reputable Aussie photographers with flights included. We were very lucky to have the talented Ildiko Gaynor  as our second shooter also – a hilarious and professional combination! 
Real Bride, Isabel's, Tips For Brides-To-Be
If you're going to go down the DIY road, make sure you are a very relaxed person who is flexible and adaptable to things changing. E.g. Some things at the ceremony weren't set up or put where I had planned. This didn't worry me at all but may have worried other brides.
Don't be afraid to ask for help.
Don't DIY unless you have LOTS of help. We could not have had the wedding we had without nearly every one of our guests helping in some way. From setting up lights, picking up chairs and sound systems, cleaning up afterwards – none of it would have got done without our amazing army of friends and family.
DIY will cost you more than you think because you have to provide more than you think. E.g. I had to organise water glasses, water carafes, speakers, etc which would usually be included in a reception package.
Hand your phone over to someone reliable. I didn't get stressed until all of our guests and family started to arrive and call me up with questions I didn't have the patience or the brain power to answer. My sister and MOH gave me the best gift of all by confiscating my phone and taking all calls from Thursday night on, she only gave it to me if it was something she couldn't deal with. Either that or pay for a wedding planner!!
If you have reliable connections, see if you can bring in your own caterer. I knew from working in Hospitality how outrageous mark-ups are on food and alcohol in most venues and particularly on wedding packages and couldn't bear the thought of wasting all that money! So, being able to purchase our own alcohol and bring in our own caterer (who turned out to be our neighbour!) by doing it DIY was easily our biggest money saver.
I also bought my gown second-hand on stillwhite.com.au, saving at least $3000 on my dress. I have actually since sold it for the same price I bought it, so essentially didn't pay a cent for my dress. Another HUGE money saver and one very happy hubby
Make sure you don't forget about recording your memories on video. If you have the money, I highly recommend hiring a videographer or at least getting Uncle Bob to video the ceremony and speeches.  We skipped this and this is probably my only regret about the day.
 ♥  ♥  ♥ CREDITS ♥  ♥  ♥
Photographer: Jani B Photography  | Wedding Night Accommodation: TreeTops Seaview, Montville | Wedding Venue: Montville Historic Village Hall. | Ceremony Venue: Russell Family Park, Montville, Queensland, Australia. | | Florist: Flowers from Brady's Fruit Barn, Palmwoods, put together by bridesmaids Caterer: Roni, Food That Sings  | Makeup Artist: Powder Me Make-up | Hair Stylist: Dot and Birdie |  Ceremony Chairs: Maroochydore Party Hire |  PA system and speakers: ASV Audio Visual Nambour | Wedding decor: DIY Family and friends | Entertainment: Cousin Reagan on acoustic guitar for ceremony.  | Celebrant: Mietta Olsen-Wilkins, Woven with Spirit Ceremonies  | Bridal gown: Jenny Packham, Willow via StillWhite.com.au | Hair comb and earrings: Eve Boutique  | Birdcage Veil: Unveiled Bridal | Shoes: Forever New | Rings: Michael Hill Jewellers