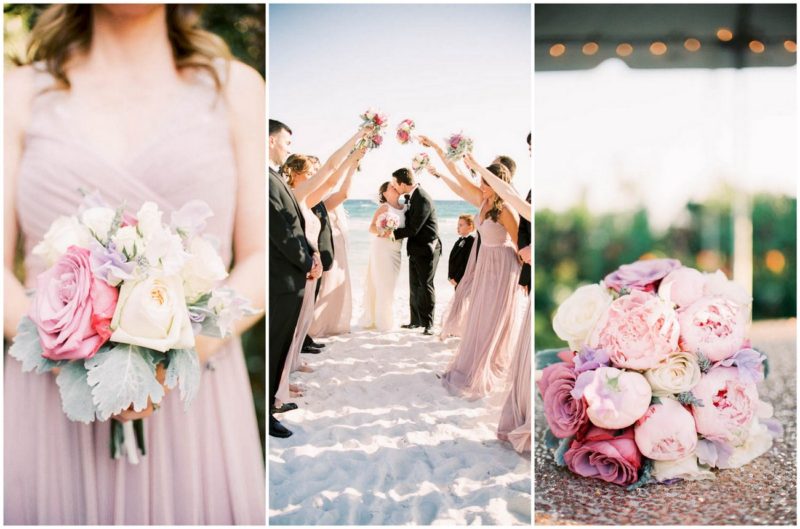 Lauren and Thomas decided to celebrate their nuptials with a gorgeously laid-back destination beach wedding. Their relaxed, intimate Seaside Florida wedding meant a small guest list of only their closest friends and family, barefooted bridesmaids, peony nosegays, long dusty pink BHLDN bridesmaid dresses and minimal, but romantic, blush, white, and gold details.
"Both of us wanted to spend most of our time with our family and friends enjoying the beach instead of worrying about lots of tiny details," explains Lauren.
It was important to Lauren that they be married in a location that was not only beautiful, but also meaningful: "We chose a Seaside Florida wedding because my family and I have been going there since I was a little girl. For the reception we chose another family favorite that had a great outside courtyard, with a gazebo and herb garden all overlooking the beach."
For the ceremony all of the ladies were barefoot, but for the reception Lauren wore light pink converse high tops. "I wanted to share something special with my father so he also wore converse for the wedding." Lauren also wore a vintage wedding ring given to her by her aunt that had been passed down for generates to be worn by many women in their  family on their wedding day.
"Everyone who helped make our Seaside Florida wedding a reality was very helpful," shares Lauren. "Karla Lacher, our photographer, was great. She worked with us before to make sure she knew which shots we wanted and then made to capture all the moments we wanted on our wedding day. Mary-Katherine at Cottage Rental Agency and Katherine at Bud and Alley's were amazing too."
Relaxed Seaside Florida Wedding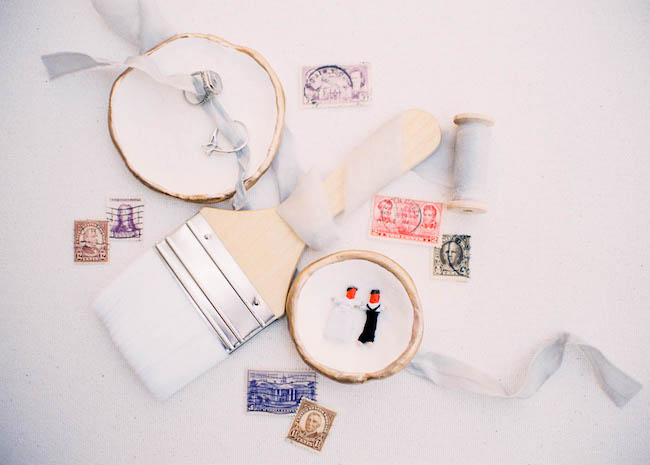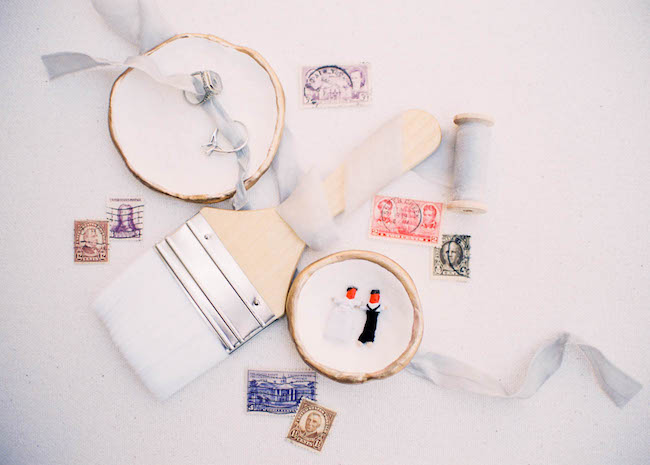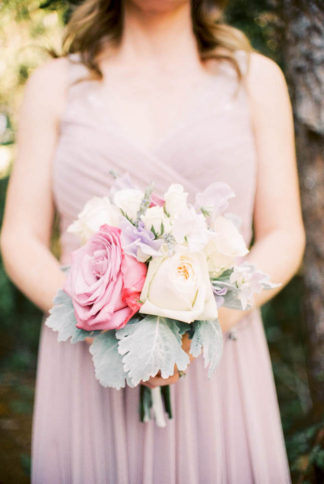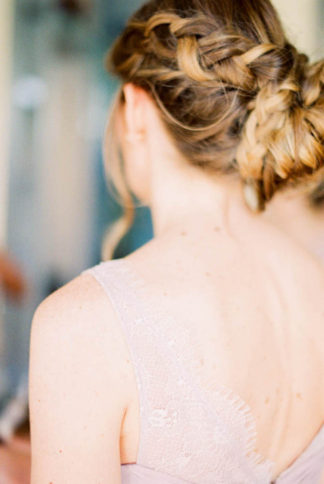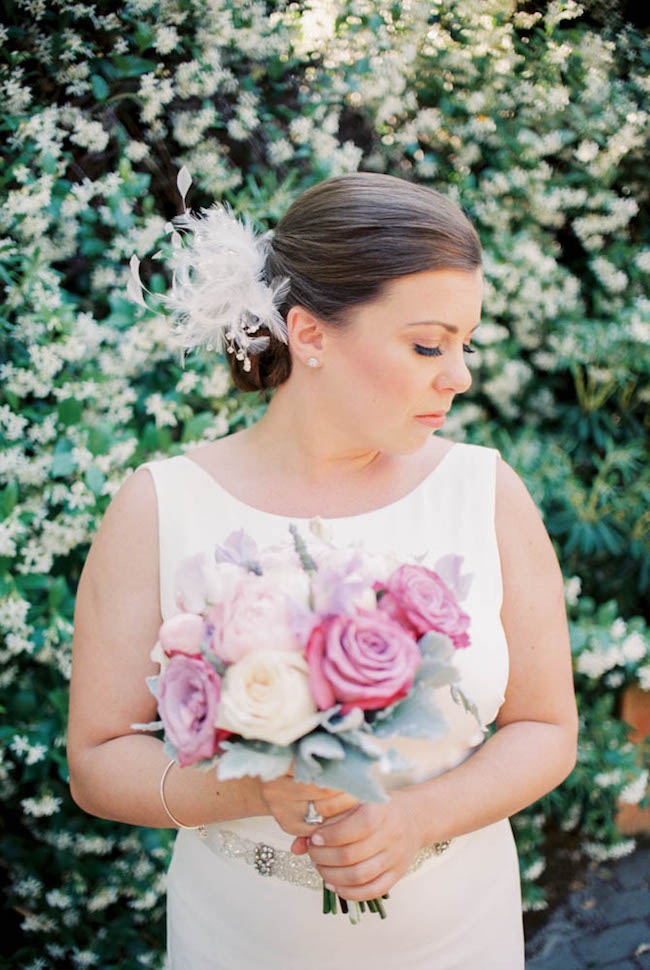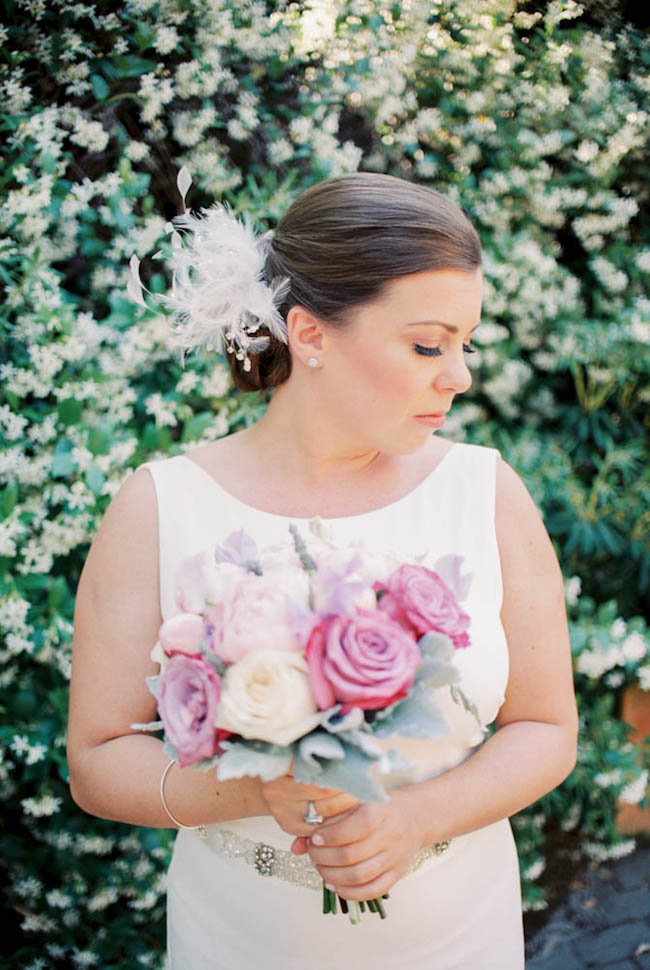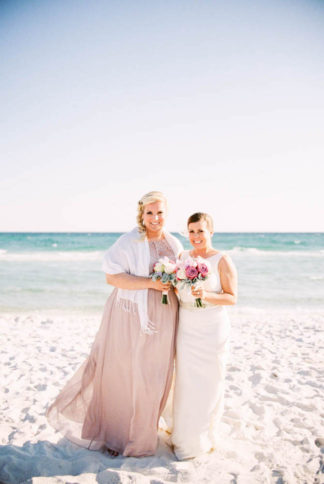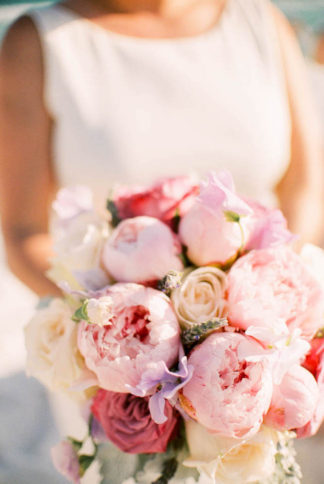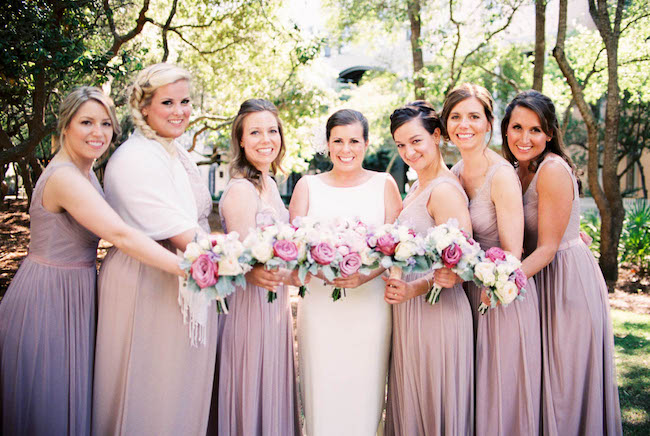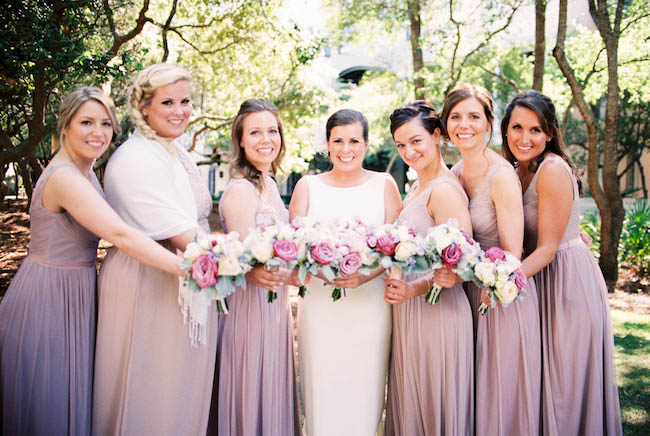 I purchased a simpl,  long gown with a low cut ruffled backtight fitting gown from BHLDN, deciding to go with a tight fitting dress. I had a belt made to add a little sparkle. It took three fittings to get my dress just right and when I put it on the day of my wedding it made me smile.
For my hair I went with a braided up-do that sat low on the back of my head so that it would be out of the way in case of wind. My makeup artist used neutral colors and a gloss with a hint of pink for my lips.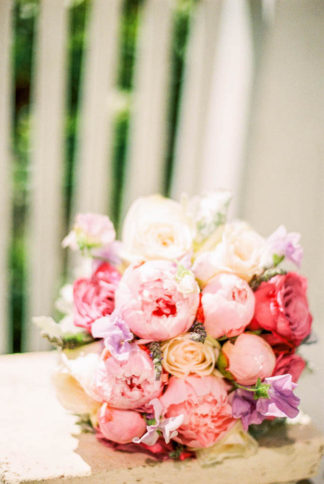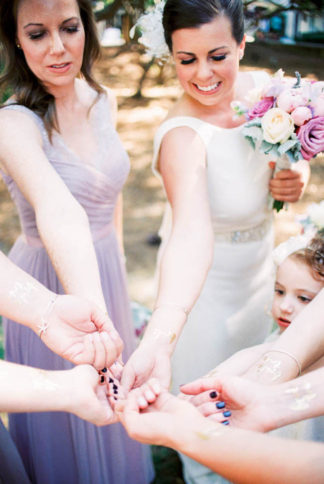 Mine and the bridesmaids bouquets were: nosegays of blush and pink peonies, lavender and blush roses, lavender freesia, lavender sweet peas and dusty miller with stems wrapped in ivory ribbon.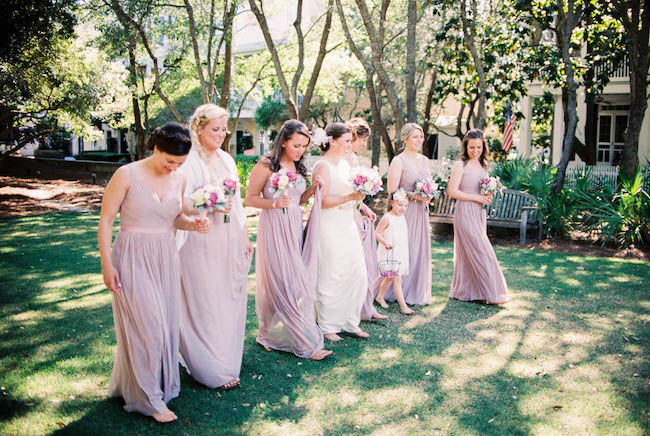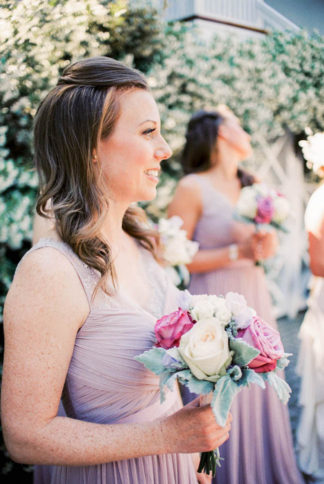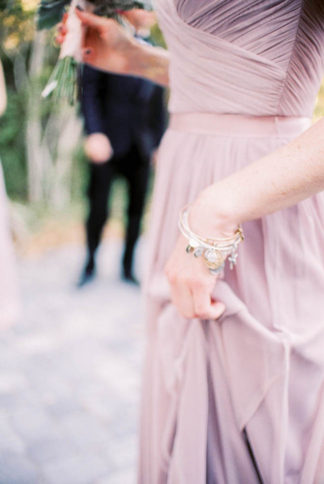 I picked a dress similar in style to my own, but blush in color,  for my bridesmaids. My sister, the maid of honor, wore a goldish colored dress. All of the ladies, including myself, were barefoot for the ceremony. I let each bridesmaid pick how they wanted their hair and makeup done.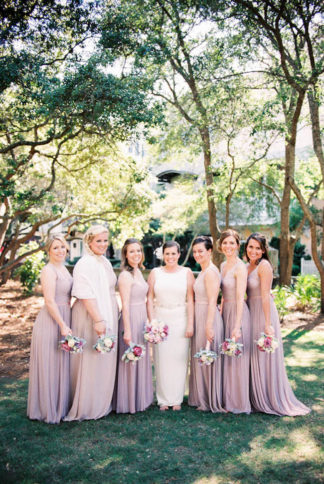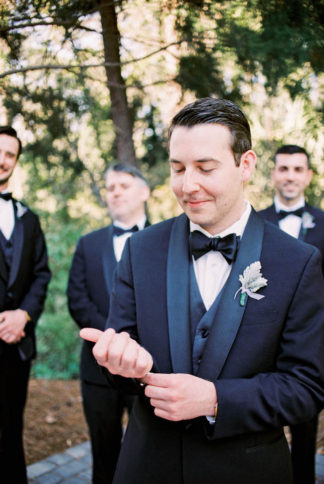 Even though it was a beach wedding my husband Tom was keen to wear a tux. He also wore a black bow tie, that he practiced tying for weeks up until the wedding. The final touch were the University of Illinois Chief Illiniwek cuff links I bought him for his wedding present. 
The groomsmen were all in black tuxes and black bow ties. The groom's and groomsmen's boutonnieres matched the bouquets, made of lavender freesia with dusty miller.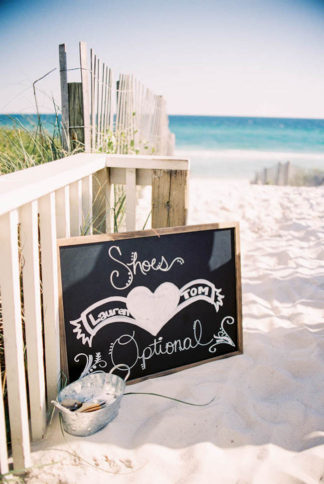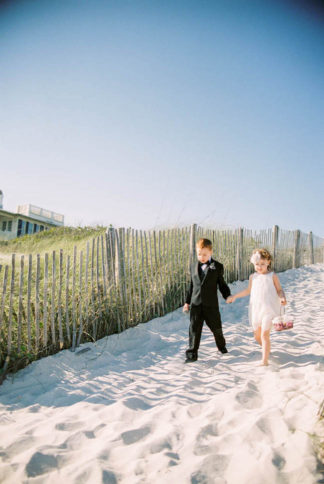 I didn't want to take away from the gorgeous beach view so we decided against using an arbor or big flower arrangements. Instead we had rose petals line each side of the aisle and a shoe caddy at the beach entrance, with a Shoes Optional Sign.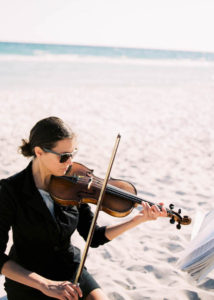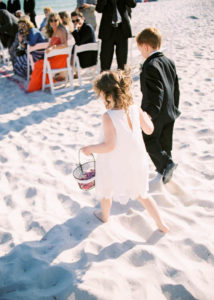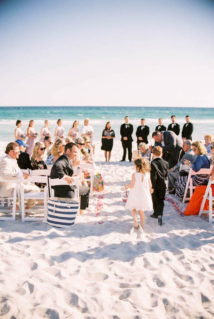 Our flower girl wore a white dress similar to the bridesmaids style and had a cute headband in her hair. She carried a basket down the aisle throwing rose petals as she went. Our ring bearer was dressed to match the groom. He walked down the aisle with the flower girl carrying the ring in a small box that looked a little like a treasure chest.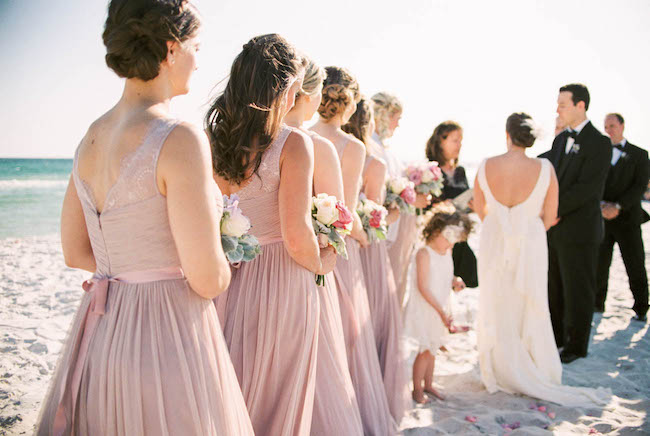 For the ceremony music we chose a single violinist and picked some of favorite songs for her to play. The bridal party walked down the aisle to "Bittersweet Symphony" and I walked down the aisle to "Cannon in D".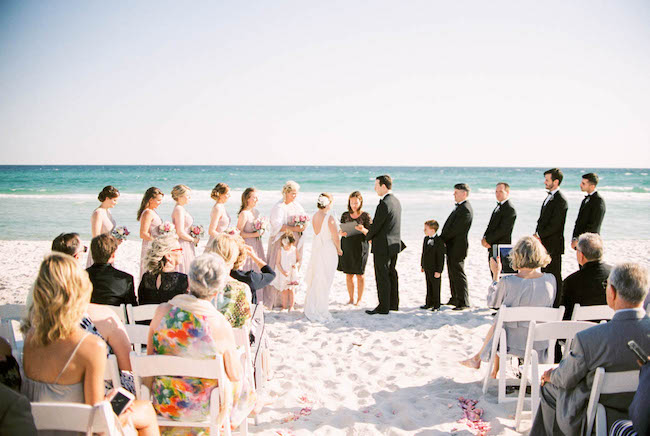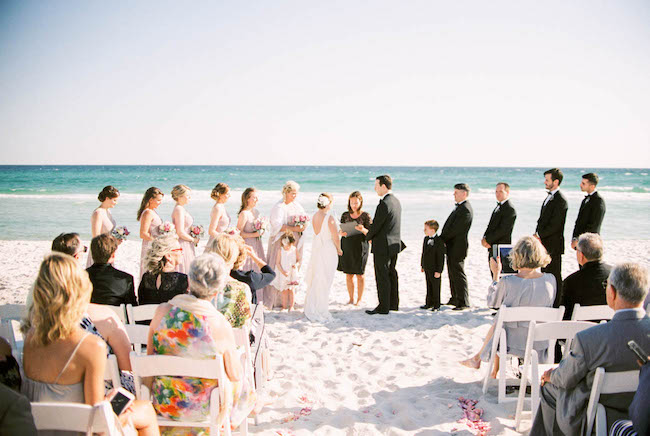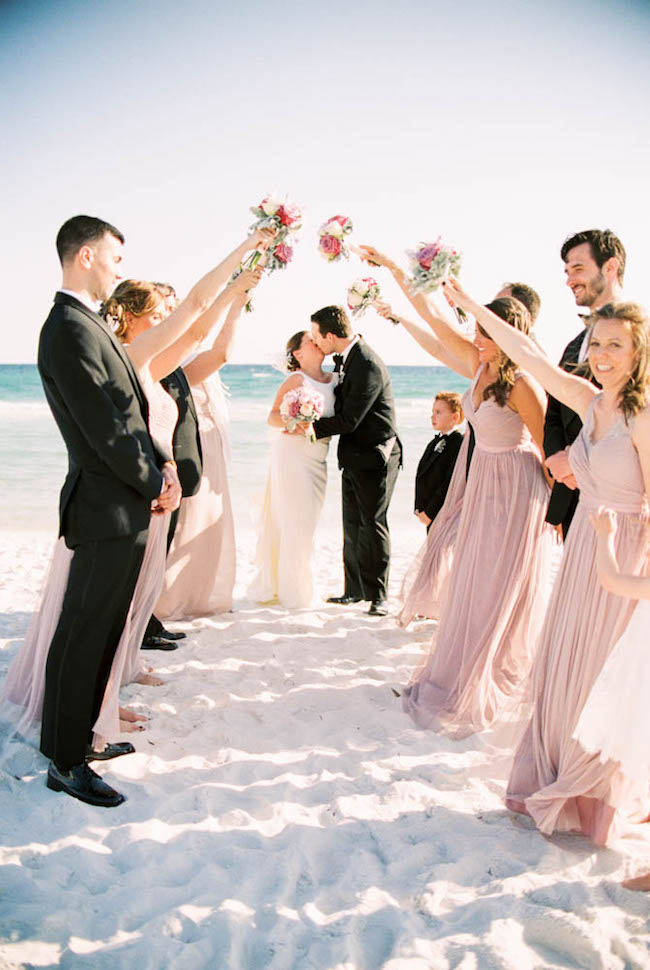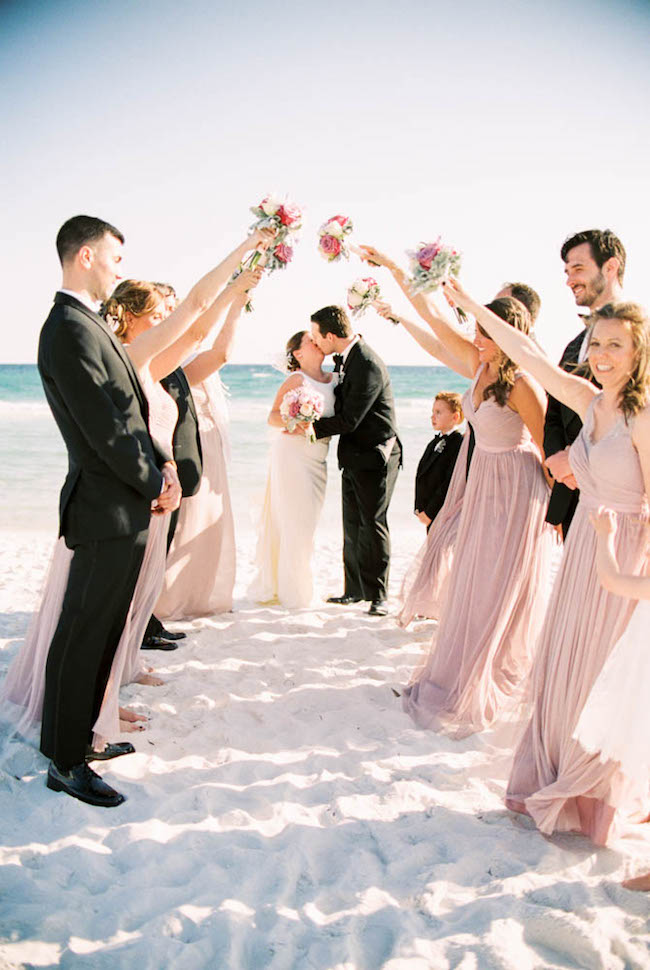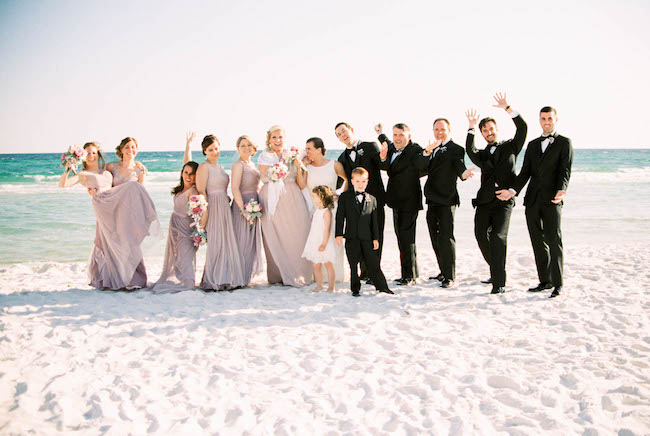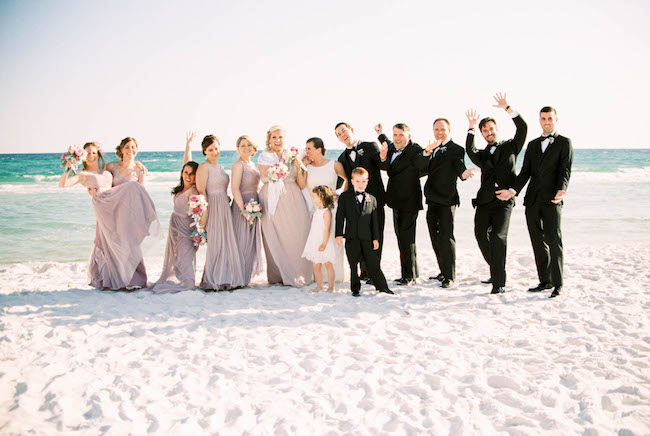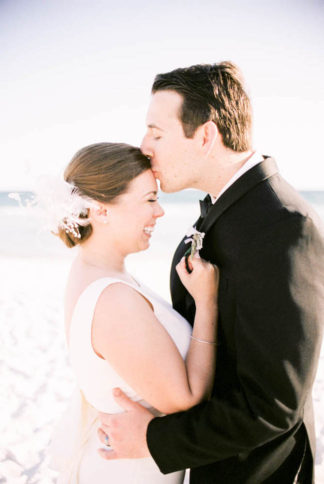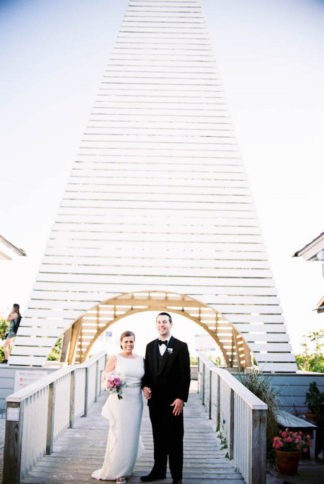 Love Story: Our first date was at a comedy club where we hit it off pretty much right away. We went on many more dates and eventually took a week long trip to Disney World together. About 11 months later is he proposed – I found out later that before he proposed he called my father to ask his permission.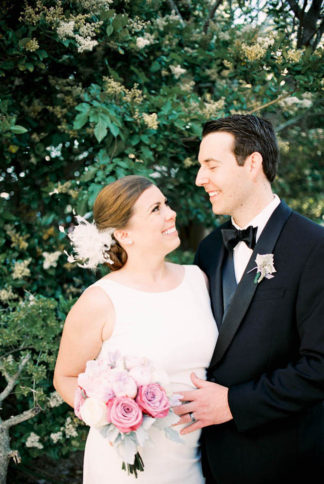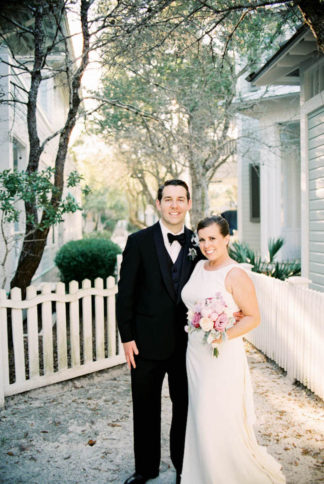 The day before Valentines day he came down to my apartment in the city and took my out to lunch during work. When I came home after work he had flowers and had made a video of songs we both like and pictures of the two of us. After we watched the video he showed me the basket of flowers explaining why he chose each specific one. When I turned around he was on one knee! That night we went out to dinner at my favorite restaurant and the next night we went to see Fleetwood Mac. It was pretty much the best weekend ever!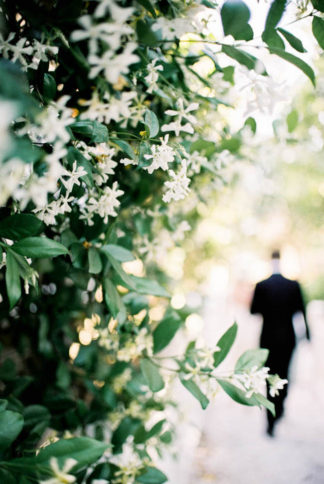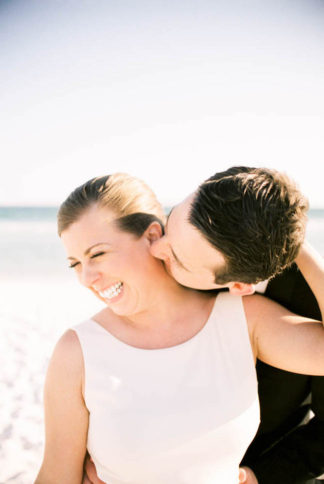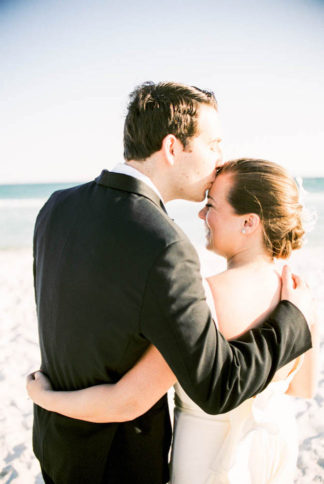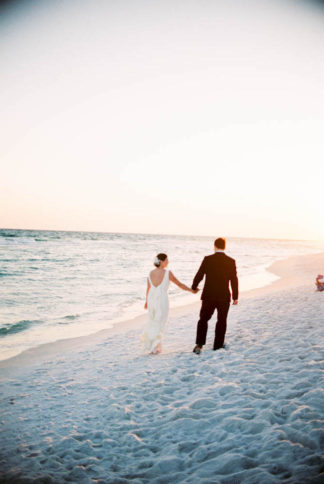 For our Seaside Florida wedding reception we wanted a simple, but elegant look. The guest tables we decorated with cream colored linens, large lanterns with candles, and gold painted table numbers. For a pop of color we added a gold sequin table cloth to the cake table and a gold sequin runner on the head table.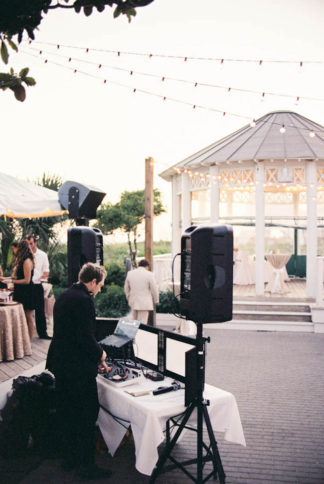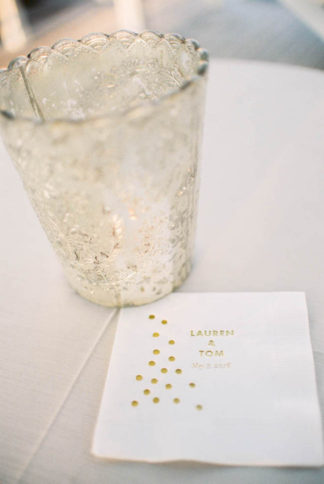 I wanted to focus on entertainment rather than florals. To keep things simple the head table was the only table with flowers, which were the bouquets my bridesmaids carried down the aisle. The bar was placed under the gazebo and the cocktail tables were kept simple as well, with just a cylinder candled placed on each one.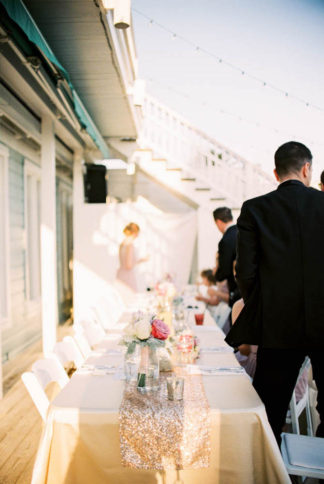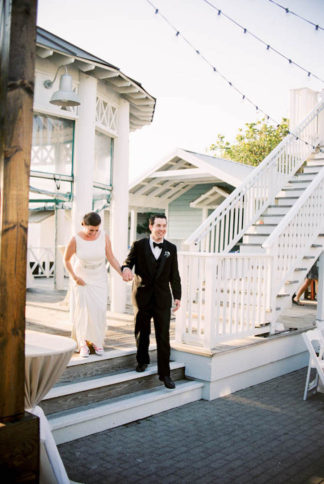 I think the best decision we made was to take down the tents and add strings of lights above the outside area, allowing everyone to be able to look up at the night sky.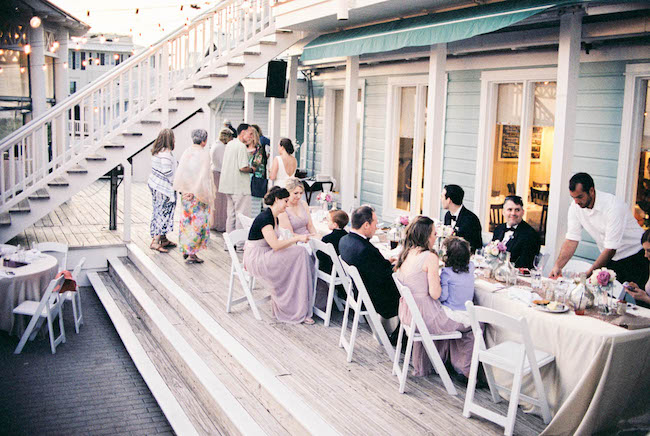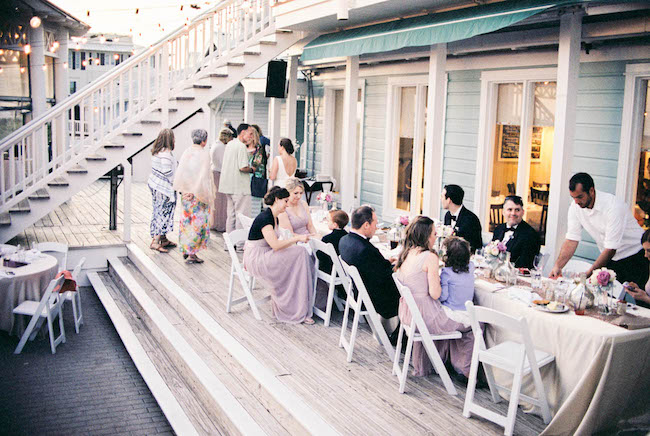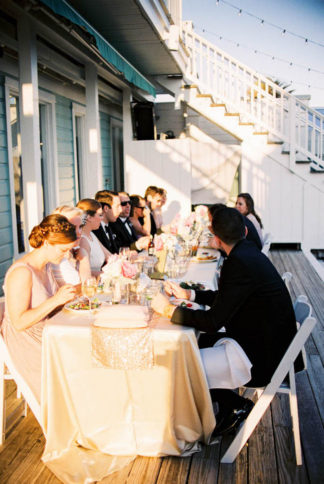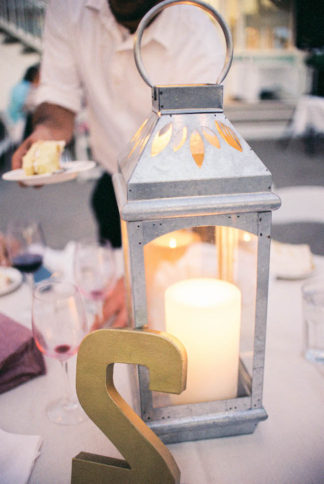 Wedding Planning Advice: Things are not going to go exactly as you planned it, but that is what your bridesmaids are for. 🙂 In the end, the most important thing is that you married the person you love.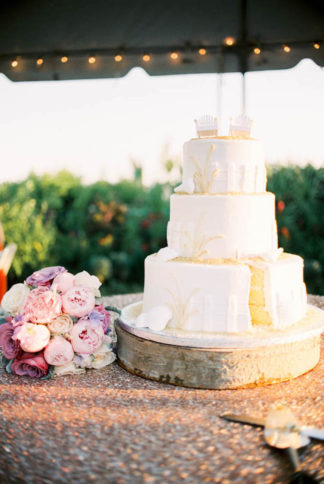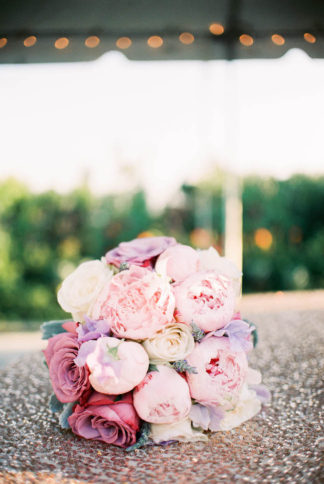 Wedding Planning Tip: You really don't need as much as you think. By not having programs, menus, or a lot of flowers at the ceremony you can saved a lot of money. You could also reuse your bridesmaids bouquets for the flowers on the tables at the reception instead of getting more flowers. People care more about having a good time, not the tiny details.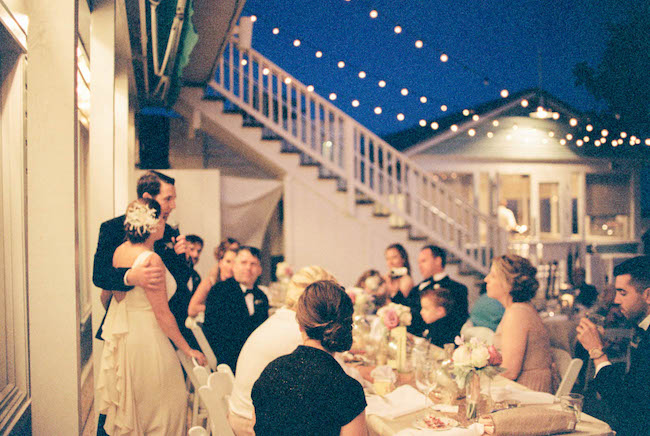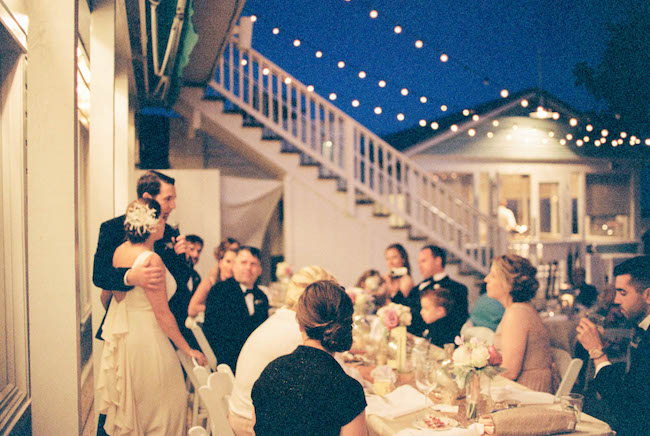 Wedding Vendors:
Misty, Moody, Cerulean Blue and Pewter Beach Wedding {Neverending Magic Photography}
Colorful Isla Mujeres Destination Wedding – Jessica Arden Photography
Romantic, Elegant Rosemary Beach Wedding ☀️ {dear wesleyann Photography}
Backless Beach Wedding Dress Spotlight: Katie May's Princeville Gown {Images by Abbi}