How to Create a Cascading Protea Bouquet  ♥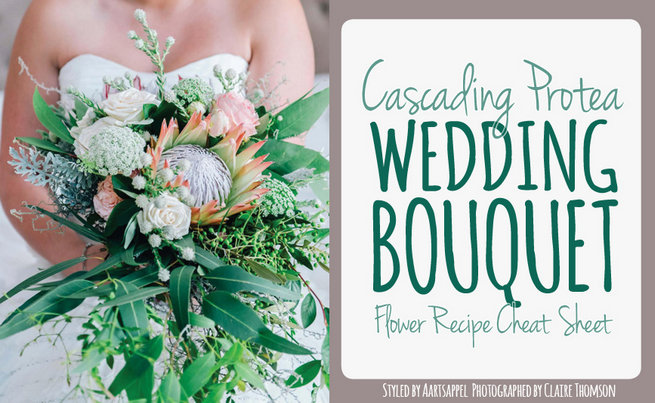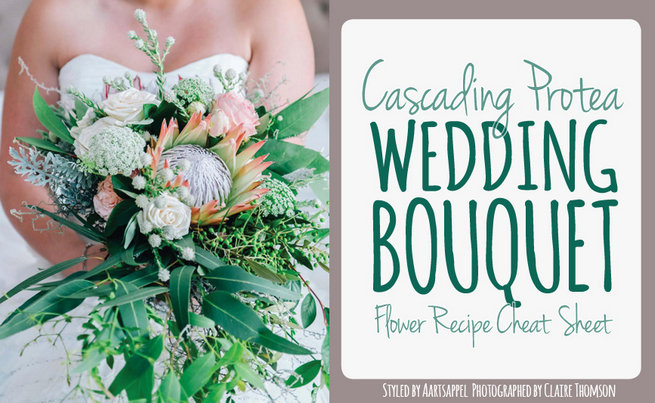 Using a beautiful combination of cascading greens, crisp white blooms and a striking large pink King Protea as the focal point, today's wedding bouquet is fresh and fabulous! Styled by Aartsappel for beautiful bride Storme, and captured by  photographer, Claire Thomson, it's filled with a selection of greens and fynbos which we just adore.  "The inspiration for this bouquet was a combination of soft, loose and cascading blooms and a large, hardy King Protea," shares South African bouquet designer, Tanya, of Aartsappel. "We used lush open roses and soft greenery to create the oversized flowing bouquet, as the king protea makes a big impact as a single flower!"
Tanya shares that when working with a floral designer, it's great to use pictures as inspiration: "Then trust the florist you are working with to create a unique bouquet that suits your, length, look and personality!
 Make sure you check out our entire bouquet and flower recipe series by clicking here.
PROTEA WEDDING BOUQUET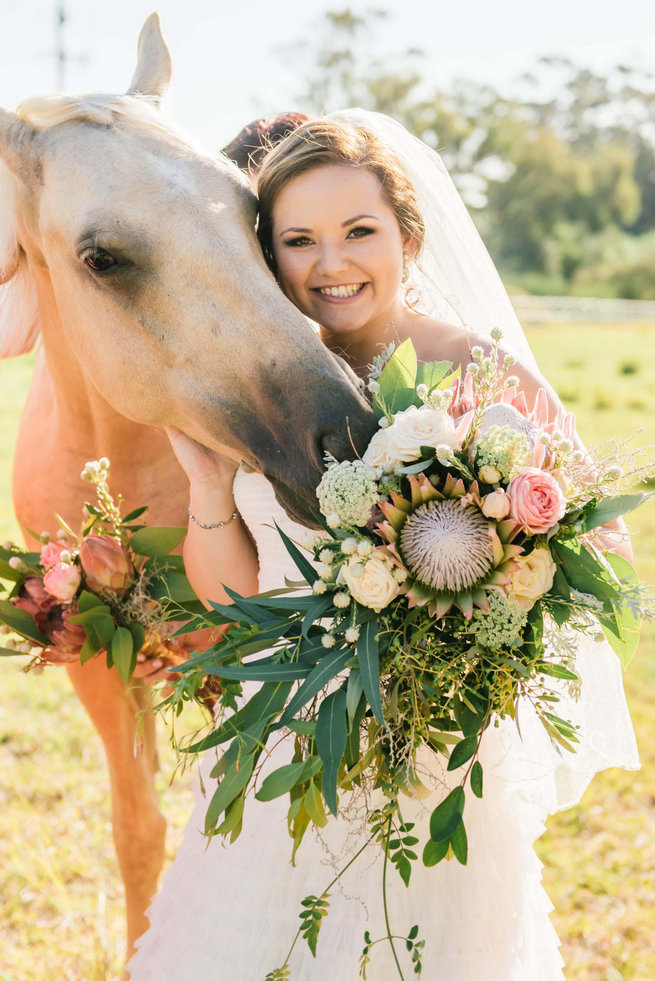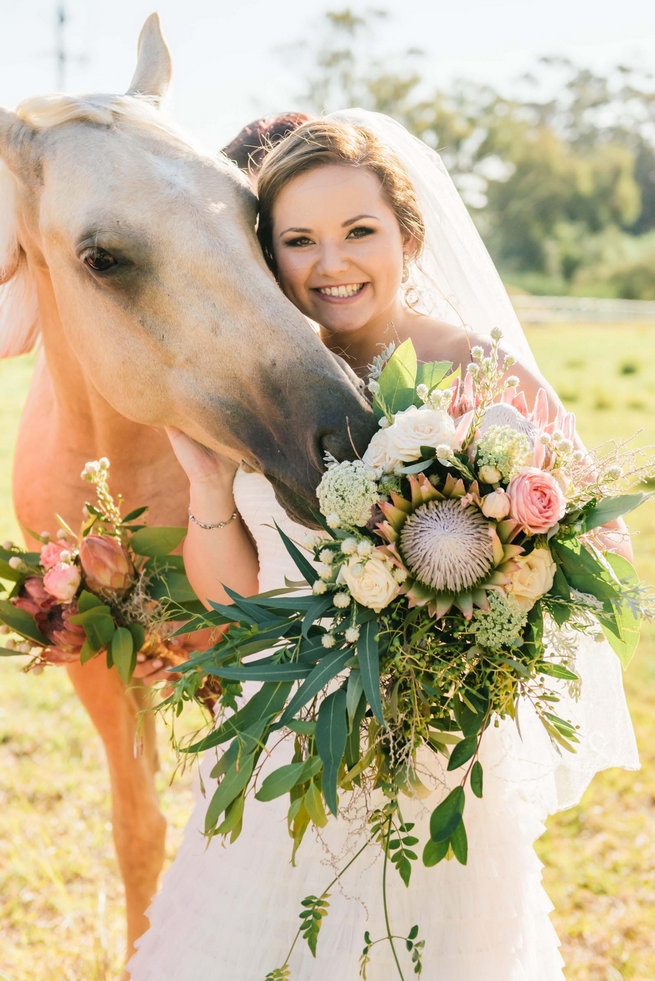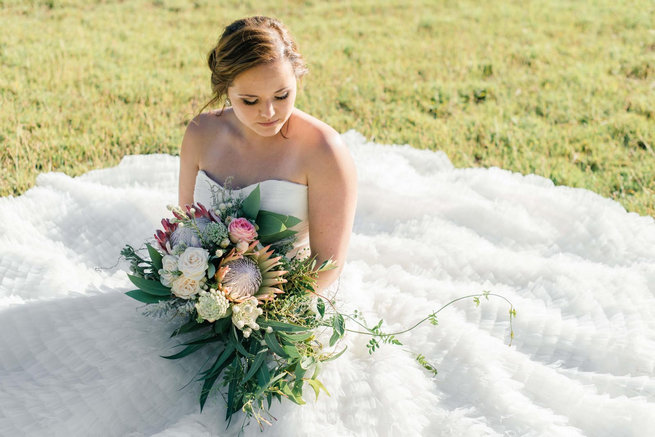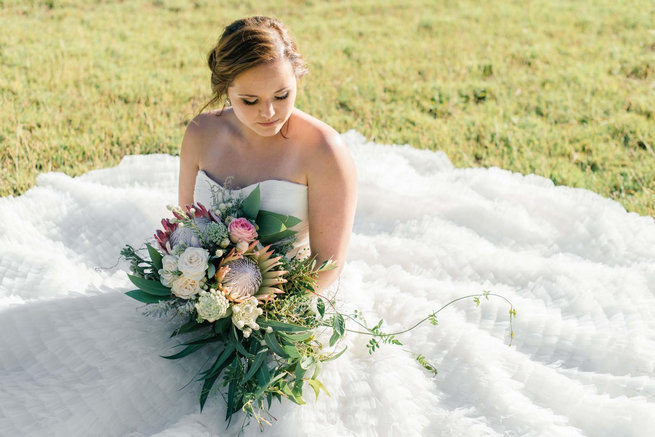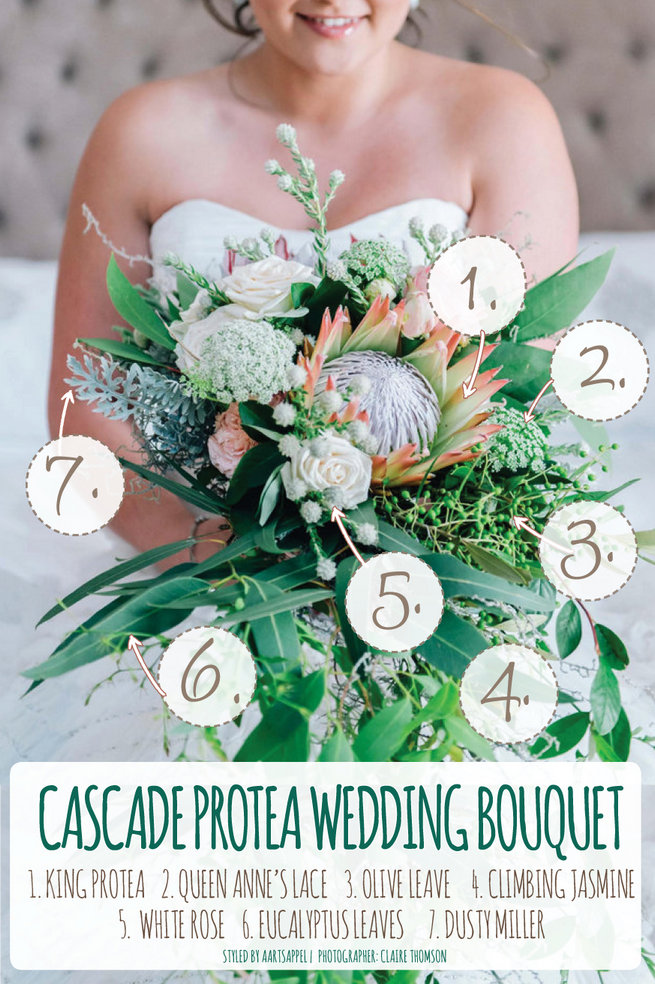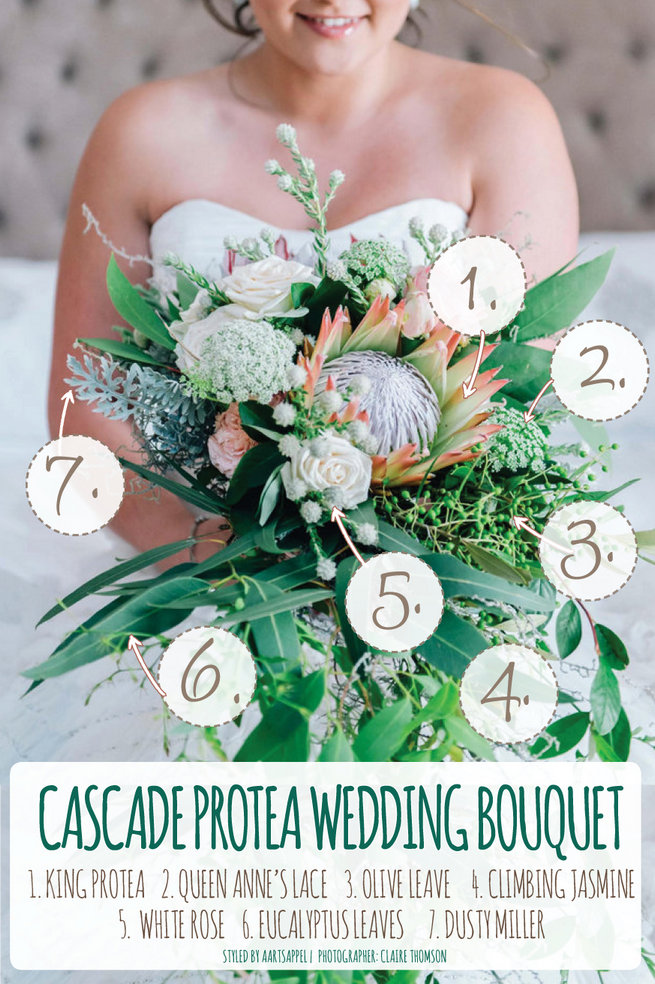 PROTEA WEDDING BOUQUET RECIPE
Here's what you'll need in terms of flowers per bouquet depending on the size required:
1  King Protea
+/- 5 Queen Anne's Lace stems
 +/- 5 Cream or white roses
Jasmine vines
Eucalyptus leaves
Olive Leaves
Dusty Miller
Additional filler foliage such a brunia, young olives and local seasonal fynbos (Optional)
Protea Wedding Bouquet Styling:
As always, start with the largest flower as your focal point and build around – in this case, it's the King Protea. Then include the roses and Queen Annes Lace, interspersed with greens, including Olive leaves, Brunia and a few shorter stems Eucalyptus around, building the bouquet outward. To create the cascading effect work with the Jasmine vines and longer Eucalyptus leave stems arranged at the front of the bouquet. They should be arranged with the longest point in the middle, building shorter vines on each side to create a V-shaped cascade of greens.
STYLISTS TIP: "Fynbos and Protea are seasonal. Each season brings forth the most amazing varieties, so there is much room for creativity with this lovely and diverse South African species. Work with what is in season and don't be afraid to be different!"
♥ ♥ ♥ Credits ♥ ♥ ♥
Floral Designer Aartsappel // Photographed by Claire Thomson // See more here Coral and Sage Langkloof Wedding