Patchouli Wedding Gown by Galia Lahav – A French Lace & Tulle Delight ♥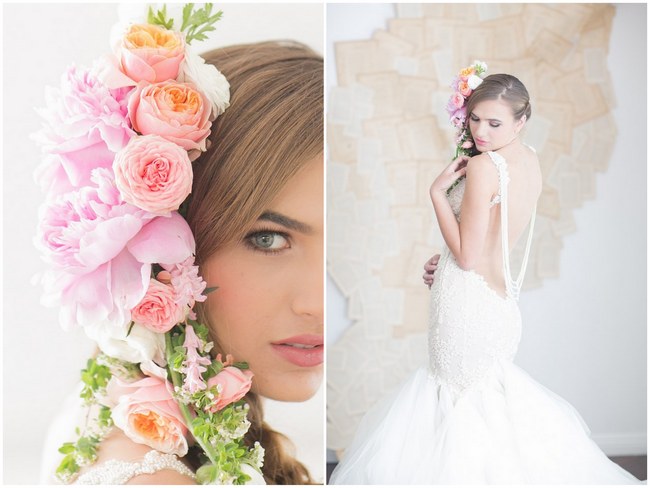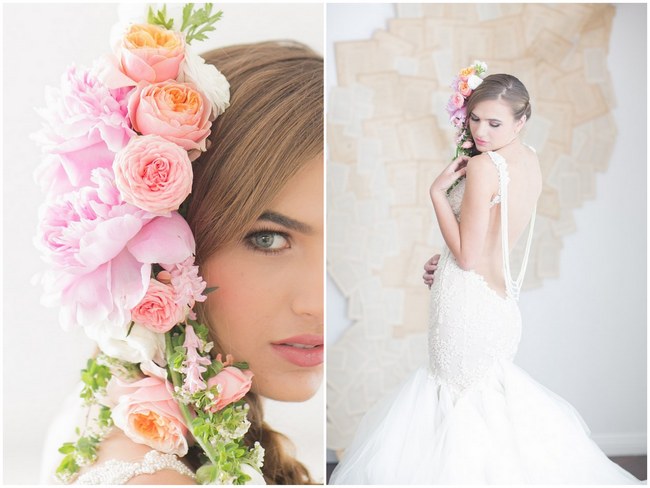 They say all good things come to those who wait and my, oh my, how I have been waiting to share this exquisite fashion editorial with you. Revealed in all its knock-out splendor is the Patchouli gown from the one and only Galia Lahav. This French lace backless dress is decorated with rows of pearls,  featuring a ravishing dramatic tulle hem – and we would expect no less from this design powerhouse. Ladies, this heavenly creation is the stuff that dreams are made of!
Captured by the creative lens of photo rock star Ginny Silver of Retrospect Images, and featuring floral wizardy from Three Sisters Custom Flowers & Events, this feature is jam packed with all kinds of wedding loveliness.
Galia Lahava's Perfect Patchouli Backless Wedding Dress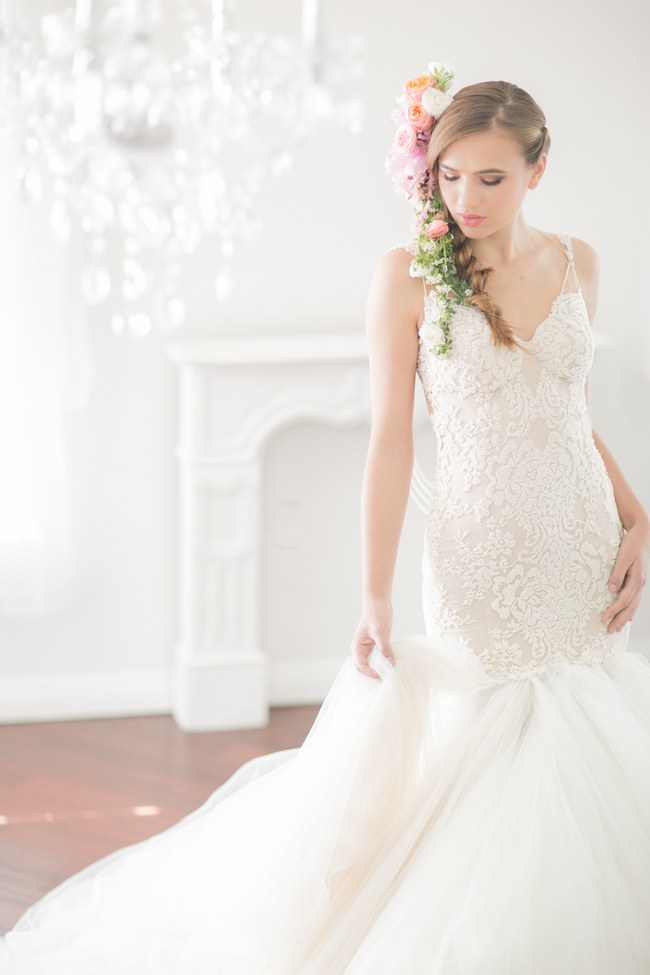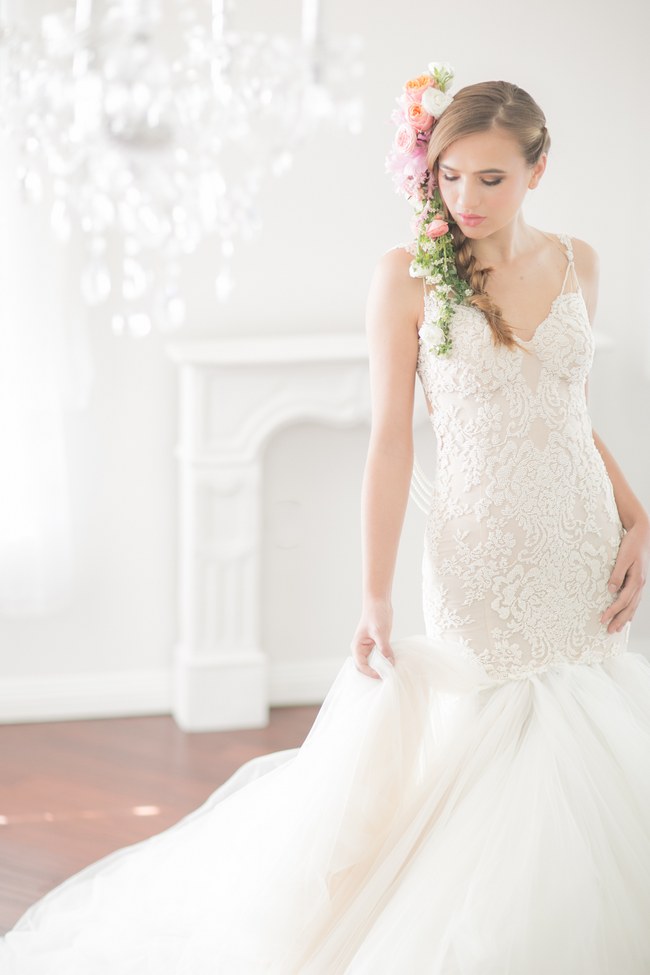 Susan Kelly, Owner, Creative Director and Floral Designer of Three Sisters Custom Flowers & Events, explains that the inspiration for the shoot was to create botanical accessories to enhance and compliment the gorgeous dresses by using the best local spring flowers and plants.
"We actually created most of the pieces in the Retrospect Images studio once I got a good look at the dresses, the models and their hair and make up," shares Susan. "We had purchased some jewelry making elements in New York recently so many of them became the foundation for the jewelry."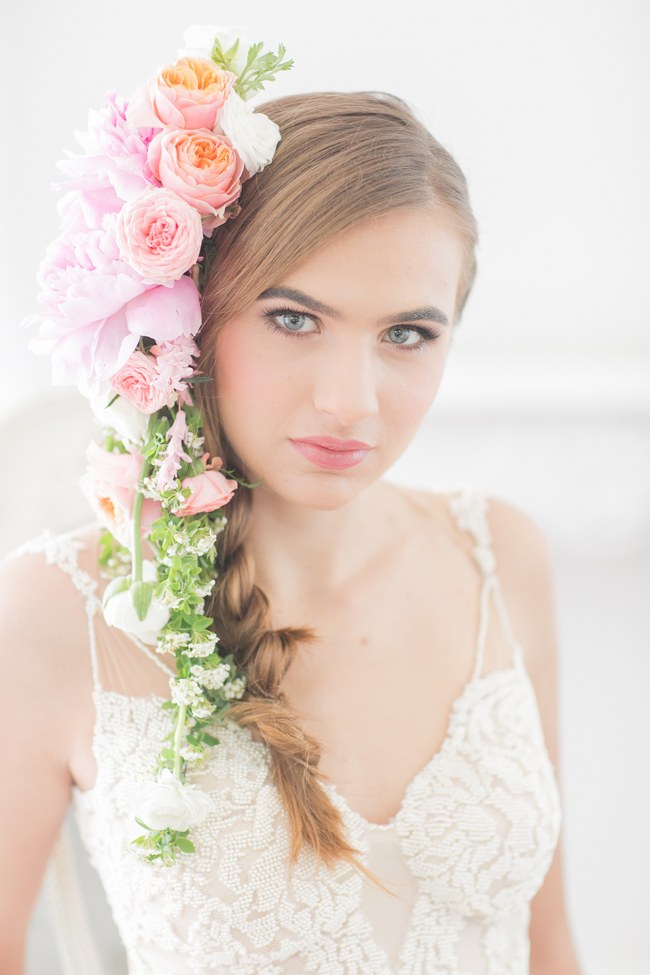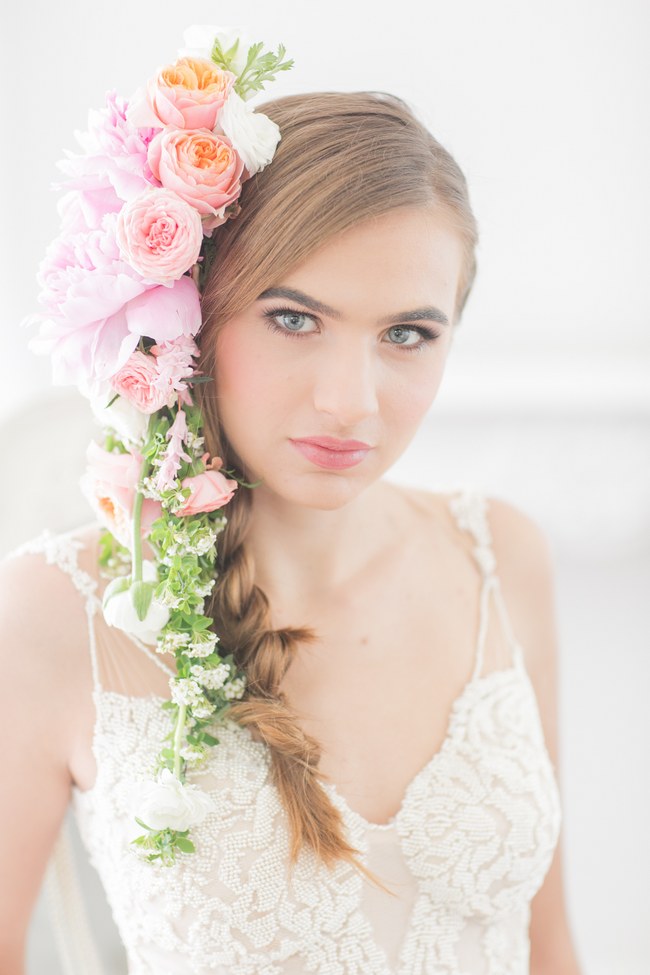 "Our model, Chloe, was very tall and striking. Ginny suggested we make something very large and striking so I just started putting together some very large blooms – peonies, garden roses and ranunculus along with stems of Spirea or BRial Veil (very appropriate!) It worked beautifully. I love her stunning blue eyes, the messy side braid and the perfect spring blooms."
Susan was able to create a wire structure on the inside so that make up artist Kat Tinney could pin it in her hair. What a gorgeous creation!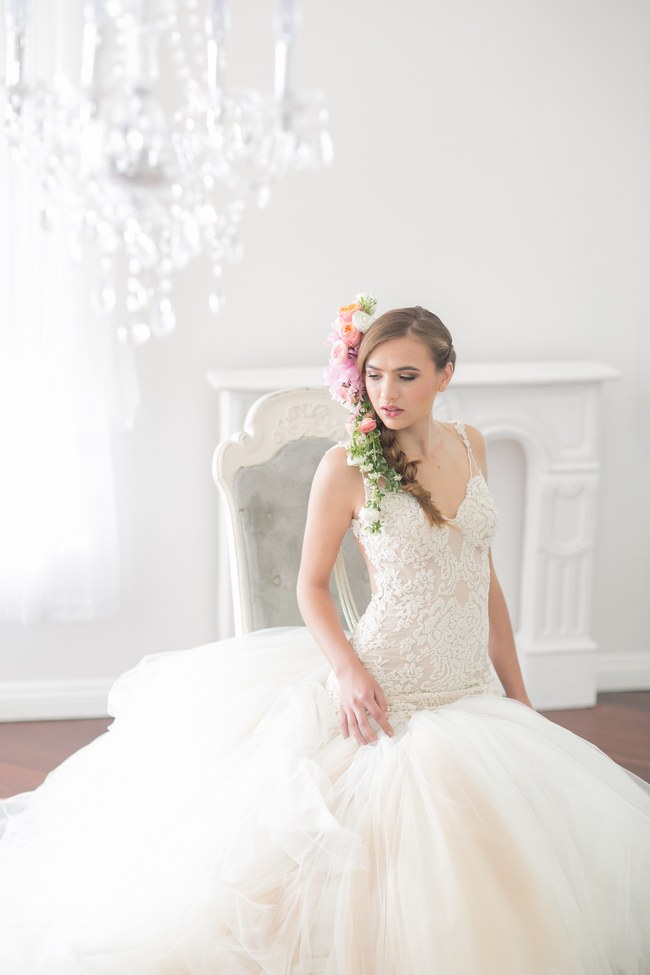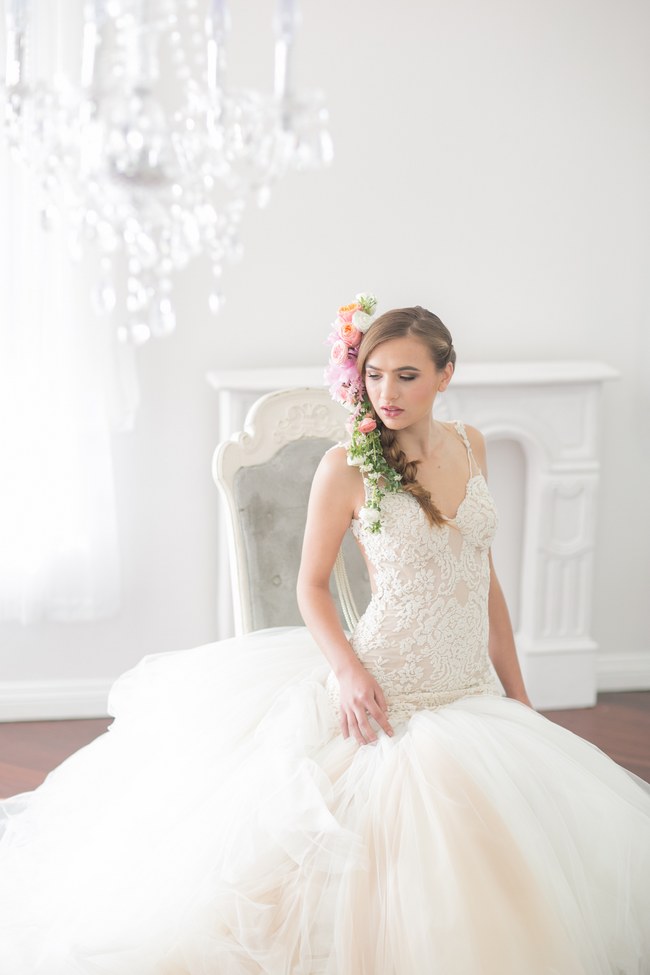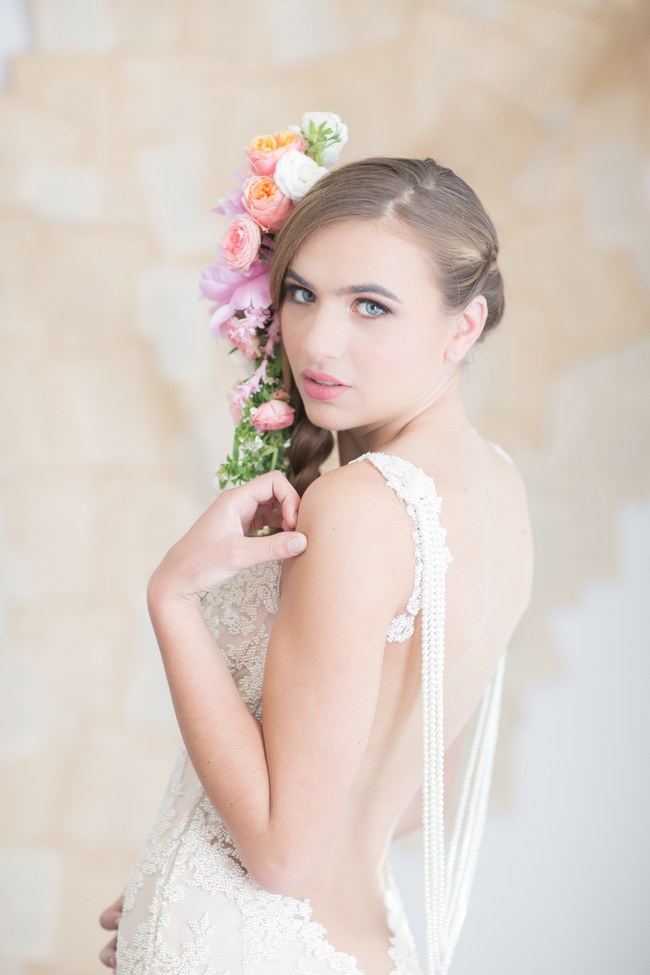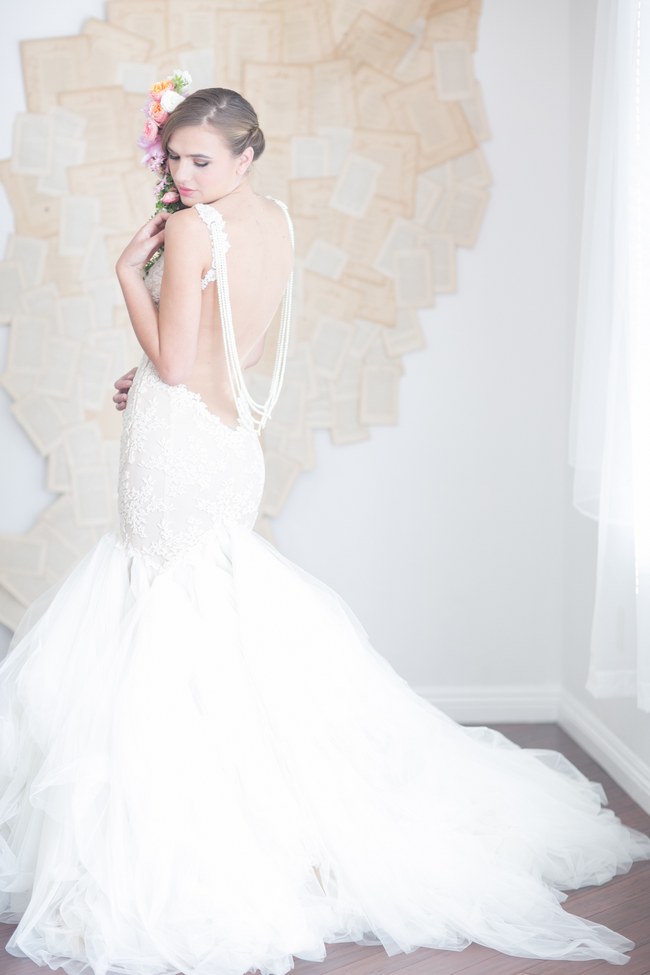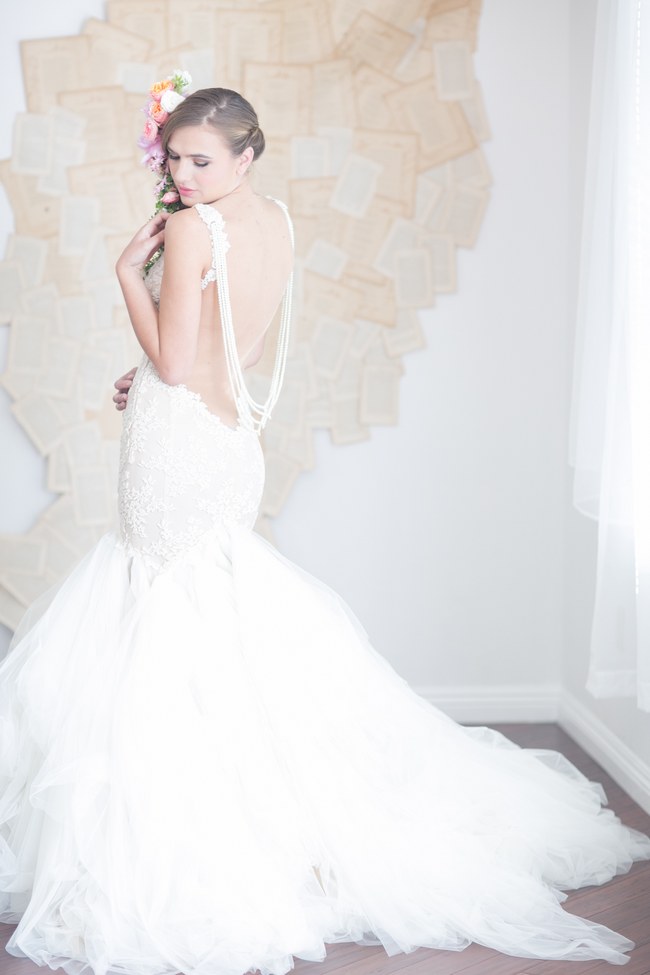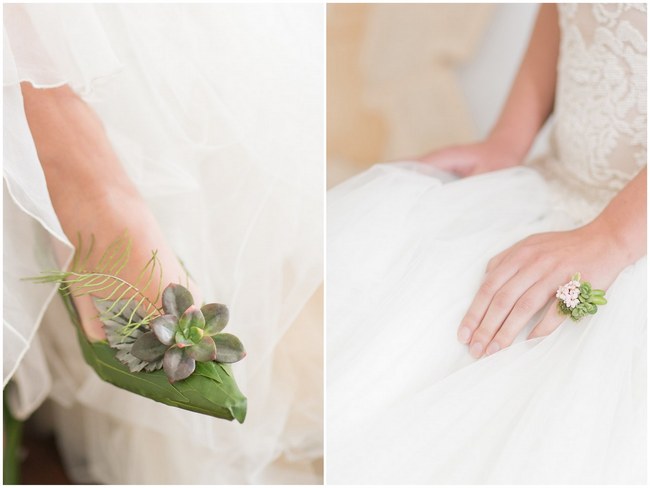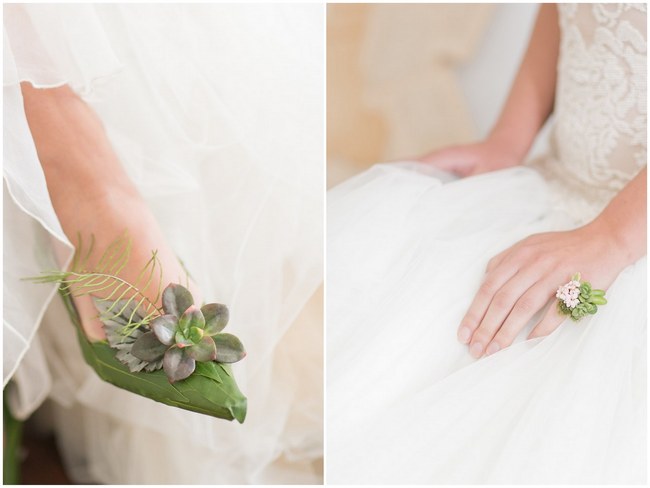 I totally adore that Susan created this amazing pair of botanical shoes! Have you ever seen anything like it!?
"We used local Bay Laurel leaves on the outside and lined the inside with Lamb's ear so they'd be soft and cushioned for wearing," explains Susan."They have rosettes of perfect succulents accented by Sea Star ferns. All of the accessories we made could actually be worn for an event or wedding!"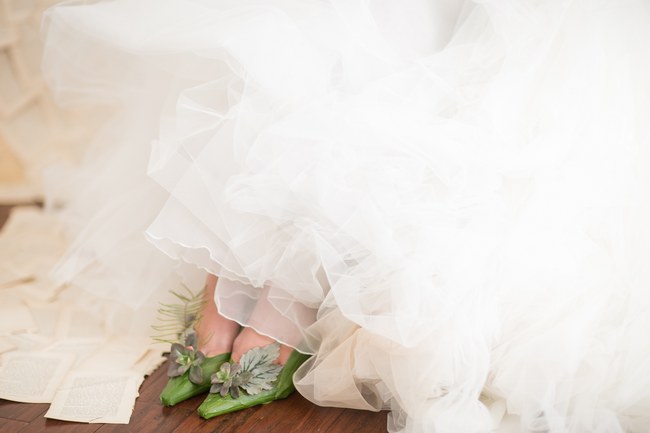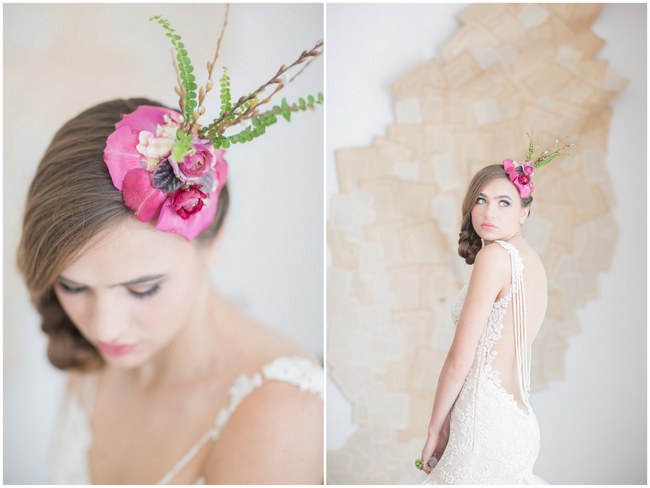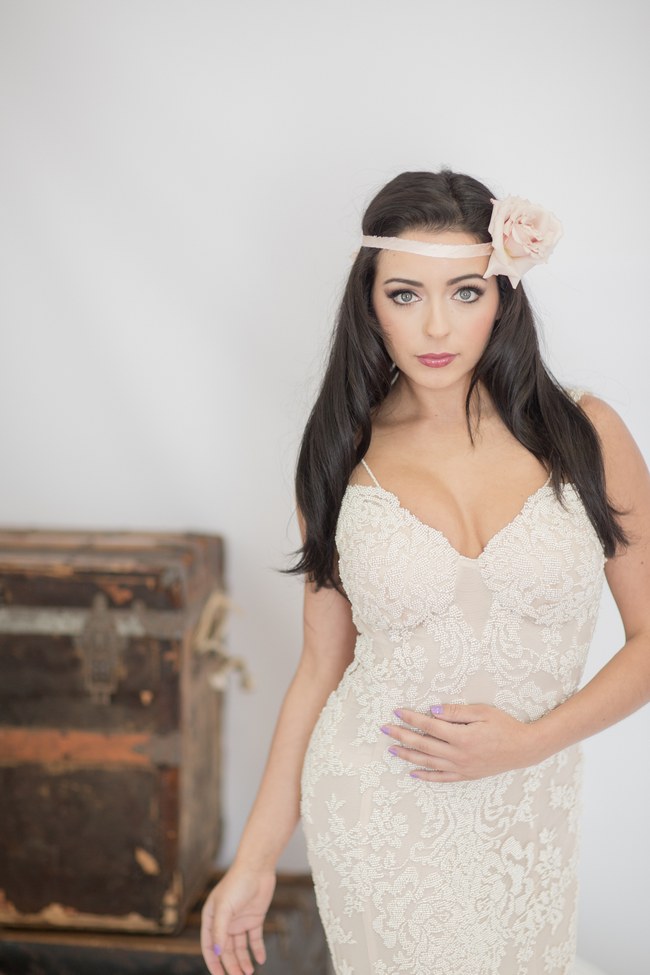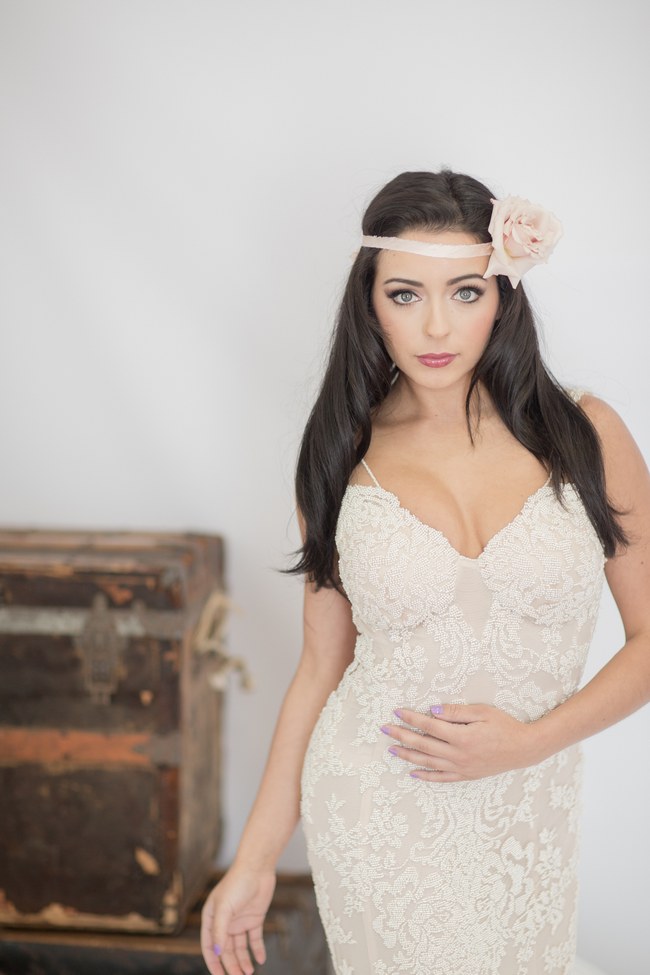 "We also made a simple rose headband to create a flapper look with the Patchouli dress. That single perfect "Sahara" rose was the exact color of the nude netting in the skirt," shares Susan.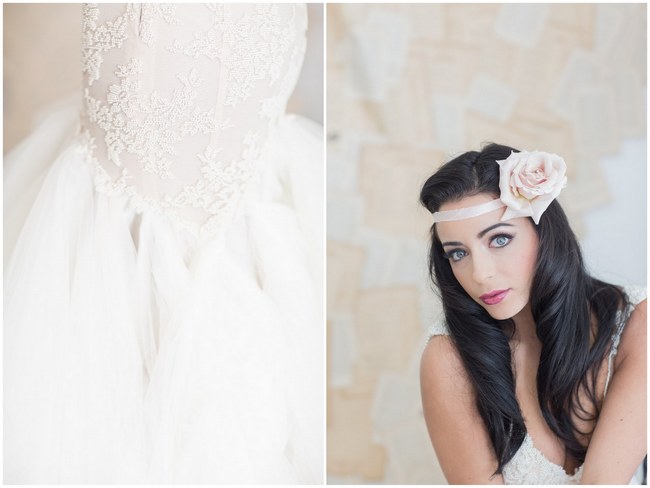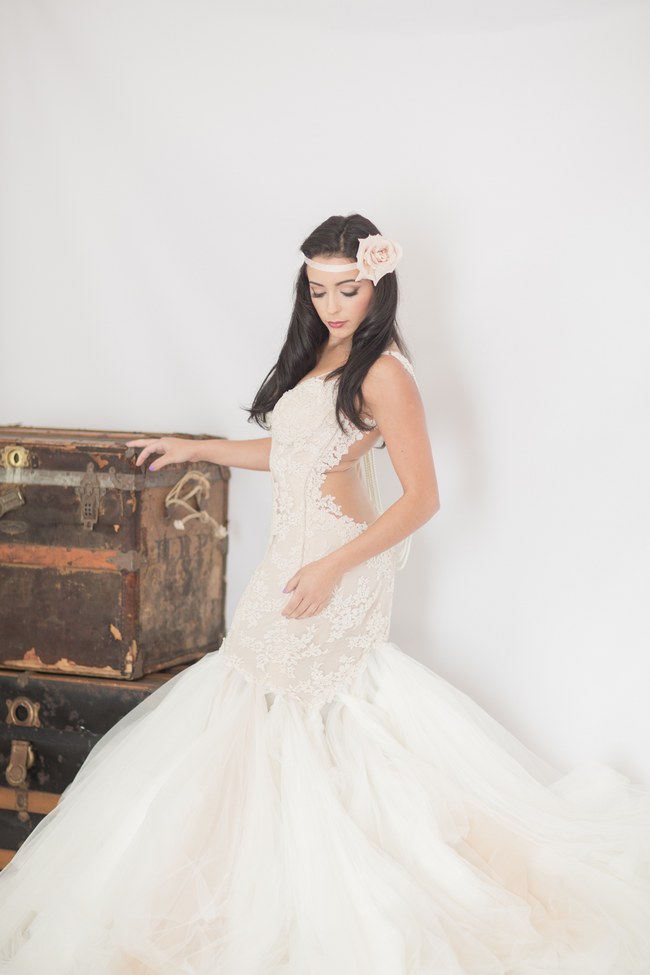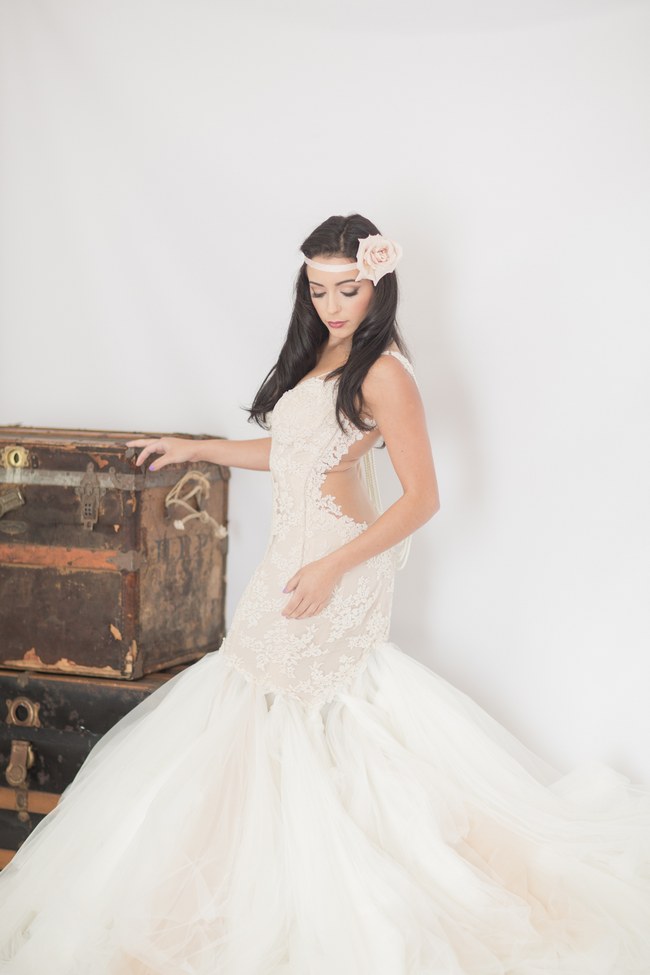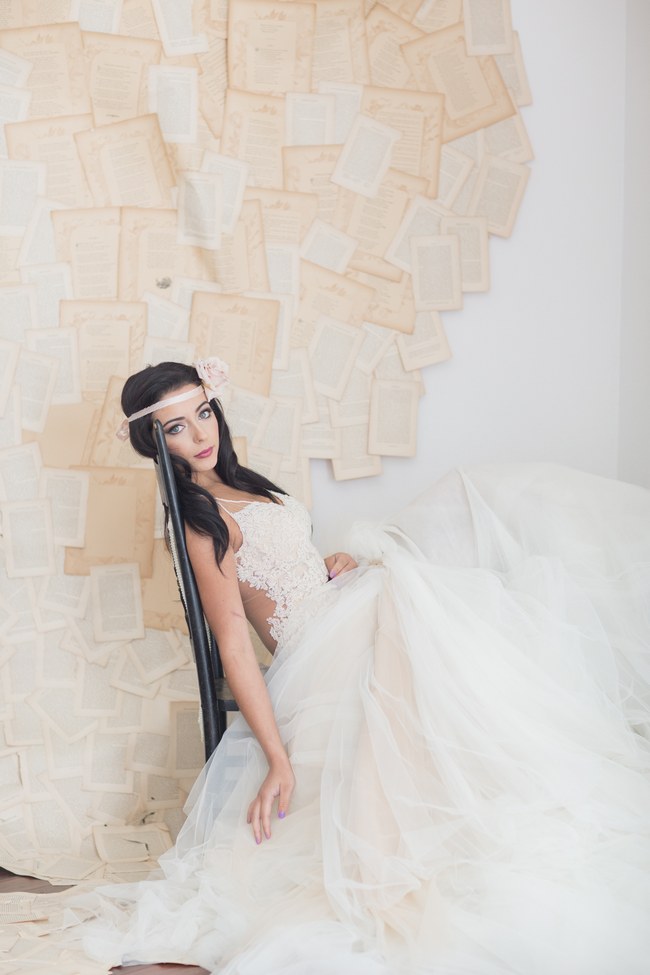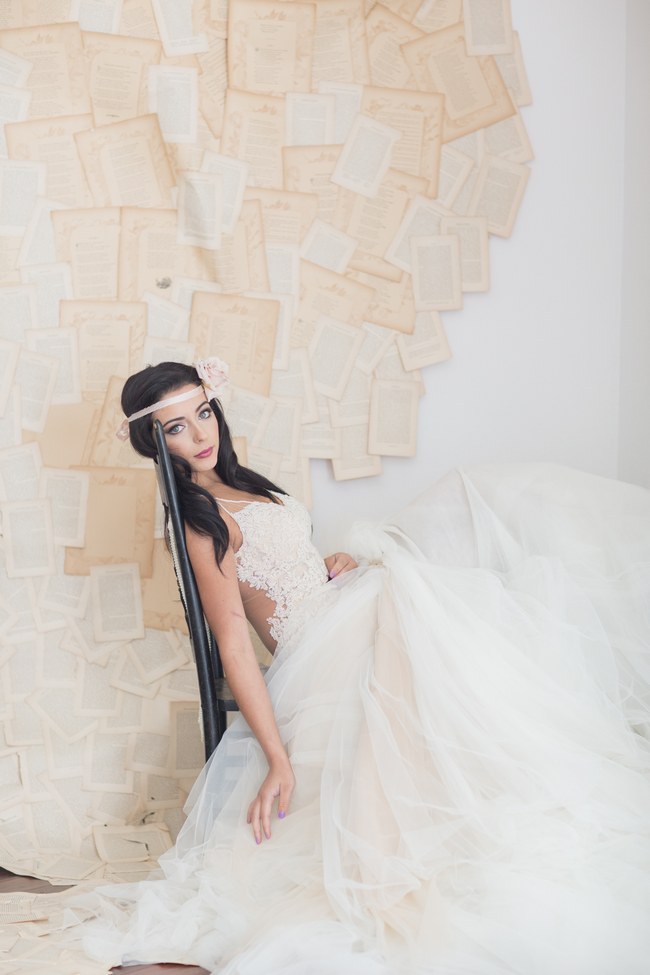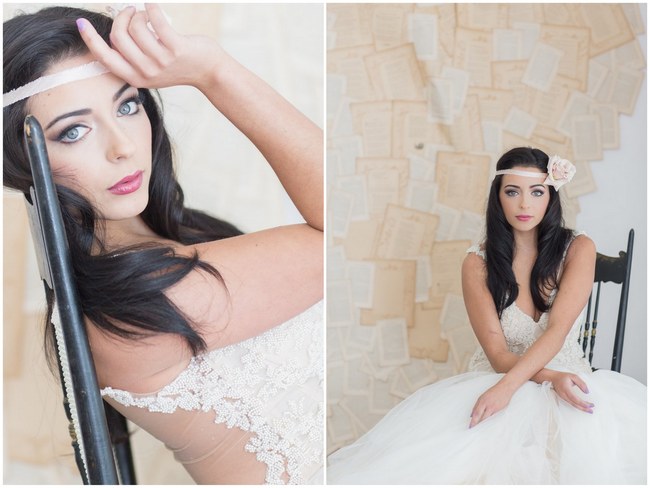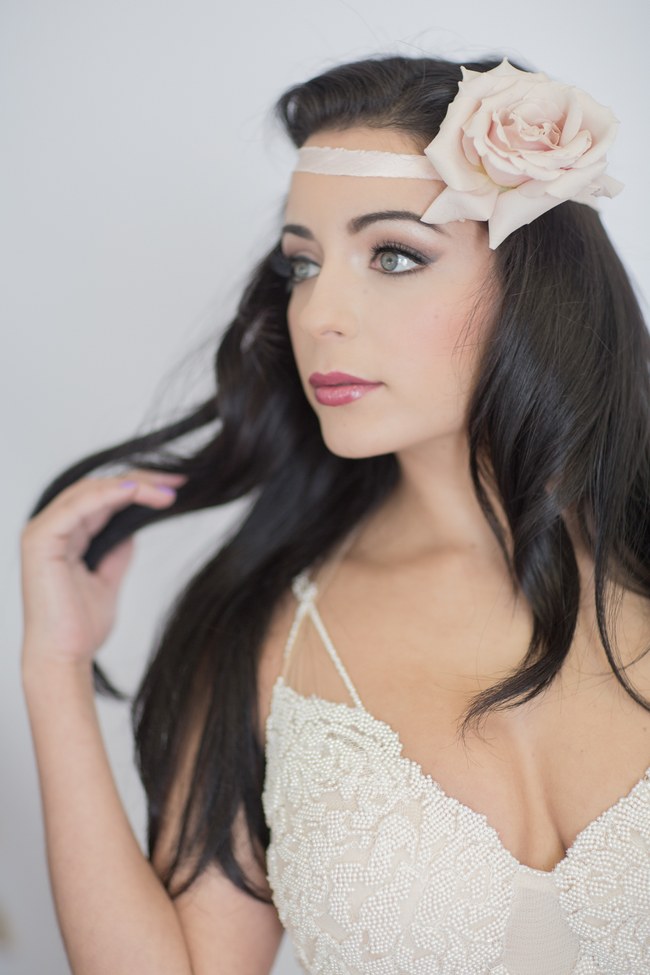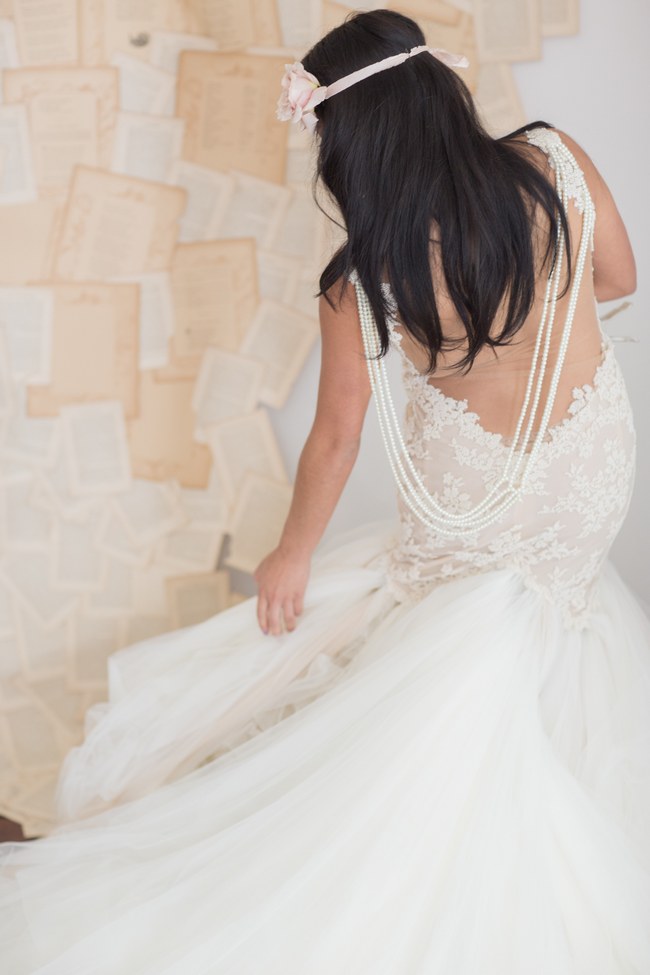 This gobsmackingly divine fashion editorial is one in a series of wedding dress spotlights. Make sure you take a look at our review of this gatsby inspired backless Pearl wedding gown and the supremely sexy Saffron gown too!
GALIA LAHAV 2014 TRUNK SHOWS:
The Galia Lahav Haute Couture Bridal team is currently on the last leg of their USA trunk show tour, so make sure you attend while you still can!
♥  ♥  ♥    CREDITS  AND THANKS   ♥  ♥  ♥
As always, our constant and heartfelt thanks are extended to the entire team of talented wedding vendors which poured their creativity into this session! 
Backless Wedding Dress: Patchouli by Galia Lahav | Photography and Backdrop: Ginny Silver of Retrospect Images | Stockists: Kinsley James Bridal | Floral Accessories:  Three Sisters Custom Flowers & Events  | Hair and Make Up: A-list Hair and Makeup Artist Kat | Models: Christina de La Pena  & Chloe Brezsny | Rentals: Seventh Heaven Vintage