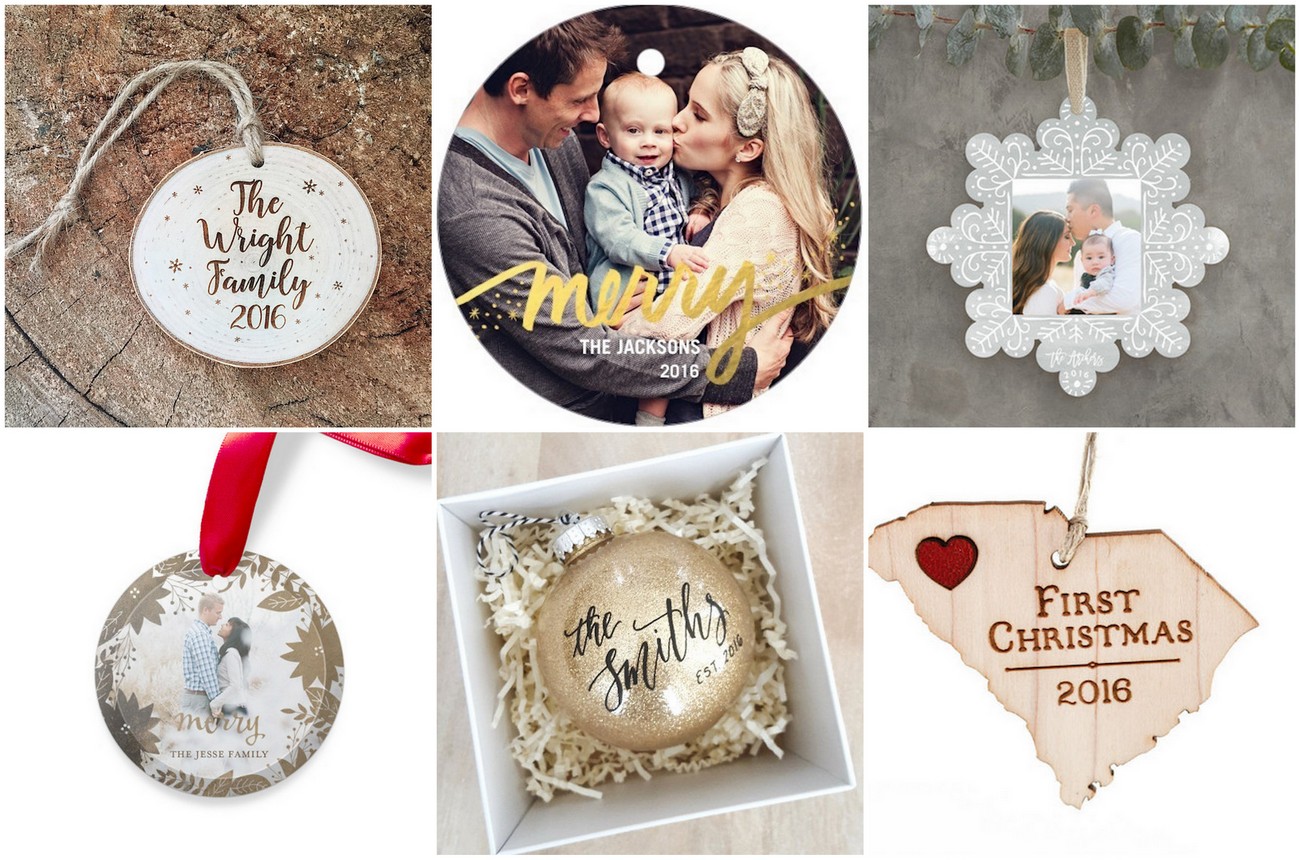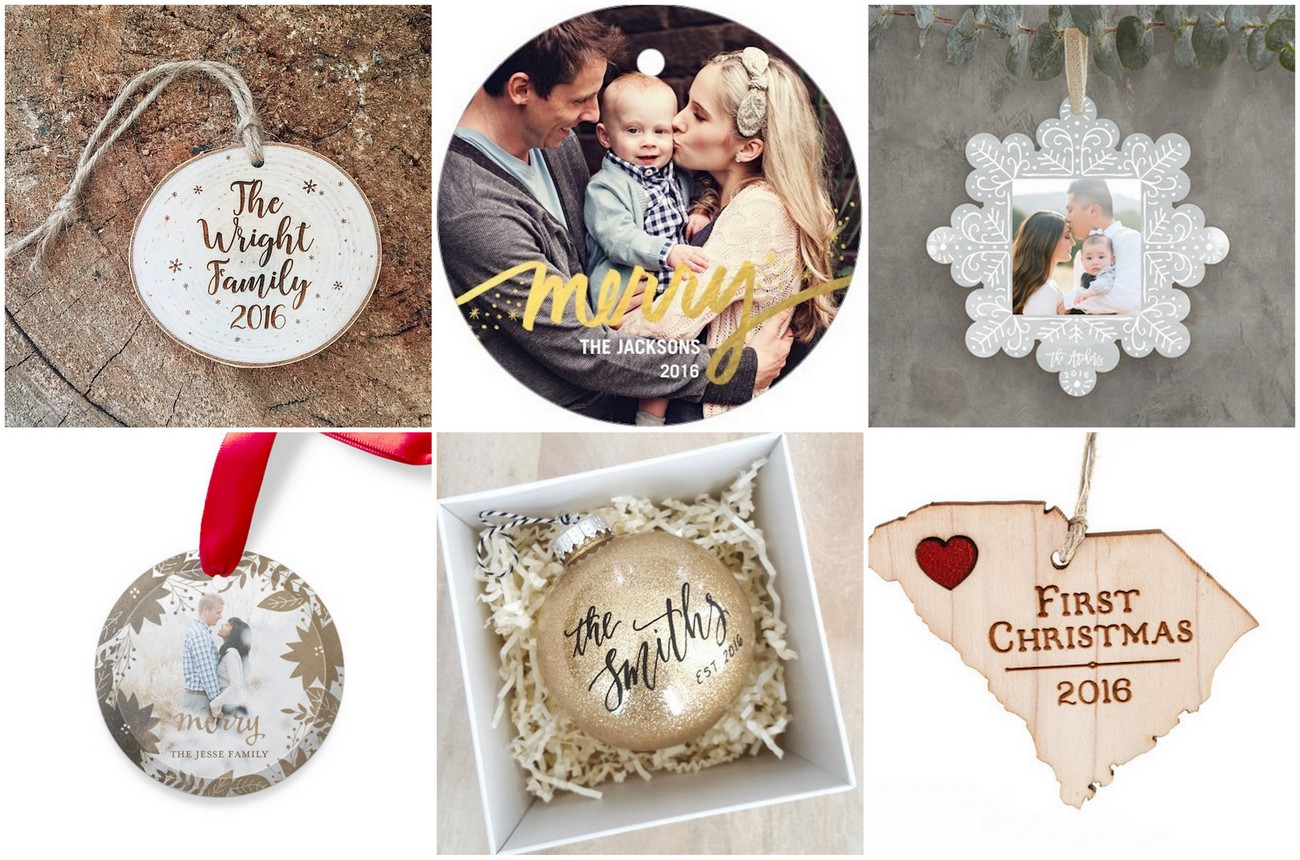 Celebrating your first festive season together as a married or newly-engaged couple means you finally have the chance to decorate your tree with beautiful, custom-made,  keepsake newlywed Christmas ornaments.
Start a new tradition together! Start building your collection of special memory capsules, the first being your newlywed Christmas ornament. A gorgeous glass ornament made with your wedding photograph, or a rustic wooden piece in the shape of your new state, or a simple, hand-calligraphed bauble in a shimmering gold all make beautiful keepsake Christmas ornaments.
Newlywed Christmas ornaments also can be printed on gorgeous cardstock, and sent to your loved ones as treasured festive greetings, thanking them for being part of your lives!
If this feature inspires you to purchase one of these beautiful items through our links, in some cases we'll get a small percentage of the sale for sharing them with you. Thank you so much for supporting our content!
Newlywed Christmas Ornaments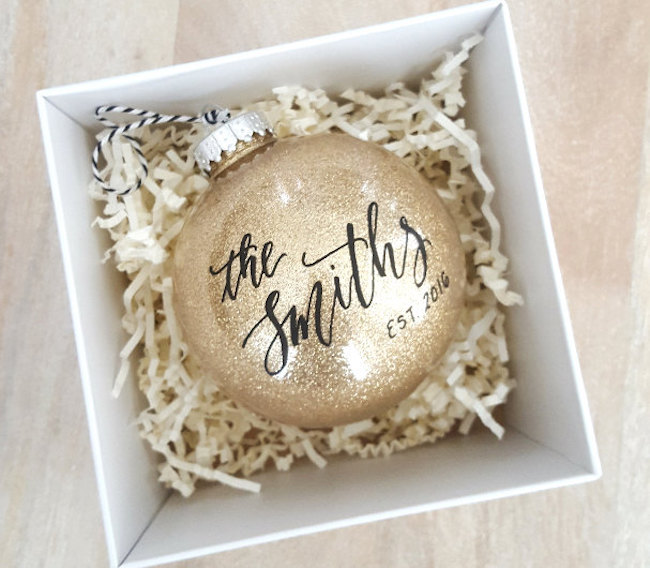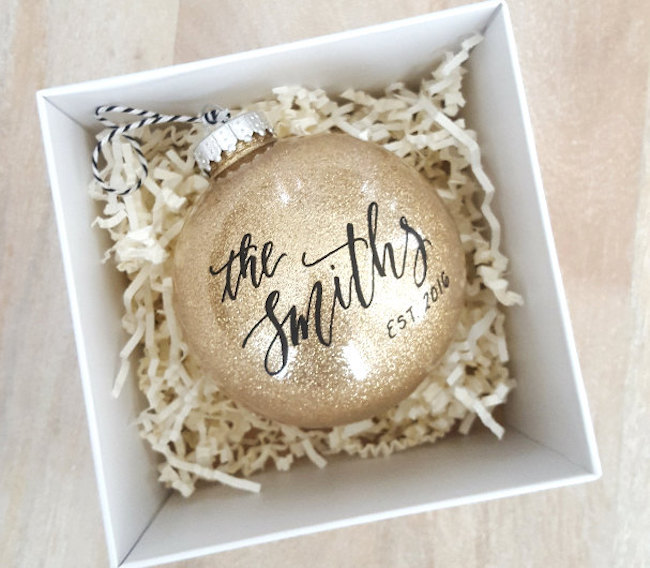 (Above) Gold Calligraphy Newlywed Christmas Ornaments. This large, sparkly gold personalized newlywed Christmas ornament is made from glittering shatterproof plastic with black and white. Add your last name and the date, which is gorgeously hand lettered in modern calligraphy style in black. It's finished with baker's twine for affixing to your tree.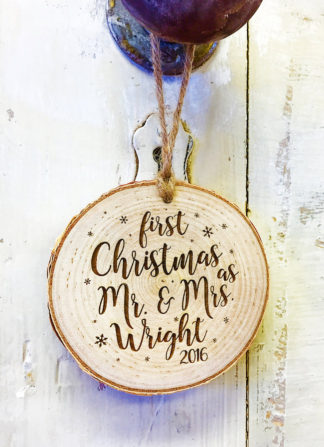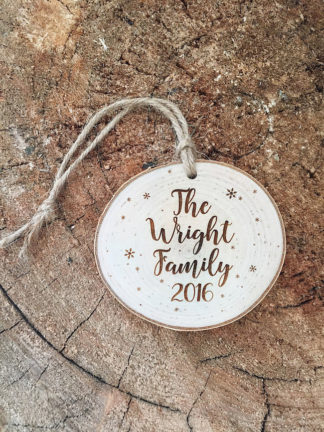 (Above) Rustic Wood Slice Newlywed Christimas Ornaments. These laser engraved, custom newlywed Christmas ornaments are created using dried Birch Wood from Ontario, Canada. The whimsical font style engraving, with cute snow flakes create a magical, rustic adornment for your tree.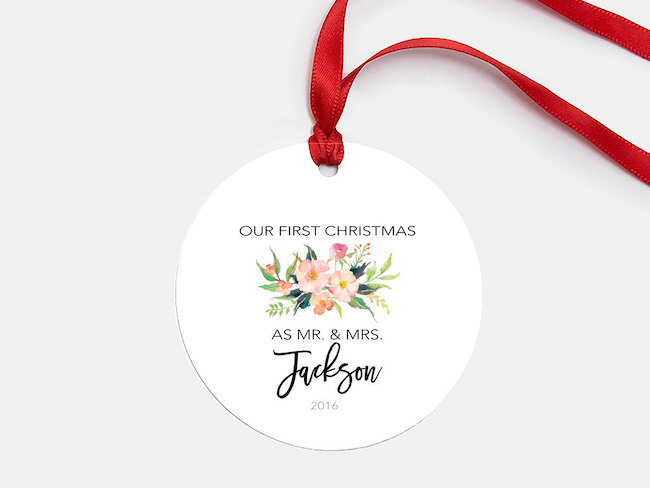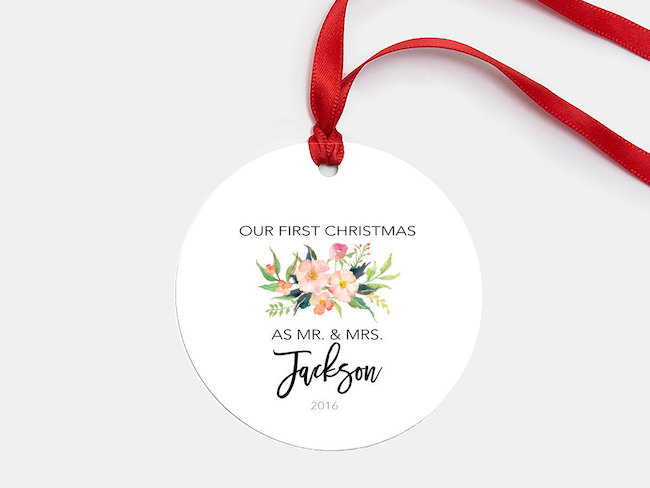 (Above) First Christmas as Mr and Mrs Ornament. Commemorate the first year you spend as husband and wife with this personalized ornament for newly-weds. Printed with your shared last name and date on both sides, you can grab this coated aluminum Christmas ornament, complete with red ribbon, here.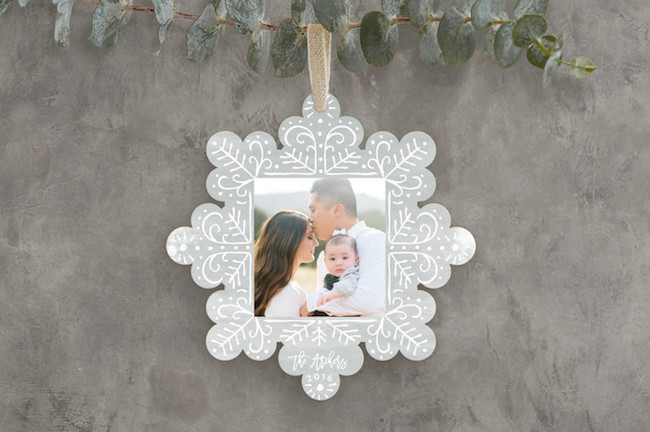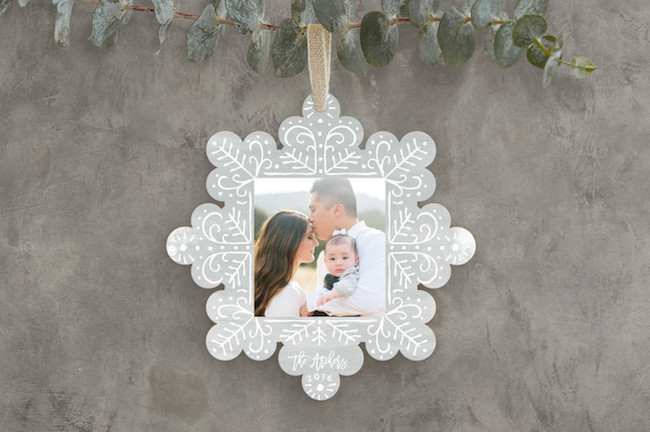 (Above) Newlywed Christmas Ornament Cards. These delightful, snow-flake style, customised holiday ornament cards, personalized with your photo, are something to cherish. In addition to one for your own tree, you can purchase a couple and send to your loved ones with wishes of love and joy. Order yours here.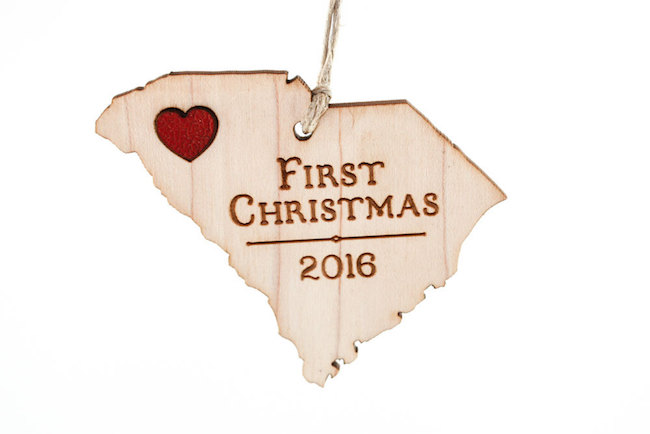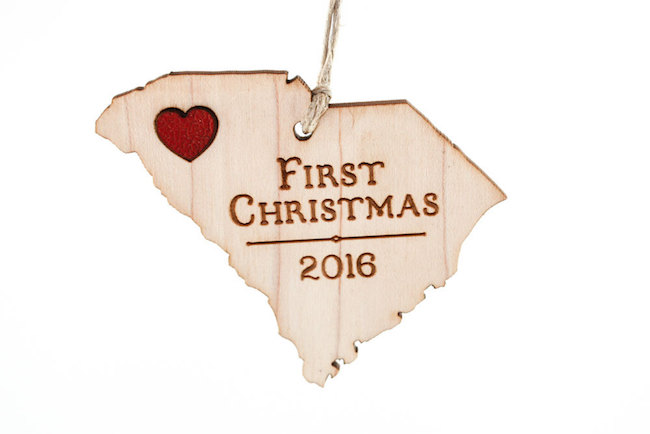 (Above) First Christmas in Our New Home Newlywed Ornament. A special way to celebrate your first festive season in your new home, especially if you've just moved into a new state or city, is with this commemorative keepsake tree ornament. Text can be customized, too! Get hold of yours here.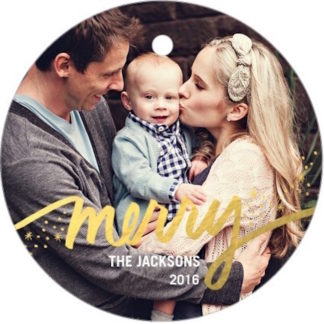 (Left) Glass Newlywed Christmas Ornament with Photo. This pretty piece lets you adorn your tree first tree together as a newlywed with a personalized glass ornament featuring a photograph of your choosing.
It's easy to imagine that it turns into a meaningful keepsake as years go by, maybe even becomes the start of an annual tradition. The ornament comes with a red satin ribbon and it's own cute pouch to store safely for future family festive celebrations! You can order your own newlywed Christmas ornament here.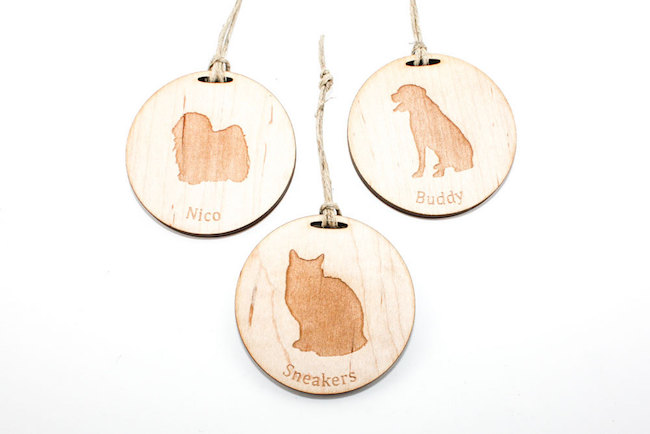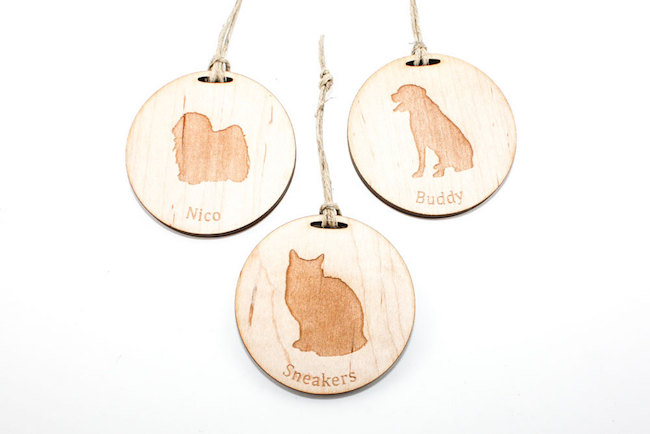 (Above) Cute Custom Pet Christmas Ornament. Aw, this lil' keepsake holds a special on the place for your fur baby – because your four legged loved-one holds a special place in your newly-wed family too. Each ornament is engraved with your precious pet's name, and is kinda purrrrfect! Get yours here.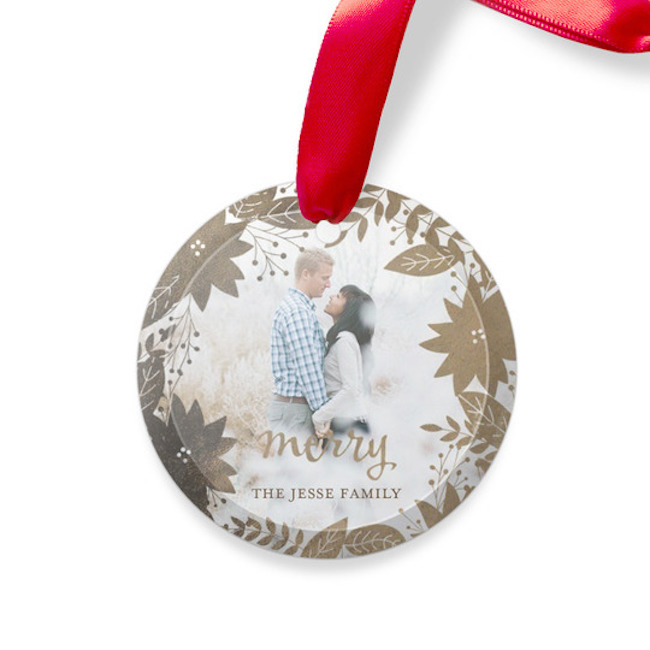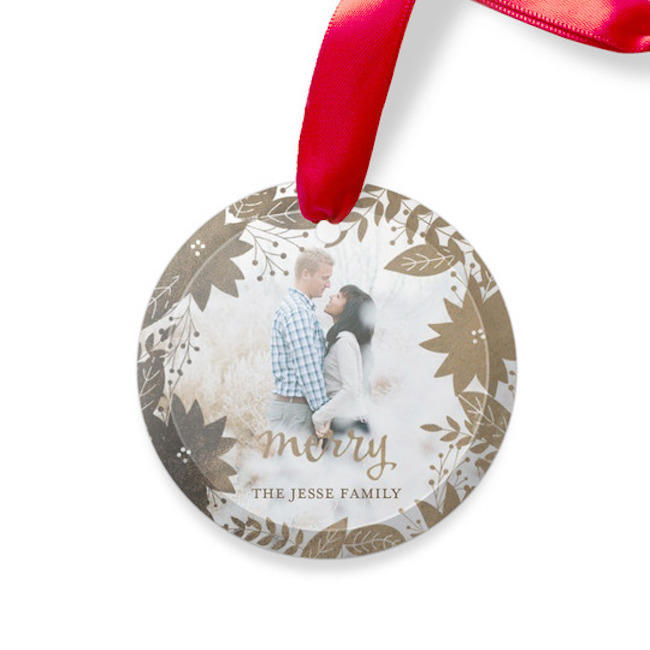 (Above) Merry Christmas Newlywed Couple Ornament. Add your fave photo to this gorgeous glass festive tree ornament. The smooth finish and cute beveled disk edge make this pretty Christmas bauble a beauty to behold. Get it here.
See more gorgeous gifting ideas:
18 Stunning Custom-Made Christmas Engagement Ornaments for Engaged Couples
14 Amazing Handwritten Jewelry Gift Ideas Made Using Your Actual Handwriting!