Rustic Romance at Blue Ridge Mountains ♥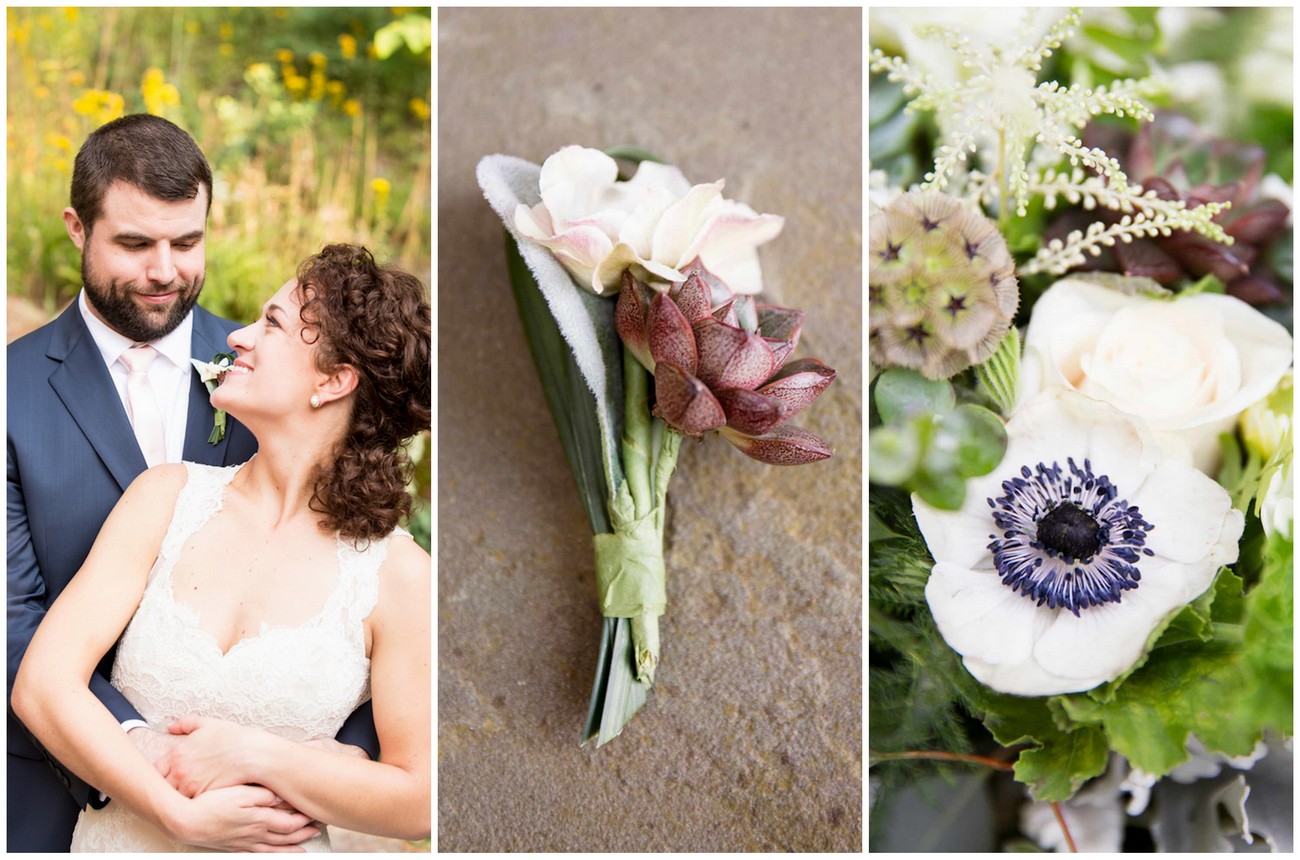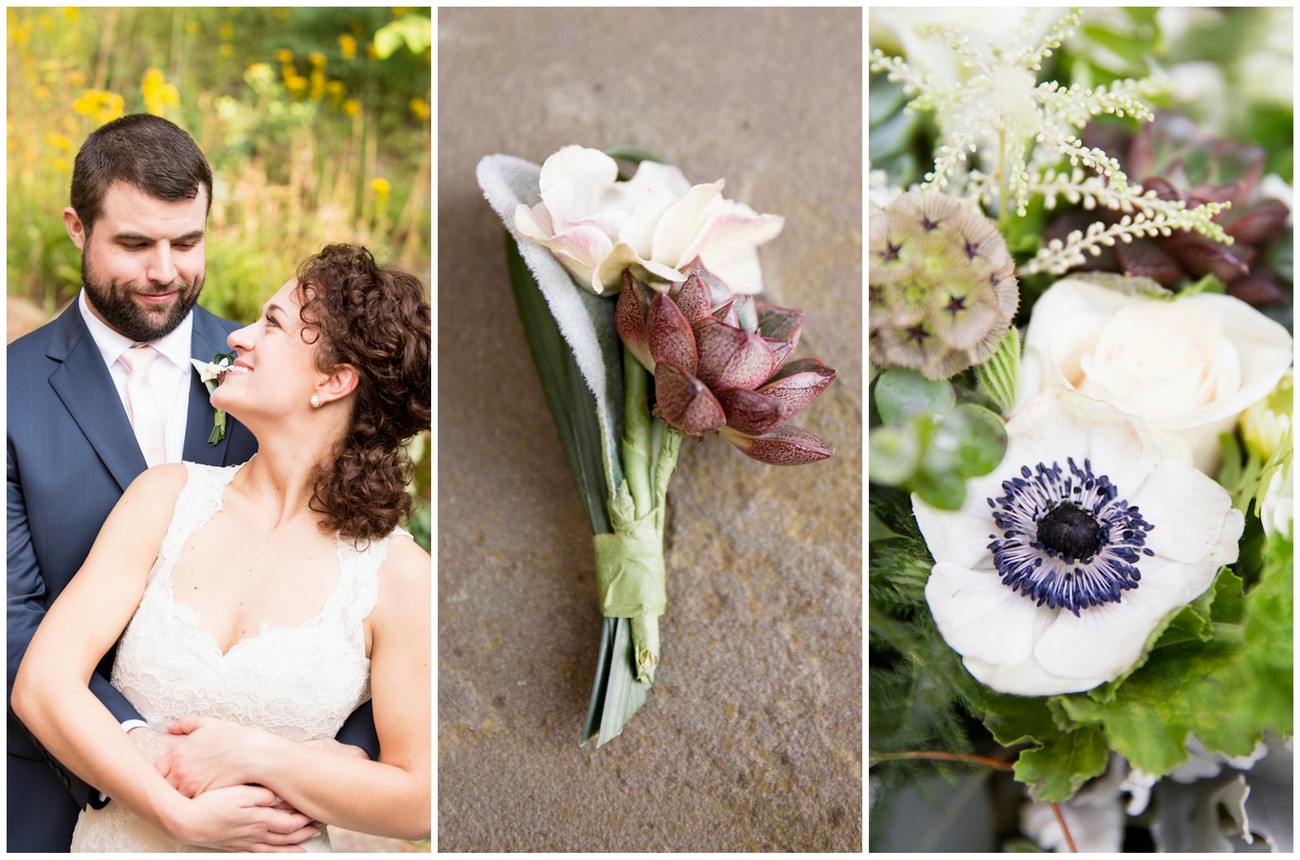 Kirsten and Josh's rustic mountain wedding amidst the Blue Ridge Mountains surrounded by wildflowers had the couple exchange vows in a naturally picturesque setting. 
Photographer j-d photography, who captured the couple's special day, described gorgeous views in every direction. "The air was crisp because fall was just beginning to creep in, and the sun shone brightly above all of the gorgeous Virginia foliage. During the reception the stars littered the night sky and one of the biggest, brightest moons I have ever seen watched over the night. They danced non-stop for hours, and there is no question in my mind that every single one of their wedding guests had an amazing time!"
The lovely couple met in the spring of 2010 while playing in a University Rugby club and from their first date Kirsten says she just knew that she was going to fall in love with Josh! When they decided to tie the knot family friends offered to host their wedding at their mountain home. Having met in the blue ridge mountains, getting married in the same beautiful setting meant the world to them and they didn't want to wait.
"We set a date and 3 months later we had the wedding of our dreams," shares Kirsten. "Planning a wedding in three months was not as stressful as I thought it would be, however I really have to credit that to my family, friends, our photographers and Jenny Elmes (from catering to wedding planning and coordination she is FANTASTIC)."
"Our time frame kept everything in perspective for us. There was not time to worry or stress over little things. We got to have our wedding in a beautiful location, surrounded by our family and friends. Our day was perfect."
Beautifully Rustic Virginia Mountain Wedding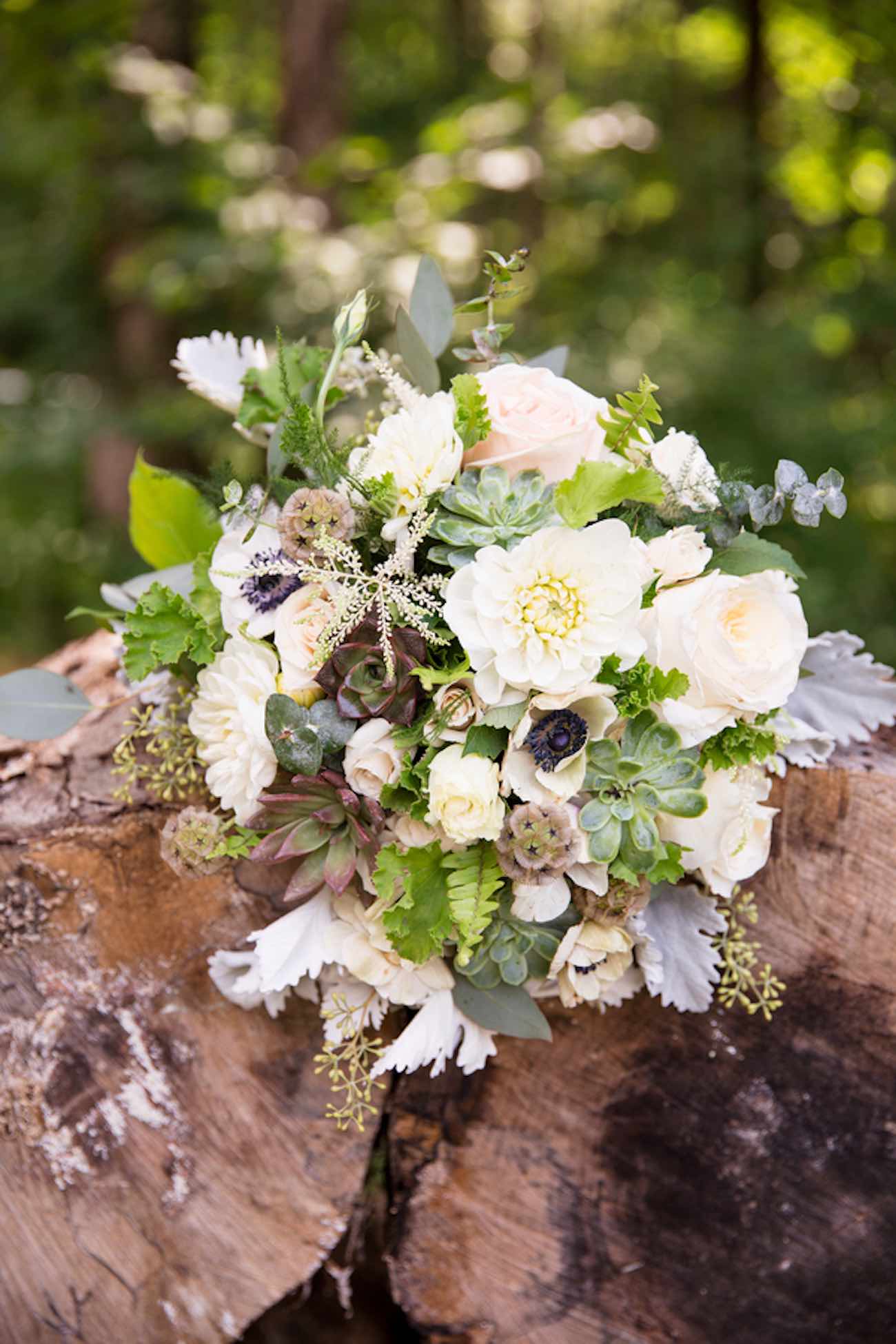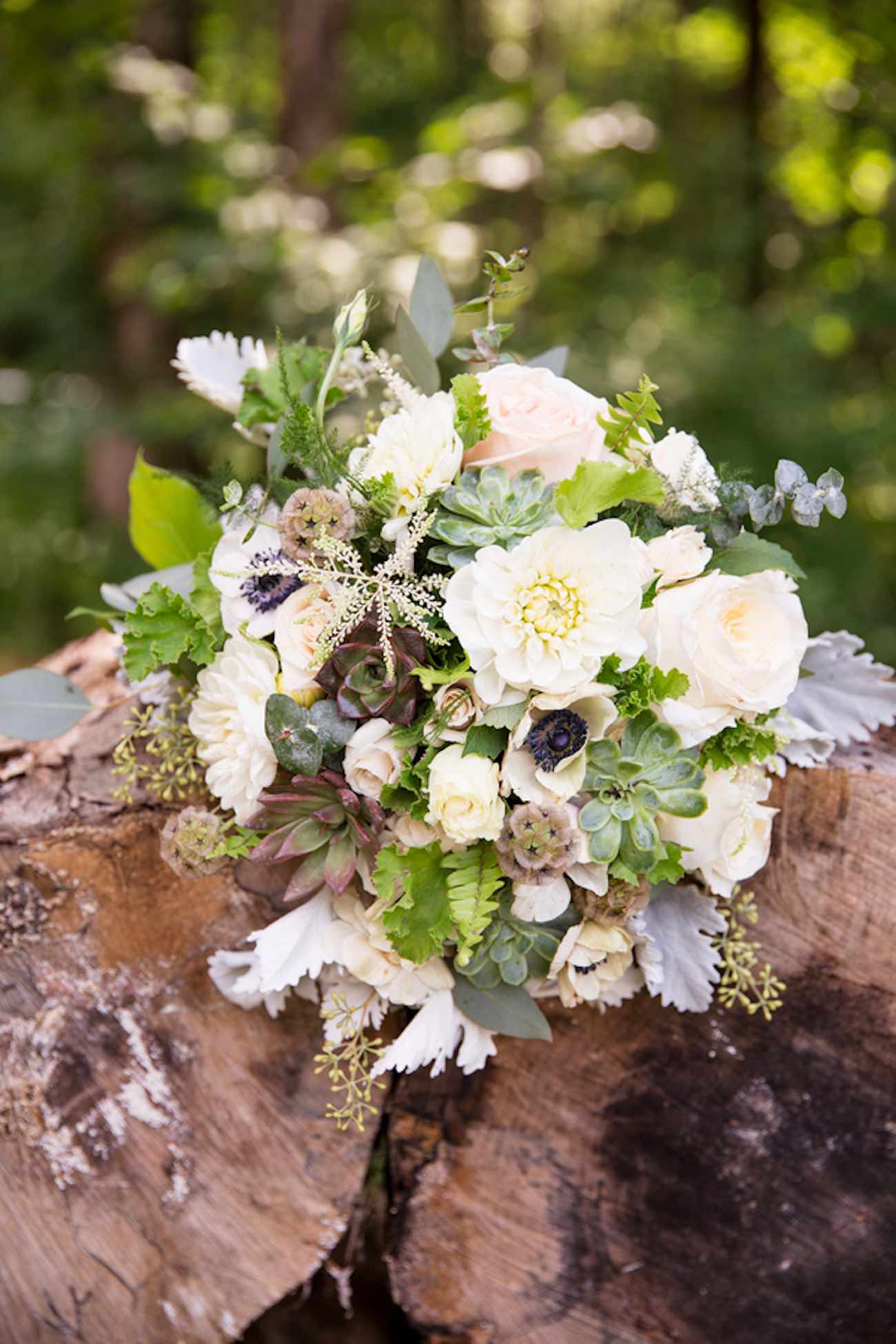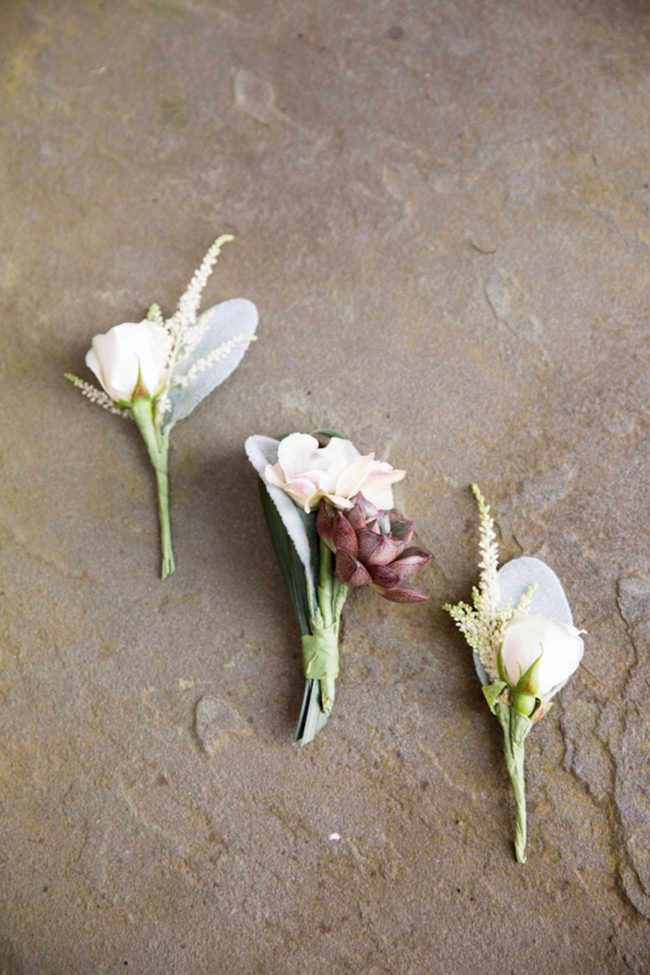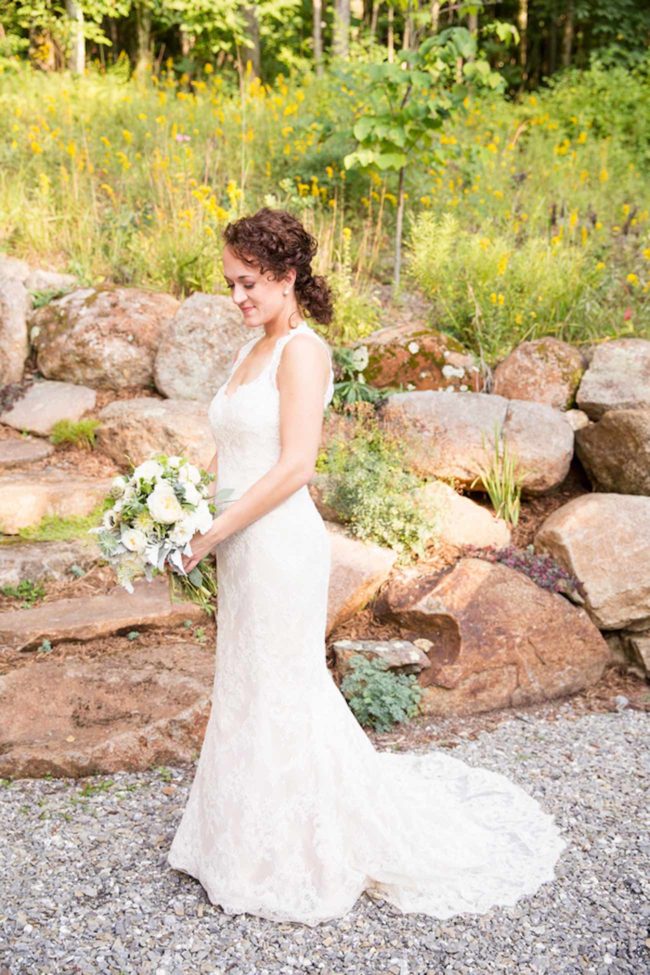 I knew I wanted a gown with lace and an open back. The third dress I tried on at Bella Rosa, who had helped my sister with her dress 8 years prior, fit perfectly. The fabric was a delicate lace with an antique/champagne silk underlay with lots of buttons. The dress was perfect for a small, chapel wedding and I felt perfect in it.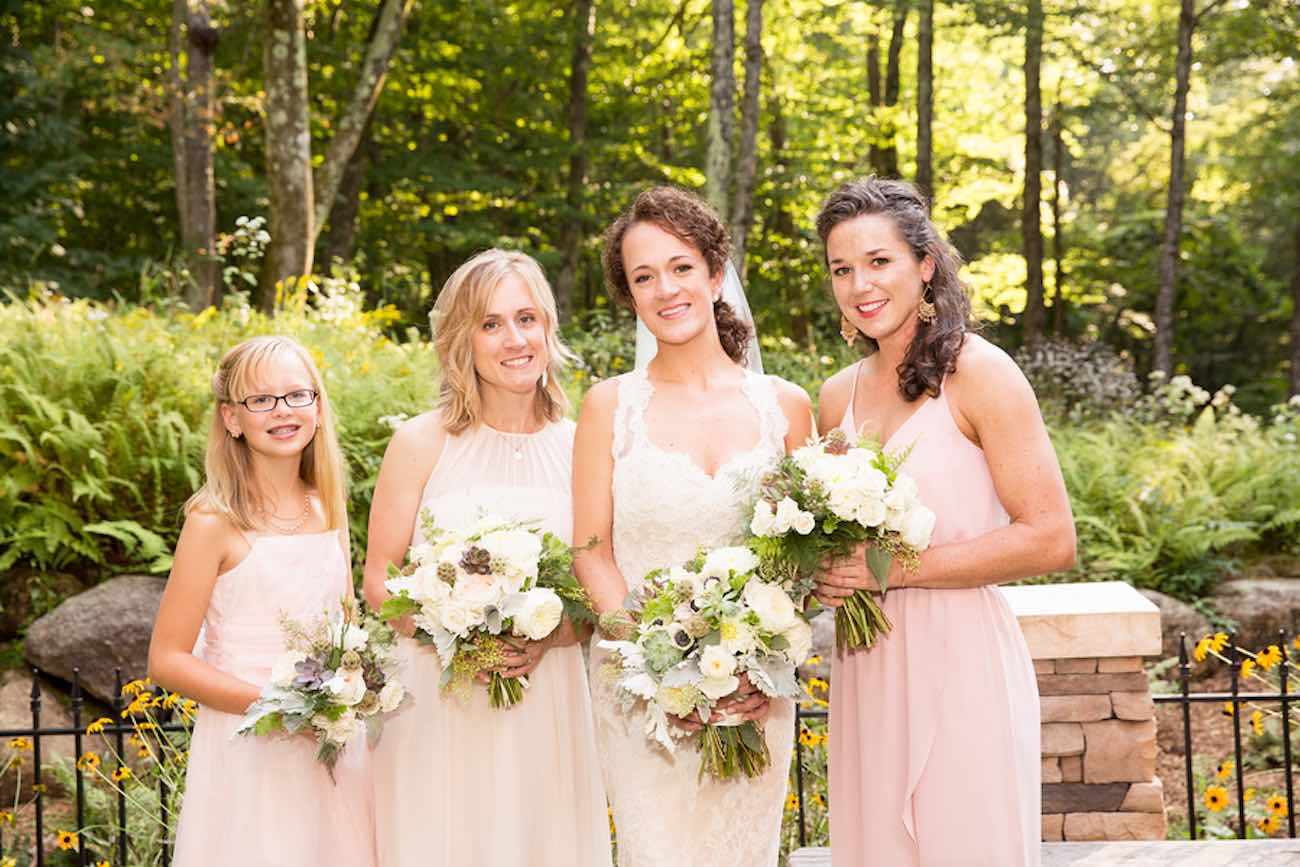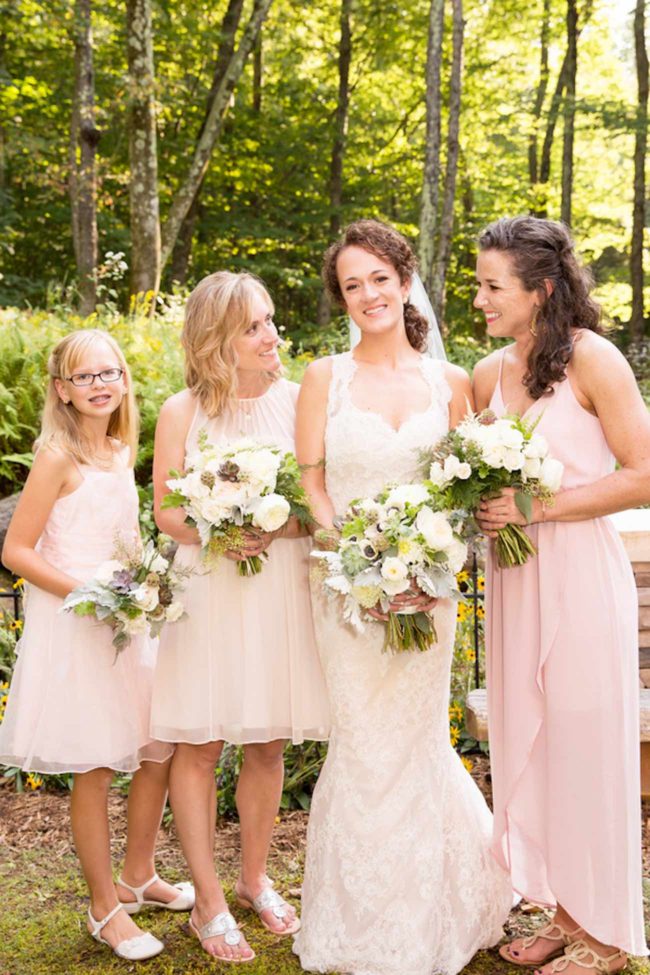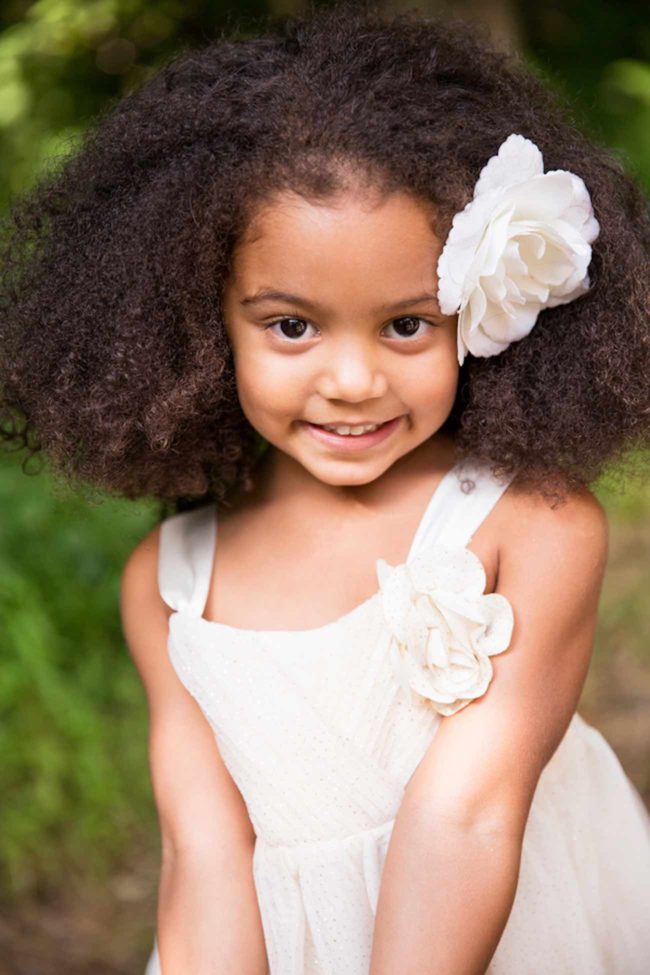 The bridal party was quite small due to the size of the chapel. The bridesmaids each found their own dress in a blush color and were free to select their own shoes. They each sent/showed me their dress so we could make sure they would all look good together.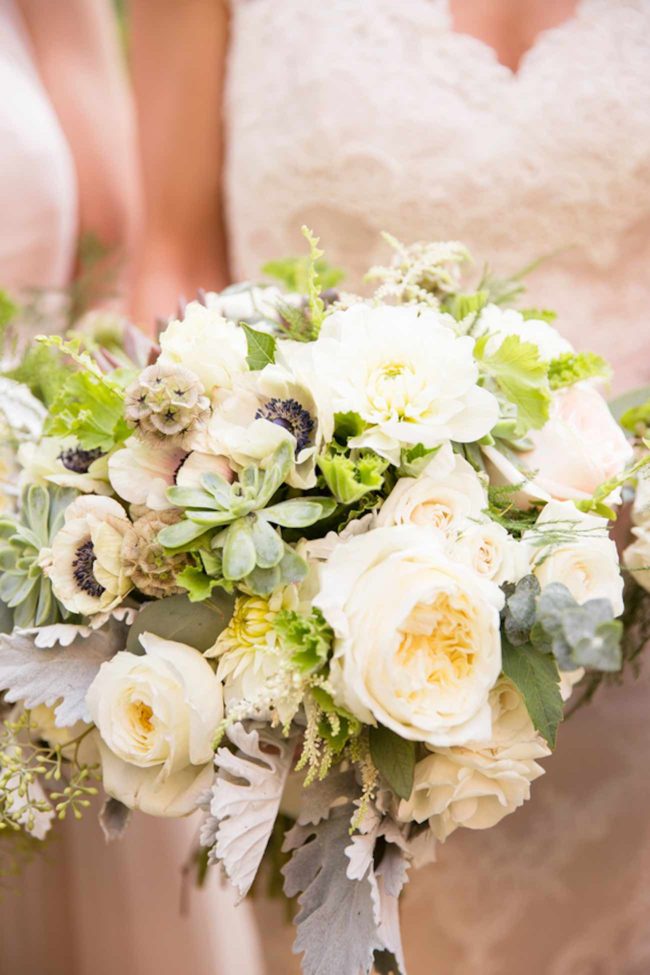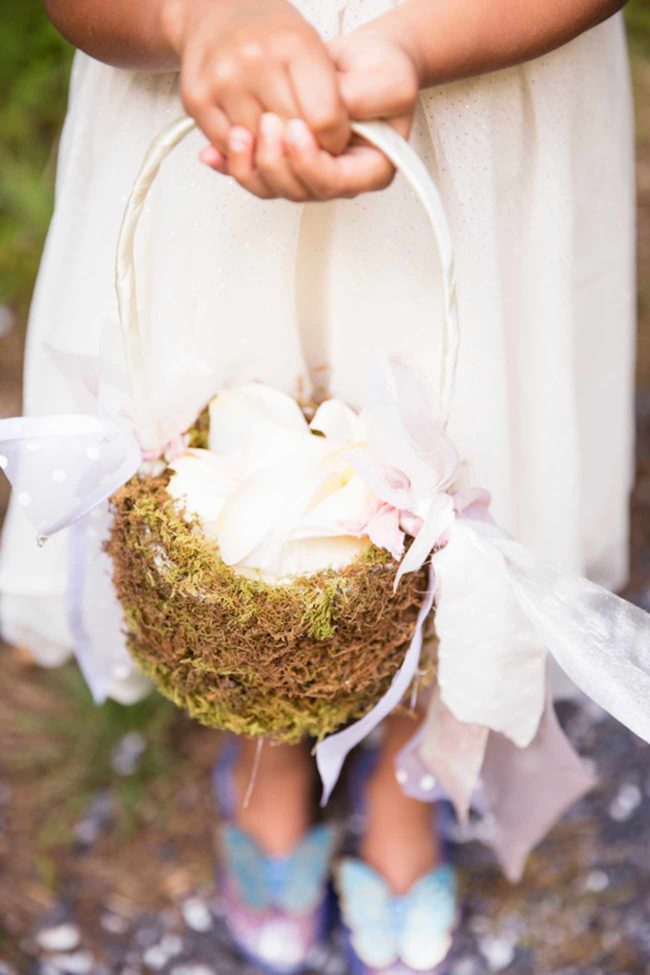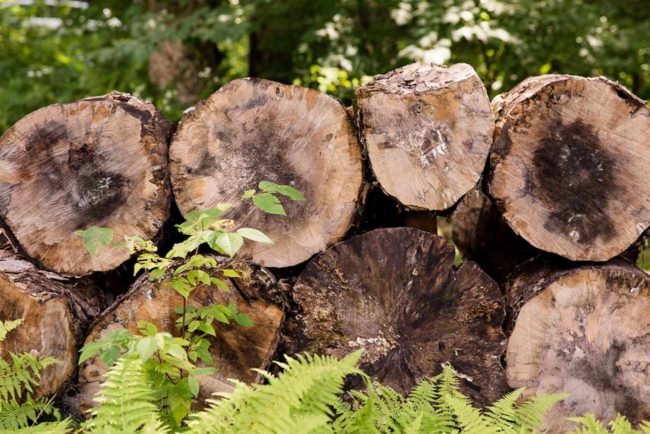 Flowers included succulents in different shapes and sizes, white anemones with black centers, the David Austin roses, "Patience", anemones with black eyes, white dahlias, porcelena spray roses and white O'Hara roses that were blush in the center. They were accented with foliage of dusty miller, scented geranium leaves and lily grass.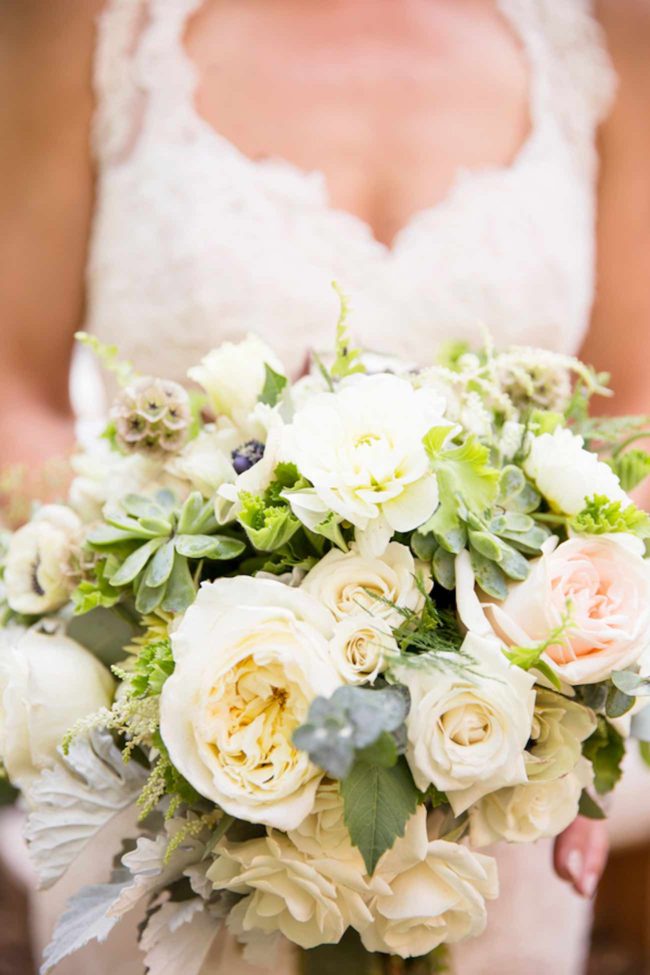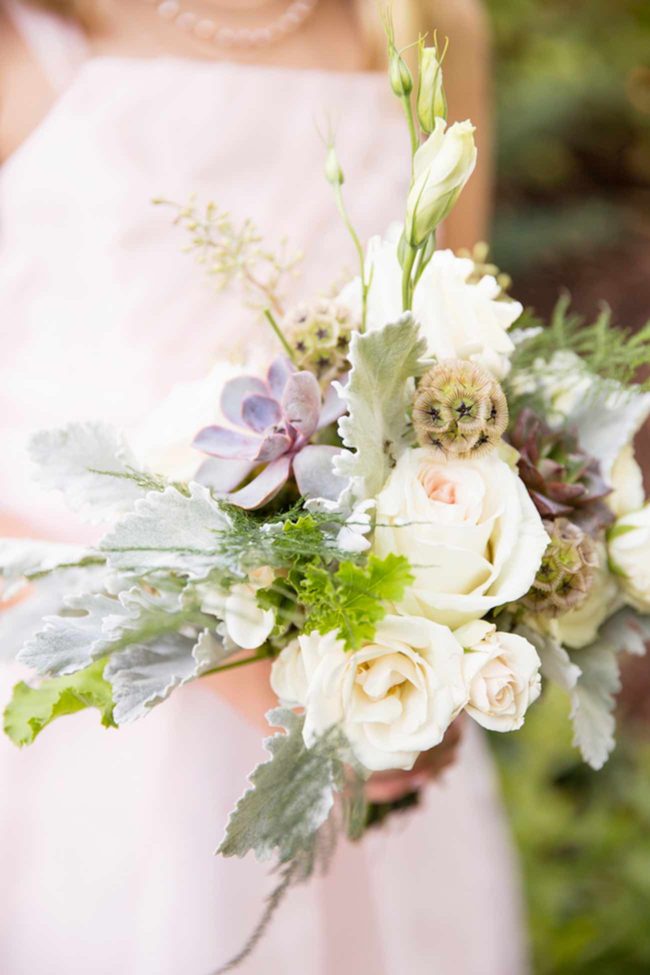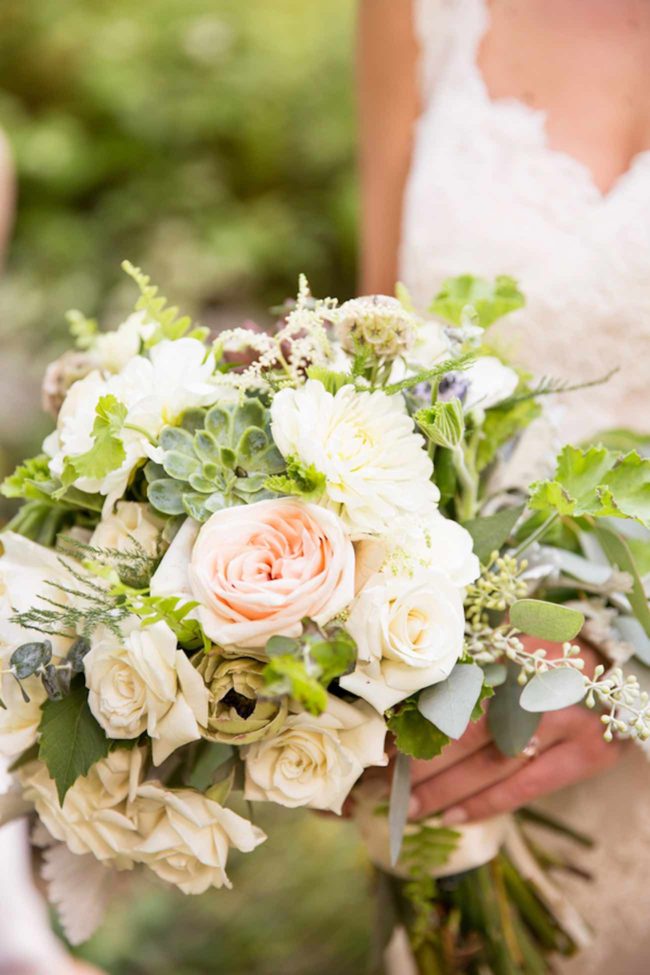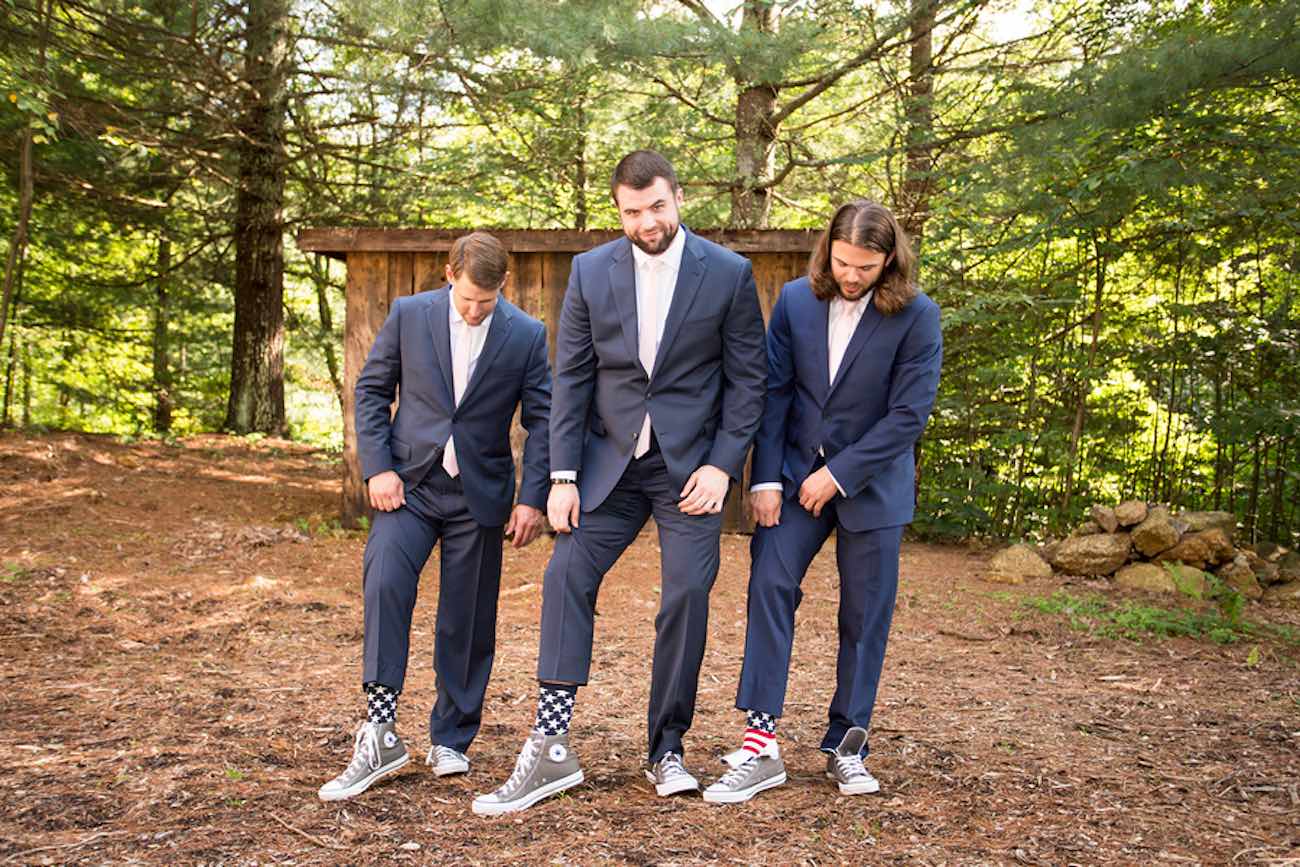 Josh decided early on that he wanted to wear suspenders and Chuck Taylors, so we selected his suit to fit. He picked out a suit in Postman Blue and his groomsmen picked out similar suits. They all wore gray suspenders, skinny blush colored ties, and gray Chuck Taylors with American Flag socks.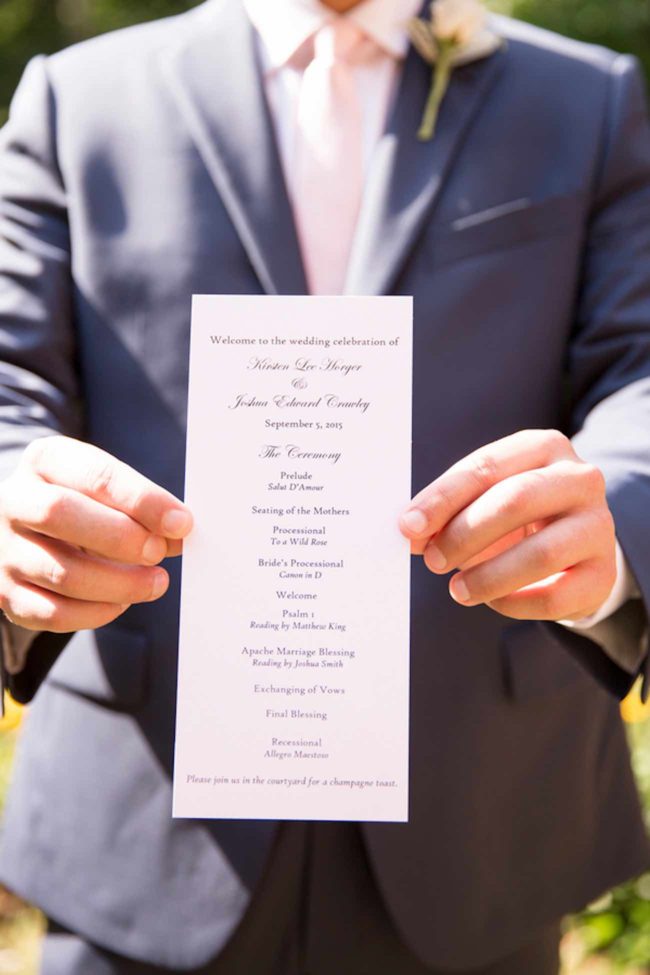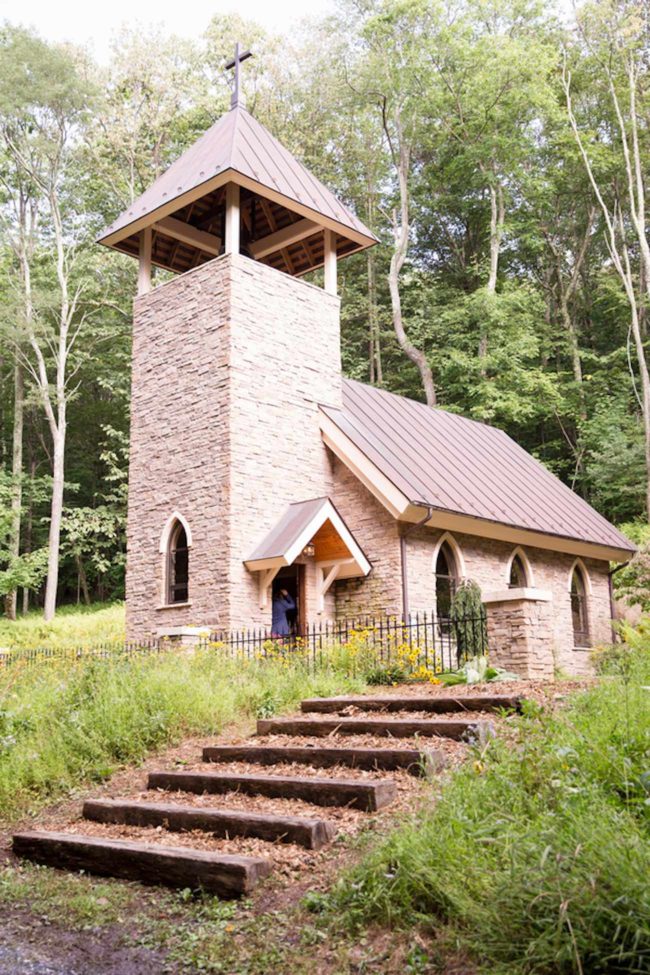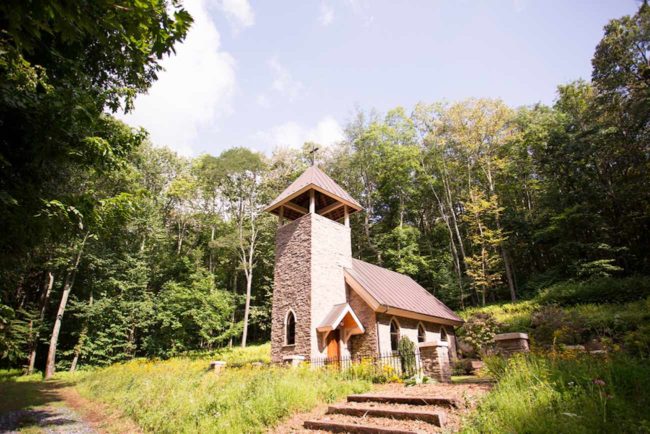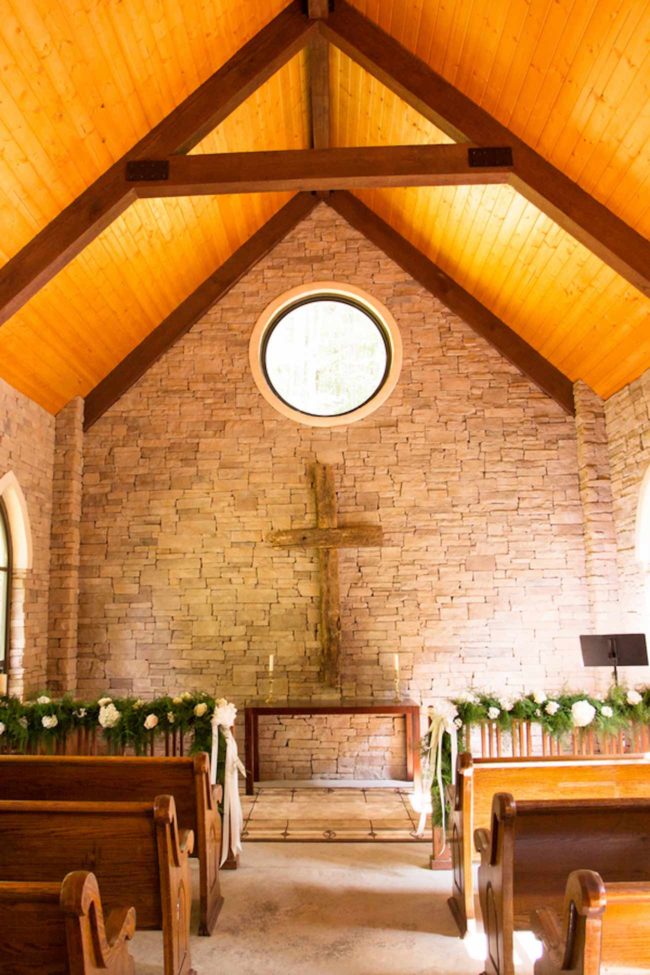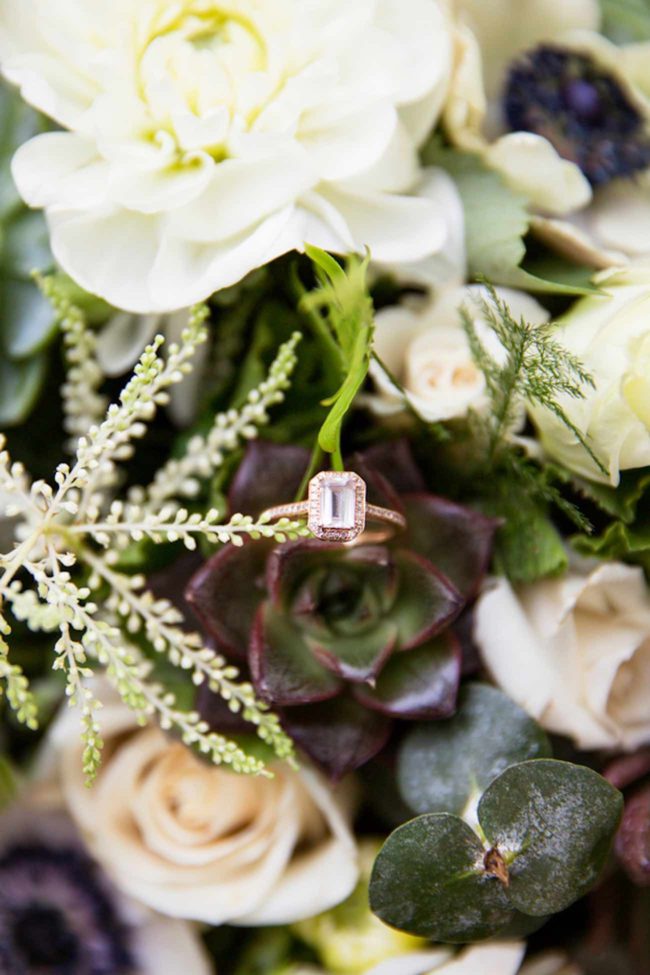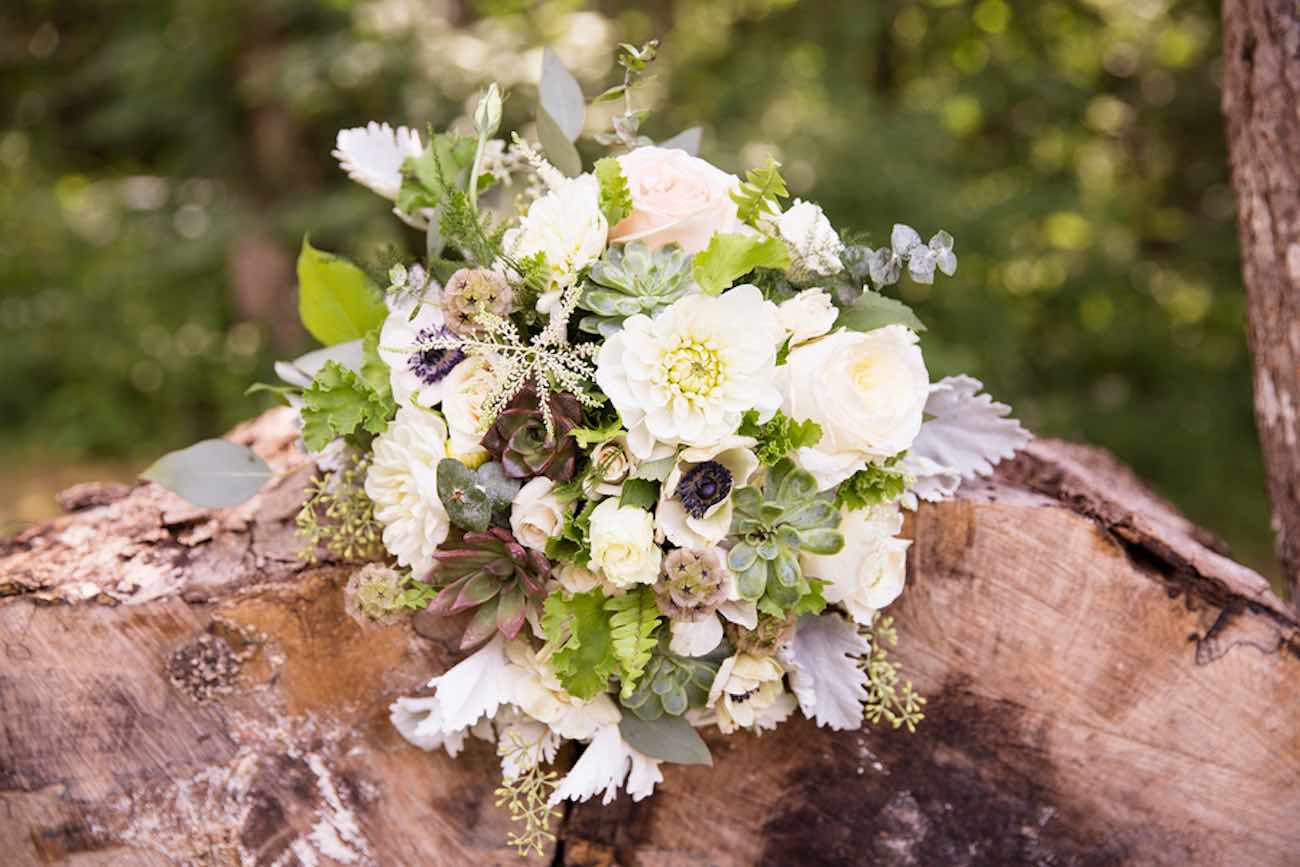 The ceremony took place in a small, family chapel located on the property. Guests took a short walk through the woods to get there. The chapel was decorated with two swags of mixed ferns and pale pink roses. I walked down the aisle to Canon in D. My aunt performed the ceremony and her words were truly beautiful.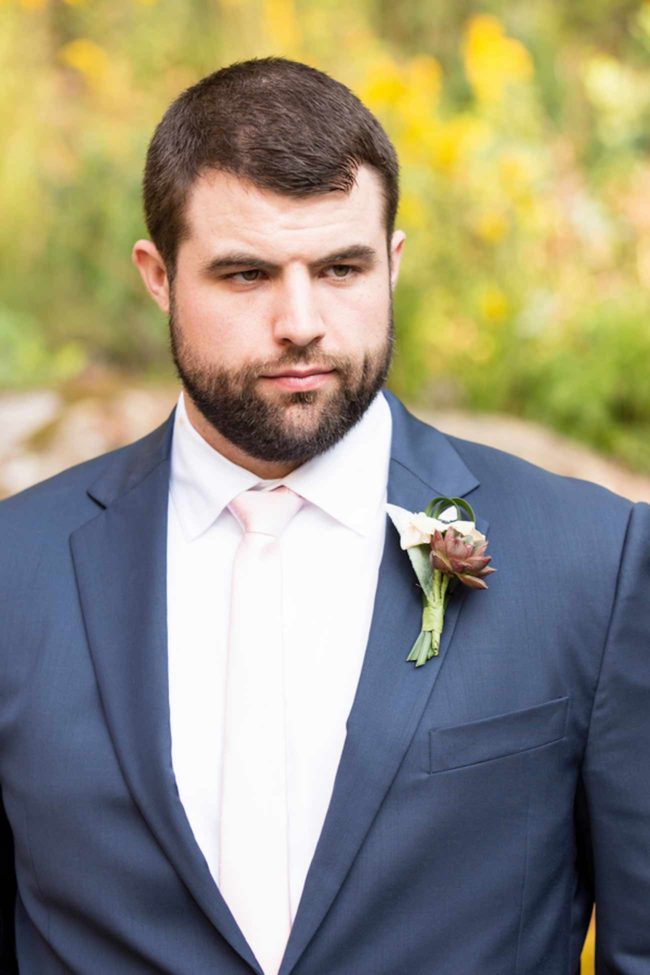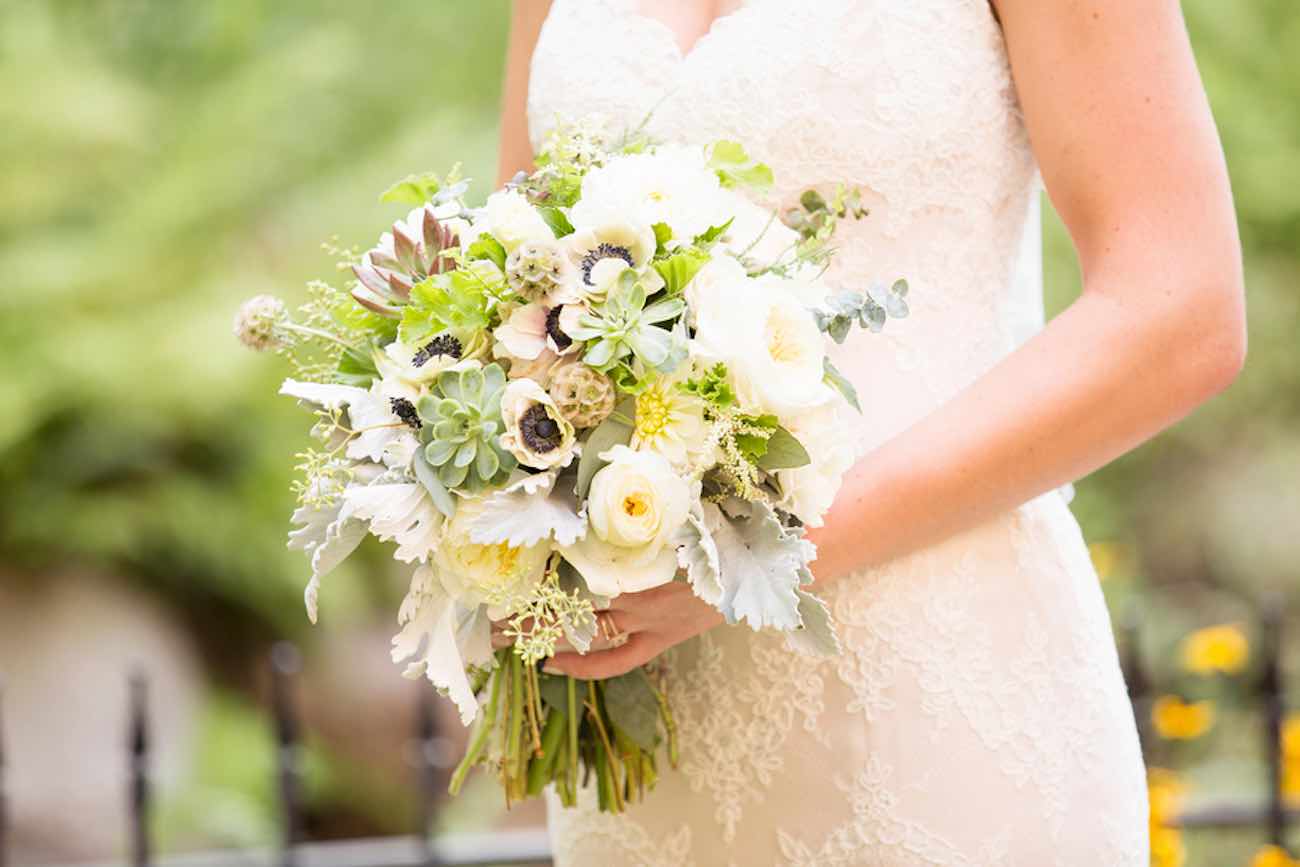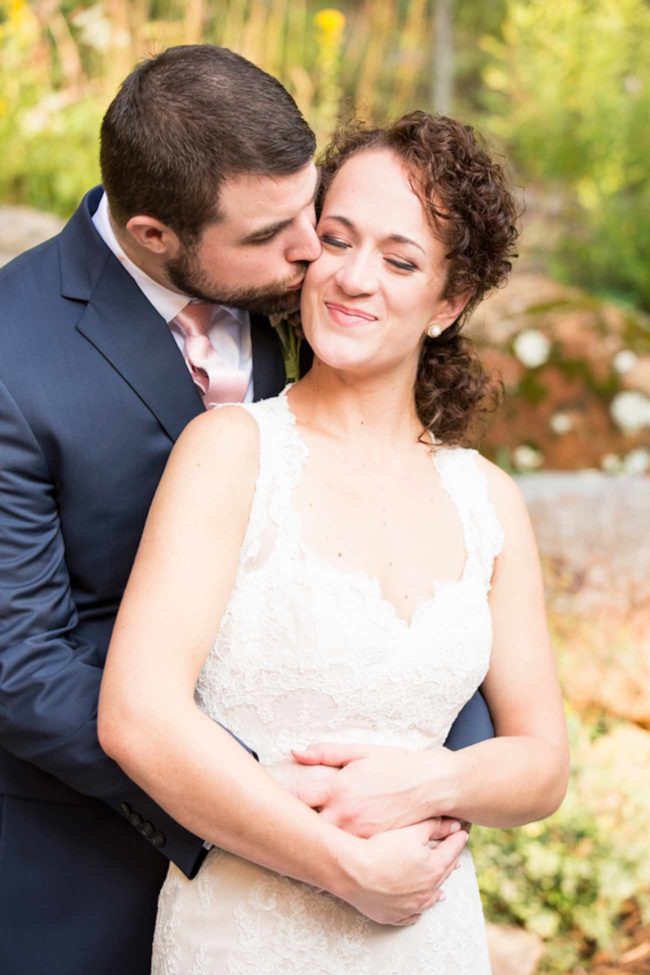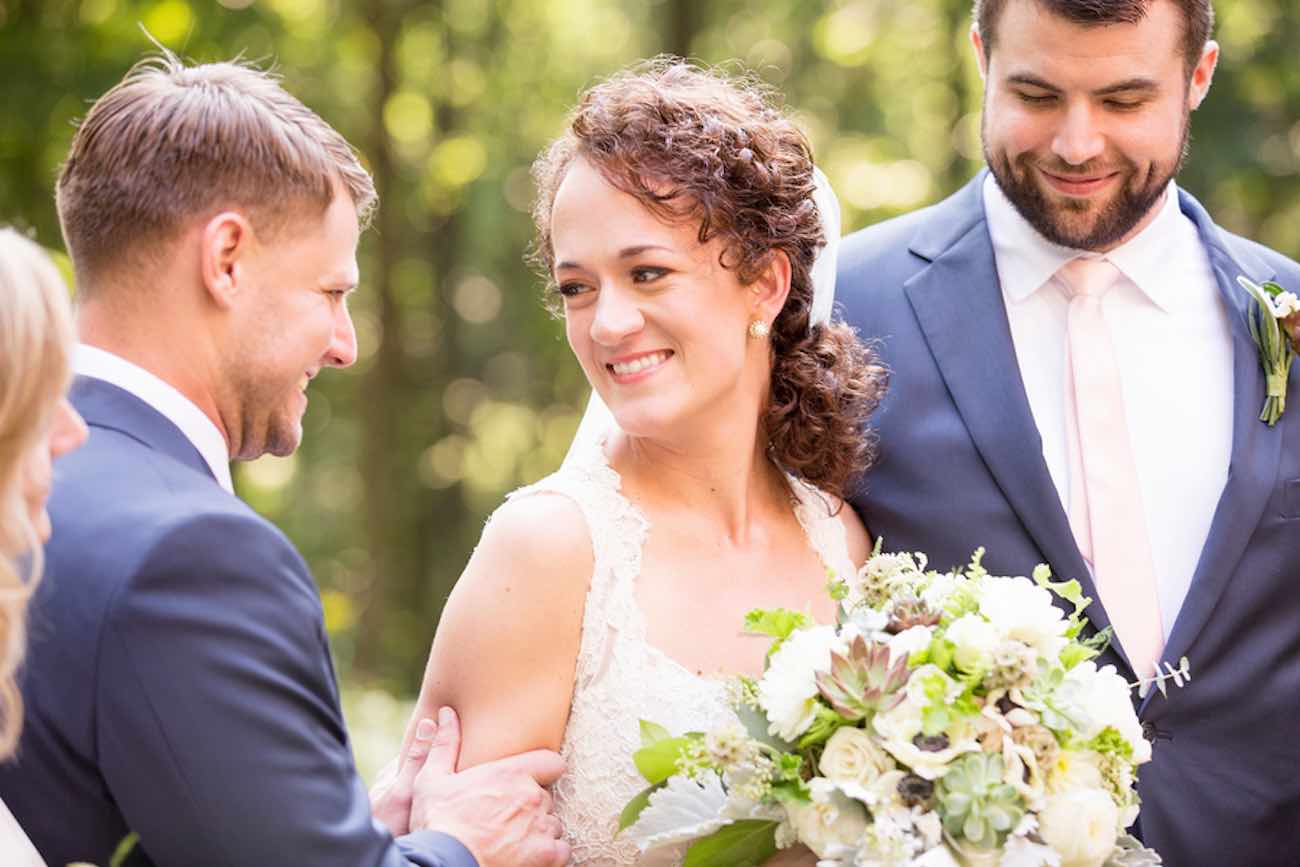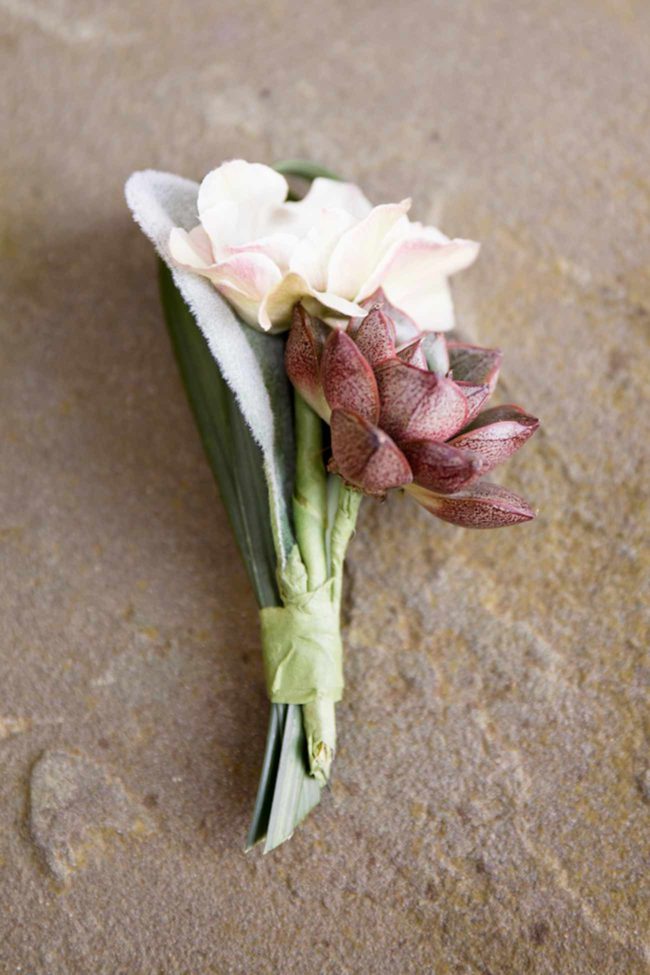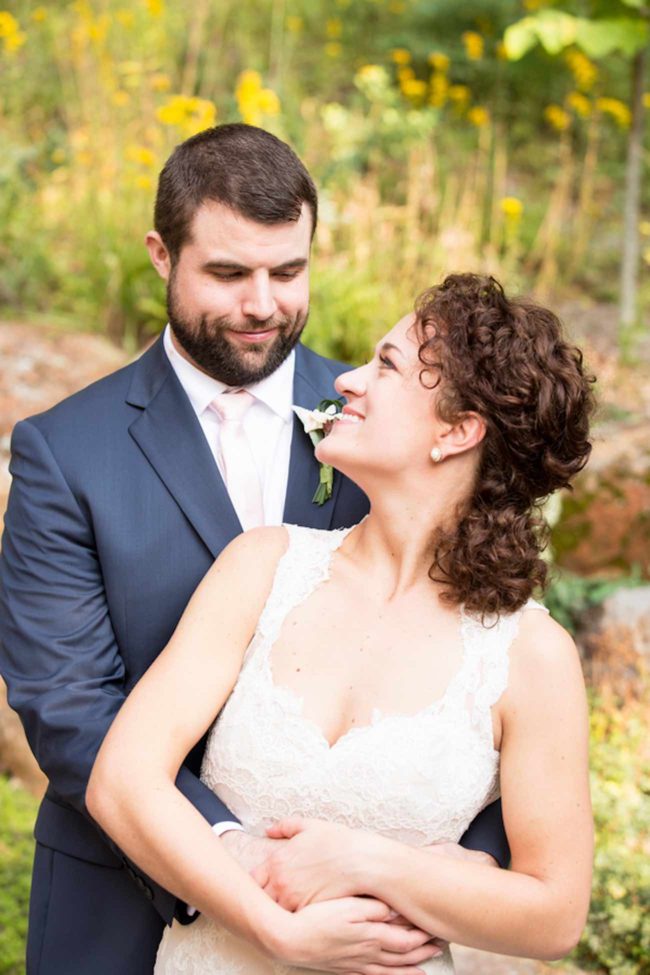 For my hair I wanted to keep my natural curls as part of the style. Tonya Hudson, Master Stylist and owner of Salon Bartholomew, has cut and styled my hair since I was a little girl. My friend and make-up artist, Carly traveled up from North Carolina to do my make up (and of course be a guest, along with Tonya). She picked the perfect style. I have never felt more beautiful… I wish she could do my make up every day.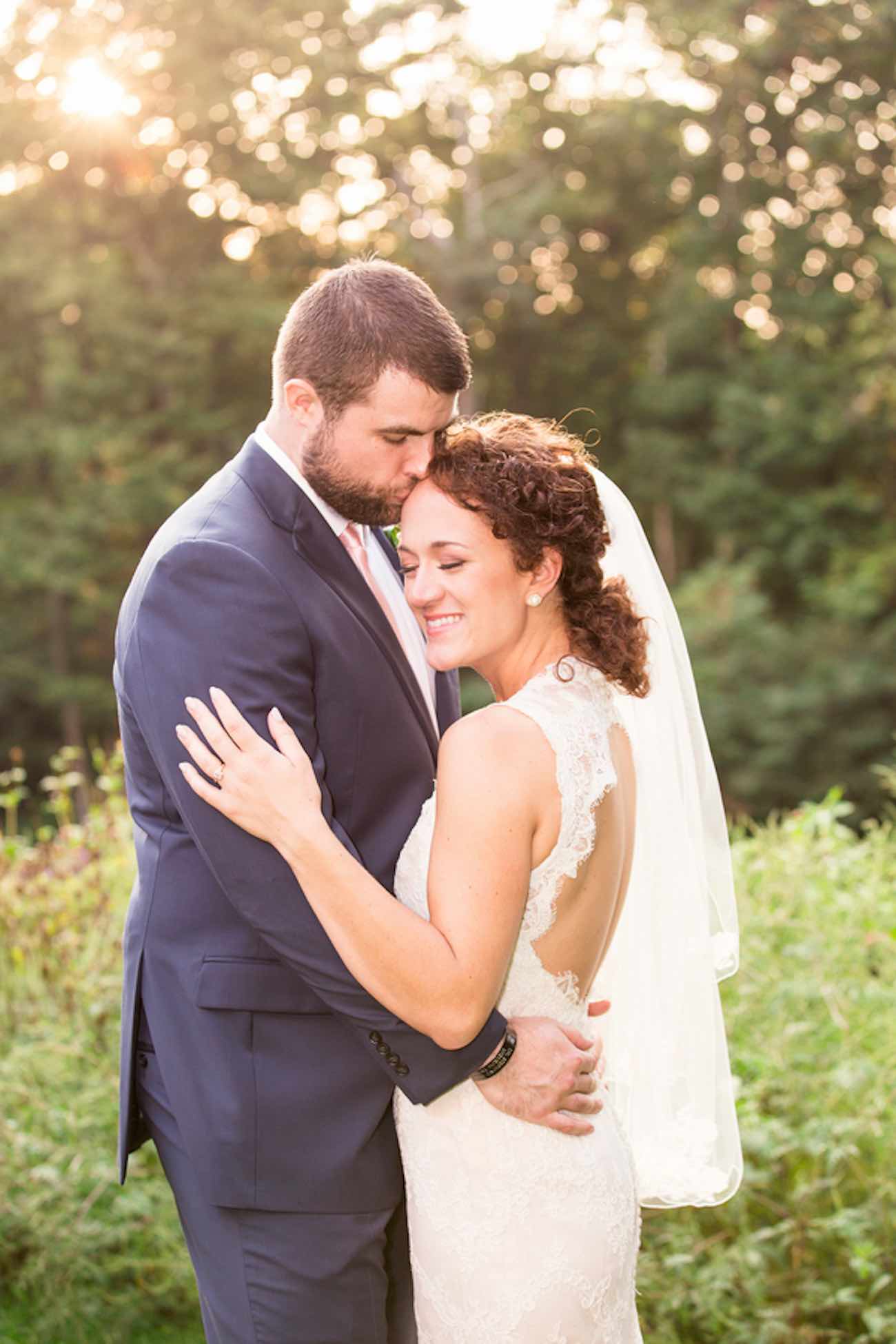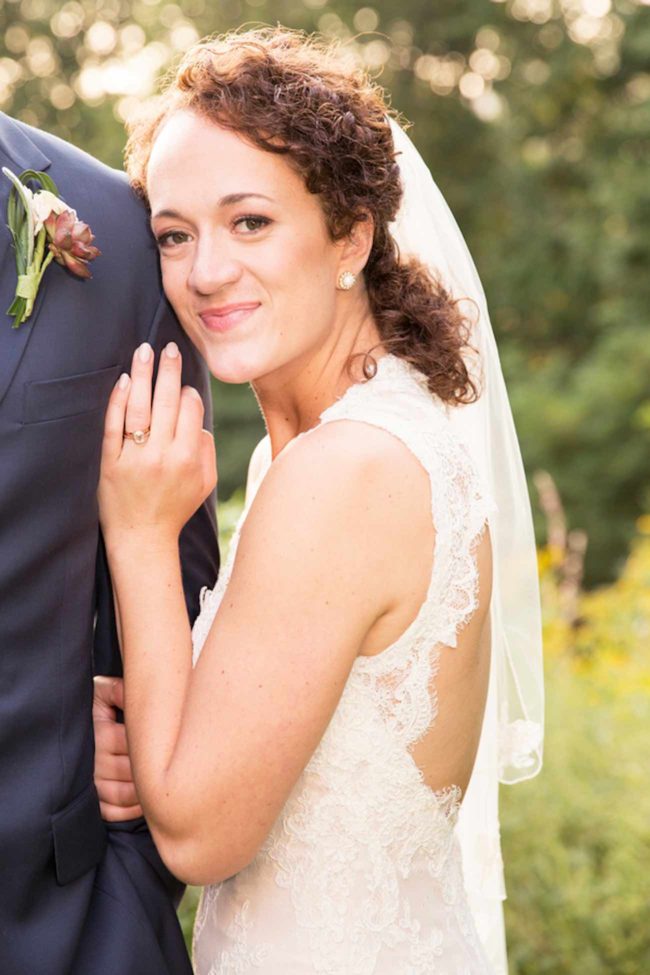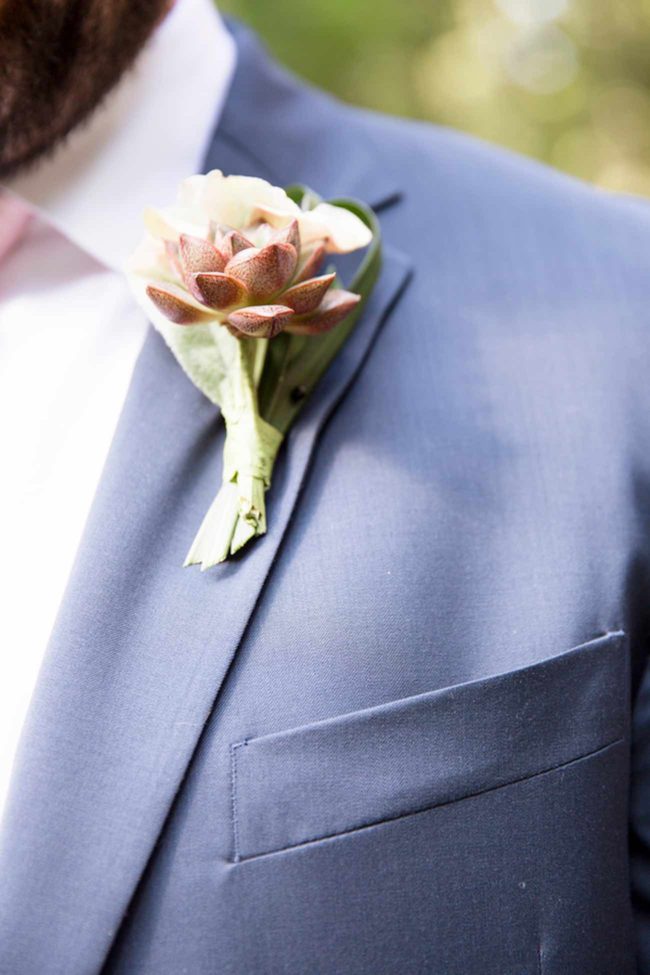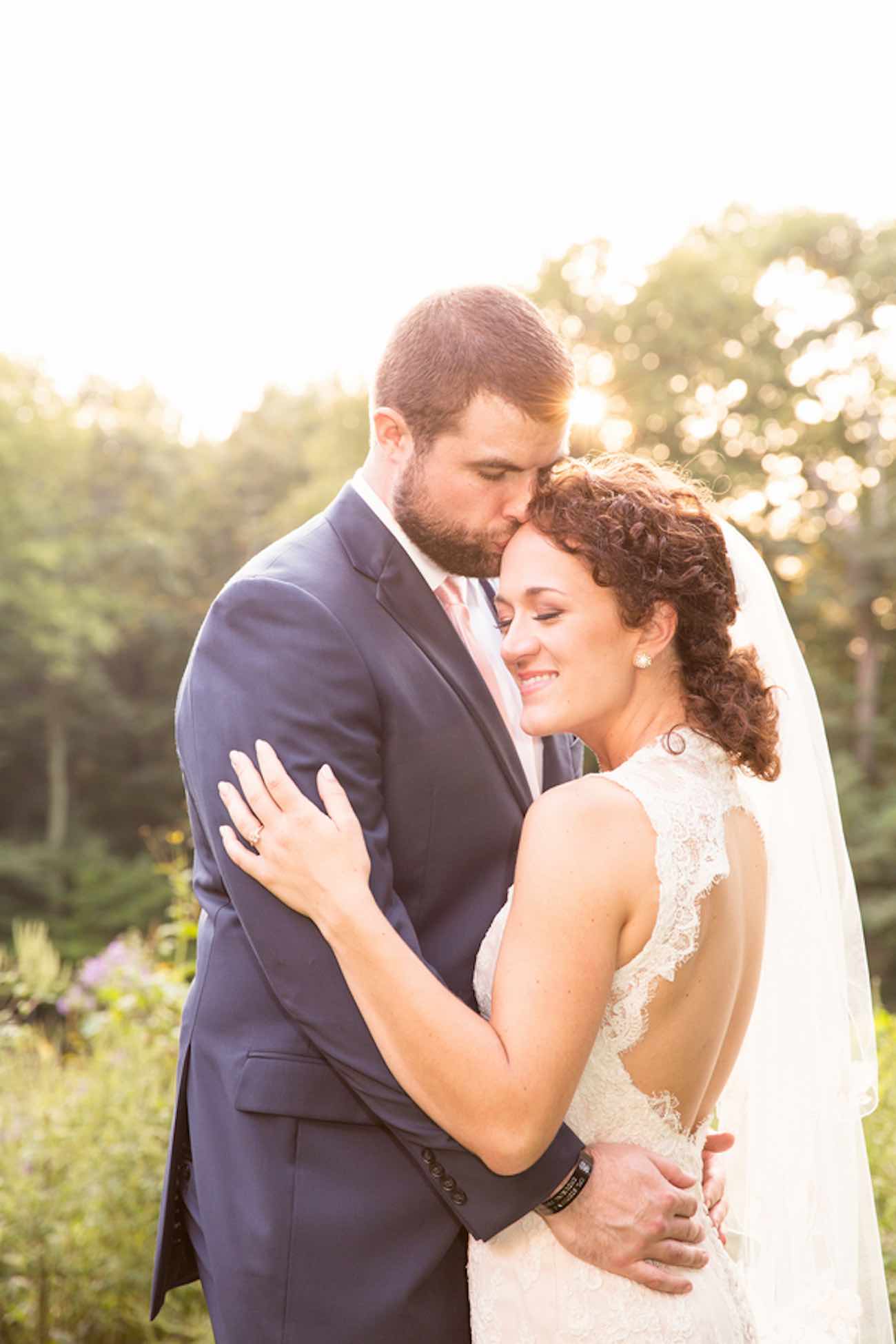 The cocktail hour before the reception took place on a patio that over looked the reception tent. Leading down to tent and surrounding the reception area we had little lanterns. The reception took place under a big white tent that fit perfectly on a lawn that was surrounded by wild flowers and ferns. Underneath the tent, we had neutral colored linens. The flowers were arranged in planters that I had found on BHLD.com (they were fairly priced and I still use them in now in our apartment).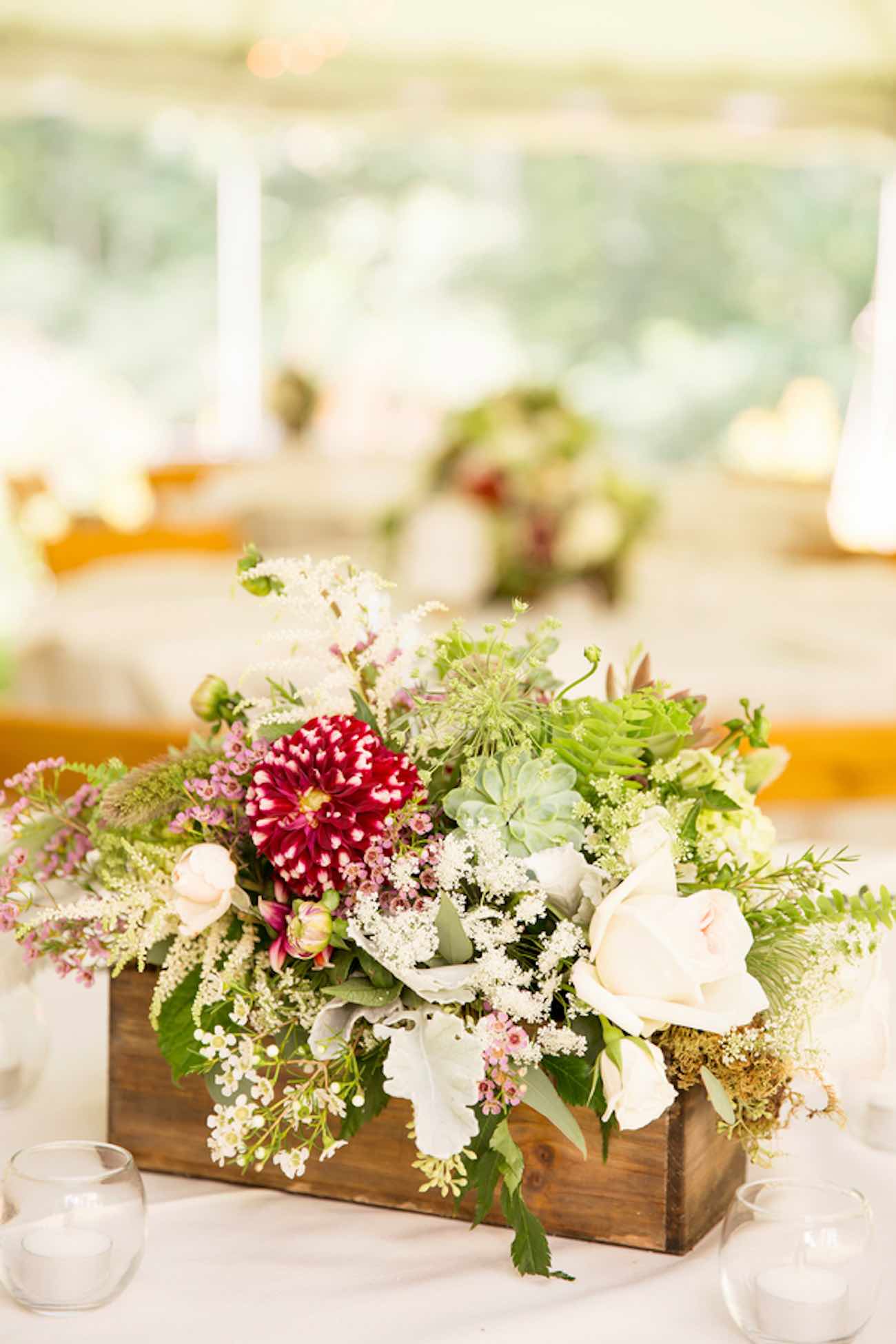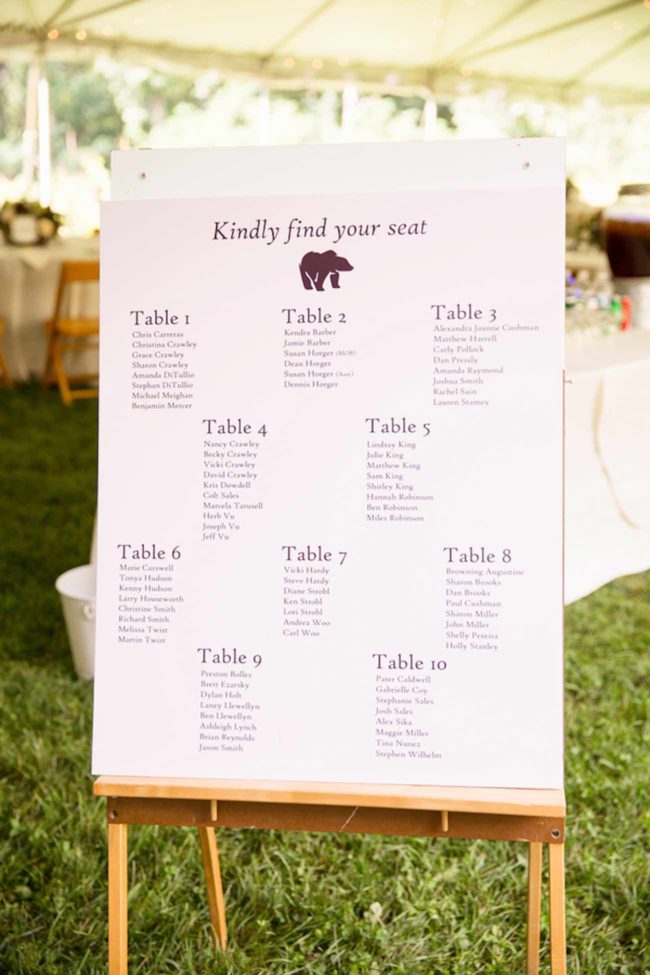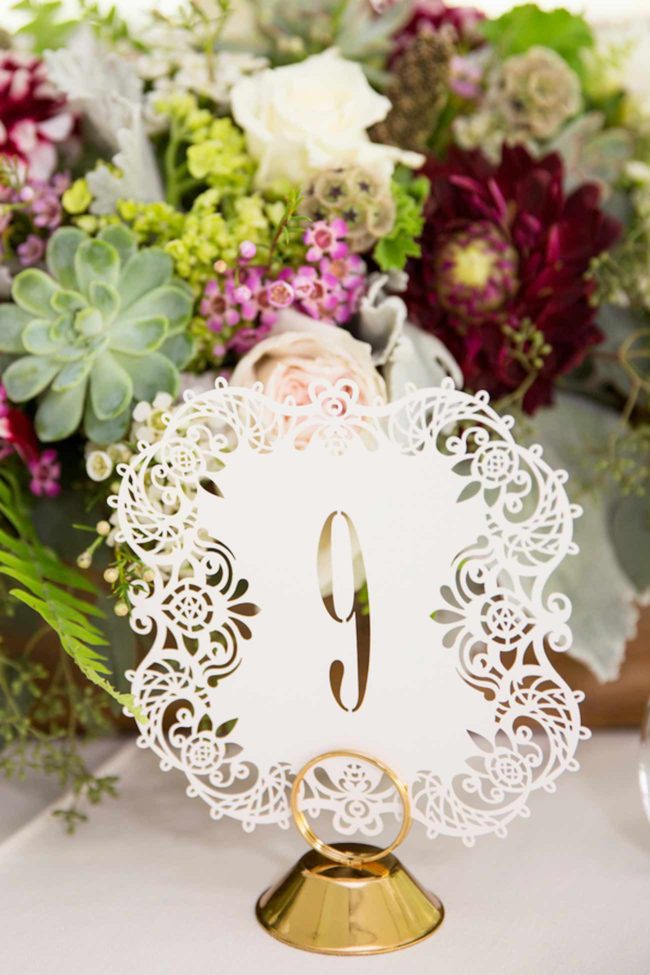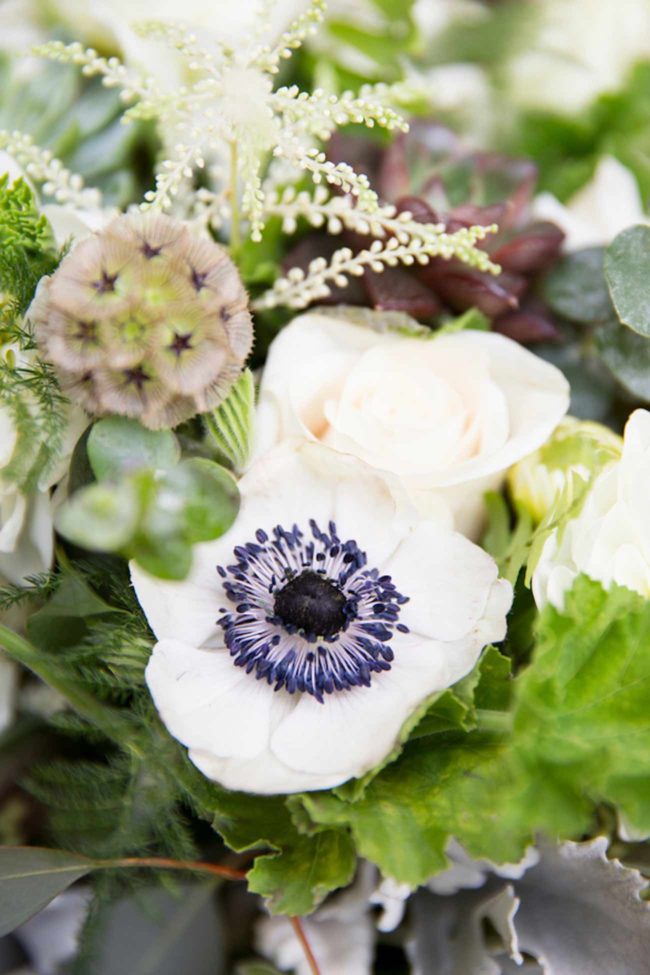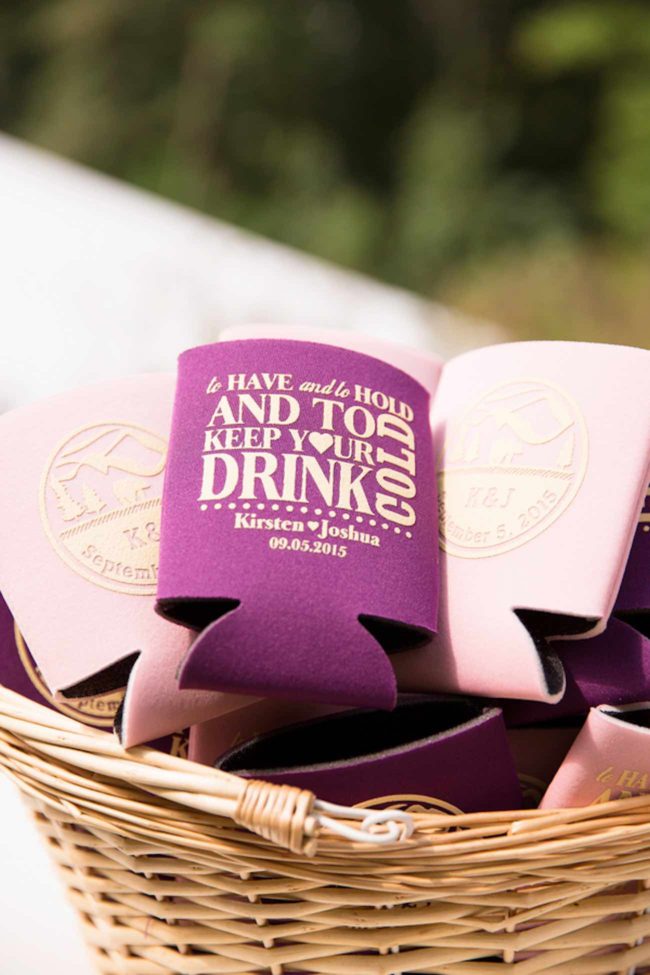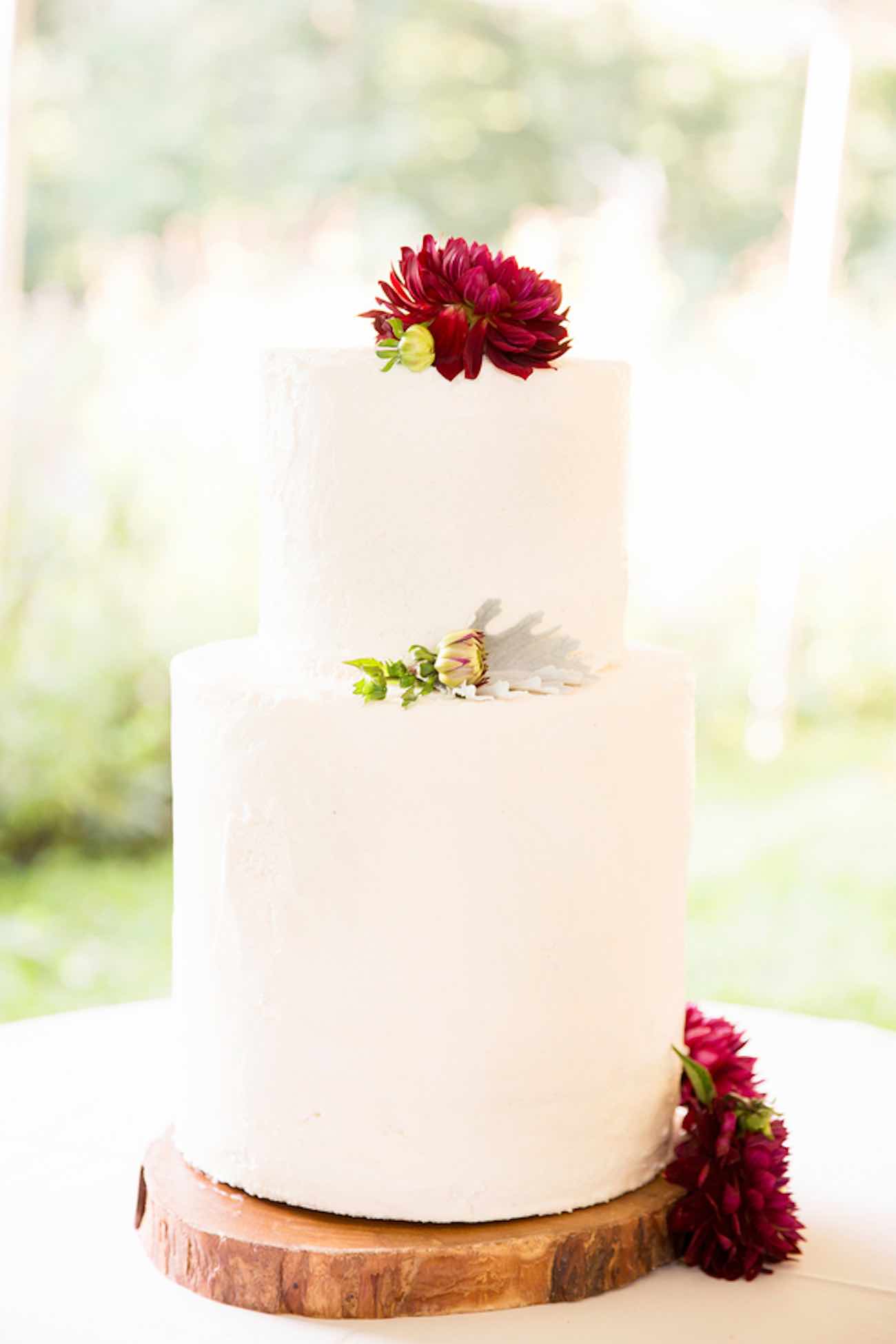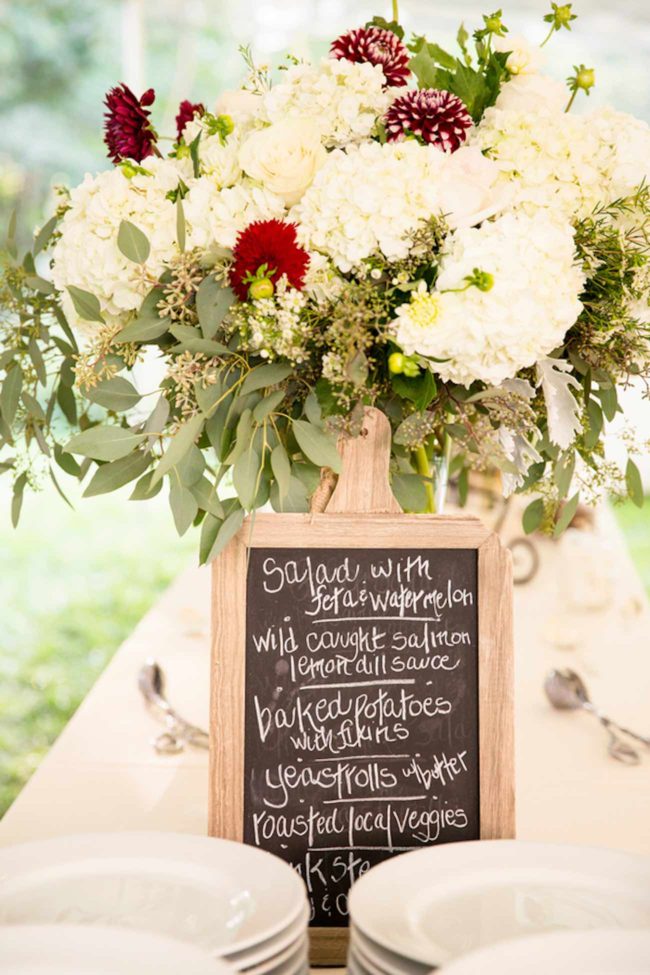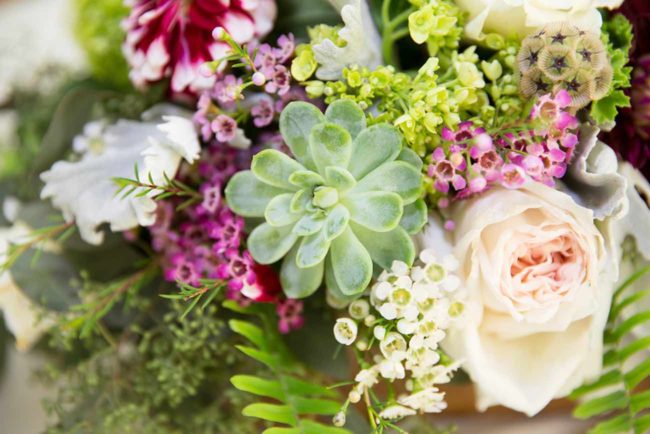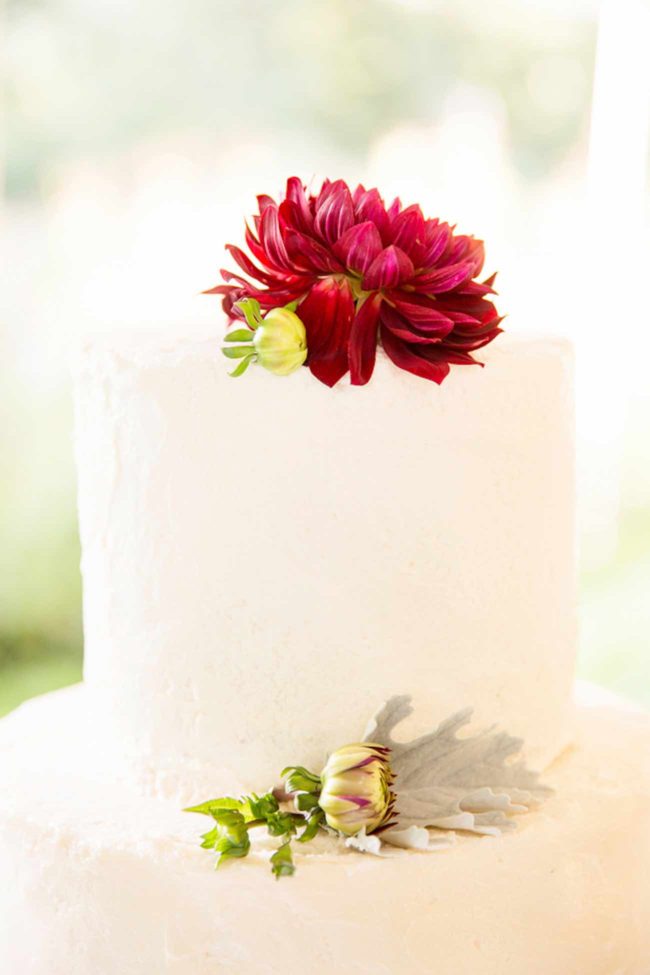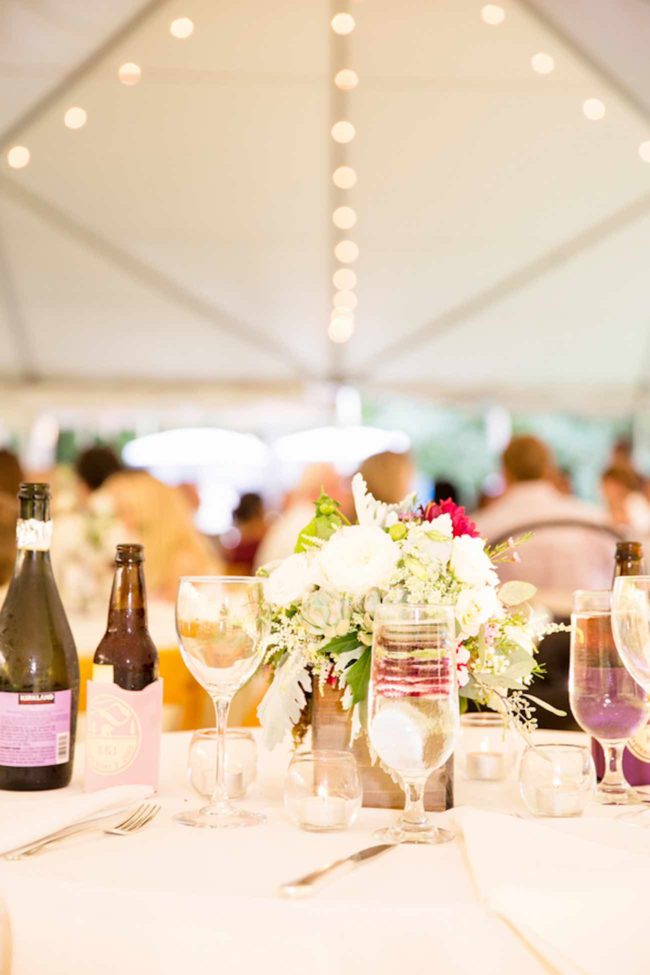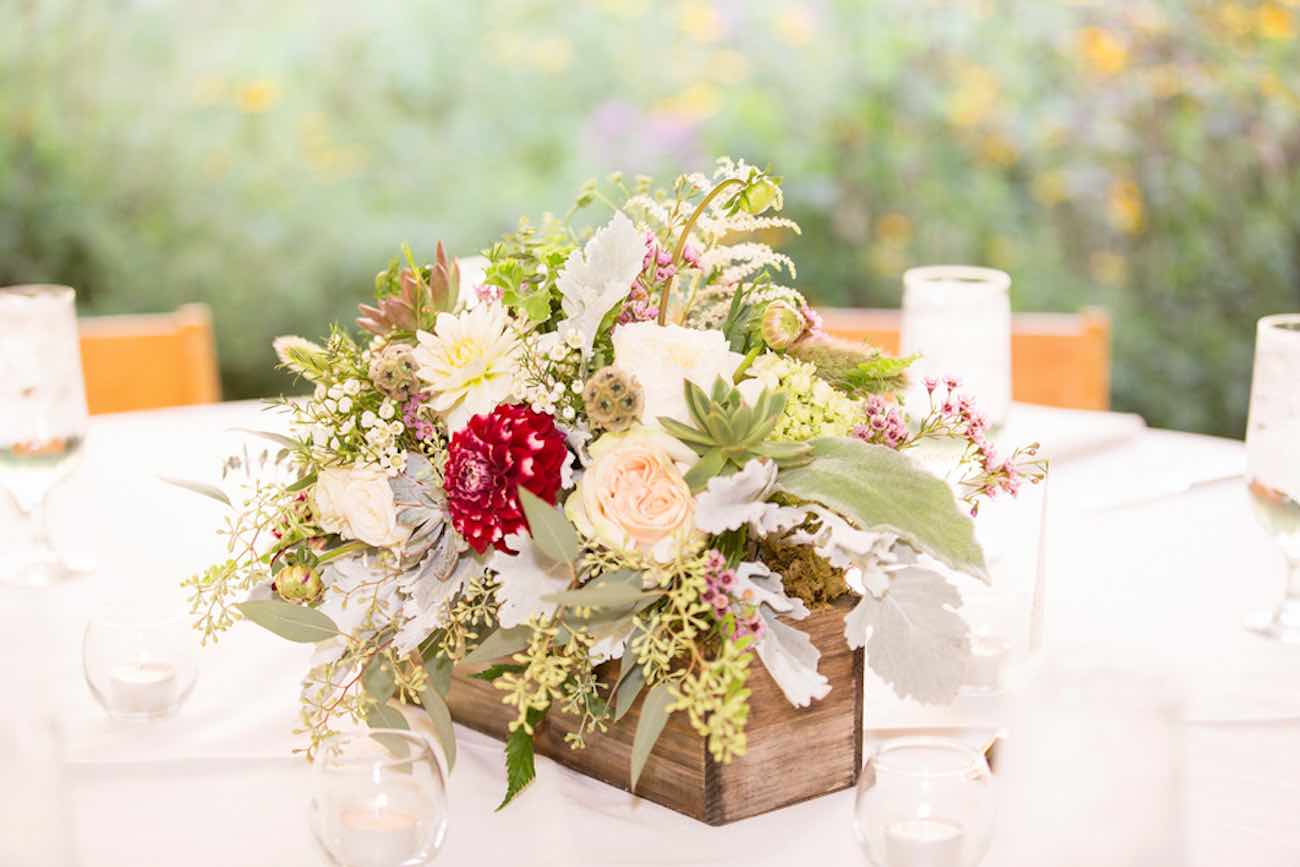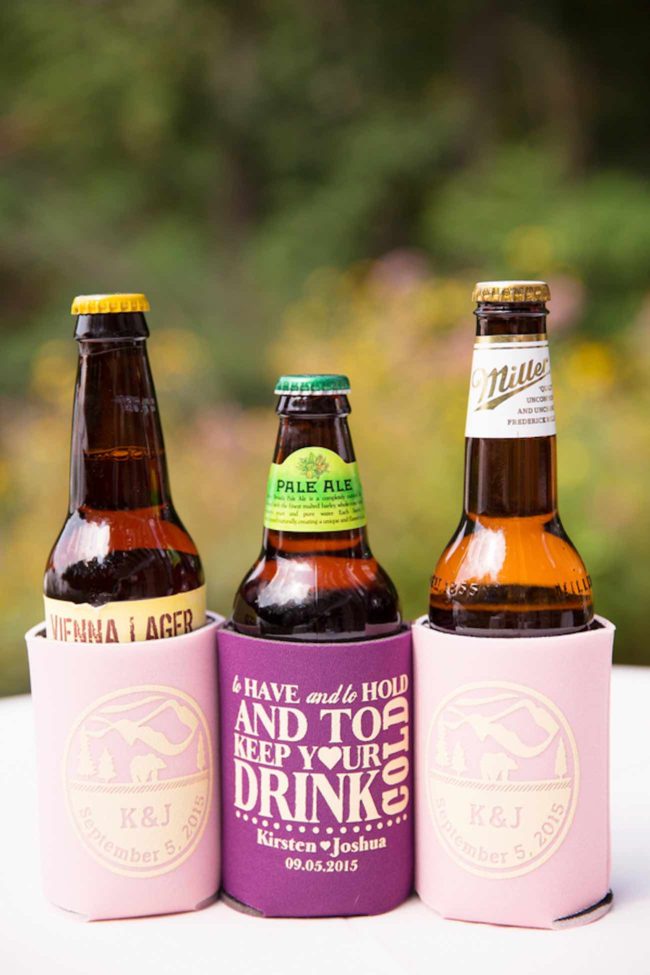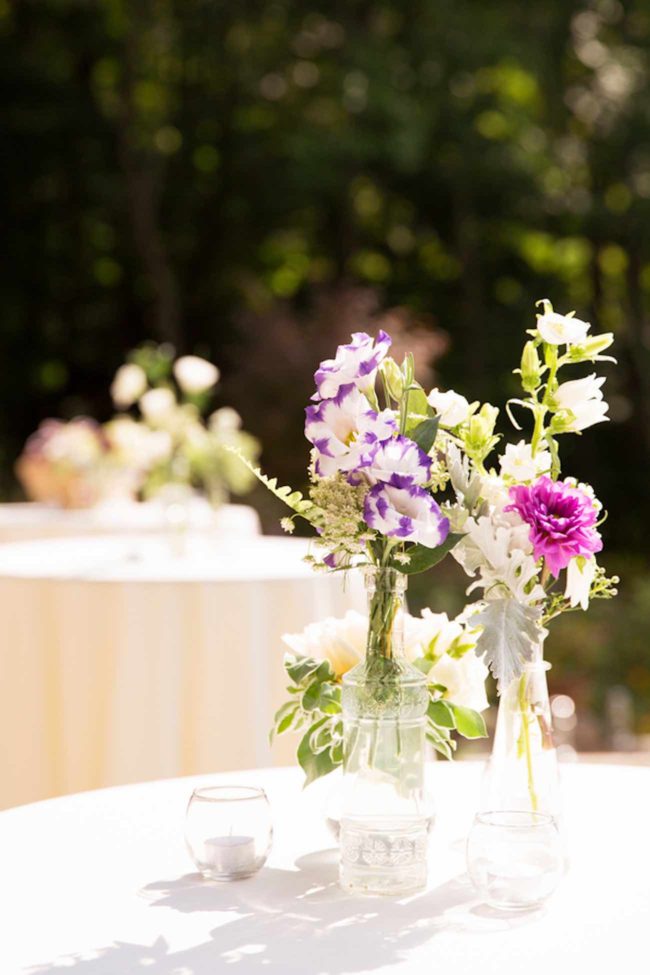 Love Story: Josh and I met in late spring of 2010 at university, NC. We both played club rugby and hung out at the same dive bar after practice. Josh asked our mutual Matt (and future best man) about me and the rest is 'history'. We had some years of long distance, which were pretty hard at first, but got easier and then made us all the stronger.
Josh moved to Richmond to live with me in 2013. We had talked about getting married for quite a while and decided that we were ready. Our dear family friends kindly offered to host our wedding outside of Lexington, VA. Their place is absolutely beautiful and it was truly an amazing gift. Our wedding was more perfect than I could have ever imagined and I am so thankful that we got to spend it in such a special place.
Wedding Planning Advice
The time frame made the selection process a bit easier, but what made the process even possible was having an awesome wedding planner/caterer who knew all the right people to call.
Stick to your budget: pick a few things that are really important to you and then try to be flexible on the rest.We wanted an open bar, but elected to have just beer and wine. Everyone had a great time, plenty to drink. Total Wine was great with helping us pick the right amount.
Wedding Vendors