A Wedding About Springtime & Sunrises
♥ ♥ ♥
Inspired by a picture of a flower, fall in love with this quaint and beautiful vintage inspired wedding day of Katherine & Pitr. Wed in Washingtonville, New York, their wedding theme combined a palette of colors that revolved around springtime and sunrises!
With the generous help of their loved ones, they created a wedding celebration that was true to them as a couple.
Learn from their lessons while feasting your eyes on the beautiful wedding images captured by Le Image Photography.
Indie Wedding Look with Retro Flair
Their wedding look sparkled with an exquisite simplicity.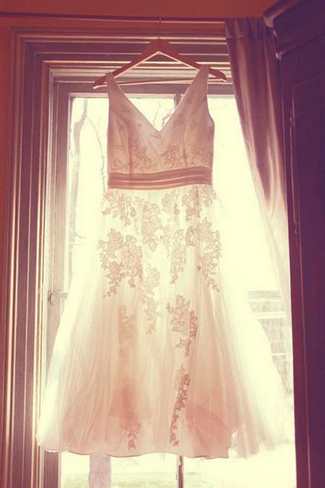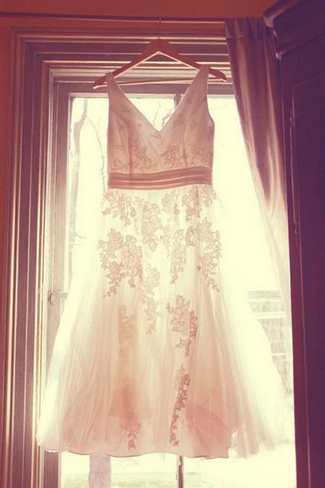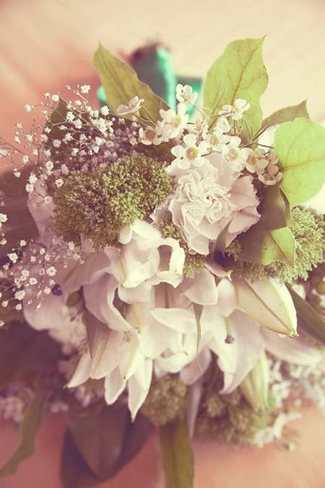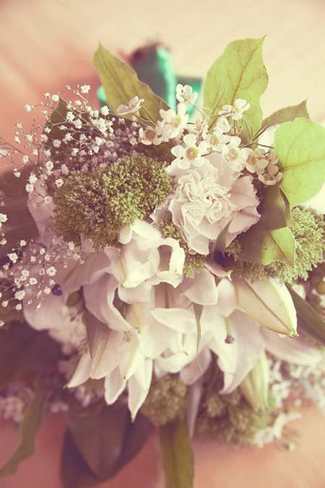 (Above Left) Having spent less than $500 total on her dress, Katherine was so happy that she didn't spring for something more expensive. She wore a used dress, which she had professionally tailored for a perfect fit. She also added a few sequins to her dress for that extra bit of sparkle.  (Above Right) A timeless mix of whites and greens, her bouquet was created by her mom who specially learnt how to make bouquets so that she could arrange the flowers. Grab a handful of bouquet ideas from our collection of 25 Cascade and Long Bridal Bouquets and be inspired to create your own!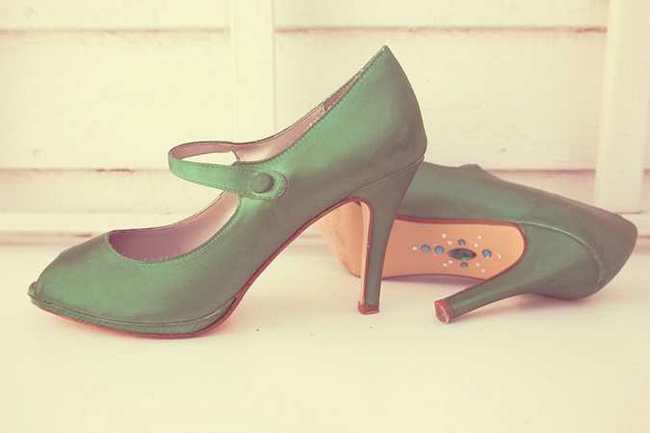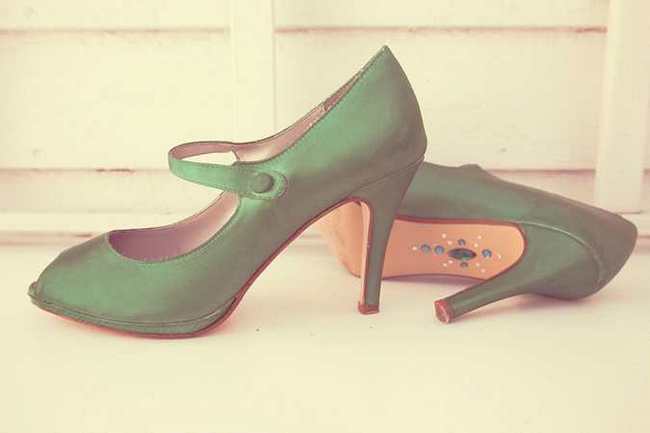 (Above) Katherine's quirky green wedding heels were bejeweled on the soles.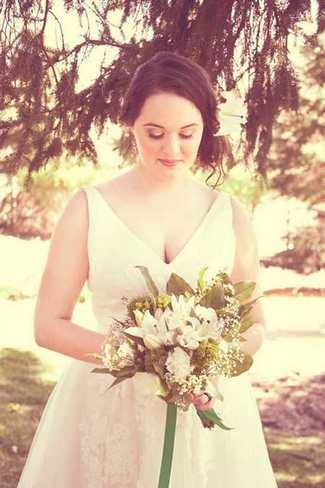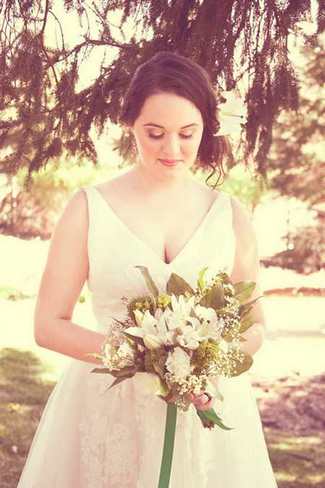 Their Love Story
Katherine tells us that she actually fell in love with him before she met him. Having seen a show directed by Pitr, when reading the director's note, she remembered thinking, "I would give anything to be with this guy".
Eventually when they met for the first time, although she was seeing someone else at the time, they had such strong chemistry that they both went home and told their friends about the amazing person that they just met. "I was wearing a white dress, and for quite some time afterwards, I was in his phone as 'White Dress', says Katherine.
At long last when they both were single, Katherine and Pitr started dating!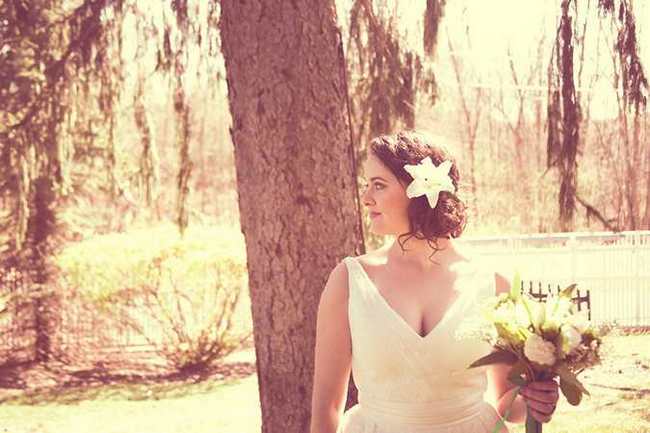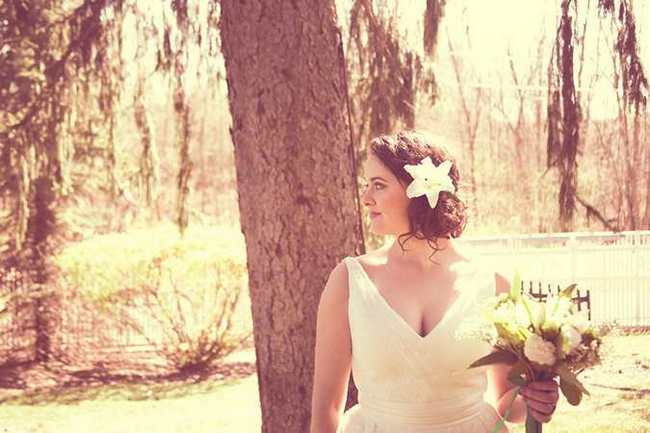 (Above) Katherine wore an elegant sideswept updo with a flower in her hair. For more wedding updo hairstyles, check out our latest feature on Another 25 Bridal Hairstyles & Wedding Updos for a few pretty ideas.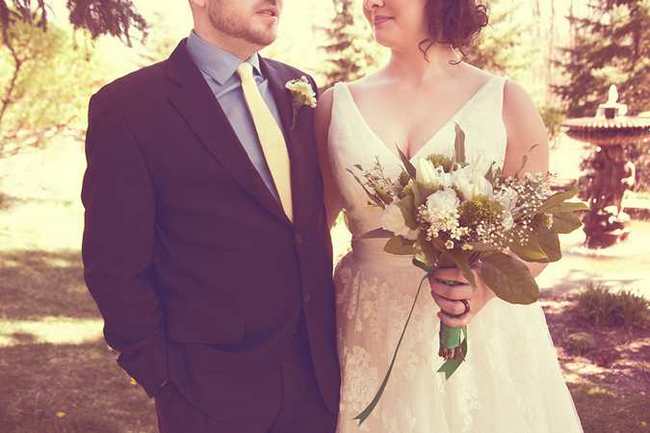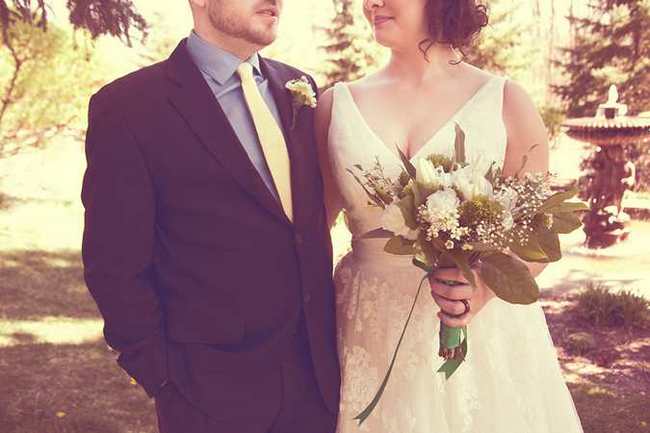 Indie Wedding Ceremony with Retro Flair
A few days before their wedding, the couple were legally married at city hall. At their outdoor wedding ceremony celebration held beneath trees, they incorporated both their Quaker and Buddhist traditions by combining a period of silent meditation and the signing of their wedding certificate by all of their loved ones. The signing of the certificate was especially meaningful as all of their family and friends were committing to supporting their marriage throughout their lives.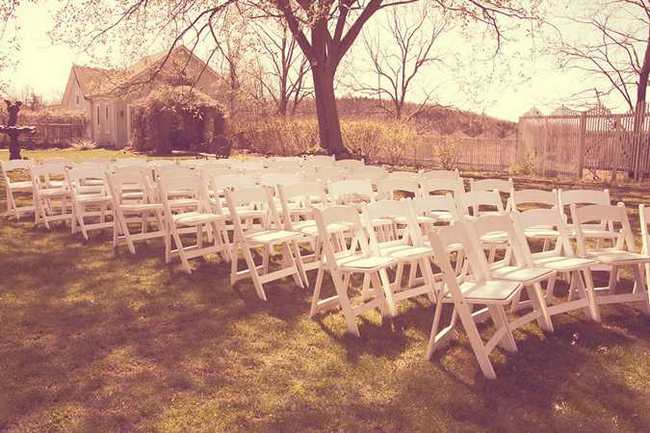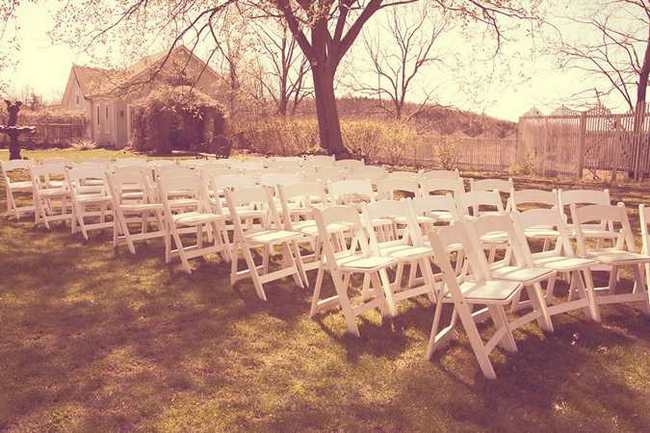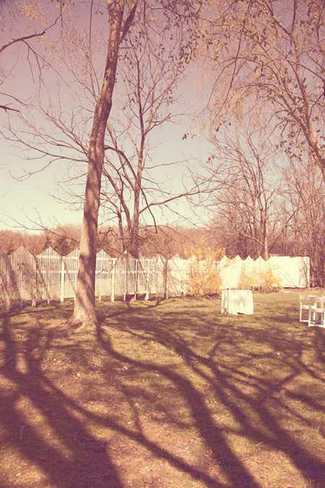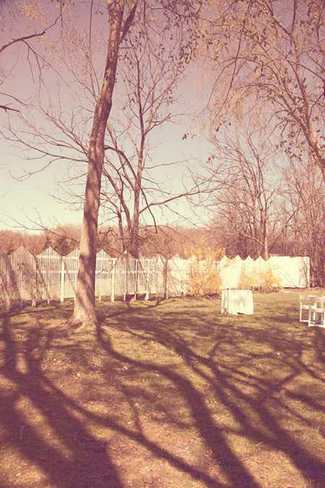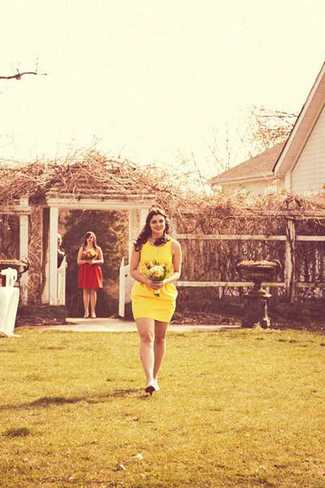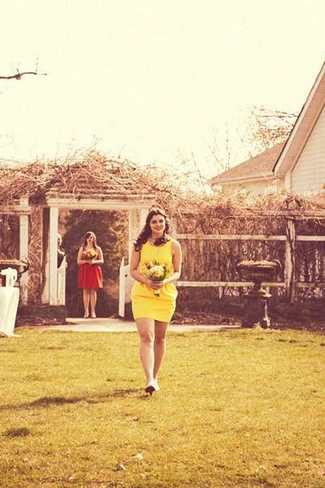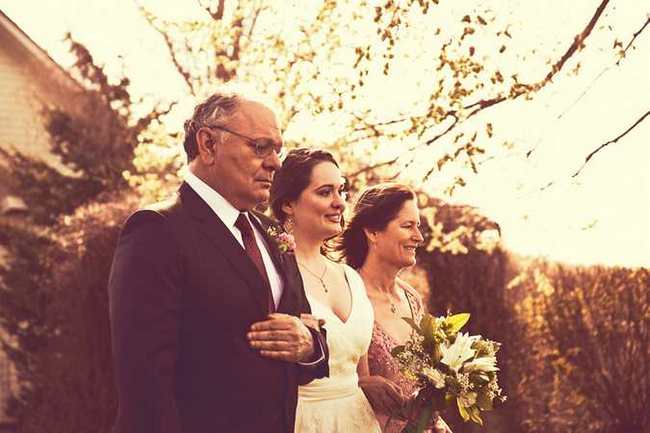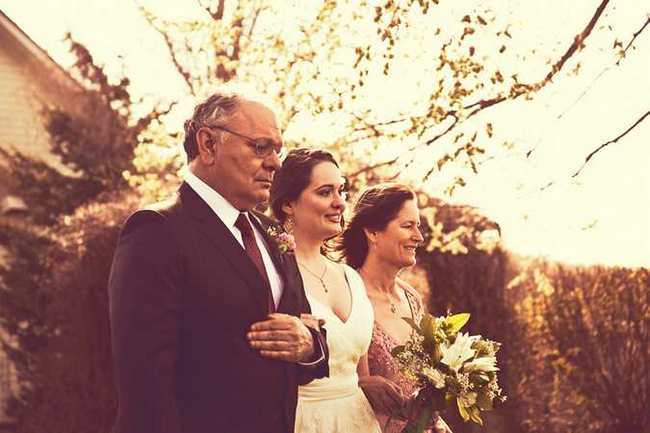 (Above) Katherine had both her parents walk her down the aisle, while "It's The Sun" by The Polyphonic Spree played in the garden's background.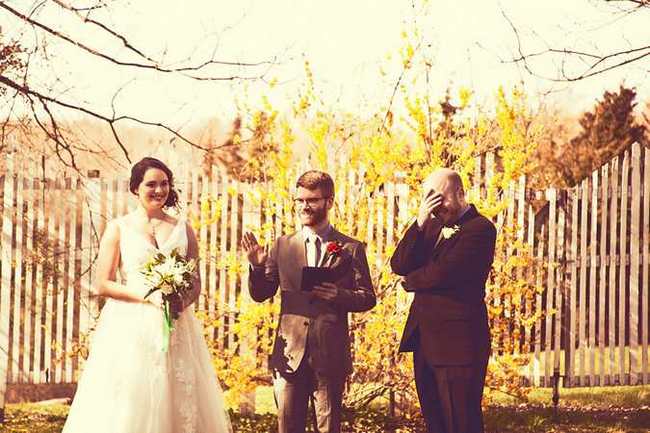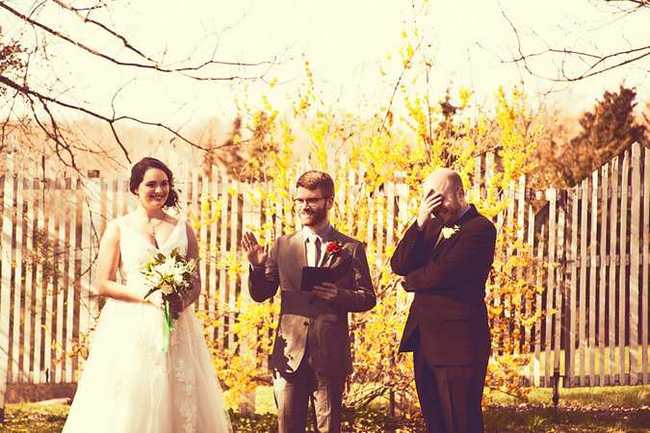 (Above) Instead of an officiant, their best man was the MC. The couple read wrote and their own vows.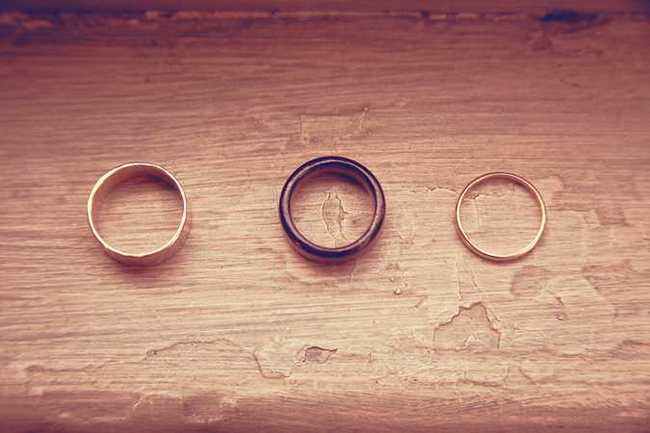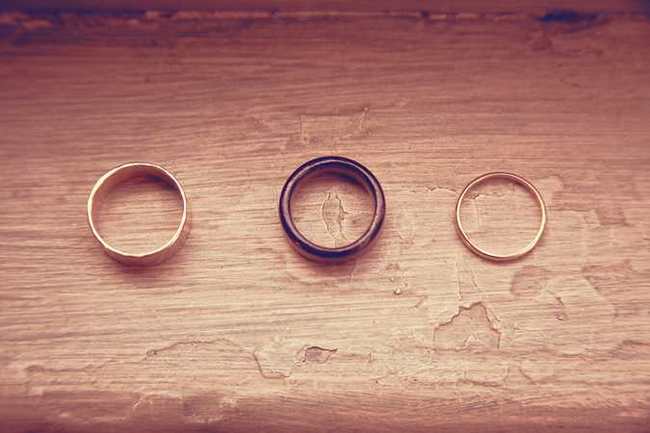 (Above) Their one-of-a-kind wedding rings were handmade from real ebony and cherry tree wood.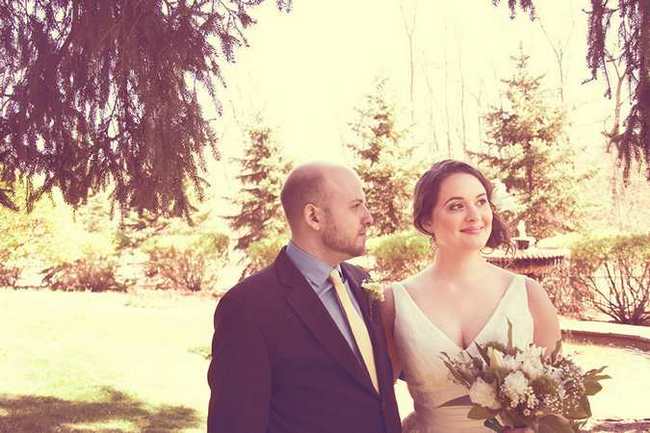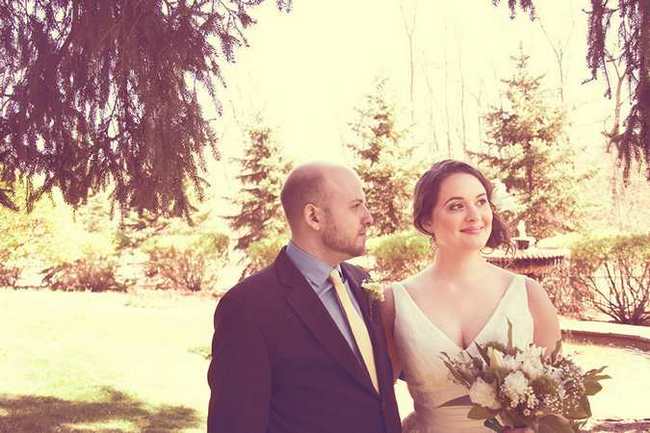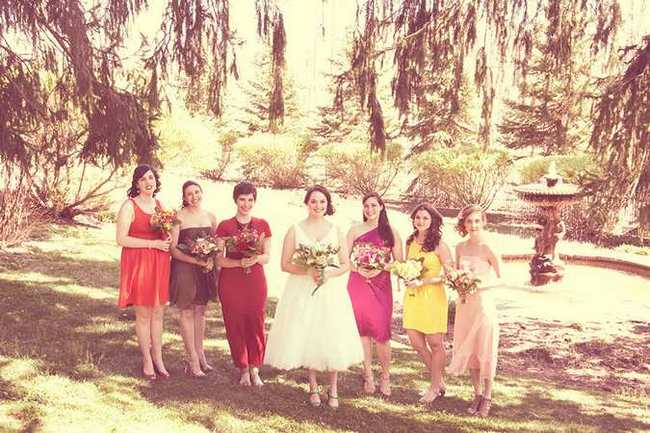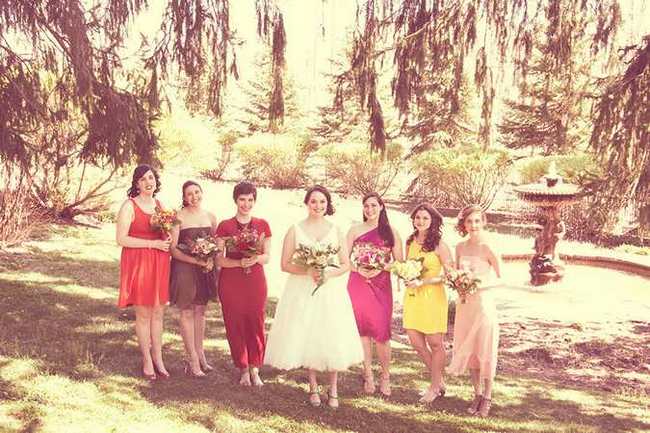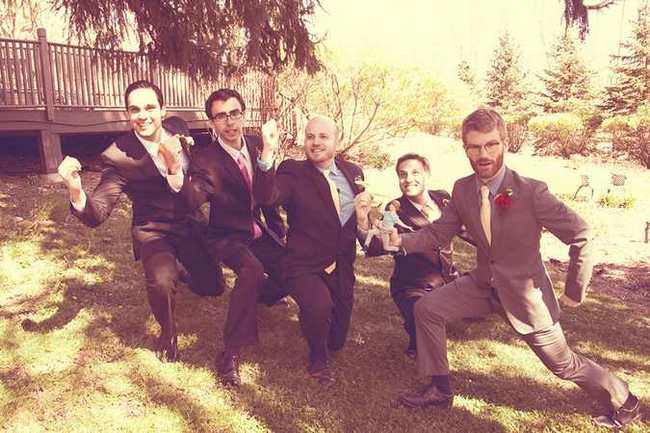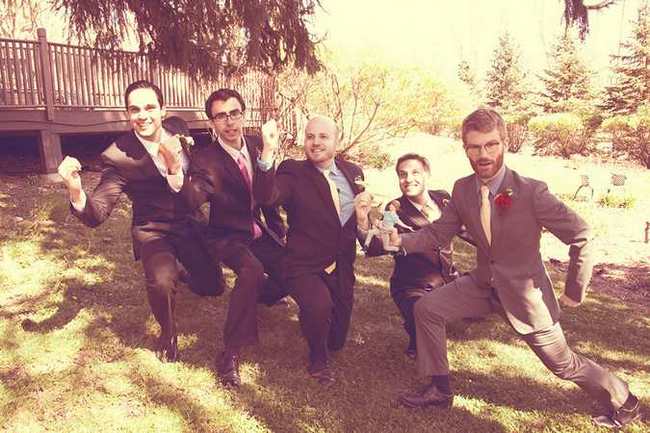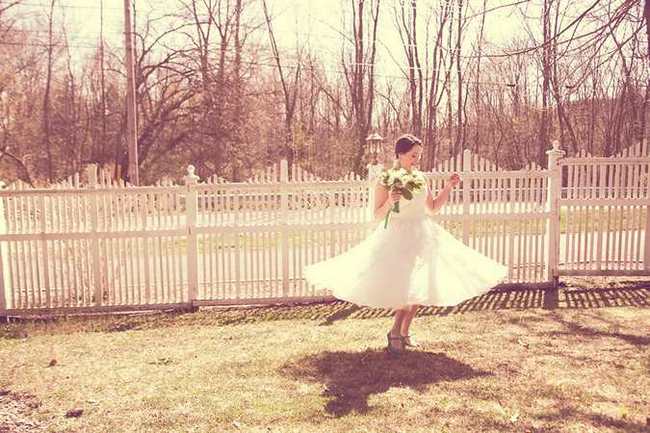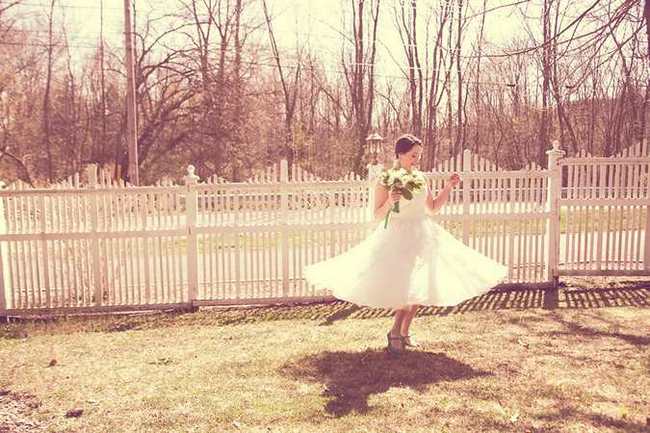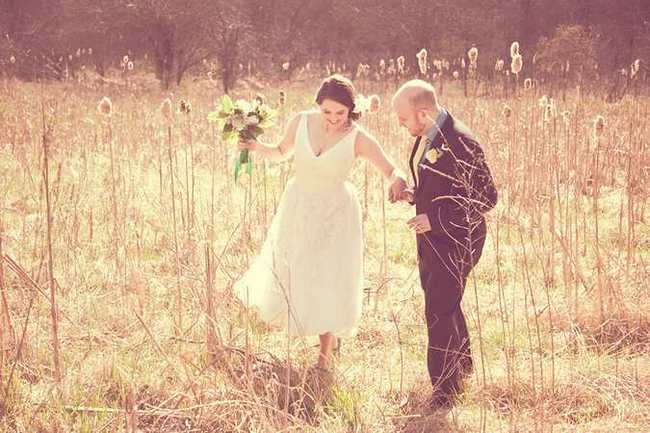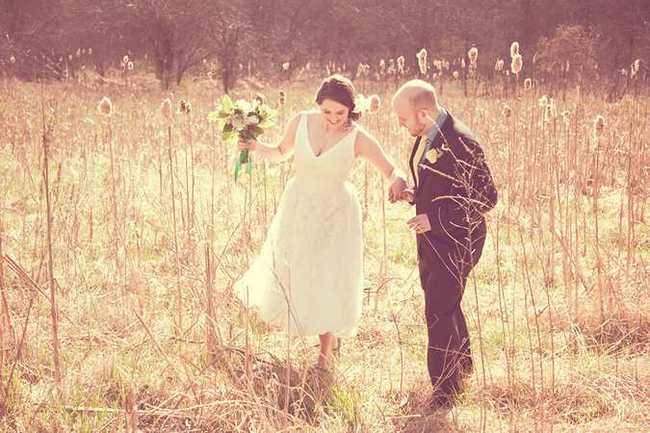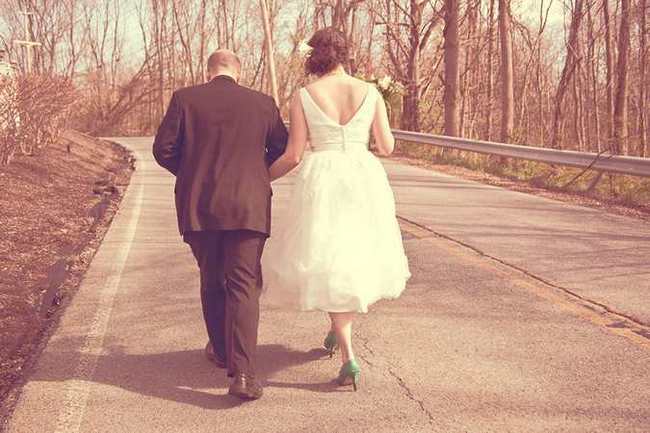 Indie Wedding Reception with Retro Flair
The wedding reception was held at the Feast At Round Hill, a charming venue decorated with hanging lanterns.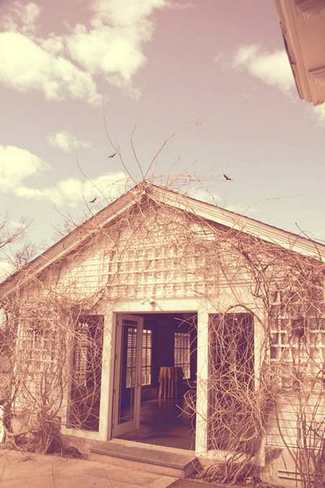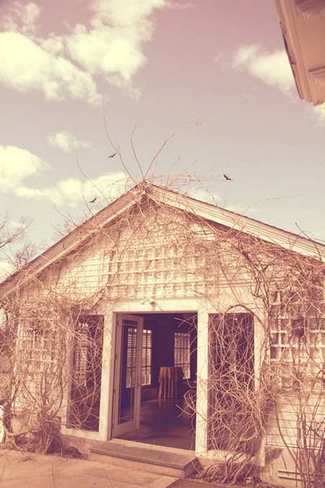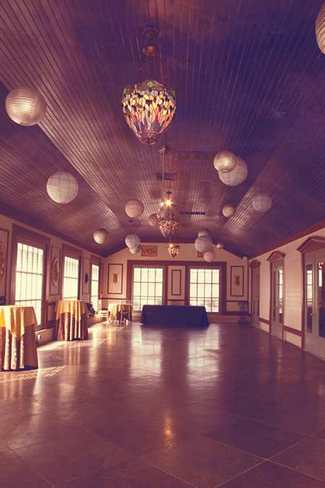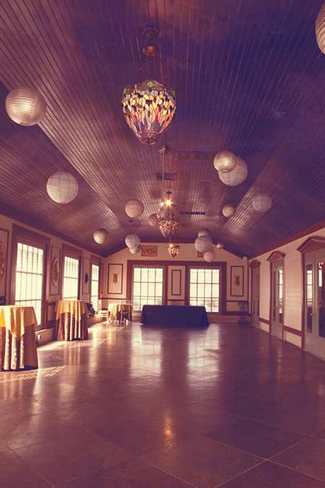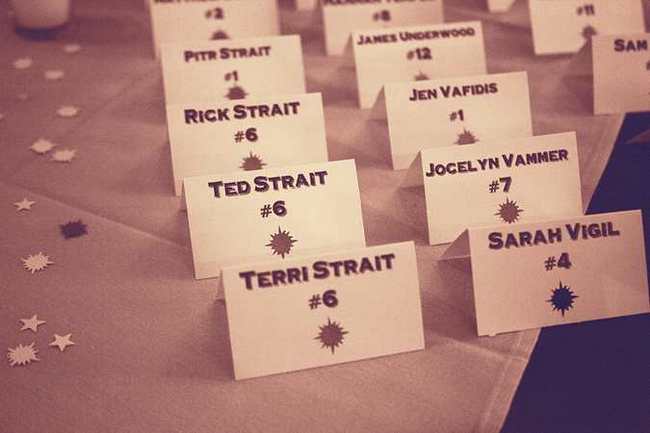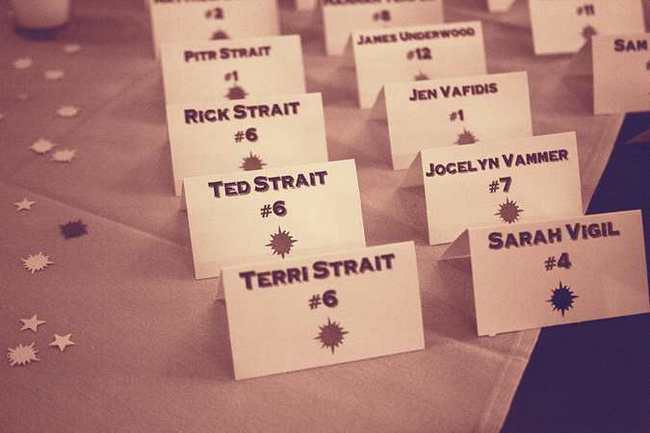 (Above) DIY Seating Cards: Their seating cards were created from plain card that displayed each guest's name and table number above a gold star.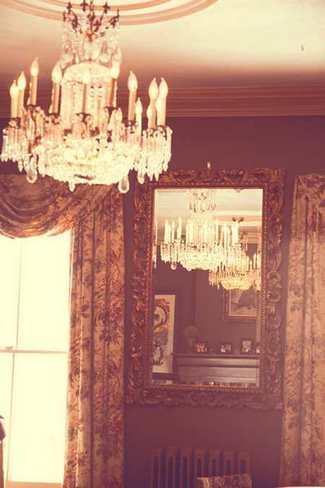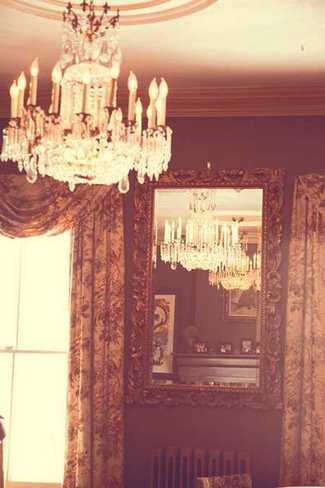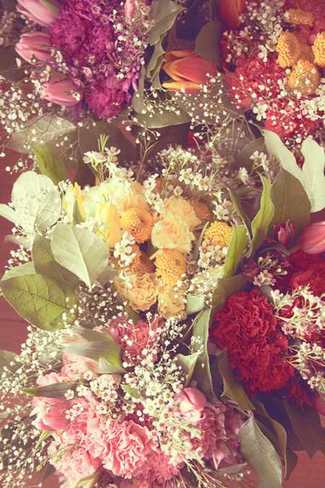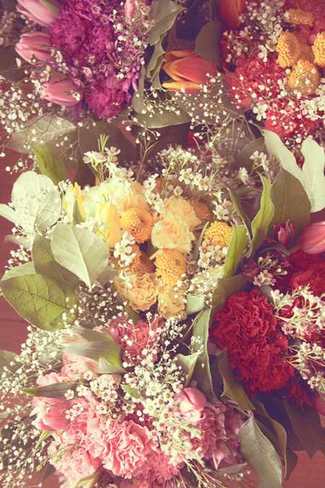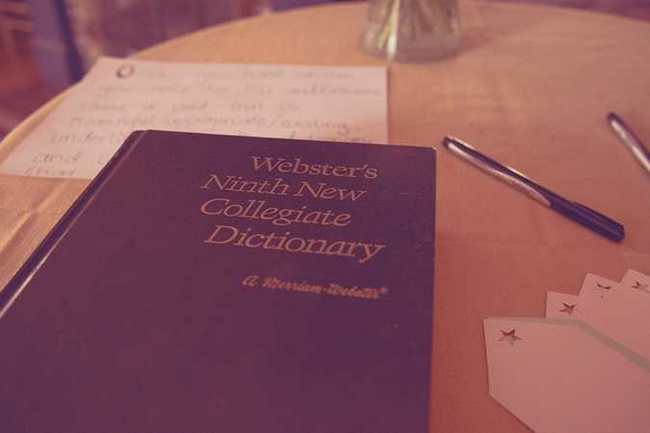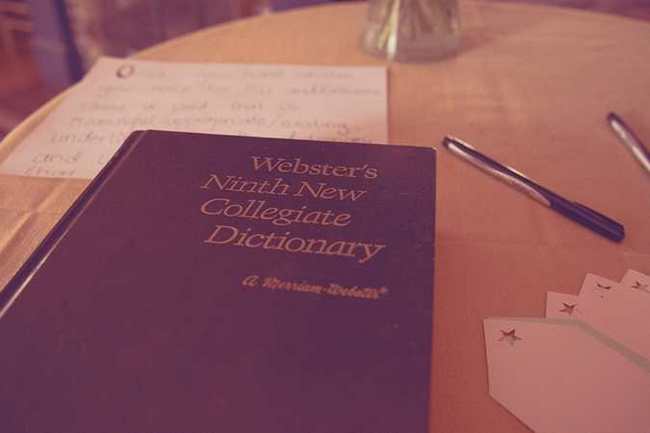 (Above) DIY Guest Book: The guestbook was an antique dictionary, which after the wedding, was so much fun for Katherine and Pitr to read! Guests were given blank bookmarks in their welcome bags and were asked to find and circle a word in the dictionary before placing their bookmark in that page.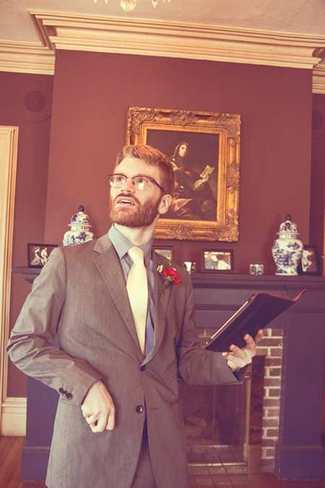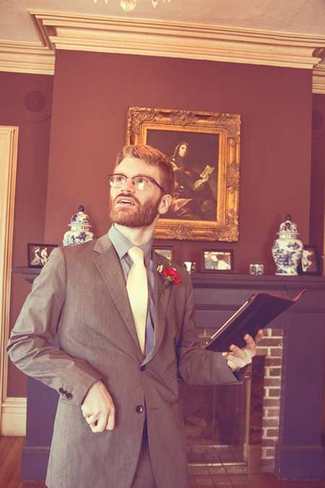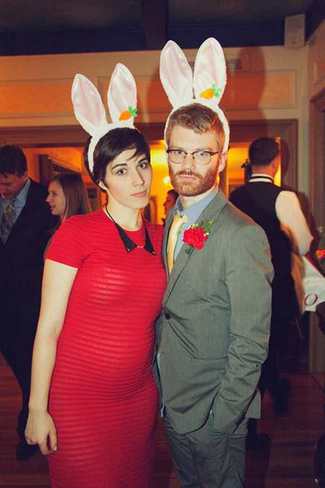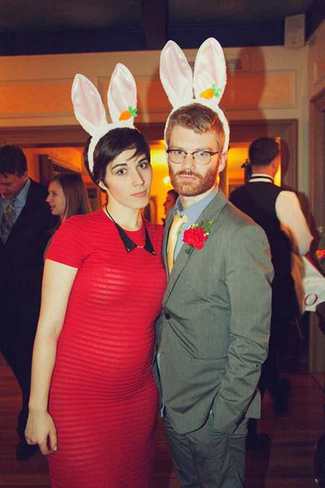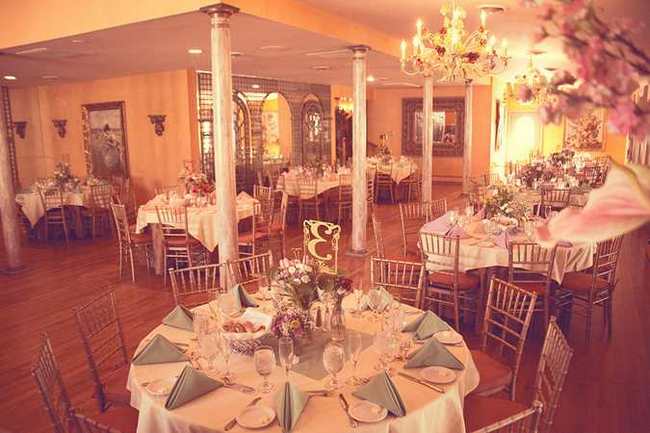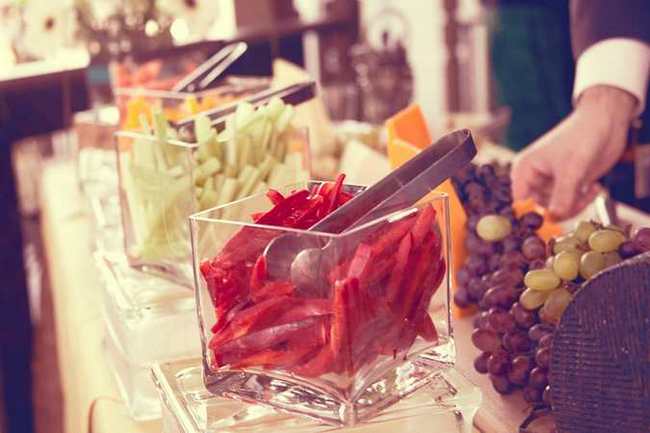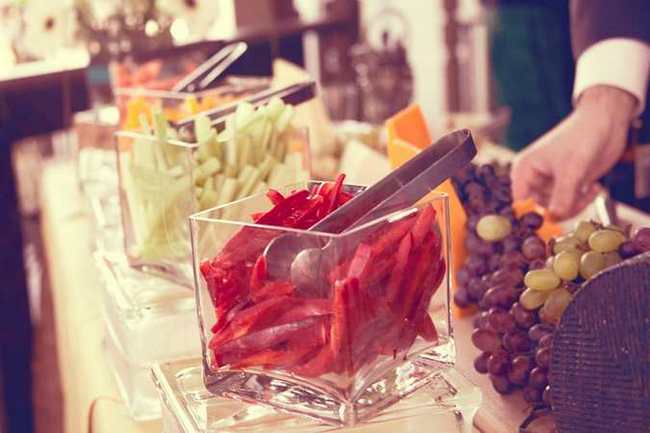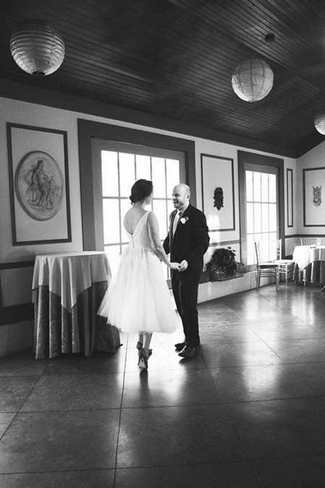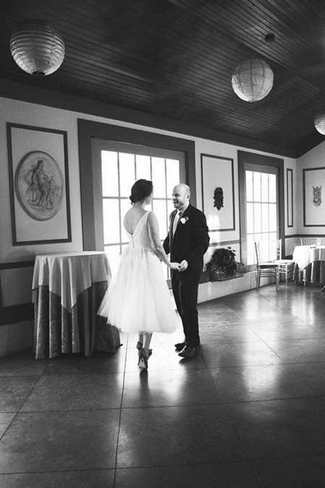 (Above) Vegetable and fruits were displayed beautifully in square glass containers upon glass blocks.
♥
(Left and Below) The First Dance: Choreographed by a very talented friend, their first dance was to The Rescue's cover of Katy Perry's "Teenage Dream". Katherine says, "I'm pretty proud of the dance – we had a lot of lifts and a trust fall!"
Plenty of heartfelt speeches from their friends and family were given during their wedding reception.
Later, their guests joined them for an evening of  nonstop dancing!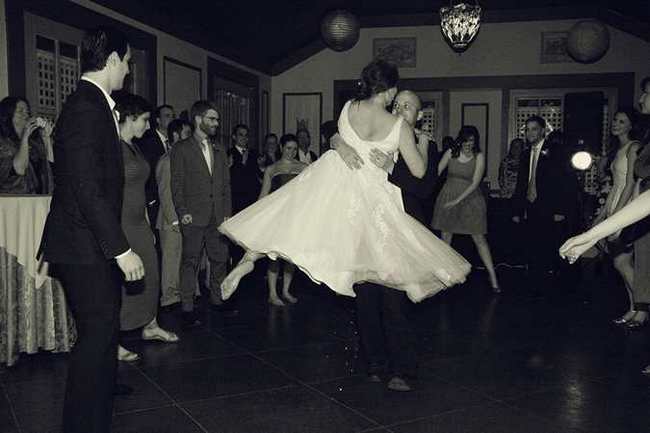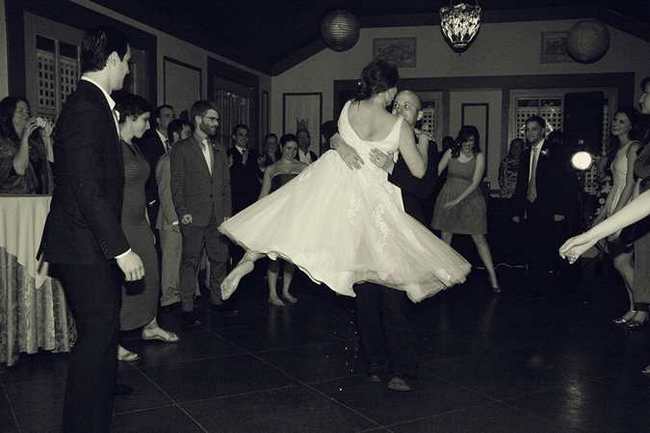 Real Bride Tips from Katherine
♥ Remember, the wedding is about the two of you. "You can make it however you want," says Katherine
♥ Give yourself lots of time to figure out what your priorities are. This is different for each unique couple. For Katherine and Pitr, this meant finding a venue with great food.
♥ Wear a used dress or one from several seasons ago, and tailor it to your heart's desire.
♥ Don't limit yourself to "wedding" stuff. Go to dollar stores, fabric stores and scour the internet!
♥ Do the flowers yourself! Or get a friend to do it for you. "It's not that hard, really. Just practice a few times and it will be great," says Katherine.
♥ Forego costly guest shuttle options and instead opt for other ways in which to transport your guests. They hired two huge yellow school buses to take their guests back and forth. Not only was it much cheaper than any of the shuttle options, but it was also way more fun!
♥ Be creative with your wedding keepsakes. Instead of using wedding favors, the couple created welcome bags from plain brown paper bags dressed with a fancy sticker and filled with snacks.
Yahay! We adore original DIY wedding ideas that help make a couple's wedding day special and meaningful to them both. Keen to create a wedding as wonderful as theirs? Featuring ideas from the 1950s, peek at our post on 1950s Wedding Ideas and Inspiration. And if you'd like to have your wedding considered for the next real bride feature on Confetti DayDreams, go ahead and submit your photographs and pretty projects here.
Vendors
Wedding Photographer:
Amber from Le Image Photography | 
Wedding Venue, Catering and Bar:
Feast at Round Hill
 | 
Wedding DJ/ Music:
Latif from The Pros