Sunkissed, Cruelty-Free Nautical Nail Art ♥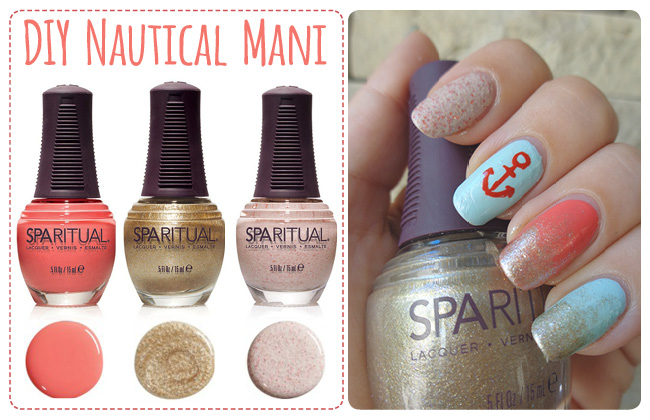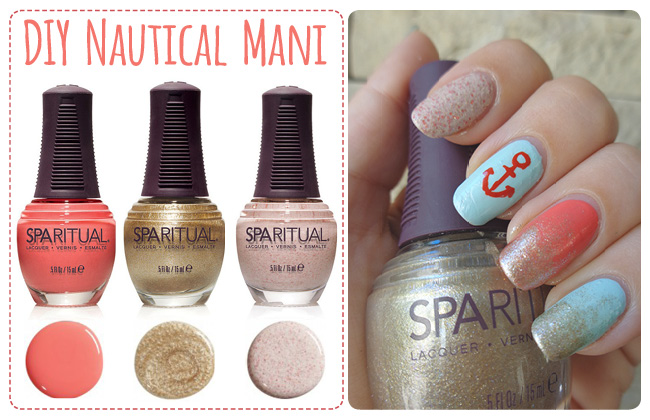 Confession time: I'm a total nail art addict! Cute designs, pretty colours and sparkly polish makes me smile. What started out as a little hobby has now evolved into a full-on obsession and I probably have enough kit to start my own nail salon! Always on the hunt for new, high-quality shades, I was super excited when SpaRitual gifted me the opportunity to try out some of the fun new beachy colours in SpaRitual's DRIFT range, and inspired me to create this sparkly coral nautical mani. (SpaRitual is available in SA here.)
Inspired by the sea and shore, the two most unusual shades from the DRIFT range (and by far my fave for a beach bride) are Barefoot and On the Dunes. As the name implies, Barefoot mimics beachy sand with it's luxuriously textured off-white base infused with fun flecks of gold and coral-colored glitter.  I found that due to it's consistency, one coat of Barefoot is plenty.
On the Dunes is now officially my new go-to gold glitter shade. Finding high-quality, dense glitter nail polish that doesn't require a million coats is an on-going mission in my life. I'm happy to report that two coats of On the Dunes are all you'll need for a perfectly pretty golden summer shimmer. You can even skip the usual opaque base coat usually needed beneath glitter polish and wear this shade commando! SpaRitual's polish is also very durable and  easy to apply with it's rubber gripped handle and precision brush.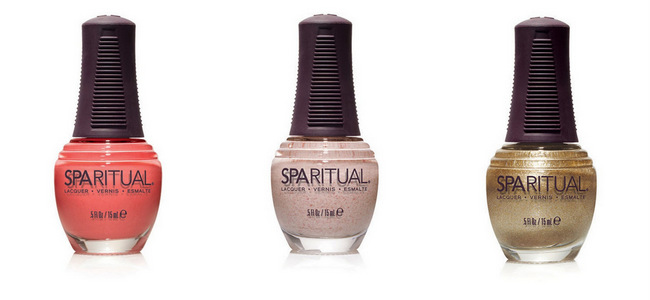 Most importantly, The SpaRitual range is based on an eco friendly, green principles – in fact, their nailpolish is actually VEGAN. What that means is that their polishes are not tested on animals, made from organic ingredients that are ethically sourced, and include no animal products.
"We formulate our body care products with vegan ingredients from around the world, including many specially sourced and selected plant essences that are Certified Organic and Fair Trade. Our nail lacquers and nail care essentials are vegan and formulated without DBP, toulene, formaldehyde and formaldehyde resin. All SpaRitual products are packaged responsibly and are designed to complement an enhanced multisensory experience."
Nautical Nail Art Colours and Kit:
Okay, so if you want to replicate this cute nautical mani, here's what you'll need:
Nail Polish
Nail Tools
To draw the anchor you'll need a fine nail-art brush or a toothpick
Optional: Red paint to paint your anchor nail art. (Alternatively you can reuse the same colour you used to paint your ring finger.)
A small piece of a foam make-up wedge / sponge gripped by hand or with a tweezer to stipple on the gold glitter achieving the sun-kissed effect.
Method
Base Colours:
Paint the base colours on each nail and allow to dry. Apply quick dry coat.
Stippled Golden Shimmer:
Cut a small piece of the make up sponge. Pour a small amount of On the Dunes golden shimmer polish onto a protected surface, piece of paper or disposable plastic and using your tweezers dip the sponge into the gold. Dab once on a piece of paper to remove excess polish then dab repeatedly on the tips of thumb, baby and ring finger nails. Work your way up halfway or a third of the way up the nail, slowly fading the closer you get to the cuticle for a gradient effect. Allow to dry / apply top dry coat.
Anchor Nail Art:
Practise drawing the anchor a few times first. Start by drawing the 'cross', add a 'U' shape below with a flick on each end, and finally, draw a circle aove the cross. When you're happy with the result and your nails are nice and dry, go ahead and add your  anchor to your middle finger. Apply a clear coat to seal and protect your design.
CHEAT: If you have no inclination to paint the anchors by hand, you can always buy one of these stick on nail anchor nail decals. I promise I won't judge you! 🙂
 DIY Nautical Nail Art Manicure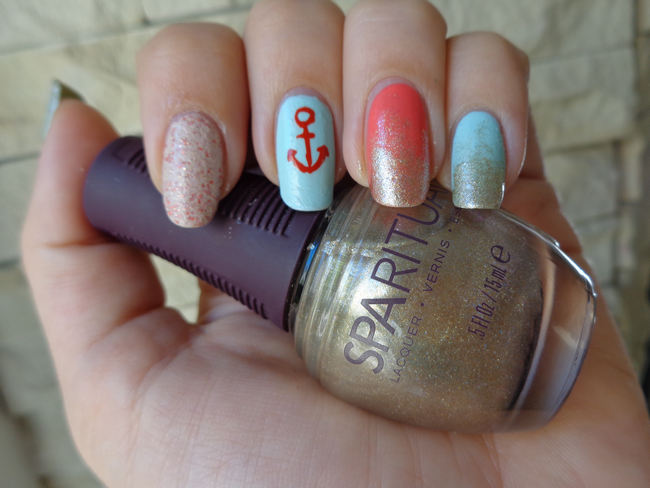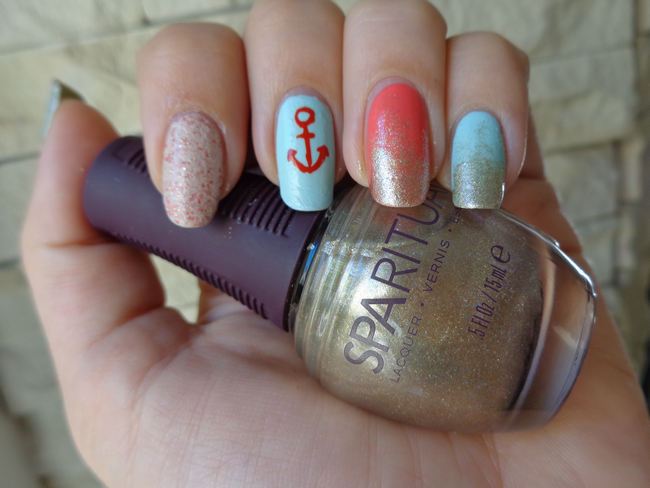 Caring for Your Manicure:
Invest in quality, strengthening and fortifying clear nail polish as your base coat to protect your nails from going yellow when working with dark polishes, and give some nourishment back after all of that nail polish remover.
To grow your nails, especially if they are prone to splitting, buy the best growth formula polish you can afford. It's totally worth it, and  pro tip if you apply two to three clear coats of high-quality growth formula over your regular DIY mani, re-applying every couple of days, you'll find your polish lasts weeks without chipping. Seriously, weeks! Try it and let me know if you ever bother with gel manicures again.
When adding a nail art design to a base colour, always seal with a quick dry top coat to lock your base colour in quickly. Plus, the sealant acts as a protective layer that comes in handy for mistakes – sometimes you can get away with quickly removing the design and save your base coat!
♥ ♥ ♥ CREDITS ♥ ♥ ♥
Special thanks to the folks at SpaRitual for providing the pretty polish used to create this sunkissed-coral nautical nail art mani.
Getting married in a seaside soiree? Check out all of our fab beach wedding inspiration for loads of lovely ideas!