Gorgeous Gatsby Glam ♥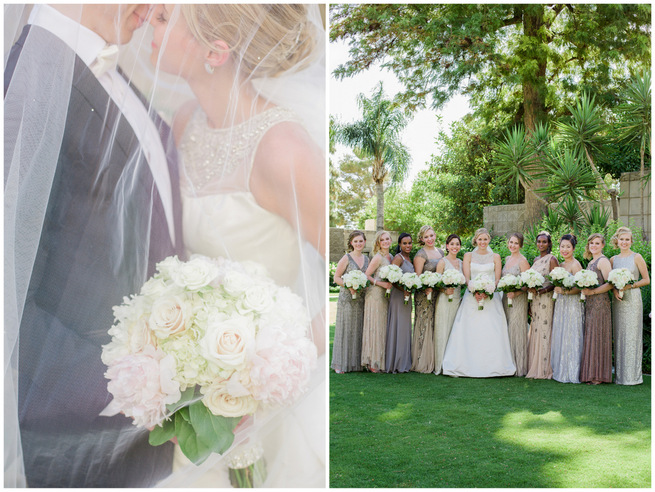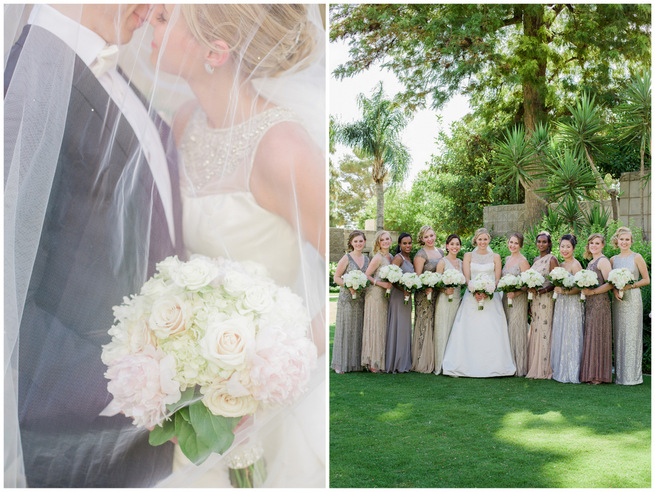 Goodness me! When it comes to pure gorgeousness, Kylin and Eric's chic and glamorous Gatsby-inspired wedding at the Arizona Biltmore certainly takes the (wedding) cake! Their elegant color palette included grays and neutrals along with greens and light pinks. It's hard to select just one favorite element from this spectacular celebration – could it be the striking statement neckline of Kylin's Victor Harper wedding dress, or maybe the ridiculously stunning bridesmaid dresses from Adrianna Papell, Ralph Lauren & Pisarro Nights, or perhaps those dreamy white on white florals from Flora Bella?! We're in total gorgeousness-overload here, thanks to these drool-worthy photographs sent to us by Elyse Hall! EEK!
As the only daughter in a family of six, it was always the family joke that Kylin's wedding would be the biggest and most glamorous event imaginable – we say they certainly delivered! Kylin had been envisioning a Gatsby-inspired wedding for years, wanting a glamorous celebration inspired by the 1920s, yet not overly focused on a dominating theme.
"I liked the idea of having my bridesmaids in different dresses that all belong to a neutral/gray palette," says Kylin. "Sparkles and bling were a must. The Arizona Biltmore seemed to be the perfect location for my vision, and because it is literally two minutes away from my house, it was a very sensible choice. My parents were actually married there 30 years ago in the same room! I grew up visiting the Biltmore often as my grandparents live in the Estates. With the dresses, glamorous feel, and location decided, the rest of the wedding fell into place very organically!"
We really wish could have been there to enjoy the magical soundtrack to their day. Kyiln is a cellist and harpist, and we love how their was such a strong focus on beautiful live music from ceremony to reception. For their first dance Kylin's brother performed a version of The Gambler by Fun. which was tweaked ever to slightly to tell their own love story.
Glamorous Gatsby Inspired Wedding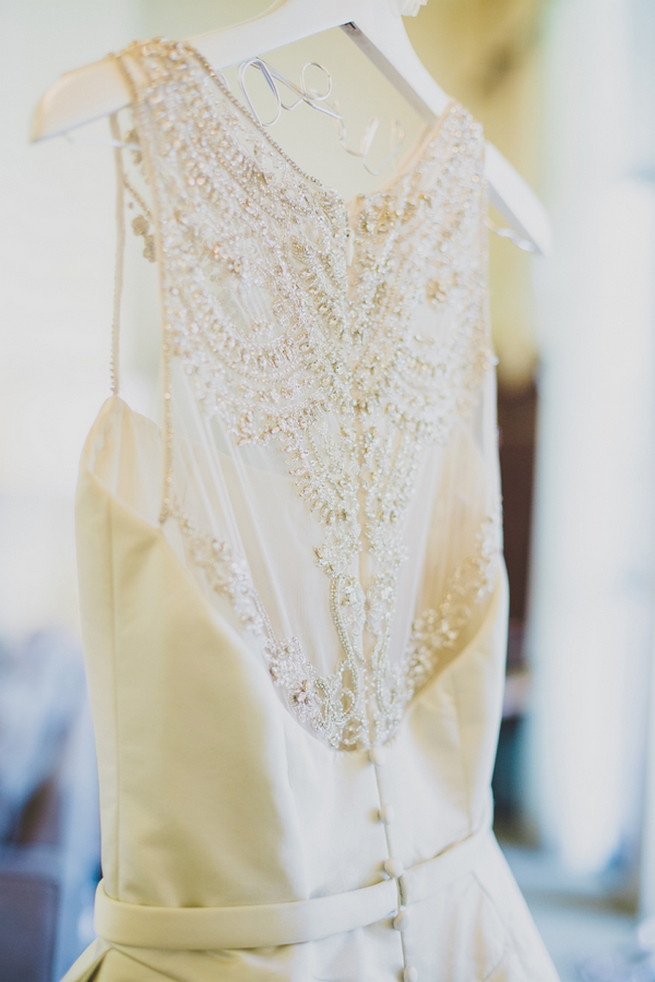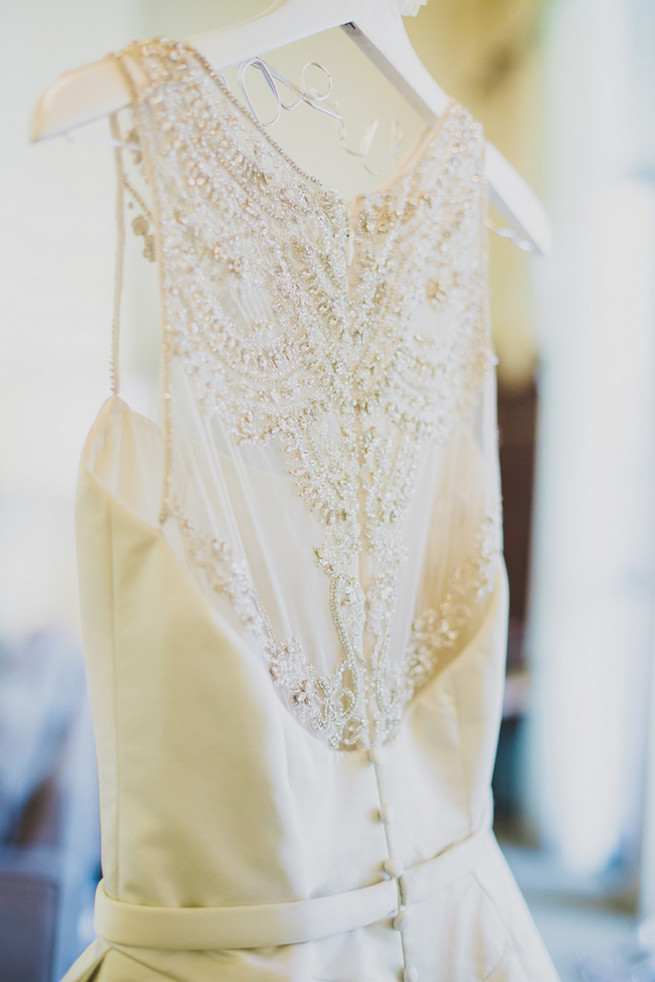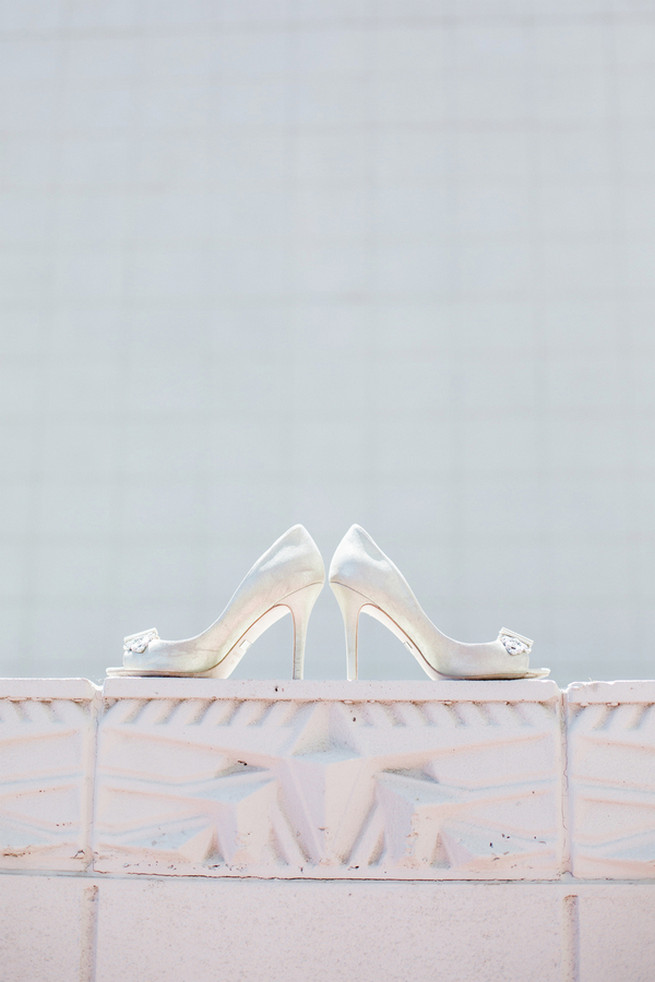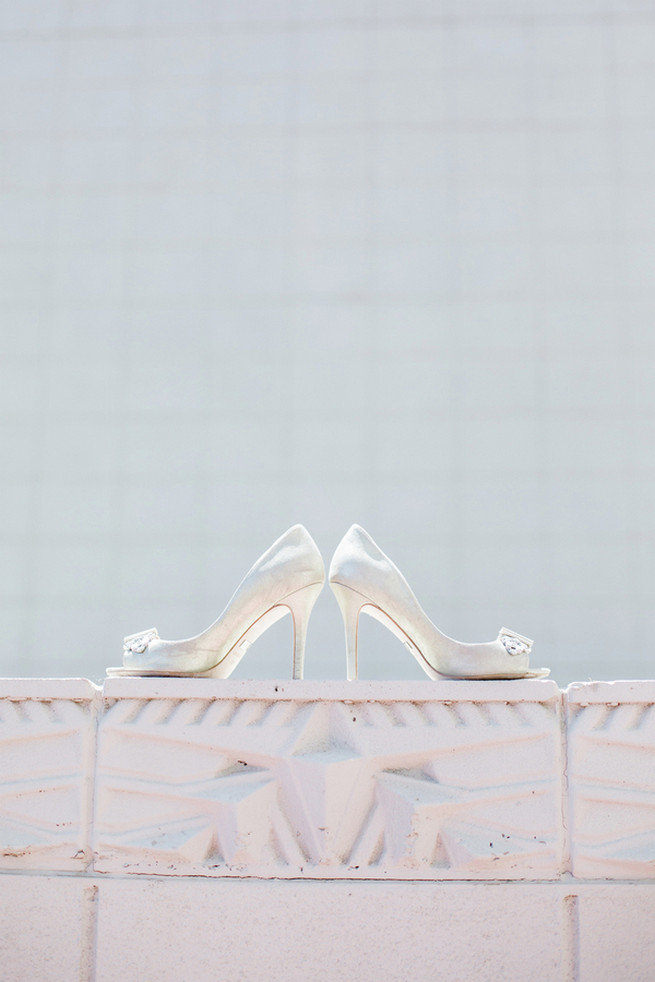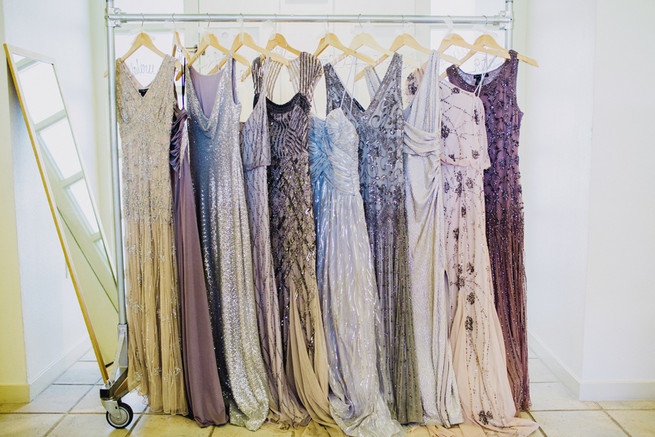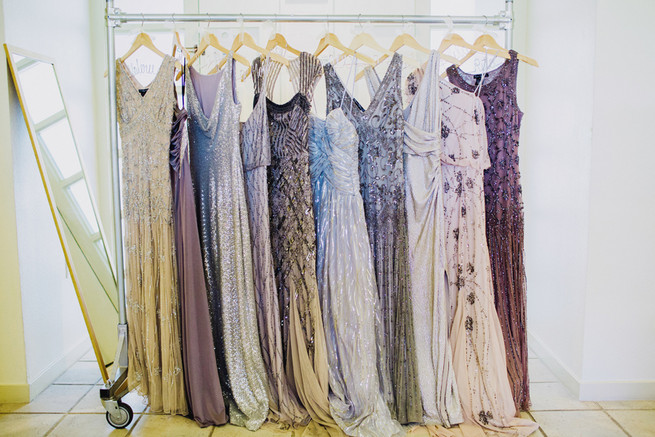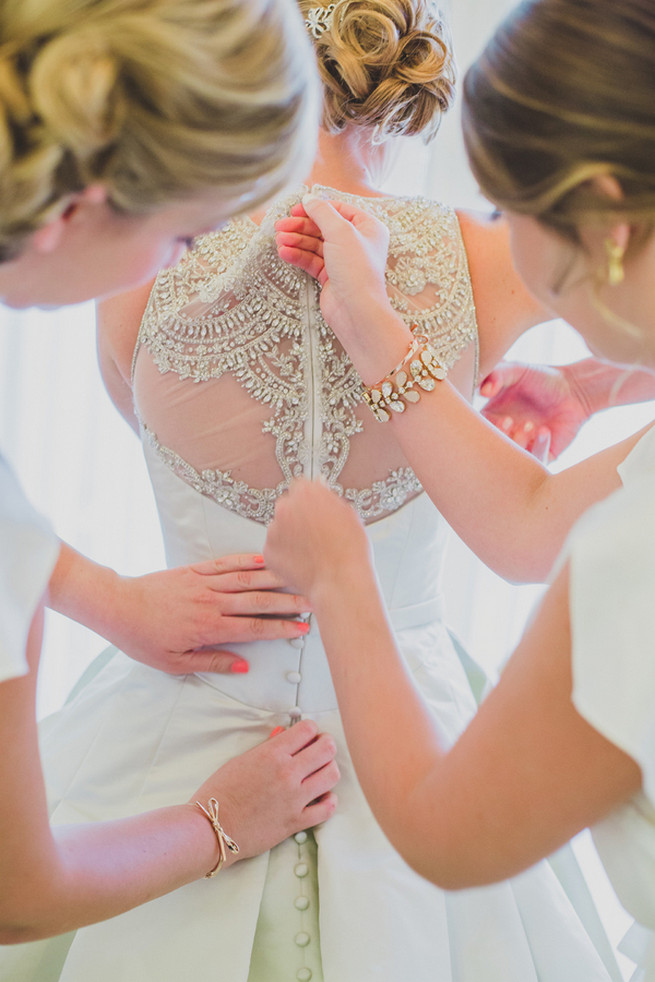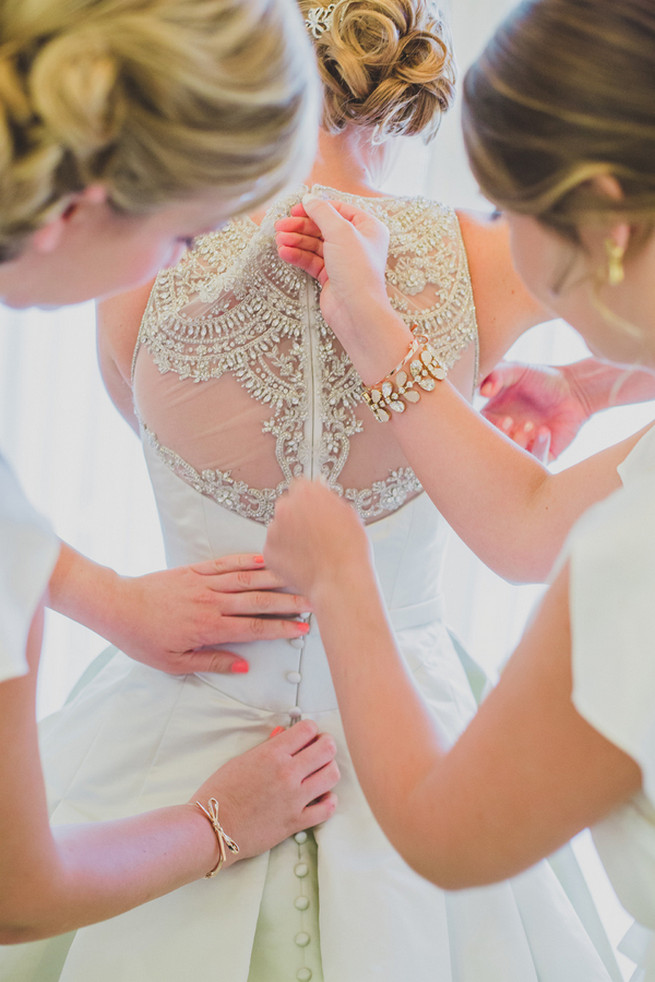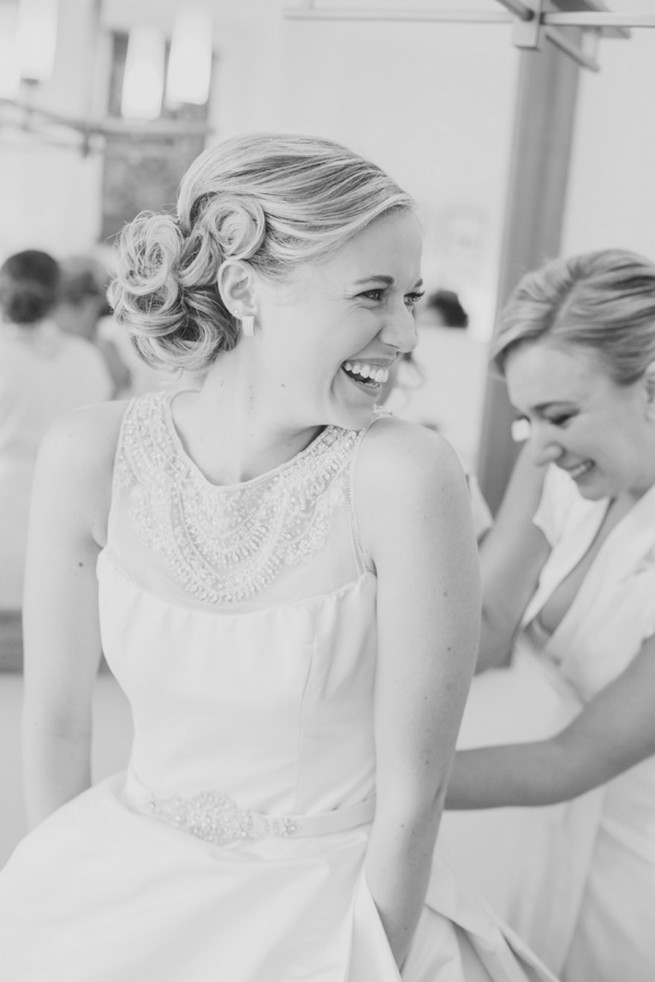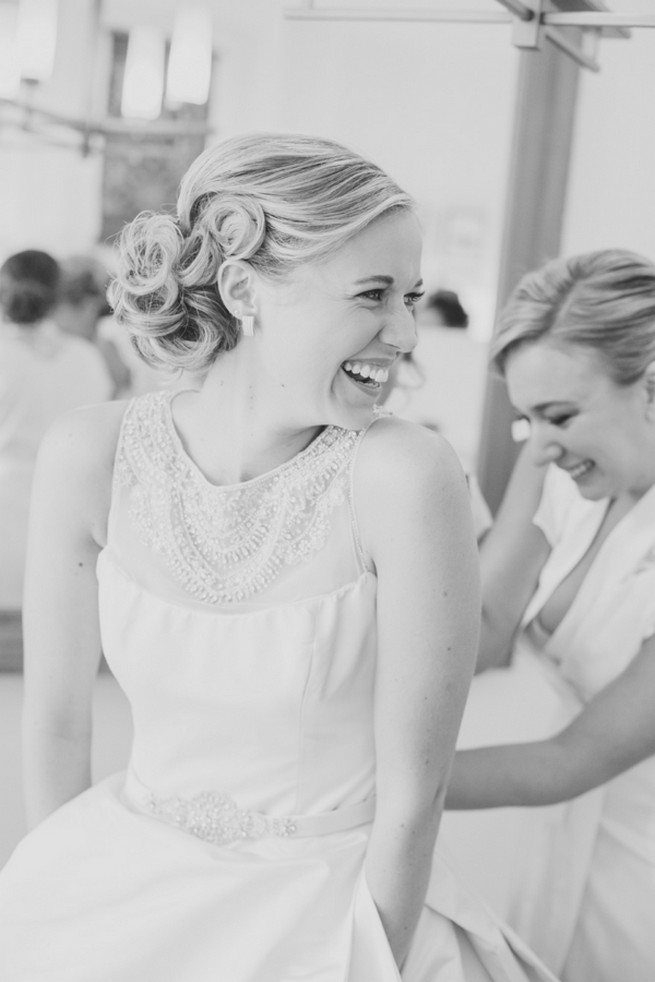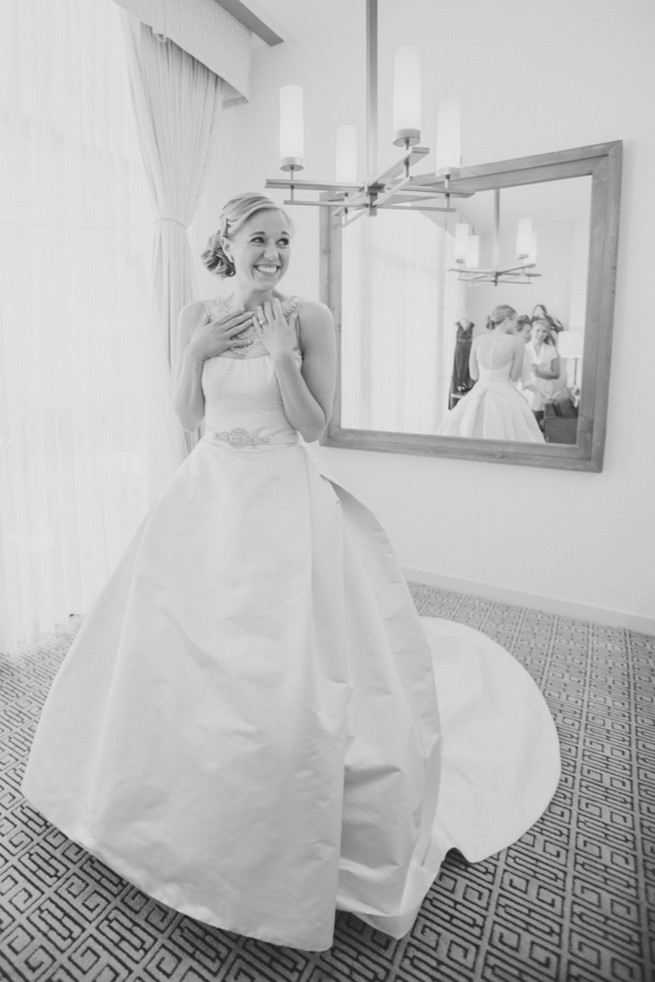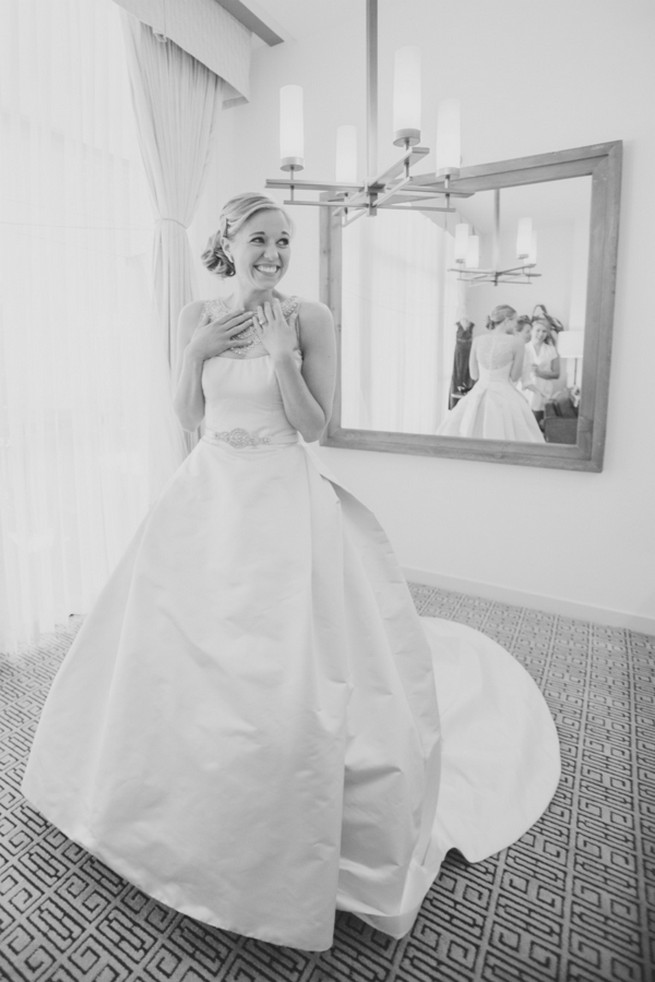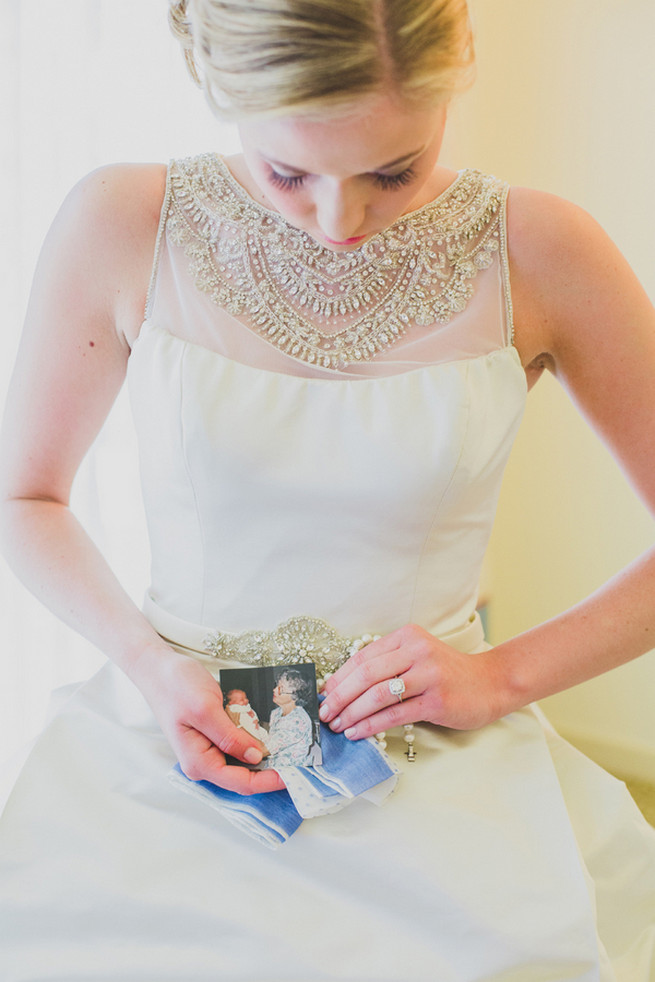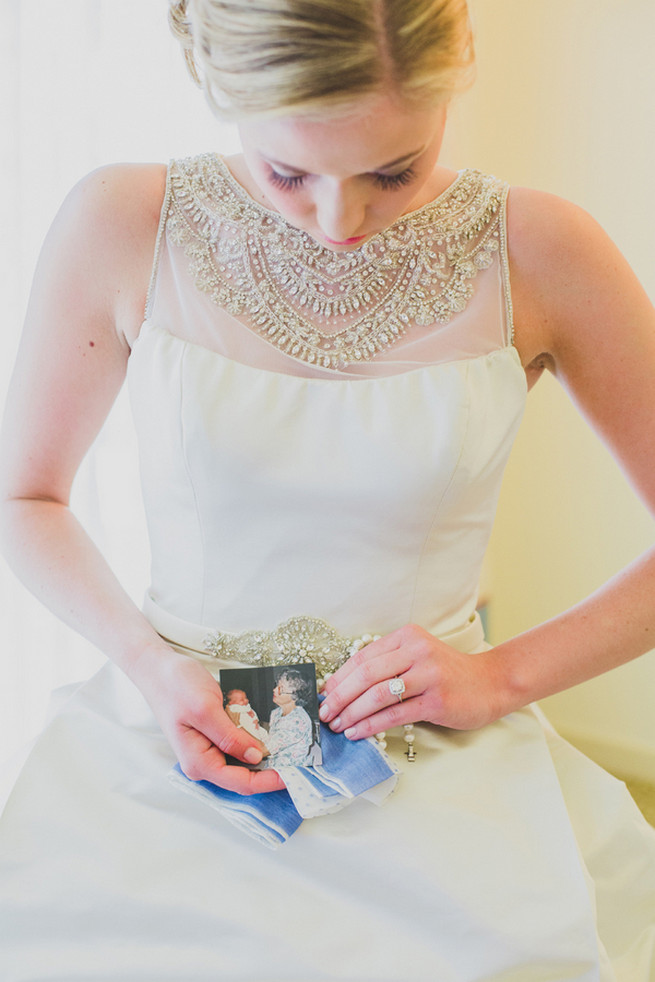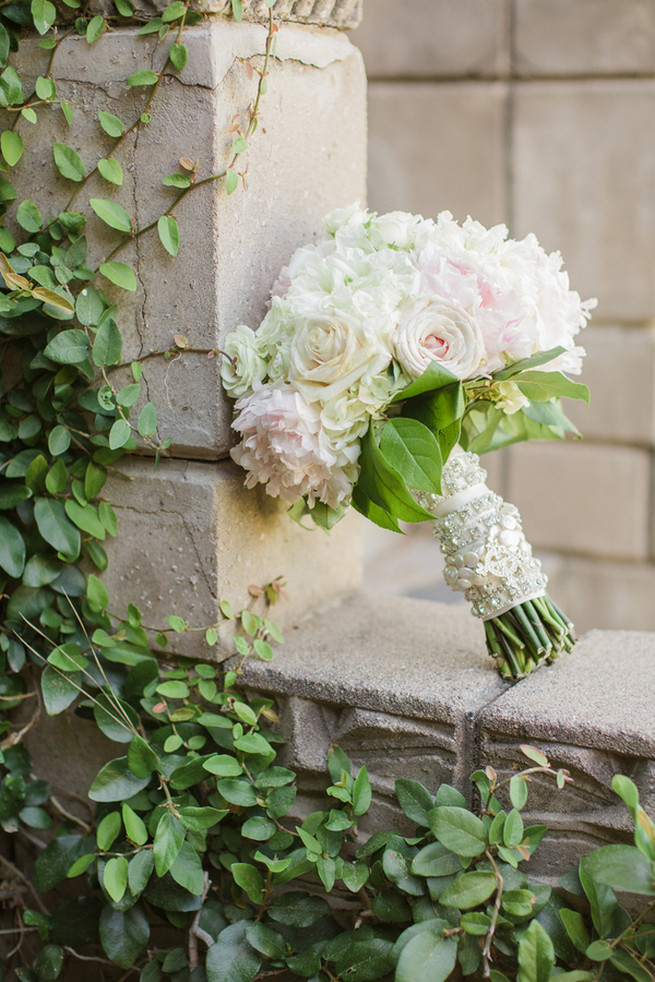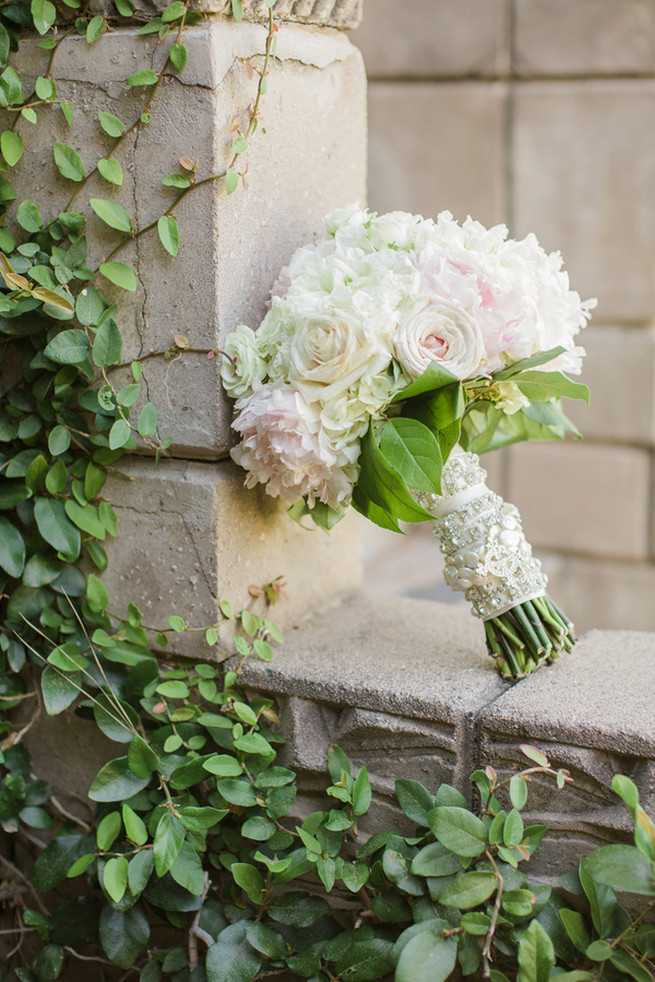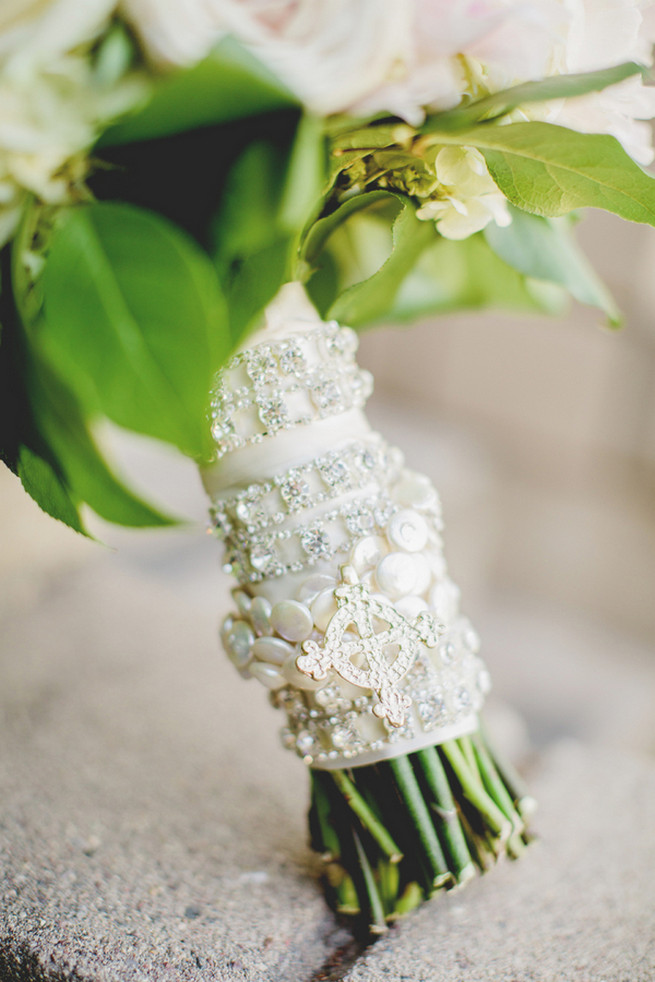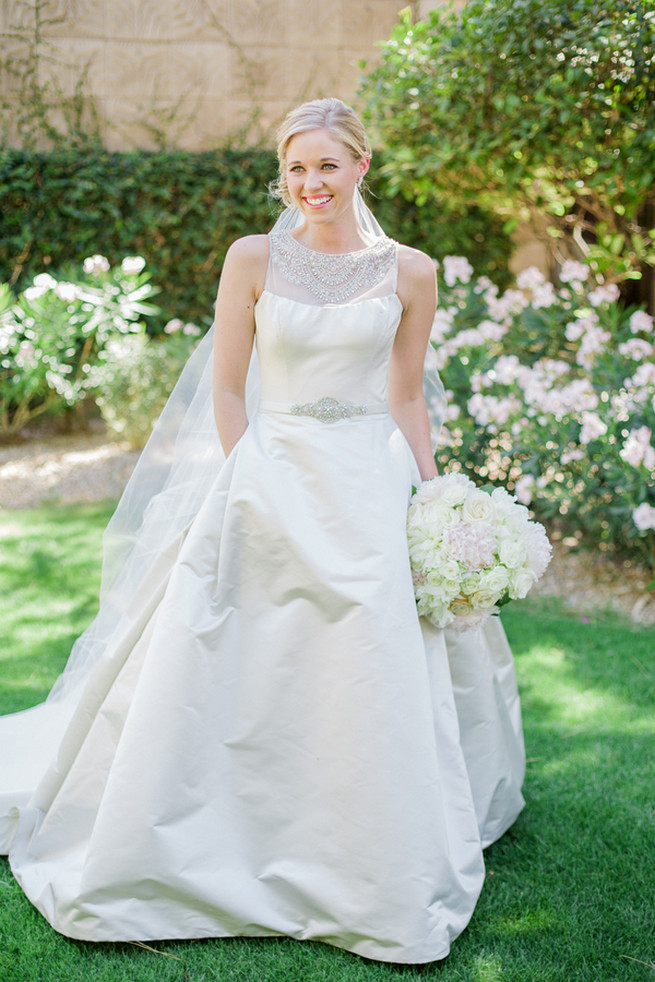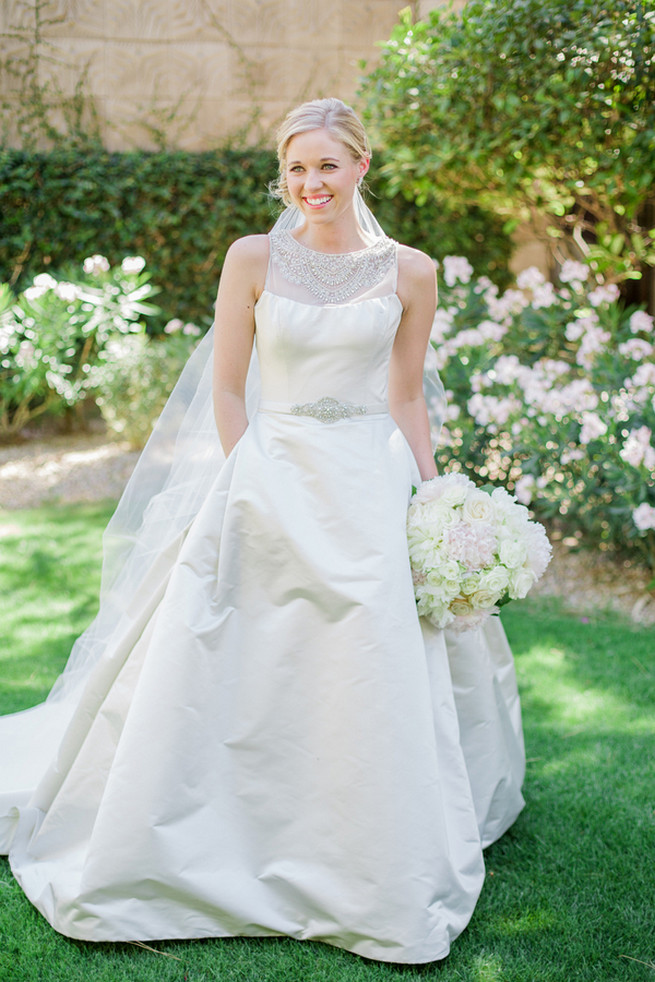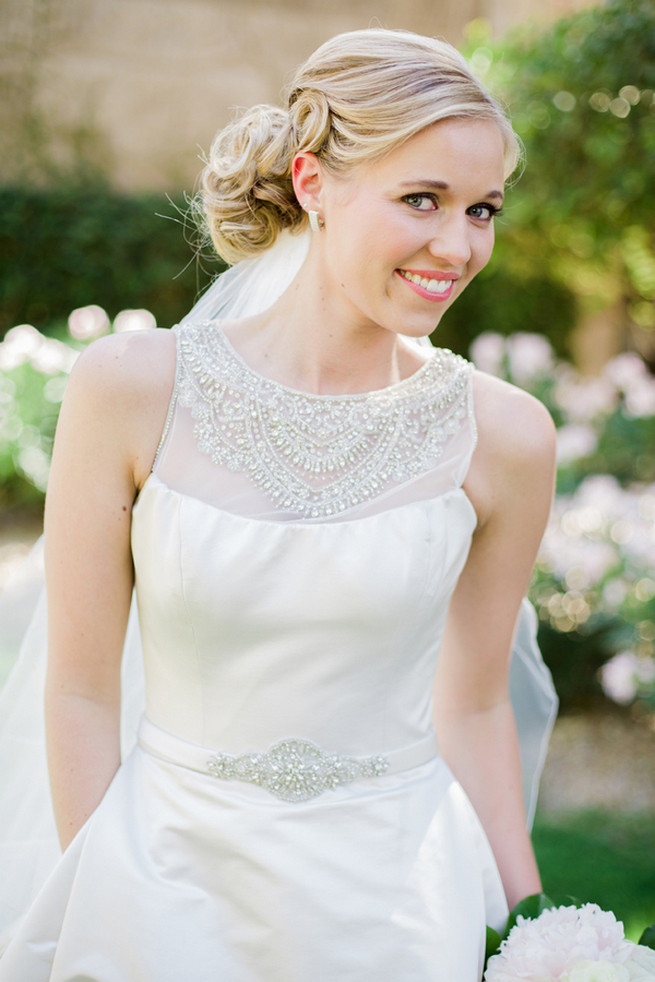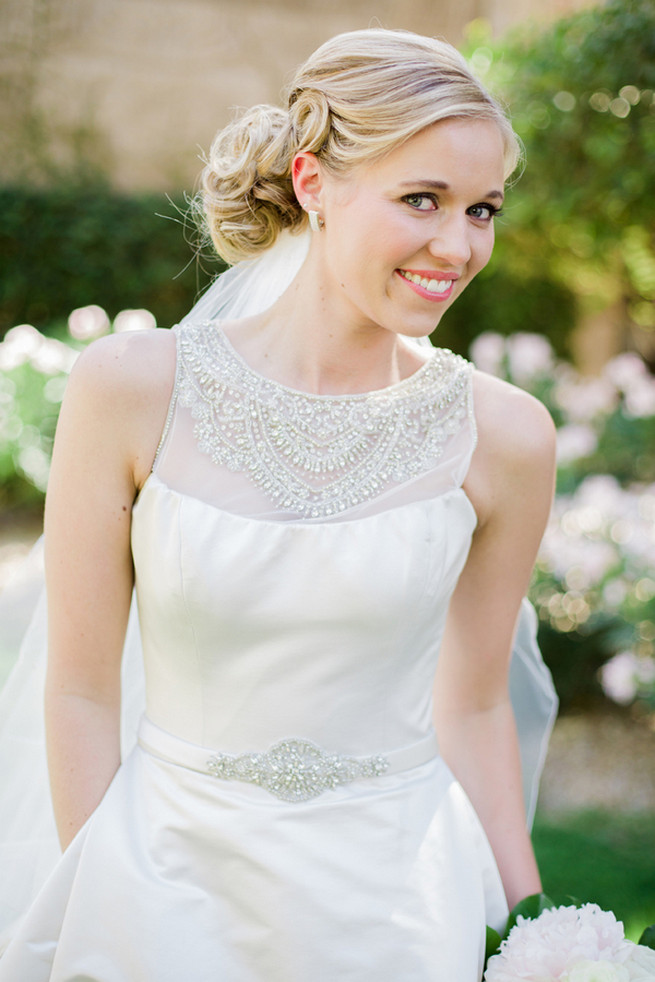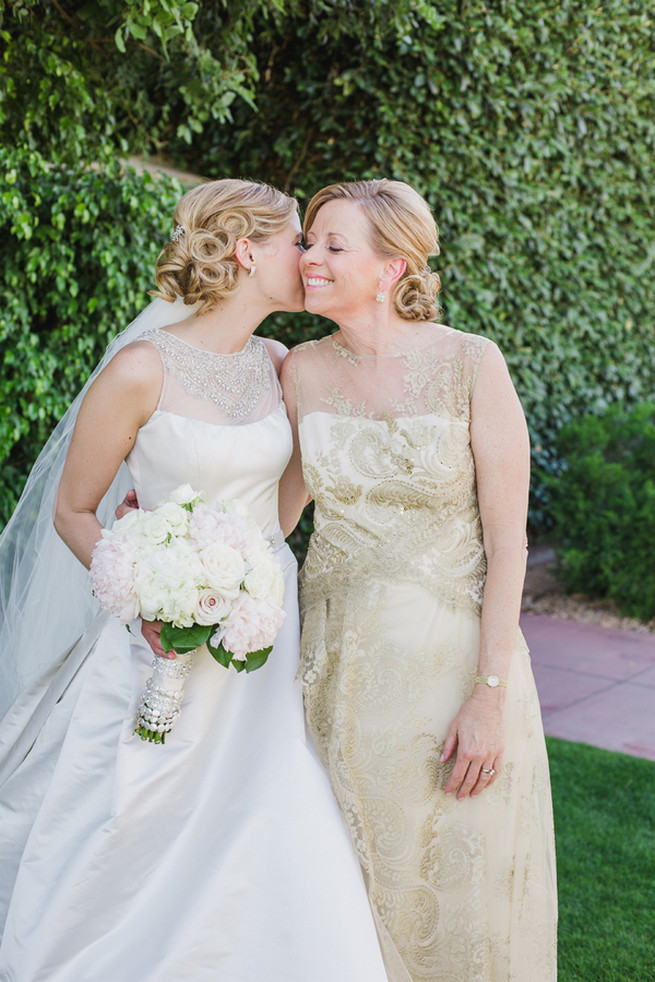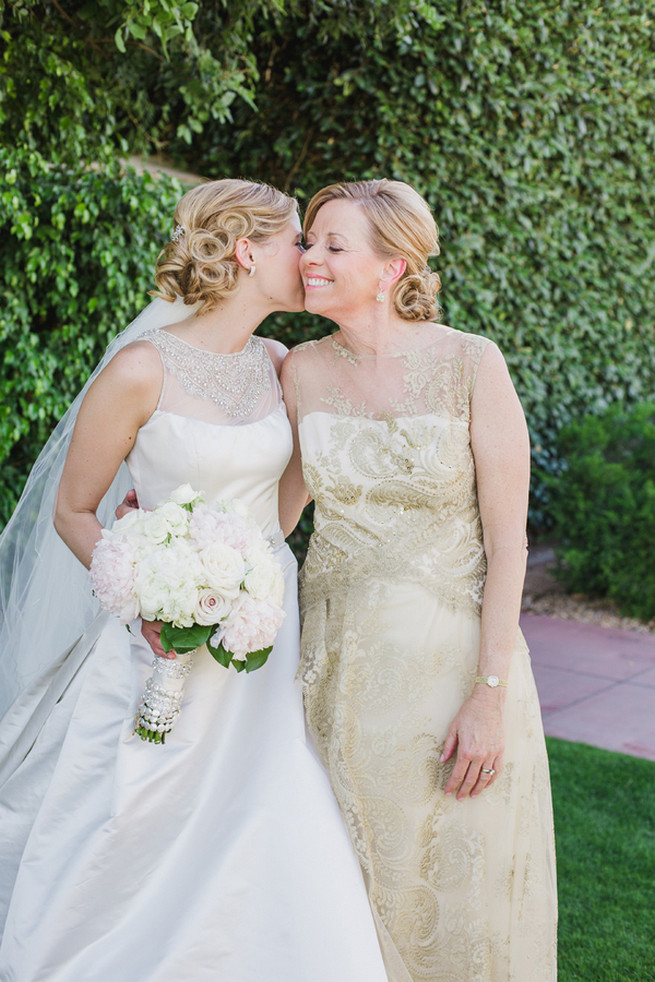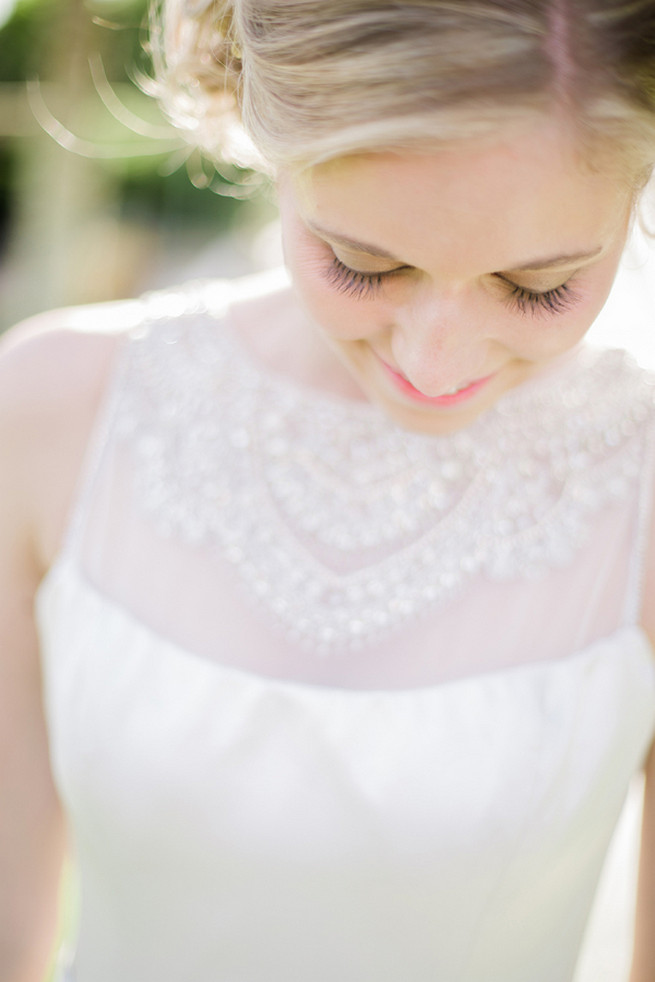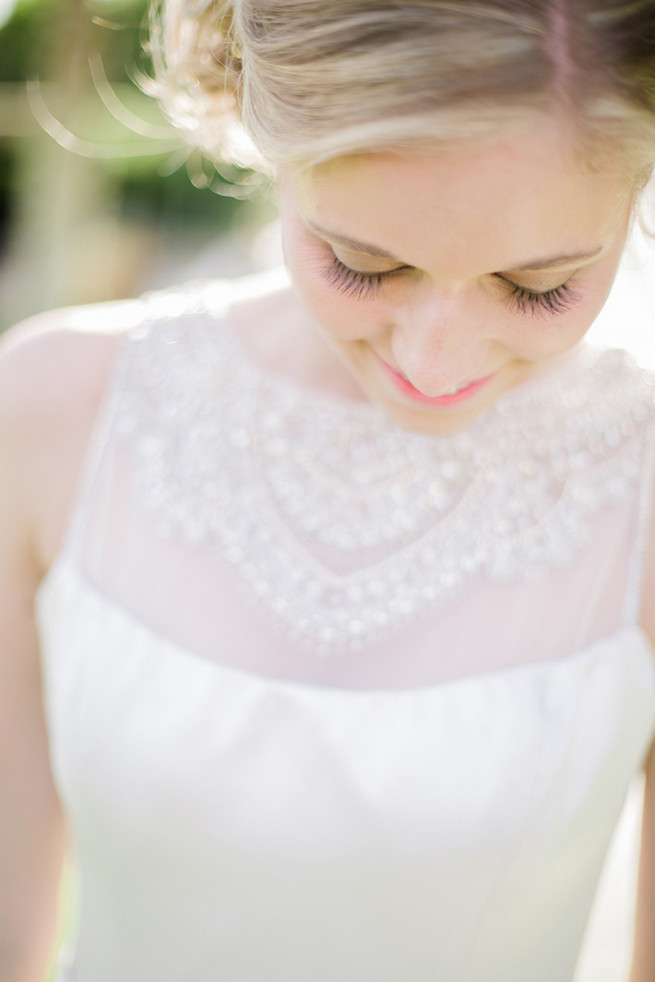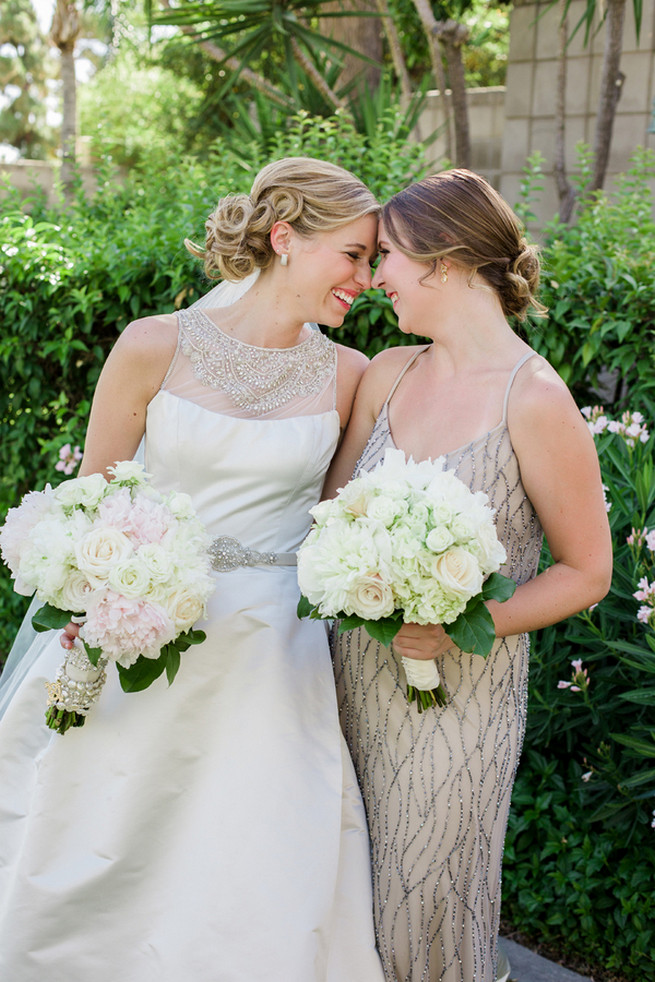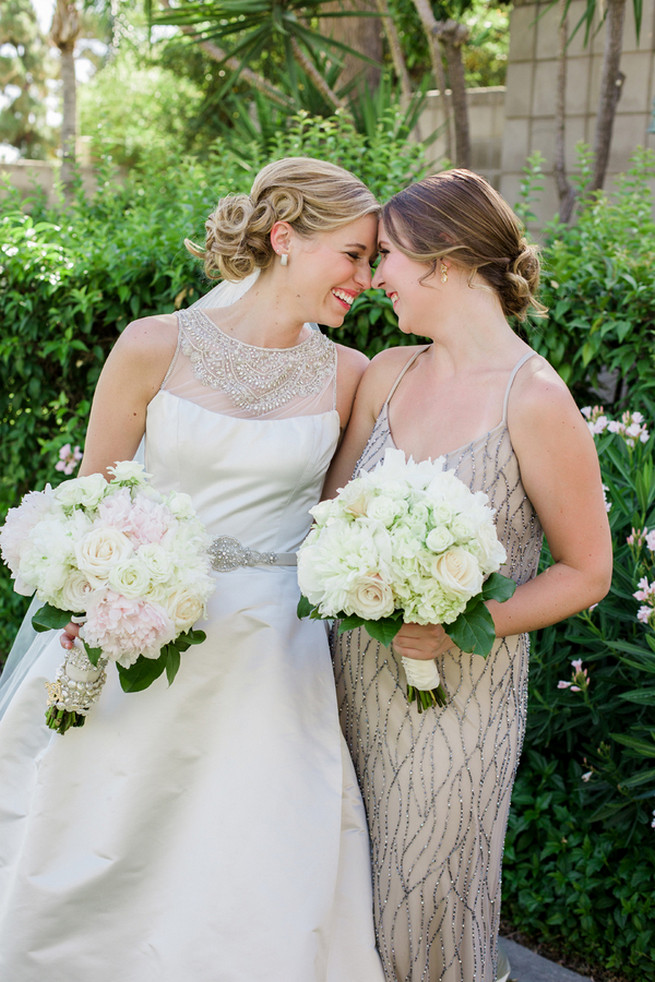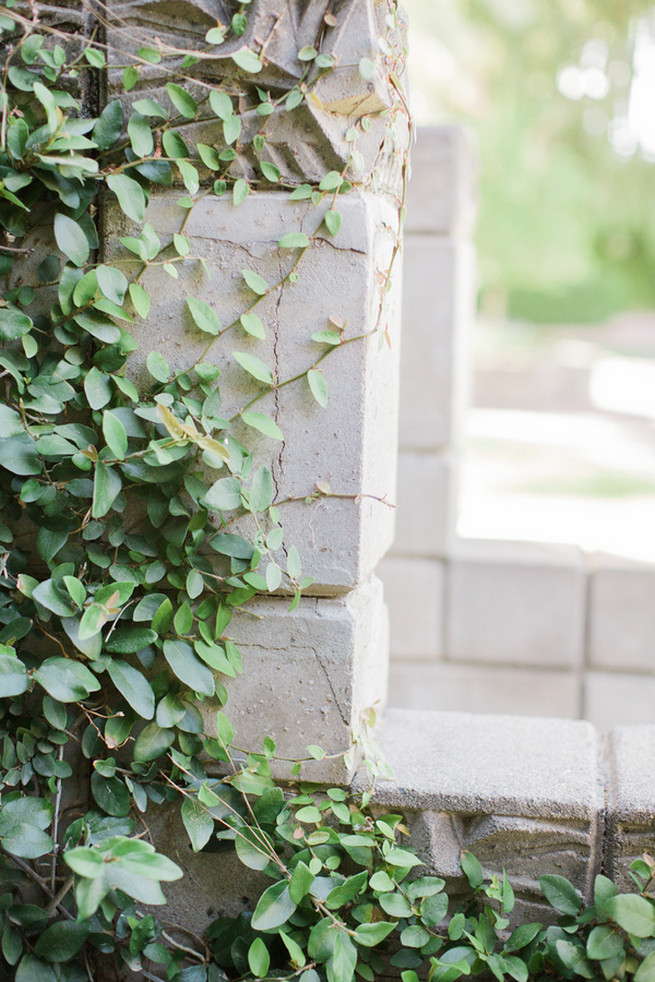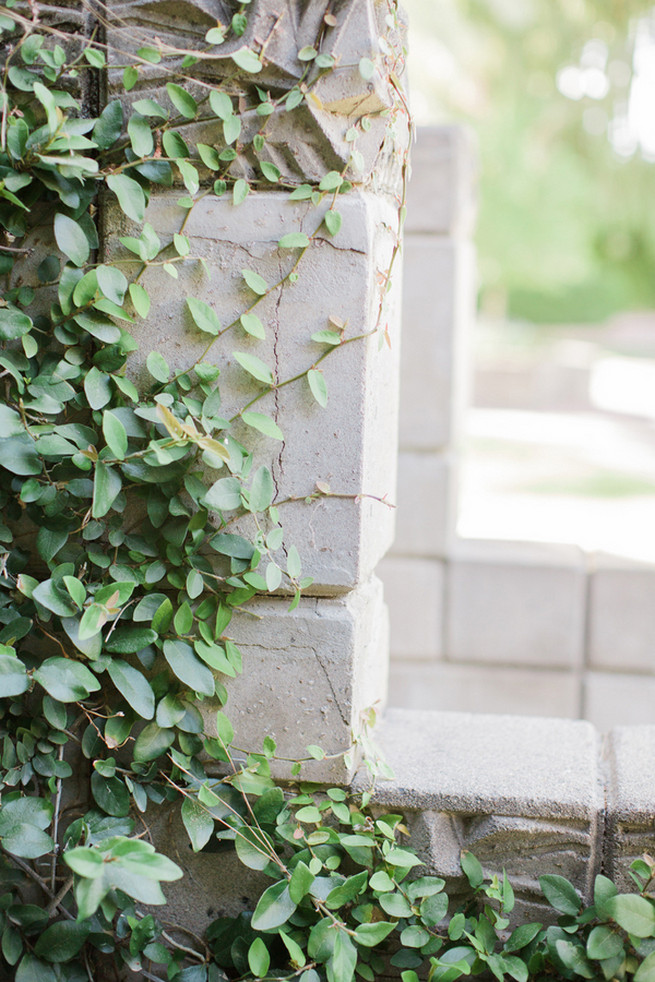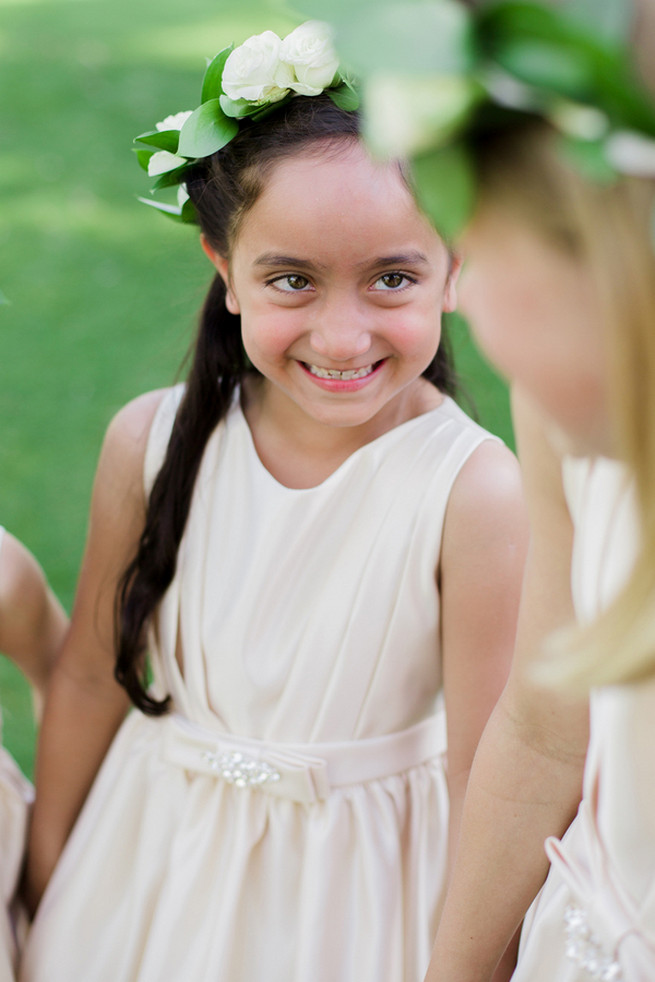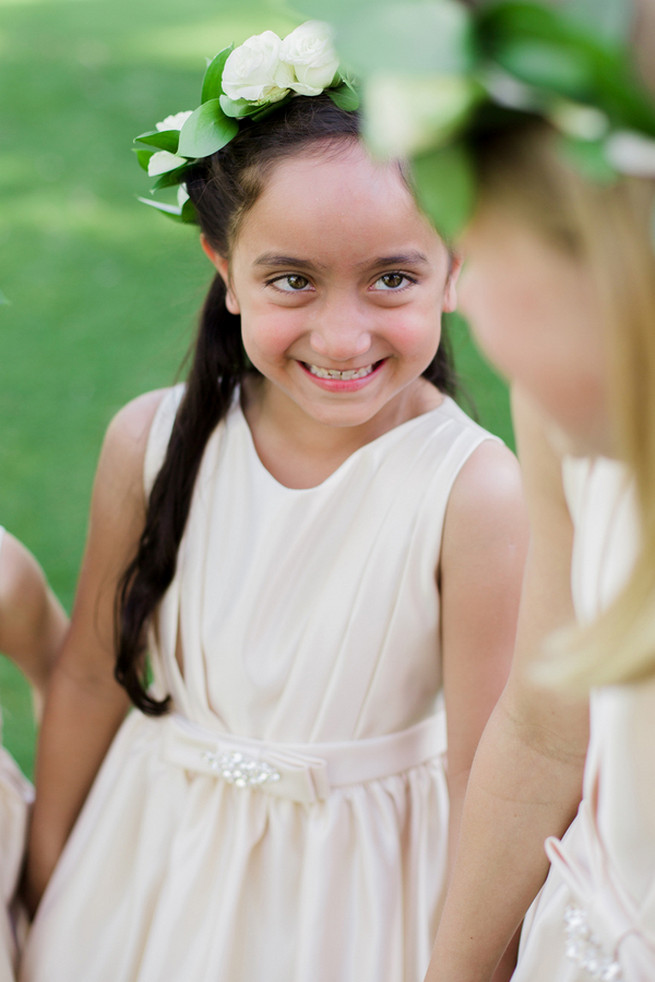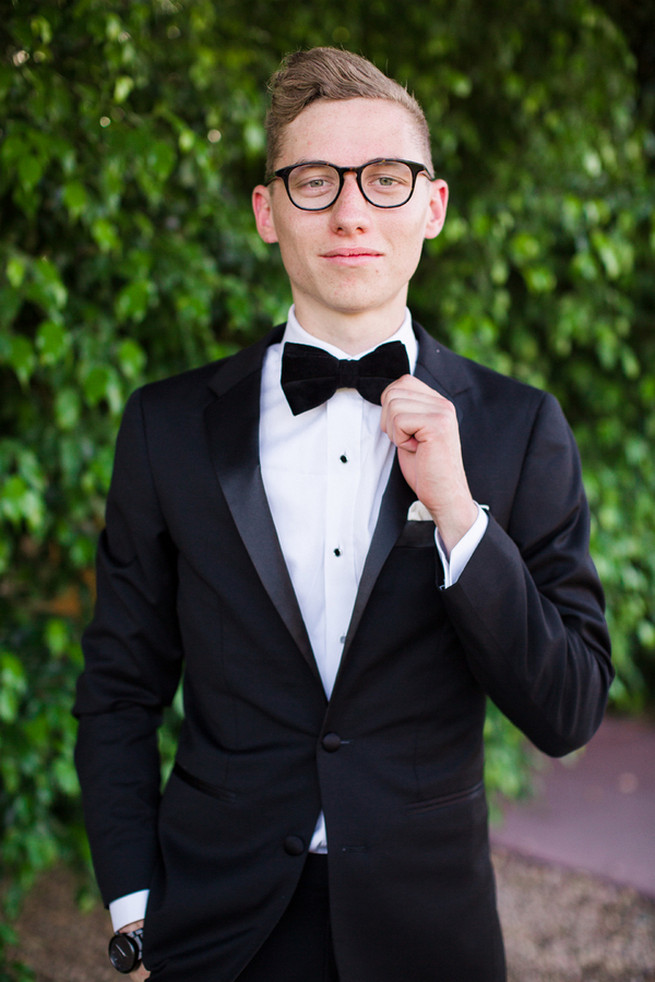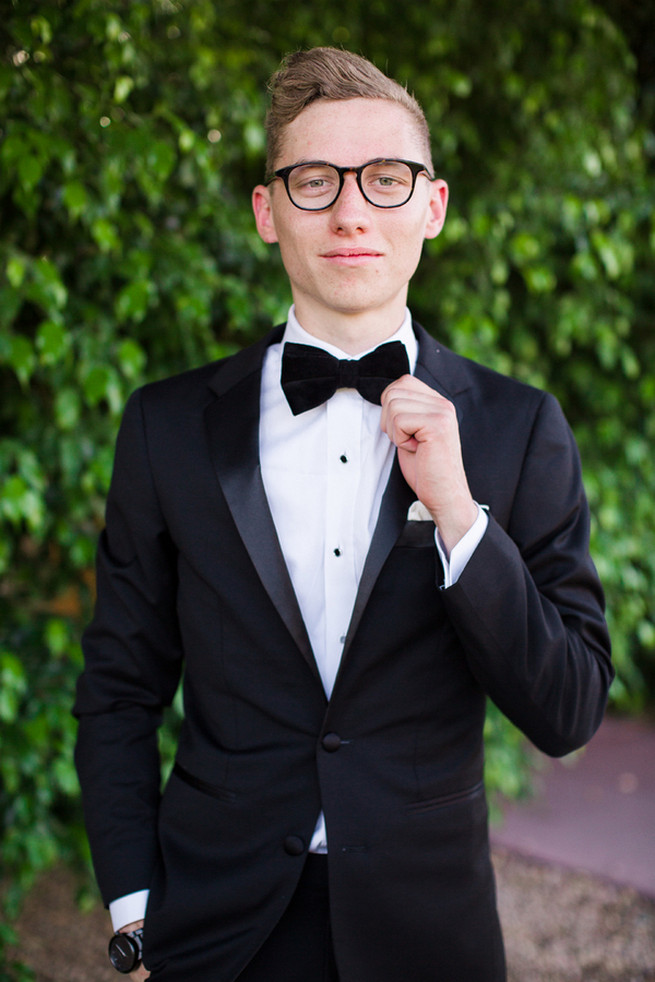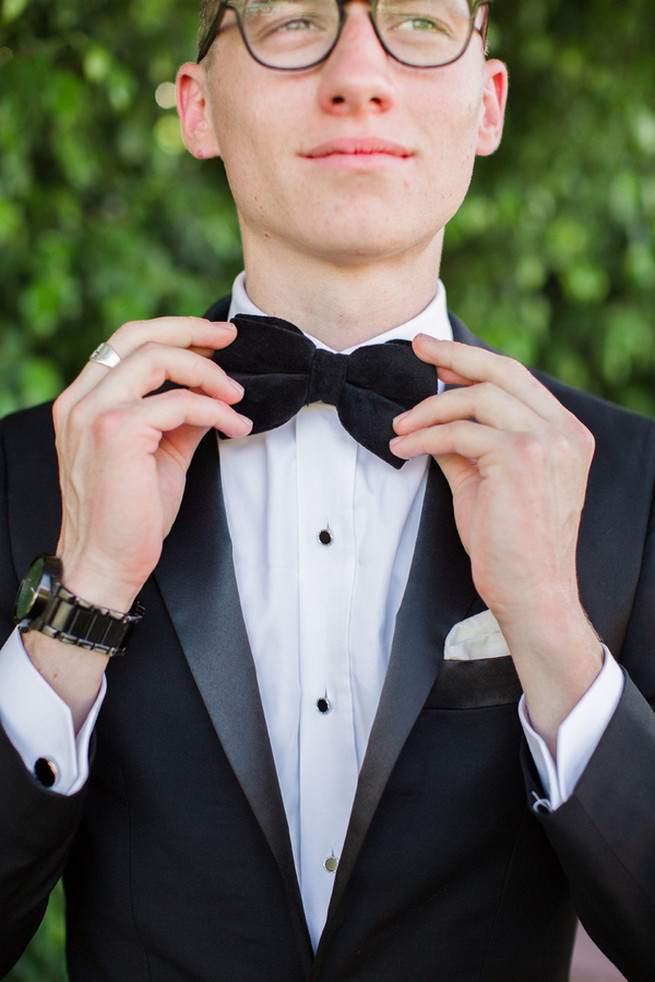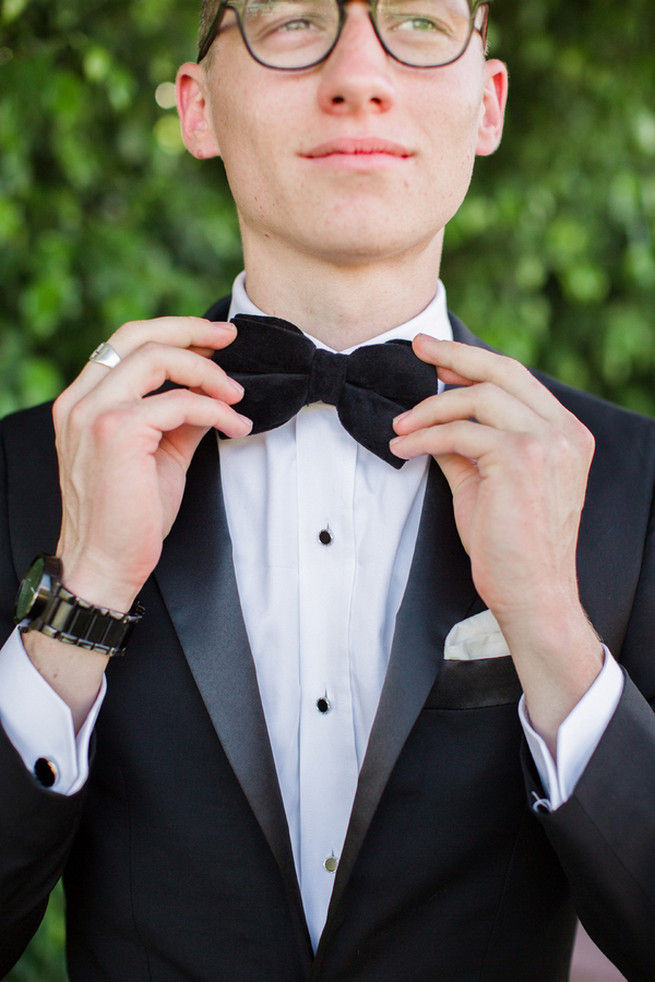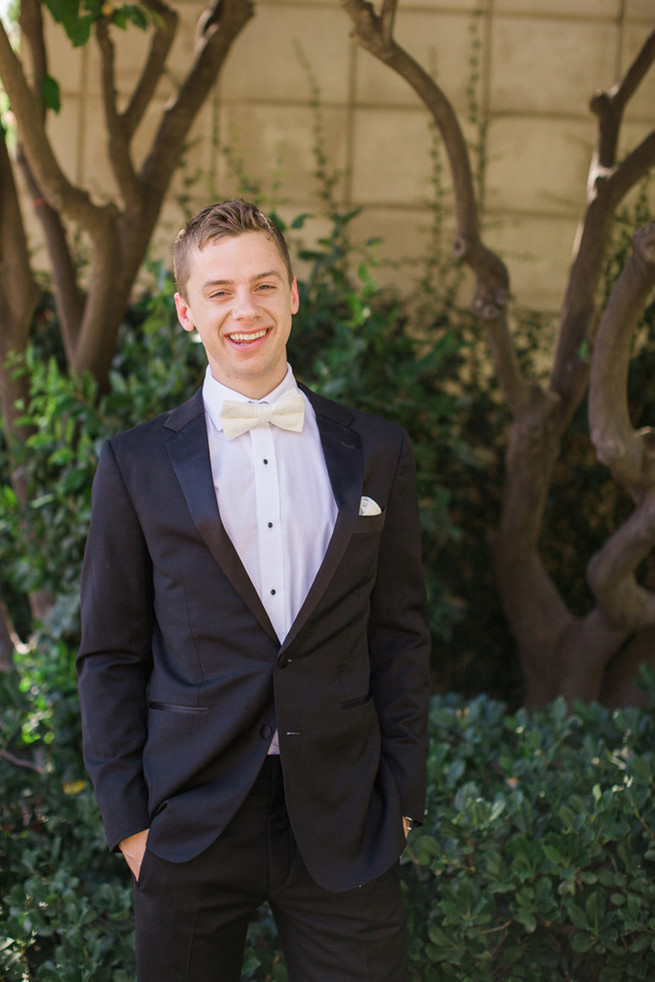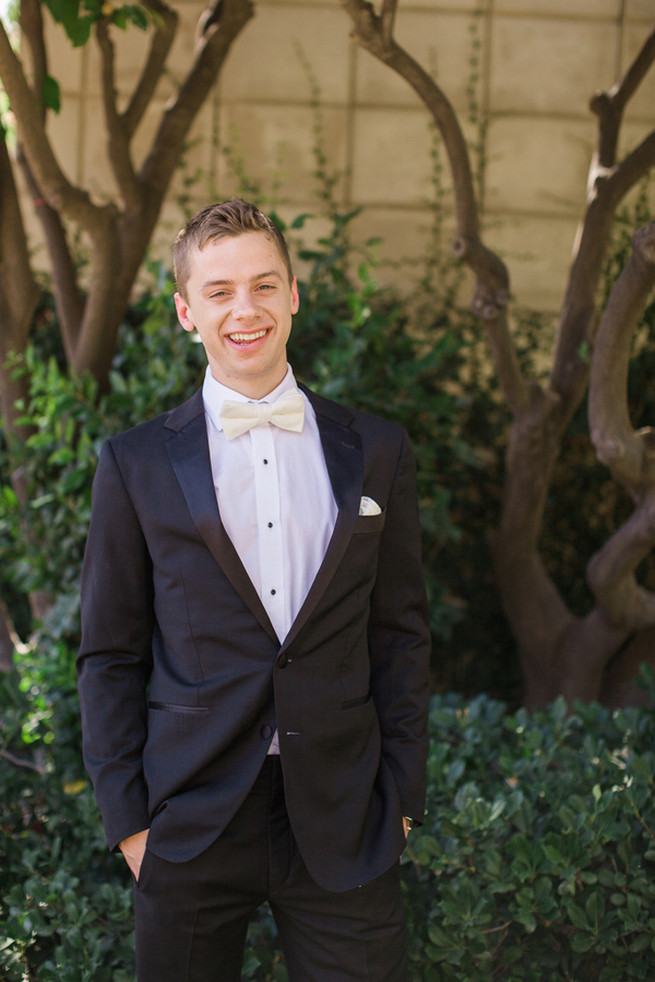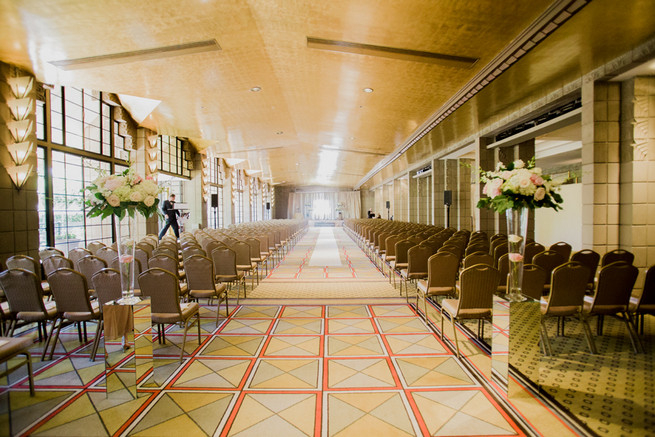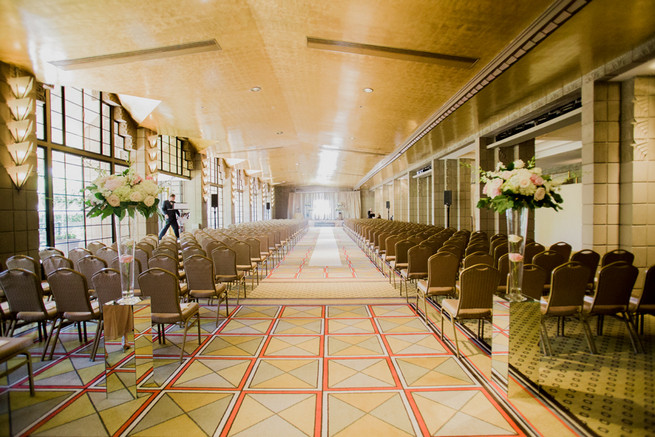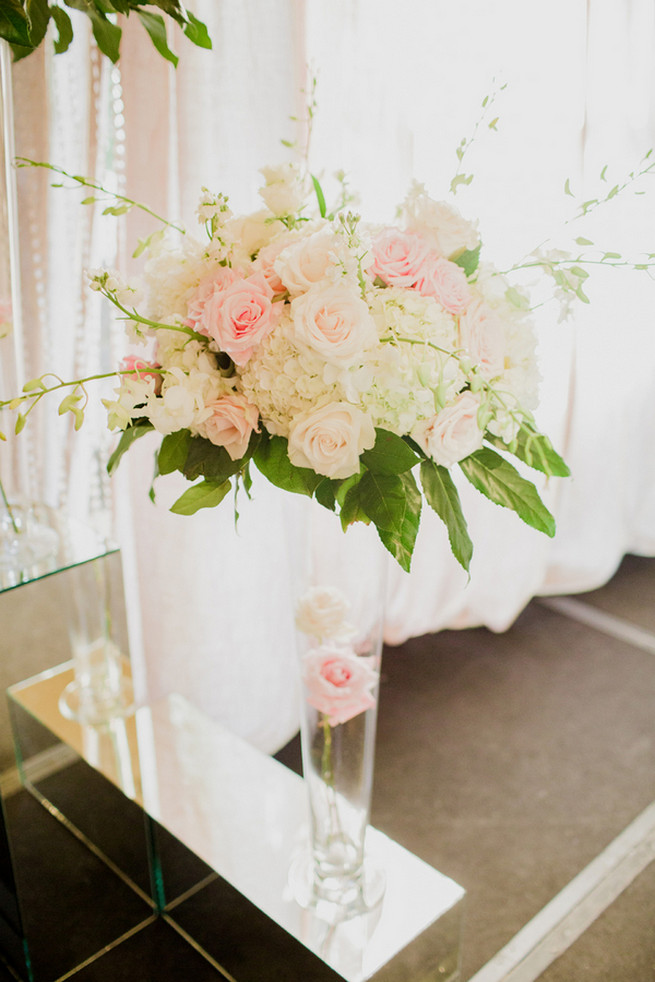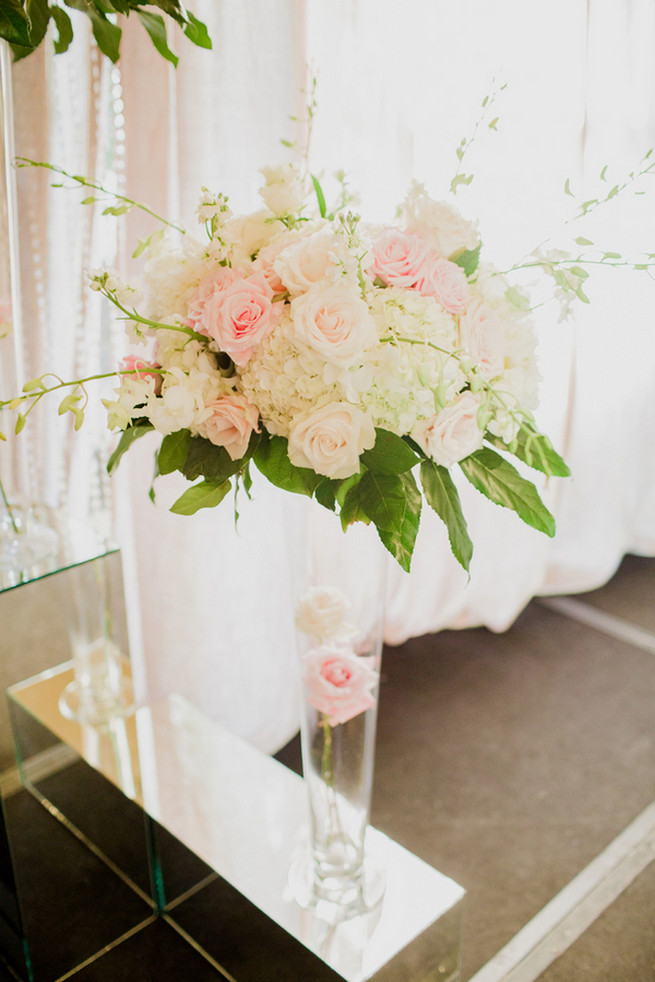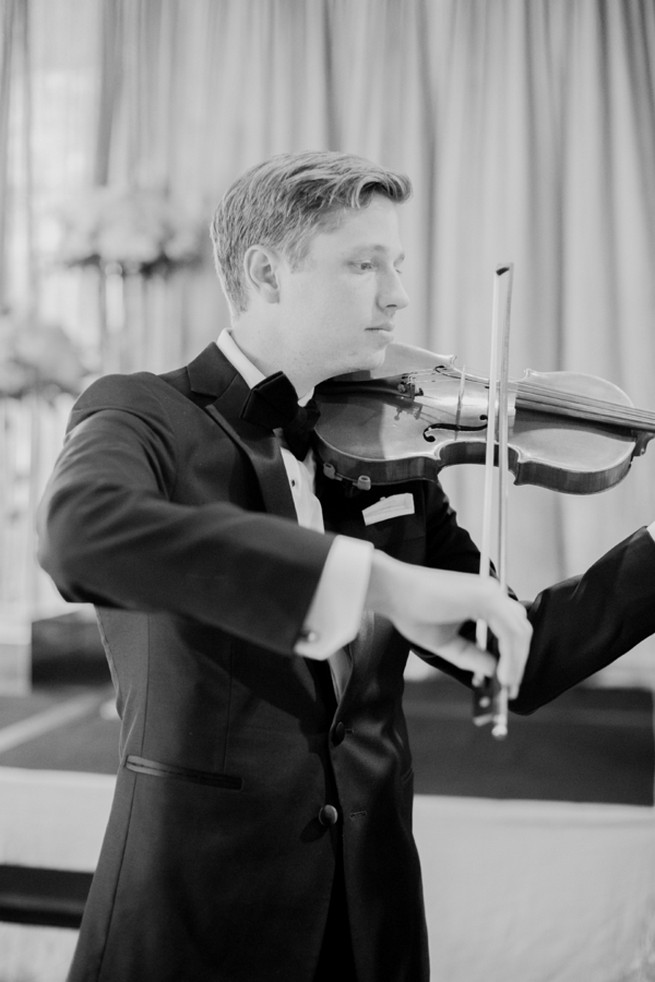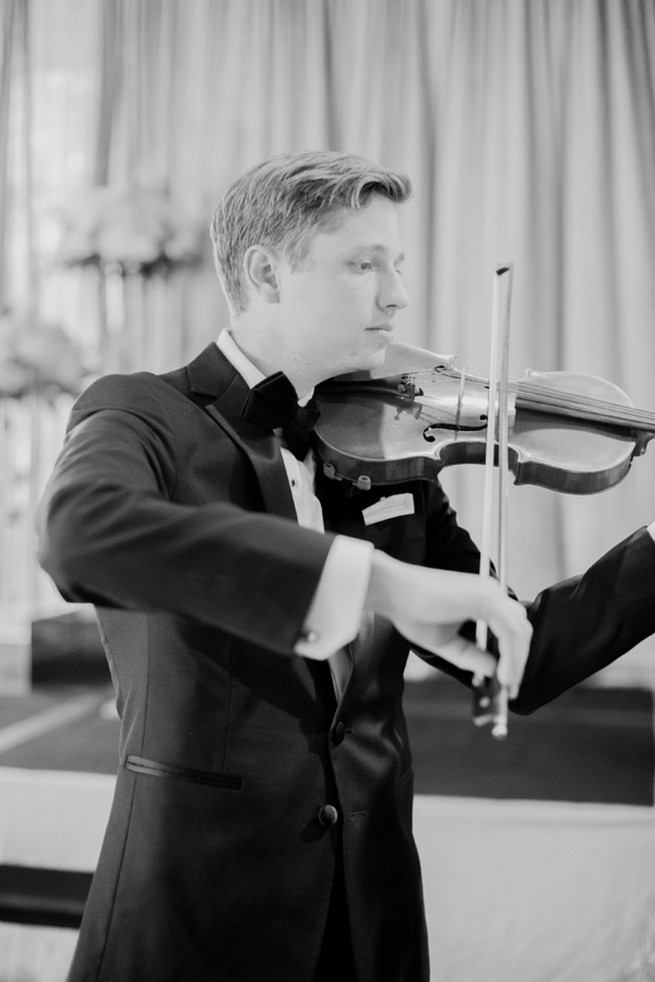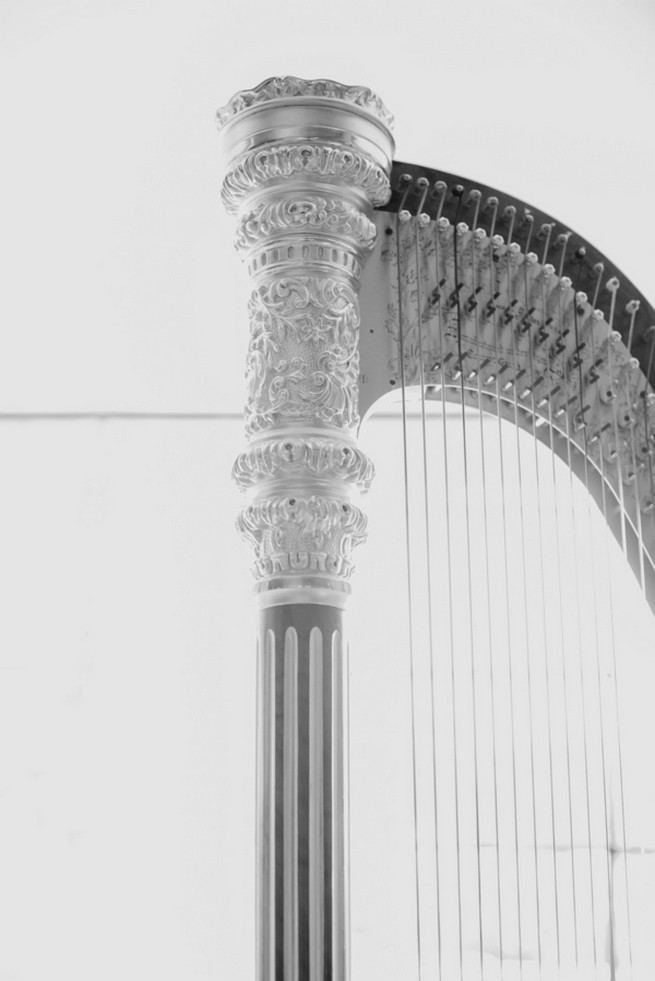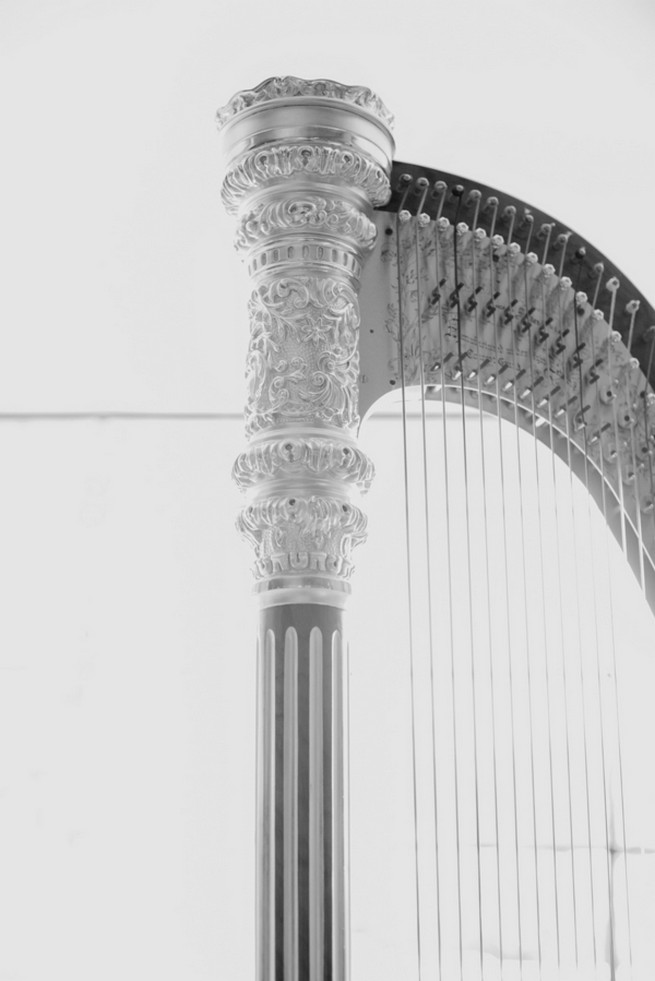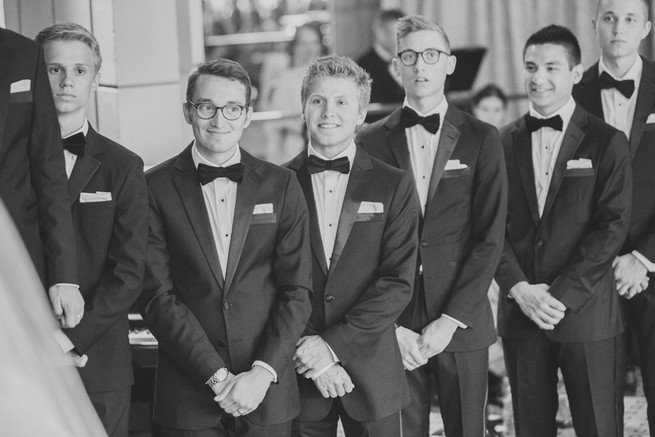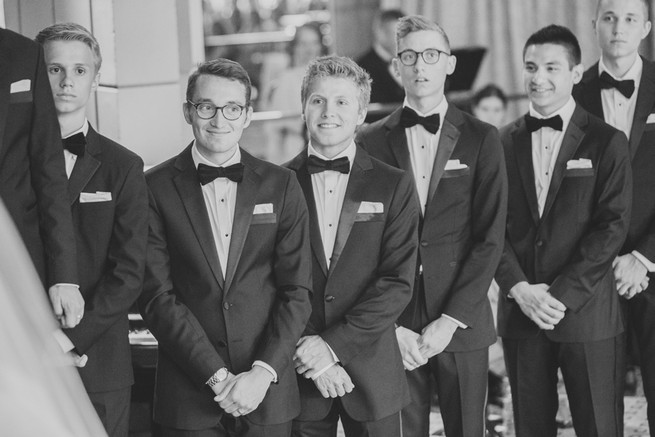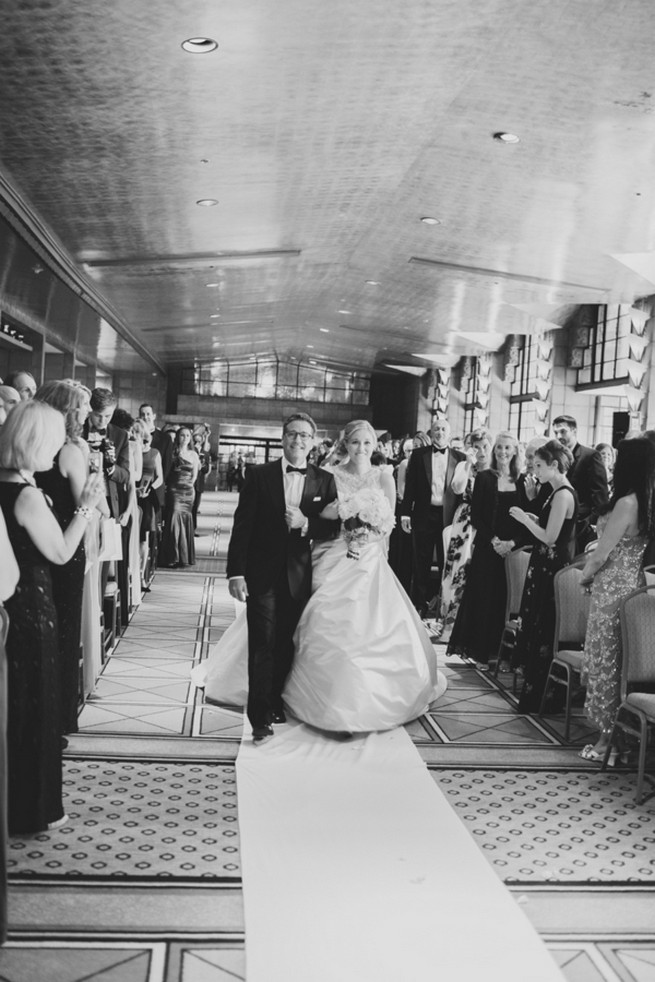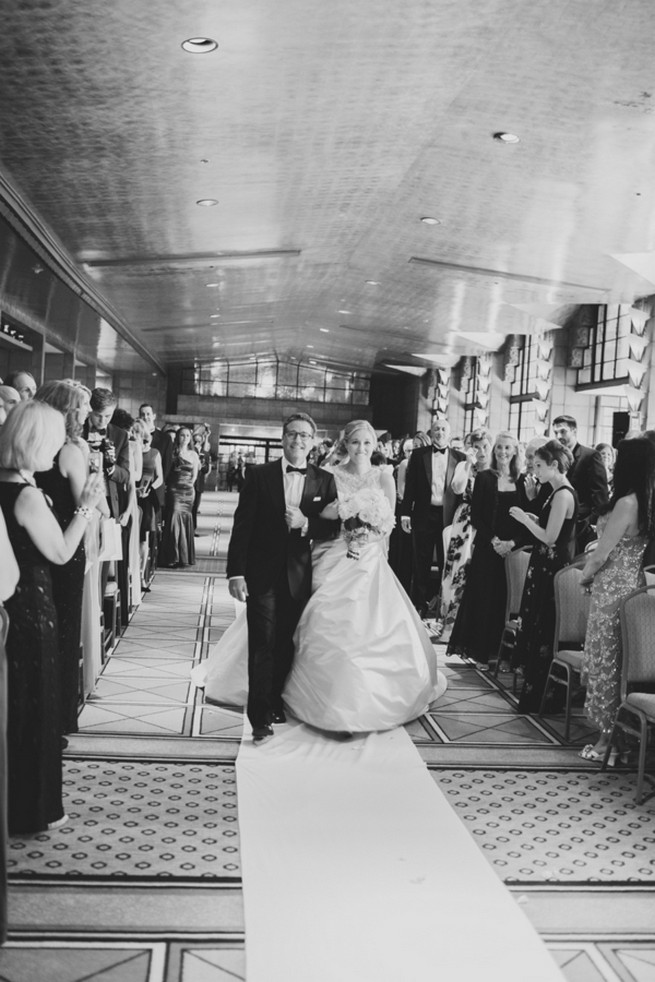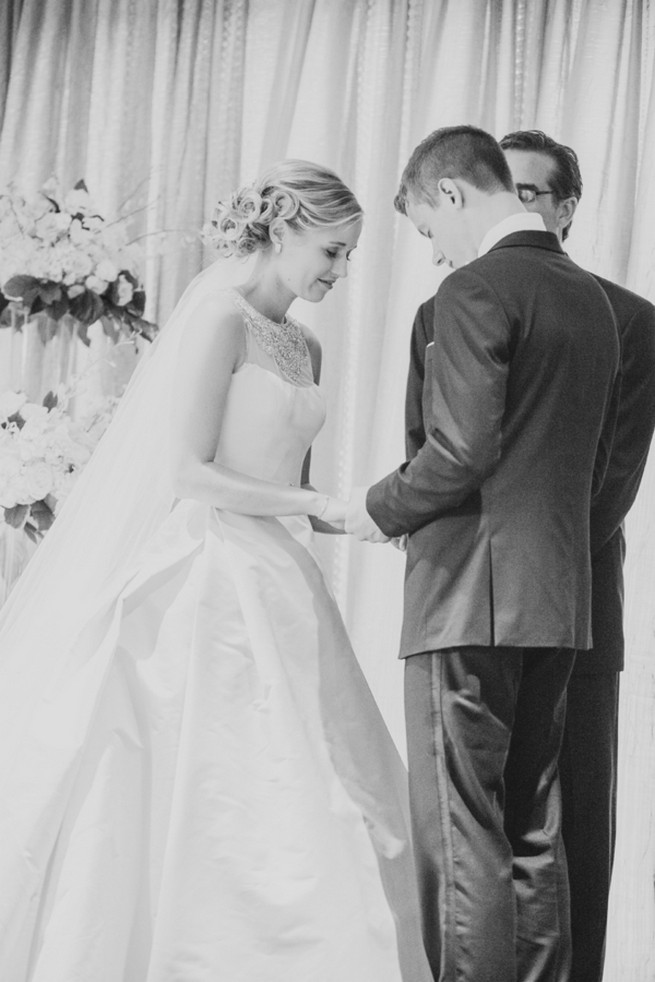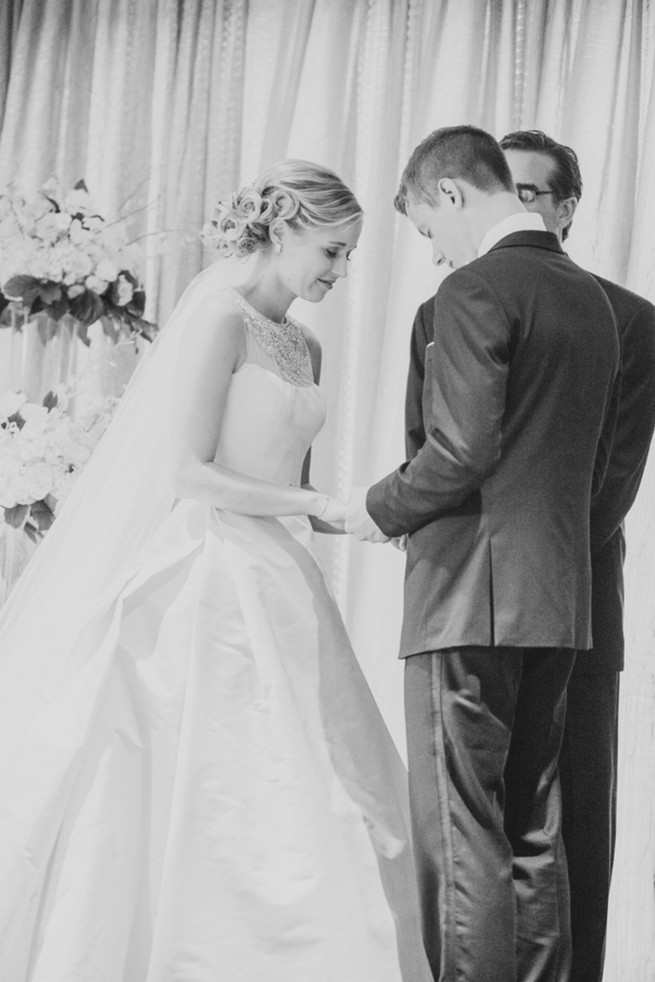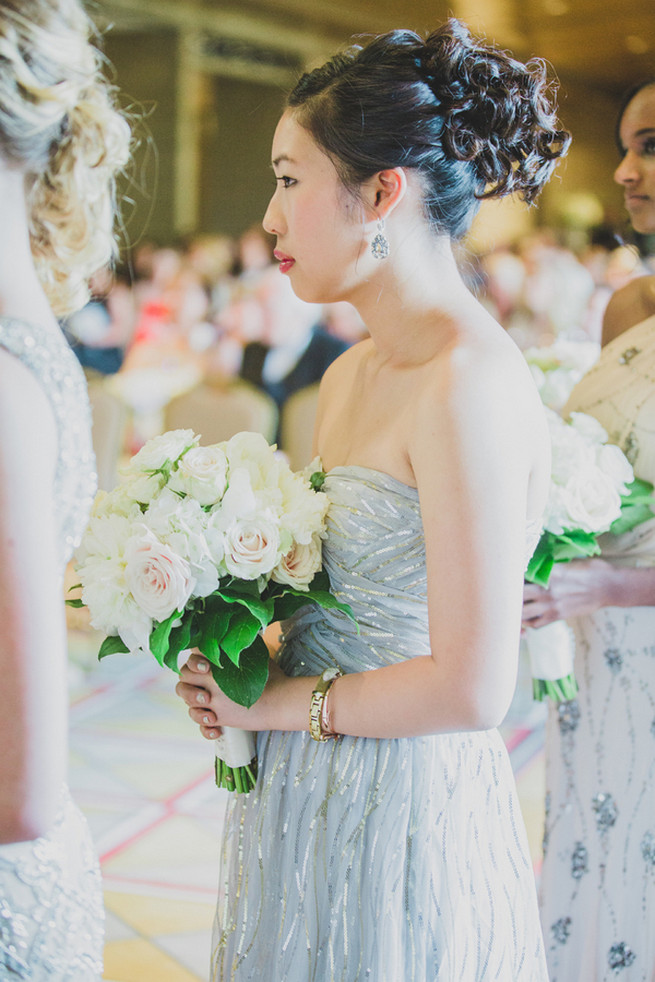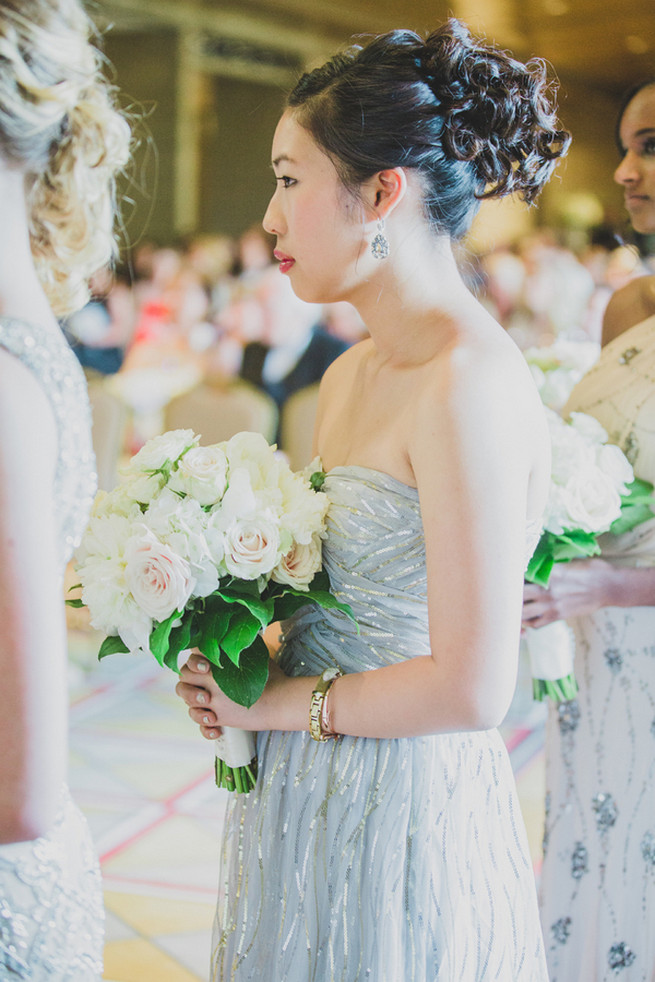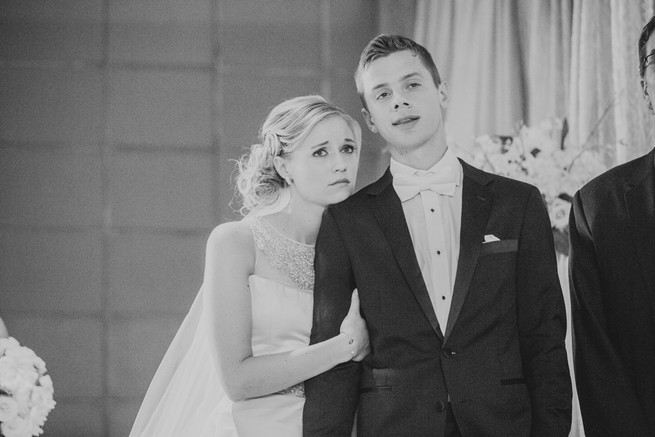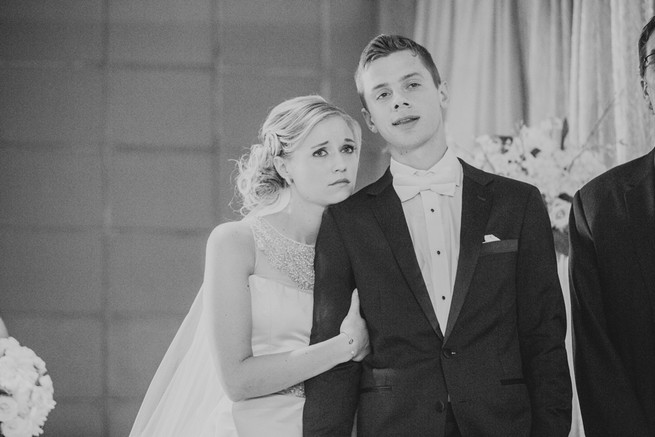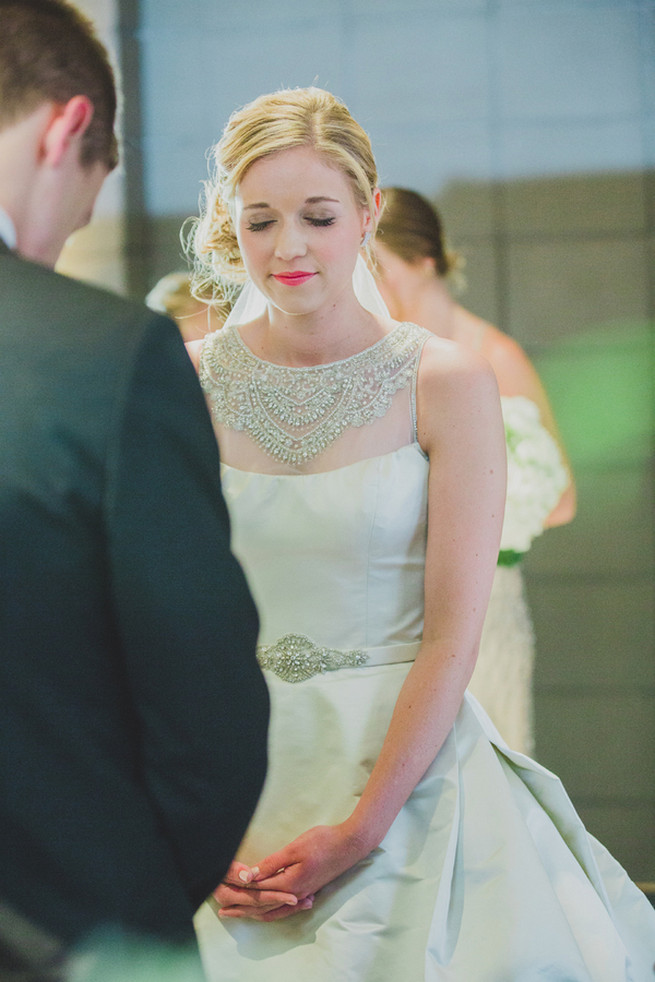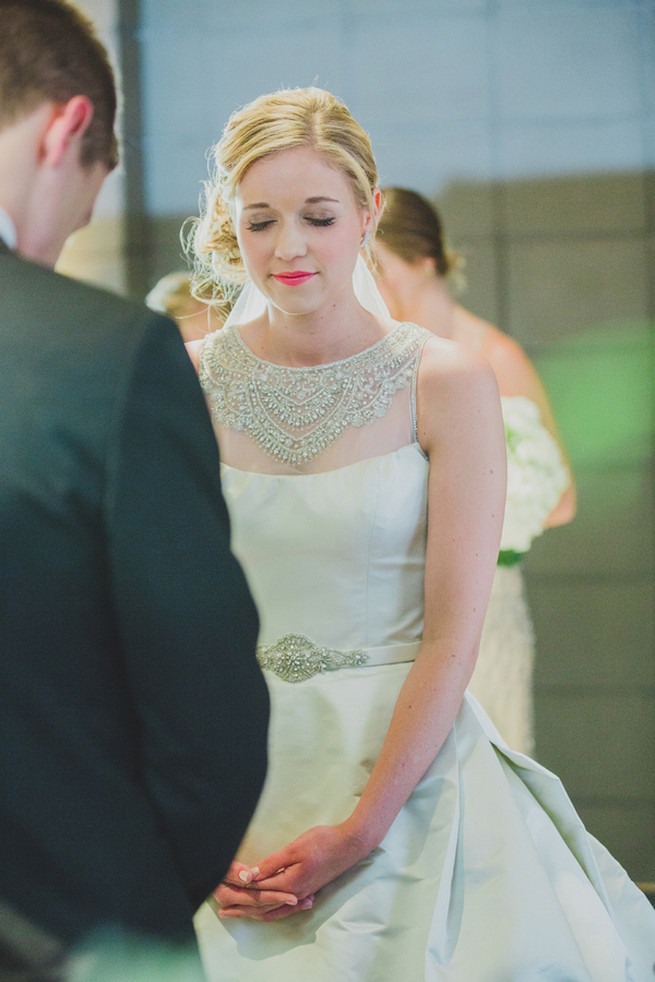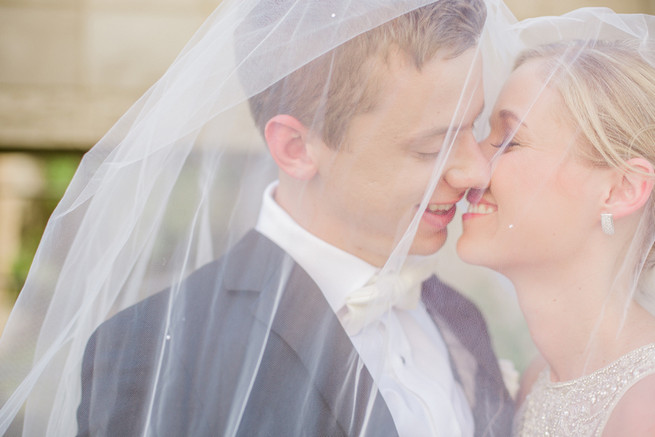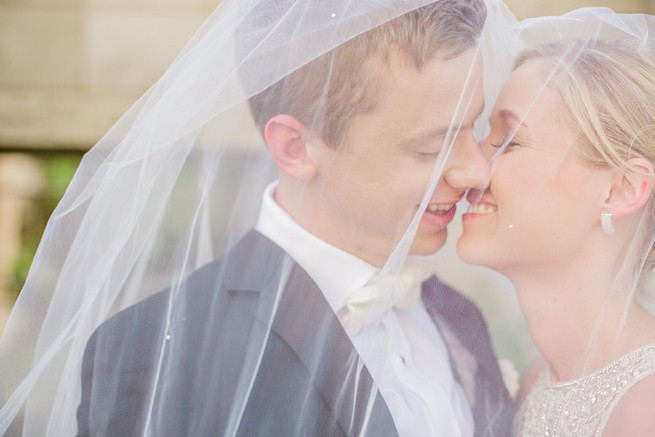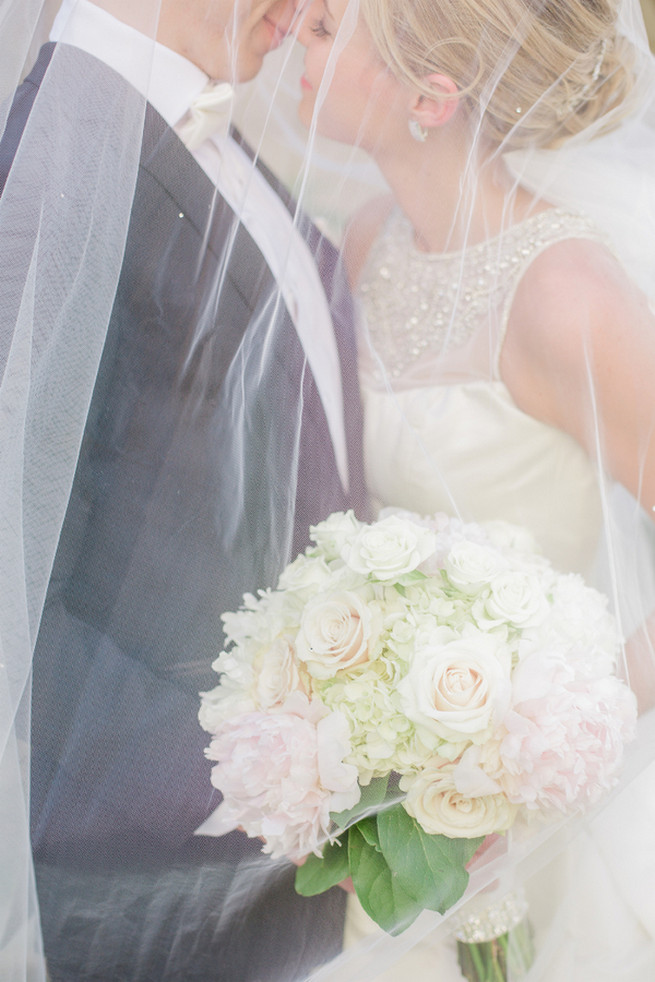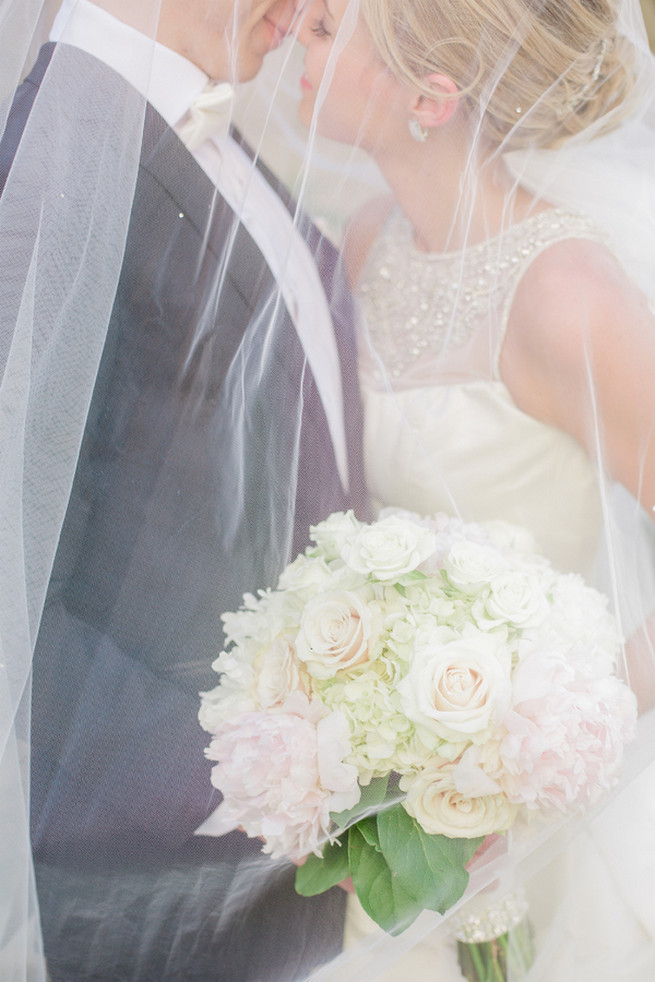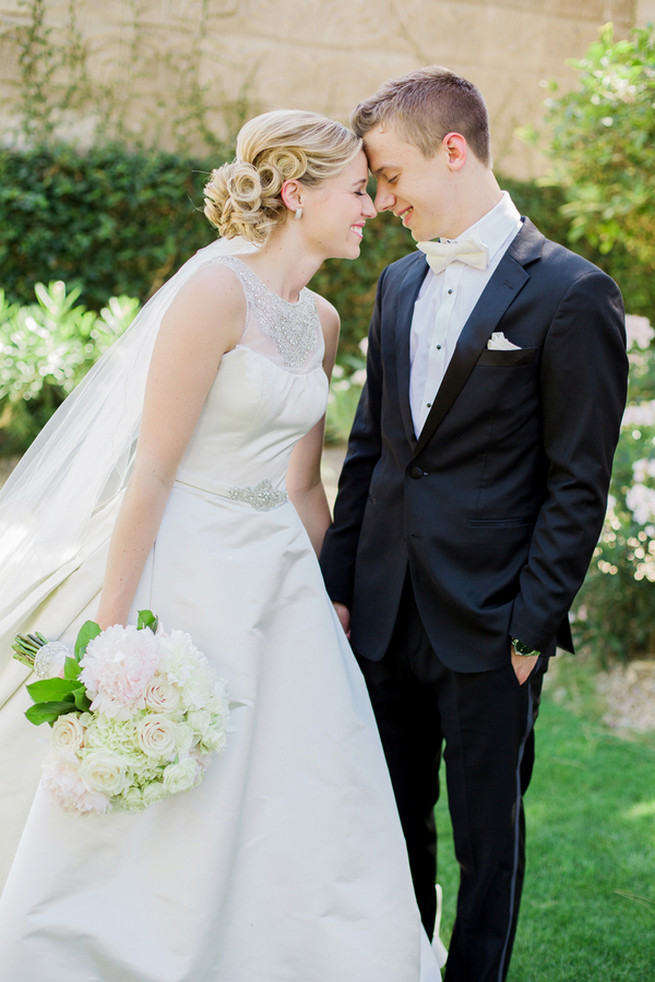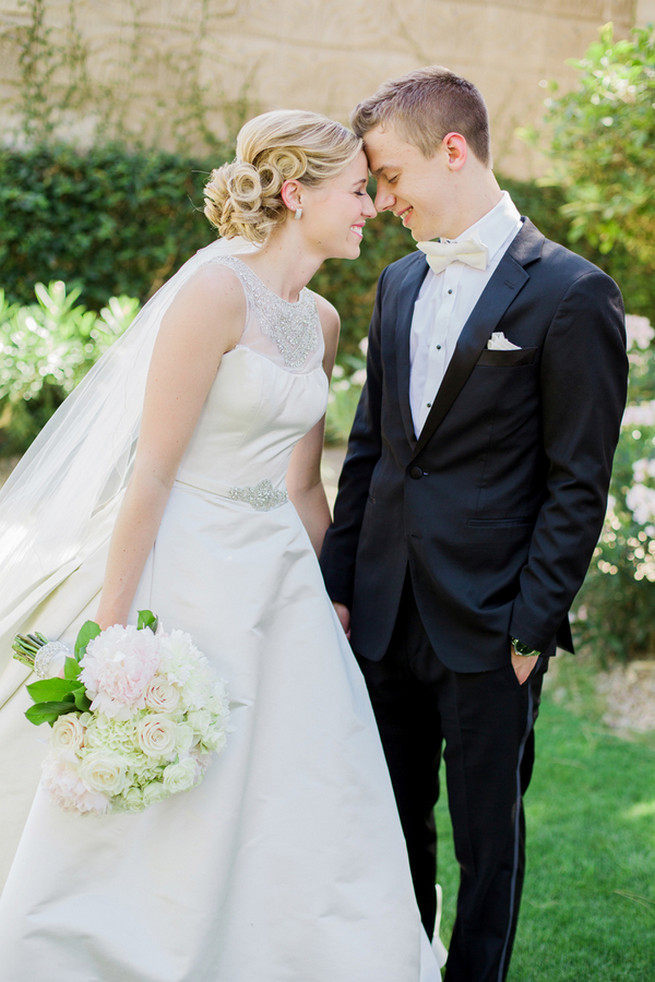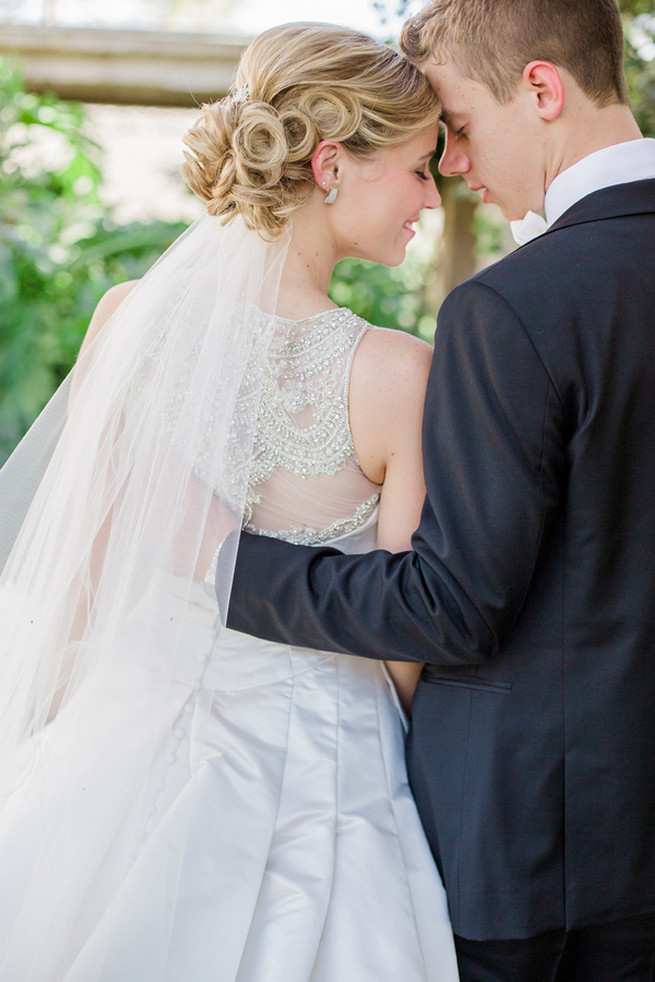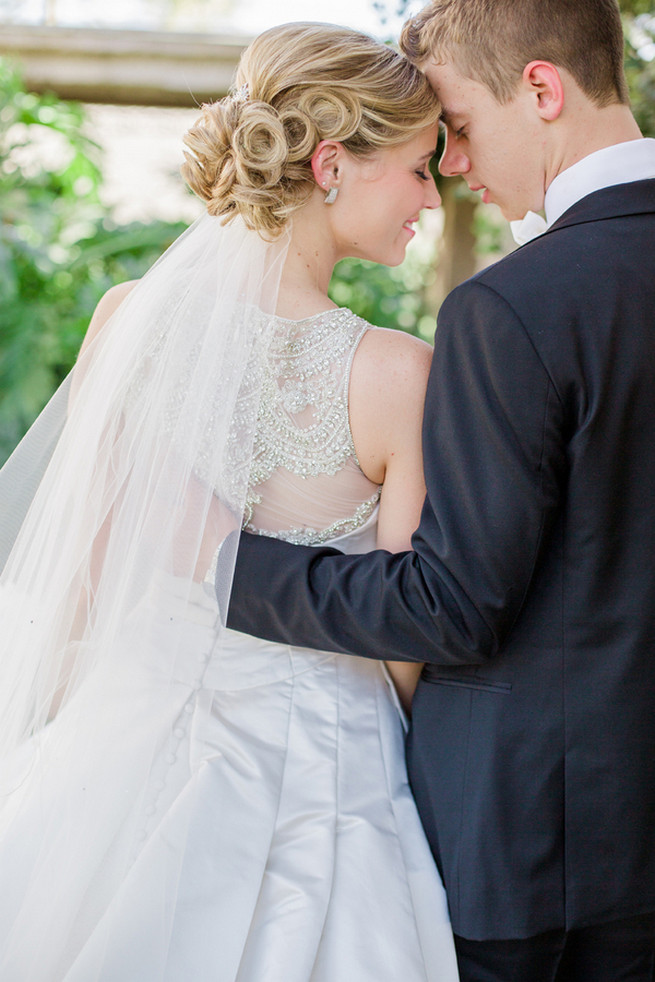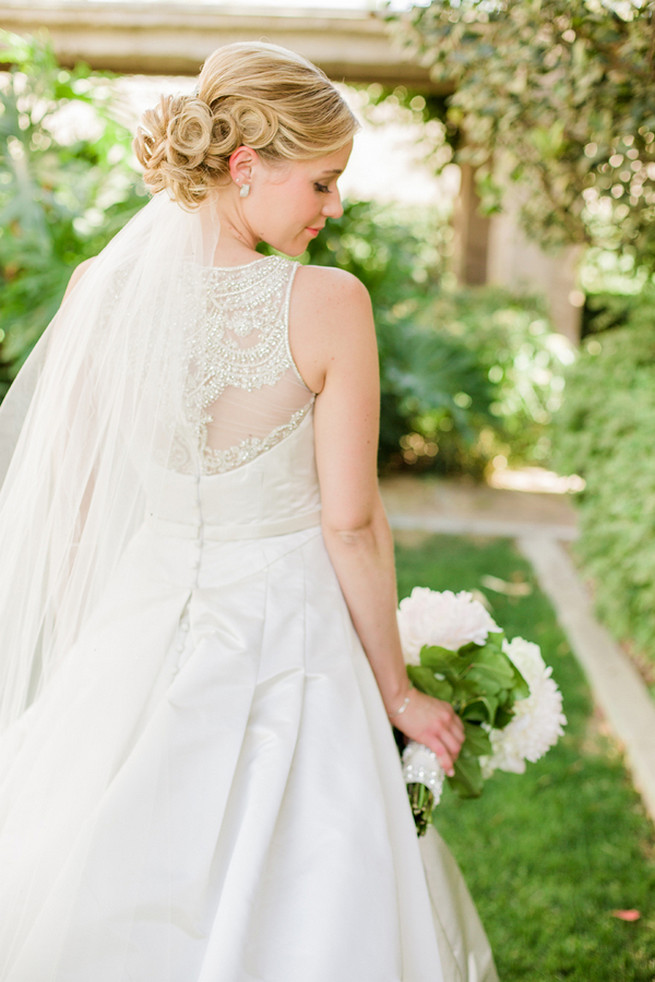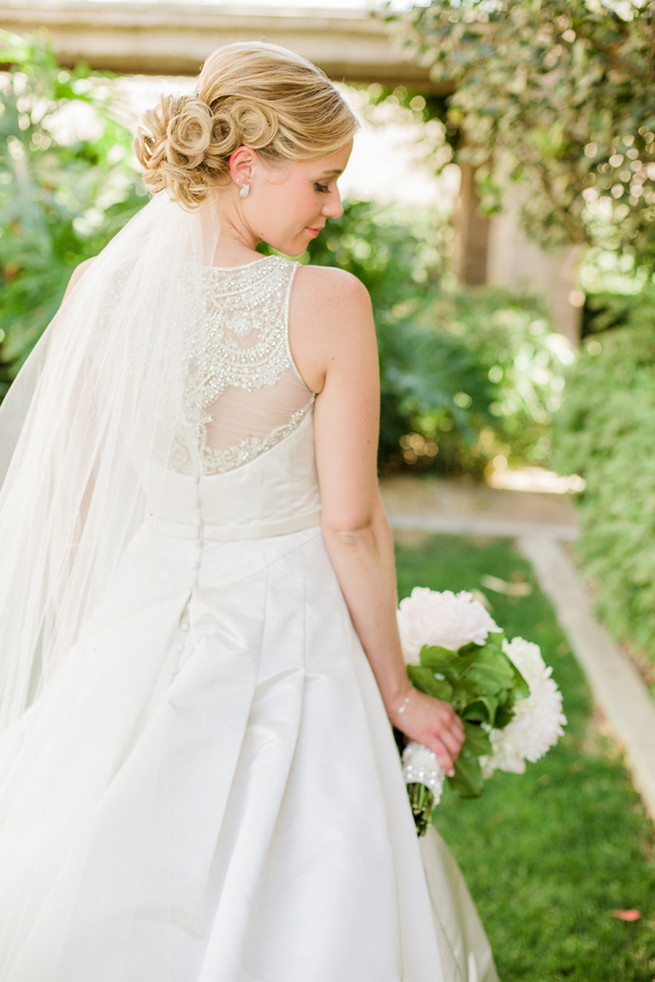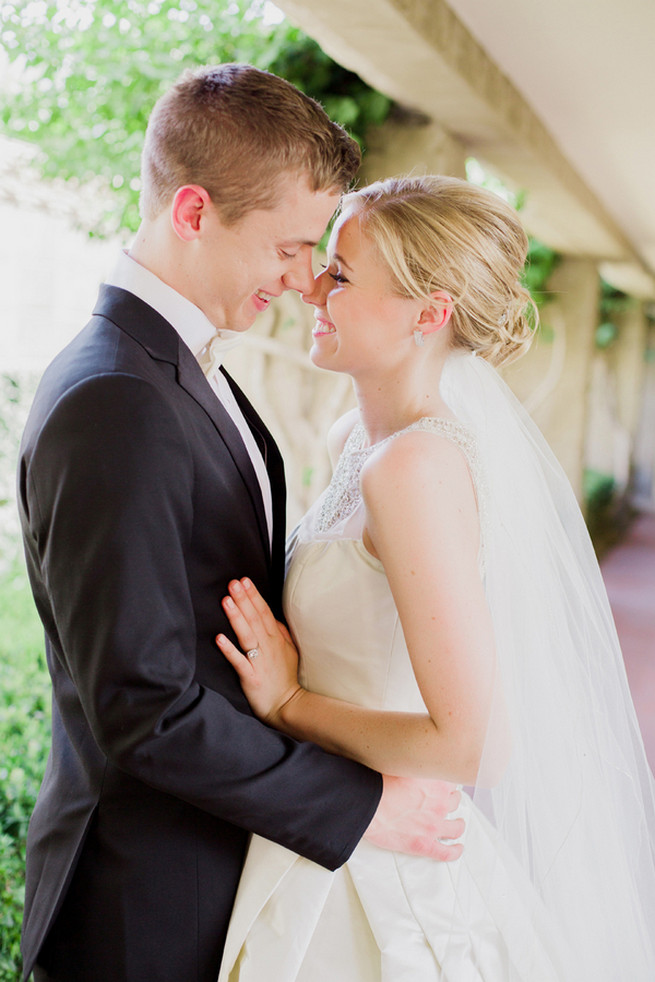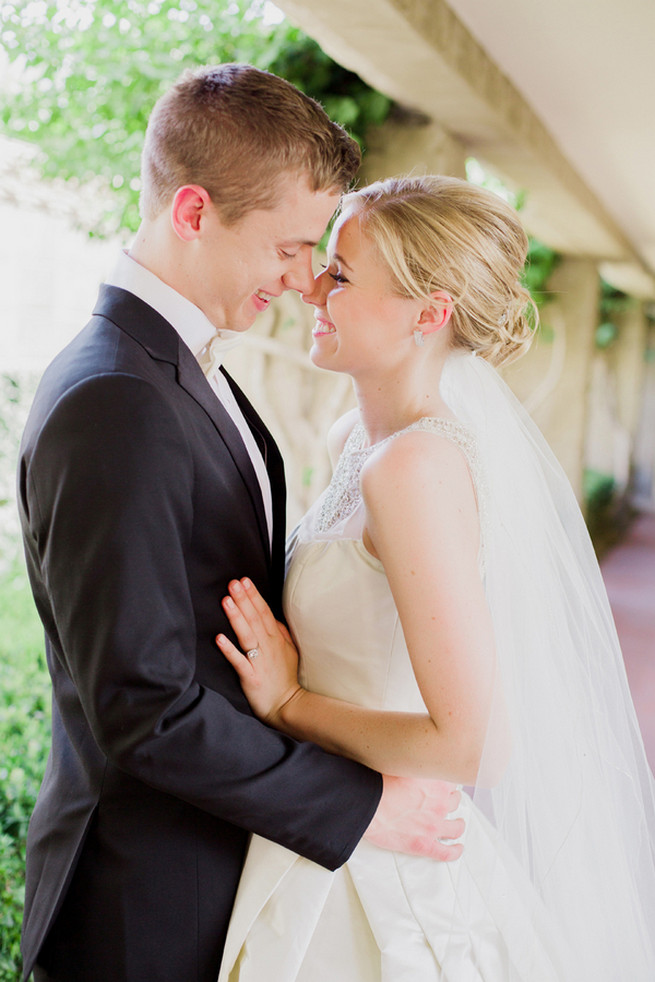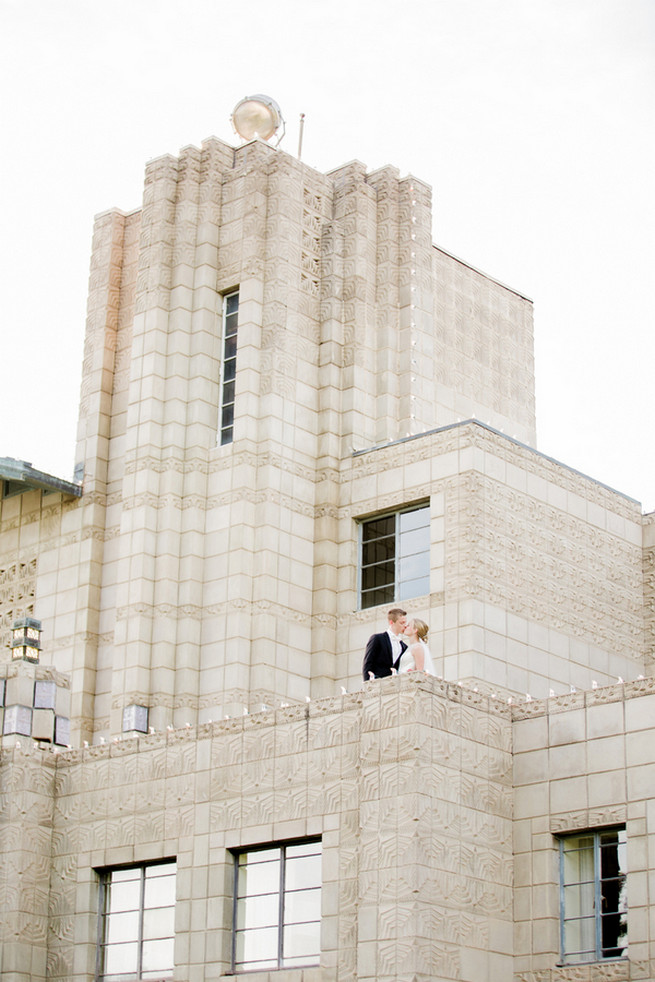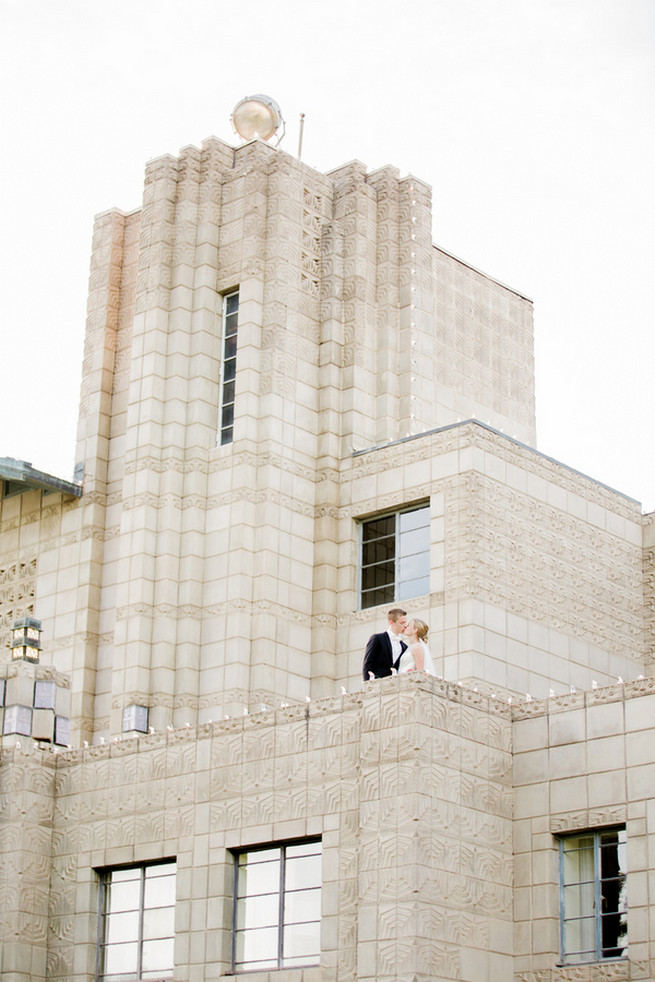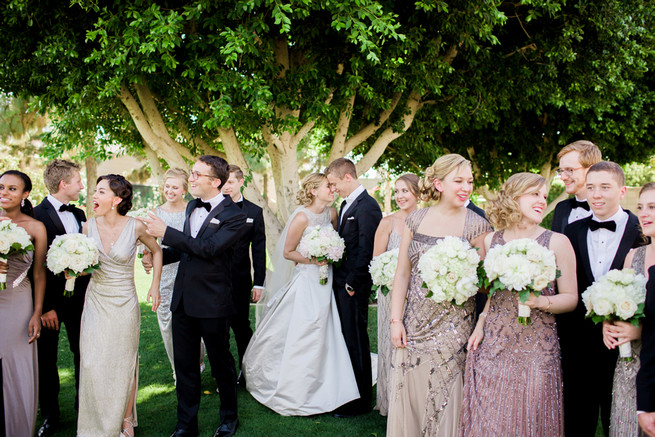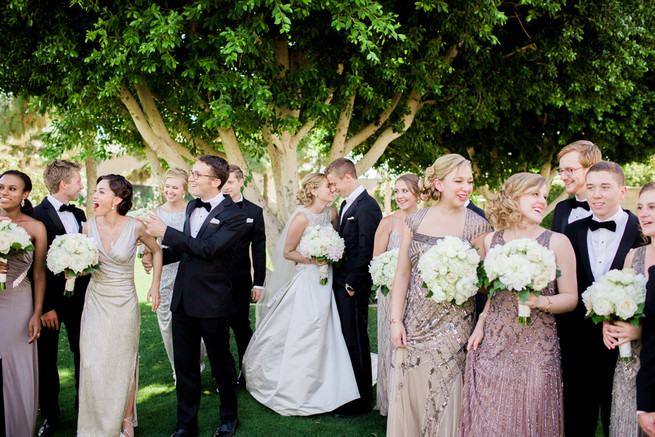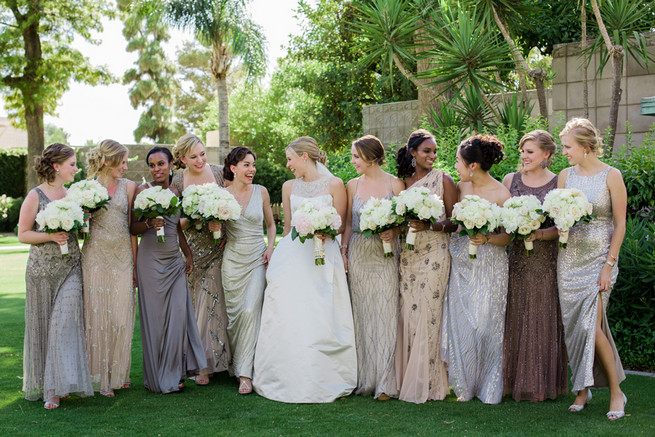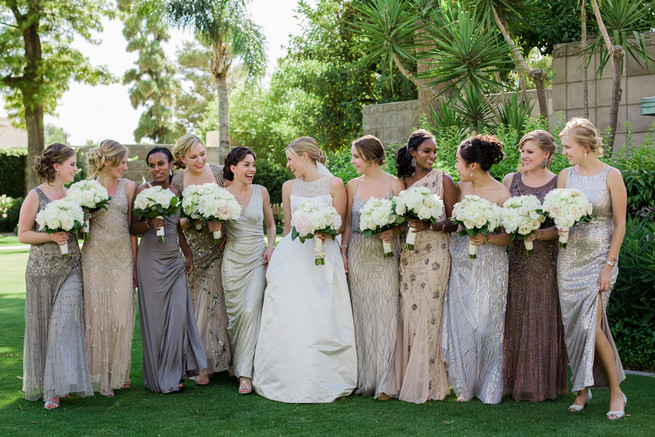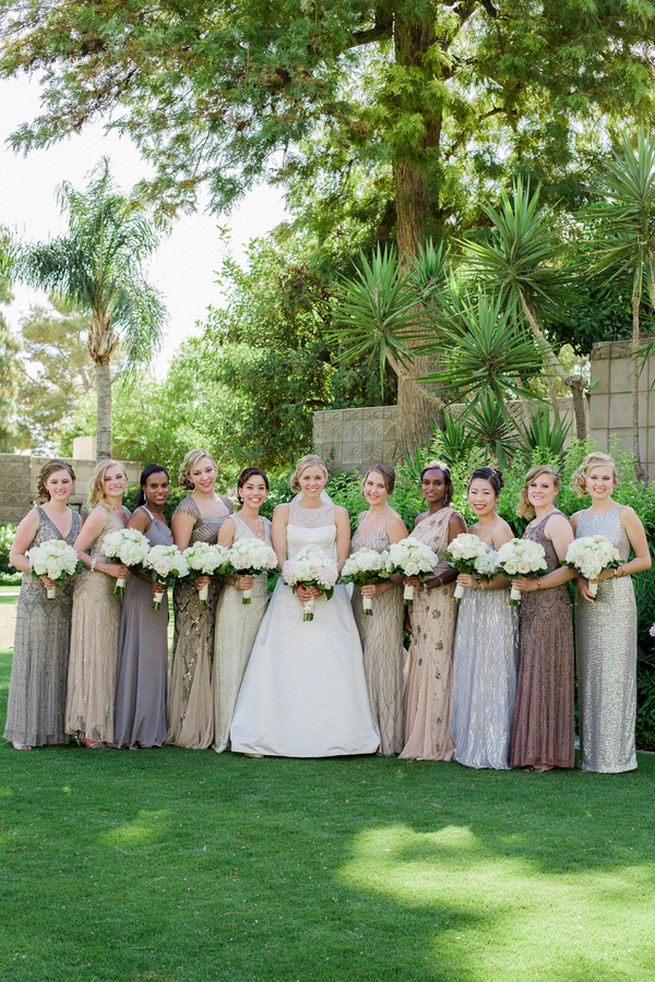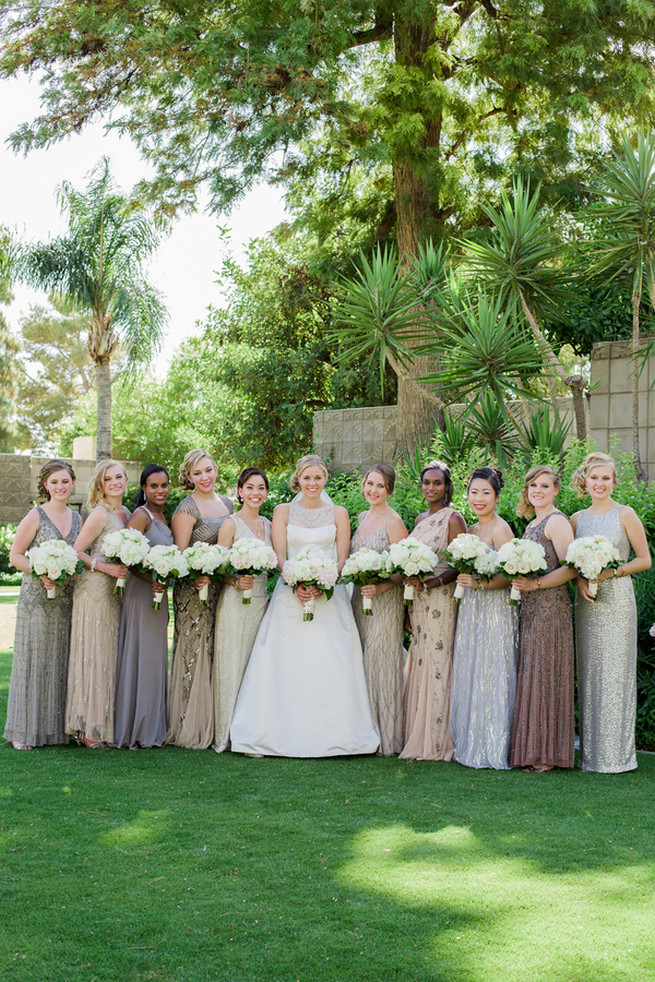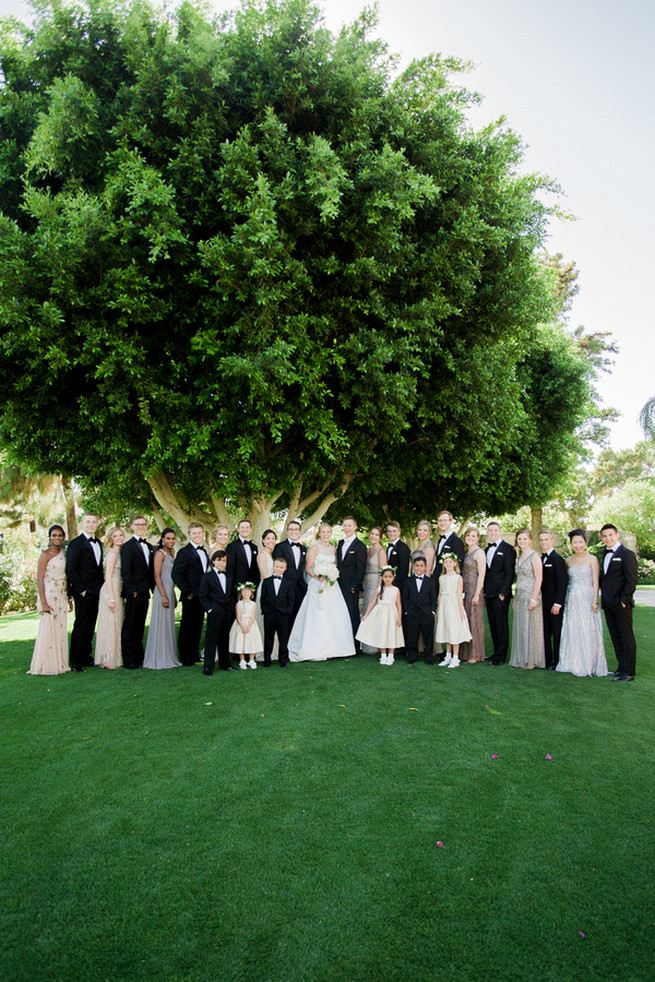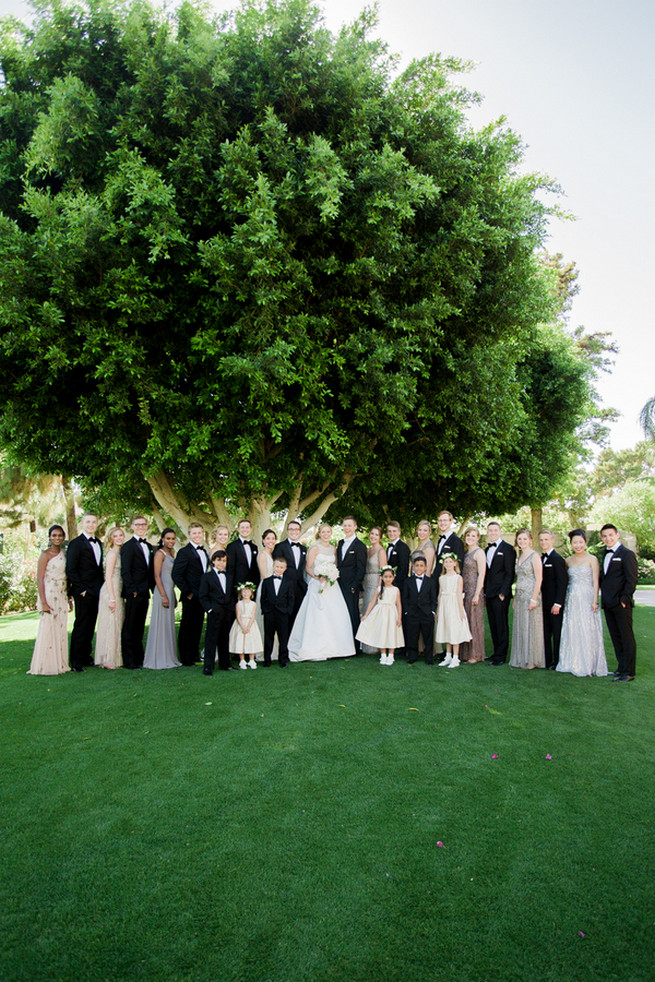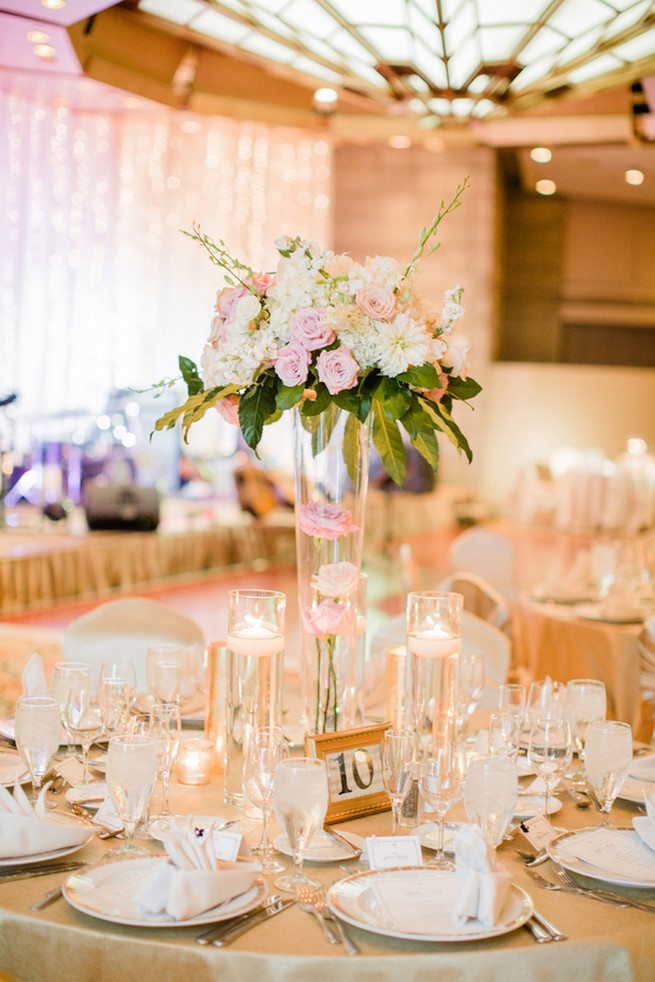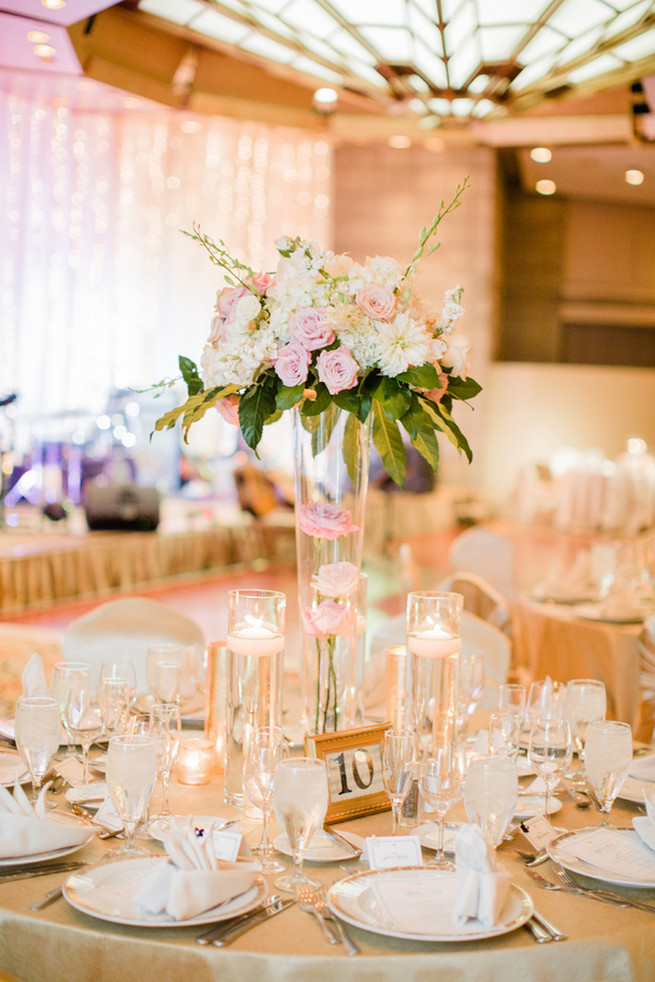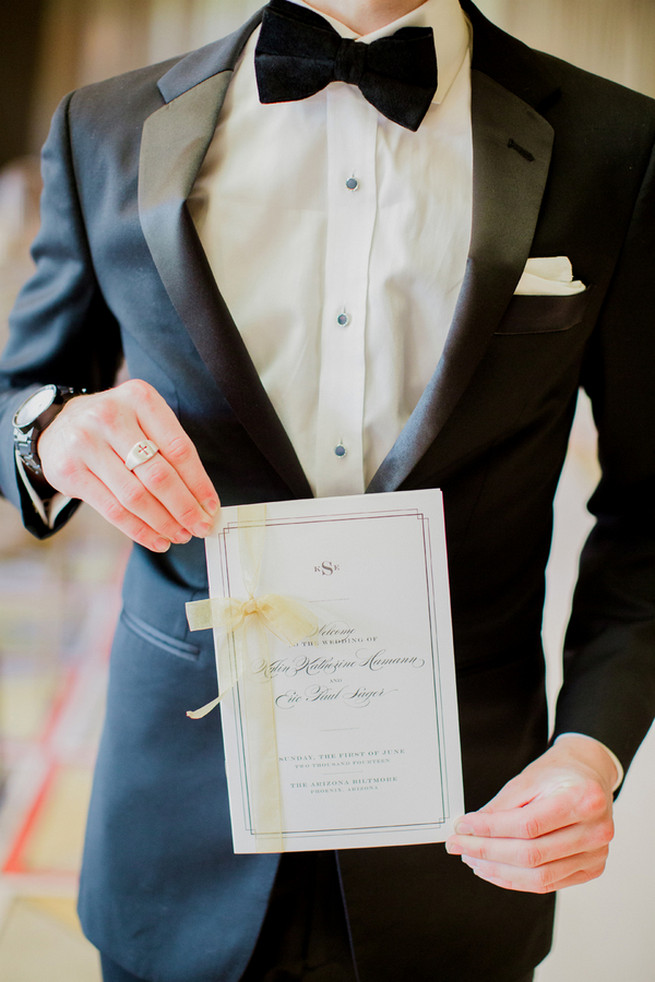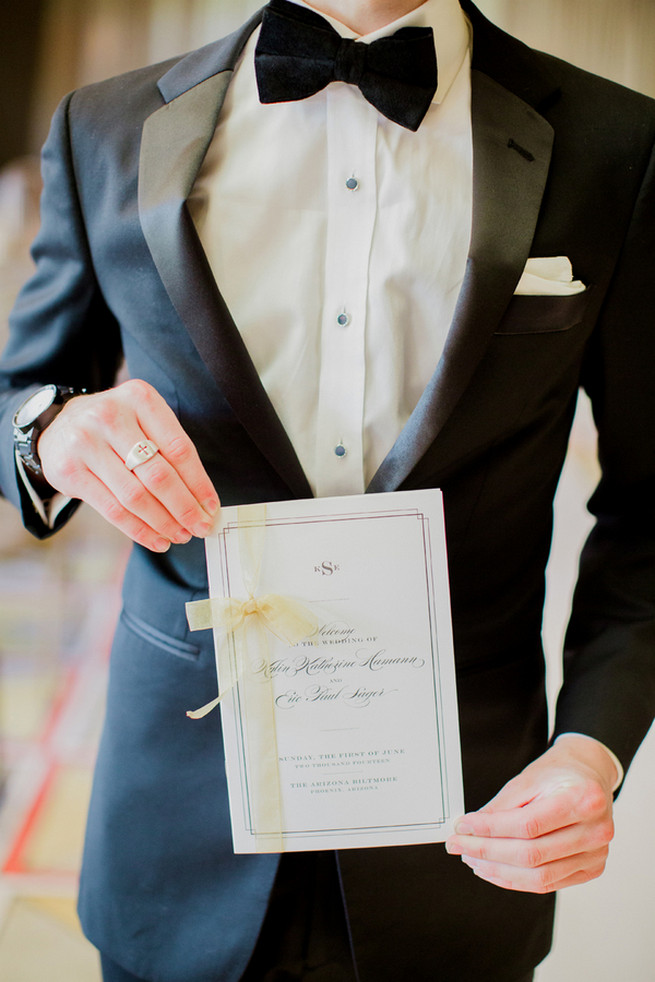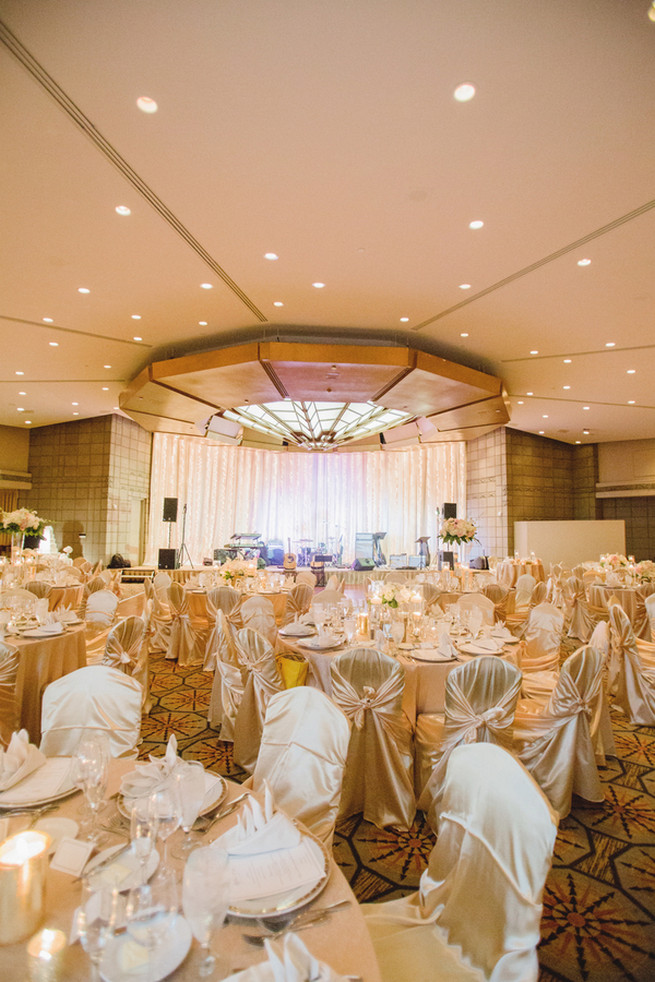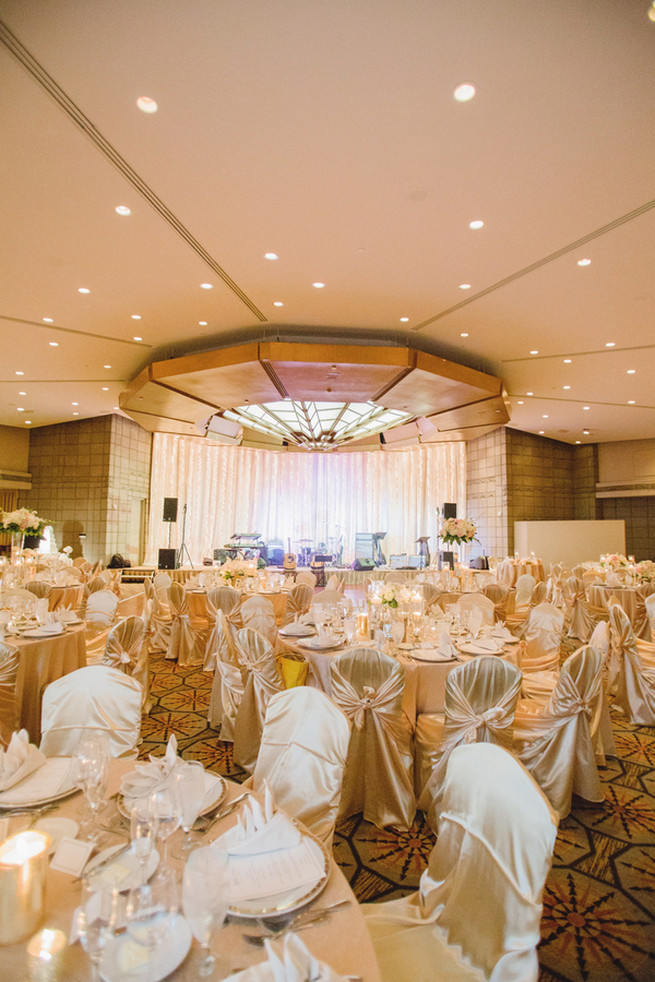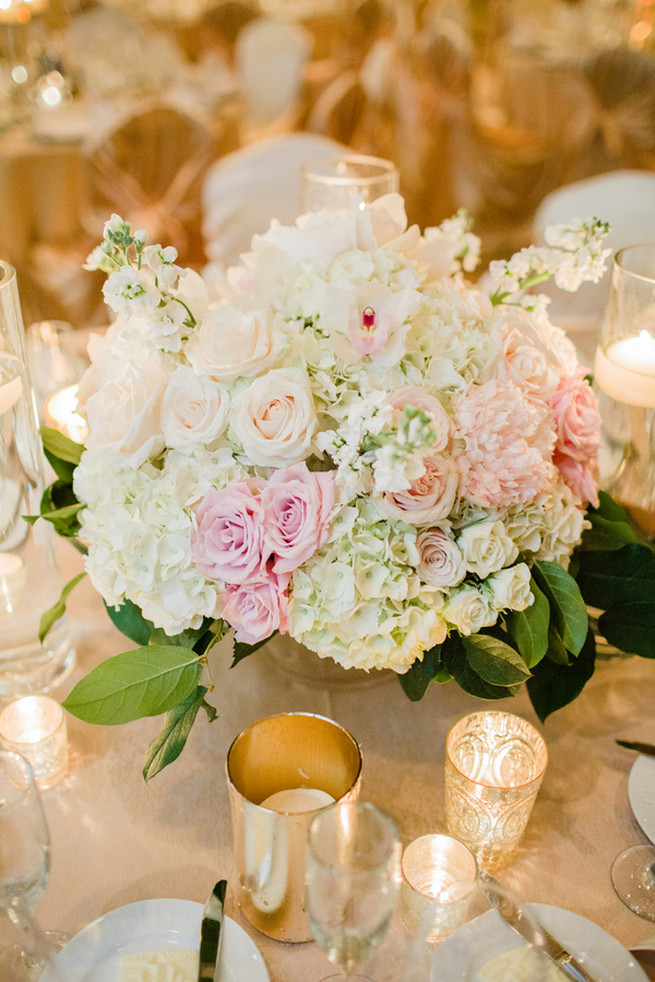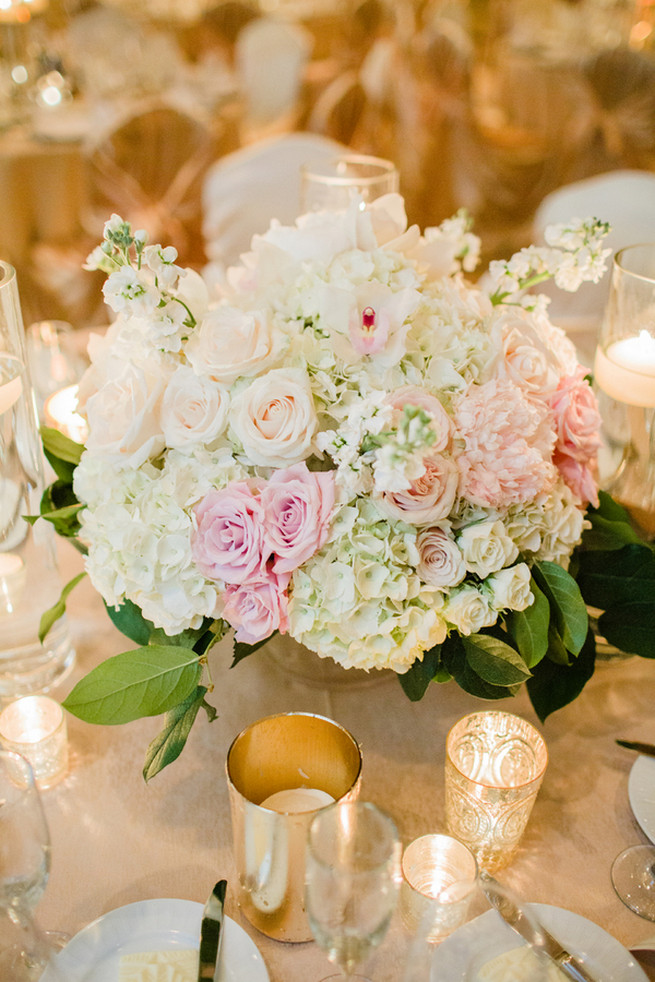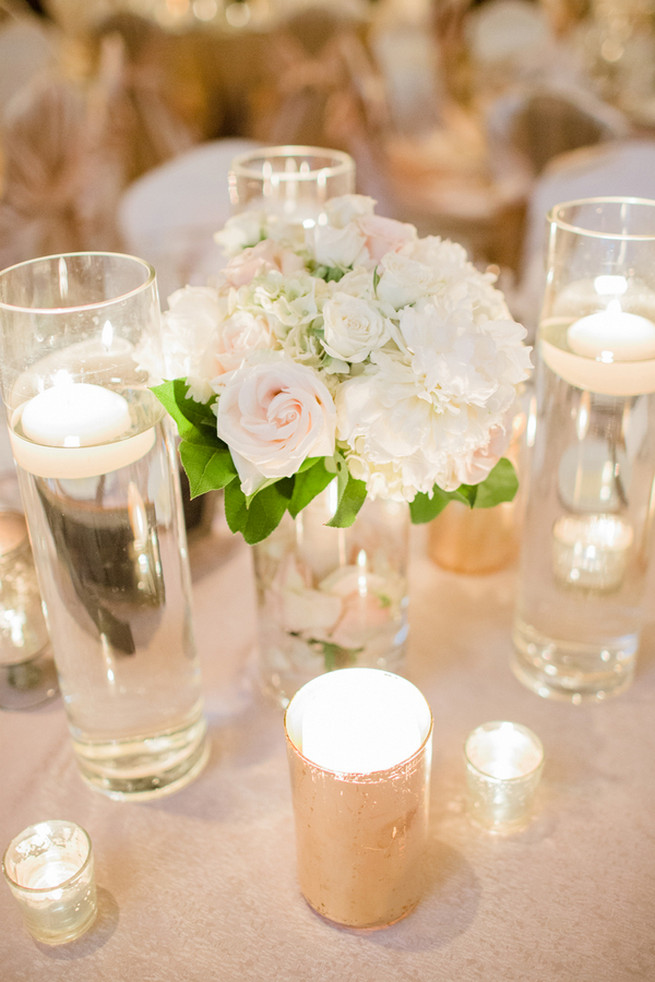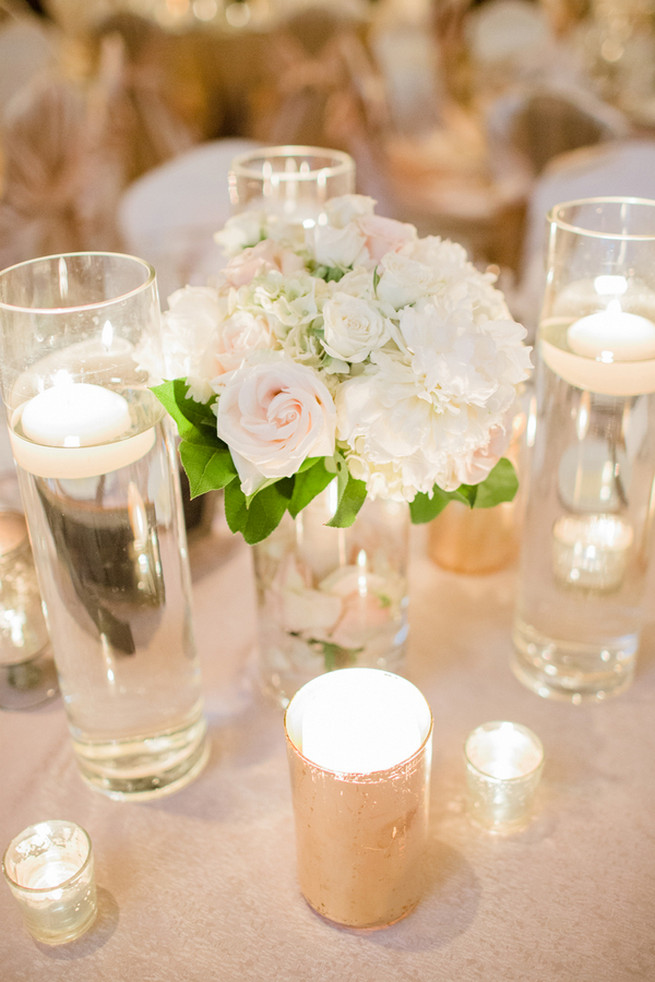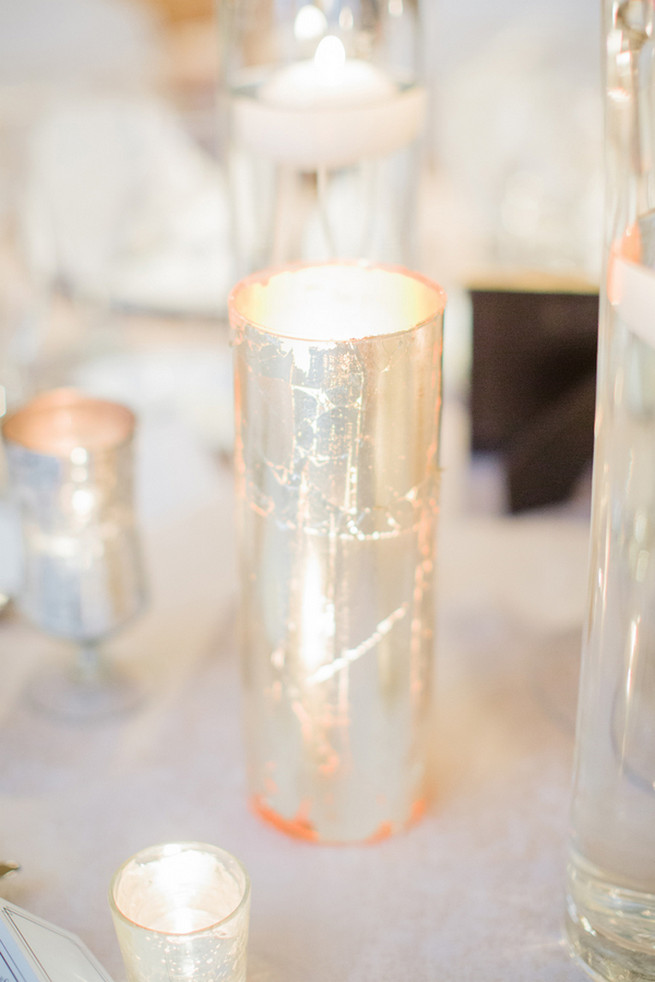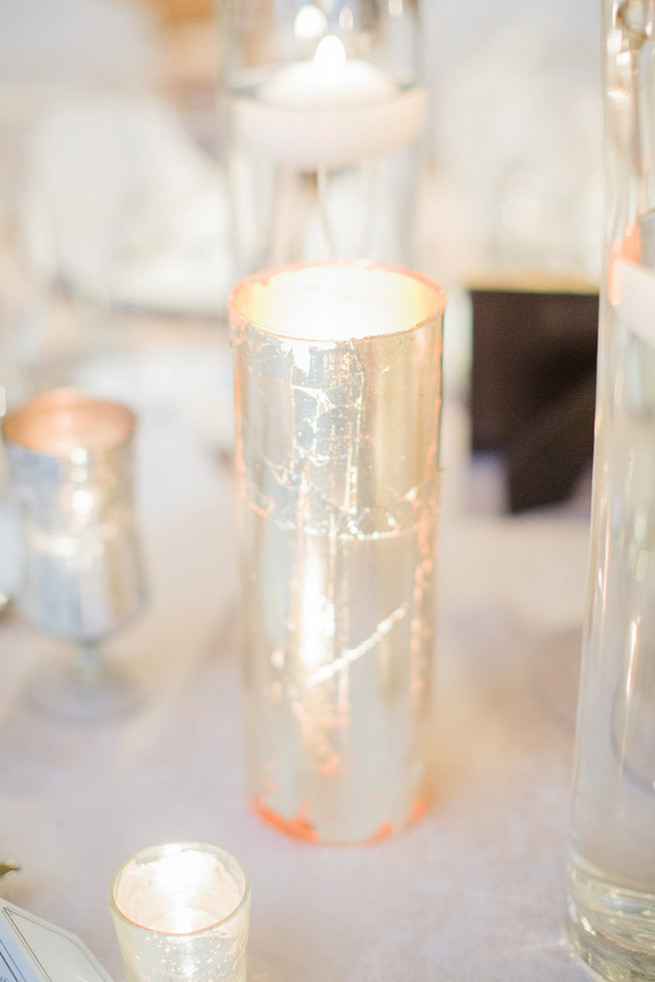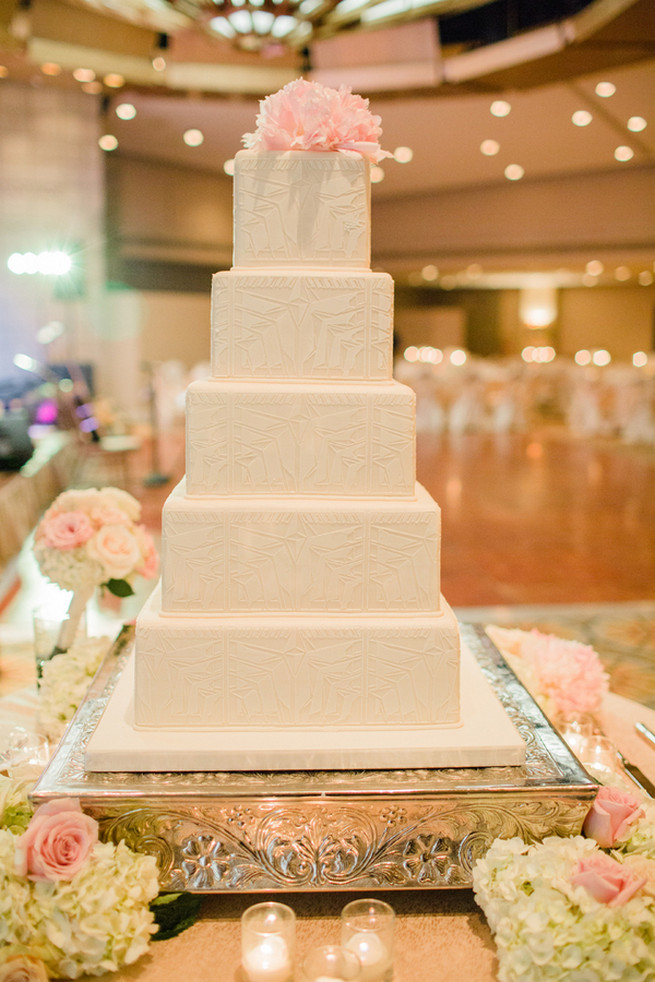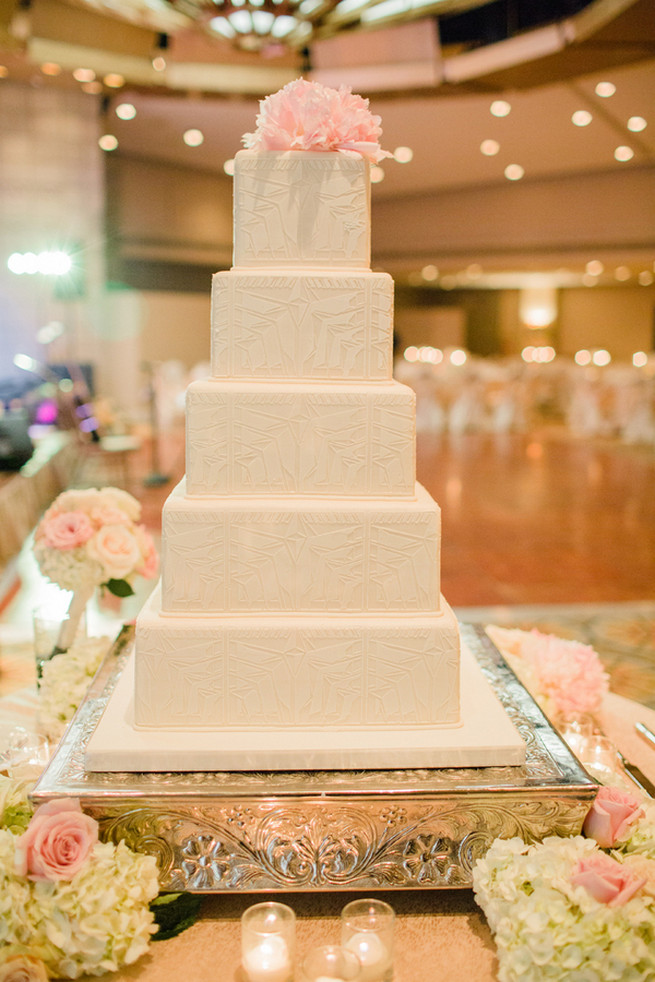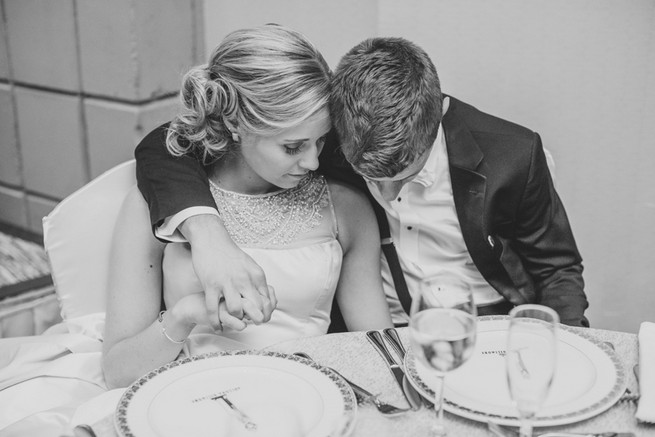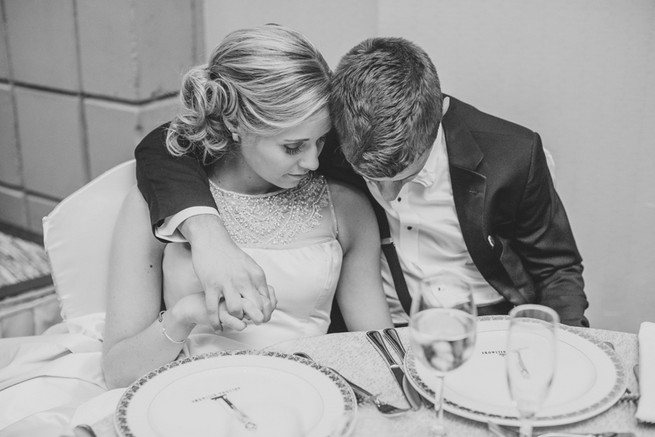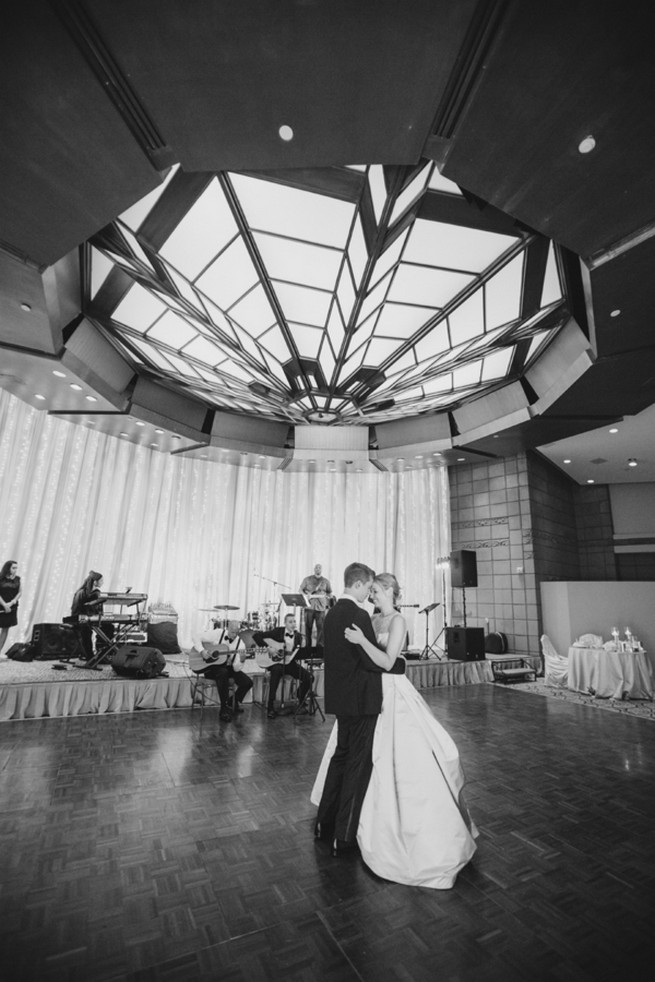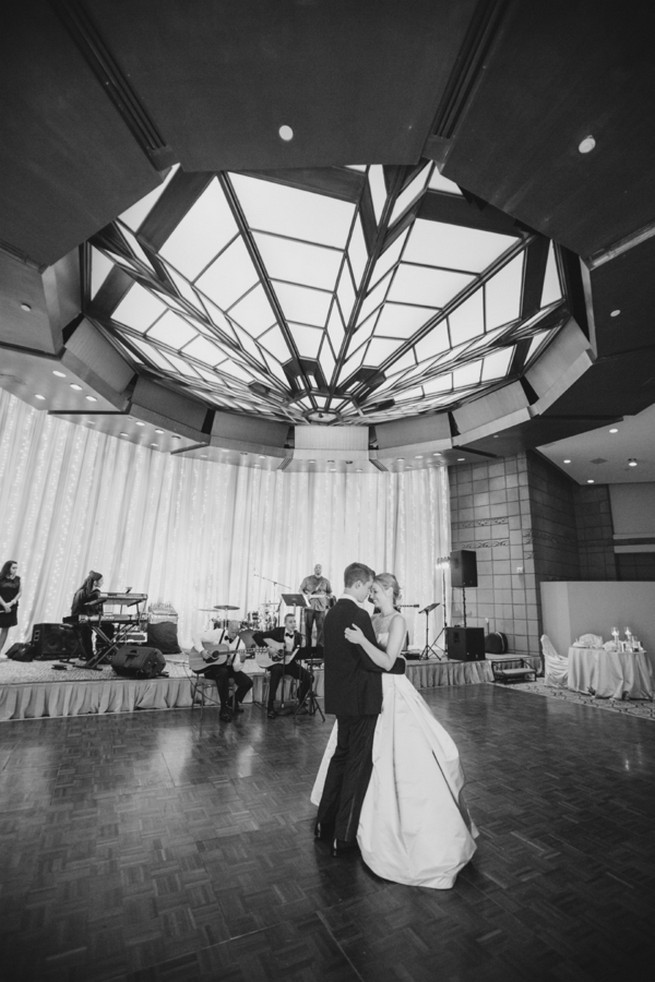 Glamorous Gatsby Inspired Wedding
Love Story: We met freshman year of college in Michigan in Calculus class. Meetings intended to be math study sessions quickly evolved into dates, and within the first couple months of school we were already dating! Spending our entire undergraduate experience together was such a blessing to us both, and we quickly knew we wanted to get married following graduation! Eric arranged for the most romantic and perfect beach proposal as my favorite place to be is by the sea! I was visiting family friends in Santa Barbara in July when Eric secretly flew from New York to California for the occasion. My family and close family friends facilitated Eric's plans for the perfect beach proposal. He was waiting at the bottom of the steps on the beach with a rose, waiting for me to come down. He led me out onto a long patio overlooking the ocean where he proposed. My family threw them a lovely beach engagement party later that night. It truly was magical!!!
Bridal Style: I never really had a set vision for what I wanted my wedding dress to look like! I actually picked the bridesmaids' dresses far before I found my own. With the bridesmaids' dresses being so sparkly and glamorous, I was actually wanting to find a dress that was simpler and classy–perhaps inspired by Audrey Hepburn. However, the "simple" part went out the door when I tried on my wedding dress (Victor Harper VHC205 )! My mom and close friends that were there when I tried it on knew at once it was the perfect dress for the occasion. I absolutely adored the jeweled details, the buttons lining the entire back, the gorgeous long train, the cinched waist, and the hidden pockets too! I thought the dress would go really well with all the bridesmaids' dresses I had found, and it truly made me feel like Cinderella!
I knew I wanted my hair to be up off my shoulders and inspired by 1920s flair! The ladies at Amazing Face did my hair and makeup as well as all the bridesmaids as well. They were so good at hearing my vision and executing it perfectly! We were all really happy with our hair and makeup–they were all slightly different yet complimented each other so well!
Bouquets: I envisioned the bouquets to be very subtle and elegant. I wanted the bouquets to be full of peonies and roses as well as other smaller filler flowers that would complement well. Flora Bella did an incredible job!
Bridal Party: The bridal party was quite large due to the fact that I have five brothers and two sister-in-laws and my husband has two sisters and two brothers! The rest of the party included cousins and other really close friends. We felt so blessed to have so many people in the party that we are so close to and so grateful for! I really wanted the bridesmaids to be wearing different unique gowns that would go along with the Gatsby glamorous feel of the Arizona Biltmore. I picked out the various gowns specifically for my ten gorgeous ladies based on their unique styles and personalities. The gowns were Ralph Lauren, Adrianna Pappell, and Pisarro Nights. I was so happy with how stunning my girls looked – each shining in their own individual style but complementing each other tremendously! Their  bouquets were mini versions of my own with the same soft muted colors. The groomsmen all wore classic tuxedos. The velvet material used for the bow ties was hand selected by my younger brother who had the bow ties specially made for the event. The groomsmen wore black bow ties, and Eric stood out with his white velvet bow tie!
Groom Style: Eric wore a classic tuxedo from The Black Tux. This company is amazing at delivering stylish and affordable wedding wear–we were so happy with how the tuxedos fit and looked on our guys!
Wedding Ceremony: It truly was a family event–my uncle helped marry us and played harp, my little brother read a verse, my husband's uncle was also involved in the ceremony. We really wanted to make the day about celebrating our love for each other and our love for all the special people in the room who helped make us who we are today.  Our music was a huge focus of our ceremony and wedding day in general! My cello teacher and her wife were our musical arrangers and organizers, and they helped us ensure the music was top notch and extremely special. As I walked down the aisle, ten cellists (all of whom are friends from many chapters of life) played along with a piano to an arrangement of "A Thousand Years," inspired by an arrangement performed by the Piano Guys. Another special musical element was when my five brothers played string quintet arrangement of one of our favorite hymns. Eric and I exchanged personal vows as well as recited traditional vows.
The ceremony took place in the Gold Room of the Arizona Biltmore. The gold ceiling and stunning architecture of the room make the room absolutely gorgeous when the sun is setting! Flora Bella did an incredible job at decorating the room in a simple yet elegant way. They made a backdrop with gold fabric and shimmery beads to make the front of the room extra elegant. Flowers resembling my bouquet lined the aisle and the front of the stage. We had a beautiful antique metal cross placed at the front of the room to signify our common faith and the holiness of the ceremony.
Wedding Readings:  We had several Bible verses read during the ceremony, my favorite being Ruth 1:16.
"But Ruth replied, "Don't urge me to leave you or to turn back from you. Where you go I will go, and where you stay I will stay. Your people will be my people and your God my God."
The other highlight was "One Hand One Heart" from West Side Story. The chorus from this song was the "theme" of our ceremony as the words were printed in the program.
Wedding Reception Details: The Arizona Biltmore Grand Ballroom is stunning! We didn't have to do much to make the room sparkle. Behind the stage, Flora Bella did a beautiful display of string mini lights and fabric to create an extra magical stage. The tables were set with gold/champagne table clothes and fabrics. Flora Bella moved all the flowers used from the ceremony directly to the reception hall in addition to a couple more floral pieces on the tables. Tiny candles filled out the middle of the tables to make the room sparkle even more. Eric and I sat at our own sweetheart table on the side of the dance floor – we loved this because we were able to eat together and have some one-on-one time before the dancing and greeting began.
Wedding Music:
As a cellist and harpist myself, it was extremely important to us to have incredible live music during the ceremony.  After we exchanged rings, we had my voice teacher from when I was younger sing along with another family friend "One Hand One Heart" from West Side Story. This was an absolute highlight for me and my husband.
 Michael Buble's "Everything" played as Eric and I entered the reception hall. This was the first song we held hands to when we were freshmen in college, and it always makes me smile and think of how much I love Eric!
Another highlight of the day was the first dance. My older brother and really close family friend arranged and performed a version of "The Gambler" by Fun for our first dance. The words were rearranged so the story focused on us specifically. It truly was so special to dance with Eric and hear our story sung and performed in such a beautiful way. We received license from Fun. to rearrange the words.
Wedding Planning advice:
ENJOY! You only get to plan your wedding once! It was such a special time to enjoy picking out what you like and seeing it come to be on the special day! My mom and I bonded so much through this experience. My main piece of advice is to enjoy every second of being engaged and planning such a special day and then to just enjoy the day regardless of whether or not everything goes perfectly!
I actually purchased all the dresses for my bridesmaids by finding them on Ebay, at Marshalls, and at Last Chance (in Phoenix, AZ). I found several of the gowns at Last Chance for 30$! This was a really fun (and a bit tedious) way to curb costs as it did take a fair amount of time to find all the amazing deals.
  ♥ ♥ ♥ Credits ♥ ♥ ♥
Photographer Elyse Hall // Bridesmaid Dresses Adrianna Papell, Ralph Lauren, Pisarro Nights  // Venue Arizona Biltmore   // Videographer Michael Tassoni  // Dress Victor Harper  // Brides Hair  & Make-up Amazing Face //Flowers & Decor Flora Bella  // Cake Arizona Biltmore  //  Music TreJa Vu Band // Favors Coffee (Café Por Favor) and personalized mugs (the tag said "our love is brewing") // Stationery Personalized  // Wedding Planner Lucy Parrish (Executive Assistant) and Carrie Bayless (from Arizona Biltmore) // Brides  Badgley Mischka  and Kate Spade // Suits Black Tux