With Ethical, Heartfelt Touches  ♥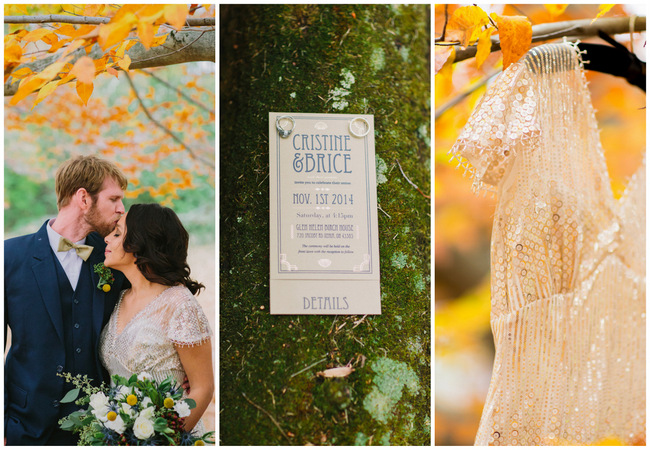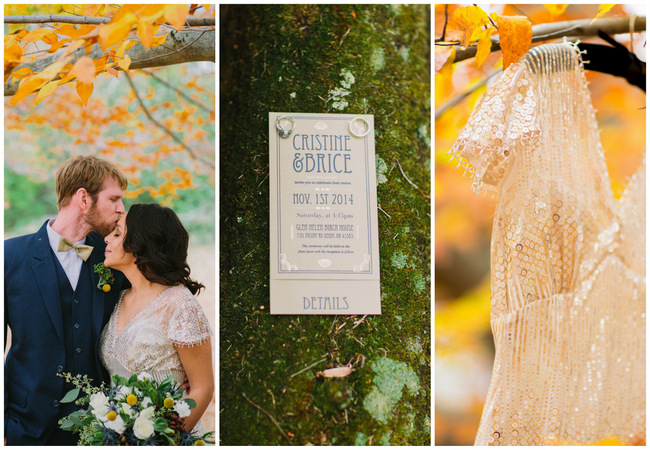 Despite getting married on a freezing cold November day, Cristine and Brice's 1920's-30's art deco glamour wedding  at Glen Helen Birch House  was filled with warmth. Having worked and volunteered for World Relief, Cambodia, the couple curated much of their Gatsby-inspired Autumn Birch House Wedding while abroad. Cristine's gown, the grooms suits, the bridal party attire and even the fabric used for the reception tables was hand-crafted in Cambodia by local artisans and their families who are rebuilding from decades of war. (In rural Cambodia, the average income is under $15 per day.) The couple also involved their own families in DIY projects for the day. Cristine's mom, grandma, and a friend helped them plant, and later create, 180 eco-friendly succulent wedding favors! Along with the succulents, the couple also donated a small tithe to World Relief Cambodia, which says a lot about just the kind of amazing people these two are.
Their couple and bridal party photographs in the forest captured by Chloe Luka Photography are so much fun and such a testament to the fun spirit of the day.
"Since we both needed to finish work obligations in Cambodia we planned a lot of our wedding from abroad with an opportunity one week in June in the U.S. to meet with the vendors we had chosen online," shares bride, Cristine. "Our location, the Birch House in Yellow Springs was, in true life just as beautiful as we had hoped. Our other vendors such as our photographer, cake, pies, caterer, and band were also great.
The night before our wedding we stayed with the bridal party at the historic Grinnell Mill just a few miles from our venue. Tastefully restored, it was a wonderful location to eat, talk, drink and relax with our friends. Our big day paid homage to the 1920s-30s Art Deco glamour that was so ornate, yet tastefully beautiful. We requested our guests dress in the style of that era. The Birch House built in the late 1800s would serve well with its gorgeous wood staircase and fireplaces. Due to the number of invitees we knew we would need a tent to accommodate our guests and through some pinterest searches we hoped we might find a clear tent for the Birch House's wooded surroundings, and in fact, we did. We were so excited to see the fall leaves yet hopeful to stay warm with tent heaters."
Gatsby-Inspired Autumn Birch House Wedding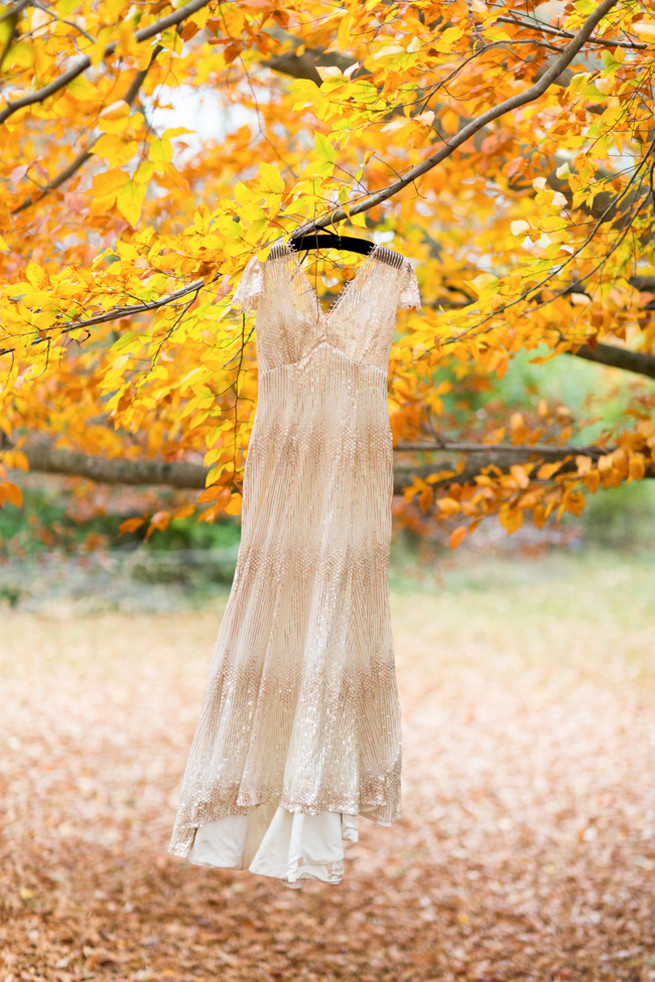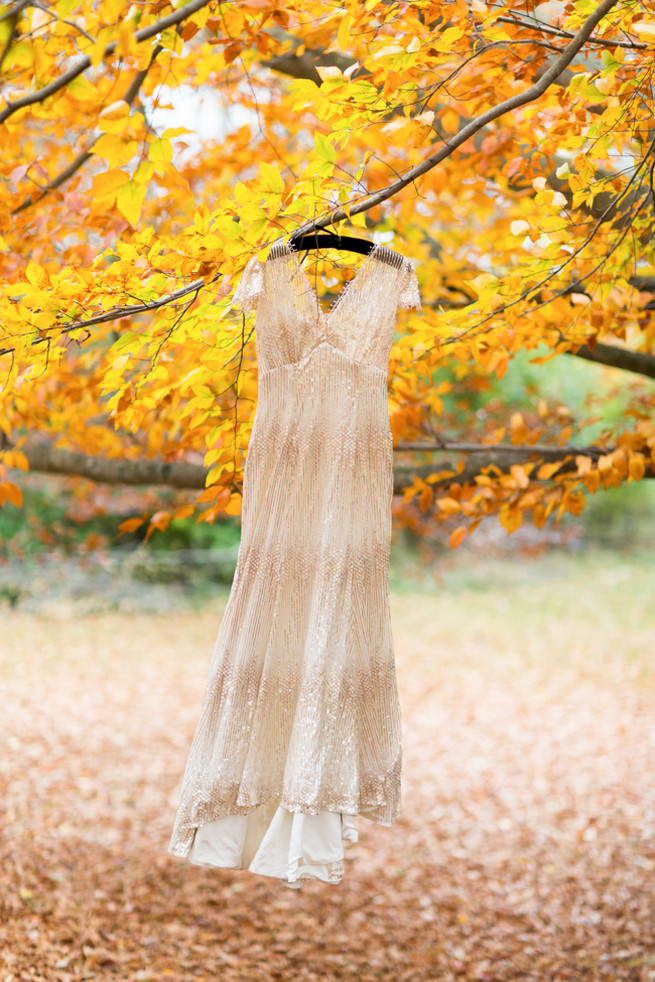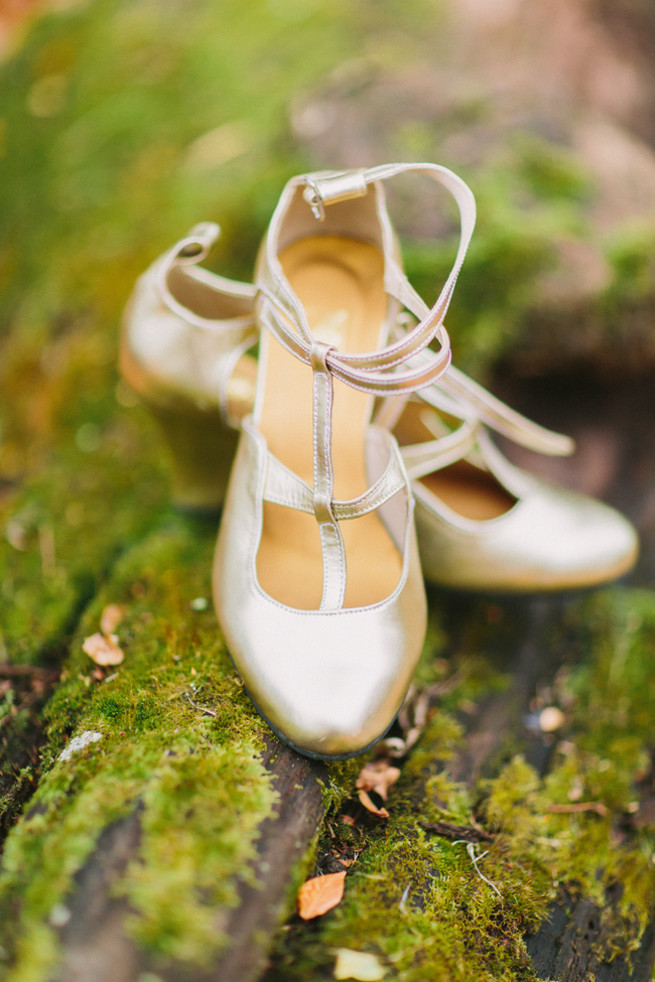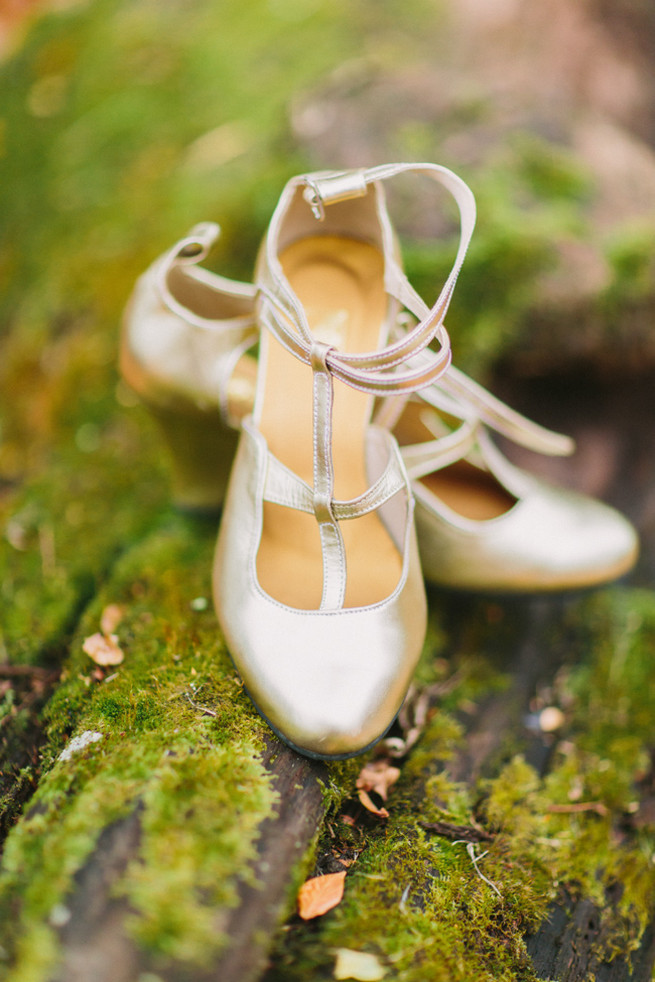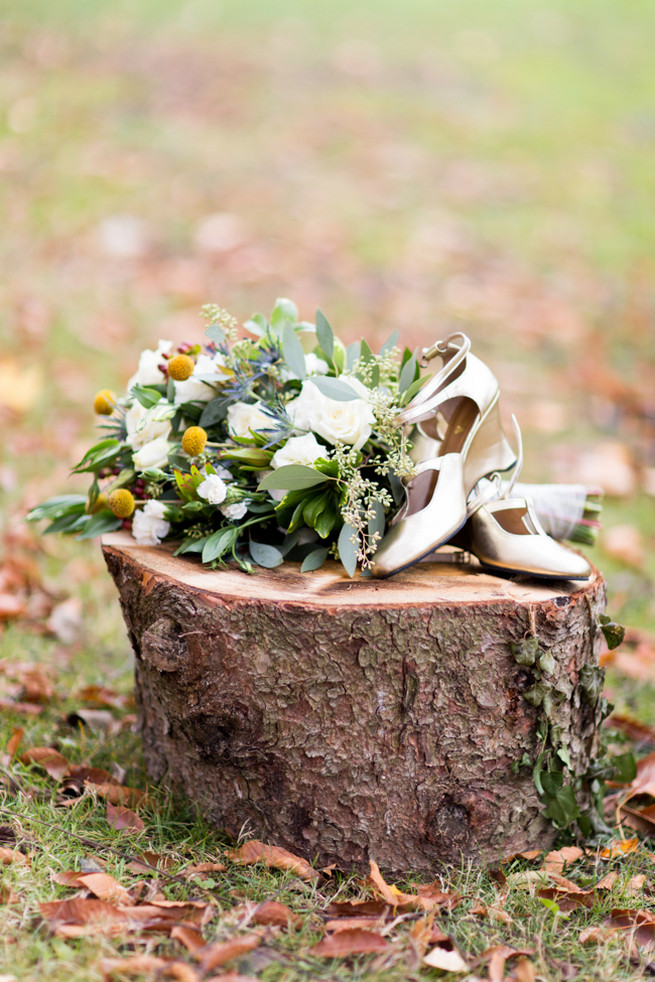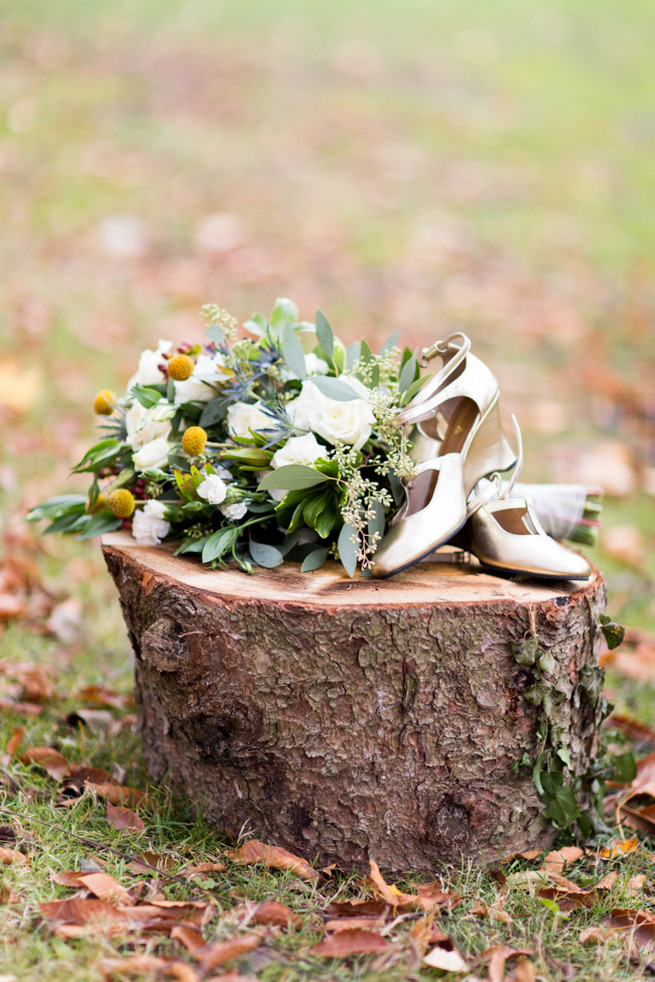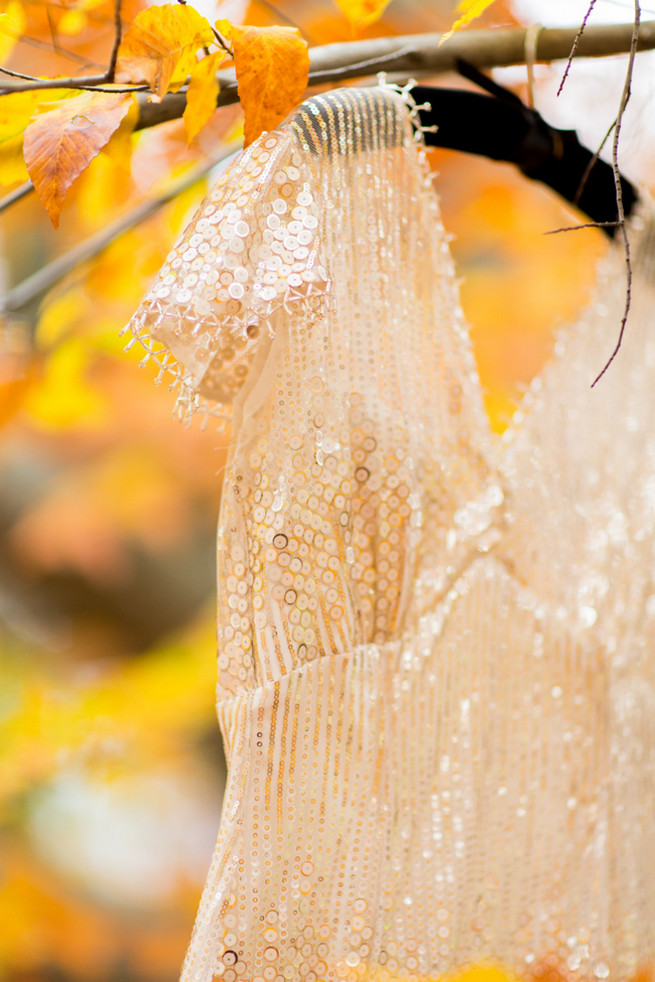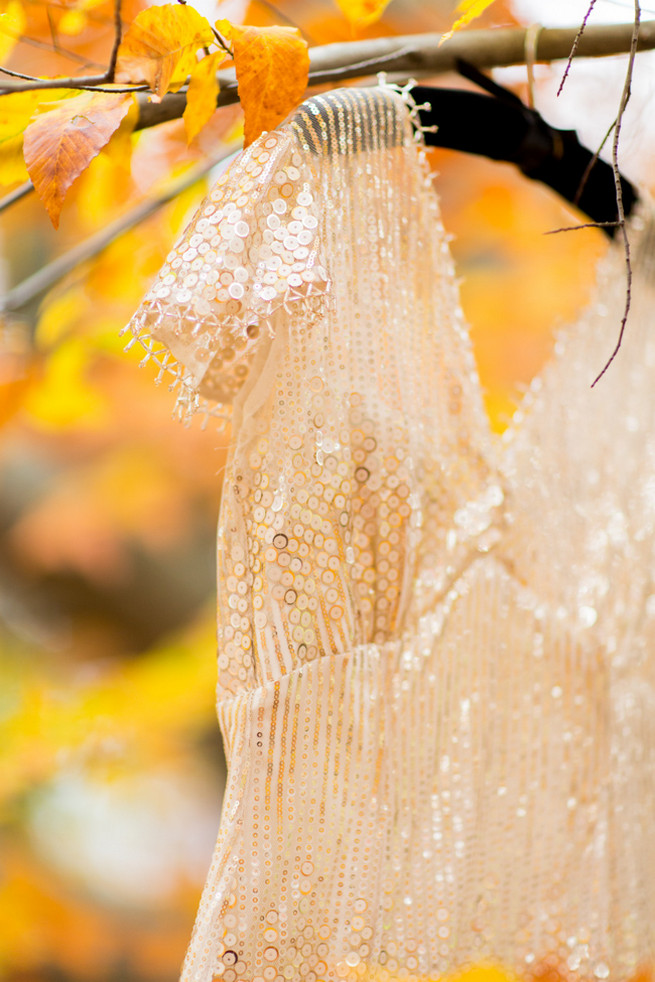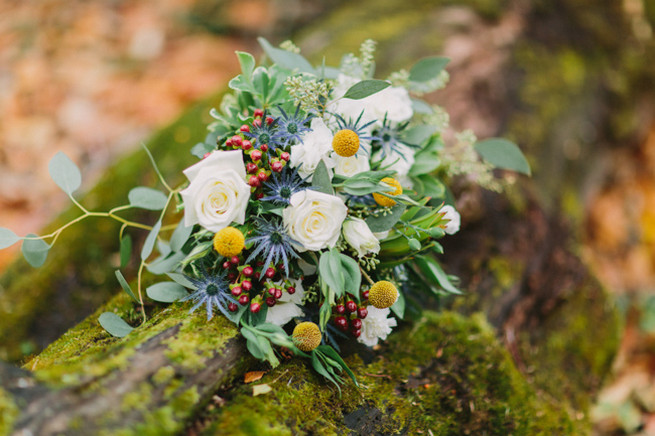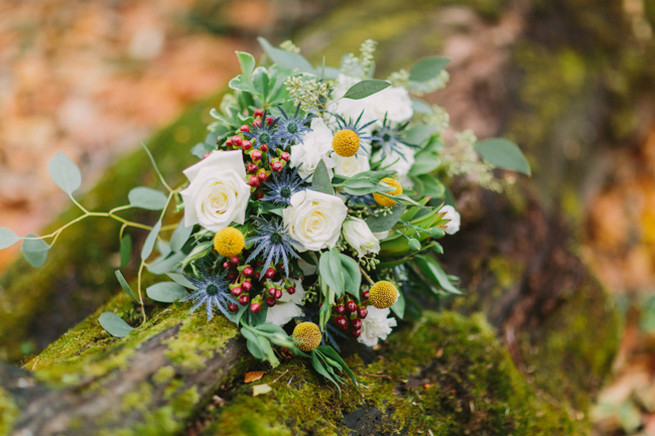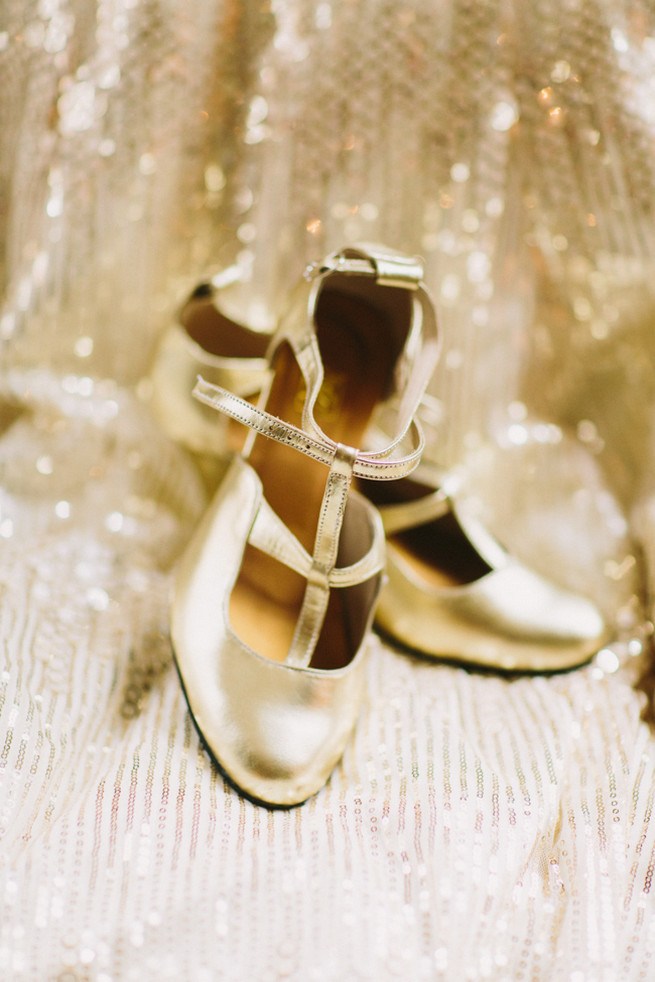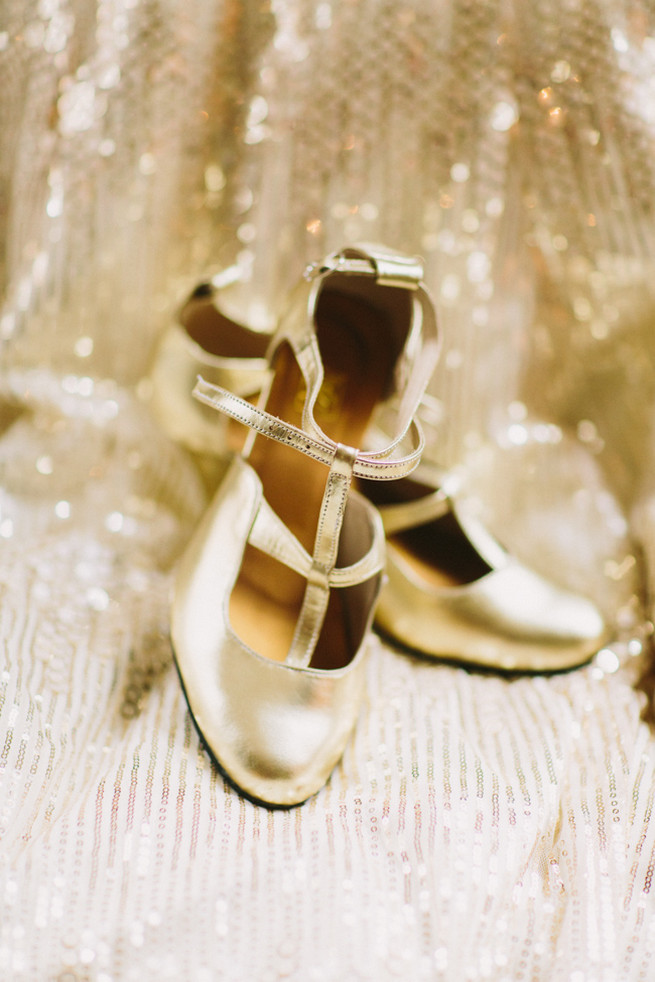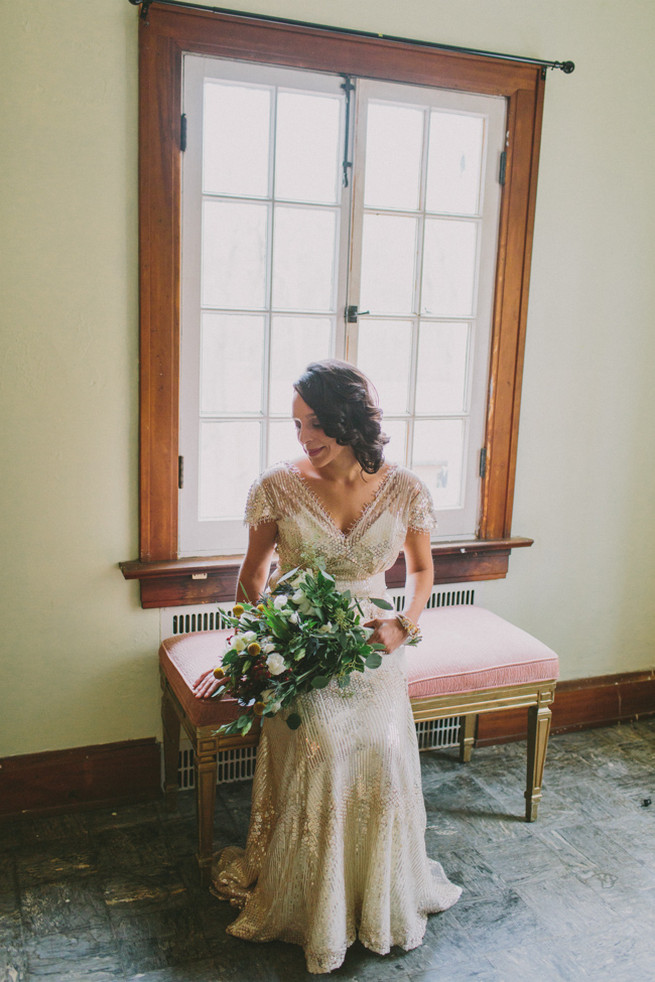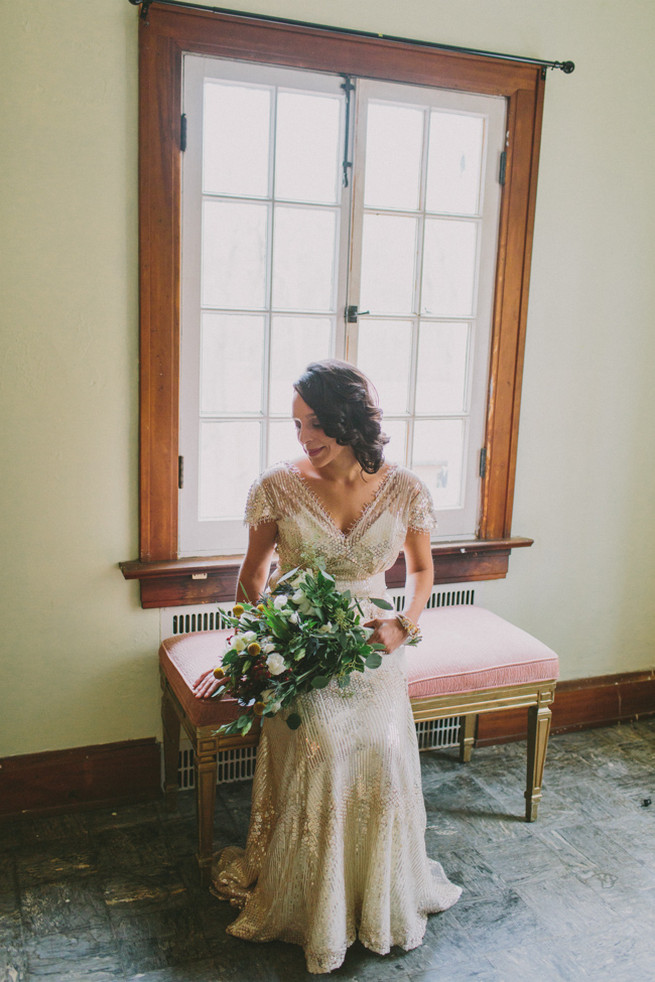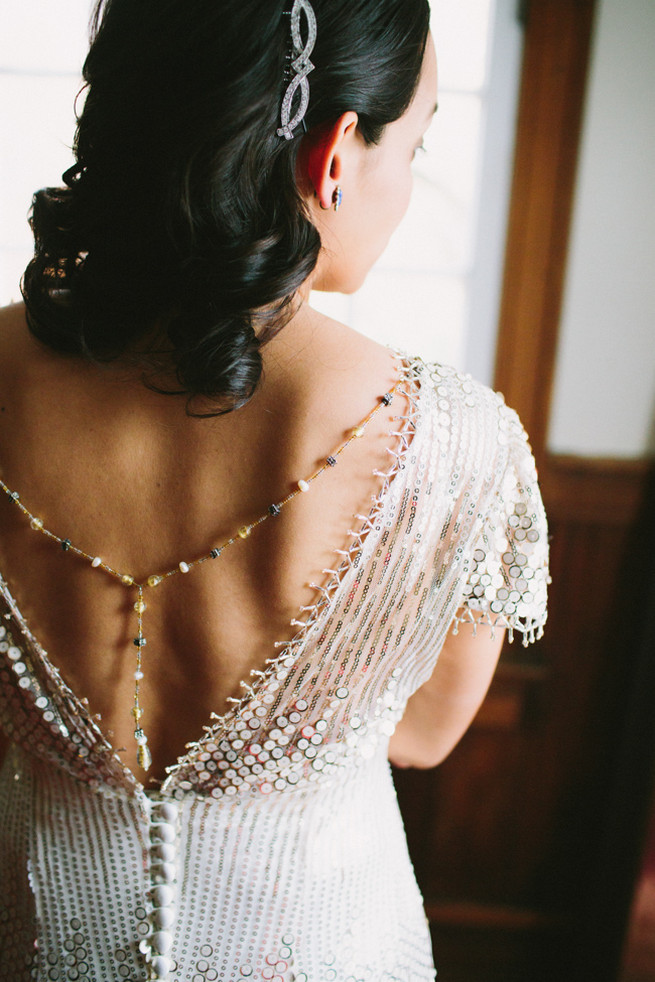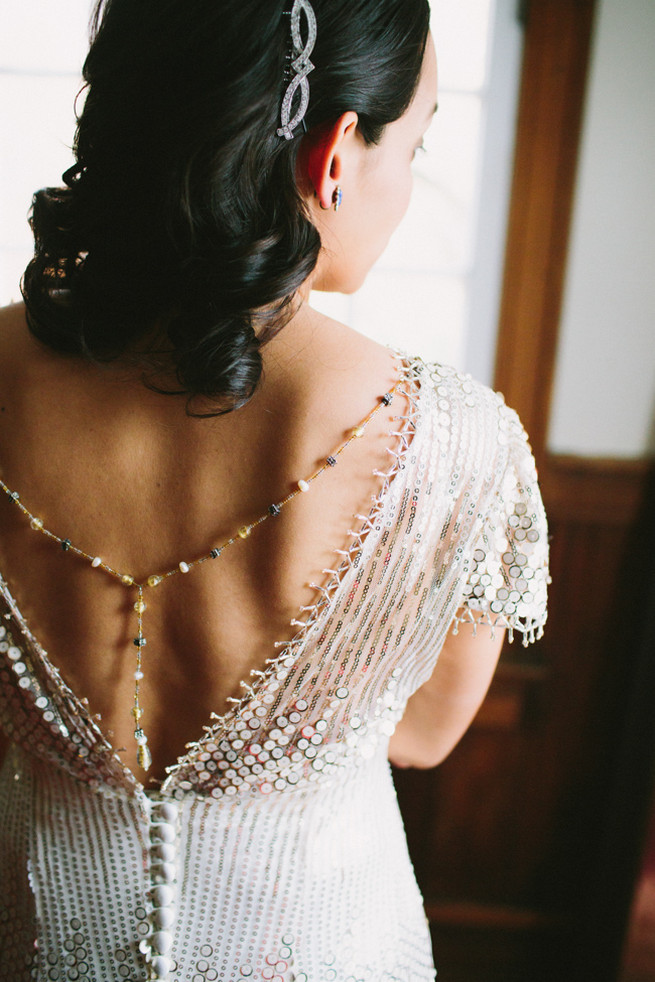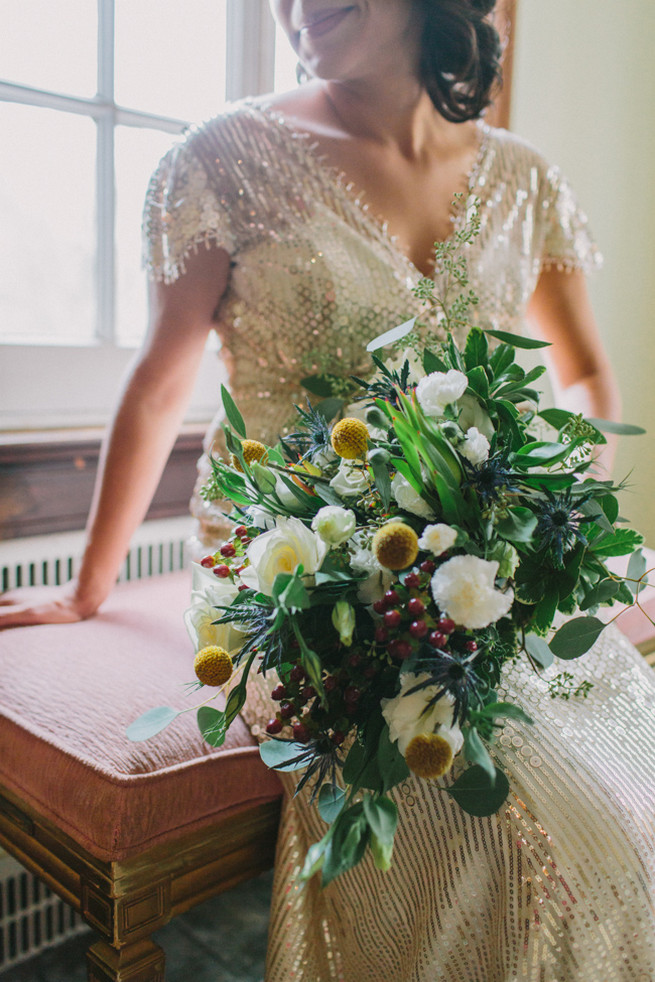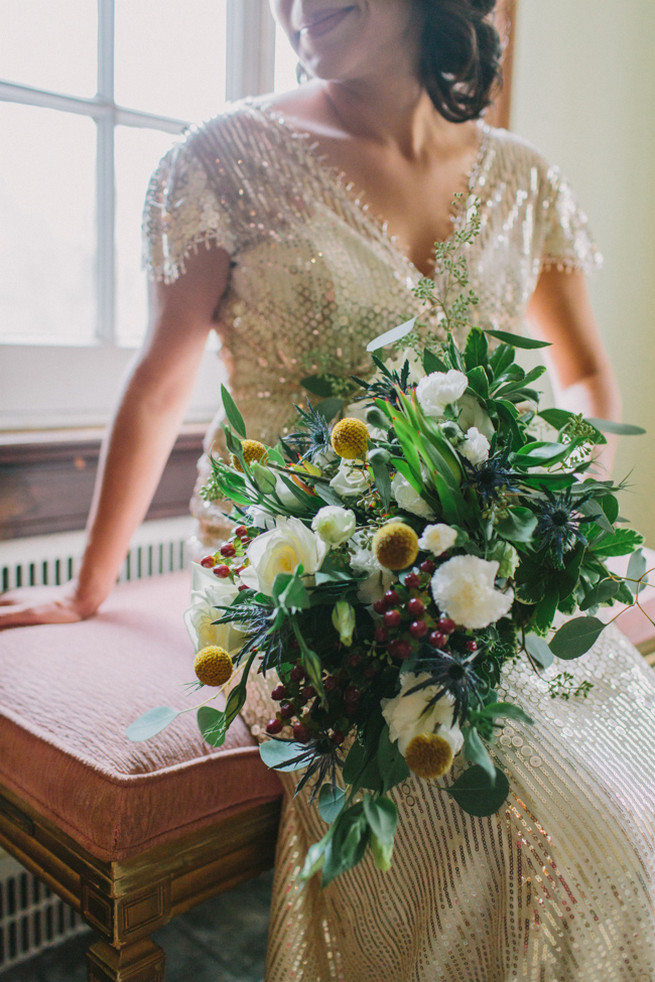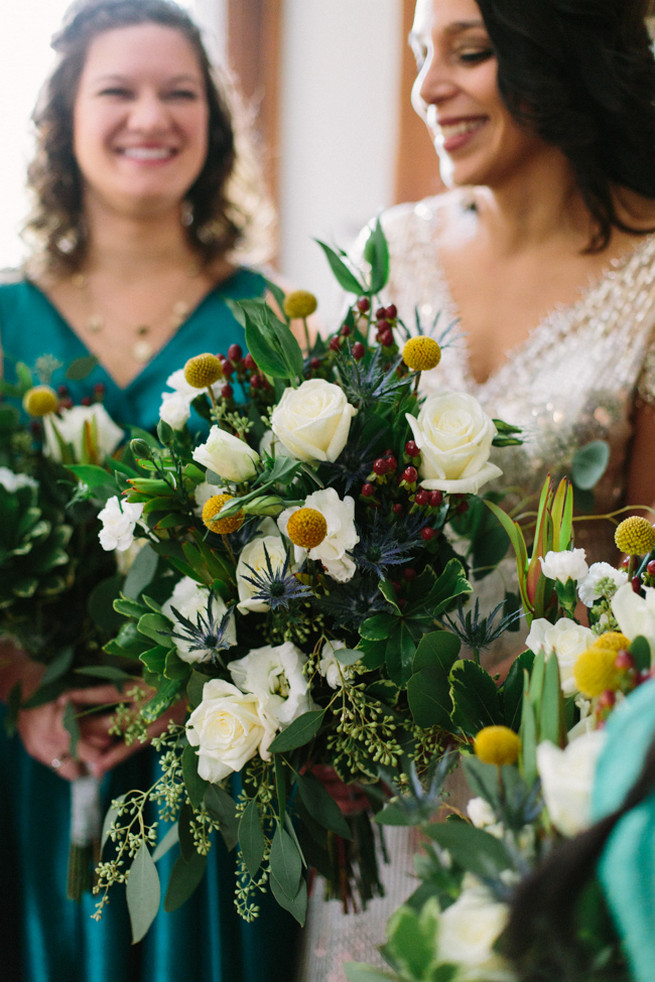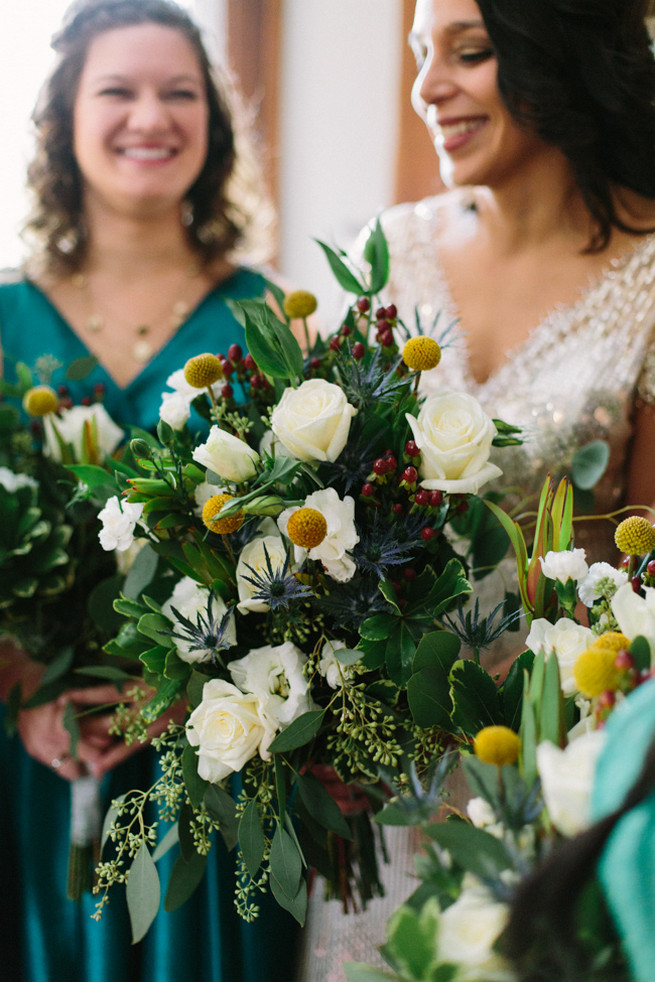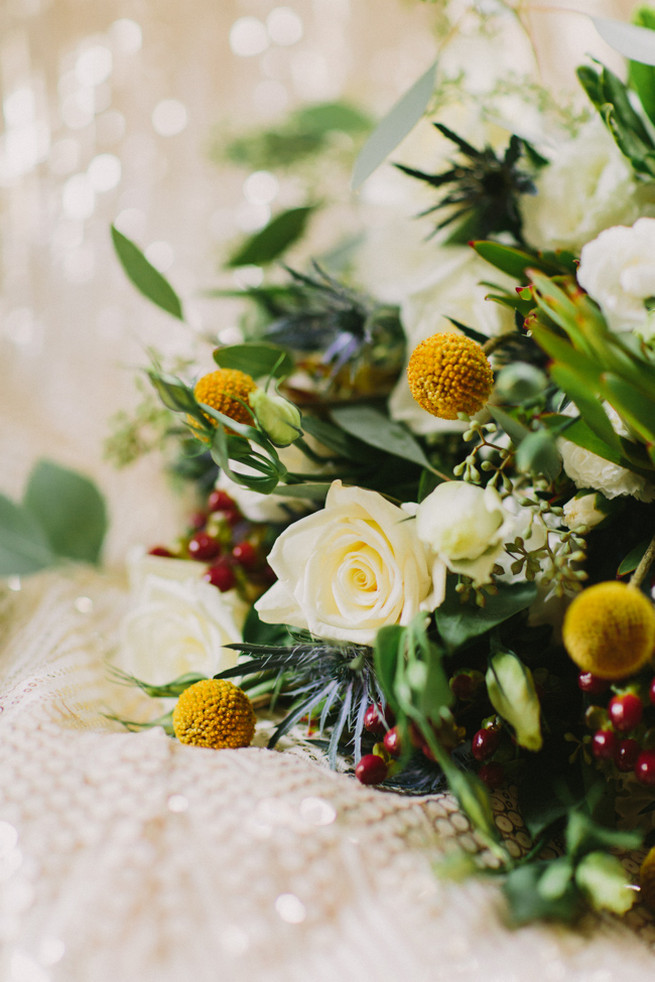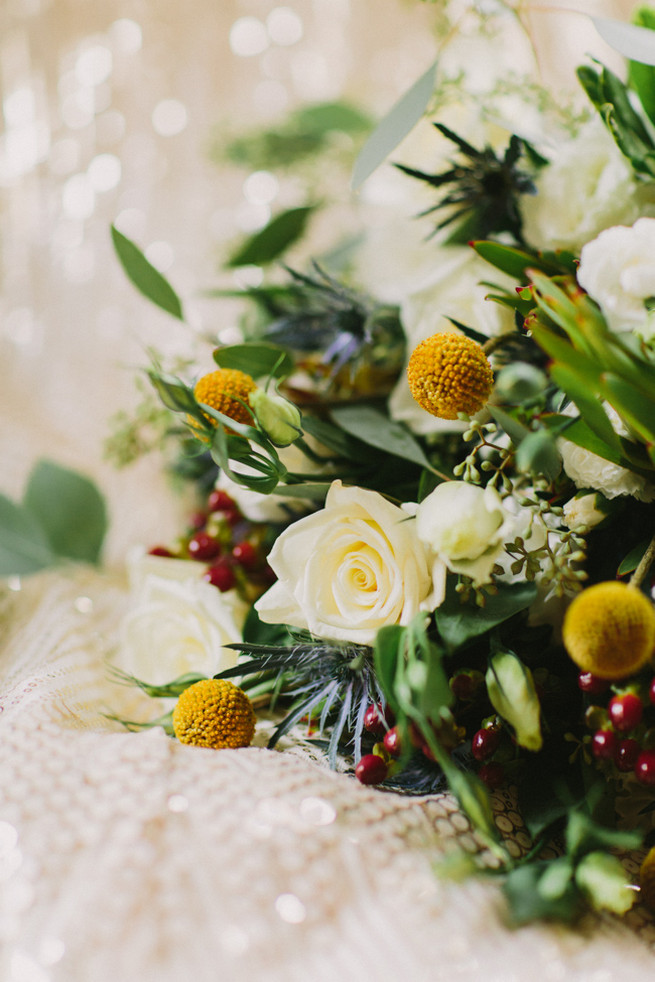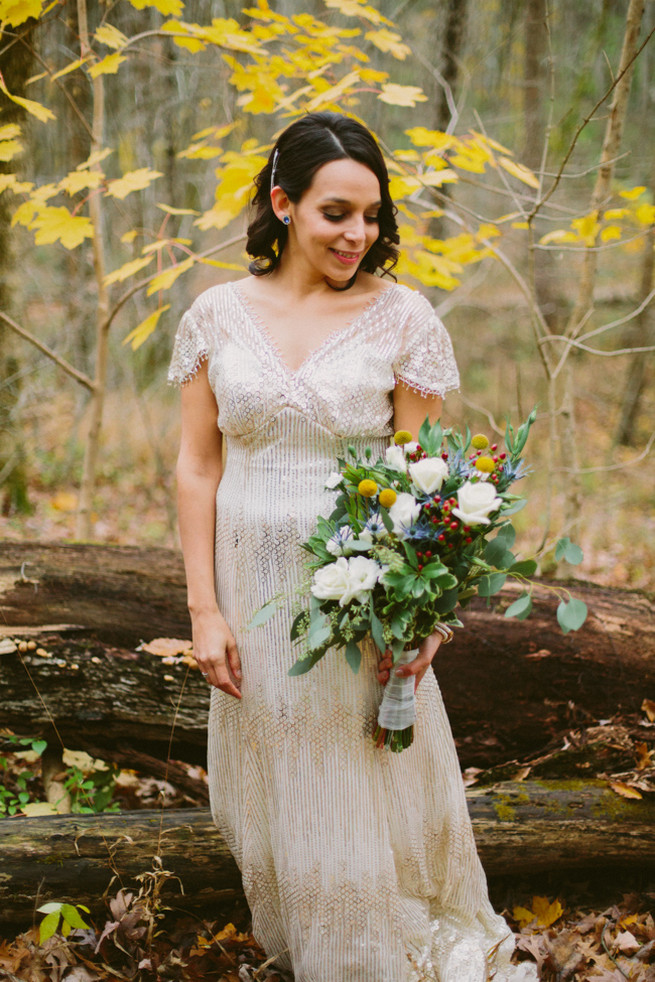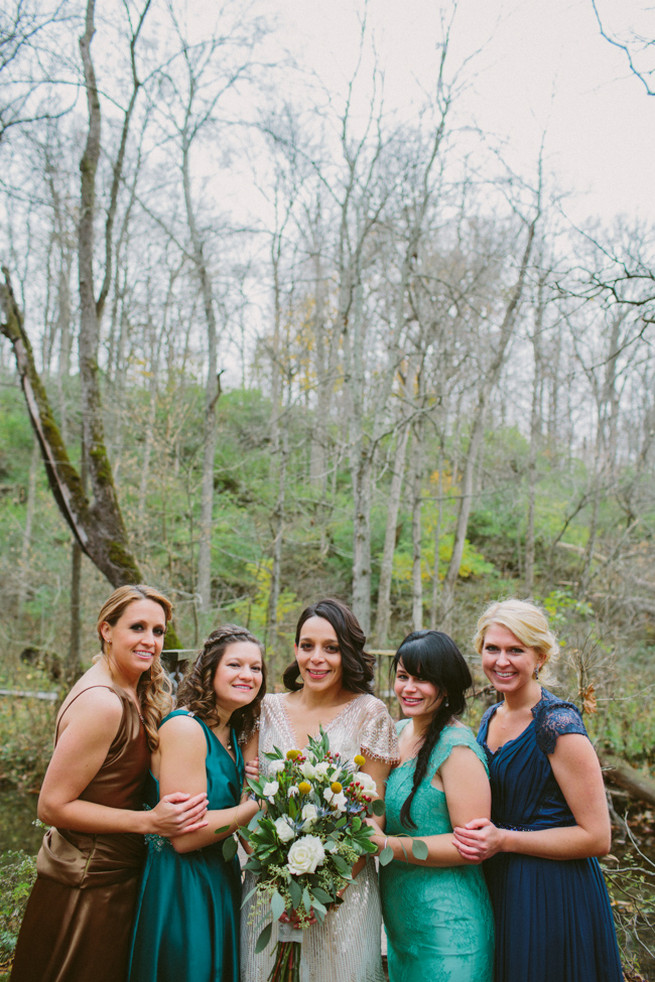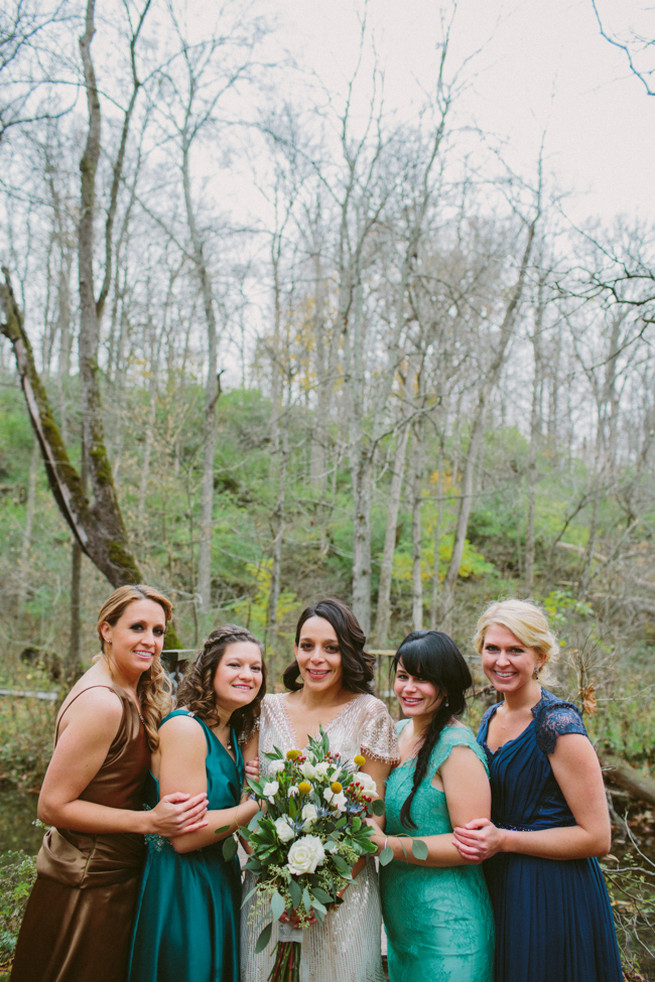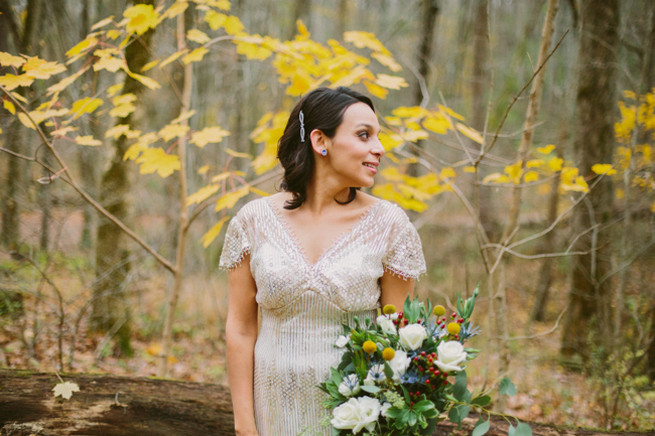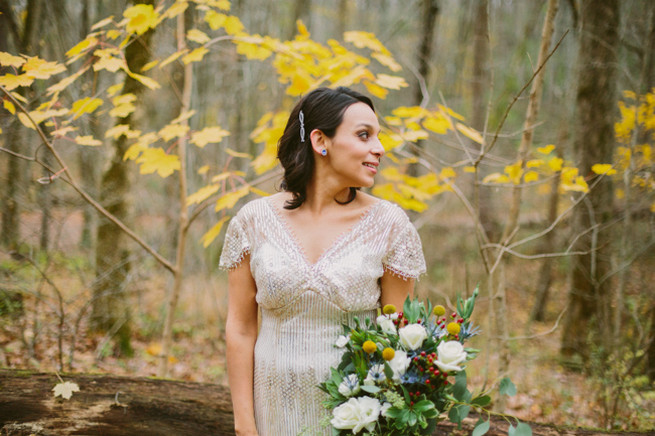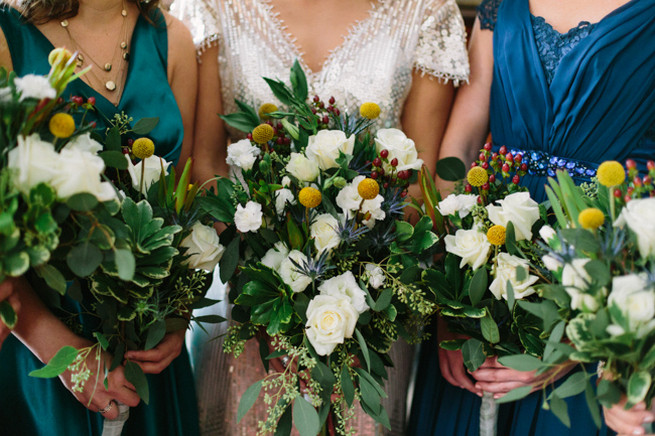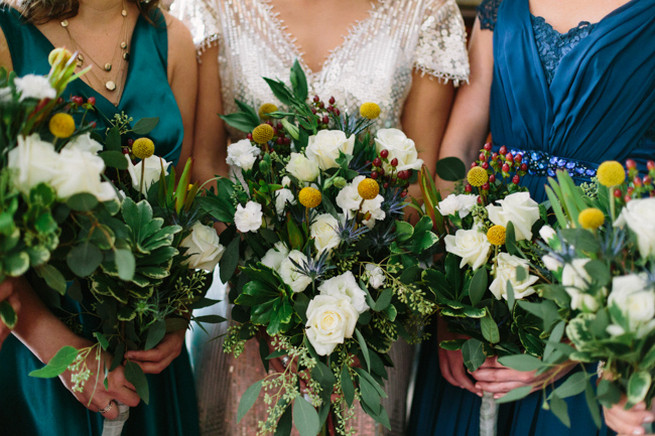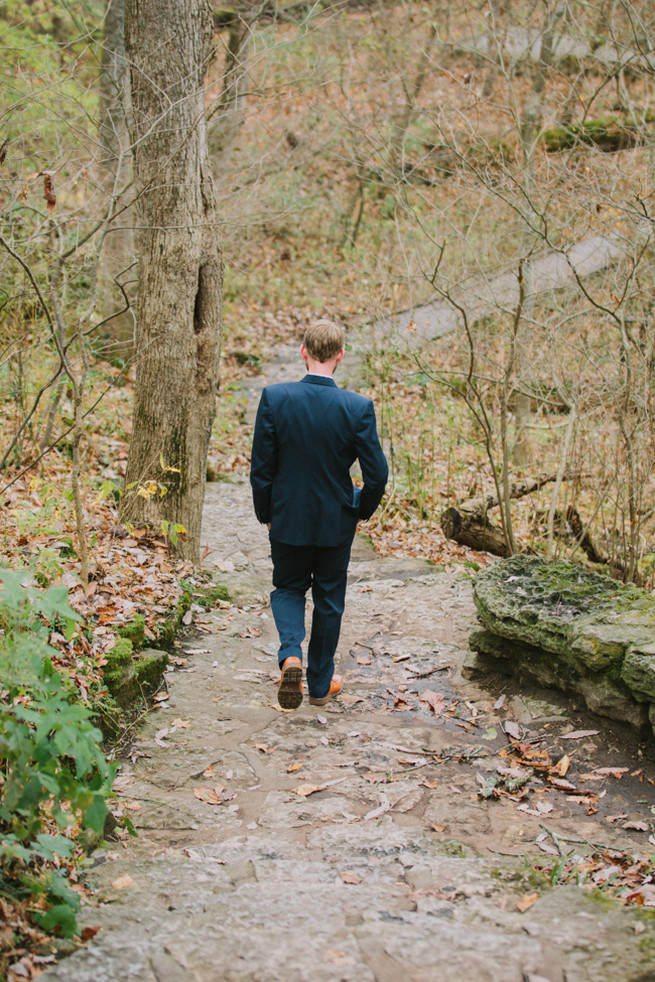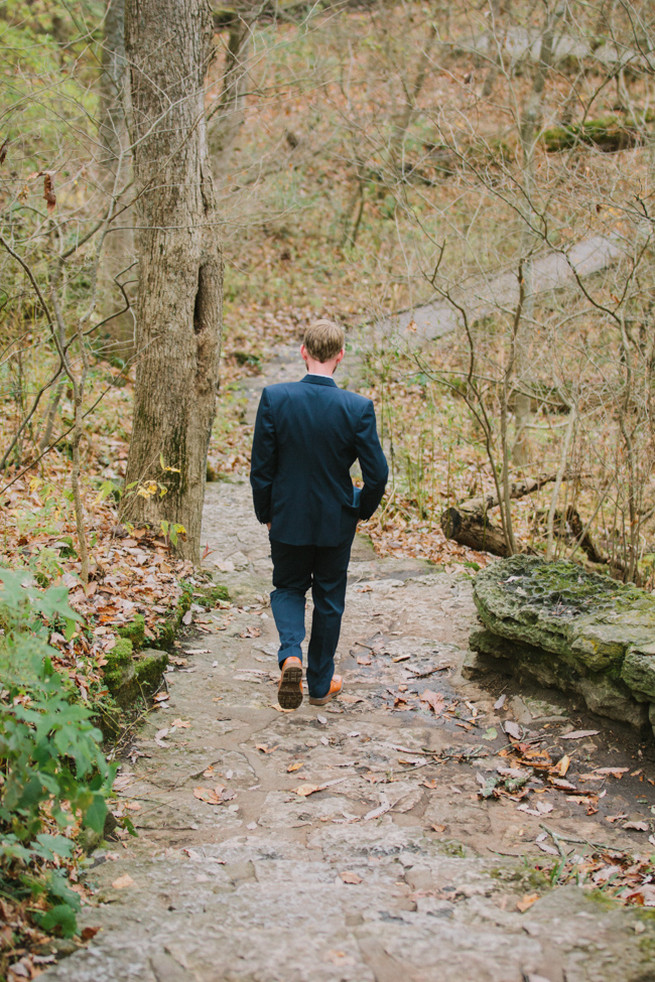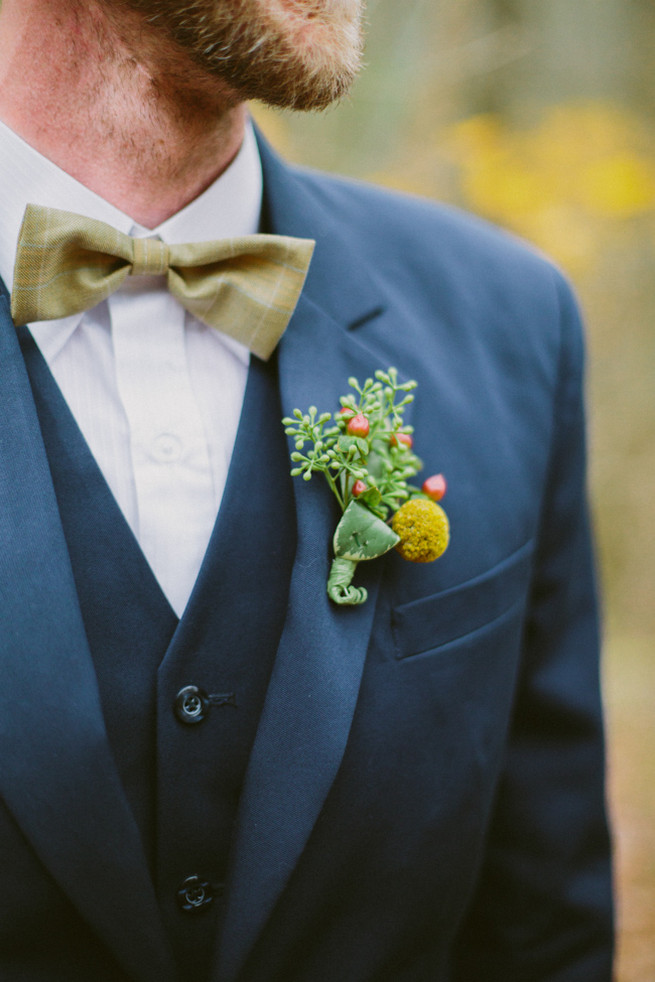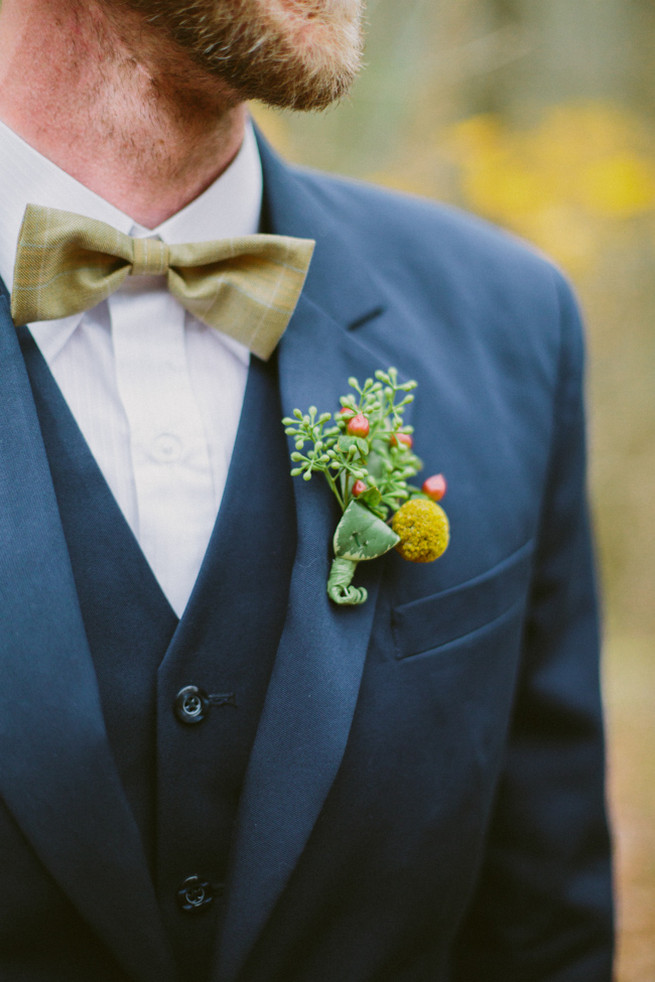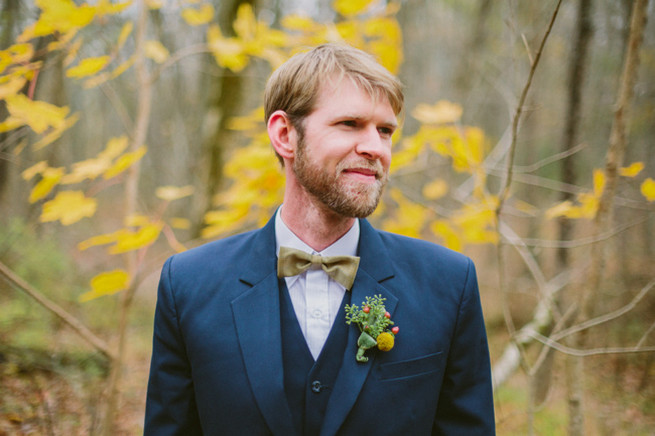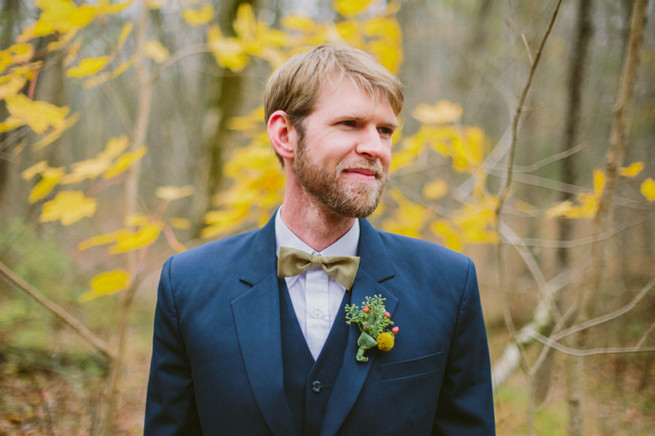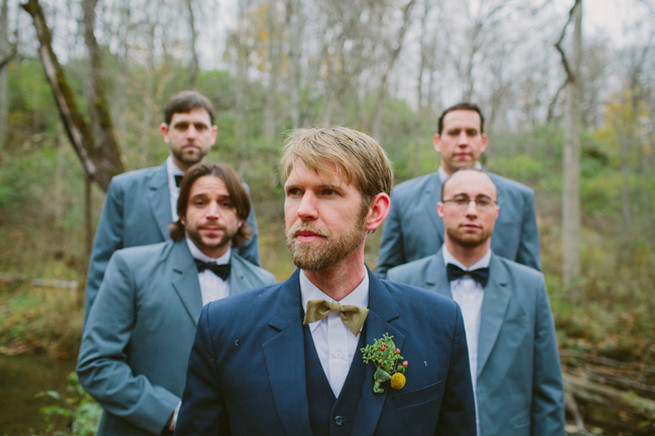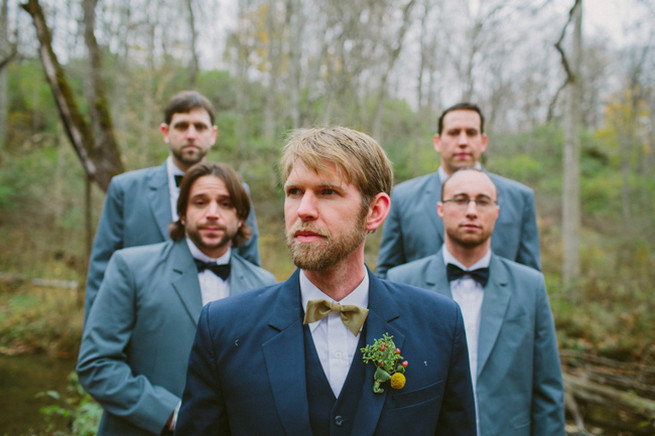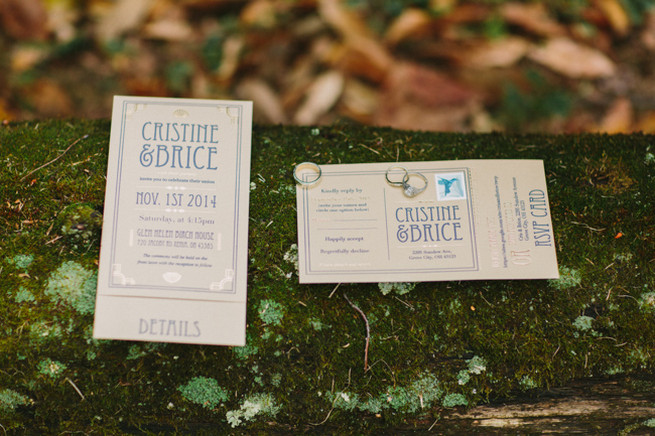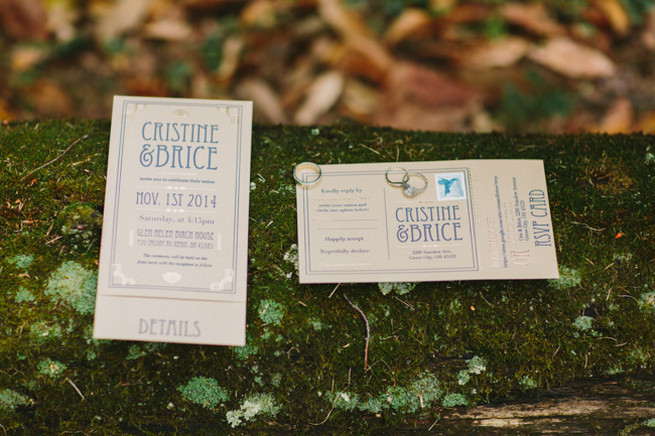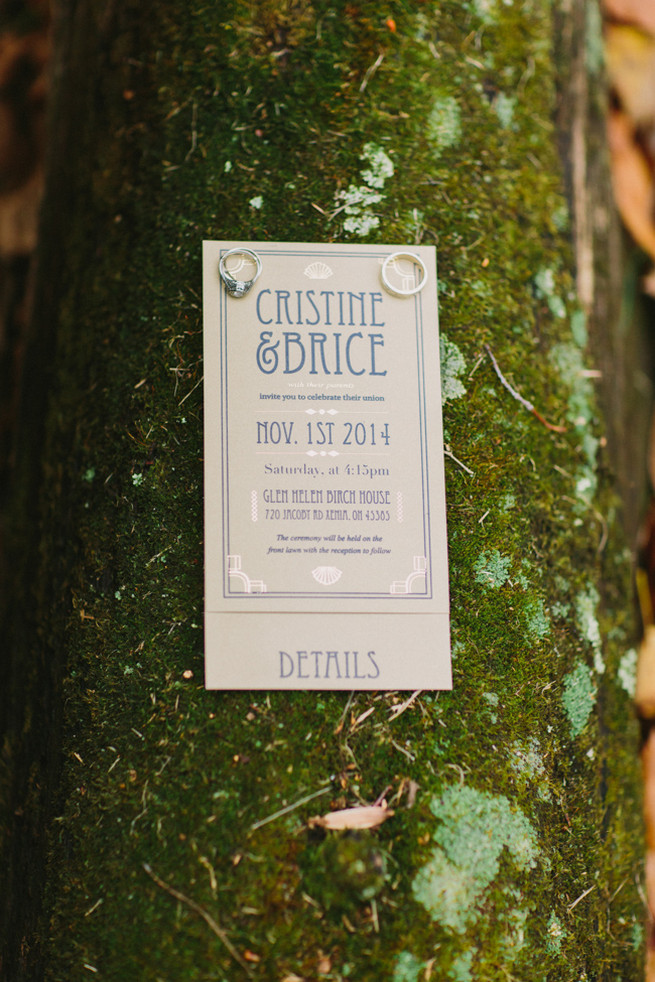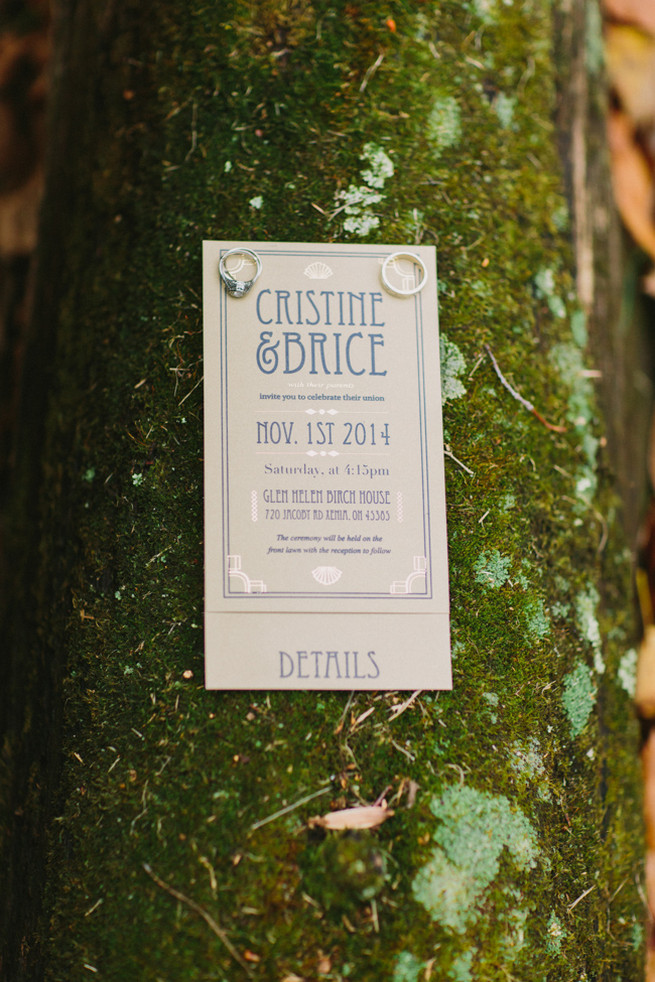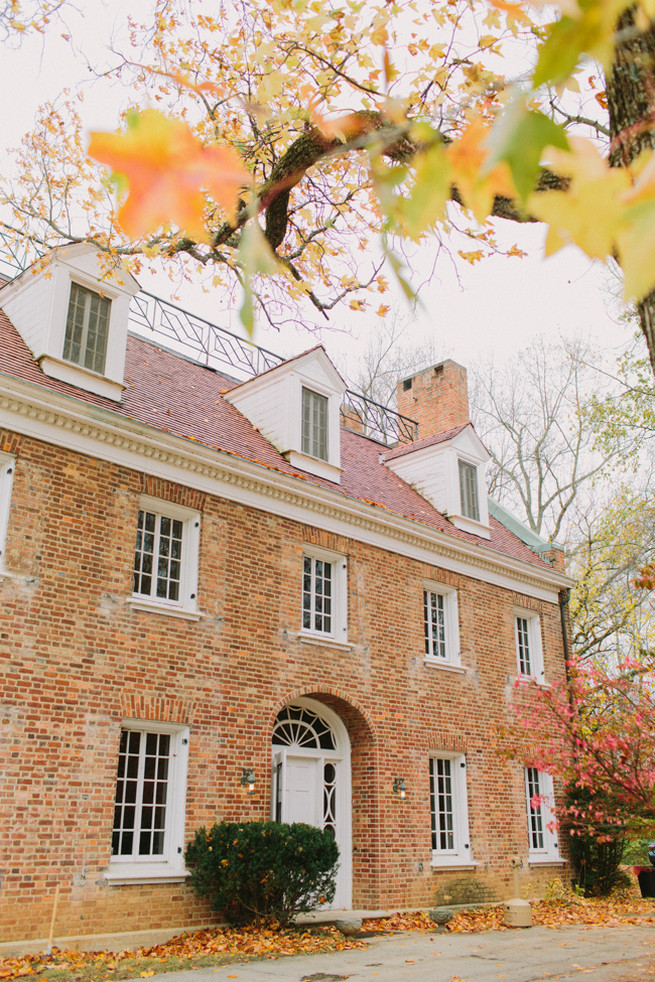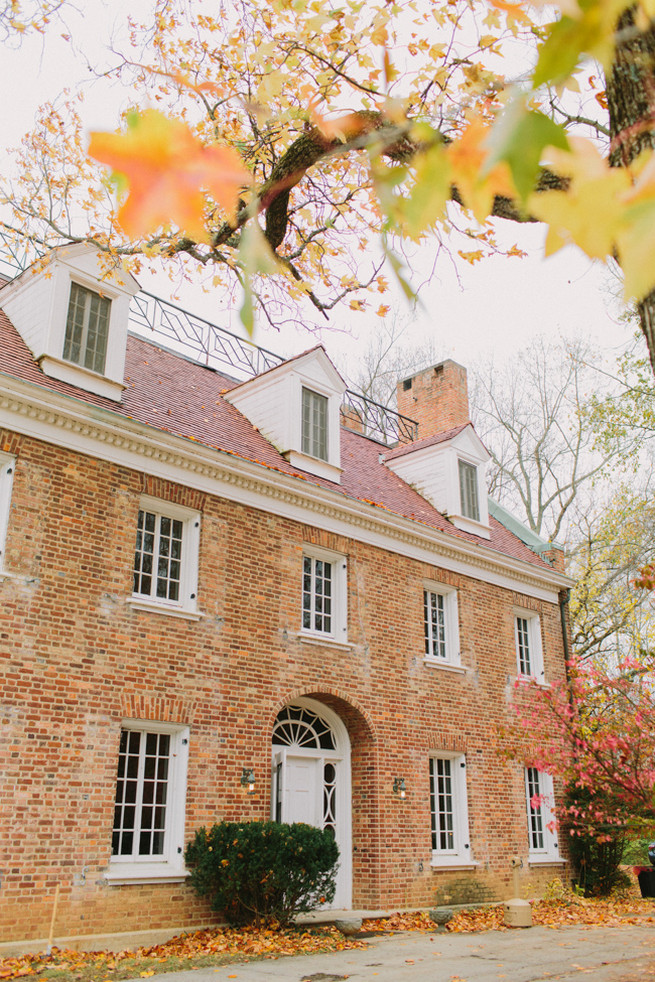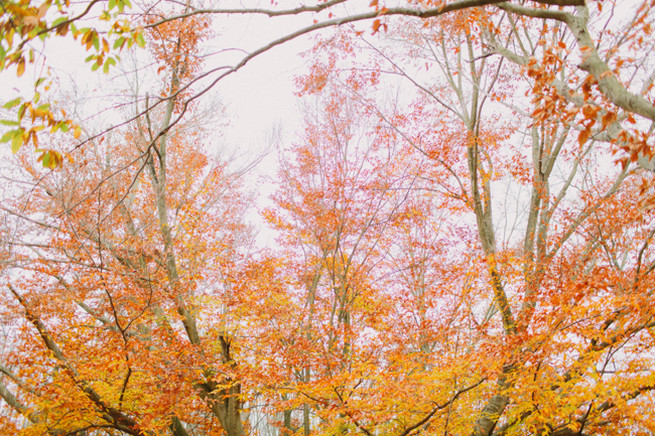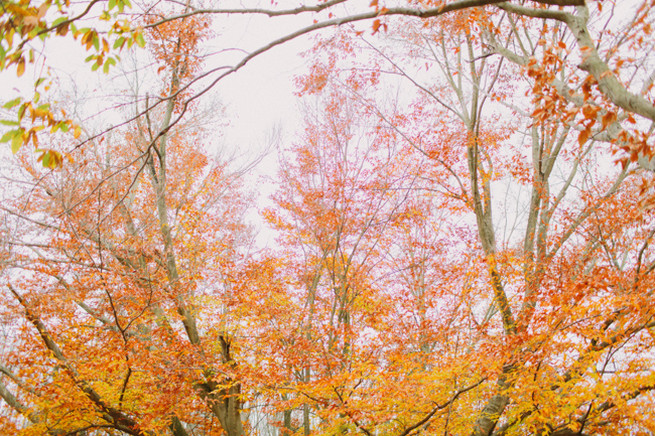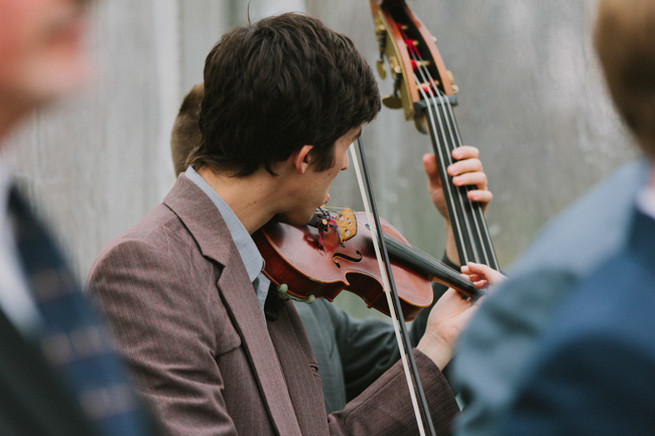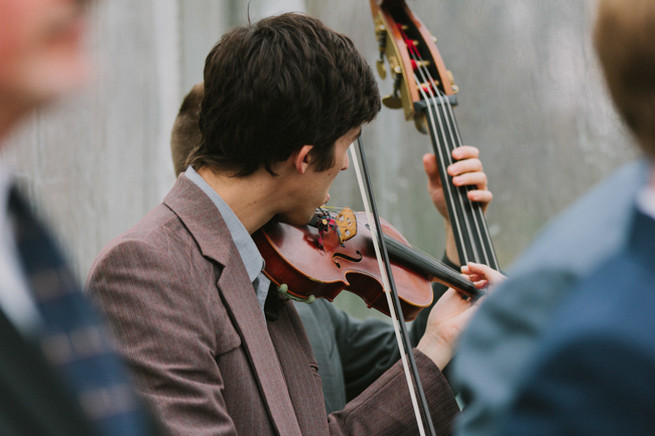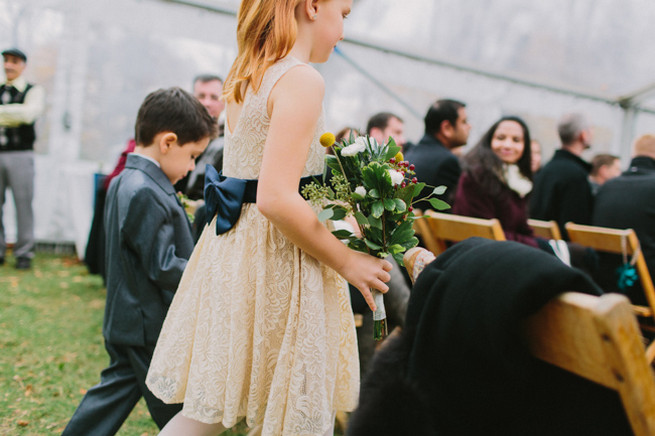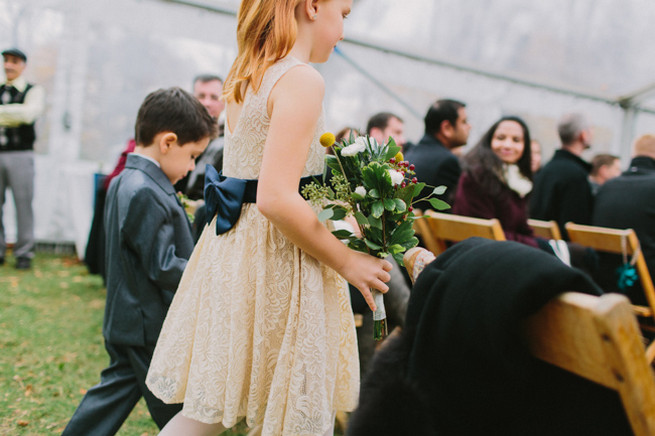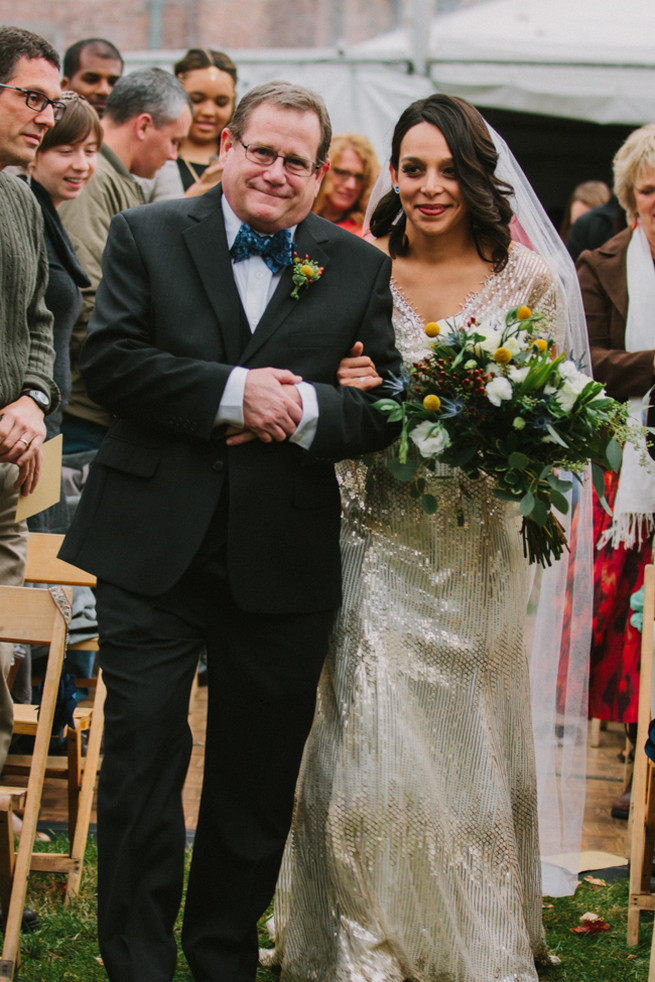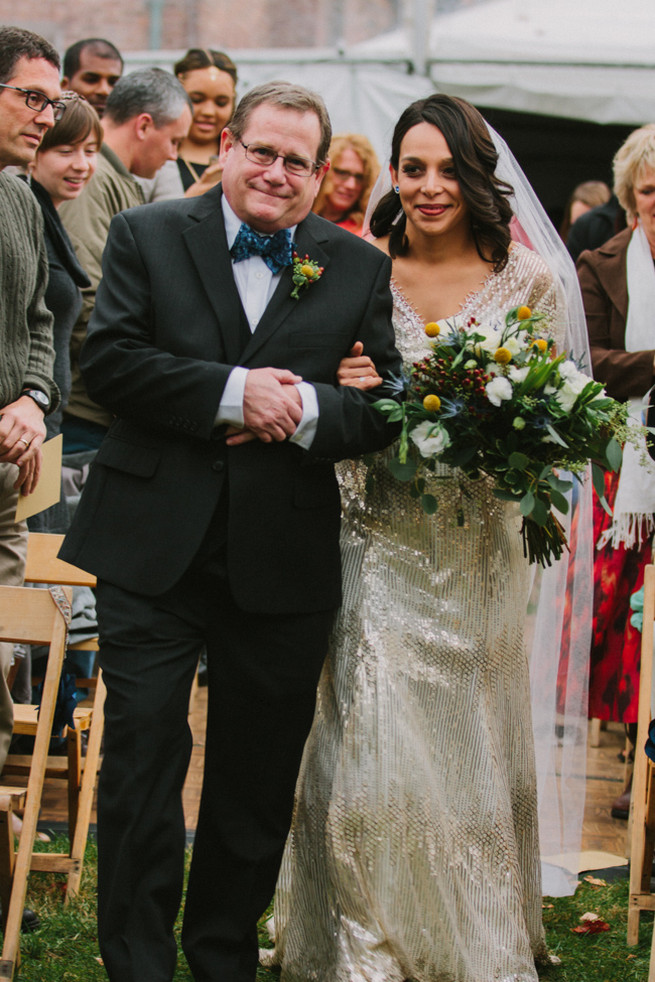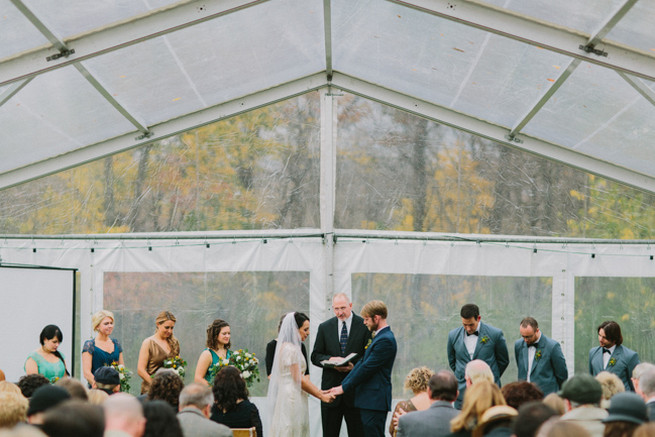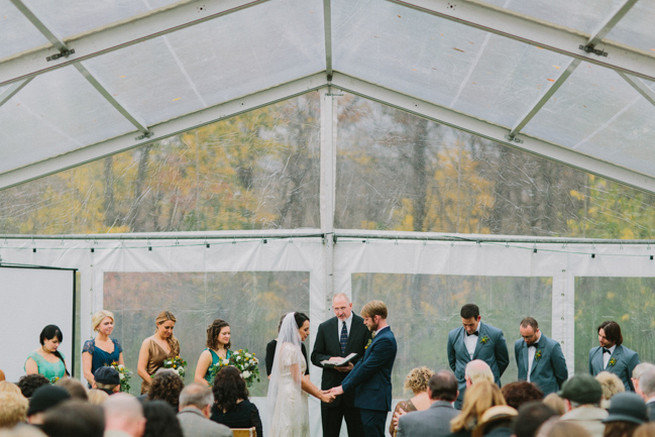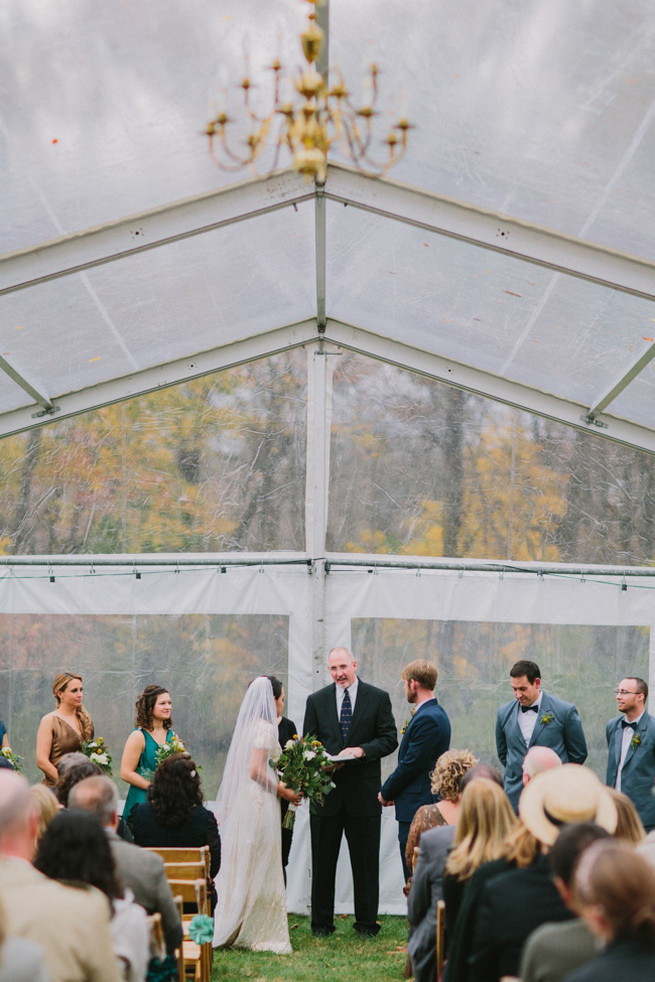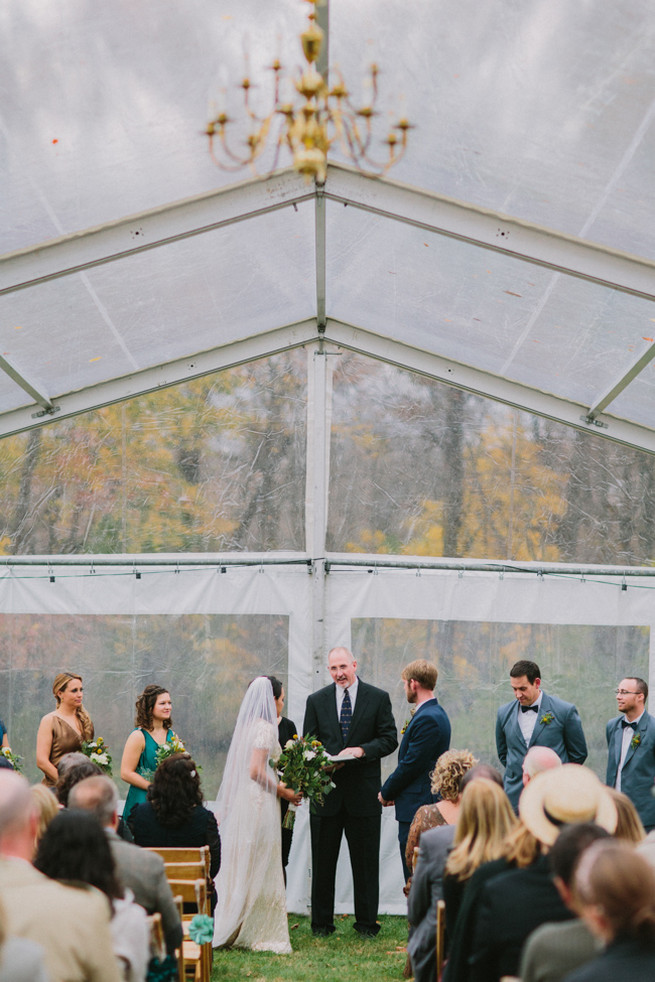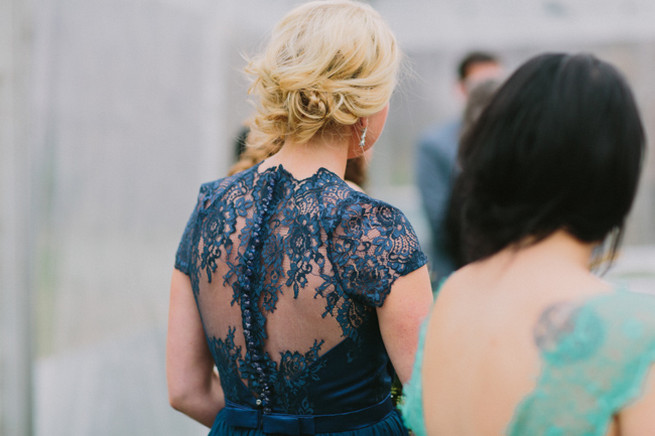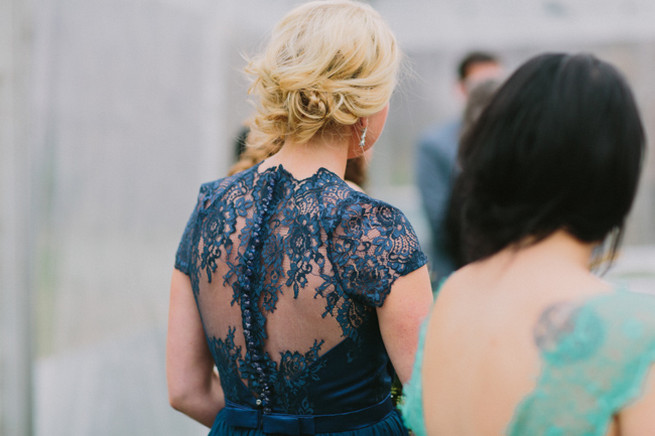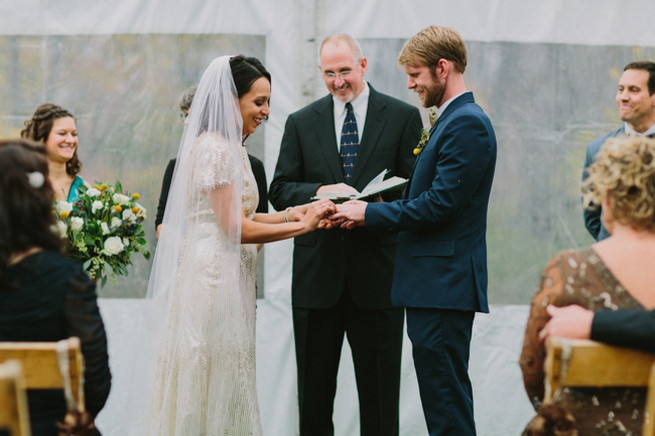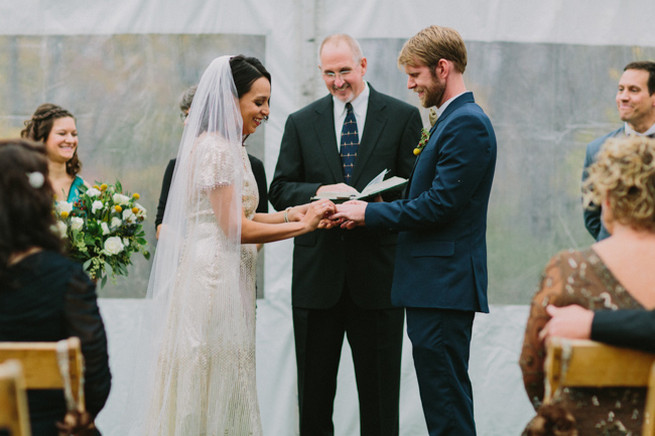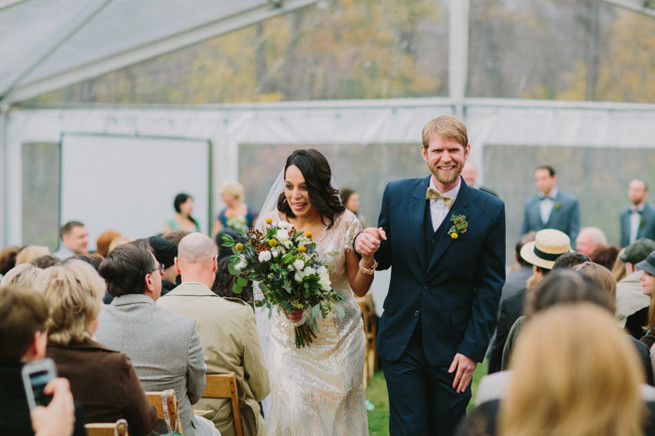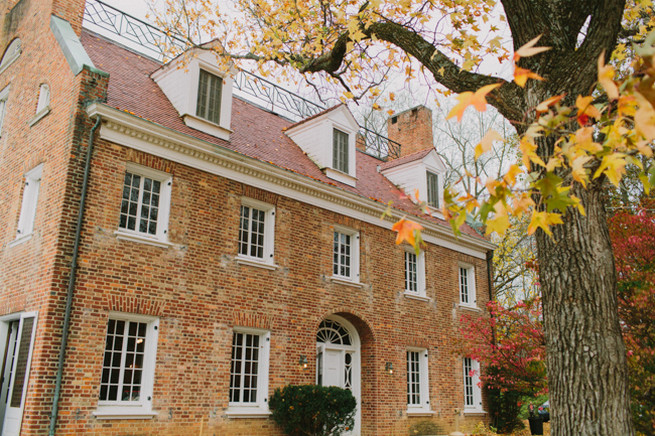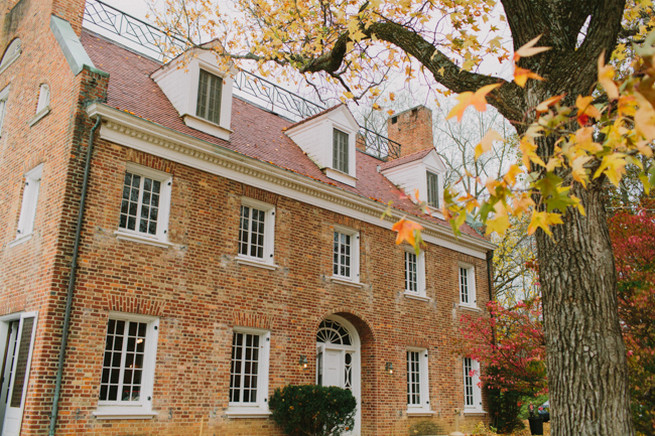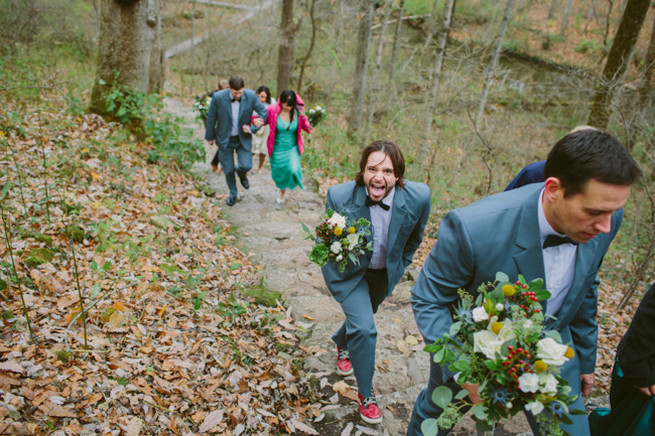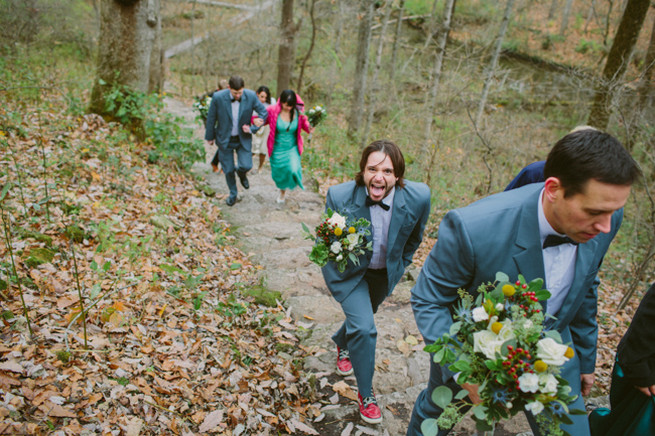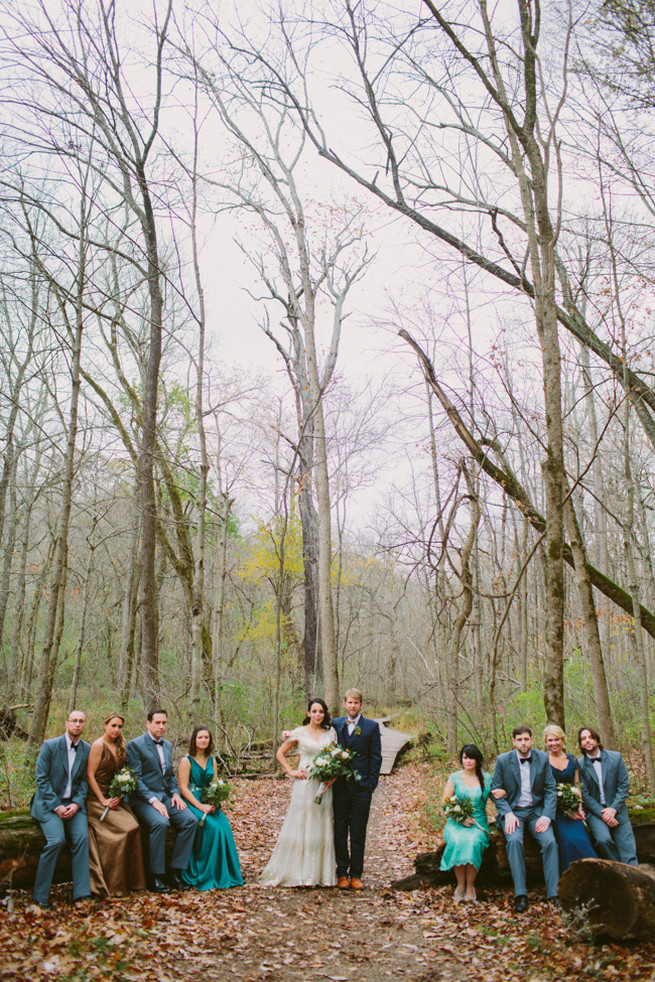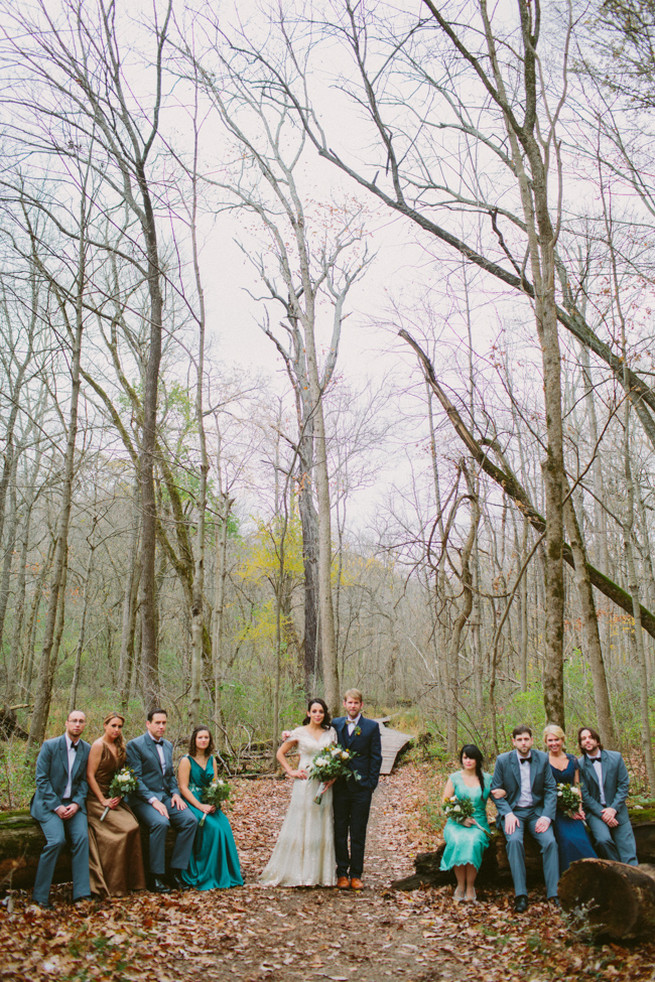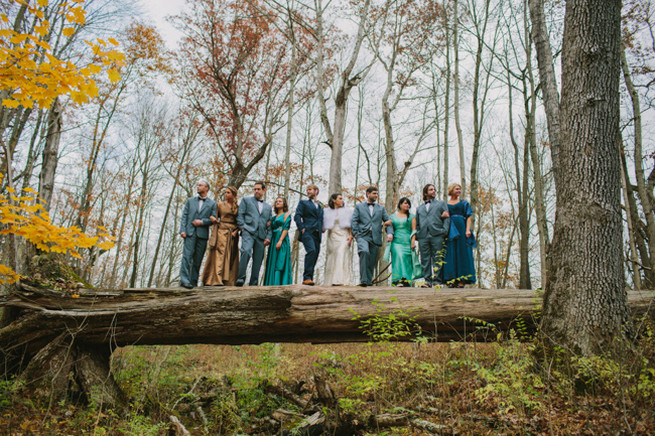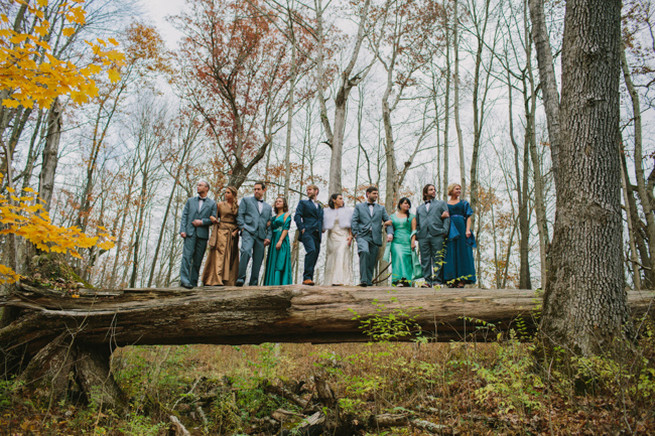 "All ten of us risked walking a felled tree seven feet off the ground to take a photo! Teeth-chattering, we afterward had the most fashionable hike back out of that forest that I'm sure that Glen has ever seen."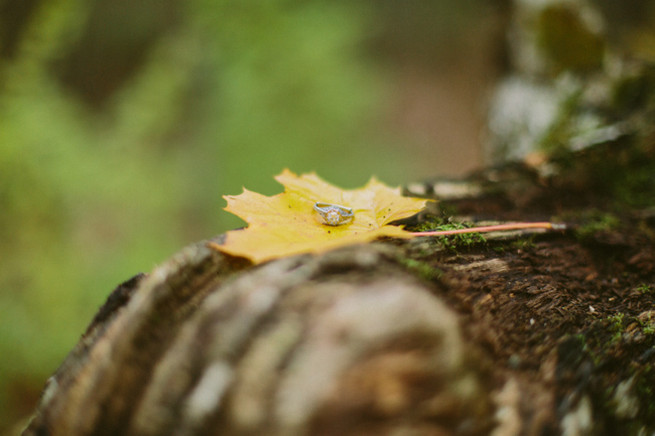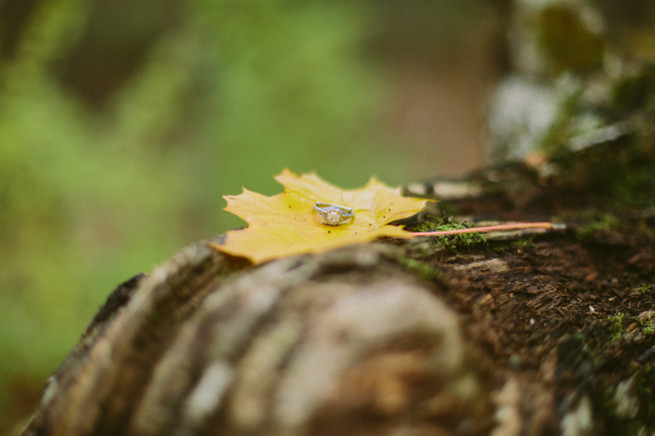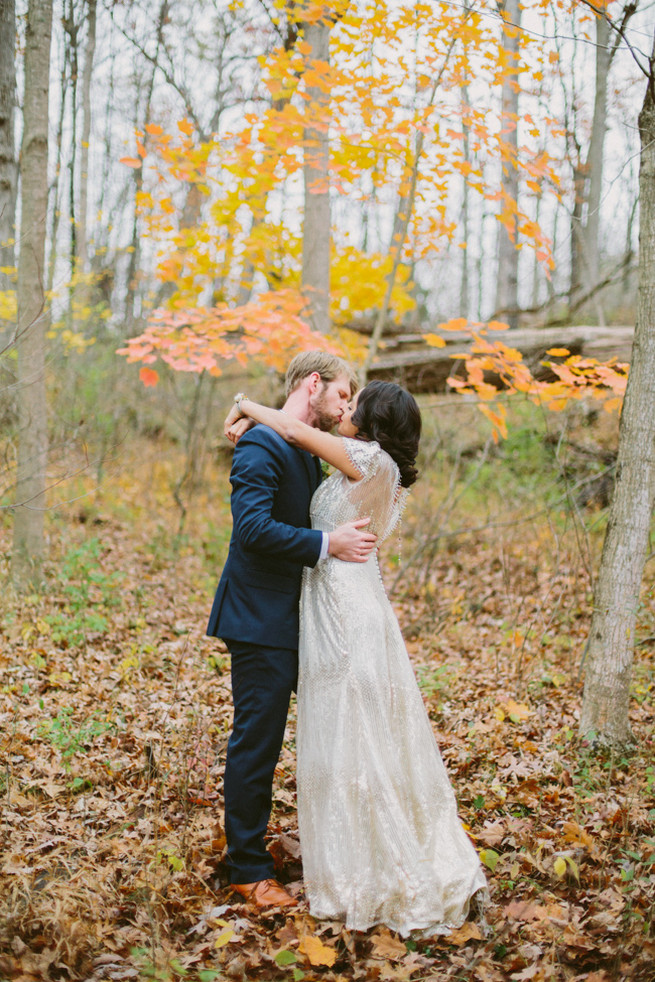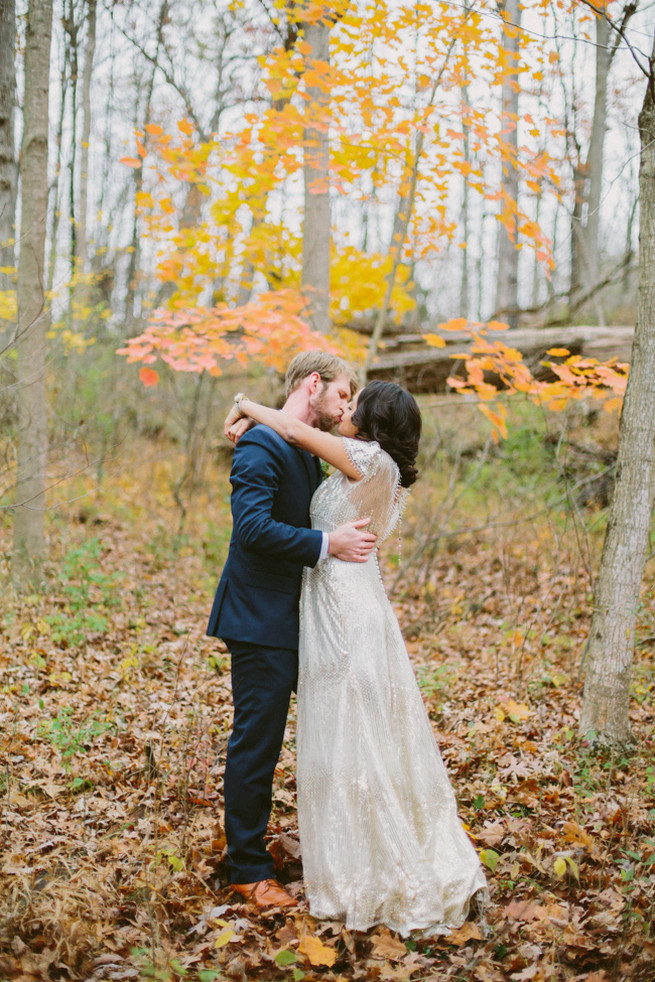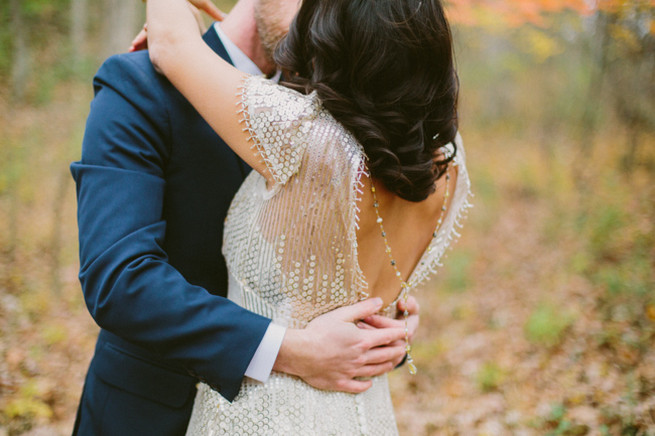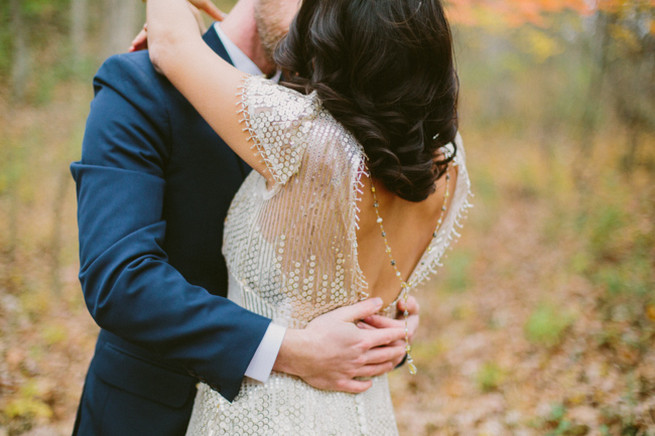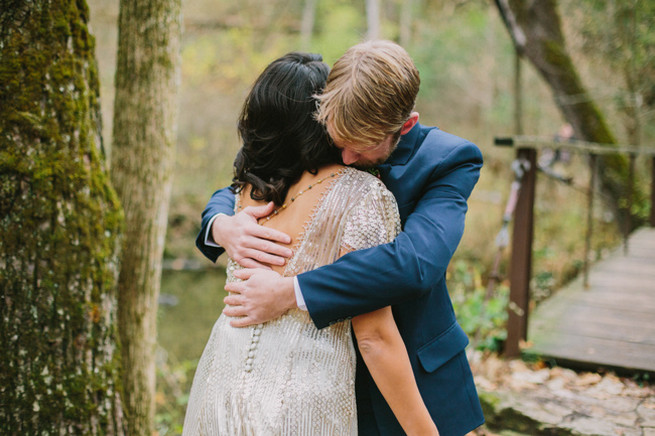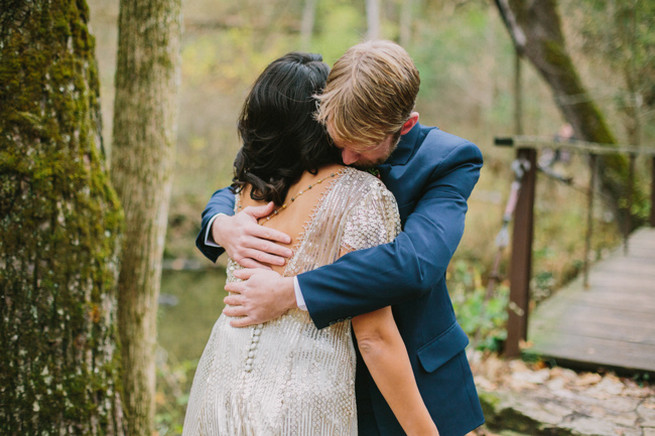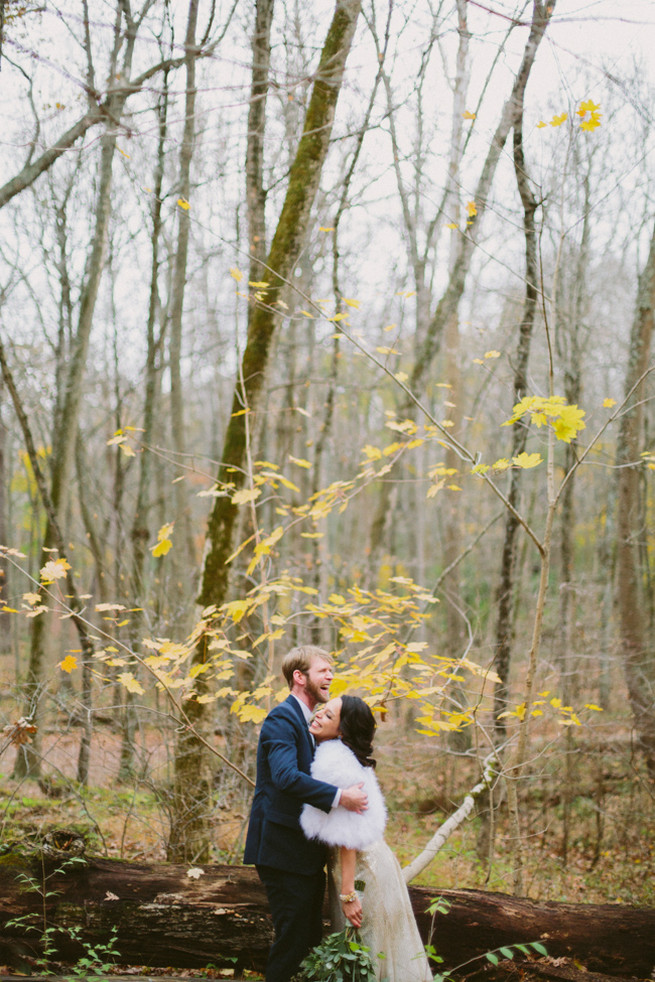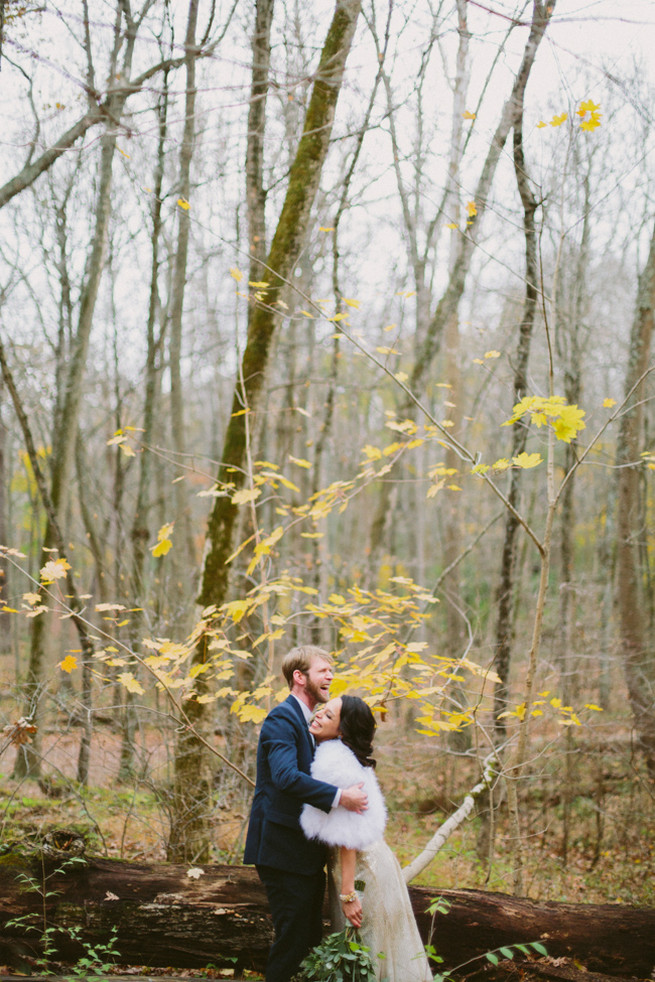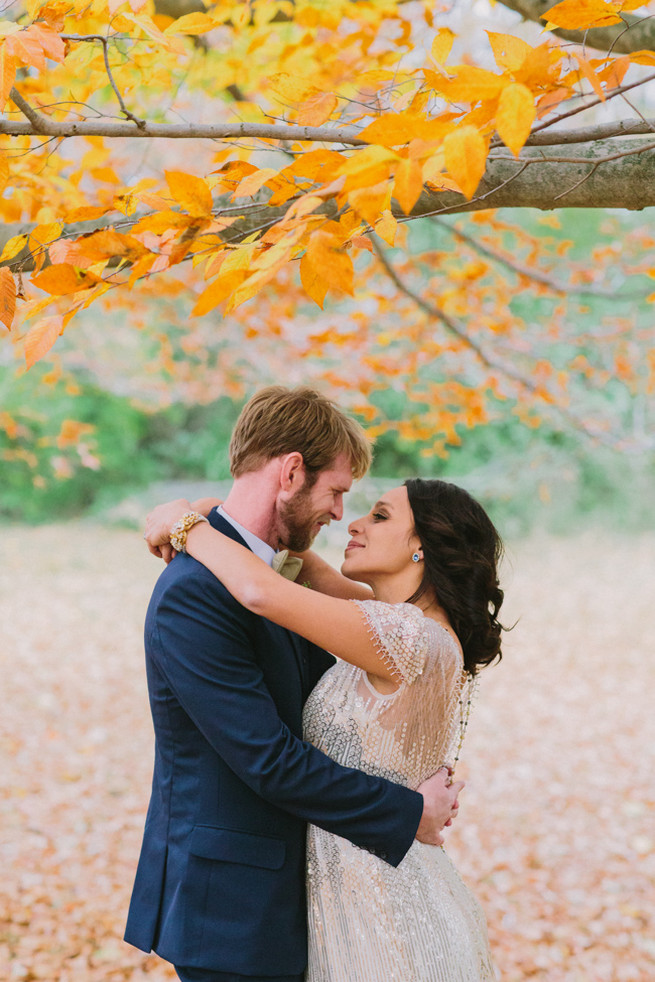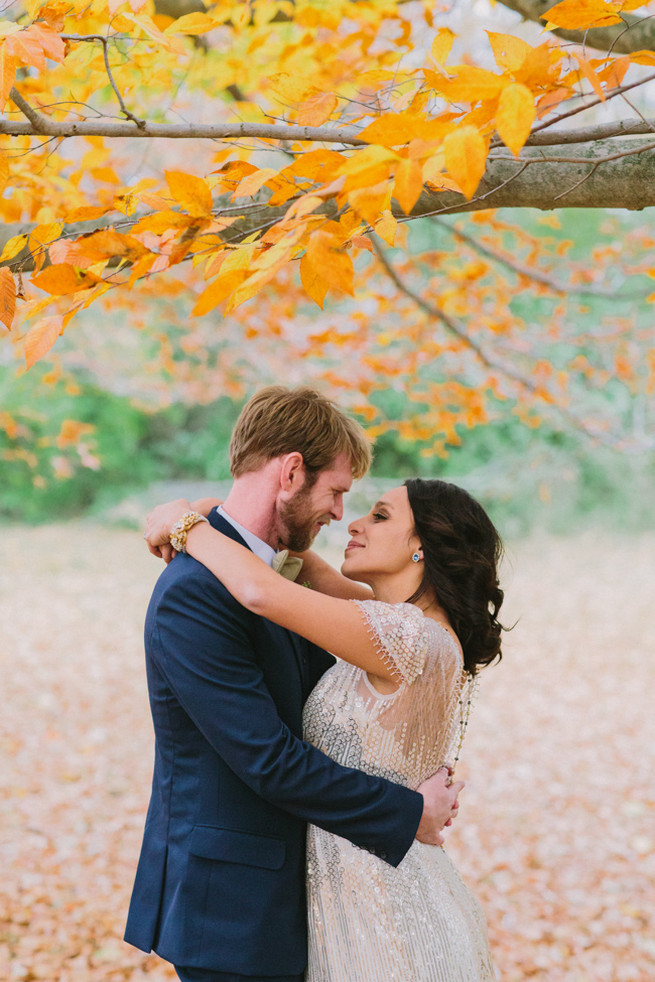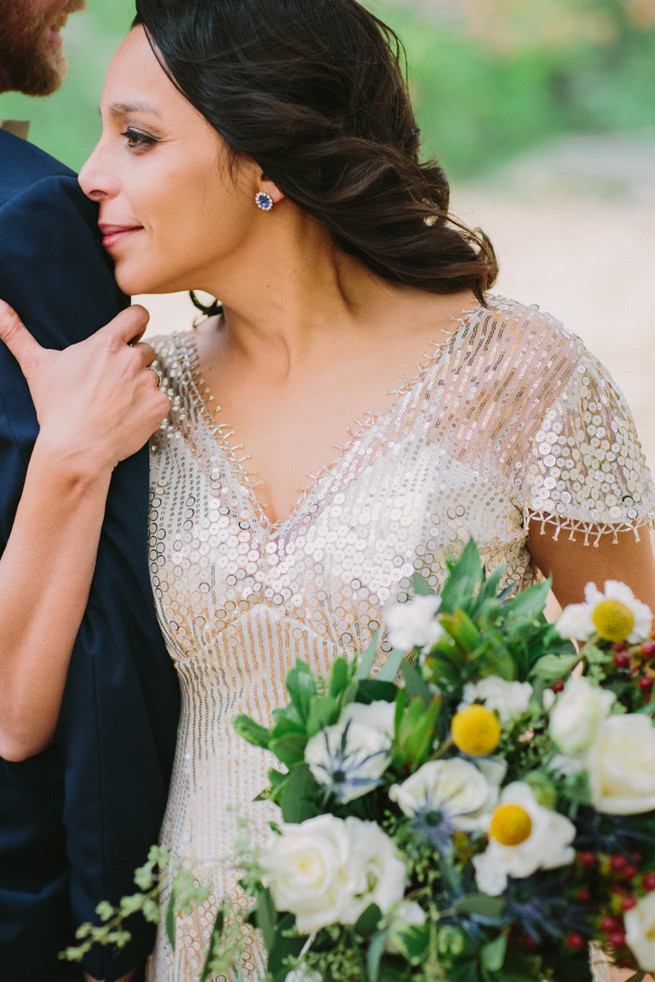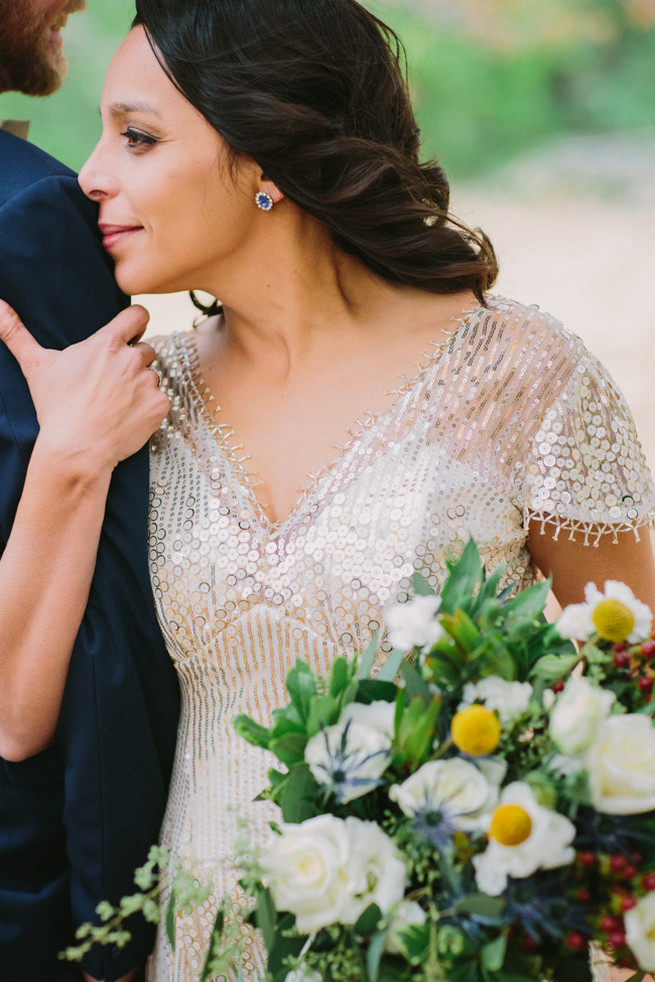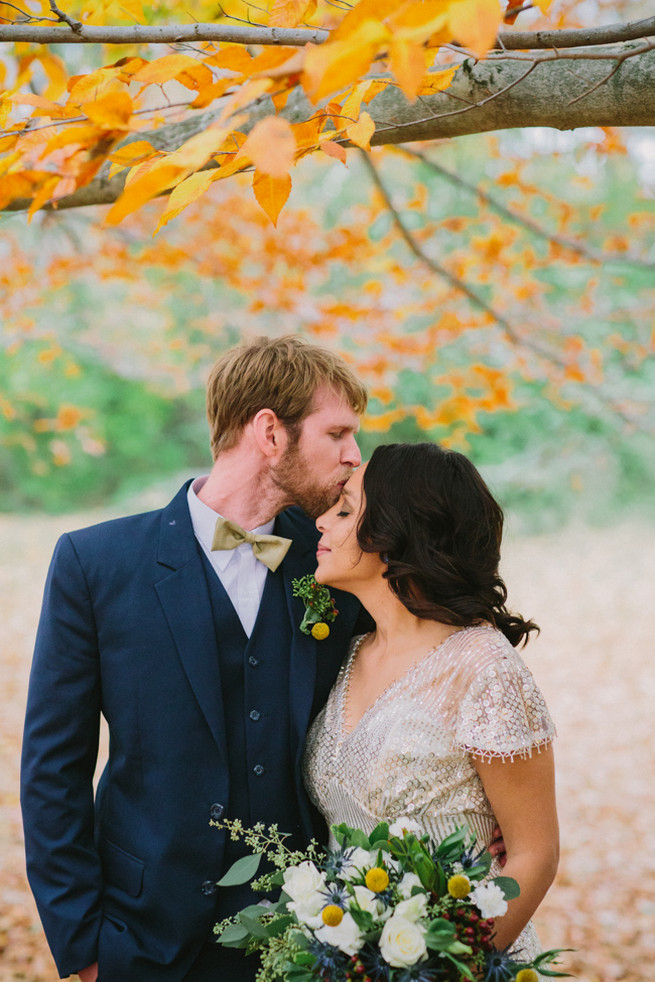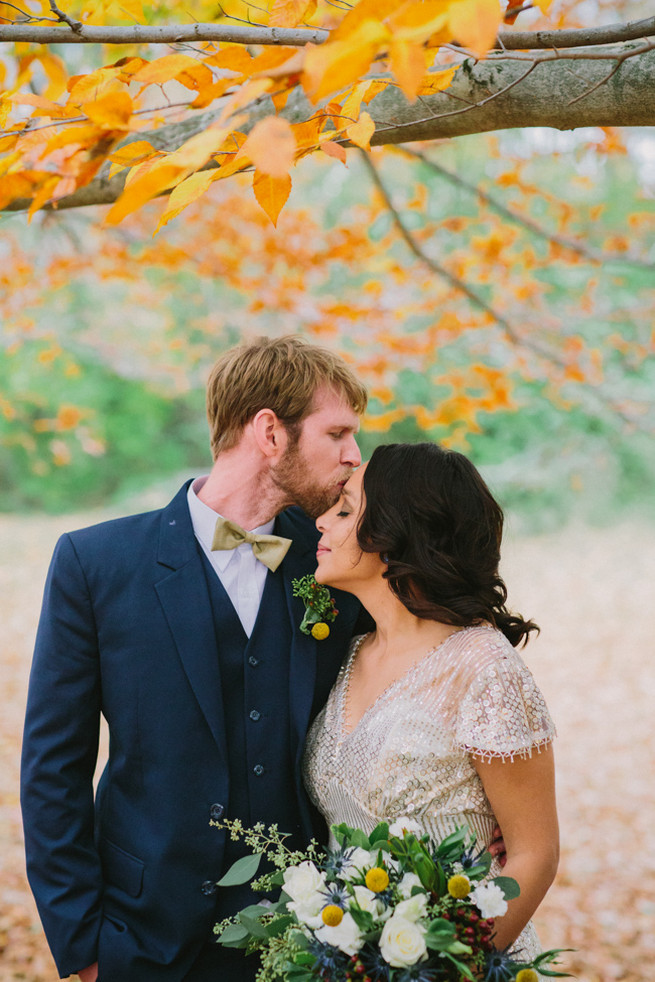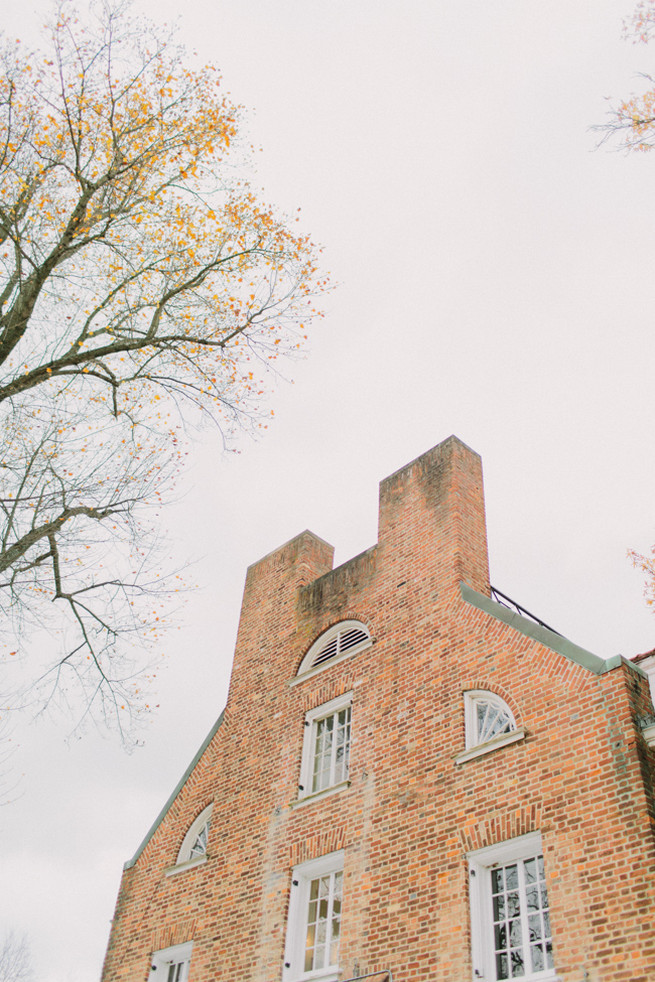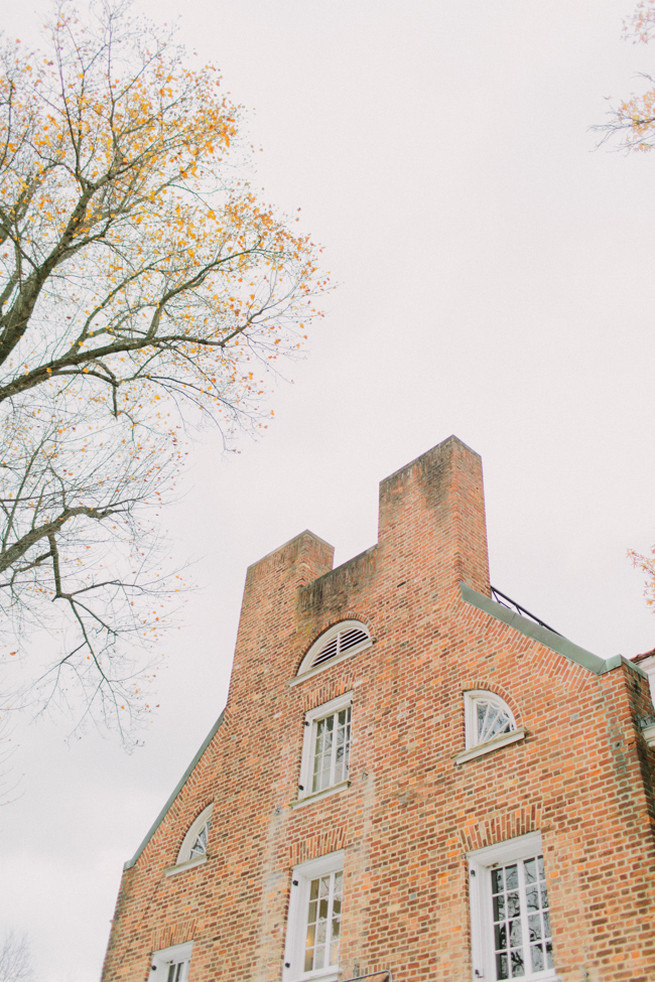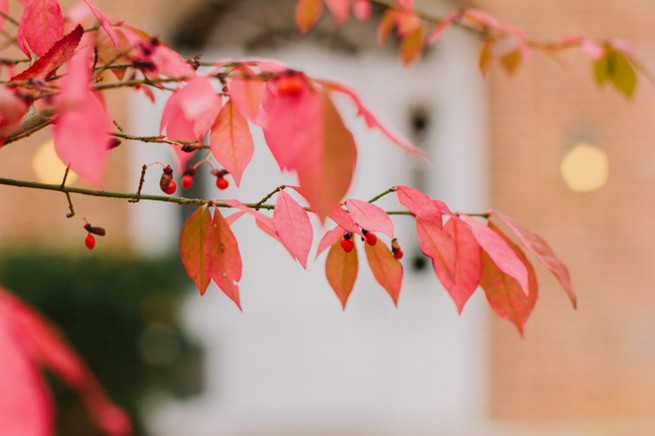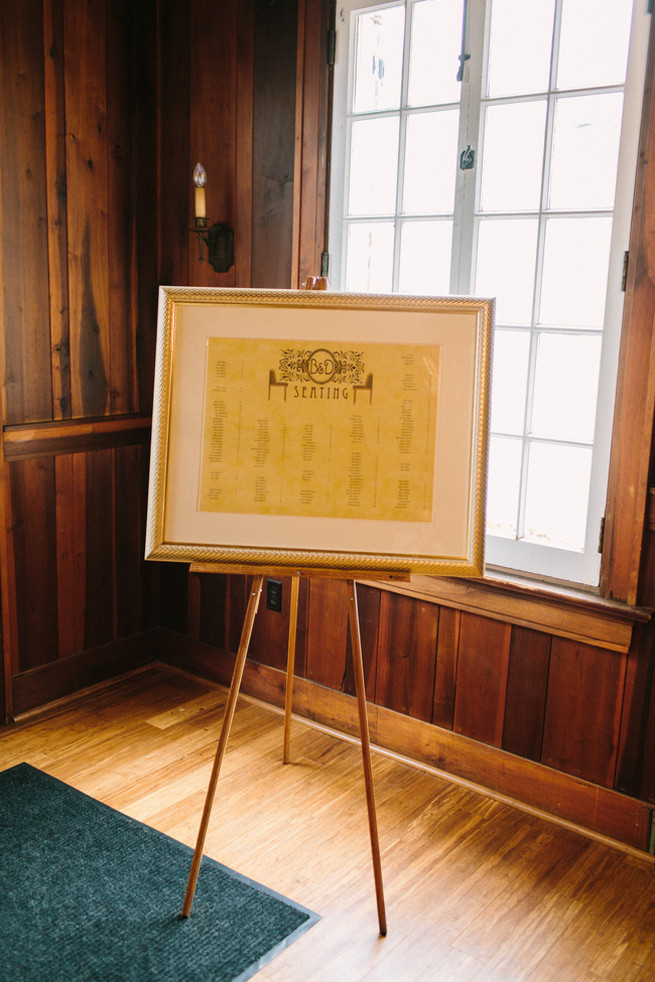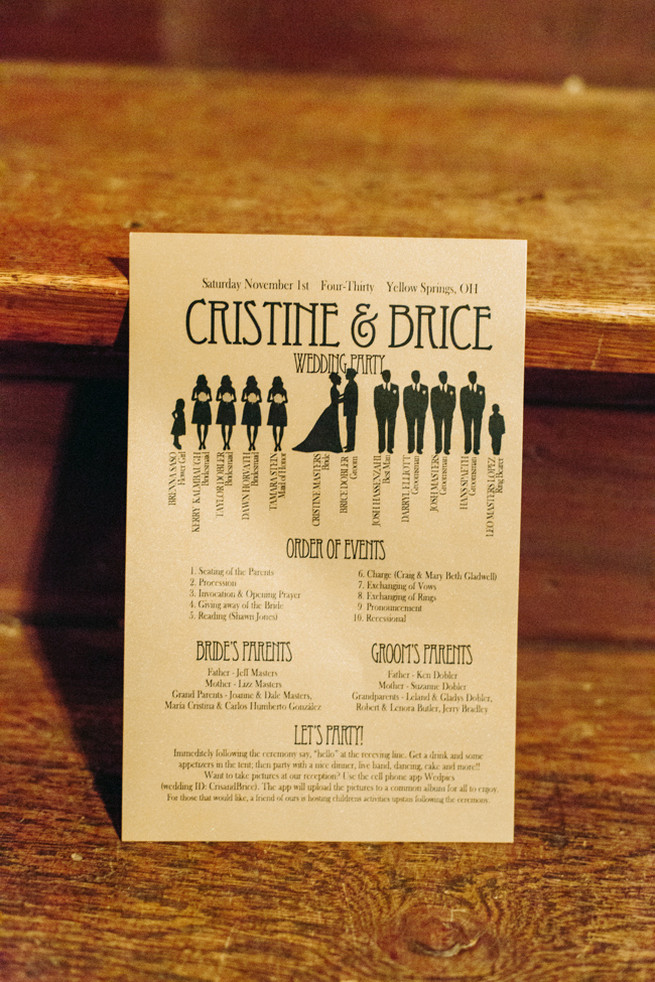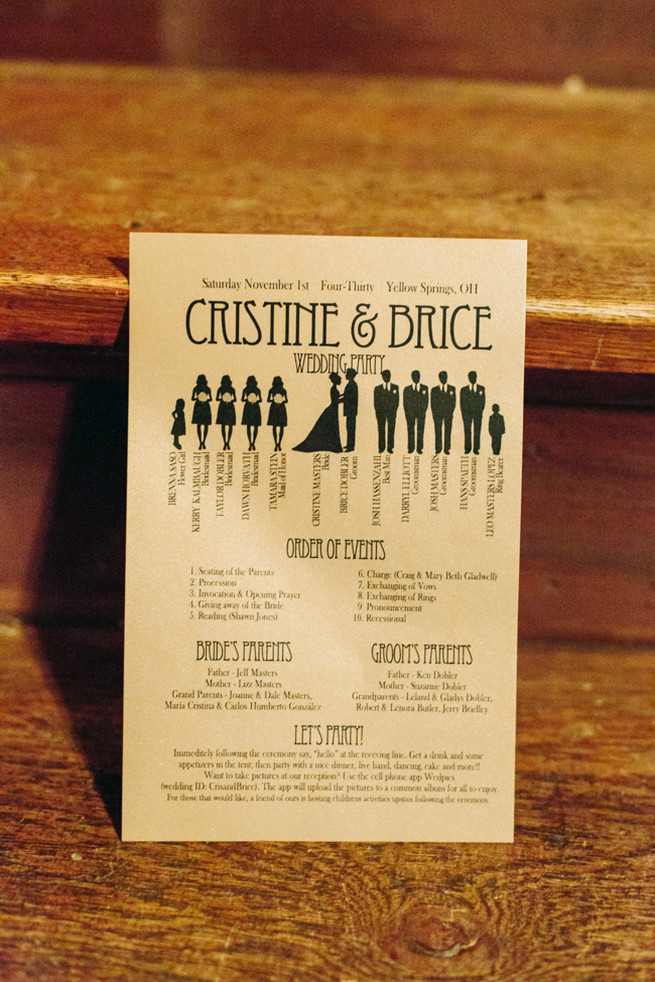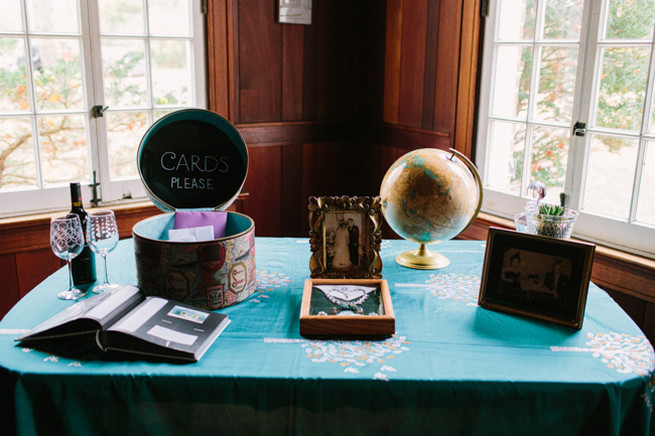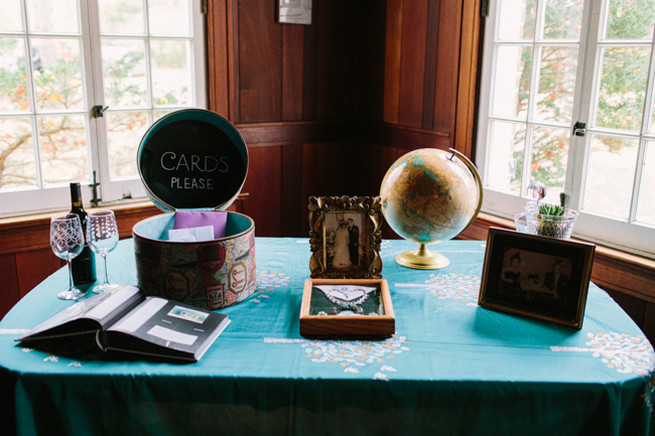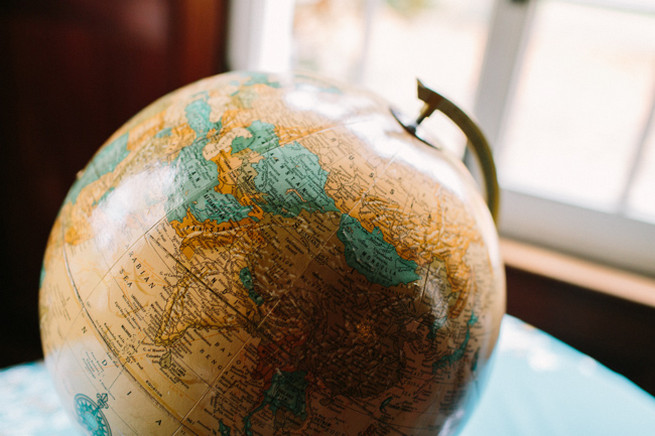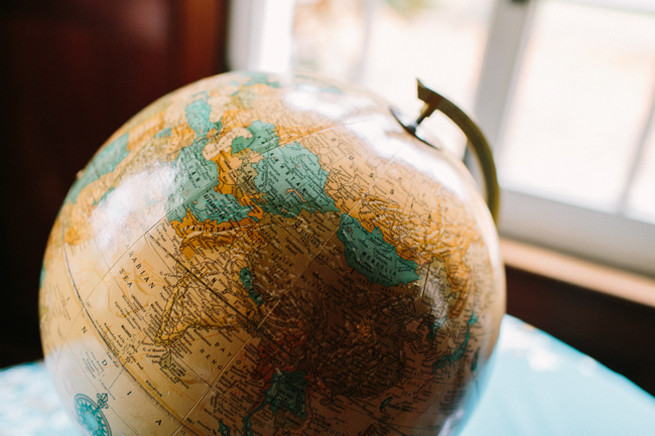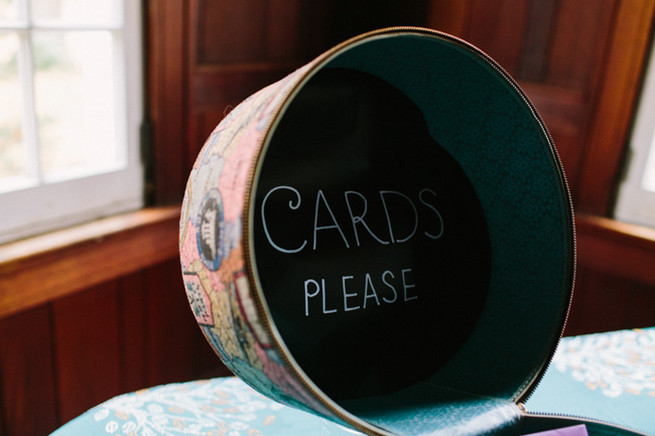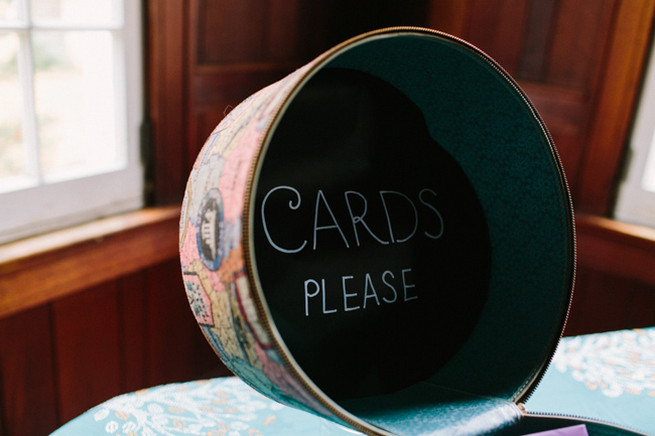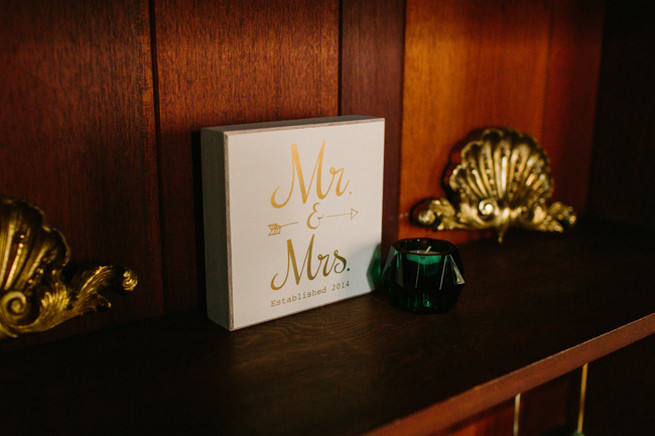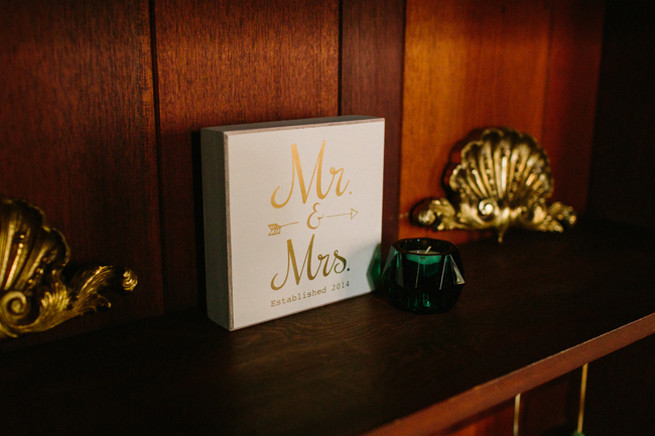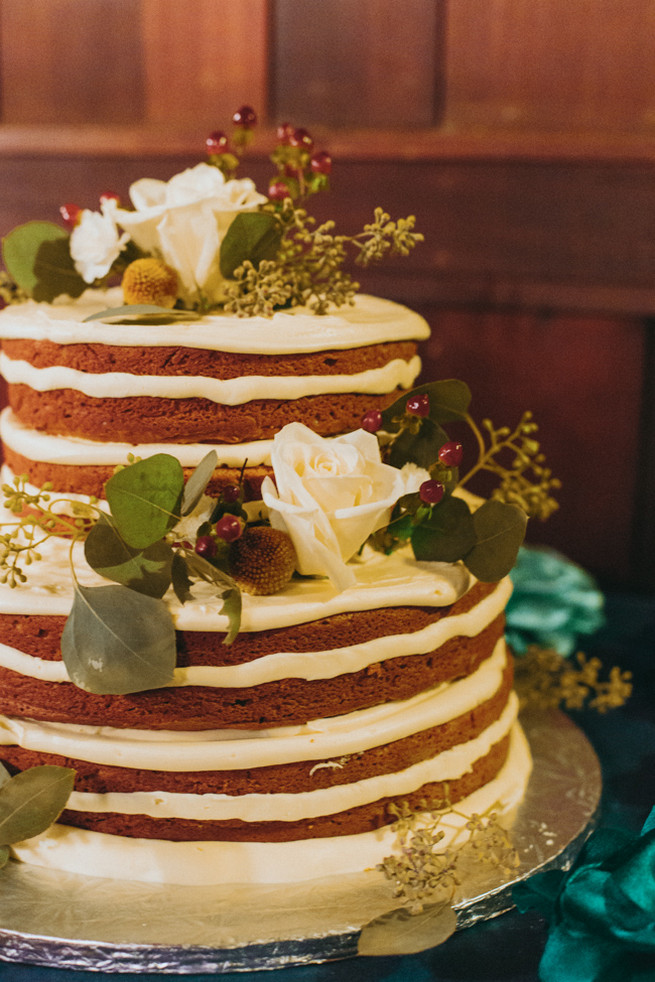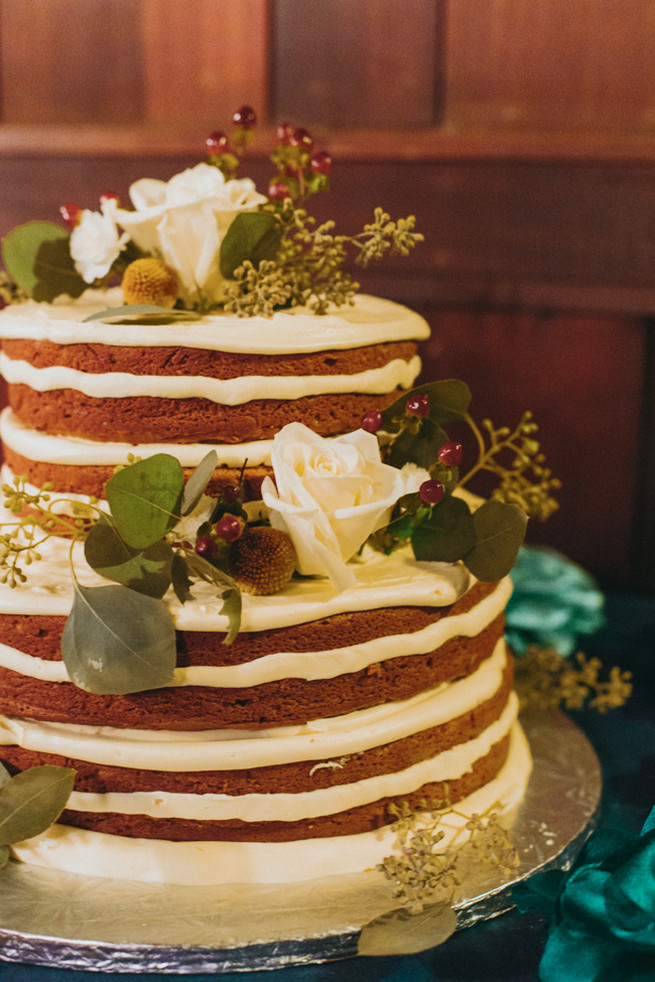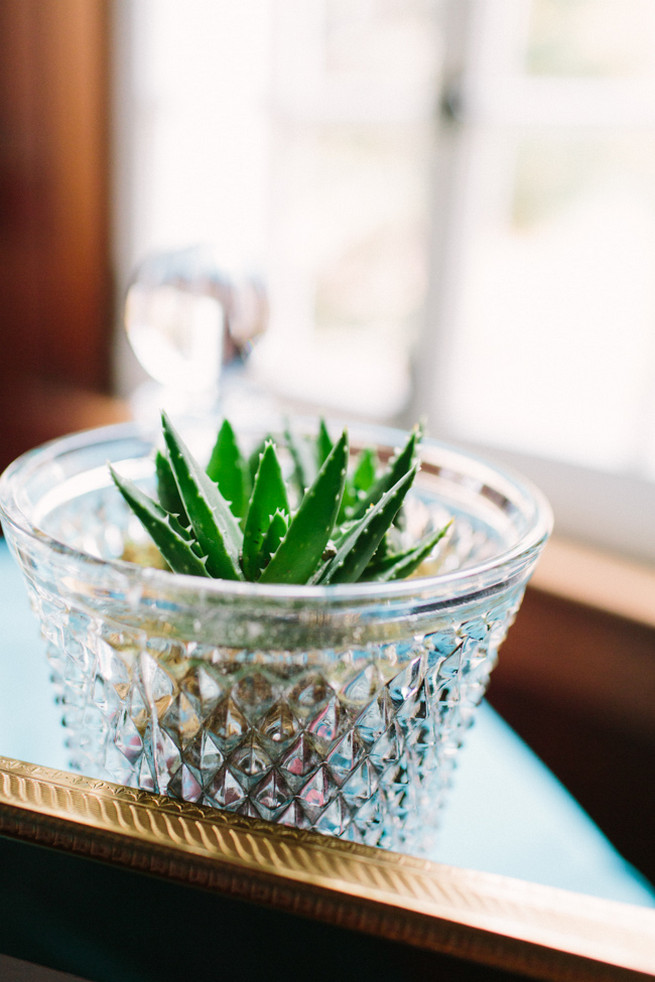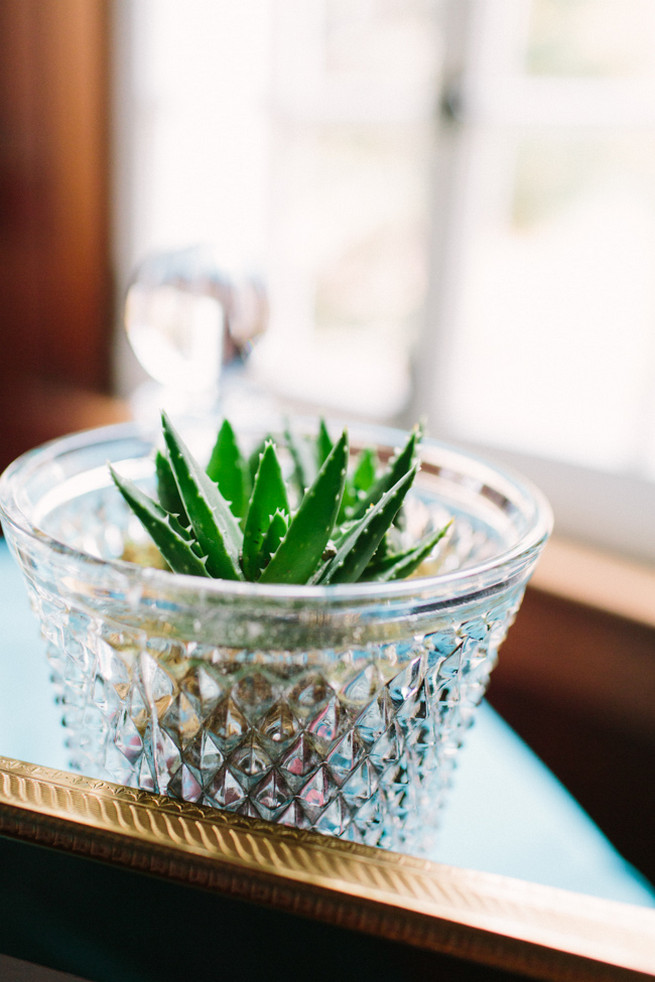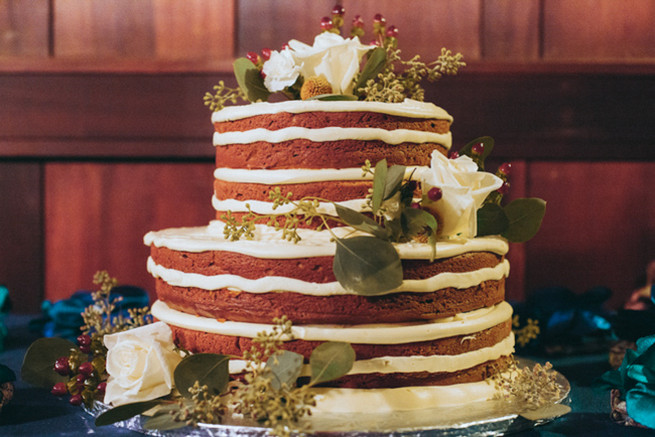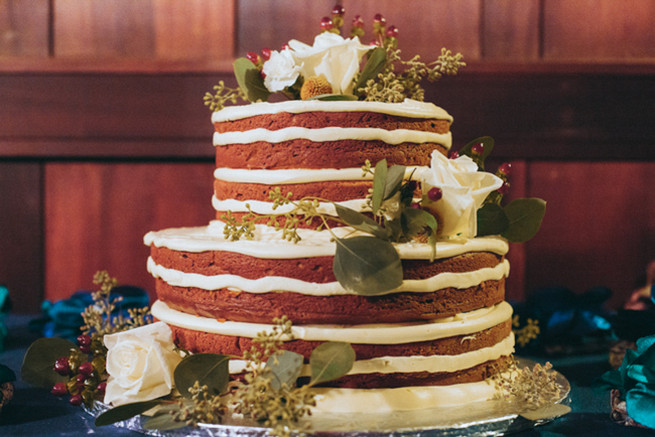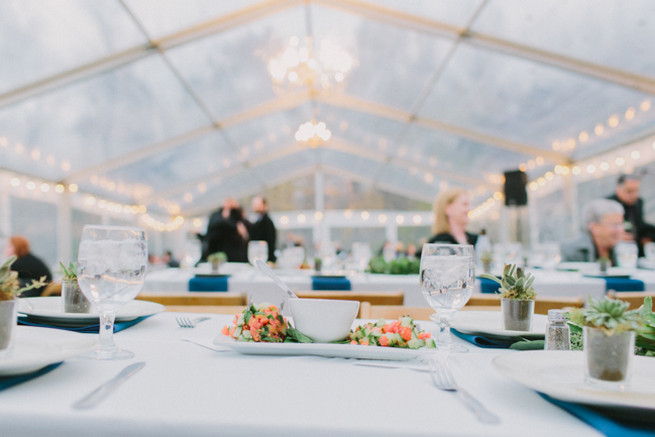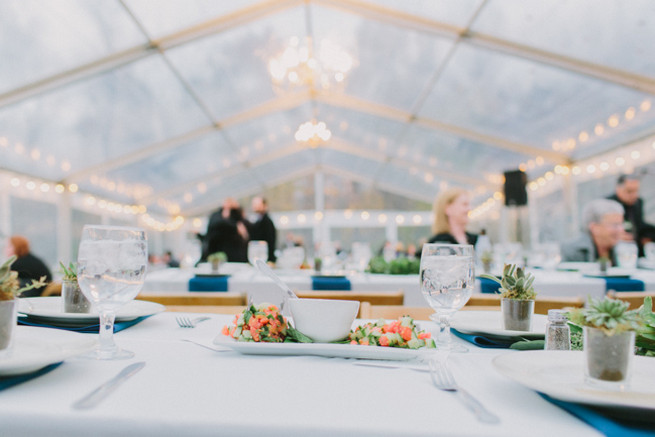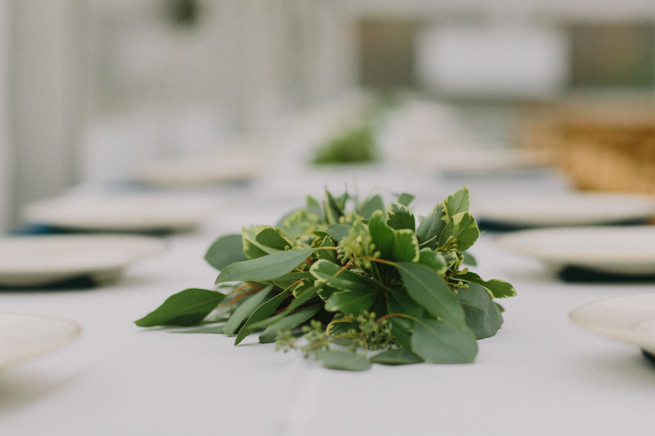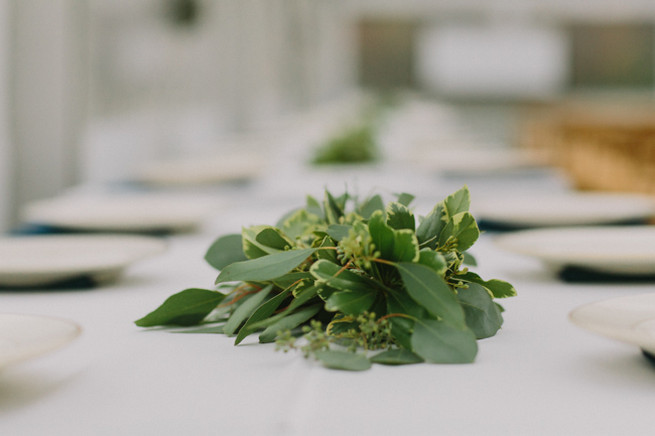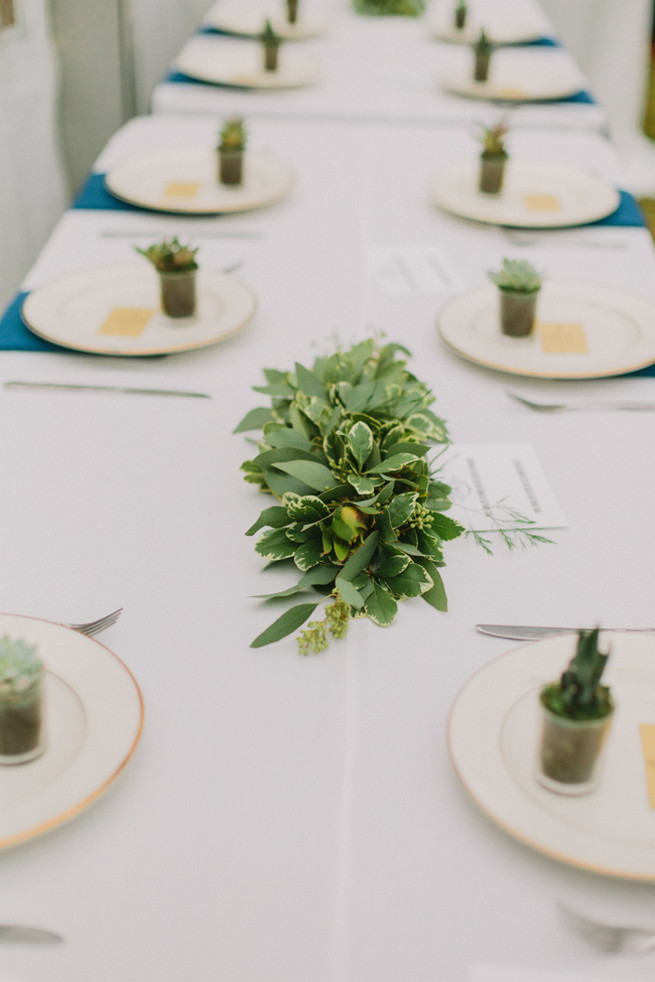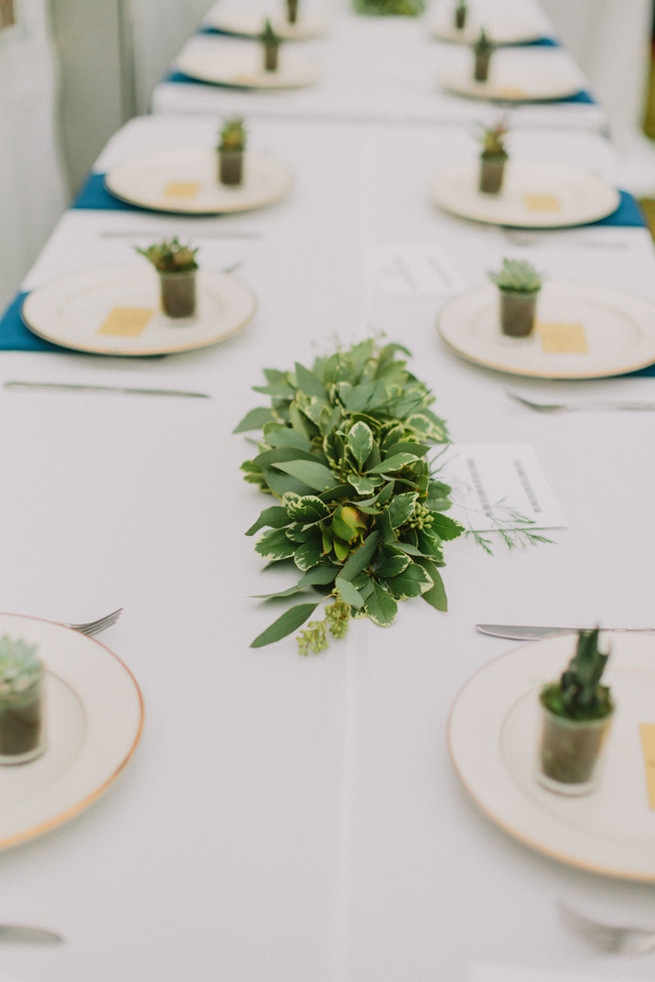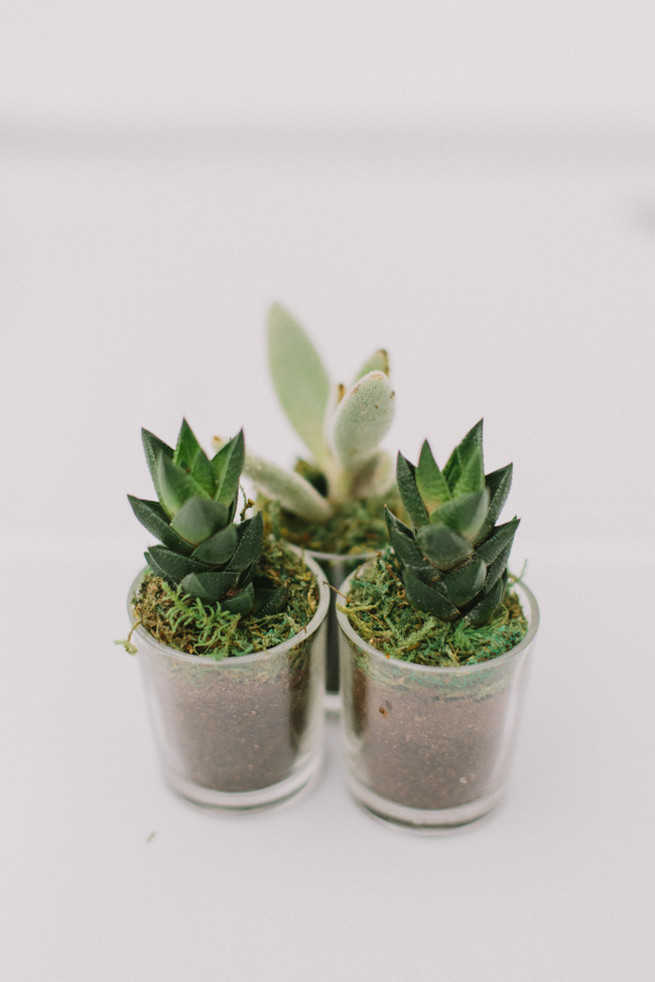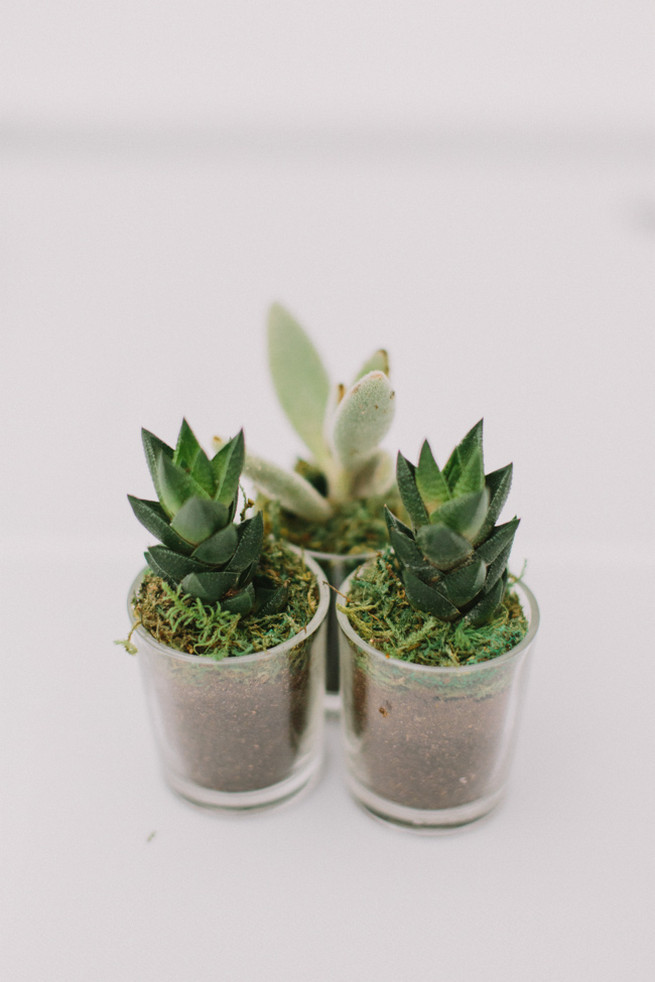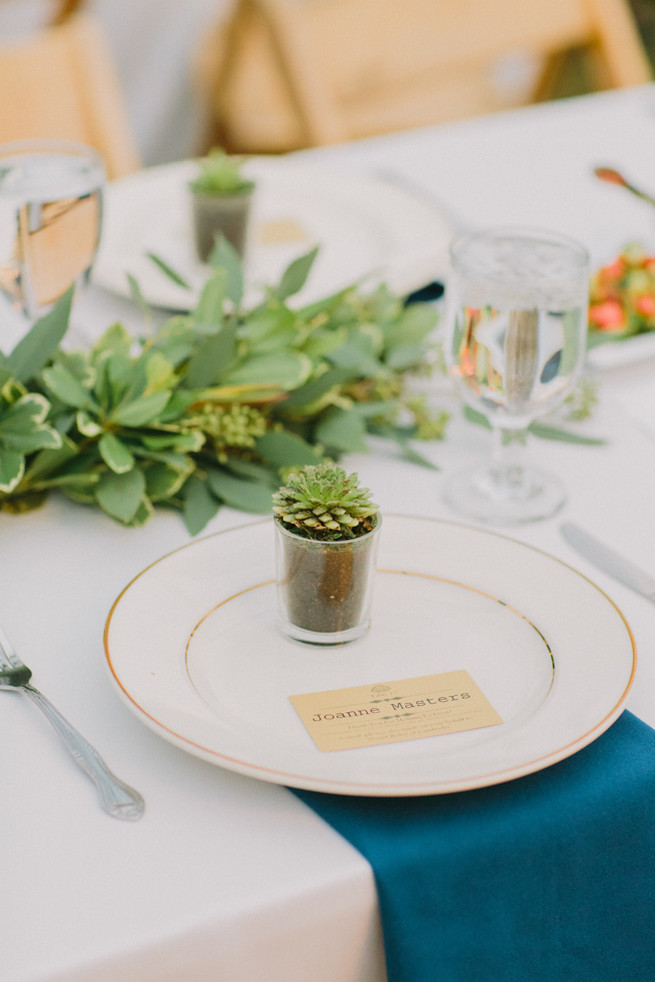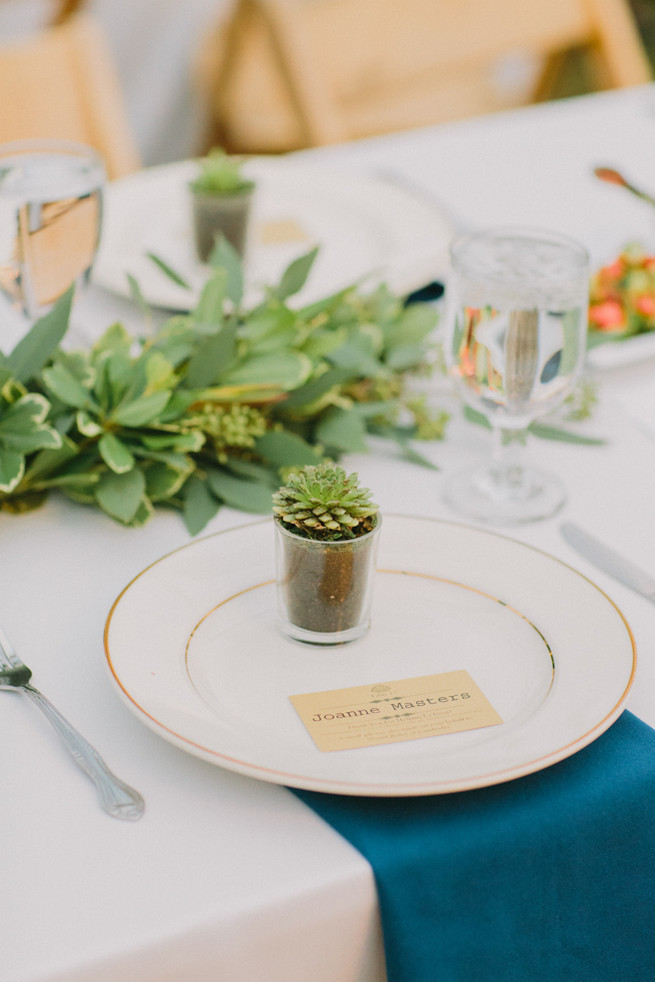 "We planted 180 succulent favors which later doubled as place cards. We also donated a small tithe to World Relief Cambodia where we had formerly worked and volunteered."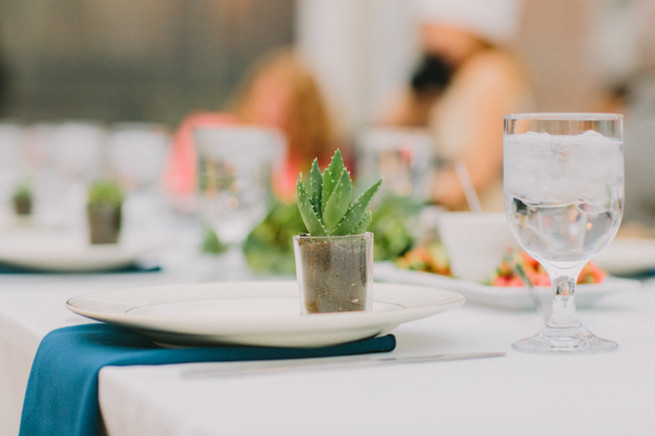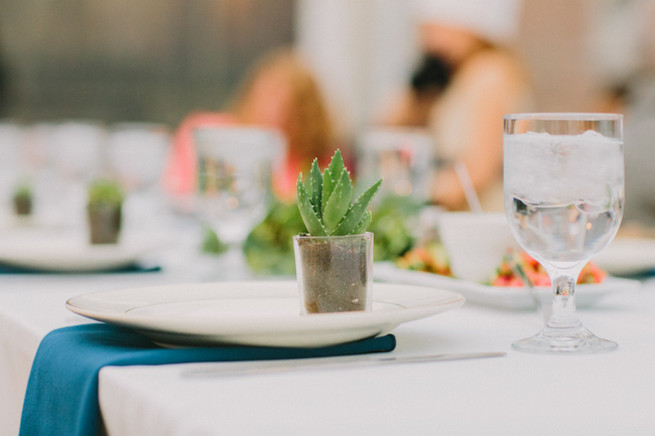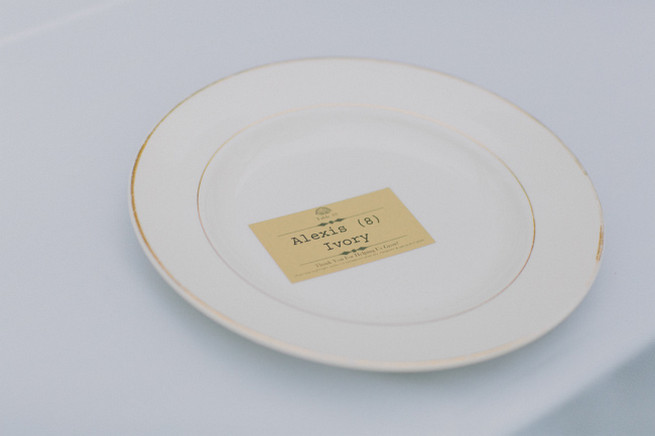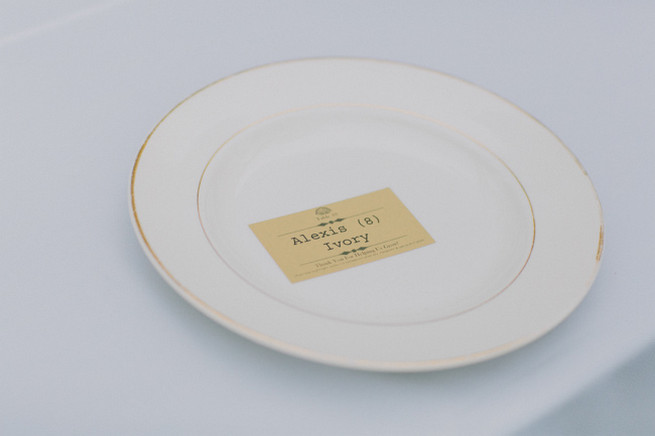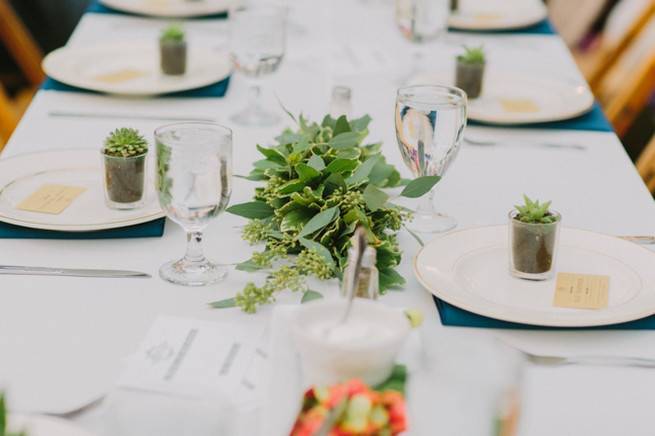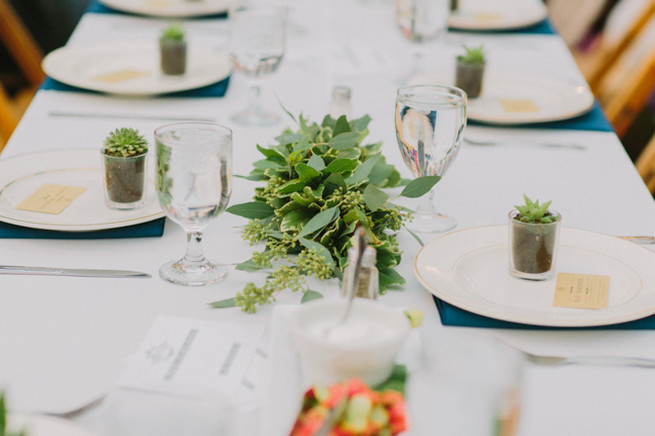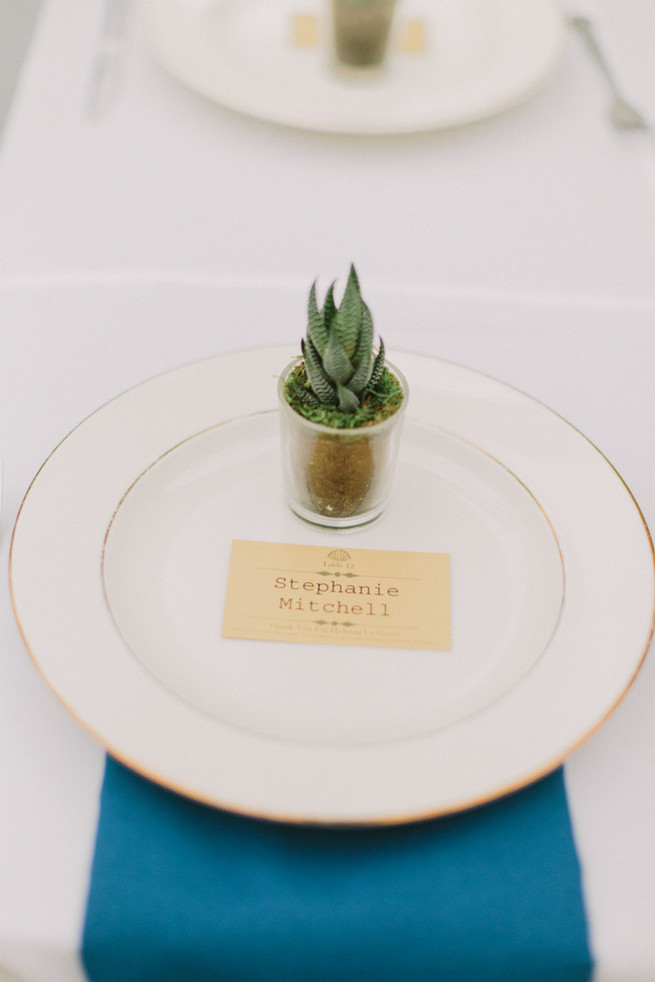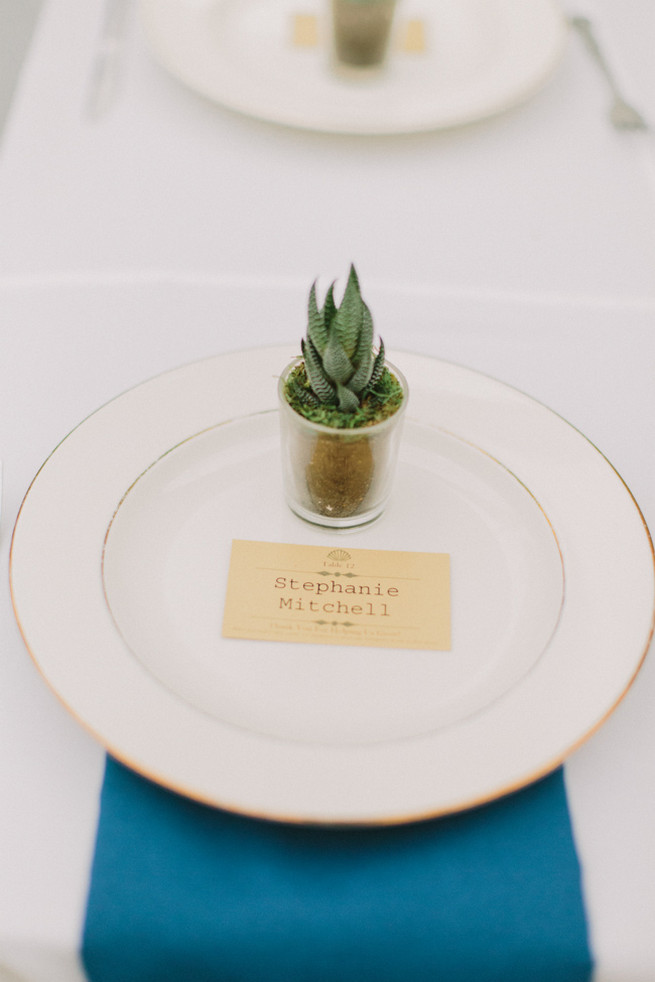 Gatsby-Inspired Autumn Birch House Wedding
Bridal Attire: My earrings were my great-grandmother's, and also served as both my something borrowed (along with the barrette) and something blue. My dress was also designed and made in Cambodia by a Phnom Penh bridal atelier (Anne Noelle Bridal.) I fell in love with the gold and crème sequin. It was a risk to design and make the dress from start to finish, but I am so glad and more than happy with the result. We decided to add a back necklace made in Cambodia and I watched as they strung the beads and pearls for it together.
I also had my shoes made in Cambodia, accordingly, in the in 1920's t-strap style; they were custom made of a soft gold leather. My groom's were also made in the same shoe making shop there (Beautiful Shoes.)
Bouquets:  I wanted something that would bring some the colors of the bridesmaid dresses together. I found a picture and again, the florist came up with a beautiful bouquet that fit well within our budget. The bouquets were elegant, a little eclectic, and a bit free-form in style.
Groom's Attire: The groom's and groomsmen's suits were also made in Cambodia. We decided to go for the bow-tie look, and the tailor was also glad to make those for us as well.
Bridal Party: All of the bridesmaid dresses were made by a seamstress in Cambodia (Leakhena Durston) and meant to emulate different styles from the 1920s and 30s, Our ring-bearer's suit was found at a local Cambodian market and our tailor was more than happy to make him a small bow tie. We found the flower girl's dress and shoes on Etsy.
Stationery:My husband Brice designed and printed the programs and seating chart that was in a similar style as our invitations. Our invitations had an original Art Deco design created by Abigail Reeder Designs.
Wedding Ceremony: Our good friends and a married couple from our church, Mary Beth and Craig, officiated our wedding, another friend from our Bible study, Kristen, sang with the band during the processional. Kristen sang, one of my favorites, "In Christ Alone," while my Dad walked me out. It was pretty amazing to see so many loved ones in one place. Another good friend Shawn did a reading as well. Just after the reading we paused for a moment and had our photographer take a photo of the whole group, asking them to pray and help us be accountable to one another. Both my husband and I really cherish that photo of all of us together. As we walked out our band, Appleseed Collective, finished with their version of "Beautiful Things" by Grungor.
Reception Details: All the table linens were made in Cambodia by our seamstress's family, also learning to sew, who sewed and pressed all the table linens which were a pretty ivory color. Shipping them to the US was about the same overall cost as it would have been to rent here in the U.S. while helping our seamstresses family gain experience and a bit of extra money.
One of the most beautiful simple changes we made last minute was to have our florist (Glen Garden Gifts) make garland runners rather than centerpieces. We were extremely happy with the outcome; they didn't clutter the table but were still elegant. One special area we designated to gifts, Art Deco styled-tchotchkes, photos of my grandparents, and items from Cambodia, including Cambodian art and a map of the world. I had collected the tchotchkes from family and thrift stores, and the photos of my grandparents were old black and whites of them when they were young. For our cards we used an old travel themed-hat box that I found at a local thrift. The Cambodian corner was especially meaningful in that it helped bring our love for that nation into our wedding as well.
Food and Drink: My husband and I love food so our caterer and dessert providers were important to us. We were agreed on having a great party to celebrate this gift of marriage with food, drink, music family, friends and our faith being of high importance. We bargain shopped a few places but chose Trader Joe's for our white and red wines, they had great reviews and wonderful pricing; while bringing our own beers from Costco and the Andersons. Both my husband and me love pie so we included a peanut butter pie and pear almond tart (from Current Cuisine local to Yellow Springs) for dessert.
Entertainment: We had so much fun planning the entertainment with Appleseed Collective, and they were so perfect for the day with their Americana sound ranging from rag-time, folk, jazz, and fun repertoire of music. One of the most memorable moments of the day included dancing to "Hello Again" and "The Twist" for the father-daughter dance. I could barely keep up with my Dad.
Wedding Cake: Our cake was a unique carrot cake and pumpkin cake that they (Ele Cake Company) agreed to do in a naked cake style (icing only in between layers and not over the whole cake.) The florist put a few of her touches over the cake and assured us that the flowers she chose were not poisonous, and in a pinch, edible.
Succulent Favors and Place Cards: Our families and a little DIY were a tremendous help. My mom, grandma, and a friend helped us create the wedding gifts of individual tiny succulents which served as placeholders at the tables too. We spent nearly an entire day planting about 180 succulents. Along with the succulents we donated a small tithe to World Relief Cambodia where I formerly worked and my husband had spent a summer visiting and volunteering.
Advice for Brides:
Keep as organized as possible & get your groom & family involved
Try to think outside the box for flowers and decor.
I preserved our wedding garland and we use it as decor in our house
 ♥ ♥ ♥  VENDOR CREDITS  ♥ ♥ ♥