American and Canadian brides, this one's for you! Over the next four weeks, Confetti Daydreams will be looking to reward yet another one of its fabulous USA and this time Canadian (yip, you heard right!) fans with a set of adorable handmade love bird wedding cake toppers! Created by a team of hung-up on love artists from Gifts Define, these love bird creations are unlike any other. So if you're a bride-to-be just bursting with adoration for sweet little love birds, then you've come to the right place to find out how to get your hands on a pair of them!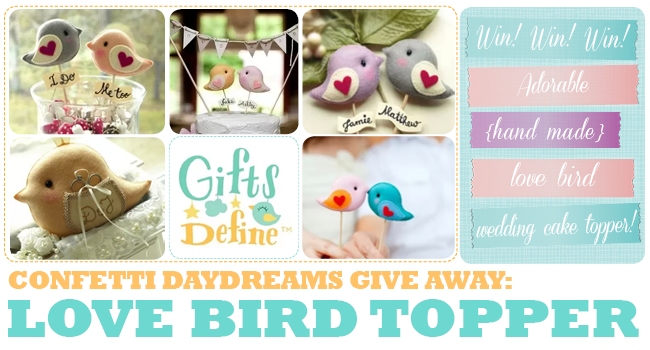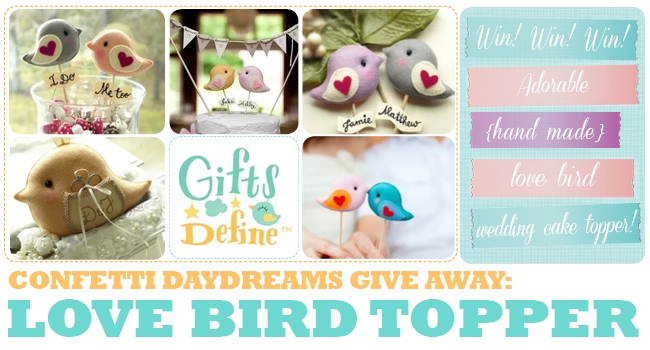 Gifts Define

Handmade goodness made by happy people is what Gifts Define is all about. Specializing in unique artistic hand-crafted creations that are made with love, whimsy, magical and childish delight for wedding favors, cake toppers and table decor, which can then be treasured with glee as a keepsake in your home. Free of harmful toxins or cookie-cutter designs, they exude nothing but happiness and joy, and are bound to bring a wave of smiles from all guests at your wedding celebration.
Custom-Made Love Bird Wedding Ideas
Representing divinity, freedom and love, Gifts Define's charming wedding collection of love birds are lovingly made to complement each couple's special day, as well as to be treasured as a unique keepsake of their celebration.
Cake Toppers, Ring Pillows & Photo Props
A pair of love bird toppers customized with special words or your names make the perfect adornments to your wedding cake or cupcakes. The love bird theme can also be carried from your wedding favors and bridal party gifts, to your table decor, ring bearer's pillow and super fun photo props.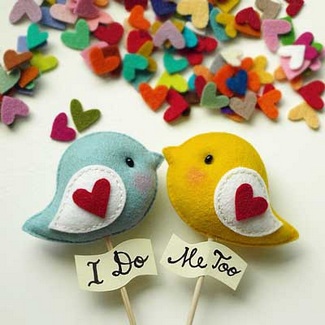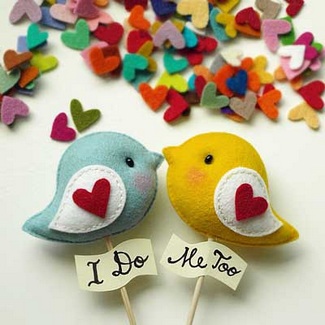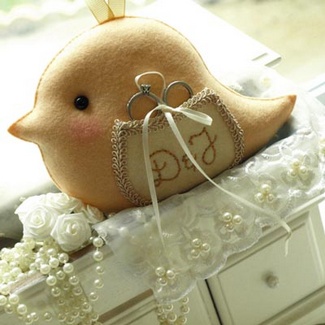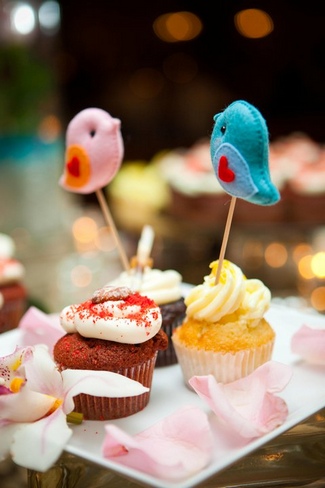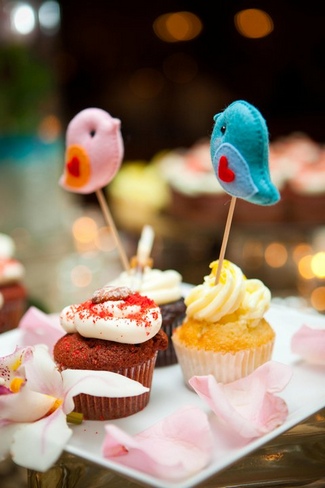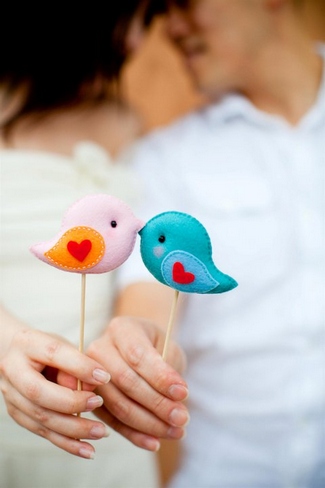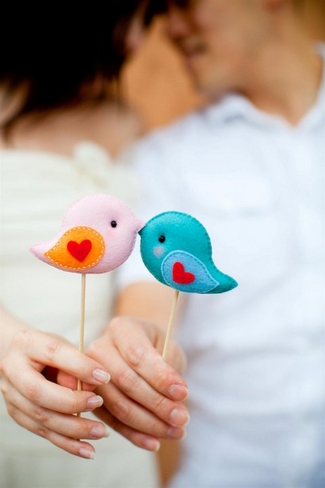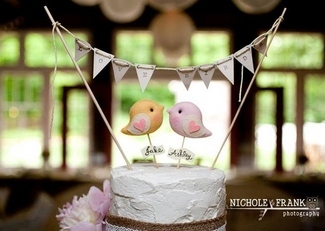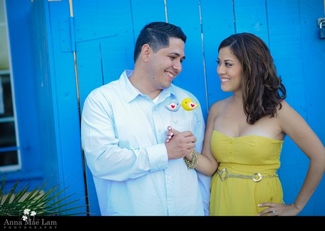 Love Birds Wedding Decor & Favors
A pair of custom-made love birds can be used to carry wedding greetings around your venue, with each bird representing the bride and groom. Love birds can also be personalized with each guest's name to both mark their place setting and taken home as a wedding favor.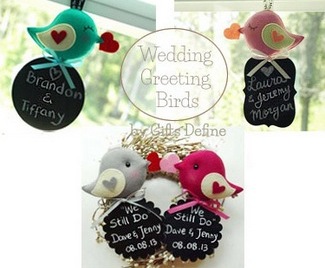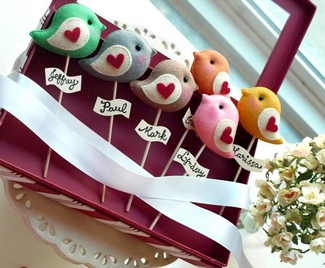 The Prize Give-Away
 The Gifts Define fan giveaway includes one pair of handmade Love Bird Wedding Cake Toppers by Gifts Define, which will be shipped free of charge to the winning Confetti Daydream's fan.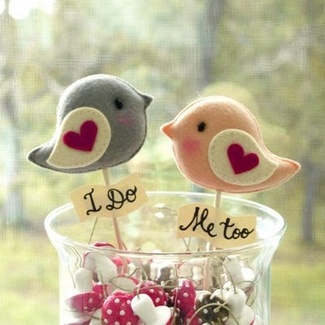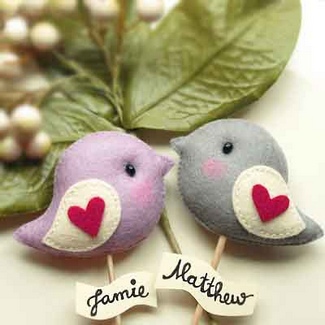 How To Win
 Before entering, make sure that your zip code is somewhere in the USA or Canada. Next, fueled by your yearning for these cute wedding cake topper birdies, follow the two steps below to complete your entry. The competition will be running for a short four weeks, so there's no time to lose!
1. Become fans of Gifts Define by liking their Facebook page.
2. Leave a comment at the bottom of this post telling us why you'd like these Love Bird Cake Toppers. The winner will be randomly selected, so work your magic!
3. For extra points, tweet your entry below:
#Win Super cute love bird cake toppers from @GiftsDefineInc 4 your wedding! http://t.co/svAywfxkb5 @ConfettiDDreams pic.twitter.com/FxxVK5rlvb

— Confetti Daydreams (@ConfettiDDreams) October 11, 2013
♥ ♥ ♥ TERMS ♥ ♥ ♥
This Love Bird Cake Topper Give-Away ends on Friday, 8th November 2013.
The winner of this Gifts Define prize giveaway will be chosen and announced on this page within the one week following Friday, 8th November 2013! Follow us on Twitter and Facebook for regular updates.
This competition is open to our USA and Canadian brides only.
Prizes not transferable for cash.
Exact stock depends on availability at time of competition closing.
An entrant may only claim a prize from ConfettiDayDreams.com once every six months.
No correspondence will be entered into, the judges decision is final.
ConfettiDayDreams.com retains the right to cancel the promotion at any time and will not be held liable for any damages. Events may occur that render the competition itself or the awarding of the prize impossible due to reasons beyond the control of ConfettiDayDreams.com, and accordingly ConfettiDayDreams.com may at its absolute discretion vary, amend or cancel the competition and the entrant agrees that no liability shall attach to ConfettiDayDreams.com as a result thereof.
By entering this competition, entrants completely release Facebook from ownership or responsibility. This promotion is in no way sponsored, endorsed or administered by, or associated with Facebook. Facebook are excluded from any liability for this promotion.
The entrant is providing information to Confetti Daydreams and not to Facebook.
Much Love and Luck!
♥ ♥ ♥ GIVE-AWAY CLOSED: WE HAVE A LUCKY WINNER ♥ ♥ ♥
Hip Hooray! Happy dance! Sarah T.  you've been selected as our winner of one pair of handmade Love Bird Wedding Cake Toppers by Gifts Define for your wedding! We'd love to send your prize on its lovely way to you asap! Please get in touch with us by sending an email to [email protected] to claim your prize.