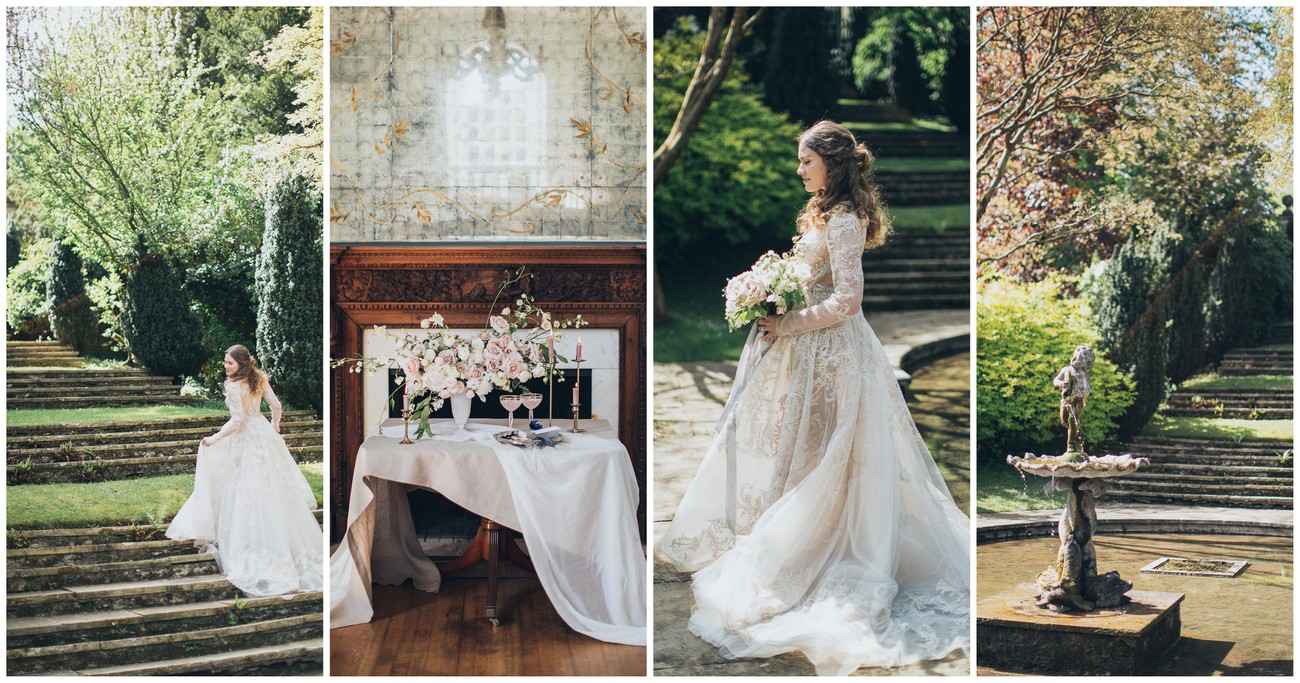 Dreaming of a romantic elopement in the English countryside? Today you're in luck as we show you how to plan your intimate manor wedding at a romantic cotswold wedding venue for two.
We've gathered advice and a vision of absolutely breathtaking inspiration from an expert team of English wedding providers including Anastasia McClymont of Wedhead. Get ready to see just how spectacular a manor wedding in the English countryside can be with these photographs by Elina Sazonova. 
Intimate Wedding for Two in the English Countryside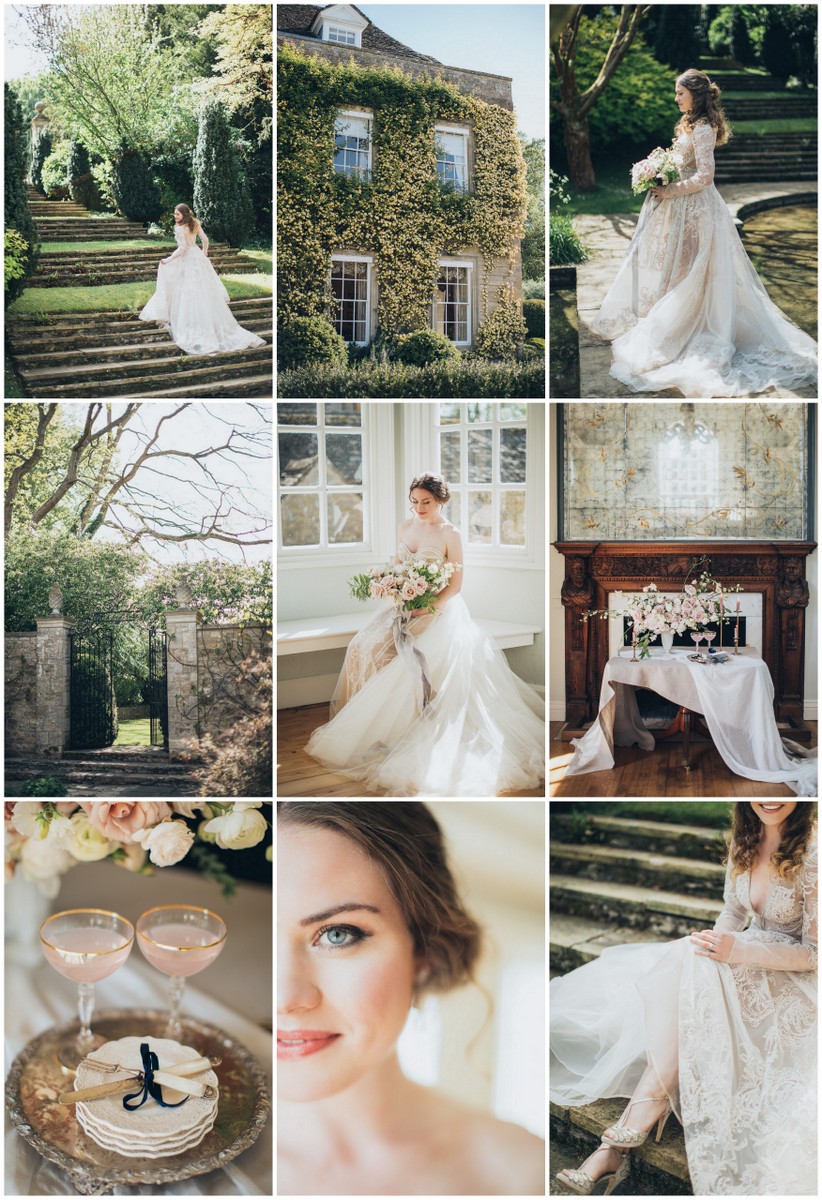 "They say the British countryside has its own aura, it's own smell," shares Anastasia."What does it smell like? Like a Cotswold garden in bloom some time in spring on a sunny day when the stones are warm to the touch and the breeze is light and fresh. It smells of budding flowers, of sweet blossoming cherry trees, of musky wet soil after a brisk rain and of freshly cut grass. With its picture-perfect sandstone manors, singing birds and fluttering butterflies it is hard to imagine a place more enchanting than the Cotswolds in spring. Isn't this a perfect setting for a romantic elopement? We sure think so."
Being a grand historical building mentioned for the first time in Domesday Book which dates back all the way to the 11th century, Cornwell Manor, chosen by the team for the location of this editorial, looks to be an exquisite location. "The manor exudes elegance and grandeur," says Anastasia. "The house and the grounds look like a theatre backdrop from a Jane Austen novel, casually watercolored onto the canvas of stretching fields and woodlands. Having been a shoot location for many iconic movies (like ahem, The Holidays?!) the Manor is has a calm and charming feel to it."
Elope to the English Countryside
The team wanted to explore the pairing of the traditional English wedding elements so easily found in British Countryside with modern accents, all in a dreamy, bright and heartwarming vision of a joyful bride: "Our inspiration for this shoot came from the love of British countryside and the reminiscence of joy that comes from feeling in love – something many of us feel in spring when everything returns back to life."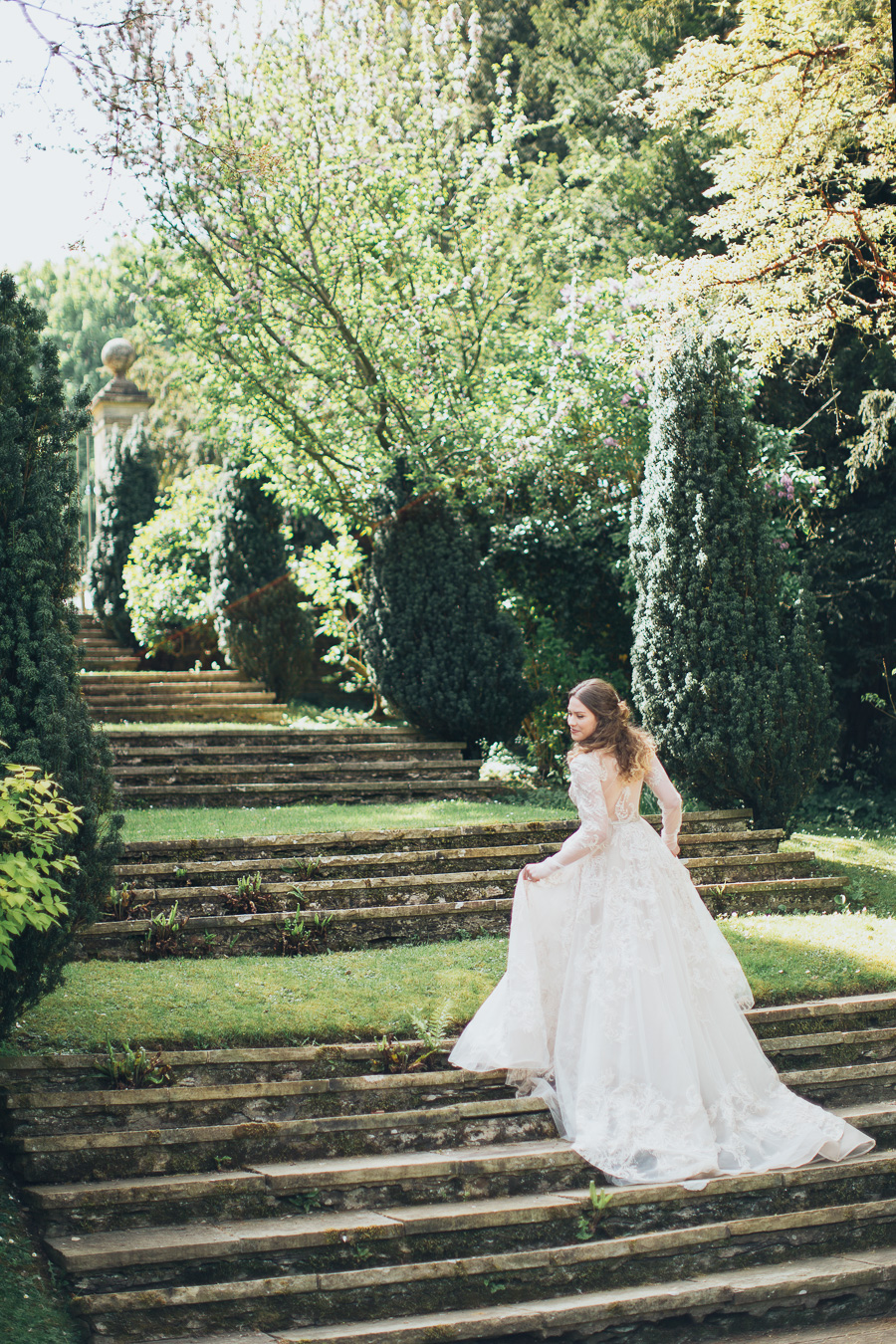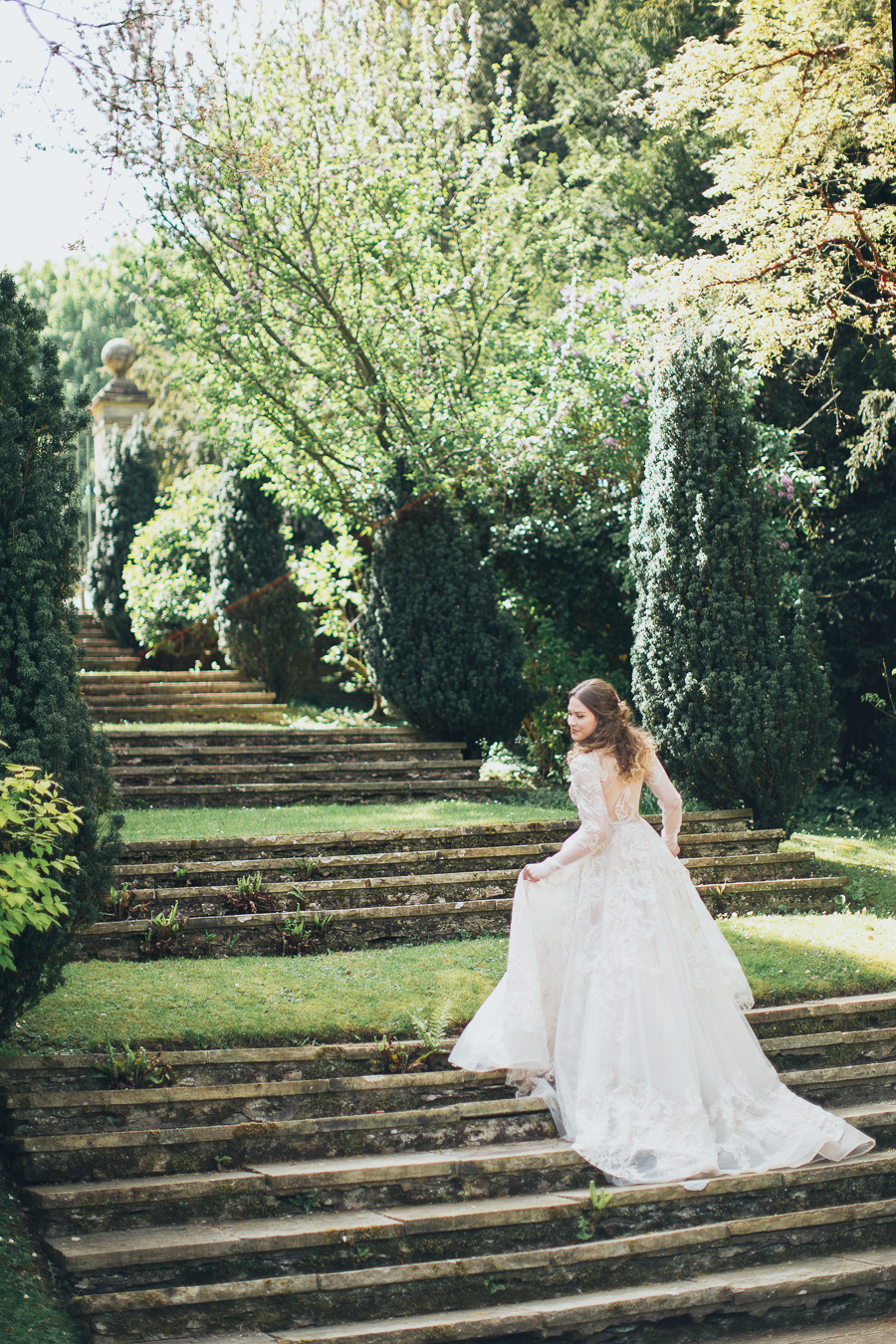 How to Elope to the English Countryside
If you are dreaming of an intimate English wedding in a Cotswold garden, Anastasia shares a few things to consider:
1. While England is beautiful in spring and summer months, you can get caught out by rain. So always have a plan B on hold to fall back on should the clouds attempt to overrun your day. Rain doesn't need to be a bad thing, just have umbrellas on hold for your guests (you can hire some to match your day from Brolly Bucket) and make sure that your ceremony can be moved indoors if needed.
2. Create a weekend-long celebration. Flying your family overseas for something as special as a wedding can be a once-in-a-lifetime experience, so make sure your venue can accommodate at least a whole weekend of festivities so your guests can really enjoy your day. Who said wedding brunch is less important than wedding breakfast?
3. Restrict DIY to minimal. It's extra baggage to carry both in the literal sense and metaphorically speaking. Remember that you are catching a plane to your big day, so pack lightly. Instead, focus on enjoying the trip and taking back wonderful memories.
4. Use the English countryside and its surroundings as a theme for itself. You can incorporate a manor crest on your invites, or an illustration of the house on your stationery and pick the wine and delicacies produced in the region. Ask your florist to use British grown wildflowers, adding organic, effortless touches throughout.
5. Hire a wedding planner who knows the Cotswold area. Anastasia recommends Kerry Poulter or Jeni Amey, whom she mentions specialize in the Cotswold area. Planning a wedding at home can be tricky, nevermind doing this abroad – you need to communicate with suppliers you don't know and make arrangements based on trust.
Intimate Wedding for Two in the English Countryside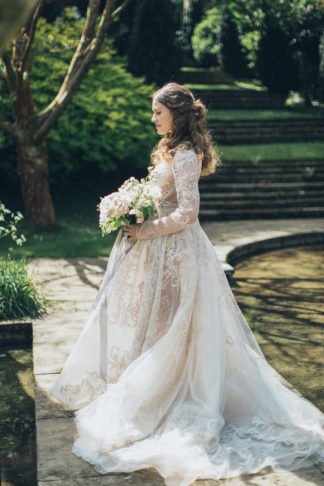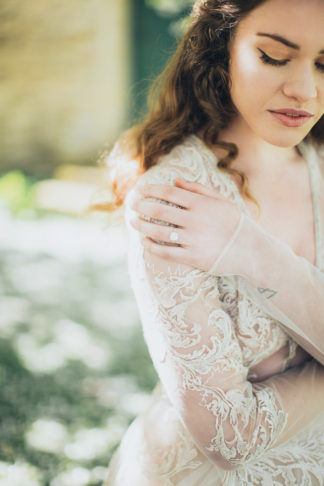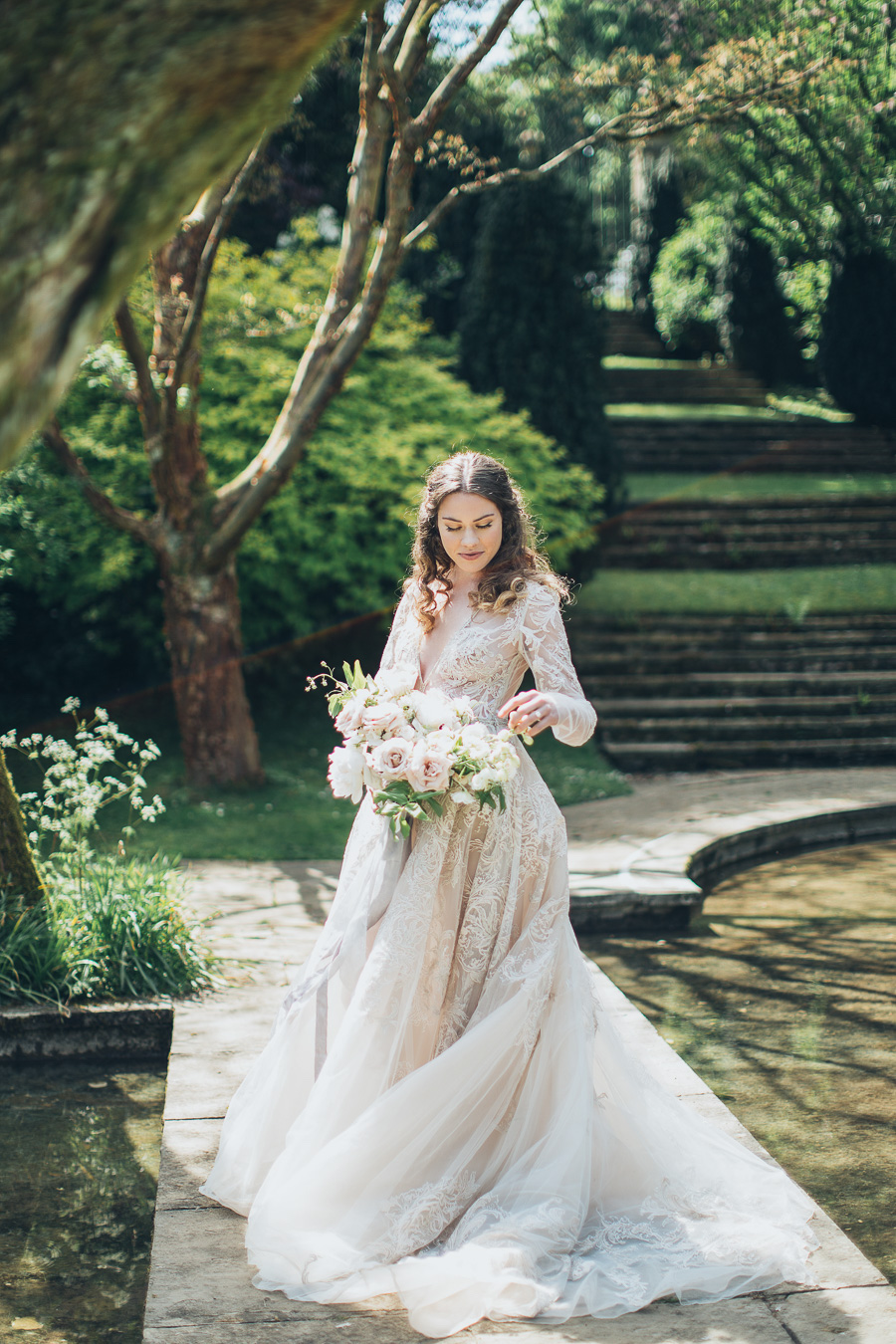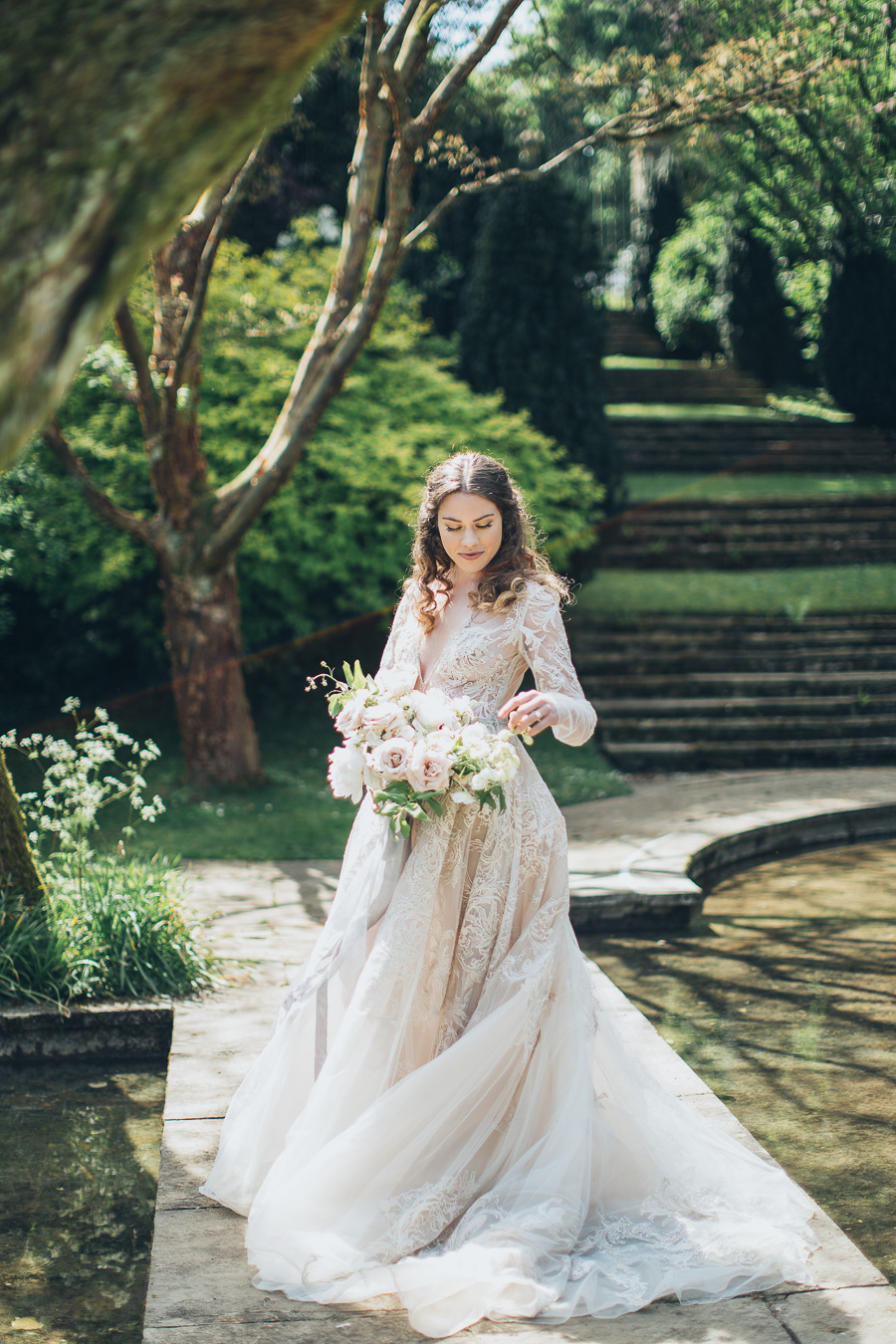 The two beautiful statement dresses from Morgan Davies Bridal were created by Inbal Dror and Erza Atelier. The Inbal Dror dress featured a soft pastel pink lace detail which added the softest touch of colour.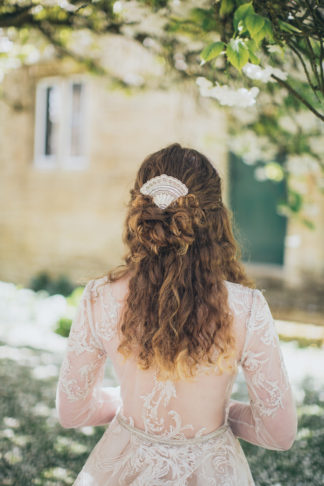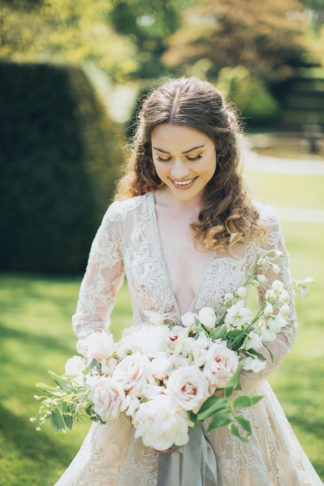 Handmade hair accessories and shoes were created for this intimate English countryside wedding by Emmy London.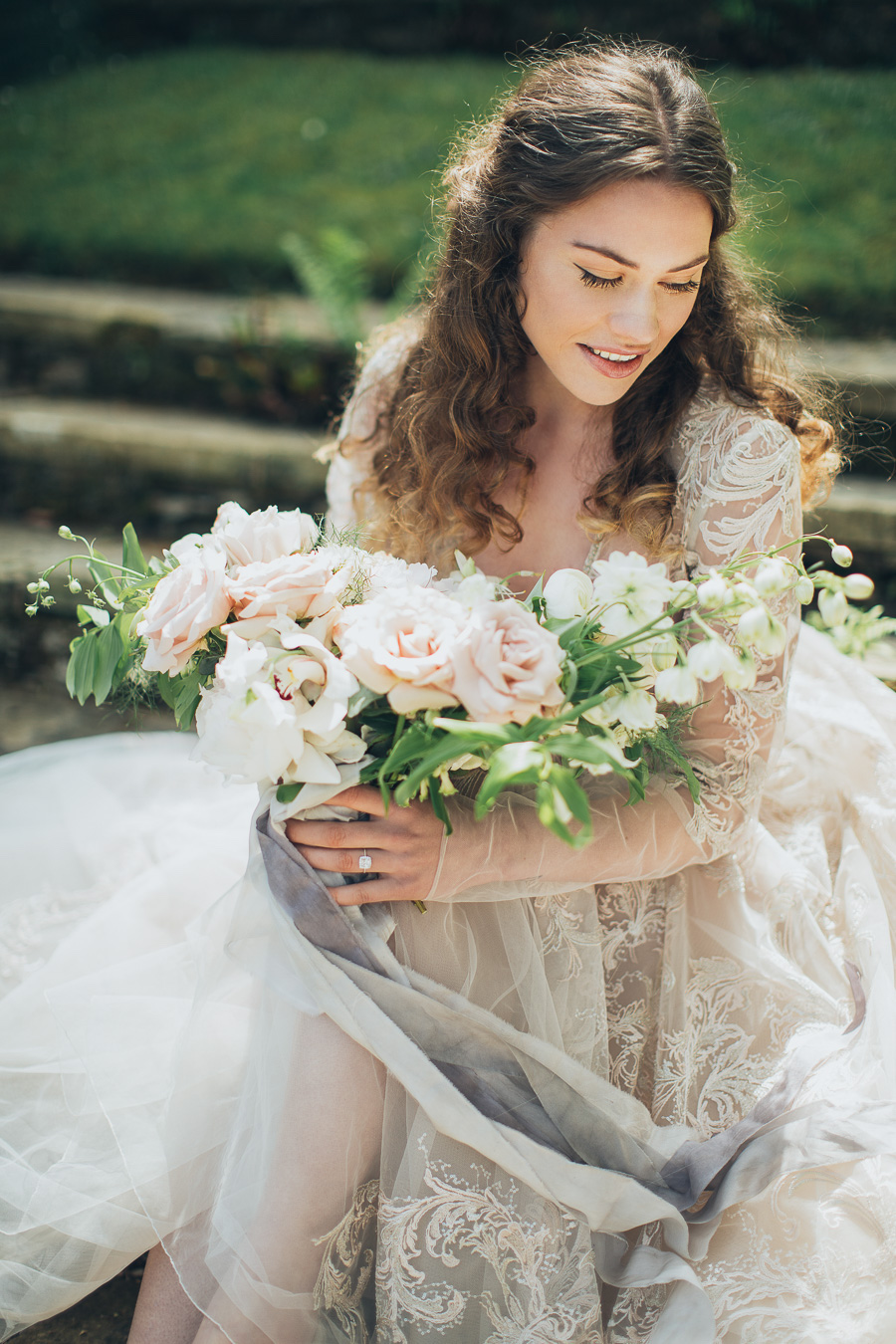 English wedding flowers created by Lacy Bird London were a perfect match for a spring Cornwell wedding palette – full of soft creams, blushes and nudes. British roses were the accent of the bouquet and the centrepieces, to reflect  the flowers found in the British gardens. Orchids and budding fresia were added for texture, and greenery in soft sage shades .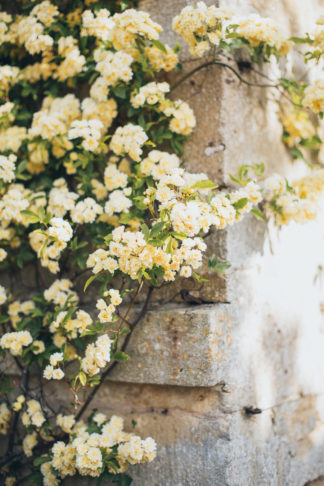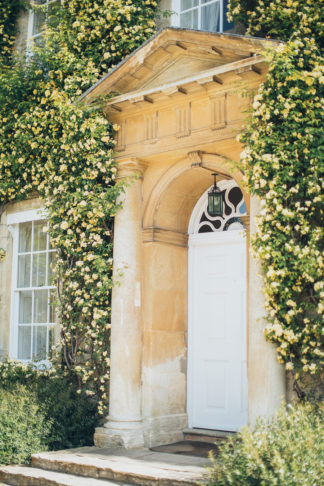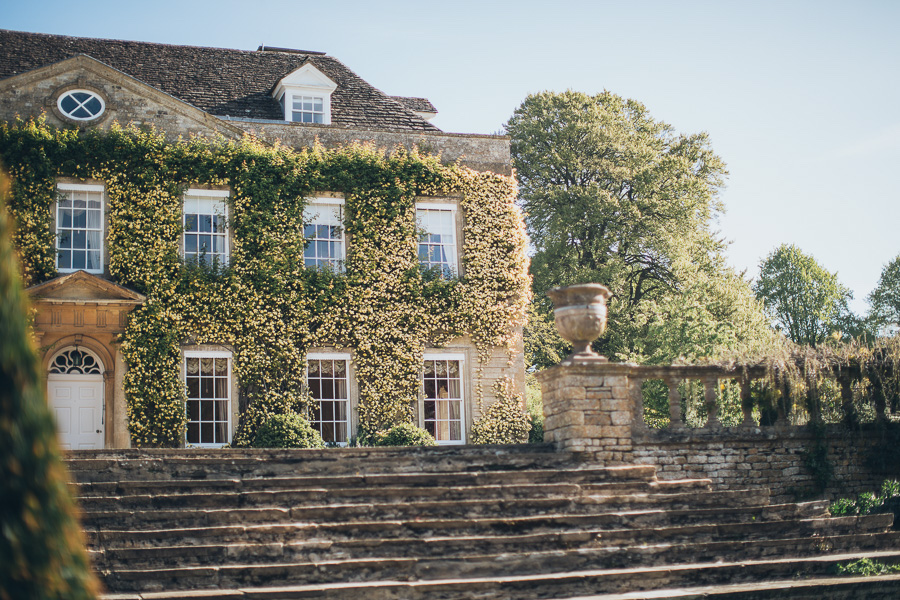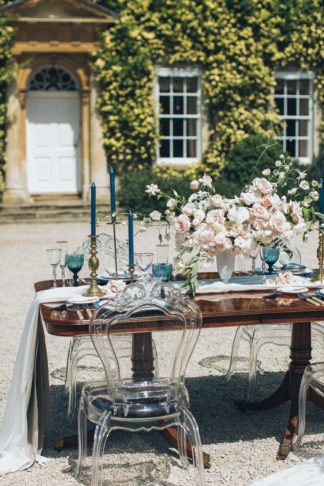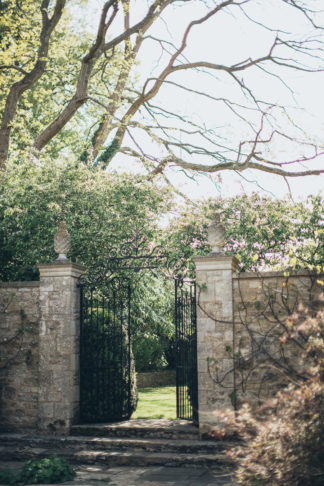 The furniture from Wedhead featured a mix of something old and something new. A mahogany table was paired with perspex French ghost chairs, antique silver forks with a minimalistic cake stand and modern gold candle holders with contrasting antique trays. Beautiful Vintage Lace plates from Duchess and Butler mixed in with Blue Leaf Charger plates and Audrey gold rimmed glasses with Dusty Blue Goblets created texture on the table.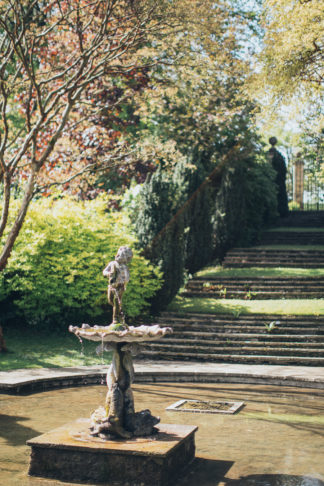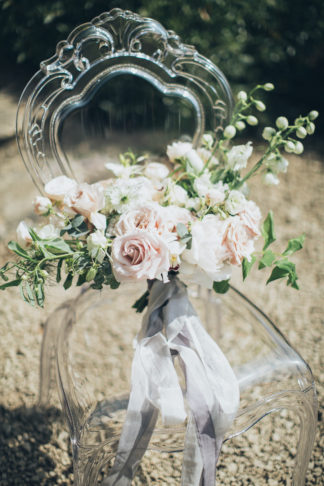 Hand dyed ribbons and runners in soft natural shades were provided by Kate Cullen.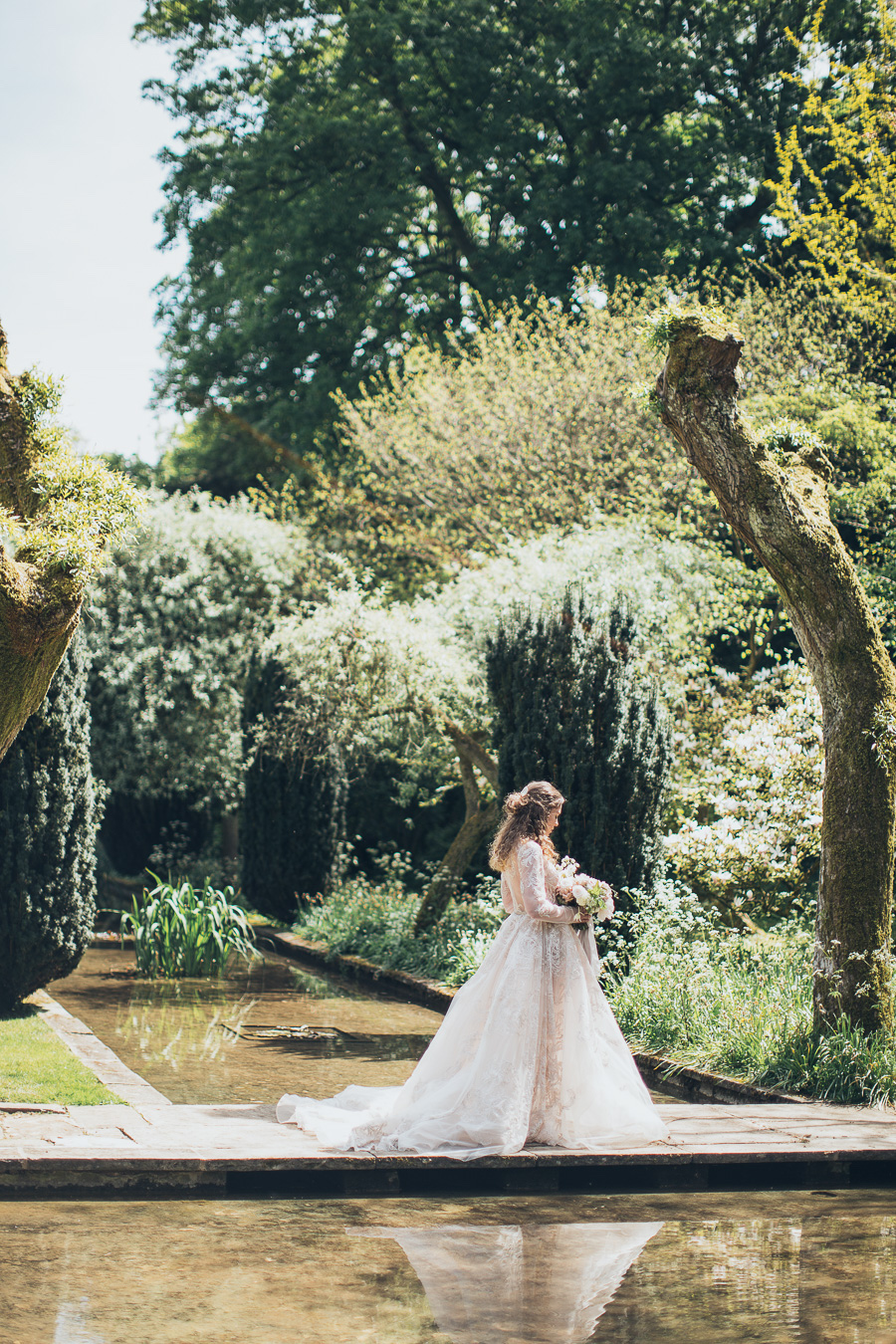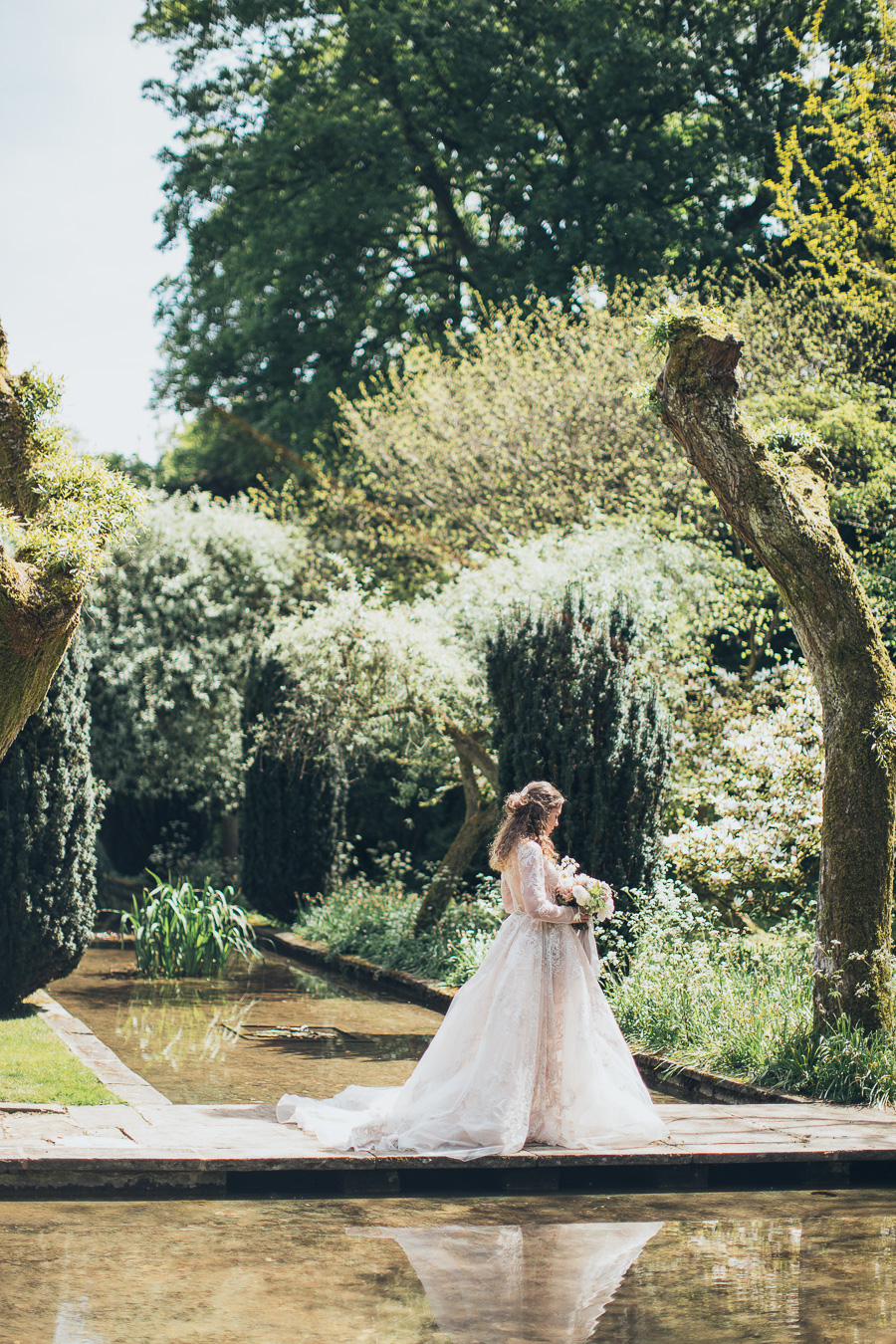 For those looking for a venue to elope in the English countryside, there is a chapel on the grounds at Cotswold Manor, the path to which gets covered in lilies of the valley in springtime.
A beautiful front house lawn with a fountain will also be perfect for an outdoor ceremony, explains today's team of English wedding professionals. Cosy rooms – each with its own character and a color theme – are available for hire together with the whole house, to enjoy an uninterrupted weekend celebration with loved ones.
With an outdoor pool for summer months and a signature duck egg ballroom featuring a beautiful balcony and a fireplace framed with an antique silvered mirror, this space was perfect inspiration for the team's vision of an an intimate English country elopement wedding.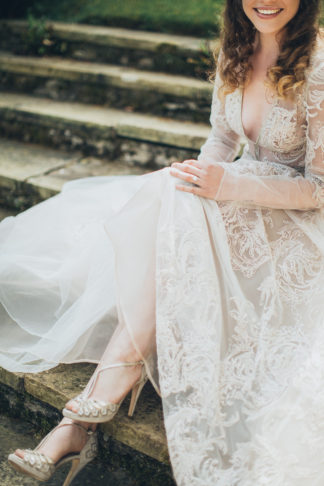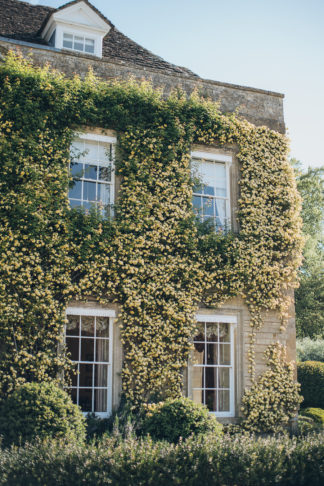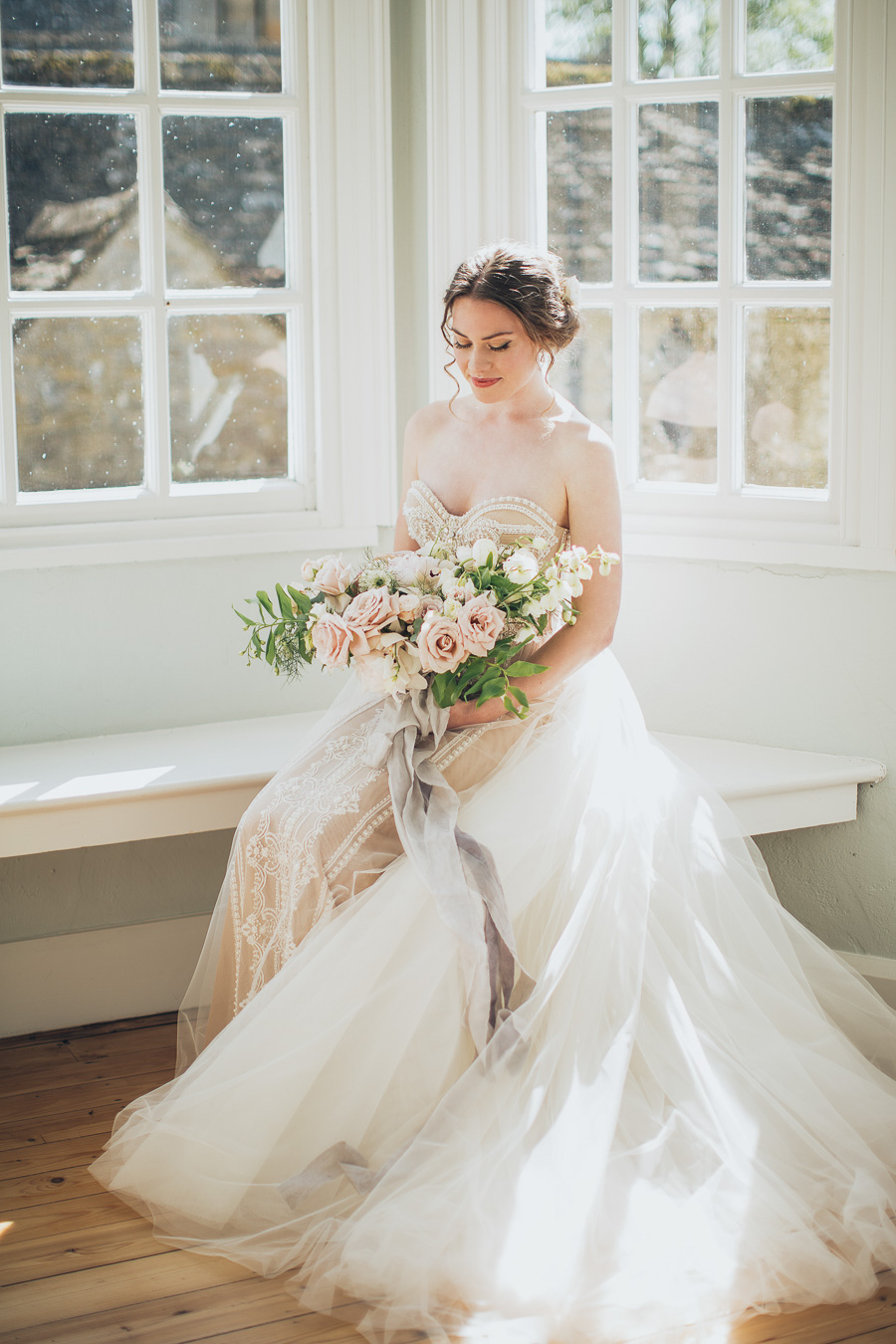 The English bride wore her hair half up half down for the first look and then in a loose and romantic do for the second. "Sam from Mach Management made sure the hair looked gorgeous but effortless and makeup was kept natural and soft with a glowing dewy complexion. "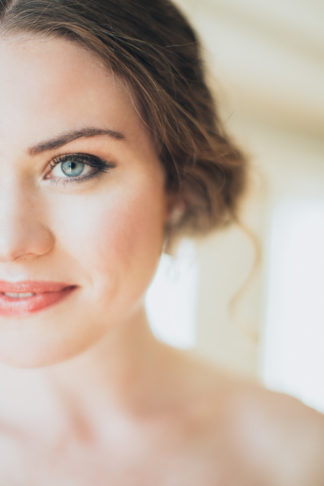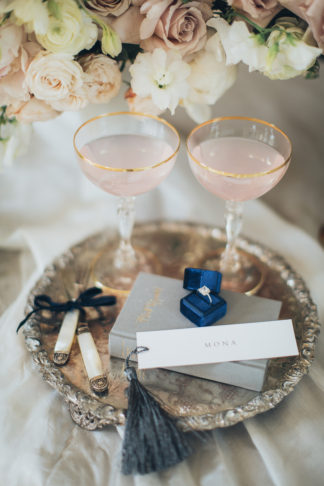 The English stationery was created to order by Georgina Read. "We really wanted something unusual and modern, but yet very British. Georgina specializes in creating minimal pieces with bags of character and we especially loved the place cards with minimal typography and lush silk tassels." The velvet ring box by La Petit Box in navy blue was a perfect accent in the almost mauve setting of the shoot.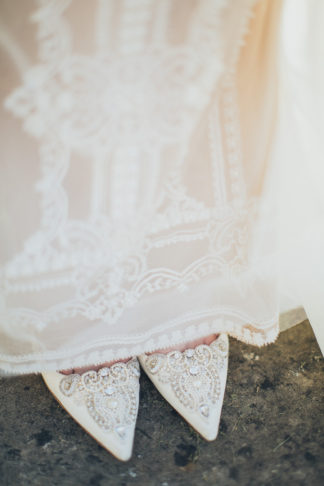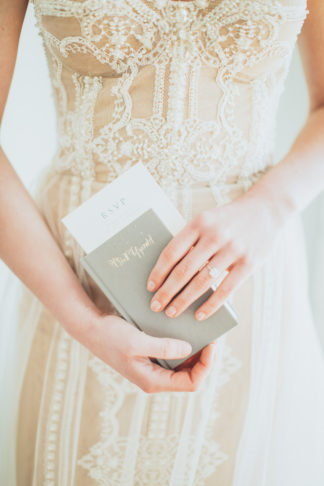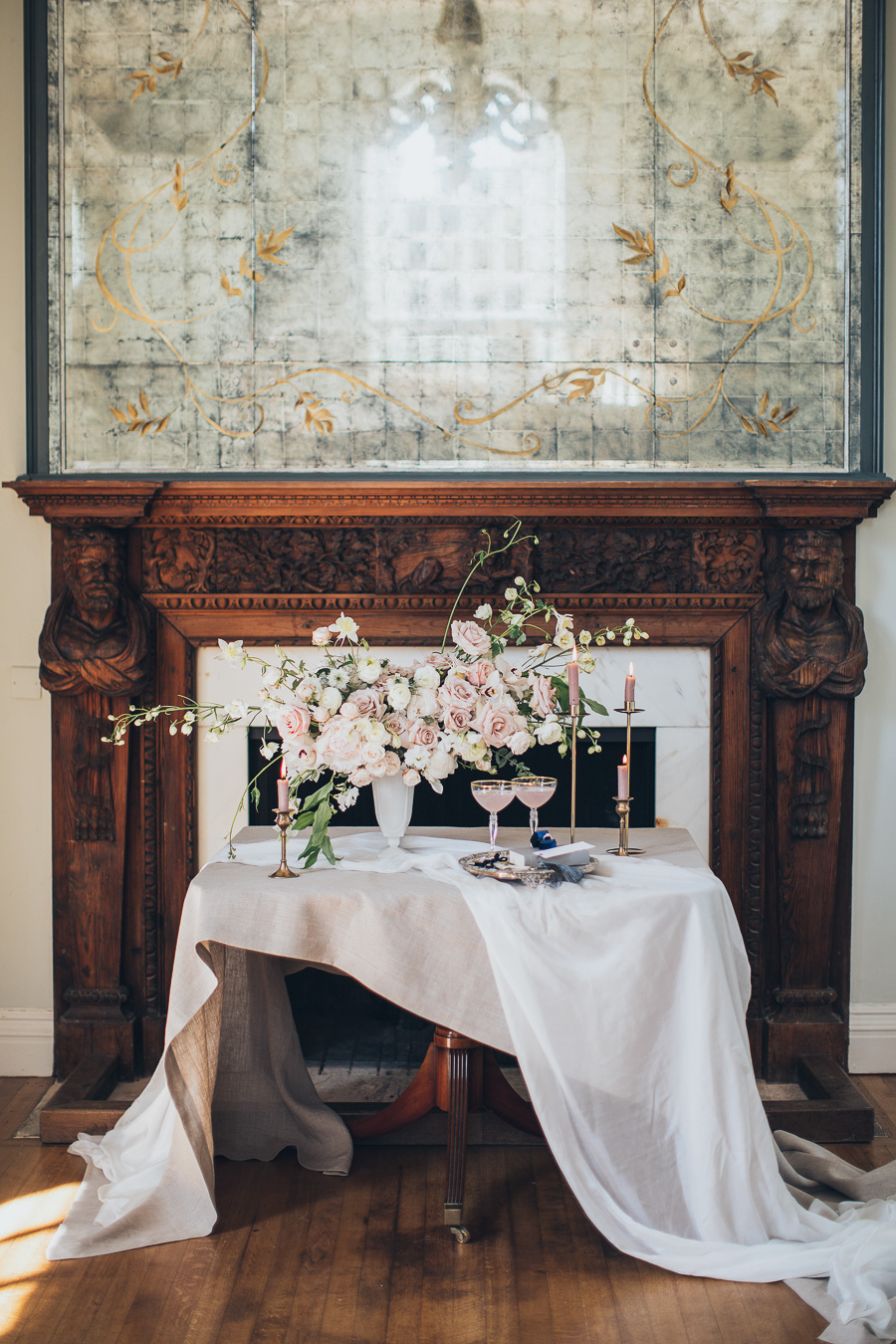 The cake by Yellow Chimney kept to a minimal, stripped down look with sheets of white chocolate surrounding a delicious vanilla Victoria sponge.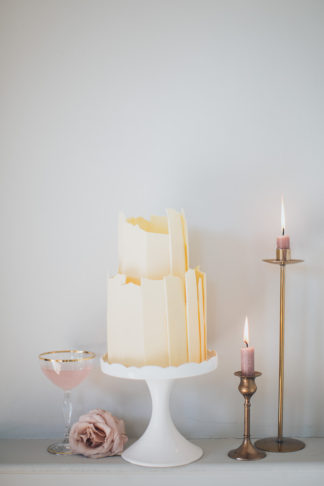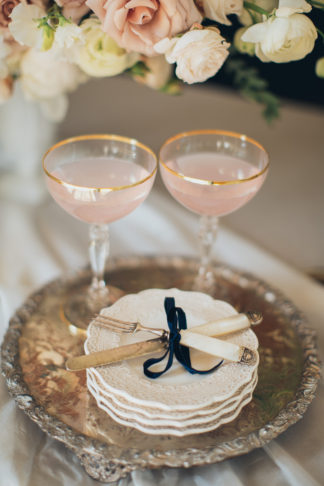 The Erza Atelier dress won the team's hearts. "The gown's with a show-stopping train draped down all the way from the balcony in the ballroom and with a nod to a Tim Walker moment."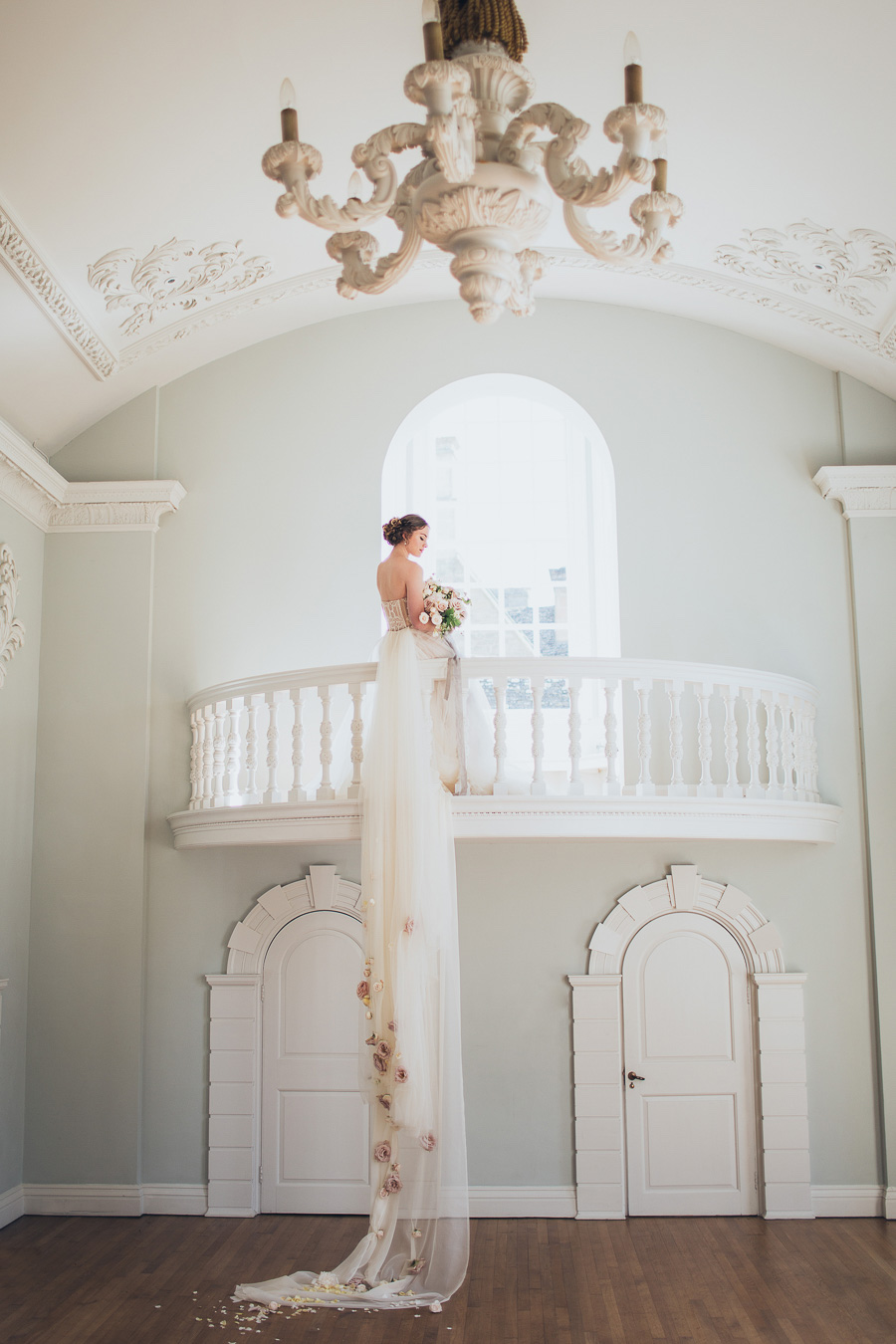 English Countryside Wedding Service Provider Contacts:
View all weddings // Read wedding planning advice