Buh-bye boring gifts! Looking for creative presents for men? We're talking fun gifts for men who have everything and want nothing! This selection of cool presents for men includes unique, thoughtful and creative gifts which will help inspire you on your search for the perfect present for the man in your life.
From rings stamped with custom co-ordinates of the place you first met, to a poster of the stars in the sky on the night you met, to cufflinks engraved with a handwritten message – or even totes adorbs matching fur dad and fur baby shirt set for the dog dad in your life, we think you'll find a cool and unique gift idea to delight the guy you adore!
Fun Gifts for Men Who Have Everything
♥ If you love this curated selection of designs as much as we do and make a purchase through one of these links, we'll receive a commission for sharing them with you. Thank you so, so much for supporting our content! ♥
1. Actual Night Sky Constellation Map Poster Print. At the top of our list of unique and cool presents for men are these prints which, using astronomy software, recreate the actual night sky at a certain location at a precise moment in time. It's like a photography of the night sky! Choose the night your stars aligned – perhaps your first kiss, your wedding or the day you moved in together and have this moment preserved for all eternity! Order yours here.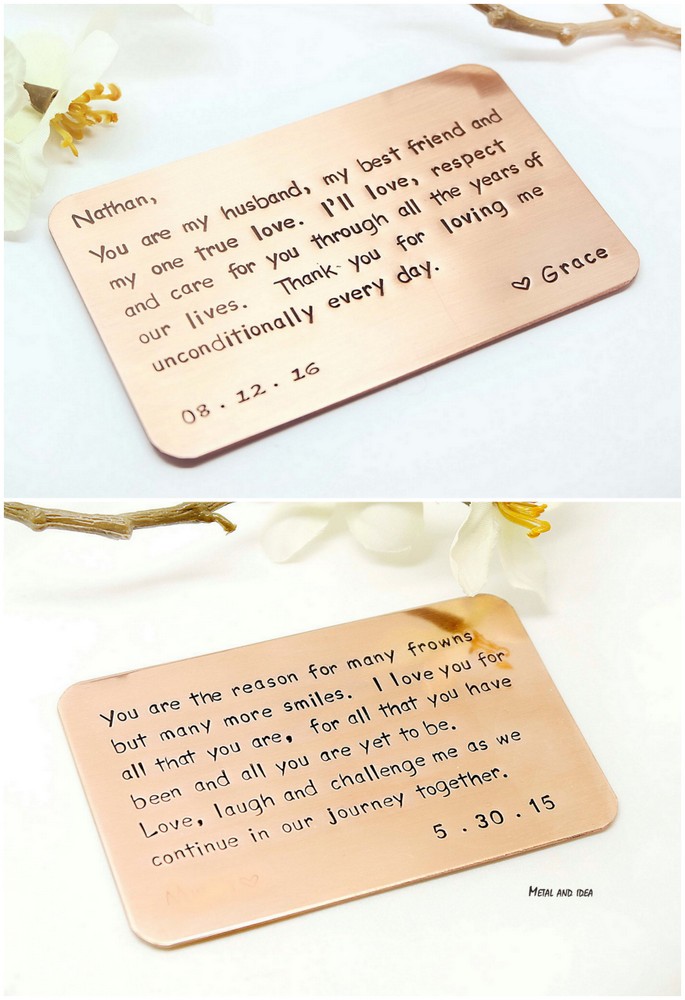 2. This hand stamped copper wallet insert card fits perfect into a wallet so your loved one can always keep you close at heart.  We love the idea of permanent love note, especially for husbands or boyfriends who travel, live out of state or who need words of comfort from the one who they love! Leave a long lasting message for the man in your life here.
Cool Presents for Men: Dog Dad Gifts
3. Shout out to my dog dads! If he's a fur father, he's probably going to love this matching fur dad t-shirt set for fur parent and fur baby! Not only is this a cool present for men, it's a loving one, too. For every dog apparel purchase, 10% is donated to a local animal rescue to help pups in need. Get this special gift for the dog dad in your life here.  // 4. How about this animal lovers mug proclaiming 'Rescued Is My Favorite Breed'? Adopt, don't shop, right? We love a man who gets it!  Get this unique gift for the man you adore here.
Creative Presents for Men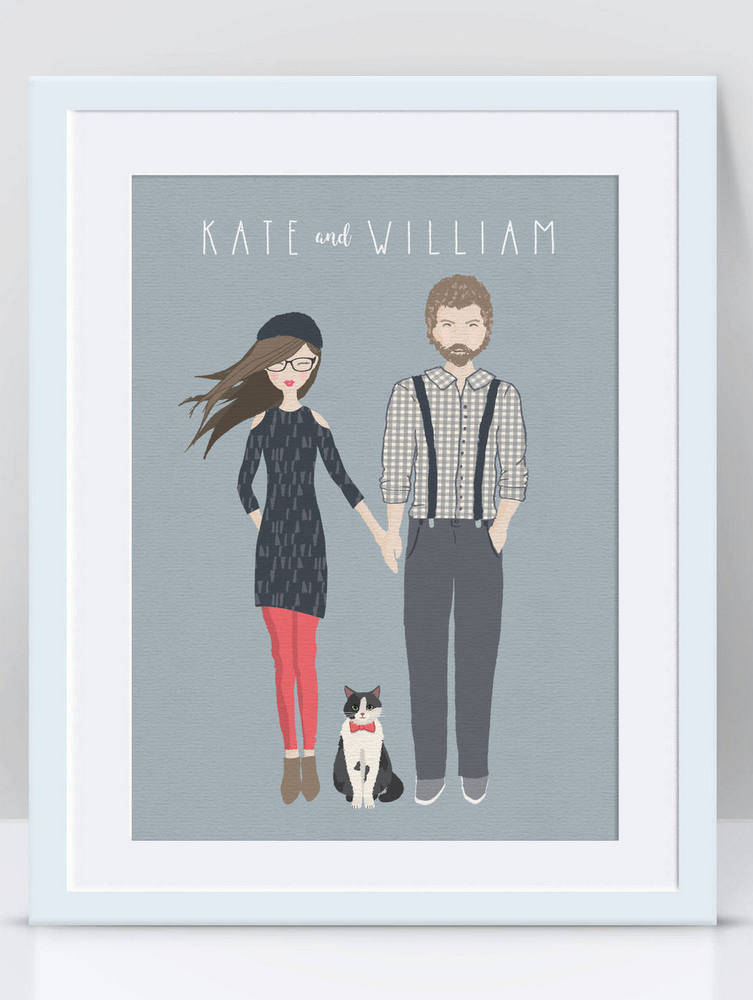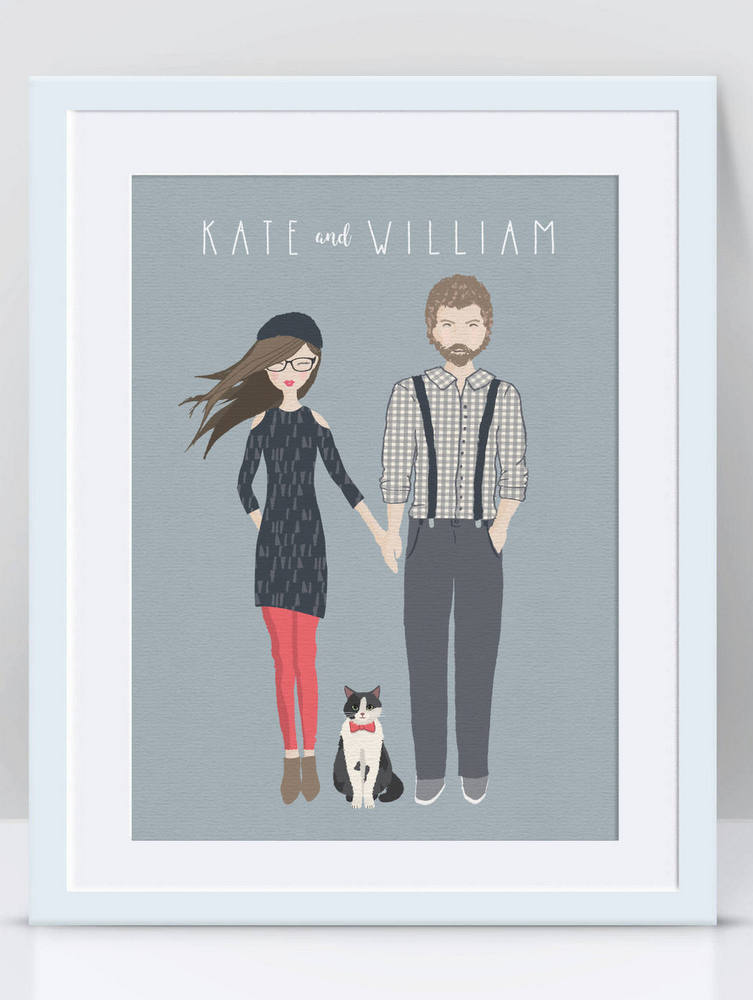 5. This Custom Couple Portrait is another highlight on our list of creative presents for men. This custom couple illustration uses your couple portrait to create a cute picture of yourself, your man and even your furbabies or kids! Order this creative men's gift here. (While you're at it, check out these 12 custom illustrated portrait cards that make awesomely unique gifts, too!)
6. (Above Left) Silver Latitude Longitude Band for Men. Talk about cool presents for men! This hand crafted, sterling sliver ring is stamped with the co-ordinates of the exact location of your choosing. Just like the night sky poster art before, you can choose the location of your first date, the spot of your proposal or the place where you realized it was love. Get this rustic sterling silver band here. // 7. (Above Right) Aluminum Custom Coordinates Ring for Men. This personalized ring is hand stamped on aluminum and is a wonderful way to give your guy a meaningful gift. Available for order online here.
Gifts for Men Who Have Everything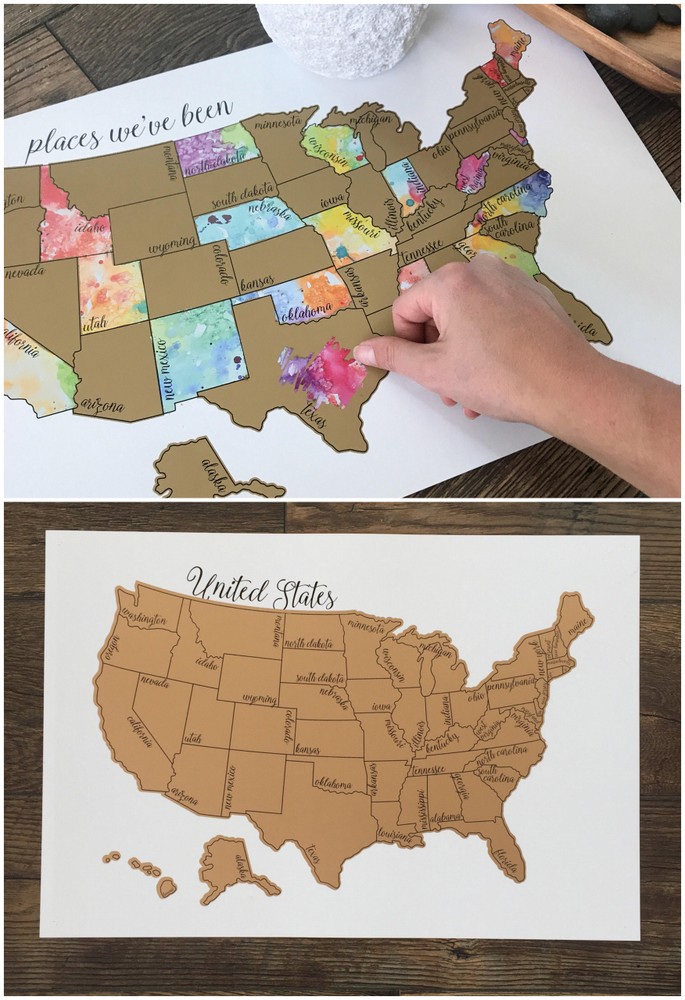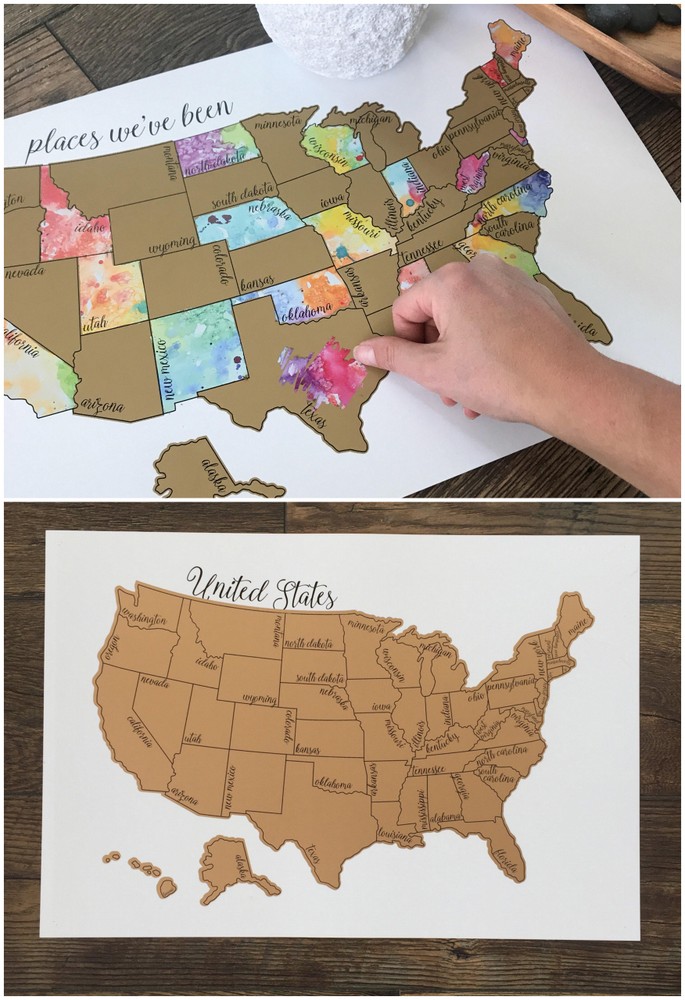 8. Been there, scratched that! Document your travels with a printed scratch off map which reveals a vibrant and beautiful watercolor state beneath gold foil. This is such a fun gift for couples with wanderlust, or even couples that live across country from each other. Keep the map framed on the wall and each time you travel to a new country or state, scratch it off your travel bucket list! Order this creative gift for the man who has everything here (US map version) and head here for the global map. (And if you're planning a travel themed wedding then check out these 20 stealworthy and afforable travel wedding ideas, too.)
Unique Gifts for Men
9. (Above Left) Custom Kid Art and Children Drawing Cufflinks. Okay seriously, what could be cuter?  These darling cufflinks feature the art of your man's fave niece, nephew, or his own little one. If you don't have kids, how about finding one of your own childhood drawings, along with one of his, and creating a super unique set? Order these unique gifts for men here. //  10. (Above Right) Personalized Handwriting Cufflinks with Message. Another cool present idea for the man who has everything is having a special message engraved on a pair of stainless steel cuff links. We love that they use your actual handwriting! Order them in circle or square format here.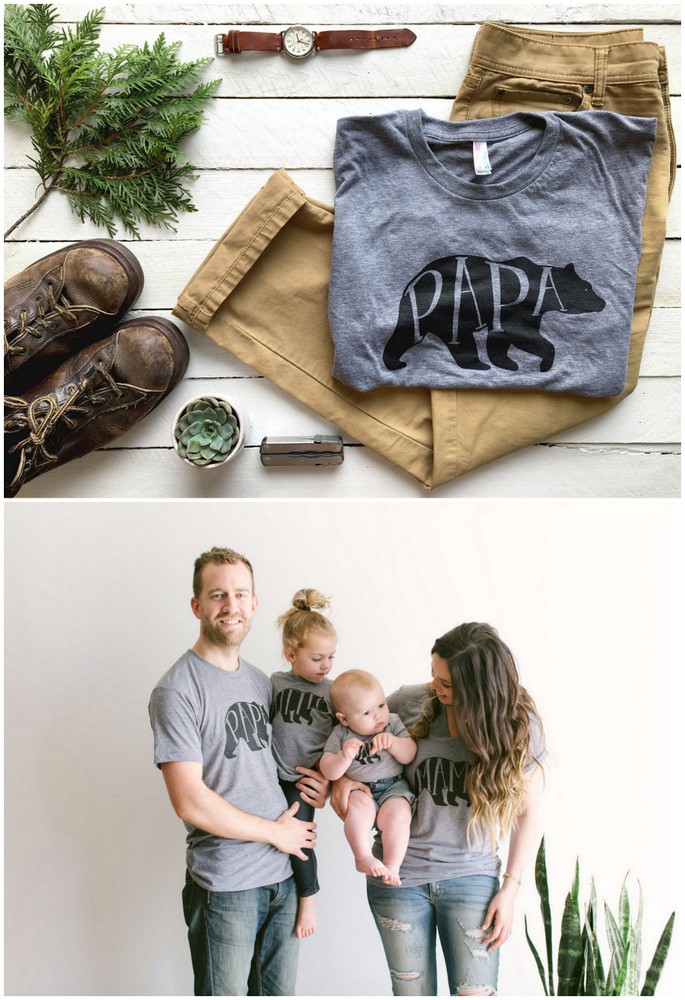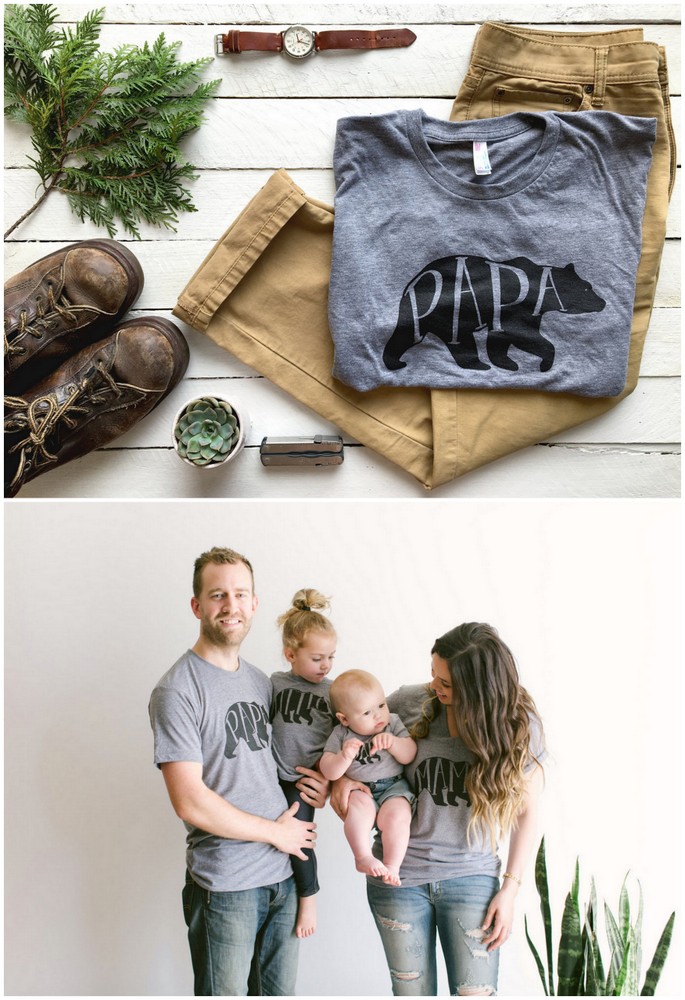 11. Hey Papa Bear! This unique gift for fathers features a hand-lettered typographic bear on a super soft gray men's tee – plus you can order the matching set for mama bear and baby bear, too! Kinda perfect, right? Order them here.
Cool Presents for Men: Pizza + Wine Lovers
12. If you can read this, Please bring me wine. Let the man in your life send out an SOS for wine when he puts his feet up. While you're at it, get a pair of your own and make sure you have your bestie couple on speed dial to pop around with a bottle to fulfill the order. 😉 Get these unique funny socks for the wine lover in your life here.  // 13. While we're getting cosy how about these matching father and child pizza shirts? Get one of him, and one for your little one, and get ready for relaxed night in! Order them here.  // 14. Okay, so now that we know what you want for dinner, perhaps you better better say it with socks! Get toes deep into your pizza party with this fun gift for the man who has everything, available here.
Creative Christmas Presents for Men
16. Broke AF, Spoiled AF, Ugly Christmas Sweater Set. Get this funny Christmas shirt to pair with some comfy pj pants while opening your pressies on Christmas day. Order here. // 17. Naughty and Nice Christmas Shirt Set. This hilarious shirt set is also perfect to wear during the holiday season or even while while doing some holiday shopping. Available here.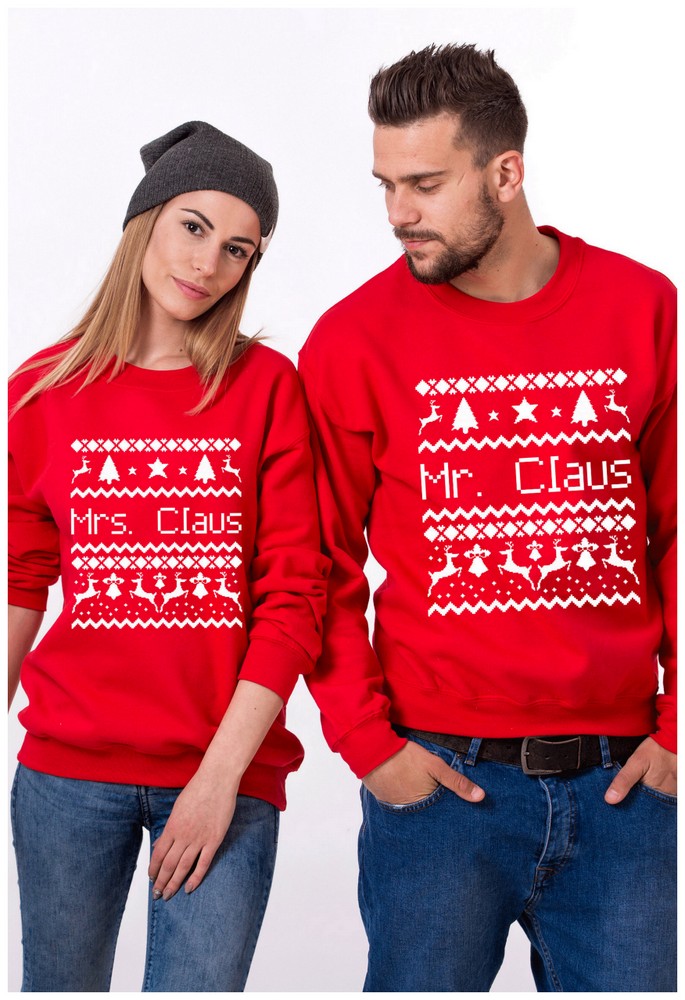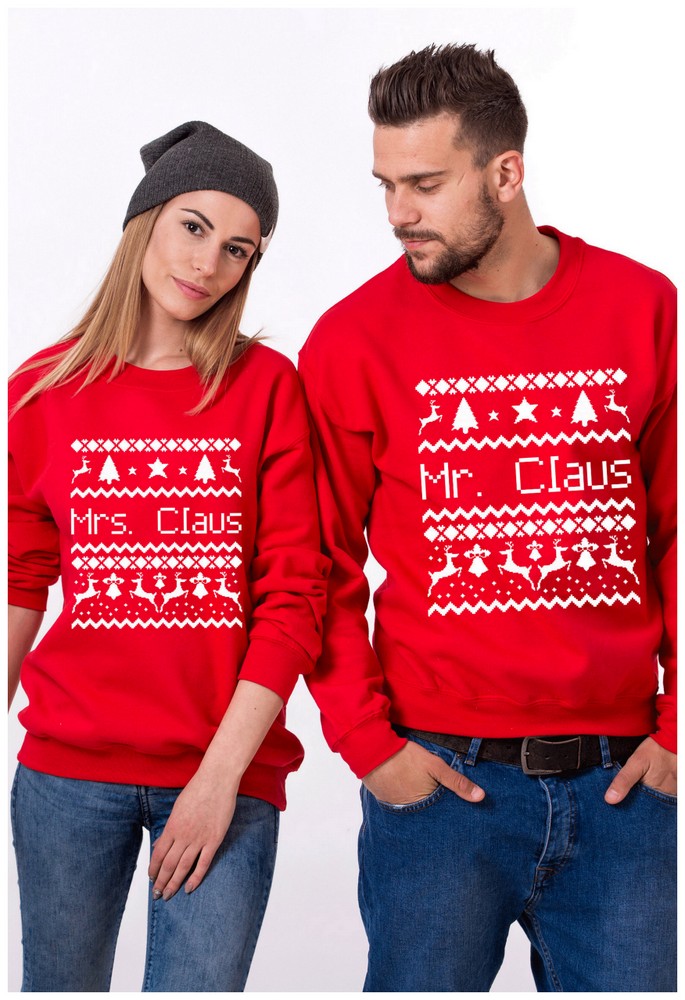 18. Got Ugly Christmas Sweater Goals? Check out these Mr and Mrs Claus Couples Sweaters and get into the festive spirit in … style? Tis the season to be fugly – get yours here!
Check out more unique and meaningful ideas in our holiday gift guide: