Summer in the Garden of Love ♥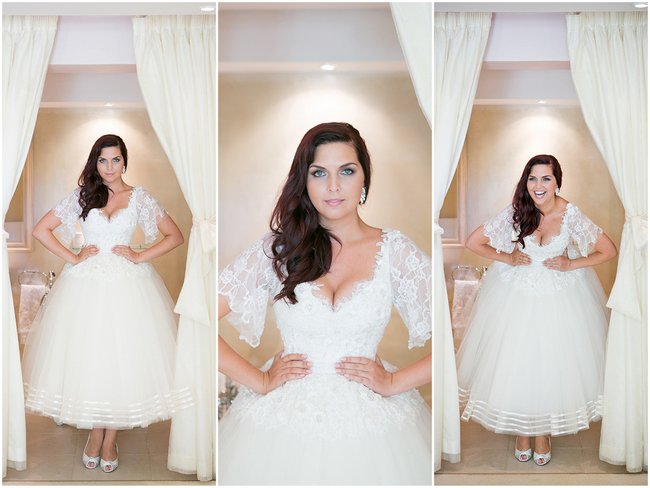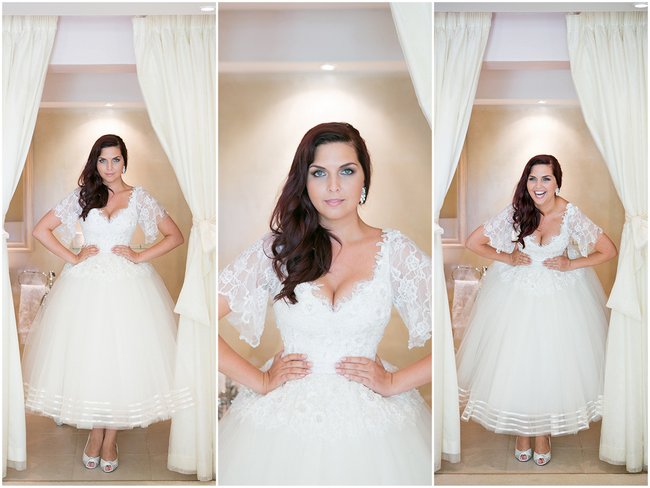 Today it's my pleasure and honour to share the delicately intimate and sincerely sentimental wedding celebration of the beautiful (and extremely gifted) South African bridal designer, Janita Toerien, to husband, Philippe Fowler. When looking at the heart-felt images of their special day, it's easy to sense the deep bond of love and commitment between the two. They knew from the start that they wanted a small, relaxed wedding that would be casual but beautiful, and decided to exchange vows in a serene, summers-day garden ceremony surrounded by only their closest friends and loved ones.
Their picnic-style wedding was held in the flower-filled garden of a charming Riebeek West guest-house where the couple pledged their lives together under the shelter of maginficent trees, embraced by the natural beauty of the outdoors. Emotional guests bearing witness to their special moment soaked up the warmth of the glowing summer sun and were treated to a laid-back garden picnic celebration afterwards. Philippe and Janita set the tone for the afternoon's festivities by delighting their guests with gourmet hotdogs served from a bright yellow caravan, beer on tap and cocktail slushies – just perfect for a midday wedding in the middle of summer!
Of course it goes without saying that the wedding dress of one of Cape Town's most sought after bridal designers was nothing short of perfection – a custom created tea-length gown with lace sleeves and a delicately detailed bodice. But you don't have to take my word for it, as there is more than enough visual-candy for you to enjoy with your own eyes, lovingly captured by The Picturess.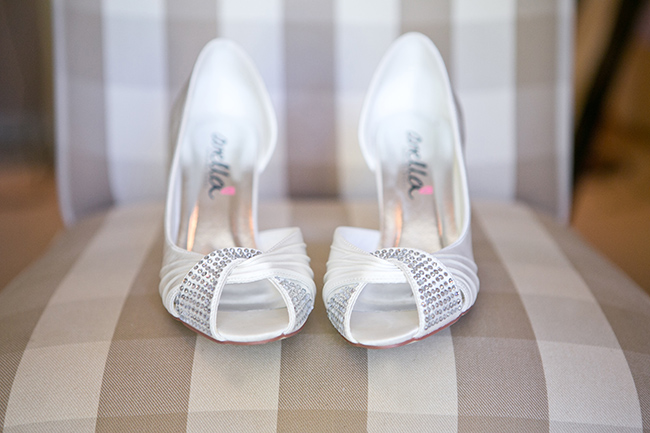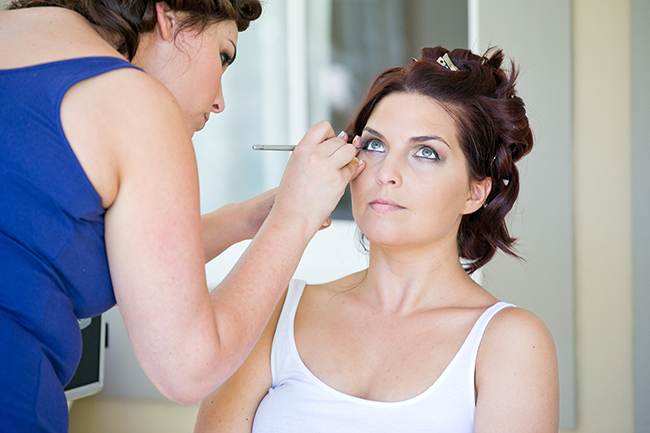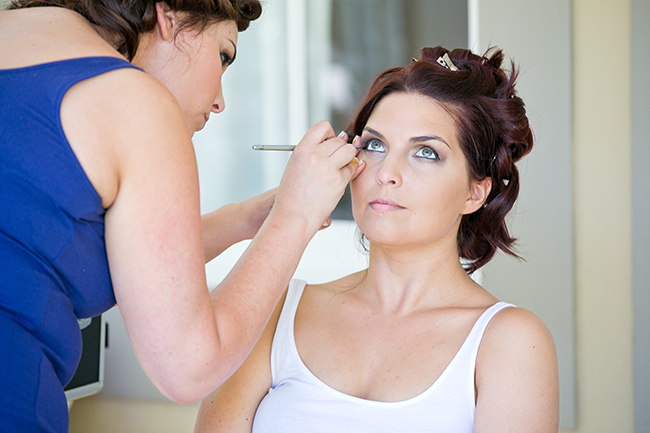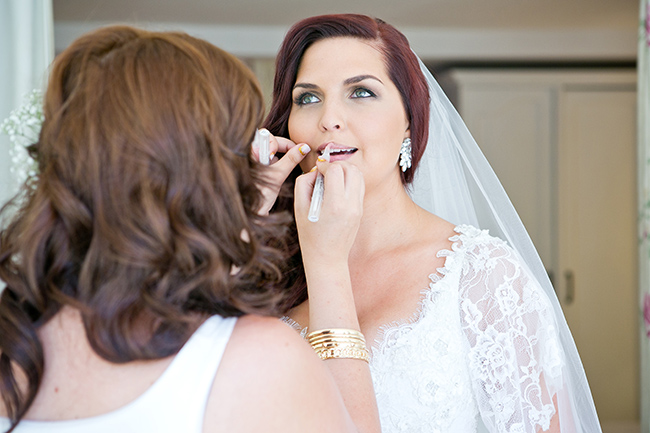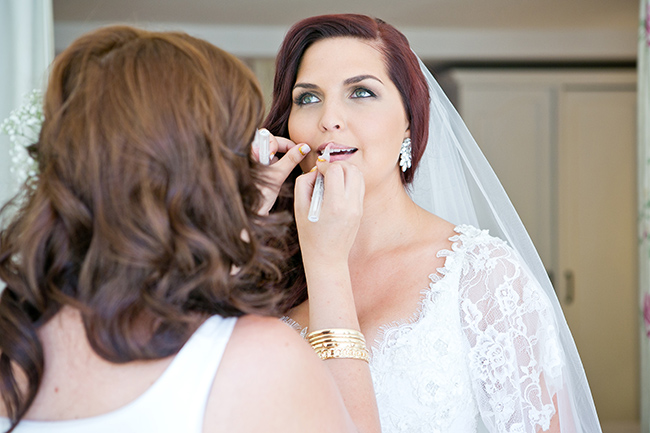 Hair and Make Up:
My sister is a make up artist and hair stylist so I get to be the first to try out a new look or style that she would like to test. Because of this I already knew that I wanted what I call "Sleeping Beauty Hair" – those full, big, voluminous curls, paired with eyes that pop. And, of course, she made it happen!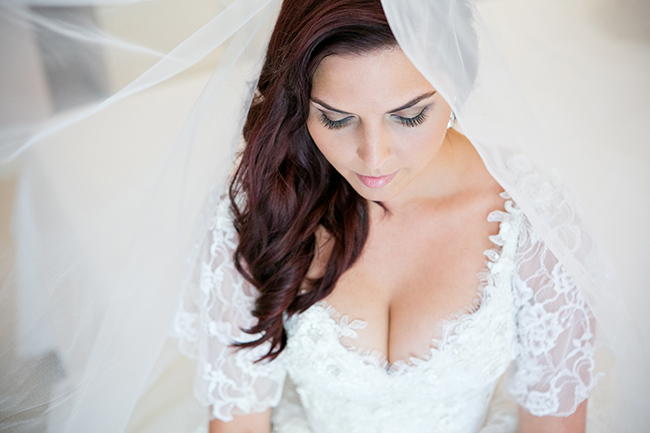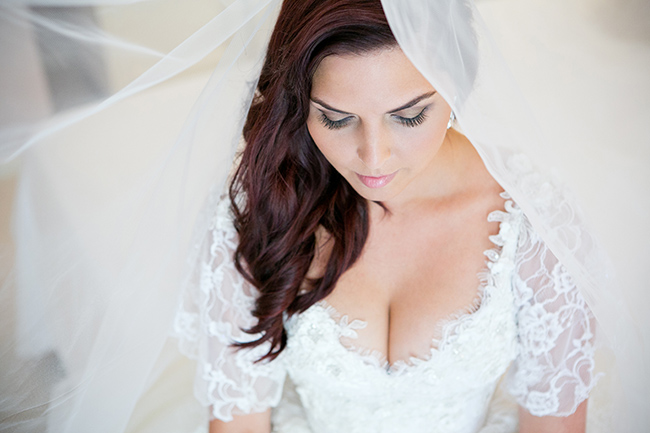 Love Story:
We met through a mutual friend but it was only after Philippe found out that I was not the friend's girlfriend (but rather a friend who happens to be a girl) that he started showing interest. At that time I was a student in Stellenbosch and he was living and working in Cape Town, so we were only able to see each other over weekends. I'll never forget the first time that I realized I really, thoroughly like this guy – it was when he surprised me with pizza on a random evening at my flat. When I asked how he got in through the gates, he simply said: "I jumped". No fuss, no games … he just did it. After more than eight years together he still continues to sneak in little surprises, successfully delighting me every time!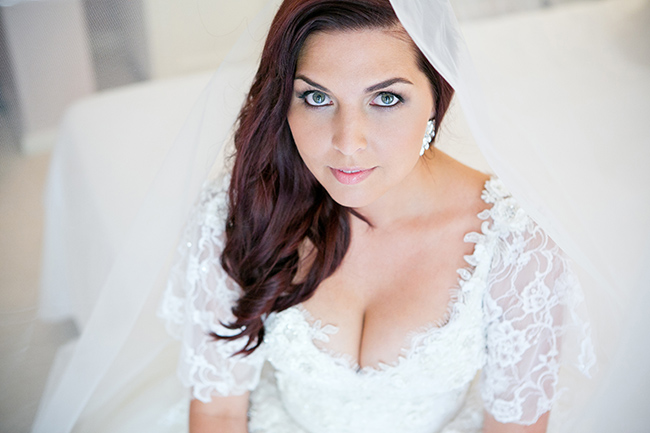 Colour Choices:
I met with our wedding planner, Melissa, from Pretty in Stains, and told her we wanted something relaxed, intimate and informal. We decided to use the beautiful colours that were already in the guest-house venue's garden as the inspiration for the colour palette. The garden was filled with gorgeous lavender alongside white roses which became the focal colours for our planning. The lavender and white was perfectly grounded against our third colour choice, a lovely neutral navy.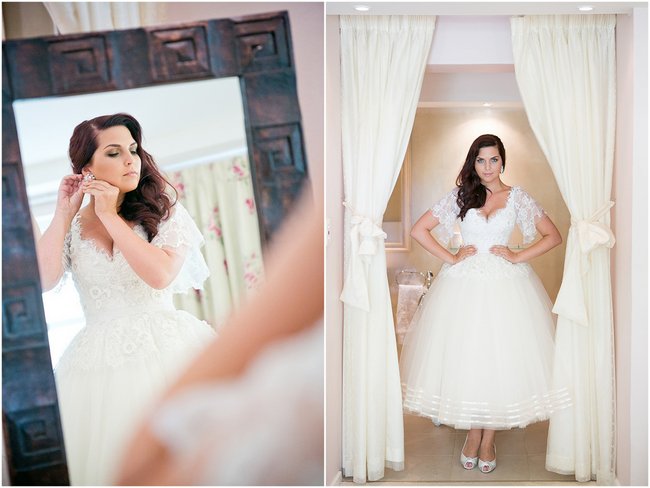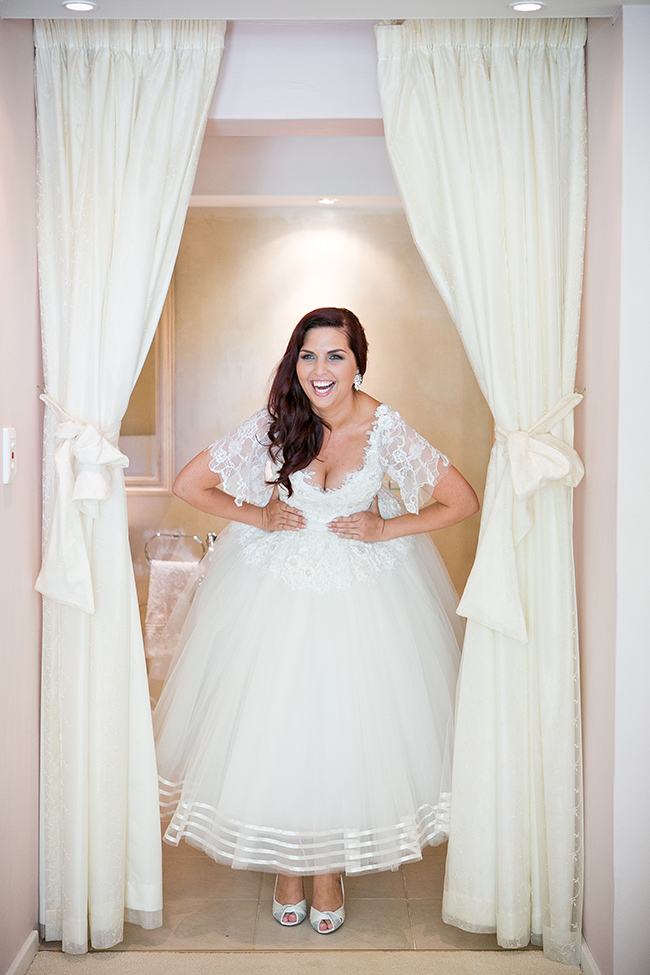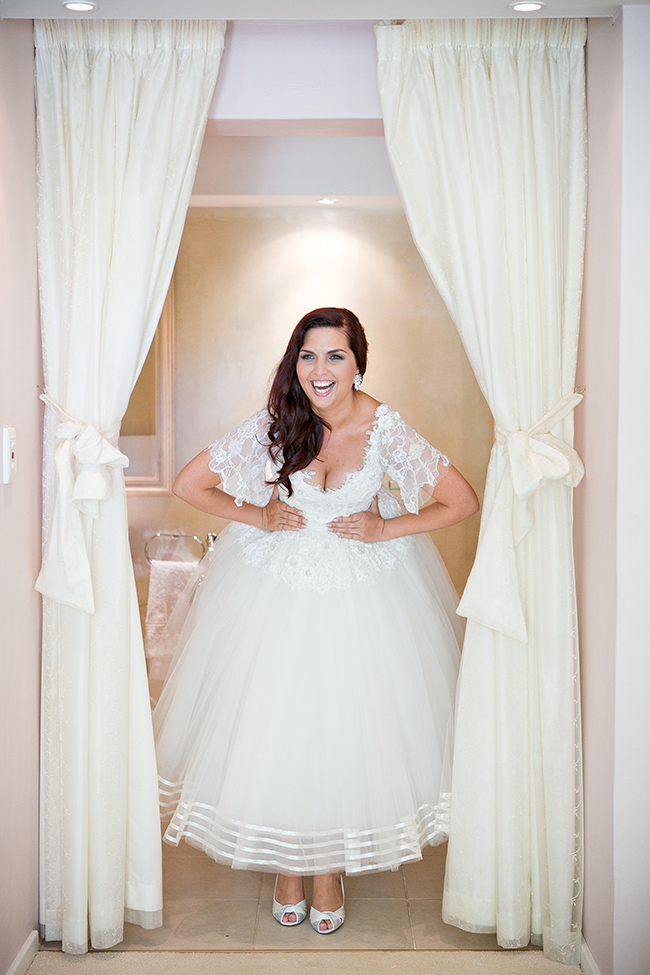 Wedding Dress:
The dress, I could talk for hours about the dress! Firstly, even though I design wedding gowns for a living, I did not want to make or design my own one… although the designer of the dress might feel differently because of all my "input". One of my closest friends and fellow designer, Stephen van Eeden, created my dress. I knew I wanted a short dress and I knew I wanted sleeves, and that was pretty much it! There was no sketch, no idea set in stone. I found picture of a dress that I loved that actually wasn't a wedding dress, but I adored it and it was a big inspiration. From there we just went with the flow. The dress was going to have a high neck but after fitting it like that I loved it as is. It was also going to have a bias cut brimmed hem, but after Stephen suggested the ribbons I fell in love with that idea! It was also suppose to be nude pink, but my skin tone just popped next to the ivory so we went with that instead. And I loved it!!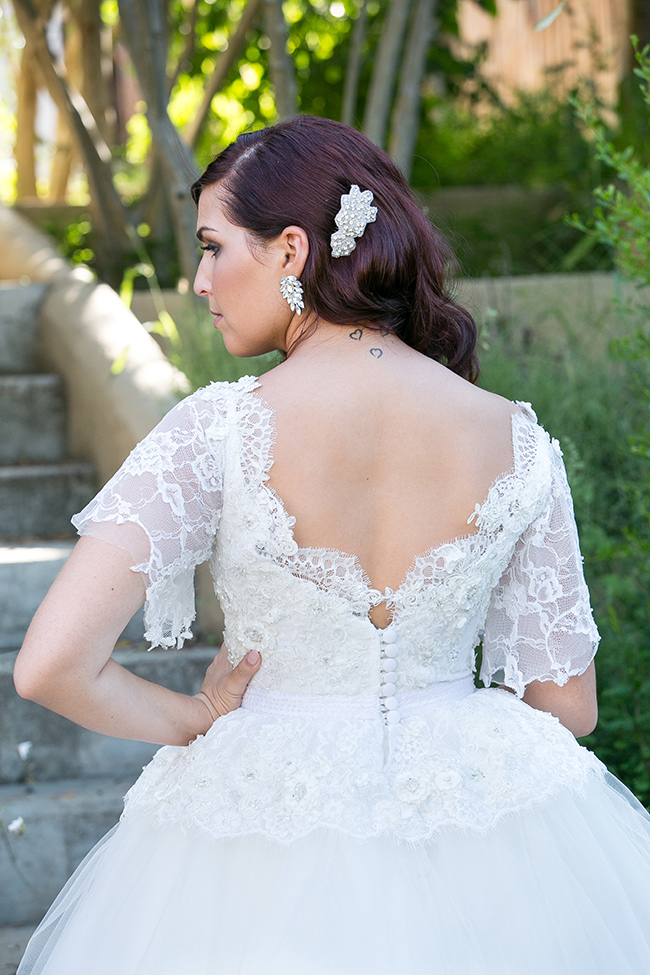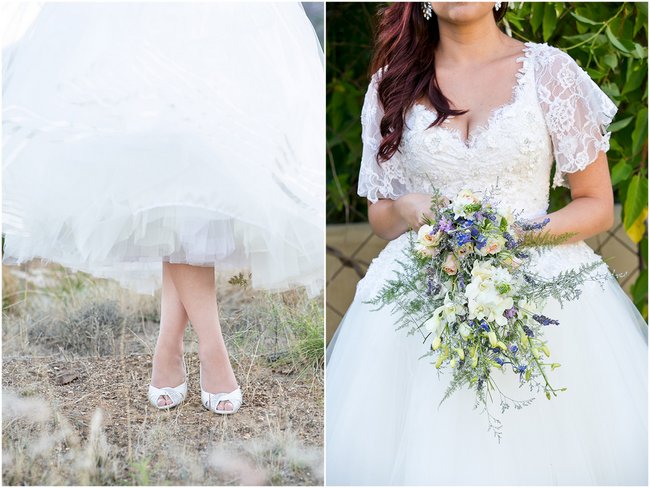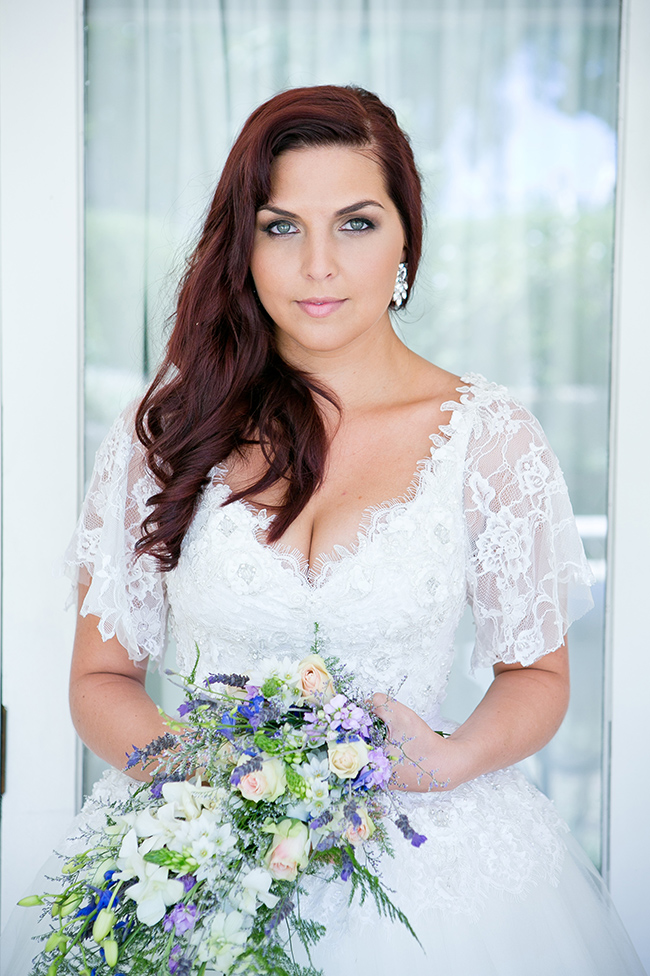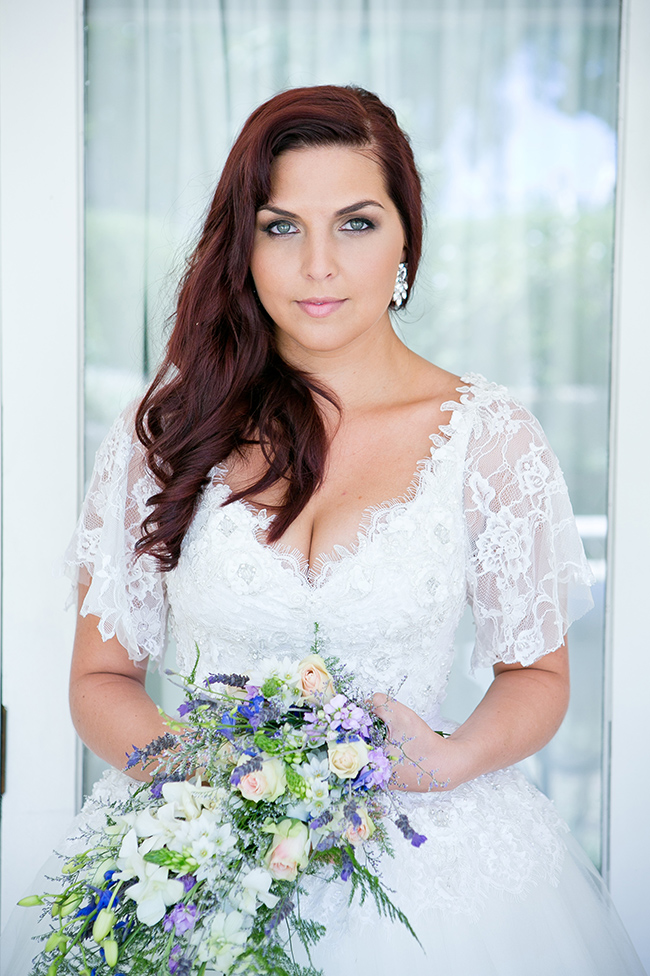 Cascading Bouquet:
I saw a wedding where the bride had a beautiful cascade bouquet and loved the idea. I showed a few pictures from Pinterest to Melissa and she organized the lovely bouquet for me!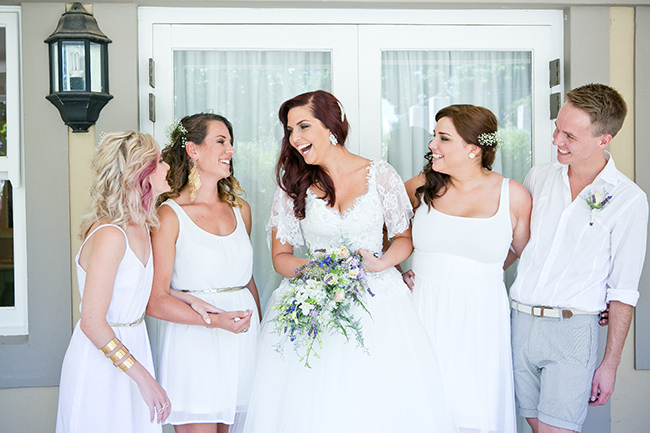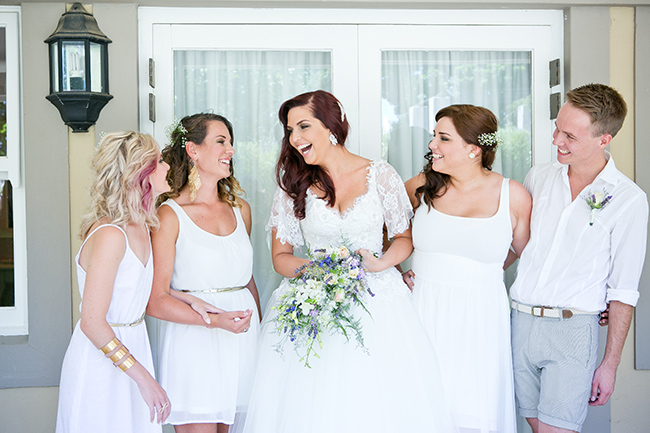 Bridal Party Attire:
I wanted everyone in white. I think it is so fresh and light. I wanted my bridesmaids to choose their own dresses, something beautiful that they would feel comfortable wearing again after the wedding. I loved that their personal style came through in their outfits. My "bridesman", Stephen, also wore grey and white, opting for cool, tailored shorts.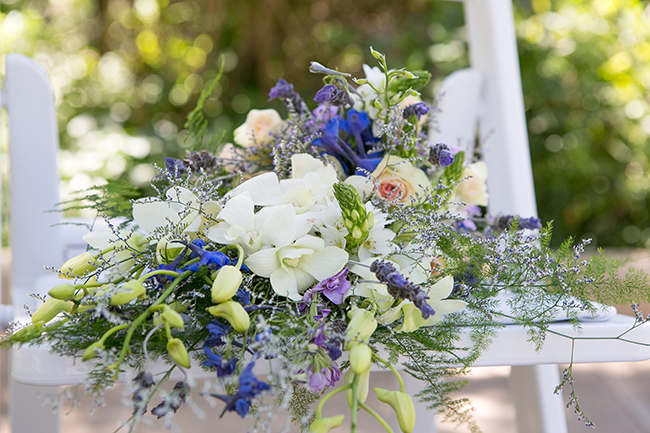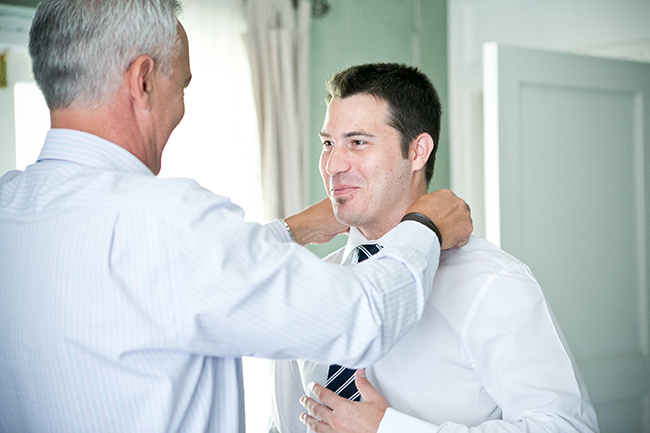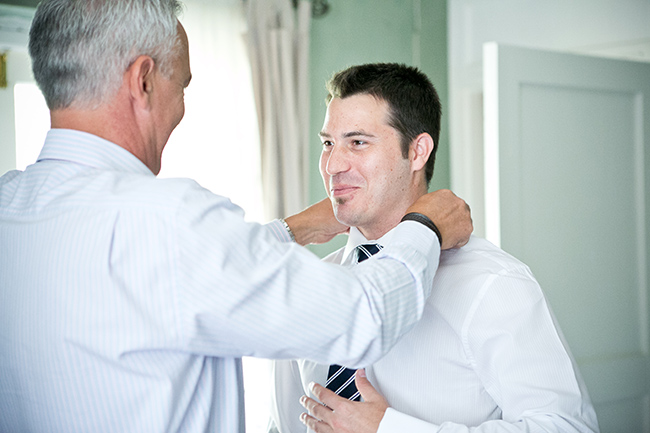 Groom's Attire:
Phillippe looked as handsome as ever in a Country Road navy suit with a Trenery Double Cuff shirt, Trenery tie and shoes from Banana Republic.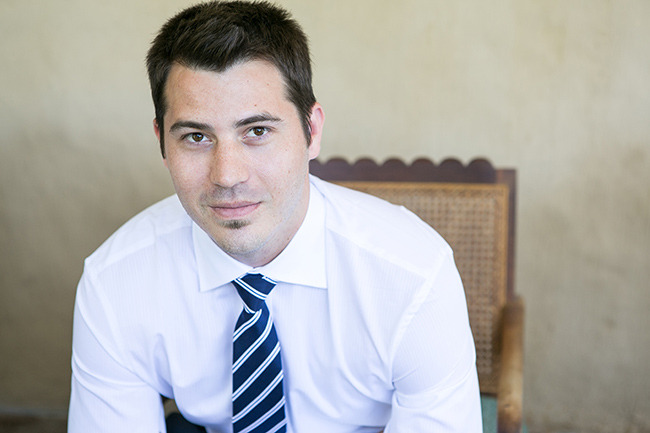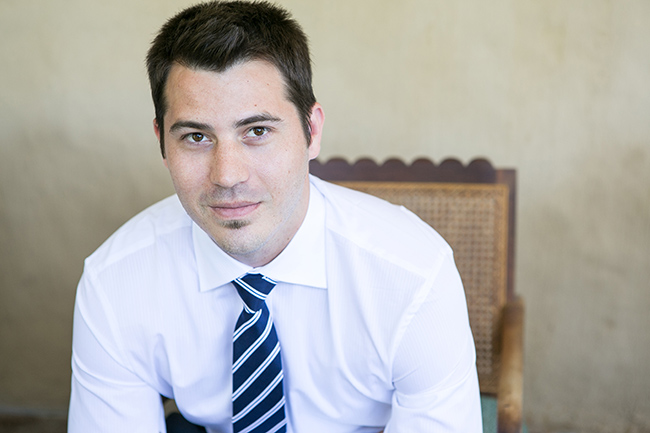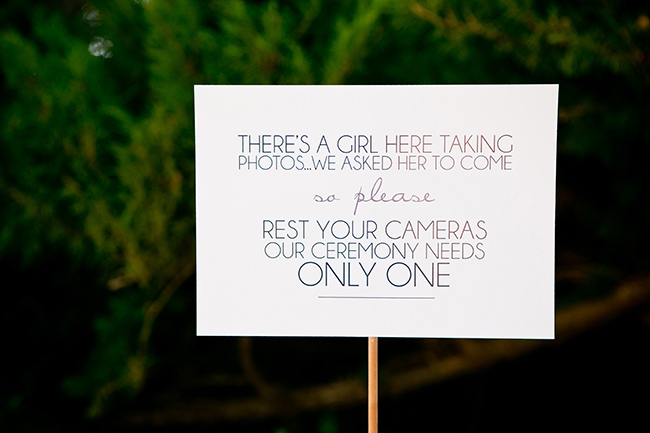 Ceremony:
Melissa organized all the decor and details for us. It was lovely to be just as wowed and surprised by all of the details as our guests. I walked down the isle to a violin and acoustic guitar version of Ave Maria and only found out later that it was my grandfather who had passed away the year before's favourite song… cue tears!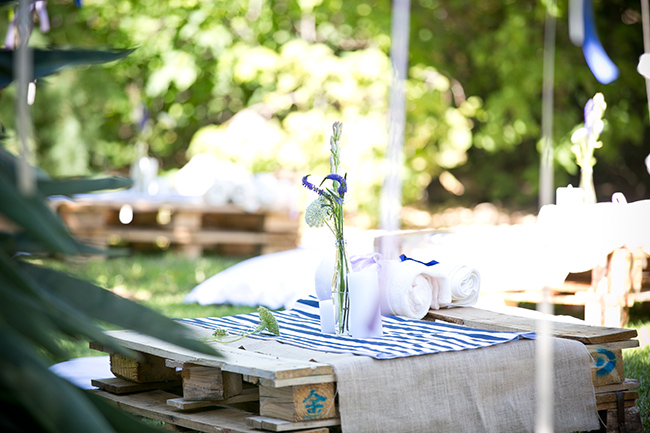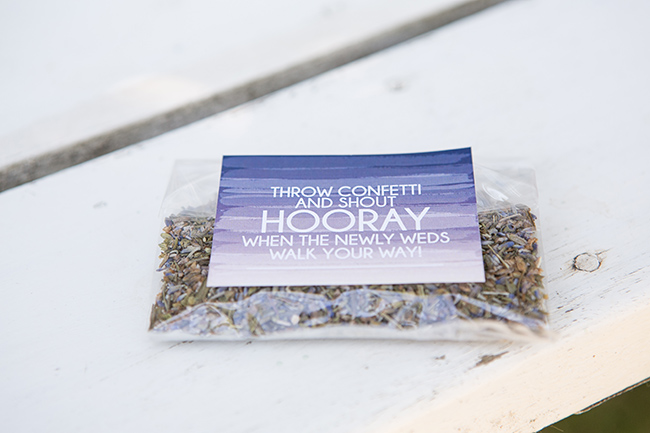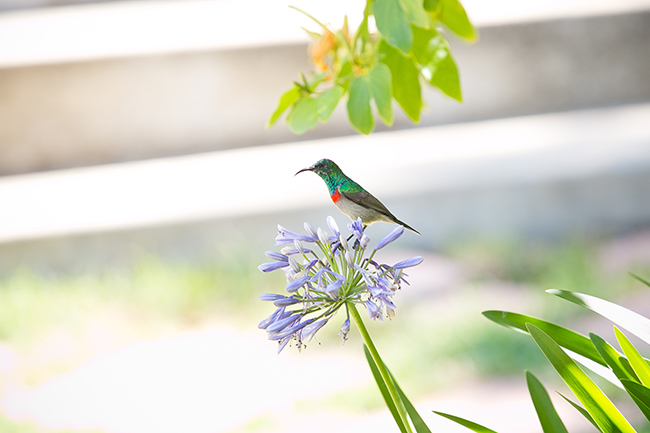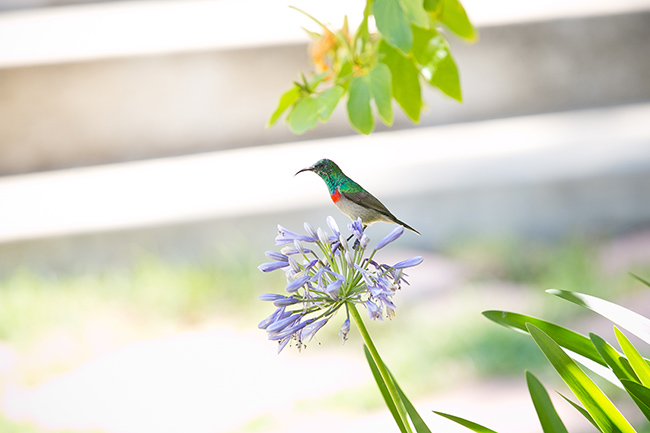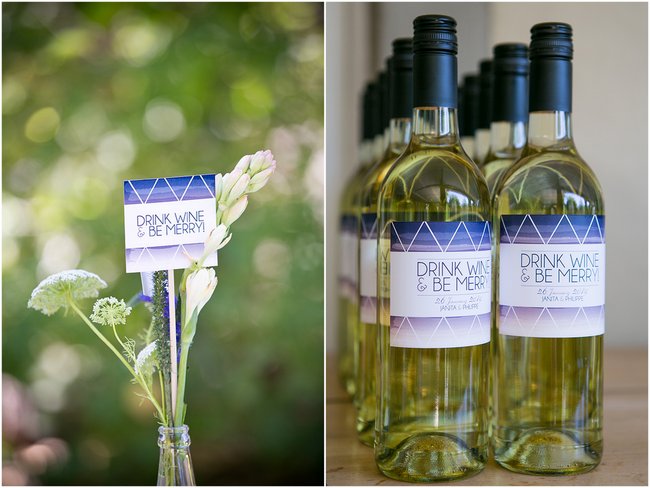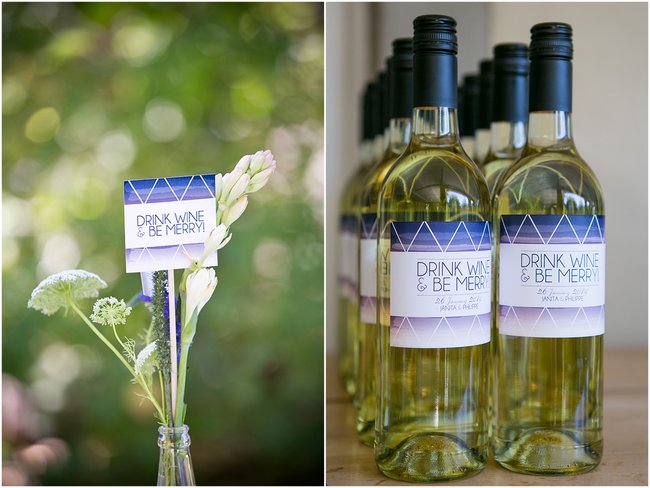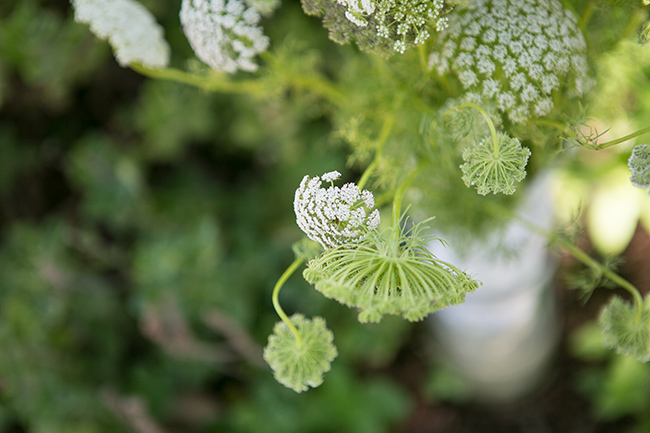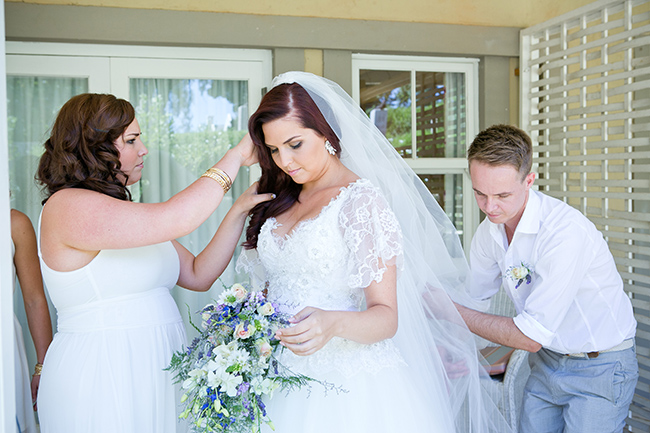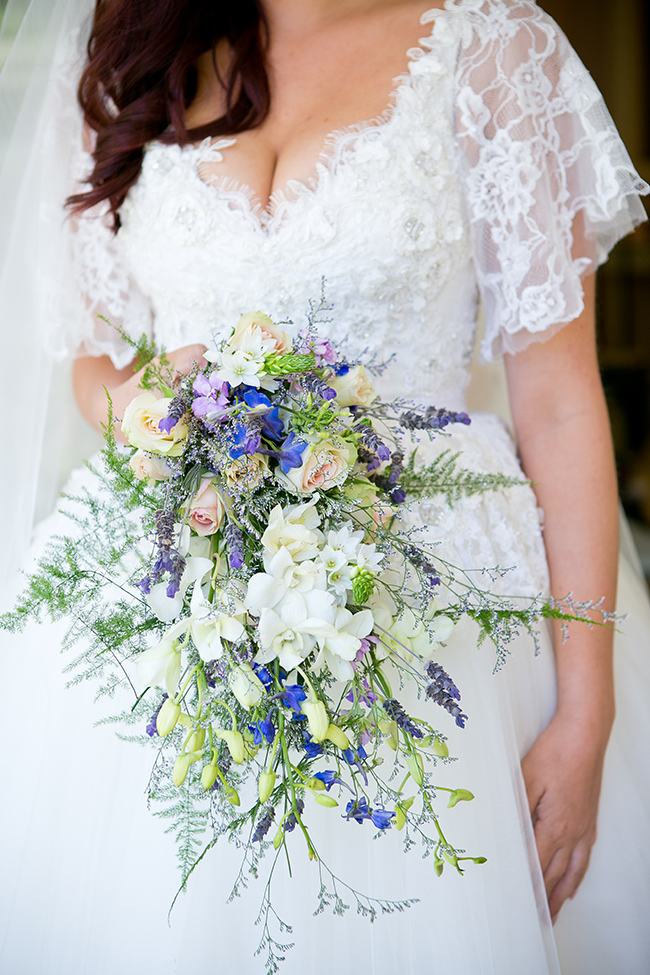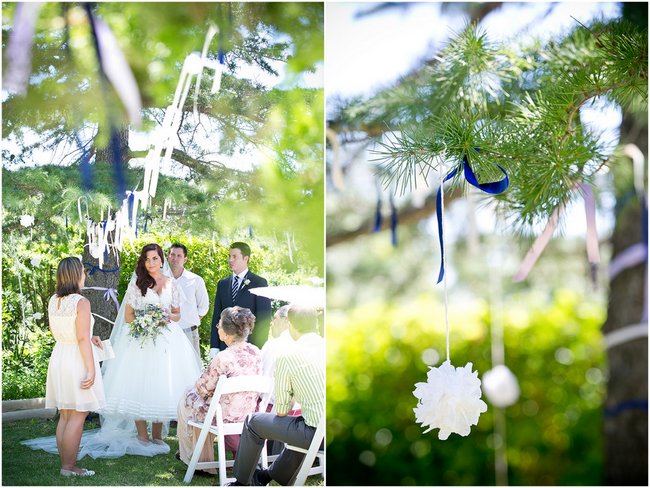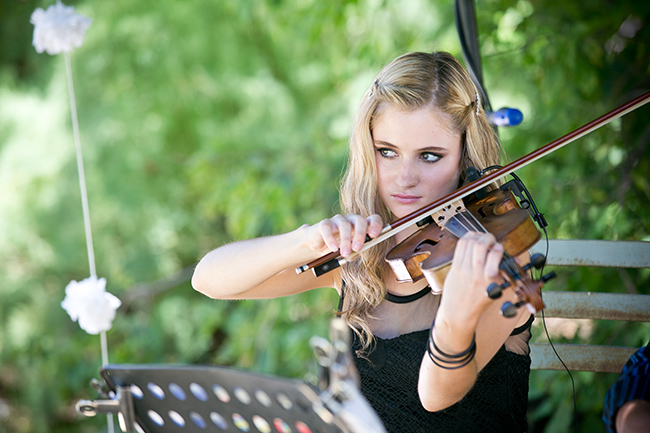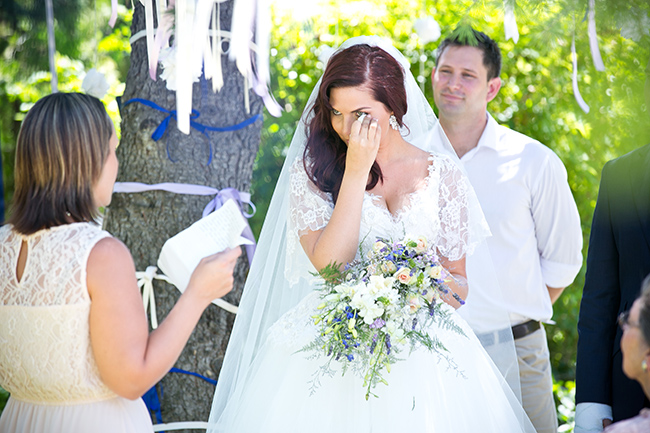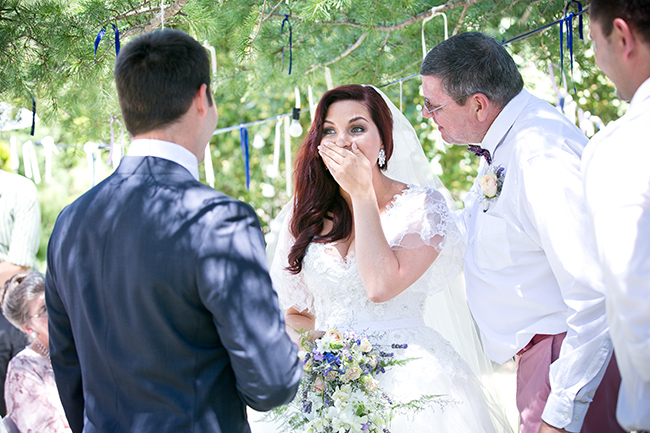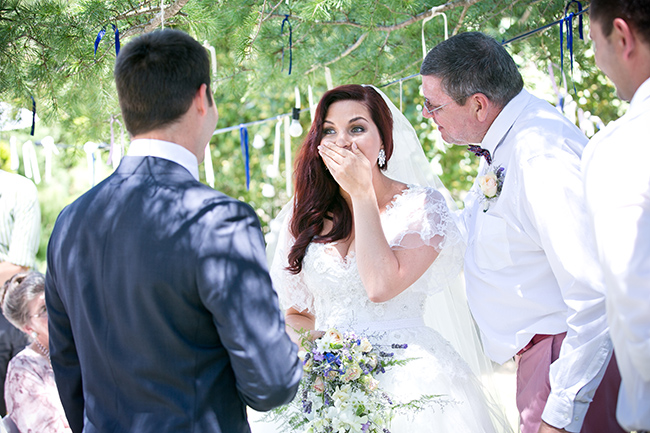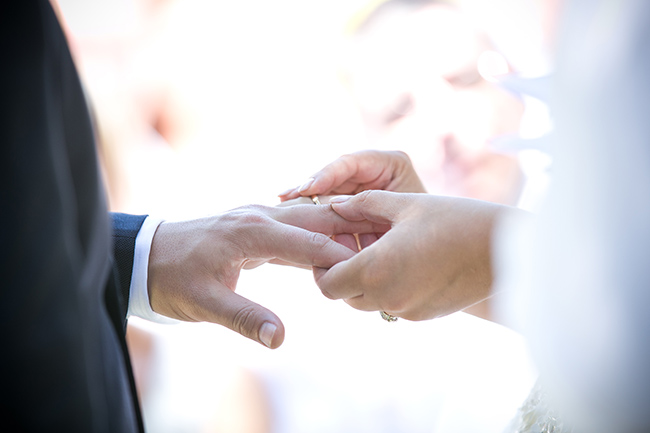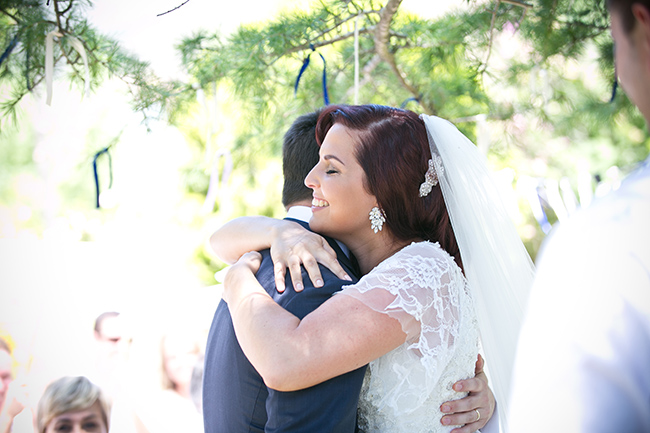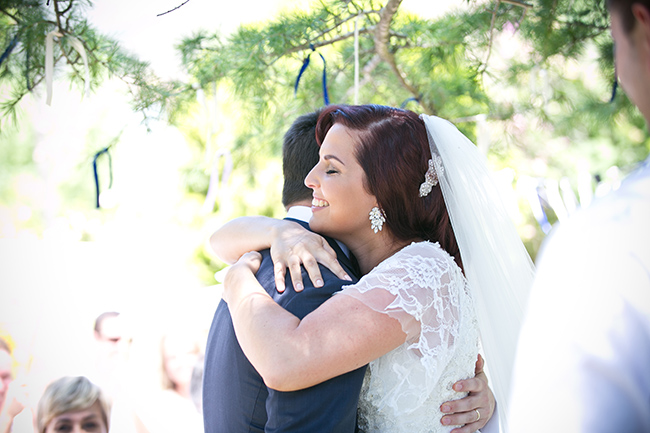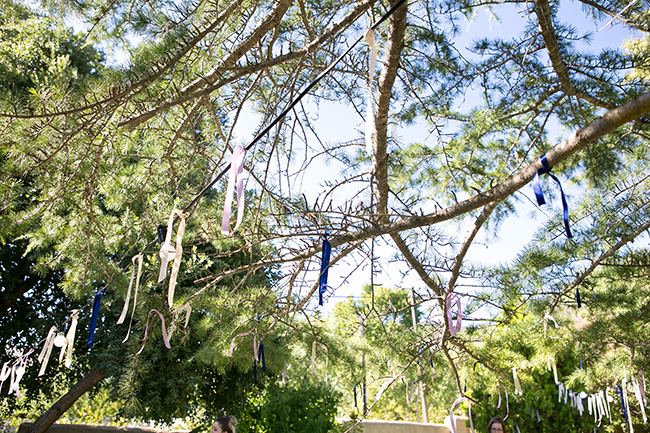 Wedding Playlist:
We had a live acoustic guitar and violin duo, Dirkie & Talisa, performing for our guests. That was one of the best decisions we made and everyone loved them! They played relaxed upbeat classics that set the tone for the rest of the day.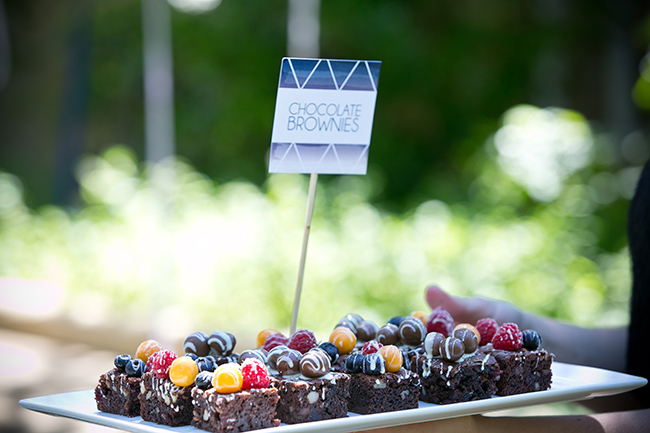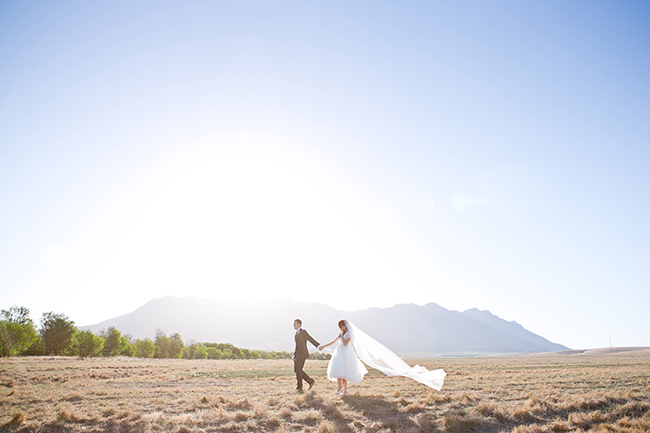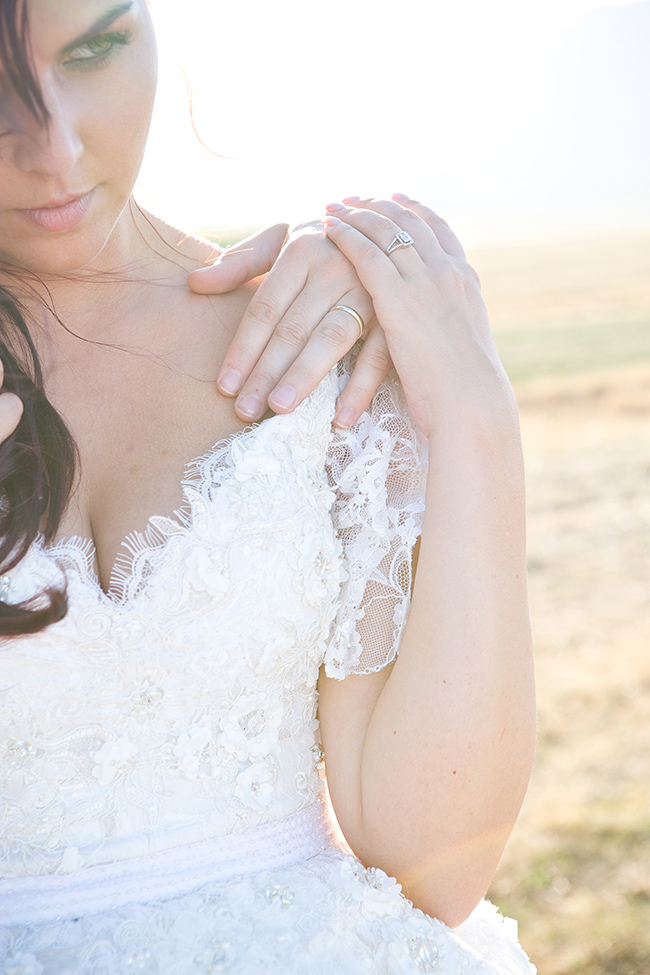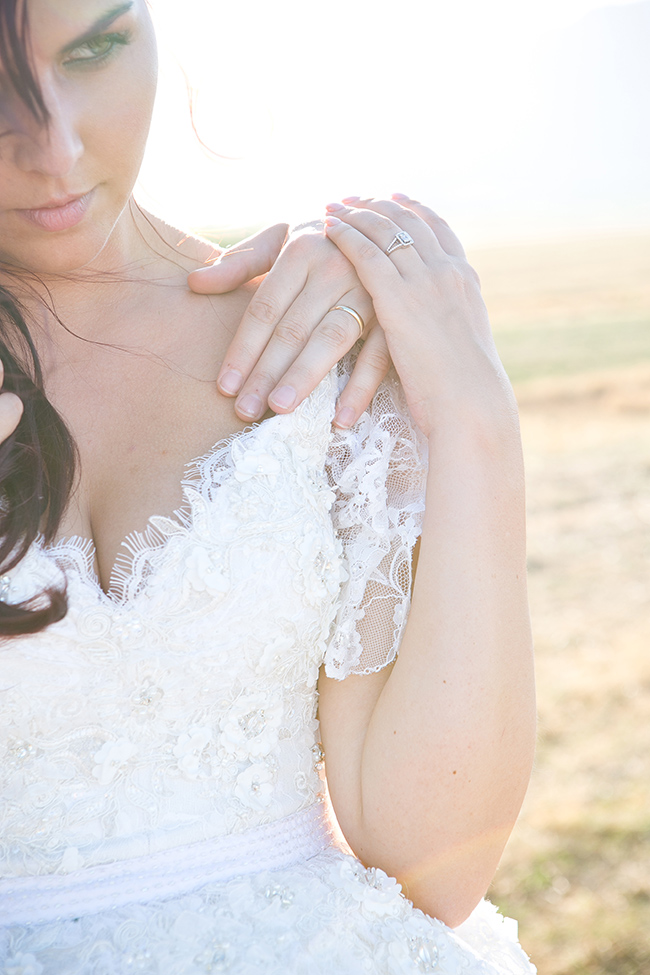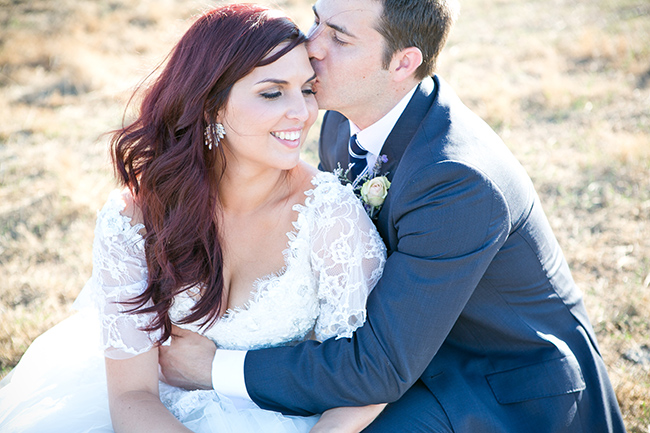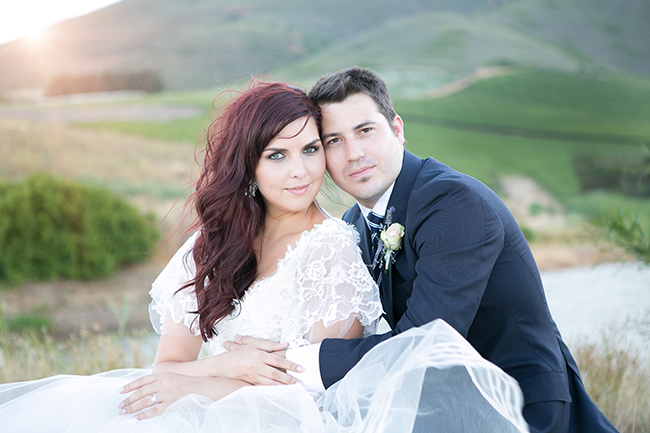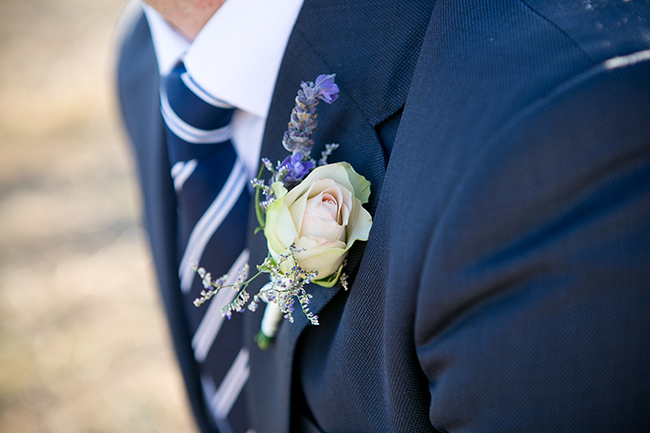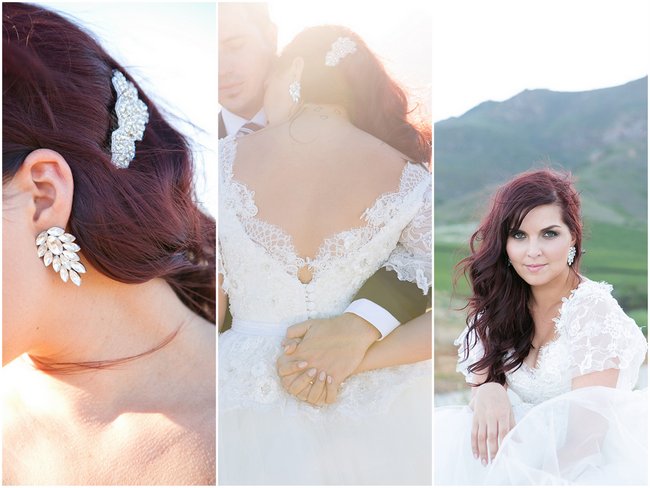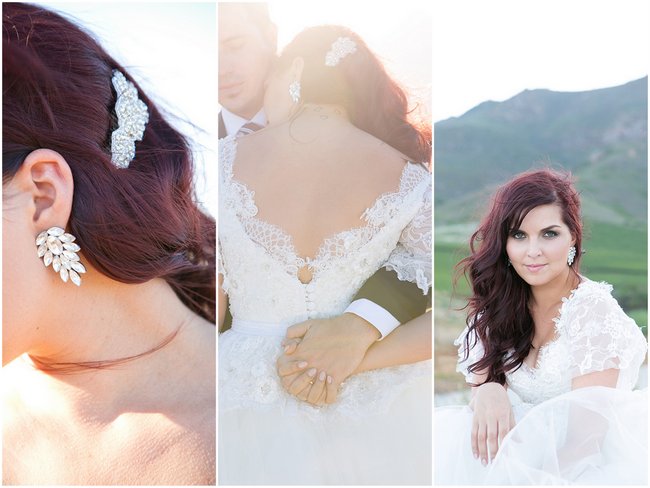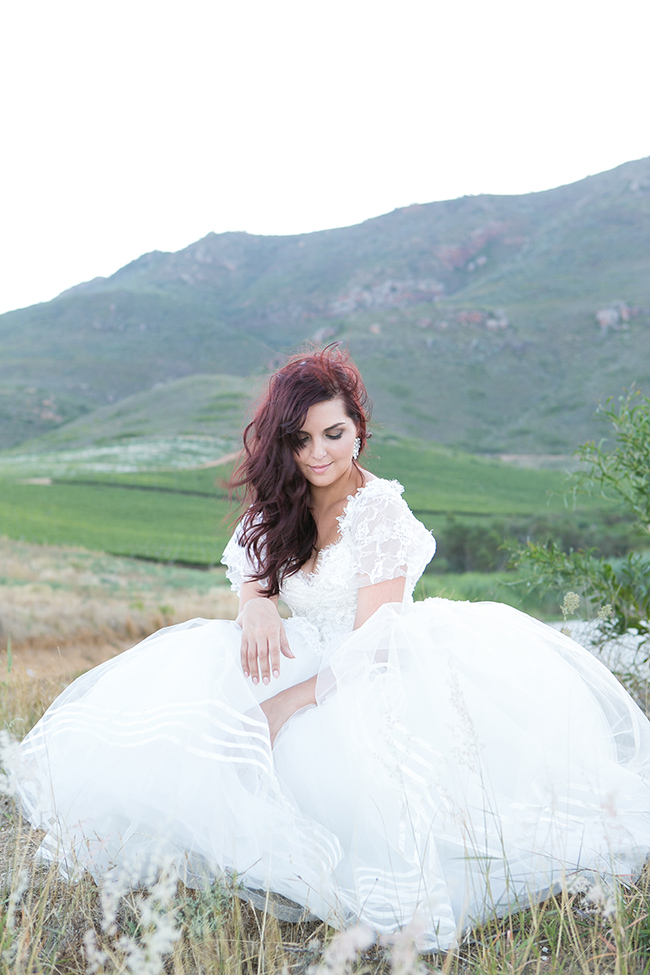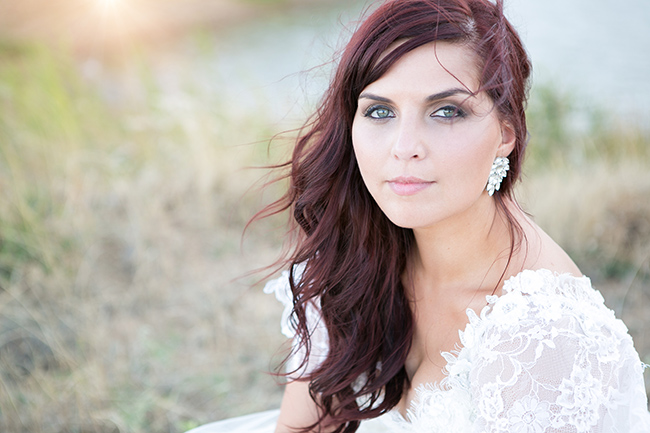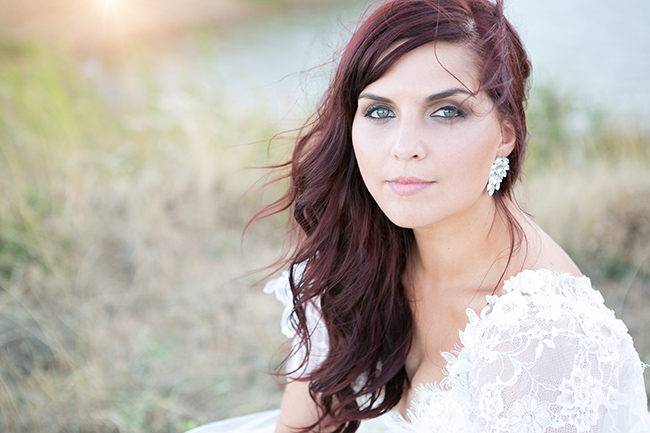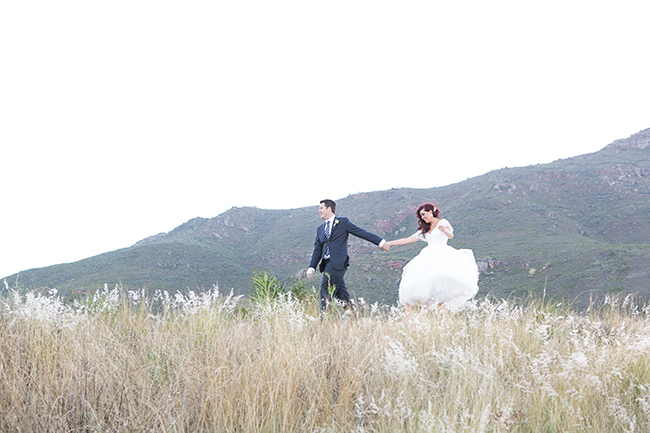 Advice to Future Brides:
Thank goodness I opted for a wedding planner! She came up with so many ideas, saved us money from the start and was just all around incredible!
Quality, not quantity. We didn't have guest favours, menu cards, additional bouquets or anything that would simply be thrown away afterwards.
We focused on good quality suppliers to create the right atmosphere for our guests in stead of "things" creating a look.
We decided to have delicious dessert brownies instead of a wedding cake which really suited the relaxed nature of our celebration.
What a gorgeous way to spend a lazy summer afternoon, celebrating the first day of the rest of their lives amongst an intimate circle of close friends and loved-ones. I hope that Janita and Philippe decide to make a tradition of it and enjoy a follow-up  celebration with their nearest and dearest every summer, in honour of their never-ending love story. ♥
♥ ♥ ♥  CREDITS  ♥ ♥ ♥
Photographer: The Picturess |  Venue: De Langenhof Guesthouse  | Shoes: Anella Wedding Shoes | Wedding Planning, Decor, Stationery & Flowers:  Pretty in Stains | Music: Dirkie & Talisa | Brownies: The Perfect Bite  | Brides Hair & Make-up: Marnél Toerien | Dress: Stephen van Eeden (+27 79 893 8652) | Bar: Alternative Wines | Catering: Die Worsrol | Suits: Country Road