Print on Cute Favor Bags at Home, Easily! ♥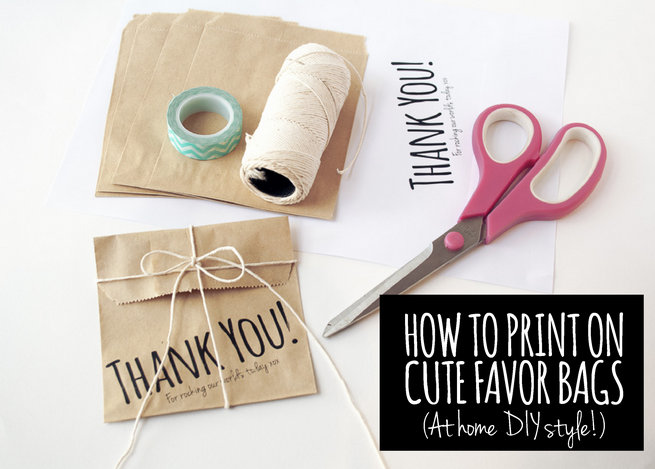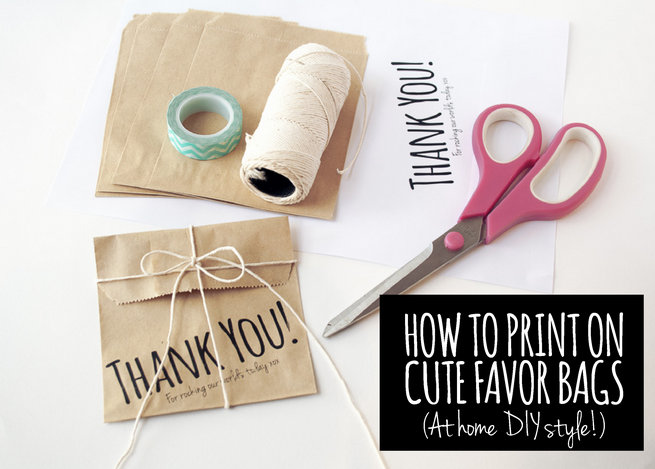 How To Print on Paper Bags
---
Time to Complete: Initial set up – under 15 minutes.
Printing – Less than 1 minute per bag (depending on your printer's speed.)
Skill Level: Easy
Today we're showing how easy it is to customize pretty little favor bags using your home printer. This DIY project checks so many boxes – it's cute, it's easy, it's super affordable and another great way to add cute detail to your wedding day. Yay!
You can pick up basic brown paper bags for next to nothing at your local stationery or craft store, or grab them online. Online they're under $7 for 50 bags, and cheaper if you buy in bulk. (South African readers can grab them online here.) You don't need any fancy software either – just add some text in Word, and you're all set!
You can use these favor bags for all sorts of wedding thank you gifts including baked goods and edible treats, eco friendly seeds, bath salts, herb and spice mixtures or even organic coffee beans.
DIY WEDDING FAVOR BAGS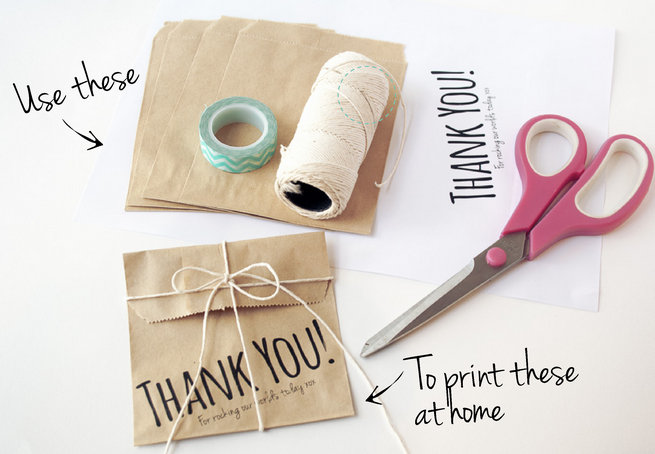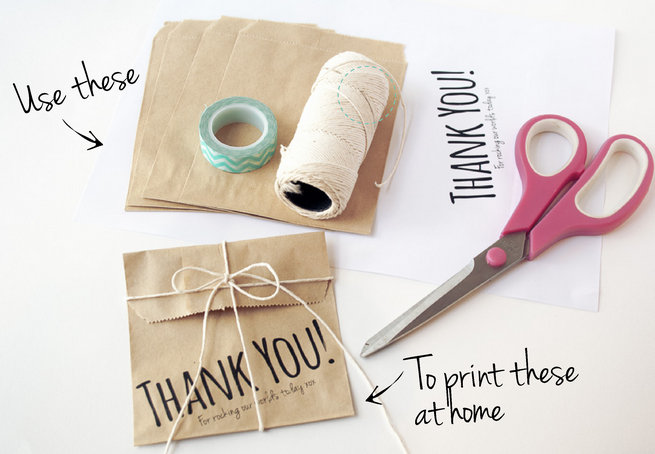 MATERIALS: 
Regular printer paper
Something to print on the bags, like text, or a special design
Paper bags in a size of your choosing
Printer
Scissors
Washi tape or any tape that you can easily re-position
Twine or ribbon for decorating. (Optional.)
HOW TO PRINT ON FAVOR BAGS AT HOME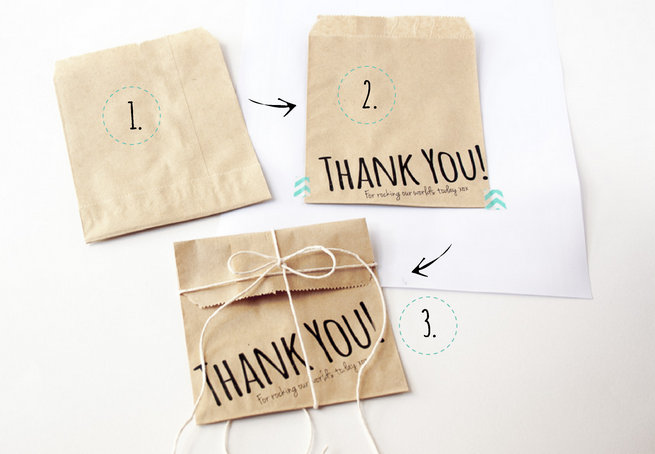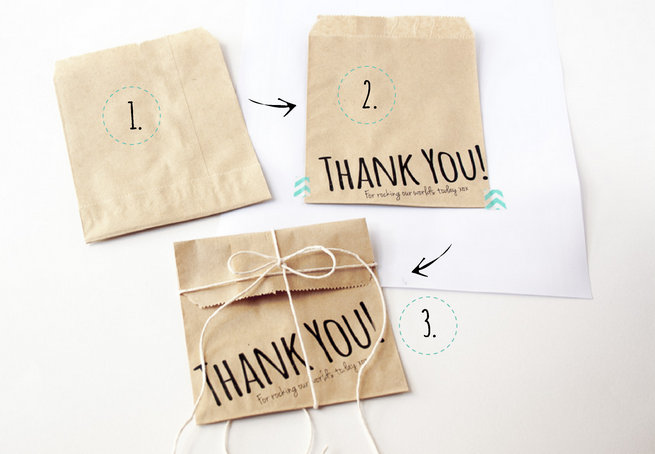 Instructions:

Create the text design you want and print it on regular paper to create a printing template.
You can use whatever program you're comfortable with – even your regular word processing program. Here's how we did it, step-by-step:

Measure the width and length of your bag. Ours was 4.4 inches wide and 7.5 inches tall.
In your program, create a box the same size as your bag. Each program is different, but the basic steps for a program like Word would be:
– Click on the Insert Tab –> Select Shapes from the dropdown — > select Rectangle –> Draw a rectangle on your screen.
– To change the size of the shape just click on the box and the Format menu should appear, or right click an select Format. Type over the numbers that indicate the current shape size to adjust the box to the measured size of your paper bags.
– Click in the box to begin typing, and add your text or an image. This could be the words Thank You, your names, a fave saying, a graphic of your choosing or what ever you'd like.
IMPORTANT: When you're happy with your design, rotate your square so that it's upside down. This is because you'll need to insert your favor bag into the printer bottom side first so that it doesn't open up in while printing and create a paper jam. In  a program like Word you do this by clicking on the rectangle shape you created to make a green circle appear. Click on the green circle that appears and move left or right to rotate the shape.
Save and hit print. This printout will be your template.

Position your bag onto the template page. Now that you know how your printer is going to print your your text design, you can place your paper bag right on top of the template page, positioning it in line with where you want to the text to print. (If you can't see the template text underneath the bag, hold it up again a light source such as a window to make the dark text shine through.)
Secure bag with two small pieces of washi tape at the bottom. We used washi tape because we find that it is easy to reposition and can be lifted without tearing the bag. Test how your tape responds when you lift it off first. You could also purchase repositioning tape.

Important before printing:

The sealed end of bag must be fed into the into printer first or else it could cause a paper jam.
Make sure that your tape is completely flat so that it doesn't lift when fed through your printer, creating a paper jam.
Check that the tape does not cover parts of the bag that you are expecting to print on, or your design will print on the tape, not the bag underneath.
If your template had a border to help you see the shape, you should go back and remove the border from your design now, so that it does not print onto your bag! (If you're using Word, do this in the format menu by selecting Shape Outline –> No outline.)
Please remember to use good judgement and check your printer's manual first before embarking on DIY projects such as these. While this method worked like a dream for us with no hitches, paper jams, or global disasters of catastrophic proportions, each printer is different! Proceed only if you dare. 🙂
Feed into printer, and print,  making sure the sealed end of your bag goes into the printer first.
Remove washi tape from printed bag to release it, and you're done! If you'd like, decorate with regular or even bakers twine for a cute effect.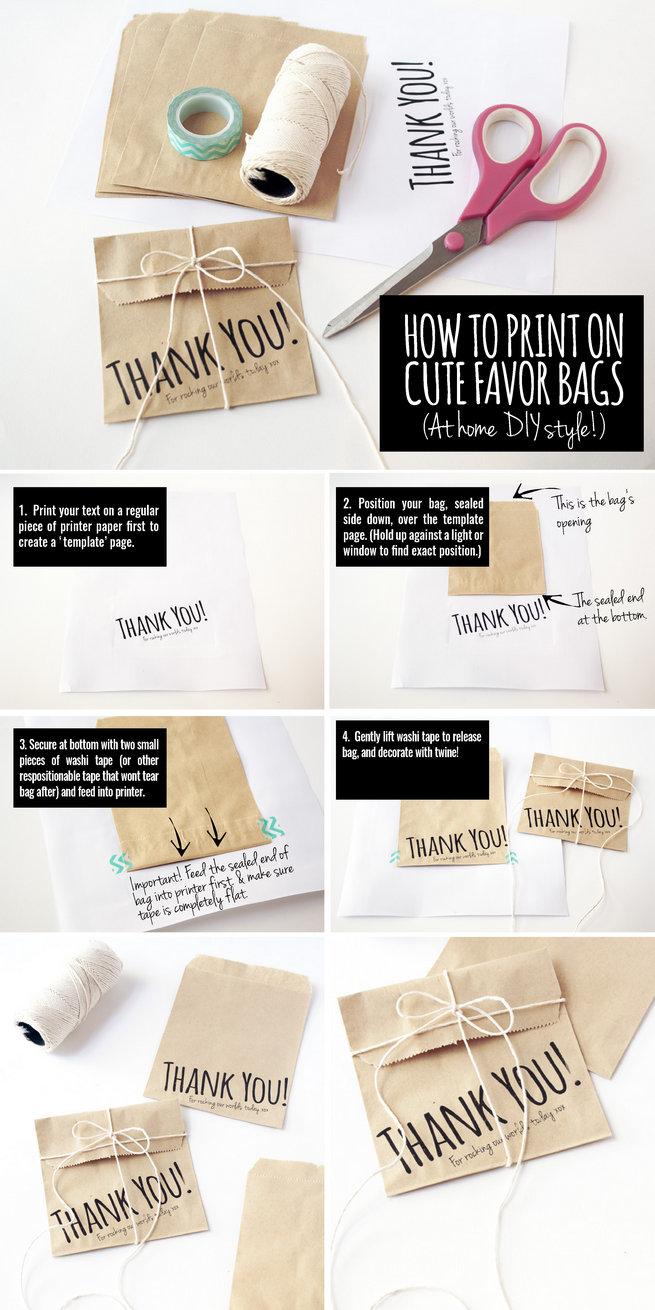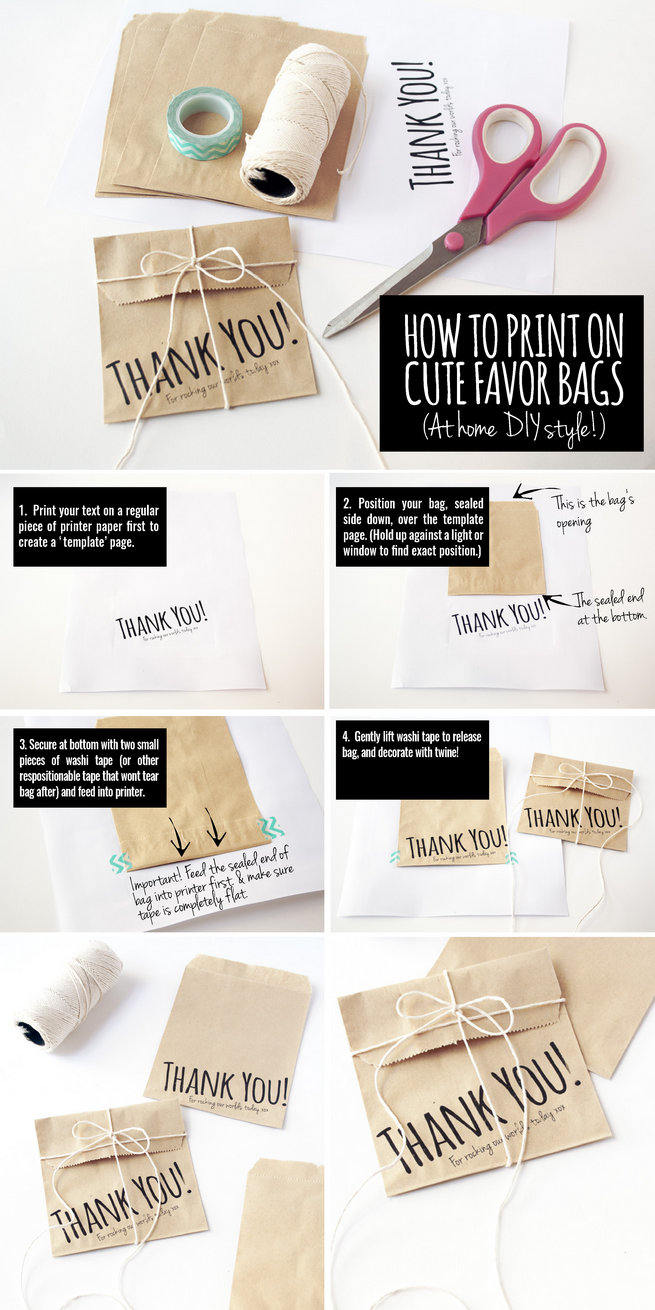 DIY PRINTED FAVOR BAGS
There are loads of ways to use and decorate these home printed favor bags. You don't have to stick to brown paper bags either – there are so many fun paper bags available in loads of colours at the moment – from chevron designs, to polka dots, to pretty much anything you can imagine.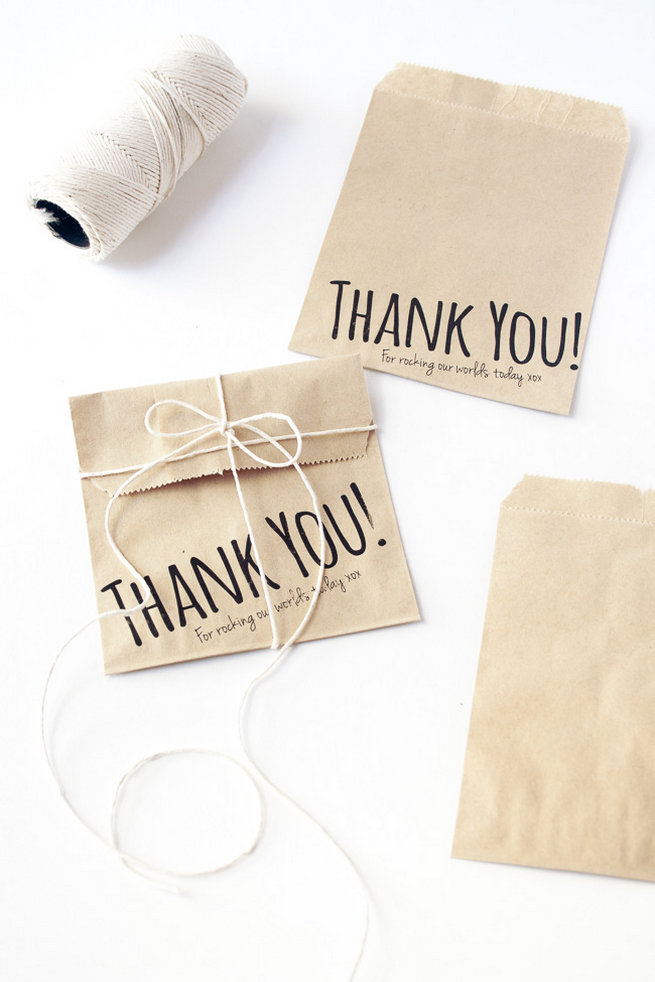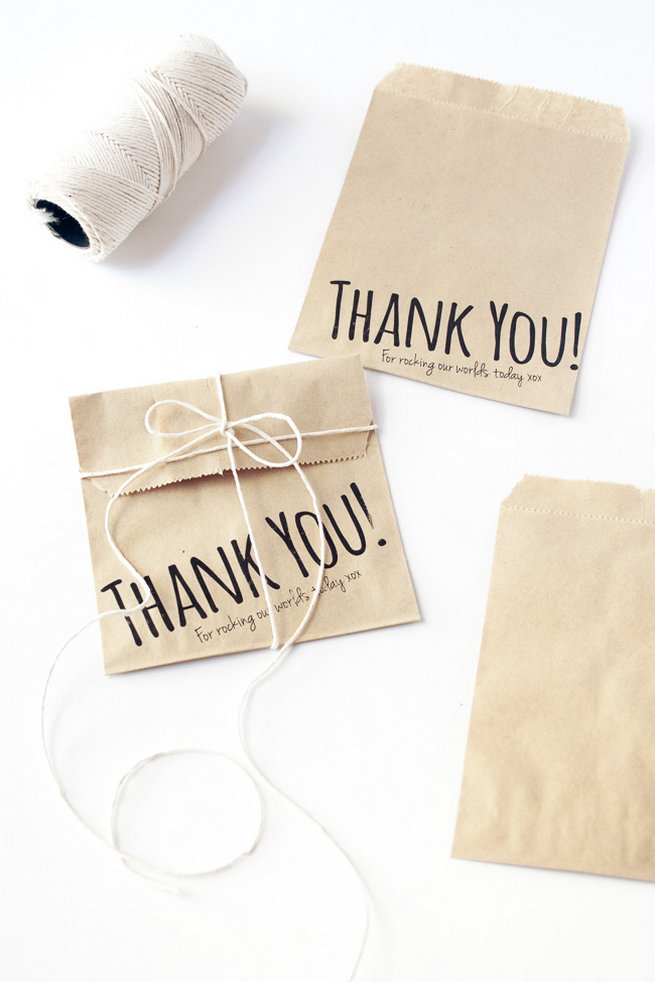 We hope you loved today's little DIY project. If you did, make sure you check out our DIY Newlywed Tip Jar here, an awesome guest book alternative, and have a peek at all our latest tutorials and DIY projects here.