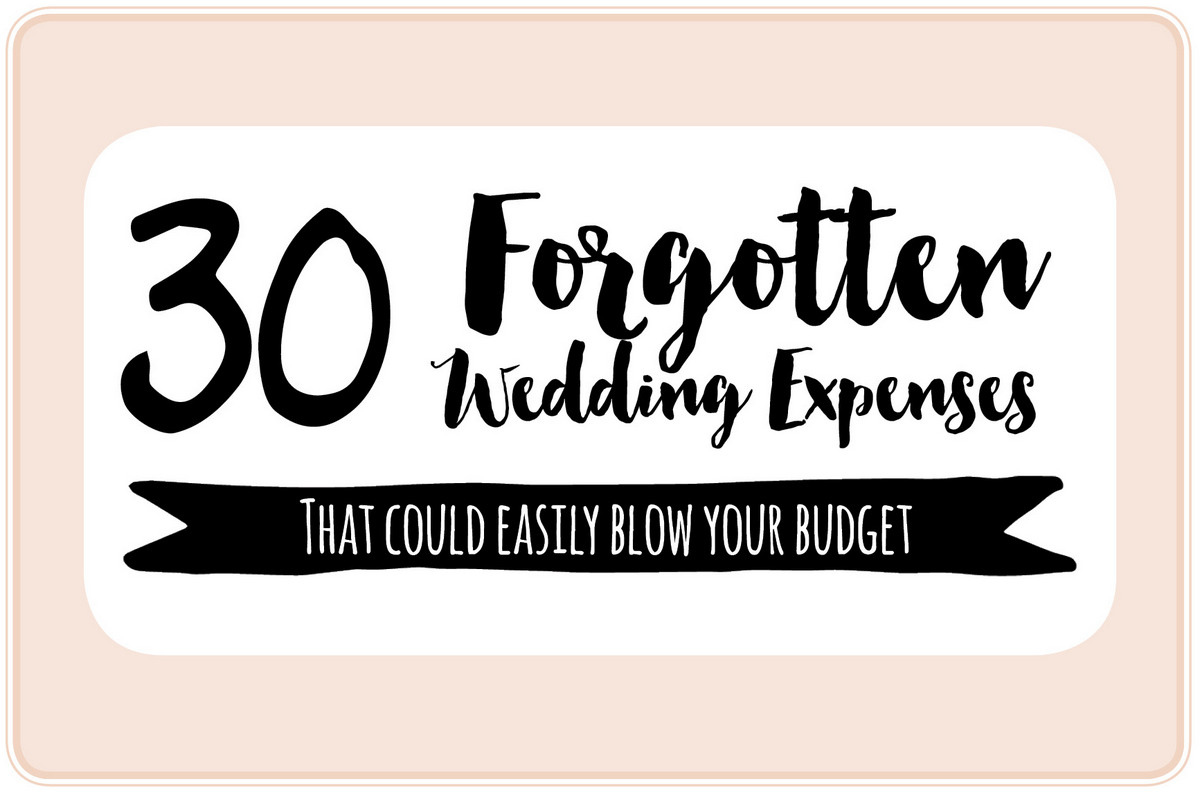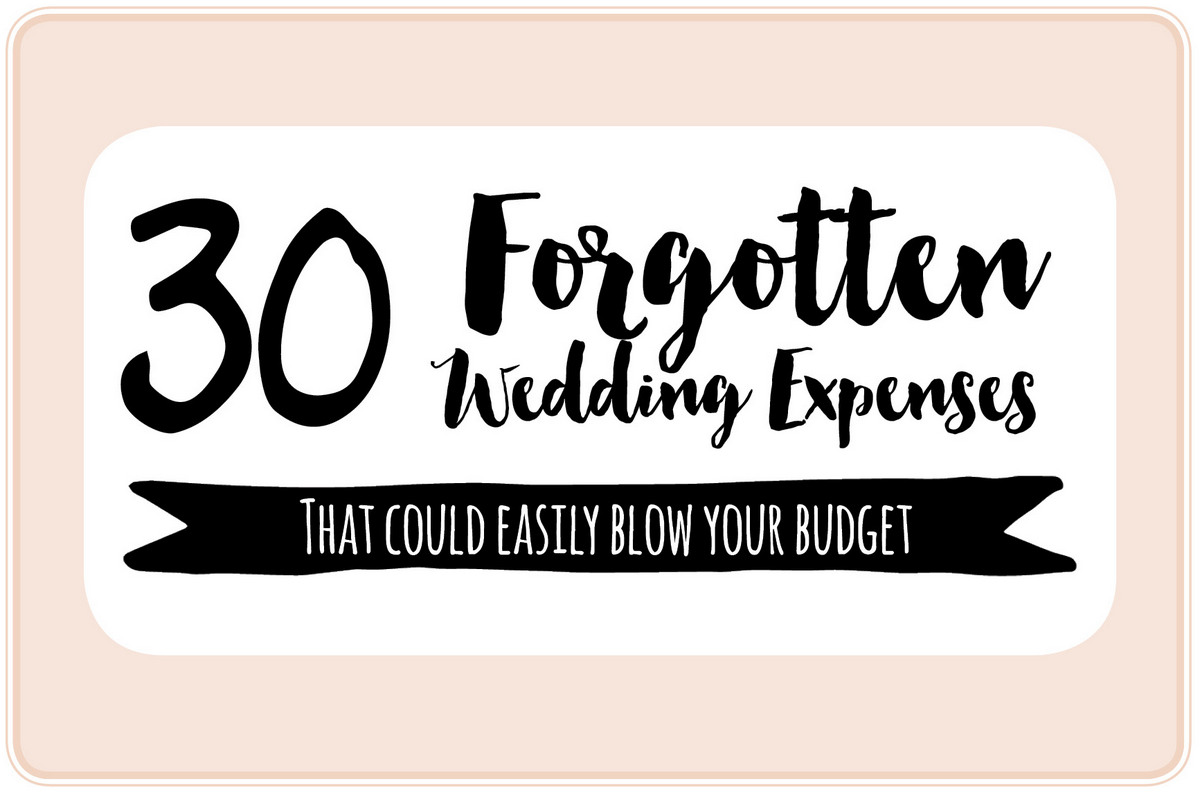 Forgetting to factor in hidden or easily overlooked wedding costs and charges can be an expensive mistake. We all know the obvious wedding costs – venue hire, wedding dress, invitations, cake and catering. Then of course there are flowers, décor, cake toppers, lighting and entertainment. Oh yes, and maybe a few DIY wedding guest favors. And what about that cascading wedding bouquet you saw yesterday on Pinterest….
But what happens when you've worked hard to ensure each cent of your wedding budget has been used optimally, only to discover a host of overlooked wedding costs coming your way? It's not a great situation to be in, and one we're going to do our best to help you avoid!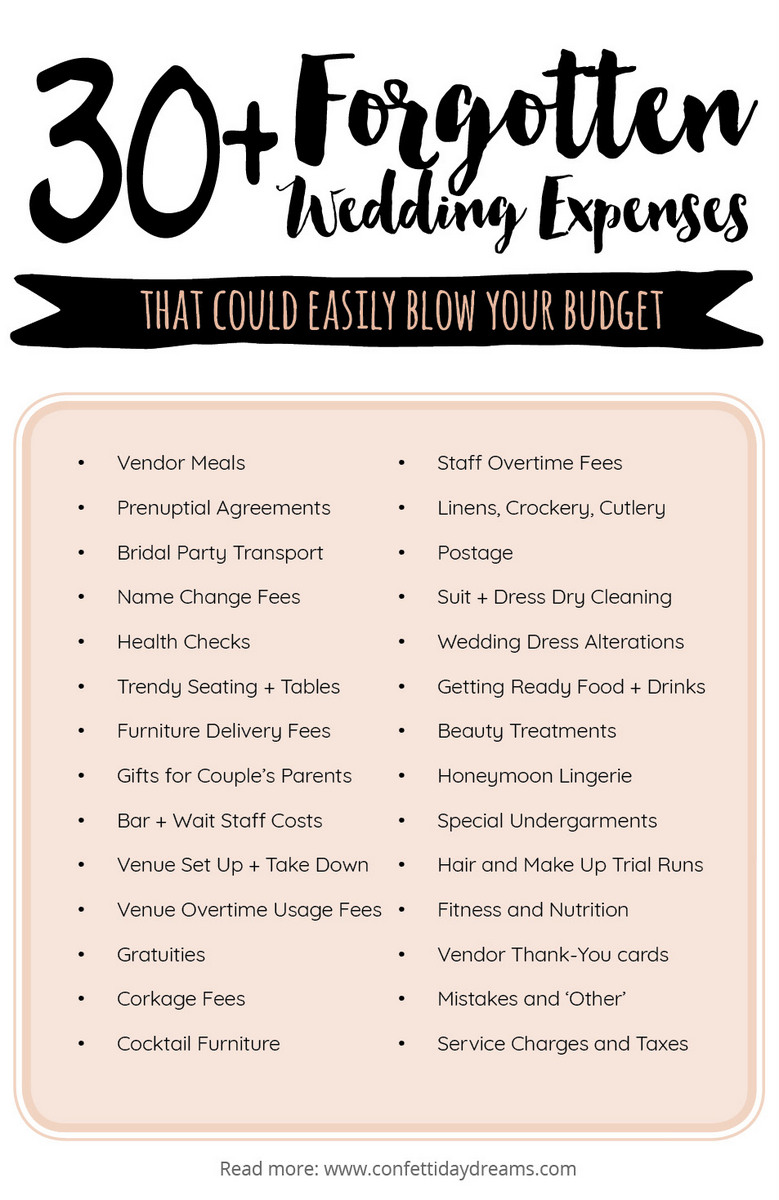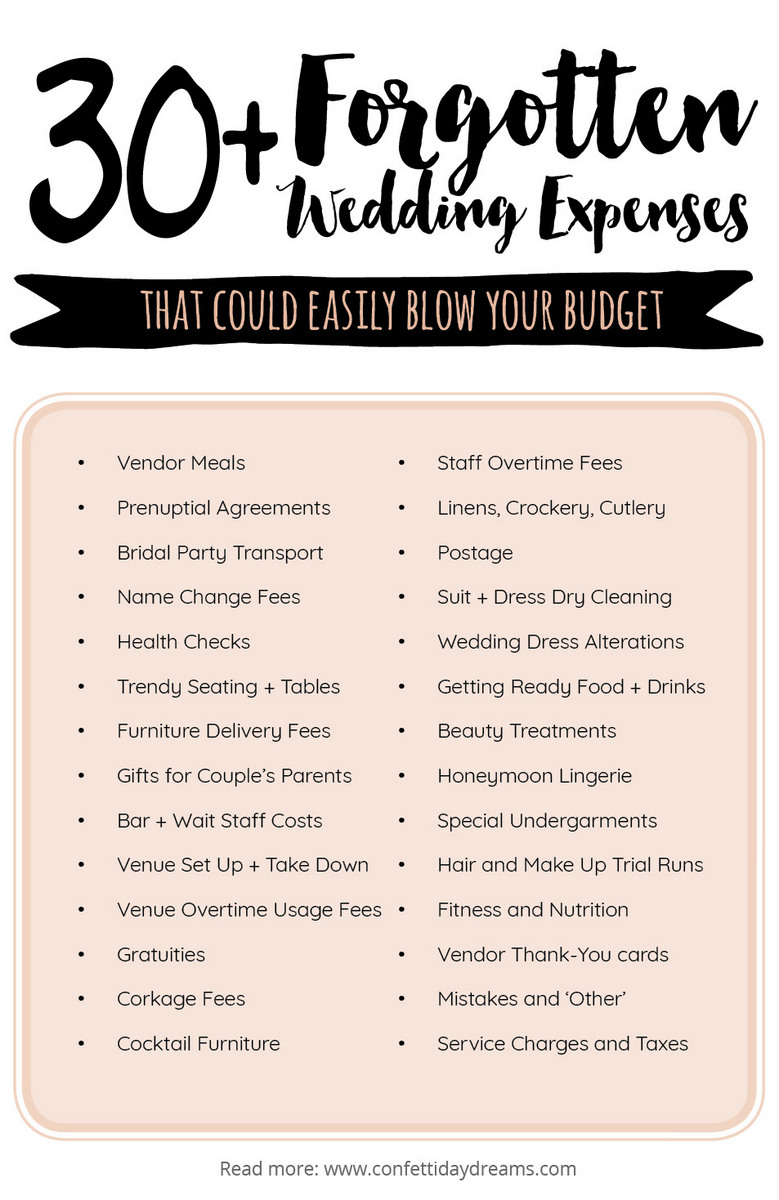 We spoke to a number of wedding experts ranging all the way from Texas to Cape Town, asking about hidden and commonly overlooked wedding costs. One thing everyone seemed to agree on was making sure that couples read and understand all of their wedding contracts – especially the fine print! Misunderstandings with vendors around overtime, taxes, gratuities, set up times and delivery costs can easily lead to extra wedding costs that push your budget into the red zone.
We're also giving you the heads-up on all sorts of other often overlooked wedding costs such as reception meals for your planner and photographer (and others), prenup agreement costs, thank-you gifts for your parents and in-laws, dress and suit dry cleaning costs, postage costs, meals for yourself and your bridal party on the morning of your wedding, and delivery fees for hired goods as well as online purchases.
30 Important Wedding Costs Often Forgotten
Prenuptial Agreements or Marriage Contracts: Okay, let's get the hard stuff out of the way first. Nobody likes to go into a marriage planning for divorce, we get it! But, you're better prepared than sorry, right? In most cases a prenuptial agreement can be set up within one or two quick visits to an attorney's office. Find out what the costs and requirements are in your area, and factor them into your wedding costs. Then you can move onto the fun stuff!
Wedding Dress Alterations: If you're buying a retail gown off-the-rack at a bridal boutique, salon or online, be sure to plan for the wedding cost of gown alterations, including small changes like hem-adjustments. "Depending on what needs to be done, this can add up quickly," explains Tara Steele of Tara Nicole Weddings & Events, based in Indianapolis. "As soon as you find the dress, factor the cost of alterations in so that you're not surprised when you get the final bill at the end." Make sure you understand the store's pricing structure for alterations before you purchase a gown off the rack, or that you know where to go and what you'll pay for local alterations if you make a wedding dress purchase online.
Transport To and Between Wedding Venues. In addition to budgeting for the wedding cost of your own transport between the ceremony and reception venue, be sure to consider transport costs for your bridal party, and your guests. "Once you have your ceremony and reception venues picked out, determine how you will get your wedding party from the venue to pictures to the reception," advises Barb Culbertson at Lumber Exchange Event Center in Minneapolis. Also, figure out if you will be using a shuttle service for your guests to get back to their hotel. "Some hotels offer free shuttle services depending on the number of rooms booked." You may want to add more shuttles to make sure grandma can go to bed early and your friends can stay until the very last song, adds Barb. 
Vendor meals. A lot of couples forget to include their service providers in their meal wedding costs. In many cases the wedding suppliers such as photographers and videographers have been there for 8 – 12 hours. "Wedding planners are often there for longer," says Cara of Mosaic Weddings in Cape Town. "No food means no fuel for them to do their job properly. Vendors don't expect all three courses (however lovely that is) but do love a main meal in order to keep going."
Honeymoon Lingerie: Once you step out of that gown, ladies, you're going to want to put on something fresh and flirty – make sure you've budgeted for some pretty newlywed lingerie! (Even if you only manage to get into it the next day!)
Fitness and Nutrition: Let's just start by saying that your wedding is not the time to embark on crazy diets, or place unrealistic weight-loss expectations on yourself. We're pretty confident that your partner thinks you're pretty darn fine the way that you are right now, or else they would not be marrying you. BUT, weddings can be demanding emotionally and physically, which means that eating correctly, getting enough sleep, and making sure you exercise regularly are paramount to reducing and coping with stress leading up to the big event. Now would be a great time to budget for a visit to a nutritionist, and making good on your promises to finally check out that Pound or Zumba class!
Health Checks: While technically not strictly a wedding cost, it's helpful for brides and grooms to make sure they have a clean bill of health before embarking on the planning process. Admittedly, it's one of the less glamorous items on the list. But if there's to be any health conditions or serious surgery on the horizon you'll be grateful you knew with enough warning to factor in ample treatment and recovery time. That way you'll be heading down the aisle well rested, recovered and in the best health possible.READ ALSO: 21 Mistakes Couples Make When Wedding Planning
Beauty Treatments: Your wedding day is one where you can be sure that all eyes will be on you and your partner! You're going to want to look your best. This might mean anything from maintaining your regular skin care routine, to adding in a few extra treatments. Some couples decide now is the time to go for teeth whitening, or you might decide to go ahead with removal of a mole that has been bothering you for years. Perhaps you'll be splurging on a mild facial peel a few weeks before, and a set of lush eyelash extensions, mani and pedi the day before. Or not! Either way, be sure to adjust the wedding costs in your budget accordingly.
Postage Stamps: Yes, we're living in the age of Instagram and digital invitations, but really, what makes things more REAL than officially sending out a beautiful sent of printed wedding invitations with your names on them? Yes, you absolutely can get by with digital invites, but make sure grandma knows how to get around the interwebs if you do! For those who go the traditional paper route, remember to factor in the cost of postage stamps when setting your wedding costs.
Special Undergarments: If you're going backless, or strapless, or opting for a daring plunging neckline, you might need to factor in the wedding cost of special undergarments to keep the girls in their proper places! Even if your gown comes with built in support, you'll probably want to splurge on a fresh set of luxe lacy knickers – it is your wedding day, after all!
Name Change Fees: Should you decide to change your name, take on a double-barrelled surname, or choose to keep your birth surname as a middle name, you can expect to incur a number of costs. These vary from situation to situation, but consider that you'll need to change your driver license, passport, inform your creditors, modify legal contracts and update your identification documents. There are services that offer to handle this for you, but the easiest way to lessen this load, of course, is just to keep the name with which you were born. 😉
Hair and Make Up Trial Runs: After countless hours on Pinterest  you've finally found THE hairstyle. Pro tip: make sure you book a trial run first. You want to make sure that A) the style suits your face, B) your hairstylist replicates the look the way you imagined, C) you know how long it will take to style (especially if you have hair that is thicker or longer than normal) and finally, D) you want to know how long the look is going to hold for. The same applies for your make-up. Make sure you find out the costs of your trial run as your hair and make up artist will need to bill for their time.
DIY Practice Runs. Okay folks, it's about to get real up in here! We are HUGE fans of handmade, personalized wedding DIY projects to make your day beautiful and unique… BUT… it's important to understand that certain, more challenging items will require a practice run. For example, if you're planning to make your own wedding cake, or create your own complex wedding bouquet using a gazillion types of flowers, or create some crazy paper backdrop, and you're not a professional baker, florist or venue designer, you're going to need to budget for a test run – and possibly a few mistakes! That way, you'll at least know what you're dealing with and can limit any scary surprises on the big day. Remember, when it comes to DIY, simple is ALWAYS better!
Tables and Seating Not Provided by Venue. Make sure you check your wedding contract before signing, and understand what the venue offers in terms of furniture – for both ceremony and reception, suggests Kerrith Coleman of Boutique Styling in Cape Town. Some venues might offer use of high-end, fashionable chairs for your lawn ceremony at an extra fee, some might offer only basic, modest seating for your reception, and some might offer no seating at all, requiring you to add these items to your wedding costs.
Cocktail Furniture. If you're planning a cocktail area to entertain your guests, have a chat with your venue to determine if they are able to offer furniture for your pre-reception, says Kerrith. If not, you'll need to budget extra for this – and don't forget the transport costs associated with hiring bulk furniture items!
Additional Linens, Cutlery and Crockery. Just like the tables and seating, make sure you're familiar with what your wedding venue will be providing. Do they have a selection of table fabrics in your desired color scheme? Will they be providing glassware and place setting items to your taste, if at all? The more specific your requirements are, the more likely you will need to bring in all of the above at additional cost.
Corkage Fees. Some venues will allow you to bring in your own wine and champagne for a fee. Ask your venue if there are any charges for bringing in your selection of liquor. And be sure to read the fine print for cake cutting fees, too!
Wedding Dress and Suit Dry Cleaning. Whether you'll be selling, donating or keeping your wedding dress and suit, you'll need to make sure it's in perfect condition by sending it off to be professionally cleaned after you've said your I do's.
Furniture, Hiring and Online Purchase Delivery Fees. These can range from incidental amounts for smaller items like guest favors, wedding veils and bridesmaid gifts, to rather significant costs for the delivery and return of bulk furniture items, large decor installations, tents and outdoor dancefloors.
Pre Wedding Food and Drinks for Yourself and Bridal Party. Be sure to factor in the costs of food and drinks for yourself, your groom and wedding party while getting ready. Depending on what time your hair and make-up appointments start, you might need to include breakfast snacks, as well as lunch meals. The day is long and nobody wants to be hangry on your wedding day!
Mother of the Groom and Father of the Bride Gifts. It's easy to get caught up in the fun of choosing bridesmaid thank you gifts, but a wedding cost many couples forget to include in their budget is of thank-you gifts for the close family and extended wedding party. "From the mother-of-the-groom to the flower girl, many couples like to give people involved in their special day a gift to remember it by," explains Barb. "This can be a small or large token of gratitude. Just make sure to include the wedding cost in your budget."
Staffing Costs. It is incredibly important not to skimp on waiters and barmen. "There is nothing more unpleasant than waiting ages for drinks and food," says Kerrith. "There is no point in having beautiful flowers and decor on the tables but your guests are miserable because they are hungry and thirsty." Find out if wait and bar staff are included in your venue fee, and how many it includes.
Venue set up costs and take down costs. Make sure to get a quote. These costs are not always part of your base venue hire fee. "When you are hiring in additional items like tents and outdoor dance floors from third party vendors, there might be additional costs for allowing them access to the venue a day early, too," says Kerrith.
Overtime costs – including venue overtime fees, overtime for service staff. "When booking the venue and service providers, take into account the set up and take down times, as well as subsequent labour and overtime charges for service staff," says Kerrith. Keep in mind that running your reception into overtime can come with a hefty venue penalty fee.
Catering Minimums. Some all-inclusive venues have high catering minimums, requiring you to increase your guest list to meet their required headcount. "This increased head-count can put you over budget if you don't plan accordingly," says Sarah Chancey of Chancey Charm, who works with couples from San Diego to Boston, and everywhere in between.
Early Setup and Weekend Collection. If you have big decor set-ups planned which need to be set up at the venue the day before, be aware that some venues charge a fee for this, explains Kerrith. Furthermore, if your setup requires suppliers to have things in place on Saturday before 8am, you can expect additional charges, says Cara. The same goes for Sunday break downs, which is typically the day of rest. "Some venues insist on the wedding venue being cleared by 9am on the Sunday morning. You will need to pay staff to do this and get it done right."
Gratuities. 

Many couples forget to include tipping in their wedding budget, explains Barb. "

When you think of all of the people who help make your special day happen, this forgotten cost can add up quickly!" Barb adds that while it's not expected, it is polite to tip the pianist at the ceremony, the DJ and the servers at your reception. "A portion of the venue's service charge will go to the staff, but not all of it. A little extra tip goes a long way to those who are working so hard to make your day unforgettable."

Vendor Thank You Cards. While not compulsory, this thoughtful touch is generally appreciated to no end by the team of wedding professionals who spent tireless hours working with you on your wedding vision. If you'd like to thank them with a card or little gift, be sure to plan for this wedding cost in your spreadsheet.
Service Charges and Taxes. In the US, taxes and service charges vary from state to state, but can heavily affect your budget's bottom line, explains Sarah. "Service charges can run from 22-30% and can come from your venue, caterer, beverage service, or a variety of your other vendors." Be prepared!
Mistakes and oversights. Goodness forbid that one of your vendors drop off the face of the planet two weeks before your wedding, but the reality is that these things can happen! This would not only put you out on the deposit you might have paid them, but would incur additional rush fees as you scramble for a replacement vendor. Try to build in an extra 2 – 20% of your budget to cater for this, and other unknowable wedding costs. Then go ahead and rock your wedding day like a total boss!
After all of that, remember that this is your and your partner's wedding – and you're totally at liberty to add and remove as much from your list of wedding costs as you both desire. Don't feel pressured to include an expense that you are not comfortable with just because! Do your research, know what to expect, and then go ahead and make the kinds of informed decisions which suit your personal lifestyles and budgets best!
We've got loads more wedding planning tips and advice to help you plan: