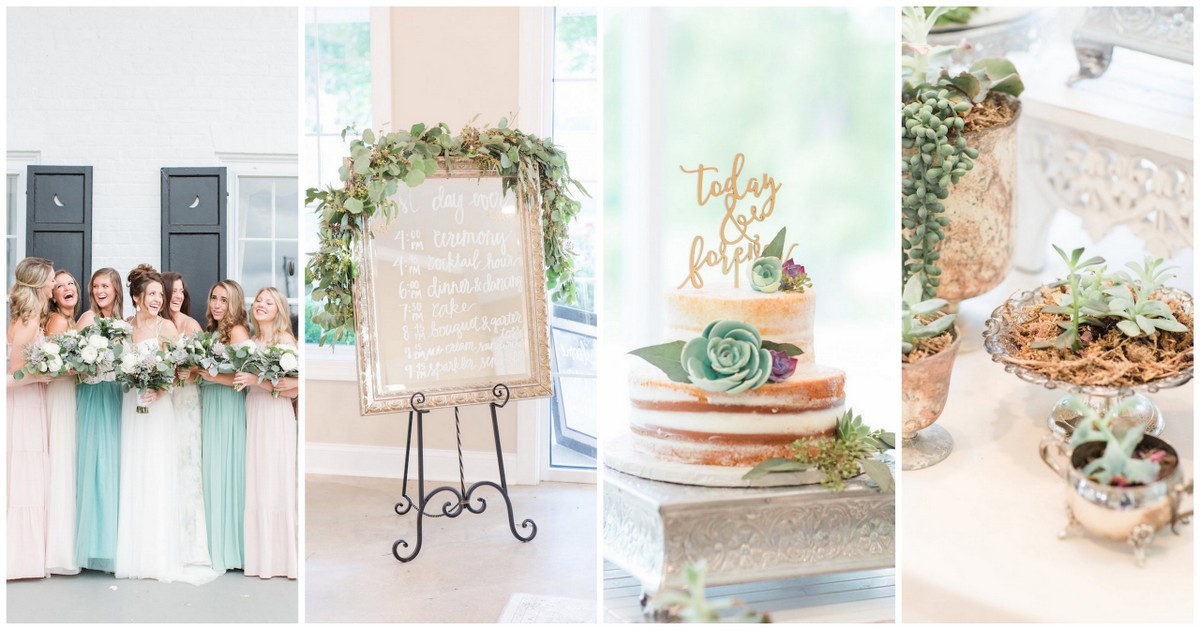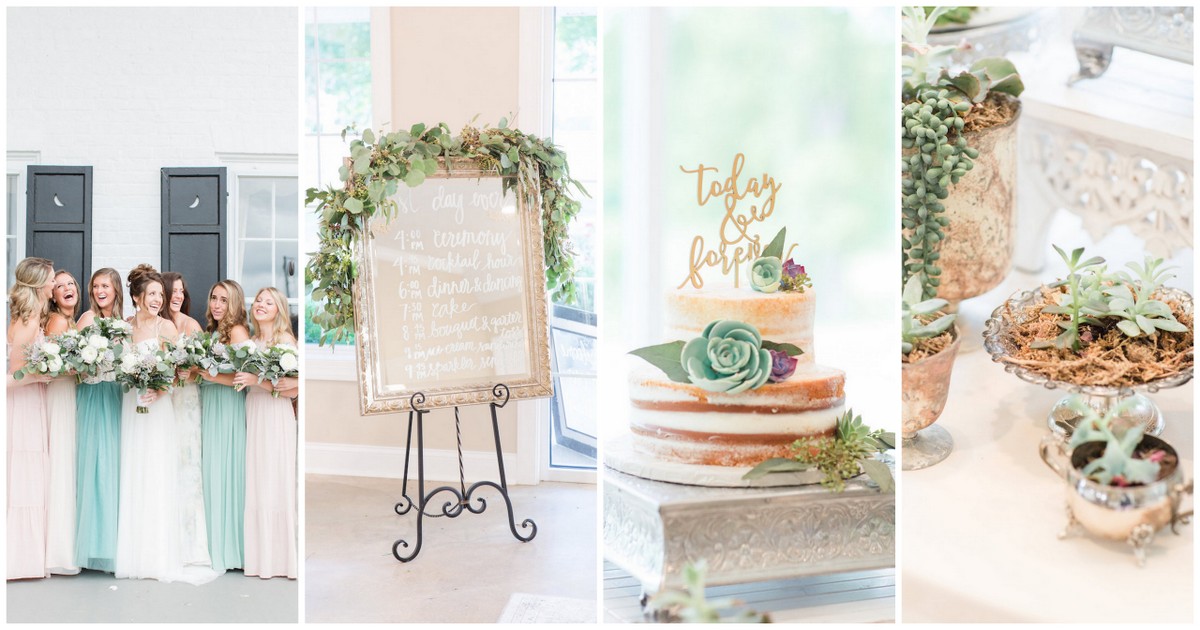 Johnny and Kylie's pretty greenery and succulent wedding in pastel was elegant, dainty, soft, vintage, and rustic. King William Florist worked with Kylie to incorporate her love of succulents and other greens after she fell in love with their wedding venue, Hollyfield Manor. They worked with a color palette of champagne, sage green, and pale pink.
These ethereal images by Lindsay Fauver  show us exactly how beautiful the day was!
Greenery and Succulent Wedding Theme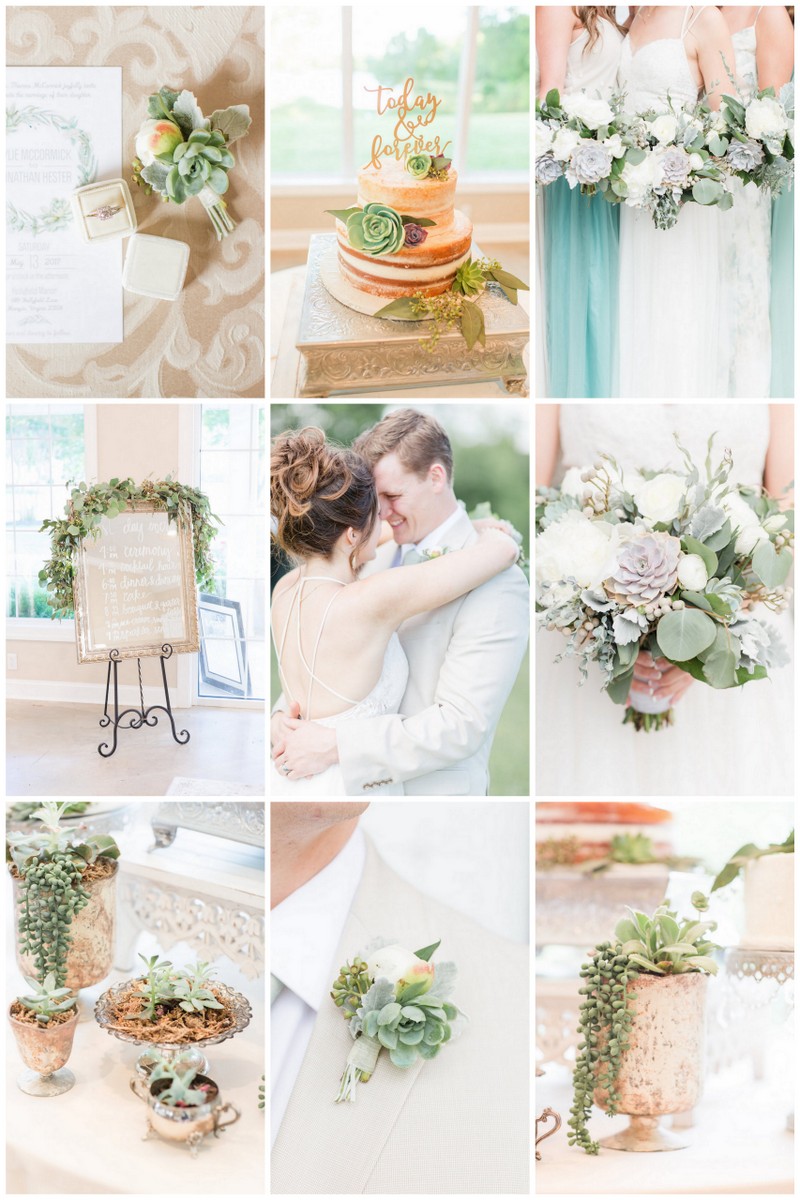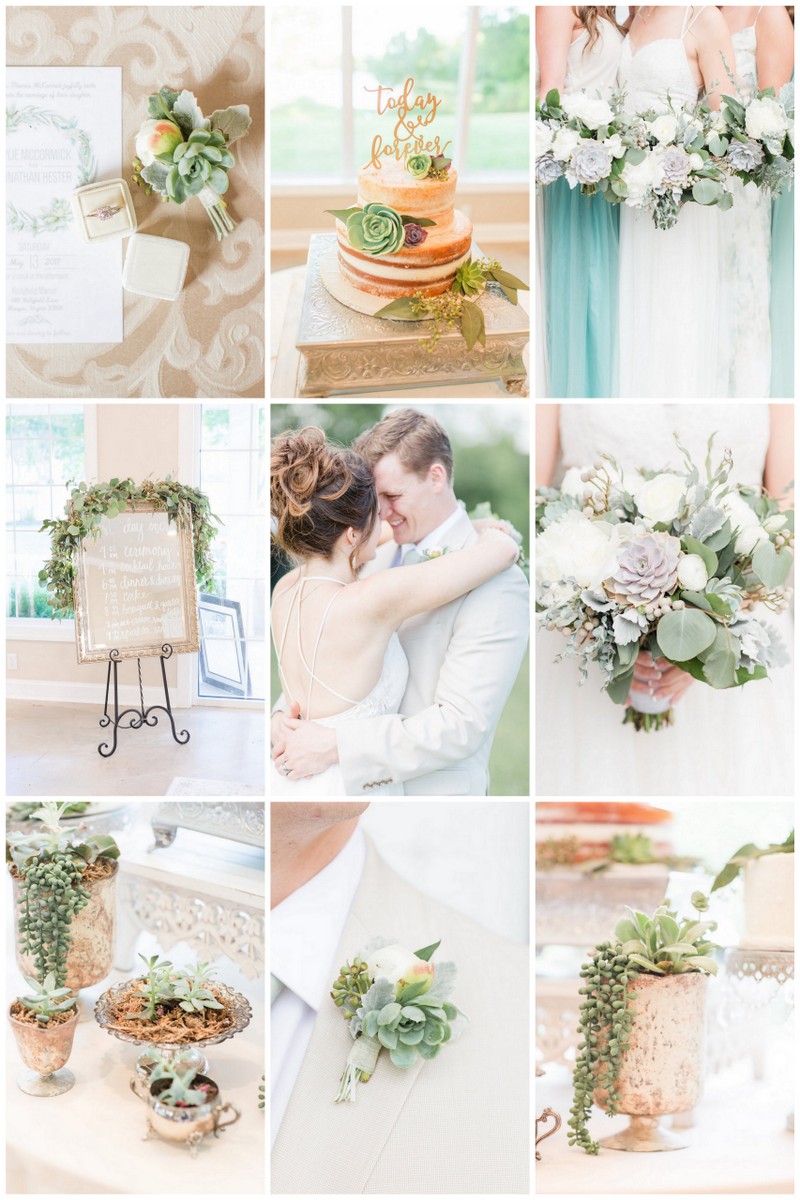 Love Story: Jonny and I were set up on a blind date by my neighbor, who happened to be his boss's wife. She called me after meeting him at a work dinner, and the first thing she said to me was, "I found your future husband!" Jonny and I met for lunch a week later, and the rest is history. Because my family moved to the Philippines and Jonny moved to North Carolina shortly after we met, most of our three years of dating were spent long-distance. We learned how to communicate and make each other feel loved in unique ways.
Proposal: Jonny proposed at the place we had our first date with a scavenger hunt that involved my family and best friends. I was so surprised to see how many people were in town, and even more surprised that he had planned an engagement party after the proposal. It was such an exciting day!
Greenery and Succulent Wedding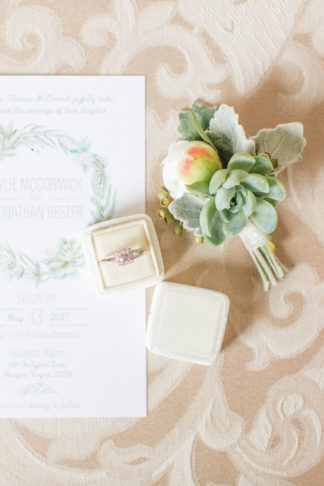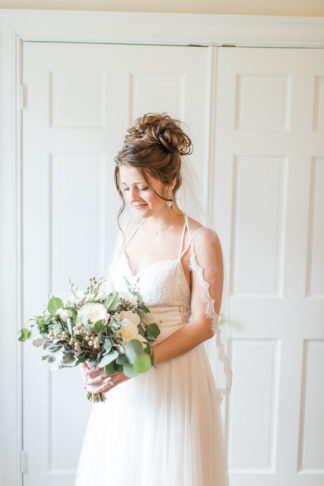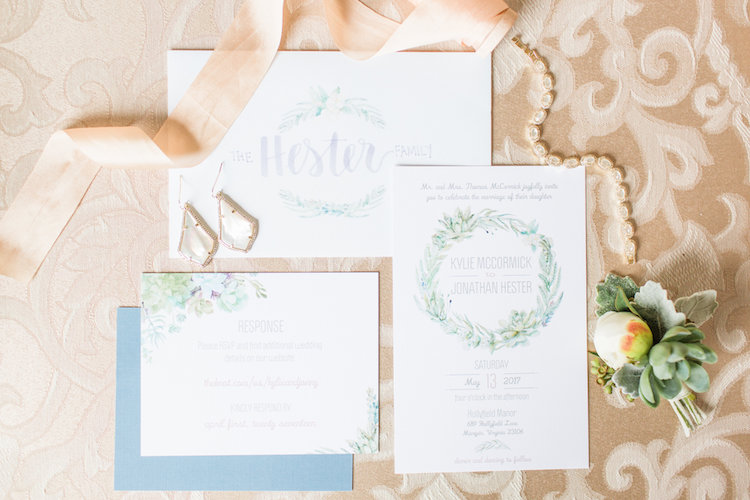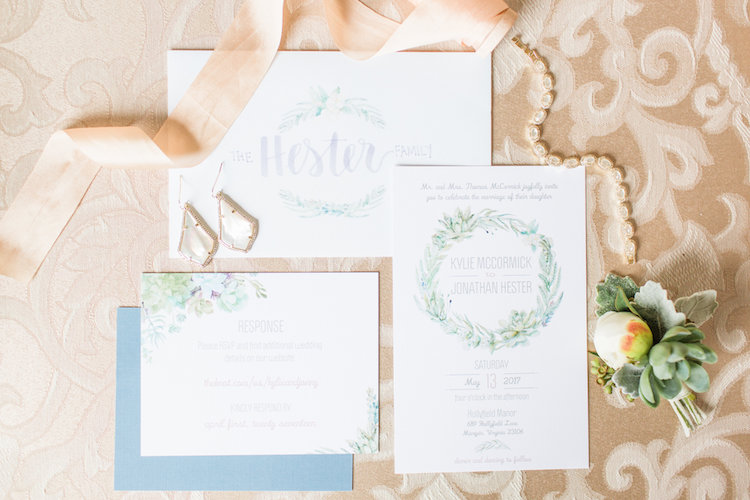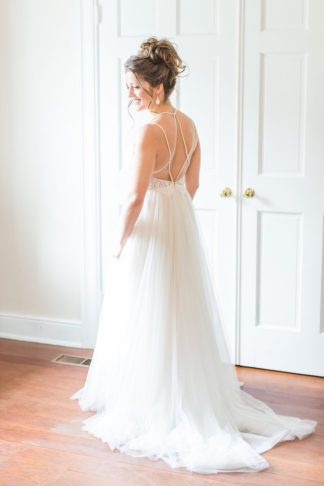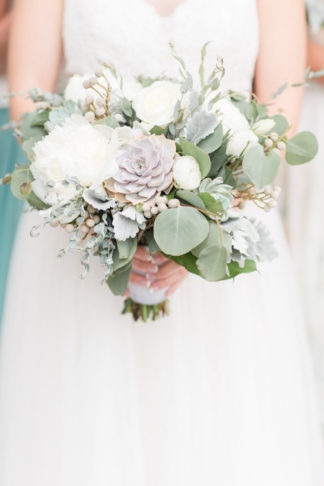 My wedding dress had an open back with crossing straps, a top with dainty lace and layers of chiffon that flowed lightly down from the top. I tried a couple on an ultimately made my decision after showing the 11-year-old girl I babysat a picture of the dress. She said, "That's the one. You look like a princess." For my wedding hairstyle I decided on a fun and loose up-do – something  elegant but not too precise or tight. My make-up was subtle and soft with on brown tones for the eye make-up which coordinated with the champagne, sage green, and pale pink color palette of the wedding.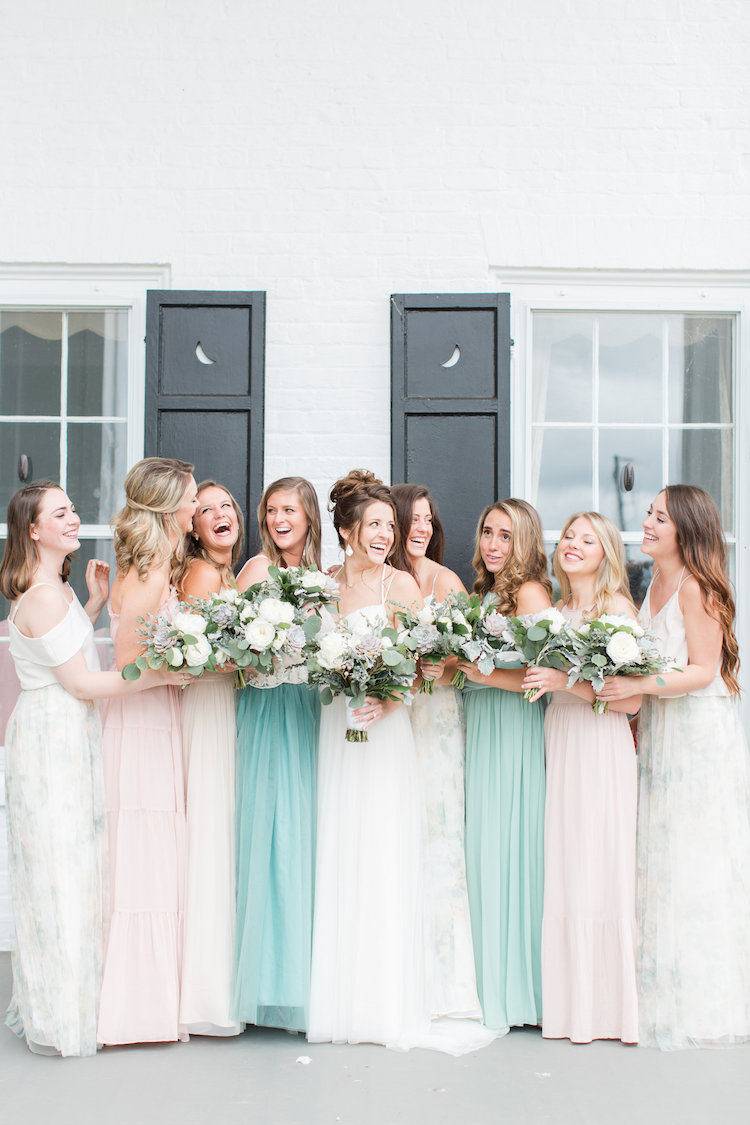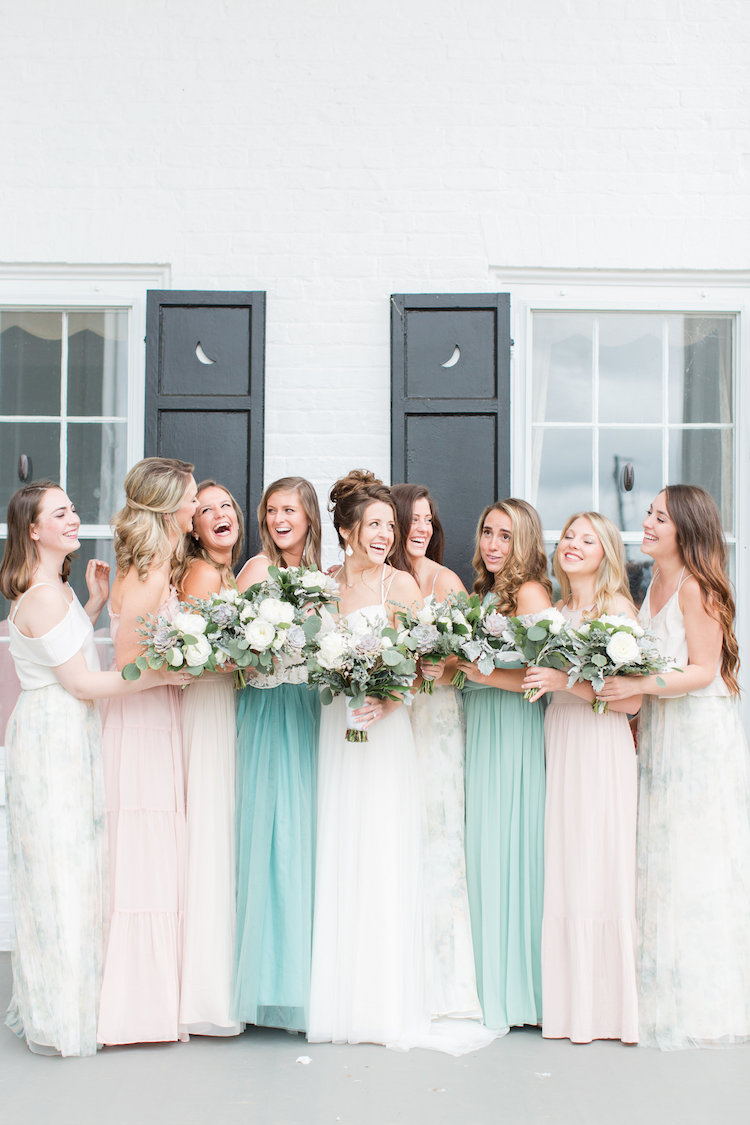 Each bridesmaid had a different style, all within the same champagne, sage green, and pale pink color palette. I started with a soft floral design of a BHLDN floor-length dress, which my sister and MOH wore. I then purchased two floor-length skirts in the same pattern and continued to gather pieces that matched those colors. The girls got to wear what they felt most comfortable in, and the colors made for a beautiful arrangement in our bridal party photos.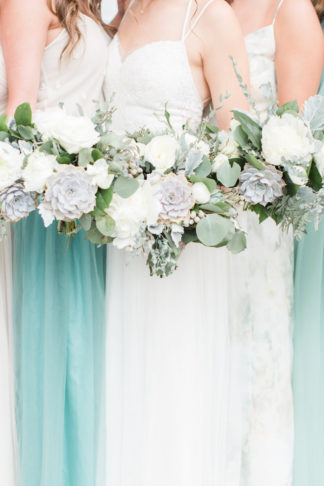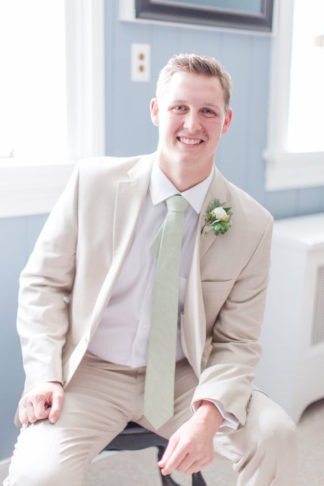 Our bouquets were made-up of succulents, lamb's ear, silver dollar eucalyptus, and seeded eucalyptus. We also had white peonies, large-headed garden roses, ranunculus, and gray berries. The best part is that I potted the succulents, and they are displayed throughout our house as memories from our day.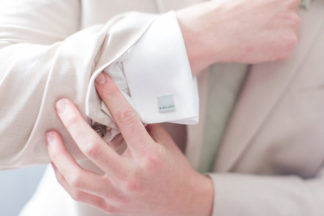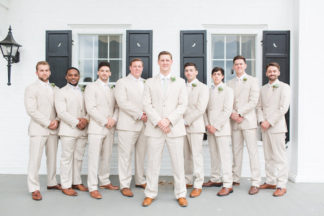 The groomsmen wore gorgeous tan summer suits from Jos A Banks. Their boutonnieres were made of succulents, seeded eucalyptus, and a small white flower. Purchased at The Tie Bar online, the groomsmen wore champagne ties, and my groom wore a sage green tie. was set apart by his sage green tie from The Tie Bar. He also sported silver cufflinks with our initials and anniversary engraved on them, which was my wedding gift to him before the ceremony.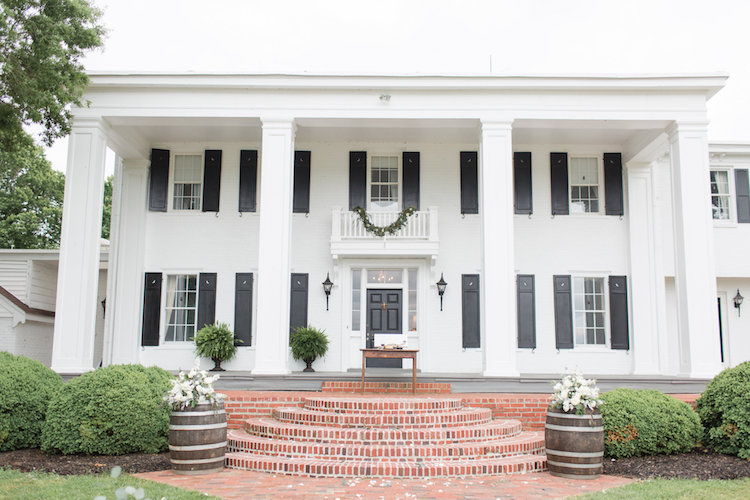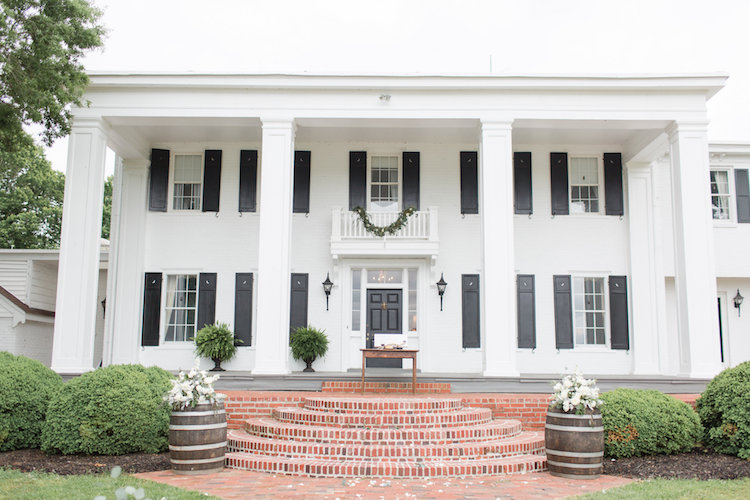 Wine barrels with floral arrangements framed the ceremony at the end of the brick path. Green leaves were scattered along the brick path leading up to the ceremony on the front porch of the plantation house, and white chairs for guests were scattered throughout the front lawn.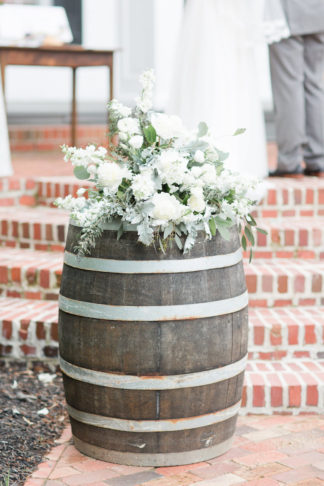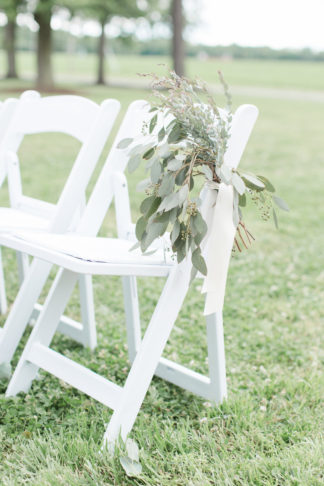 A garland of greenery hung from the upper balcony on the front of the house. We repurposed some of these decorations to use in the reception hall, which helped cut down the cost of decor. For example, the garland was placed across our sweetheart table for the reception.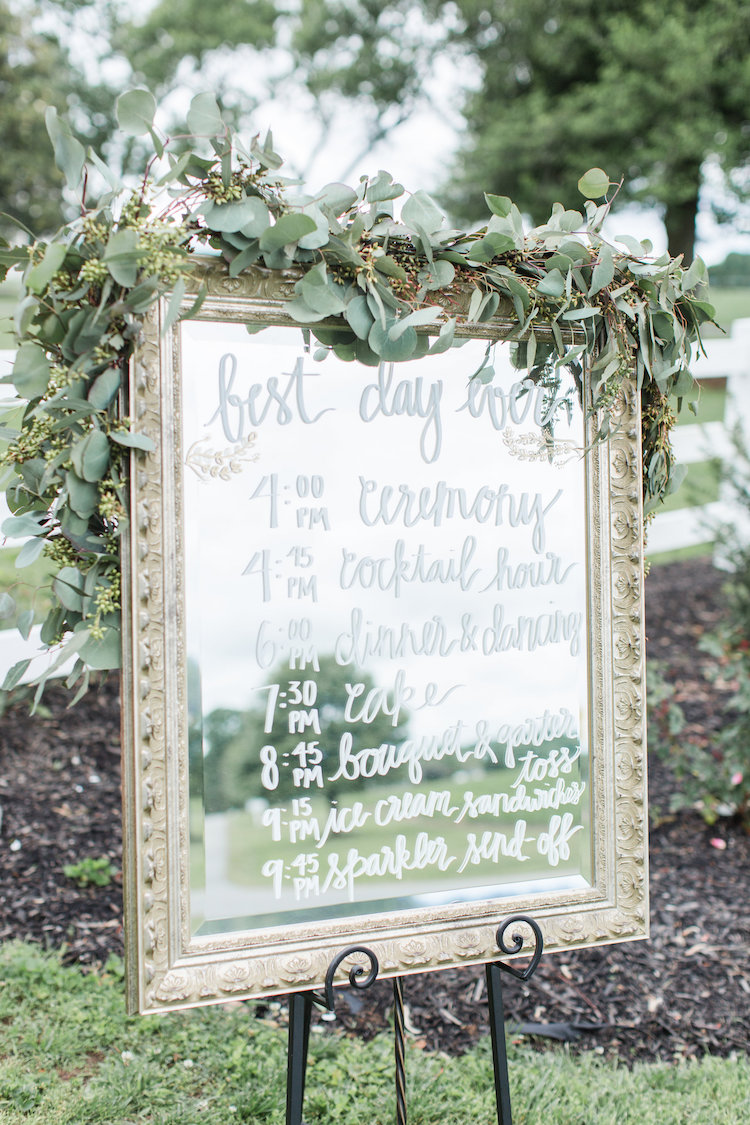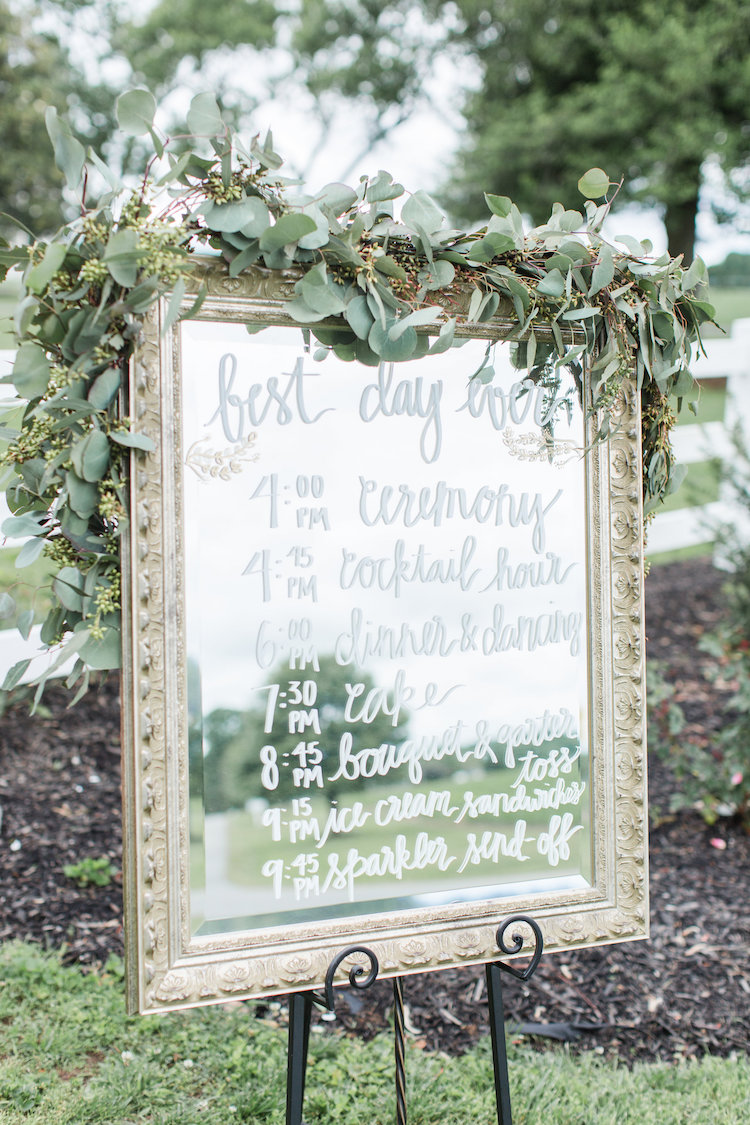 The ceremony gate entrance had a framed mirror timeline sign and a framed glass welcome sign.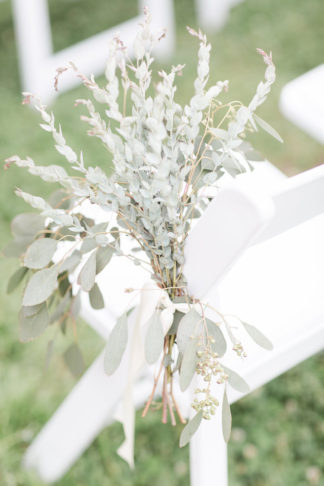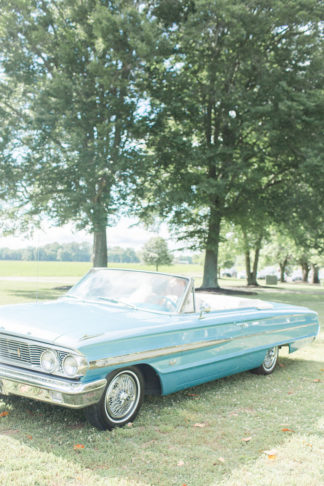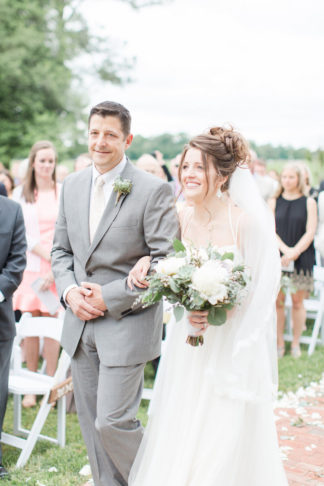 My dad and I entered the ceremony in a blue antique convertible (something blue!), driving down a long driveway leading up to the manor house.
As we drove in, our DJ played a recording of my dad and I reading letters we wrote to each other. This was a surprise to all of our friends and family, including Jonny. I'll never forget seeing Jonny come into view, waving at me like an excited little kid. We were on cloud 9.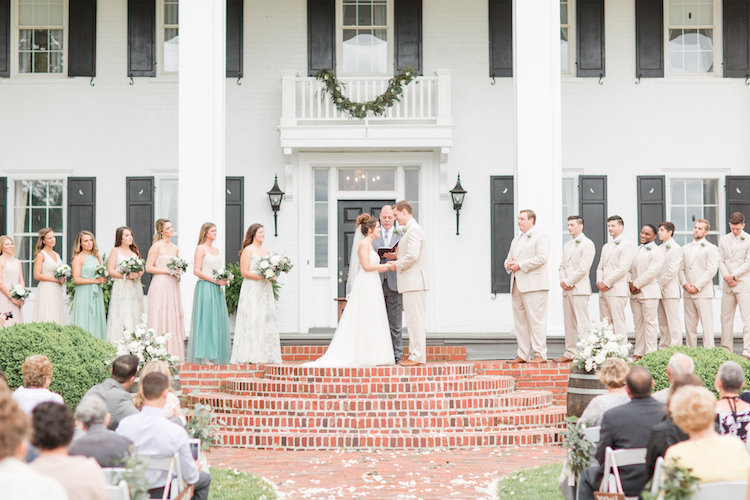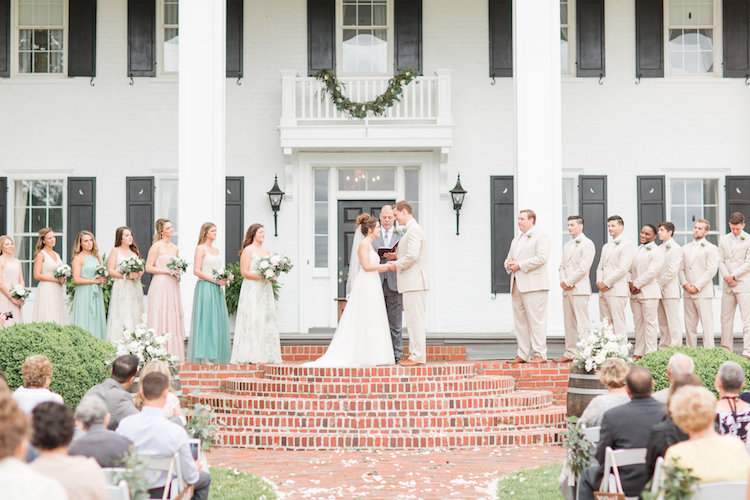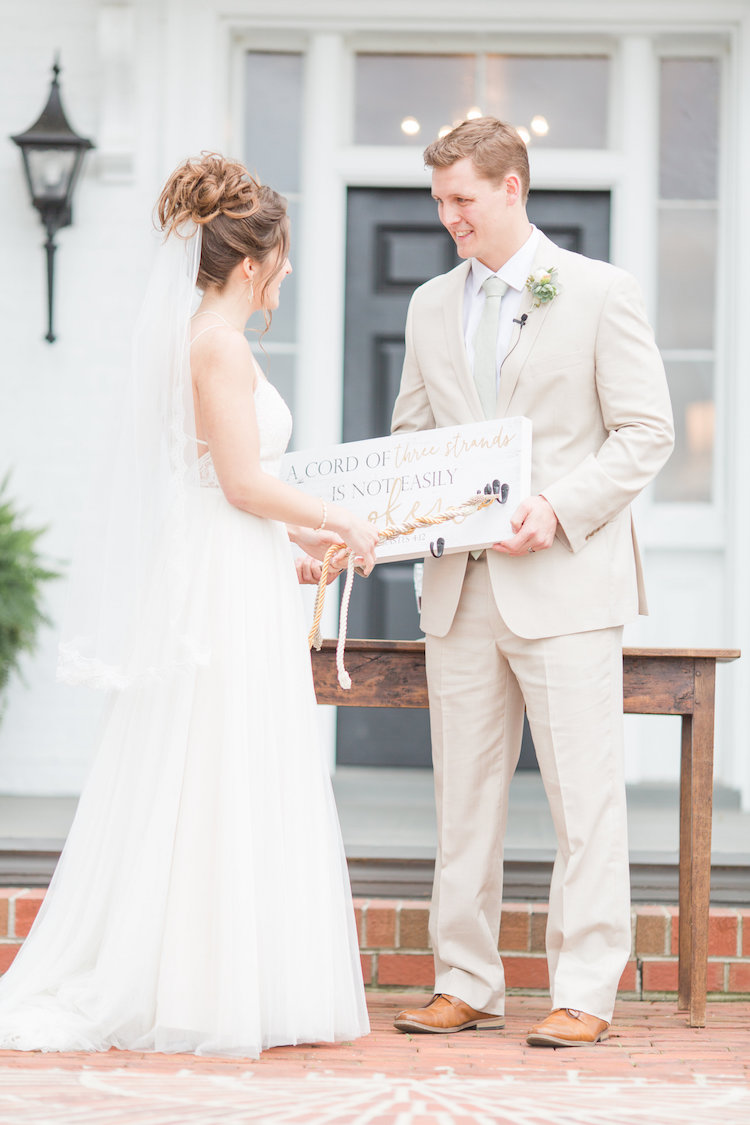 During the ceremony we braided a cord of 3 strands, sang a worship song with our guests, and took communion for the first time as husband and wife.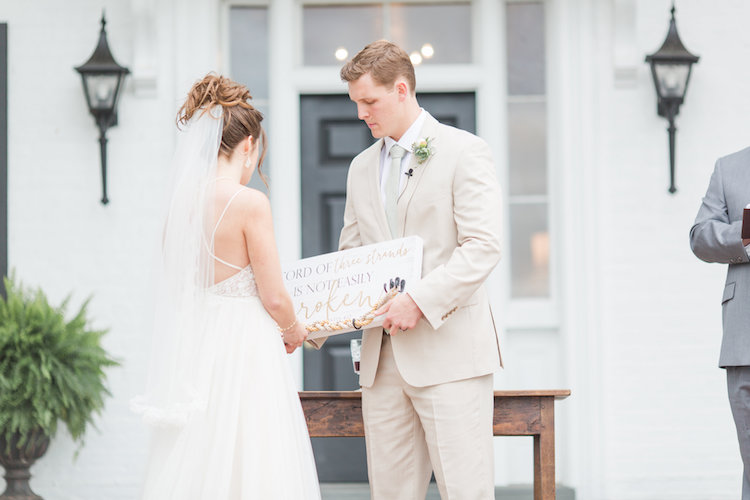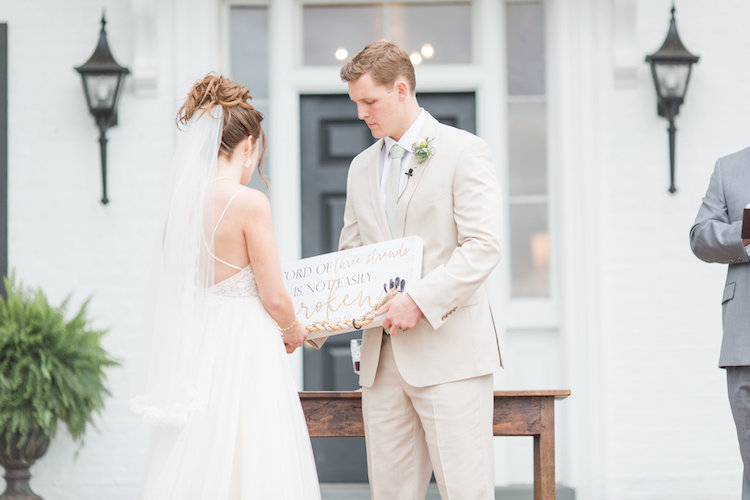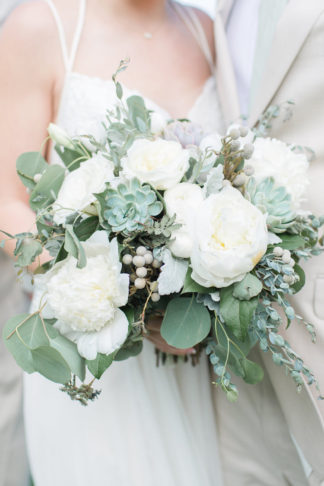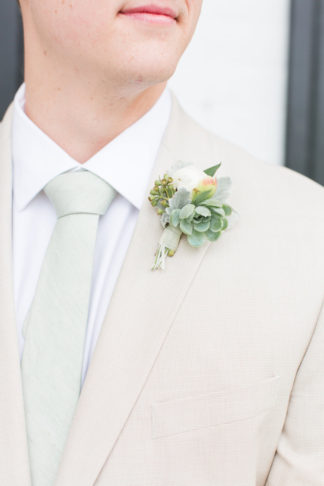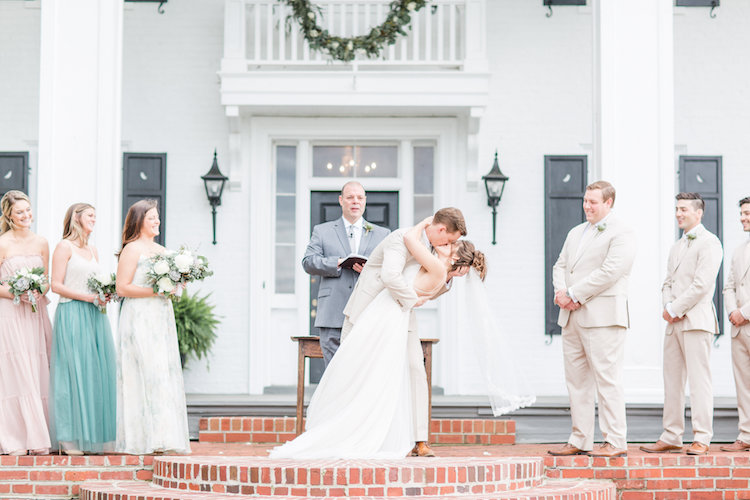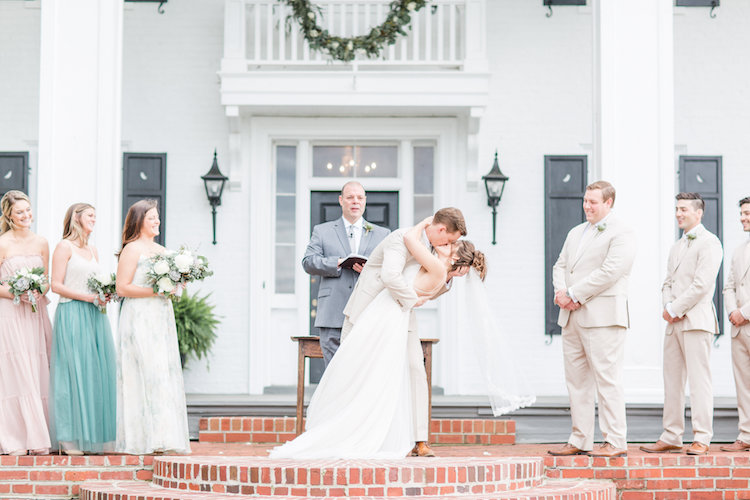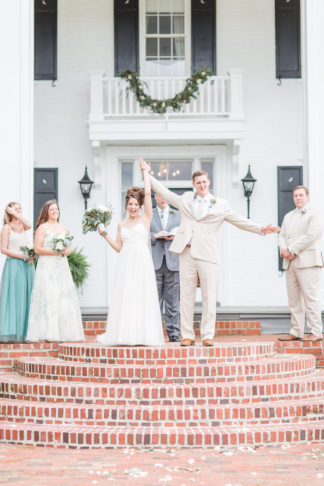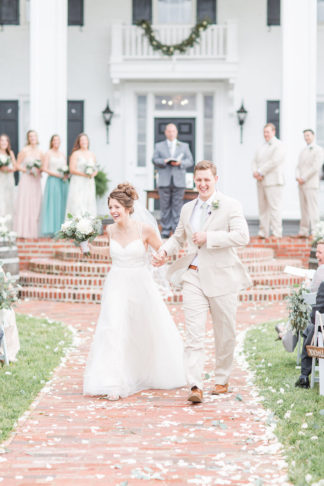 At the end of the ceremony, Jonny and I danced down the aisle to the song, "Celebration" by Kool & the Gang.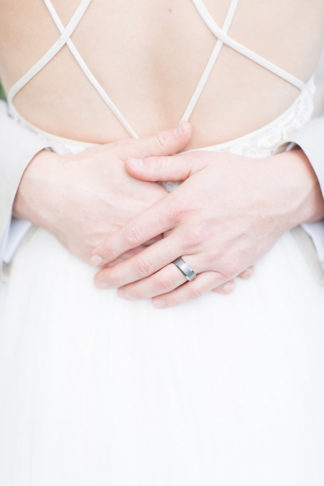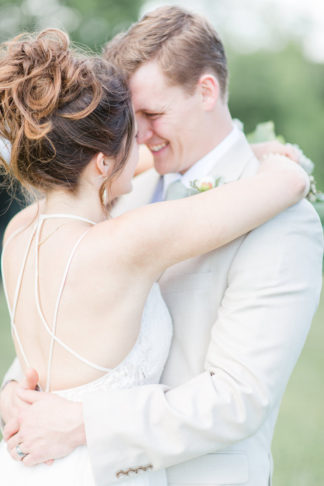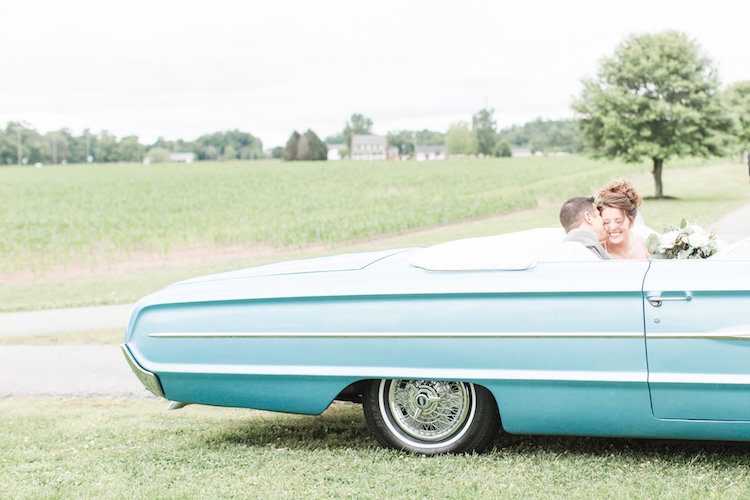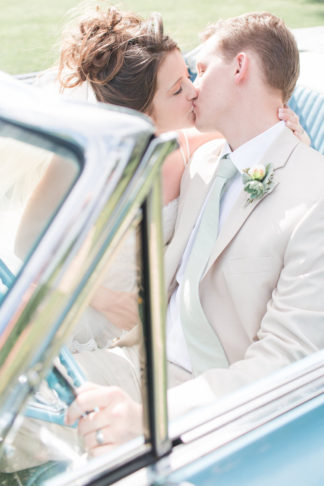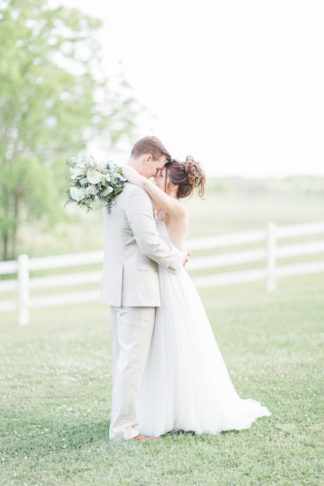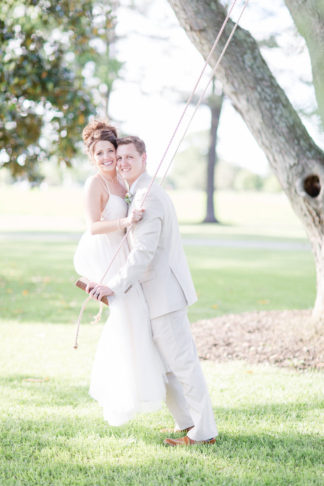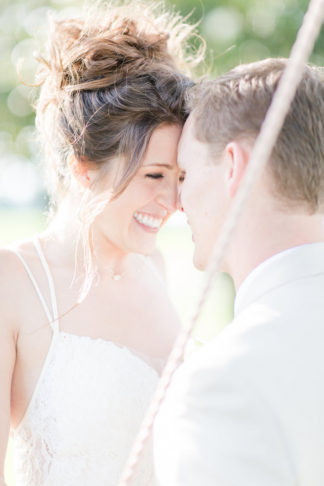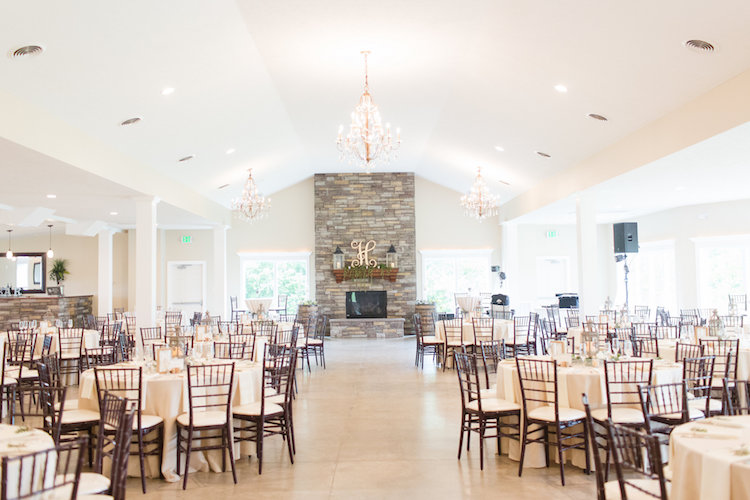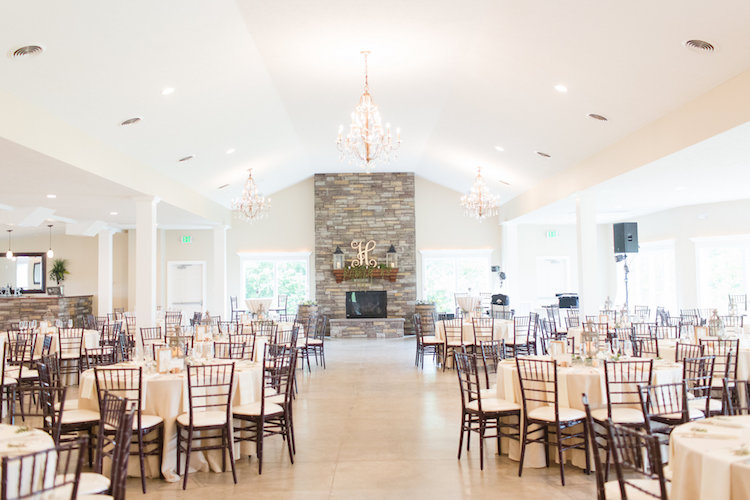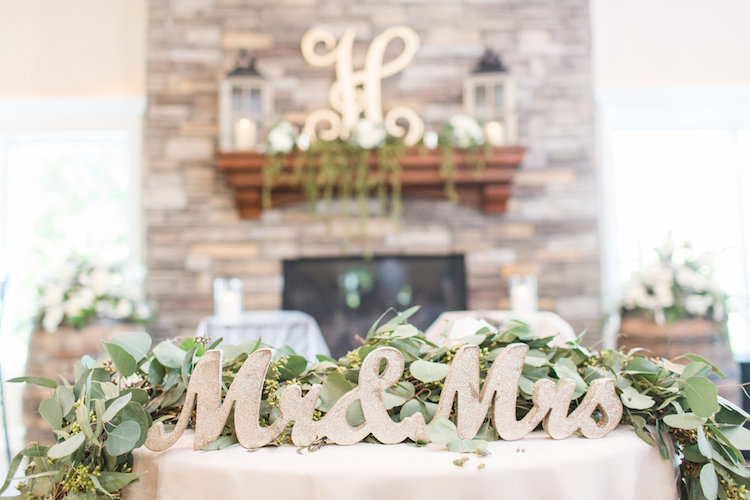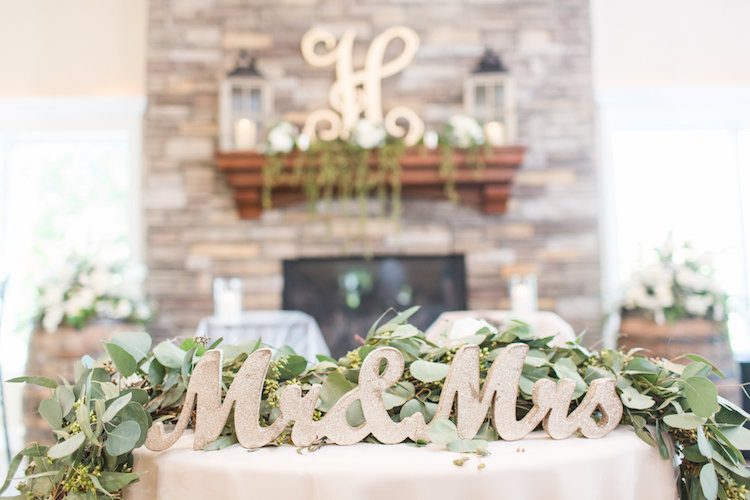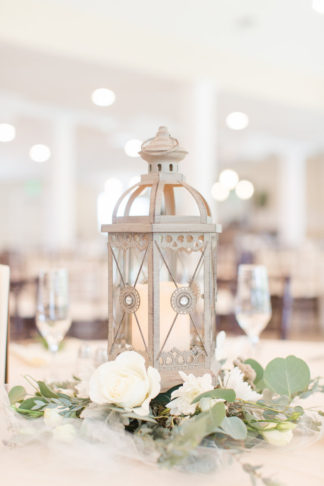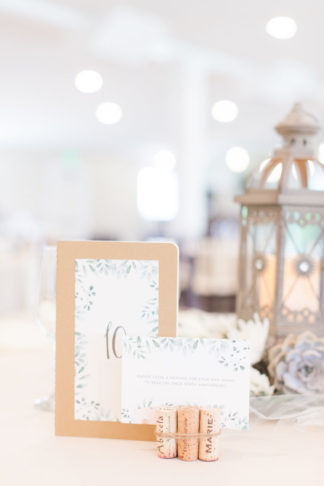 The Hollyfield Manor reception hall was already gorgeous, so decorating came easy! To keep the beautiful space simple and elegant, we used tan table cloths with white chiffon on top. Lanterns and succulent arrangements made-up our centerpieces on each table.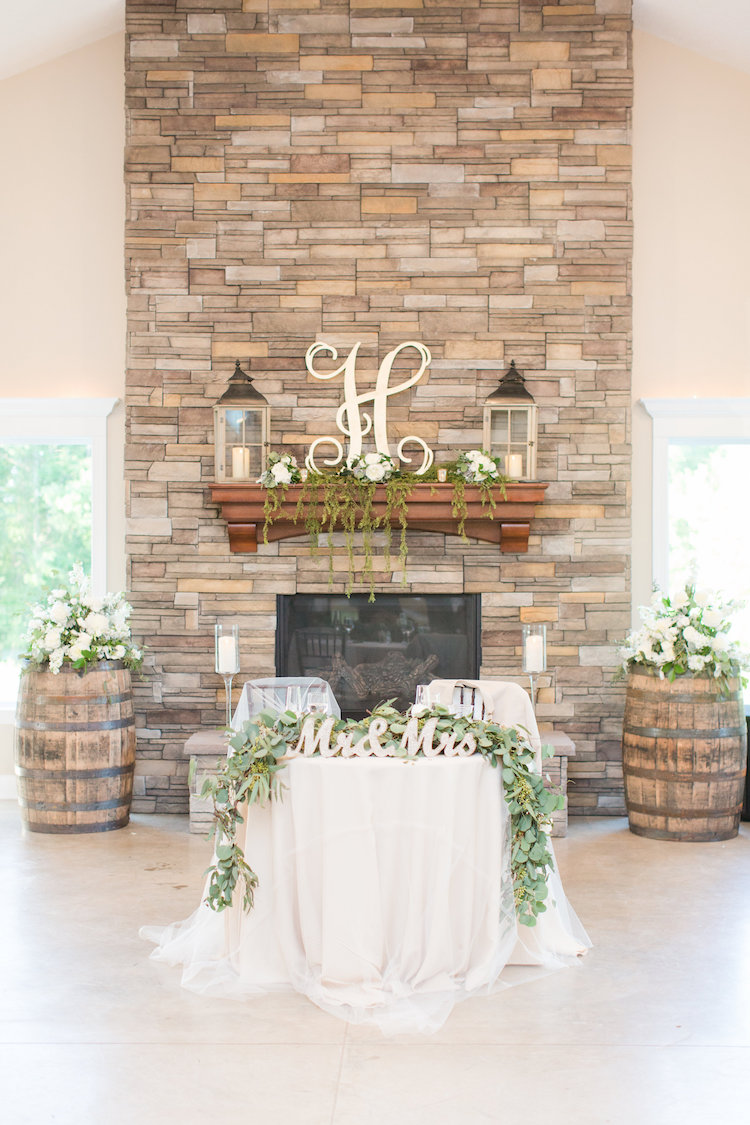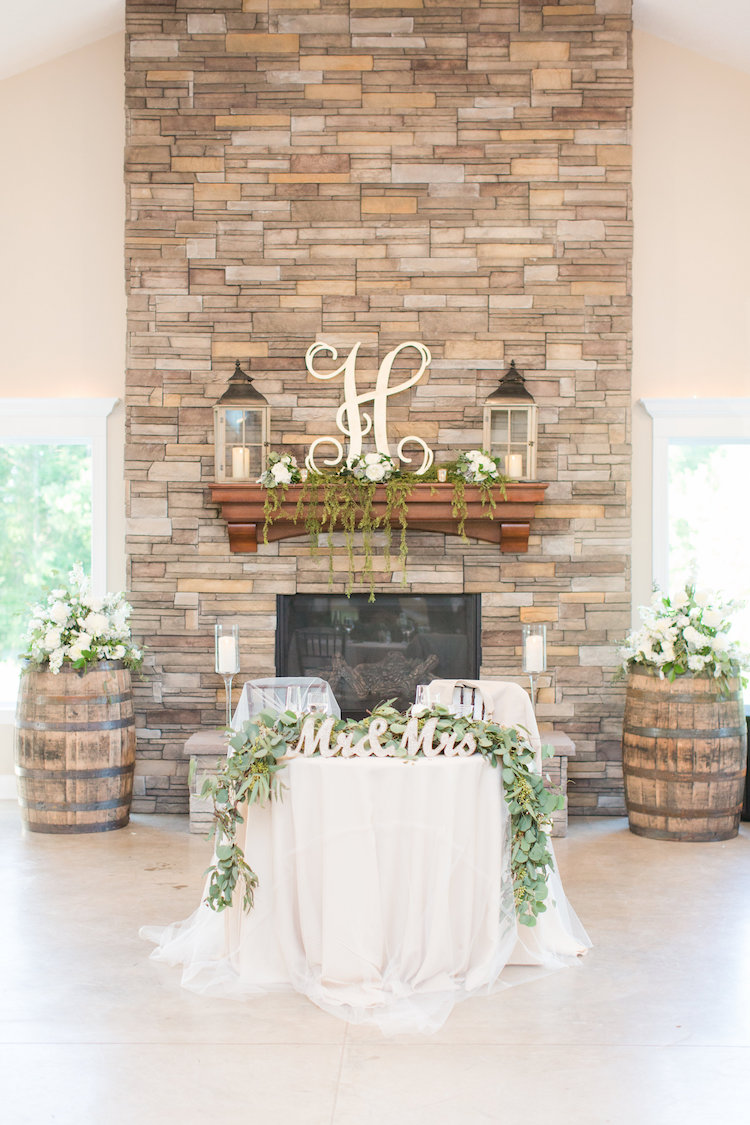 Beautiful chandeliers hung from the ceiling, a brick fireplace sat behind the sweetheart table, and a whole wall of windows overlooked the lake.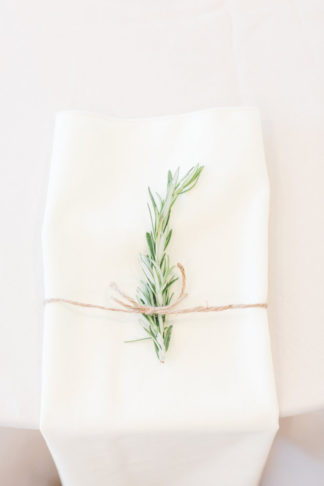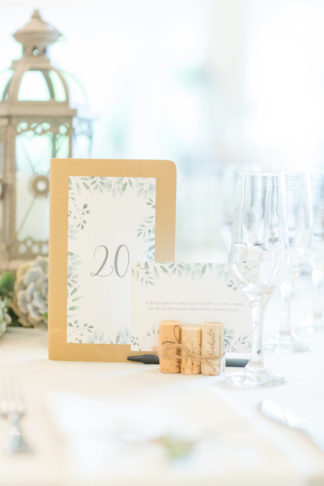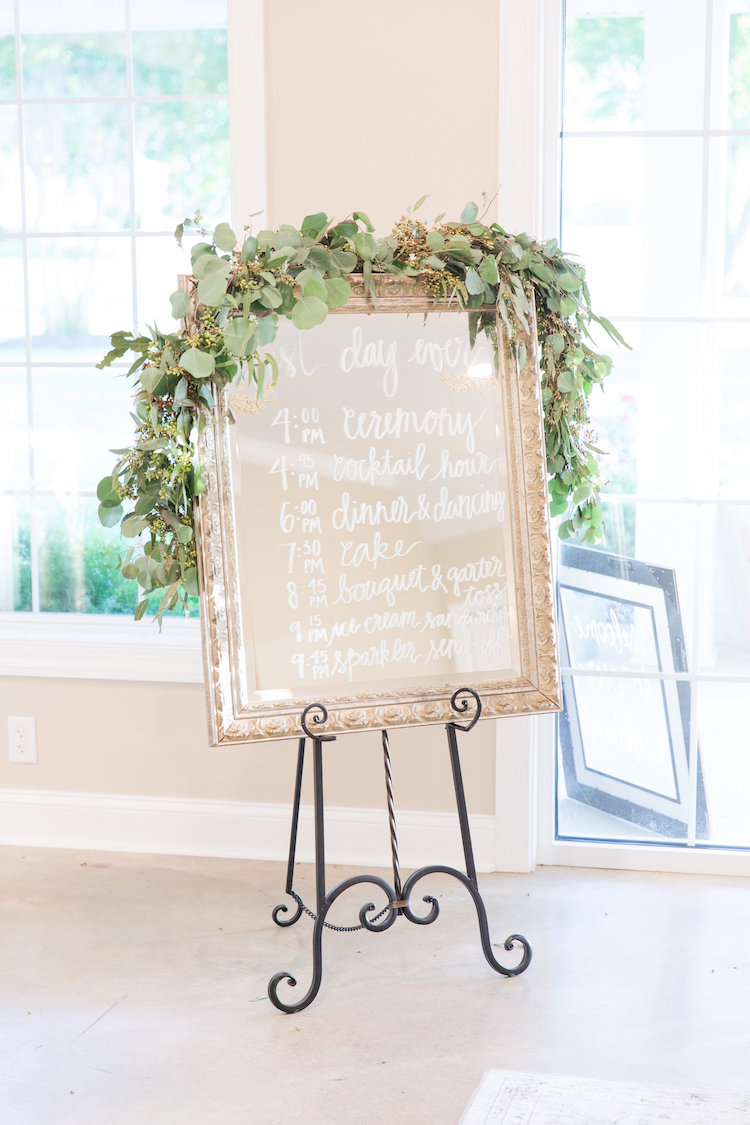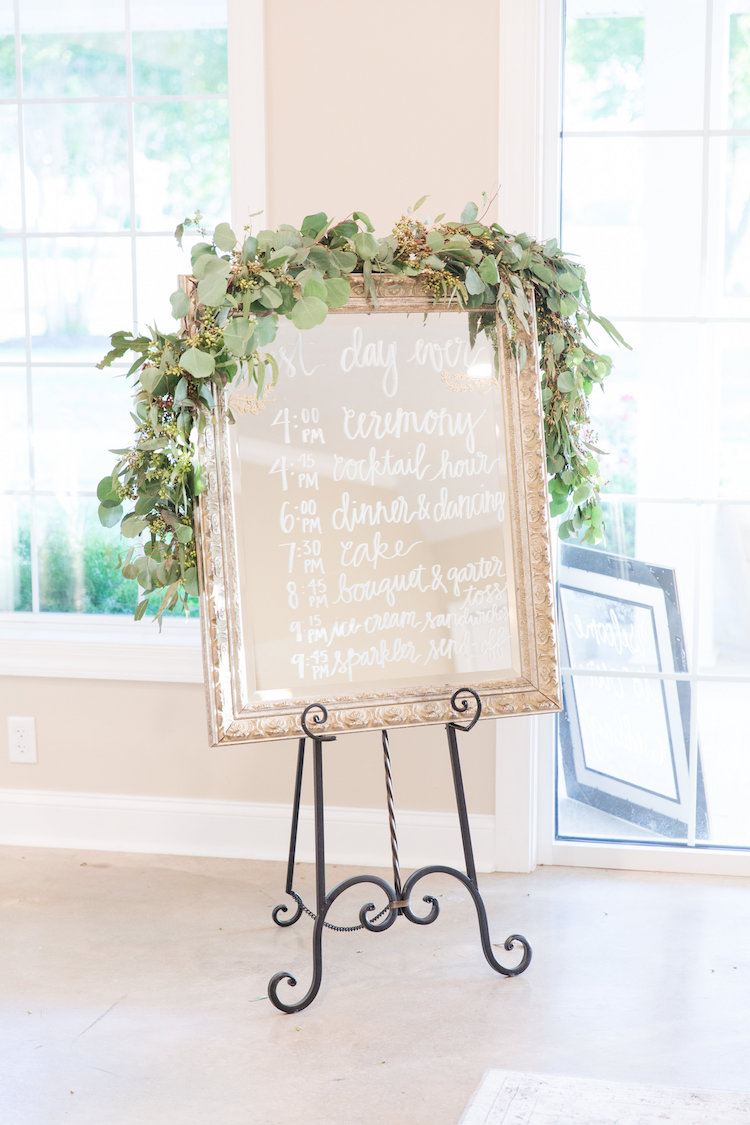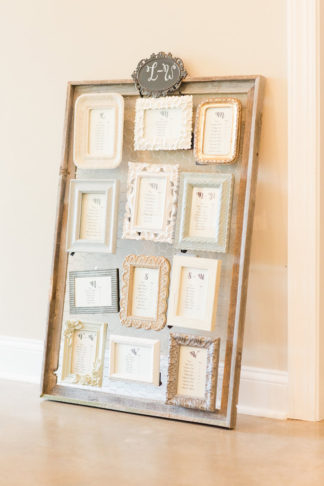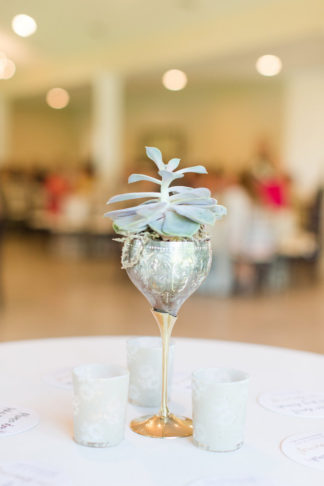 Our wedding seating chart was outlined by frames displayed outside the reception doors. I organized the names alphabetically and included the table number next to each person's name to make it easier for guests to find their info. Instead of assigning seats at each table, I allowed guests to choose their seat at their assigned table.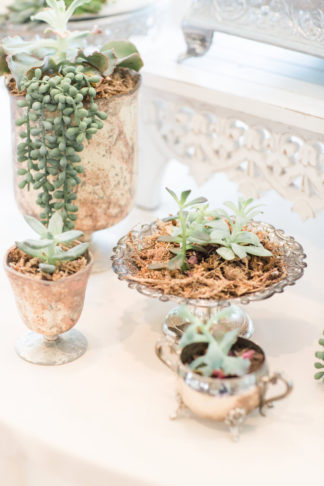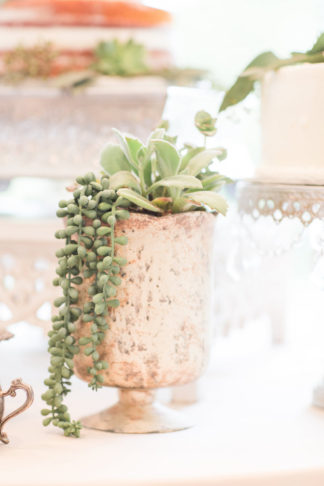 Our three wedding cakes were displayed on silver, antique cake stands. The center cake was a naked cake, and two smaller white cakes were displayed on either side. The cake table also had several succulent accents.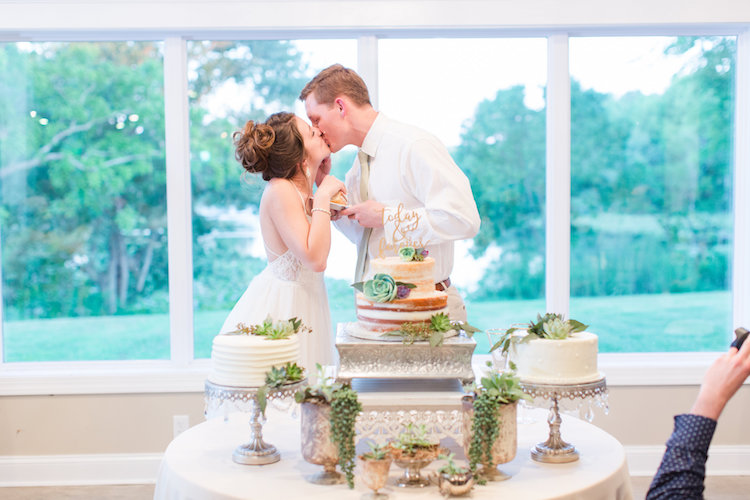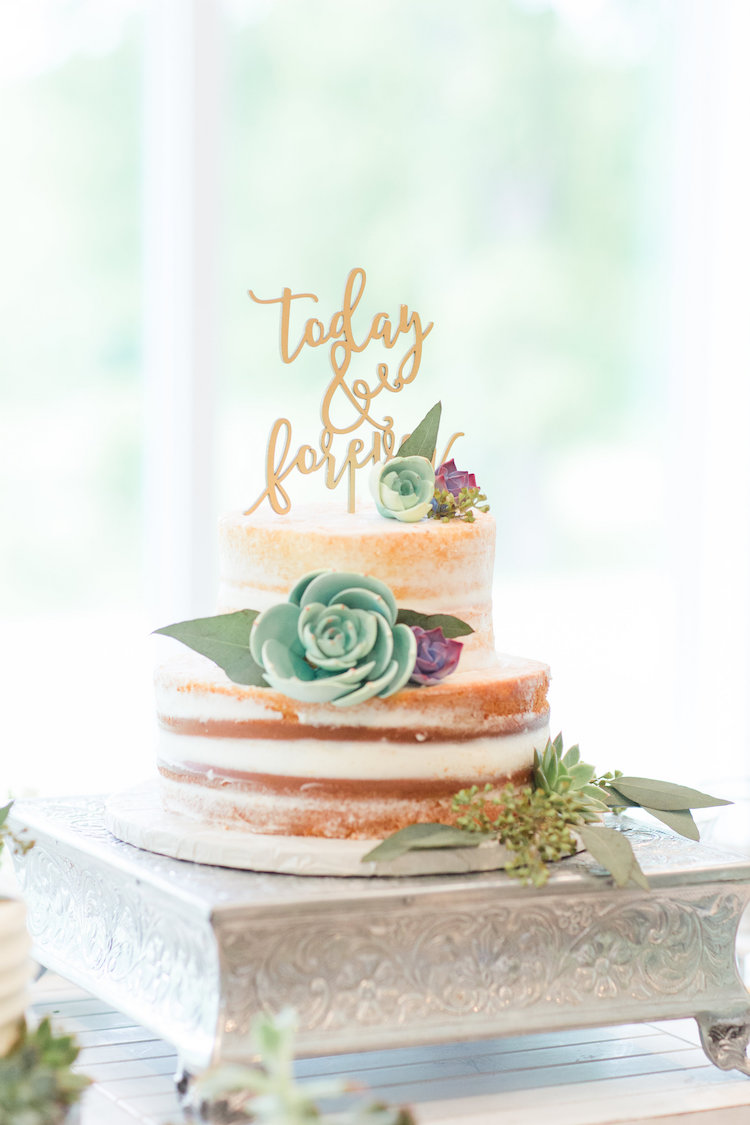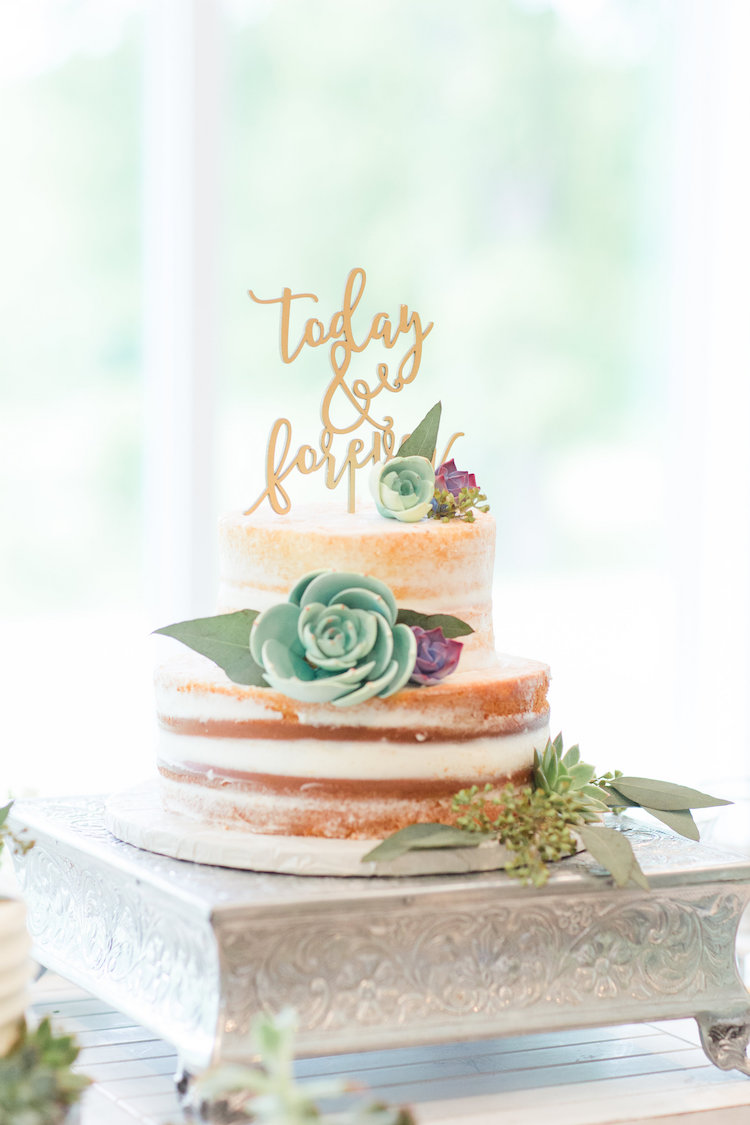 Our script style cake topper was from the Duo Studio, with cakes by Incredible Edibles Bakery.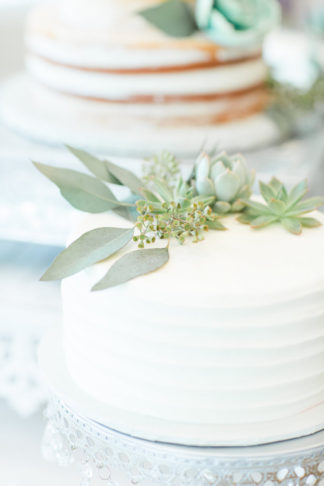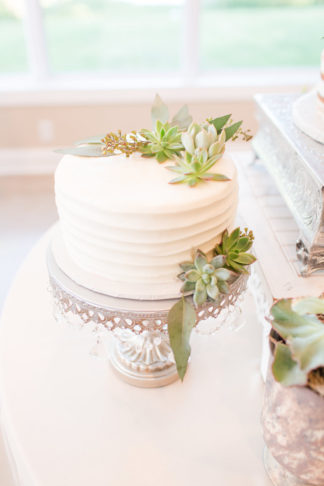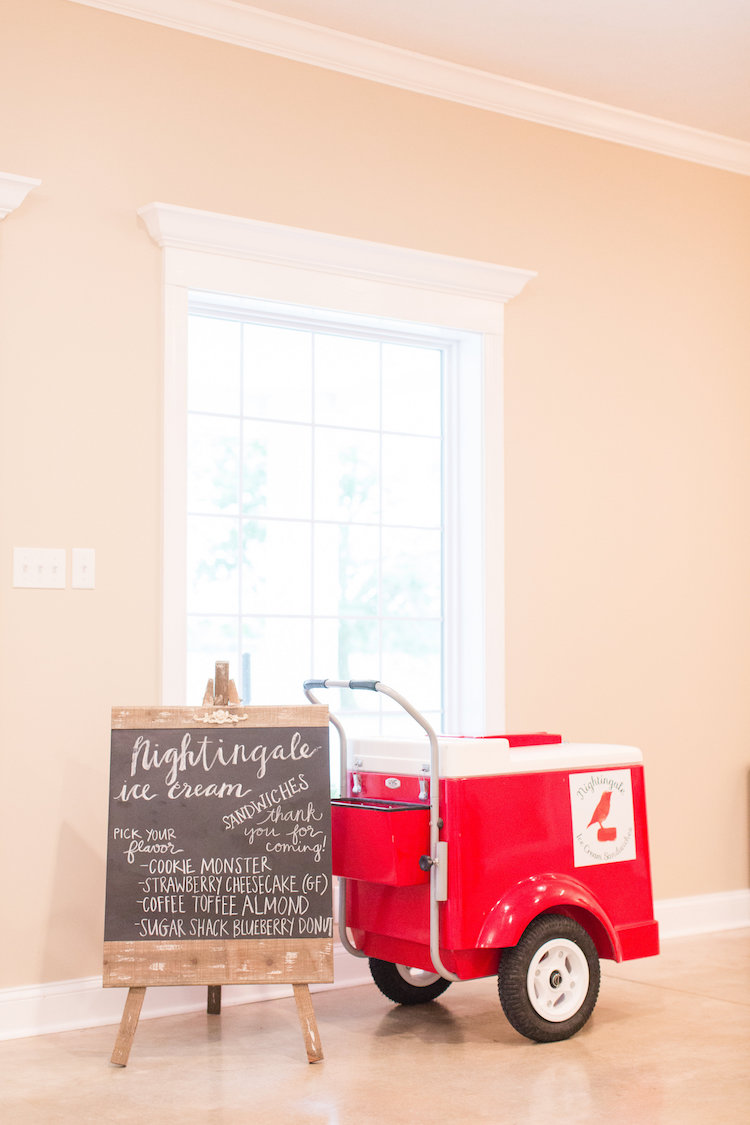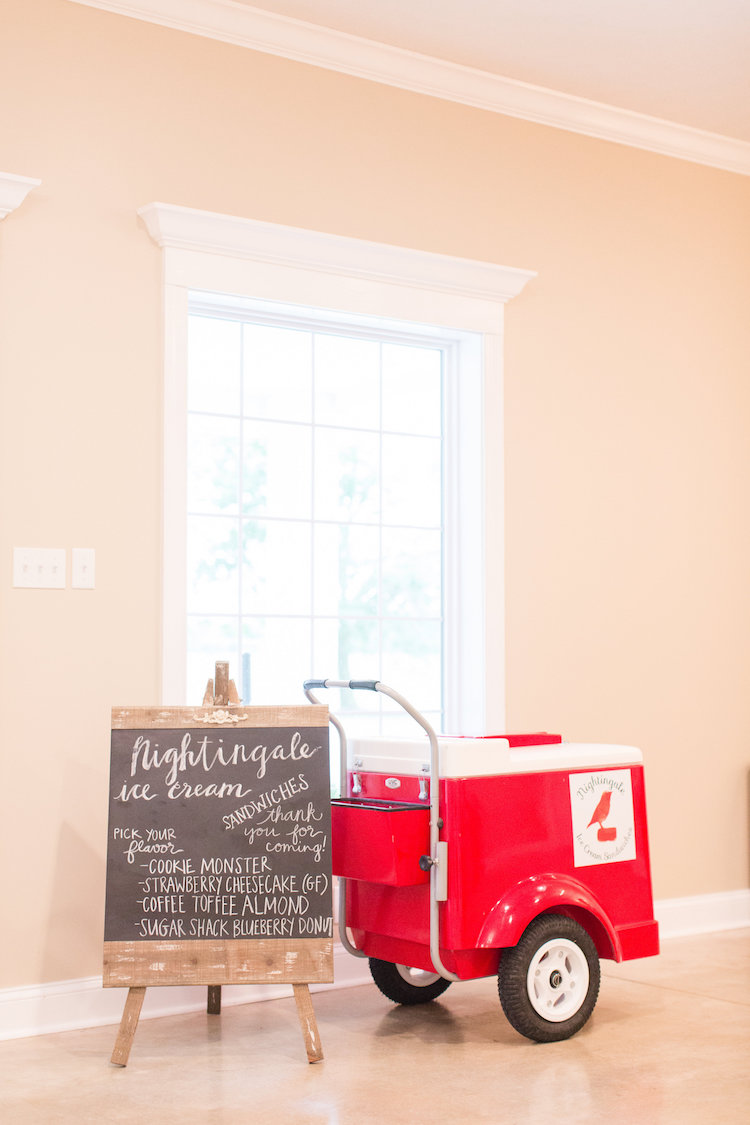 Ice Cream Sandwiches: At the end of the night, our favors were gourmet ice cream sandwiches made by Ice Cream Sandwiches  – a Richmond staple and small business. Each guest got to choose between ice cream sandwich flavors like blueberry donut, cookie monster, and more. They were displayed in an old-school ice cream freezer.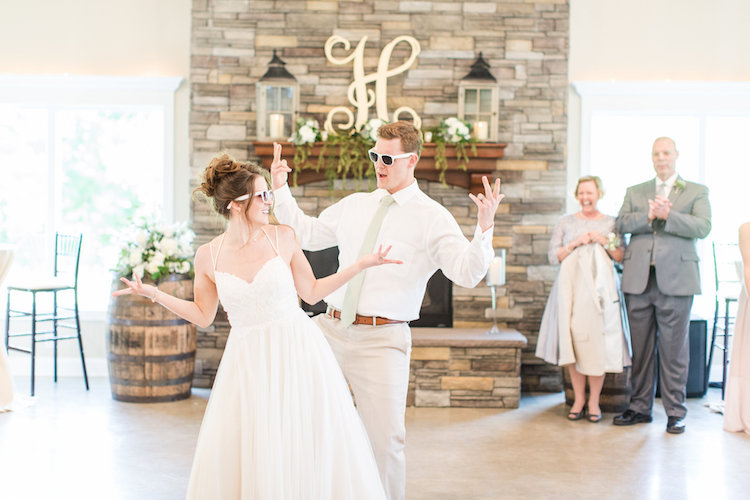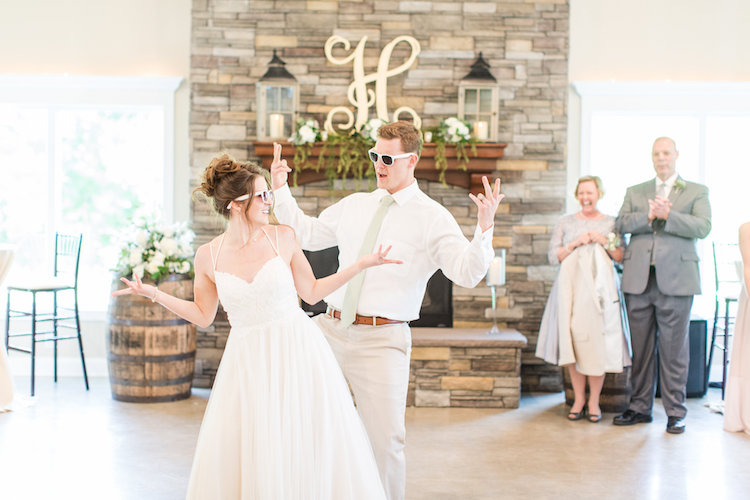 We knew we wanted the day to be full of energy and laughter. One of my biggest wishes for the day was to have the best dance party, especially because I was a dance major in college. To start off the vibe of the reception, Jonny and I surprised everyone with a choreographed dance–complete with sunglasses and a remix of old and new songs.
WHAT I LEARNED WHILE PLANNING MY WEDDING:
Don't let the stress distract you from the fun of planning. After the wedding day, I realized that all those months of planning had come to a hard stop. There is so much to be thankful for in being married to my best friend, but I definitely miss some of the fun parts of designing and planning the event. Don't rush things, and remind yourself that this engagement season is short (even though it can seem like forever at times!). Enjoy the showers, designing, collaborating with your groom and parents, and all the fun that comes with this journey. You'll look back and wish you didn't stress over those tiny details.
Ask your talented friends if they would be interested in helping you in different ways! I had two friends who were talented at calligraphy, so we tackled the invitations together while watching a movie. My day-of coordinator was a close family friend who had past experience coordinating weddings, and she made the day go so smoothly. My childhood violin teacher and college friend, who was a talented guitarist, both played live music for the ceremony. You'll definitely want to pay and thank them for their talents; however, asking your friends to be a part of your big day can cut some costs you may pay for big-time vendors.
Wedding vendors: Photographer Lindsay Fauver // Venue Hollyfield Manor // Bridesmaid Dresses BHLDN (Affiliate link) // Videographer Mitchell Downing Media // Wedding Dress BHLDN (Affiliate link) // Brides Hair + Make Up Tobye Teague (Family Friend) // Flowers King William Florist // Cake Incredible Edibles Bakery // DJ Surf and Sound Events  // Favors Nightingale Ice Cream Sandwiches  // Stationery Vistaprint // Wedding Planner Day-of Coordinator: Alex Flores (Family Friend) // Suits Jos A Banks // Vilinist: Terry French (violinist) // Guitarist Jonathan Knabe (guitarist)//  Bride's jewelry: Kendra Scott