Romantic Fairy Tale Wedding Dresses ♥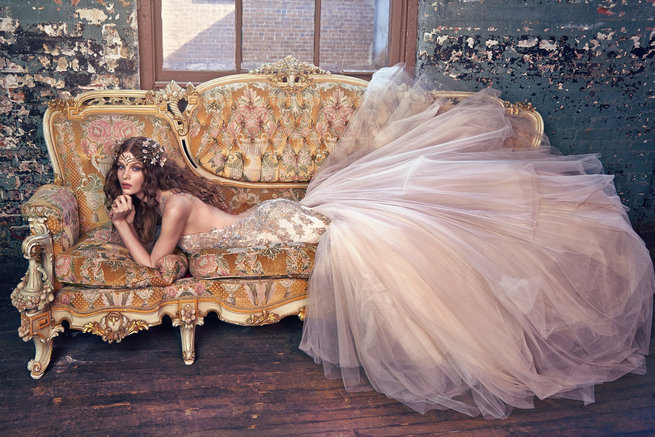 It's here! The new wedding dress collection from the one and only Galia Lahav. And let me tell you, it's the stuff that fairy tale wedding dress dreams are made of. With no less than fifteen mystical masterpieces, Les Reves Bohemians sweeps us away into an enchanted fairy tale world of gorgeous bridal glamour.  This year, Galia Lahav  has created a magical world of bridal couture unlike anything we've ever seen before. It's ethereal, it's magical, it's a universe where fantasy romance and bohemian fairy tales collide.
Through the stories and fables of the past, Galia delves into our childhood dreams of eternal love and magic as she presents to you her new collection, "Les Reves Bohemians." It's a mystical collection, as daring and adventurous as the heroes of the tales it draws its inspiration from, with phenomenal corsetry, intricate lace details, and enchanted tulle skirts. It's both romantic and classic combined, but most of all it's something new for the eye.
Galia takes us to unexplored heights as she introduces us to new silhouettes, textures, lace, and an overall unique look. The collection consists of fifteen timeless pieces with a color pigments for bridal design. In "Les Reves," you will discover hues of ice blue, dusty rose, champagne, and ivory. Galia retains the traditional emphasis on the waistline, which when combined with the new silhouette creates a captivating, romantic look. There is a layering of fabrics and fabric combinations that create an illusion of depth in the patterns and colors, making the gowns look more dreamy and aesthetic to the eye.
Her fairy tale wedding dresses hint at sensuality with body hugging contours but remain coy with their softer lines and overall silhouette, like the familiar fairy tale princess. The dresses embody details of light, soft draping, and the delicate flares inspired by wings. The necklines are very detailed and trimmed in hand embroidery, and all the exquisite jewelry pieces are hand beaded, with intricate three-dimensional details using brushed and antique silver. Galia designed a luxury hand-made accessory collection to accent the dresses which are an entirely original approach to bridal accessories. Each divine with lovely combinations of colors and semi-precious stones, from rich lavender to deep jade green. The pieces are plated in genuine gold.
While designing her bridal dress and accessory collection, Galia searched deep into the heart of the bride, to express the mood of falling in love. Those who have searched for and found love understand that it is intangible and can never be strictly defined or explained, but must be felt and experienced, and that's the essence that Galia worked to portray in this collection. It is not about the fabric or the dress, this collection is something beyond the material, it is an expression of love through the art of design.
Fairy Tale Wedding Dresses by Galia Lahav
SNOW WHITE FAIRY TALE WEDDING DRESS
Snow White by Galia Lahav is decorated with hand-embroidered jewels and a spectacular hand-beaded V-shaped statement adornment in the front. The front of the fairy tale wedding dress is layered with a sheer lace fabric with a plunging V-neck detail. The floral jeweled pieces are layered one on top of the other enhancing the frontal area with ivory accented elegance. The skirt is made with voluminous lace. The waistline is extenuated with a sheer detail that starts at the waist, with unique braided pleats and sheer hidden pockets. The bottom of the dress is enriched with silk tulle ruffles.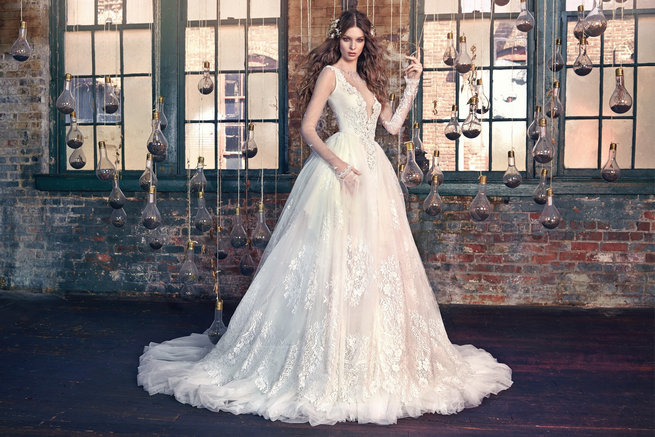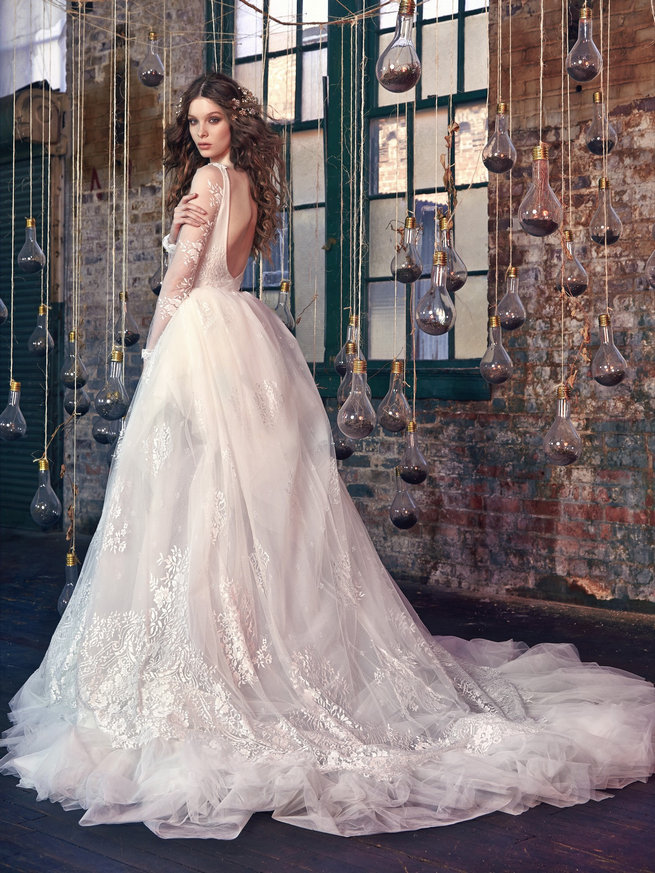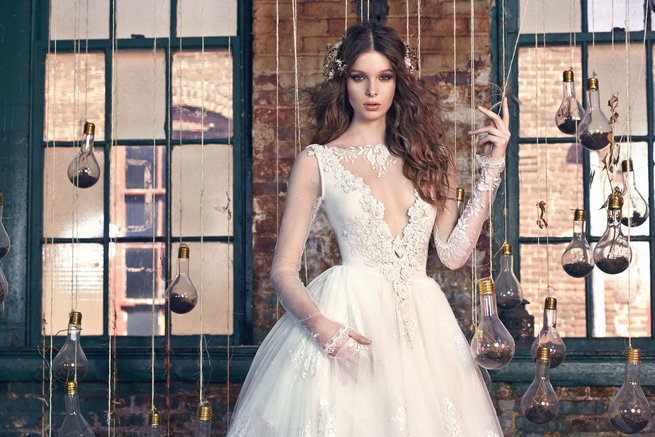 BELLE FAIRY TALE WEDDING DRESS
Belle, from Les Reves Bohemians by Galia Lahav, is a bohemian styled gown, abundant in silk tulle ruffles. The entire dress is intricate in a combination of multiple luxurious lace and embroideries. The skirt is sheer and has a revealing effect, allowing the under fabrics to be visible. The skirt is made of two laces. The top layer of the skirt is made with irregular ruffles. There is a corset sweetheart shape hidden under sheer layers of lace. Both layers are embroidered in two different textures with embroidered cap sleeves and a high neckline. The back of the dress is detailed in Swarovski pearls with a dramatic scalloped lace detail baring the back of the bride that has a diamond shape. A sheer belt supports the doubled skirt.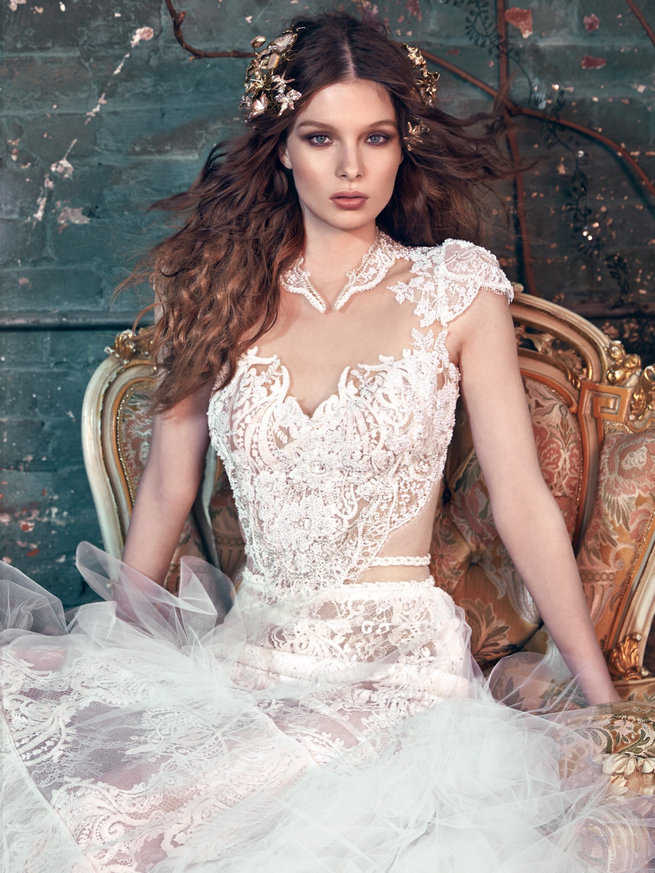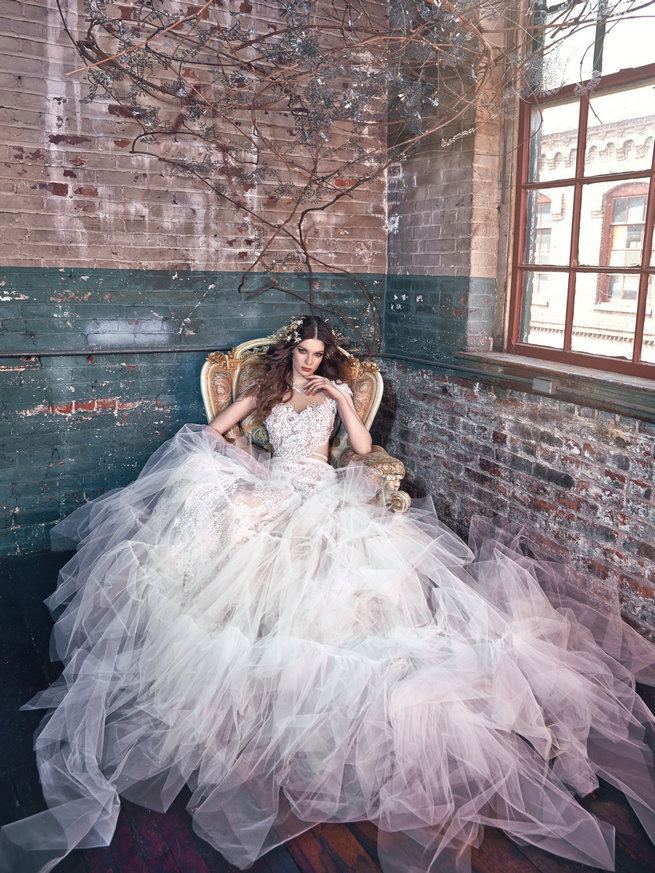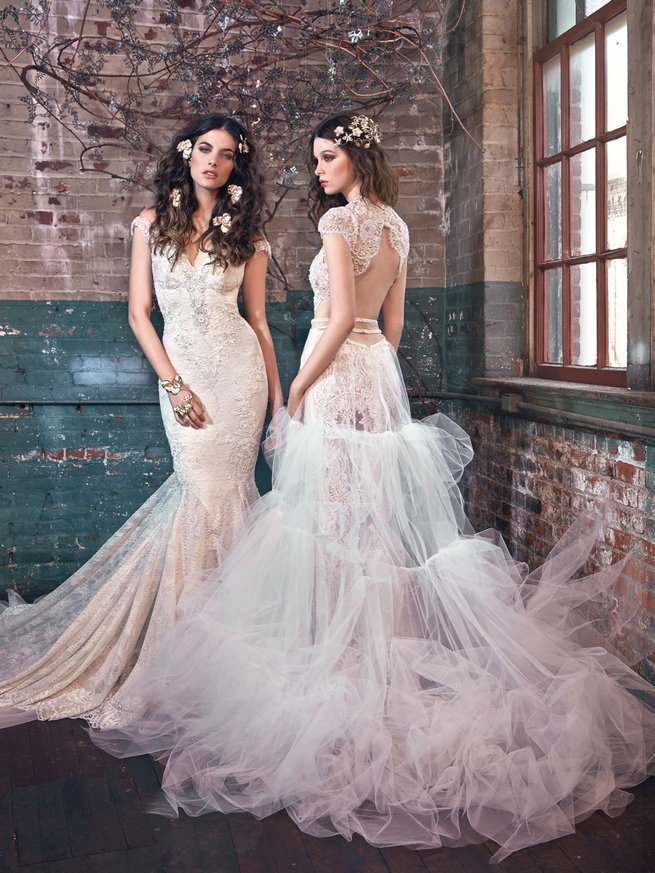 BLOSSOM FAIRY TALE WEDDING DRESS
Blossom, from Les Reves Bohemians by Galia Lahav, is a vintage lace mermaid dress. It has a sheer low back with off the shoulder detail. It is extravagant in lace fabric and embroidered in lace accents. The back has a low scoop and is skin bearing. It is ornate in embroidered detail and ruched lower back detail. Blossom has a drop waist and has a French lace train. The fairy tale wedding dress comes in the color dusty rose.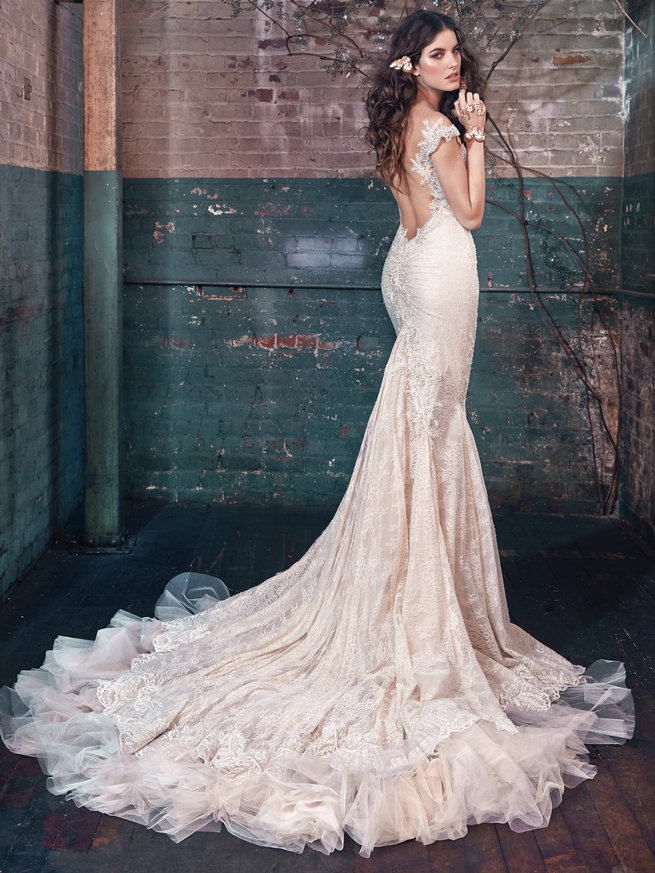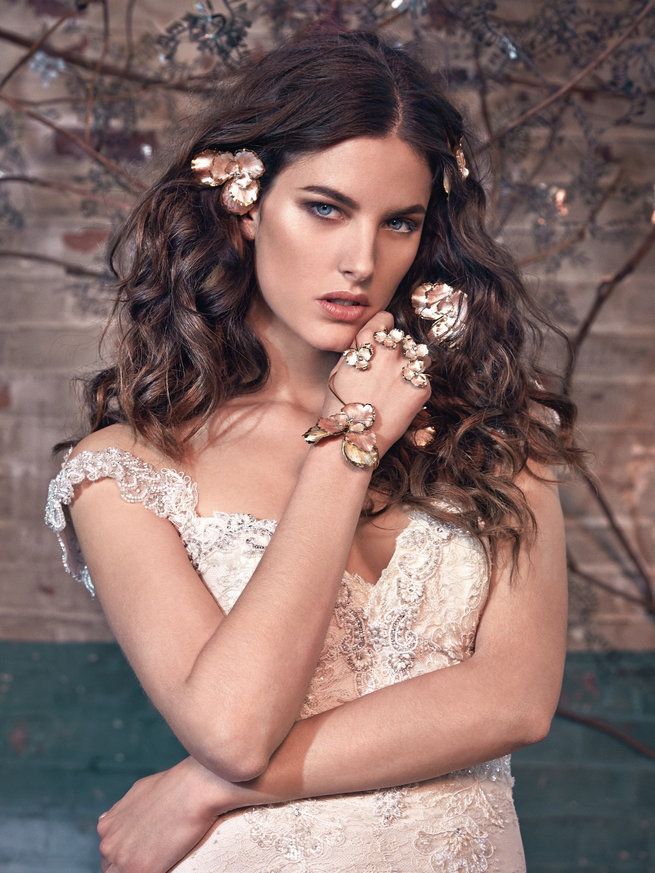 FELICITY FAIRY TALE WEDDING DRESS
Galia Lahav's Felicity is an entirely hand embroidered and hand sewn trumpet gown. It is dramatic in volume, fabric, color and beading. It has an unusual neckline which combines a very deep plunging V-shape with a high collar that is all hand embroidered with crystals and beads. It has sheer sleeves with special wrist trim details. It has an open diamond shape back and voluminous over layering petals of tulle and sparkly tulle reaching from the lower thigh to the floor.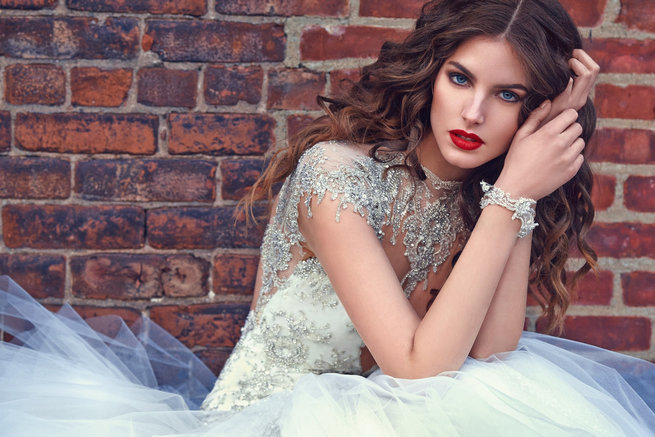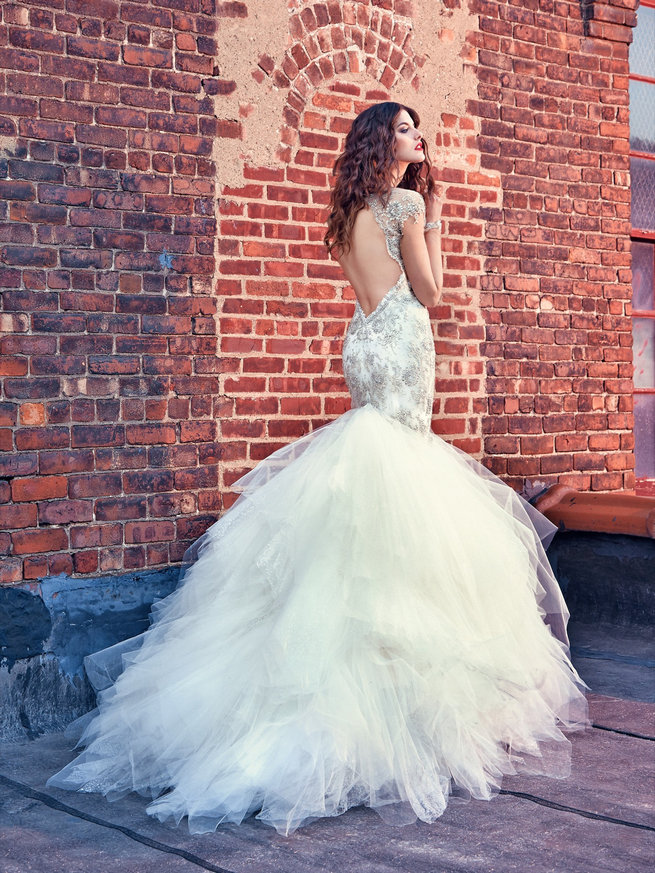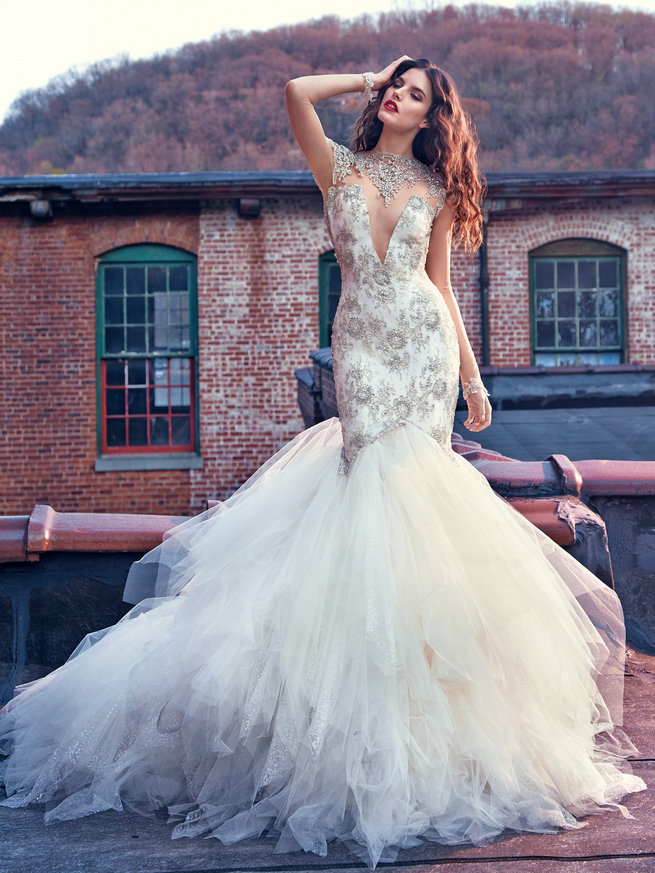 JADE FAIRY TALE WEDDING DRESS
Jade is a mermaid shaped gown that accents the feminine features of the body. It is made with side cutouts that are over layered with romantic lace and tulle. The top of the fairy tale wedding dress has a plunging deep V-neck with edges embroidered with special hand-made jewelry. The back of gown has low skin baring cutout features. The back of the dress also has a sheer tulip shaped design enhancing the curves of the body. The front skirt of the dress has a beautiful slit which accentuates the legs, a stunner from  from Les Reves Bohemians by Galia Lahav.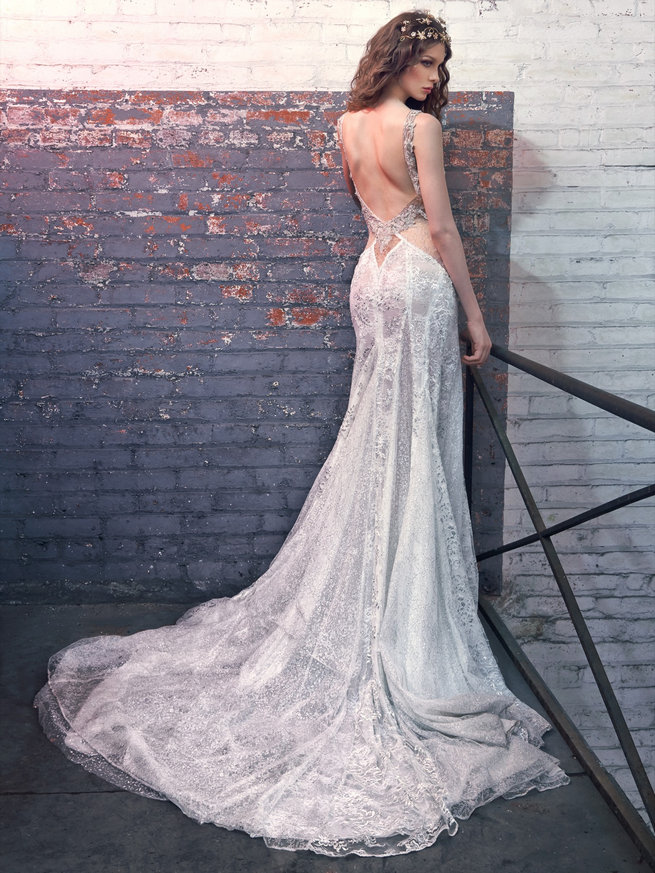 TIGER LILY FAIRY TALE WEDDING DRESS
Tiger Lily is a sophisticated and unique mermaid dress with a light sheer top, all appliqued by hand in multi-layering techniques. The back and sleeves are made of exquisite French lace. The multi-layered skirt has sheer "peek-a-boo " sections and a flowing tulle train. The dress has an extravagant skirt with sheer lace paneling. It has a low back and is a beautiful with a long sleeve detail.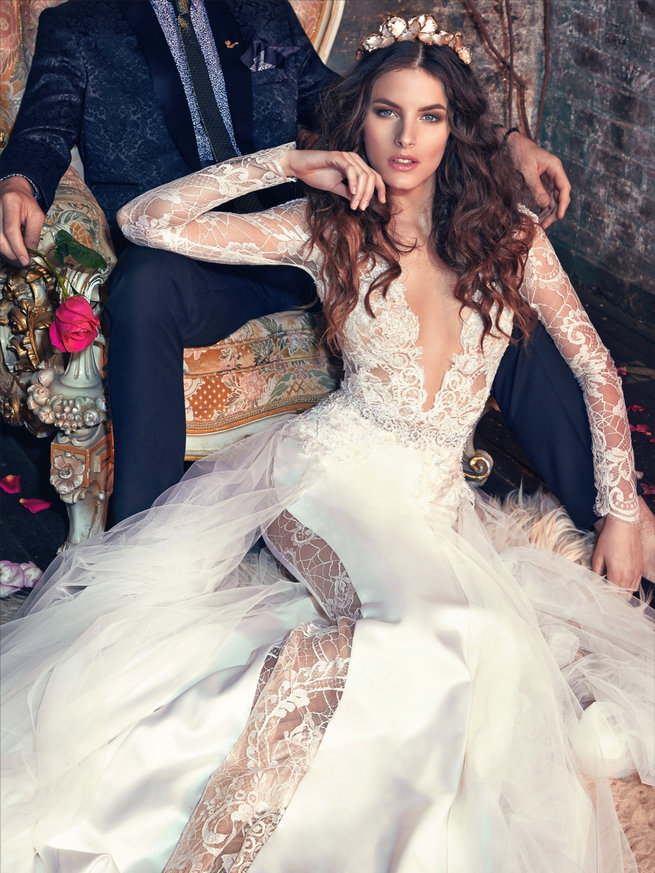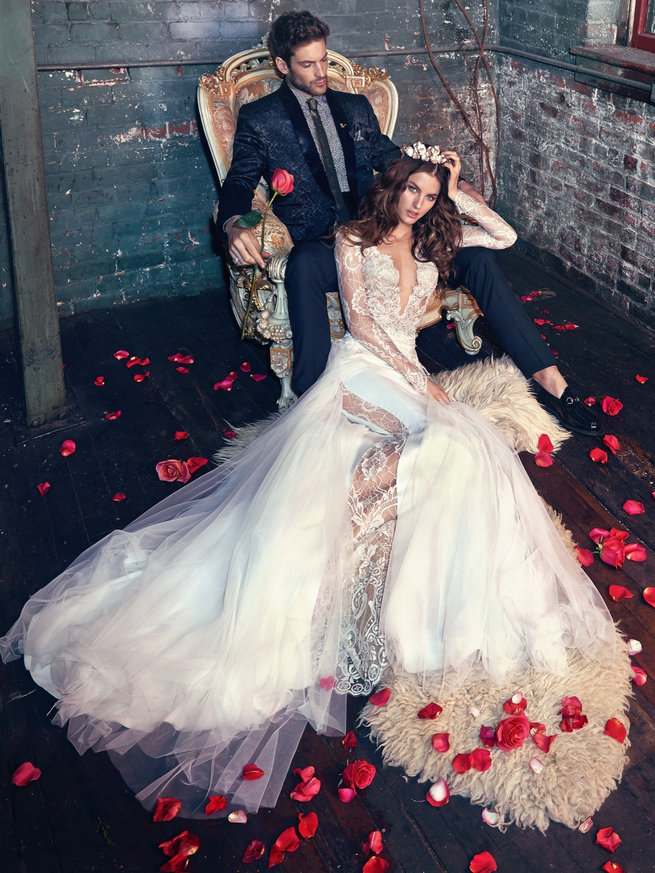 ELSA FAIRY TALE WEDDING DRESS
The Elsa bridal dress is a French Chantilly lace with a halter neck. It incorporates the column dress silhouette with a very dramatic irregular train over it. It is a mermaid shaped gown with a lovely dropped waist shape. The back of the dress has a low back with a half-illusion/half sheer effect. It is a cathedral length gown. The train is decorated in hand embroidered pearl and crystal wings, and the train is part of this fairy tale wedding dress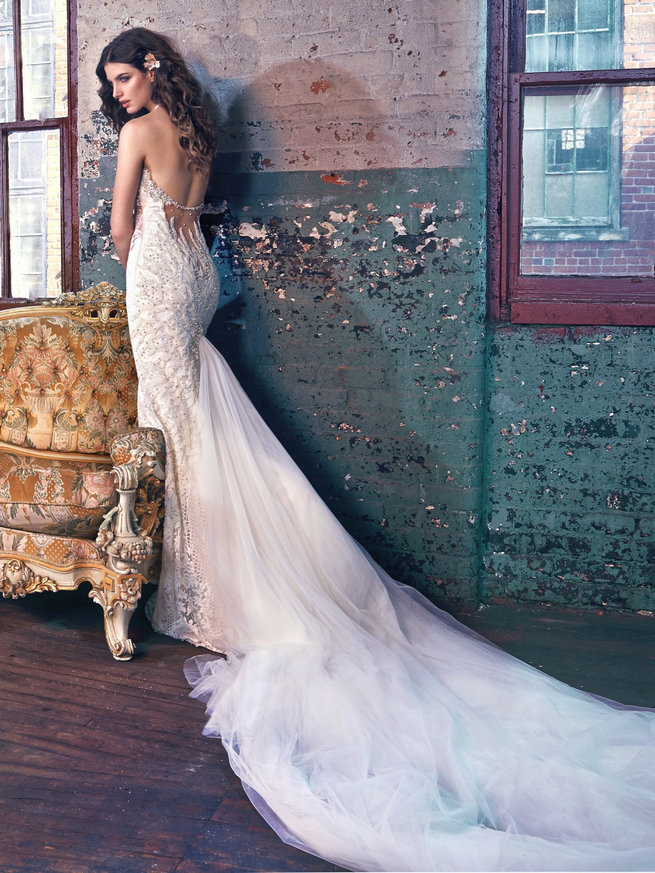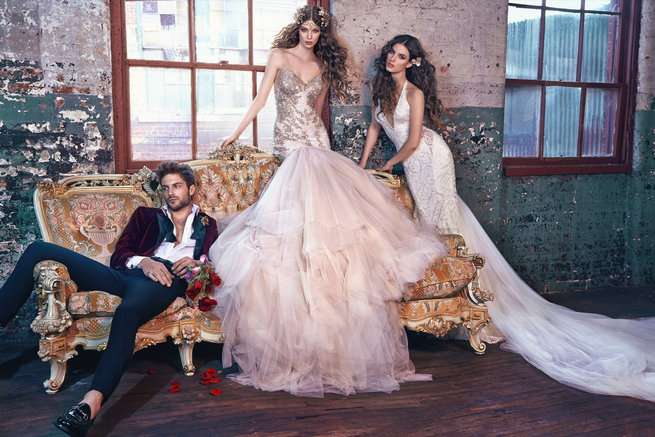 JEWEL FAIRY TALE WEDDING DRESS
Jewel is a dress which is made as homage to Louis Comfort Tiffany. The color is a powdery blush tone with hand embroidery over sparkly ivory French lace. The embroidery gives a stained glass effect, while the background lights it up from underneath. Its large tulle skirt surrounds the body like a beam of light. It is a mermaid silhouette with a plunging V-neckline. The dress has sheer straps and has a drop waist. The length of the dress is semi-cathedral.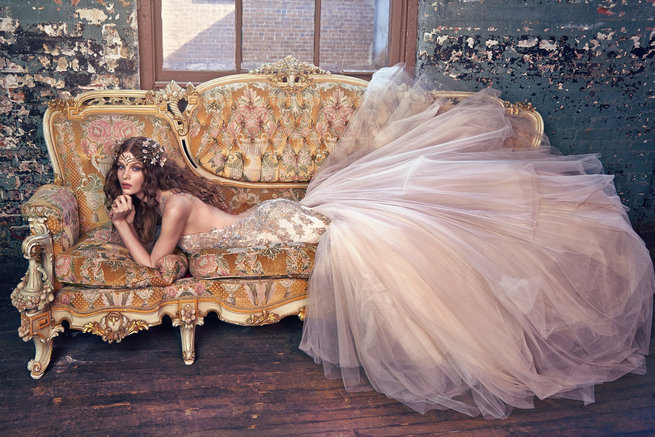 SAVANNAH FAIRY TALE WEDDING DRESS
The Savannah dress is made with super positioning of textures and elements. The color of the dress has two tones: dusty nude and ivory. The top of the dress has romantic embroidery. The dress has small cutouts emphasizing the shoulders as it covers the neckline. The dress has a very low open back and a slinky, half sheer skirt. It is an A-line dress silhouette with embroidered French Guipure flounces on the skirt that reaches the floor.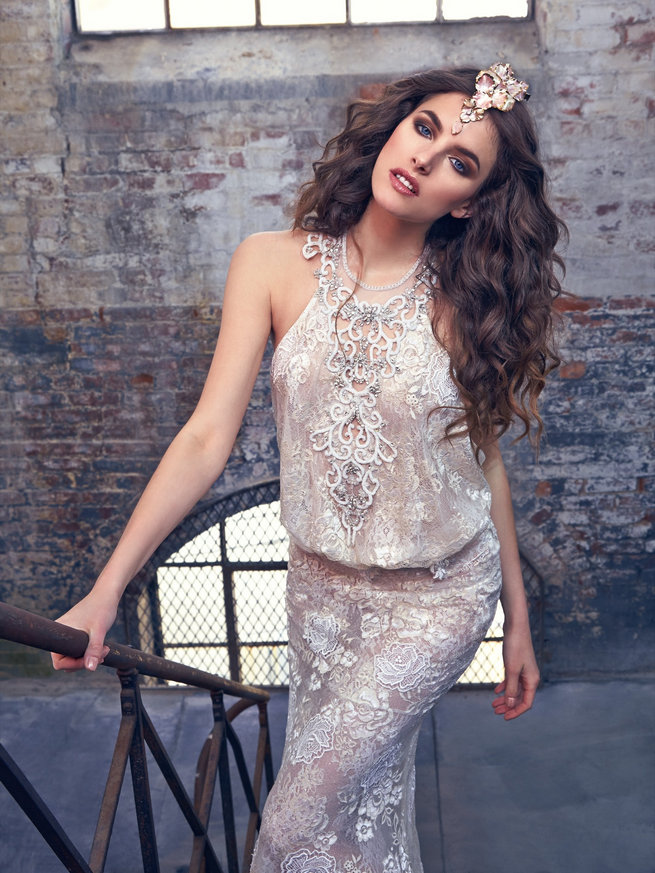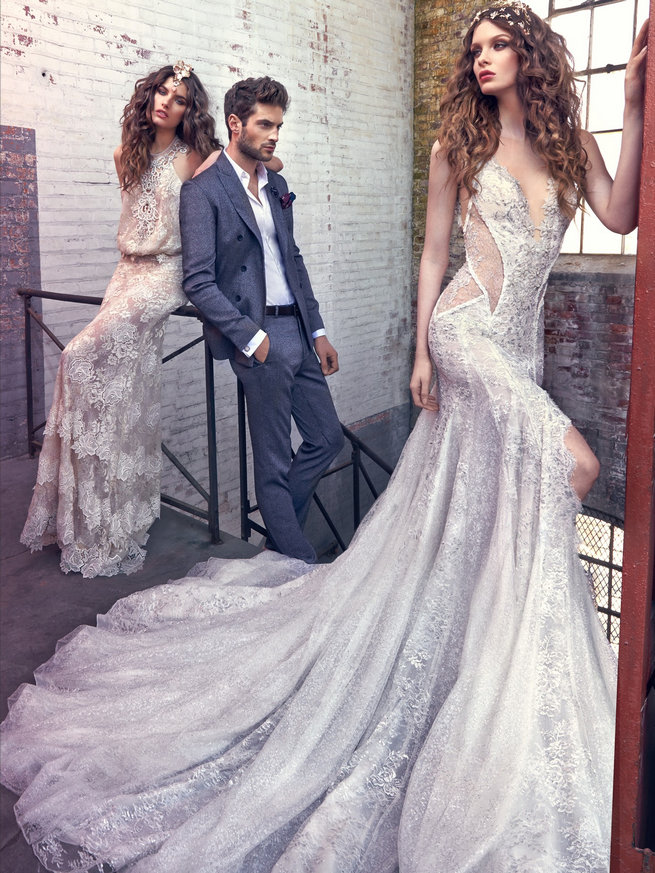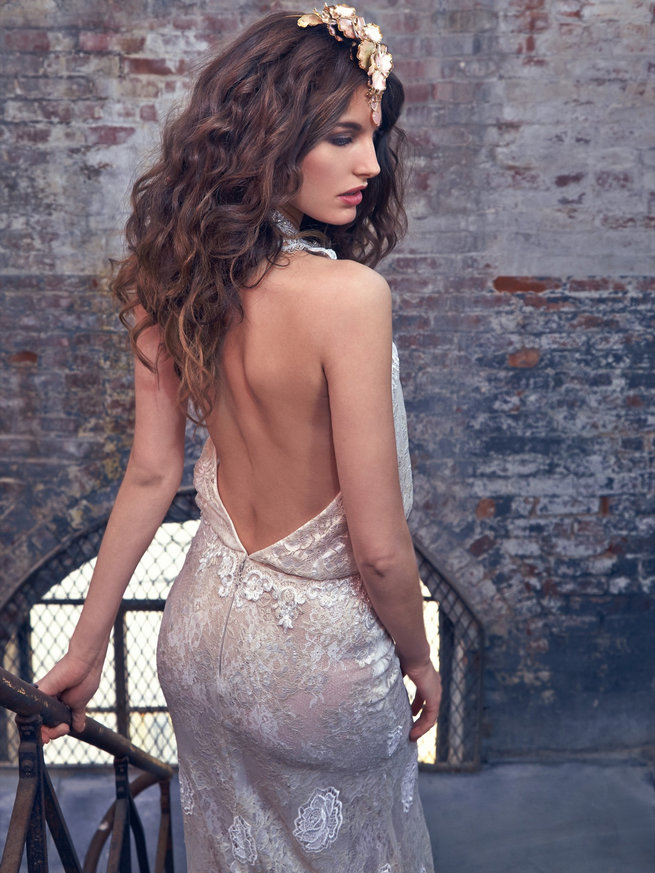 ARIA FAIRY TALE WEDDING DRESS
Aria is a bohemian style fairy tale wedding dress with sheer super positioning of lace and textures. The top is a half corseted front. The skirt has a very high open front slit and it is made of a light combination of silk tulle and delicate French lace. The opening in the front of the skirt reveals an under mini-skirt made of embroidered tulle. It is a ball gown and has off the shoulder sleeves. It has a Basque waist and the colors of the dress are a combination of blush, ivory and silver.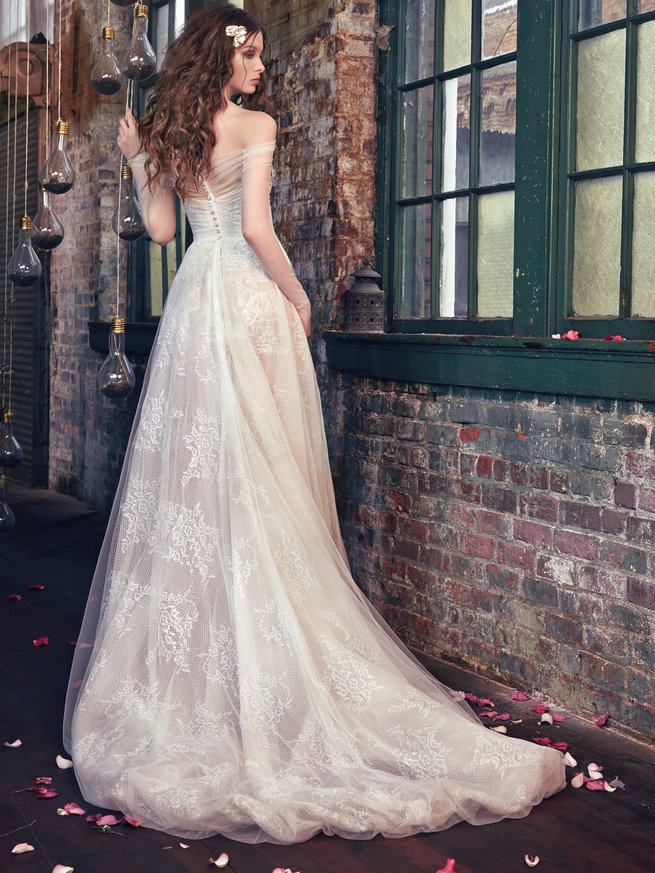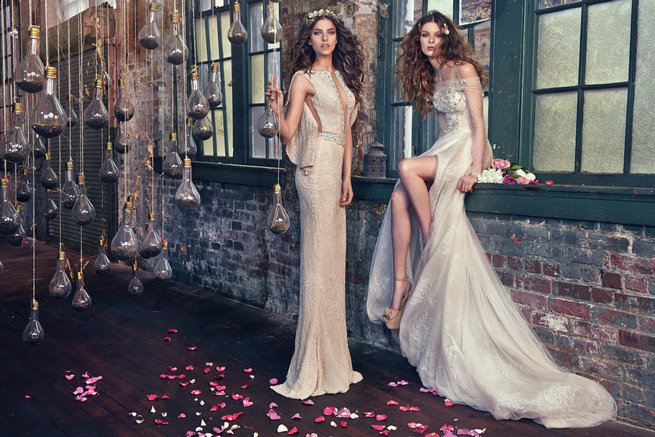 GEMMA FAIRY TALE WEDDING DRESS
The Gemma dress is our sheath dress, the back of the dress is very revealing with a low open back, in addition to a high back slit. The fairy tale wedding dress has a wing caped detail and is fully hand-embroidered with tiny glass beads over nude color chiffon. The neckline, waistline and back of the dress are adorned with a hand-embroidered ornament. The dress includes an elaborate waistband.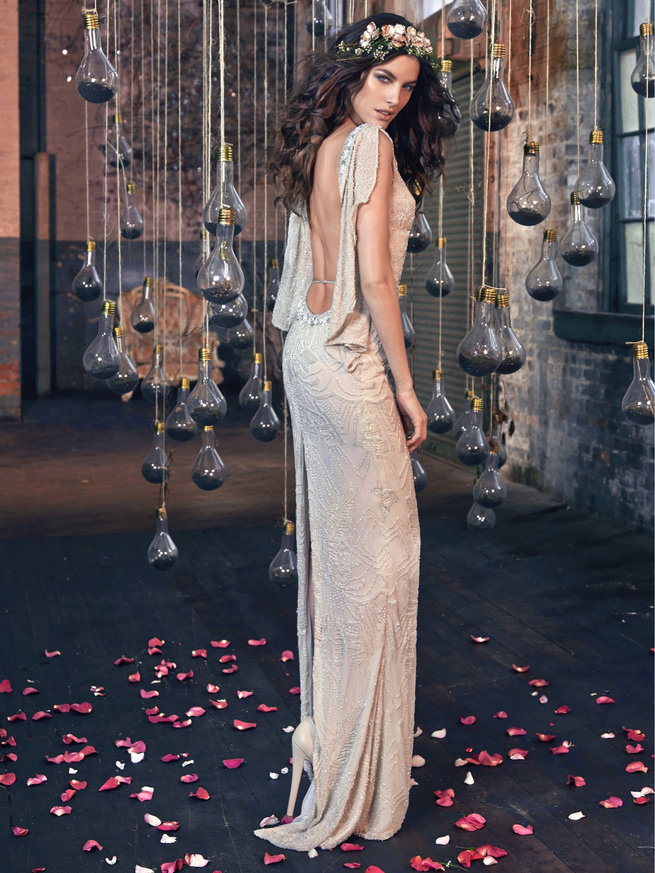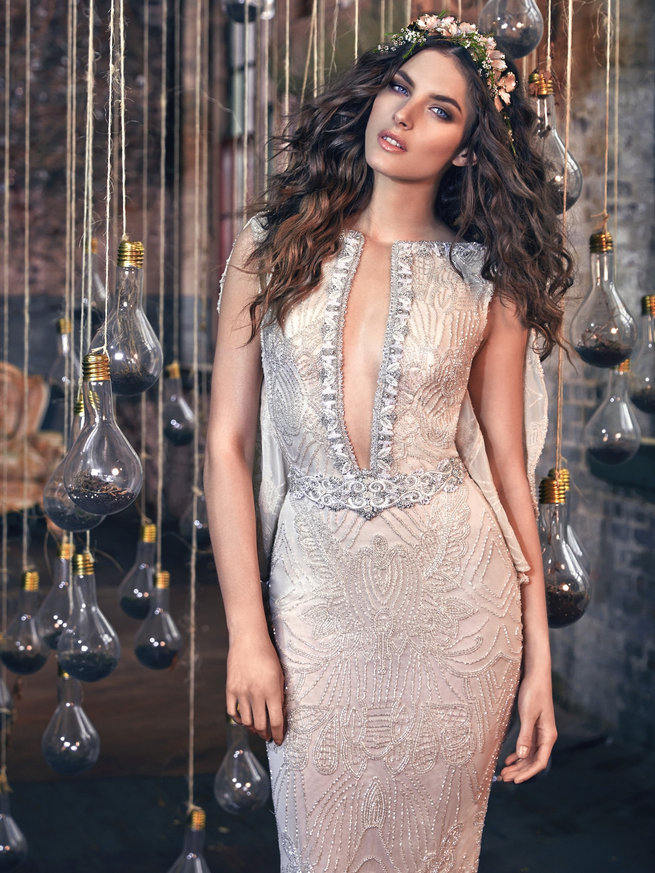 CINDERELLA FAIRY TALE WEDDING DRESS
The Cinderella dress has an Ice Blue color corset and skirt. The corset is sheer with embroidered appliques in ivory, scattered blue twinkles and off the shoulder details. The skirt is multi-layered with tulle, which gradually create density in color throughout the sheer layers. This dress is made to be fairy-tale like and is a ball gown. It is our cathedral dress. It has an elaborate lace trim at the edges of the skirt.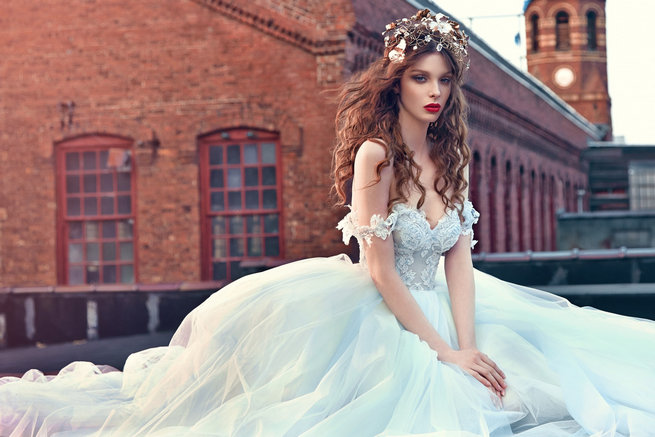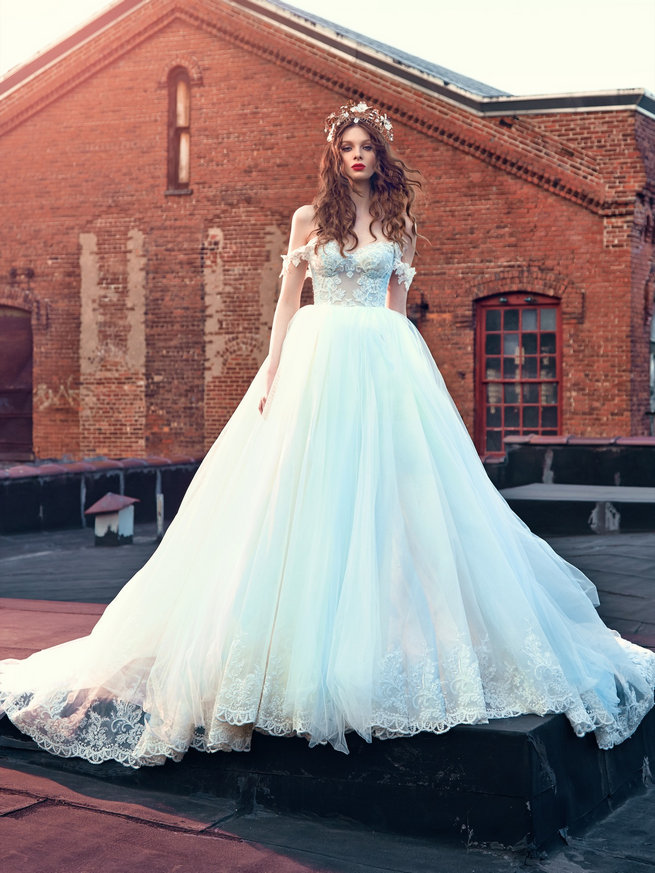 CRYSTAL FAIRY TALE WEDDING DRESS
The Crystal dress is an all embroidered mermaid corset dress, creating a double effect. It has a body shaping dress on the inside. On top of the shaping dress goes a large "Once Upon A Time," top skirt. The dress is made of a very delicate French Chantilly lace that is embroidered in a unique technique allowing the beads to reflect more light. The dress has an inner corset top shaping the waist of the bride. The front of the fairy tale wedding dress has a split with a ruched back. The color of the dress is dusty rose combined with a very light ivory French lace. The Crystal skirt is a dramatic surprise skirt, incorporated in the mermaid dress that's underneath. The voluminous skirt is made of different types of tulle combined in different colors and has a very elaborate lace detail trimming it.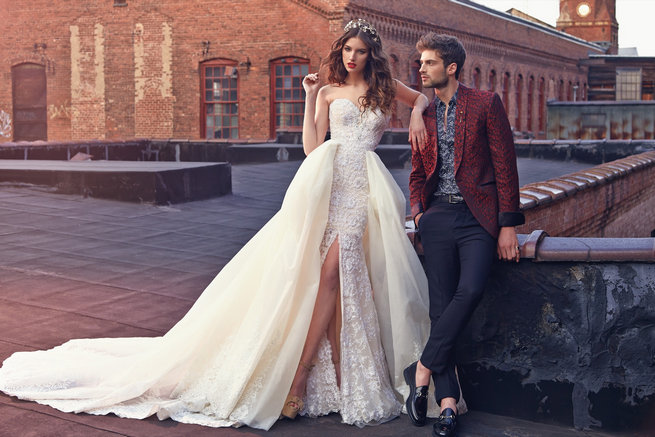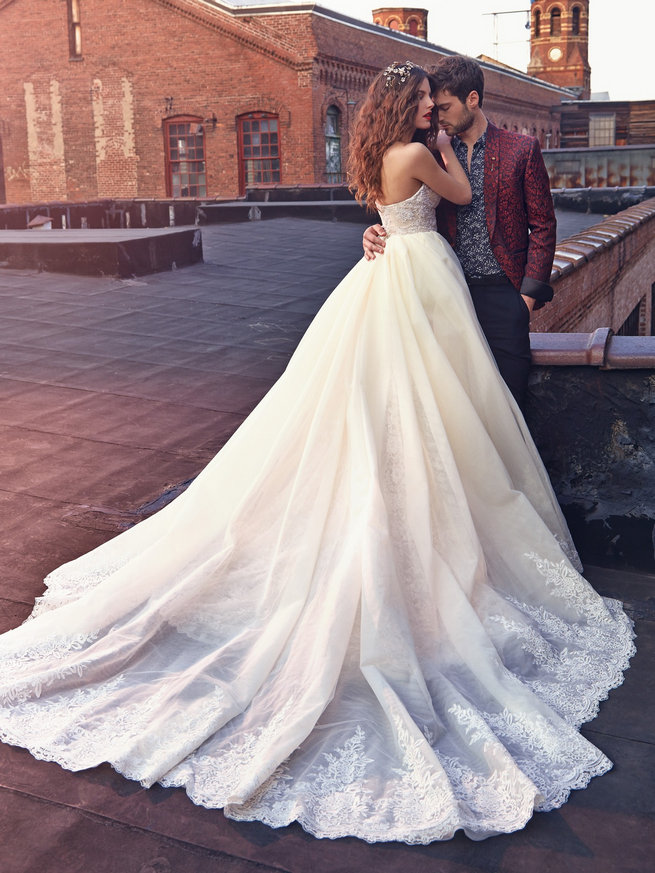 DONNA FAIRY TALE WEDDING DRESS
The Donna is a fluid chiffon A-line dress. It has two high leg barring slit lines. The top of the gown has a delicate embroidery design. The dress is a light Ivory color. The waist is a Basque waist. The length of the gown is a sweep and it has hidden spaghetti straps underneath the fully hand embroidered top.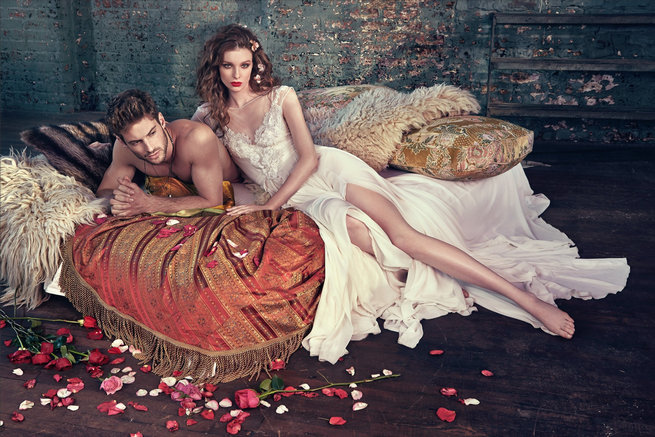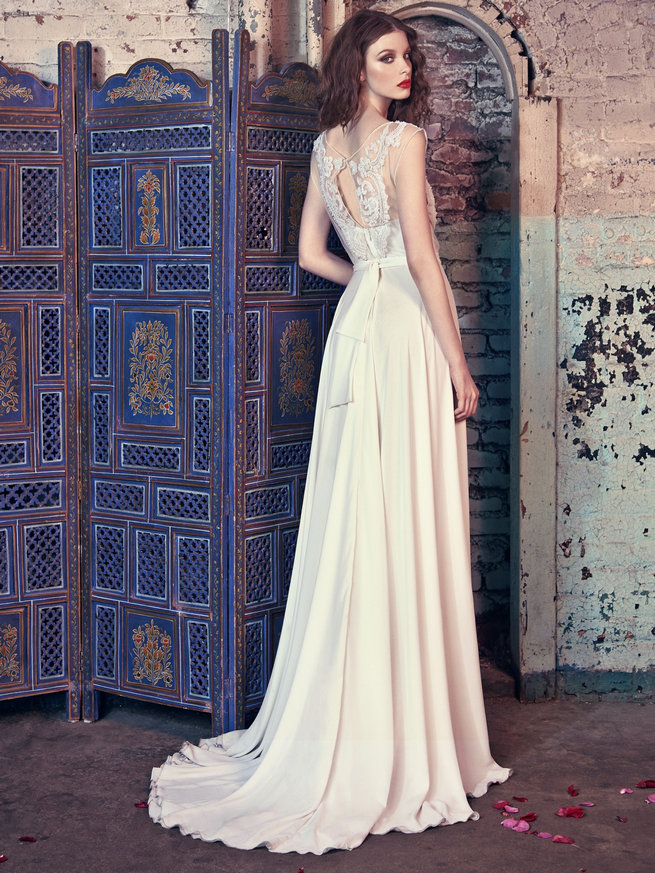 WENDY FAIRY TALE WEDDING DRESS
Wendy is a slinky tailored silk crepe dress, "col en bateau" with a deep plunging neckline. The back is all sheer with unusual crystallized net. The net is embroidered in an elaborate geometric pattern. The dress is made in a mermaid silhouette and is all hand embroidered. It has a completely sheer mesmerizing back.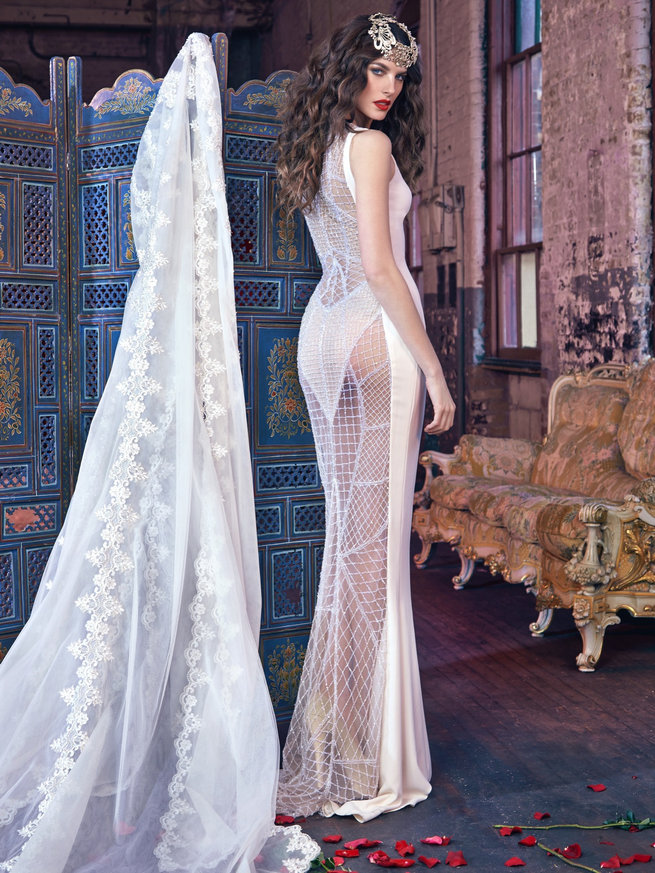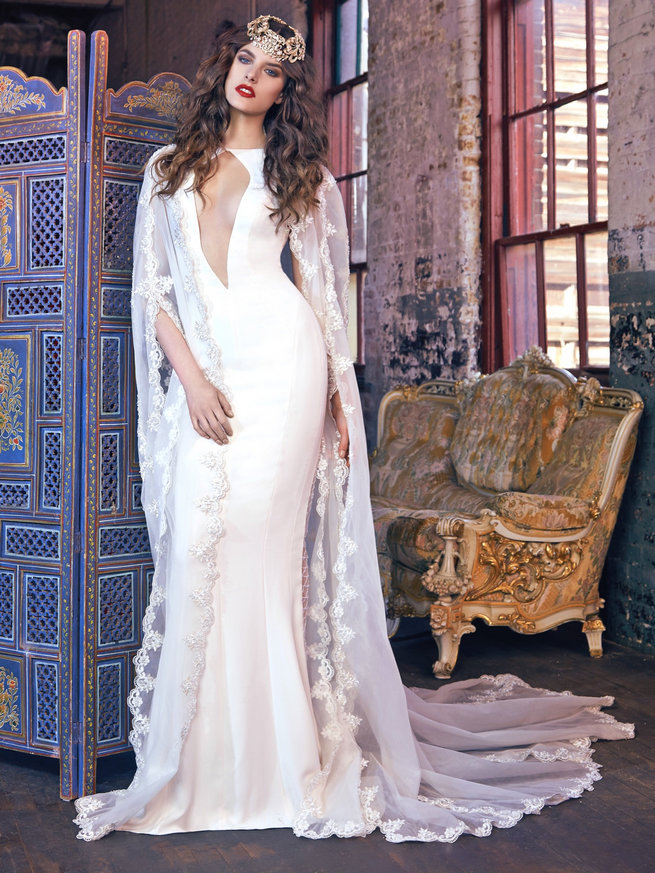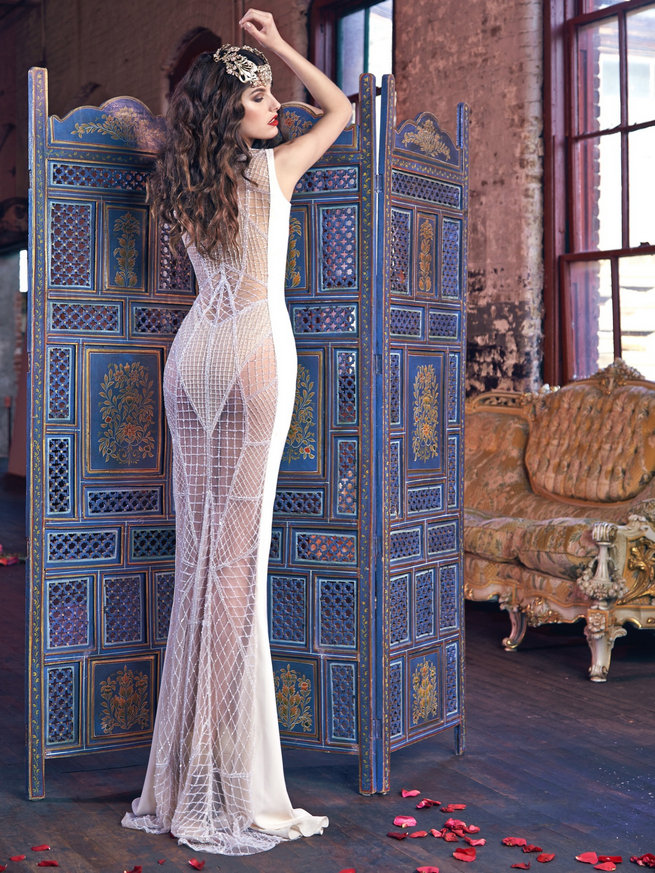 Trunk Shows:
Get your hands on one of these spectacular fairy tale wedding dresses from Galia Lahav's Les Reves Bohemians collection première at one of the following trunk shows: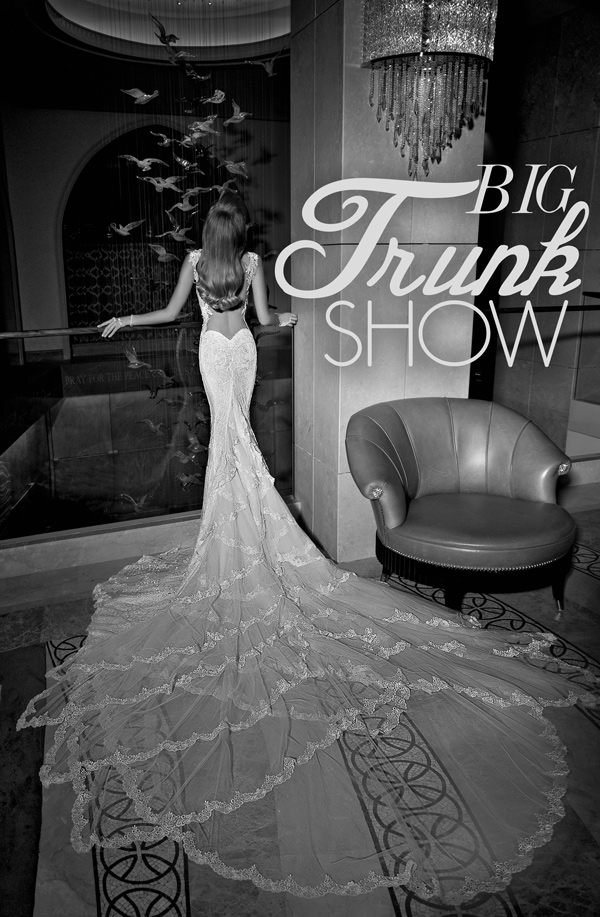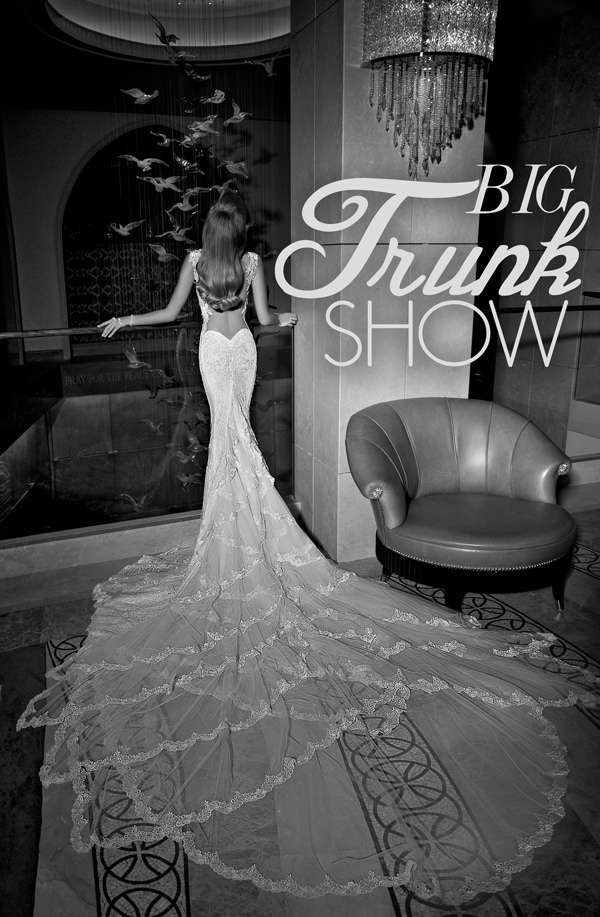 New York
Wed, June 10th – Sun, 14th
Bridal Reflections
Register Now

Houston
Fri, June 12th – Sat, 13th
Ivory Bridal Atelier
Register Now

Indonesia
Fri, June 12th – Sat, 13th
The Proposal
Register Now

Spain
Thu, June 16th – Sat, 20th
Love is in the Air
Register Now

Pasadena, CA
Fri, June 19th – Sun, 21st
Panache Bridal Pasadena
Register Now

Maryland
Fri, June 26th – Sun, 28st
Betsy Robinson's Bridal Collection
Want to buy one of these magnificent creations? For a full list of Galia Lahav stockists, click here.
♥♥♥ CREDITS  ♥♥♥
Photographer/Director GREG SWALESt // Styling/Production JENN PARK  // Hair ANDREW FITZSIMONS   // Makeup WENDI MIYAKE @miyakemakeup // Videographer/Editor LAVOISIER CLEMENTE   // Models CHRISTINA KRUMBACH  // JELENA STANKOVIC  // MACK BARAGWANATH // Galia Lahav Accessories Designed by @KerenWolf
See more of Galia Lahav's collections here
AND
See exclusive Galia Lahav editorials shot for Confetti Daydreams here