Floral Decadence Fit For A True Romantic ♥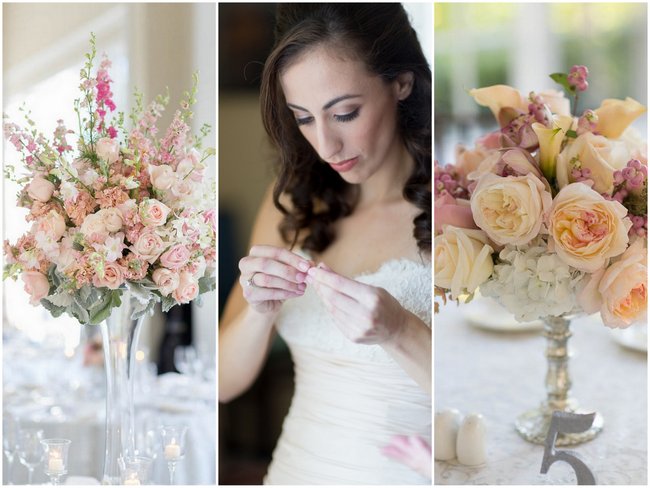 Rachel and Ian's Fall wedding is a fabulous floral feast filled with decor and beautiful blooms in delectable shades of pinks, peach, silver and grey. Wanting to create an atmosphere that was dreamy and elegant with soft colors while not looking too out of place for a fall day in New England, Rachel's florist built on her romantic, vintage color palette by adding touches of green foliage. The result was floral perfection! Lovely bride Rachel wore a pale blush gown which was simply perfect besides her beautiful peach clad bridesmaids. Kristen Jane Photography was there to snap the day's pretty pics.
From the Bride:
My wonderful florist, Donna from Pepperberry's Flowers, created beautiful bouquets and a gorgeous chuppah. She really helped make my vision a reality. Our rabbi and minister help blend our unique backgrounds (Ian's southern and Presbyterian and I'm northern and Jewish). Small DIY projects helped create charm and our sweet photographer Kristen of Kristen Jane Photography helped capture all the moments throughout the day.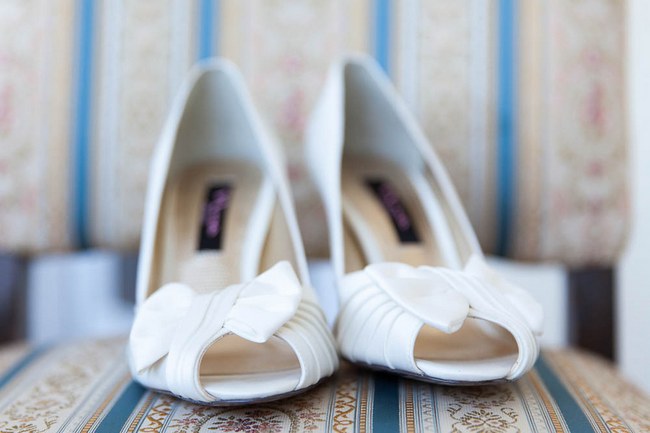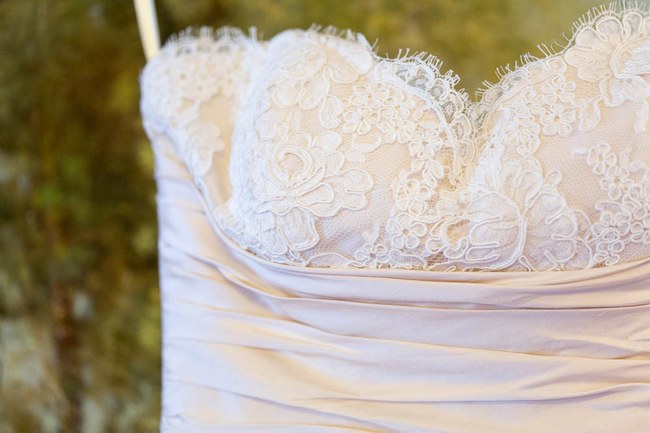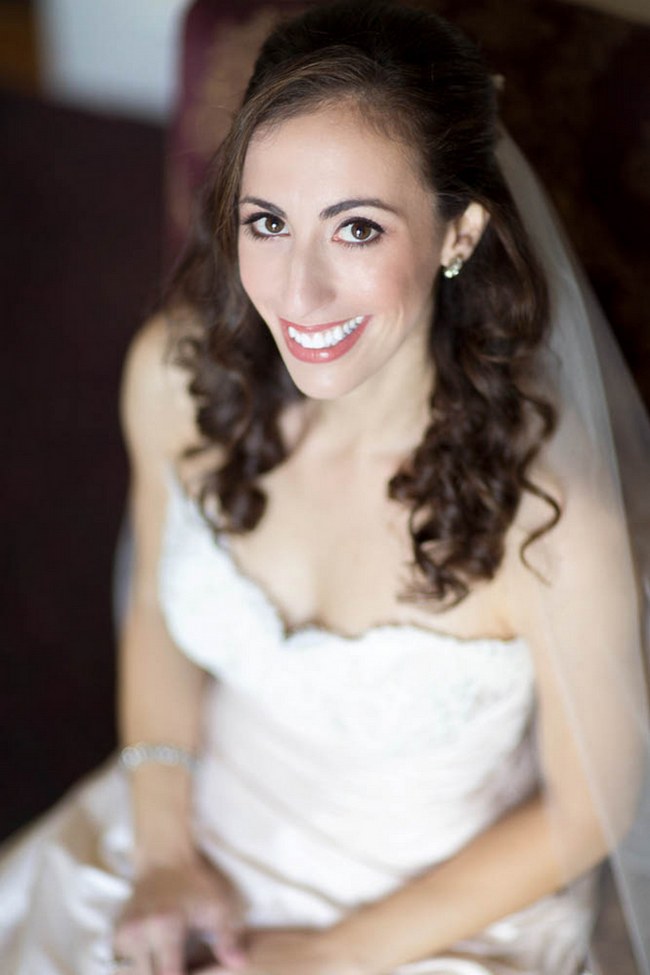 Their Love Story:
Ian and I met at an apartment-organized BBQ. I was sitting with my roommate, sick and not feeling my cutest. Ian found the courage to approach me with the amazing opening line, "Hey, do you go to Emory?" We chatted for a bit and he gave me his number after chickening out and not asking for mine. On the walk home I accidentally dialed his number! He of course thought it was on purpose. Later that week he texted and asked me to get drinks. I turned him down because I was still sick and he was ready to write me off, but then soon after also got sick and thought that maybe I had been telling the truth and really had just been sick. Soon after, he spotted me at the pool and asked me out on a date. About a month after meeting at the BBQ we went on our first date. We had drinks and then Ian wanted to play pool (probably my least favorite thing to do) and thought it was cute that I kept cheating and placing all the balls in the pockets when he wasn't looking. That's how I knew he was a keeper. We hung out at the pool everyday after that and went for runs together all summer, quickly becoming inseparable.
Their Proposal:
Ian faked a knee injury while working out together one afternoon. Then he asked me to go with him to check out a garden for a graduate student government event for law school. I thought nothing of it since it was a weekday. When we got to the venue, I ran around blabbing on and on about the space. Ian urged me to slow down, complaining his knee hurt. When I stopped and turned around Ian was down on one knee with a ring.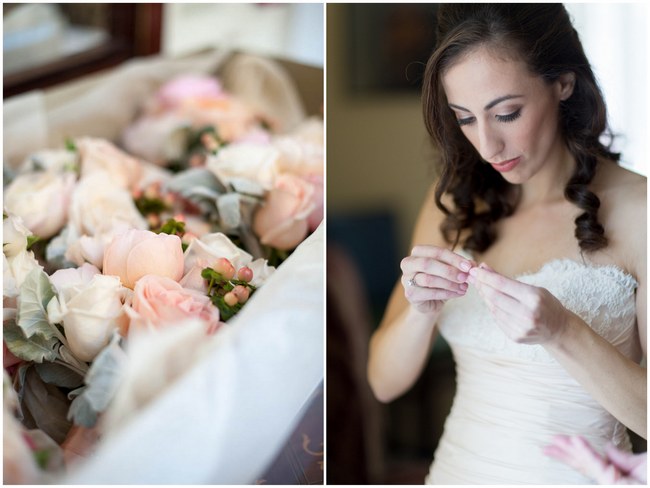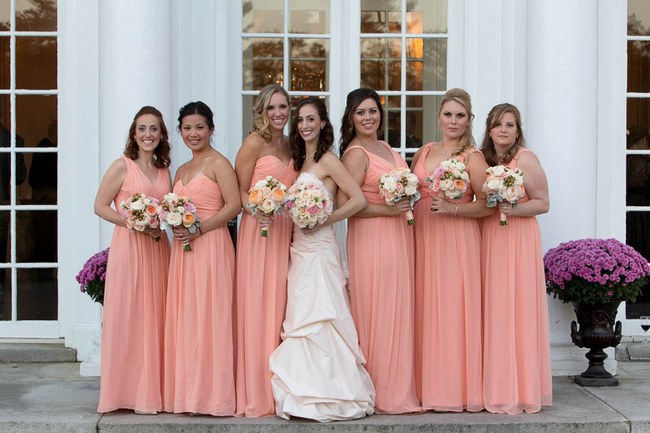 Hair & Make Up:
My hair and makeup was done by Stacey Frasca Professional make-up artist at Studio 28. Stacey incorporated my peach theme when designing my look for the day. Jill Colwell, hair stylist at Studio 28 did a half-up updo to fit with the vintage look of my dress.
Wedding Dress:
I bought my dress at Vows in MA. It was the first dress I tried on. My mom picked it out from the rack and I almost had her put it right back on the rack, but agreed to try it on. When I tried it on I fell in love! The Paloma Blanca champagne-blush silk was perfect with my skin tone. I loved the sweetheart bust in alencon lace, the pick-ups, and low zipper back. Best of all it was light and comfortable!
Bridal Party: 
After falling in love with a champagne/blush dress I choose peach bridesmaids dresses (a color that didn't look white to my color-blind fiancé!). Then men wore gray suits with peach ties.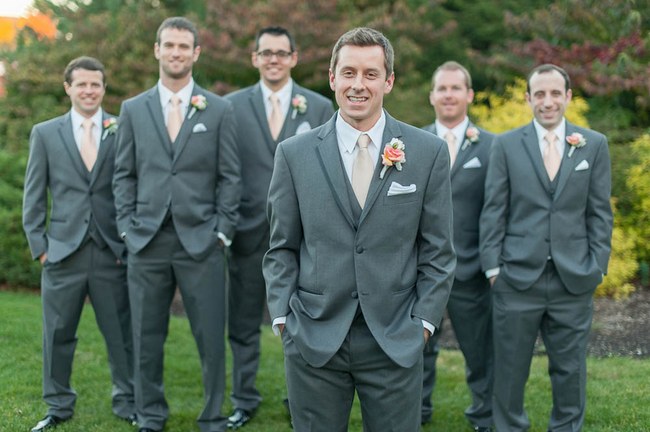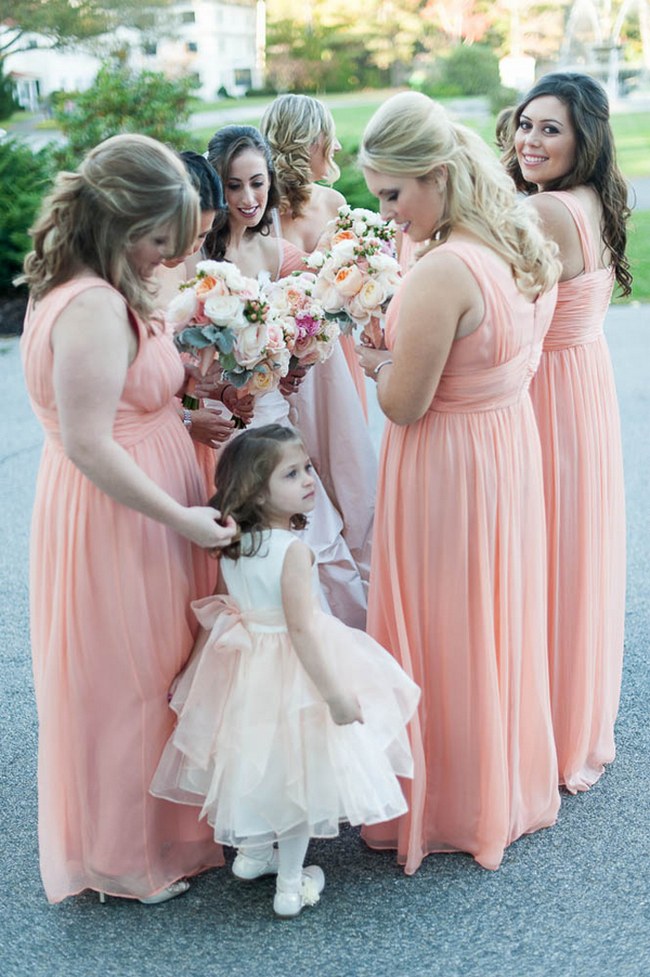 Wedding Bouquet:
Donna from Pepperberry's Flowers created bouquets that were rich and soft. My bouquet was light pink, blush, peach, ivory, and champagne with some soft green greenery mixed in. The handle wrap on my bouquet included a lace flower from my mom's wedding gown.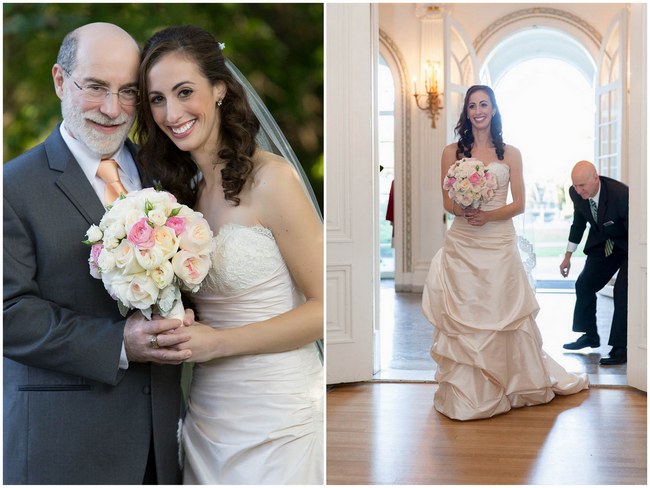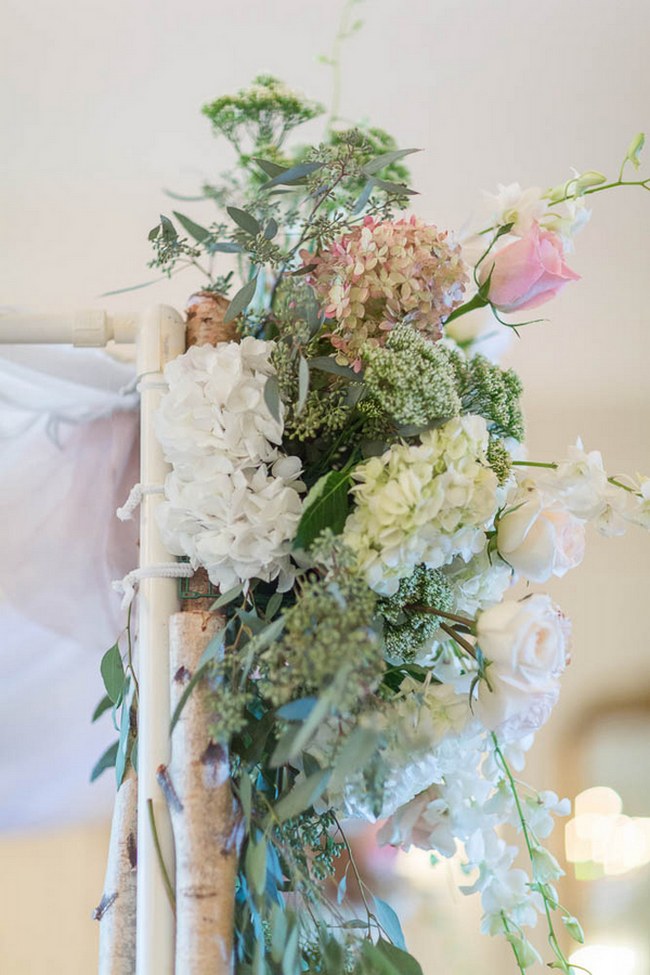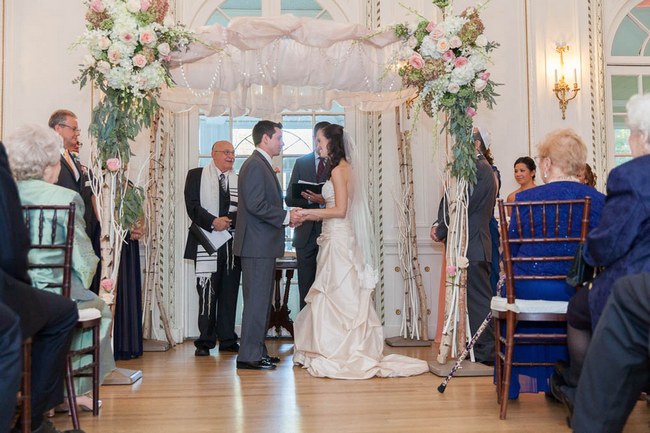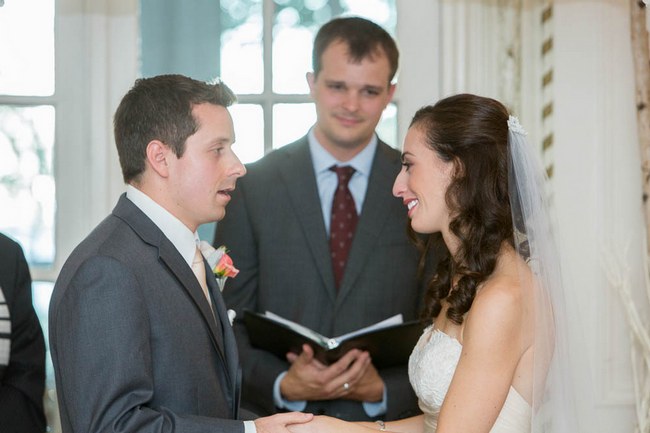 Wedding Flowers:
Donna created a natural looking and simple chuppah with a soft and romantic canopy. Candles, votives, and bud vases covered the cocktail tables and mantles. Big, beautiful cream and pink flowers of staggered heights were the centerpieces and were surrounded by candles and mercury glass to create a romantic and vintage feel.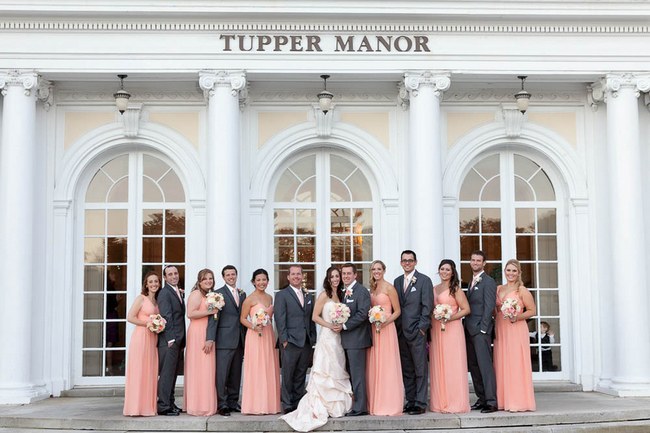 Wedding Playlist
Our first dance song was Come Rain or Shine by Ray Charles. We wanted something that would be easy to dance to! We absolutely loved our band, The Now & The Forevers.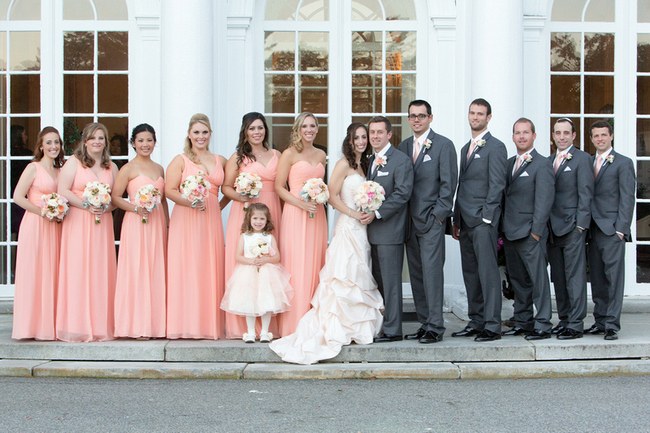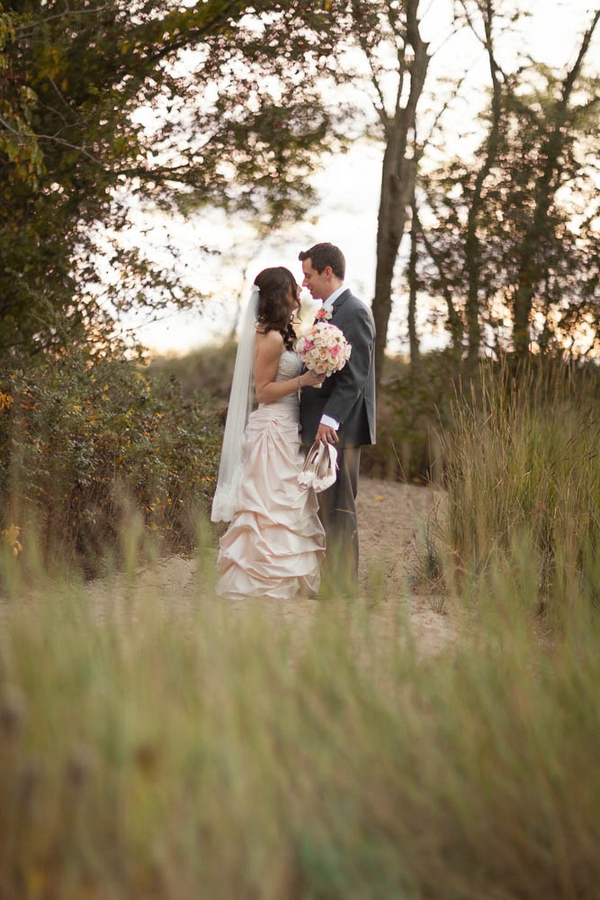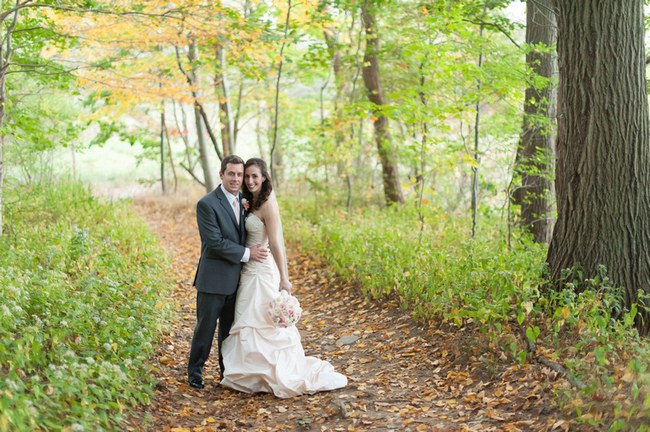 Wedding Reception:
We loved, loved, loved our venue (Tupper Manor) and the different natural settings available for photographs (beach, lawn, fountain, manor).
Our table numbers were wood numbers ordered from Etsy and then spray painted with silver glitter. Our favors were Moon Pies from Ian's hometown of Chattanooga, TN. We wrapped them in bags, tied on silver bows to close them, and made personalized stickers for the front. Our iPhoto guest book with our engagement pictures, our favor basket, and small chalkboard signs welcomed guests into our venue.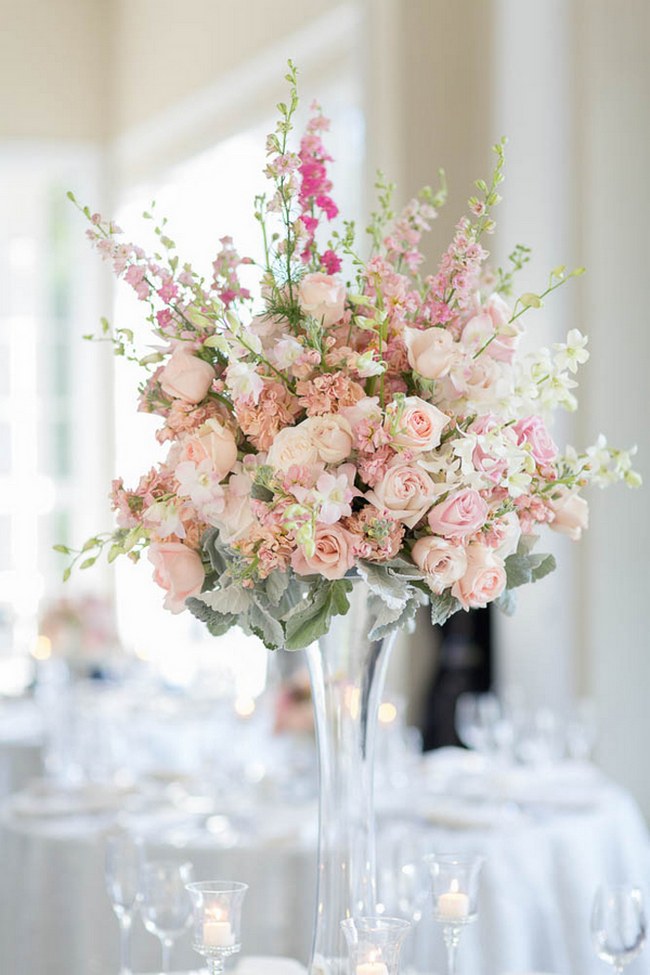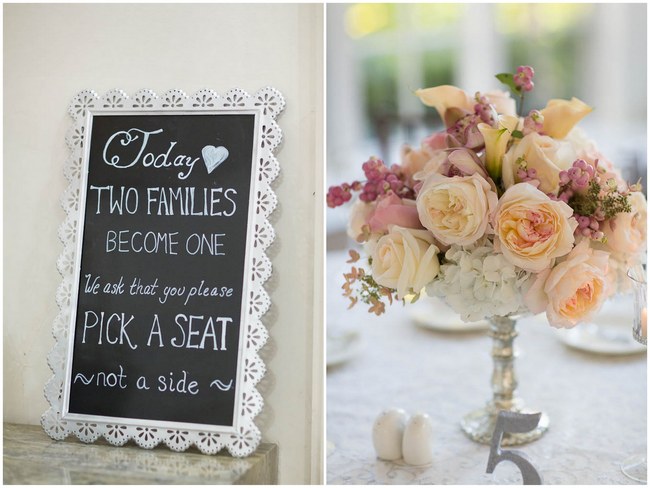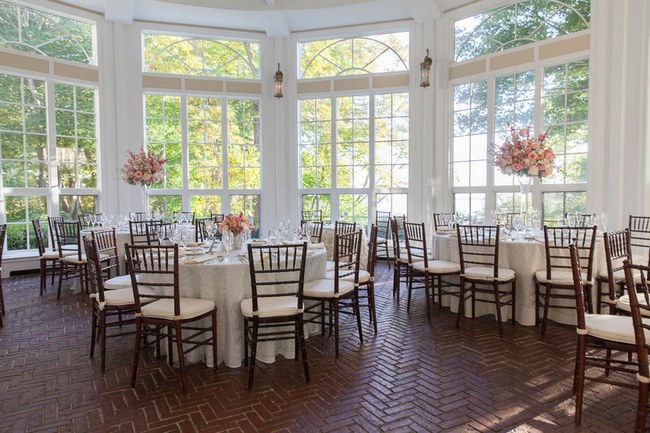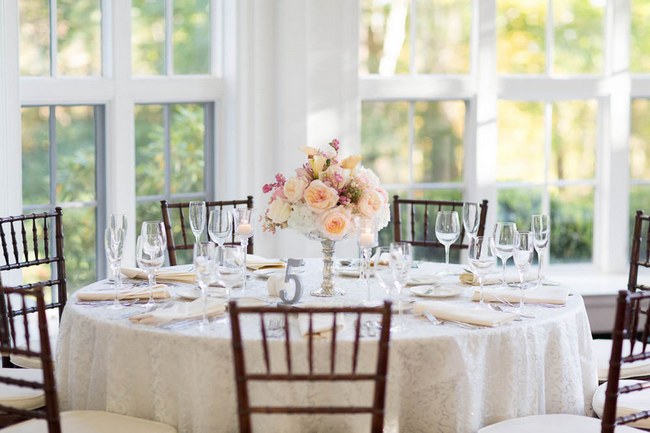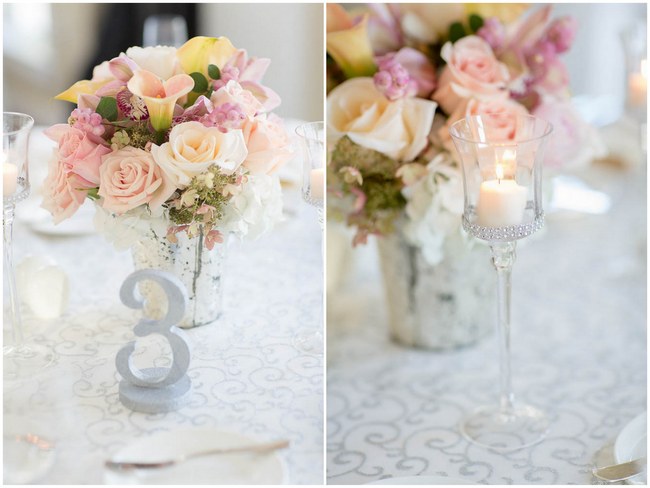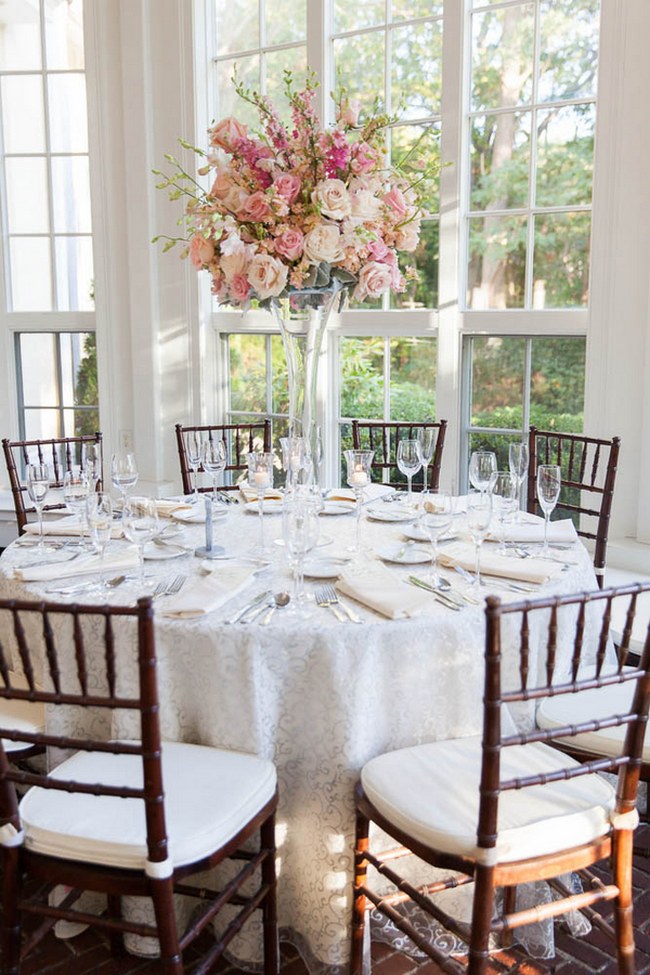 Ruffled Wedding Cake: Our cake by Jenny's Cakes was delicious and gorgeous!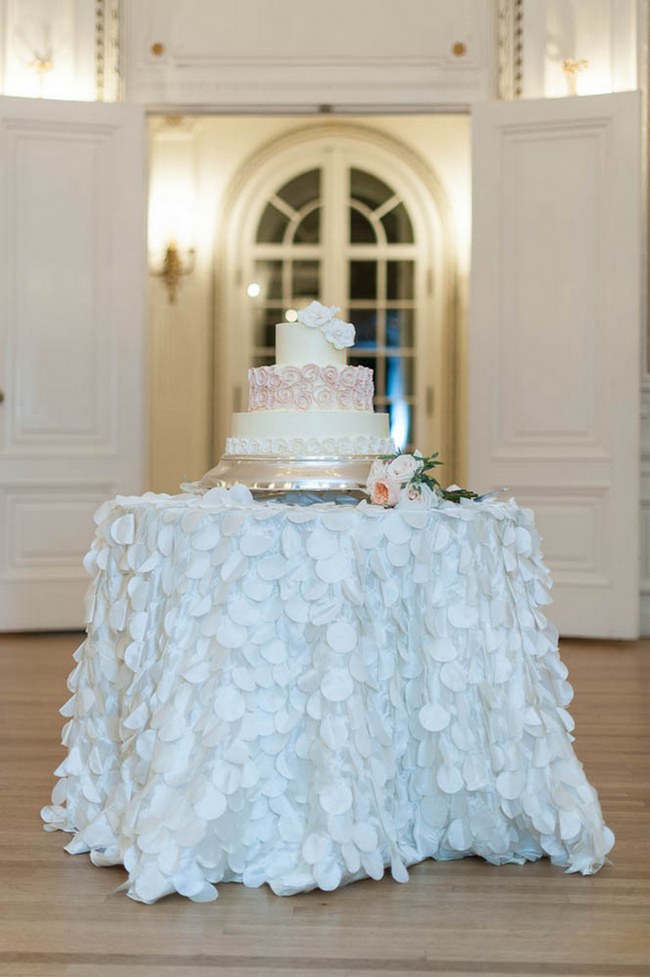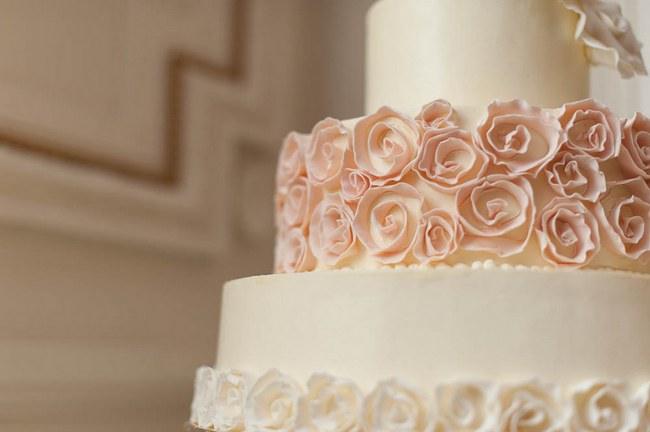 Linens: We loved our table clothes and they really pulled together the vintage and romantic look. We used "Silver Vine Brilliant Sheer" over House Ivory Linens and "Cream Taffeta Circles" for our sweetheart table and cake table. Both were ordered from Table Toppers in West Newton, MA.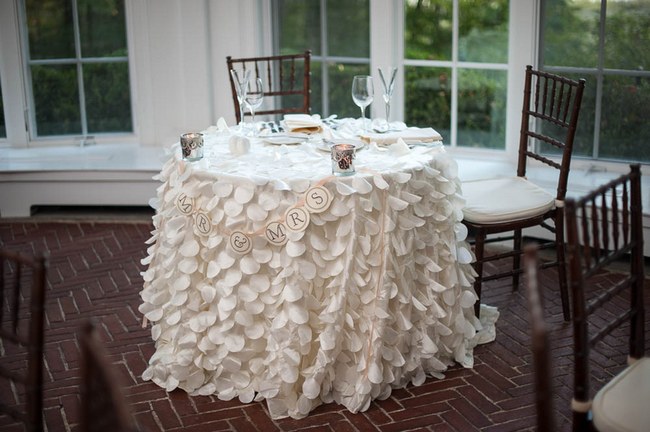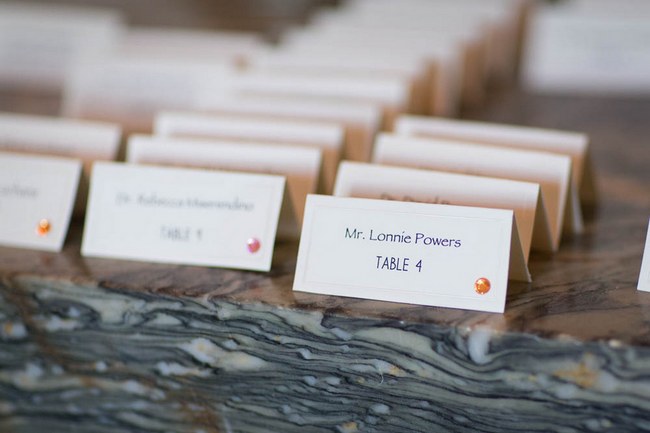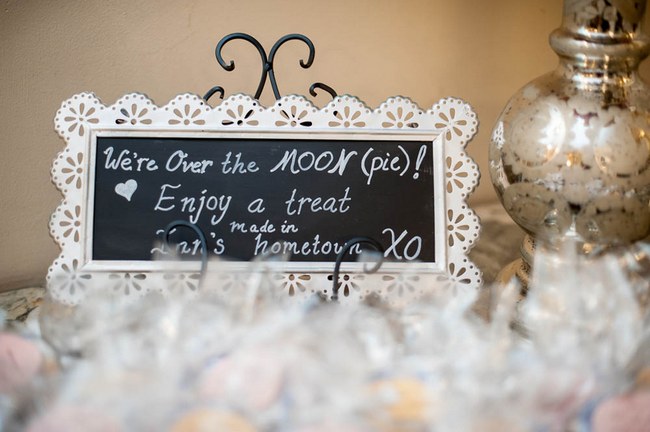 Stand Out Vendors: Kristen Turechek, Kristen Jane Photography, kept me calm and made me look good even though I had pneumonia on my wedding day (downside to teaching 2nd graders!). Donna Fucaloro – Pepperberry's Flowers was my florist and wedding planner!
Wedding Planning Advice:
Be happy, you're getting married. Don't sweat the small stuff!
Looking back, do you have any tips for brides on keeping costs down?
Some things are worth fighting for to create the look you're going for (chiavari chairs) and other things you can give up to save money…you can cut back on the amount of flowers if you have a gorgeous venue and a talented florist.
We made so many of the items in our wedding with the help of our friends and family: wooden table numbers spray painted with silver glitter, hand made chalkboard signs, guest iPhoto book, framed signs, Moon Pie favors with personalized stickers (Love and Thanks; Love is Sweet, Take a treat!). My dad said, "I'm going to shutdown Pinterest!" after spray painting table numbers in the garage all weekend!
♥  ♥  ♥  CREDITS: ♥  ♥  ♥
Photographer – Kristen Jane Photography | Venue & Catering – Tupper Manor | Dress – Paloma Blanca  from Vows | Brides Make-up – Stacey Frasca – Studio 28 | Flowers & Decor – Donna Fucaloro – Pepperberry's Flowers | Cake – Jennifer Williamson – Jenny's Cakes | DJ / Music – The Now & The Forevers