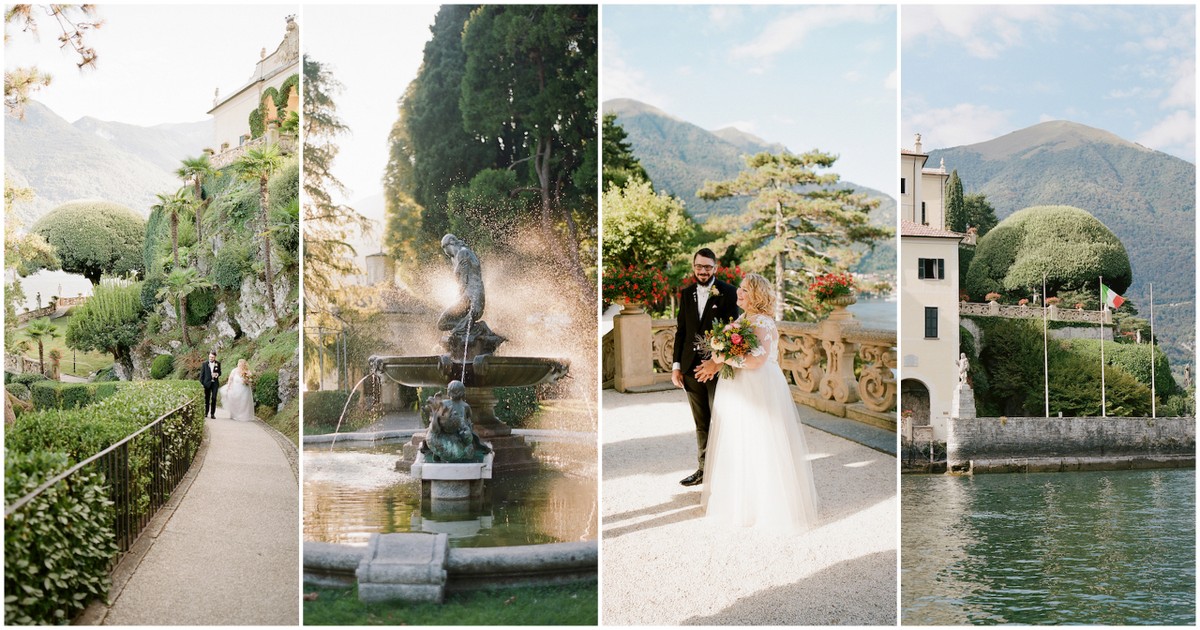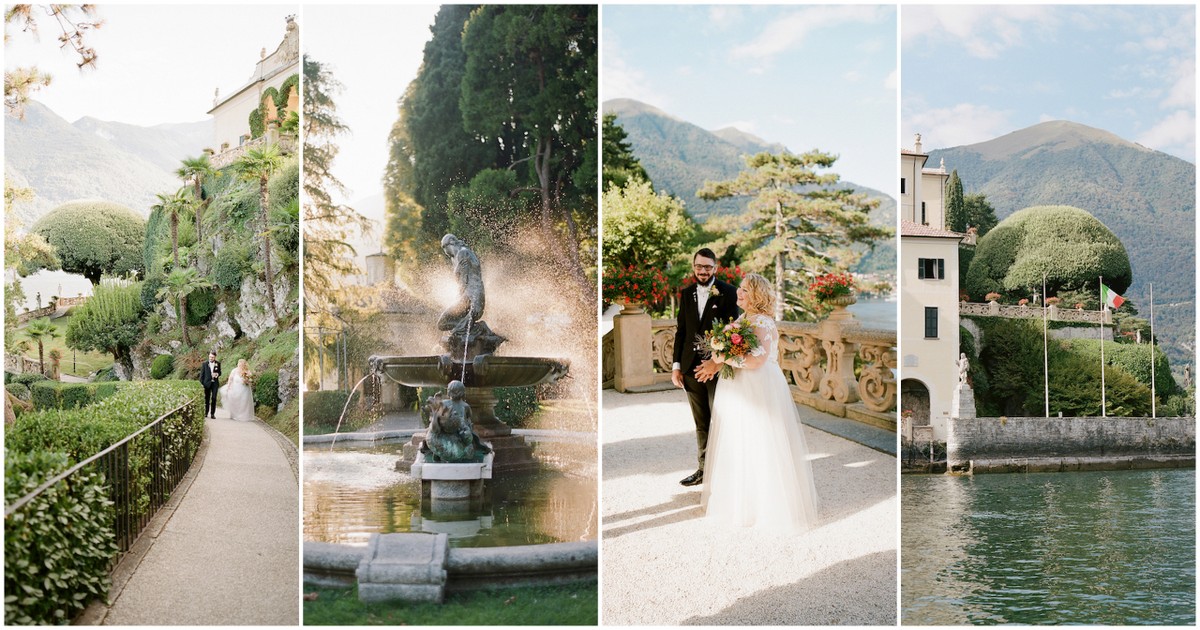 Ever dreamed of eloping to Lake Como, Italy? Well, Stacey and Shane did just that! The couple said "I do" during an intimate Lake Como Elopement at Villa del Balbianello. Always dreaming of an elopement in Europe, this sweet couple chose Italy for its gorgeous views and romantic ambiance. And because, well…. ITALY!!
But although they had an Italian wedding in mind it wasn't until they found their photographer, Rochelle Cheever, that they truly fell in love with their venue. Stacey said, "We decided to look for destination photographers first, then stumbled upon Rochelle Cheever. We immediately knew she was the one for us. Her lighting and the ability to capture wide scenic views, while still making the couples the star focus sealed the deal!"
The couple saw a recent Lake Como Wedding Rochelle captured, fell in love and wanted to wed at the same place.
Planning A Lake Como Elopement:
If you hire an experienced wedding planner and wedding photographer, you can take comfort in their expertise. "We had never traveled out of the country before and were filled with intimidation," shares Stacey. "I now couldn't imagine eloping with out the help of Rochelle and our planner, Alessia of White Emotion. They carried me through the day like family. It all went flawlessly. I even tripped once tearing part of my dress and it didn't affect anything."
How long did it take to plan your Lake Como elopement? Once Lake Como was chosen as our destination, all the details and booking, as well as wedding dress creation were completed in approximately seven months. I don't believe seven months would be realistic if you were doing destination wedding planning on your own, but with a wedding planner it was possible!

How did you choose your wedding planner? Alessia Santa from White Emotion was recommended to us by our photographer who had worked with her before. Once I spoke with Alessia she provided us the confidence we needed to elope in a place so far away from home. Instantaneously she made what felt impossible, possible and our dream started feeling like a reality!

How did you handle booking details like cake, florist, hair stylist, etc? We utilized Pinterest to find inspiration for flowers and cakes as well as Trip Advisor for restaurants and lodging. Our planner, Alessia was familiar with Lake Como and knew the best bakery and florist in town for us to use. She recommended several restaurants that would be near Villa del Balbianello that would be appropriate for our special occasion dinner after the wedding. Alessia also made booking and payments for the entire wedding a breeze as there weren't separate payments for each item or phone calls to make. This was a huge relief as I barely speak Italian! The only thing we had physically prepared was our wedding attire. Alesia booked, planned, traveled and delivered the rest! It was fantastic. She even remembered to bring tissues for my tears, how did I forget those?!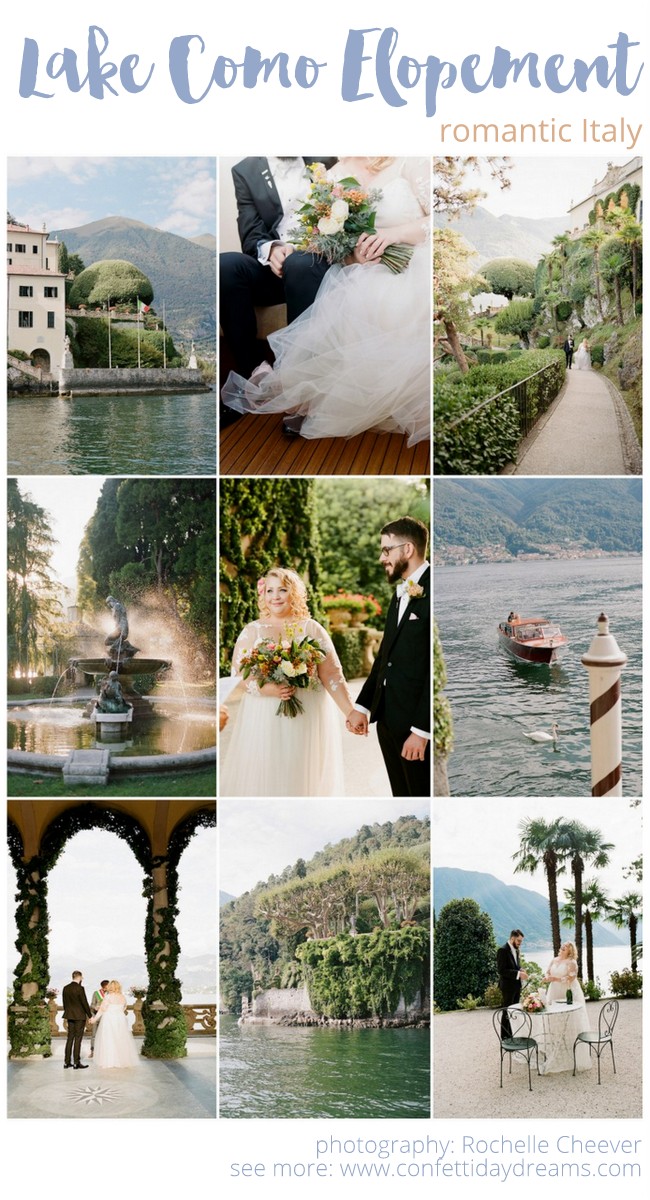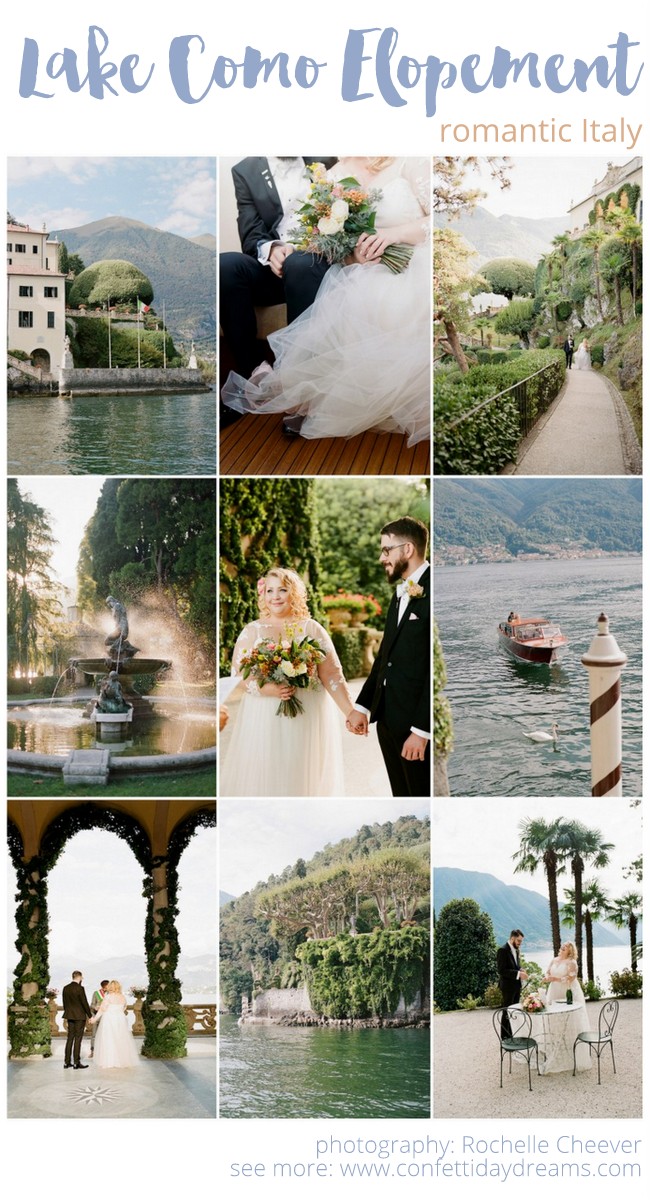 11 Tips for Eloping to Lake Como
Wondering how to elope to Lake Como, Italy? We spoke to the couple's wedding planner,  Alessia Santa of White Emotion, who shares her advice and tips for eloping to Lake Como:
The best time to get married at Lake Como, Italy is between May and end of September. July and August can be very very warm. For afternoon / evening receptions try to have the ceremony after 4.30 pm.
In the case of bad weather, know what your plan B is. Lake Como is a lake generated from the Alps, so storms in summer can happen. Make sure you have a planner who helps plan for weather problems.
Begin securing wedding licenses and permits at least 6 months in advance in order to be able to book your spot in TownHall. A deposit will be required.
You'll need a "certificate of no impediment' to marry, released by the Consulate or Embassy.
Have a set date in mind? Expect to book your location and wedding planner around 1 year in advance. If you're flexible with the date, you'll have more flexibility within a shorter time frame.
Only a few churches accept catholic weddings of foreigners citizens. The choice for a religious wedding will be limited. There are, however, many locations to choose from for your civil wedding and all stunning – including Villa Carlotta, Villa del Balbianello, Villa Vittoria Relais just to name a few.
Larger weddings might require guests to be split across a number of smaller hotels. Apart from Como and Cernobbio, Lake Como is surrounded by small villages. While there are many hotels and accommodation possibilities they are not very big – if you have a large group you will have to split them into a couple of hotels.
Remember to plan boat and shuttle services for your guests. Most of the beautiful villas are on the shores of the lake and don't have much space parking or don't have a land access for guests. Make sure you allocate budget for this service.
Outdoor music and dancing is allowed till midnight, after that you can dance the night away …. indoors!
Lake Como is an aristocratic retreat. If you're planning a wedding within a limited budget, remember that in this part of Italy you will find some of the most expensive villas in Italy.
Many villas are direct on the waters – perfect for a including a boat trip during your wedding; perhaps a first toast after ceremony? A photo shooting of the couple at sunset? Reach the venue by boat? Tour of the Isola Comacina? These are just a few samples to add a wow effect to your wedding on Lake Como.
Go ahead and enjoy these totally sublime images of Stacey and Shane's Italian Lake Como elopement, and read to the end for a plethora of great advice and insights on exactly what to do – and what to avoid – when planning your Italian elopement at Lake Como!
Lake Como Summer Elopement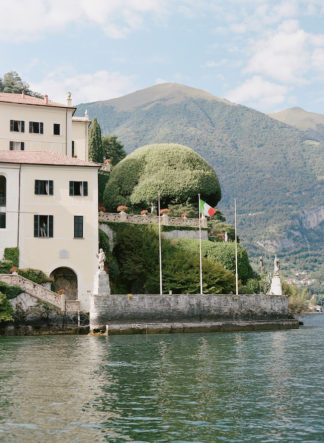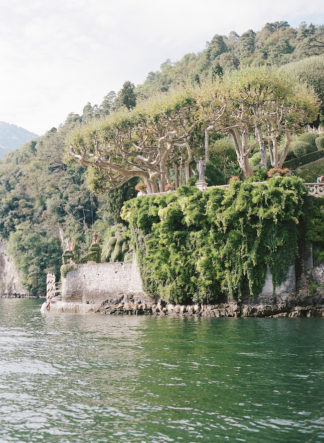 Villa del Balbianello is a totes dreamy location! The views are incredible looking across Lake Como from the top. The grounds are lush, covered with spectacular landscaping. There are gorgeous towering firs, enormous canopy trees, an abundance of flowers and extraordinary vines wrapping around the archways. Every small detail of the property's architecture holds timeless beauty.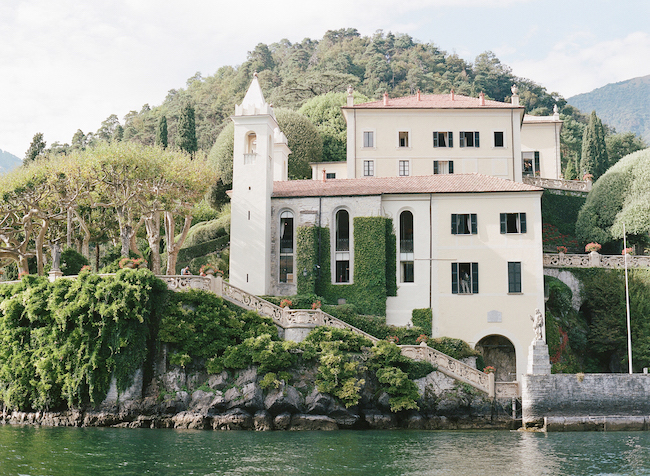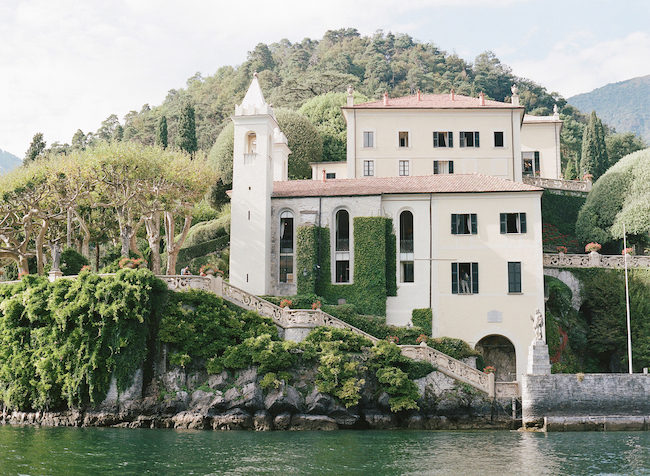 Love Story: Shane and I dated for five years focusing on being each others best friend first. Then, we realized our relationship was bliss and that was it! We fell in love with each other's good qualities and loved each others imperfections. You can cherish and enjoy anything in life that you choose to embrace. Fortunately, Shane has made my life so complete that cherishing him was easy!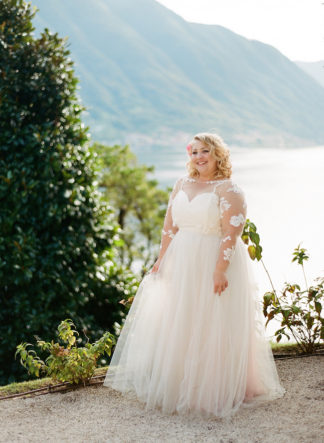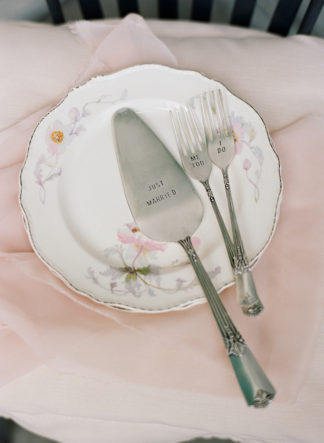 Proposal: Every year Shane and I make our own Christmas cards and using a photo of ourselves which we take in front of a giant Christmas tree in our hometown city center. We were standing in front of the Christmas tree with our camera on a tripod, ready to go, but then Shane broke pose and bent down on one knee. It took a moment as my eyes were directed at the camera, but I looked down and realized what was happening. Of course I cried! It was the sweetest thing ever and we will forever have the moment on film. I can't wait to do our Christmas photos again this year as husband and wife!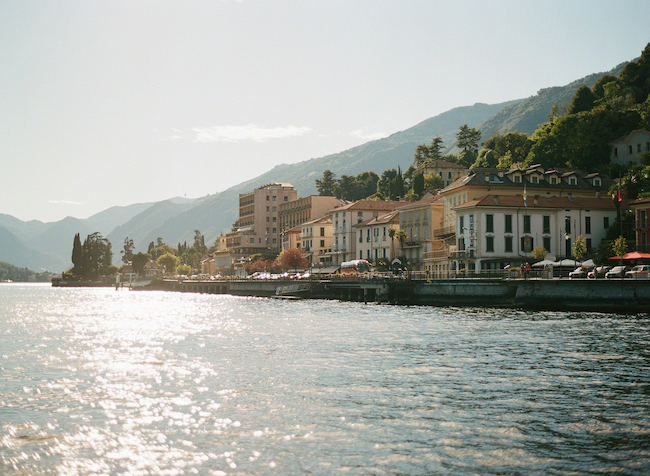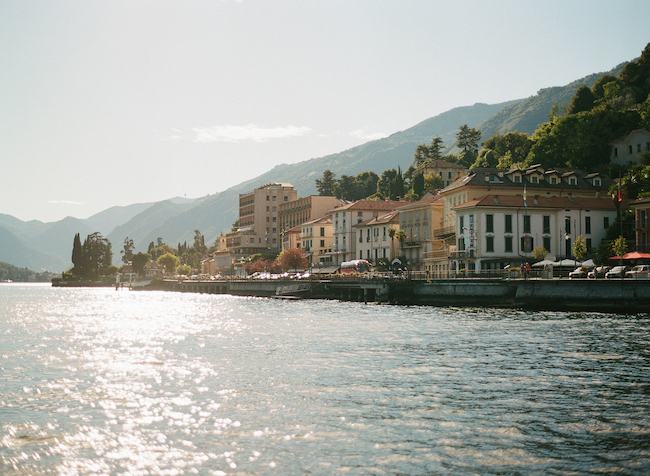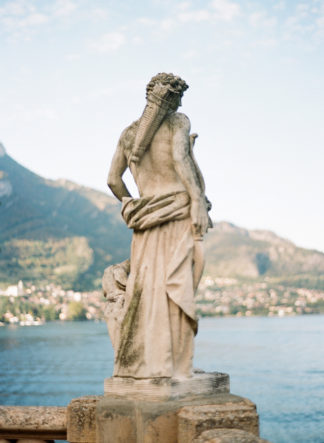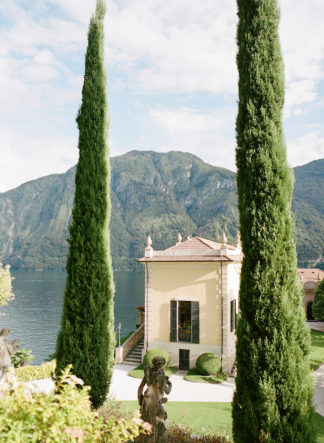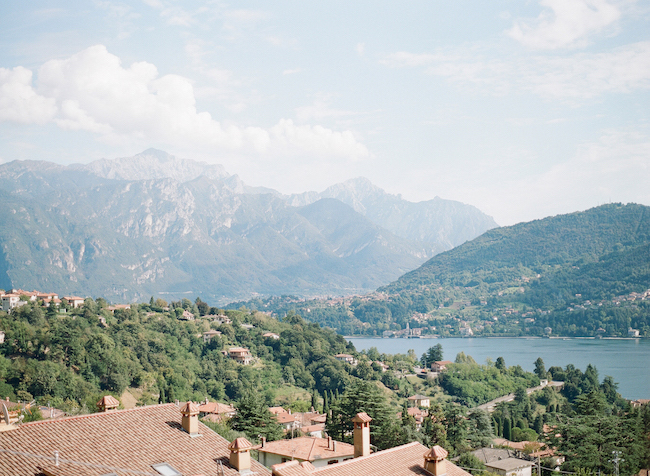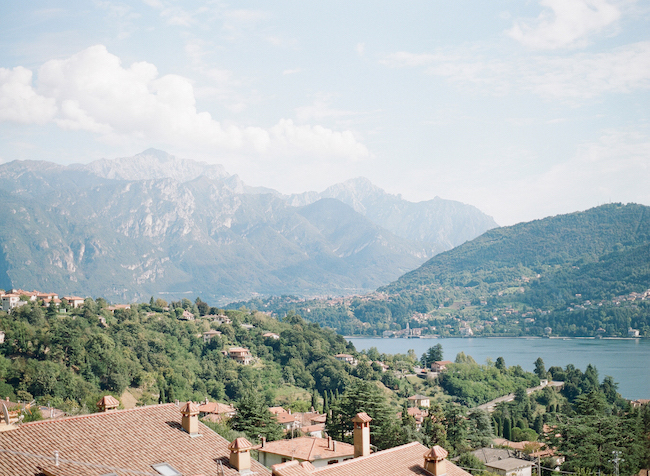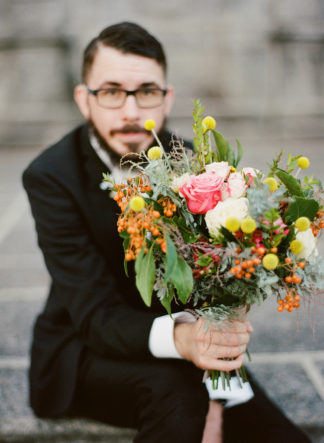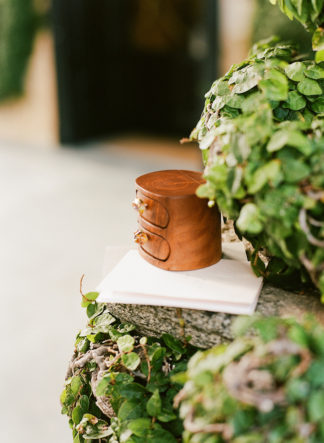 We had a beautiful ring box made from a Snappy Gum Eucalyptus tree, hand crafted from an Australian artist, Brandi of Tommy's Hut.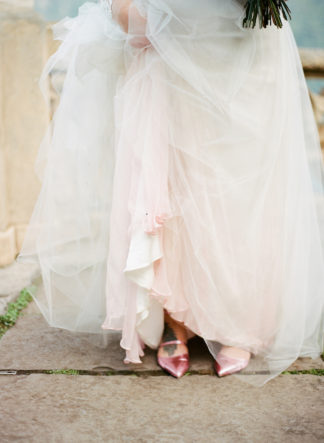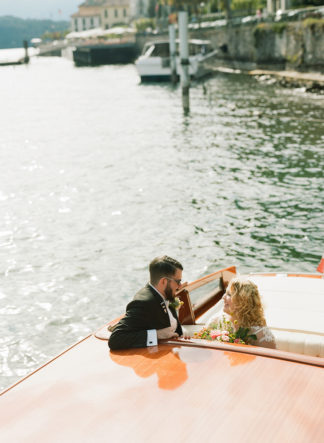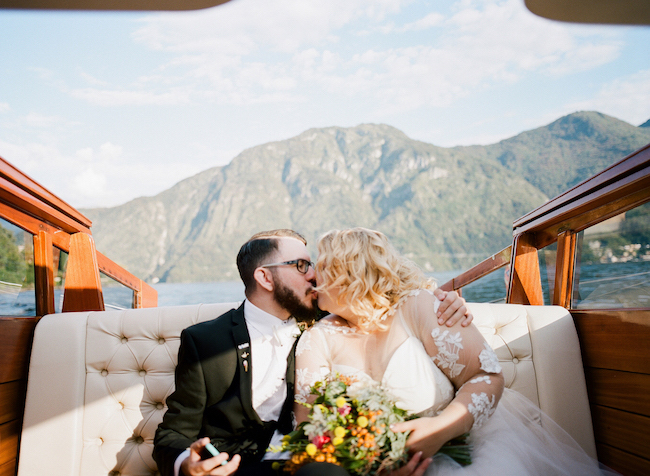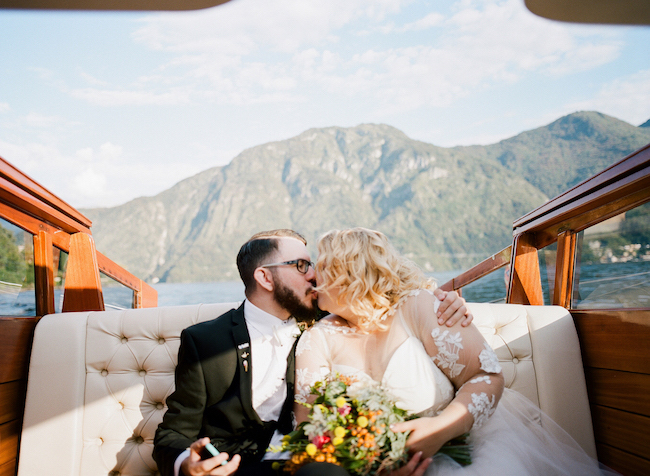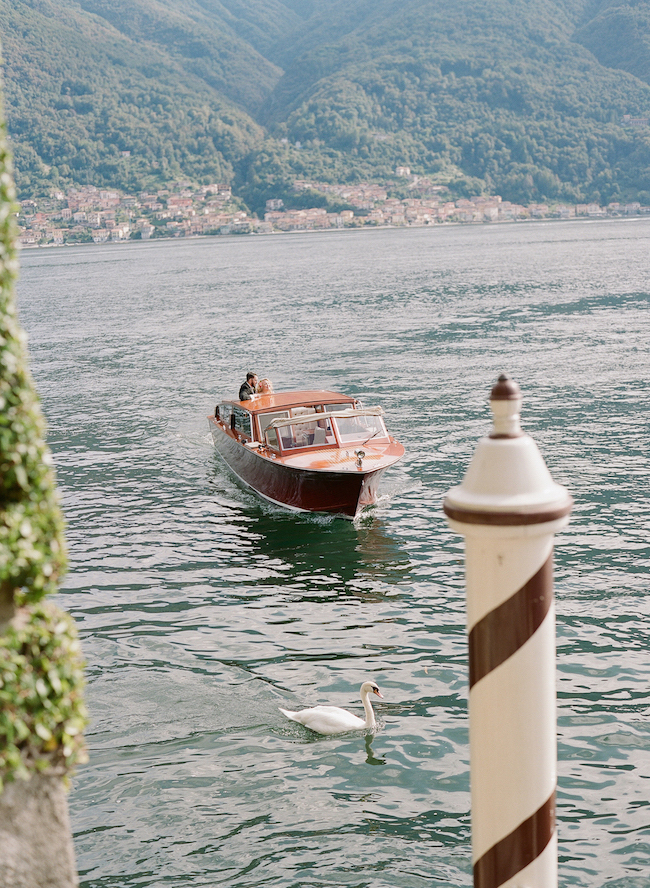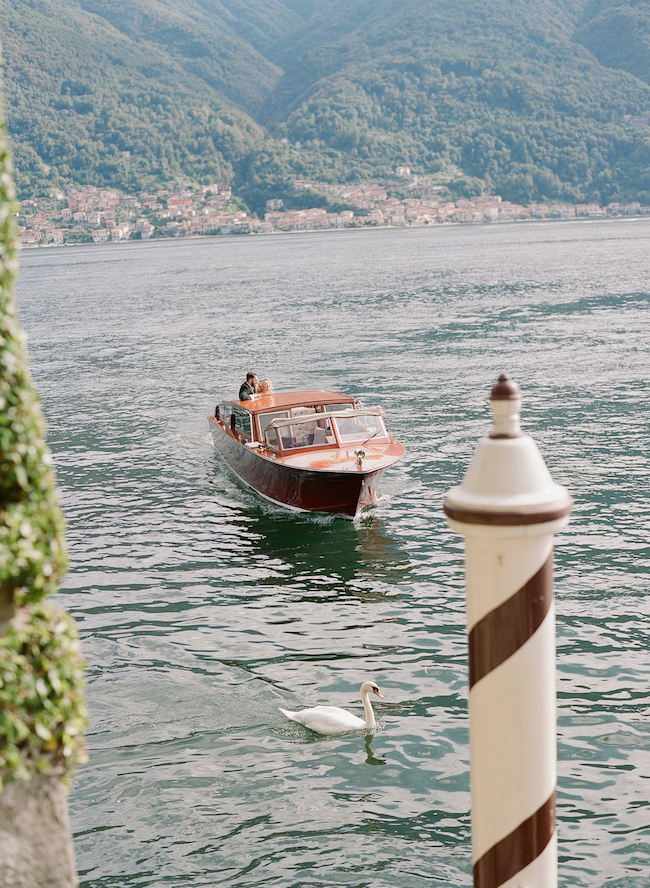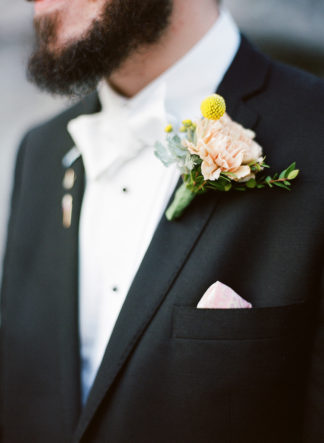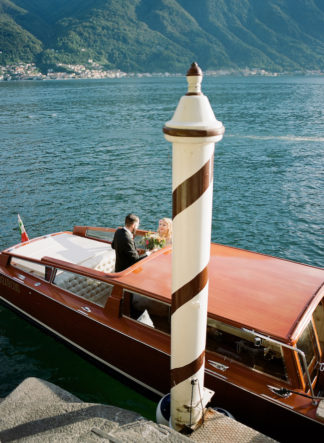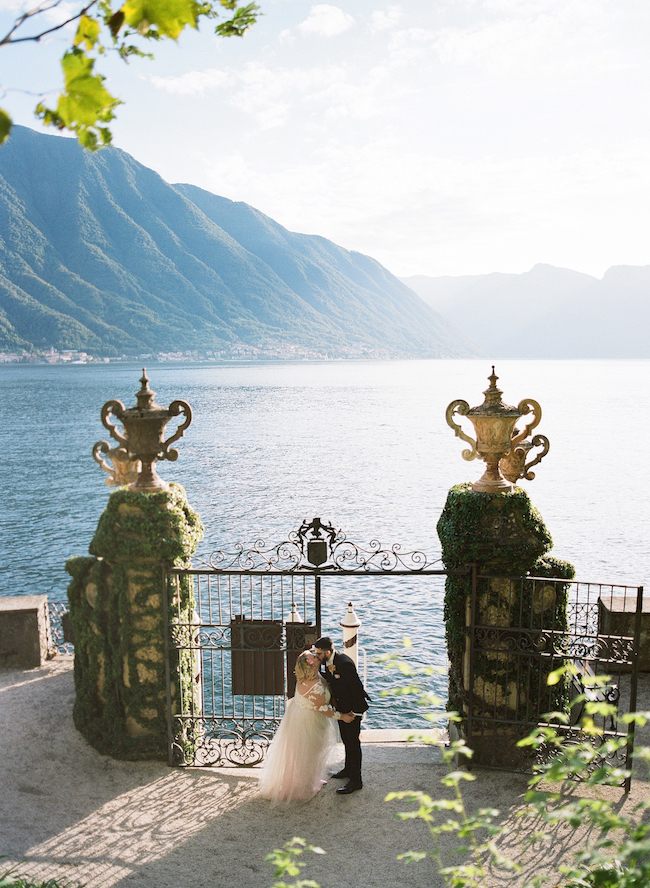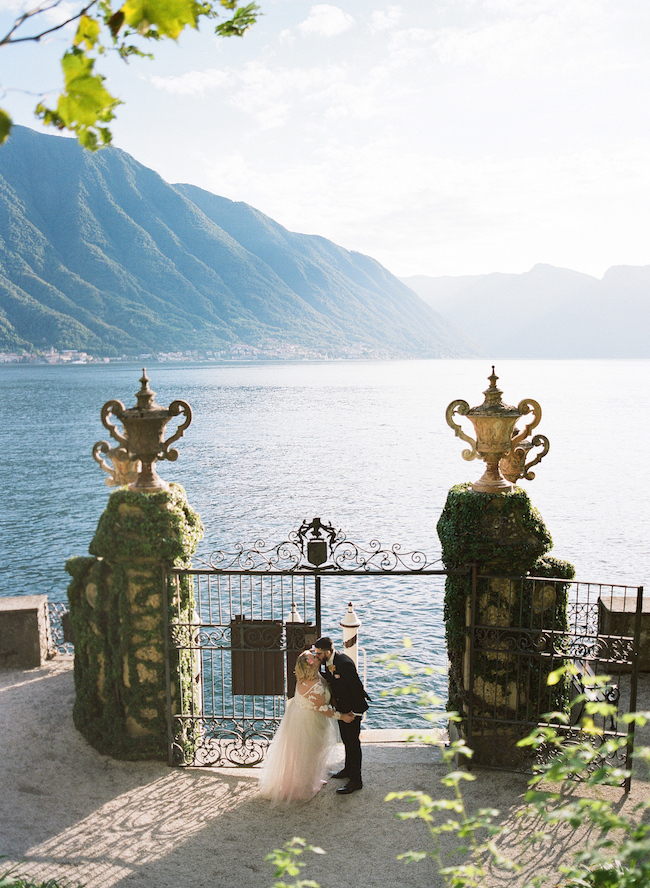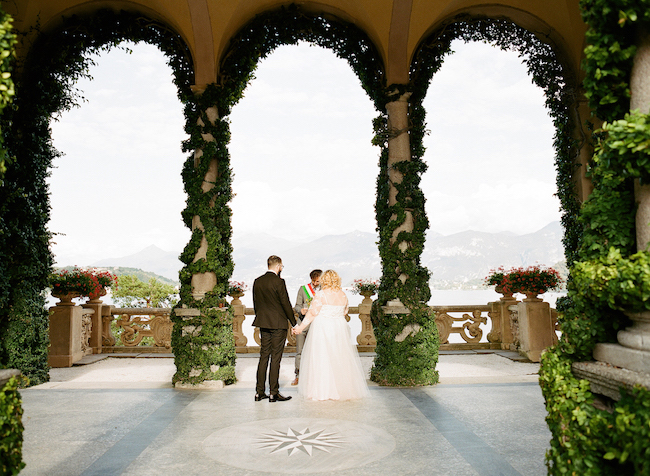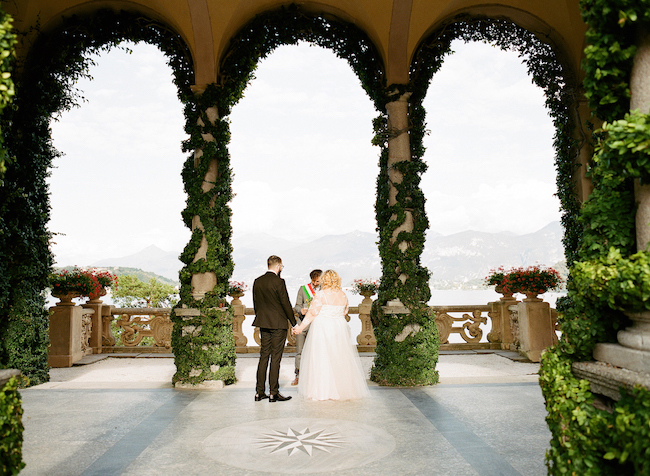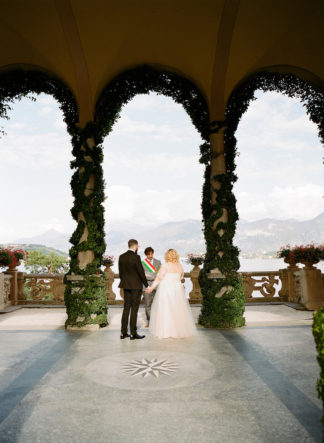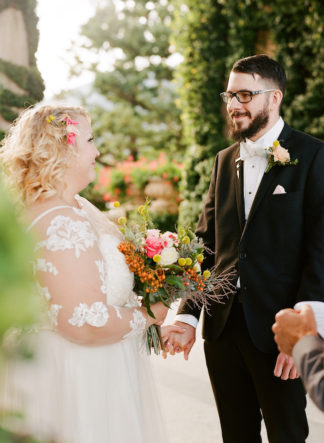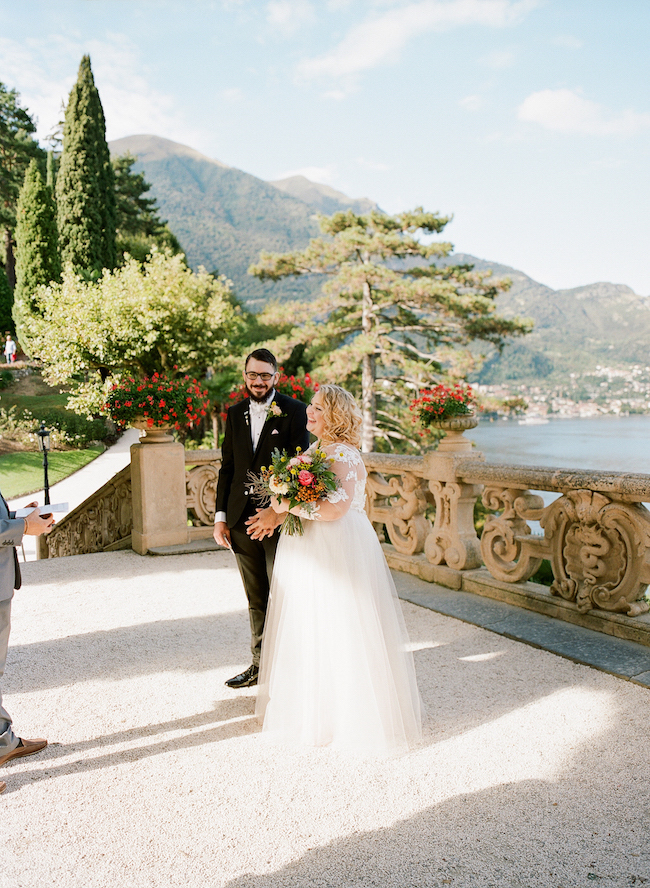 READ: 21 Mistakes Couples Make When Wedding Planning + How to Avoid Them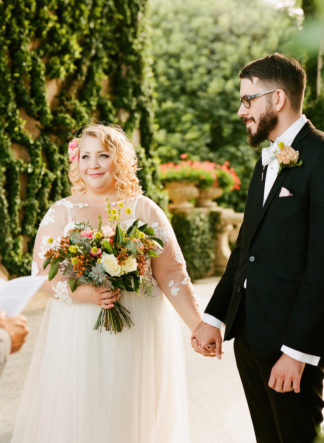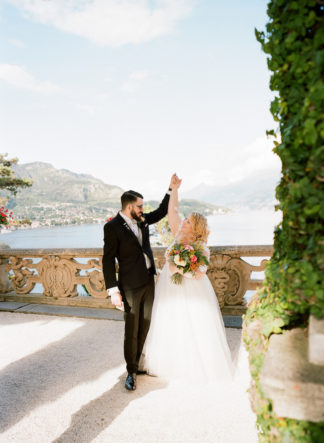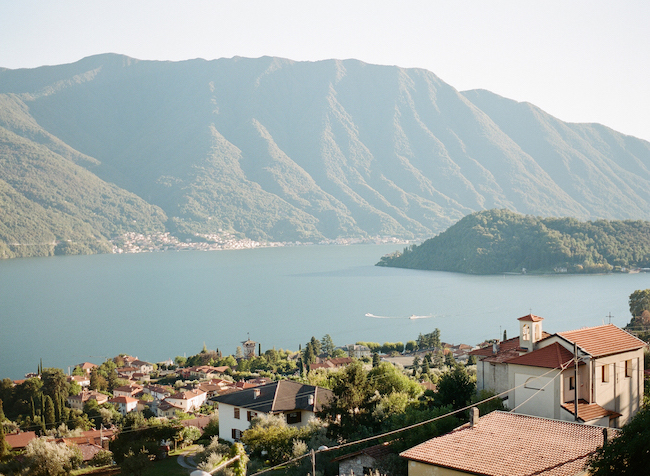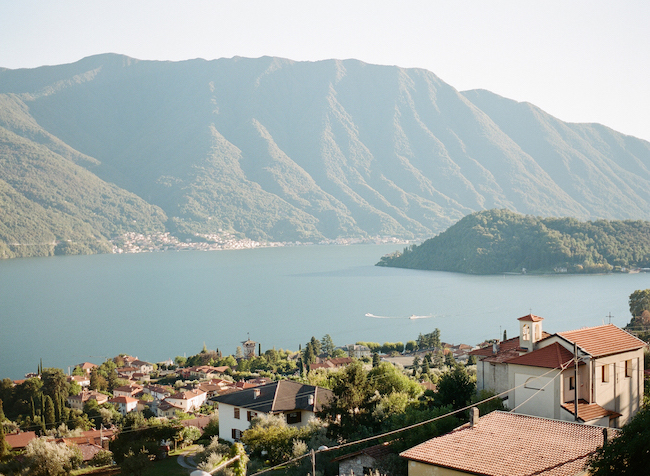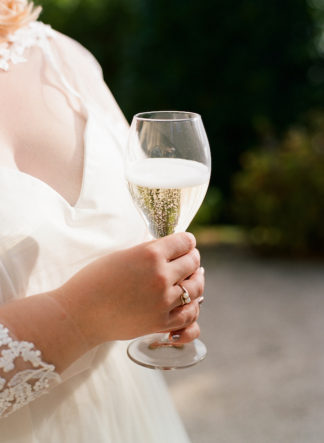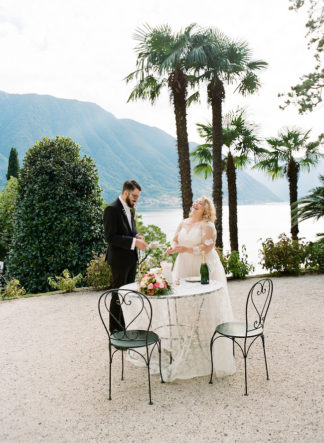 My grandmother Grace passed during my childhood, but the love and inspiration she gave me lives on. I wanted to bring her with me and represent her, so I wore her earrings and packed two of her old china plates to use for our wedding cake.
I was also able to wear my Great Grandmother Jenny's pearl ring that was passed down four generations. Shane's personalization resonated much deeper meaning for his mother that passed away from breast cancer in 2008. He wore pins on his suit to represent his mom. The paper crane for those they crafted together and a Bruce Springsteen pin because they always listened to him together.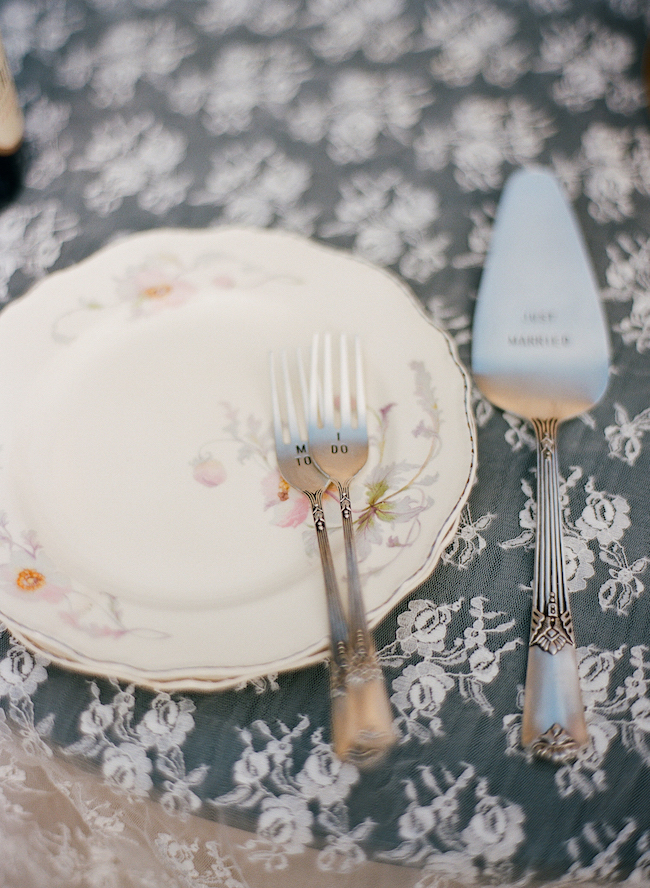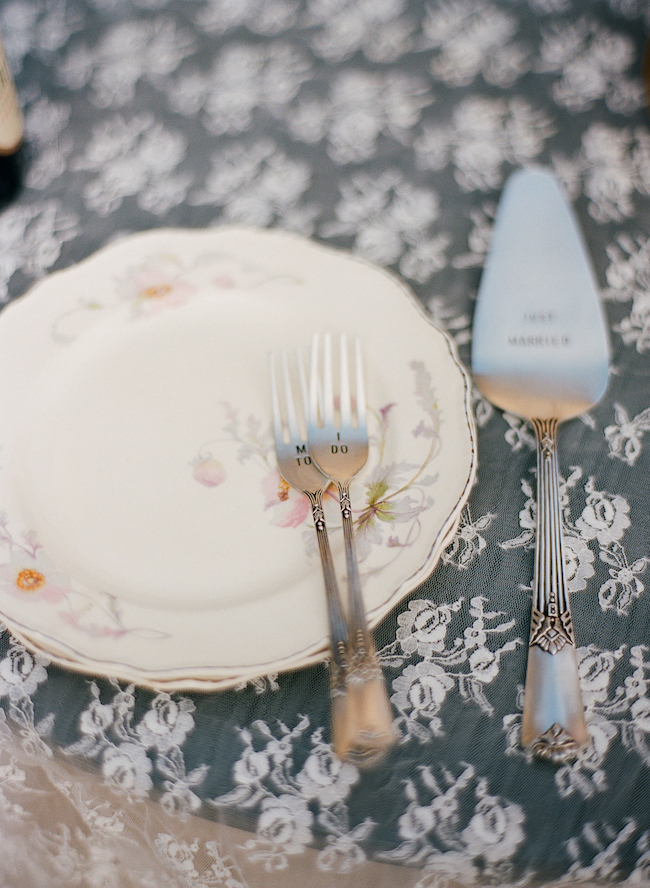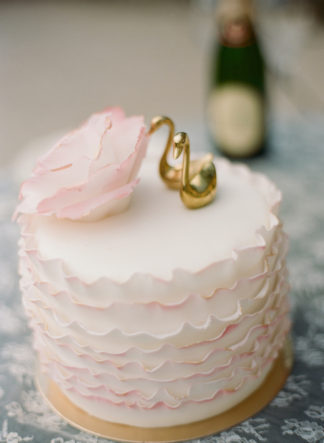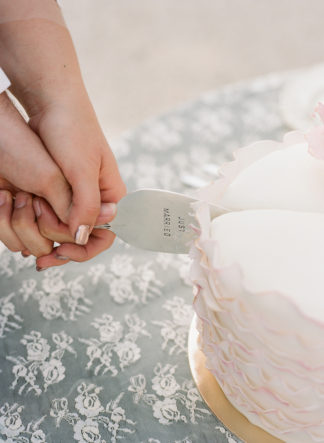 When we arrived at the dock at the bottom of the hill of Villa del Balbianello there was a winding gravel pathway that traveled up and circled around the hill to the top terrace where we'd say our vows. There were some tourists on the grounds below and when they saw that I was in a wedding dress, they all stepped off of the pathway and allowed us to walk ahead, smiling and saying congratulations. In that moment I felt so special, like Cinderella, or the bride I never envisioned myself to be.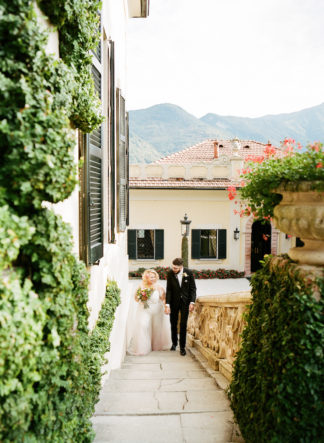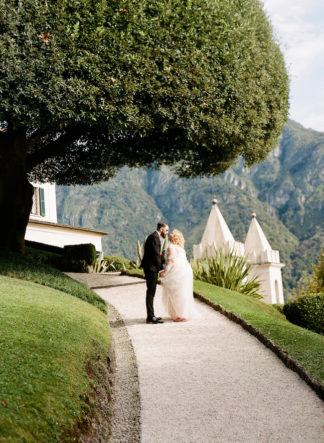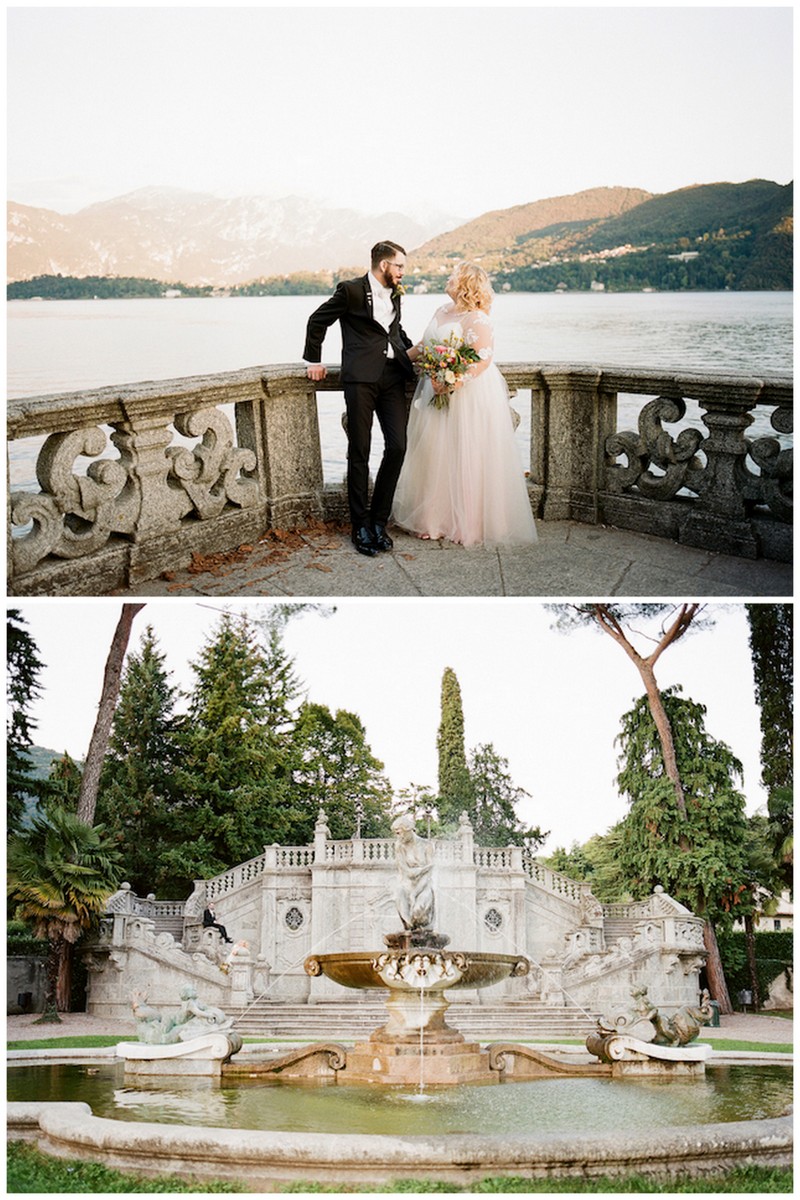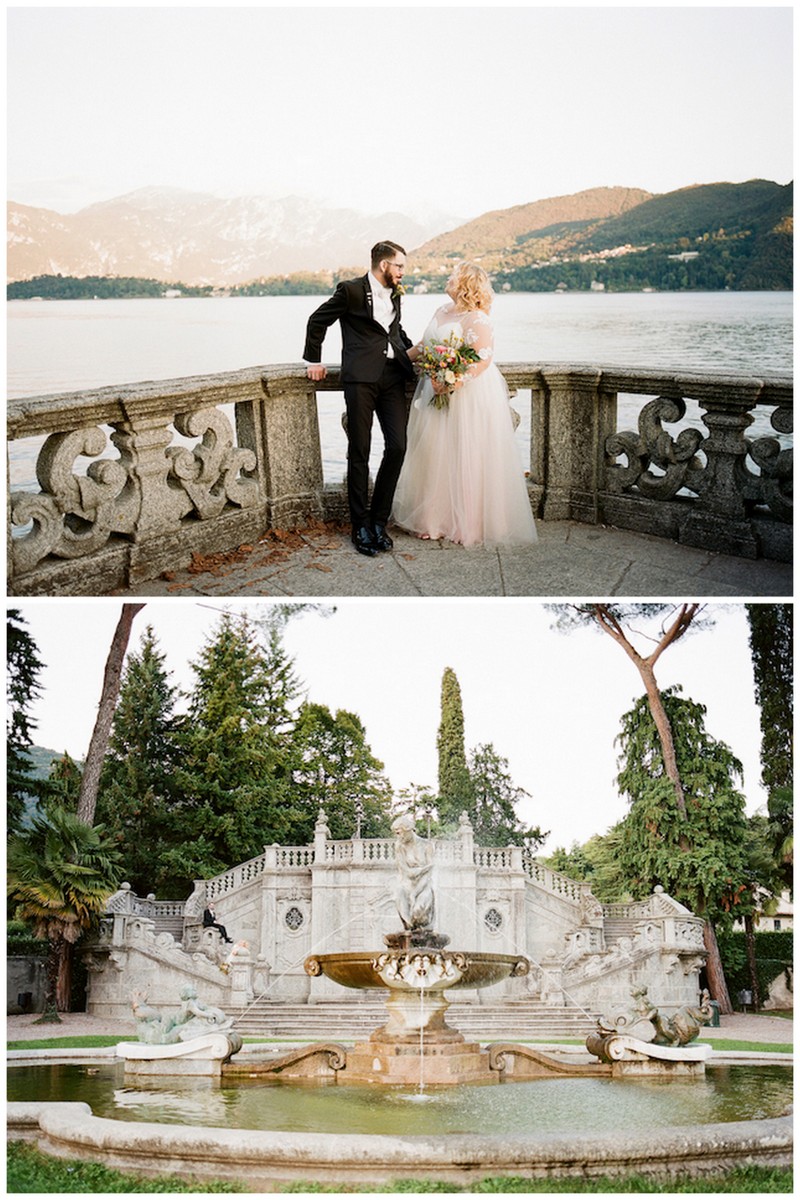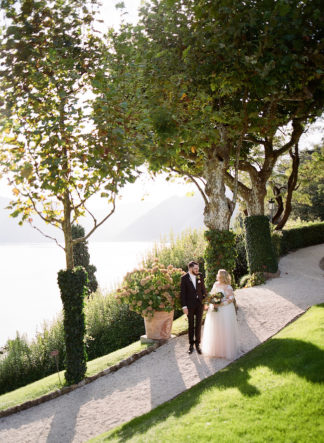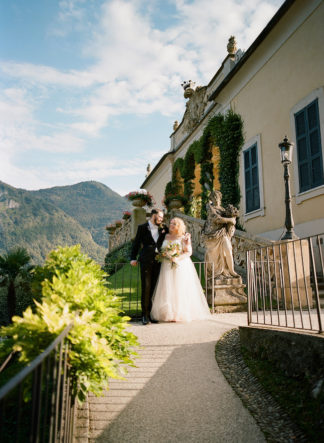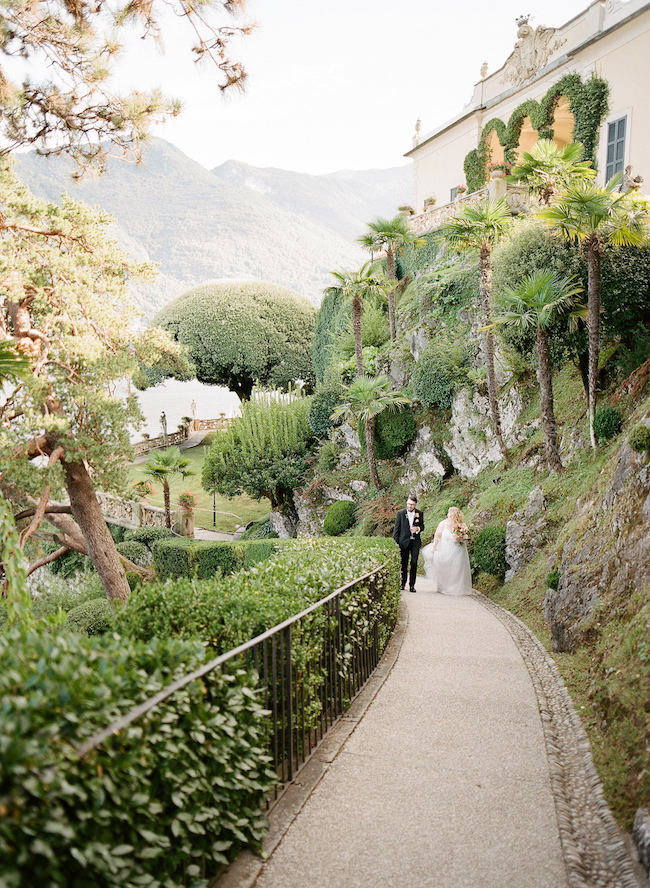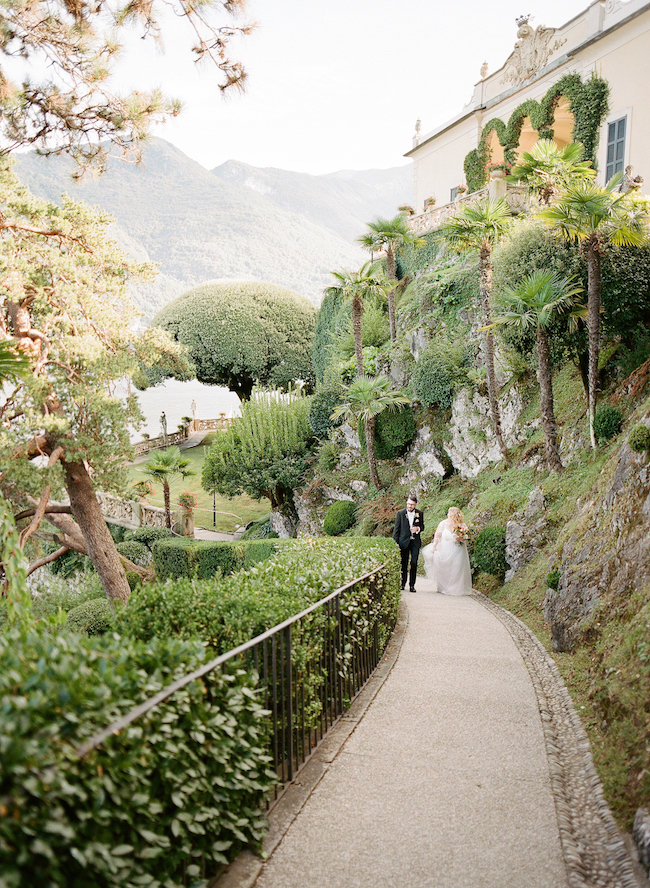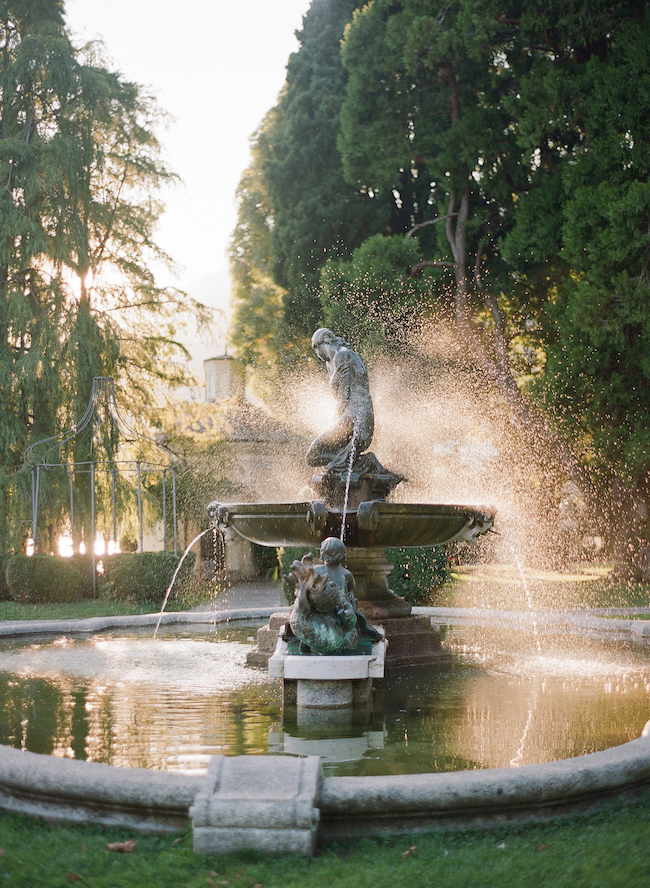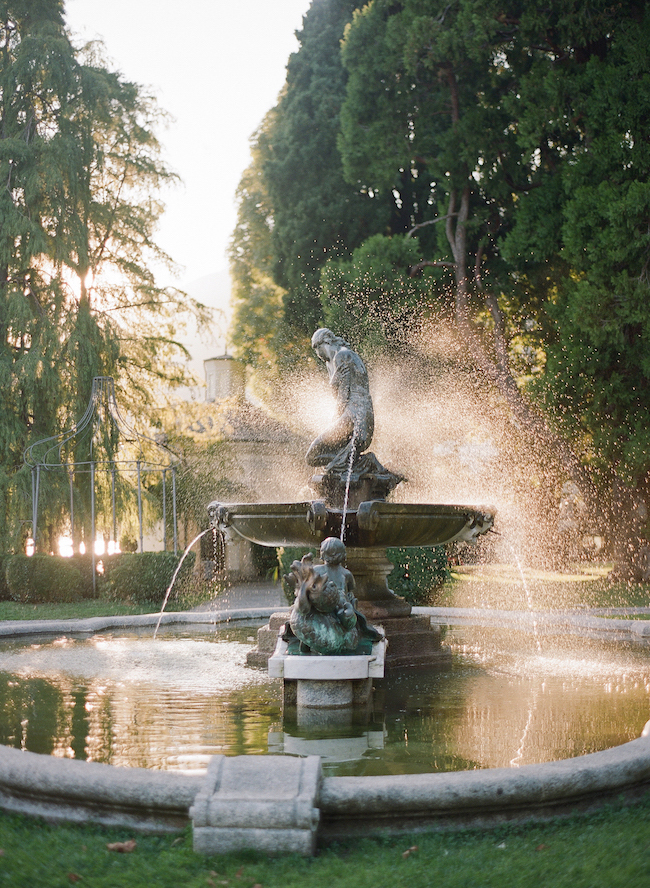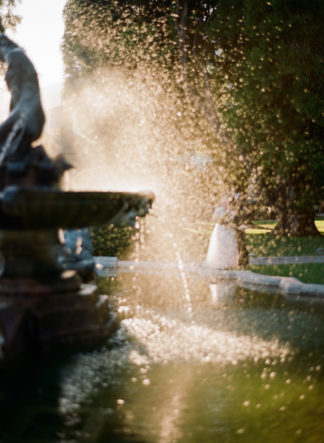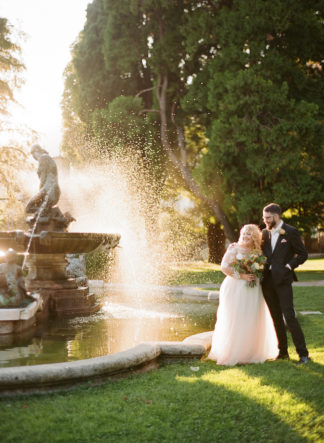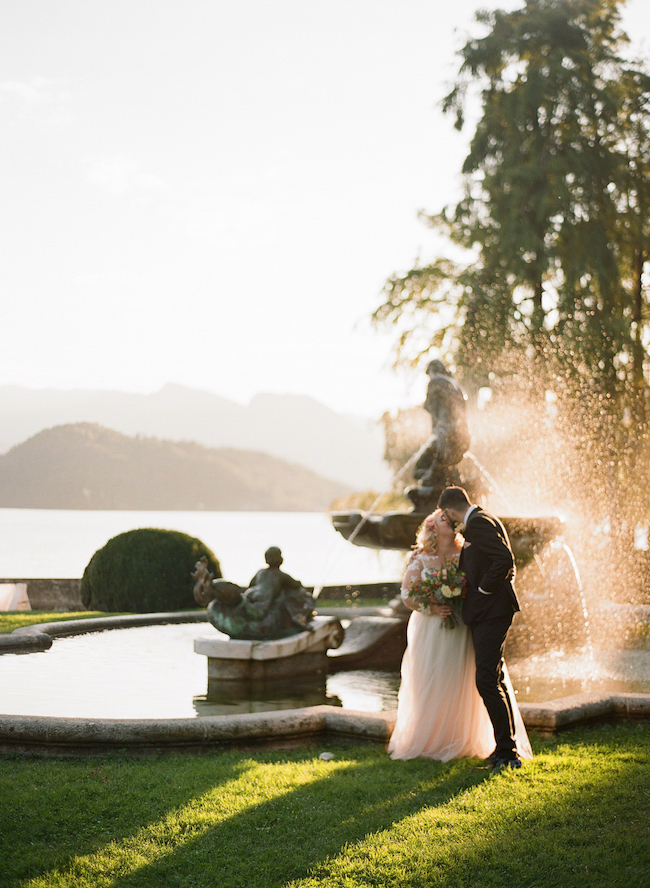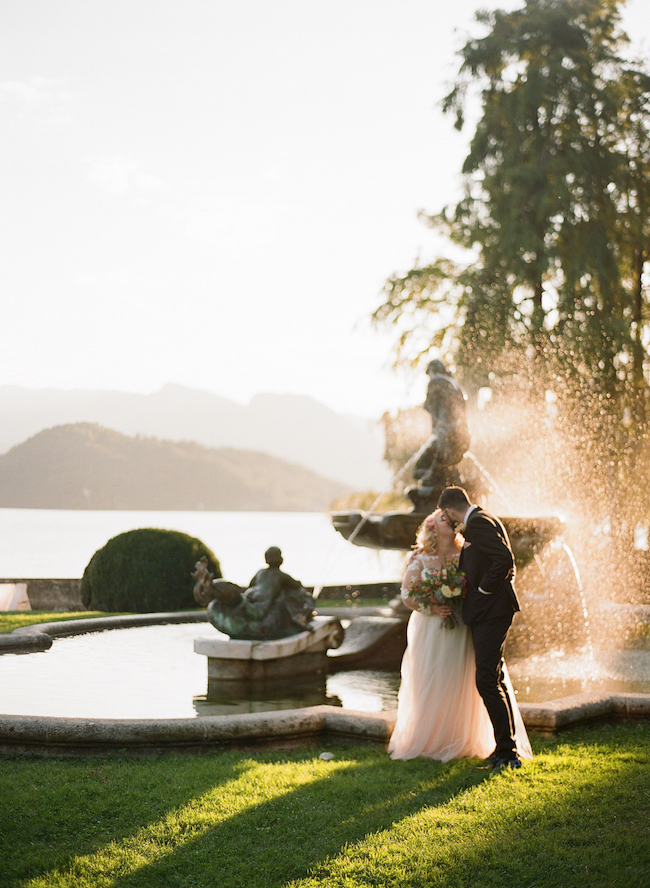 A Bride's Advice for Getting Married in Lake Como:
Many places around Lake Como close early for the winter season. We originally had planned to elope in late October. The idea of fall leaves as a backdrop sounded beautiful. We also wanted to avoid the tourist crowds during the summer. When we learned that much was closed during the winter season we bumped the date up to September so that we didn't limit our opportunities to access shops and restaurants. Fortunately we experienced excellent weather in the mid 70's without the humidity and no rain!
If you plan a wedding in Lake Como, book a wedding planner! They will know the appropriate seasons, weather, attire and locations that you won't! Trying to research online can take hours and still end fruitless. Speaking with locals that have the wisdom and experience will guide you.
A legal wedding in Italy requires a licensed Priest and a translator to make the marriage legal. This can be an additional cost of $1500, which for us wasn't necessary. We decided to be legally wed in the US to save money and invaluable time when we in Italy.

Announce you decision to elope sooner than later. We shared the news with family by mailing out notifications ahead of time that stated, "We're eloping!"

Check out HoneyFund.com. While I didn't feel it was appropriate to have a wedding shower, there are loved ones who still want to gift the newlyweds. HoneyFund made it easy to explain our plans with a webpage. We could then add items they could purchase that went towards our wedding and honeymoon. For instance, my Aunt purchased our champagne and romantic boat ride that we had after our ceremony. It made the process very sweet for us and our family to contribute to something much more precious than a crockpot. After we returned we held a "reception" where we could share our memories with family and friends with pictures and stories from our wedding and honeymoon.

It's okay to communicate with your hosts. Since we eloped, we didn't have family or friends with us. I felt reluctant asking for help, but the hotel owners at La Perla not only didn't mind, but enthusiastically wanted to make our stay more special. I felt like I was taken under their wings like a daughter instantly as they shared excitement hugged and congratulated us, sent us champagne and offered their services.

Try to allocate a few extra days for site seeing, or plan a return trip to Lake Como. If you happen to get married at Villa del Balbianello, make sure to plan a second trip there separate from your wedding day. It was a marvelous location that we would've loved more time at to explore and take in the views aside from our driven wedding day.

Wake up early to take advantage any time you have at Lake Como! There's so much to see and do, beyond big tourist destinations. One of our favorite memories was when we took a countryside path from our hotel in the mountain down to the shore. It felt like we were in a movie, traversing winding cobblestone paths, passing by goats grazing in pastures and homeowners in their gardens. We saw several wayside shrines with the Virgin Mary inside that were built and used for prayer centuries ago.
Spend time talking with the locals! In Italy you can walk in anywhere as a stranger but be spoken to like an old friend. This friendliness was so welcoming that I wish we spent more time not rushing to see everything, but relaxing and allowing greater experiences to come to us unplanned.
Try to learn as much Italian as you can, but don't stress about it. The locals are appreciative when you can say at least Please and Thank you! Carry a translation guide just in case of emergencies! We used Rick Steve's pocket guide throughout our trip whether finding a ferry, restaurant, bathroom or even cold medicine at a pharmacy!
Congratulations to the newly-weds – we're looking forward to hearing all about your first anniversary travels next! 😉
Lake Como Wedding Vendor Contact List:
Positano Destination Beach Wedding, Italy {Rochelle Cheever Photography}
Audrey Hepburn's 'Roman Holiday' Italian Elopement {Rochelle Cheever Photography}
See more elopements ideas // See more Italian weddings ideas