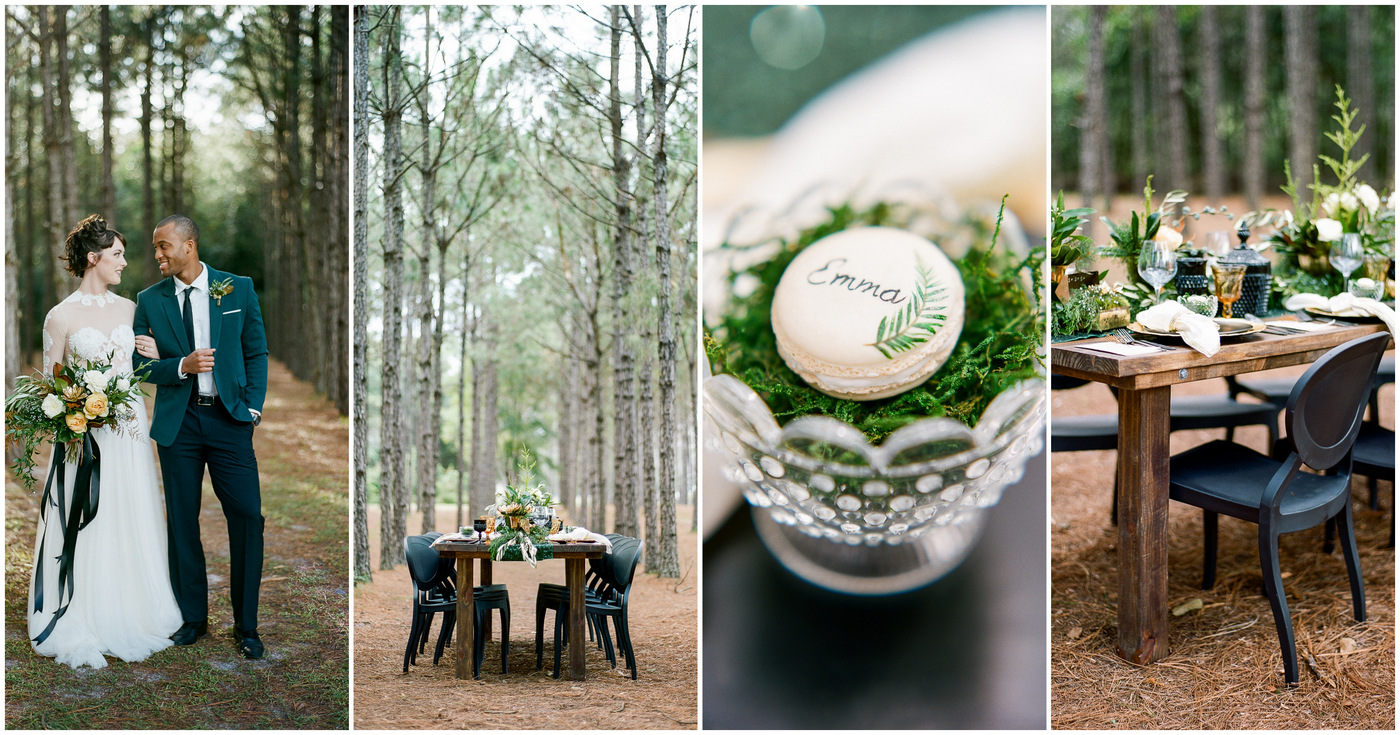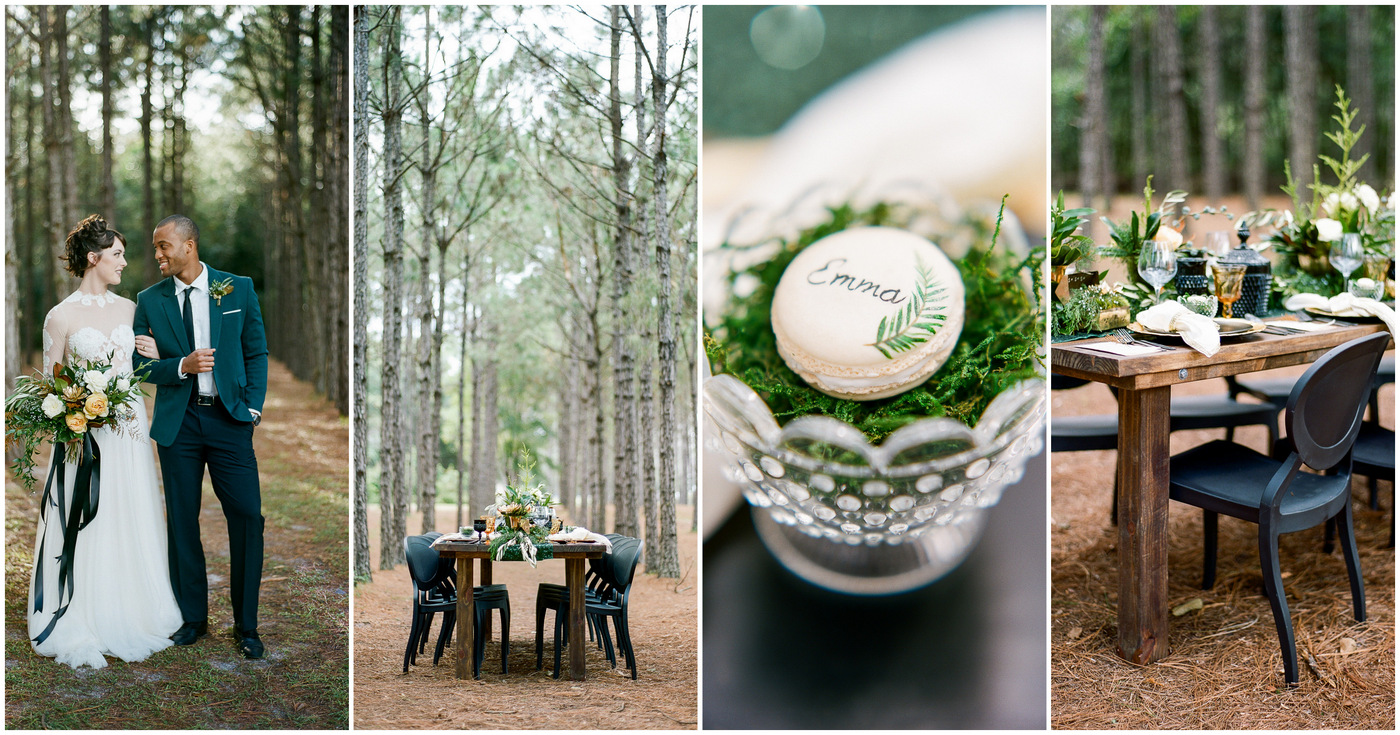 Today's outdoor festive season wedding inspiration combines forest glam with a moody edge – the perfect, subtle way to celebrate during the upcoming holiday season. The simple, earth toned palette features pops of emerald green, gold and black, in a mix of textures. The stunning backdrop of the pine tree forest provided the perfect juxtaposition to the glam elements and refined color palette styled by Becky Daly of Daly Digs and captured by The Ganeys.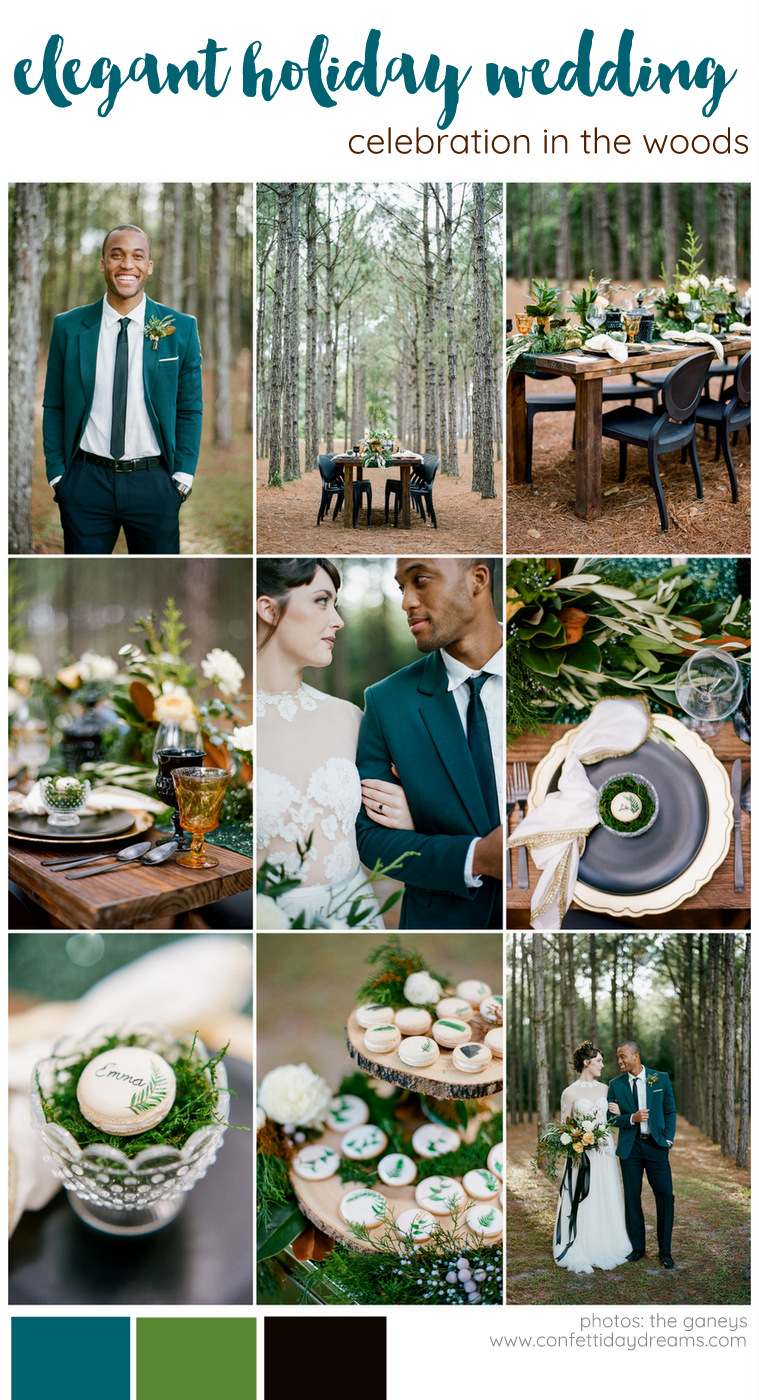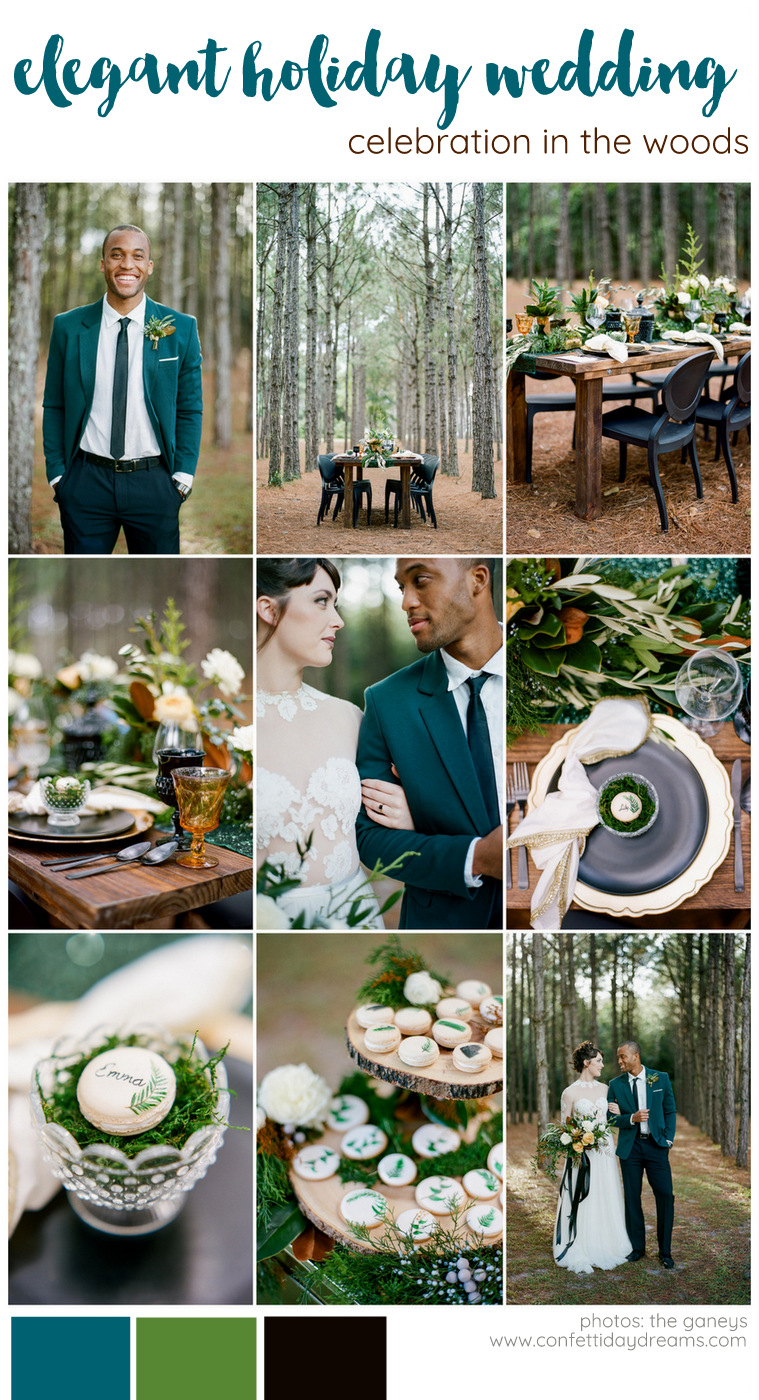 Rustic wood tones were paired with moody black accents and sequins to create an outdoor festive season wedding reception table. Foresty florals, full of texture and composed of unique foliage, were placed alongside stunning garden roses in mismatched brass vessels. Black chairs from Kate Ryan Linens were nestled angularly, welcoming guests in an unexpected way. At every place sat black flatware and a dinner menu. Hand-painted macarons from Sweets Illustrated were nestled among woodsy moss welcoming each guest to their outdoor festive season wedding.
Outdoor Festive Season Wedding Ideas in the Woods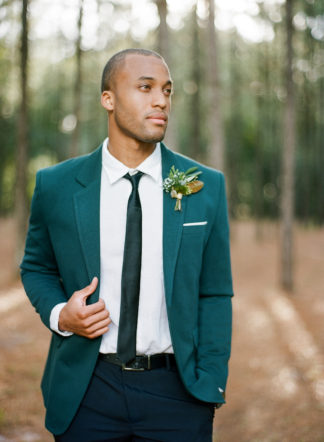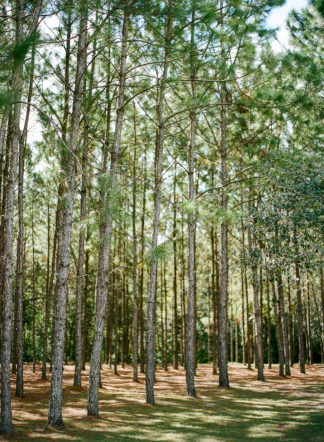 The groom wore an emerald suit jacket with a simple black tie. His boutonniere mirrored the bride's bouquet.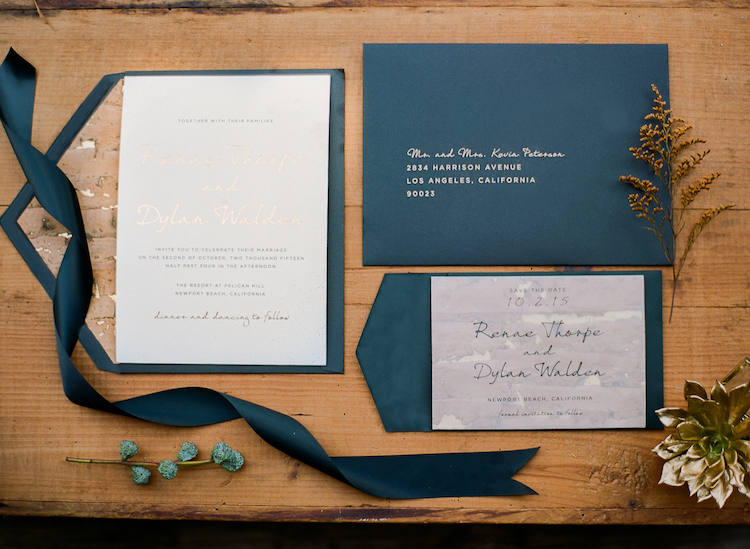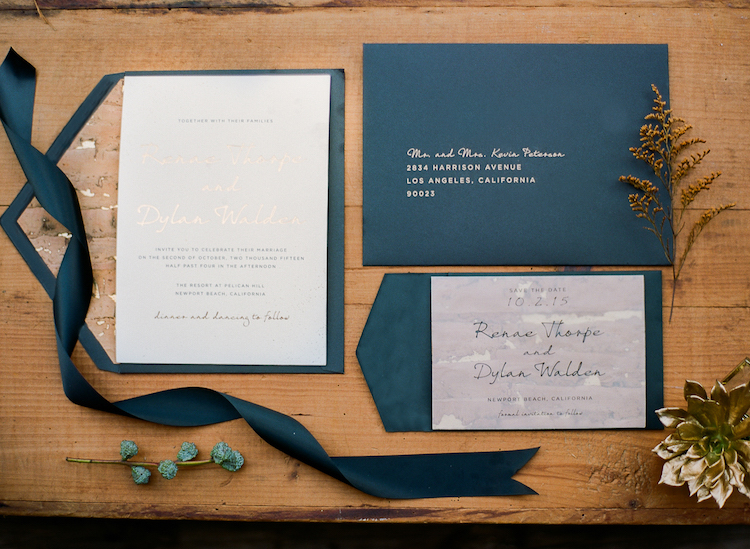 A navy and gold holiday wedding invitation suite from Engaging Papers were created using cork, gold foil, and vellum.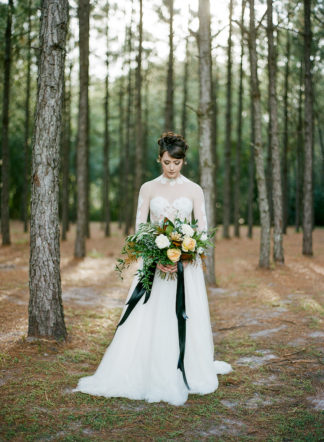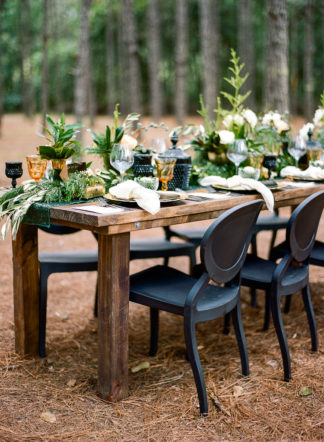 Lasting Luxe  perfected the bride's hair and makeup, accentuating her high cheek bones. She wore a Daalarna Couture bridal gown sourced from The Bride . The sultry top added just the right amount of drama to the bridal fashion. In her hand, the bride carried a garden style bouquet from Braun's Fine Flowers, complete with gold succulents and a ribbon black as night. Lush greenery, complete with evergreens to fulfill the spirit of the season filled out the flowers.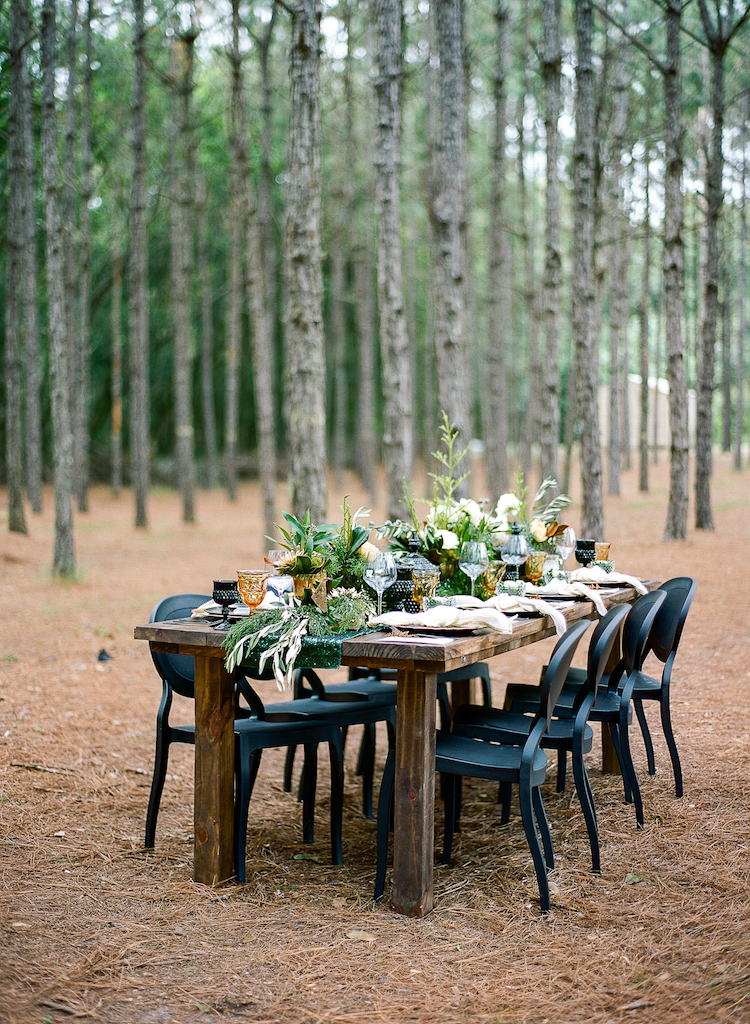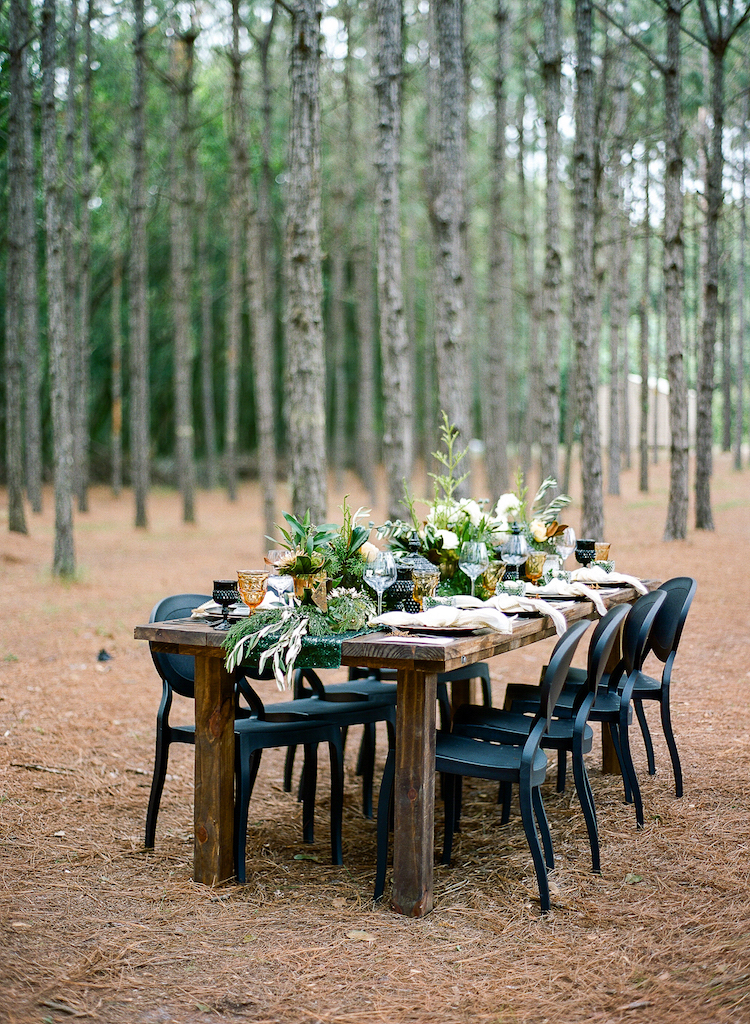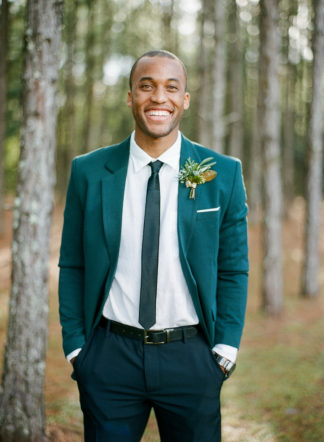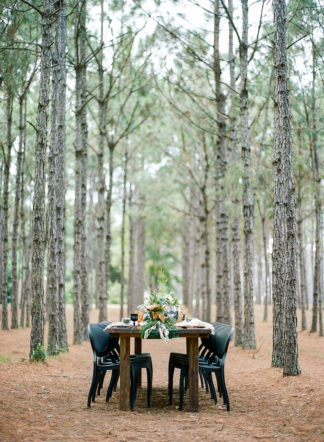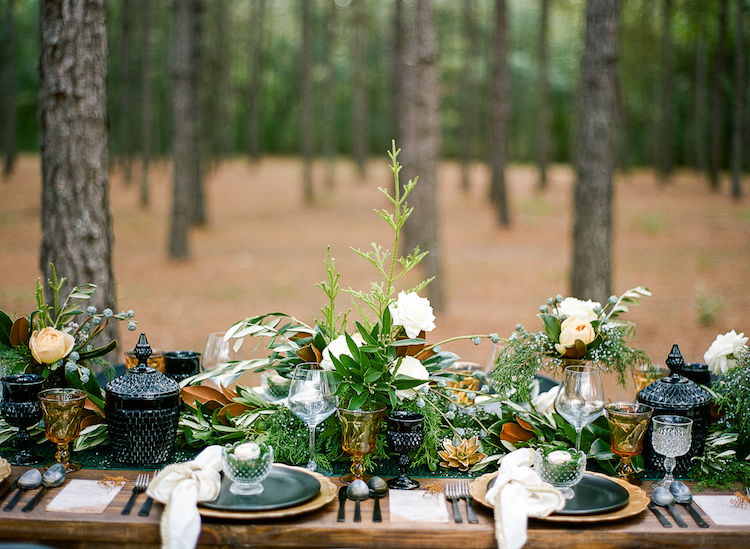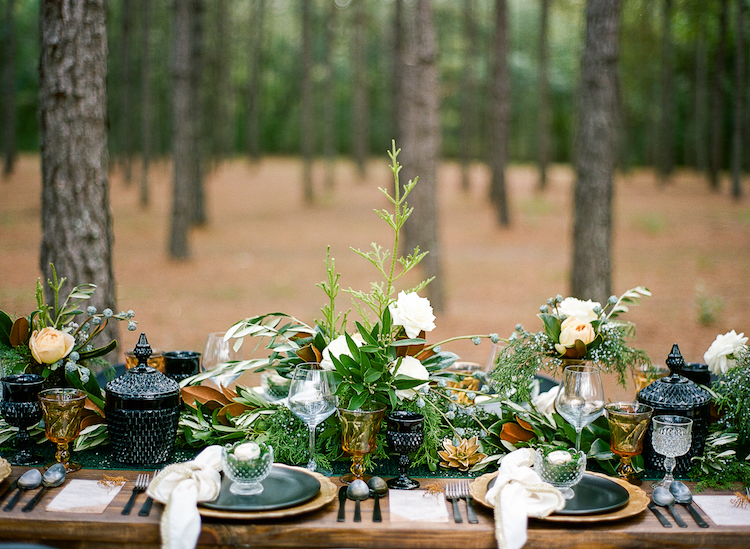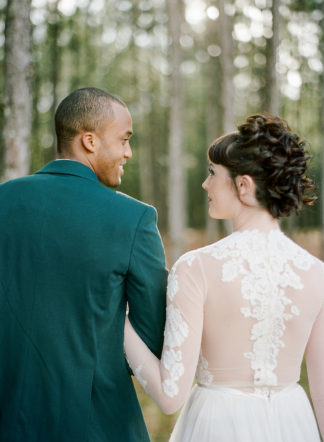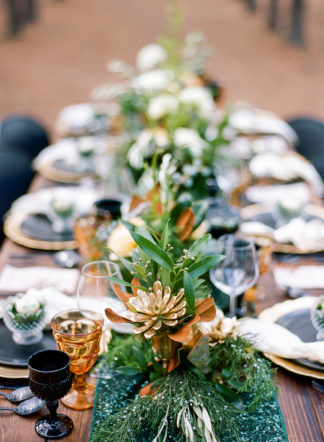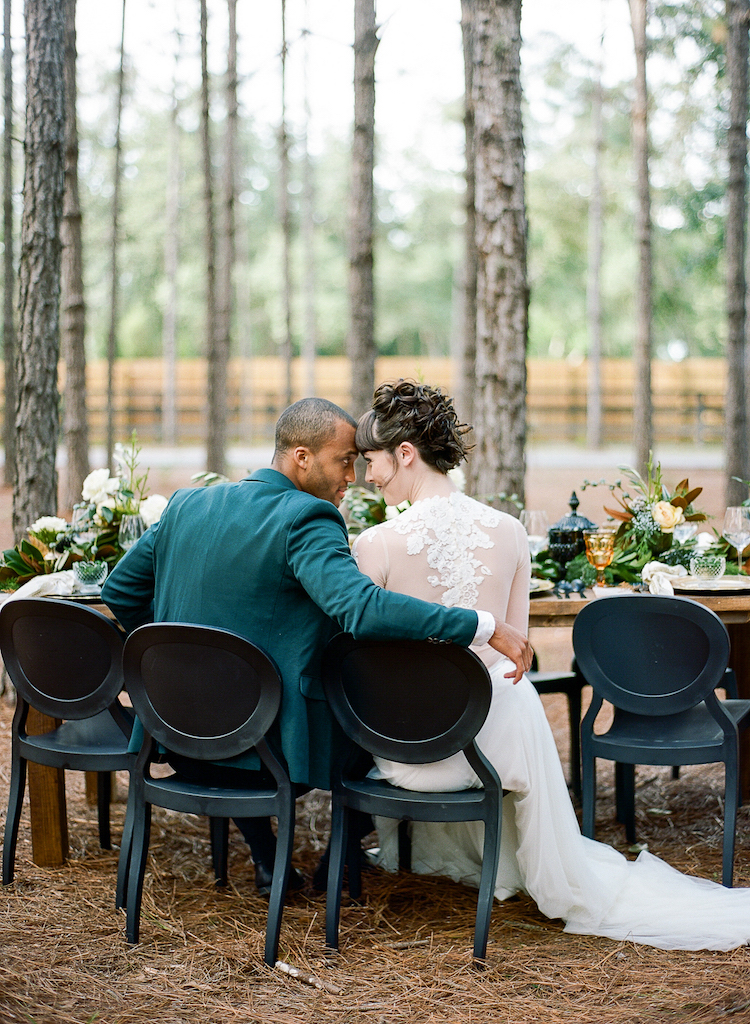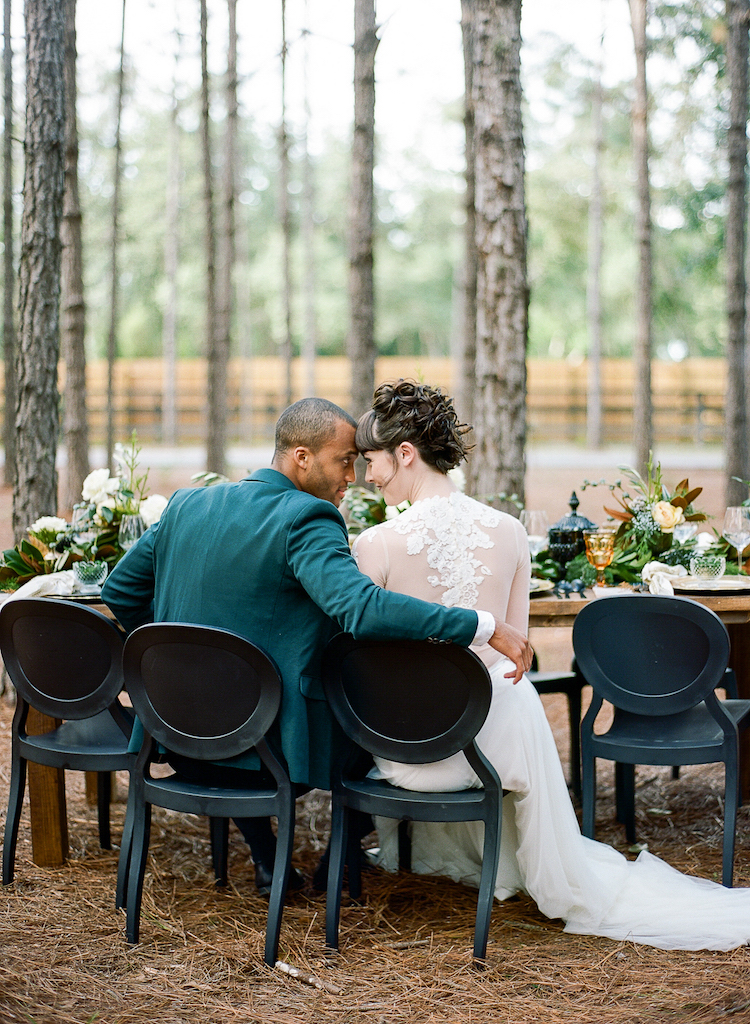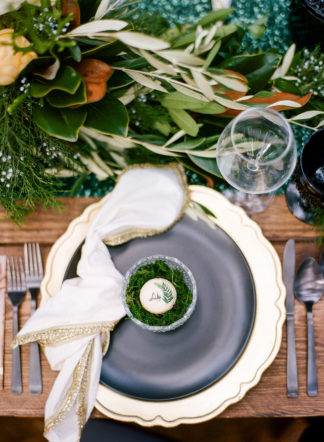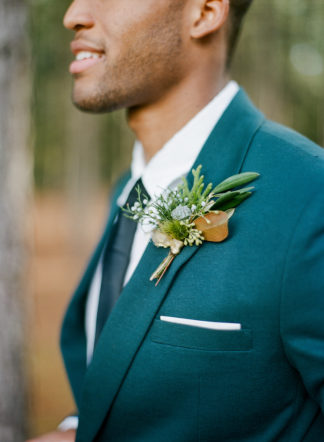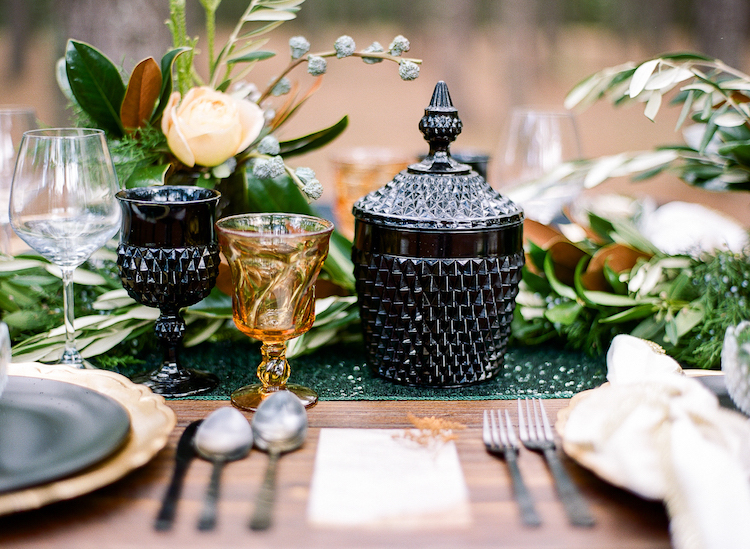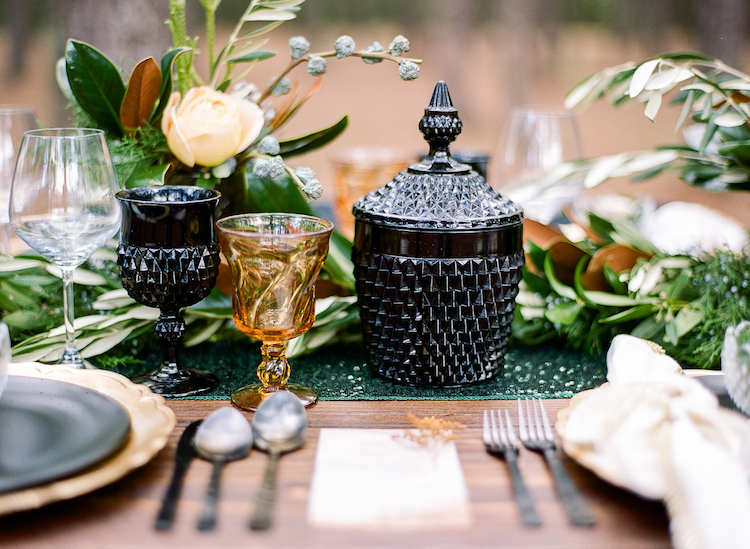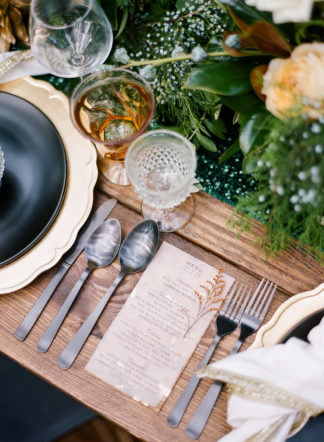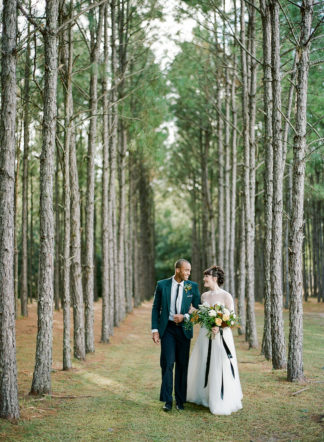 The outdoor happy hour lounge, complete with guests dressed to the nines in gowns from Rent the Runway, created the perfect chill space for a year-end, holiday season wedding!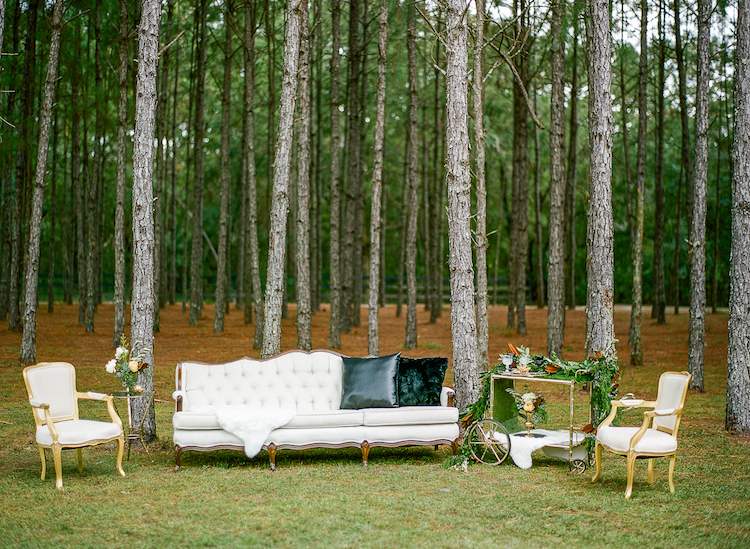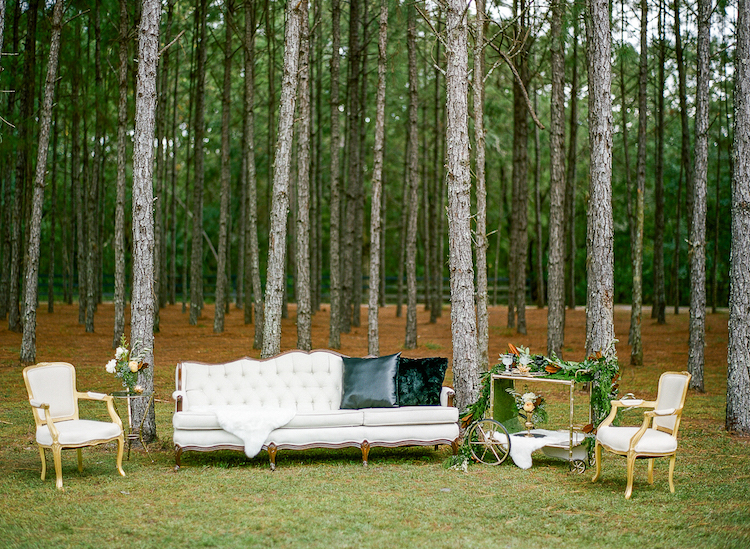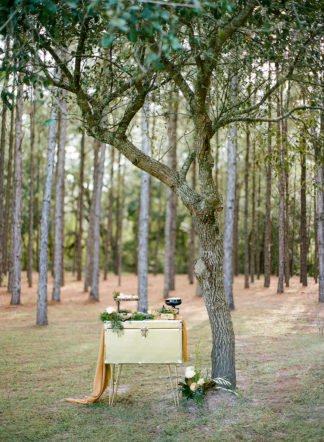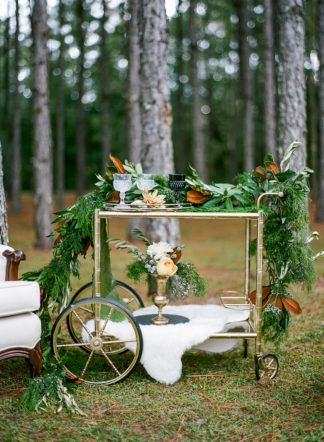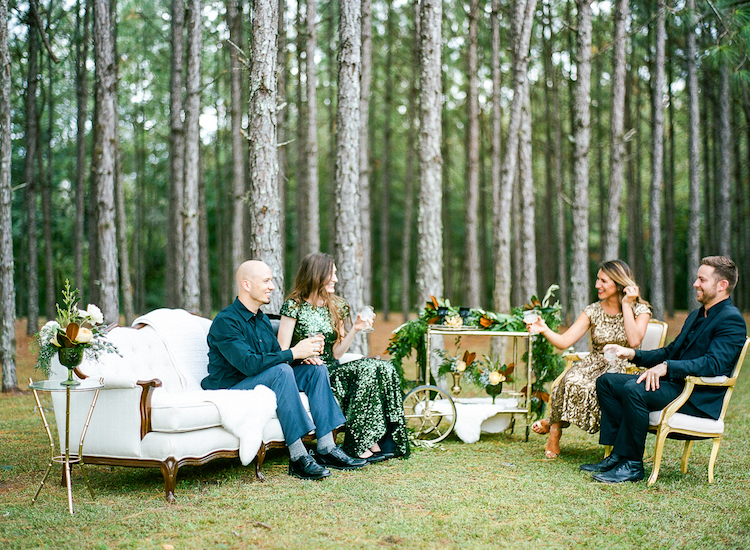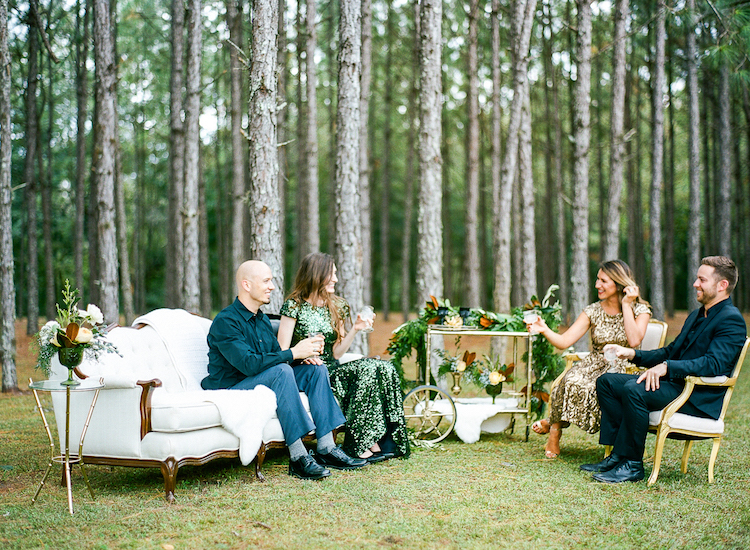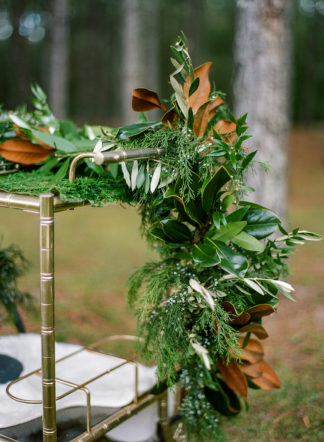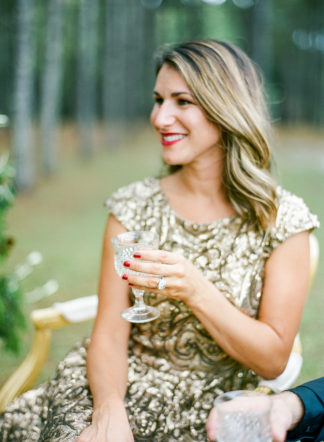 Wedding Vendors: Photography: The Ganeys // Concept, Styling, and vintage pieces: Becky Daly of Daly Digs // Black chairs & chargers: Kate Ryan Linens //  Florist: Braun's Fine Flowers // Cake: Christopher Cakes // Hand painted Sweets: Sweets Illustrated // Bridal Gown Shop: The Bride // Bridal Gown Designer: Daalarna Couture // Stationery: Engaging Papers // HAMU: Lasting Luxe  // Ring: PhaedoraJDesigns // Bride Model: Katie // Groom Model: Modern Muse Models // Guest gowns: Rent the Runway // Film Lab and Processing: Richard Photo Lab