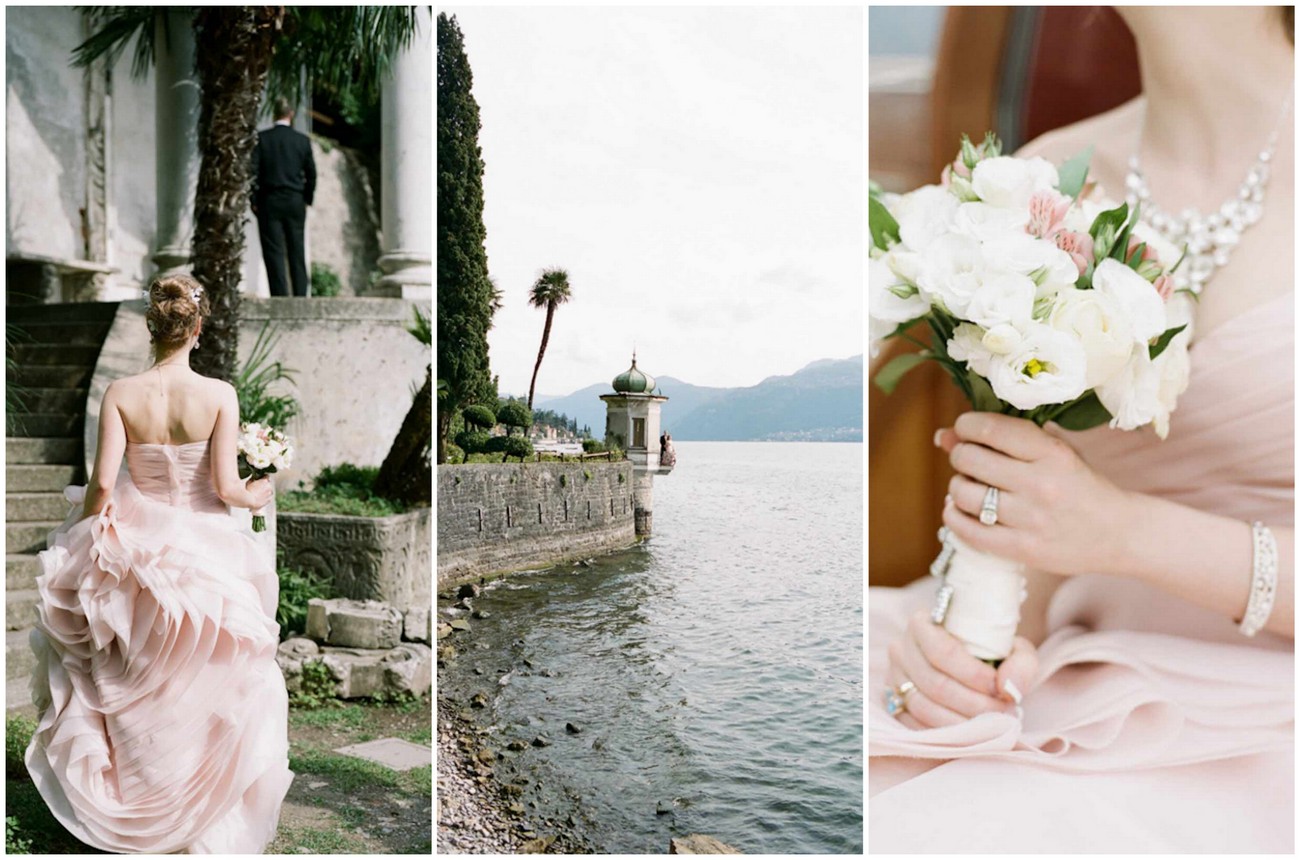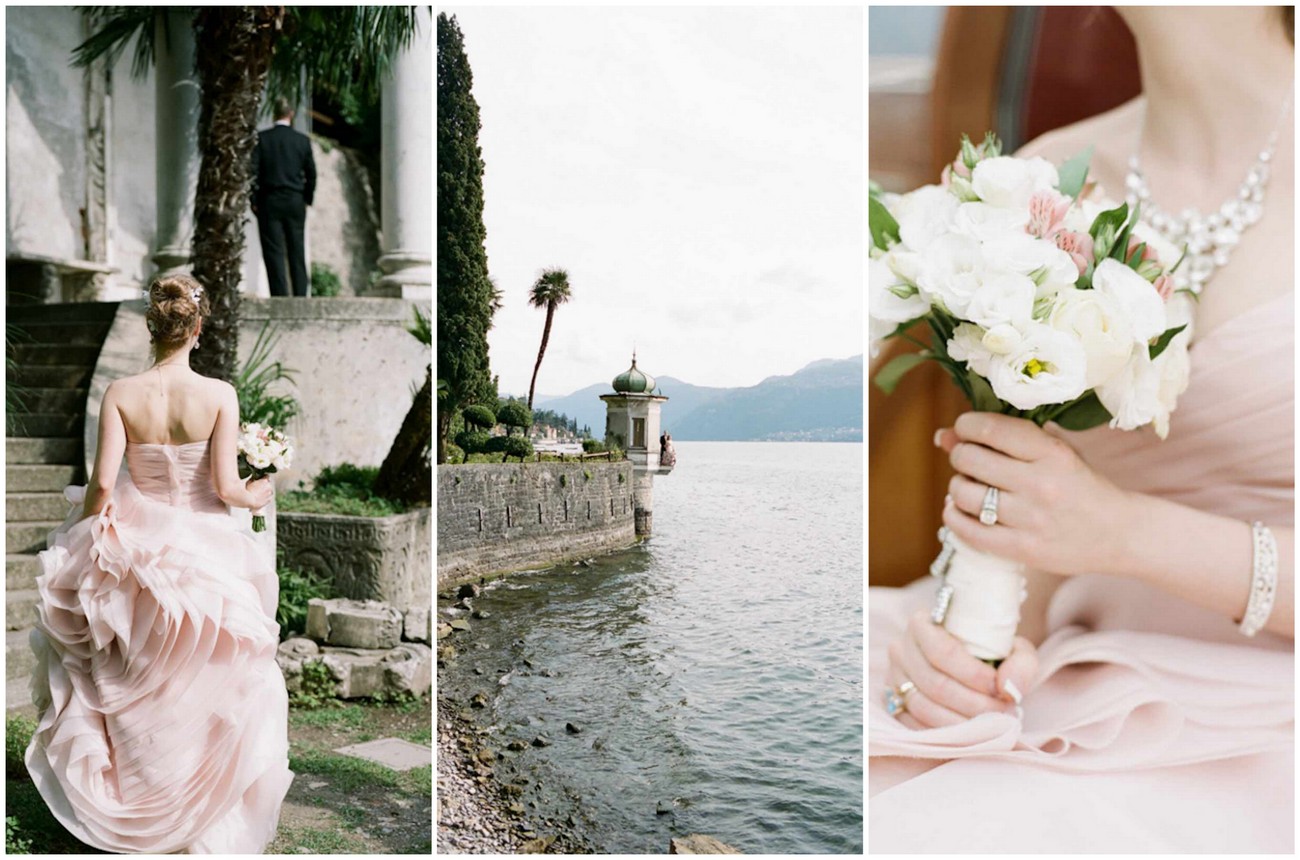 Mandy and John's elegant Lake Como Italian elopement captured by Rochelle Cheever is the stuff that fairytales are made of! John lived in Rome while working for the Vatican many years ago, and Mandy had traveled throughout Italy several times. They both love the people, culture, food and beauty of Italy, so it was a simple decision. John had been to Lake Como when living in Italy, and told Mandy that it was the most beautiful place in the world. The decision was made, they were headed to Lake Como for their Italian Wedding! 
As a professional event planner, and former wedding planner, Mandy didn't want to get too wrapped up in planning her elegant Lake Como Italy elopement: "I wanted to plan for our life together! John and I wanted to celebrate our love and prepare for our marriage, and combining that with our demanding careers, we knew eloping was the best way to have our perfect wedding day with minimal stress."
Mandy researched beautiful venues in Lake Como, and she fell in love with Balbianello. "I knew that is where we would commit our lives together. " And so it was! Mandy jokes that her favorite color is glitter, but next to that it's pink. "I knew that I wanted to wear the blush colored Vera from the moment I saw it. It was meant to be my dress!" She then added crystals to several elements the day, starting with encrusting the heels of her shoes to creat a fun design with John's initial on the bottom.
The tiny florist down the road had minimal flowers, so Mandy took what she had in the colors white and pink. "I loved the experience of walking to the florist and picking flowers, so I didn't' really care what they were. It turned out gorgeous!"
Mandy and John share how truly thankful they are for the love and support of their friends and family: "Their encouragement and happiness was felt in our hearts throughout the day. We will also be eternally grateful to our incredible photographer Rochelle Cheever who captured every detail of our wedding. Her unique talent cannot be explained, only viewed in her film. The artistry that she exhibits by not using digital cameras or photoshop is unprecedented."
Elegant Lake Como Italy Elopement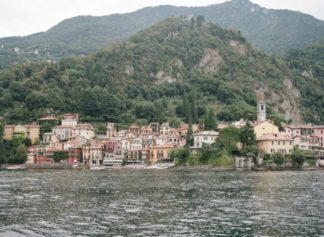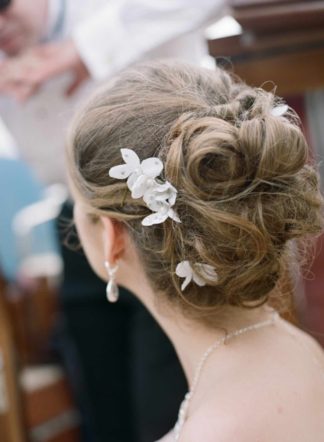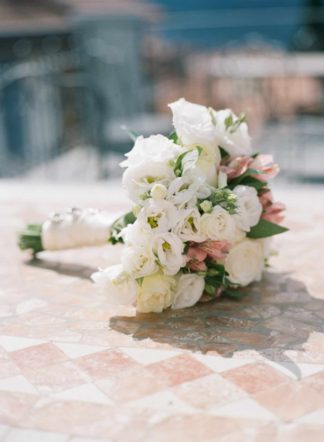 I knew I wanted to sprinkle white flowers throughout my hair, so I added the same crystals to little flowers and hot glued them to hair clips. Everything coordinated perfectly.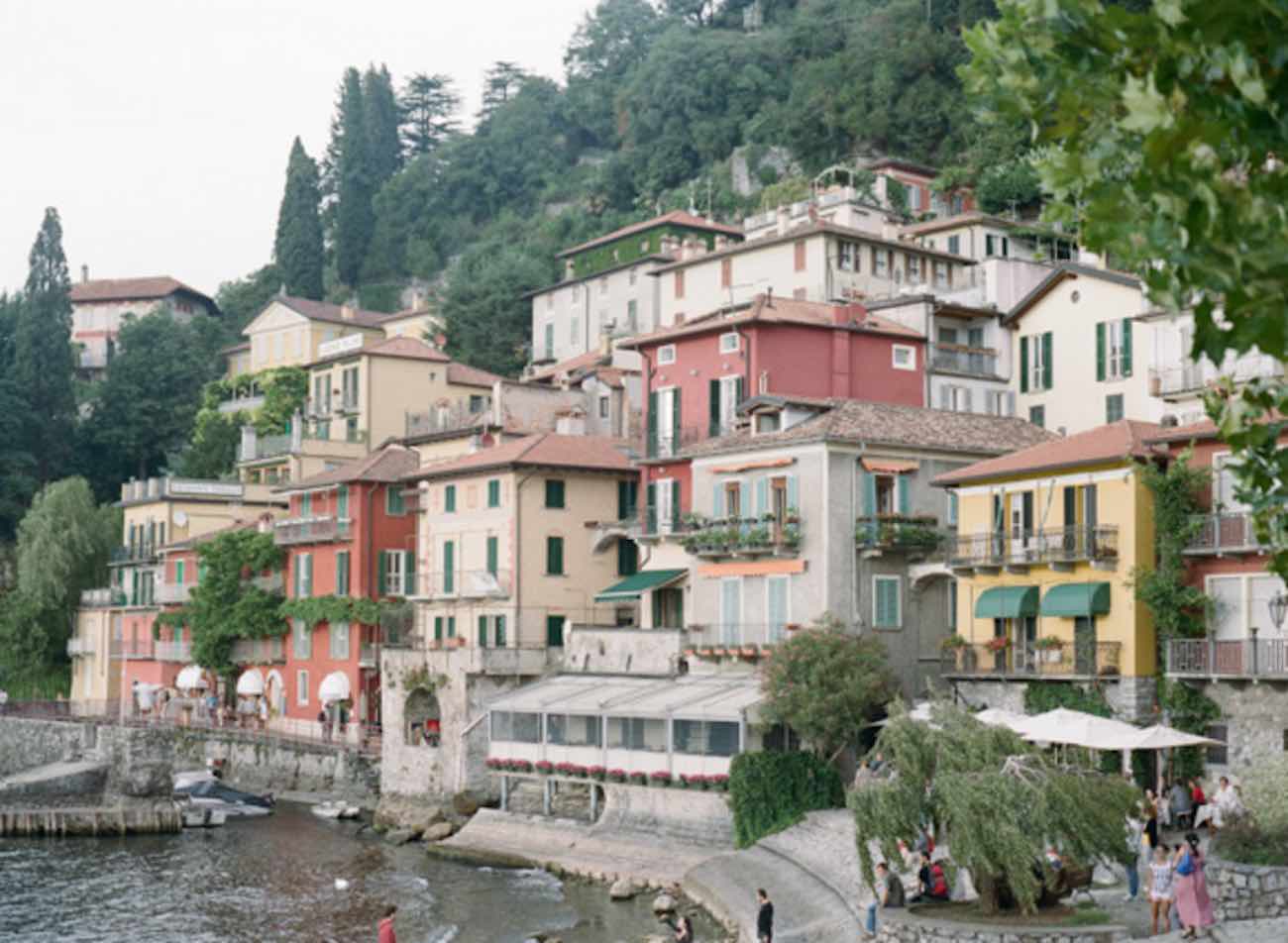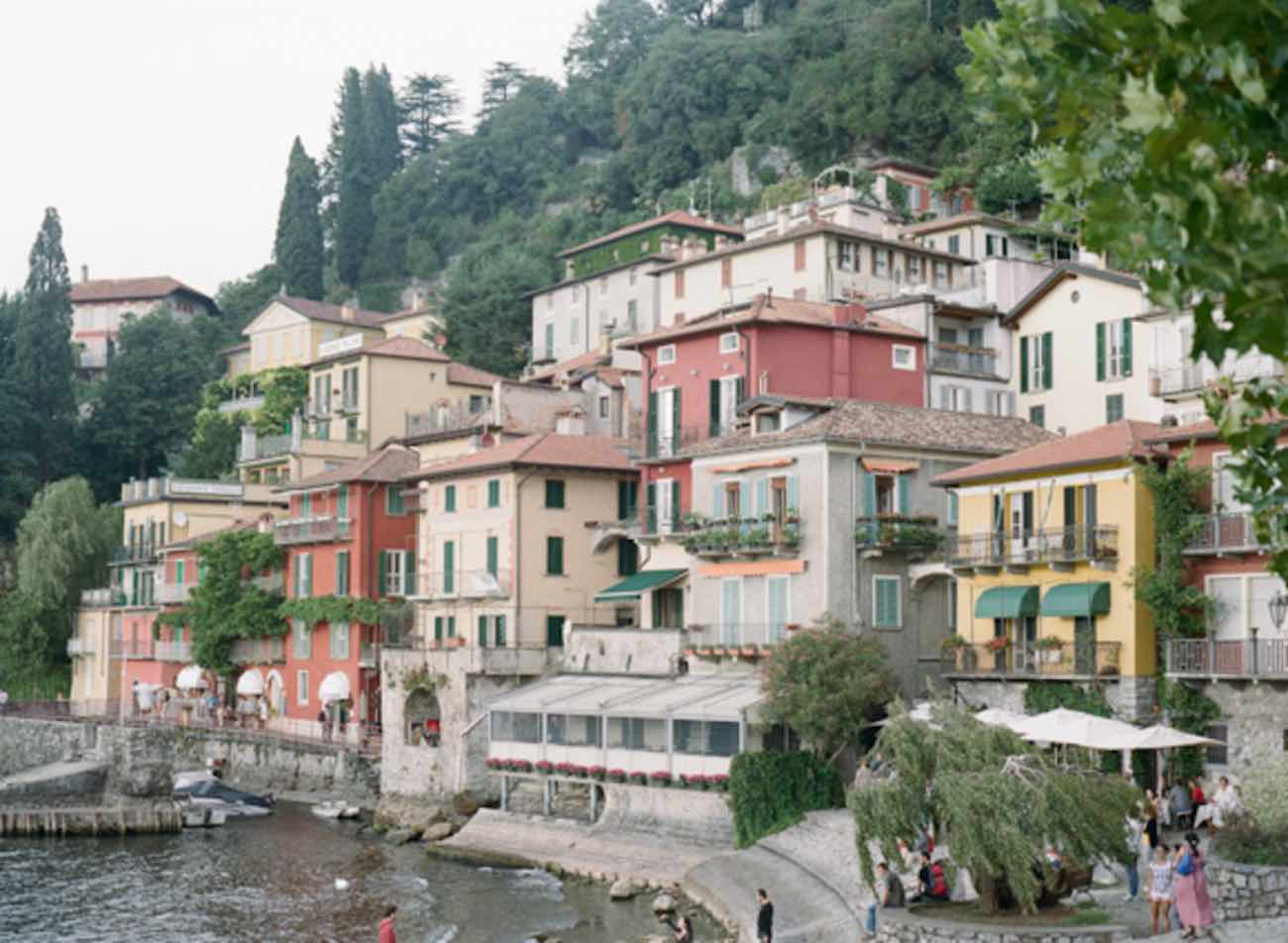 My bouquet was a very fun part of the day. Everything about it was amazing. From John and I getting our morning cappuccino and walking down to the florist. To picking out the flowers from the selection she had on hand for the day, to making the bouquet while on our rooftop overlooking Lake Como, with John sitting next to me while working on our scripture and format of wedding ceremony.
Then, I used the same crystals I used on my shoes to decorate mini- photo frames that had a picture of each of my family members. One for my father, mother, brother and furbaby – Bella.I attached each frame to my bouquet, so though my loved ones weren't physically with me, I held them in my hands and felt them in my heart through every step of the day. And finally, carrying the bouquet with my family smiling at me.Seeing their smiling faces and knowing they supported me was so special. So perfect!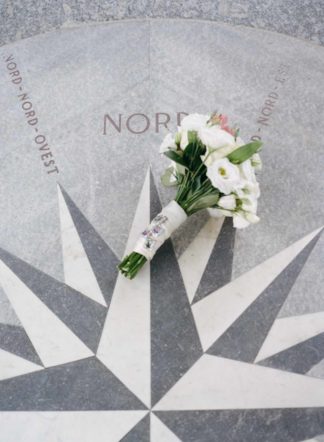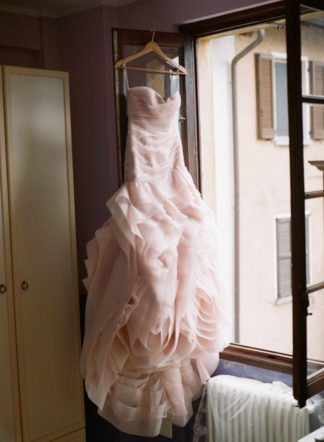 Everything about my dress – from the color, shape, and fabric was perfect for me. I made one alteration to the dress, which was to make it sweetheart neckline. It was the perfect change to make it one of a kind and all mine! I also loved that John wore his first pair of cowboy boots with his tuxedo. He's a proud Texan, which is where they are hand-made, and I loved that he was able to add his personality to his attire.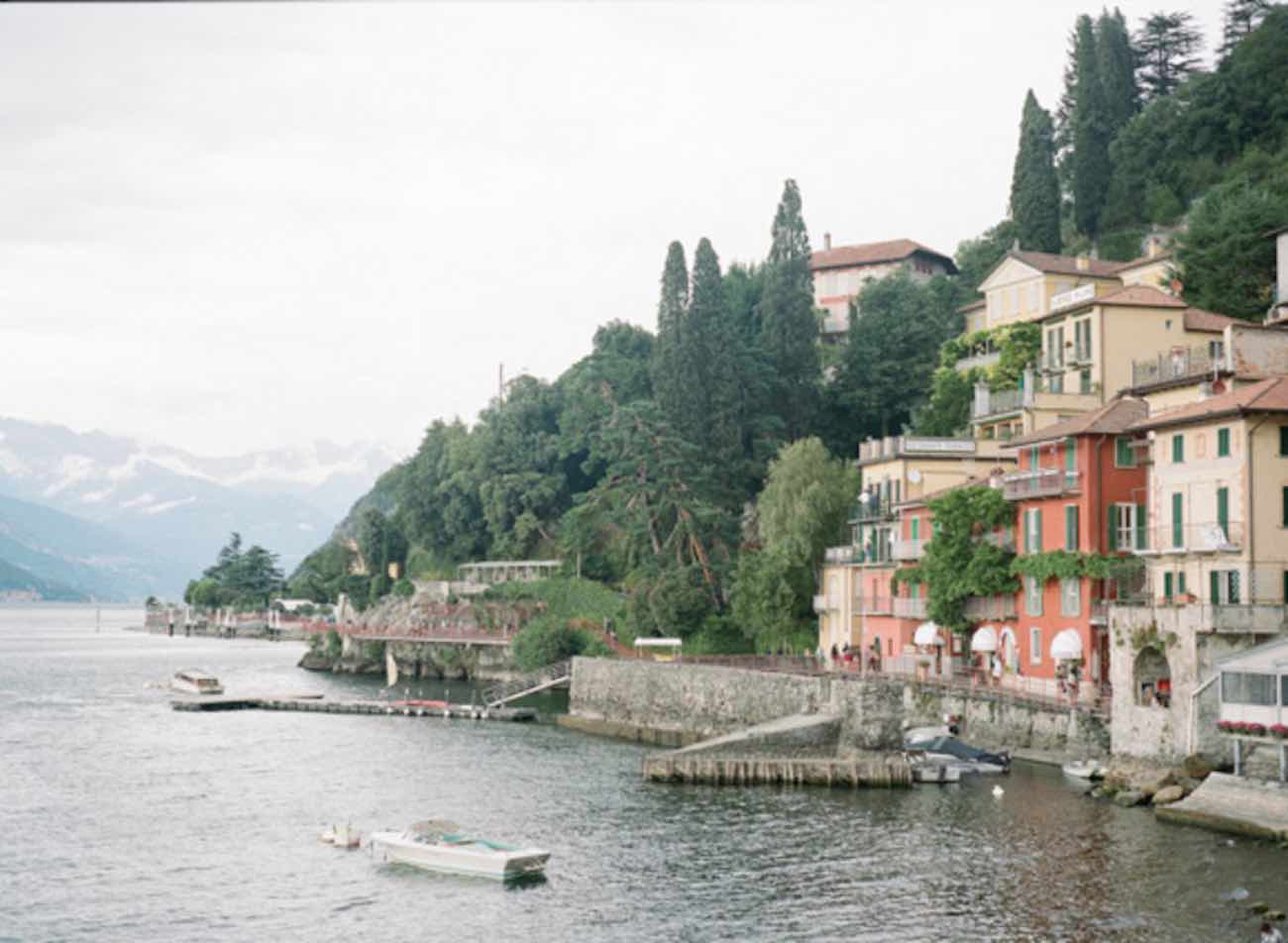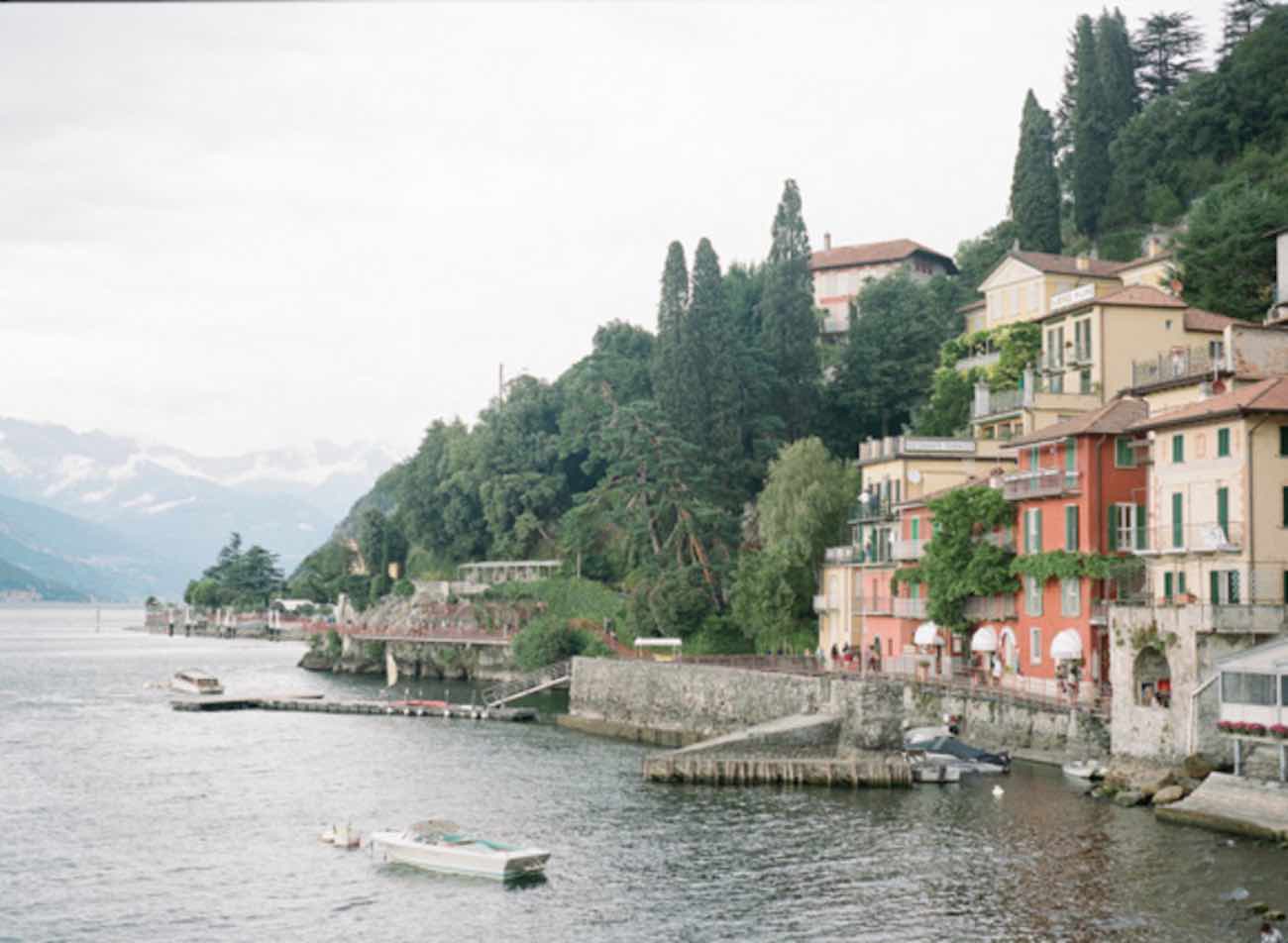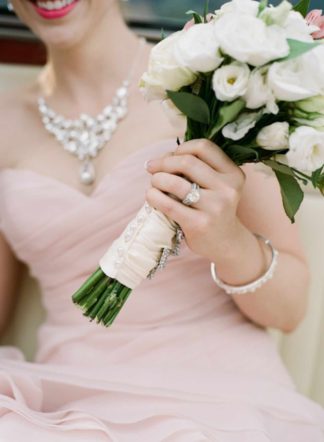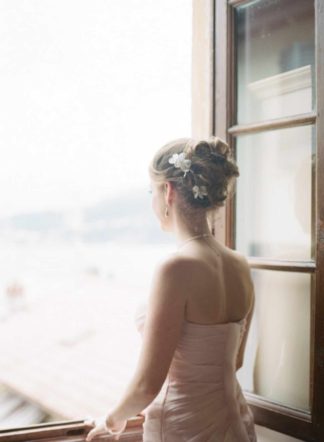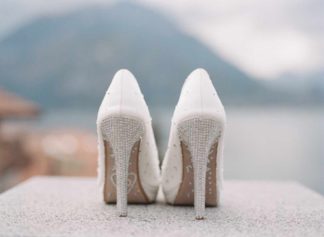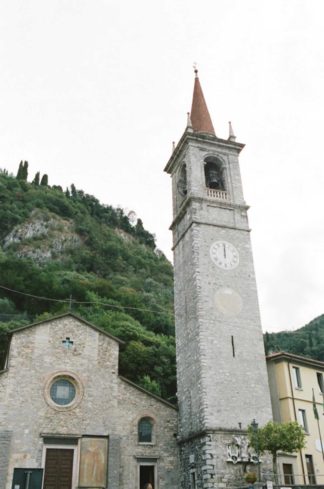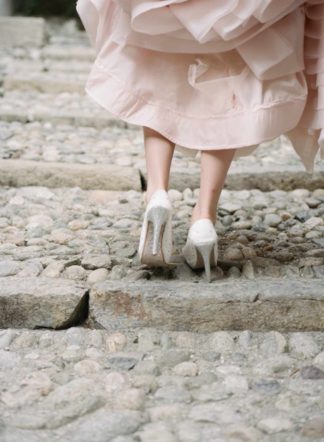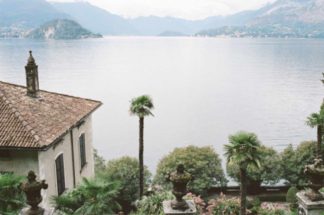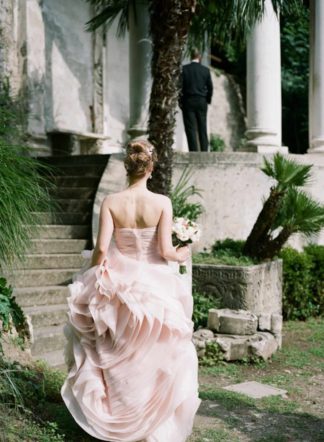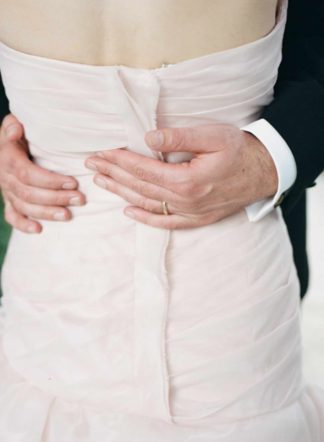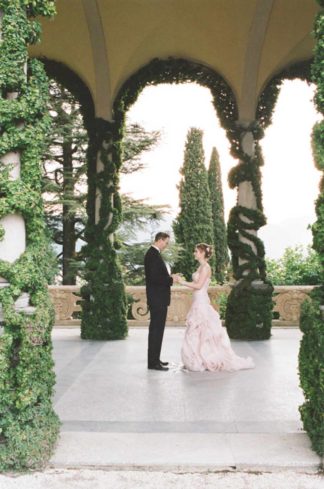 My parents, who eloped as teenagers over 48.5 years ago, gave John my father's first wedding band. The ring had disappeared during a move for several years and was replaced with a new one, so when the original turned up in an old piece old furniture, it stayed in my mother's jewelry box for decades. I was also wearing my mother's first wedding band. As poor teenagers, all they could afford was a simple gold band, and its simplicity is gorgeous. I wore her wedding band along with a blue topaz ring my parents gave me as a gift for my 18th birthday. All of these rings are so important to me, and giving John my dad's ring was such a kind way of welcoming him into our very close-knit family.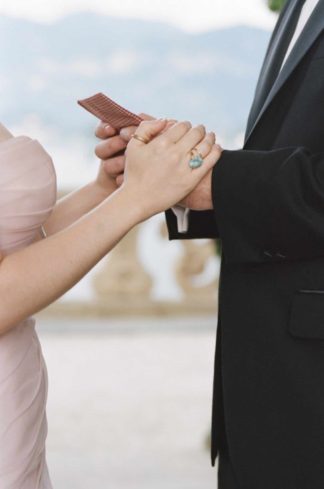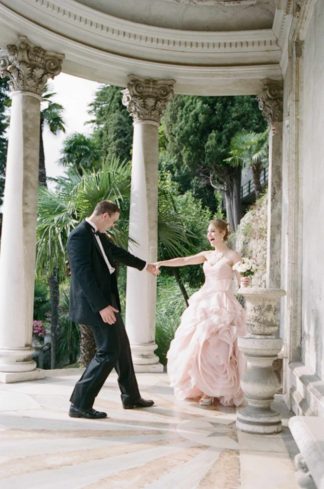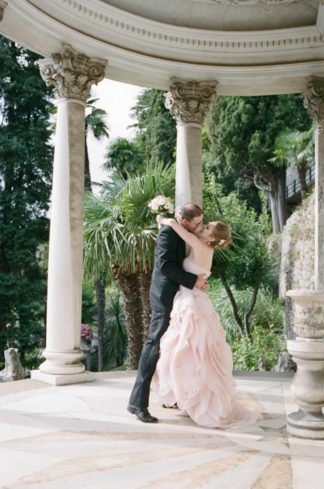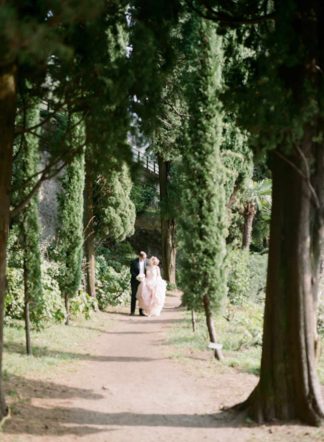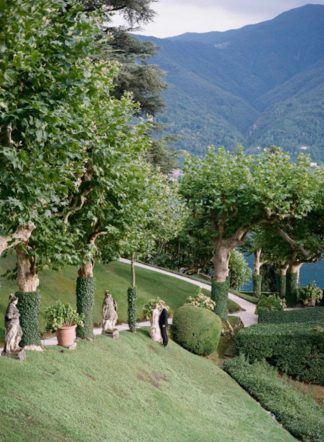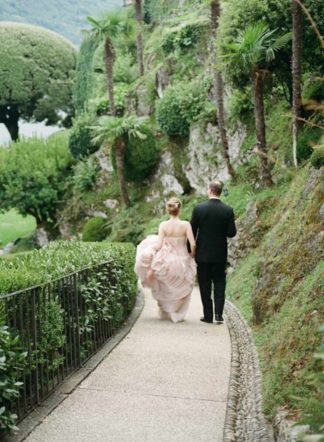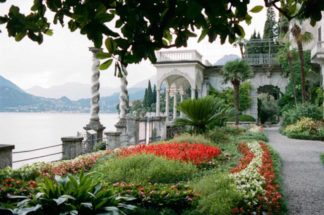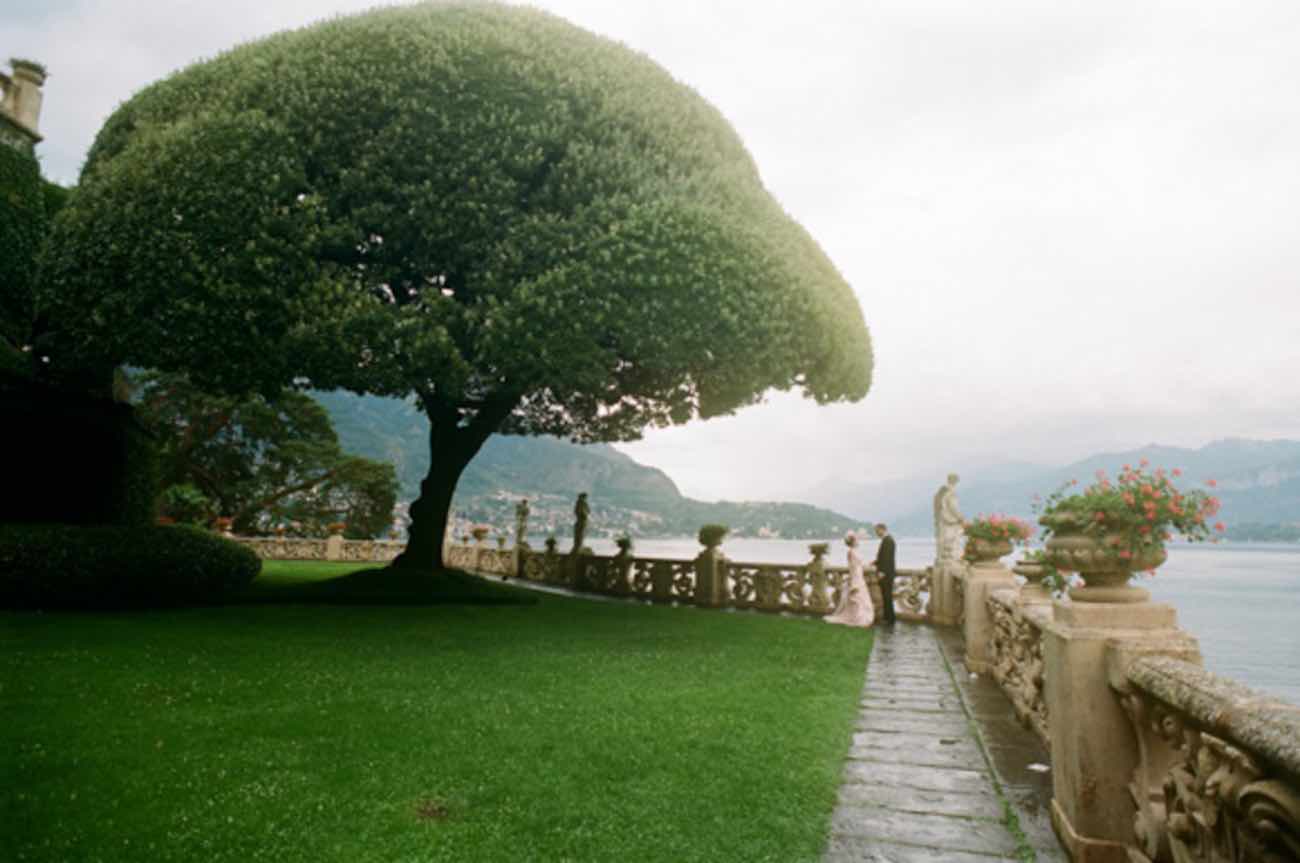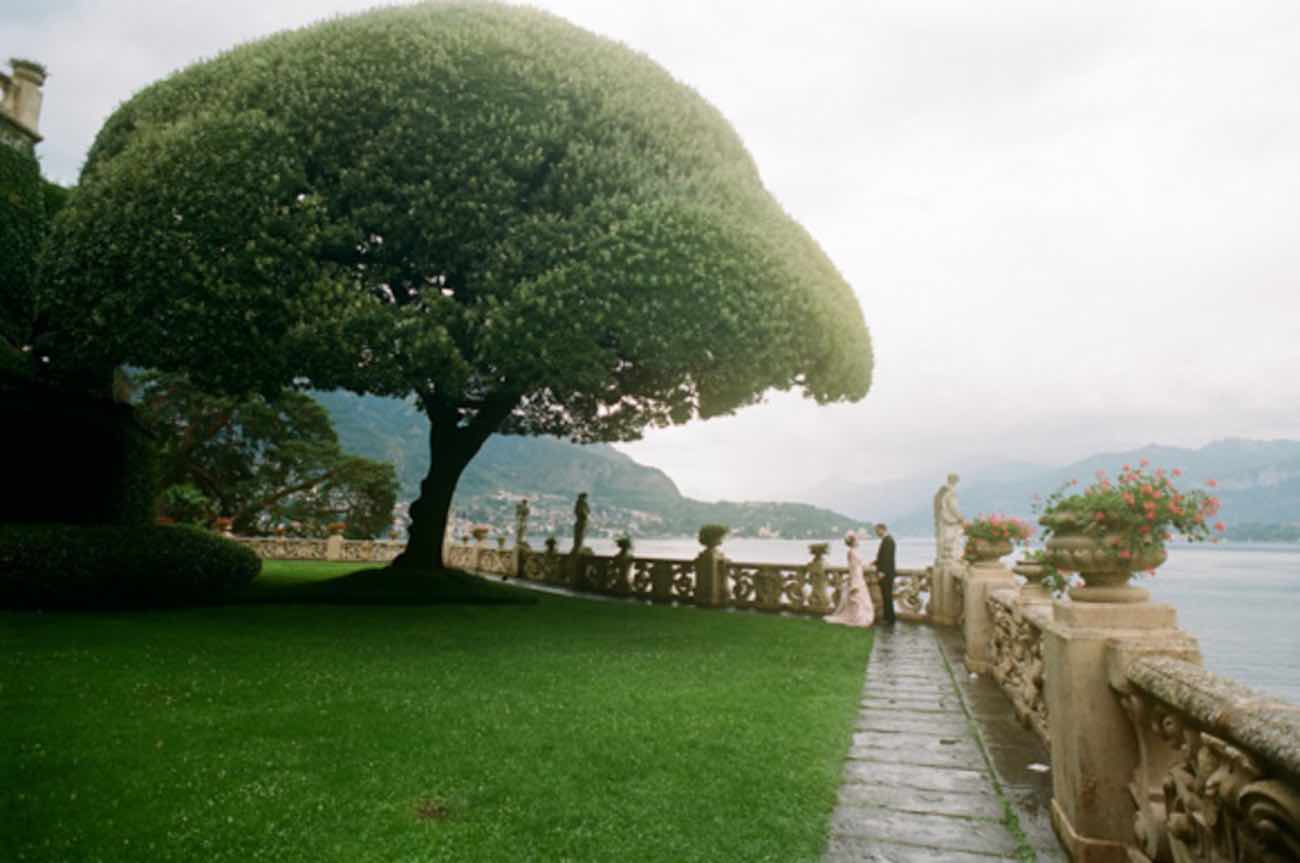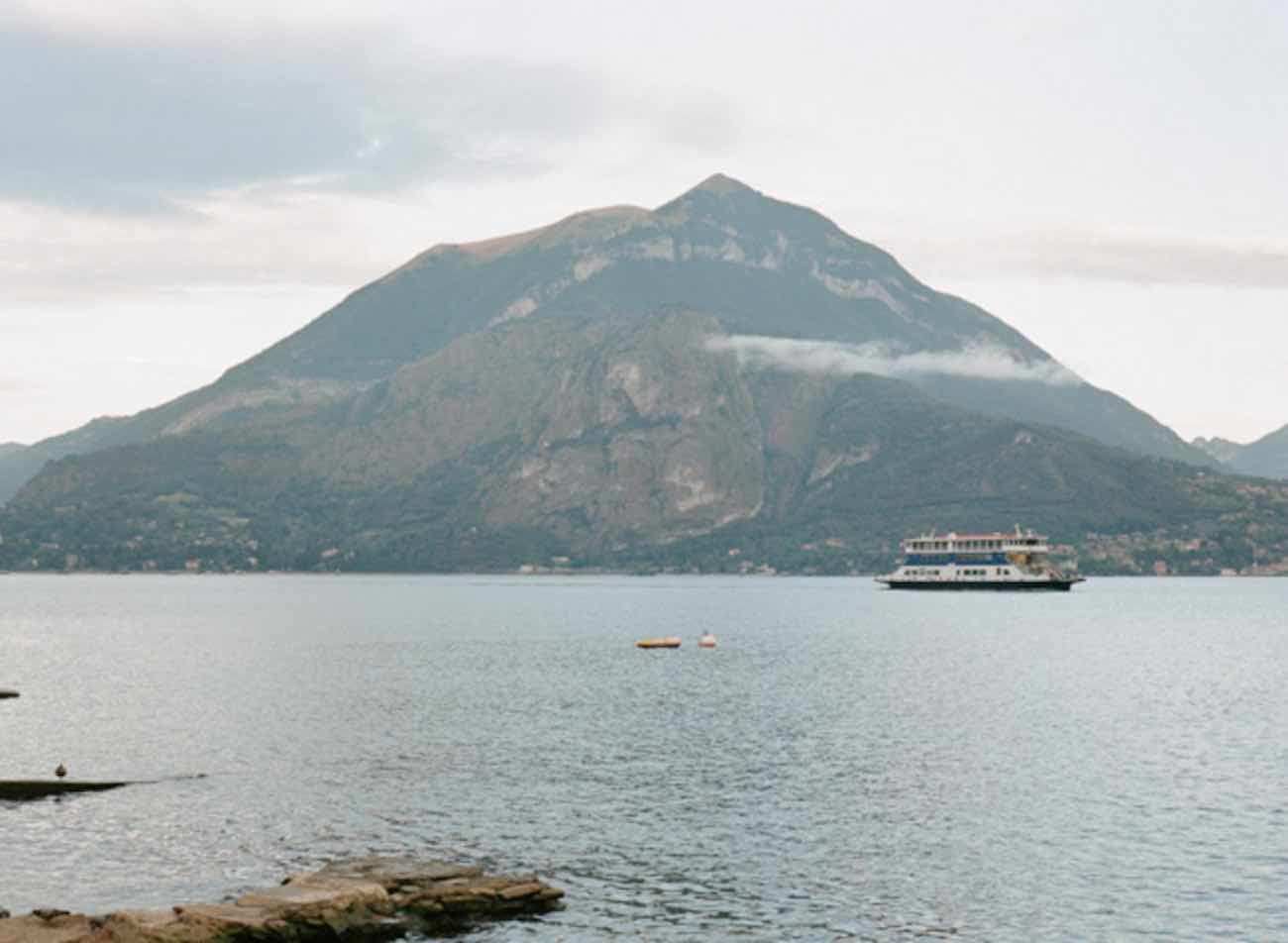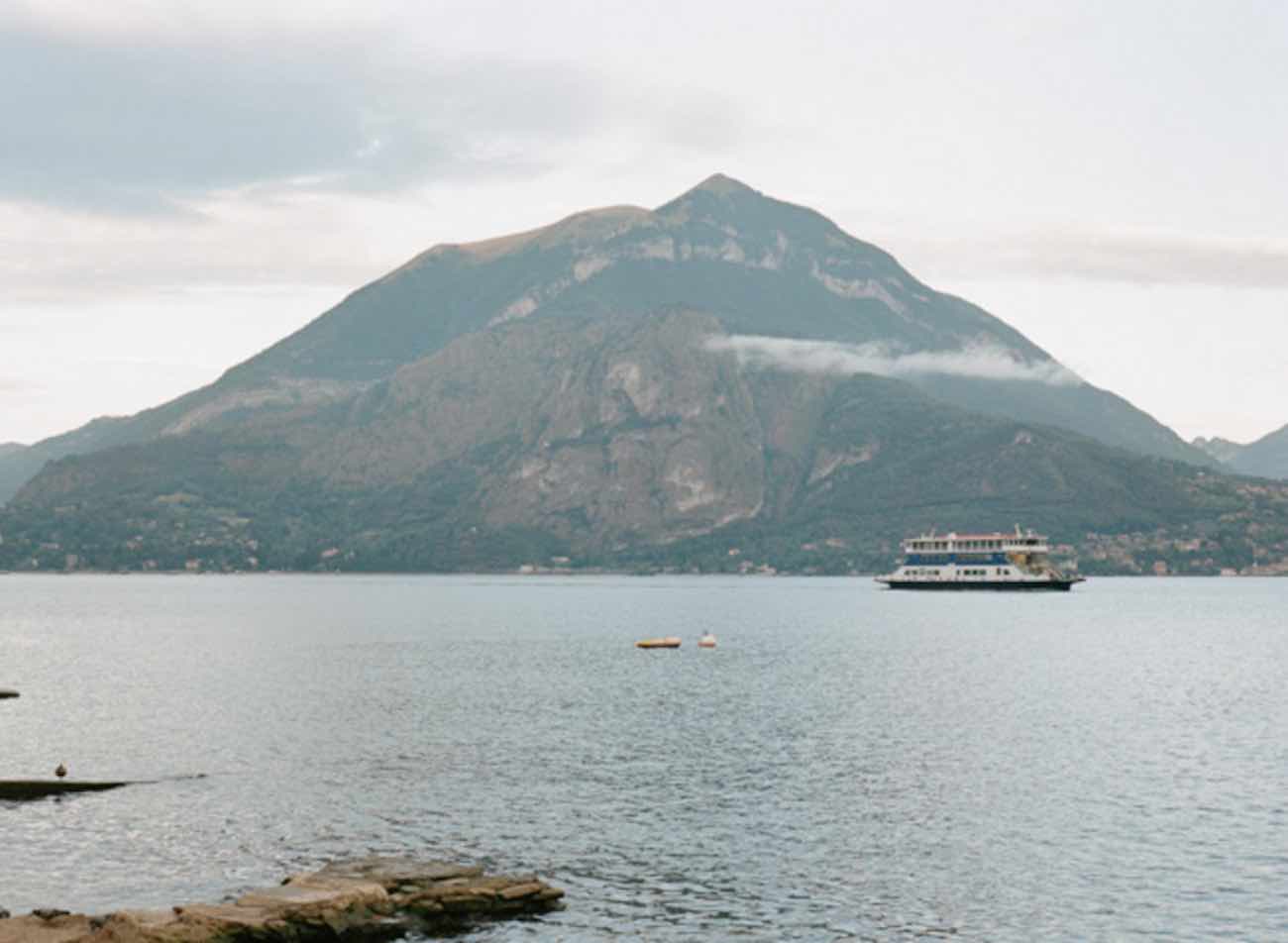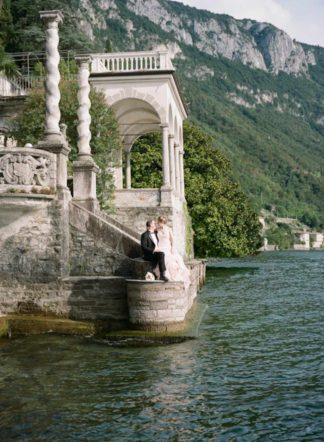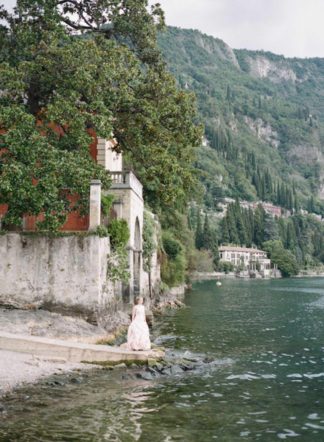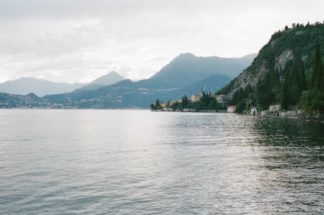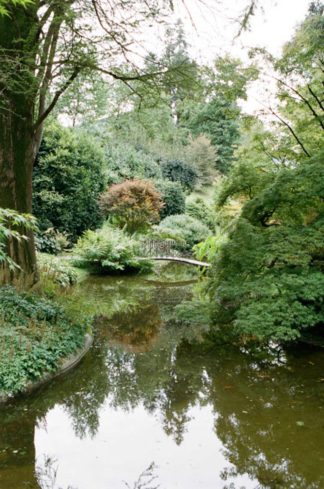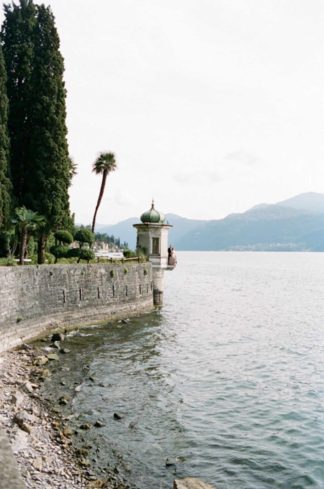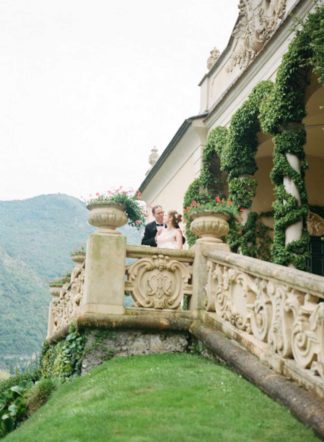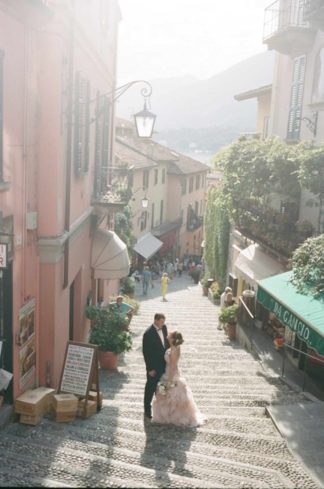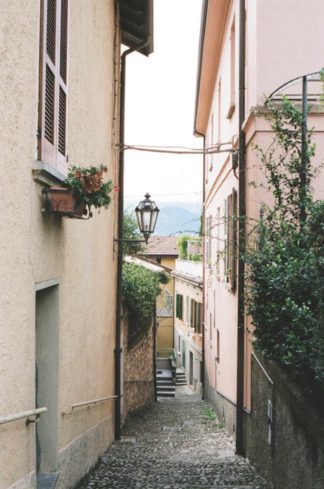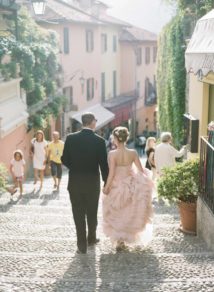 Love Story:  John and I met on a business trip in San Diego. I was the event planner for a conference and he was accompanying the keynote speaker. I told John where he needed to sit for dinner, and he tried to tell me he wasn't going to sit there because he preferred to stand. After a heated discussion and explaining why I couldn't have an empty seat in the front of the room, he agreed to sit. 5 minutes into the dinner he came to the back of the room where I was running the Audio Visual so he could talk to me. We still joke that from that first meeting John knew he wanted me to boss him around for the rest of his life.
John proposed the day before Thanksgiving at a restaurant called The Oasis in Austin, TX. On our third date, John flew me from Washington, D.C. where I lived, to Austin, TX where he lived. The Oasis is famous for their margaritas and the view of the sunset going down over Lake Travis. John snuck us up to a private area 3 floors above the other guests, and dropped to his knee while holding my furbaby, Bella. The sun set right as he proposed – it was incredibly romantic and personal.
Wedding Planning Advice:
Wedding Service Providers
Photography: Rochelle Cheever
Location: Villa Balbianello
Wedding Planning, flowers, hair and make up: Bride
Gown Designer: Vera Wang

Groom's Clothing Designer: Calvin Klein
Catering/Restaurant: Dinner at Villa Cipressi restaurant, La Contrada