Baby's Breath, Lace, and Pure Romance
Christine and Jonathan's vintage wedding was an enchanting affair filled with grace and romance. They wanted their wedding day to portray a love for tradition while honouring their fun loving personalities. Touches of baby's breath combined with delicate lace and a soft, sumptuous palette of nudes and blush will carry you away into a dreamy wedding wonderland as you enjoy the exquisite images captured by Louise Vorster.

♥  ♥  ♥
Their Love Story:
We met in London when Jonathan moved into the South-African house share I was living in. At first I tried to ignore him and avoided going on outings organised by other house mates as I knew I would fall in love with him. But it was not long until the late night coffee's started happening in our kitchen with us chatting until the early hours of the morning…
Their Proposal:
We were on our way from holiday with my family in Plettenbergbaai to his family in Pearly Beach on the 24 December 2012. Jonathan was very calm and I did not expect anything. From the moment we left Plett he kept on saying that something felt wrong and sounded strange at the back wheel of the car but I ignored this as I did not notice any strange sounds. An hour's drive out of Mosselbaai he stopped the car at a beautiful picnic spot next to the road, to look at the back wheel which he complained about. There were beautiful mountains and a water stream in the background. He pretended that there was something major wrong with the car and asked me to get out to come and have a look at the wheel. As I bent down to look at the problem he was pointing to I saw the diamond ring in a beautiful box balanced on the wheel. I was not sure what was happening until he knelt down next to me and asked me to marry him. I definitely said yes and we popped a bottle of champagne!

The Wedding Dress: I had an elegant mermaid-style full lace dress worn with an A-line style sheath over the dress making it very different than the usual wedding dress. The jacket was a one shoulder style and had an amazing back. I wore the jacket during the ceremony and most of the reception however later at night took it off and it looked as if I had a new dress!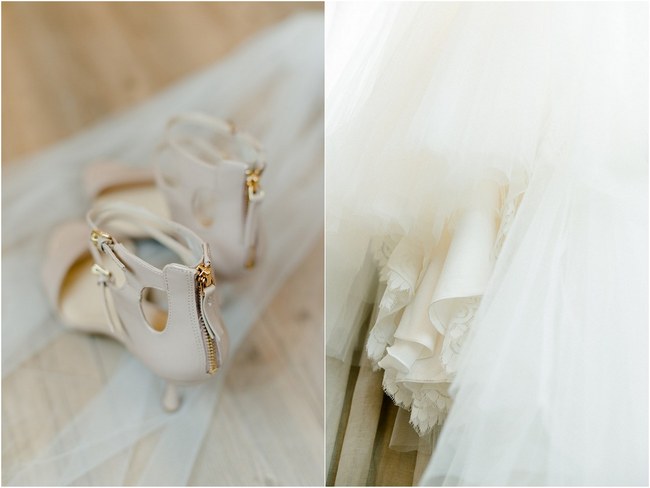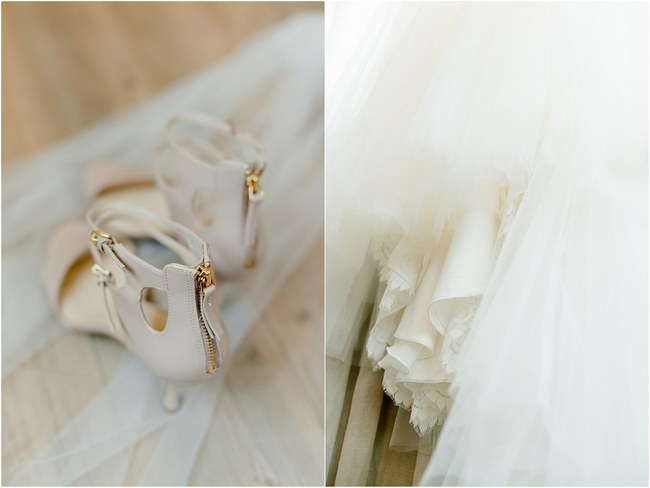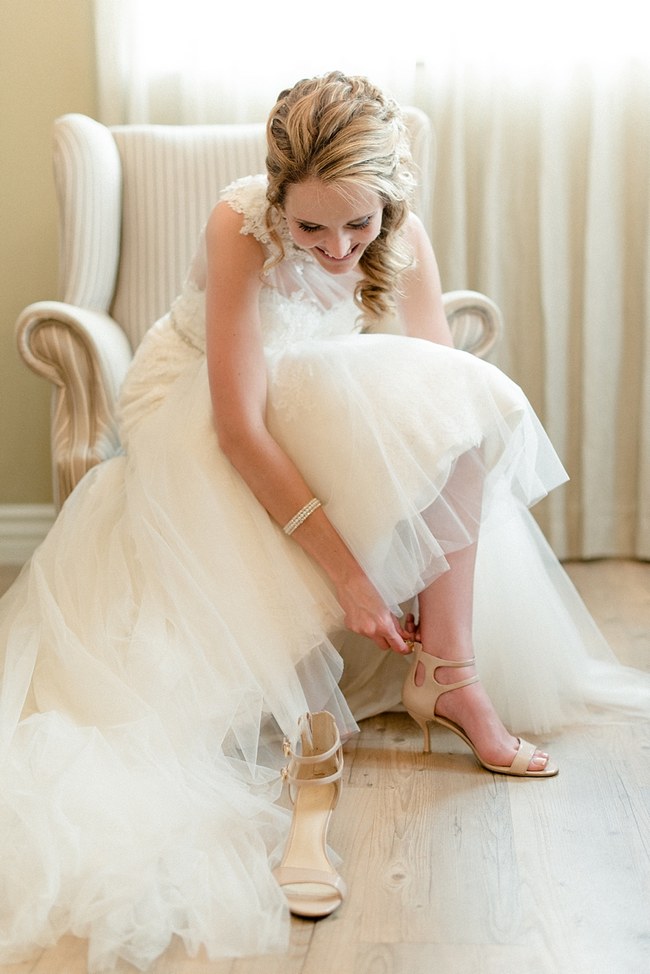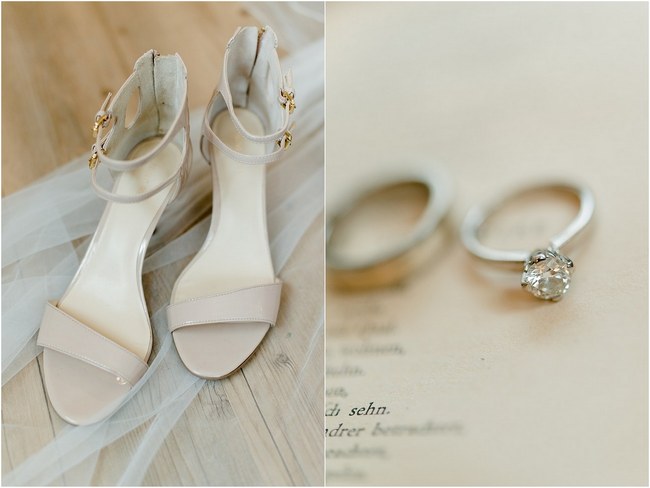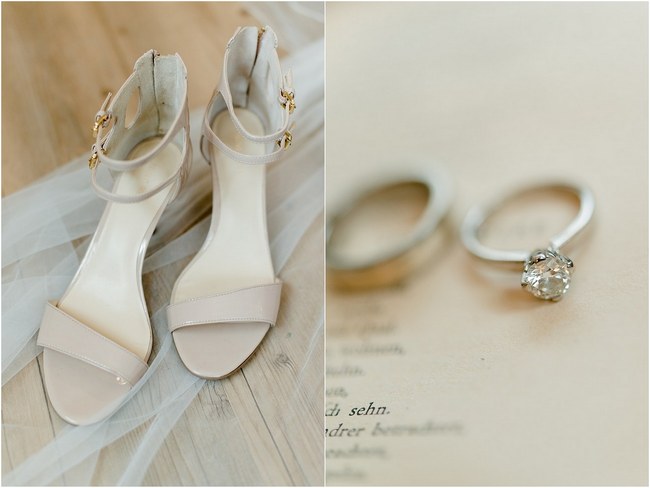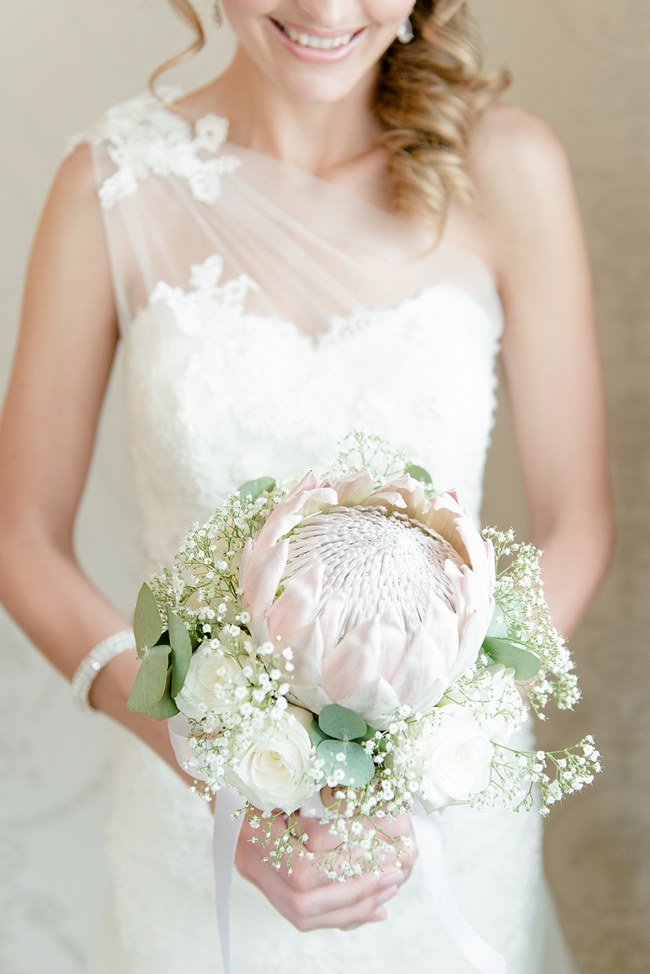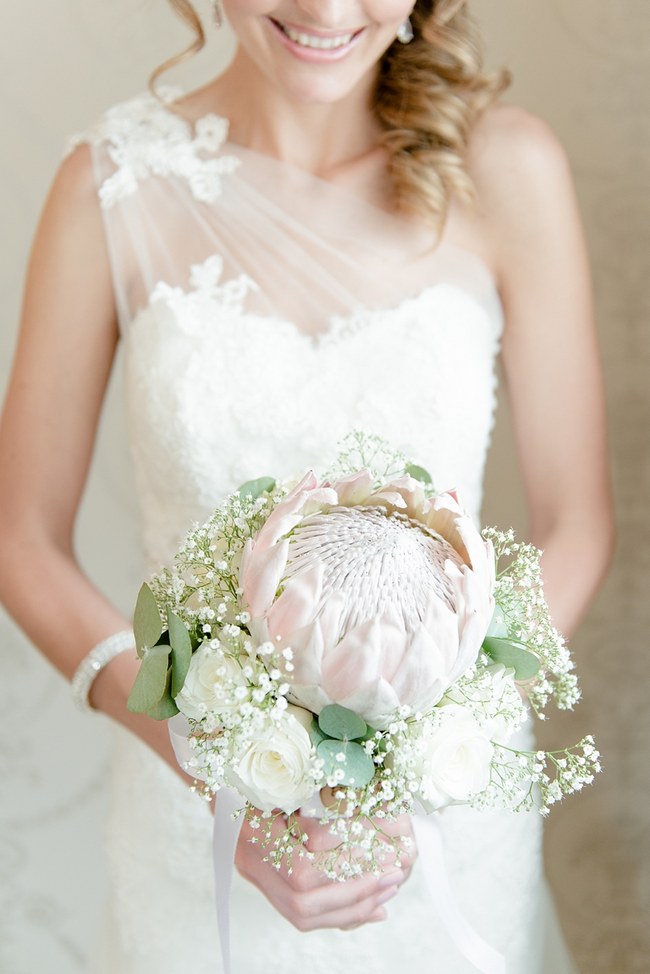 The Bouquets: The bouquets were made by my aunt. Mine had a Protea, with white and pink roses and baby's breath.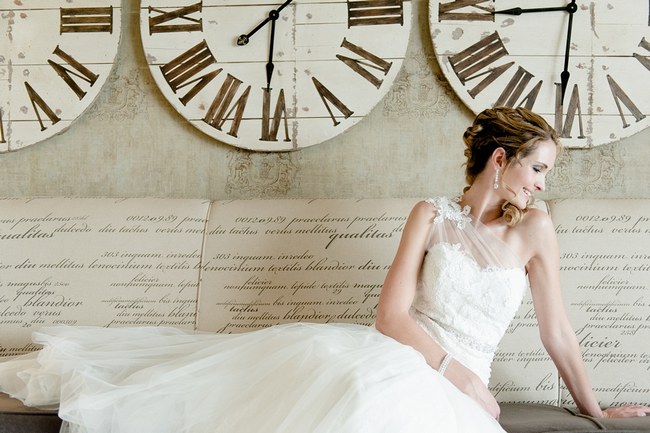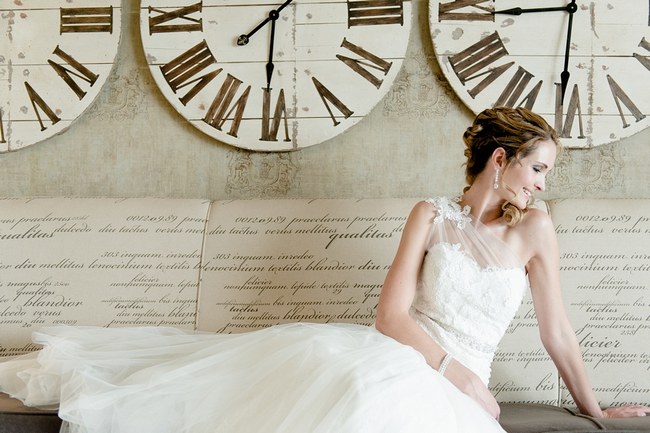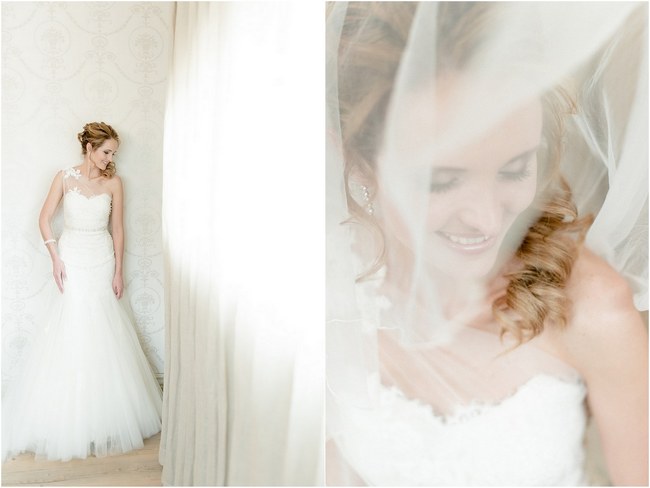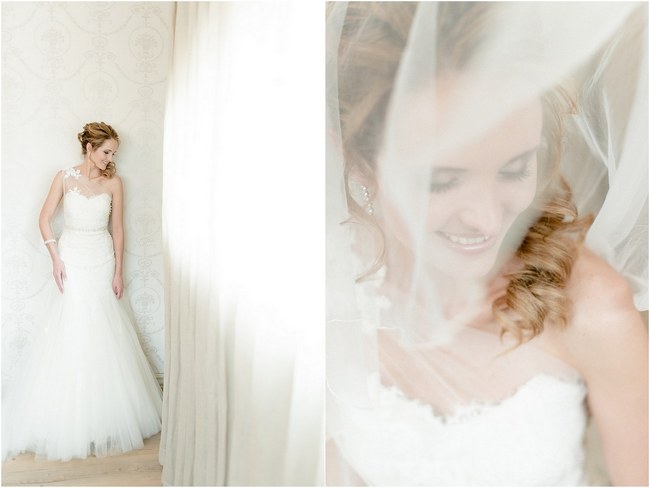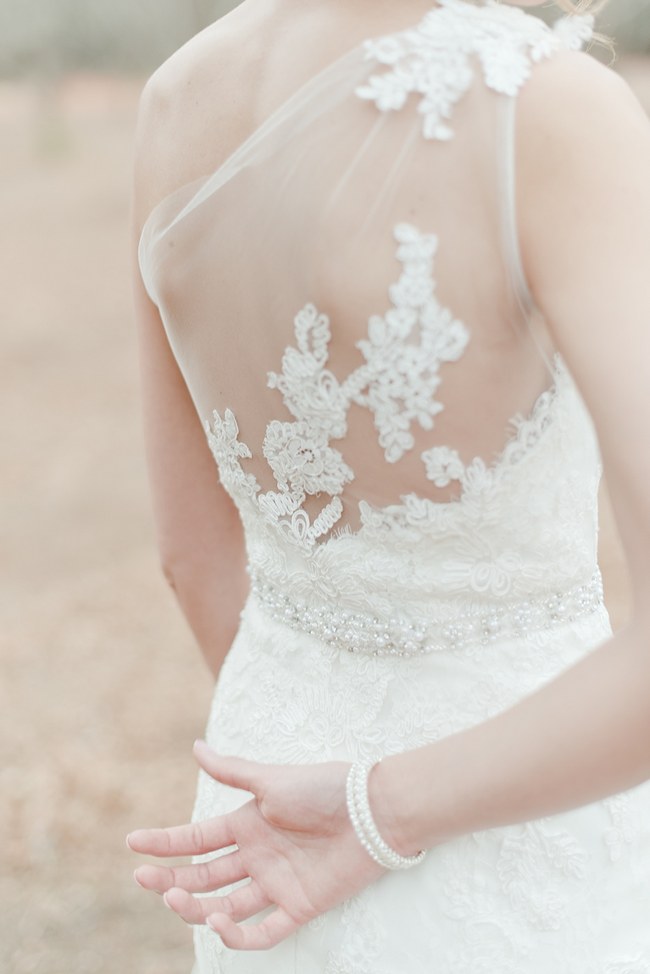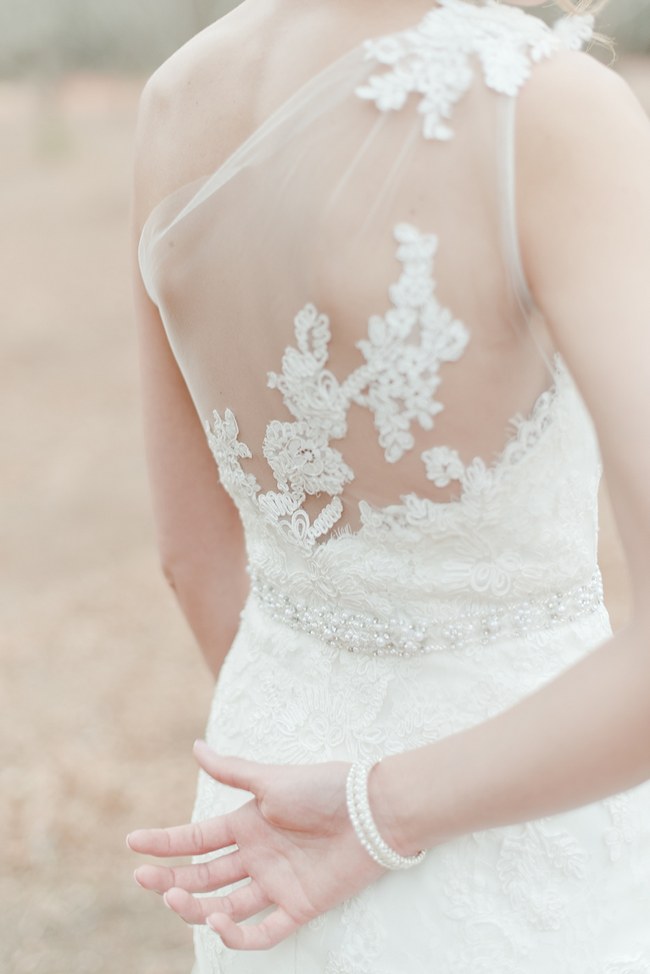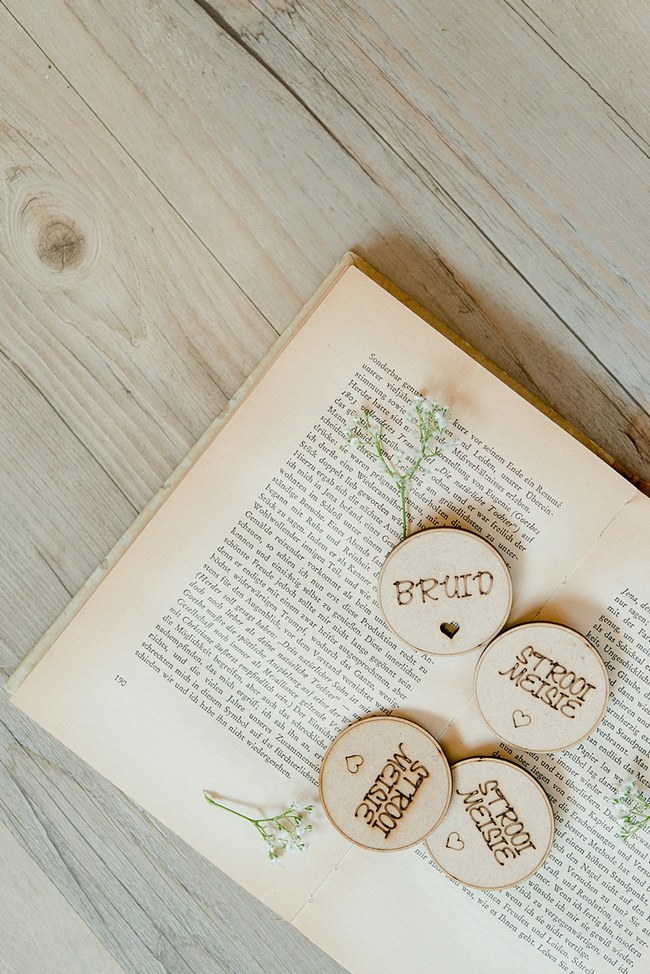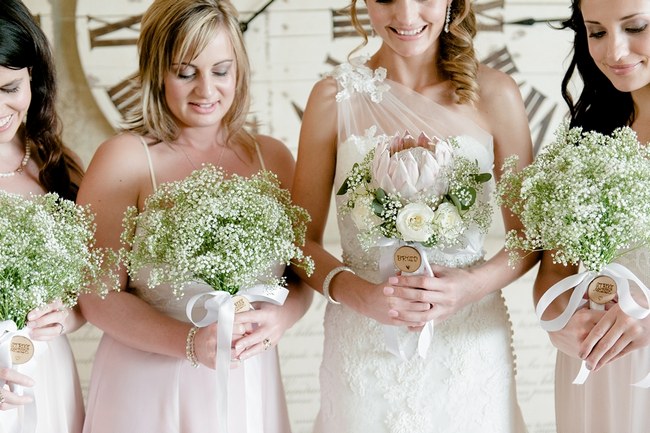 Bridal Party's Attire: We wanted the bridal party to compliment us and the theme of the wedding. The bridesmaids wore blush toned dresses with white lace at the top and the groomsmen wore matching navy trousers, with white shirts, matching pink ties and braces to carry through the fun vintage feel.
Bridesmaid's Bouquets:  The bridesmaids had ghost flowers (baby's breath) for their bouquets. I absolutely love the romantic elegant feel of ghost flowers and therefore this was used.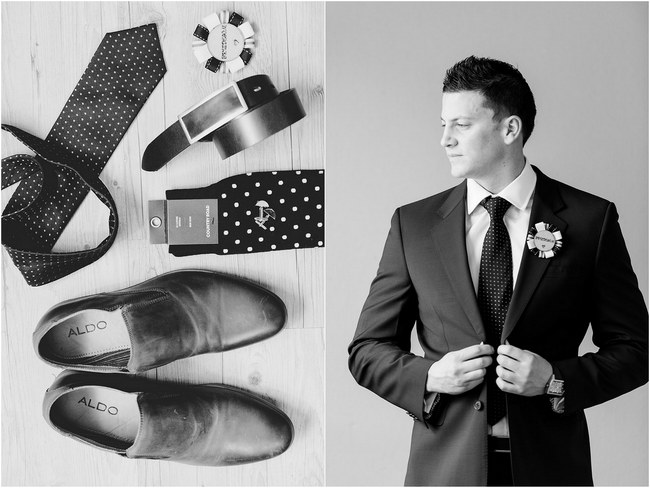 Groom's Attire: Jonathan chose a beautiful navy suite from Country Road with a light pink shirt. He looked absolutely gorgeous!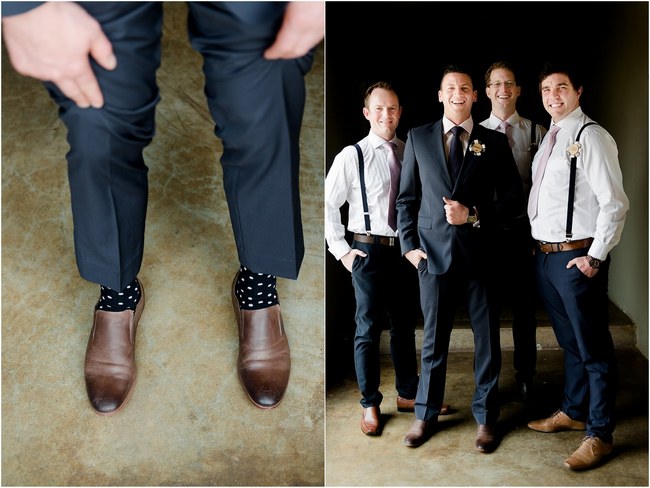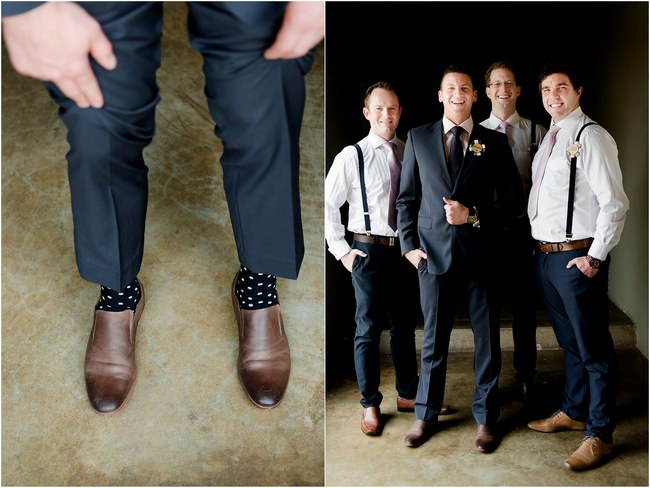 Corsages: A very close friend of mine (Marelie Serfontein) made the wooden corsages to go on the bouquets for the girls and also used our wedding colours to make badges for the groom and best men. These were absolutely stunning!!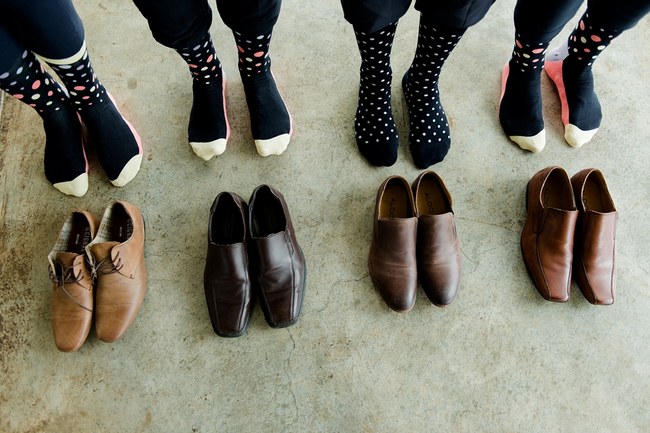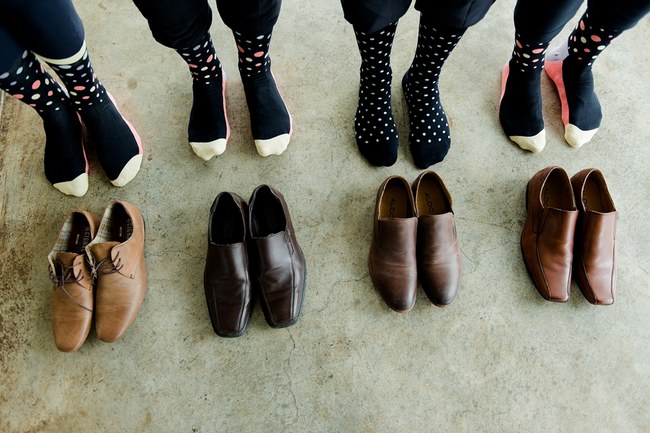 Ceremony Decor: We had small pomanders of baby's breath on every alternating bench in the church with a vase of flowers in the front. The venue staff was kind enough then to later carry the balls of ghost flower into the reception hall and hang them in the windows.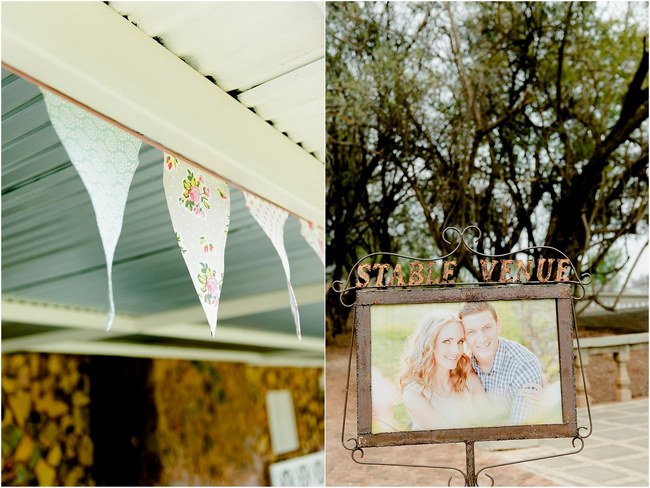 Outdoor Decor: We used banners and small Chinese lanterns to decorate the patio outside. My aunt whom did the flowers also made a large white wooden frame for guest to take pictures at.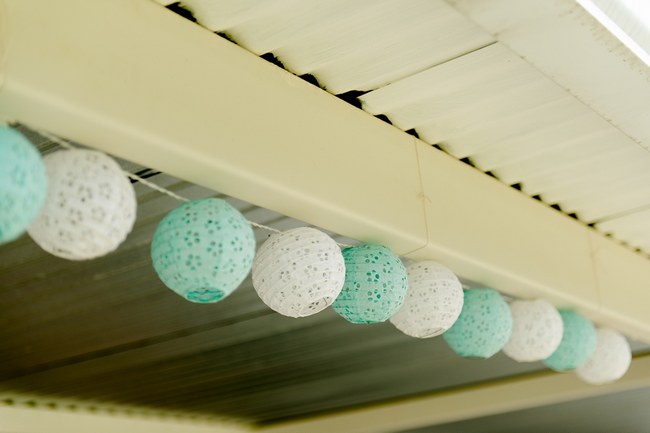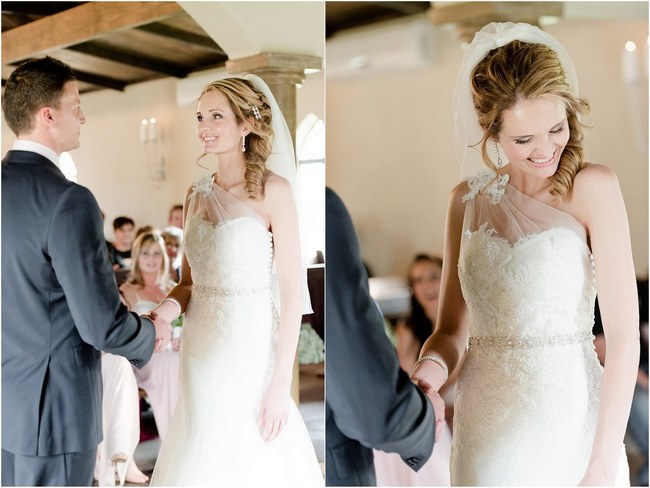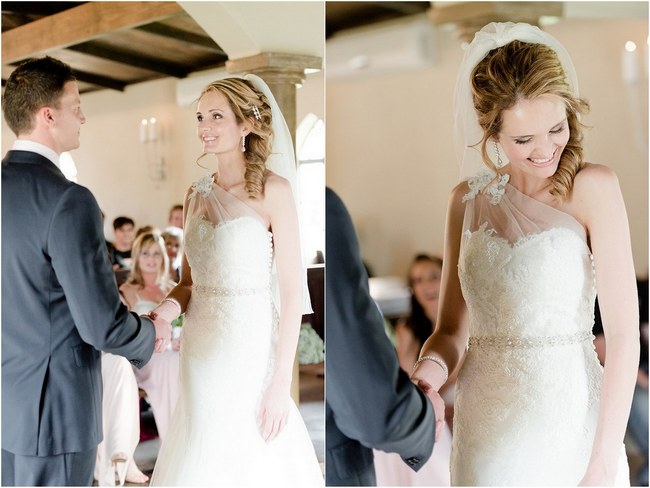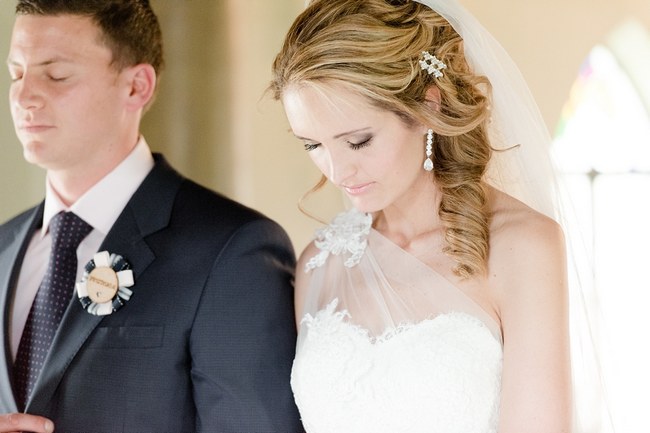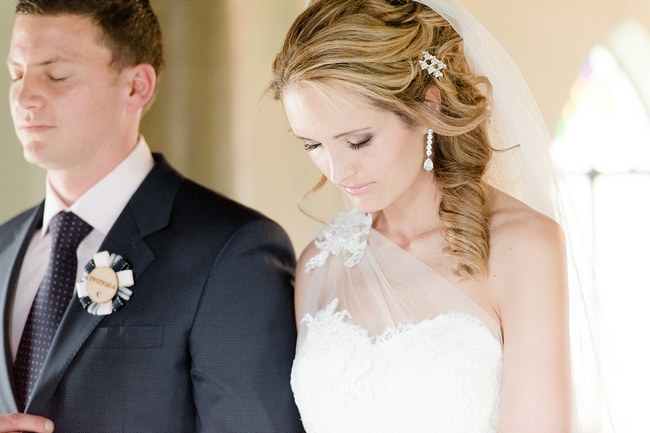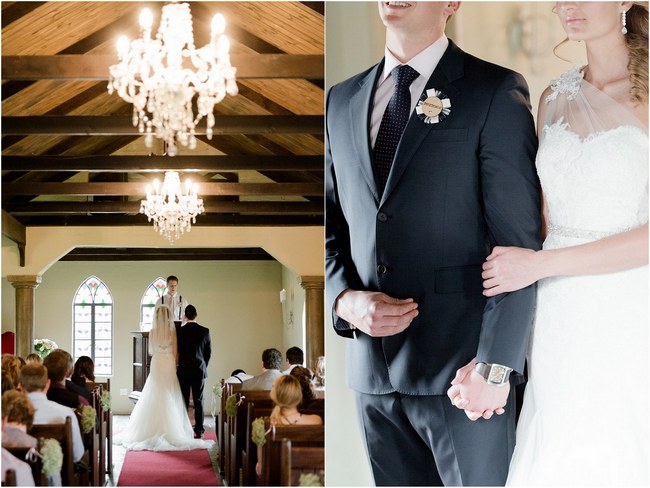 Meaningful Moment: Jonathan asked one of his best friends from University who is a minister to marry us. This made the day very special to us as he also knows us on a personal level.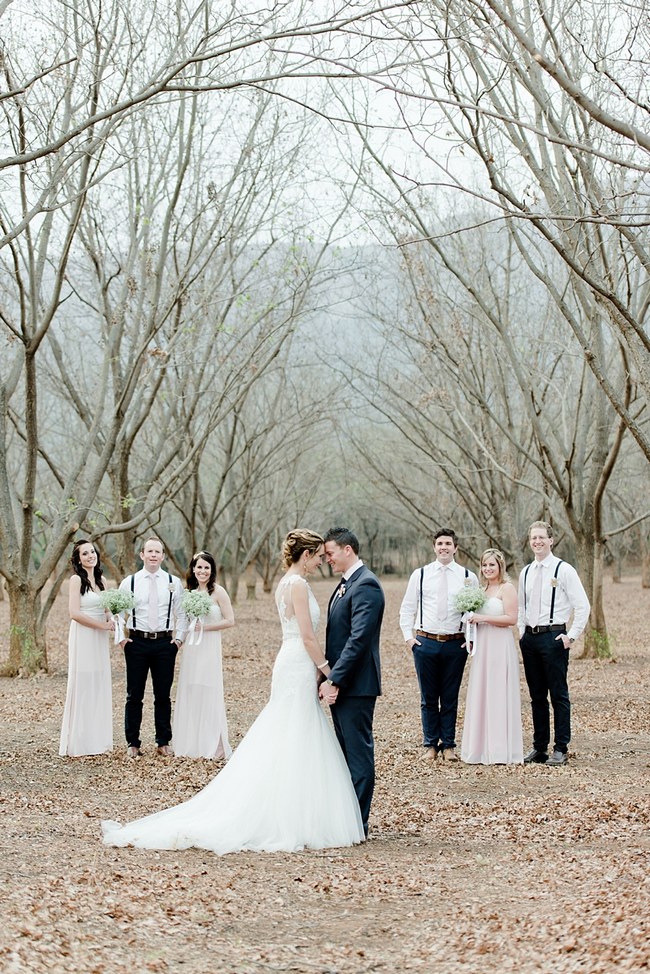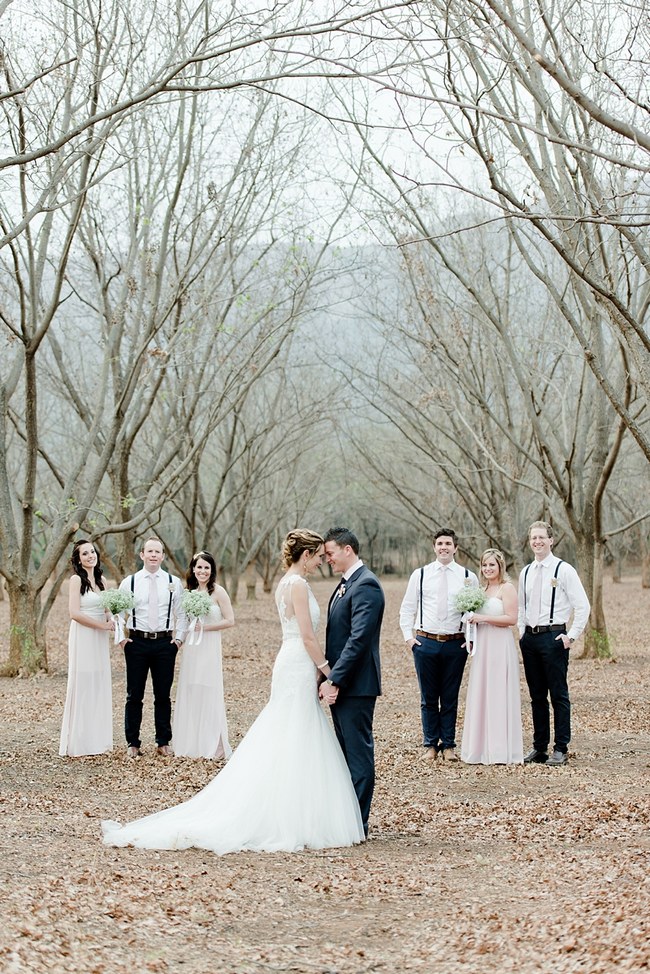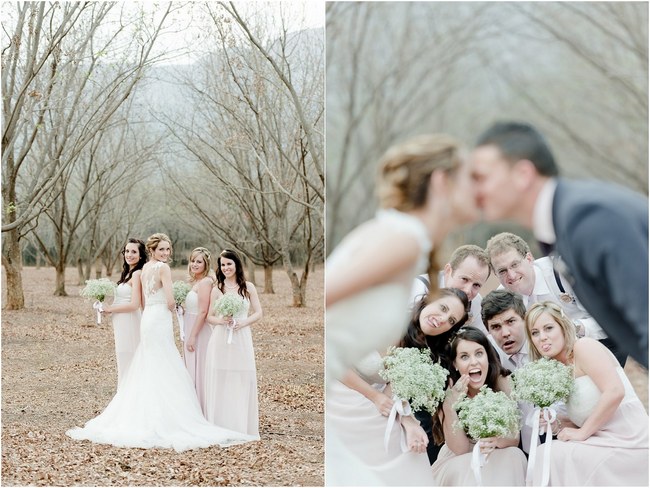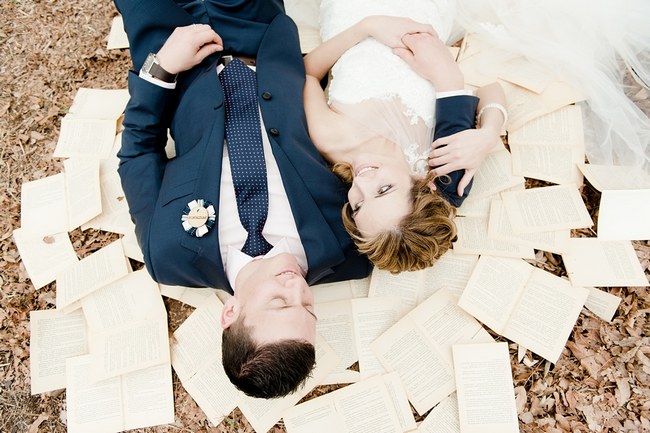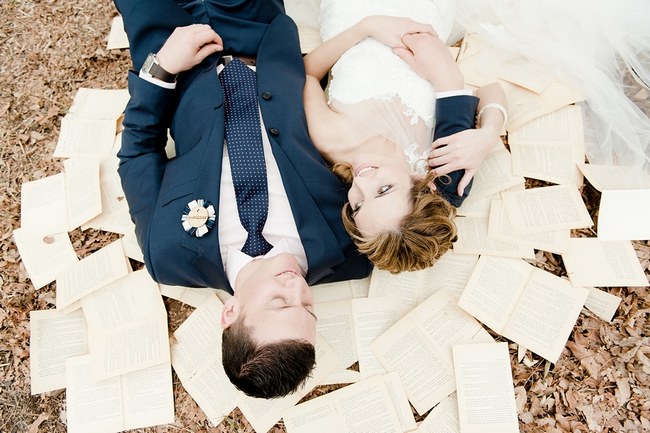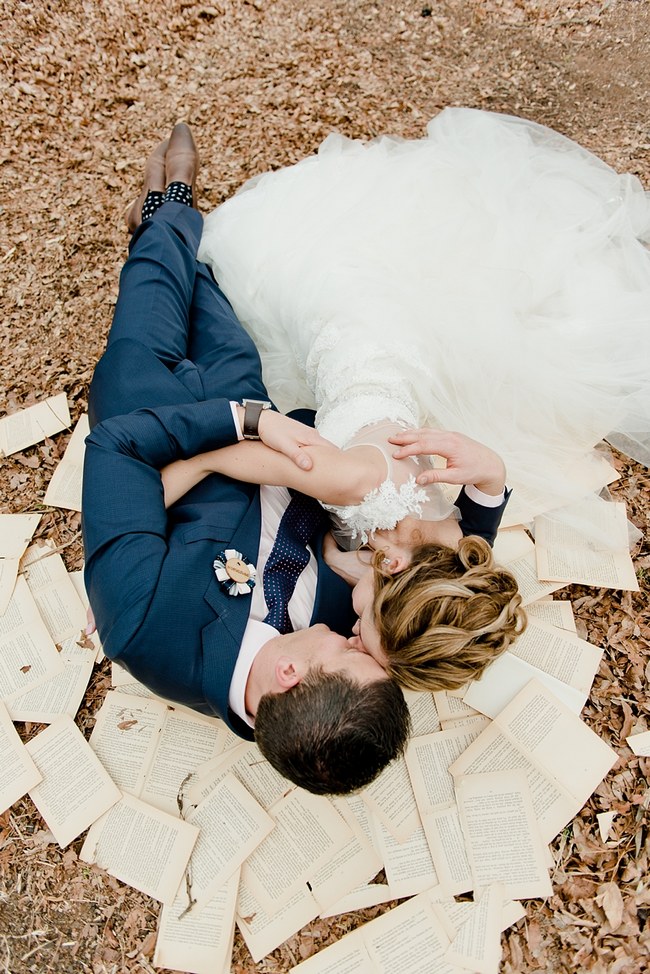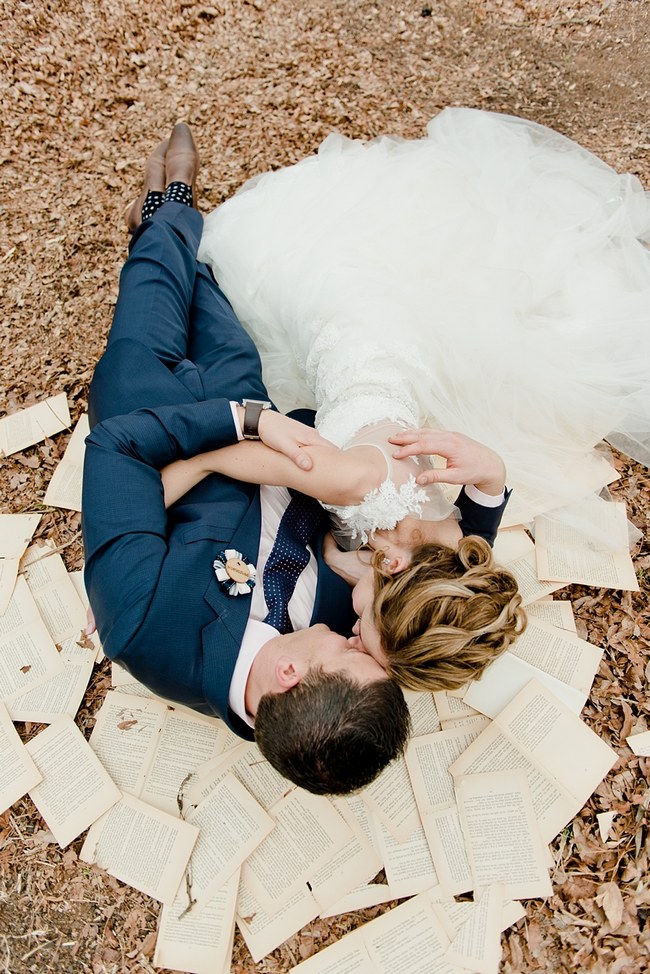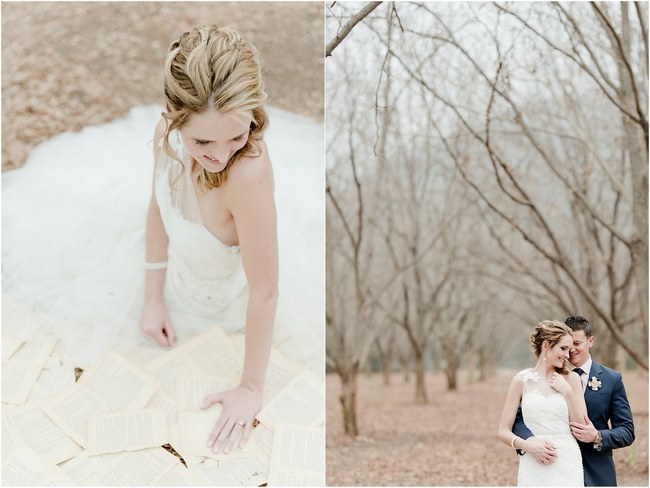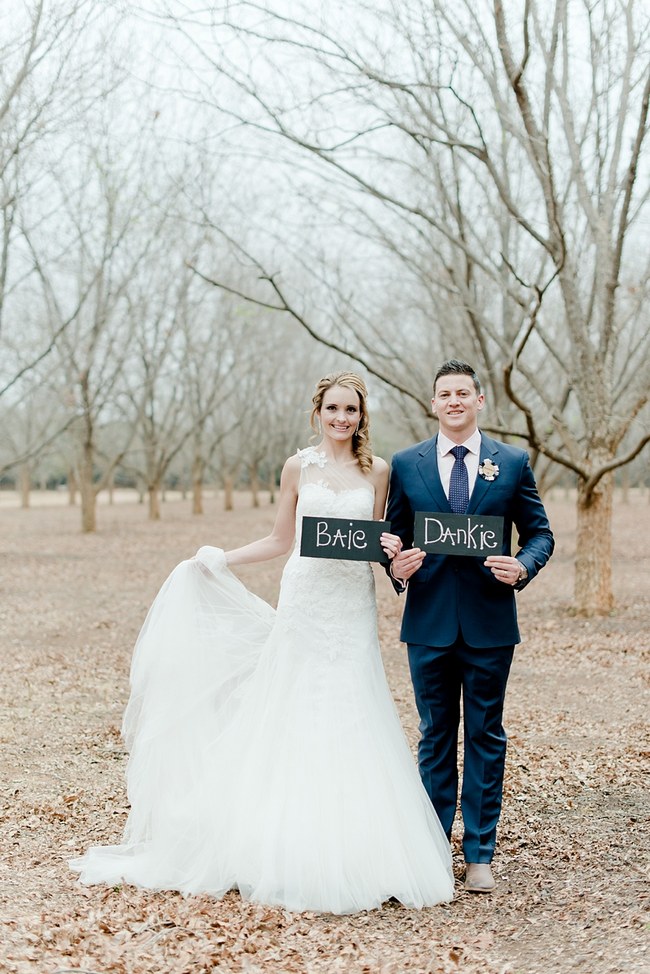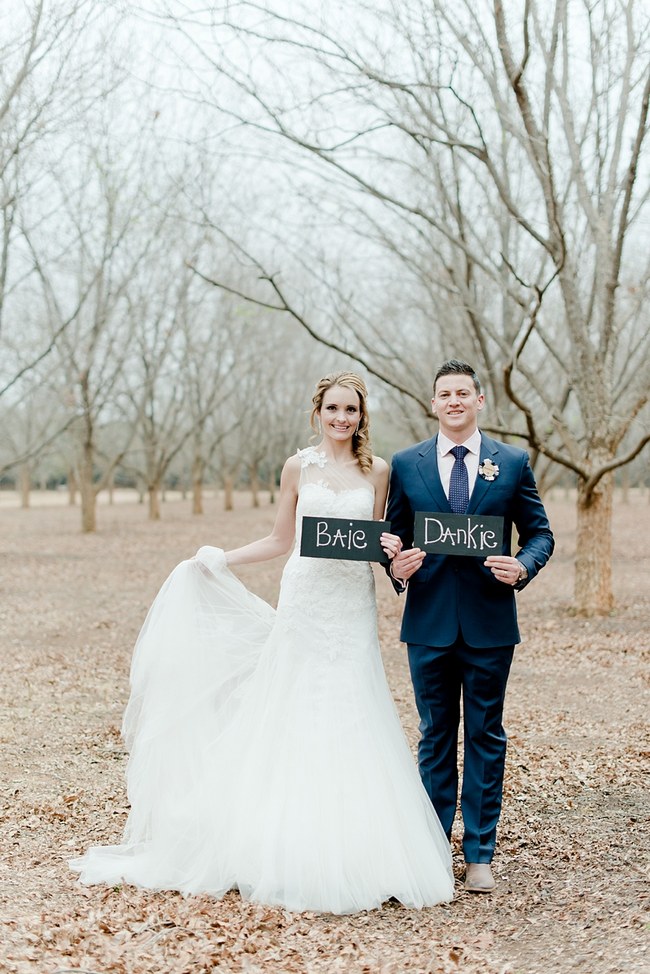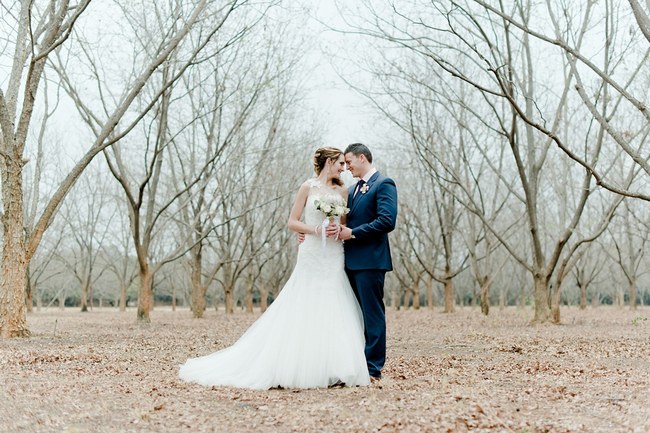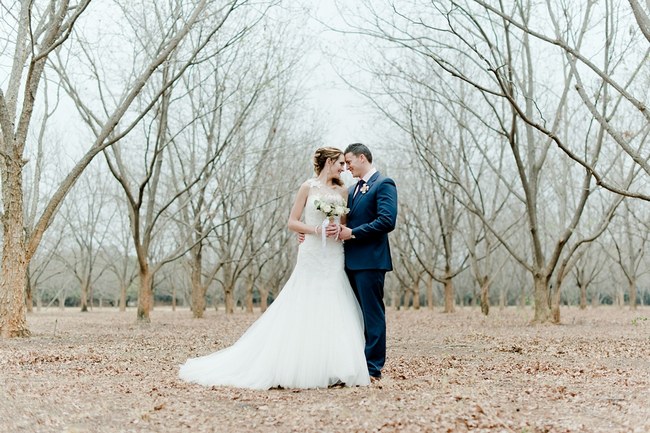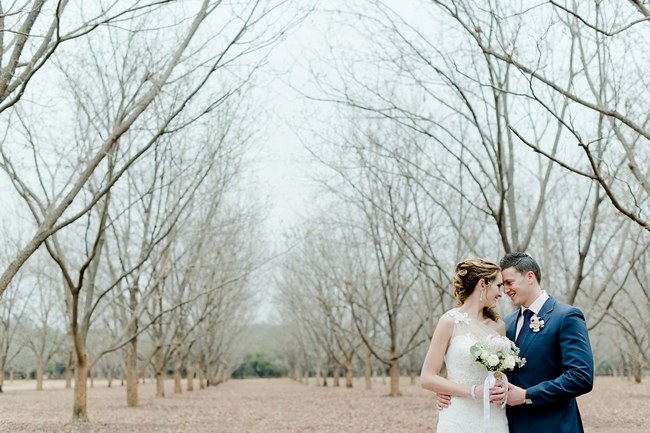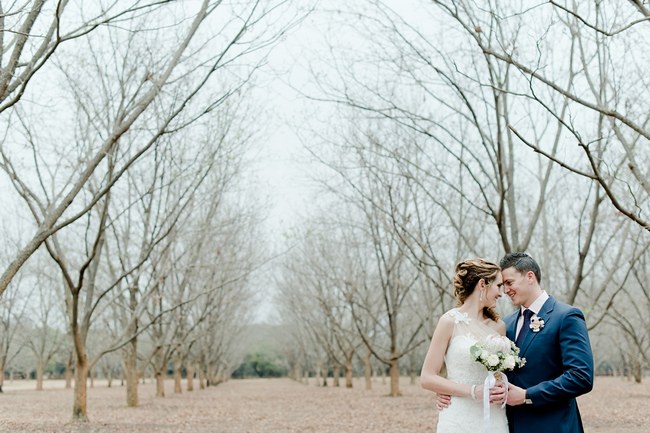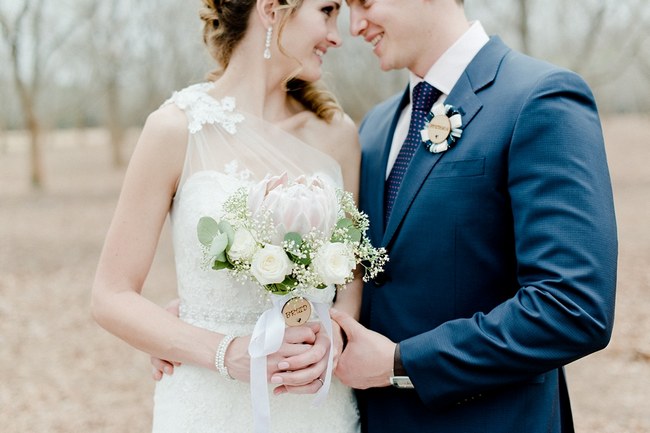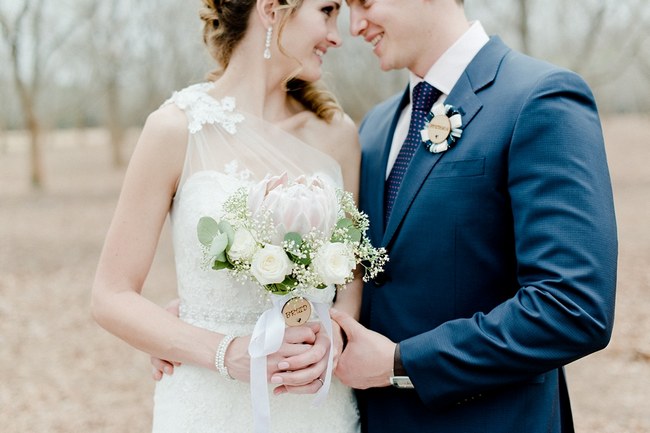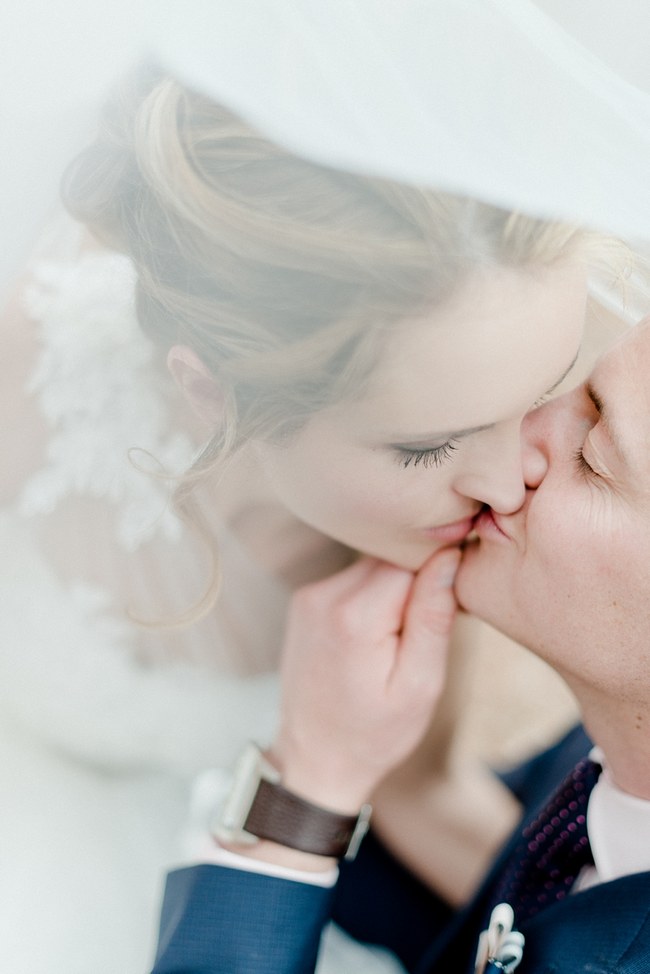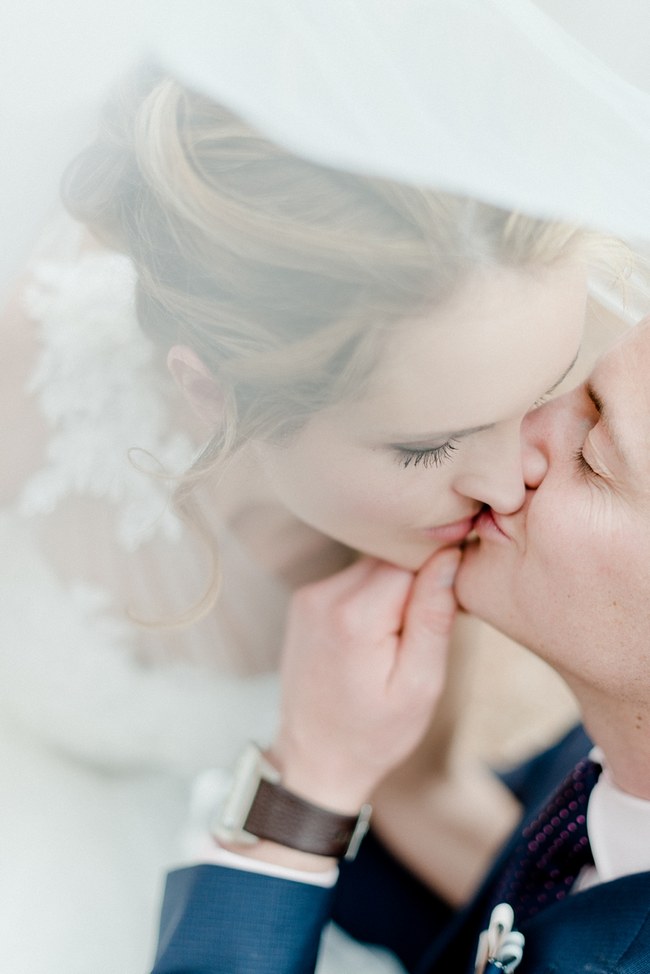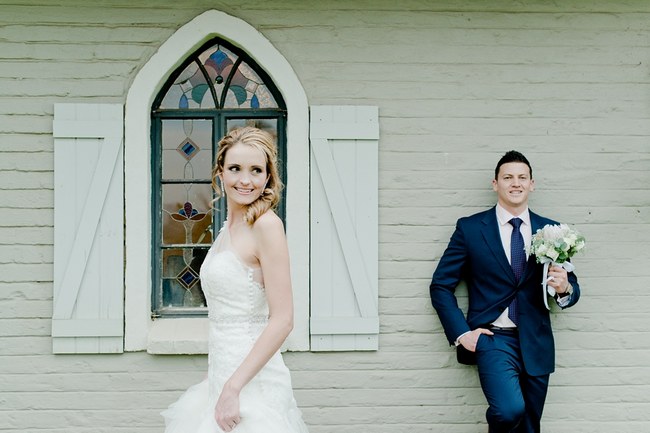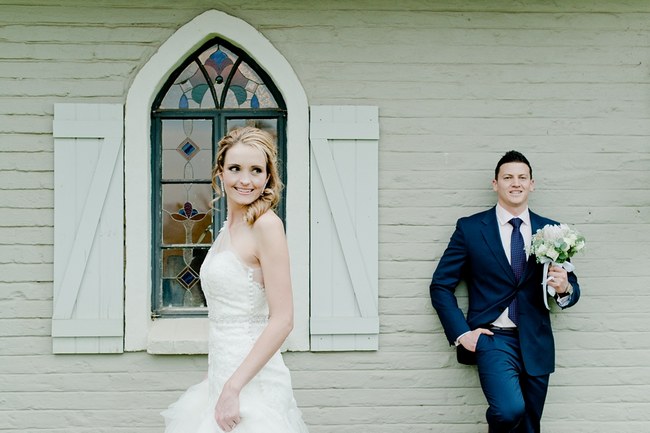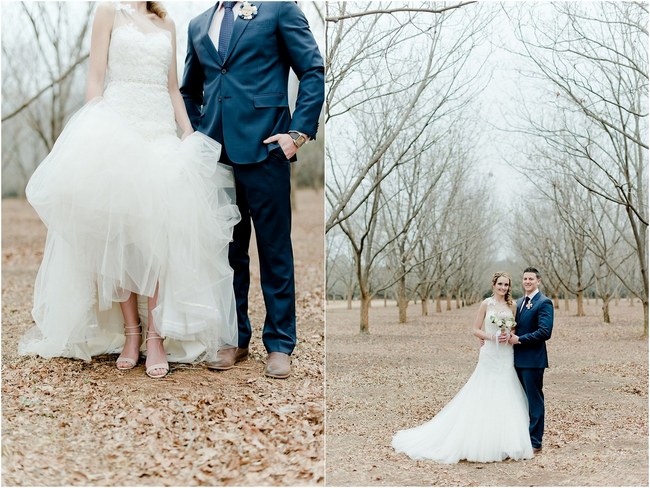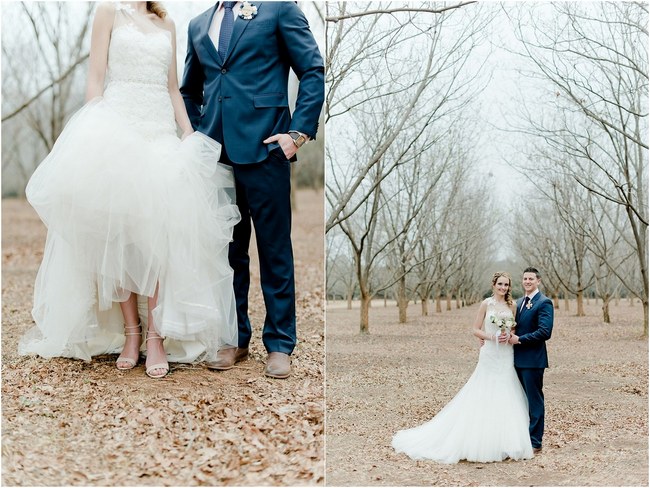 Wedding flowers: I wanted to have all my favourite flowers at the wedding; light pink Proteas, roses and ghost flowers. We put roses in the bottles and vase used as the table number holders. Myself and my aunt went to the Johannesburg flower market on the Tuesday morning and bought all the flowers that we needed for the wedding. She worked her magic and the flowers turned out exactly the way I wanted it to.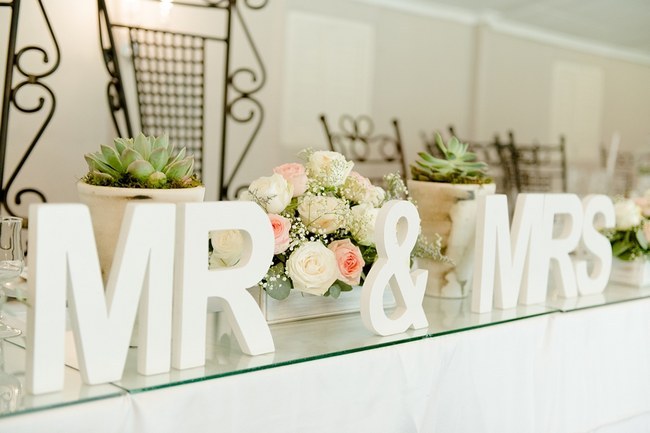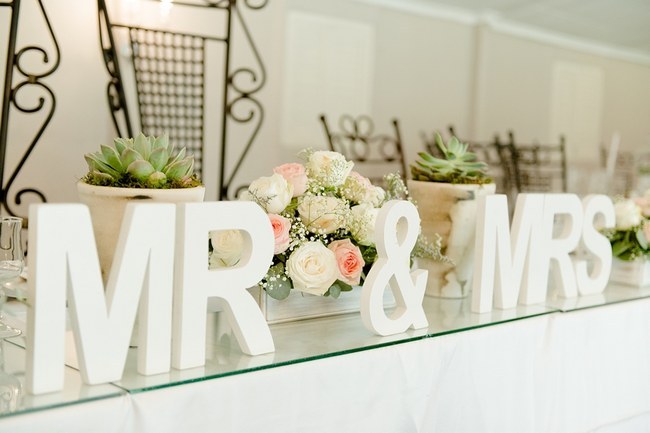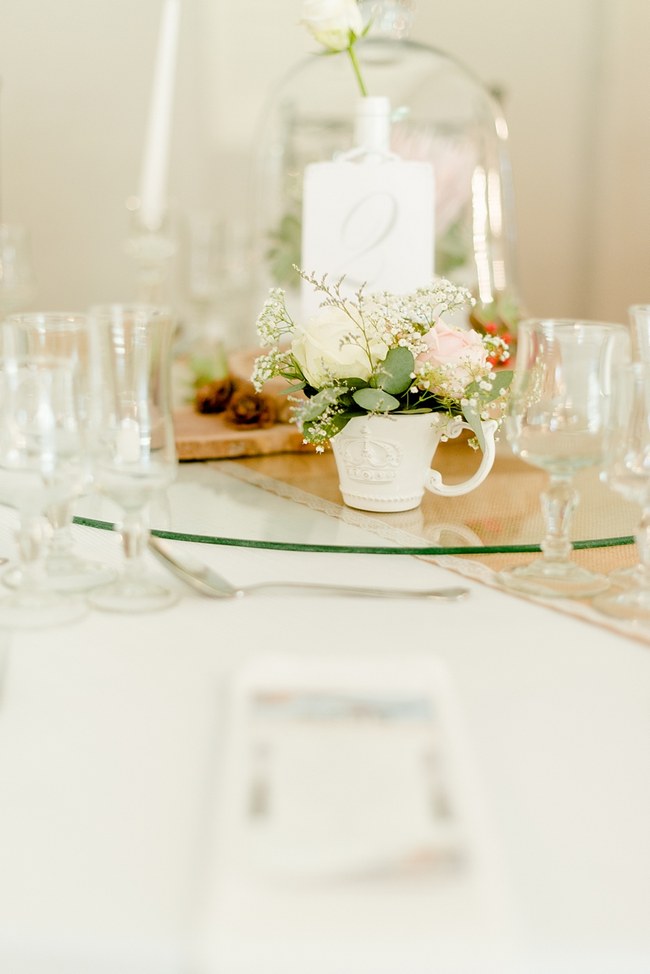 Table Decor: I found it hard to choose between using glass bells and bird cages for the wedding as I love the look of both. I therefore decided to use both of these items alternating them between the tables but still having the décor similar in most other aspects to not make it too different. I used thinly sliced wooden log pieces to give some height to the table which we got at Noag se Ark in Kempton Park and were then sanded by my husband Jonathan. I wanted to have burlap runners with lace on the edges and was unable to find this anywhere so bought the material and my aunt helped me to make them.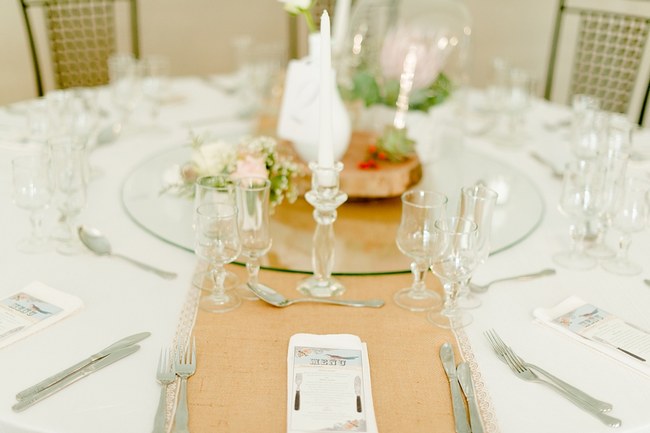 Guest book / Canvas: We did not want to have a guest book which will land up in a cupboard one day that we will never look at again. We therefore printed one of the engagement shoot photo's (also taken by our wedding Photographer) on a canvas with space next to it to let guest write us a special message on. We will definitively put this up in our house were we can see it!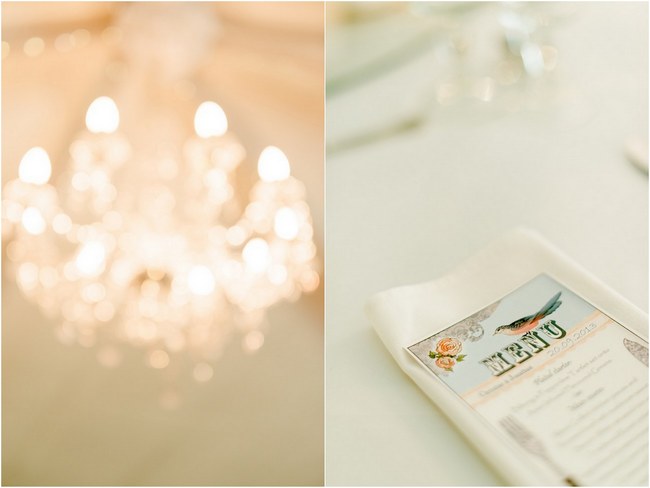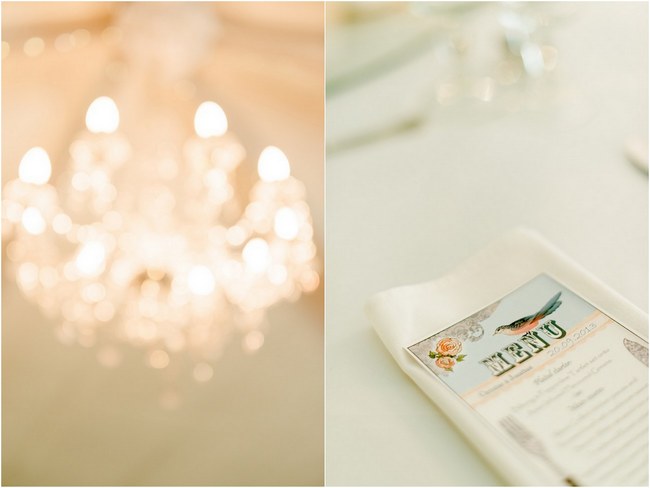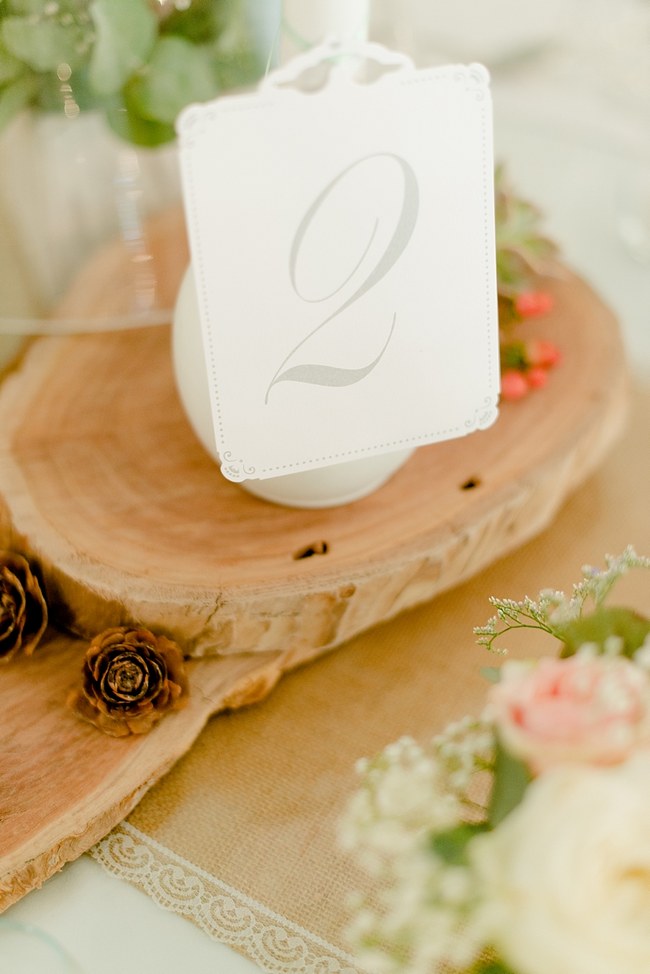 DIY Projects: Our DIY included wooden logs that were sanded by my amazing husband, all the stationary including menu's, seating charts, candy bags, making of the runners, painting wine bottles for the table. Marely provided us with glass bottles for the dinky drinks after the ceremony, which she decorated beautifully with ribbons.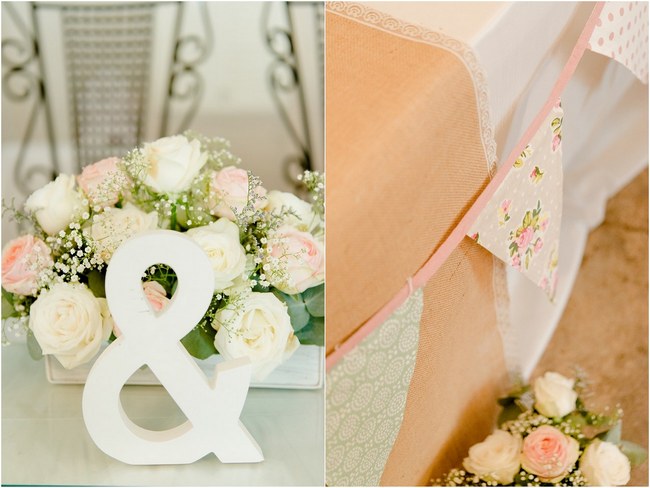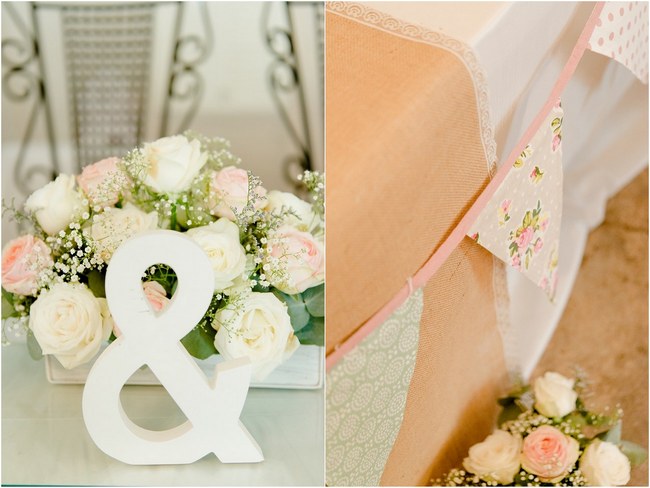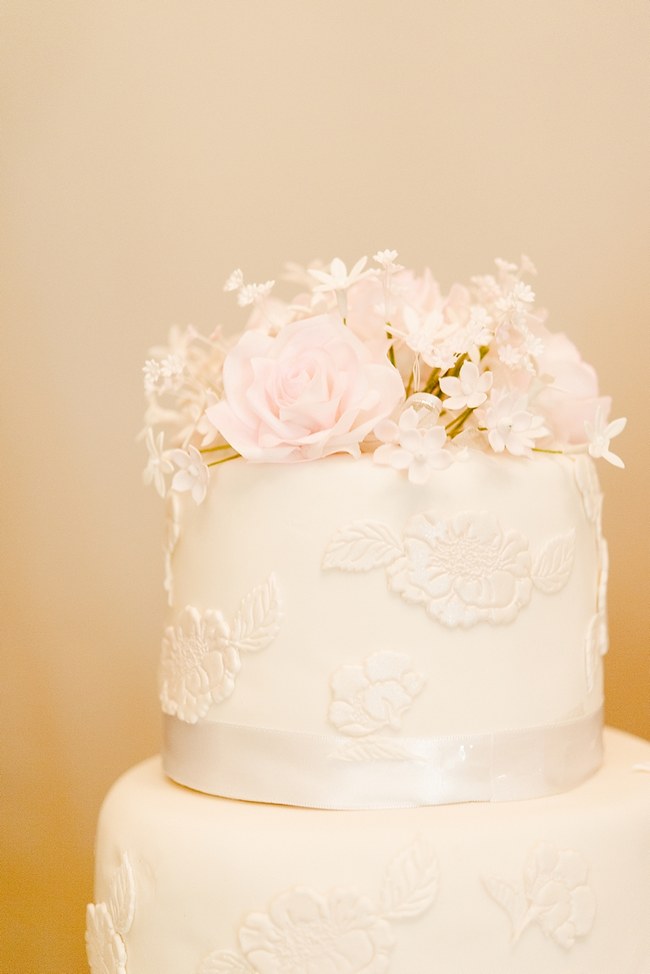 Wedding Cake: Our amazing wedding cake was made by the same person who also made my parents wedding cake!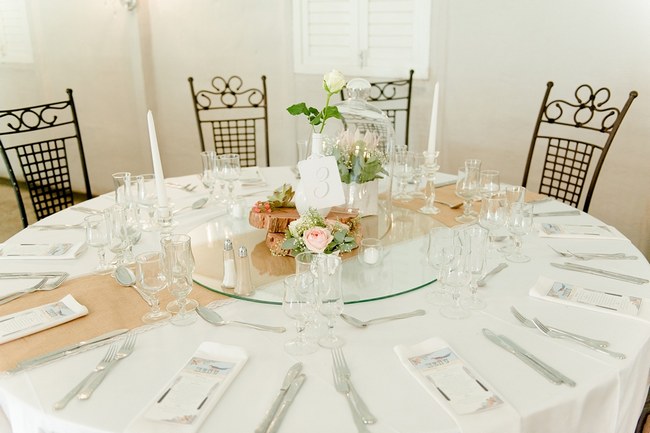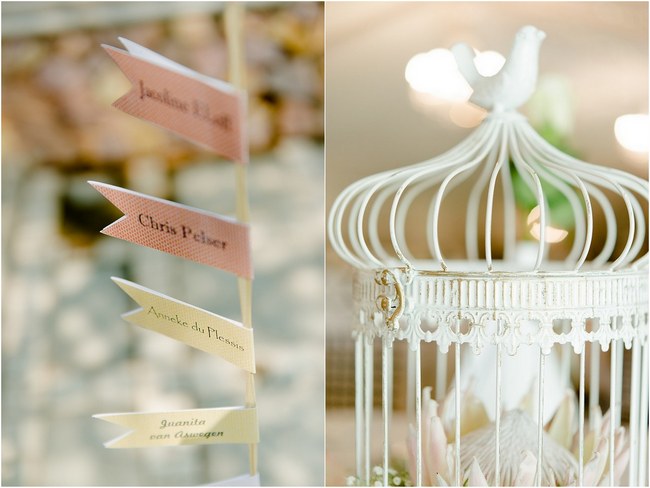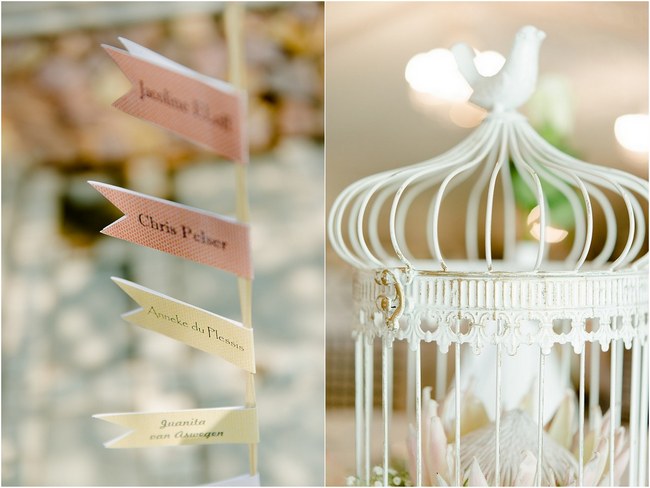 Seating charts: We wanted to have a fun way of creating the seating chart and therefore used colourful paper flags with guest names printed on,  hanging from a string. We used glass bottles at the bottom of the string to give weight at the bottom. This looked exactly as I wanted it to. The bridesmaids worked really hard on cutting everything out and sticking it onto string the night before the wedding!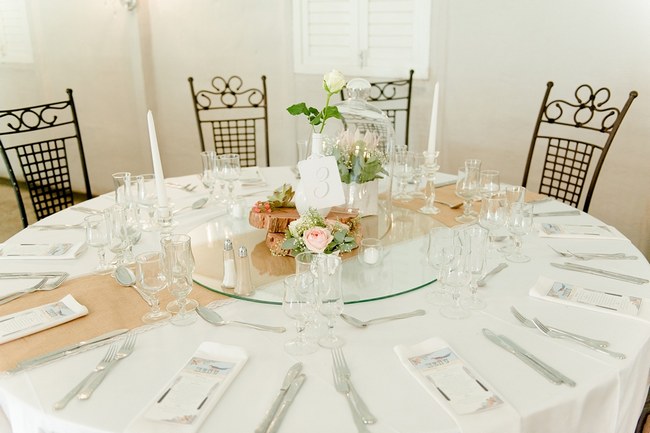 First Dance:  For our opening dance we used a fun, light hearted song which is about a couple that is still "into each other" after being together a long time, which reflects our relationship. The song is called Still Into You by Tiffany Avelra.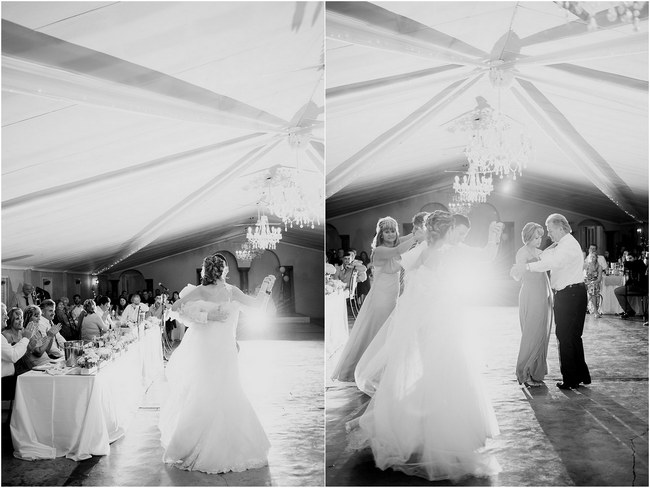 Real Bride, Leani's, Tips For Brides-To-Be
Have good idea of what you want for your wedding day and then ask other people to assist you in making it happen. If something does not go perfectly according to plan in regards to décor etc. try not to let it upset or worry you, remember the day is about the commitment that you and your future husband make to each other and that is the most important thing.
Use the resources available to you in within your family and friendship circles. Work out a budget for what you want / can spend on which aspects of the wedding and stick to it no matter what. Make provision of unexpected expenses as there is a few last minute things that you might not have thought of!
I found Pinterest and the Wedding Idea Magazine the most inspirational for decorating ideas.
I found some amazing wedding budgeting apps which helped with the financial planning.
♥  ♥  ♥  VENDORS ♥  ♥  ♥
Photographer: Louise Vorster | Venue, Bar & Catering: Green Leaves Country Estate |  Videographer, Music & Staging: Stage Alive Productions – David Brink | Dress: Enzoani | Brides Hair: Michelle Curran | Brides Make-up: Janell Donders | Bridal Shoes: Nine West | Bridesmaids Dresses: YDE | Suits: Country Road |  Corsages: Marelie Serfontein  | Bouquets, Chapel & Venue Flowers: Heleen Grobler | Pastor/Officiator: Rudulf Grobler | Cake: Anna Hofman | Wedding Invites: Kobus Vermeulen