Love in the CBD ♥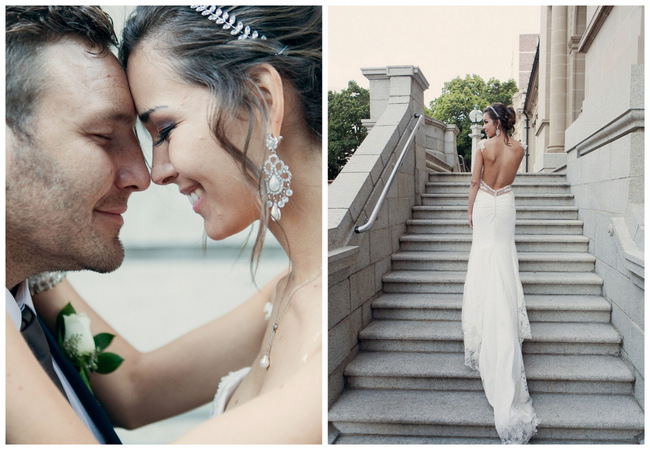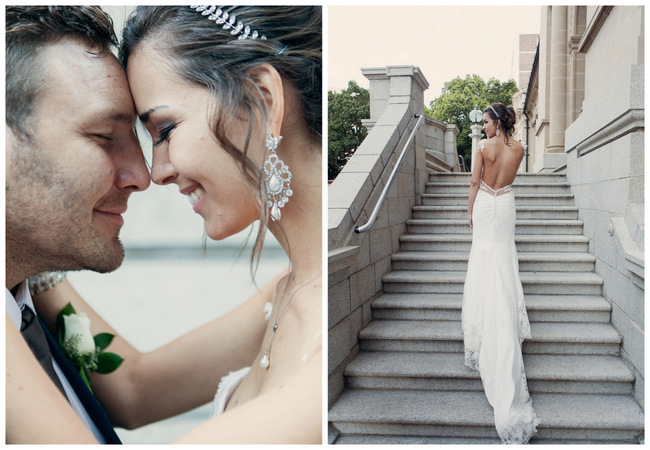 Oh my! South African couple Athalia and Donovan's Cape Town city wedding is totally maxed out with fun details, kick-ass signage and one drop dead gorgeous gown. Yikes! Choosing to opt for something other than the typical Cape Town wine farm or beach wedding, the couple decide on a modern city wedding with a retro touch.
They worked with earthy tones and incorporated elements of duck egg blue and dusty pink for a pop of colour against the all white and glass reception venue, East City Studios, which was created as – you guessed it – a photography studio. Owning their own design company, they were able to go all out with their signage, printed goods and engraved decor. How cool is that?  Coba Engelbrecht Photography joined the couple on their special day to bring us these delightful photographs.
"From the start we wanted our wedding to be remembered as a fun occasion where all our friends could celebrate this amazing day and new beginning with us. We own our own laser cutting, engraving and design company, Acorn Laser,  so we made all of our own decor. This gave us the perfect opportunity to do what we love to do – get creative! For our invites, signage and table numbers we printed and engraved on wood. We made wall decals quotes for our Cape Town city wedding reception venue which summed up our fun relationship and gave each guest a beautiful bread board as a favor. We engraved each with a lovely design to add the final touch to our favors. Our friends and family were blown away with these special touches!"
Chic and Romantic Cape Town City Wedding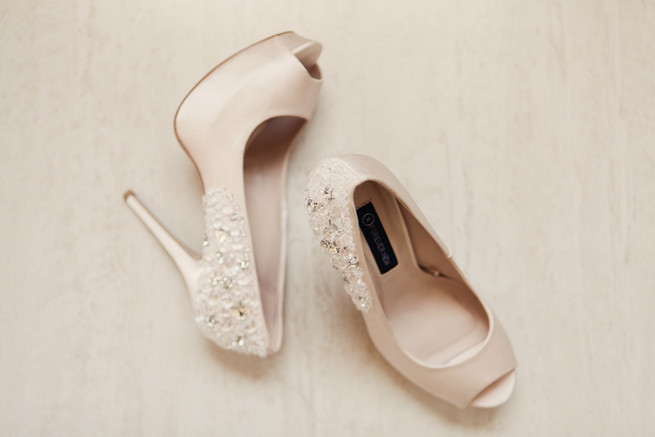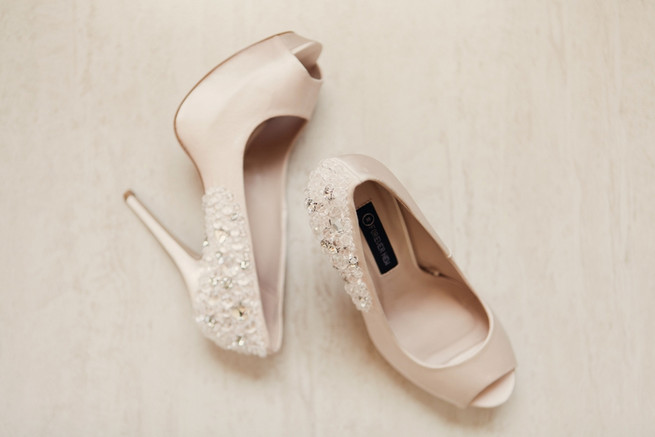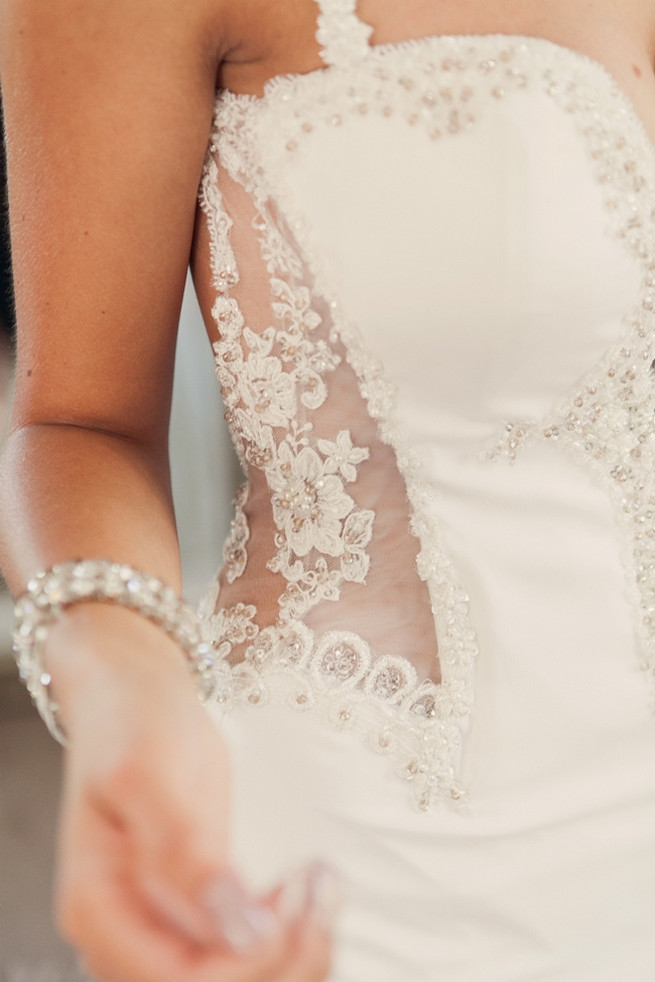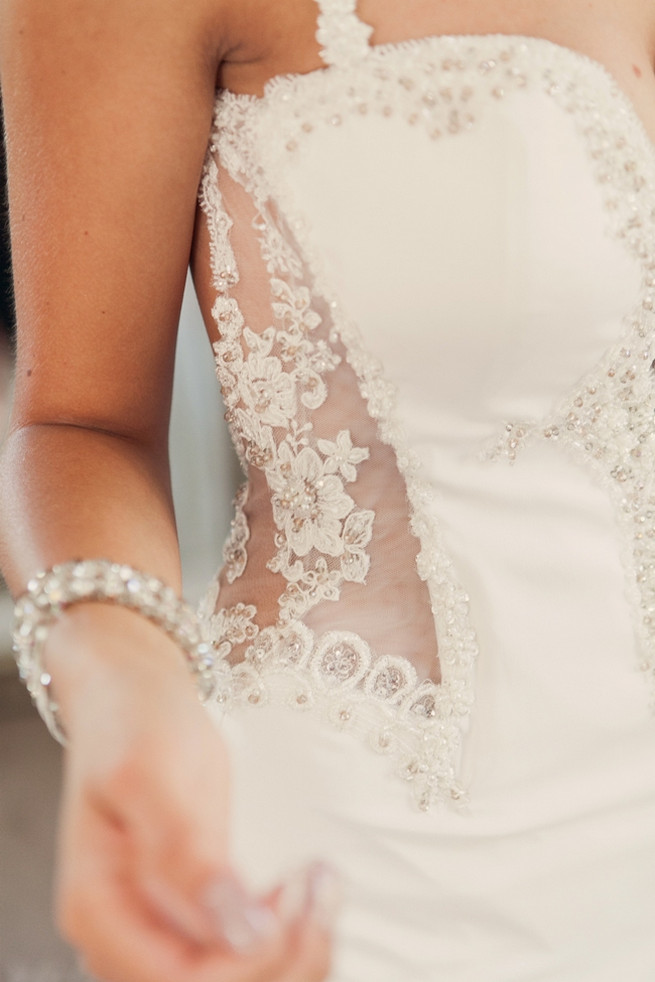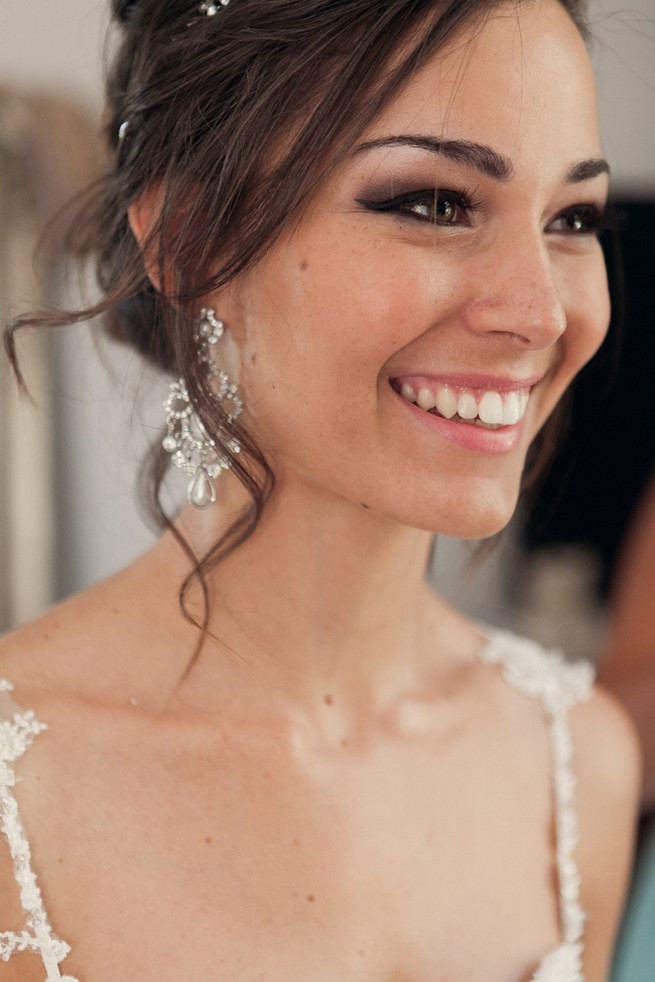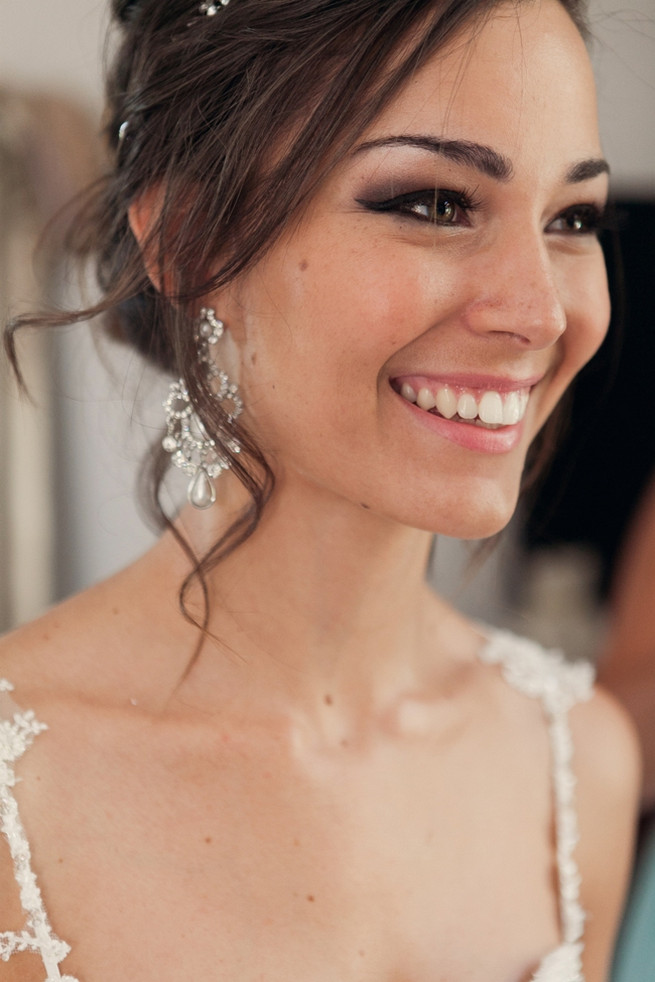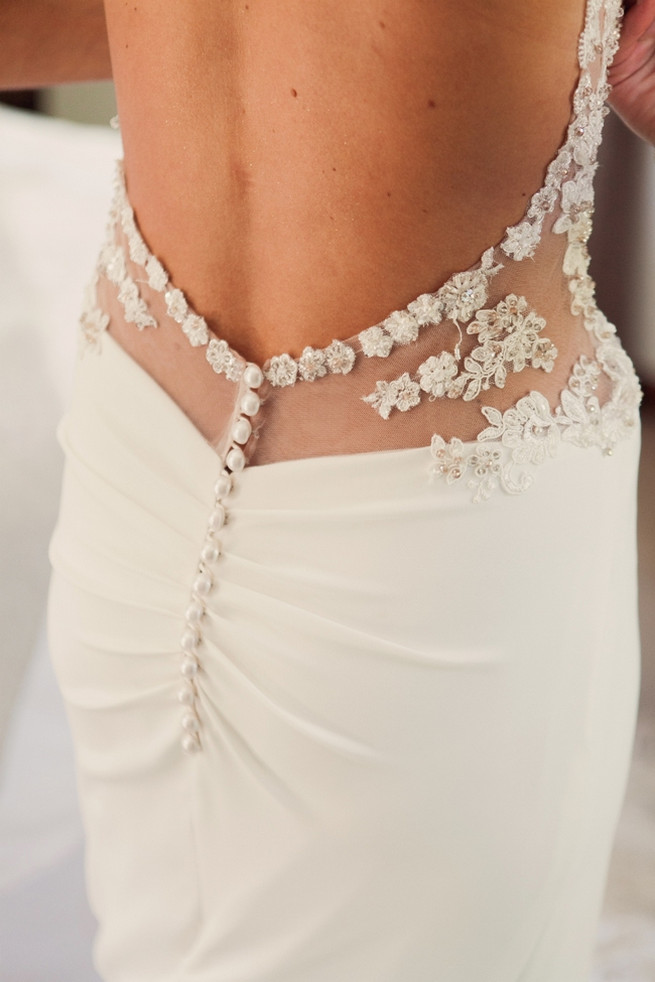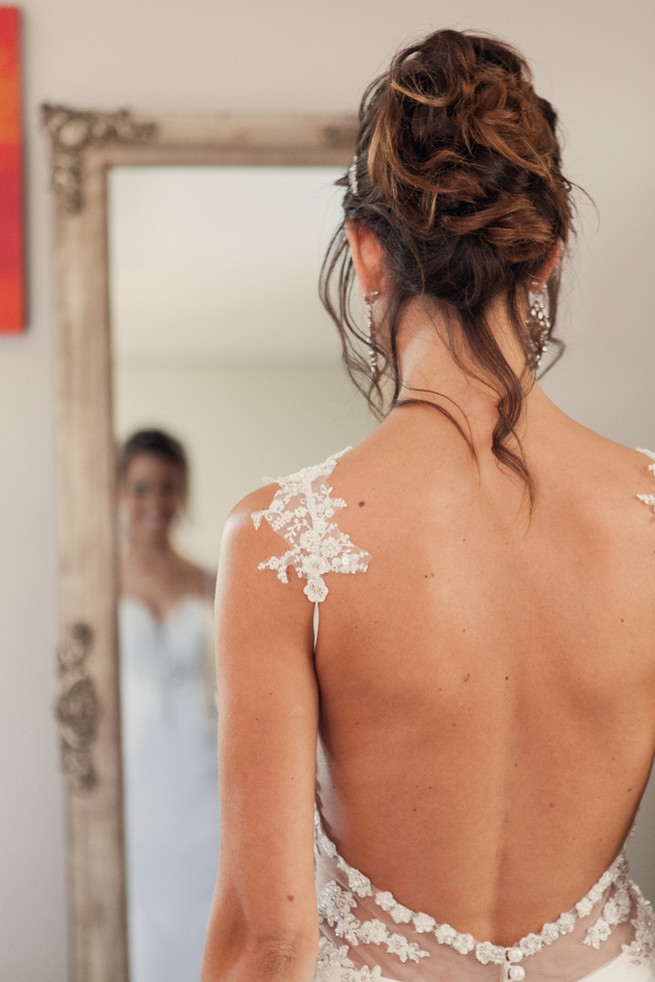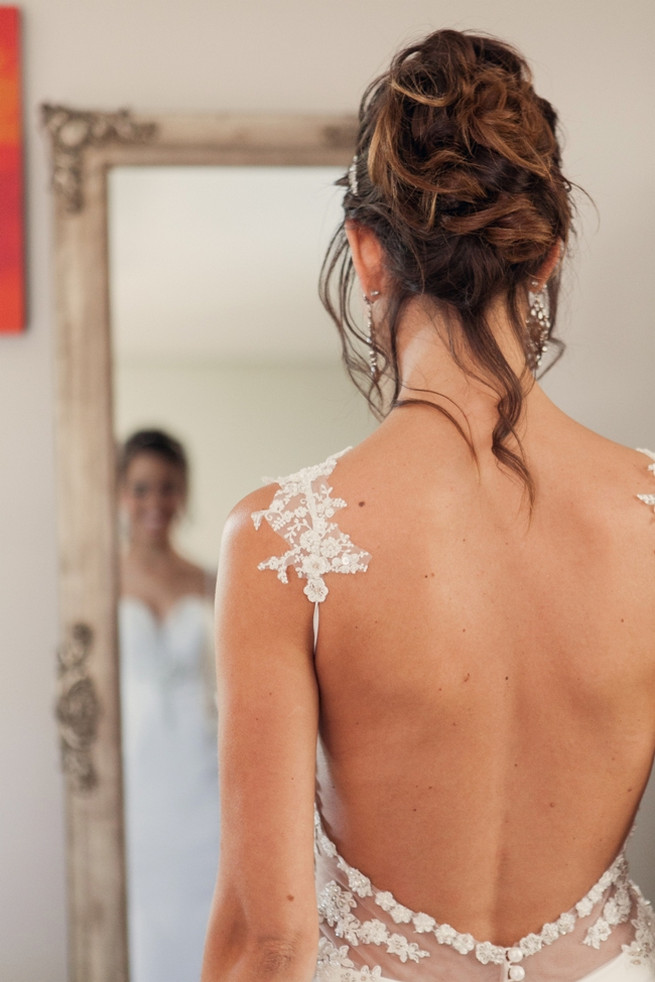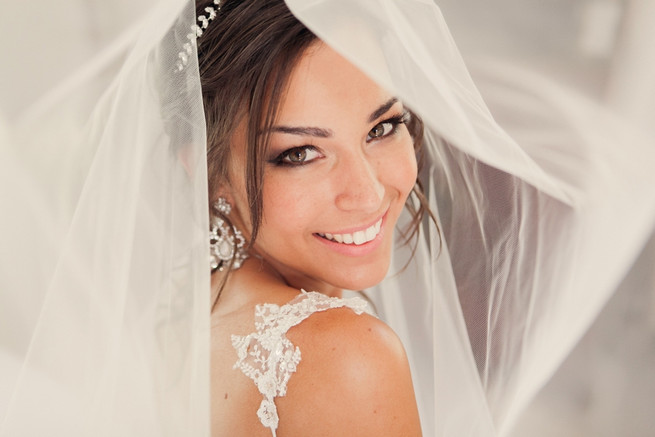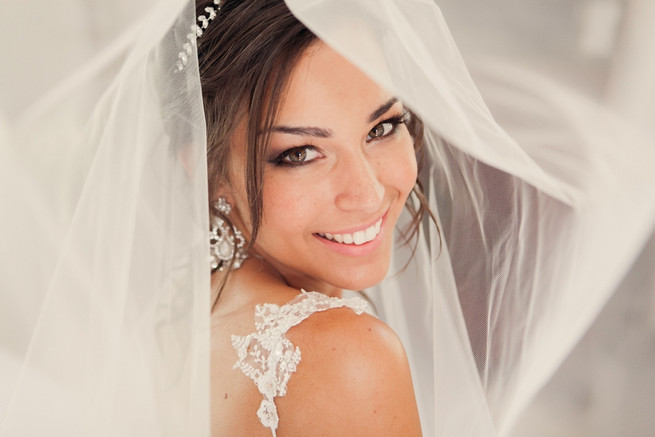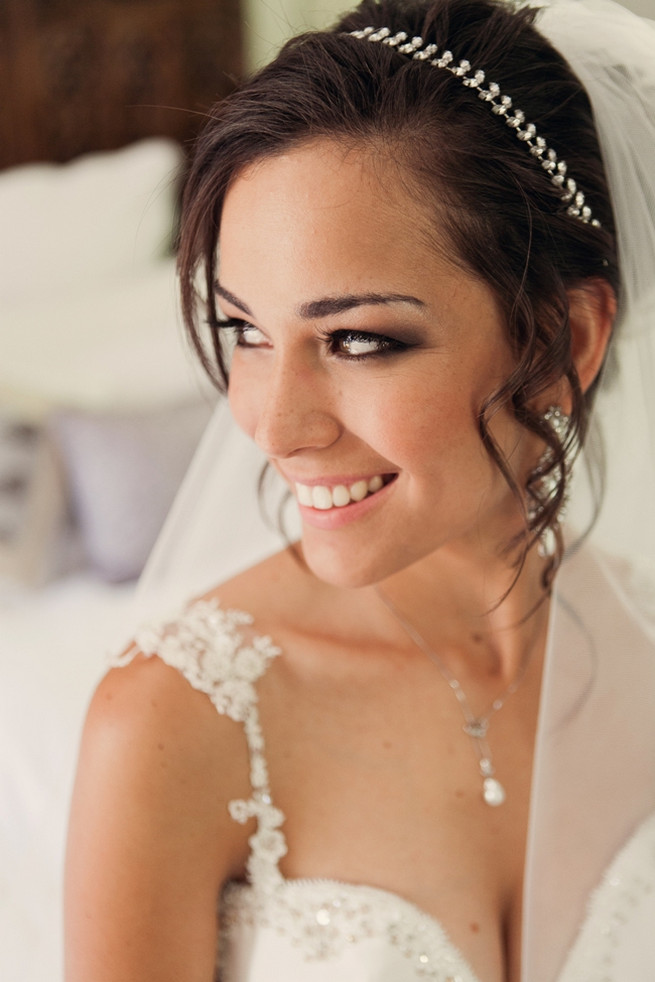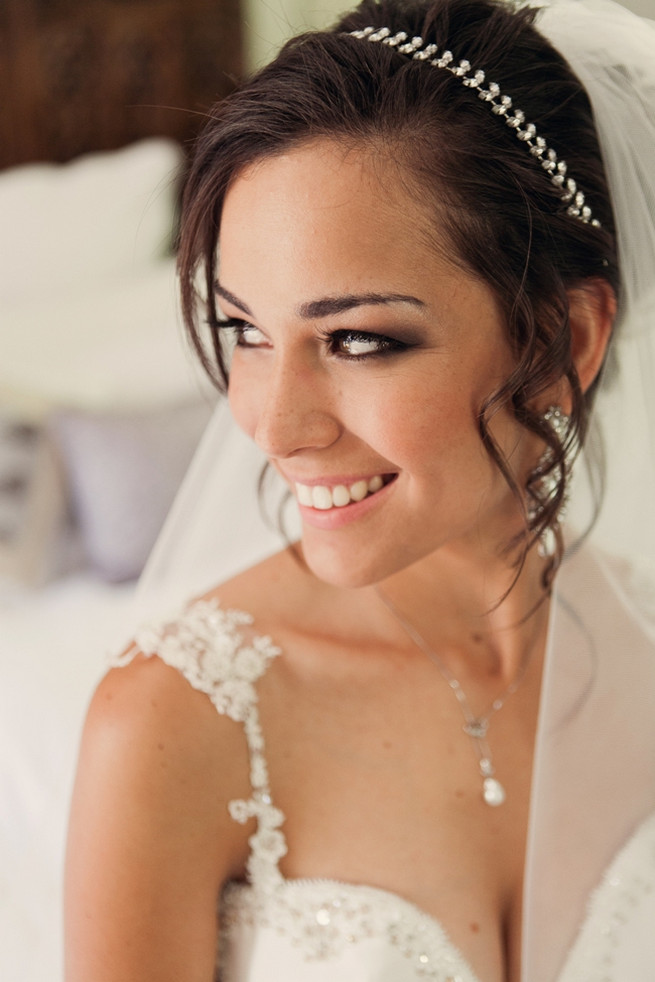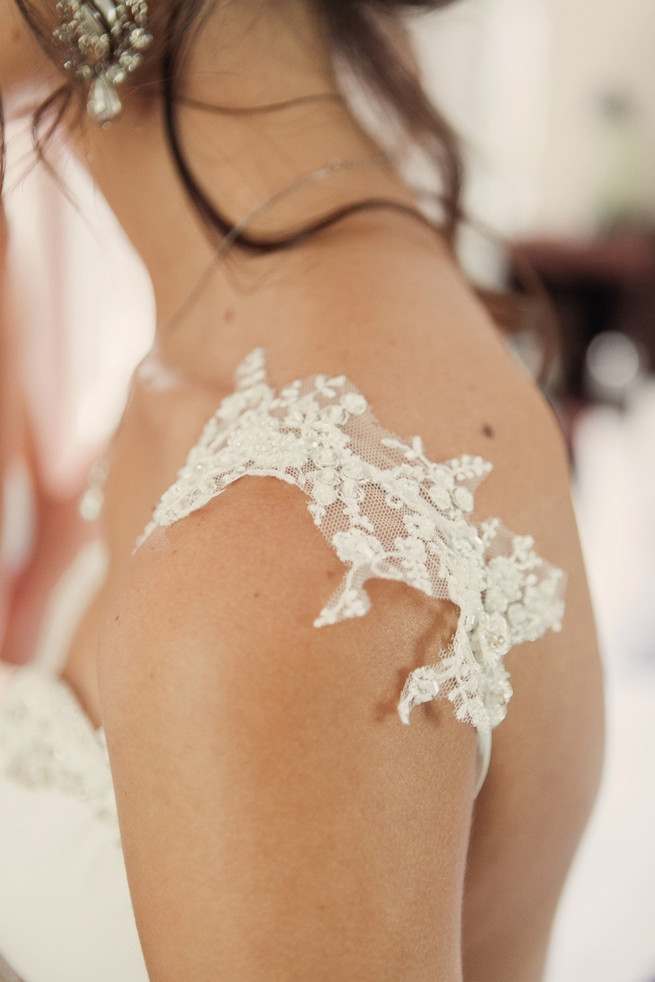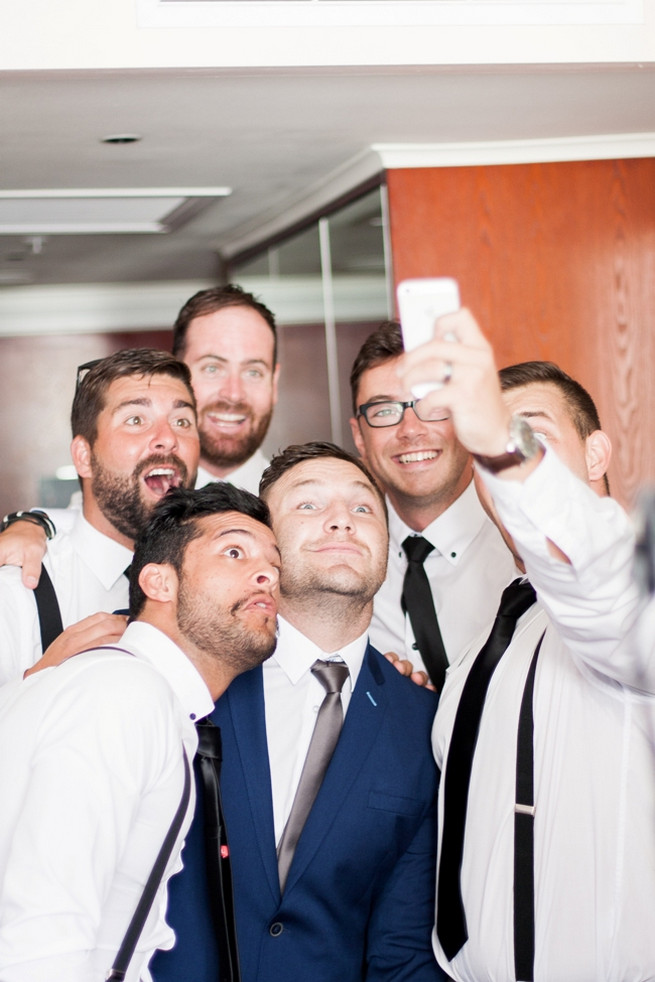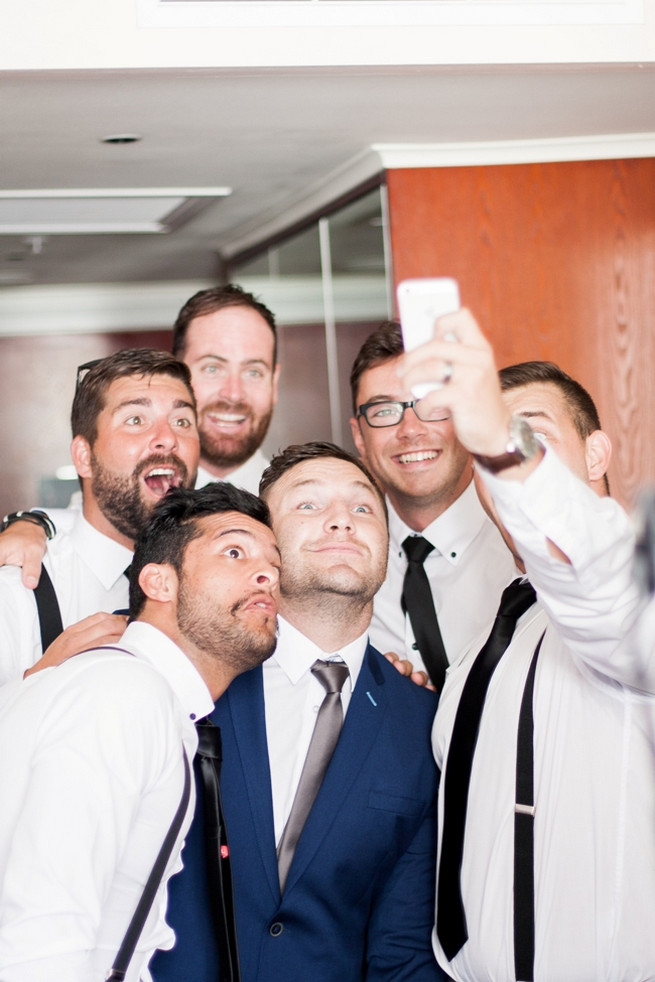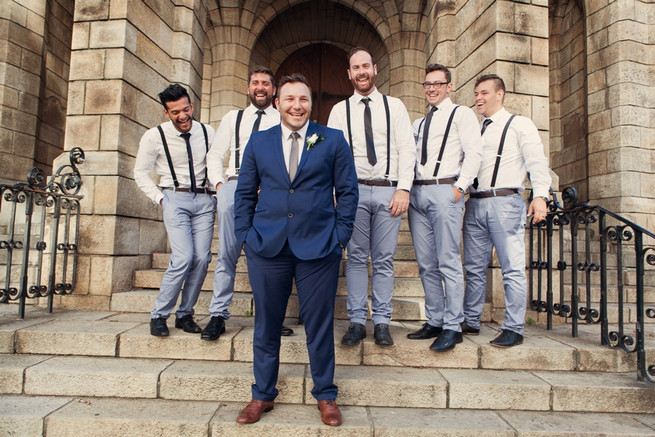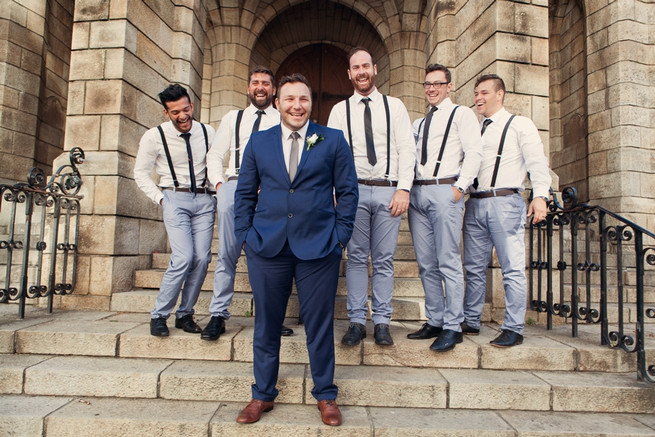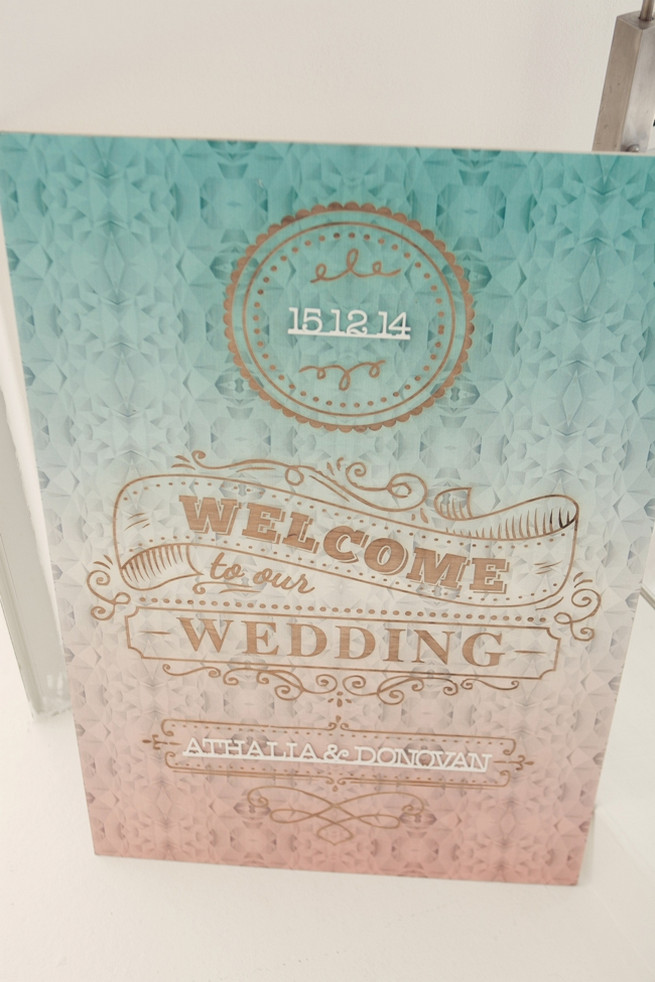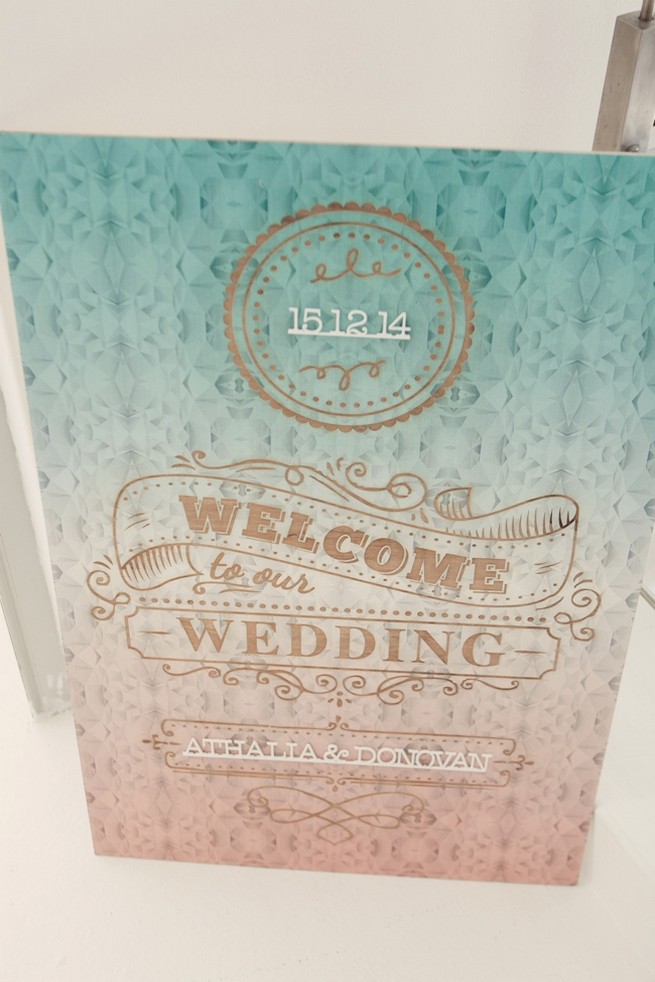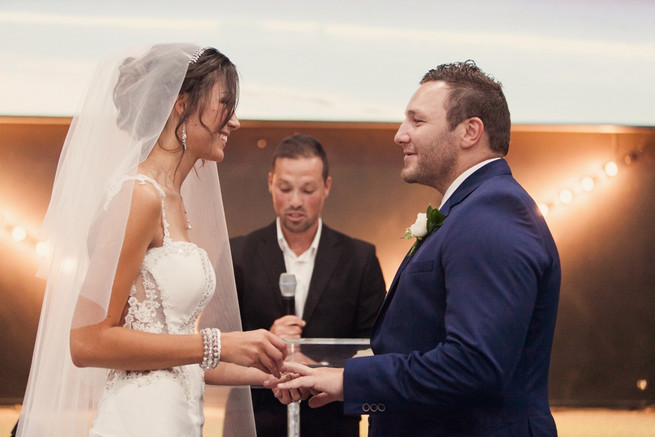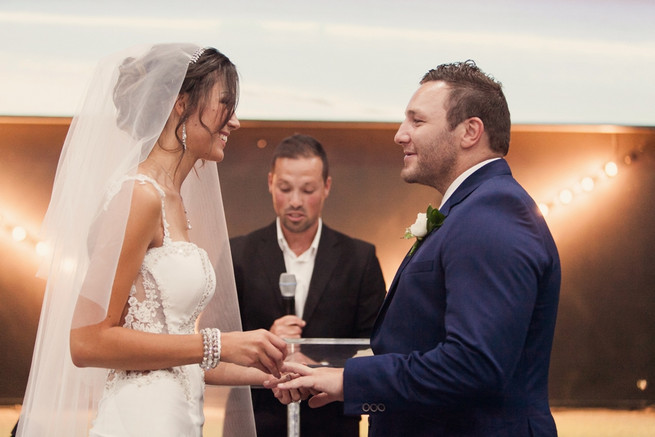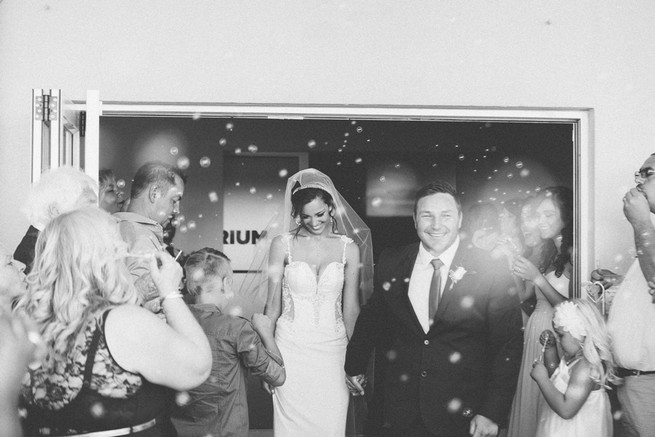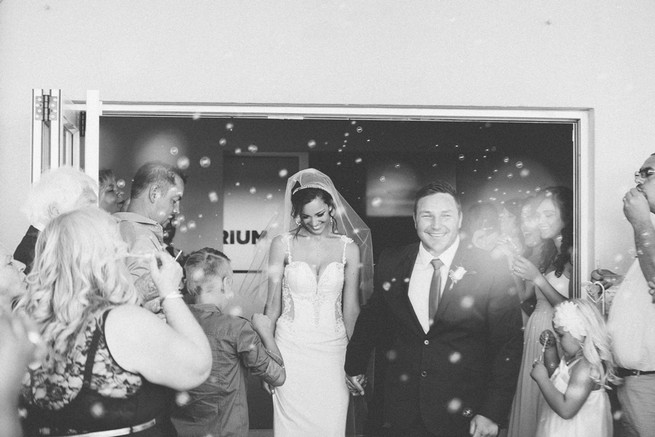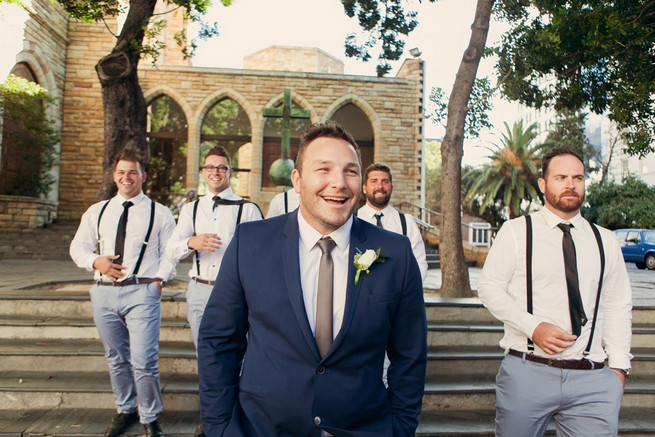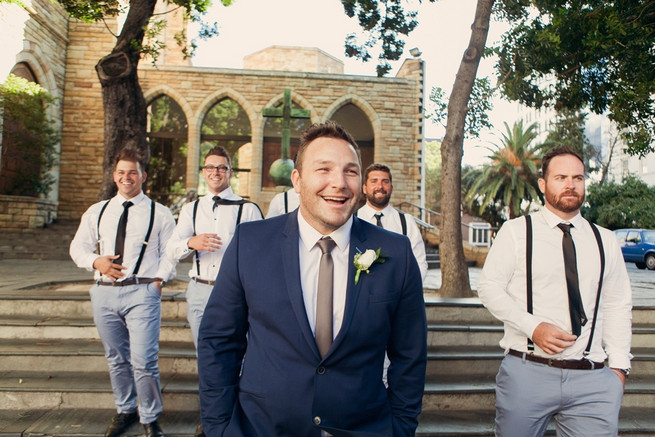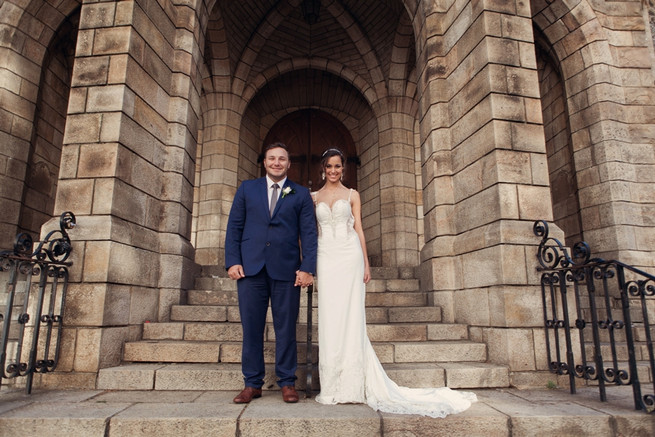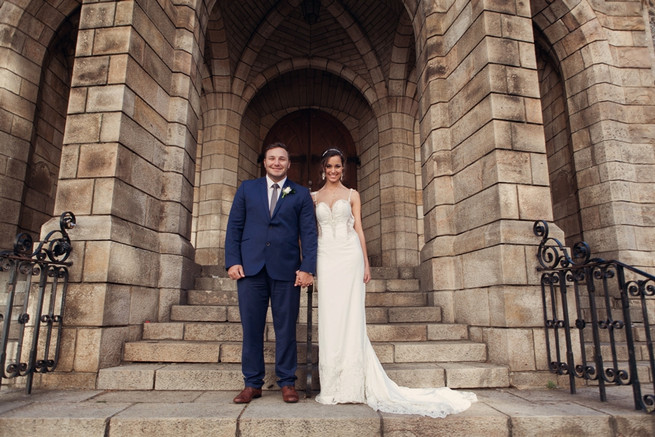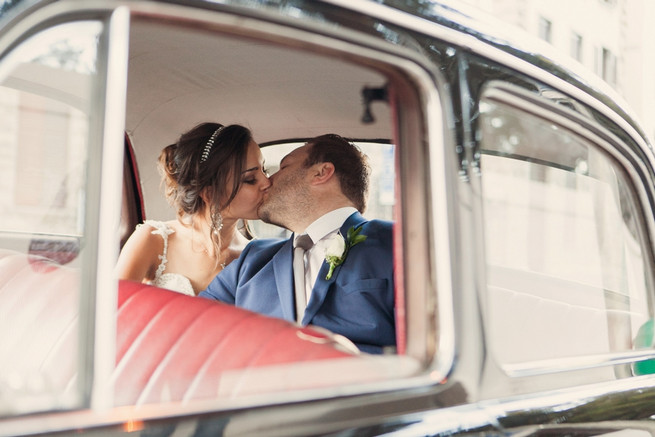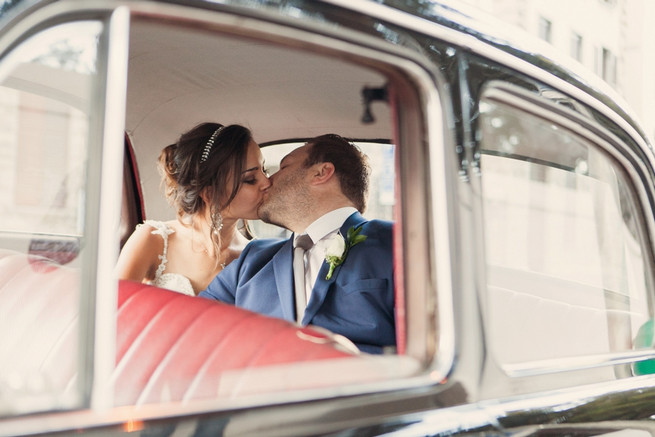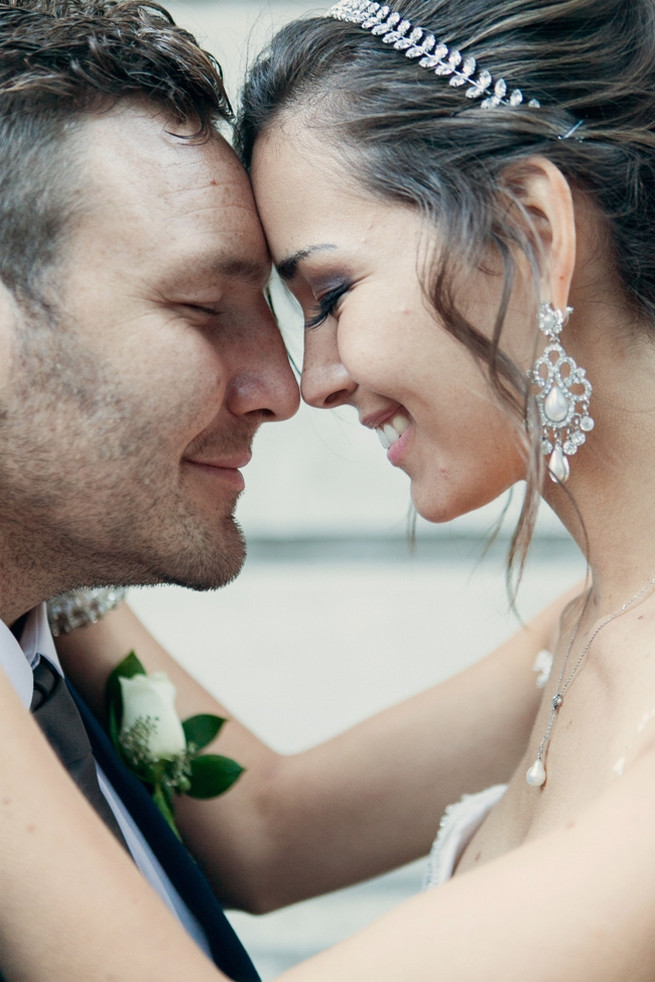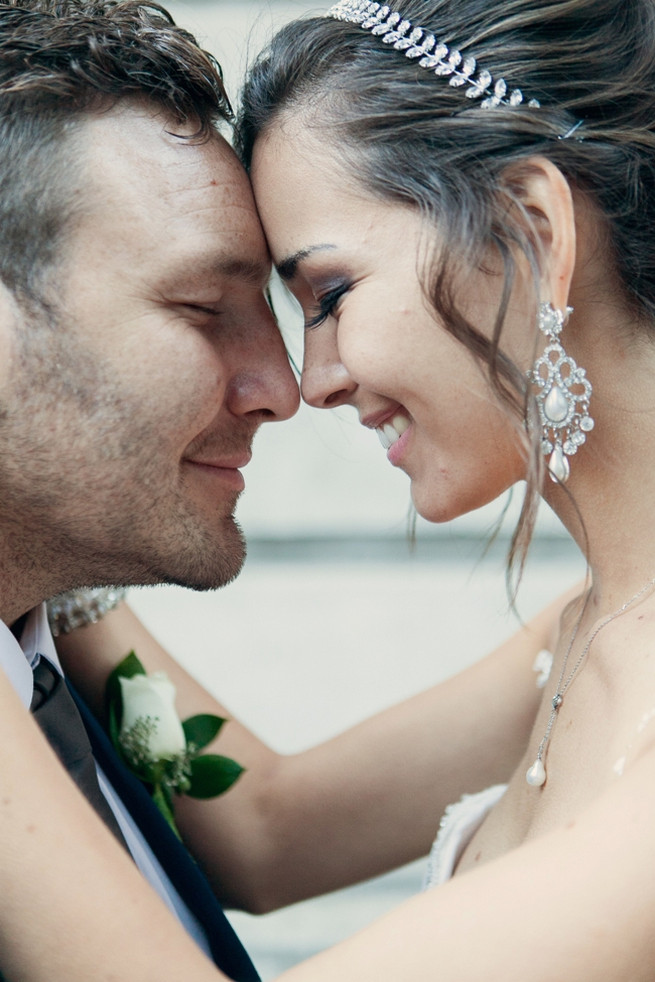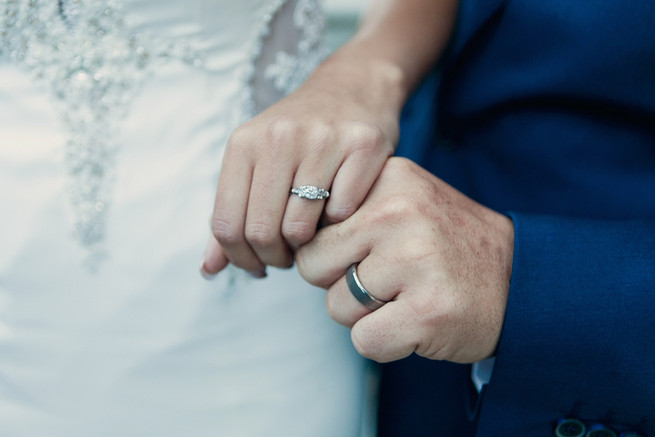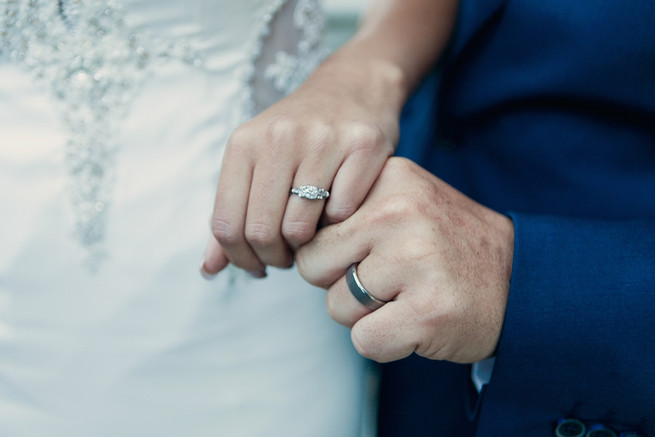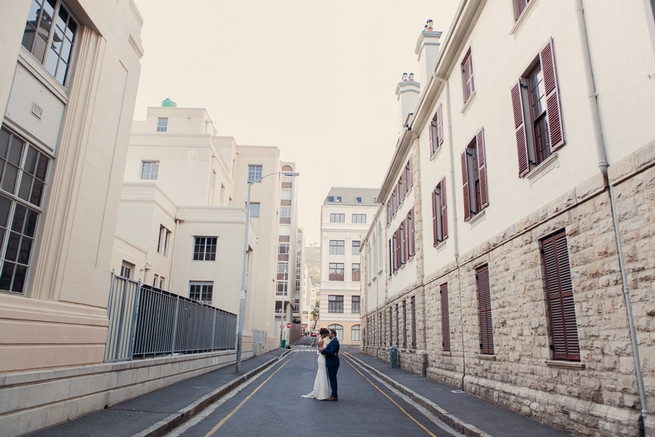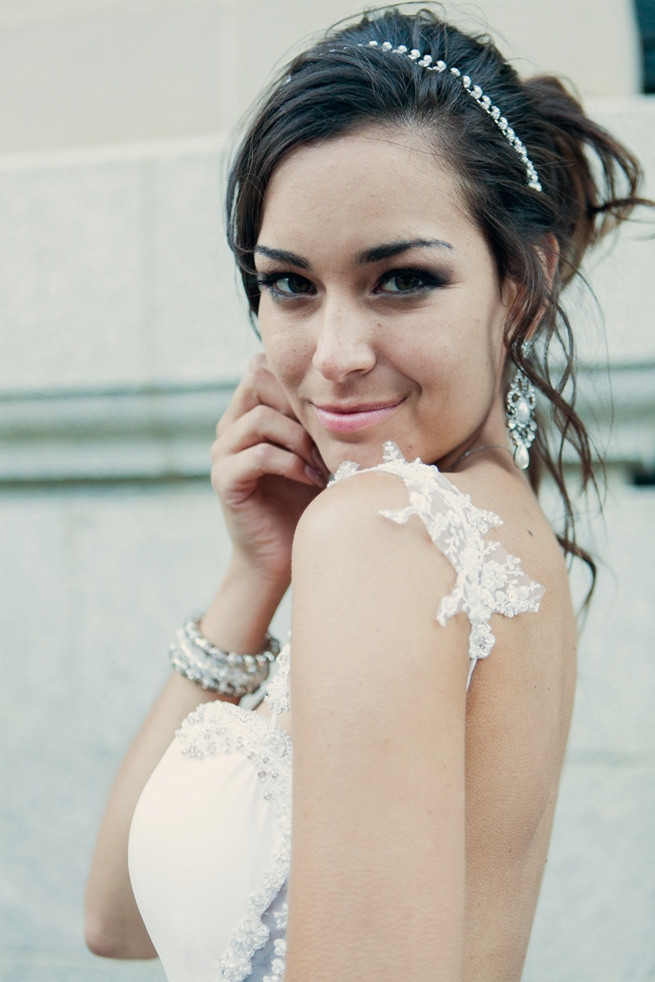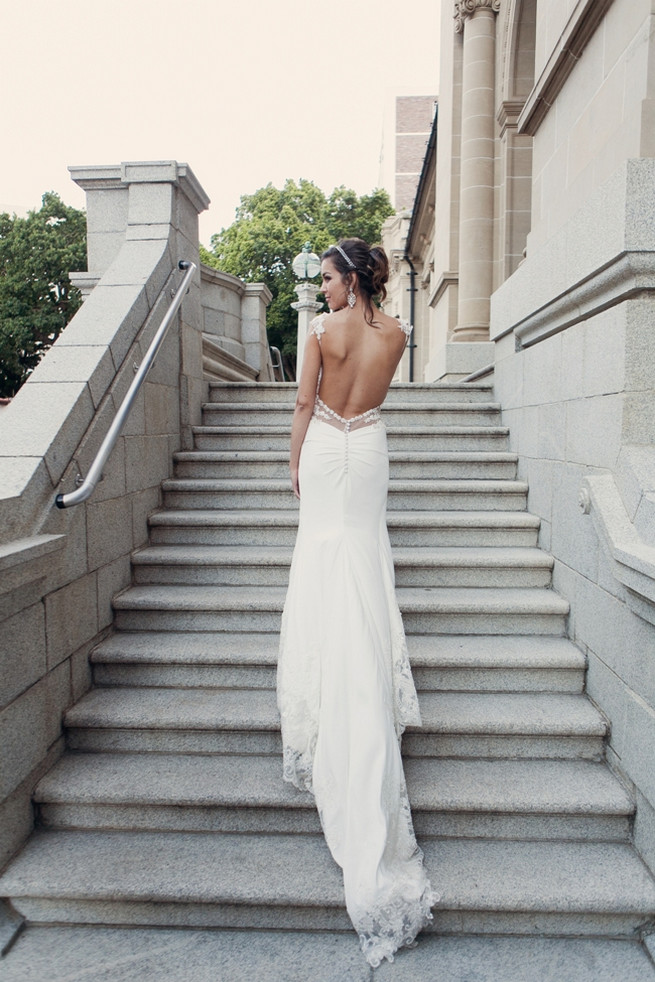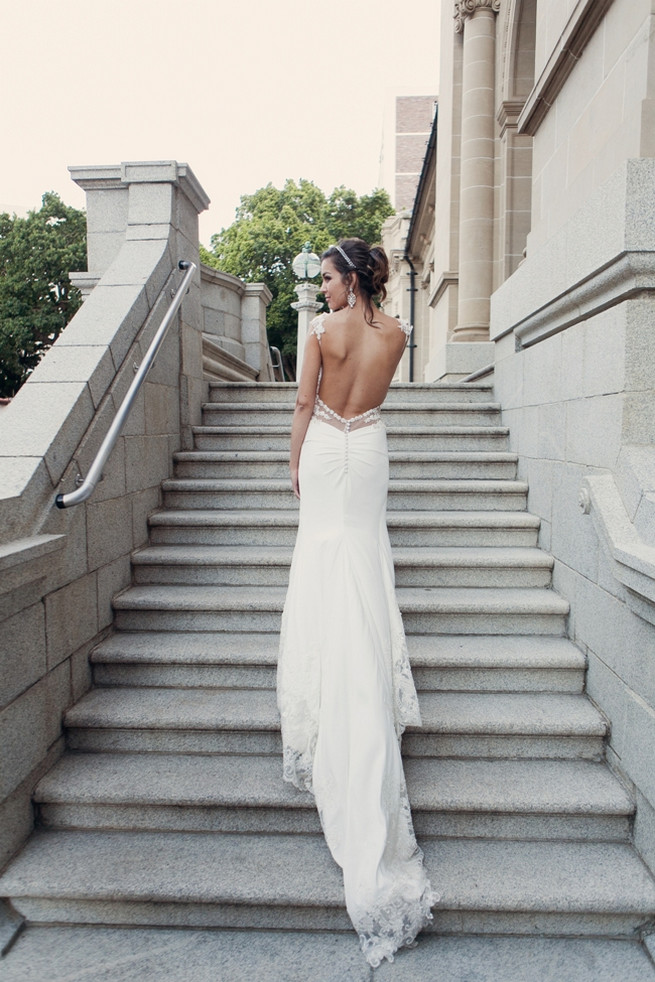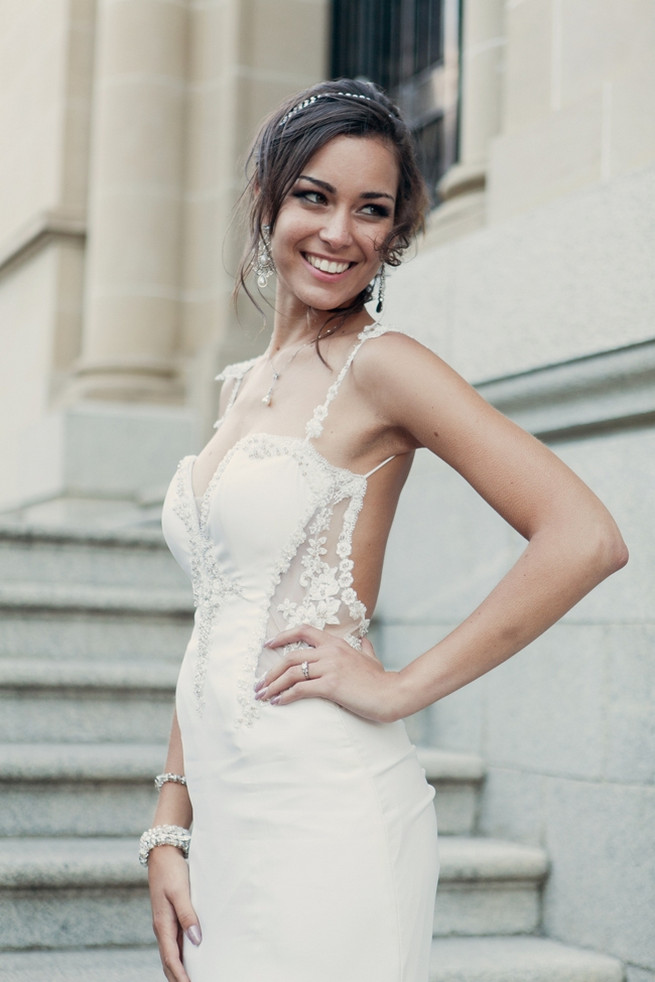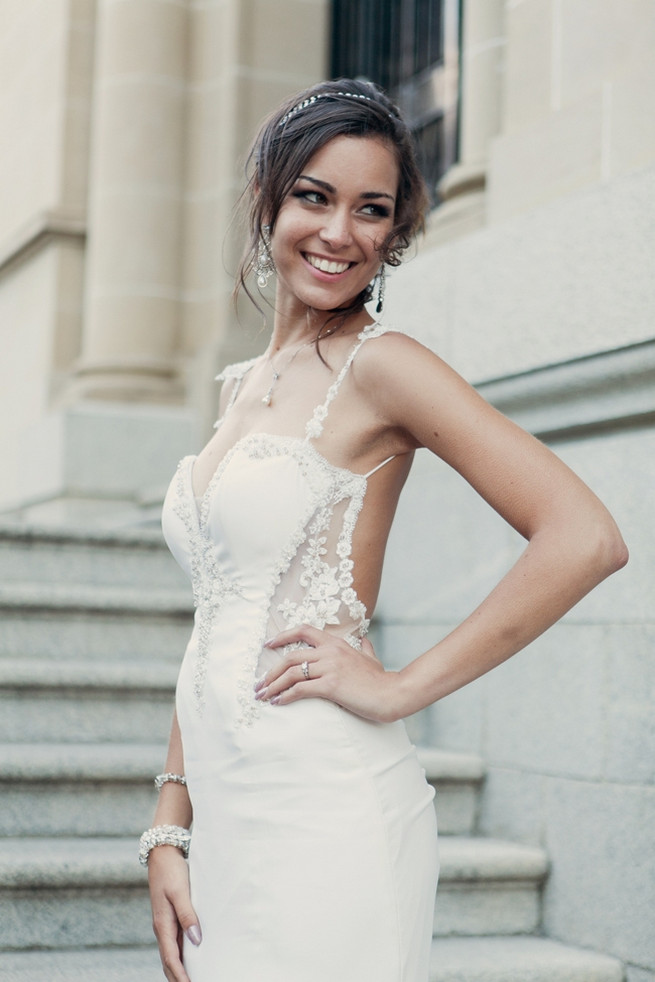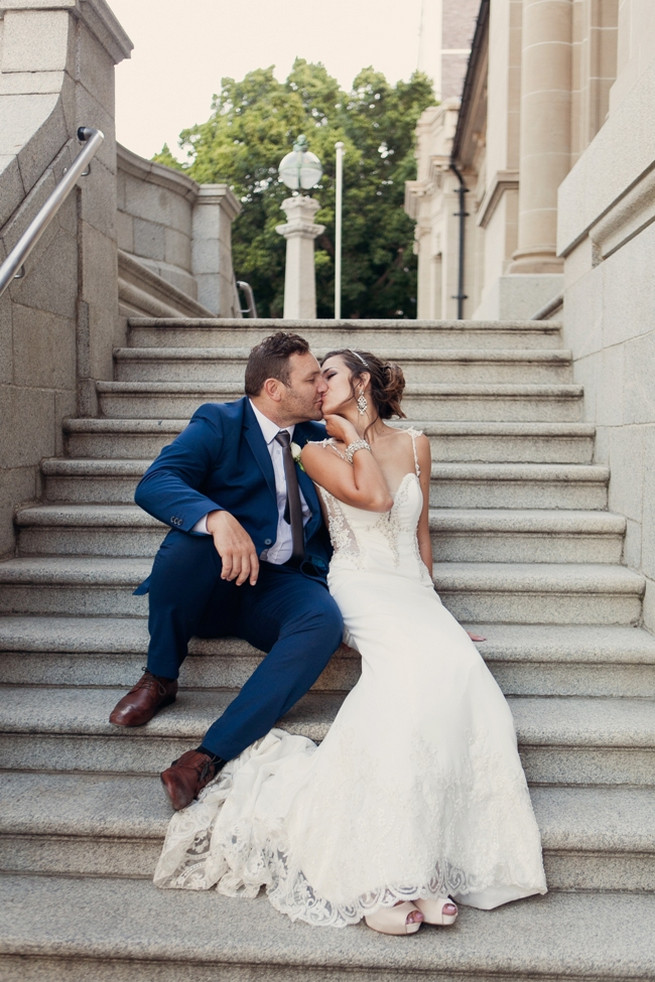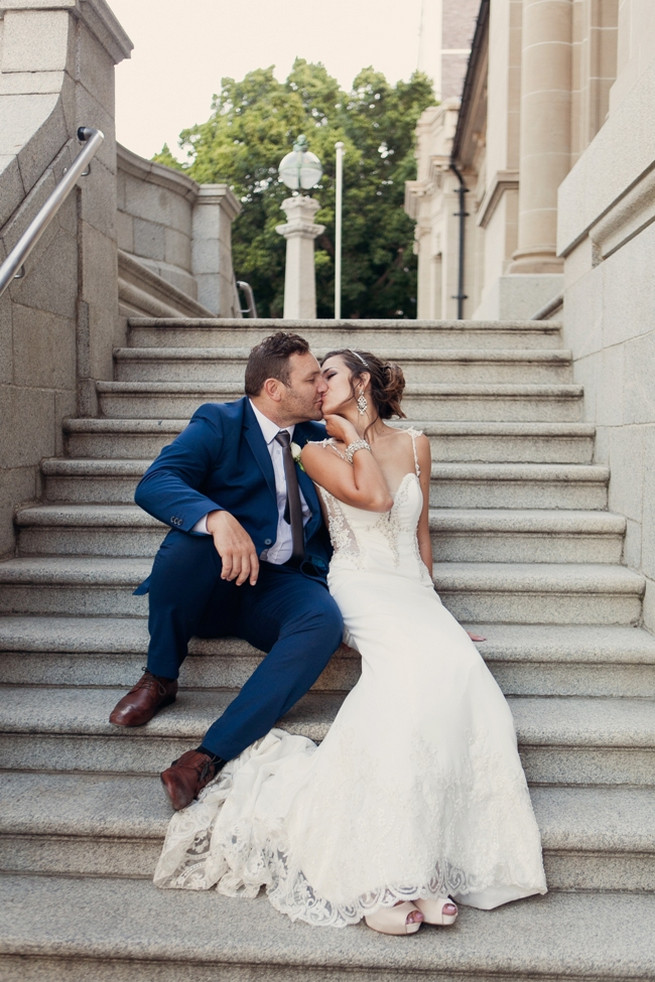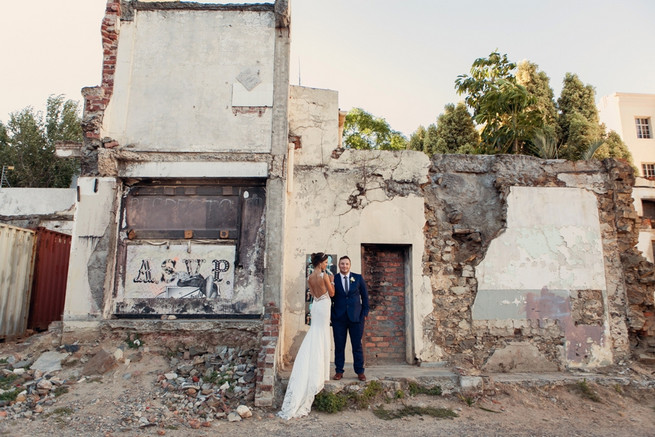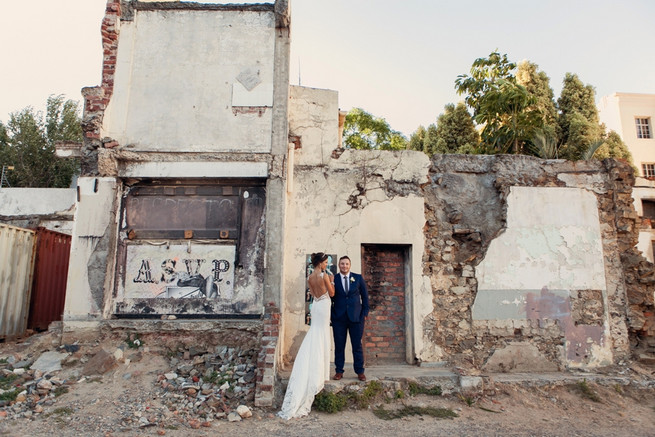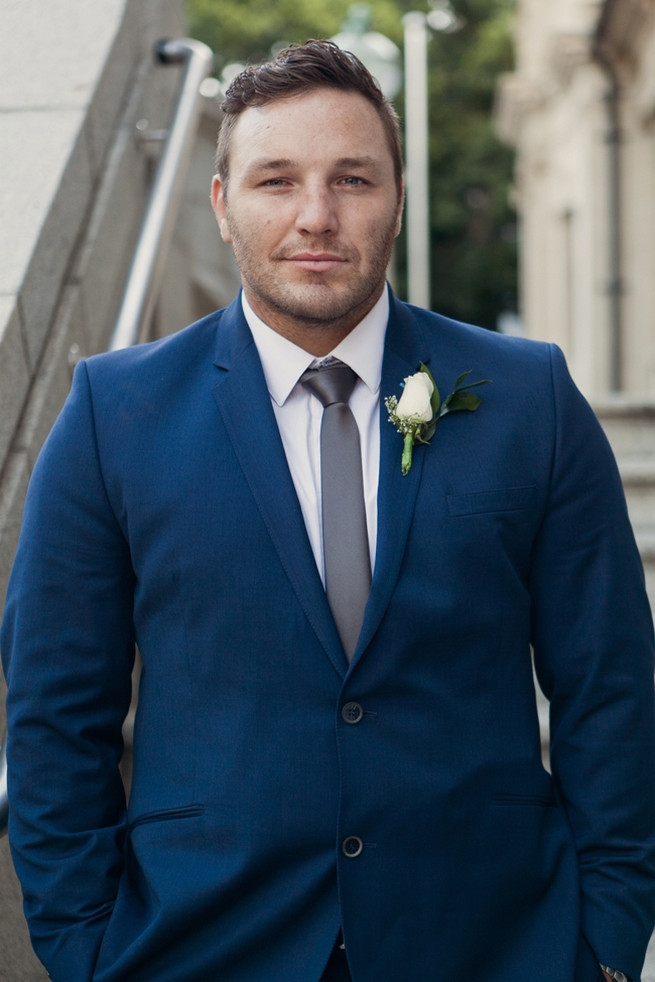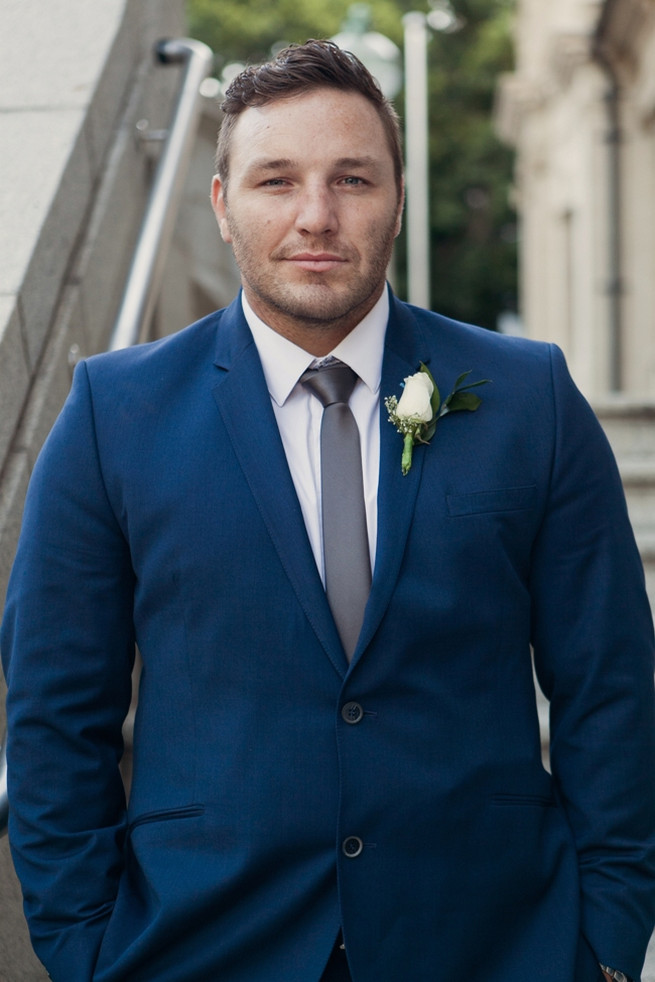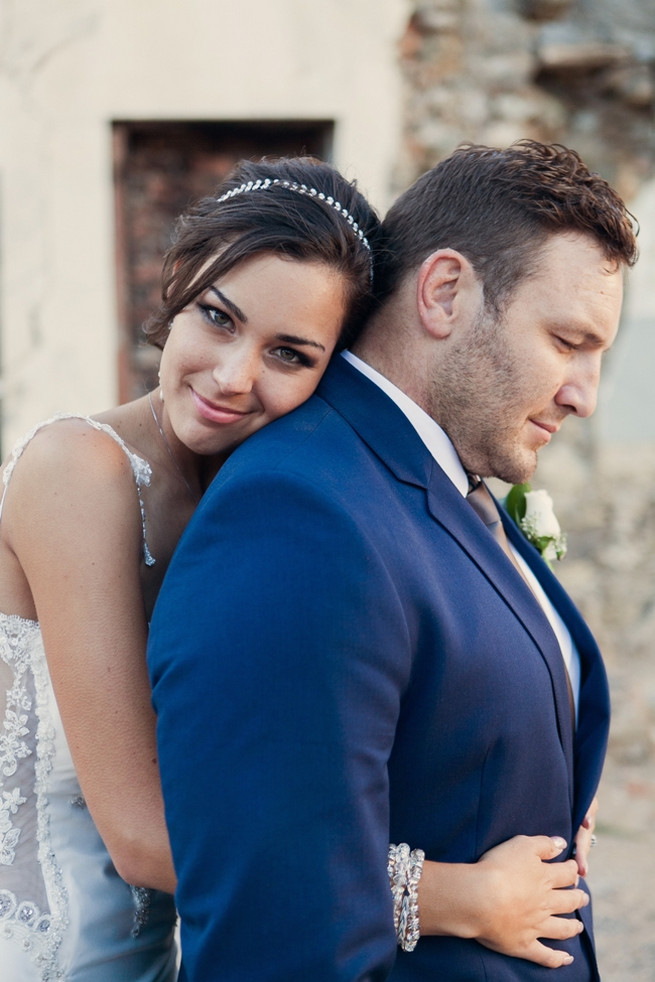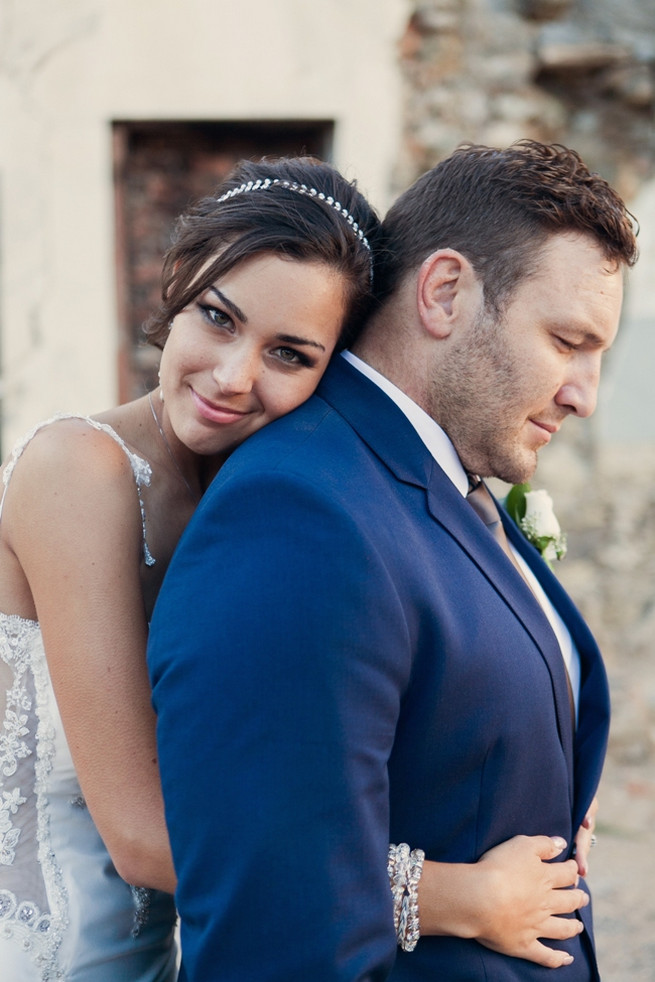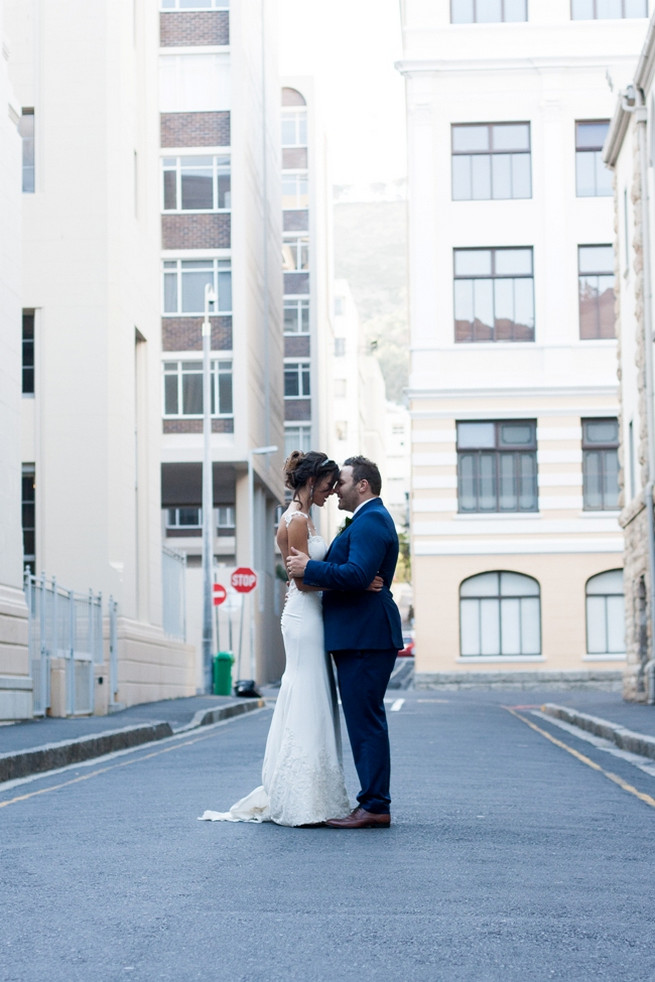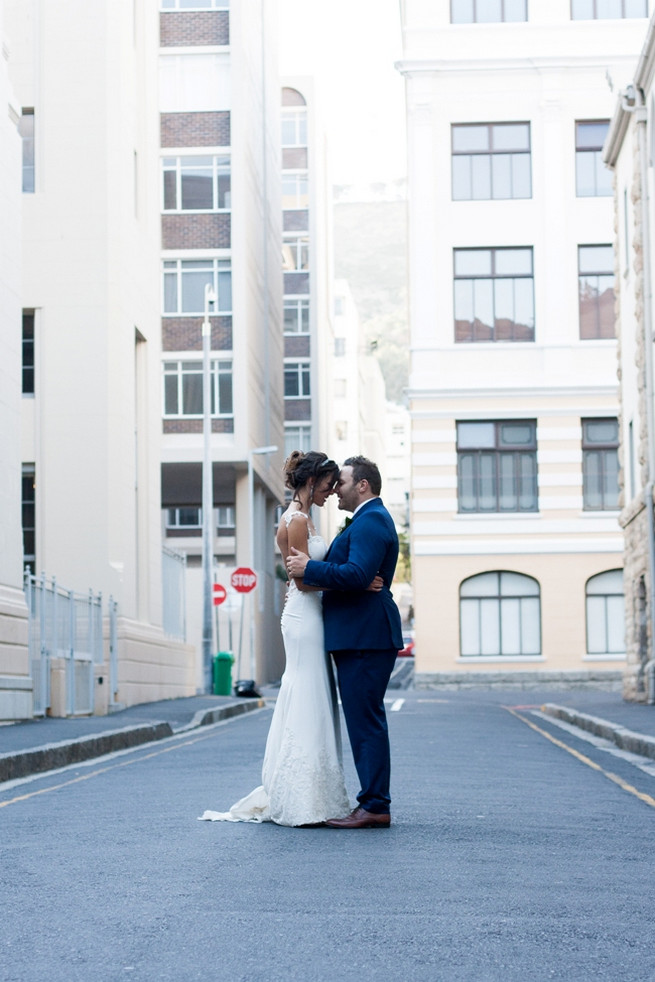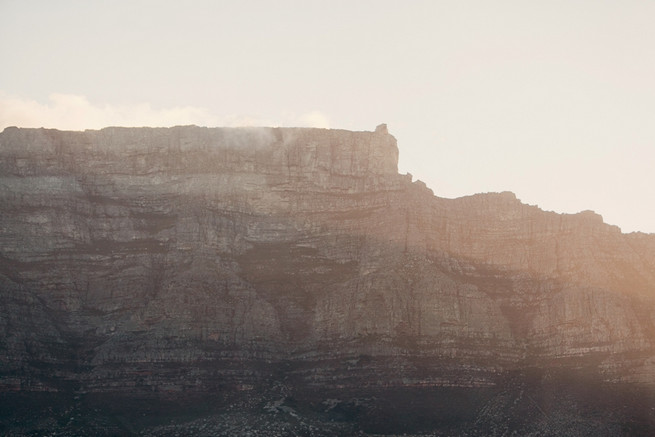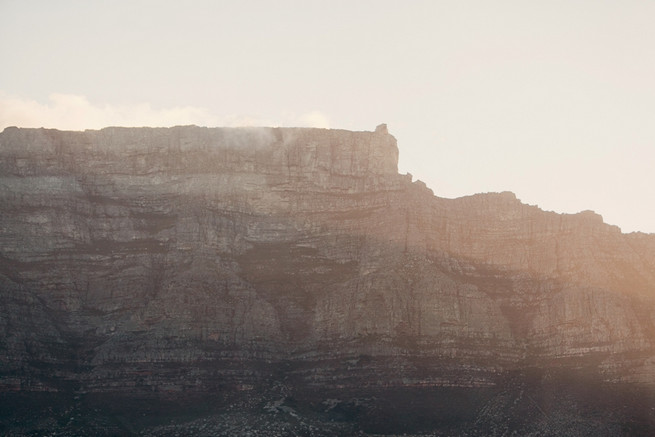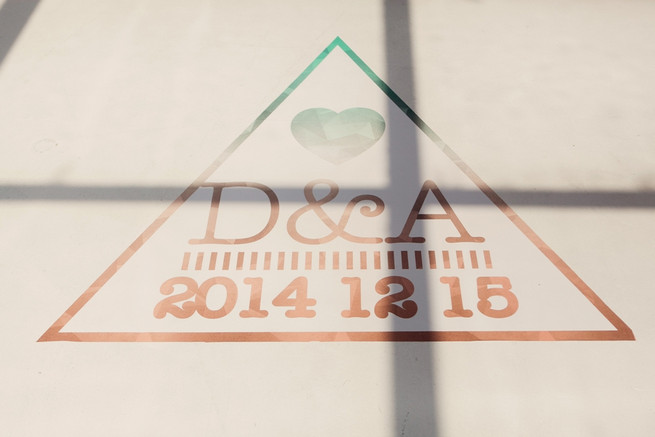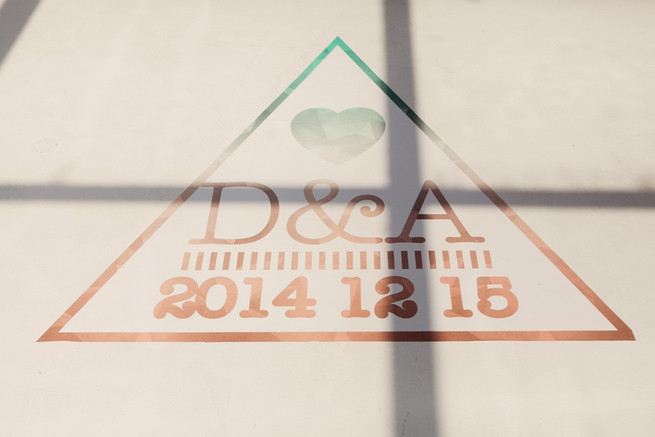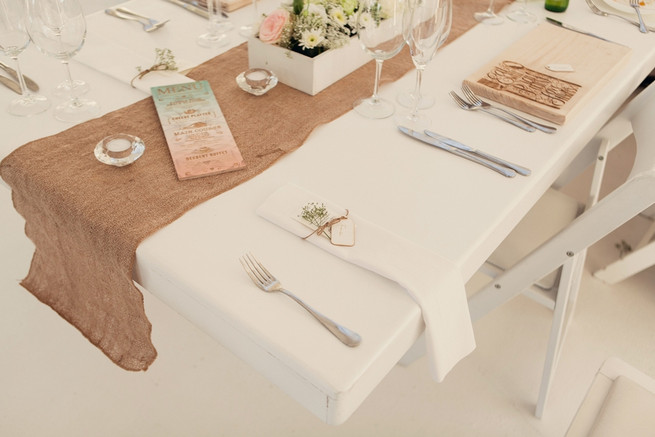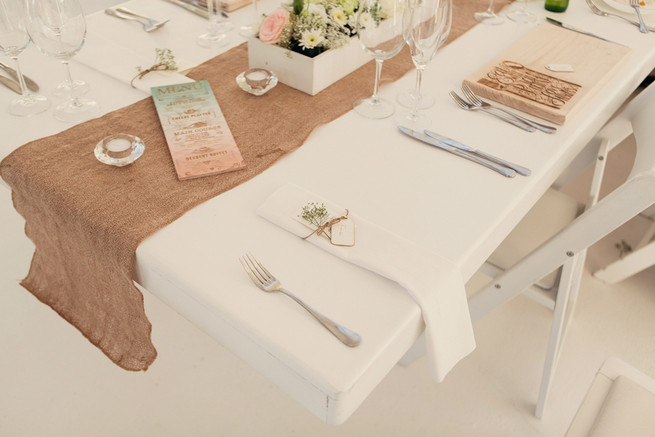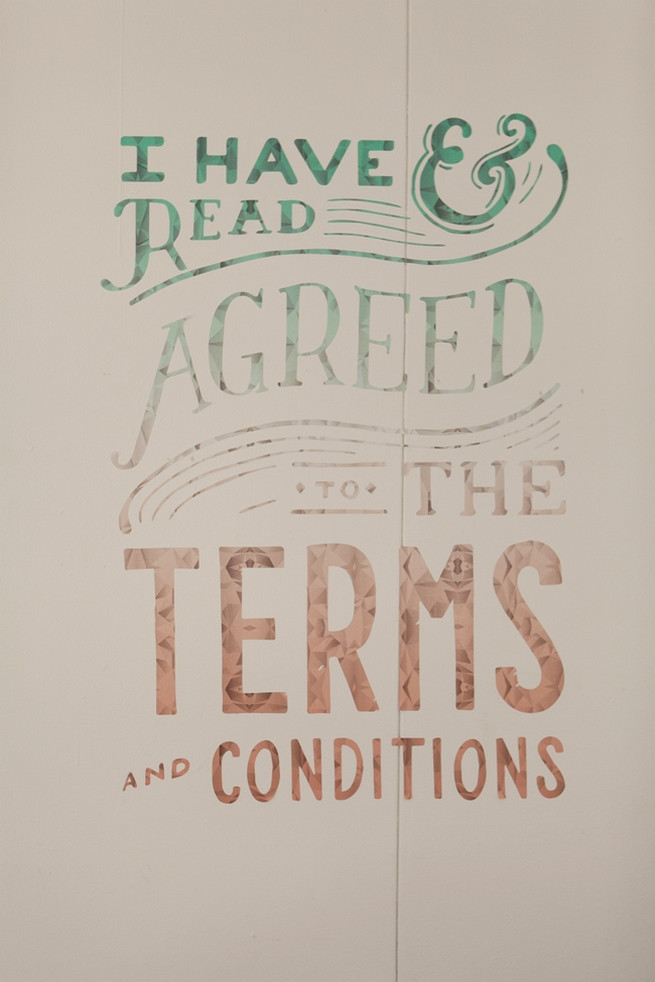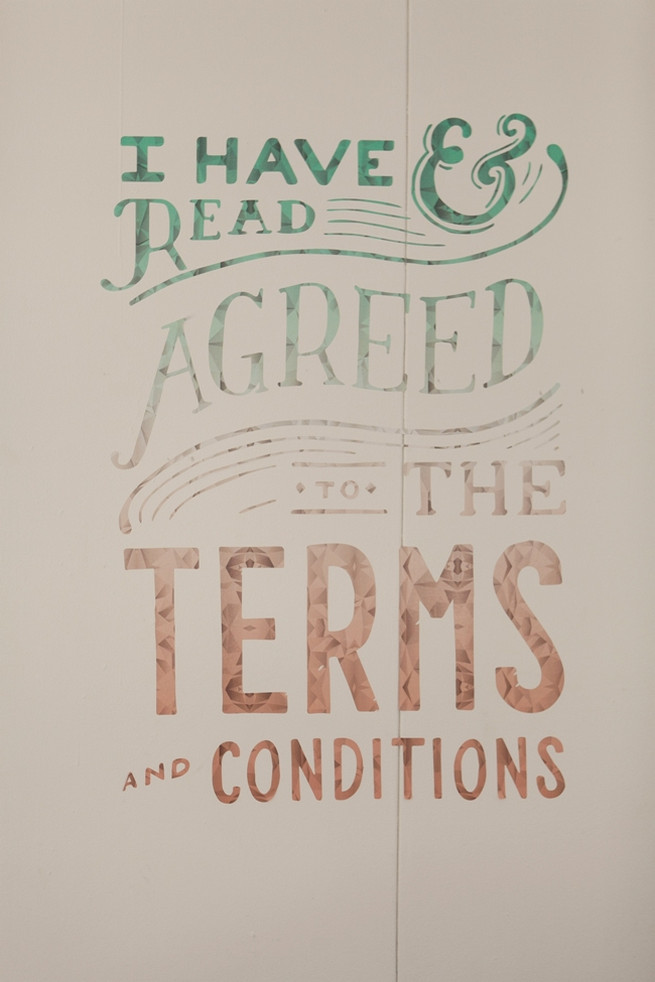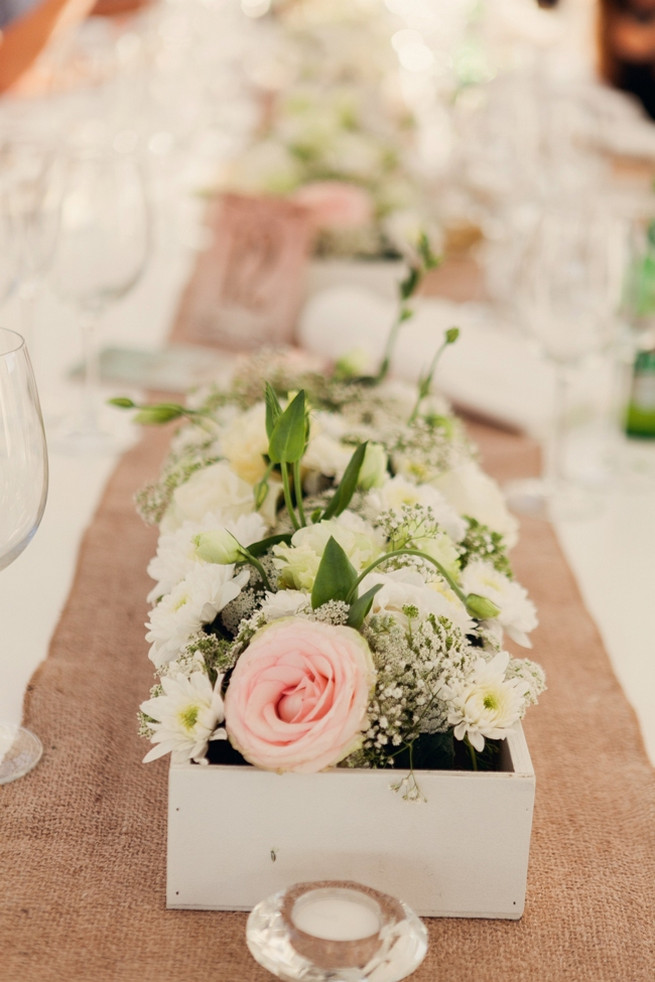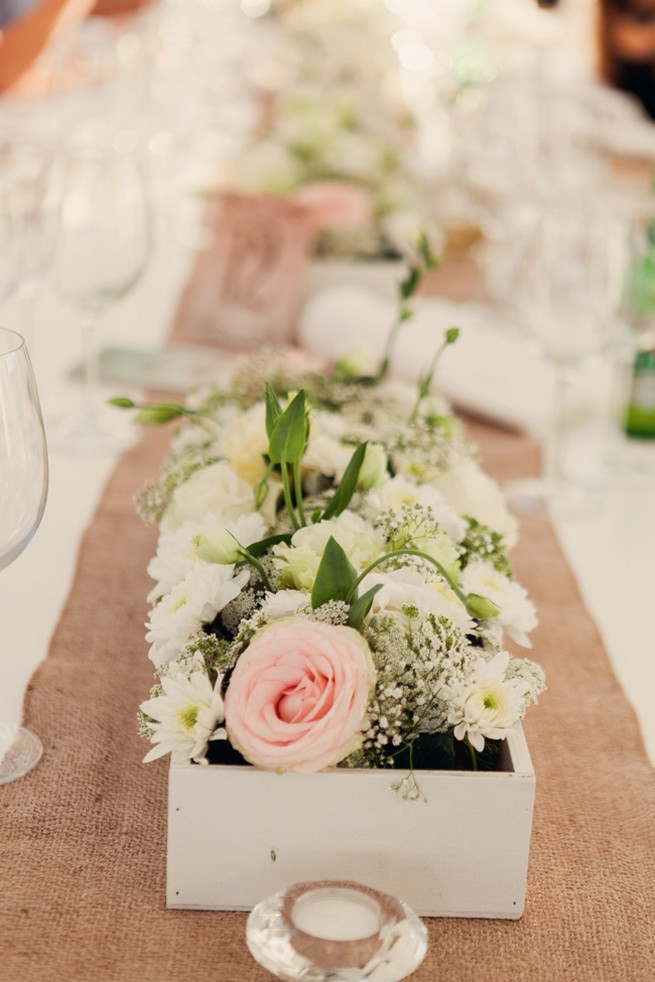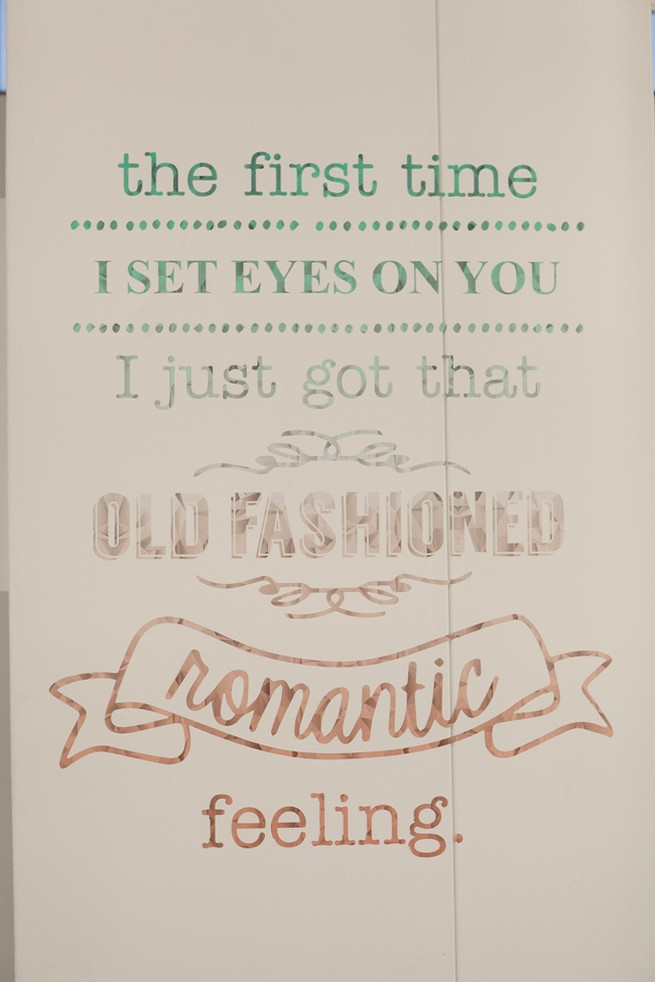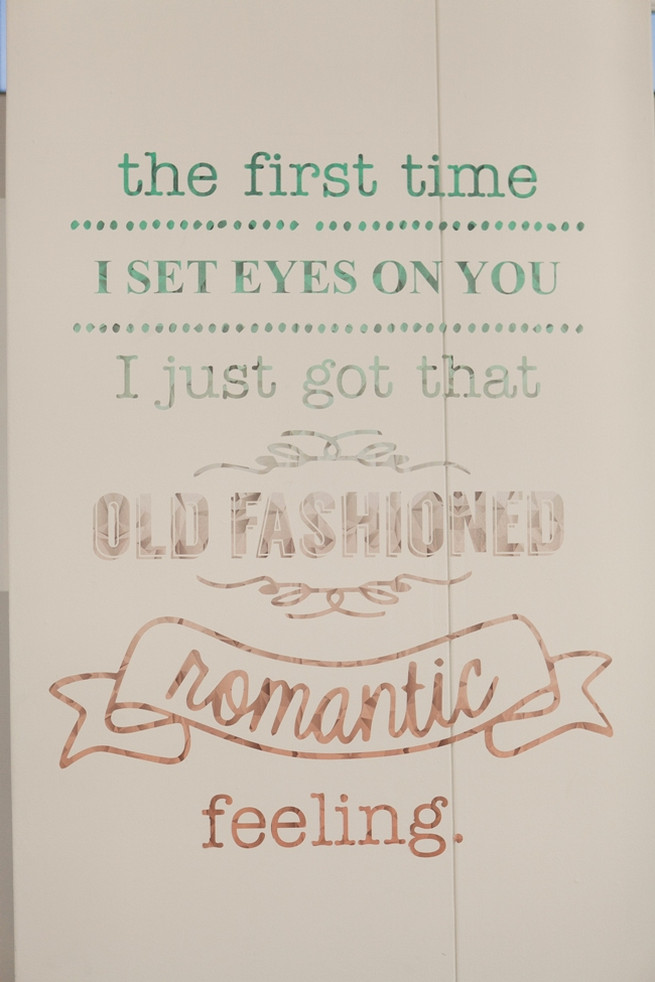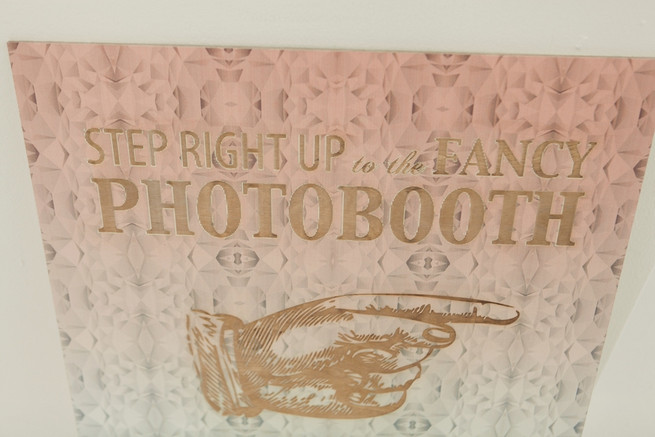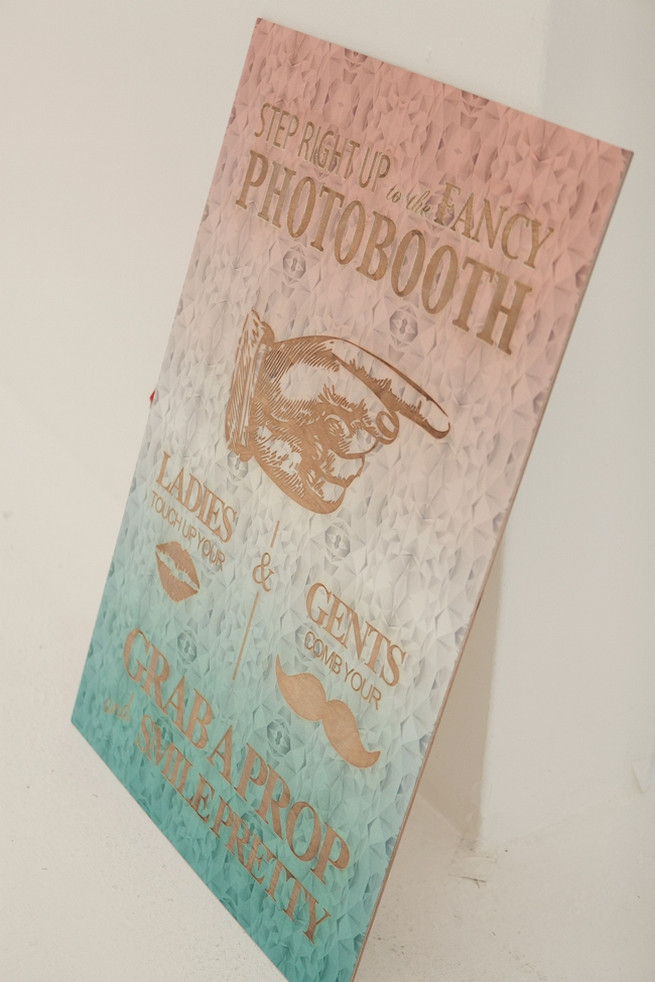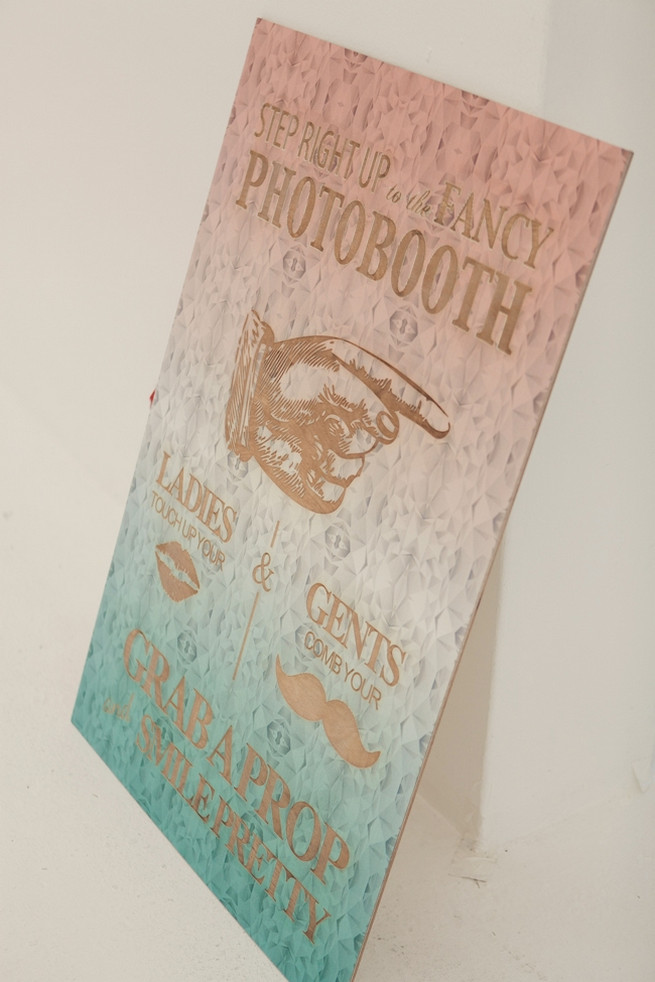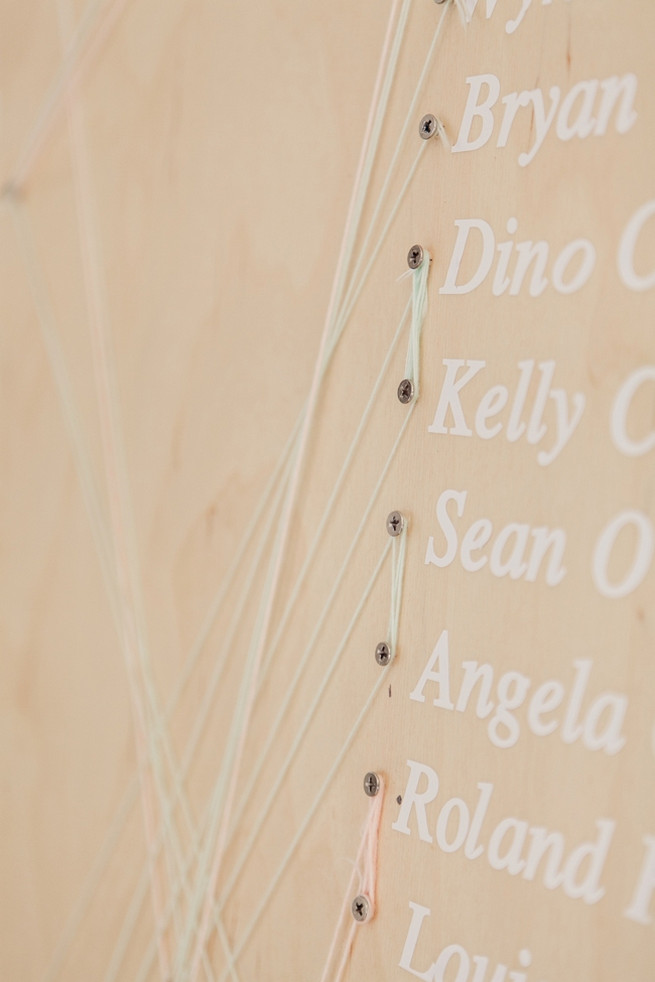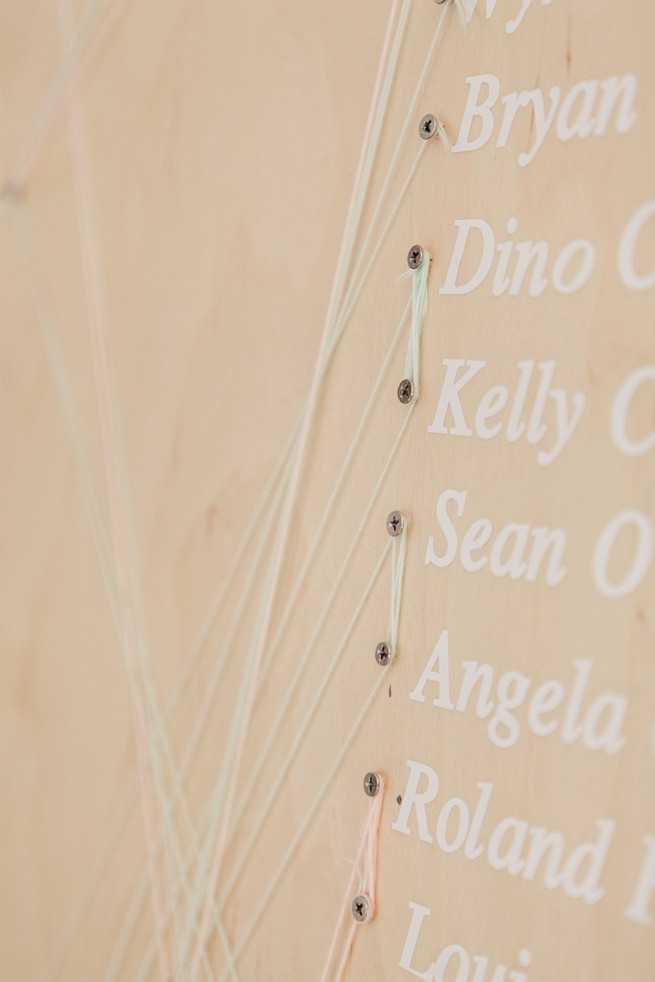 Our wedding seating chart had our guest's names on the one side and their table names on the opposite side, connected by twine in different colours.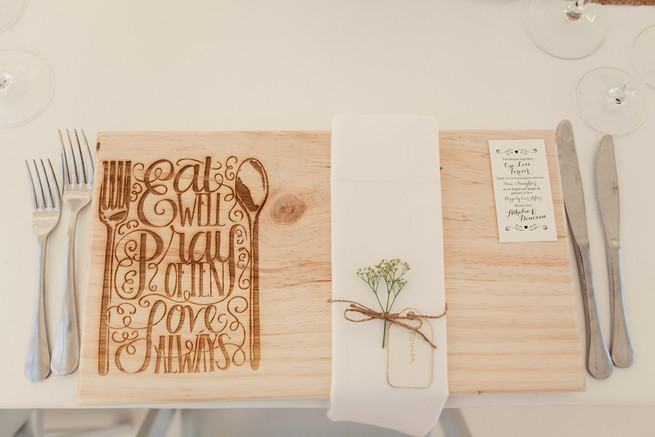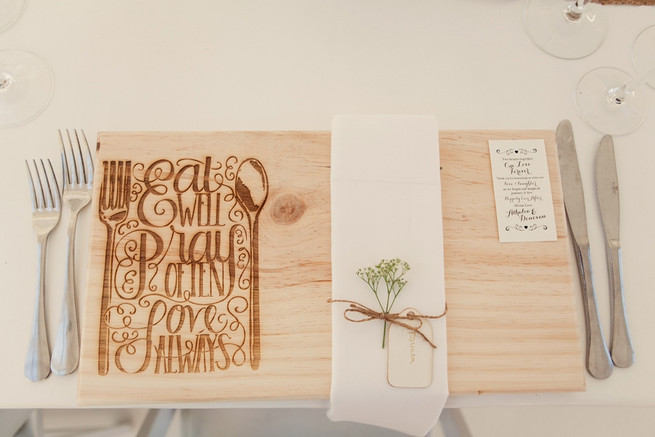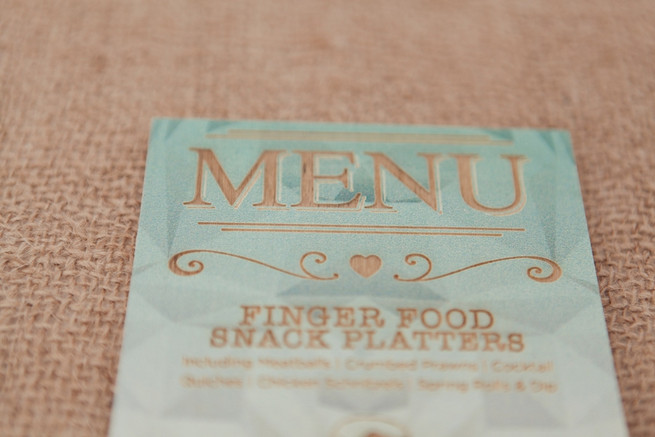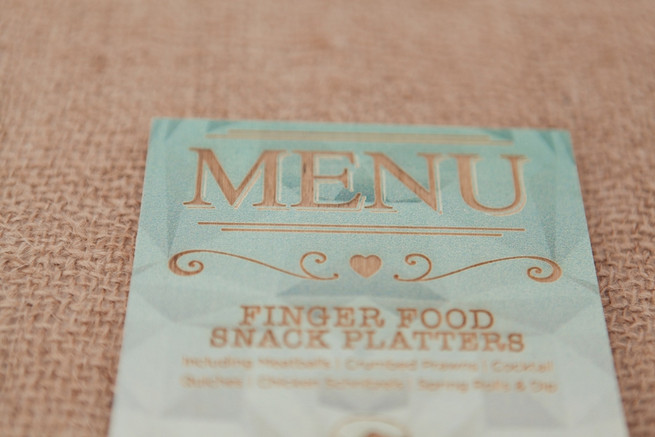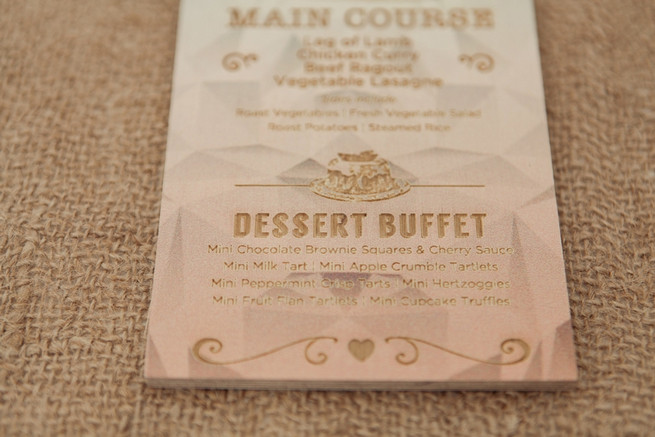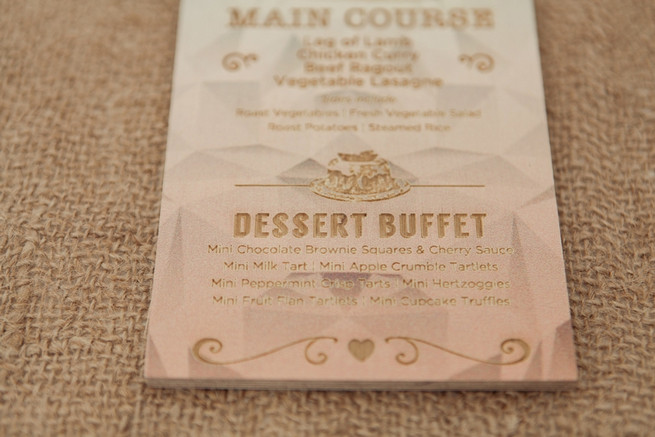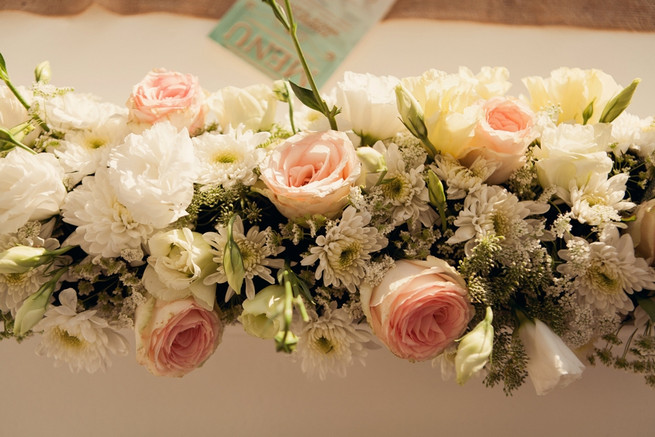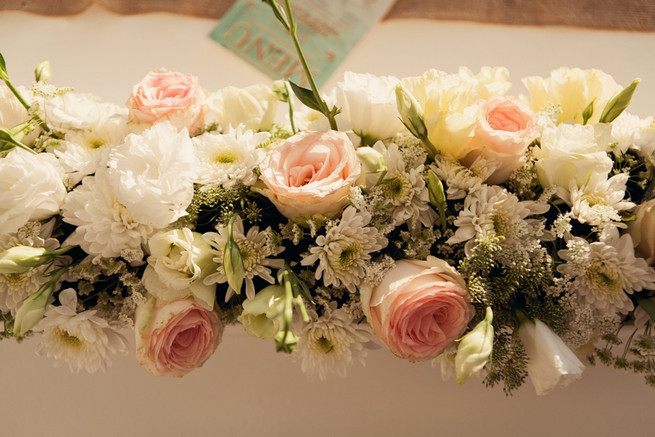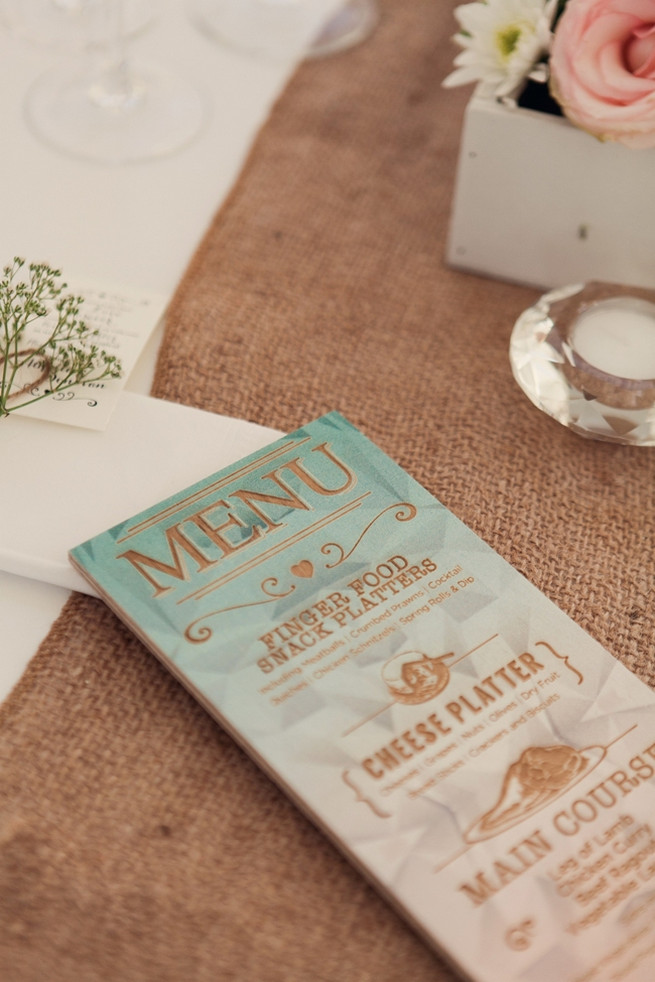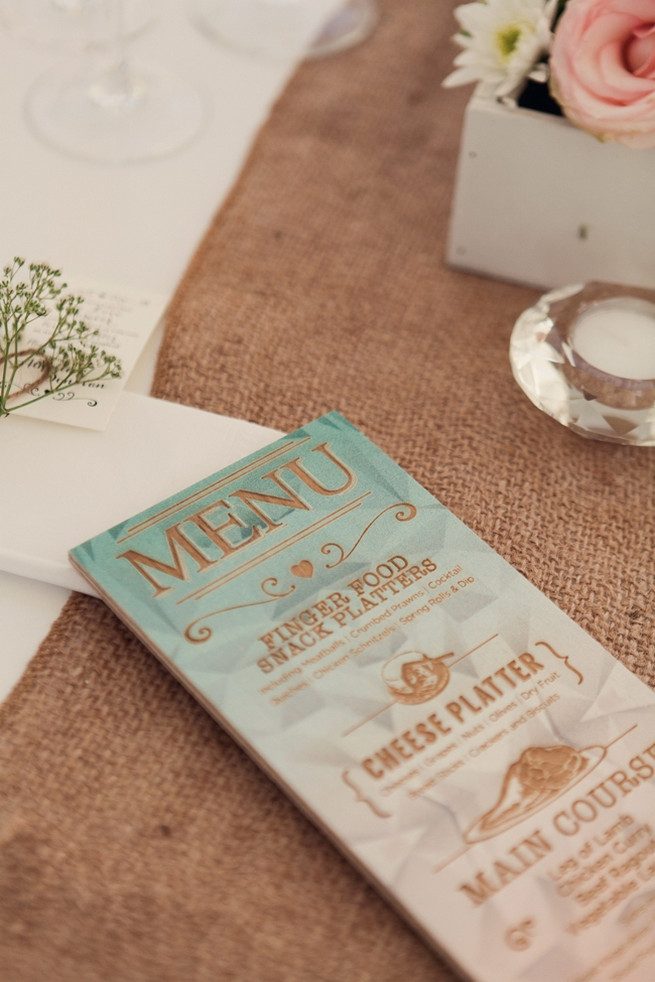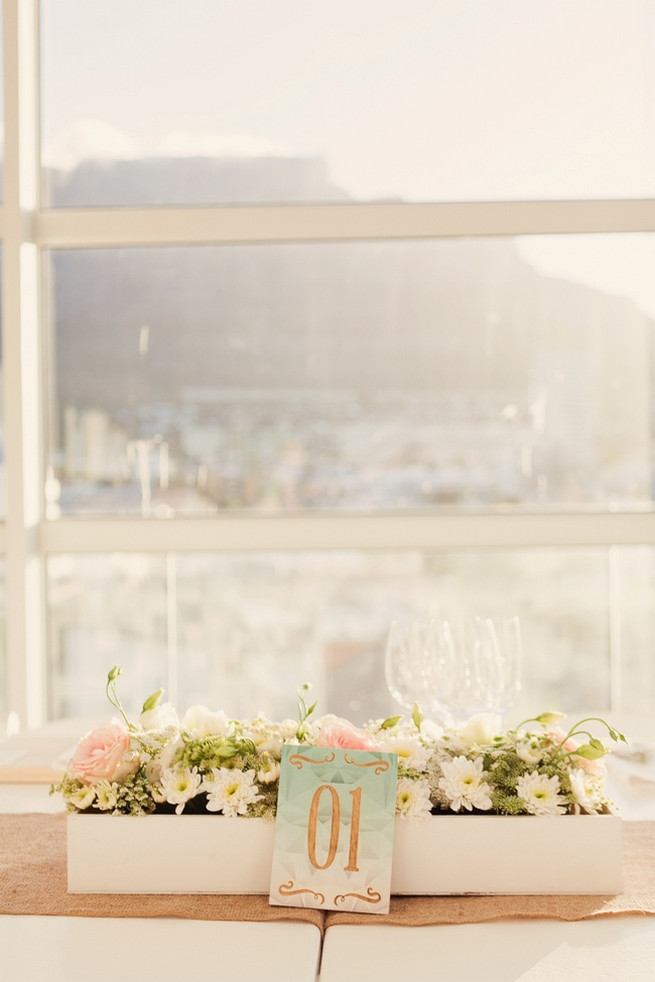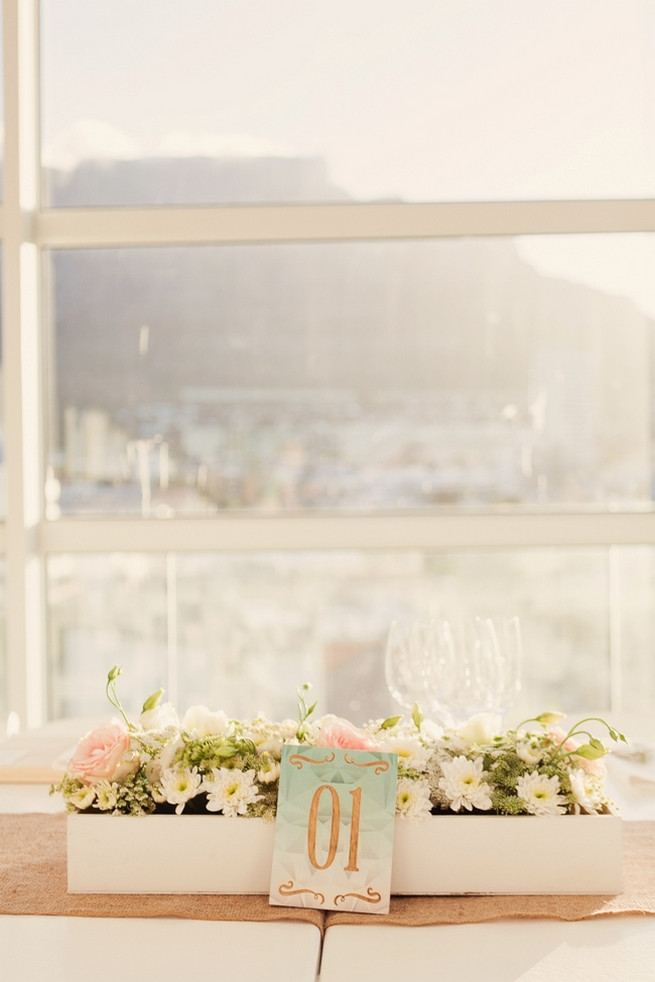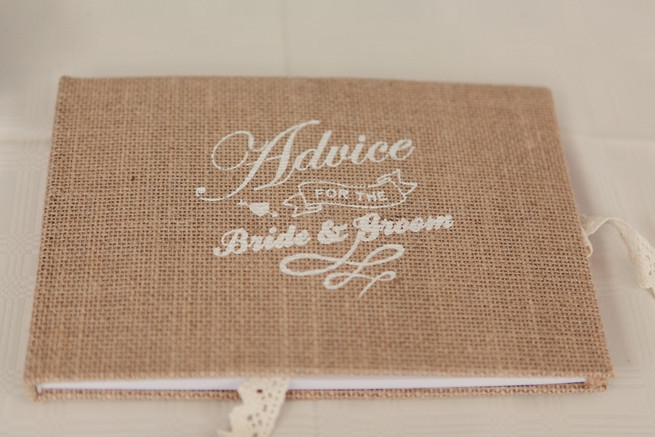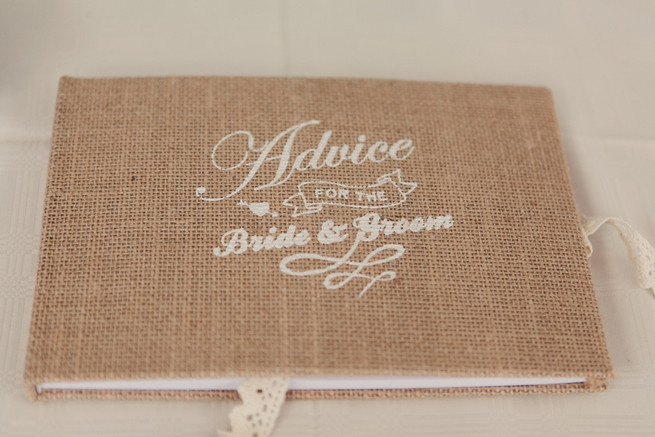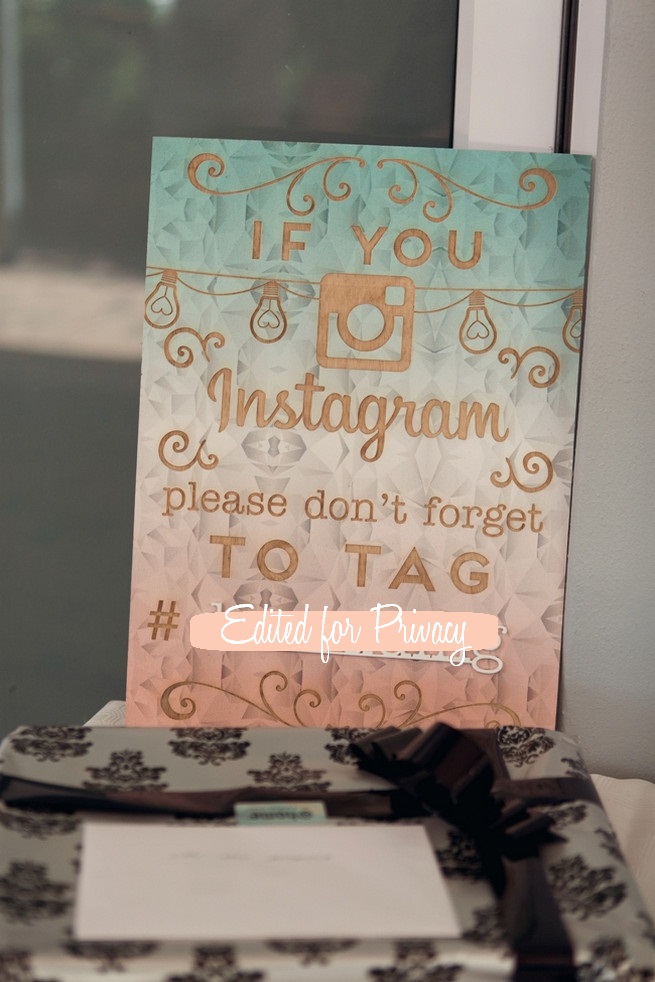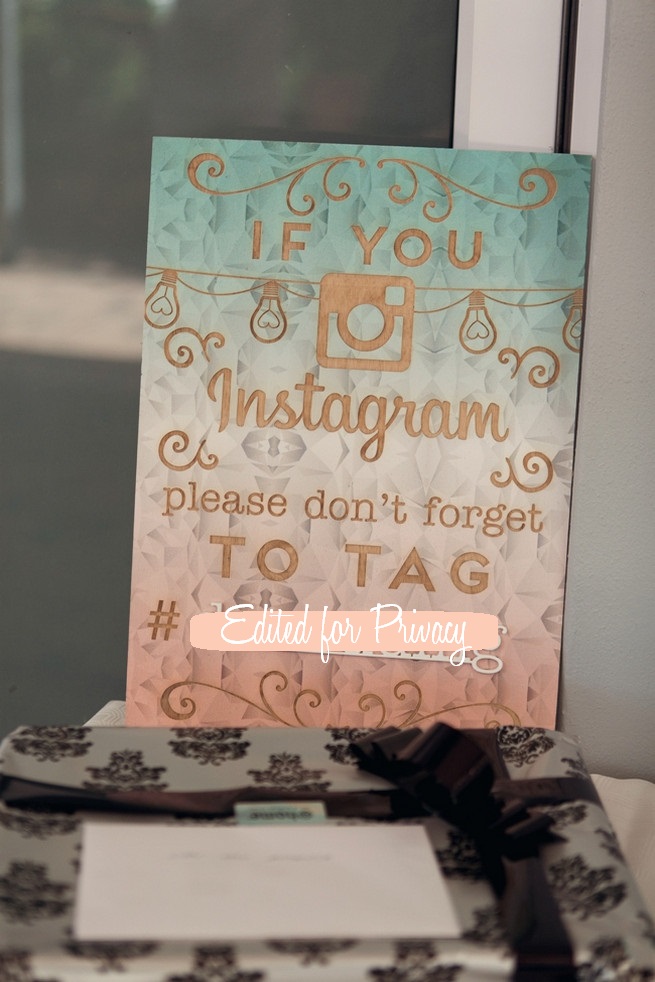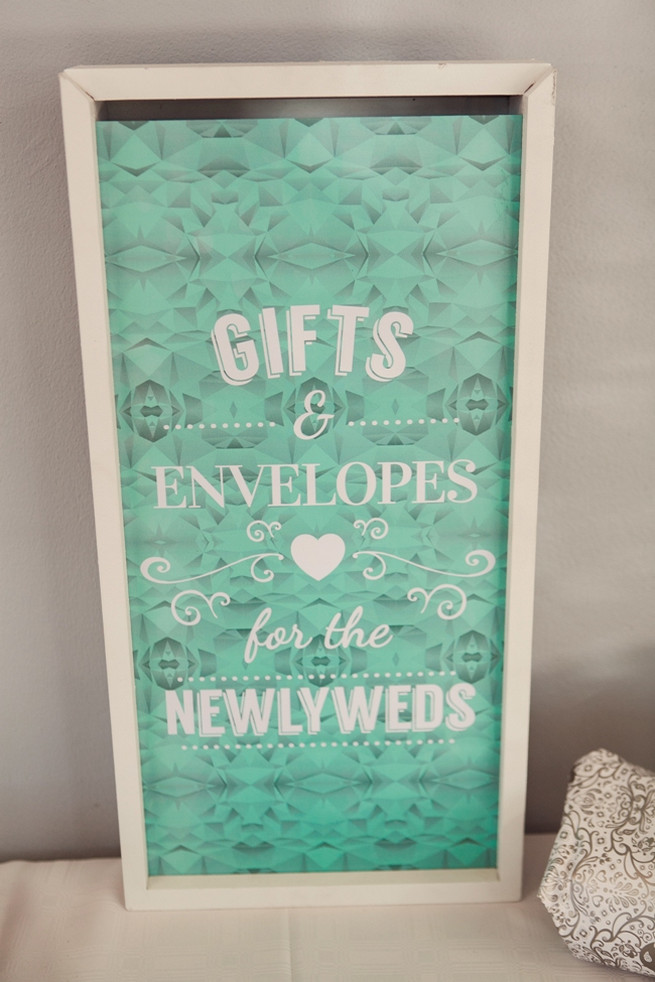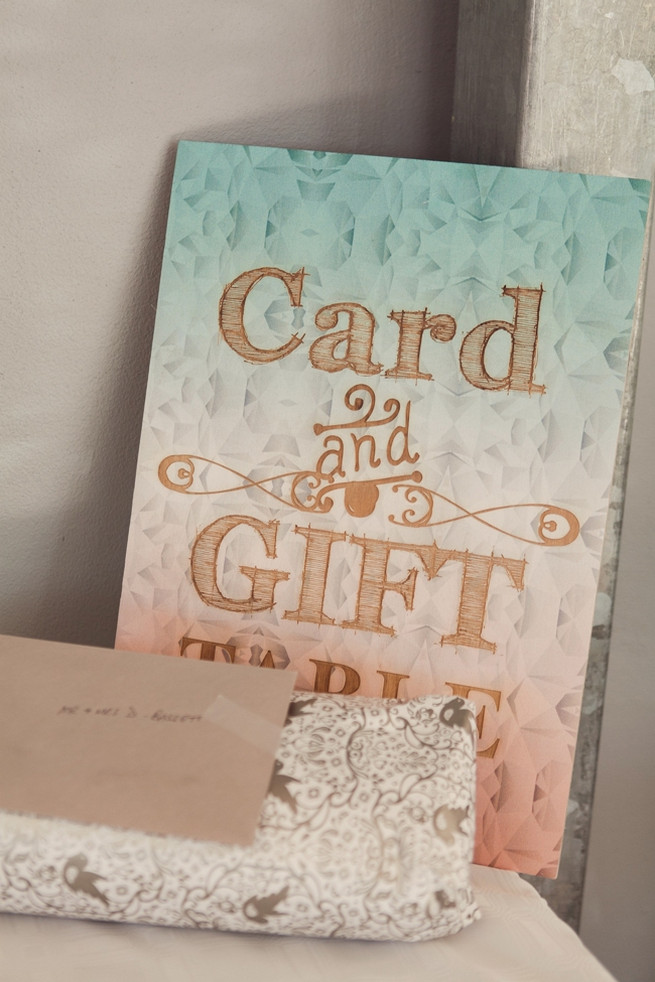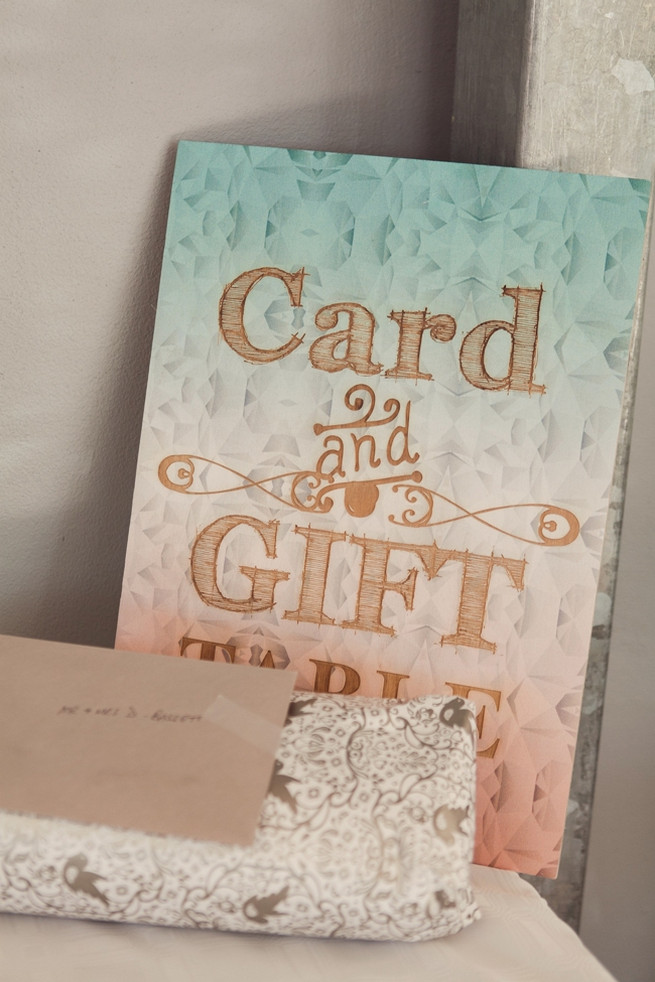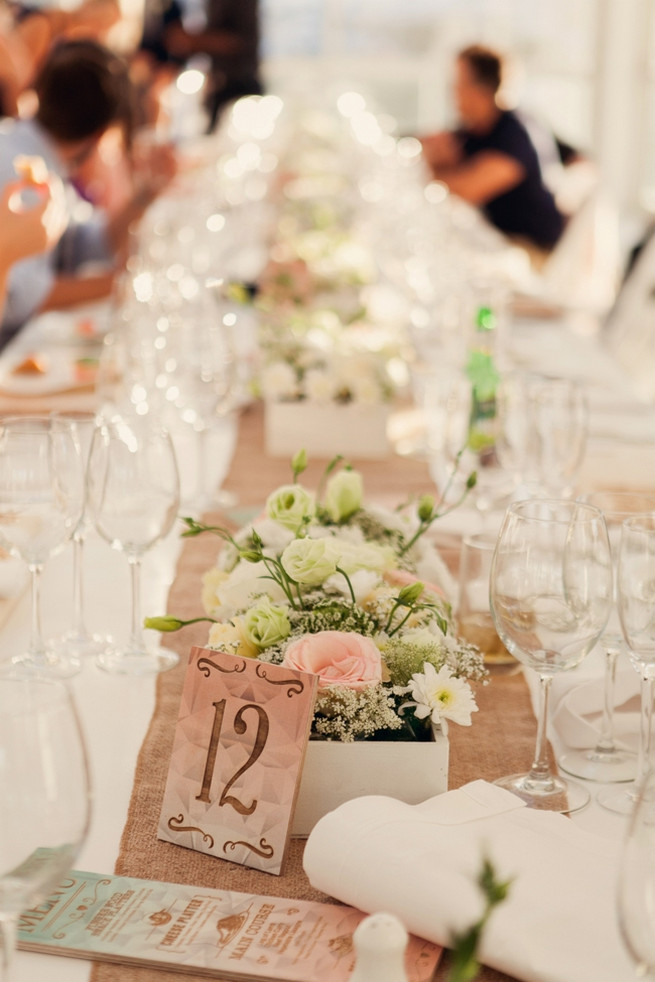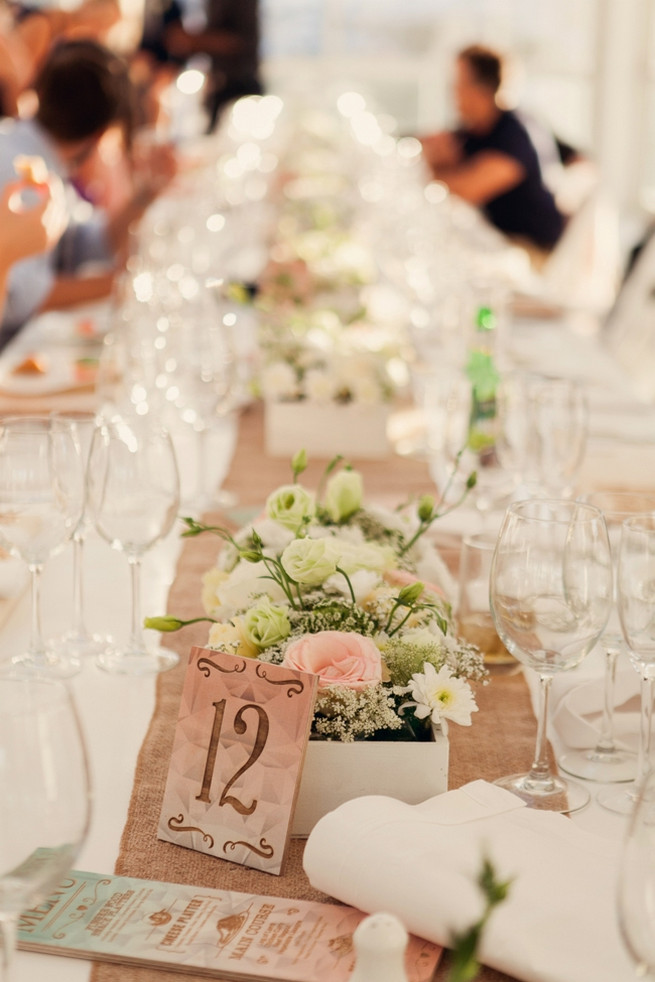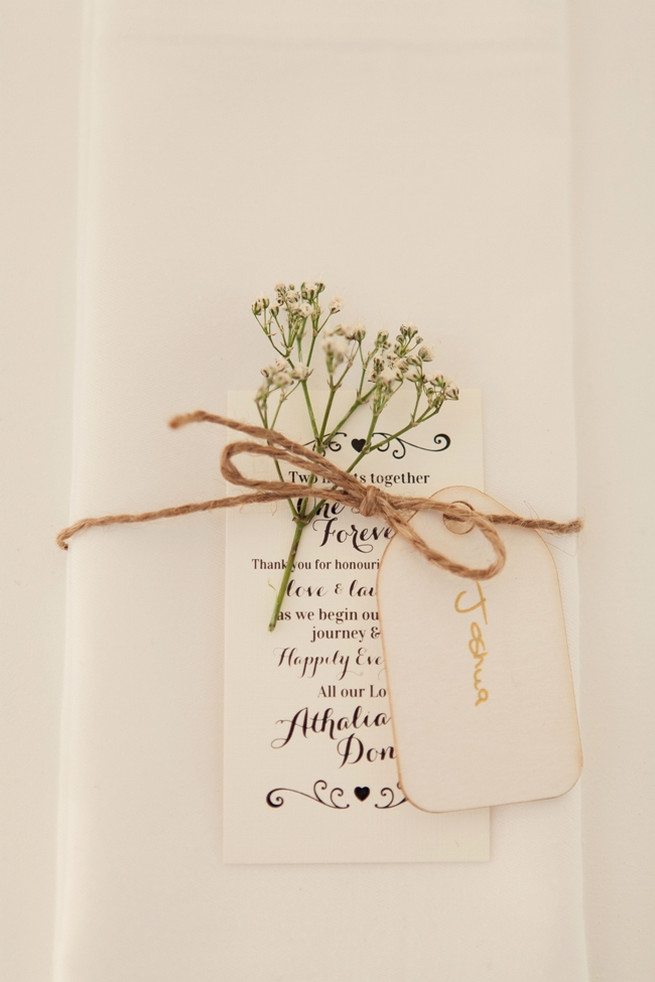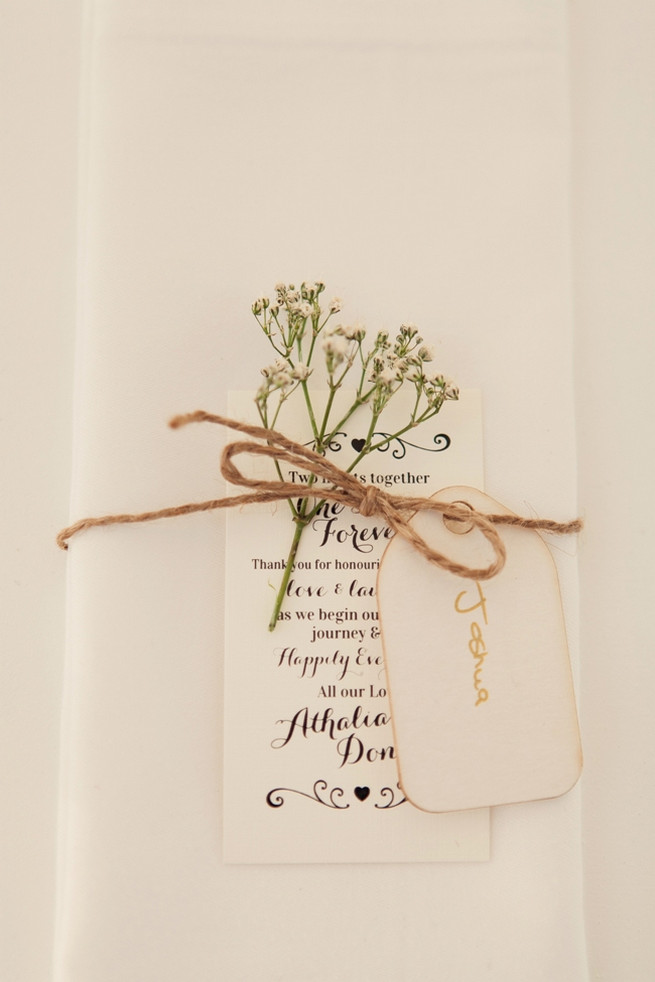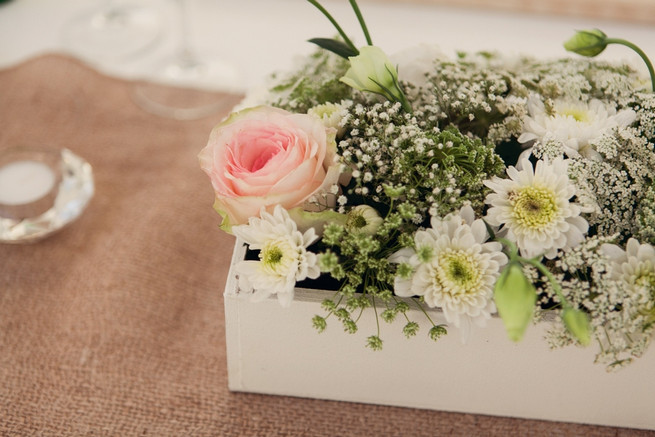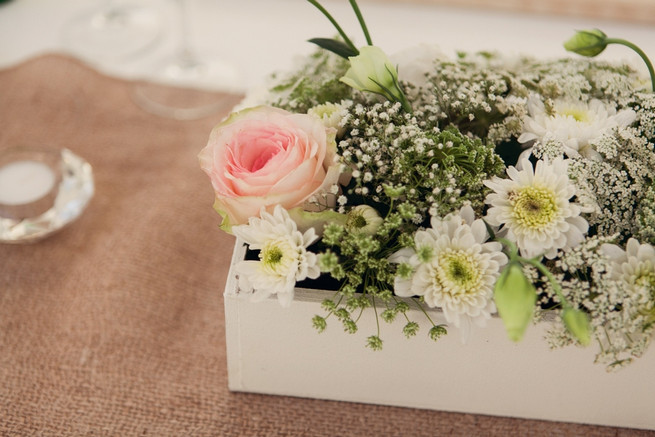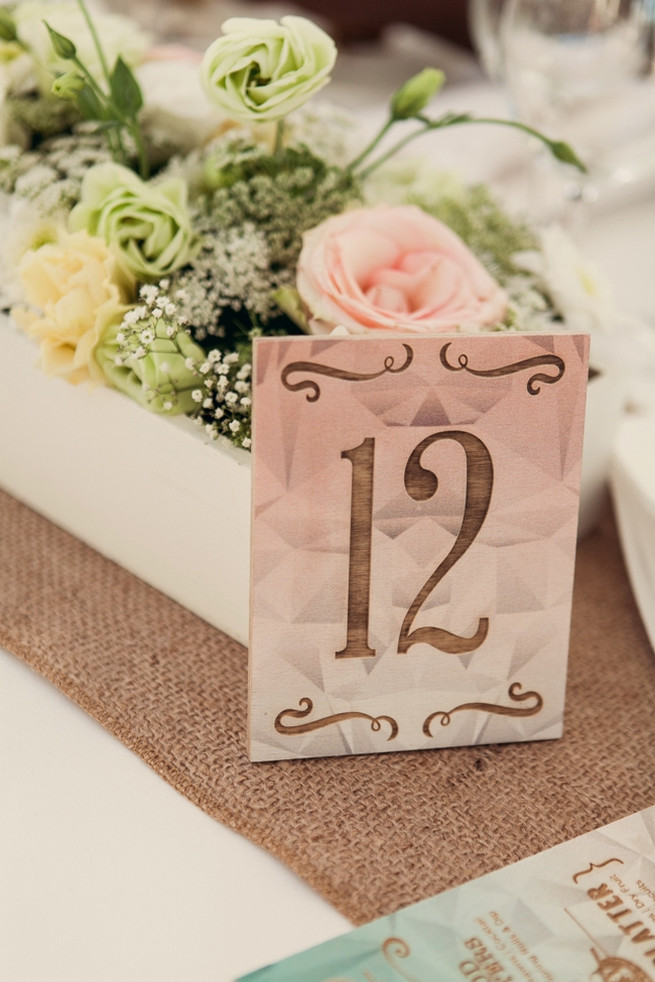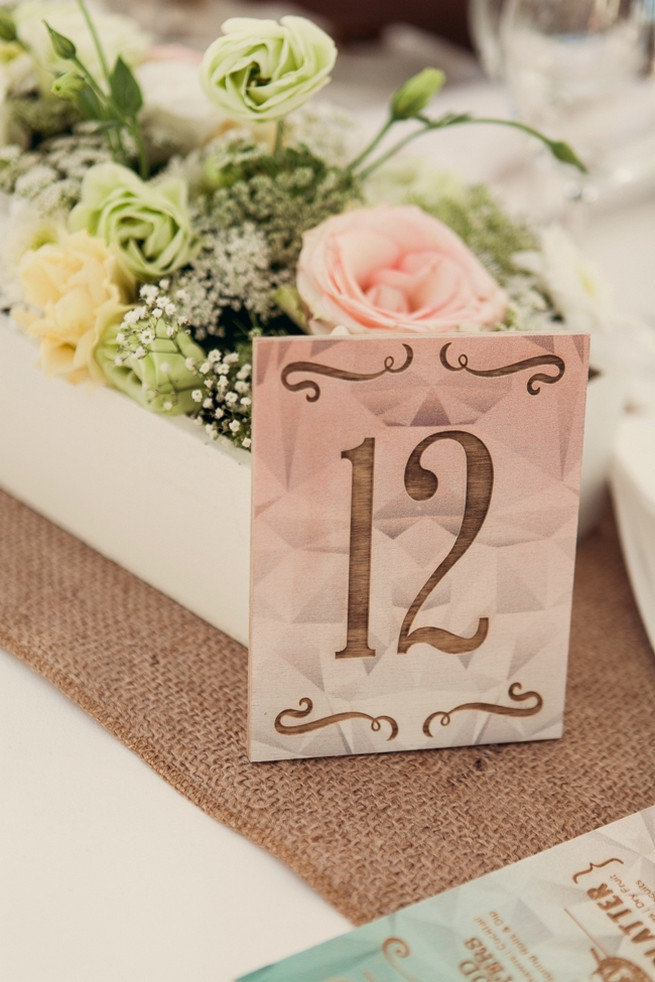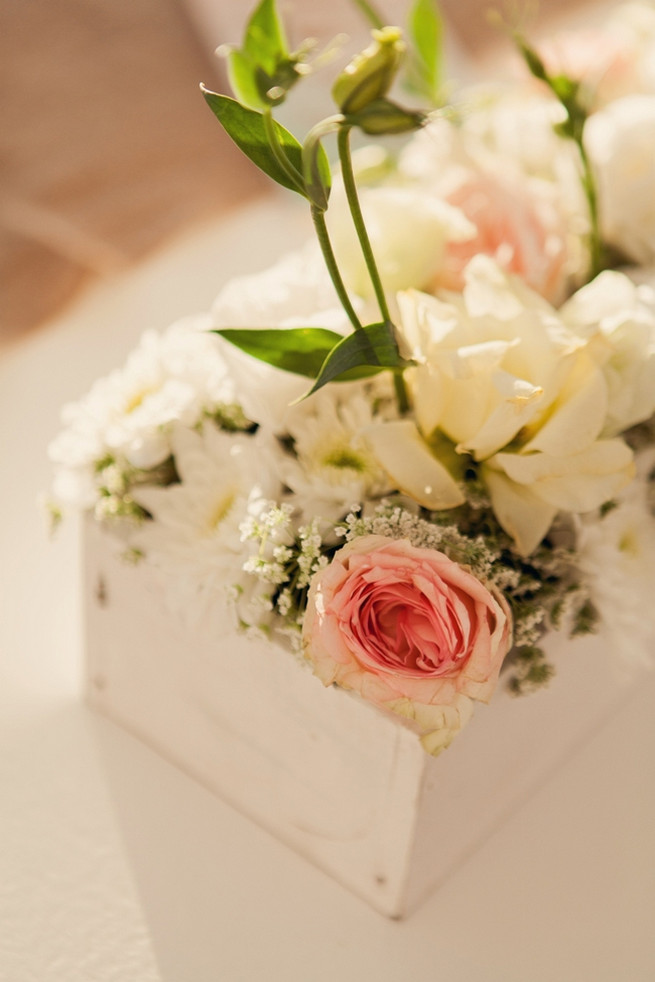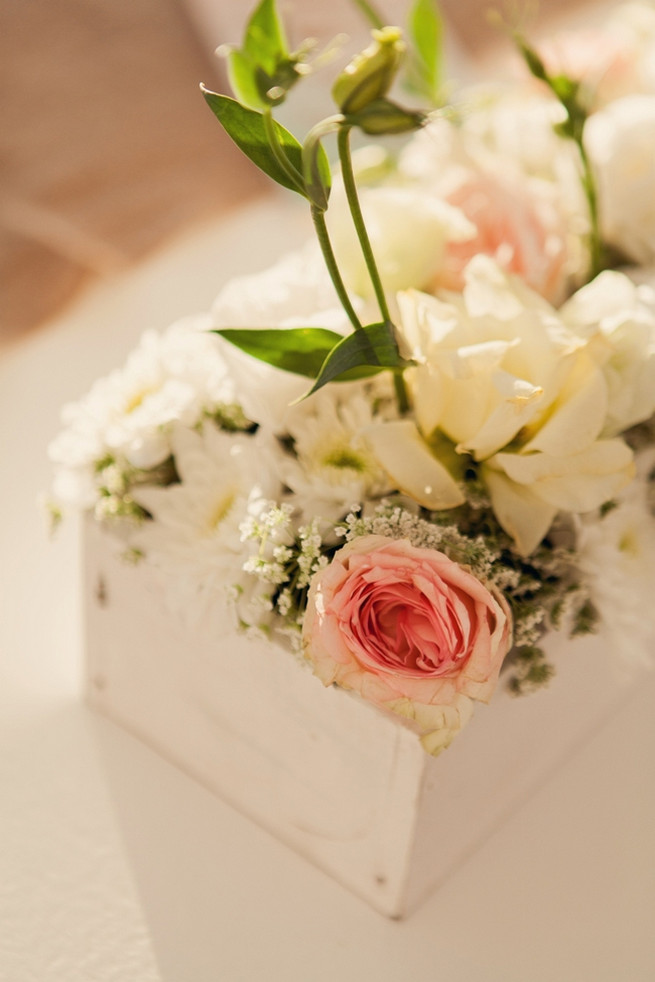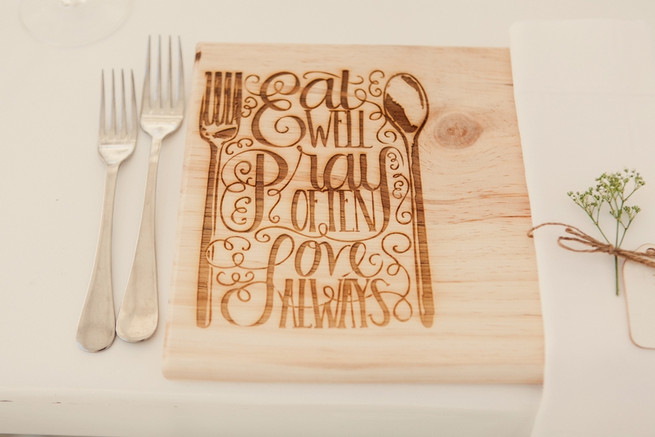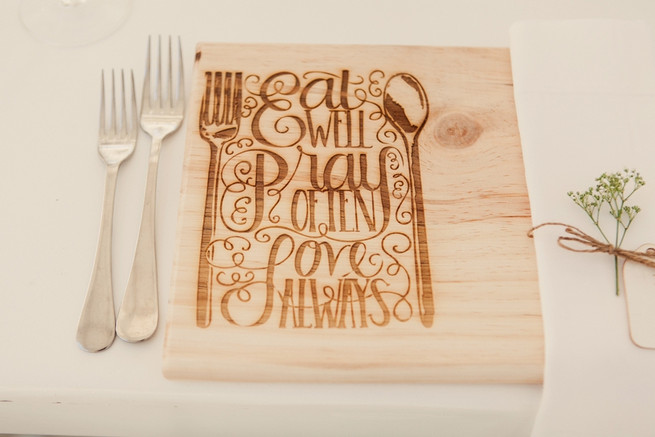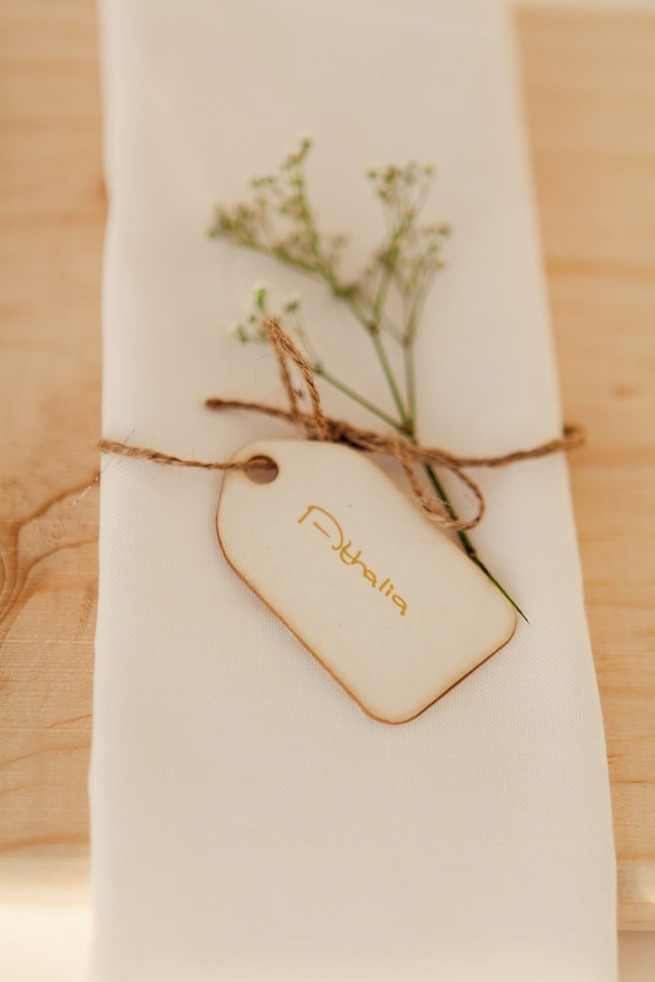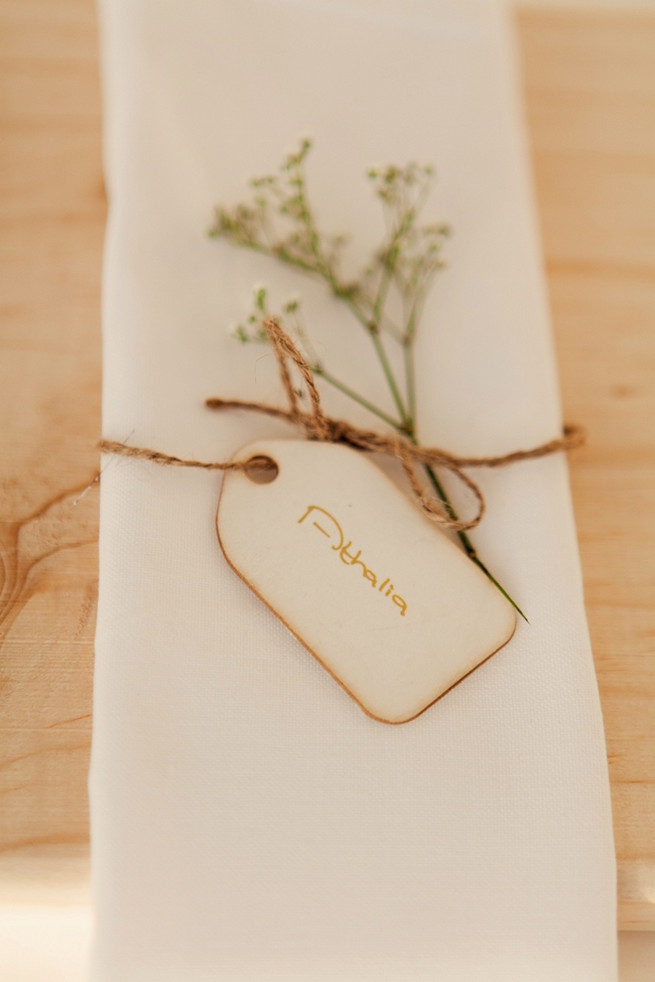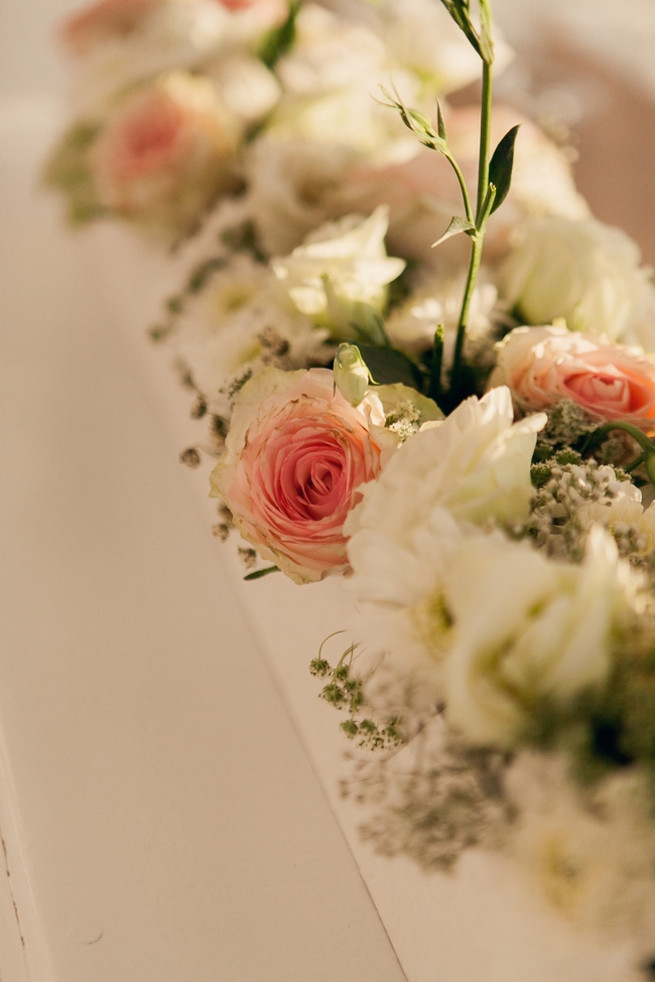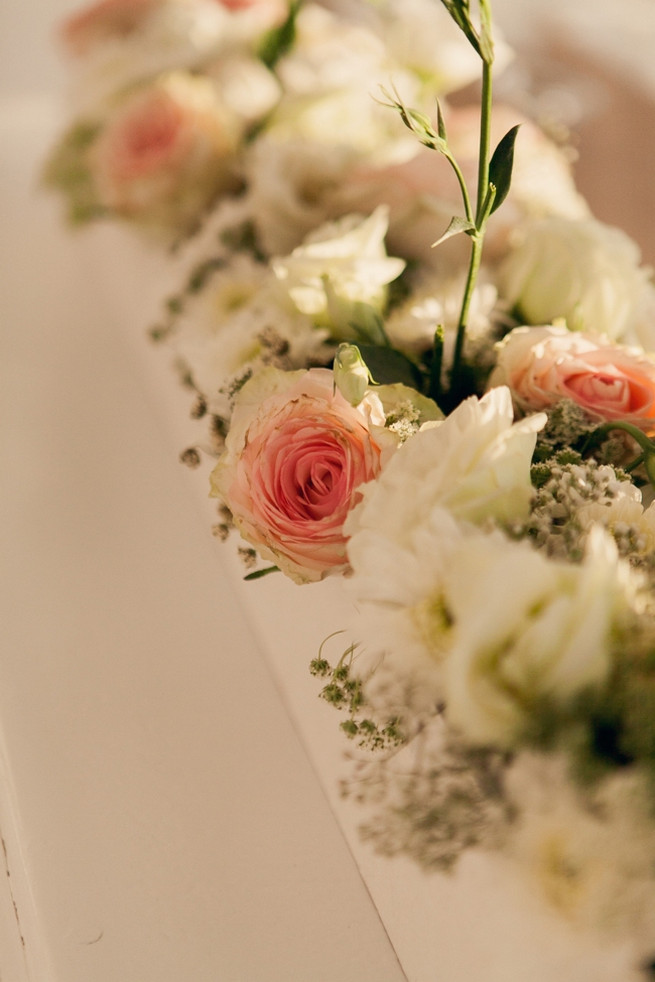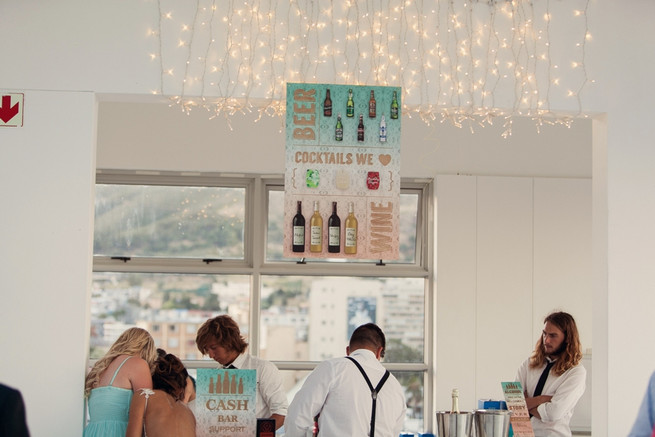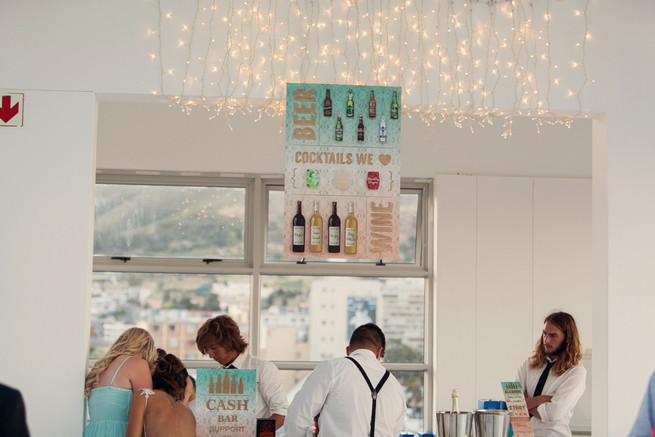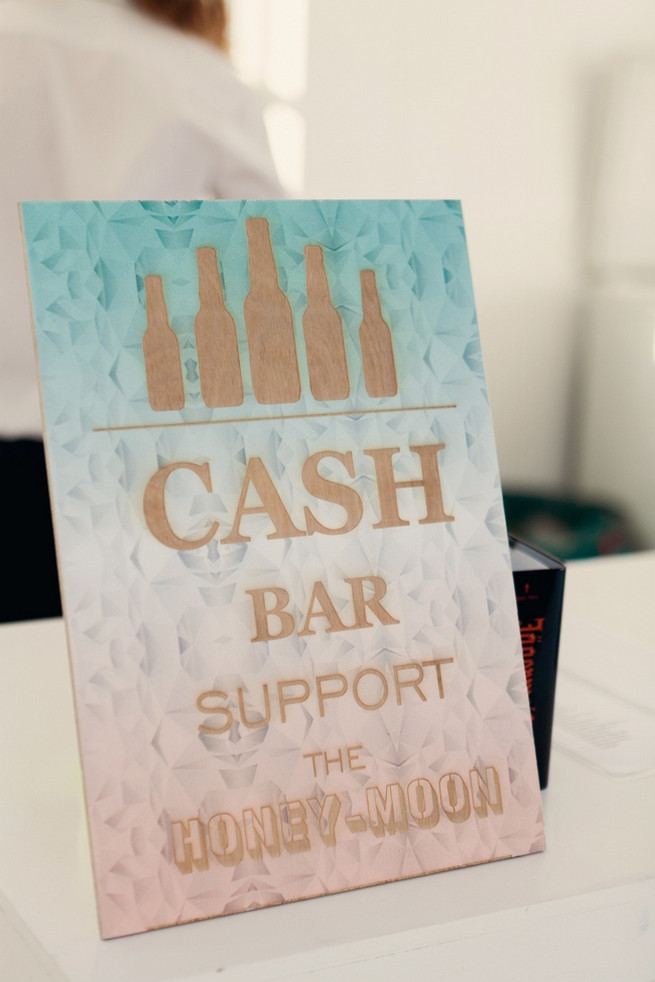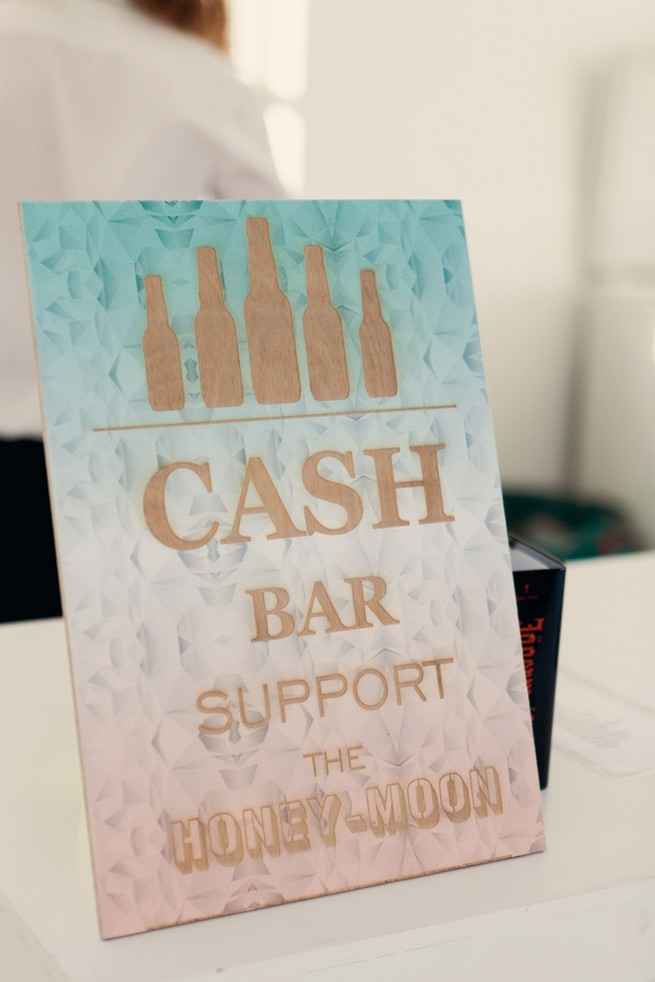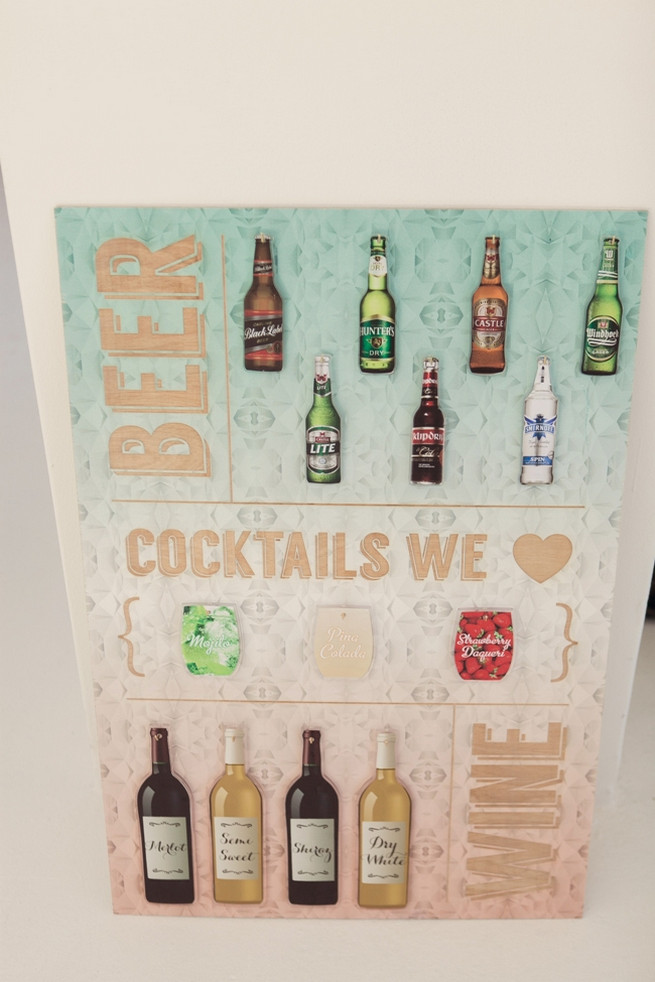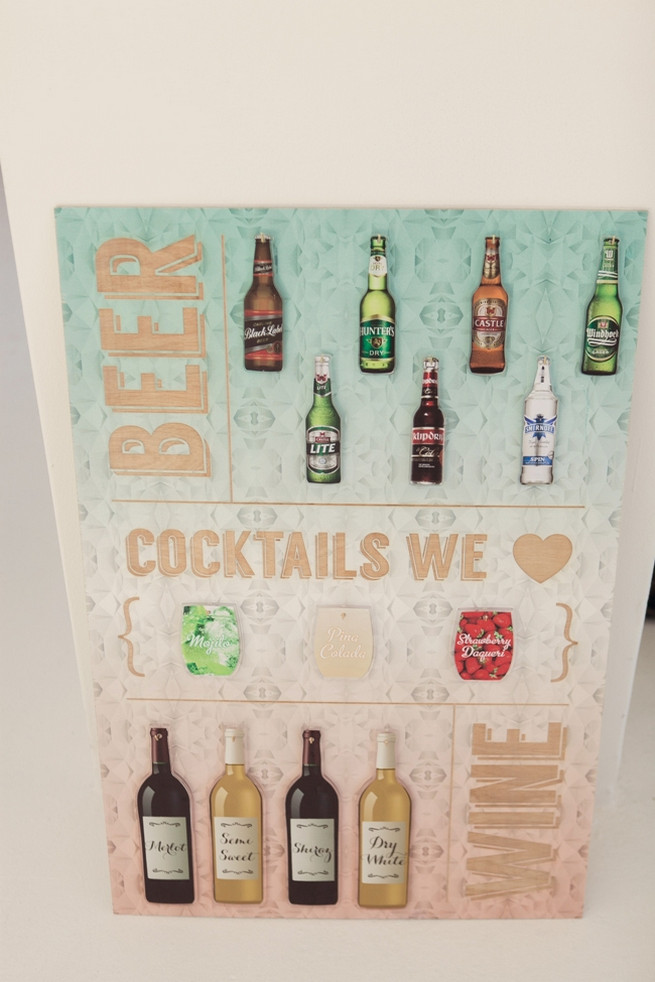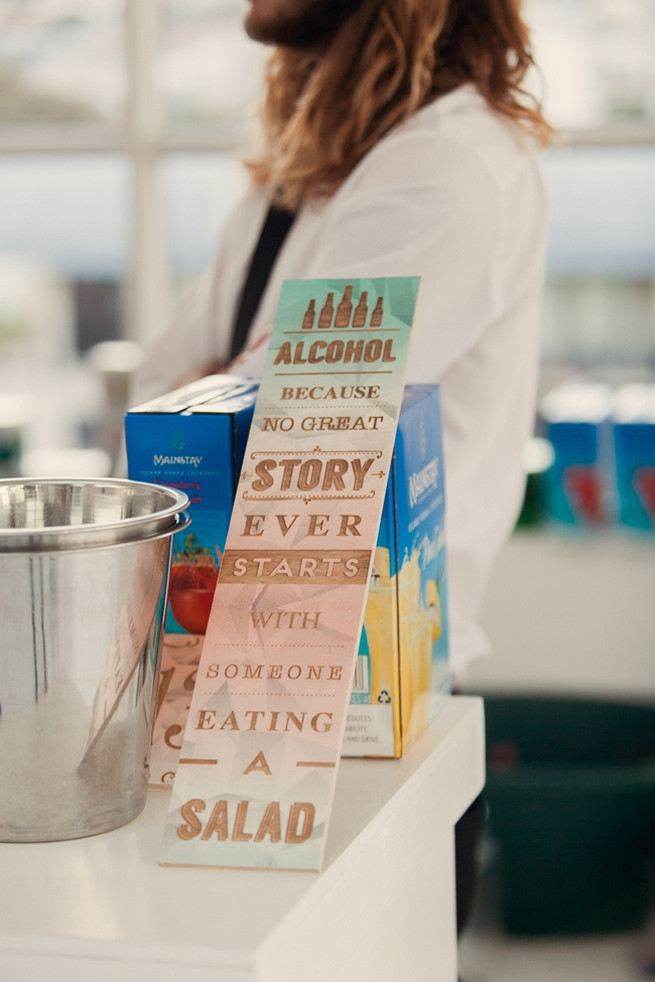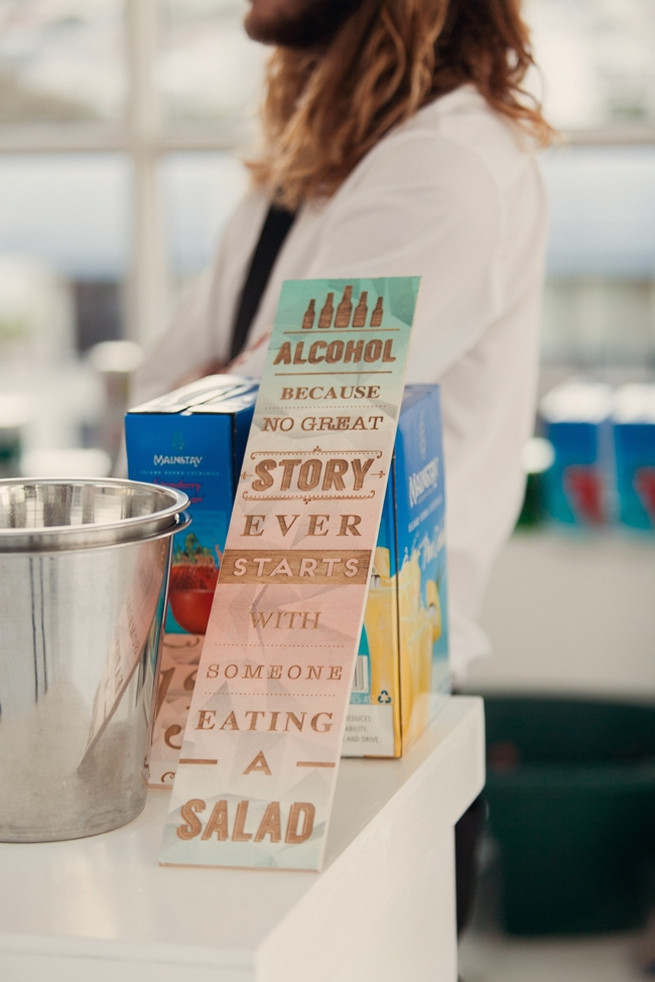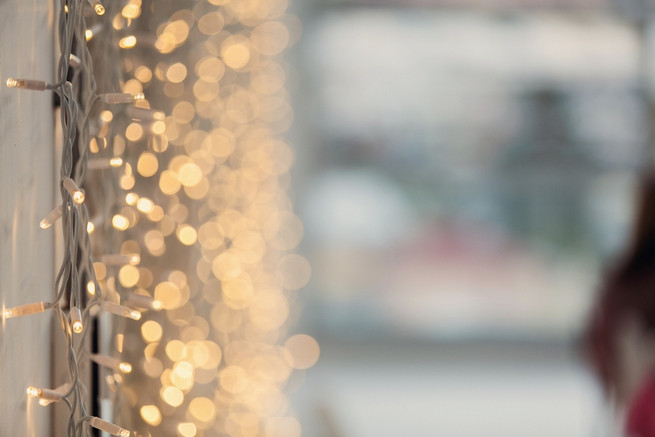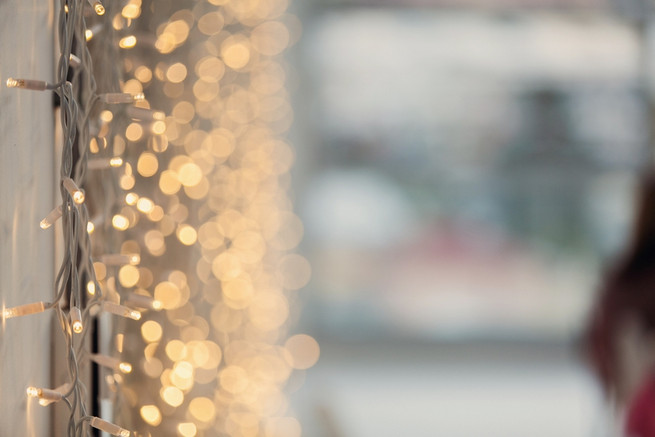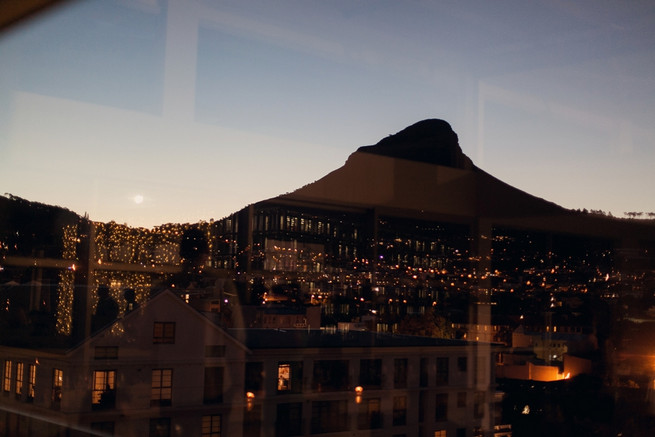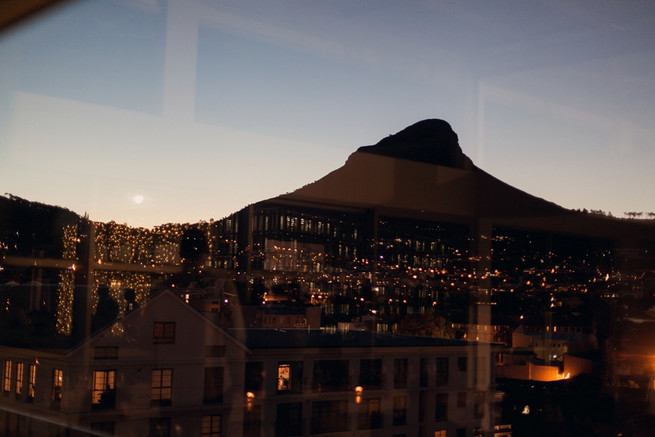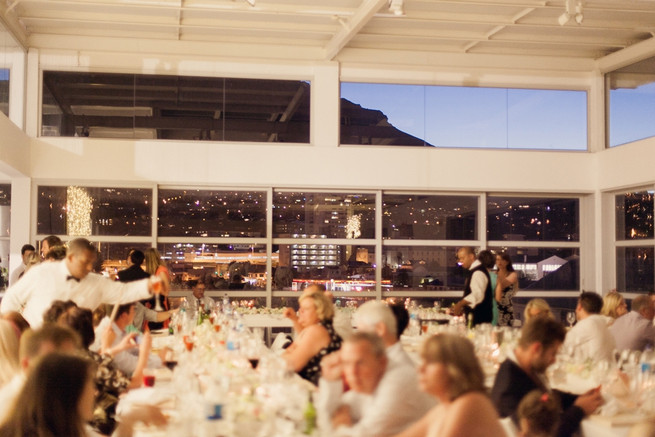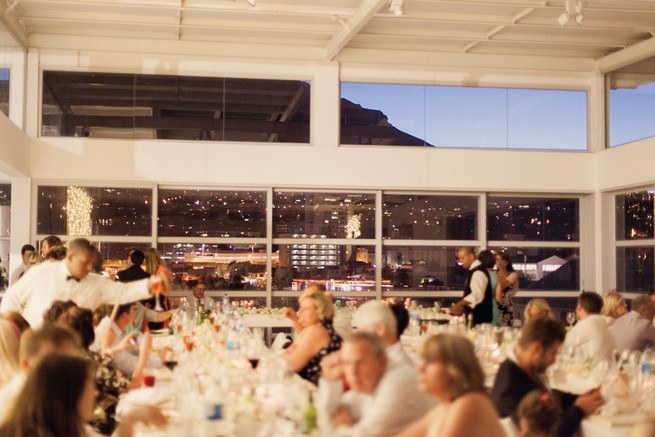 Chic and Romantic Cape Town City Wedding
 Love Story: Donovan and I met through a mutual friend at bible study group. He was walked into the room with the biggest smile I ever saw, friendly and so welcoming to everyone. During prayer time everyone in the group shared things that were on our minds, asking for each others support. When it was my turn to share, Don listened so well, praying such a beautiful prayer for myself and my family. I thought it was the most thoughtful prayer someone could pray for someone else, as he didn't even know me at the time.
After that we got to know each other and realized that dating each other could be the best adventure we would embark on. Our goal is to love and live life to the fullest and just be adventurous – so we never ever have a dull moment and I am sure our friends would agree! 🙂 We love life and we love God.
Wedding Dress: I had my dress custom made – a backless dress with loads of lace cut away details which I knew would take Donovan's breath away. I chose a soft winter white satin which gave the dress a 'flowing' effect when I walked, with a vintage patterned lace. We mixed different kinds of lace and finished it off with beautiful dusty pink, pearl and charcoal-grey crystal beads that would give it a shimmering effect in light. My dresses train was made out of the same vintage lace, topped off with the same crystals we used for my bodice. It took 3 months to complete my dress and in the end it was definitely worth the wait – it fitted like a glove. I felt so glamorous on the day with my beautiful dress and accessories that went with it.
Hair and Make Up: My hair and make-up was totally inspired by dress. I went for a messy French bun and my make up was a dramatic eyeliner with beautiful bronze and brown colours that complimented my hazel eye colour.
Groom's Attire: My groom wore a midnight blue suit with a white shirt, charcoal grey skinny tie and tan colour shoes and belt. He definitely took my breath away the minute I saw him standing at the altar – he has such a good style and wears it confidently.
Wedding Ceremony: Our wedding ceremony was held in our local church auditorium which is very modern inside, the perfect fit leading up to our modern Cape Town city wedding reception. I walked down the aisle to the orchestral version of Lana Del Rey's Young and Beautiful  – the most perfect song for that moment. We wrote our own vows and also included the tying of a fisherman's knot as a symbol of our love: even if everything around us should come undone and our love will withstand trials and tribulations.
Wedding Reception: Our tables were big rectangular white plinth tables which were placed in long rows of three. For flowers we had big wooden boxes filled with different white, green and dusty pink flowers. Our flower boxes were white so it suited our tables together with the hessian table runners we chose to run through the middle of our tables. We gave each guest a beautiful breadboard which also served as place mats for their plates.
Our Cape Town city wedding reception venue was built as a photography studio so the all of walls are white so it allowed our imagination to flow a bit with creativity. We decided to cut our favourite cheesy quotes into wall decals and stick it up on the walls. We also printed it in our wedding colours of duck egg blue and dusty pink colour which added a fun aspect into the quote design – it looked stunning!
Advice for Brides:
Looking back I'd say that a bridal couple should always look and keep their options open to alternatives.
Have a financial buffer to play with as a wedding will always go over your budget and you'd want to be prepared for the unexpected expenses.
Be smart about what kind of decor you choose and how you put it all together. Choosing the right kind of decor and stationery could allow you to cut down on other decor which you don't need or flowers that you don't need.
Remember to look around for good deals and don't settle for the first best thing you see.
Take your time because every bit of money you save is a little bit of money you could spend on something else you might need at the last minute or so.
 ♥ ♥ ♥  VENDORS  ♥ ♥ ♥
Stand Out Vendor: Our wedding planner, Crystal Dorr Designs  planned our wedding and took care of matters as if it was her own wedding she planned. Making use of Crystal and her amazing talents made our wedding flawless and absolutely stunning – a day we and all of our guests will remember for a very very long time to come.
Venue East City Studios, Cape Town // Photographer Coba Engelbrecht Photography –   // Videographer Rasheed Ferguson   // Dress Rene H Couture   // Brides Hair Oxygen Hair Studio   // Brides Make-up Roxy Evans Makeup   // Flowers & Wedding Planning Crystal Dorr Designs  // Decor, Favors, Stationery Acorn Laser Cutting, Engraving and Design // Shoes Forever New  // Suits C squared  //  Catering Absolute Catering  // Bridesmaid Dresses Miss Friday
See more Cape Town Weddings here | See more South African Weddings here