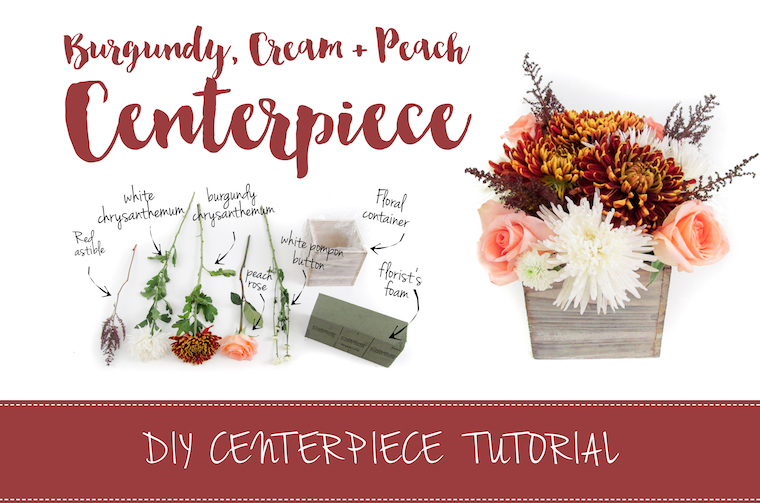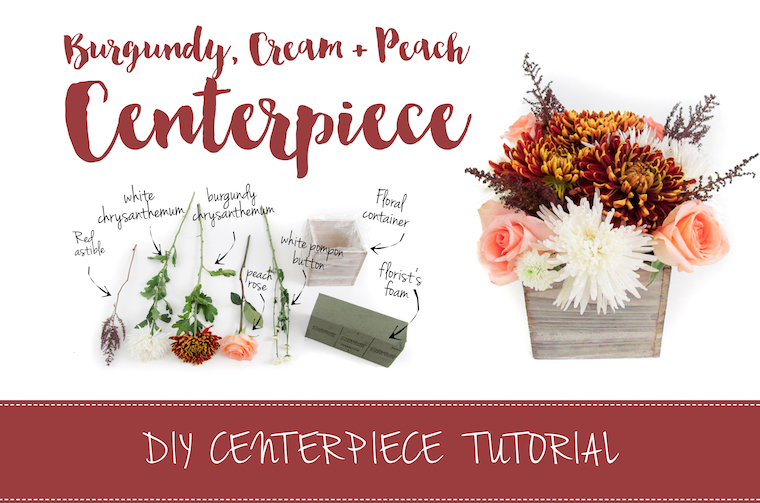 Today we're sharing the third installment of our DIY burgundy and cream wedding flower tutorial series.  This step-by-step tutorial is designed to go perfectly with this DIY Burgundy Fall Wedding Boutonniere and the matching burgundy and cream DIY wedding bouquet. This is a centerpiece that you can totes rock for a fall wedding  – or perhaps for a Valentines sweetheart table, too!
This burgundy wedding centerpiece is made up of only five flowers, and the simple design makes it do-able for the beginner bride. All of the flowers for this fall burgundy and cream DIY wedding centerpiece can be easily ordered online from our bulk floral friend and sponsor,  Blooms By The Box here.
Burgundy + cream DIY wedding centerpiece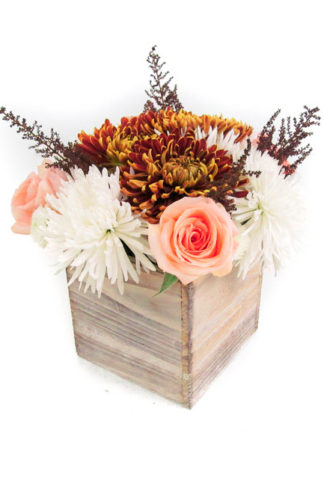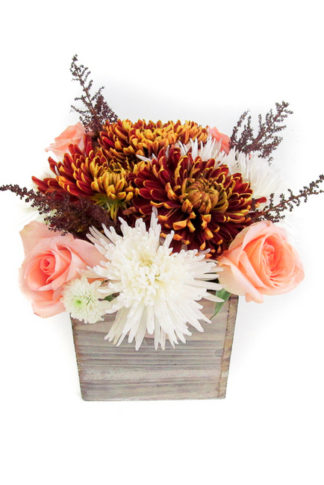 Burgundy + Cream Wedding: DIY Tutorial Centerpiece Recipe
What You'll Need:
Burgundy + Cream Wedding Centerpiece: DIY Tutorial Instructions
Line your desired container with plastic 

Soak a brick of floral foam

and place inside.

Cut the stems of the white football mums, bronze football mums, tiffany roses, pompon button mums and astible down to 2 inches.
Stick white football mums through the floral foam on each side of the container and the last in the center.
Add tiffany roses to each corner of the container,
Fill in any small gaps using the remaining pompon buttons and astilbe.
Add a few bronze football mums to the top of the arrangement for a pop of color!
Burgundy + Cream Wedding Centerpiece DIY Tutorial
It's so easy to get all the flowers and equipment needed to build this pretty burgundy and cream fall wedding centerpiece from bulk online floral and sponsor, Blooms By The Box here.
Check out our other wedding flower guides for the names of wedding flowers in your color palette and more cute tutorials: