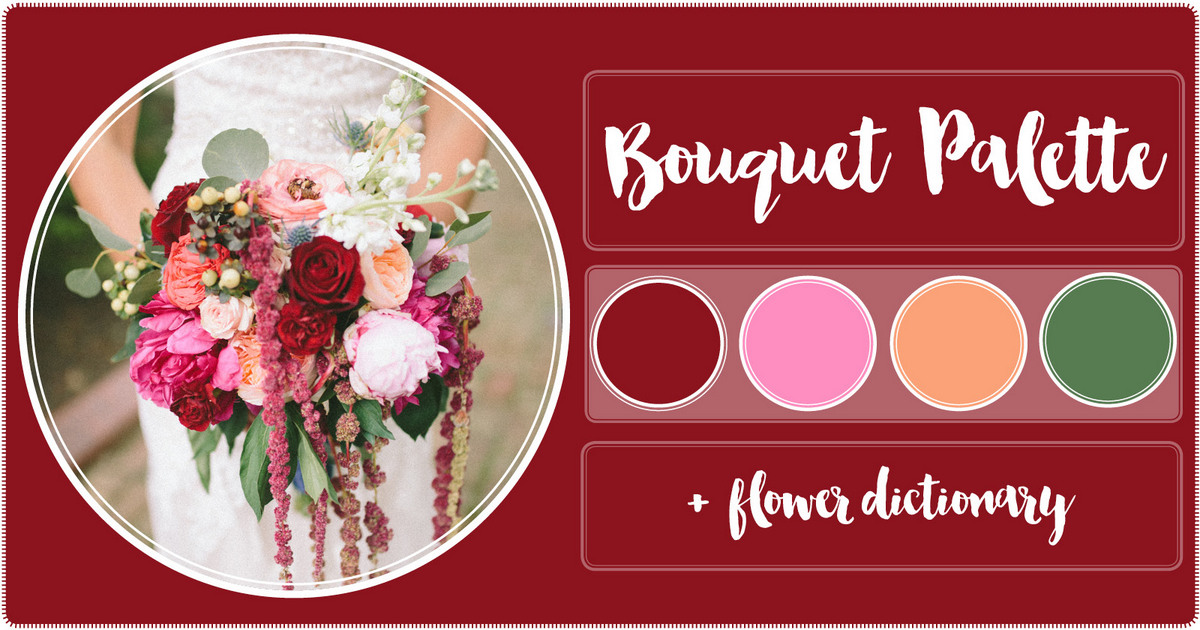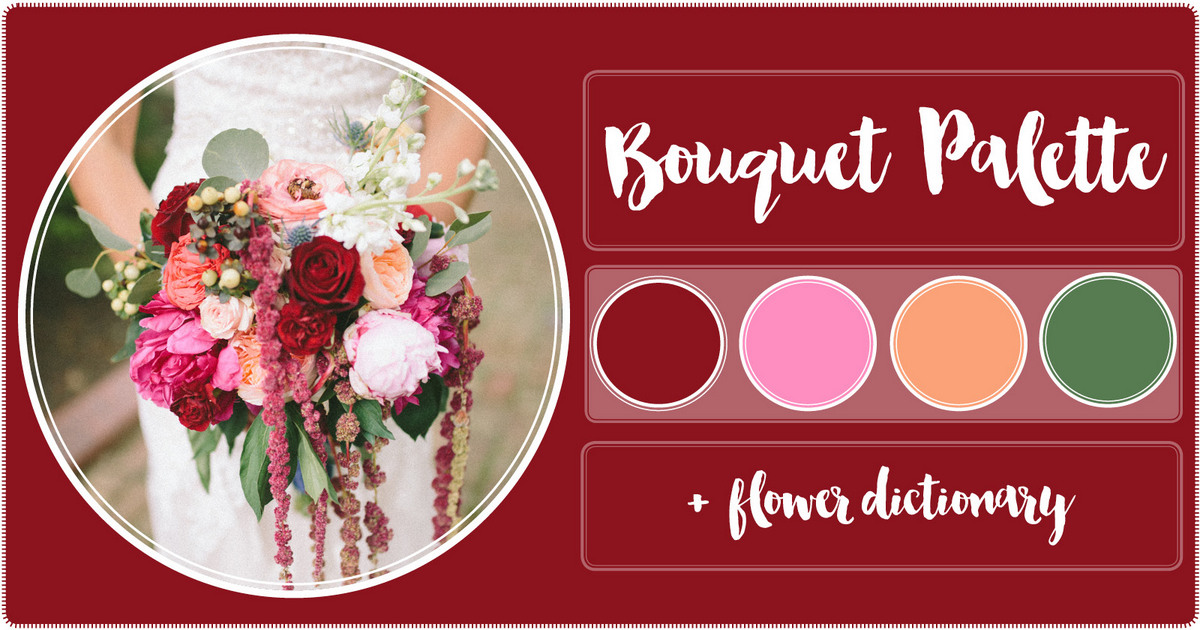 The rich combination of burgundy, blush and peach brings to mind a wedding palette that is both bright enough for a spring or summer wedding, yet also deeply indulgent enough for a richly-colored winter wedding. Add a few pops of white and lush wedding greenery, and you've got a versatile wedding color palette suited for all seasons! 
Today we draw inspiration from a gorgeous burgundy, blush and peach wedding bouquet captured by Kathryn Elizabeth Photography. It's made up of some of our absolute fave blooms, including ranunculus, garden roses, eucalyptus and lush, hanging amaranthus! (Make sure you check out the rest of this beautiful wedding for co-ordinating floral arch, flower crown and cake decor ideas!)
We've created a handy visual flower dictionary, breaking down the flowers by color and name – thanks to the help of flower experts and sponsor BloomsByTheBox.com, who make it possible for you to buy these flowers online!
Burgundy Blush Peach Wedding Bouquet Recipe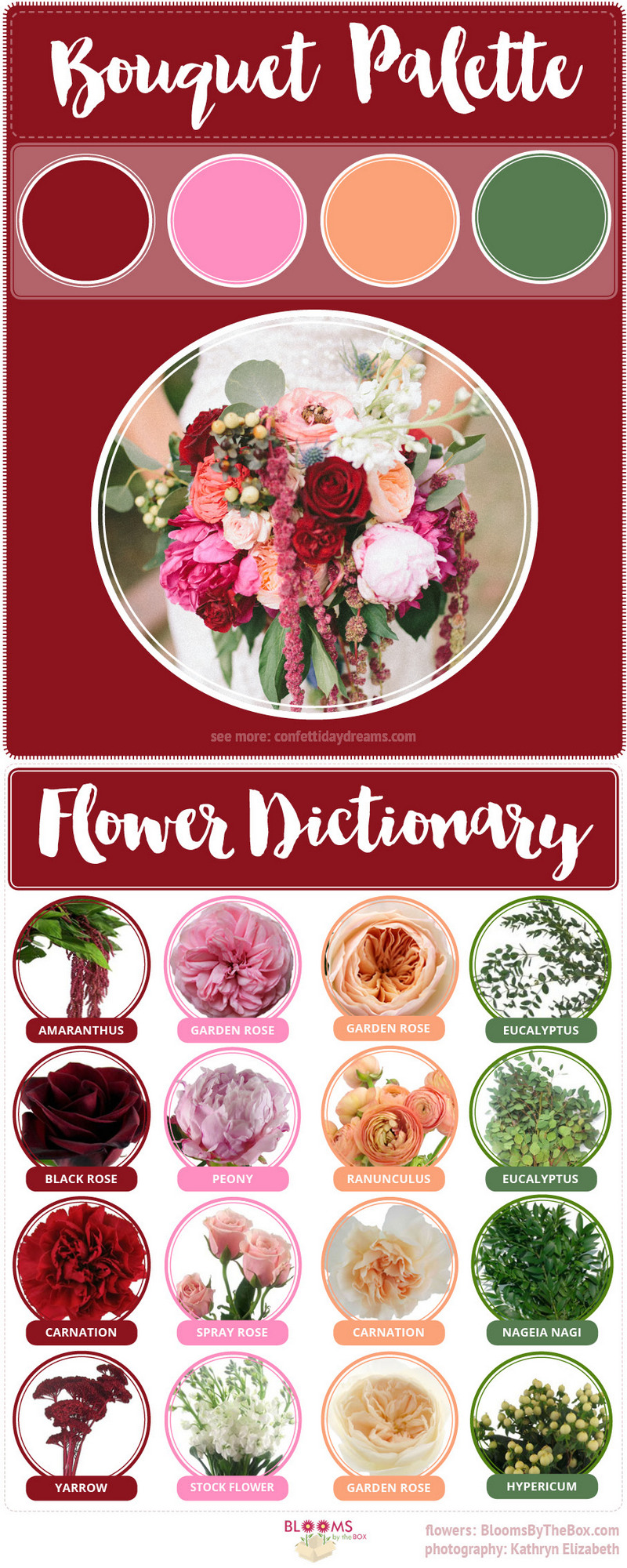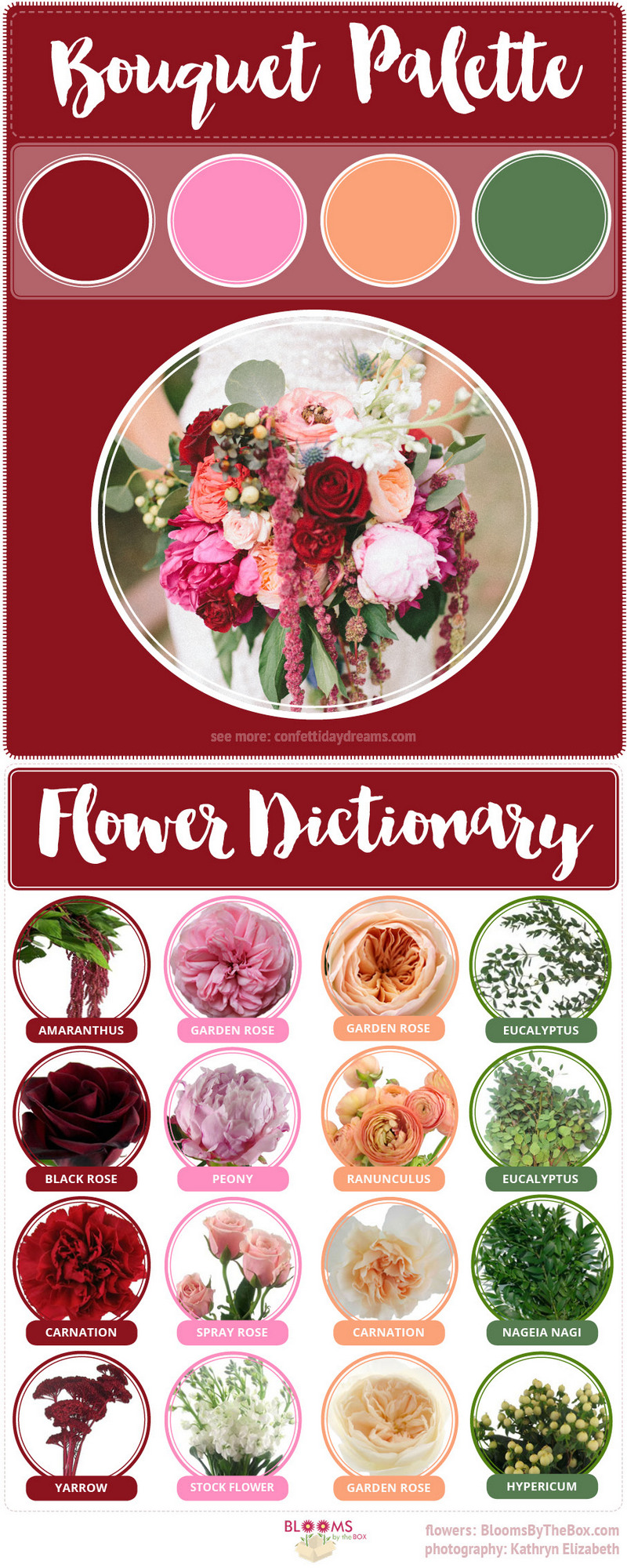 This is latest installment in our wedding flowers by color series. Go ahead and check out the rest of our wedding flower guide.
Burgundy Blush Peach Wedding Flower Dictionary
Burgundy + Red Flowers:
Black Magic dark red rose
Hanging red Amaranthus
Piano Red Garden Rose
Red carnations
Burgundy fancy mini carnations
CHECK OUT THE COMPLETE RED WEDDING FLOWER GUIDE HERE:
Blush + Pink Flowers:
Light pink spray roses
Pink Hypericum
SEE THE PINK WEDDING FLOWER GUIDE HERE:
White Flowers
White Veronica
White stock flower
White ranunculus
Gypsophila Million Star
White Hypericum
CHECK OUT THE WHITE FLOWER GUIDE HERE:
Peach Flowers:
Peach Yarrow
Peach Lisianthus
Juliet Peach Garden Rose
Greenery:
Eucalyptus Bonsai
Nageia Nagi
Eucalyptus Silver Dollar
Blue thistle eryngium
FIND OUR MORE GREENERY NAMES WITH SEASON INFO:
All of these flowers can be purchased online at our sponsor Blooms by the Box.
Check out our other wedding flower guides:
CHECK OUT THESE GORGEOUS WEDDINGS:
Marsala & Gold Romance: Winter Wedding {Red Boat Photography}
Decor + Details: Romantic Burgundy Red and Navy Blue Wedding {Astrid Bradley Photography}
Botanical Garden Wedding in Berry Shades {Jordan Weiland Photography}