They've been there by your side through all the ups and downs – wedding dress fittings, late night DIY sessions, shopping for wedding favors, the last minute SOS calls for maintaining your sanity. Now you're searching for cute and thoughtful bridesmaids gifts to thank your bride tribe for having had your back as you move from single to #wifey!
Today we're helping you find the perfect bridesmaid gifts from the bride they love. We've selected gorgeous custom bridesmaid jewelry gifts (which even include your actual handwriting), bridesmaid bags with adorable fonts for each bridesmaid's name, and even a couple of cute bridesmaid gifts under $10!
Check out this carefully curated selection of gifts for bridesmaids filled with fun ideas for your gals! If you find a bridesmaid gift idea which you love, and choose to purchase, a small percentage of the sale will come to us for sharing them with you. Thank you for reading and supporting our content!
Bridesmaids Gifts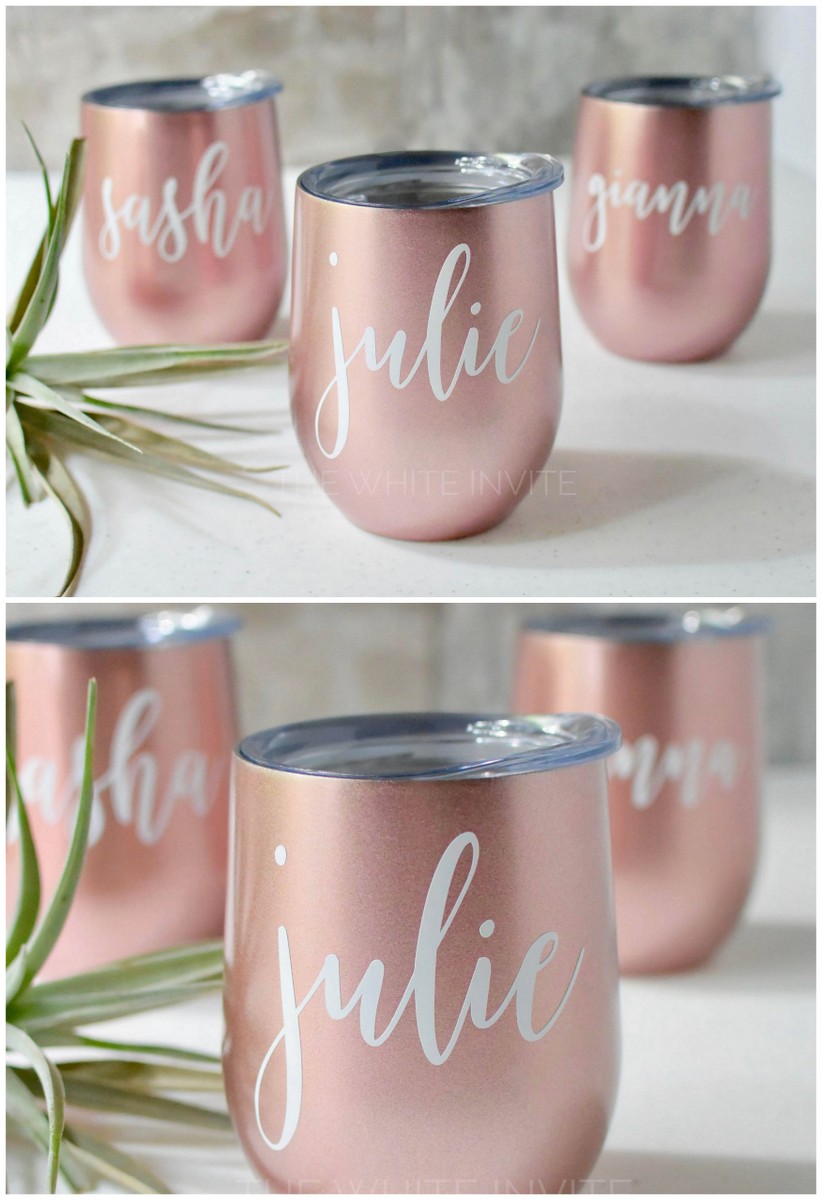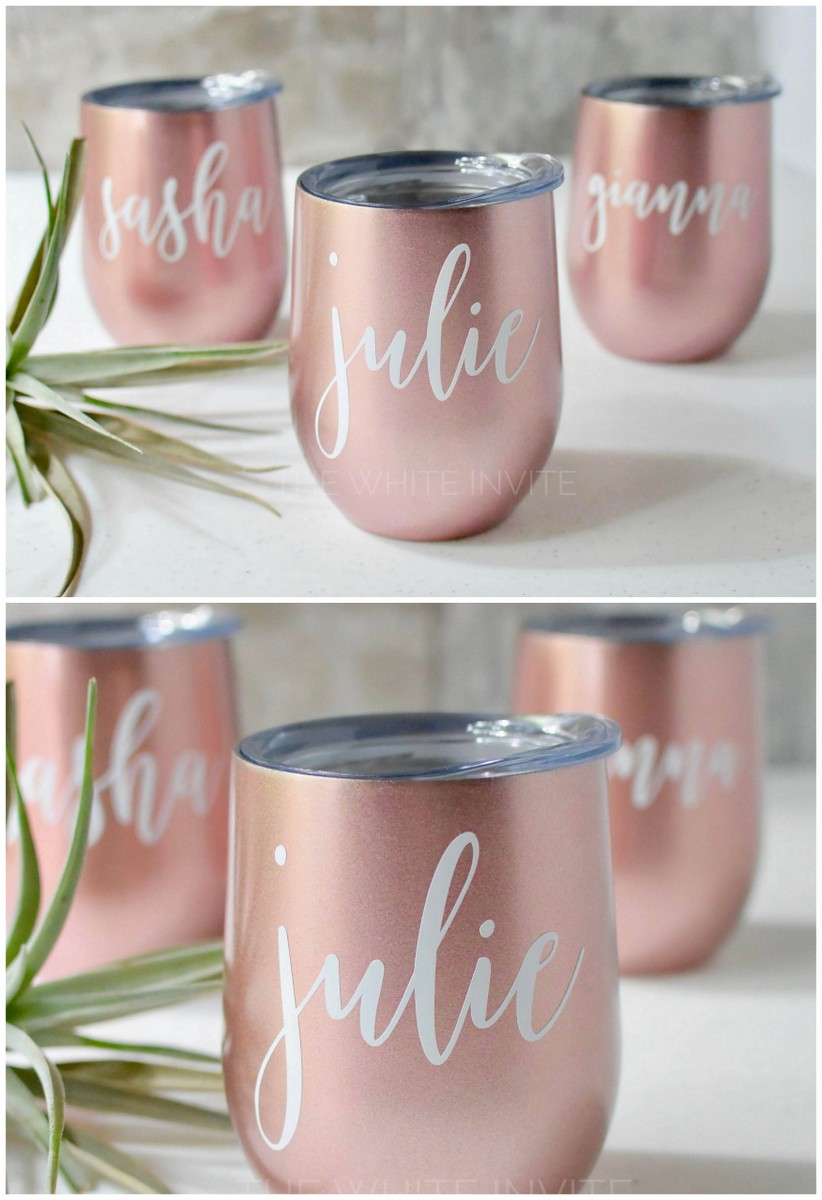 (Above) Rose gold swig stemless wine glasses bridesmaids gift. Add the names of your bridesmaid besties in this gorgeous font so that they can sip in personalized style! Plus, we love that they come with lids! Check them out here!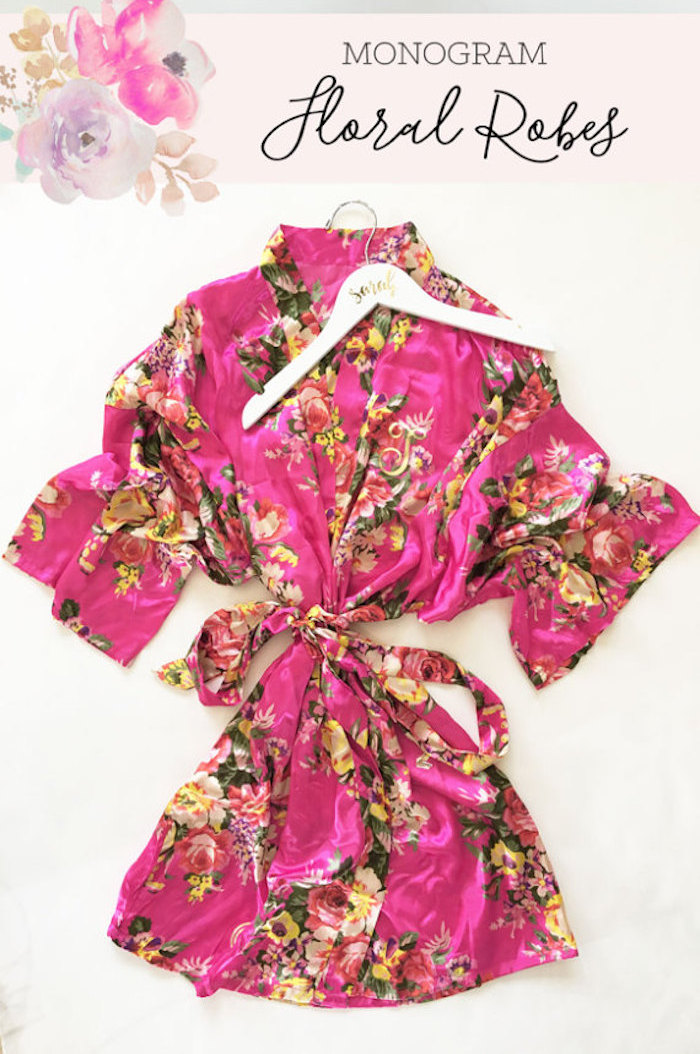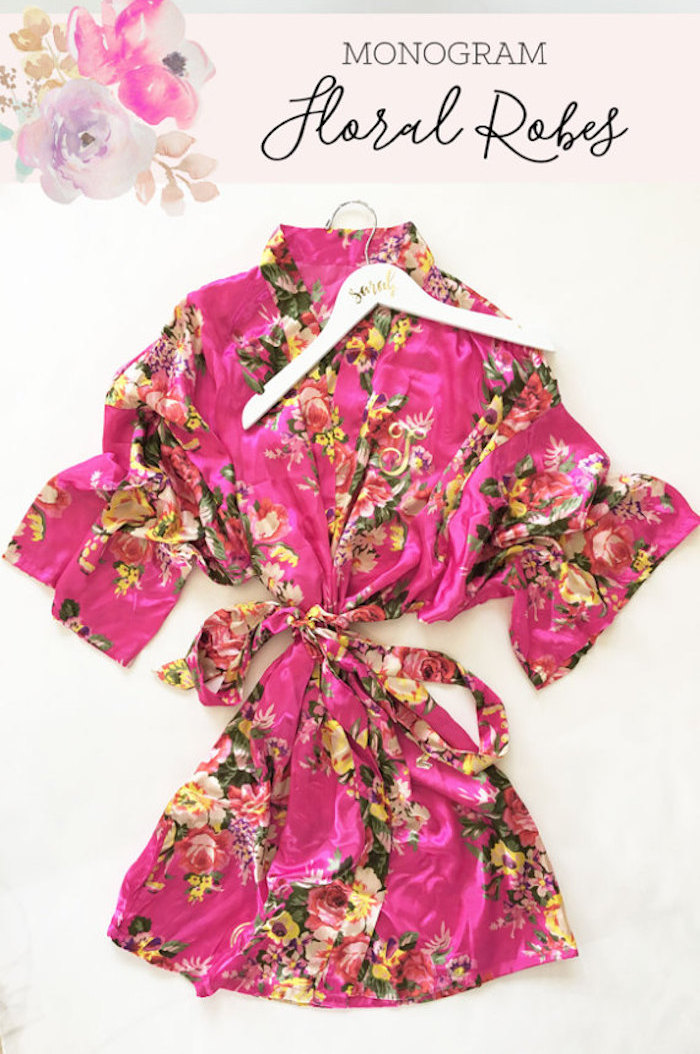 (Above) Soft and silky monogrammed bridesmaid gift robes. These vibrant floral print robes made of satin will look amazing in your getting ready pics! Add your monogram to the gowns in a pretty script font, too! Grab it here.
Bridesmaid Gift Ideas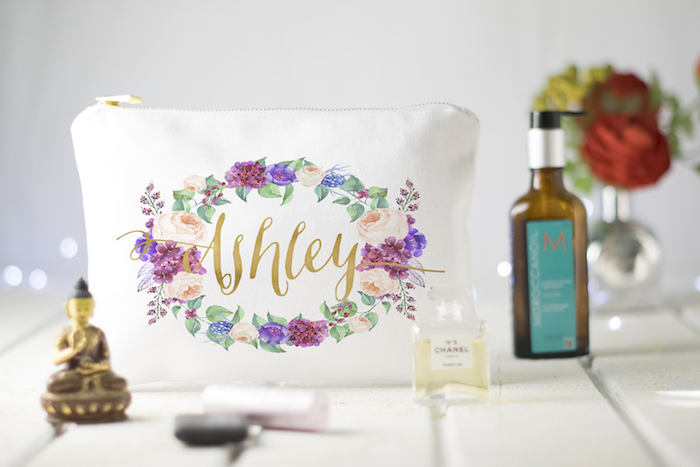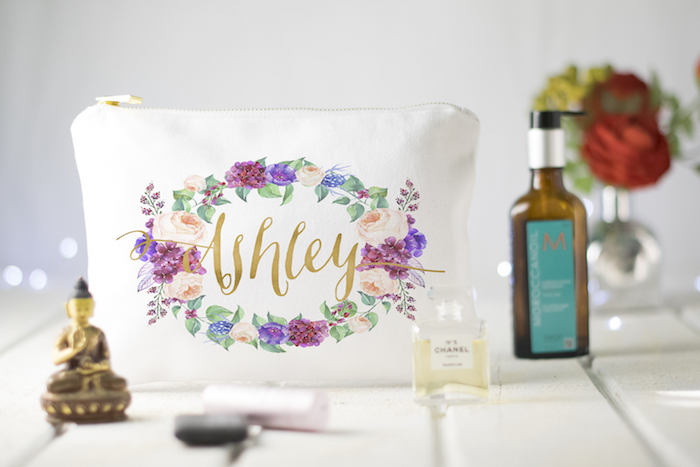 (Above) Customized  zippered make up bag. This personalized bag is one of the fabulous bridesmaid gift ideas which we love – it's made from 100% cotton canvas and oh-so-darn-CUTE! Available here.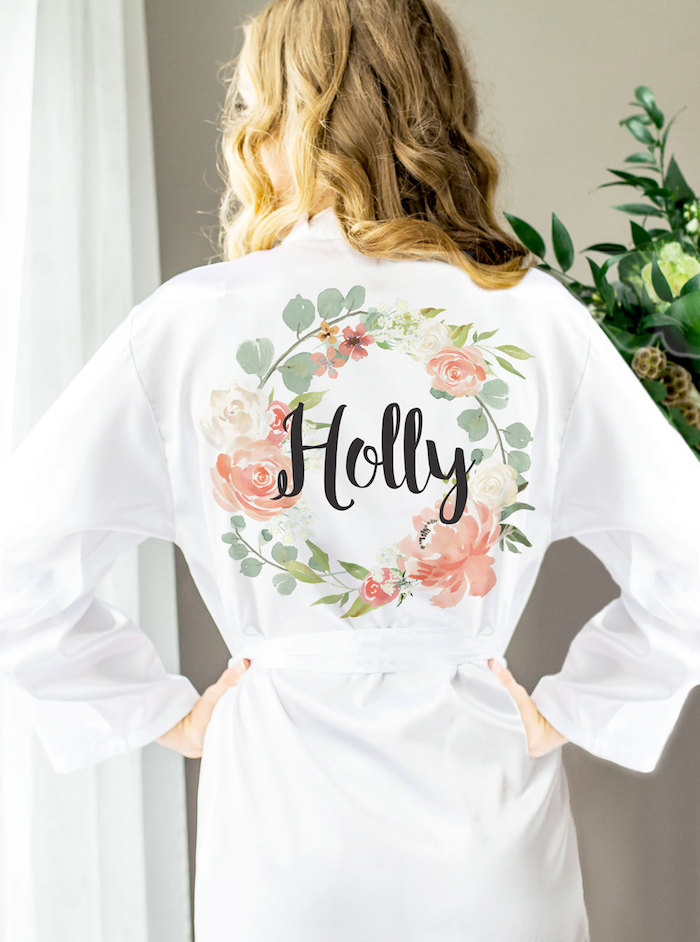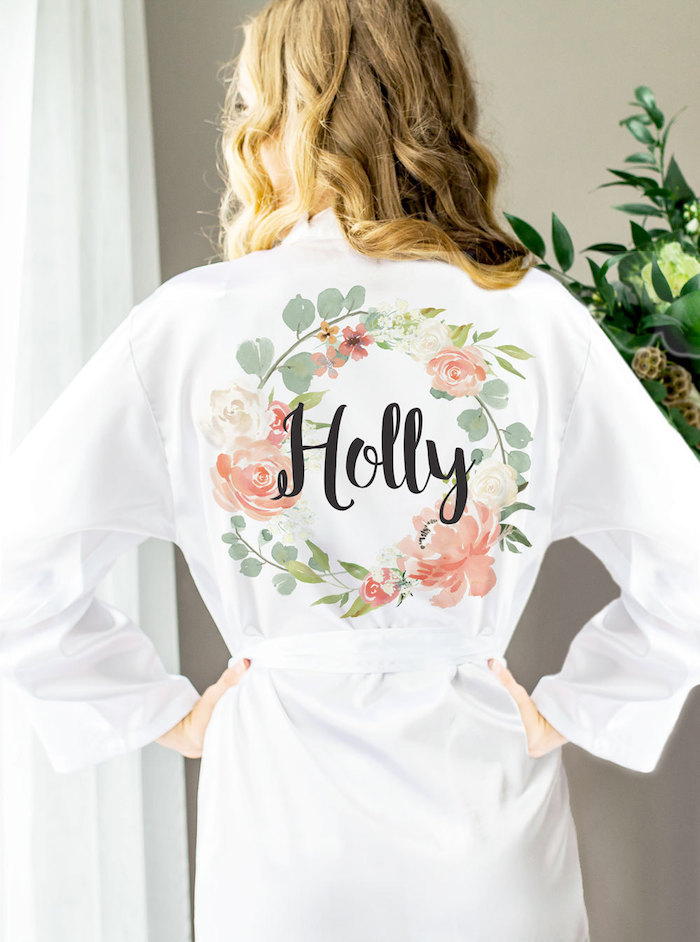 (Above) Personalized Bridesmaid Robes. If you're on the hunt for personalized bridesmaid gift ideas, then you might just fall in love with this gorgeous kimono-style gown!  Order them for your girls here.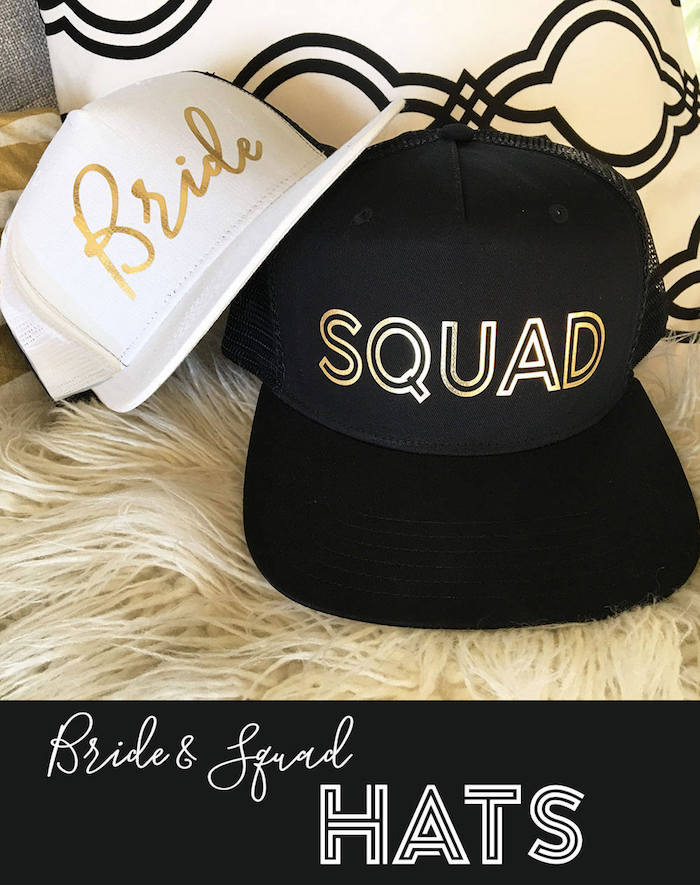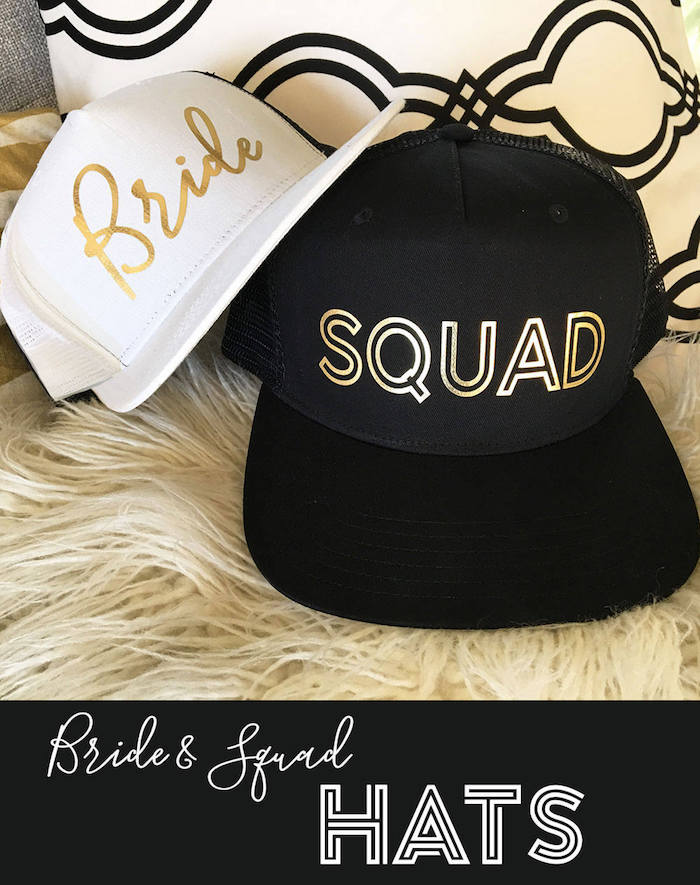 (Above) Bride and Squad Hats. Another epic bridesmaid gift idea, these SQUAD hats printed in metallic gold are perfect for a girls night out, wedding pampering and shopping sessions, and your bachelorette party too! Grab them online here.
SEE MORE THOUGHTFUL IDEAS FOR YOUR BRIDESMAIDS HERE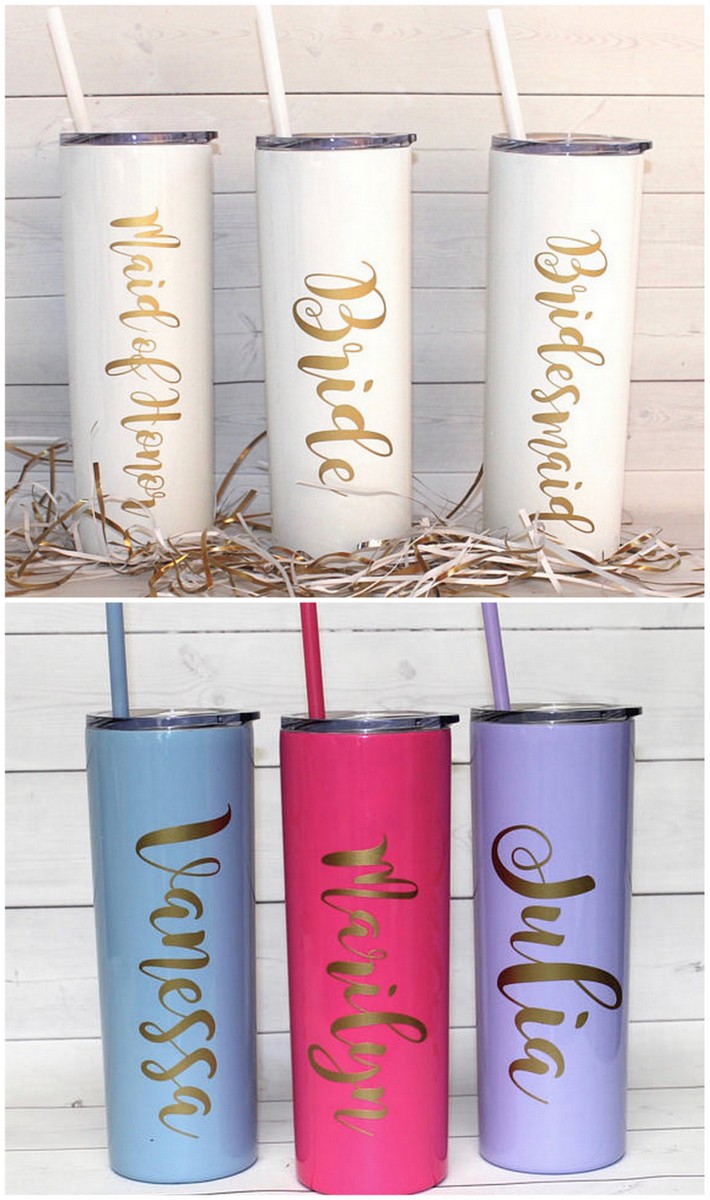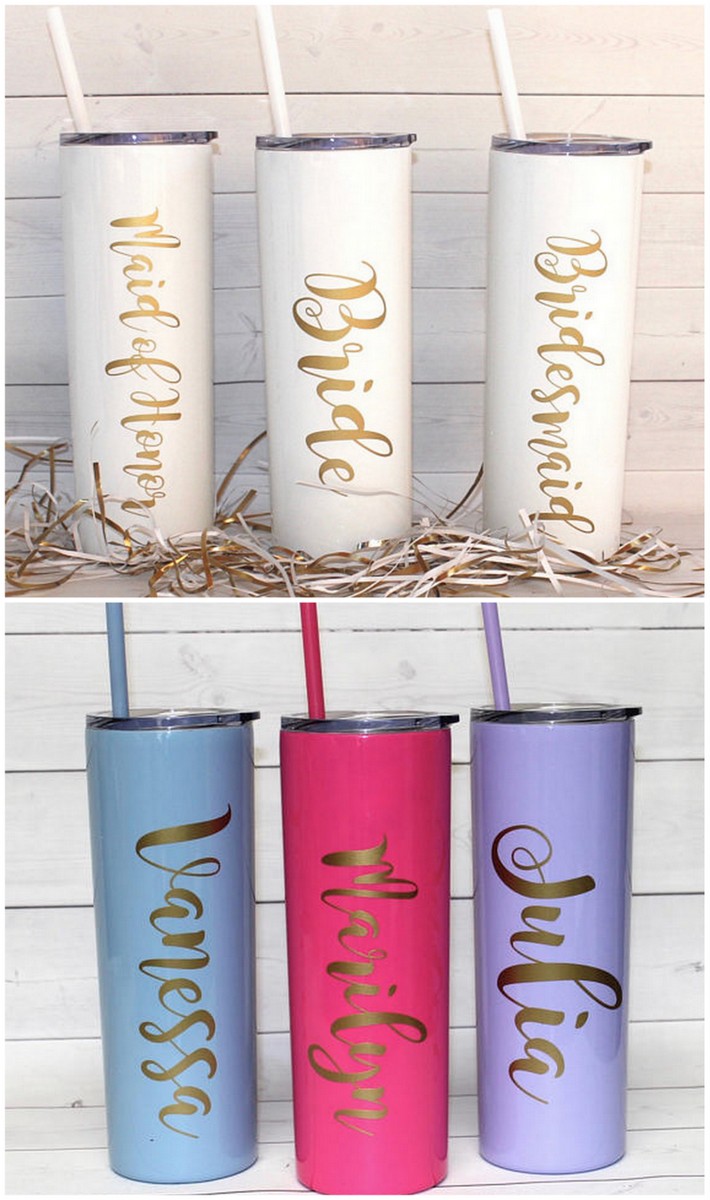 (Above) Personalized Bridesmaid Water Bottles. These trendy stainless steel water bottles with straw and lid will keep your bridesmaids' drinks cold or warm. They are just so dang cute – and even cuter when you add your wedding monogram or bridesmaids names to them! Check them out here.
READ: Advice on how to pick your bridesmaids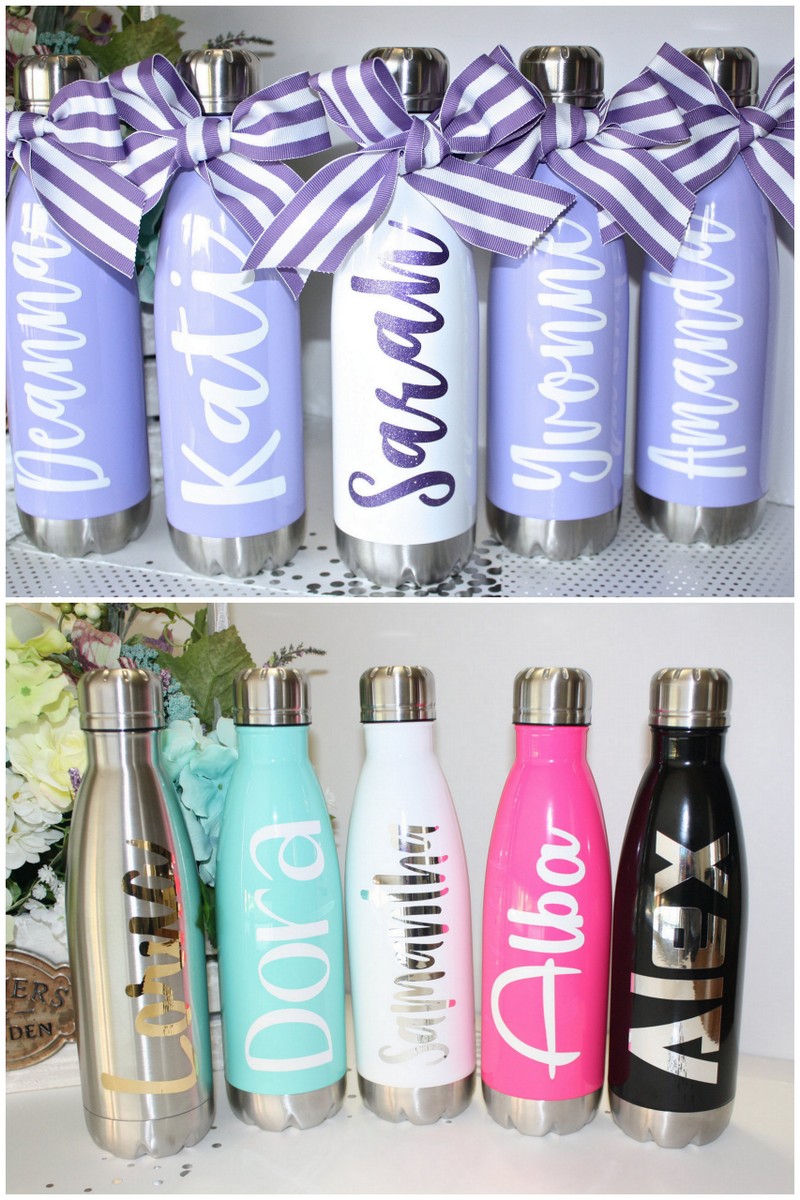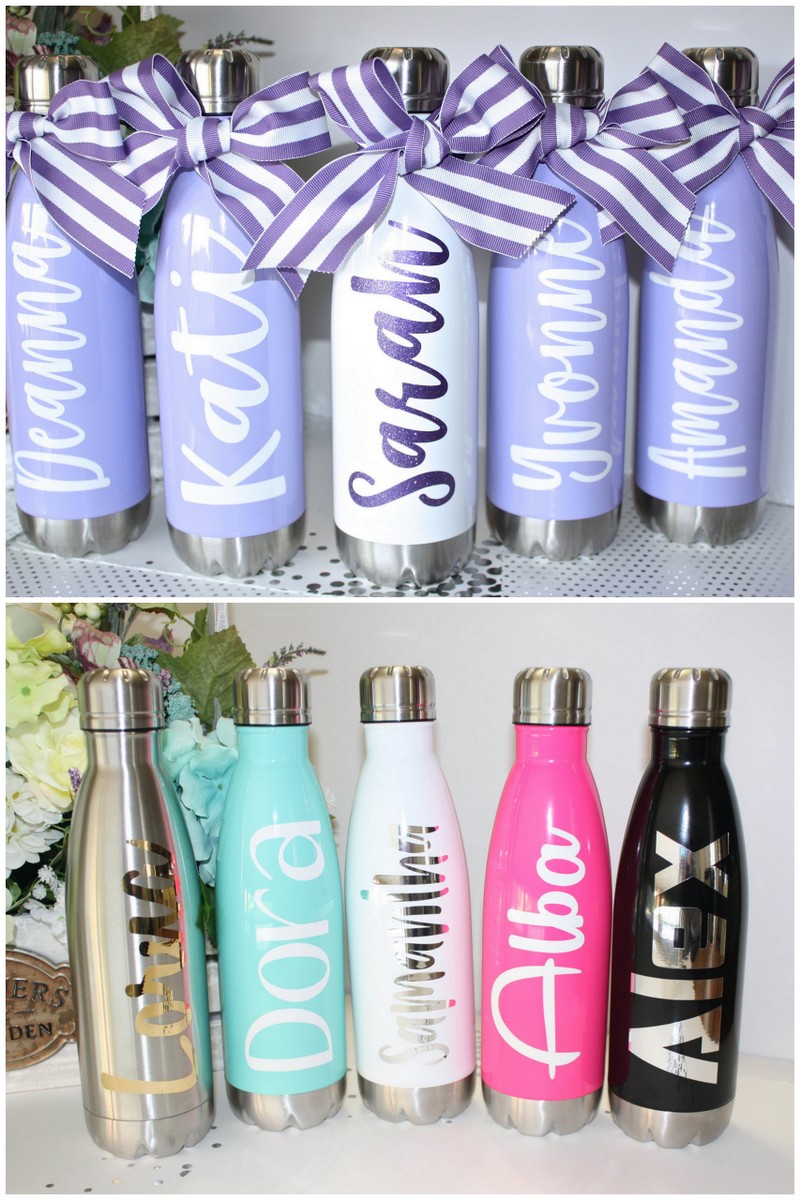 (Above) Bridesmaids Stainless Steel Bottle Gifts. Yes, we just love the idea of personalized bottles like this as bridesmaid gift ideas! They are durable, and can be used for coffee or your juice cleanses because they'll keep your bridesmaids' drinks cold or hot for hours! Check them out in various styles here and here.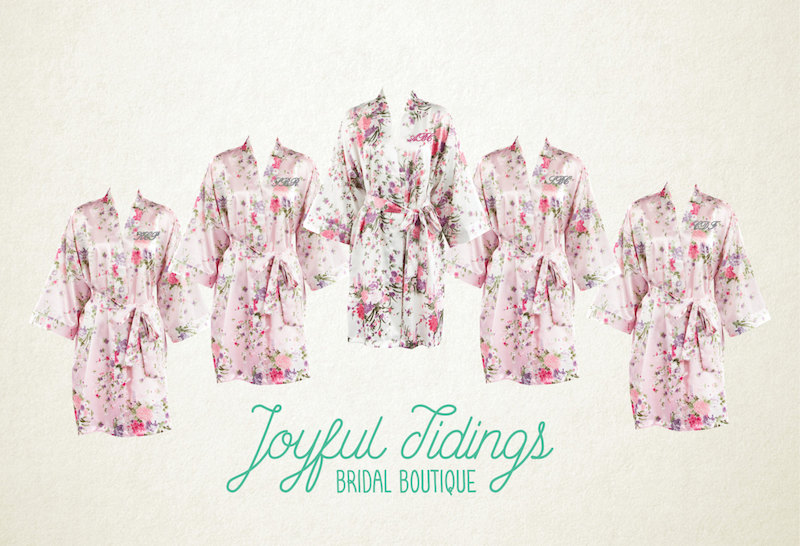 (Above) Floral Bridesmaid Gift Robes. Pretty, petalicious and pink! (But you can order them in a range of colours.) This listing is for 7 gowns, with one free – BONUS! There are sets available for smaller or larger bridal parties, too.  Have a look!
Bridesmaid jewelry gift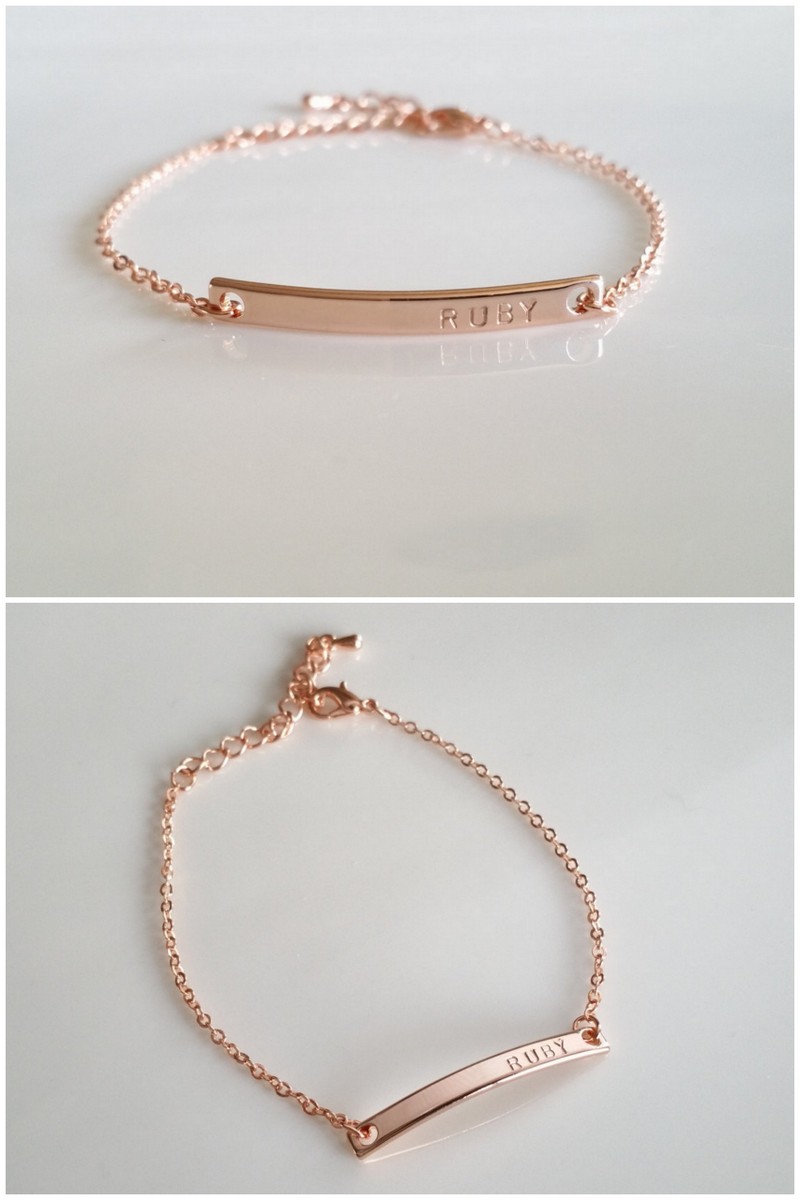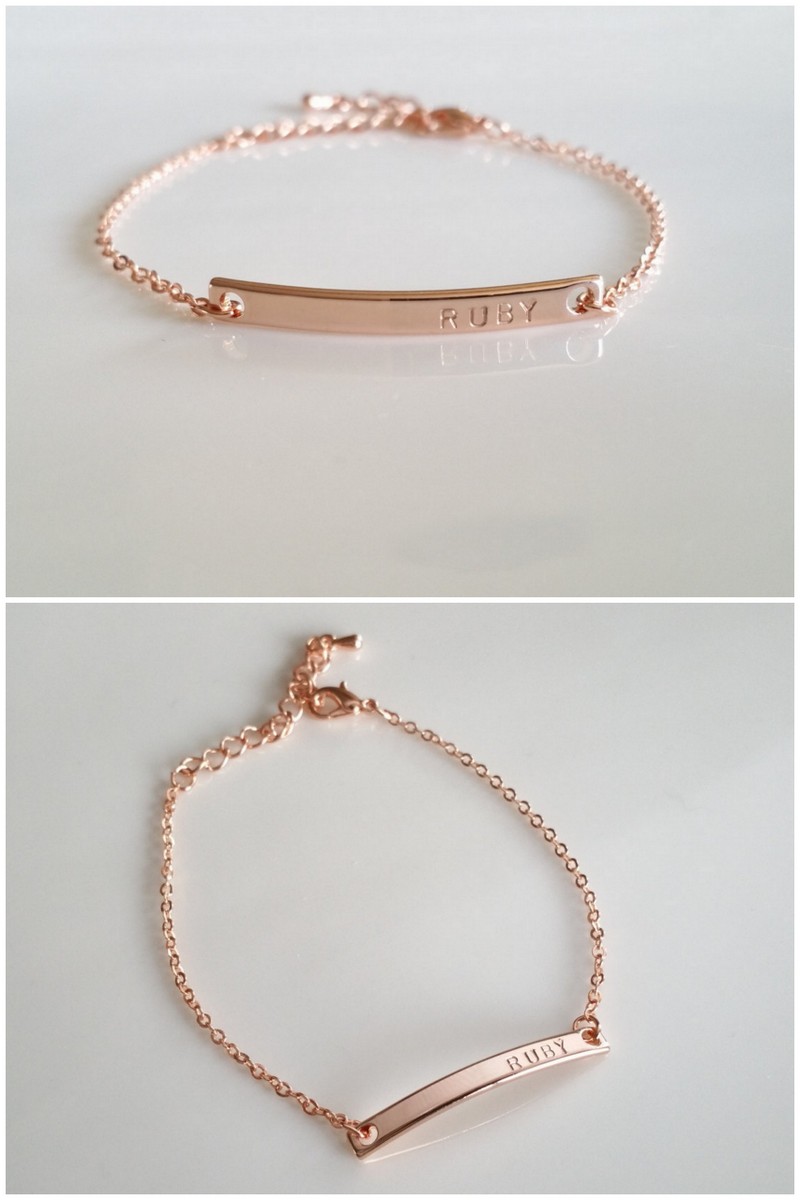 (Above) Customized Rose Gold Bridesmaid Jewelry Gift. This dainty bar bracelet is engraved with your bridesmaid's name or initials – lovely! Get it for your girls here.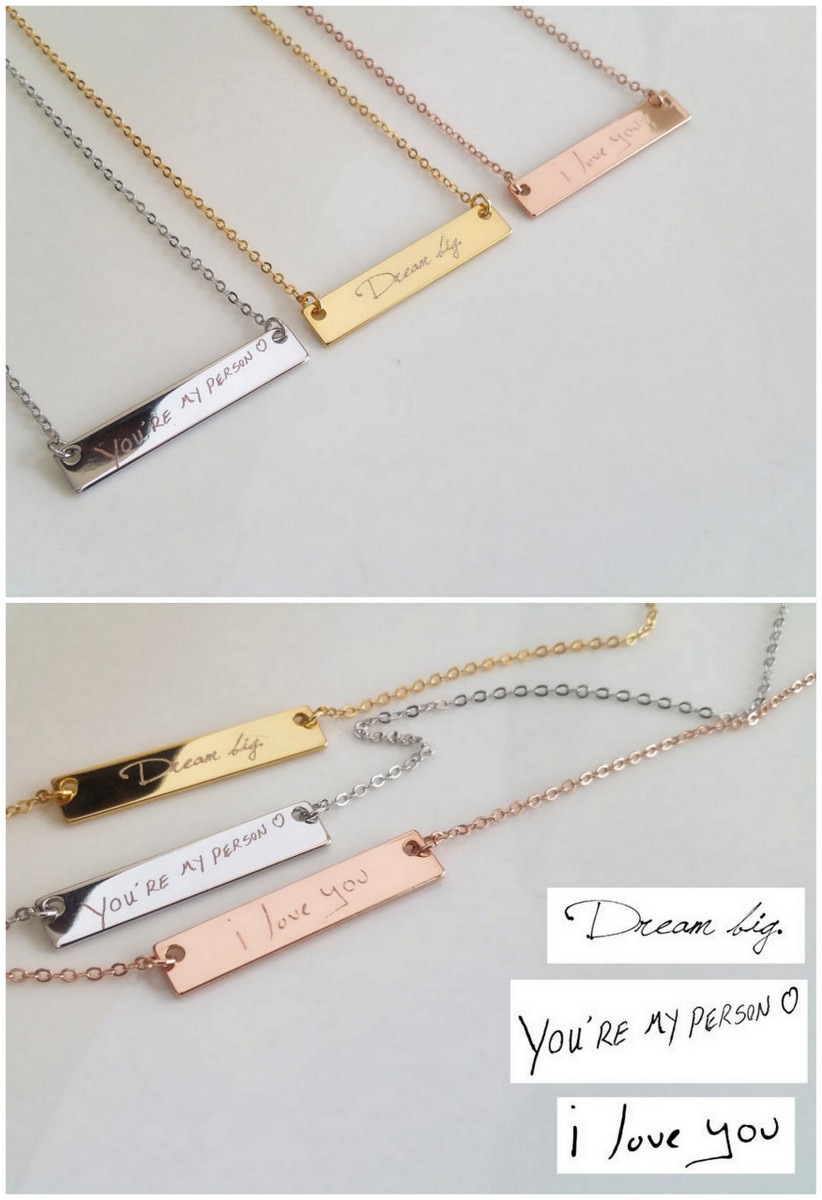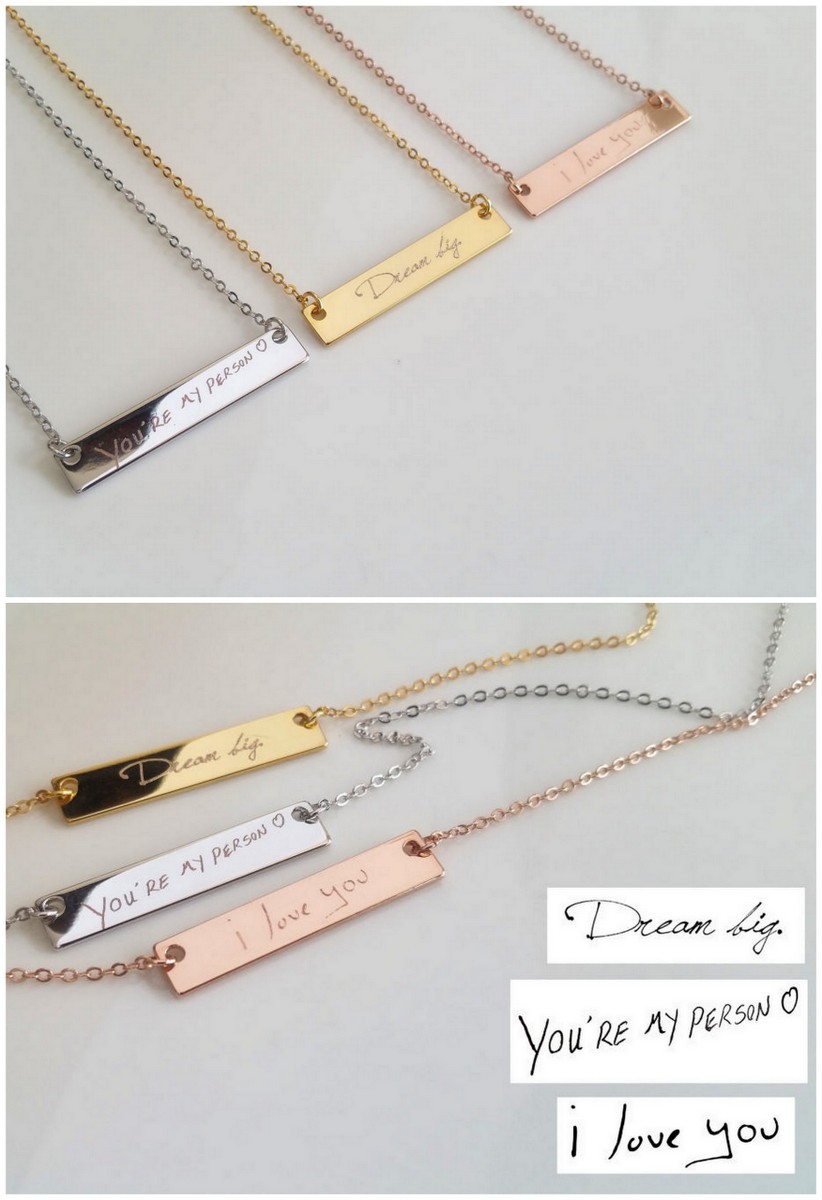 (Above) Rose Gold Handwriting Bridesmaid Jewelry Gift.  This necklace is engraved with your actual handwriting – or your bridesmaid's signature. Yes, REALLY! Plus, it's totally reversible so you can personalize front and back. Available to order here.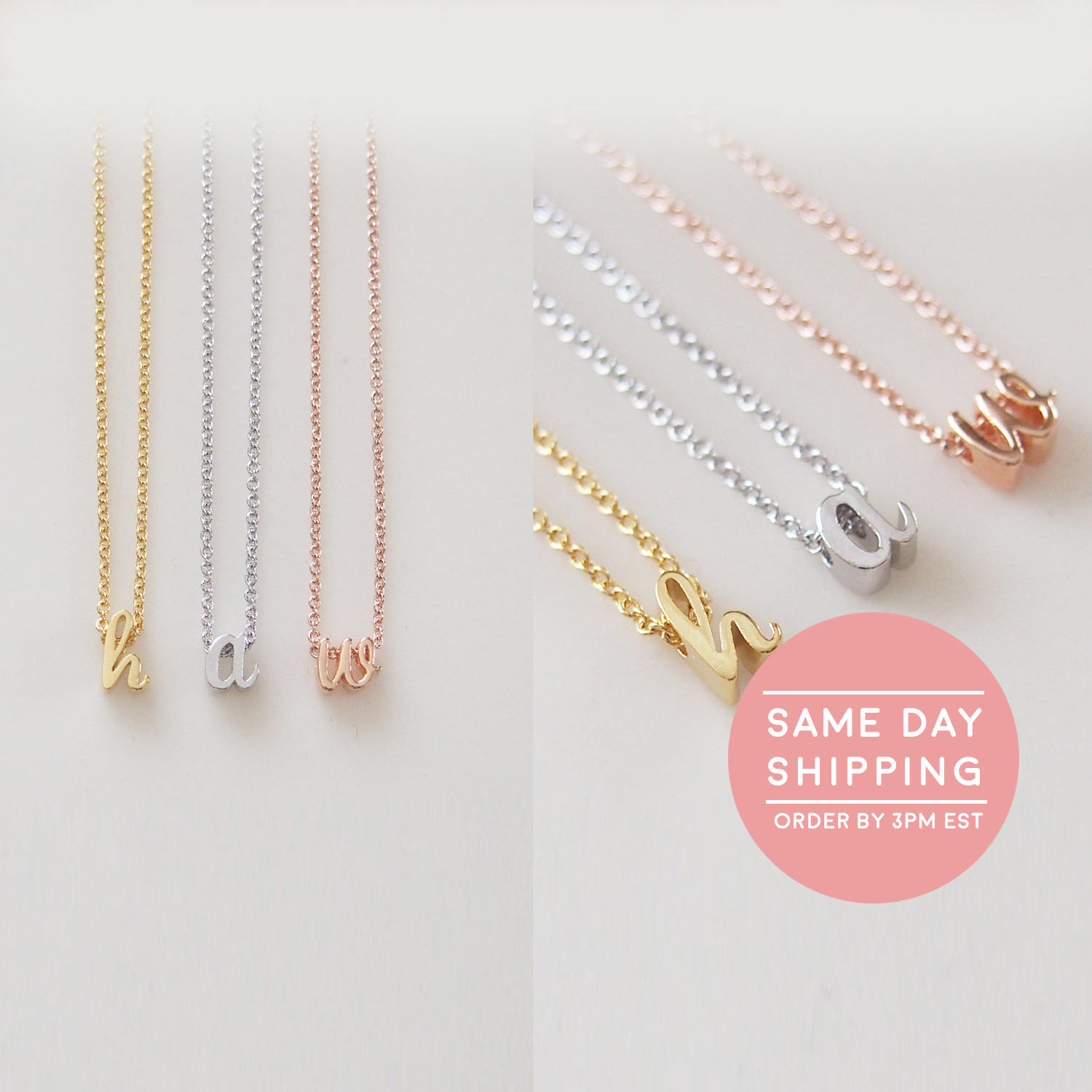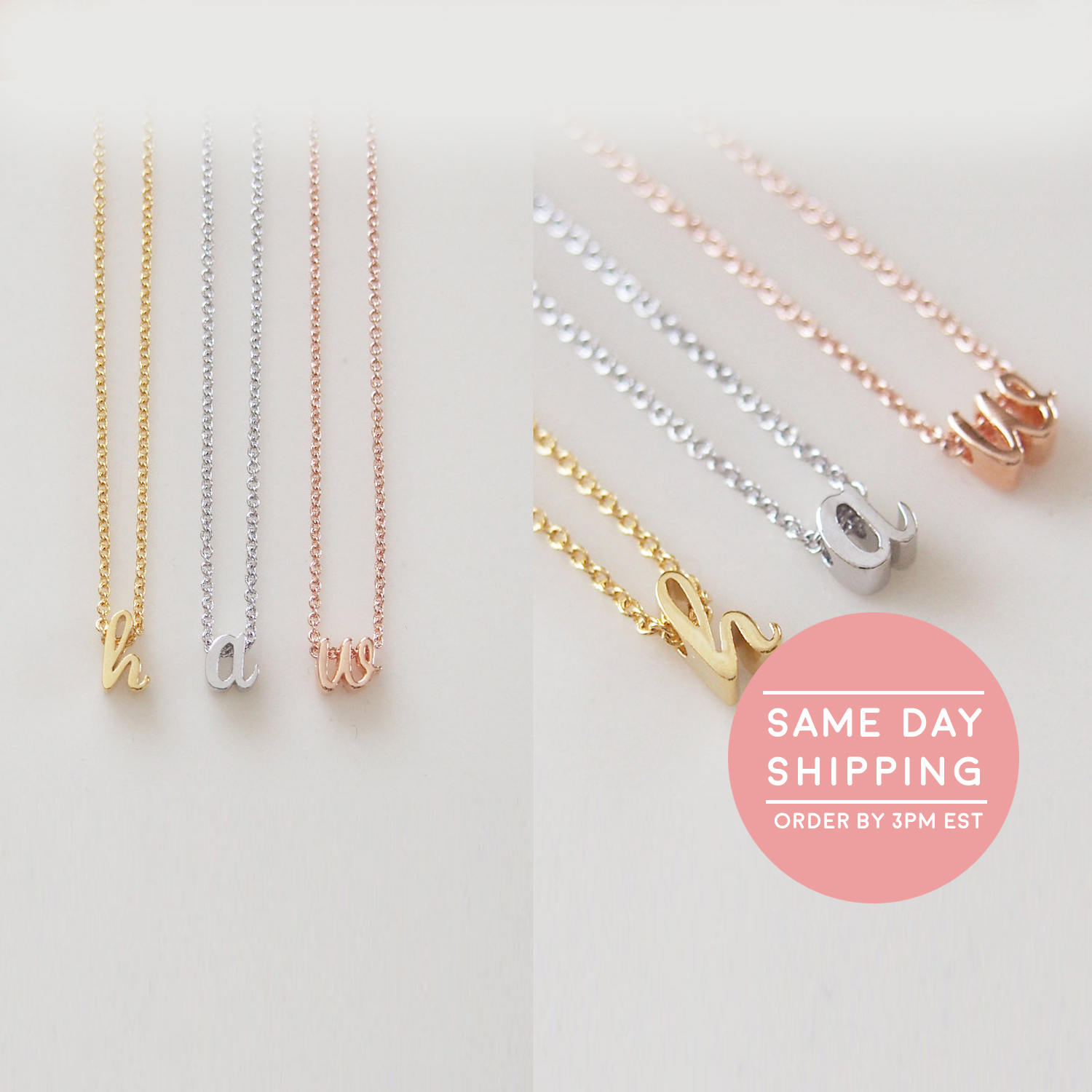 (Above) Charm Letter Necklace Bridesmaid Jewelry Gift. Use your bridesmaids' initials or spell out a five letter word with these letter charm necklaces – a beautiful gift for your gals to adore. Get them here.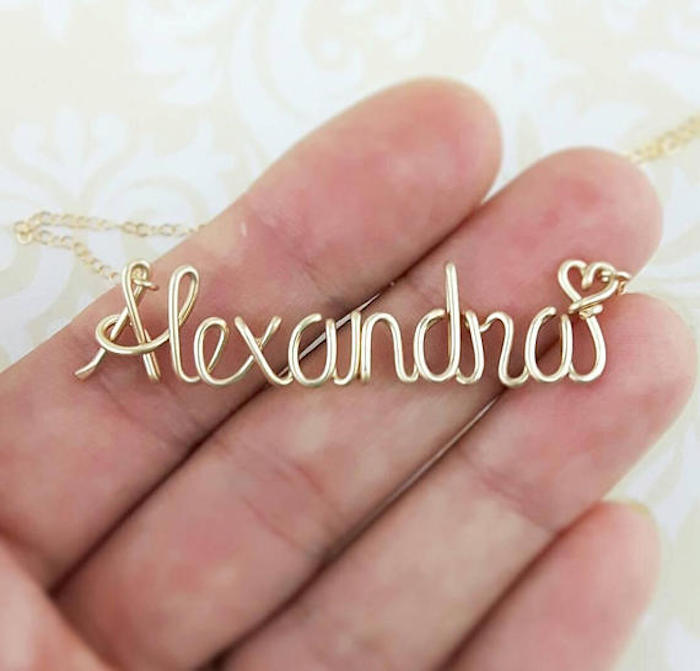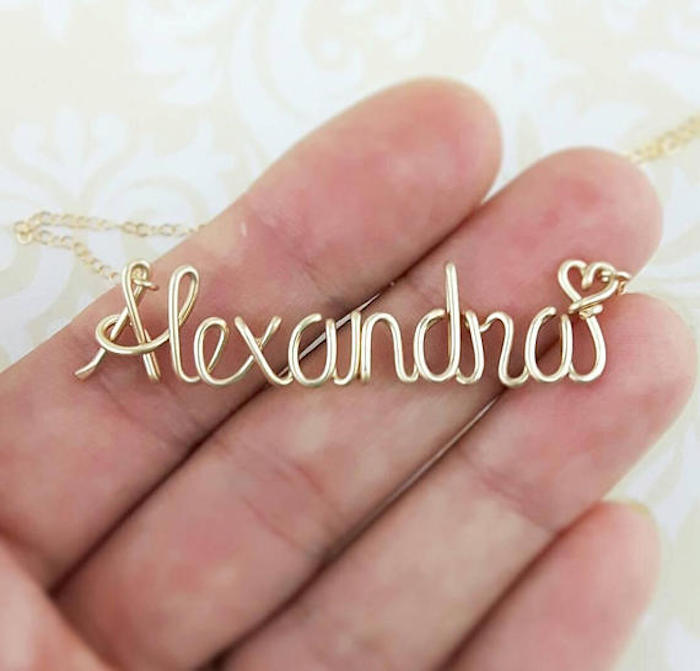 (Above) Wire Wrap Bridesmaid Jewelry Gift. This custom name necklace is available in 14K gold fill or sterling filled. How much do you love that each word is finished off with a little heart at the end? Totes adorbs! Buy them online here.
Bridesmaid Bags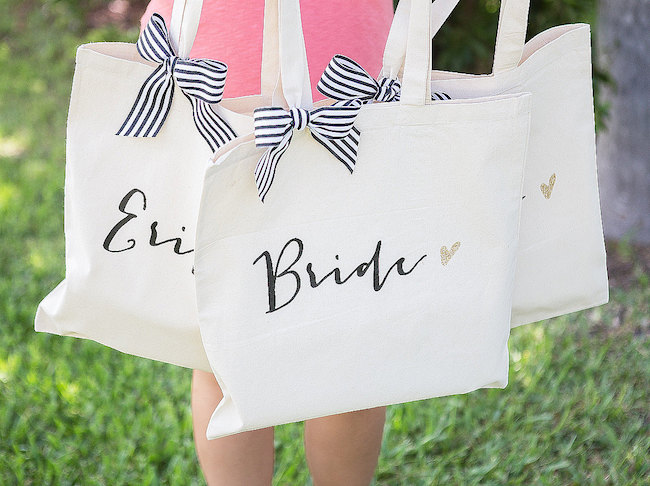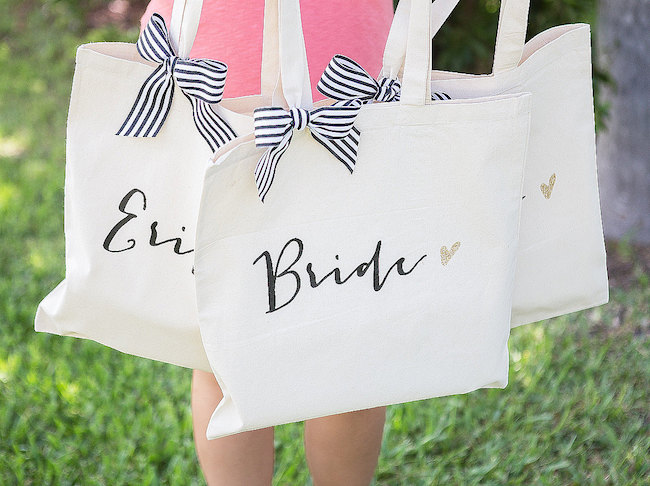 (Above) Personalized Bridesmaid Bags. These custom canvas tote bags use a cute calligraphy style font for your besties names. Adorned with a striped bow, this bag is cute AND durable. Yass! Check them out here.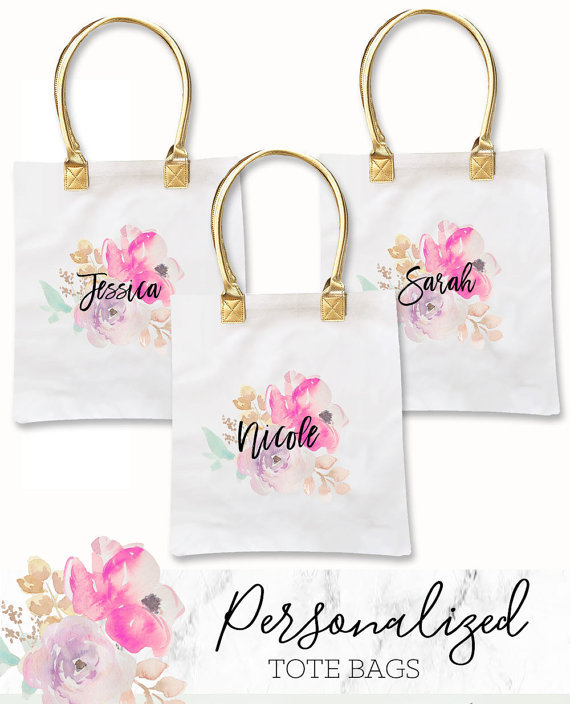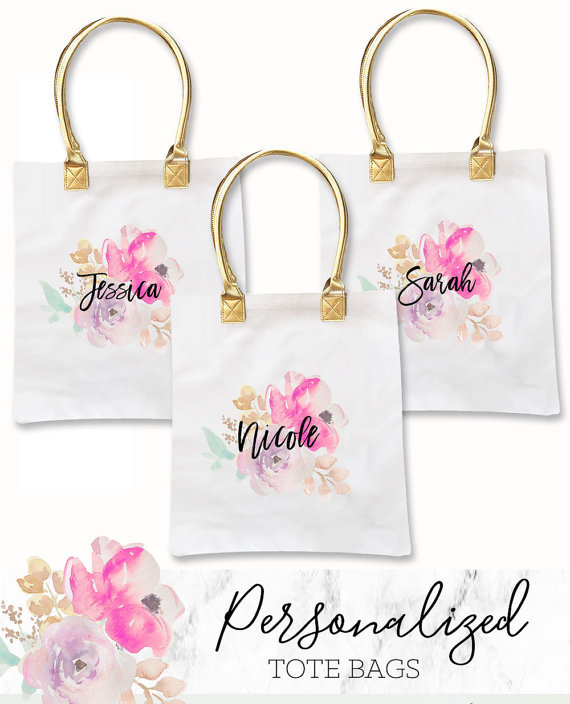 (Above)  Watercolor Flower Bridesmaid Bags. These pretty floral bags with gorgeous gold handles are custom printed with each bridesmaid's name in stylish script lettering. Fill them with your own tumblers, candles, and flower girl robes for an unforgettable gift! Grab them here.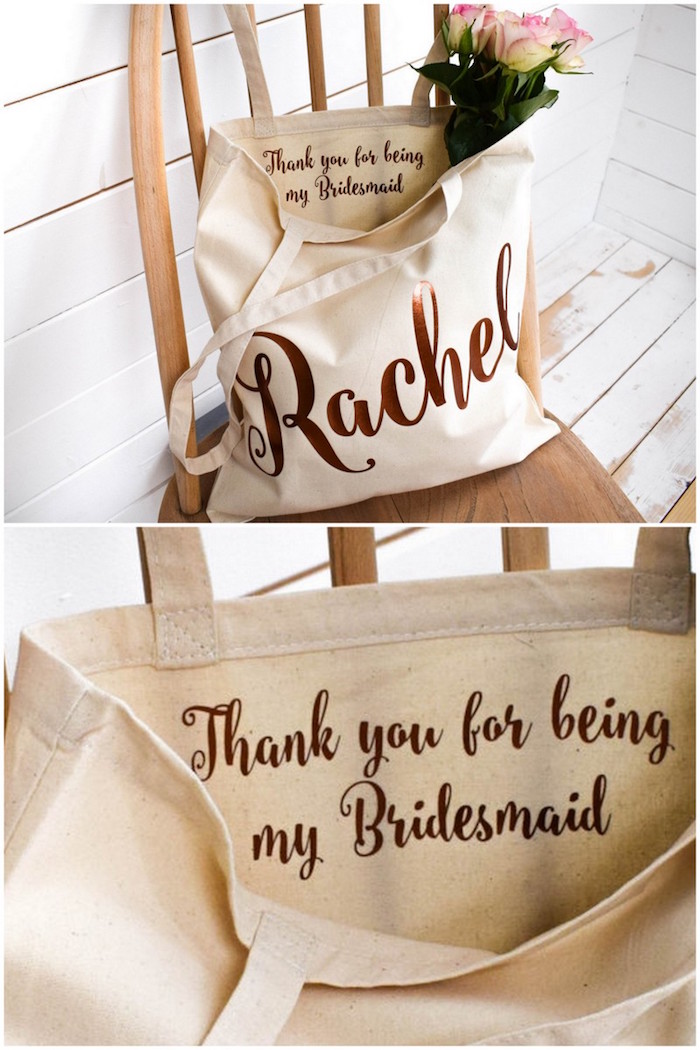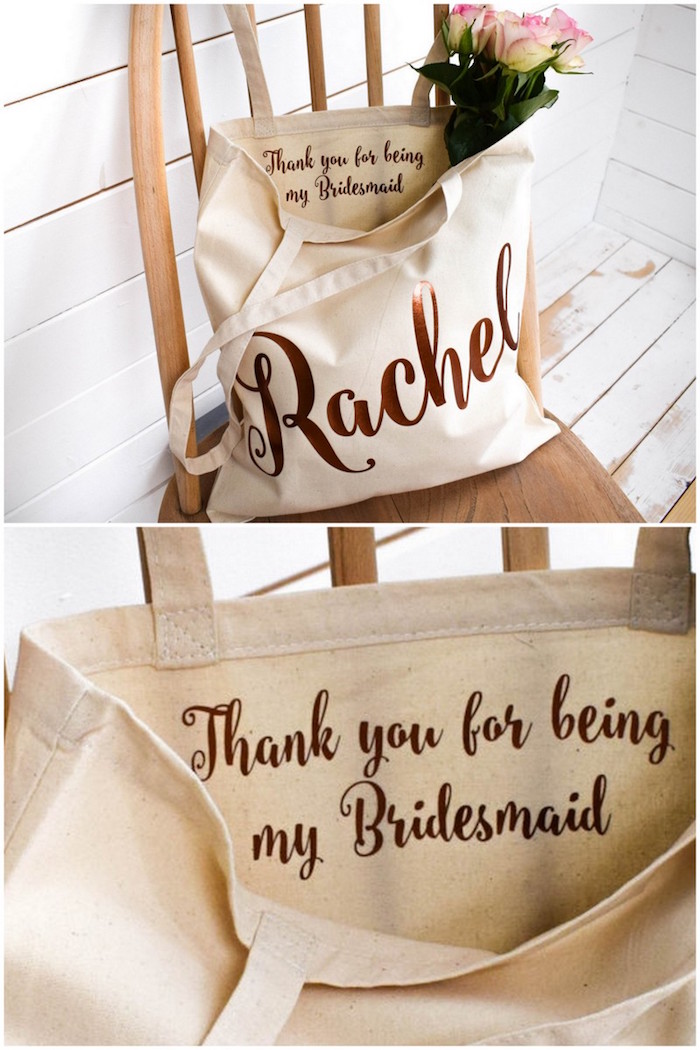 (Above) Bridesmaid Bag with Message. We really like the fact that these 100% natural cotton canvas tote bags also include a cute thank-you message to your bridesmaid, MOH or flower girl! Personalise these bridesmaids gifts with any name and wedding role here.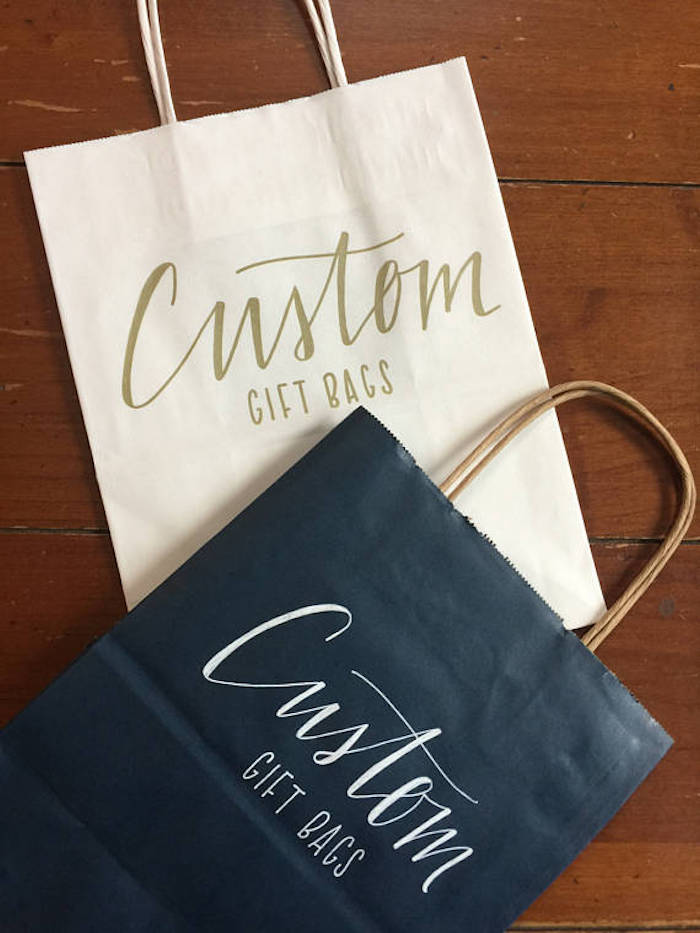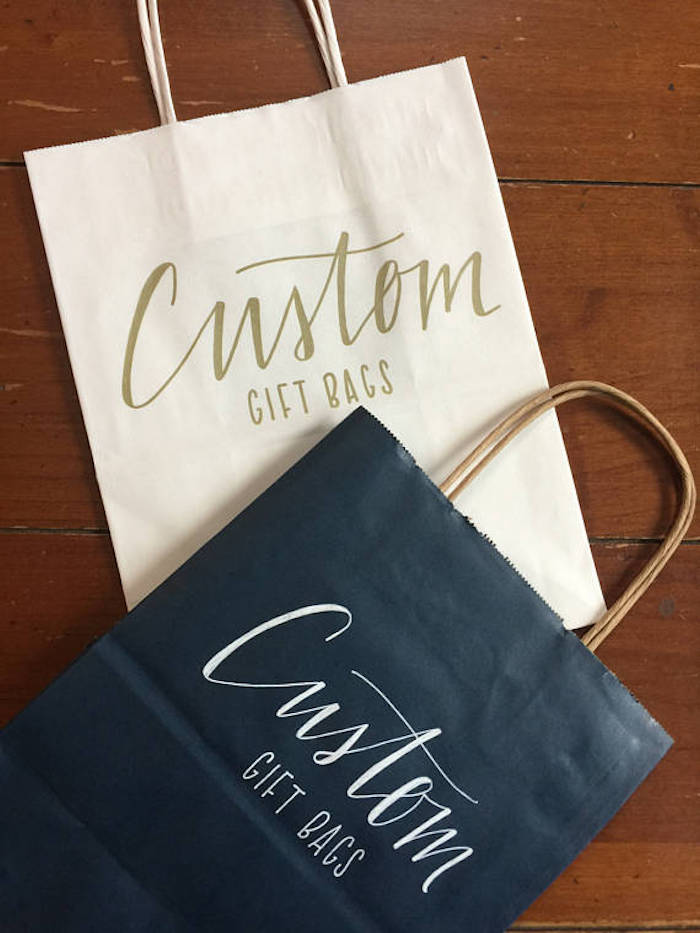 (Above) Personalized, Custom Bridesmaid Gift Bags.  These hand lettered paper bags are super affordable and make great welcome bags for your overnight guests too! These gift bags can be customized with any words you like, and won't blow the budget! Available here.
Bridesmaid Gifts Under 10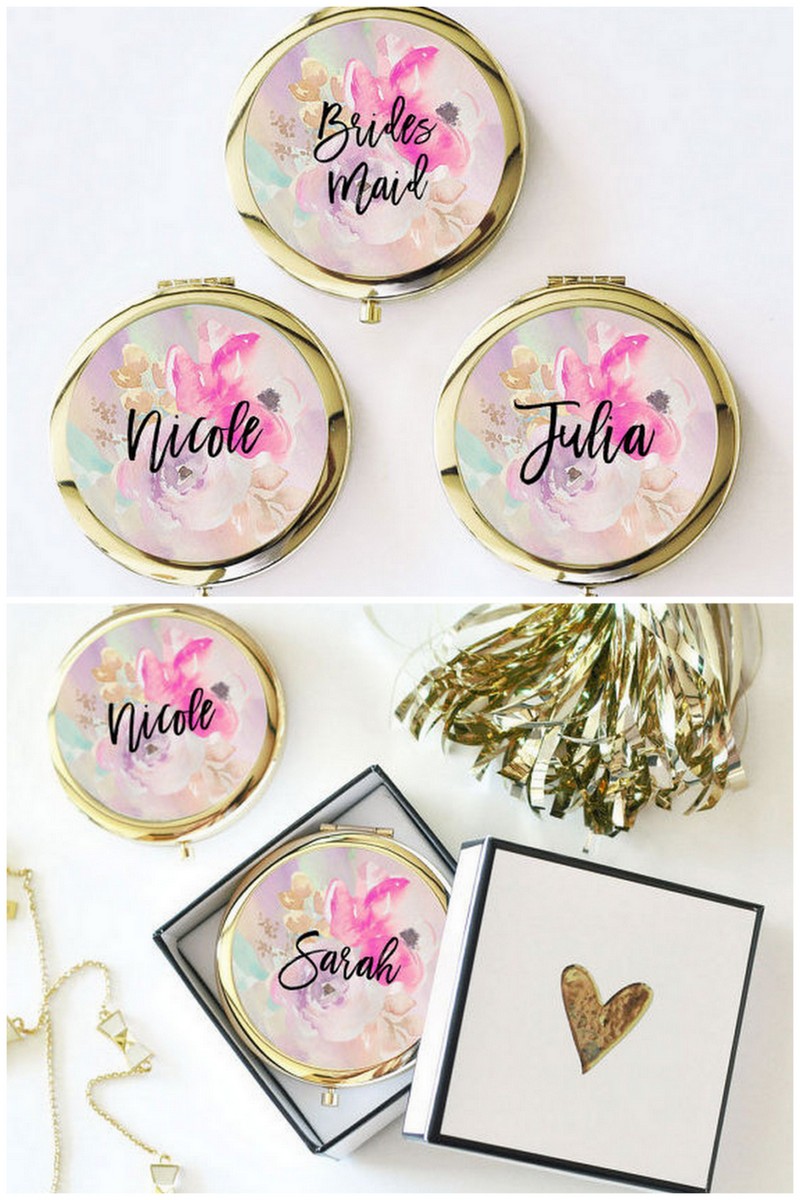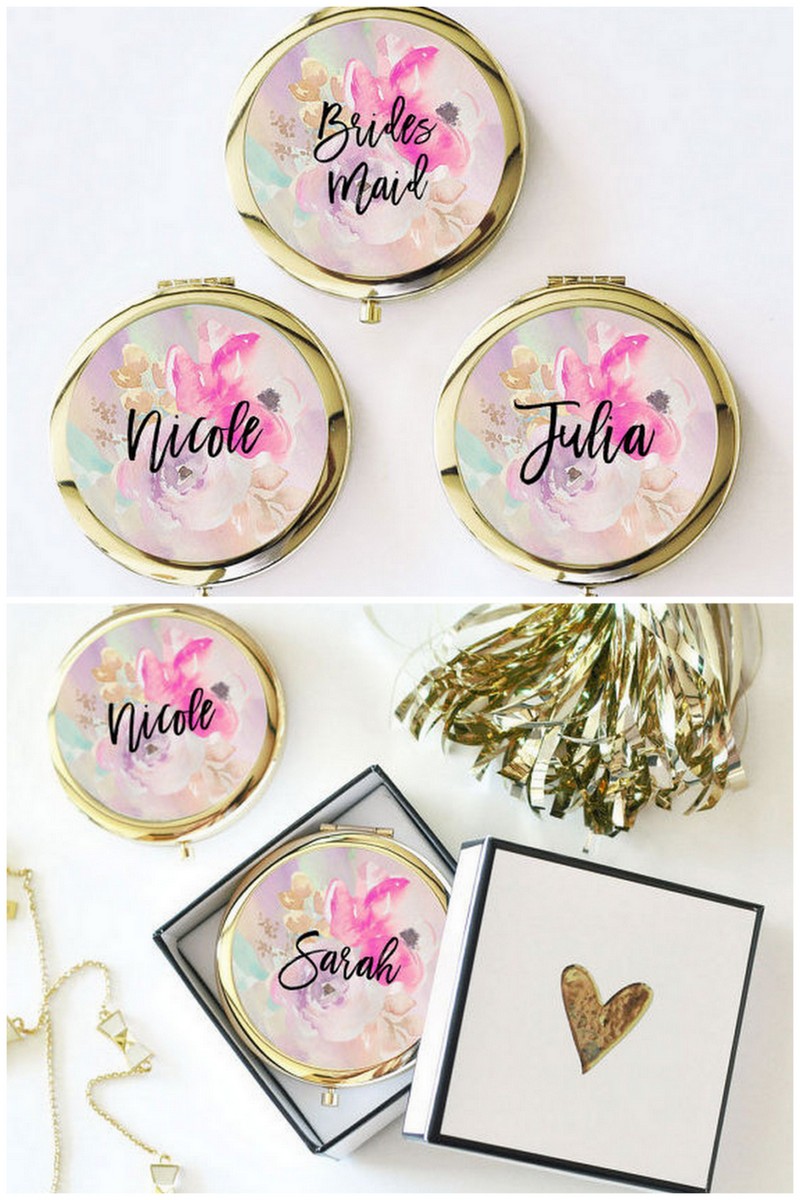 (Above) These personalized compact mirrors bridesmaid gifts are perfect for your squad to pop in their purses or make up bags for emergency touch-ups. The metallic gold compact mirrors come with a pretty floral design and custom name/word – talk about gorgeous bridesmaid gifts under 10! Purchase them here.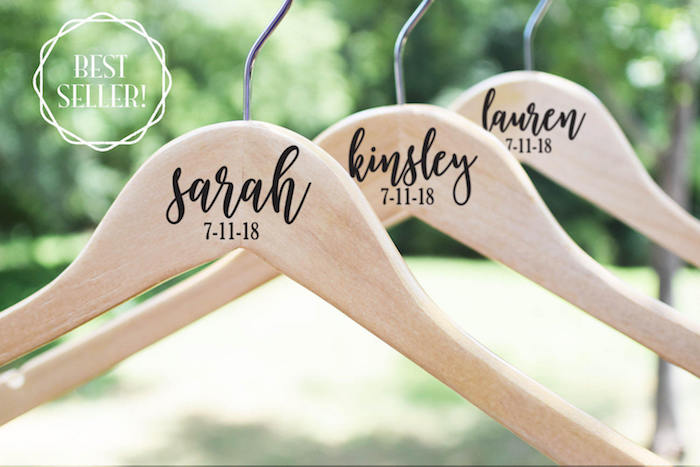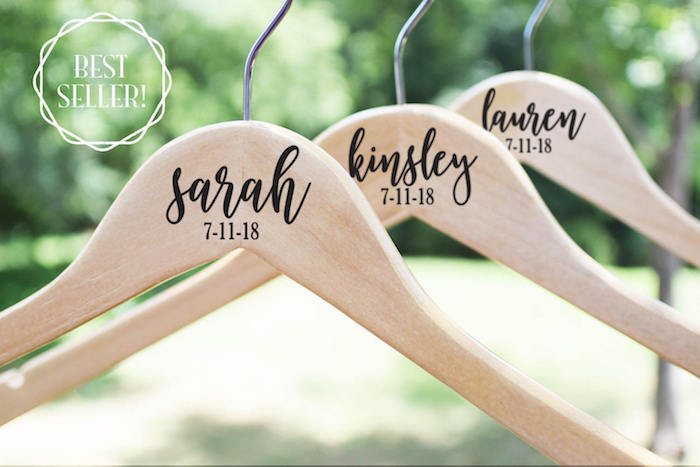 (Above) A personalized wedding hanger for your bridesmaids is not only going to look cute in your getting ready photos, but are bridesmaid gifts under 10 that your girls will use for years to come!  Order them here.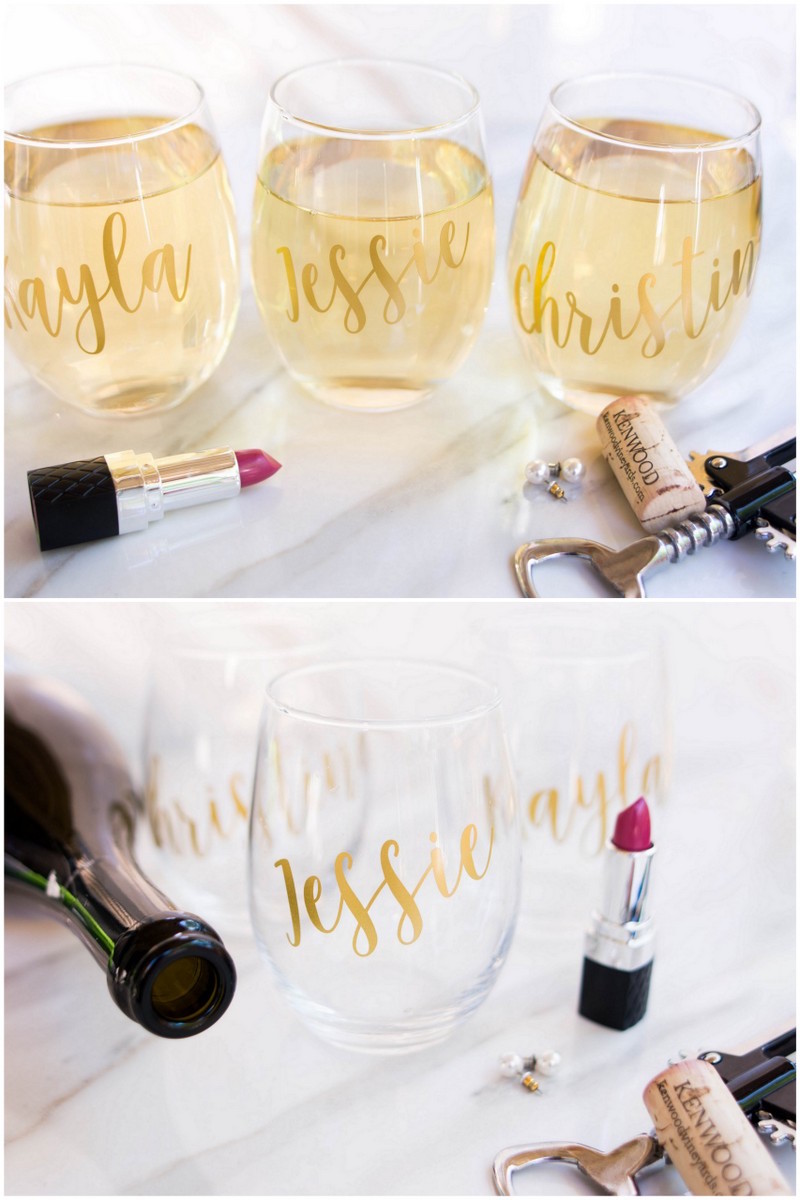 (Above) Custom Stemless Wine Glasses.  Gift each of your bride tribe with these bridesmaids gifts under 10 and use them again and again each time there is a girls night in. Personalize with a name of your choosing in a modern, script-style gold font.  Order these bridesmaids gifts here.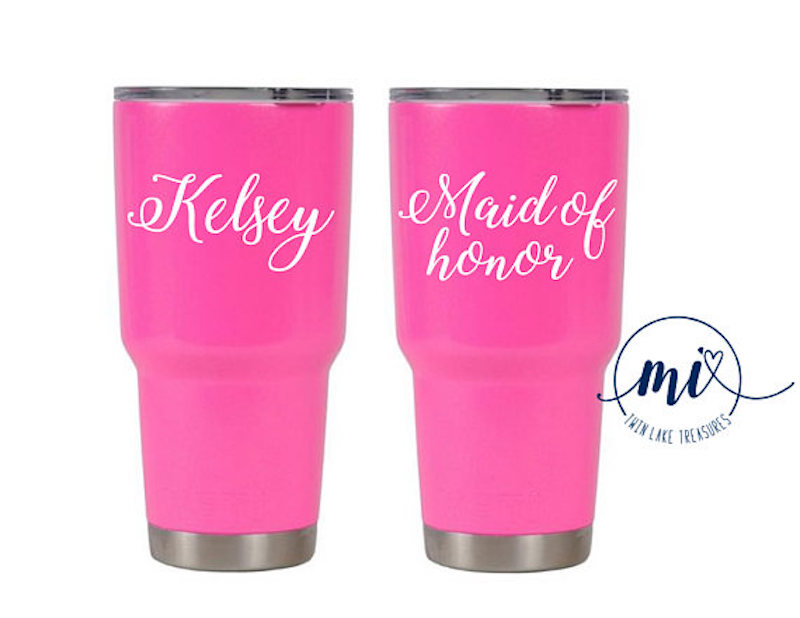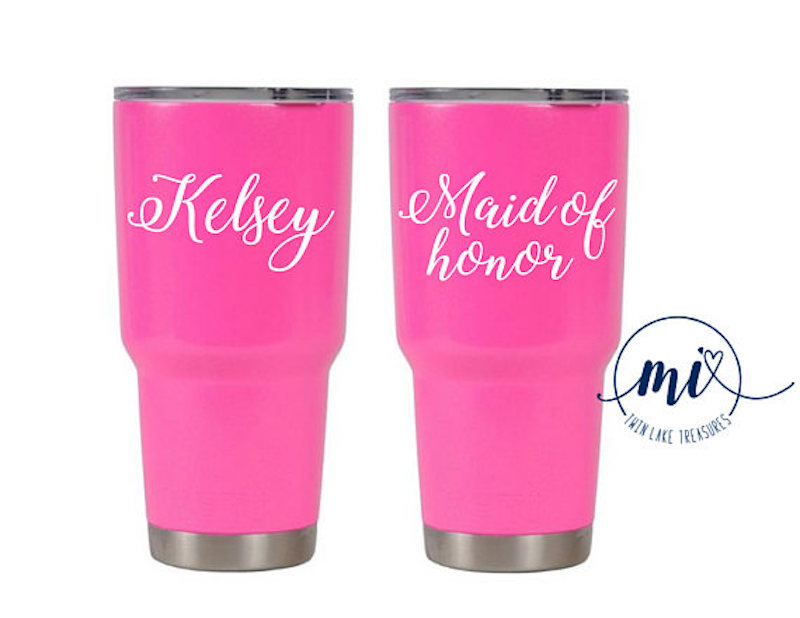 (Above) Handmade Custom Vinyl Sticker Decal. This is so much fun! Buy these stickers and add them to a bottle of your choosing. (We wonder if you could get creative, and add them to other things, too?)  Get this bridesmaids gift under 10 here.
MORE BRIDESMAIDS GIFT IDEAS:
MORE TO CHECK OUT AND READ: