We're obsessed with these cute, chic and fun bridesmaid shirts! Perfect for your bridal party, this selection of wedding party tee's can be used in loads of different ways before your wedding (and even after!)
Bridesmaid Shirts + Bridal Party T-Shirts
Bridesmaid Shirts make awesome bridal party gifts. Give them to your girls when you ask them to be your bridesmaids, as part of your bridesmaid proposal asking will you be my bridesmaid!
Rock your bridal party tees at your bestie's bridal shower, bachelorette party or at any last fling before the ring!
Wear your bridesmaid shirts whenever the bride tribe is out together shopping for the wedding together – think dress fittings, shoe expeditions or hair and make up trials.
Tips for buying bridesmaid shirts and bachelorette party shirts:
Most bridesmaid shirts and bridal party t-shirts are sold in a variety of shirt and text colors, including metallic lettering options. If you like a design, but not the color, check if it's available in your preferred color when adding to your cart, or contact the seller to ask if they can make one just for you!
Some bridesmaid shirts can be customized with a choice of font styles, too.
Check the store's sizing sheet for shirt measurements, or contact the seller if you are unsure about fit.
Want an off the shoulder look? Consider ordering a size or two up for three-quarter, or dollman style bridesmaid shirts.
Some stores will allow you to place a custom hashtag at the back of your shirts for a few extra $$. Hello party hashtag! Check with the seller.
For last minute orders, contact the seller first to make sure they'll be delivered in time. Sometimes your order can be bumped up for a rush fee.
Bachelorette Party Shirts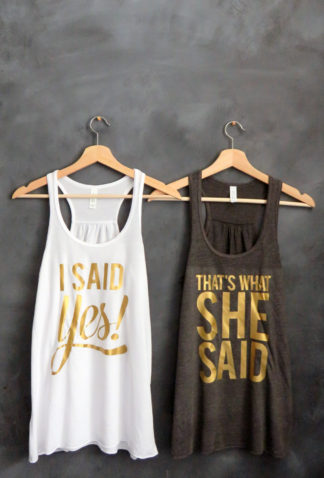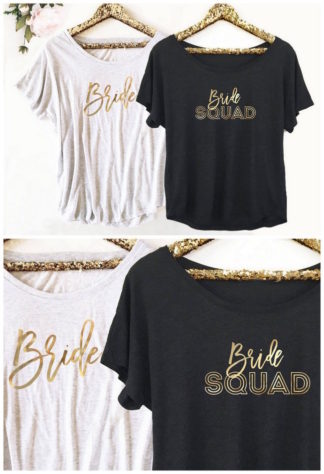 (Above Left) That's What SHE said Bachelorette Party Shirts: This set of bridal party racer back tanks are funny and cute. A white tank with gold text proclaiming "I said yes!' for the bride, pairs with wedding party shirts cheekily stating "That's what she said.' The tanks can be ordered in a range of different colors, with different text color options too! With sheering at the racerback seam, and an A-line body, these shirts are perfect for the party! Grab them here. 
(Above Right) Bride Squad Bachelorette Party Shirts. These fab little bachelorette weekend shirts are just what the crew needs for the a ladies night out with the bride! The Bride Squad shirts fun and flowy, in dolman style with luxe gold foil printing, plus they can also be ordered a size or two up if you'd like the off the shoulder look! Available online here.
As you read we hope you love this entire epic selection of bridesmaid shirts, bachelorette tees and bridal party sets we've curated for you! If you make a purchase a small percentage of the will come to us for referring you. Thank you for reading and supporting our content!
(Above, Top Row) I Do Crew Bachelorette Party Shirts. This set of I do crew bachelorette tank tops from KTeeDesigns with popular geometric wedding style diamond decal are a fabulous  matching wedding party tees. Match the "I do" tee for the bride with the 'I Do Crew" shirts for the rest of bridal party, and rock these t-shirts at the bachelorette! Check them out here.
(Above, Bottom Row) Last Fling Before the Ring Bachelorette Party Shirts. Rock this 3/4 Sleeve Shirts Set of Last Fling Before the Ring bridal party shirts from KTeeDesigns . And how cute is the engagement ring detail? Choose the size and color shirt that you like, including options for glitter text, by ordering them here. (Check out this Last Fling Before The Ring shirt, too!)
SEE MORE THOUGHTFUL IDEAS FOR YOUR BRIDESMAIDS HERE
Bridesmaid Shirts
(Above) Brides Last Ride Bridesmaid Shirts Set. Yeeha! It's time for the the bride to get out with her gal gang and enjoy her last ride out before the big day. We love that the bride's shirt includes a cute cowboy hat. These wedding party tanks can be ordered with glitter and are perfect for your country bachelorette party! Available online here.
(Above) He Popped the Question, Let's Pop Some Bottles Bridesmaid Shirts. These v neck bridal party shirts are sweet and sassy, and will look so fun in group selfies! The handwriting style text is available in gold, silver, black or white. Get your hands on these t-shirts here.
(Above, Row 1) "Doing a little wrong before I do mr right" Funny Bridesmaid Shirts. These funny bridal party tanks are printed with sparkly lettering in LOADS of color options, from pink to blue to yellow and more. Order the bridesmaid tank here. // (Above, Row 2) Last Night of Freedom Tour Bridesmaid Shirts. Available in a range of colors for shirts and text, make sure you're there for your bride's last night of freedom! Order these funny wedding muscle tanks online here. // Final Thrill in Nashville Bridesmaid Tank Tops. Keep it cool and country with these Nashville Bachelorette party shirts with western style fonts and a bit of gorgeous glitter!
Bridal Party Shirts
(Above) I Said Yes – That's What SHE said Bridal Party Shirts.  You said yes, and now it's time to celebrate your fiance status with your girls. The design, including that cute ring bling, is printed directly to the shirt to prevent cracking or peeling off. Choose your colors when purchasing here.
(Above) Nautical Bridal Party Shirts. Look chic at your seaside sailboat soiree with these fun and cheeky nautical bridesmaid shirts and tanks! Click here for the Nauti Bride / Let's Get Nauti V-Neck Tee Shirts in an assortment of shirt colors and lettering options here. // Fancy a nautical bridesmaid tank for your swanky on deck bachelorette instead? Grab these 'Last Sail Before the Veil' anchor shirts or 'Nauti Bride' bridal party shirts in the color of your choosing by selecting from the drop down menu here. 
(above) Sweet Set of Baseball Shirts for Bridal Party. You're officially on Team Bride with these baseball wedding party shirts! They are customizable on both the front and back, meaning you can include each member of the bridal party's names and even 'player' titles such Maid of Honor, Bridesmaid or Bride's entourage. Choose your shirt color here, too!
Strooimeise Hempies
(Above) Die Bruid se Bestie Hempies. These afrikaans bridesmaid shirts are perfect for letting the maid of honor, or a group of strooimeises that they are the brides besties! Get these Bruid se bestie hempies in South Africa here.  // Looking for Afrikaans Strooimeise Hempies? Get them for your girls online, here.  (And while you're at it, check out all these awesome SA bachelorette party gifts and accessories.) UPDATE: ThatLittleShop now out of stock of these items.
(Above) Personalized Awesome Bridesmaid shirt. She's your bride, she's one of your crew, and a bff for life. Give her one of these personalised t-shirts and make it official! Click here for the bridesmaid tee in white or get it in black plain. (Check out more SA Bridesmaid Tee Shirts here!) UPDATE: ThatLittleShop now out of stock of these items.
Bridesmaid Tanks
(Above) Bridesmaid Tank Tops in Metallic Foil. These cute, chic tank tops are made from comfy cotton jersey fabric and will look great on wedding shopping expeditions too! Available to order here.
(Above) I Said Yes –  We Said Vegas Bridesmaid Tanks. Thinking about vegas before vows? These bridesmaid tank might be just what the bride tribe ordered! Customize your tank and text color when you buy here.
(Above) He Popped the Question – Let's Pop Some Bottles Bridesmaid Shirts. Get ready to pop some bubbly with these tops – perfect for a girls night out in celebration from Hello Bridal Clothing! Also, check out these pop some bottle tees.
Bridesmaid Quote Shirts

(Above, 1st row) Bridesmaid Quote Shirts: I Got the Hubby / We Got the Bubbly!  Ladies, pop some bottles as you join the bride to be wearing these fun bridesmaid quote shirts! Buy them for your crew here. 
(Above, 2nd row) Bride and Maid of Honor Matching V Neck Shirts: Grab a shirt for the Bride and a shirt Maid of Honor. These chic V-neck shirts with Dolman sleeves are perfect for a bridal party outing! Click to order.
(Above, 3rd row) Bridesmaid Quote Shirts: Before you say I Do, join the I Do crew for a celebration! Available for order here. 
Mother of the Bride Shirts
(Above) Gold Wreath Mother of the bride and Mother of the groom Shirts – . Don't forget the moms! These gold wreath bridal party shirts have a relaxed, flowy fit and can be ordered for your MOH and maids too!  Order here. 


(Above) Calligraphy Bridesmaid Bridal Party Shirts. These gorgeous cotton jersey scoop neck shirts are designed with the bridal party title printed in metallic gold foil. We love how stylish they are! Order them online here.
Check out these helpful articles and ideas for planning your wedding: