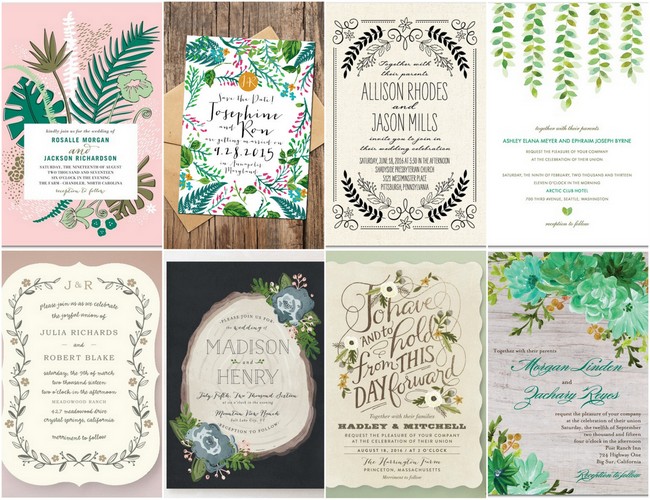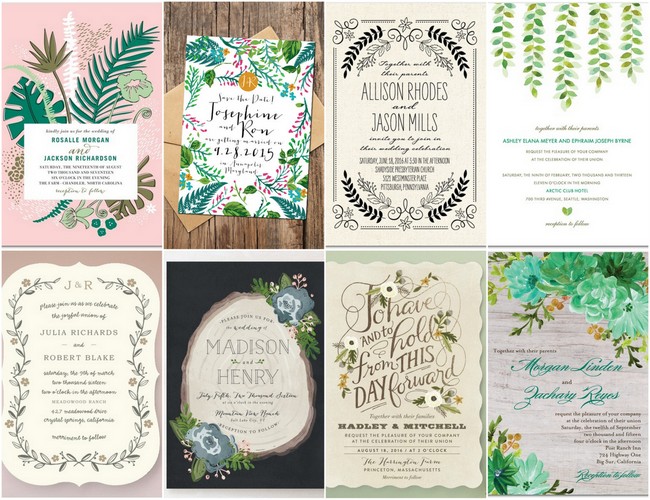 Today we're looking at 22 amazing greenery botanical wedding invitations that are bursting with with natural beauty. These botanical beauties are gorgeous, green and oh-so-perfect for an outdoor or woodsy wedding, or even a tropical celebration amidst the leafy palms. From magical mountains to boho chic, artsy designs, we've selected our fave designs to inspire you for your botanical-themed big day.
In fact, it's officially the year of greenery, so you should totally heck out these mind blowing greenery and copper wedding ideas right now, too!
If you love this any of these greenery wedding invitation designs as much as we do, and purchase one of them, you're helping support our blog. In some cases we'll get a small percentage of the sale for sharing them with you. Thank you so much!
BONUS: Check out these 45+ Creative Greenery Wedding Ideas To Rock Your World
Greenery Botanical Wedding Invitations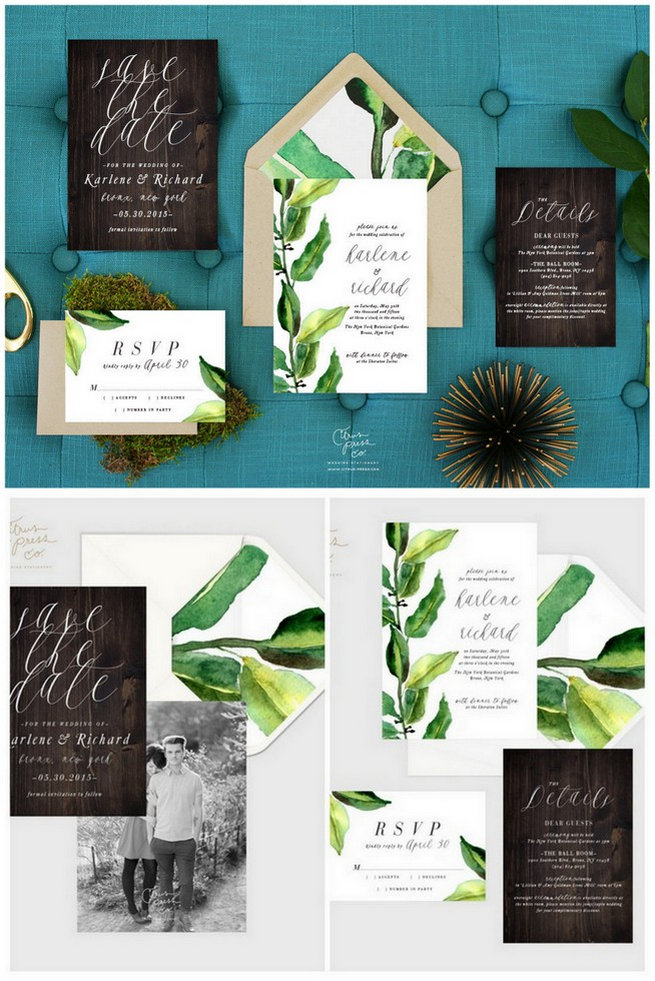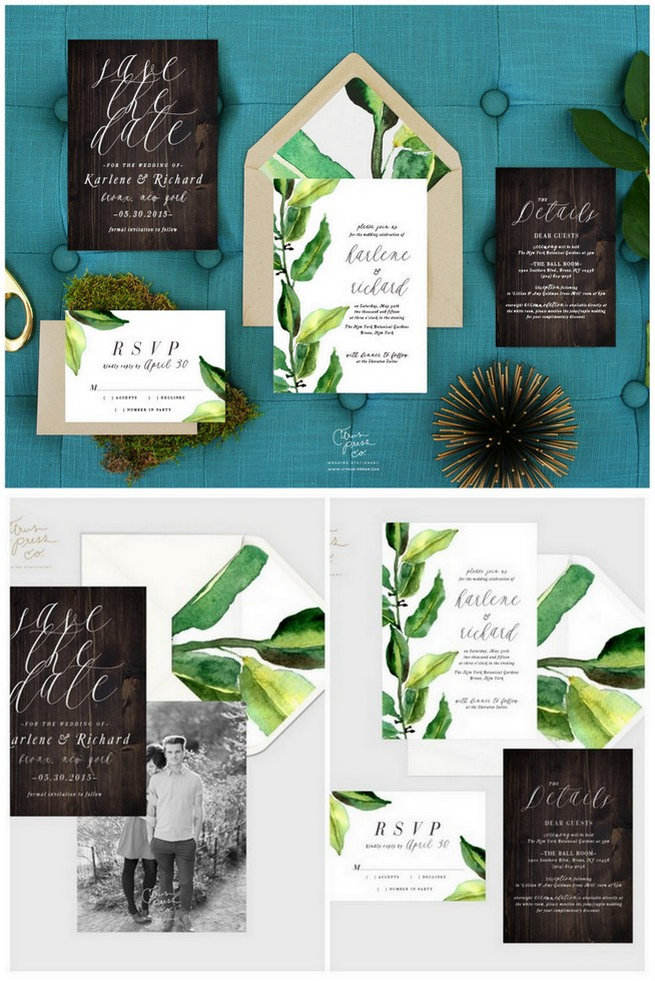 (Above) Botanical Leaves Wedding Invitation. These painted watercolor wedding invitations are leaf inpsired and lovely! Each set comes with envelopes and RSVP, plus wording on each can be customized just for you. Check them out at Citrus Press Co here.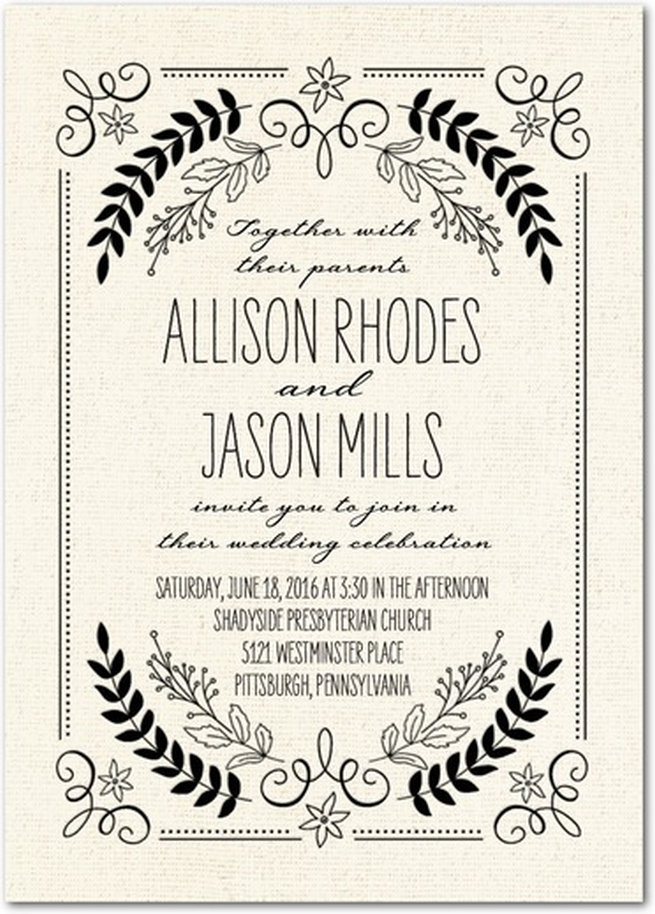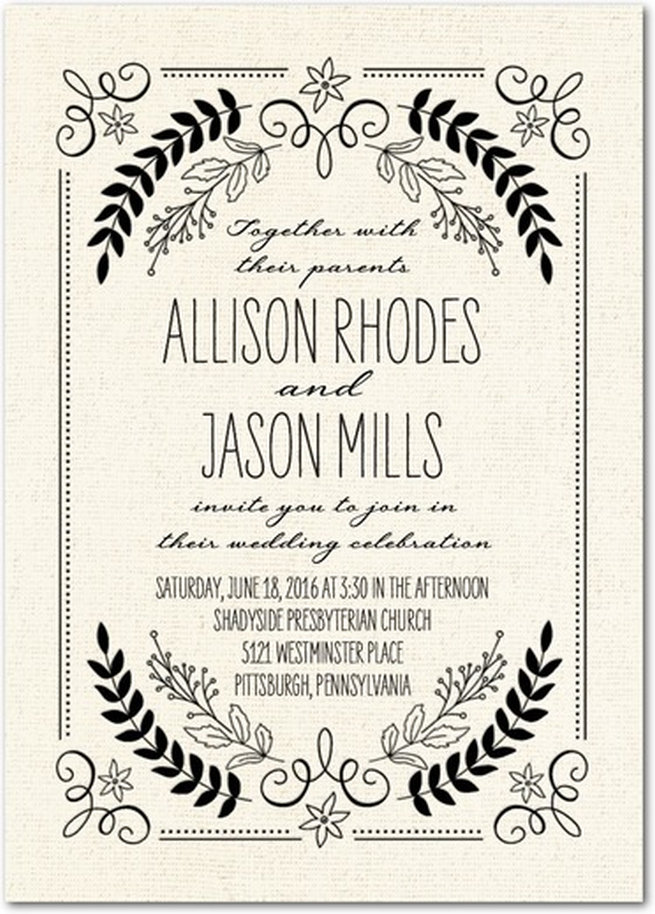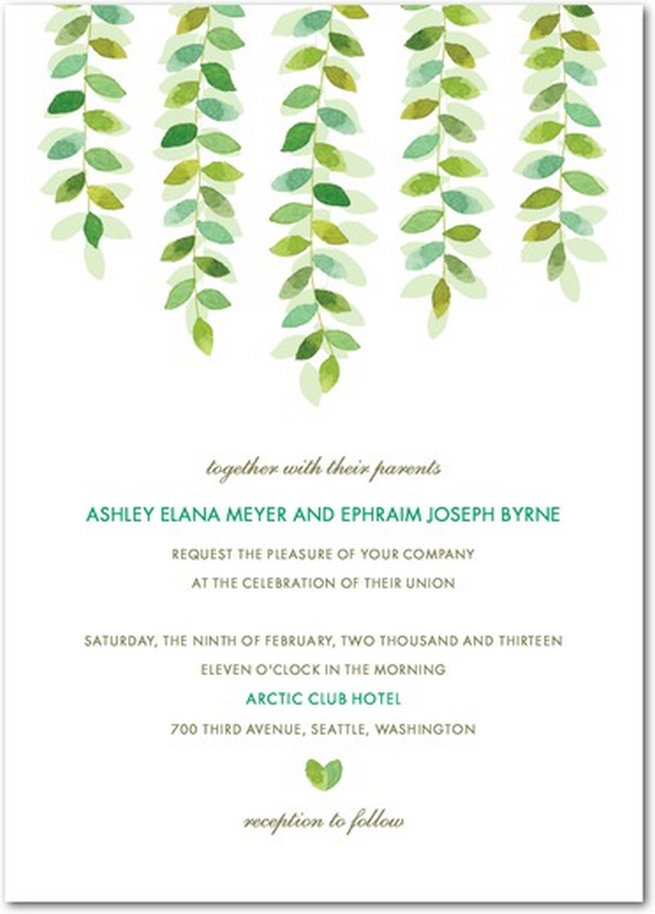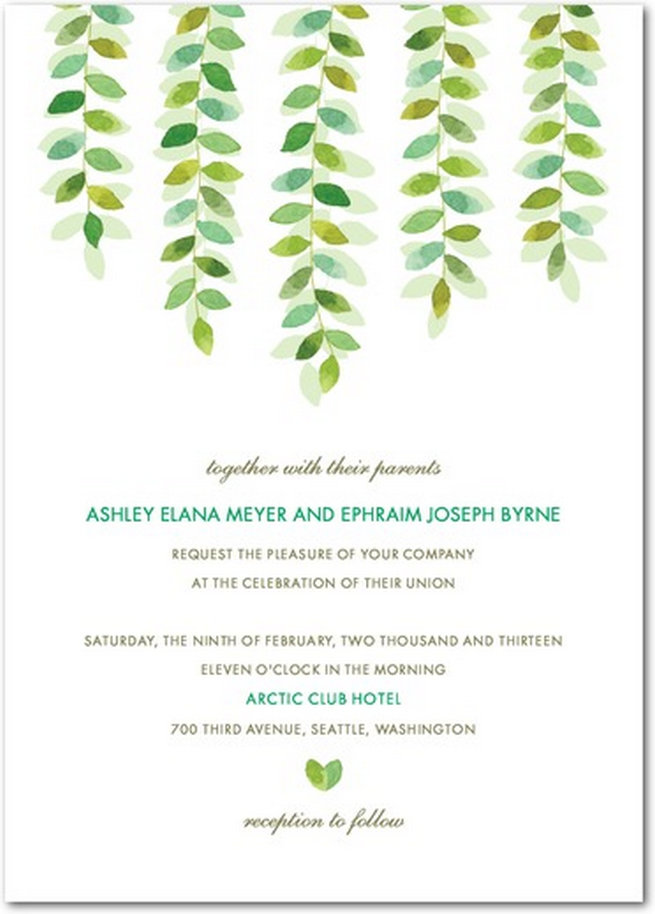 (Above Left)  Rustic Botanical Wreath Invitation. This lovely letterpress creation with hand drawn wreaths and cutesy elements is available from Wedding Paper Divas here.   // (Above Right) Spring Green Wedding Invitations. Drapings of secret willow wisps make this botanical invite from Wedding Paper Diva's sublime for all seasons. Get it here.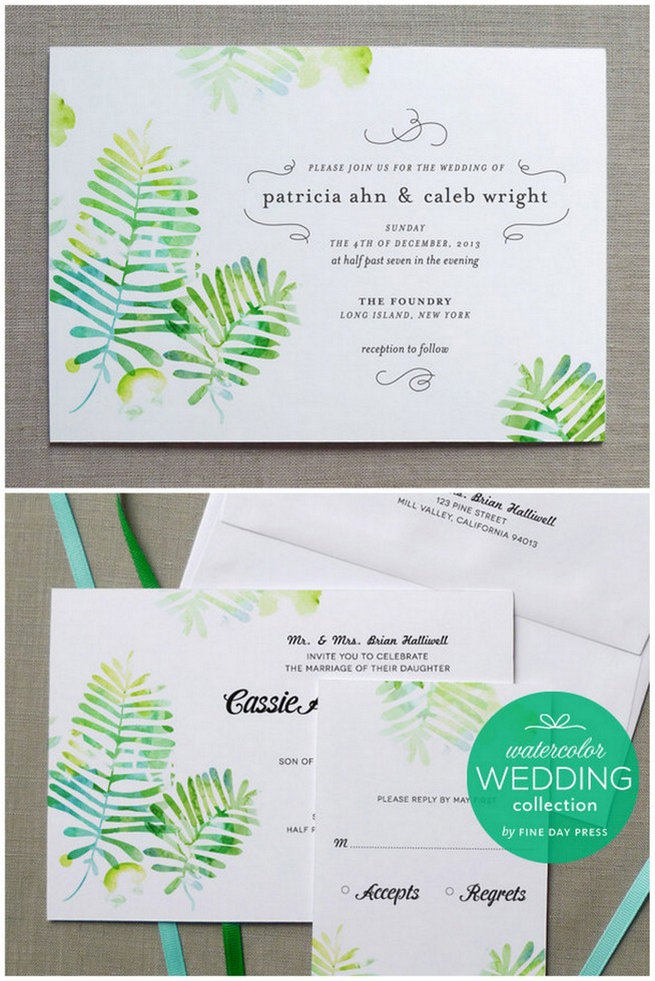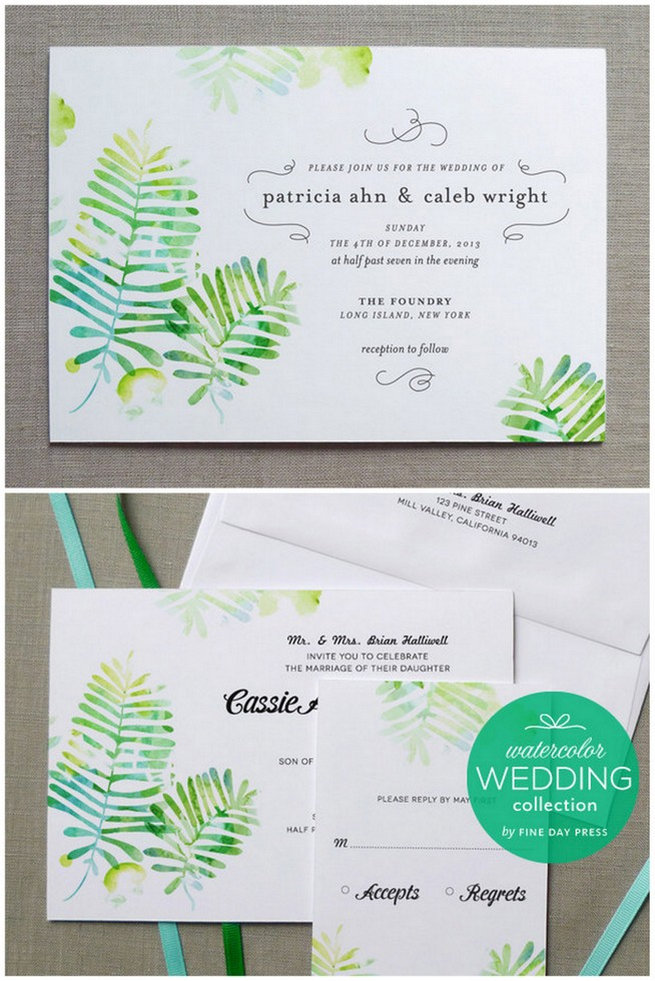 (Above) Forest Fern Greenery Botanical Wedding Invitation. These watercolor wedding invites are printed on cotton cardstock and can be designed using the typography and colors of your choosing. Available from Fine Day Press here.  (Photography: Ashley Austin / Fine Day Press )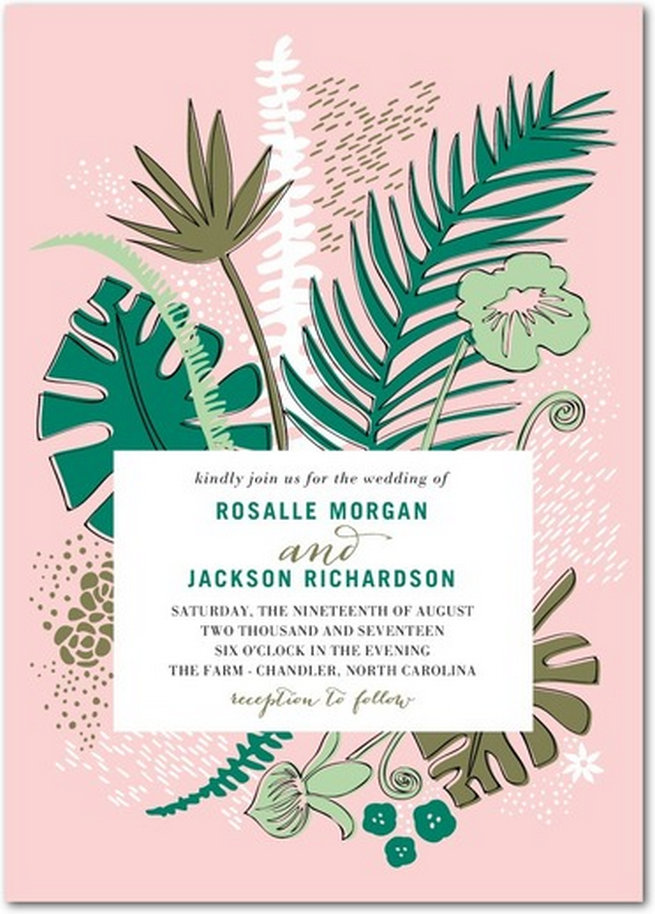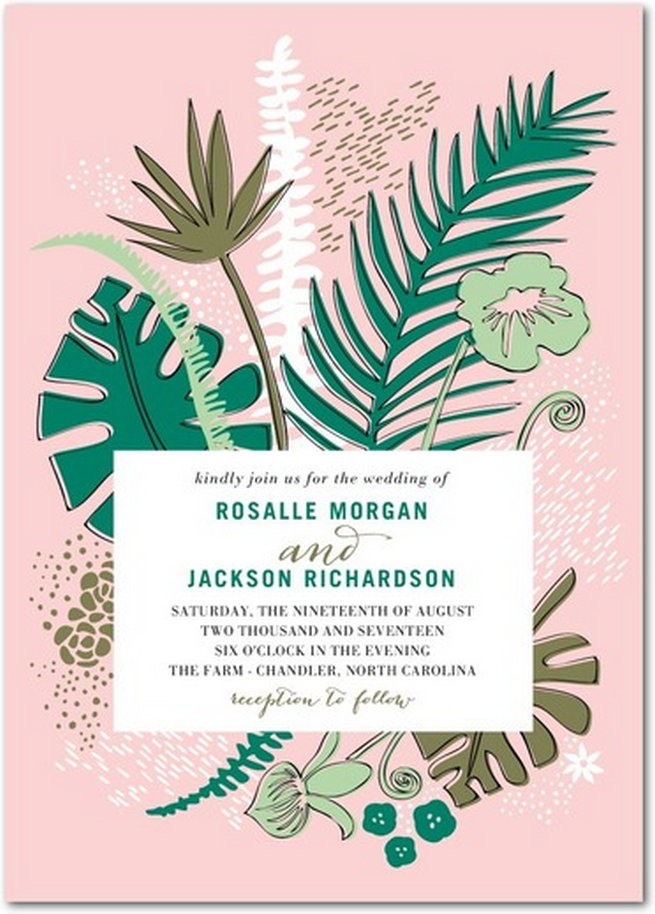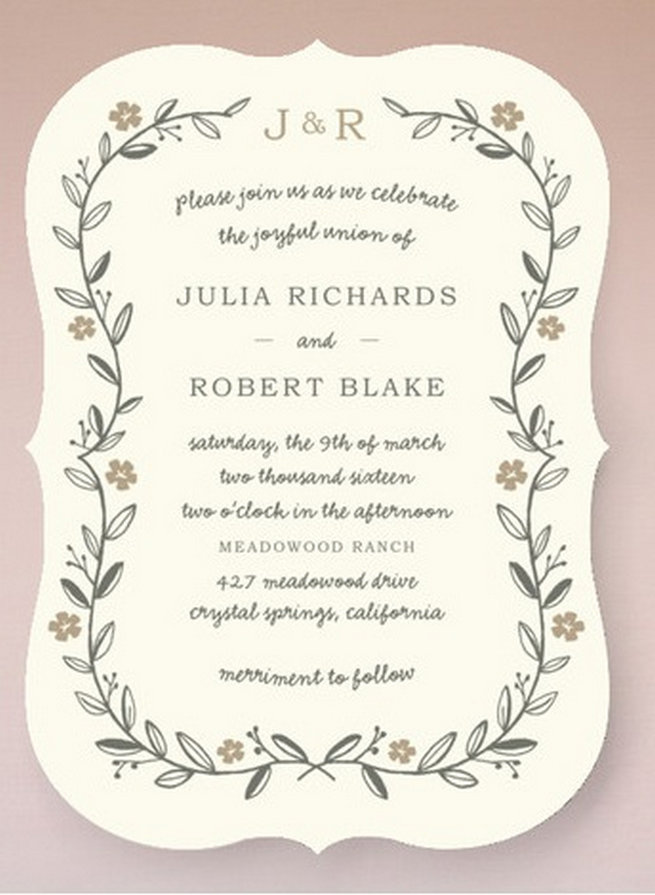 (Above Left) Tropical Greenery Botanical Wedding Invitation. Traipse about in the tropics with this Island Bouquet invite set for a seaside soiree. Available here.  //  (Above Right) Garland Wedding Invitations. These gorgeous garland invites with cute flowers and leaves are available from Simplete Design here.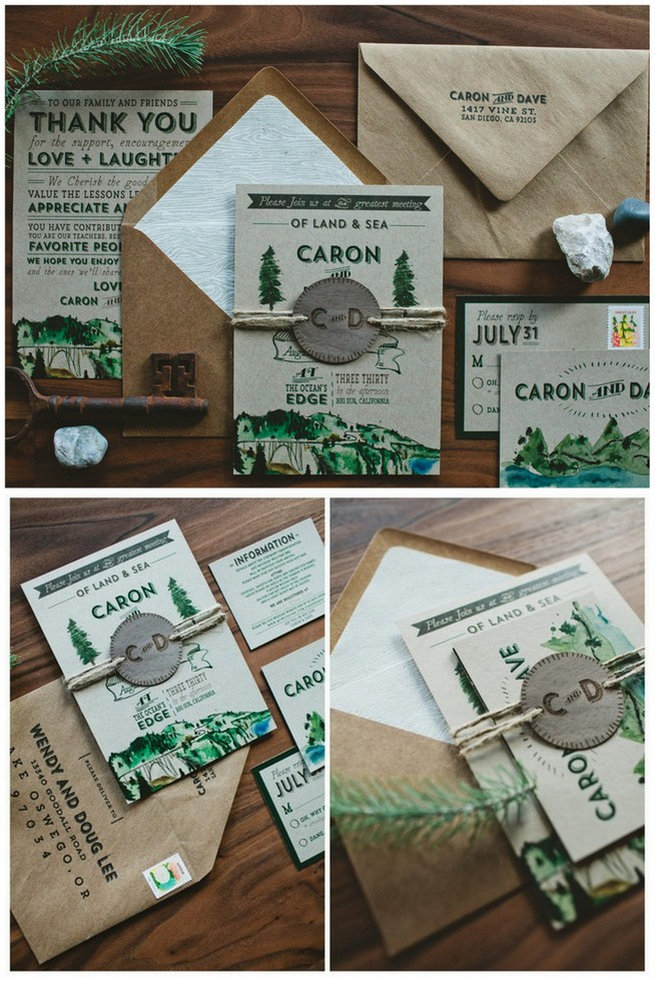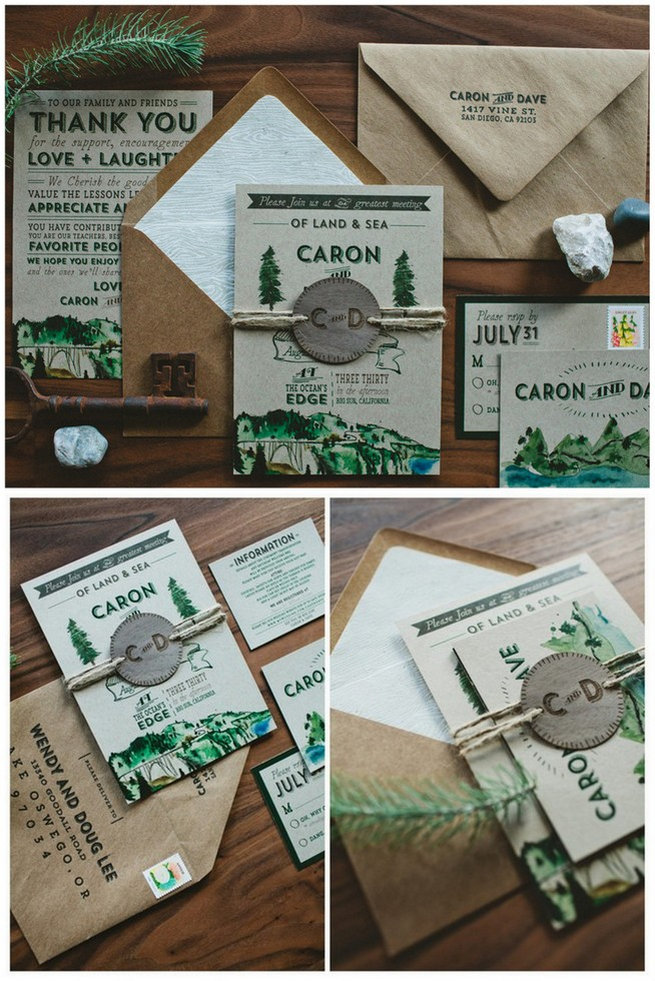 (Above) Rustic Woodland Watercolor Big Sur Botanical Wedding Invitation. These beautifully illustrated wedding invitations featuring big surs in the mountains with kraft style envelopes are available from Wide Eyes Paper Co here.  (Photography: Jasmine Fitzwilliam, Let's Frolic Together //  Watercolor Painting: Emily Fages)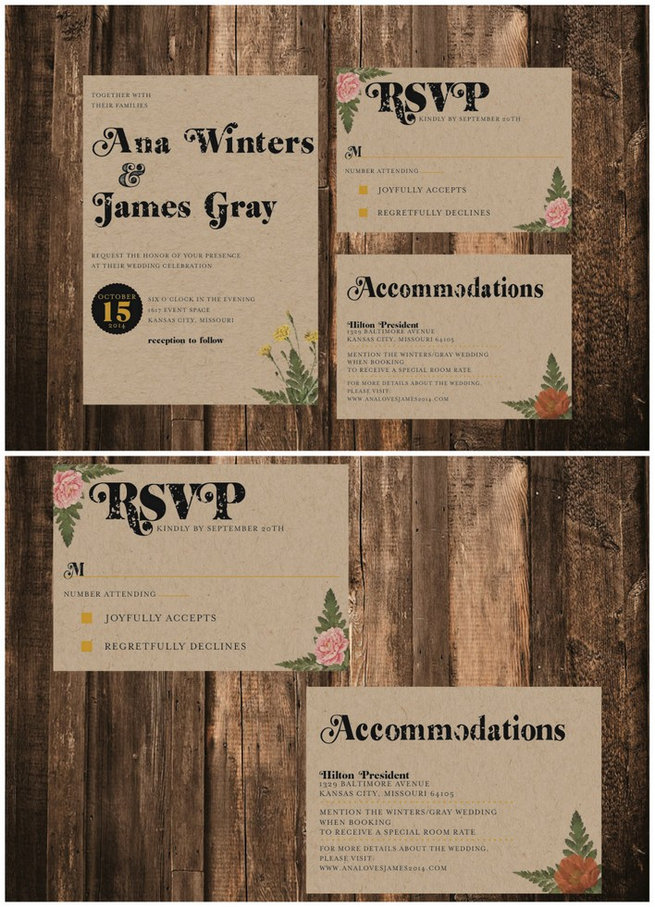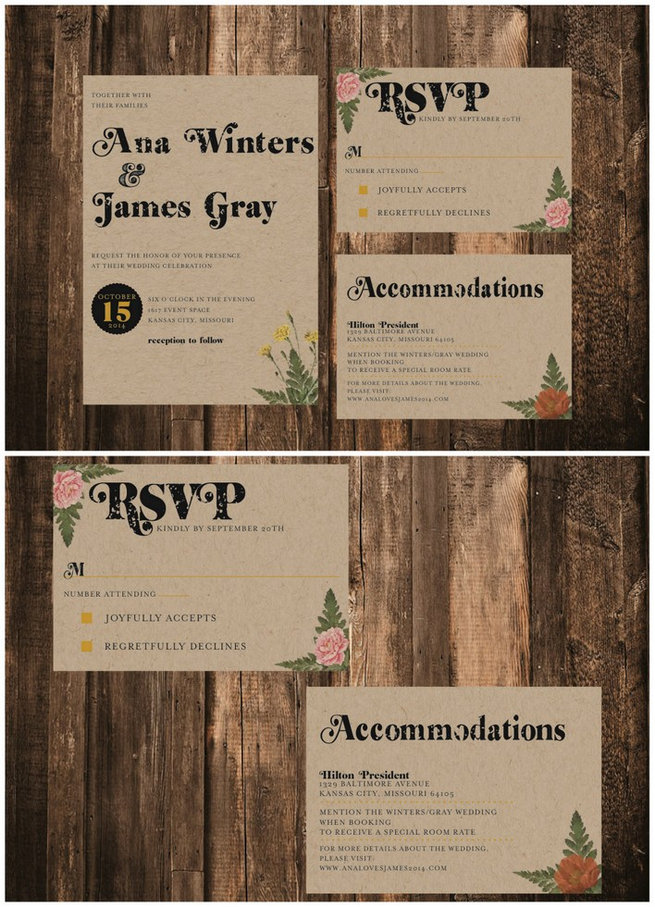 (Above) These vintage greenery botanical wedding invitations from Black Lab Studio have been created with nature lovers in mind. If you adore these fabulous fern details, grab them here.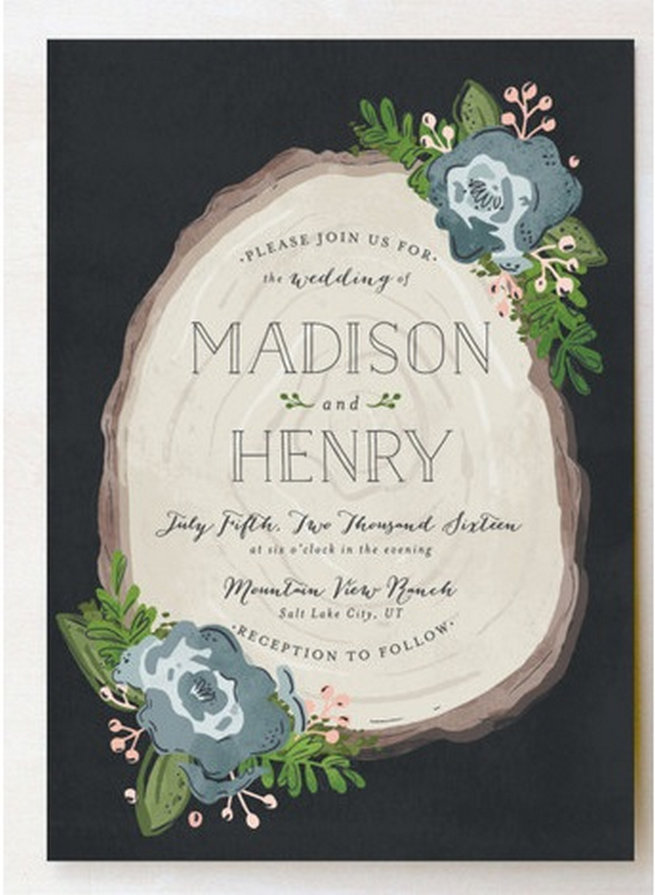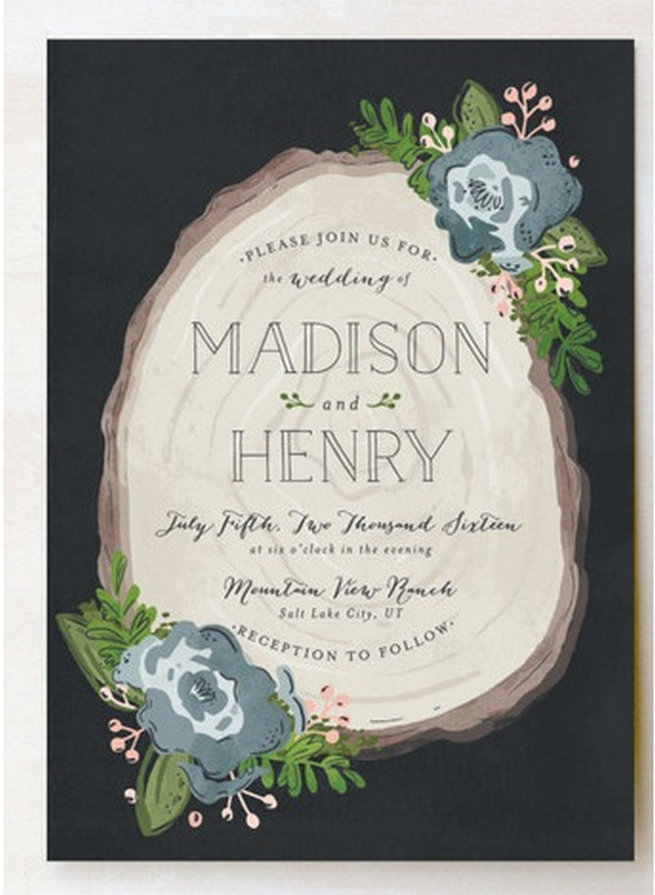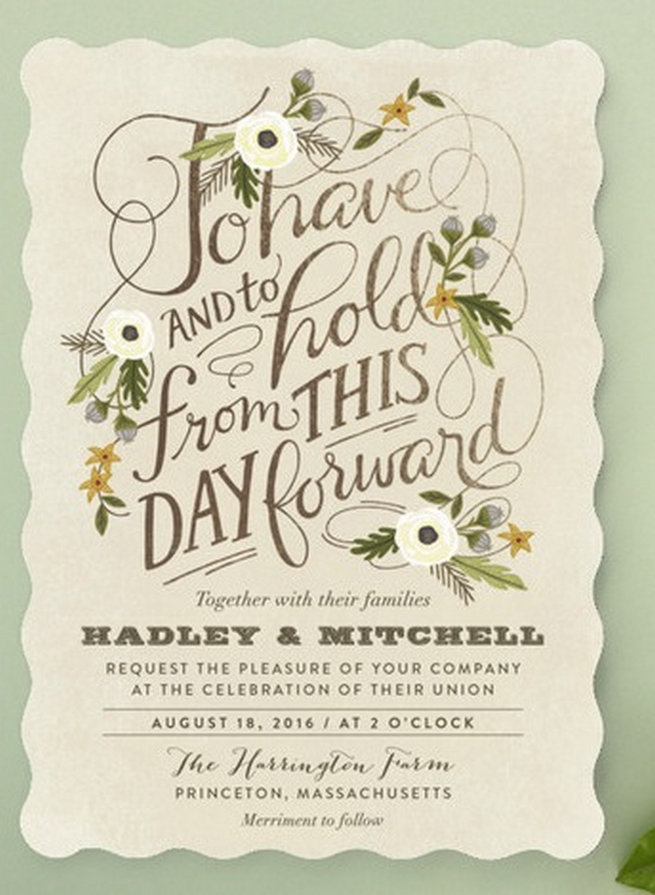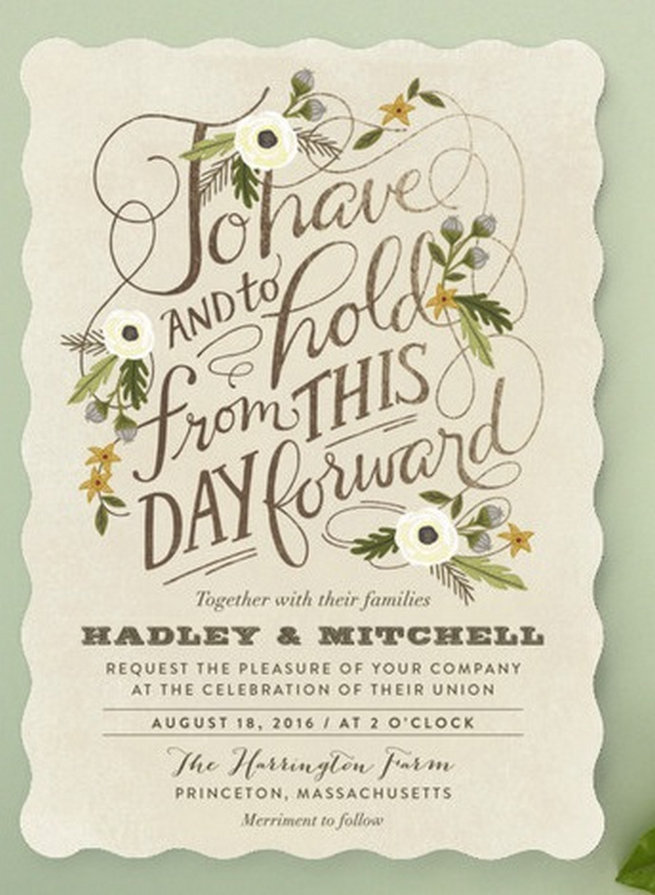 (Above Left) Wooded Botanical Invites. These rustic woodsy wedding invitations with wood slab design are oh so rustic chic. Available here. //  (Above Right) Beautifully Bohemian Green Wedding Invitations. A fabulous script font and floral posies in neutral shades with a dash of green make this design divine for an Autumn or Winter wedding. Check them out here.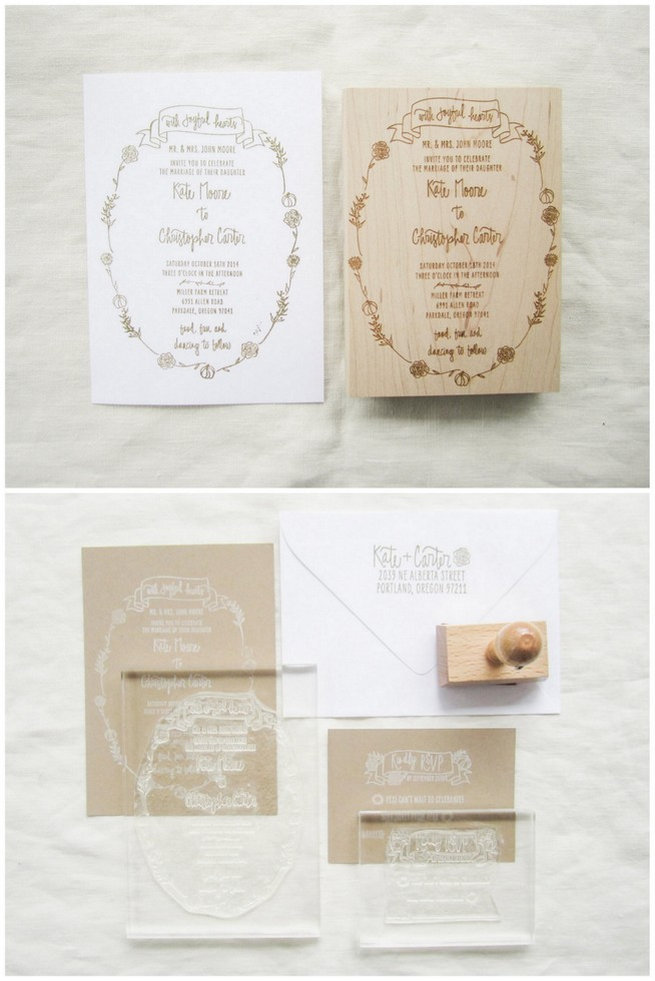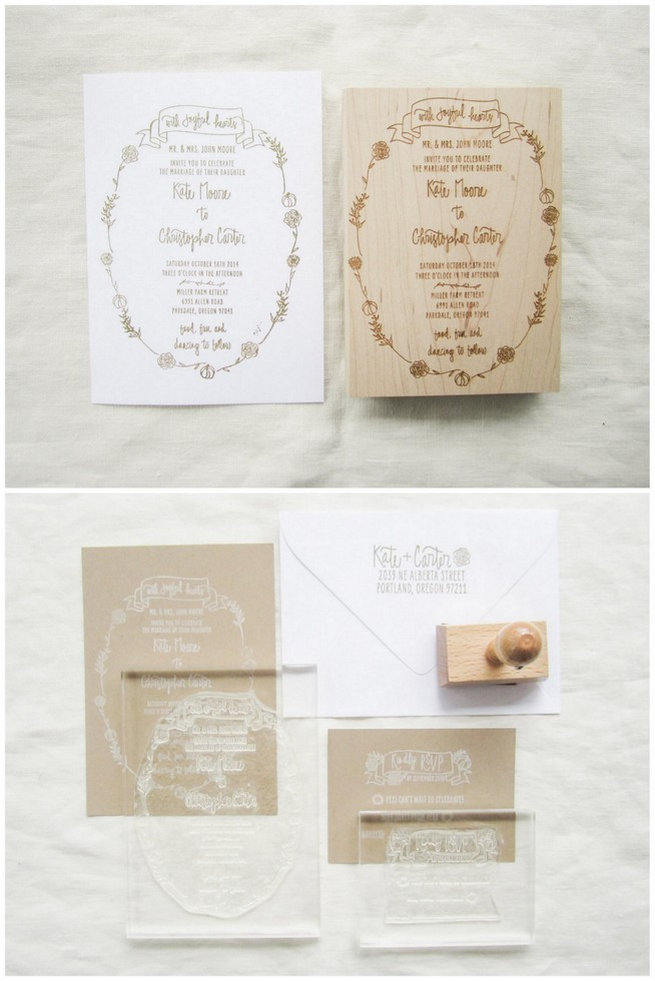 (Above) DIY Wedding Invitation Stamp Suite. Probably one of the coolest things we've seen in forever – have these gorgeous design personalized to suit your wedding and then simply stamp your invitations onto your own paper at home DIY style! Save a bundle and have gorgeous invites. Check the botanical stamp out at Paper Sushi here.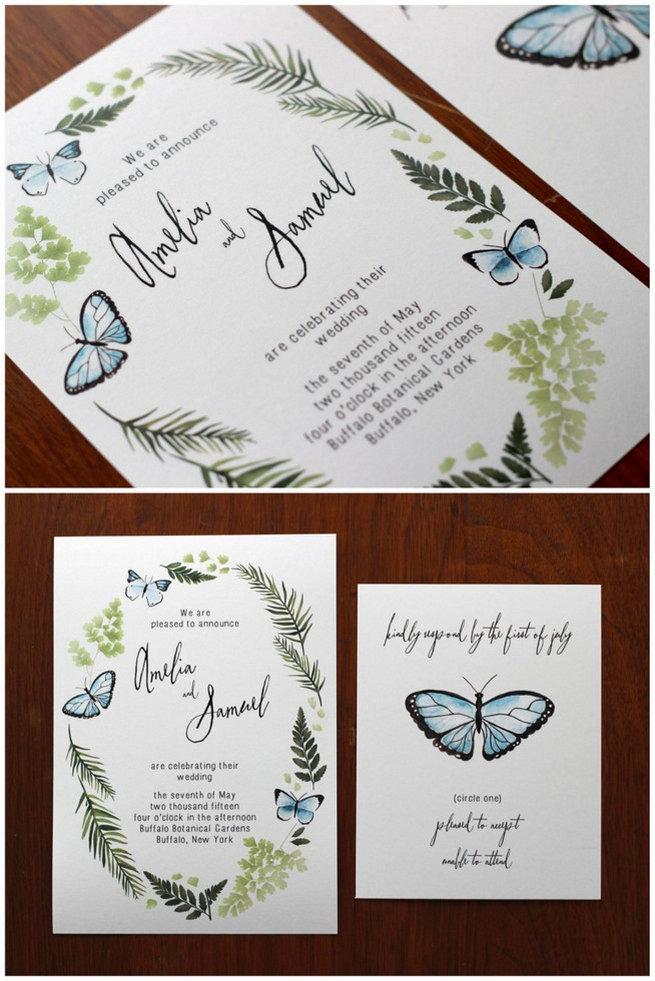 (Above) Butterfly Botanical Forest Invitation. Handpainted with love, these delightful wedding invitations from eloquent paper contain pretty butteflies, ferns and an assortment of lovely leaves. Check them out here.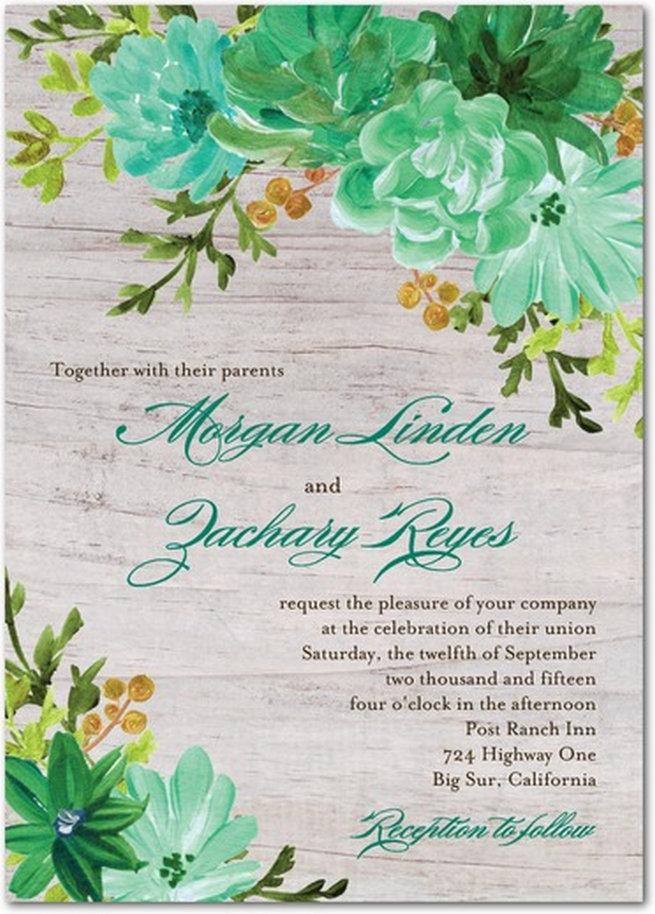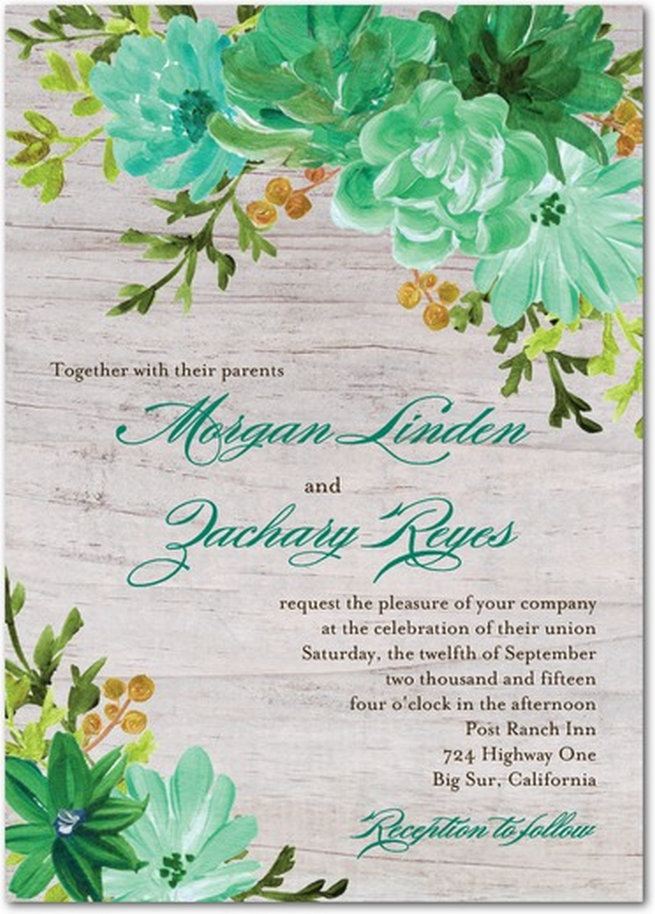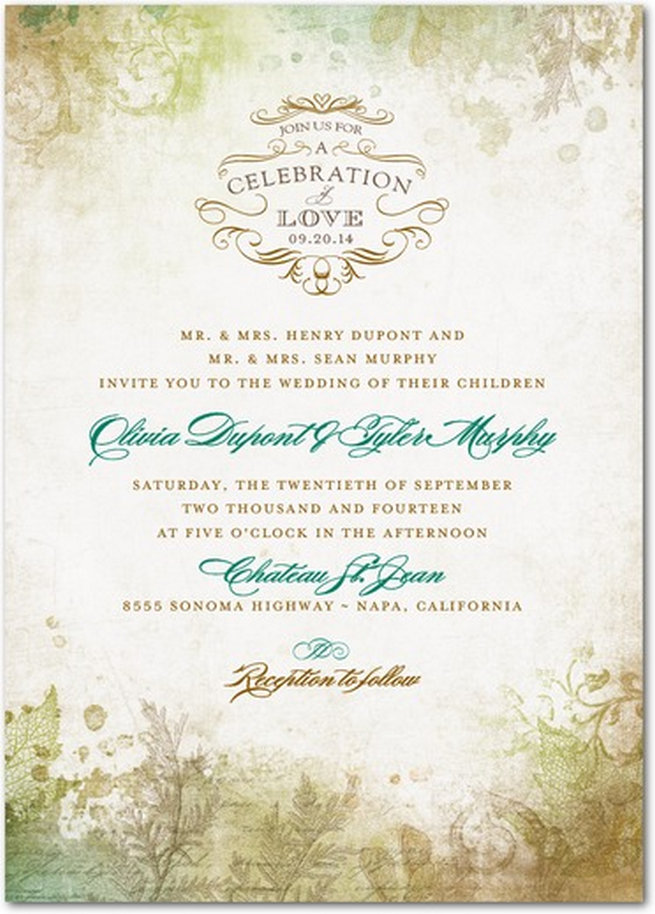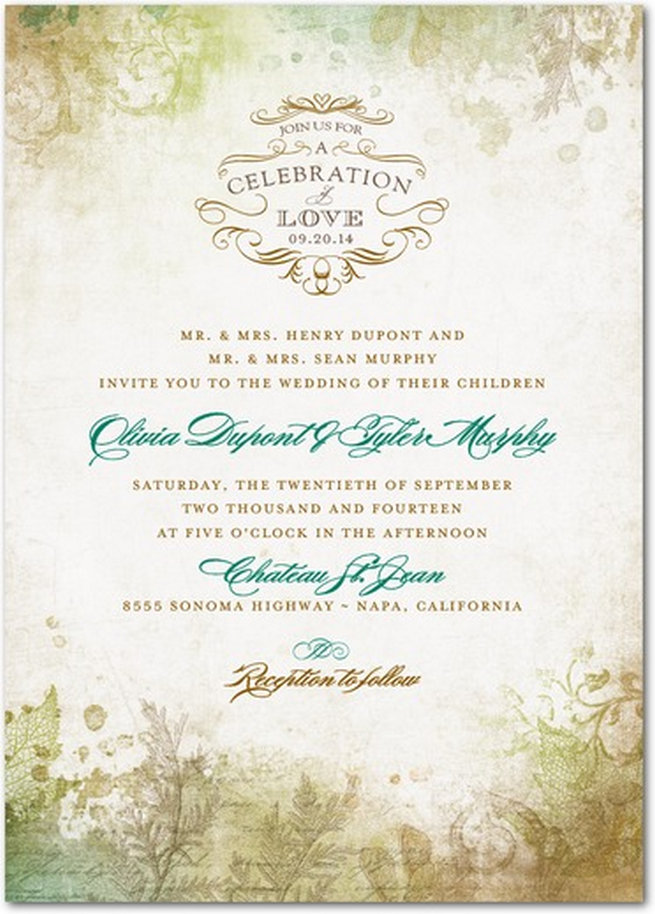 (Above Left) Green Wedding Invitations. Beautifully botanical with  blooms in shades of green, mint and turquoise, this invitation suite is ready for your rustic or woodsy wedding! Available here.  // (Above Right) Deep Sea Green Botanical Invites. With a hint of vintage-style class, and a gorgeously fall-inspired color palette, this Romantic Regency Wedding Invitation would be great for a winter wedding, too. Get them here.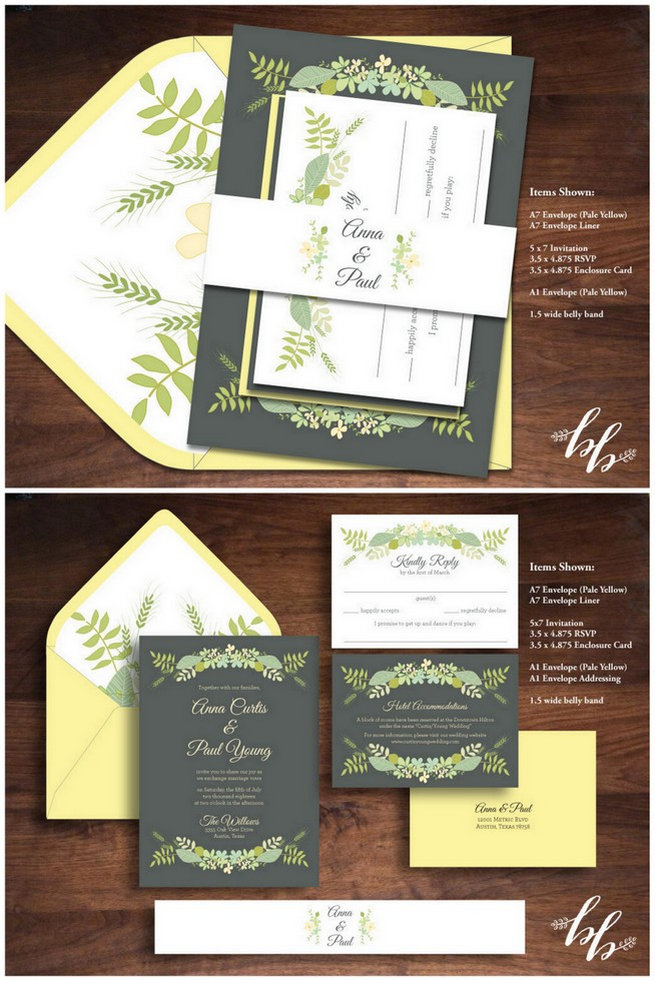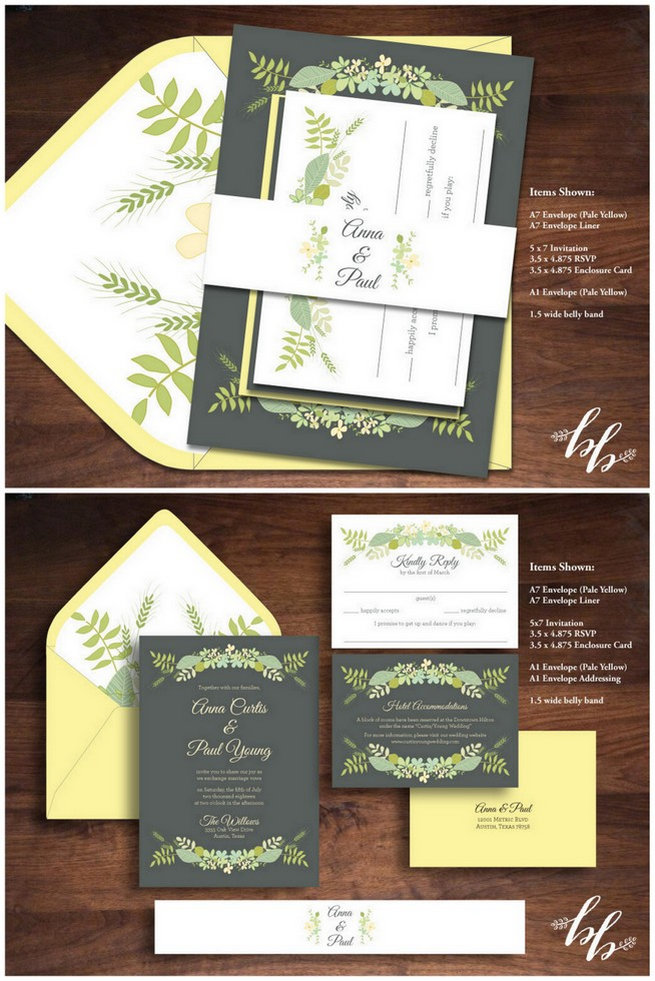 (Above) Sweet Flora Botanical Wedding Invites. Set out in yellow and gray with darling leaf bouquets, this invitation suite from Beautifully Bevilled is perfect for a rustic or forest celebration. See it here.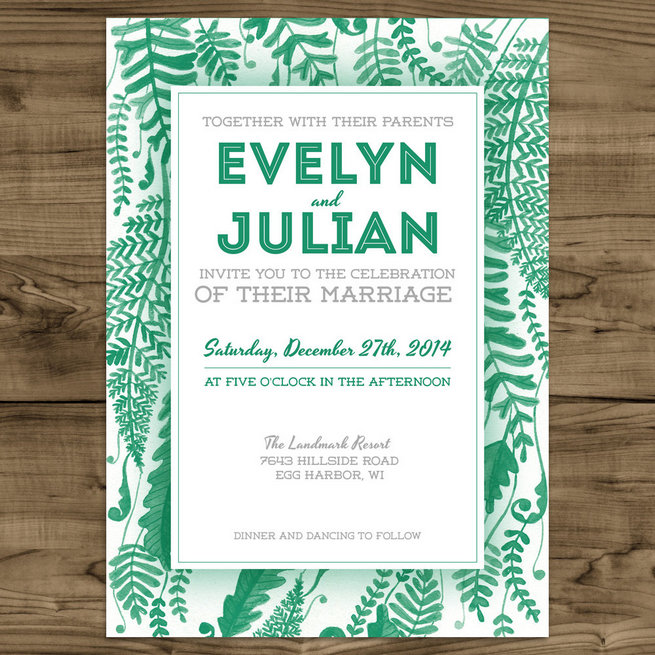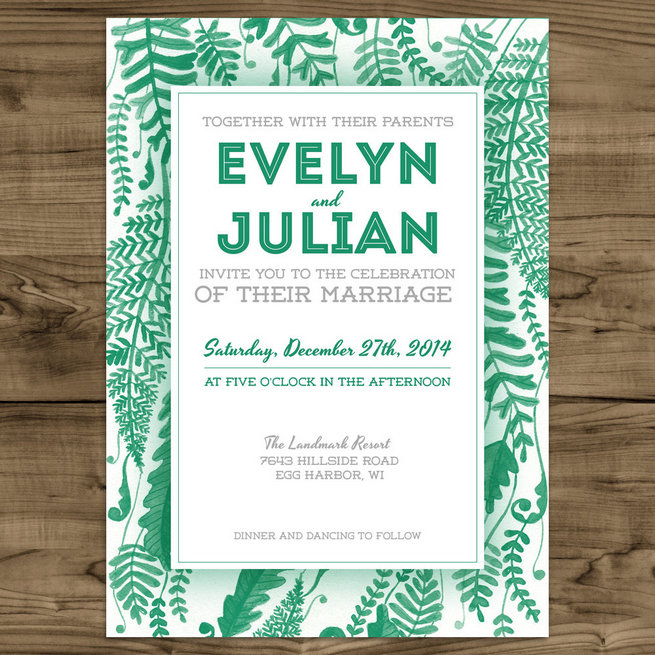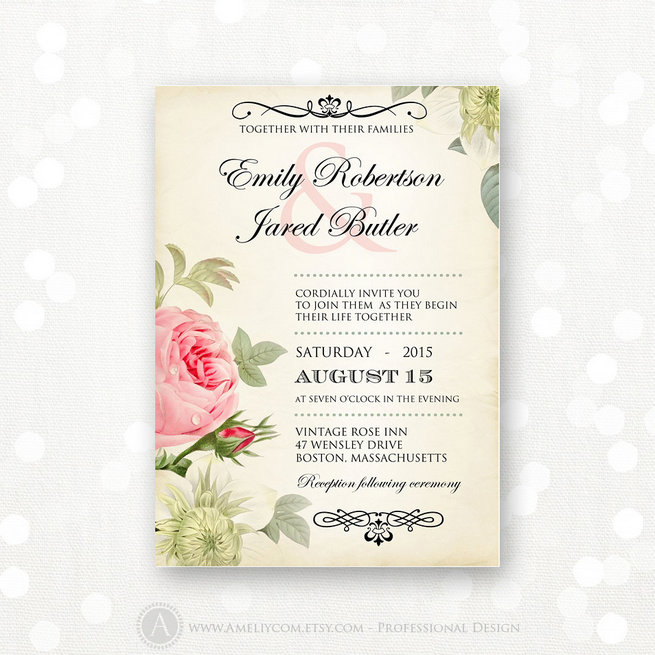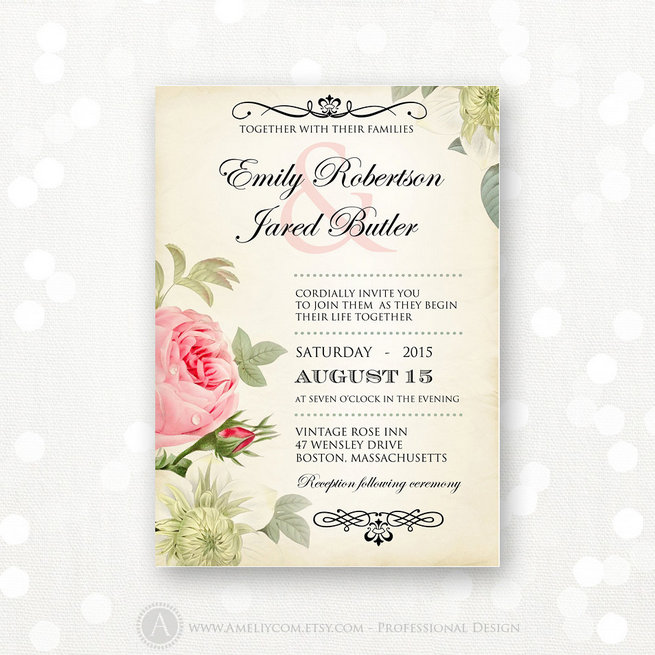 (Above Left) Foliage Mountain Wedding Botanical Invite. Ideal for your mountain or resort wedding, this cute printable wedding invite from Kaspi Party can be customized to suit your wedding colors. Order here.   // Printable Botanical Rose Invite. This retro styled botanical invite in pink and green is available as an instant download from AmeliyCom. Get it here.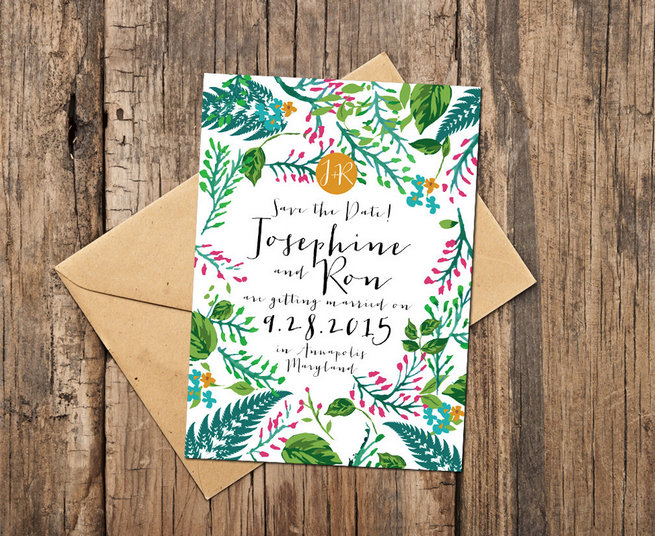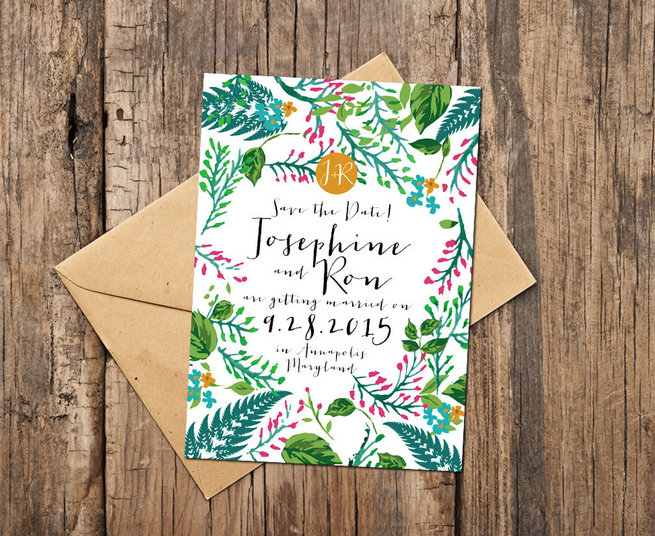 (Above) Boho Chic Artsy Botanical Wedding Invitation. Get ready to party with this totally fun design complete with fun handwriting style font from The Inked Leaf. Get it here.  (Image courtesy of The Inked Leaf and Shutterstock)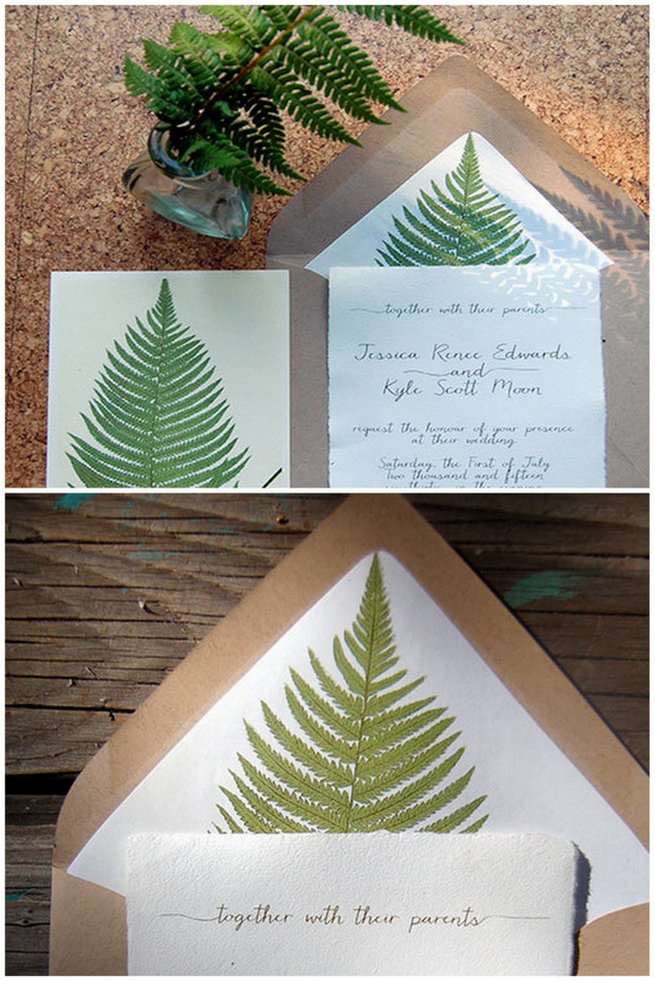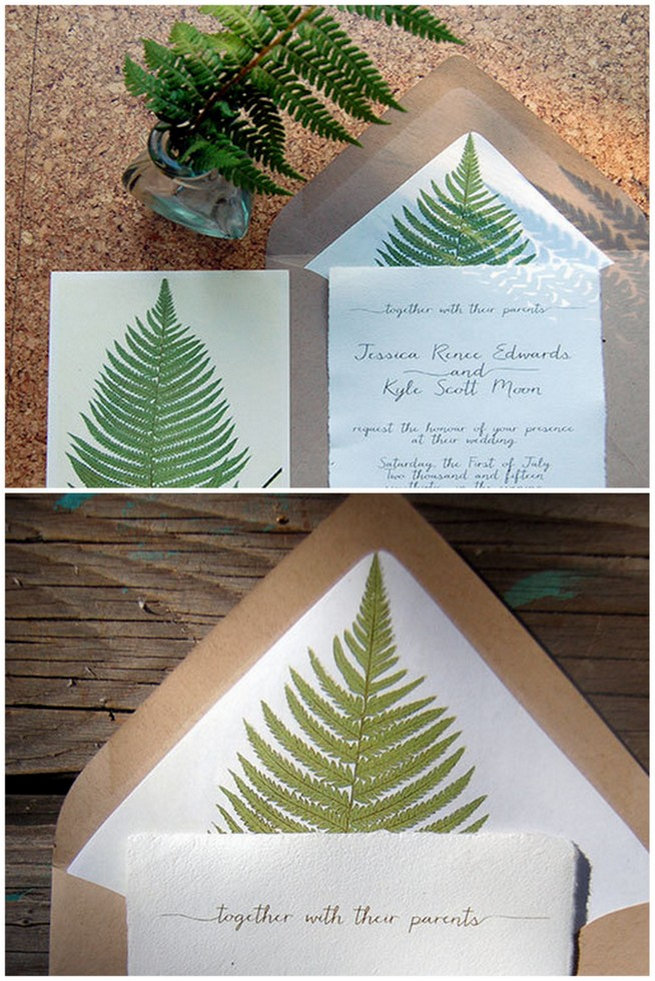 (Above) Vintage Botanical Fern Wedding Invite. Created using hemp paper, this eco friendly wedding invite from Morningside Paper is pretty and environmentally considerate too. Buy it here.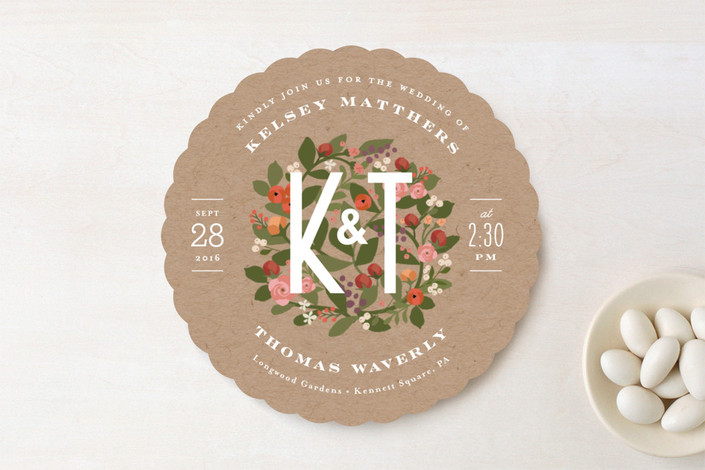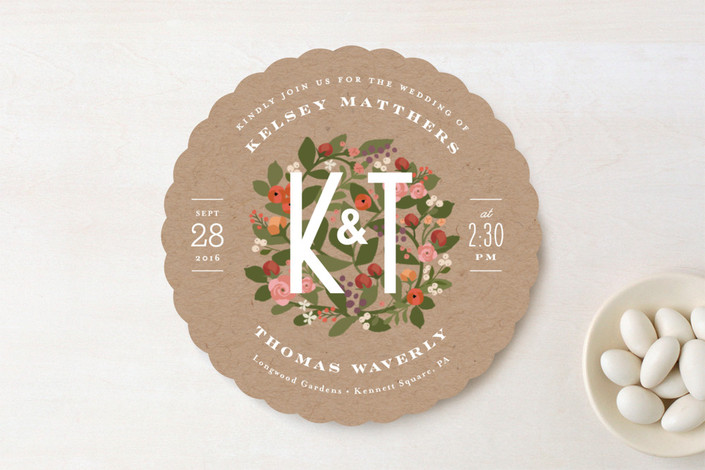 (Above) Floral Botanical Invitation. A green wreath of ranunculus , peonies and roses set on kraft paper make this rustic, woodsy invitation a stand out selection. Grab it here.
(Above Left) Love Grows Botanical Wedding Invites. Adorned with blooms in purple and green, this enduring enchantment design from Wedding paper divas is available in plum, mint, pink or in the custom color of your choosing. Grab it here. // (Above Right) Beach Wedding Tropical Invites. Mospens Studio brings us these botanical invites in hot pink and green watercolor with stylish calligraphy. Grab them here!
Amazing Greenery Botanical Wedding Invitations