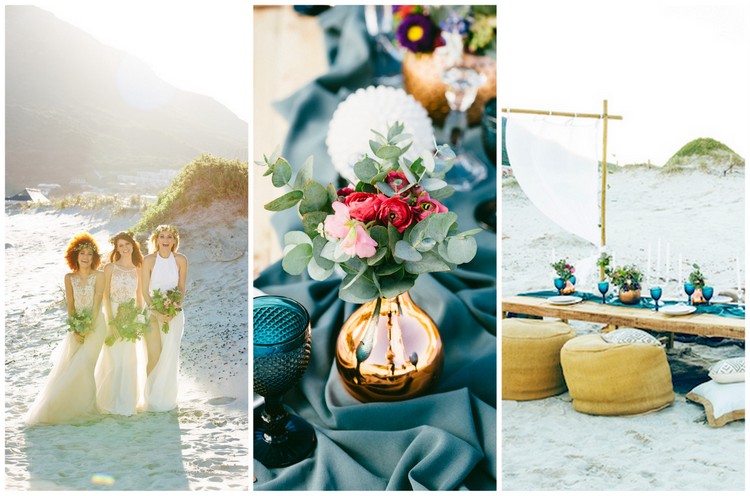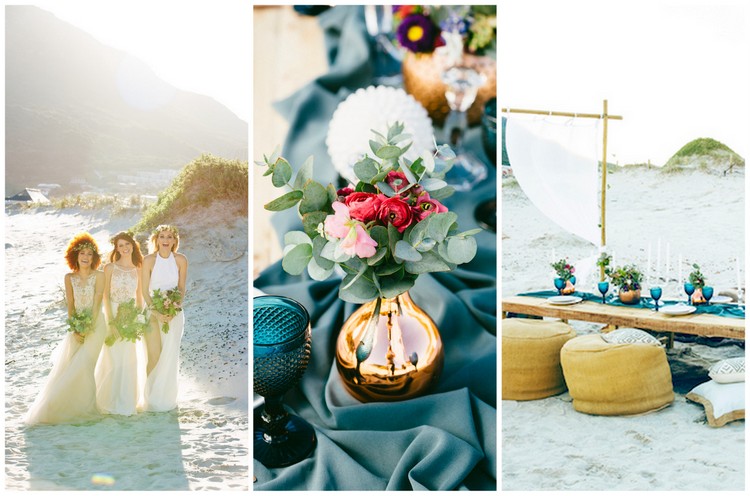 Are you dreaming of a boho beach wedding? The laid-back spirit of a boho beach celebration brings to mind the sights and sounds of friends gathered together wrapped in warmth and relaxation. Perhaps playing guitar, creating a drum circle, or simply sitting barefoot, toes in the sand, enjoying a lovely summer sunset. Today Muse Concepts  shows us how easy it can be create a seaside bohemian wedding celebration using small, but beautiful details, which are easy to find locally.
Begin by thinking about the ambience and activities you would to include. Start planning comfortable seating areas for friends to gather around based on each activity – ceremony, eating, dancing, relaxing and whatever else takes your fancy.
"A bohemian beach wedding creates an environment for guest to enjoy the beach, music, special smiles, a magical seaside sunset and most importantly the spiritual bohemian beach wedding celebration," shares Muse Concepts, who conceptualized, co-ordinated and styled this boho beach wedding shoot. "The spirit of the day, the colourful details, the wind blowing through the curtains and the textures of the organic flowers were captured by photographer Garreth Barclay."
Boho Beach Wedding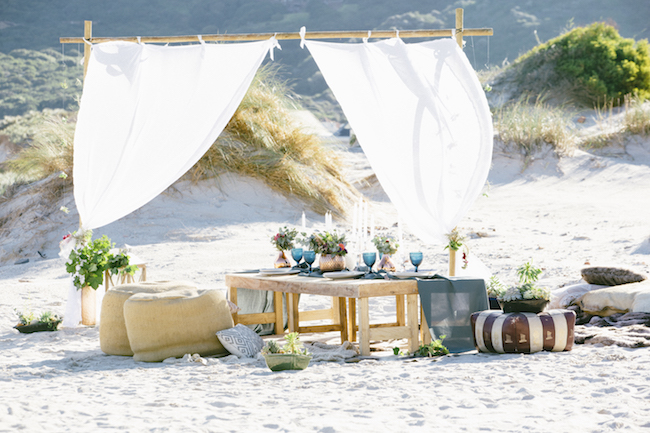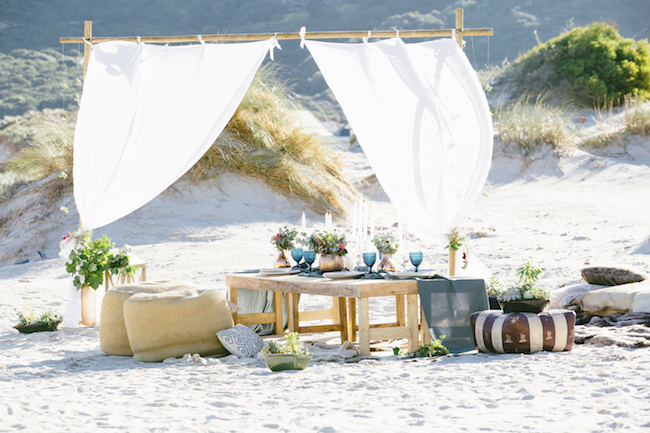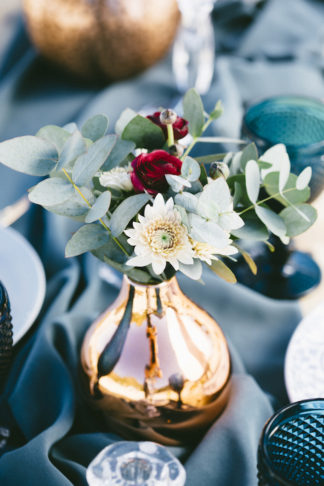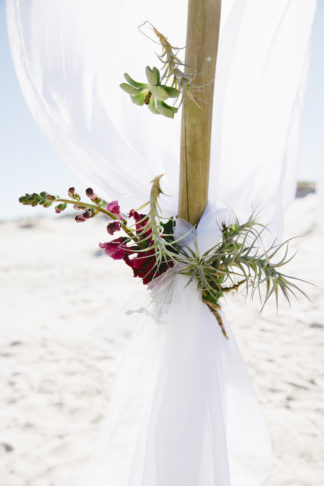 Boho Beach Wedding Ceremony Tips
Use a neutral, earthy tone as your base color palette. Mimic the colours of the natural environment – stone, sand and driftwood.
Choose two complementary accent colours to stand out against the neutral earth tones. Perhaps even decide on a metallic such as copper, rose gold or silver. Here navy was the main accent colour, paired with pops of red.
Create an super simple boho beach wedding wooden gazebo. Simply affix six wooden poles together, then drape with a soft flowing fabric like cheesecloth. This looks beautiful when wind softly blows through the fabric draping.
Finish off with hanging arrangements of succulents, airplants and locally sourced colourful flowers. Mirella, from The Flower Place, selected a combination of field blossoms, succulents, flowers and air plants, locally sourced and in season. These were suspended from the gazebo in mini bouquets, or as single flowers. Tip: Use a few key colorful statement flowers in your chosen palette. This adds a pop of colour to your natural boho beach wedding scene, while still maintaining a consistent theme, and organic look.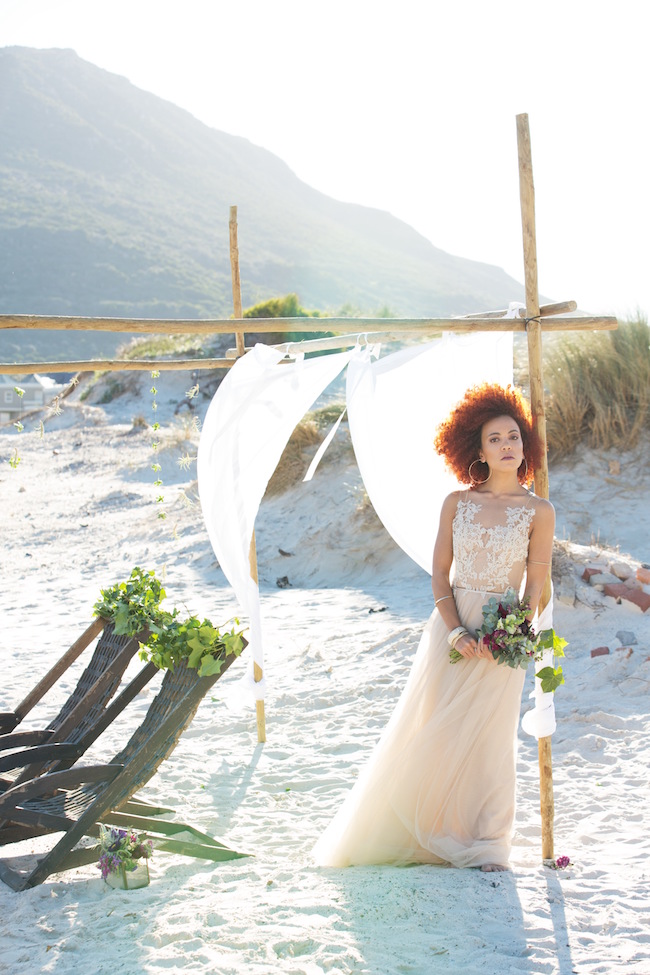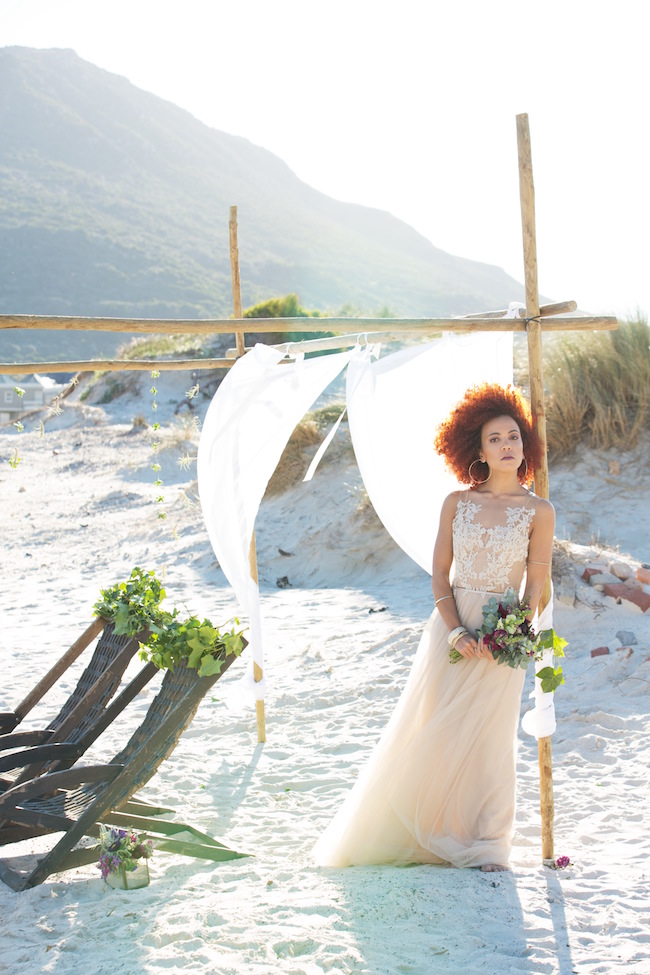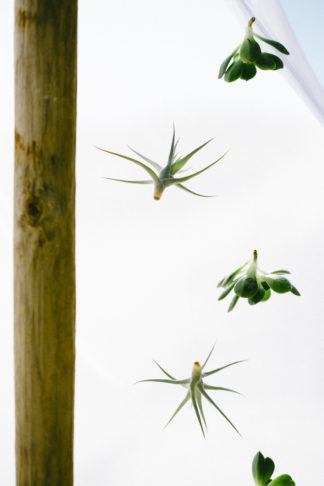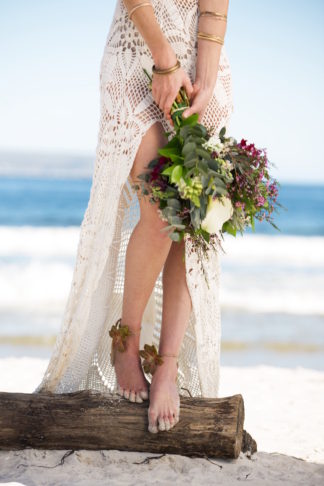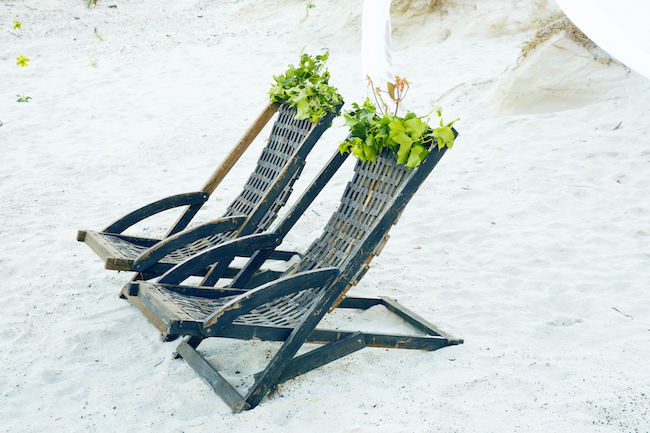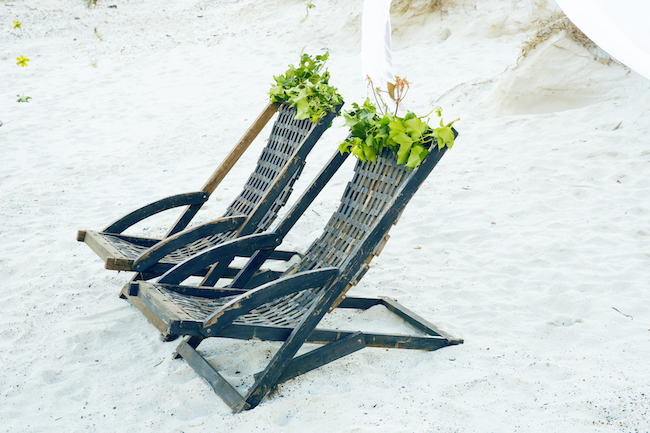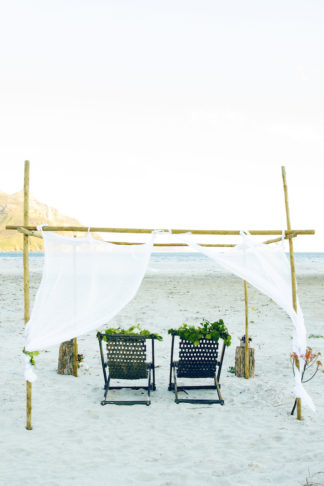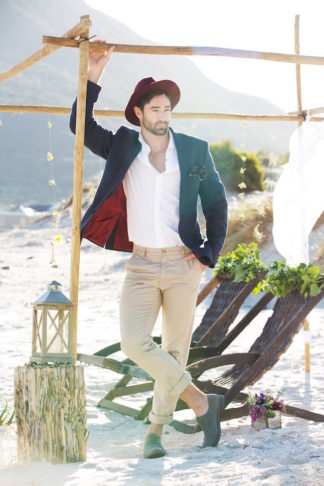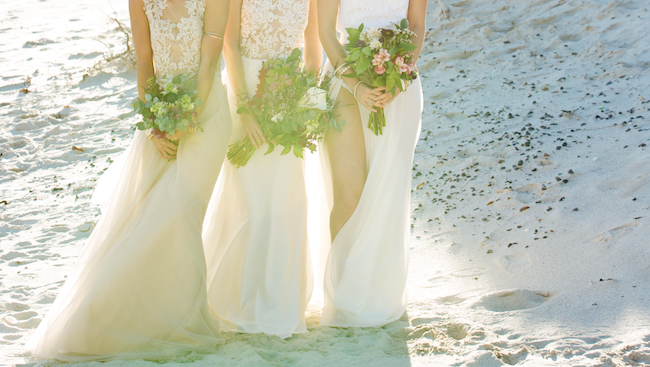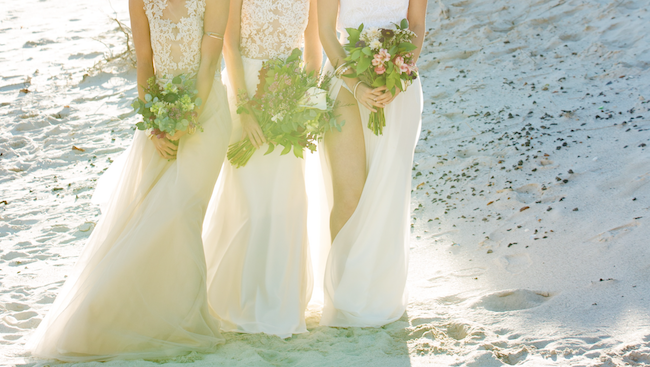 Boho Beach Wedding Bride Style
Go for soft, elegant and whimsical gowns to create an air of bohemian romance says Muse Concepts, who carefully hand selected these gowns designed by the Elbeth Gillis and South of the Woods. Think soft, layered tulle, illusion details, bell sleeves, and low, plunging backs.
Don't be afraid to play with off-whites. Pale blush, cream, beige, stone, sand and skin tones could work well in this environment.
Go for natural-looking make up, with loose and natural hair. Considering adding a beautiful flower crown, using flowers that will be found in your bouquet and decor. "Cecilia Fourie brought out the true beauty in every lady," says Muse Concepts. "She enhanced their natural features and gave them that sun kissed glow that is perfect for a boho beach bride!"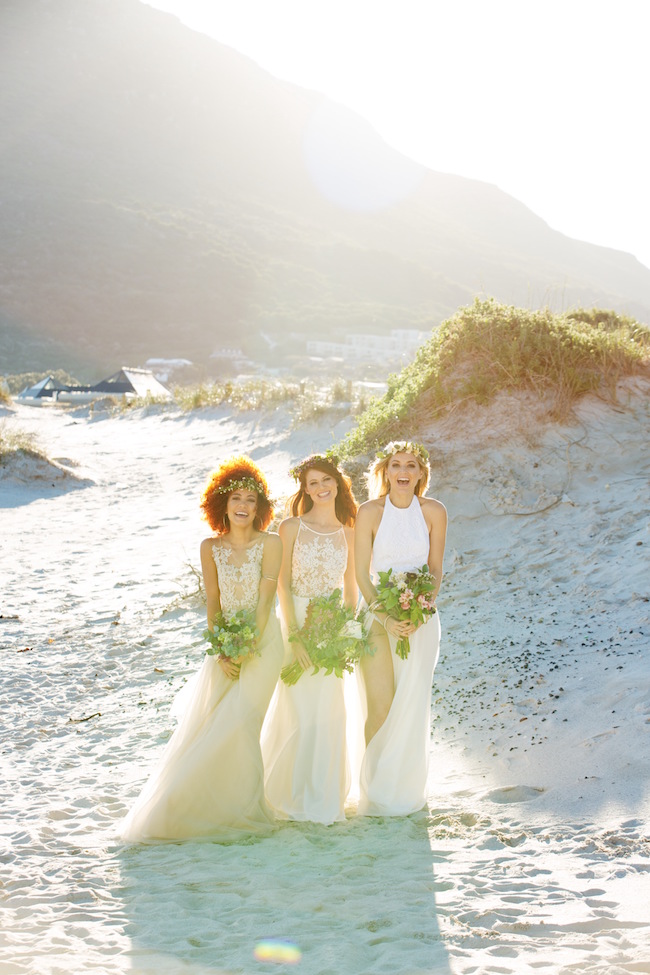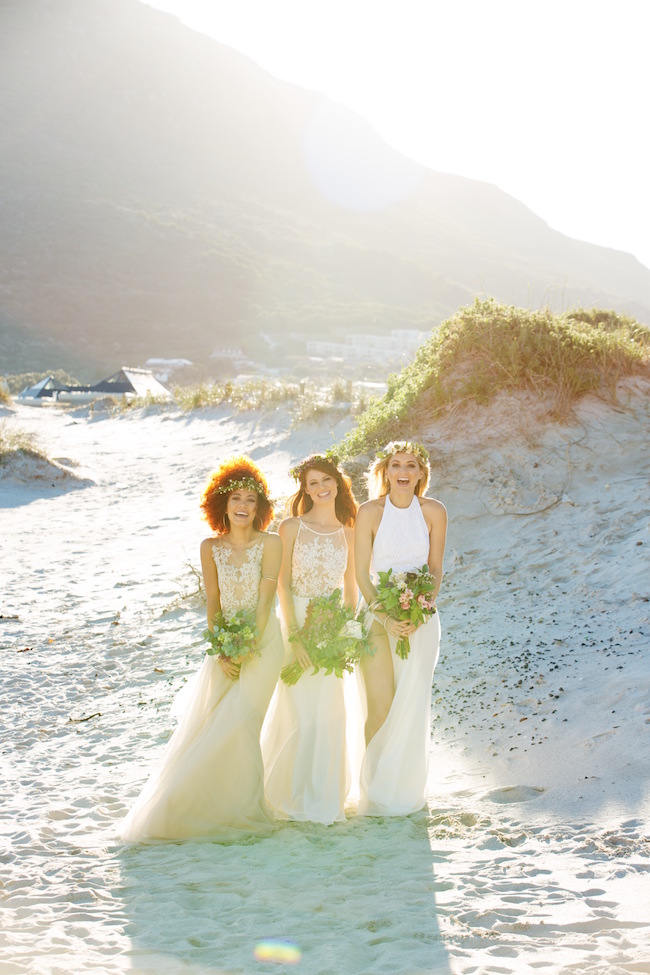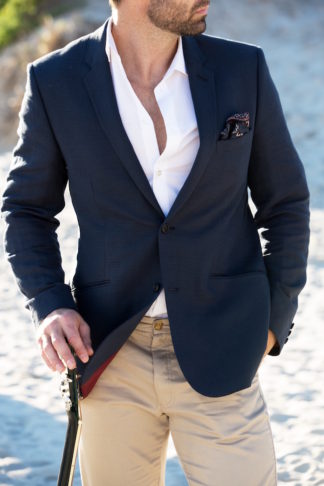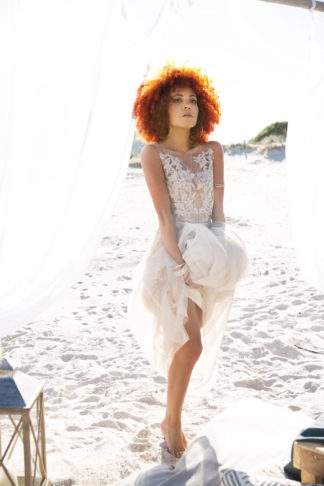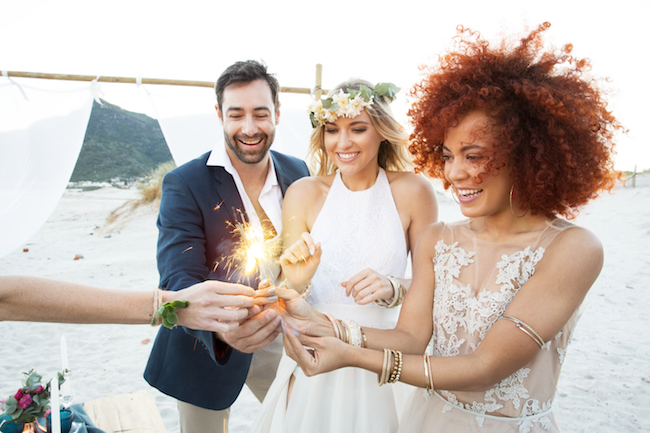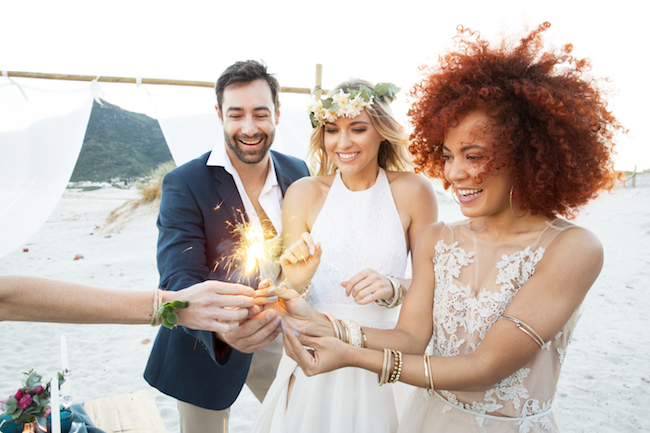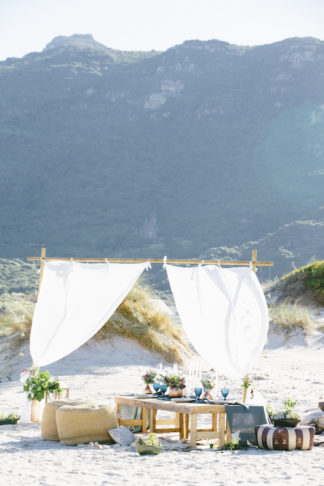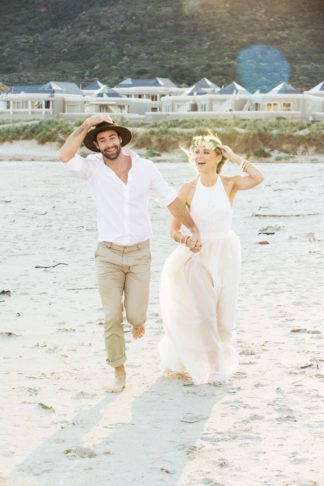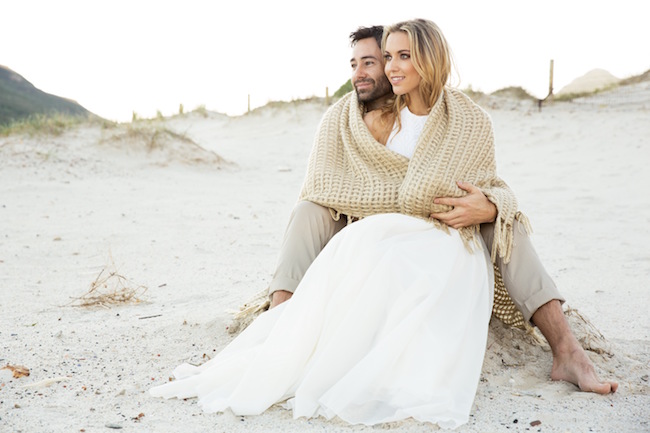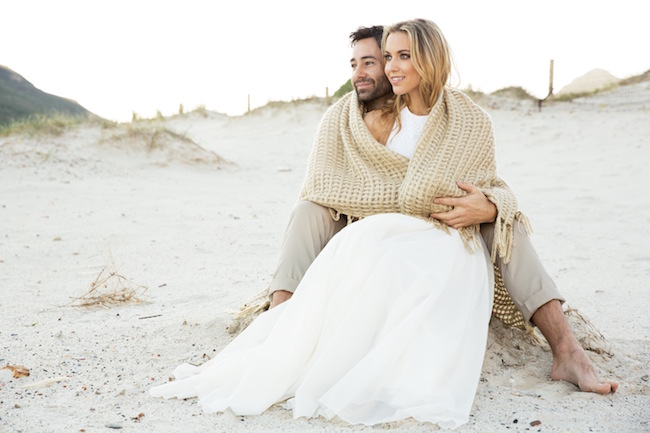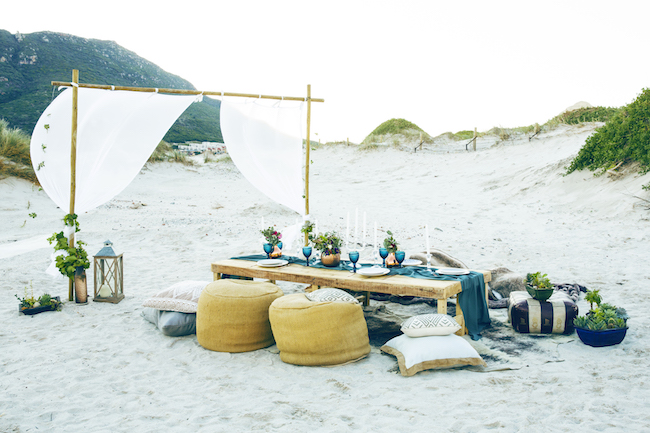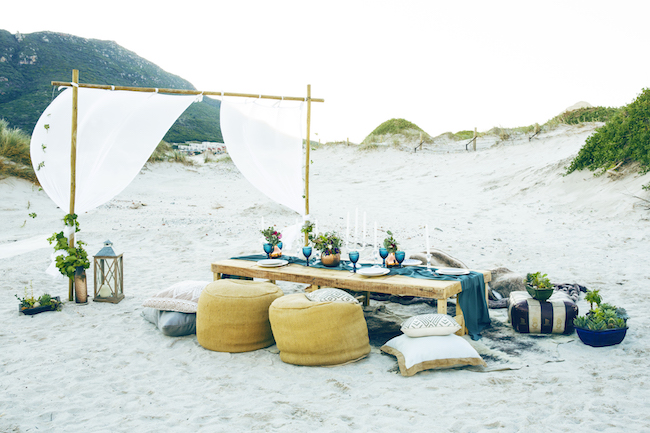 Boho Beach Wedding Reception
Repurpose a wooden bench to act as a table. (You could also upcycle a second hand door. Set it on top of tressel feet, or stacked wooden pallets to create height.)
Use wooden pallets as "side tables" or mini displays, like this.
Use an array of large scatter pillows, throws and soft blankets to create comfortable boho beach wedding seating spots, advises Muse Concepts. TIP: In addition to rummaging around at your own and loved ones homes, scour second-hand markets and online market places for bargain finds.
Mix and match colour tableware using your accent colours:  "These pops of color brighten up the table."
Add an element of luxury and romance with a metallics, crystals and candles.  "Crystal candlesticks with elegant white candles create a romantic, luxurious ambience.  It is especially beautiful during the late evening glow as the sun sets over the ocean," shares Muse Concepts.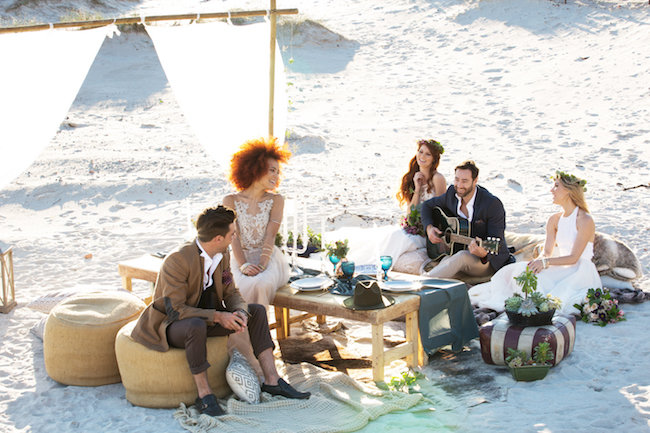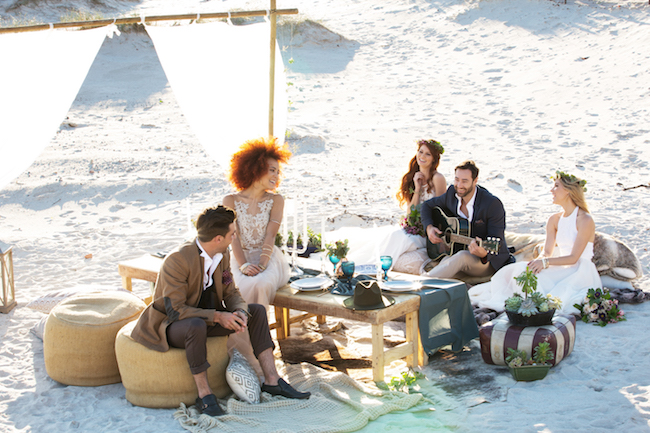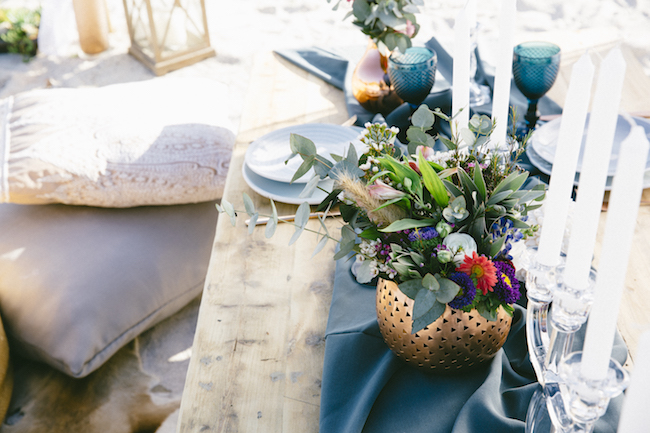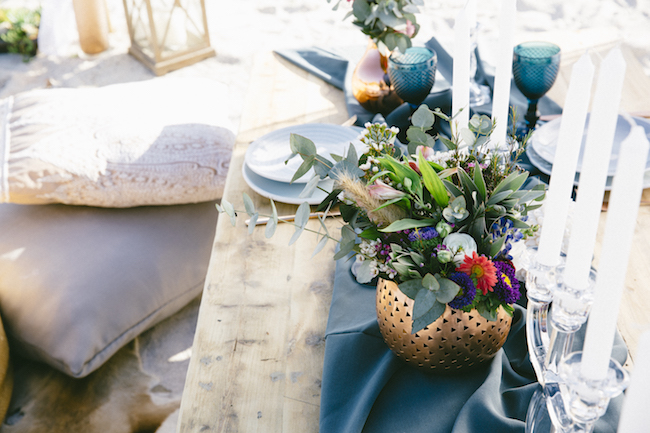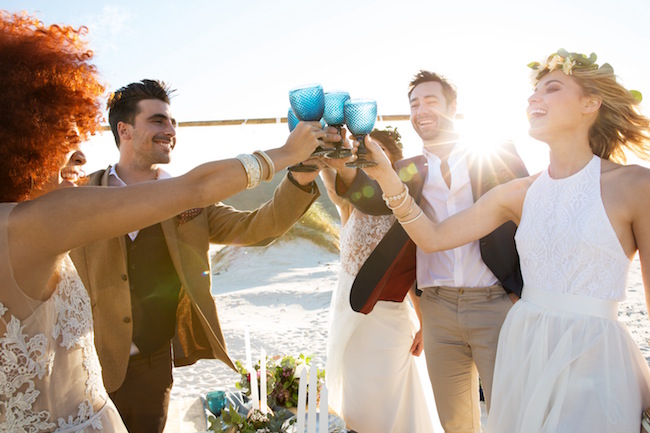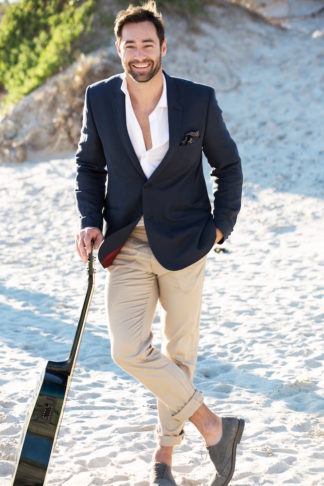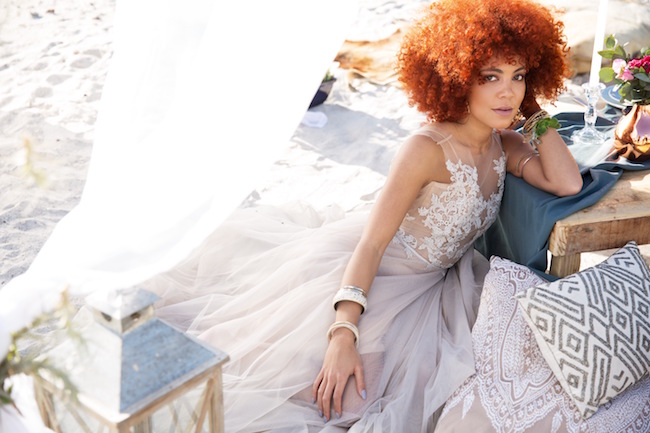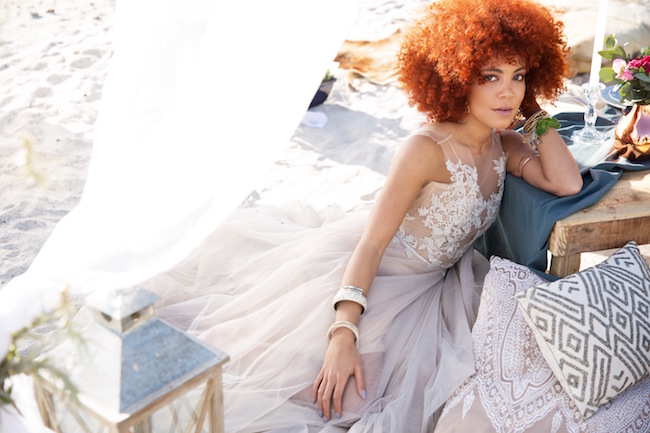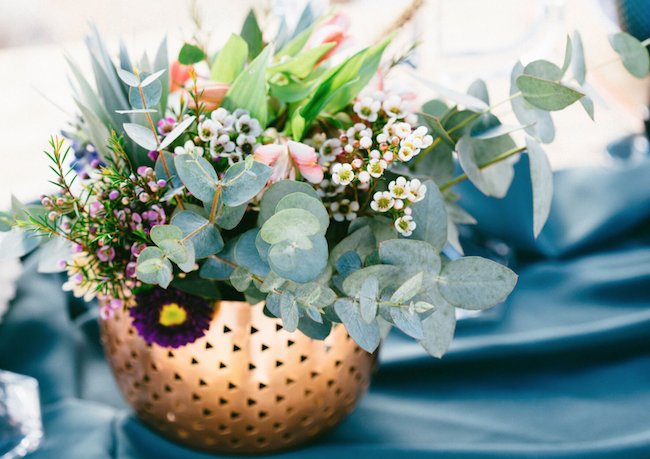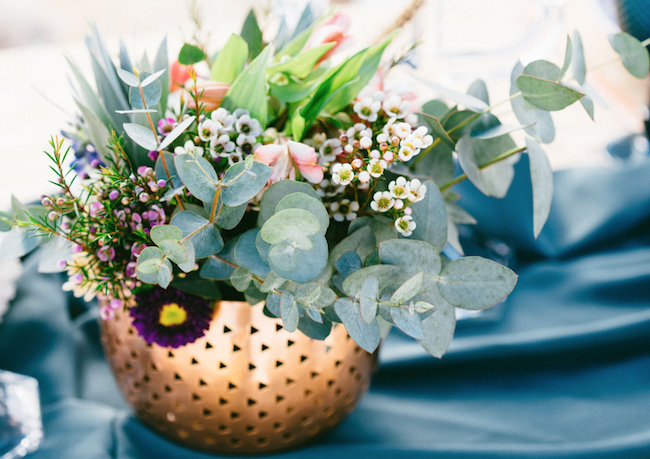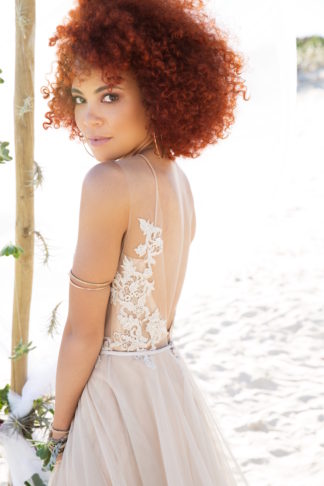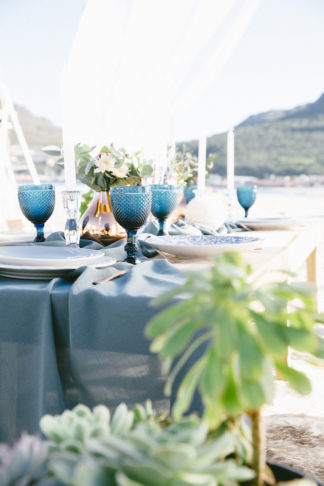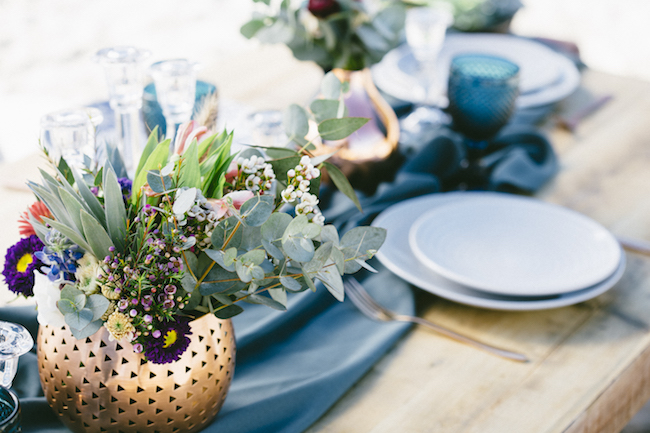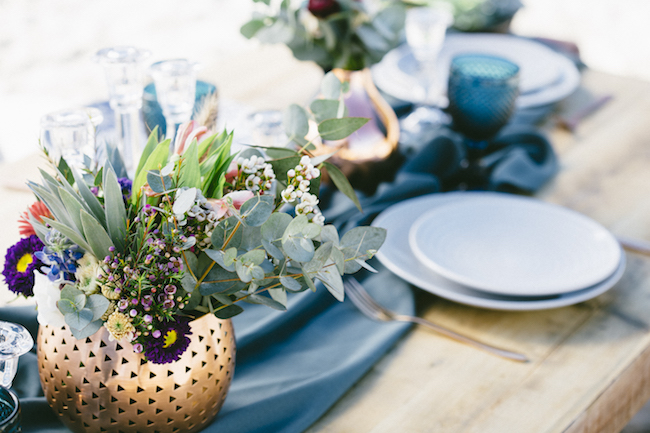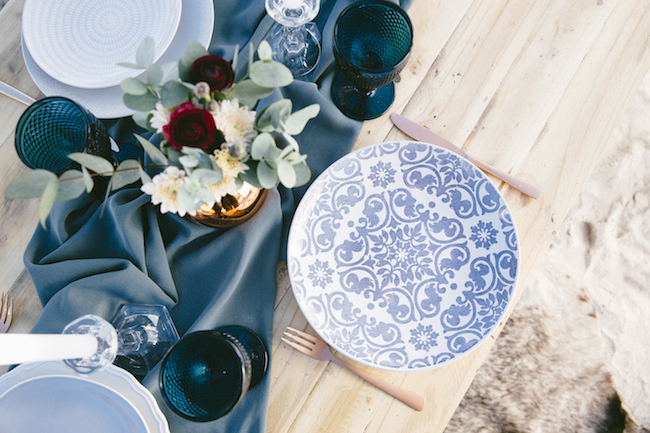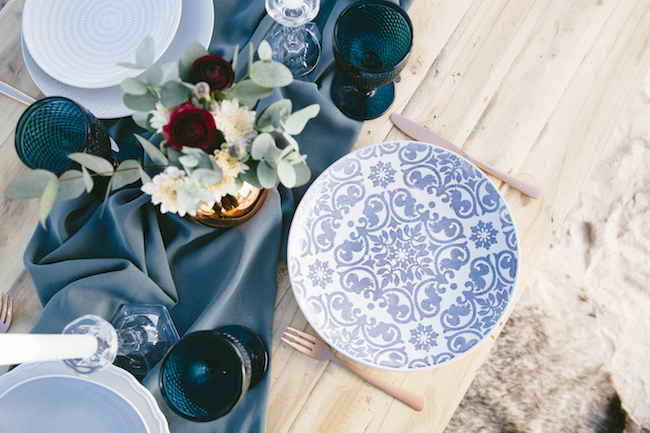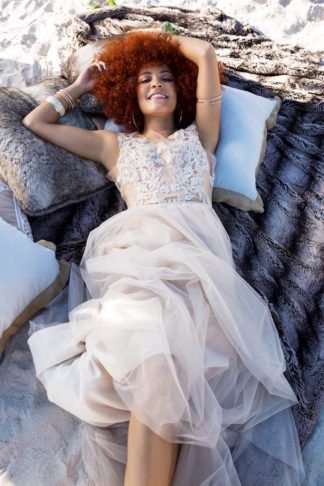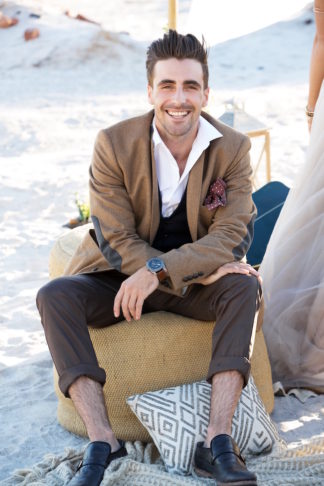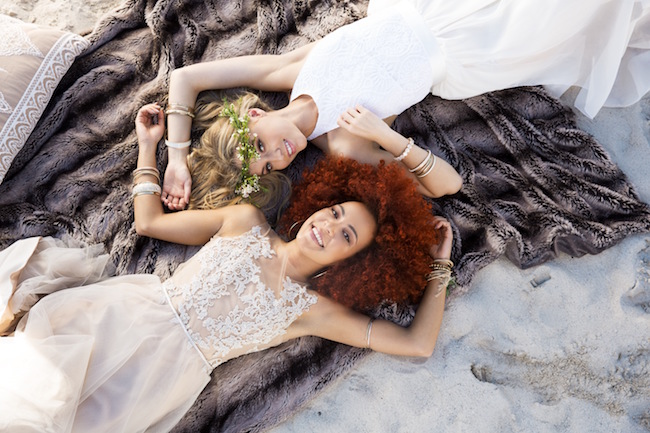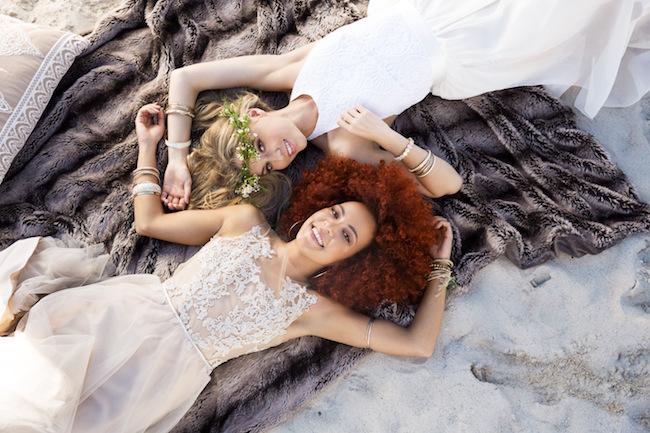 Wedding Service Providers: